Crustacean (Beverly Hills, CA)
Crustacean Restaurant
9646 S Santa Monica Blvd, Beverly Hills, CA 90210
310.205.8990
www.houseofan.com/crustaceanbh/
Thu 05/19/2016, 08:15p-11:05p

Crustacean's one of those longstanding LA institutions that I'd sort of avoided over the years. The place opened back in 1997 as the An Family's first outpost in Los Angeles (the San Francisco location debuted in '91), and quickly established itself as a bit of a scene-slash-celebrity hotspot. It always seemed like the type of restaurant where the food wasn't necessarily the focus, which is what held me back. Recently though, I was cajoled into going, and I figured that it was finally time to pay Crustacean visit.



The interior's appropriate for the concept, with a sort of quasi-Vietnamese-colonial thing going on over two floors.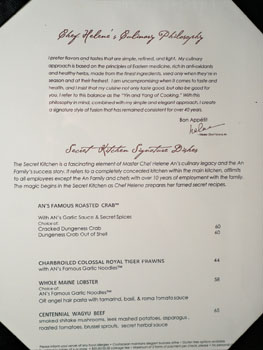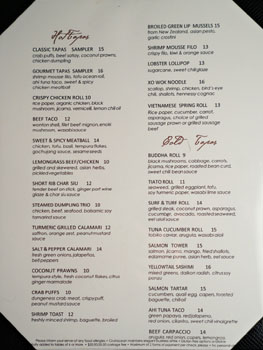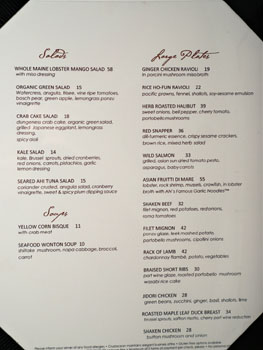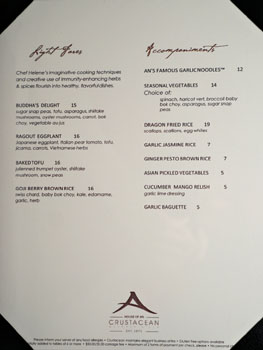 As for Crustacean's menu, it definitely has an old school, 1990s Asian fusion feel, which is pretty much what you should be coming here for. Click for larger versions.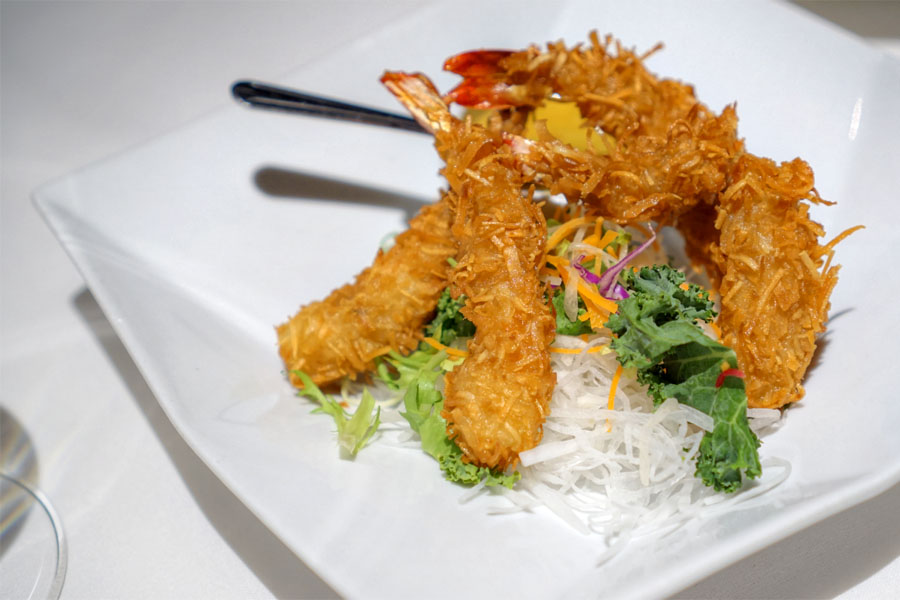 Coconut Prawns [$10.00]
| tempura-style, fresh coconut flakes, citrus ginger marmalade
First up were the prawns, which I found delightfully crunchy, their salinity matched by a marked sweetness from the coconut. Also key was the zippiness of the included citrus marmalade.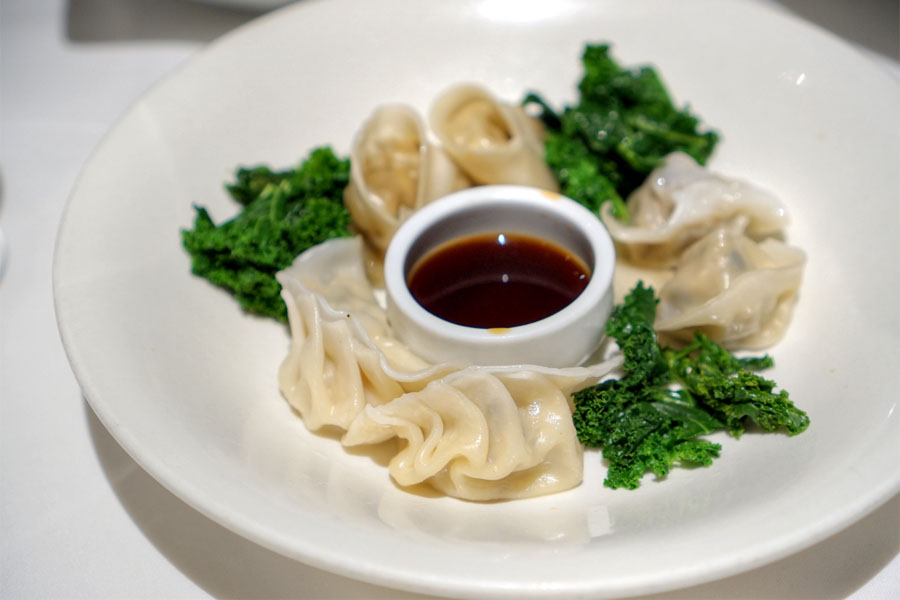 Steamed Dumpling Trio [$10.00]
| chicken, beef, seafood, balsamic soy tamarind sauce
Dumplings (I had the seafood ones) were passable, though tough and thick in terms of their wrappers.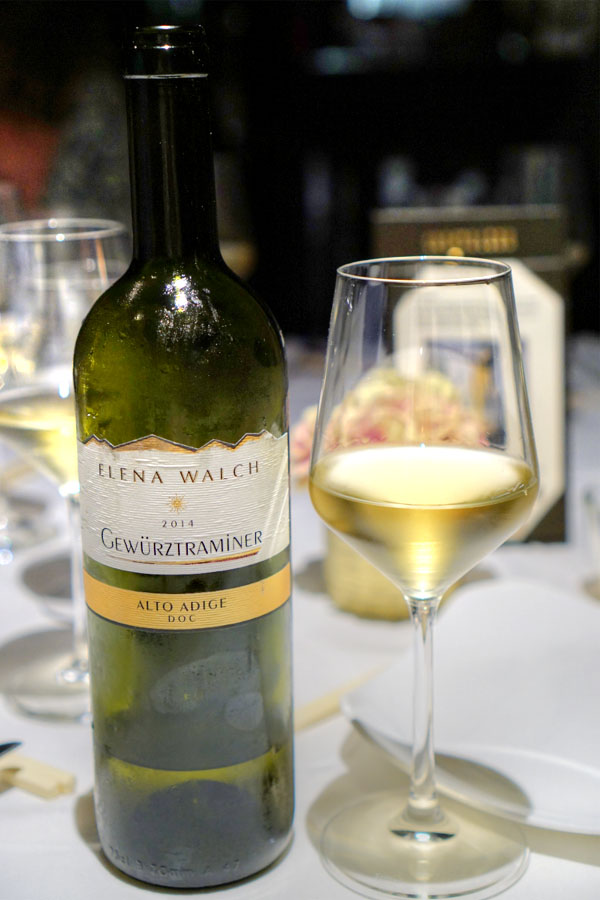 We went with wine this evening, and kickings things off was a Gewürztraminer, the
Elena Walch, Trentino-Alto Adige, Italy 2013 [$56]
. It was oxidative, a bit harsh on the nose, while the palate brought dry, nutty, slightly barnyardy notes along with a saline finish. I wasn't terribly enamored.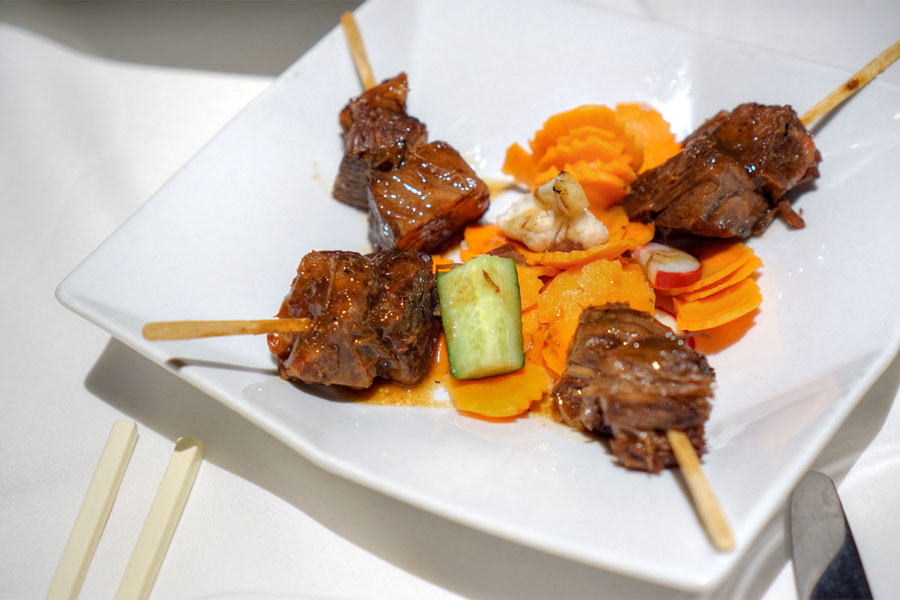 Short Rib Char Siu [$12.00]
| tender beef on stick, ginger port wine glaze & char siu sauce
Short ribs were properly tender, with loads of the dark, beefy, sweet flavors you'd expect. The carrots were an afterthought though.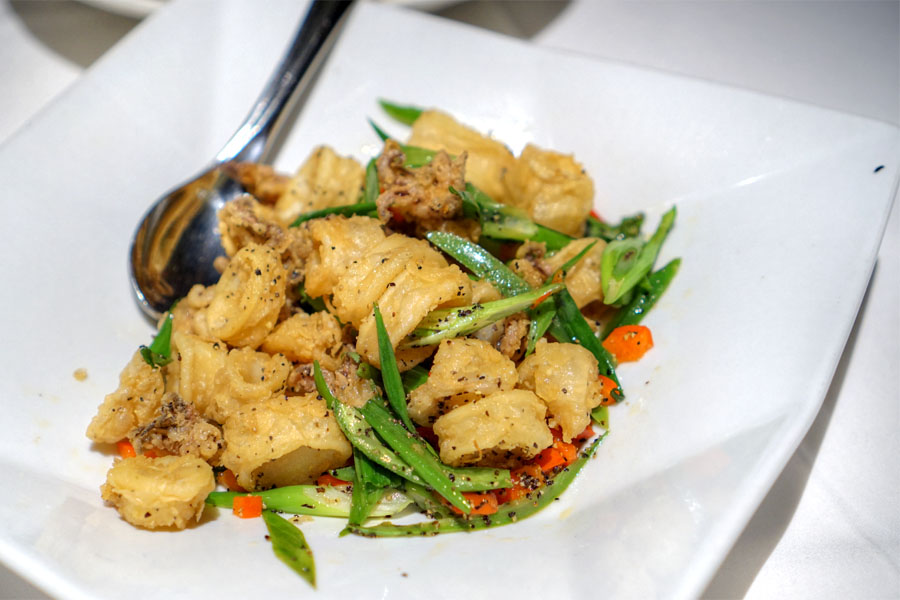 Salt & Pepper Calamari [$12.00]
| saffron, orange zest, peanut mustard sauce
The squid just might've been my favorite dish of the night thanks to its spot on salt-n-pepper flavors and zestiness from the scallions. One of the best fried calamari preparations I've had, actually.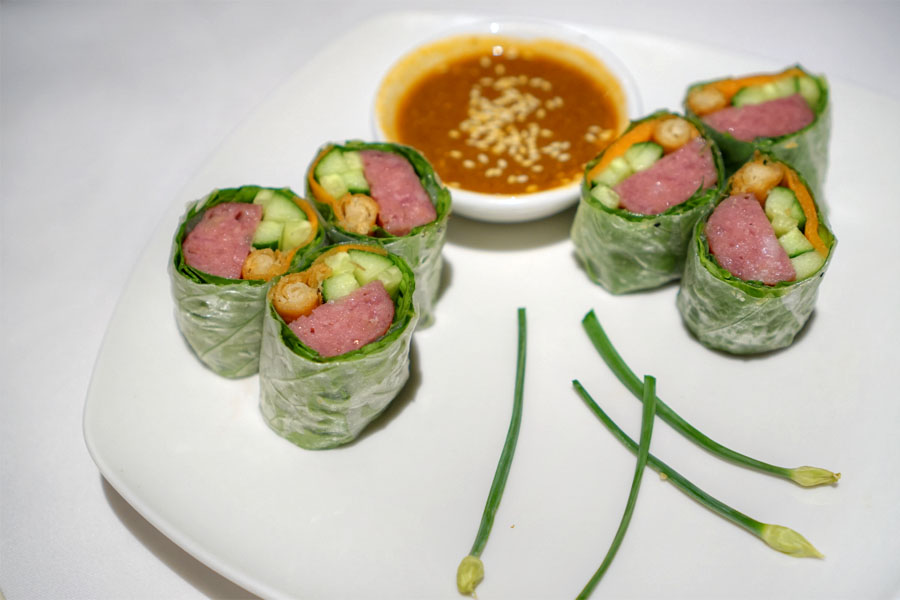 Vietnamese Spring Roll [$13.00]
| rice paper, cucumber, carrot, asparagus, choice of grilled sausage prawn or grilled sausage beef
We opted for the beef version of the rolls. They went a tad too sweet, and needed a touch more char on the meat, though the veggies did work as a nice counterpoint. Decent overall, though
Brodard
certainly need not worry.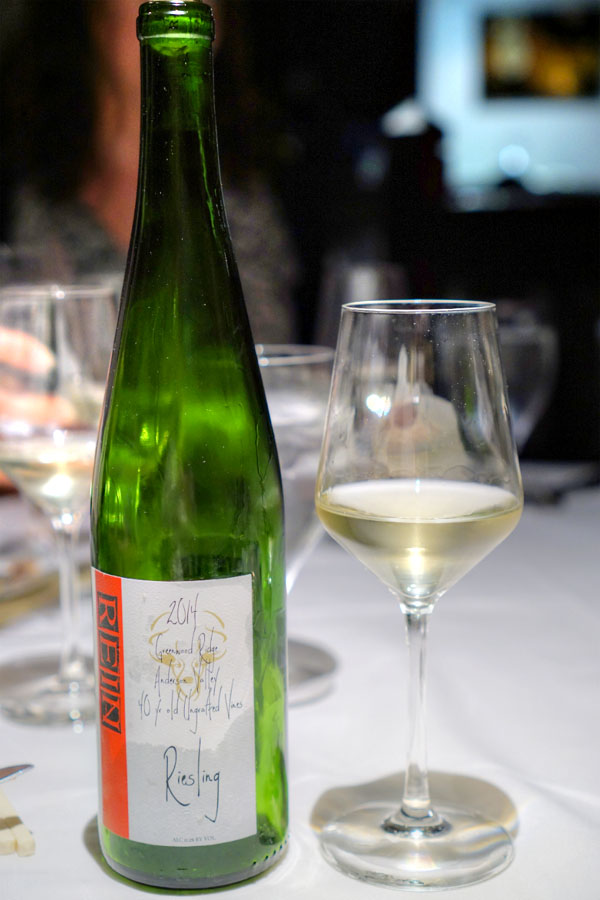 One of my dining companions brought a couple bottles, the first of which was the
2014 Greenwood Ridge Riesling 'Rein'
, an Old World-inspired wine from Anderson Valley. I found it somewhat saline to the smell, with some sweet, floral, apple-y notes going on. In terms of taste, think more clean, focused, fresh fruit, with a touch of nuttiness toward the back end. A bit more interesting than your usual German Riesling I'd say.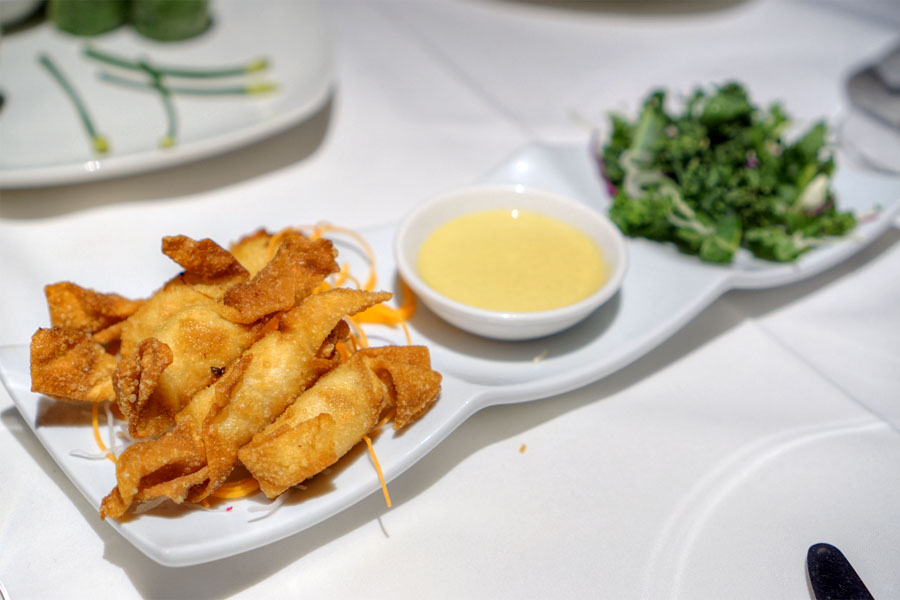 Crab Puffs [$10.00]
| dungeness crab meat, crispy puff, peanut mustard sauce
The puffs were sort of like a less slutty version of crab Rangoon. Too sugary and heavy-handed for me, though I did like the crunch of the fried wrappers.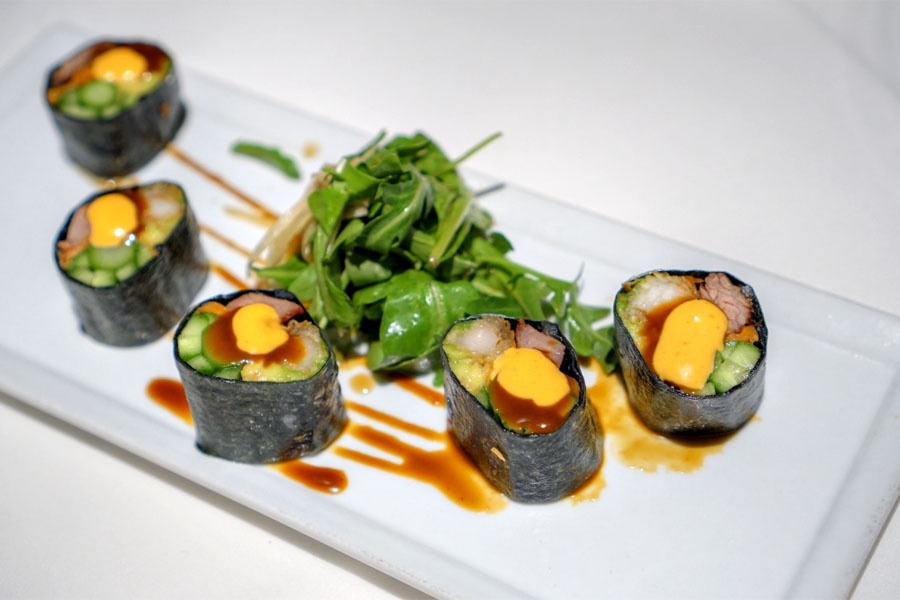 Surf & Turf Roll [$14.00]
| grilled steak, coconut prawn, asparagus, cucumber, avocado, roasted seaweed, eel aioli sauce
Surf-n-turf sounded like a good idea, but this was easily the weakest dish of night. Flavors were really muddled, incongruous, and just plain odd. Avoid this, please.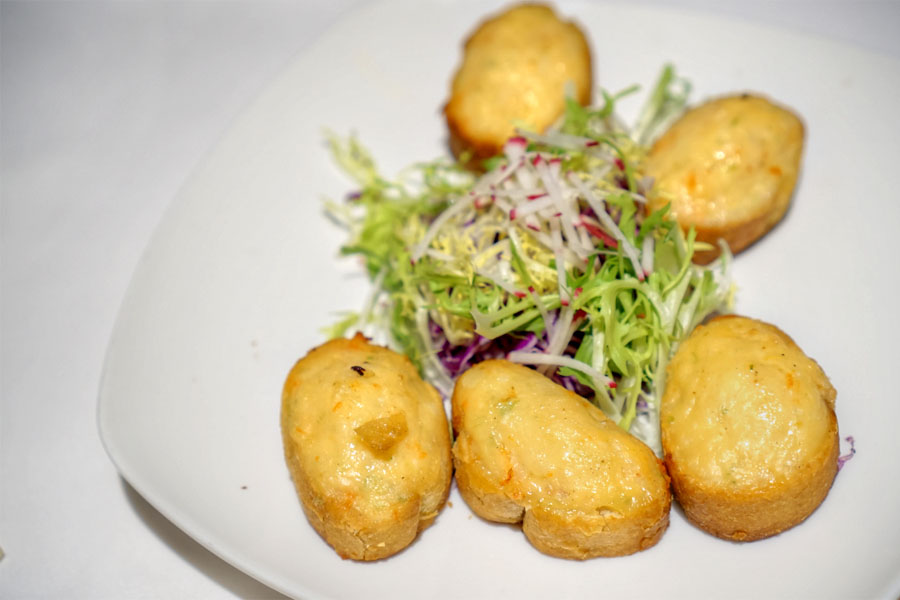 Shrimp Toast [$12.00]
| freshly minced shrimp, baguette, broiled
The shrimp toast showed off a satisfying brine that I enjoyed, but the baguette slices used were far too clumsy. Actual "toast" would've been more appropriate (see
Button Mash
for a recent example).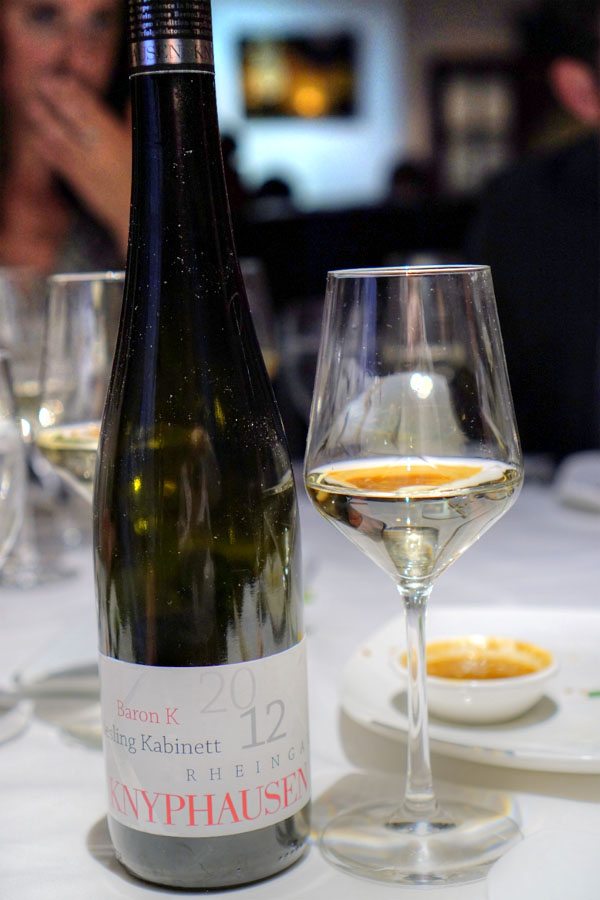 Following was another Riesling, the
Baron Knyphausen 'Baron K,' Rheingau 2012 [$55]
. This was more of a classic Kabinett, smelling of fresh, sweet fruit and tasting much the same, with a nice spice, acidity, and minerality to mellow things out.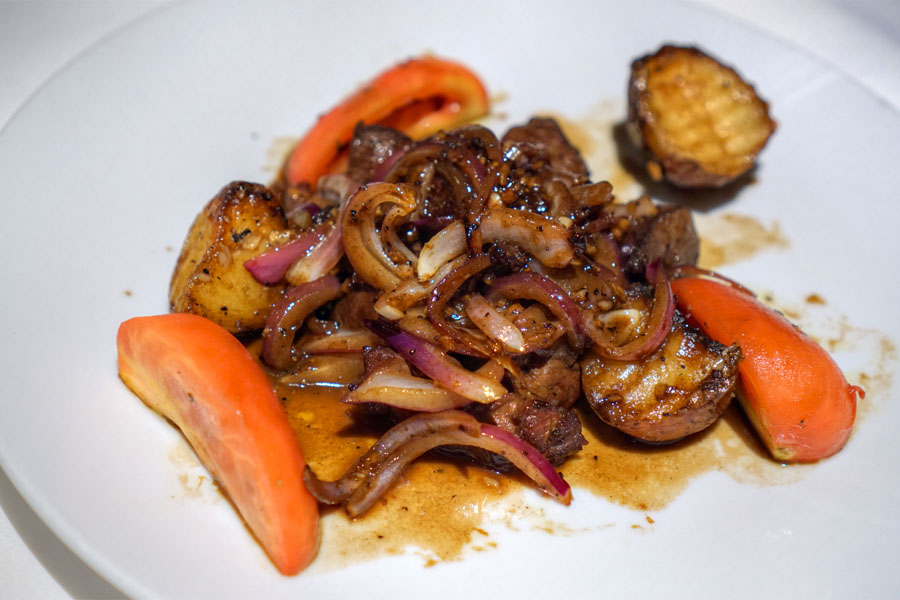 Shaken Beef [$32.00]
| filet mignon, red potatoes, red onions, roma tomatoes
Bò lúc lac
is perhaps the quintessential Vietnamese dish, and Crustacean's take was pretty tasty. I got a nice, deep spice and savoriness with the meat, and appreciated the tanginess of red onion as well. The issue was that the beef came out overcooked, and thus tougher than it should've been.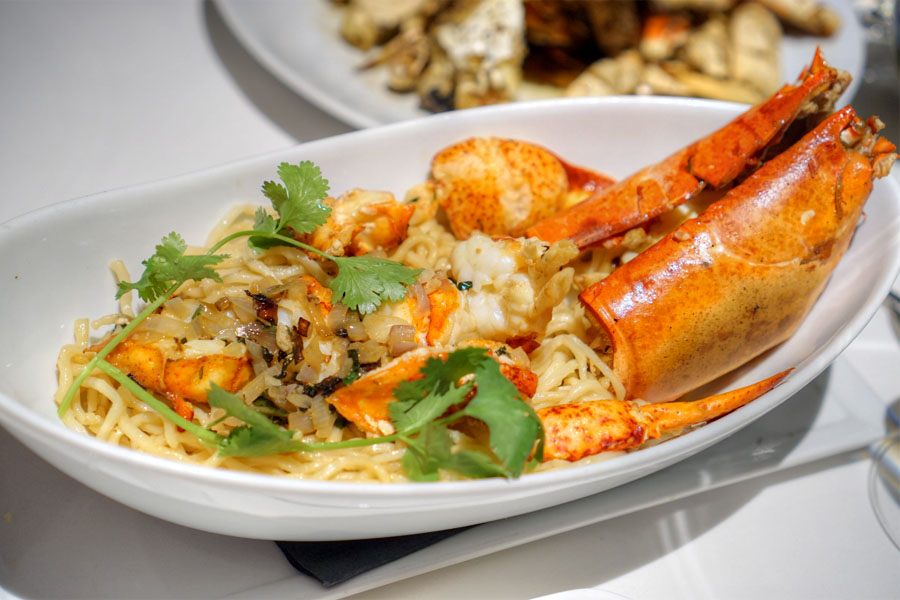 Whole Maine Lobster [$58.00]
| An's Famous Garlic Noodles
Lobster was perhaps a touch chewy, though well-flavored, with a lovely sweet-saline interplay happening alongside your Asian-y aromatics. The star here, though, was actually the signature noodles, which were just the right amount of garlicky.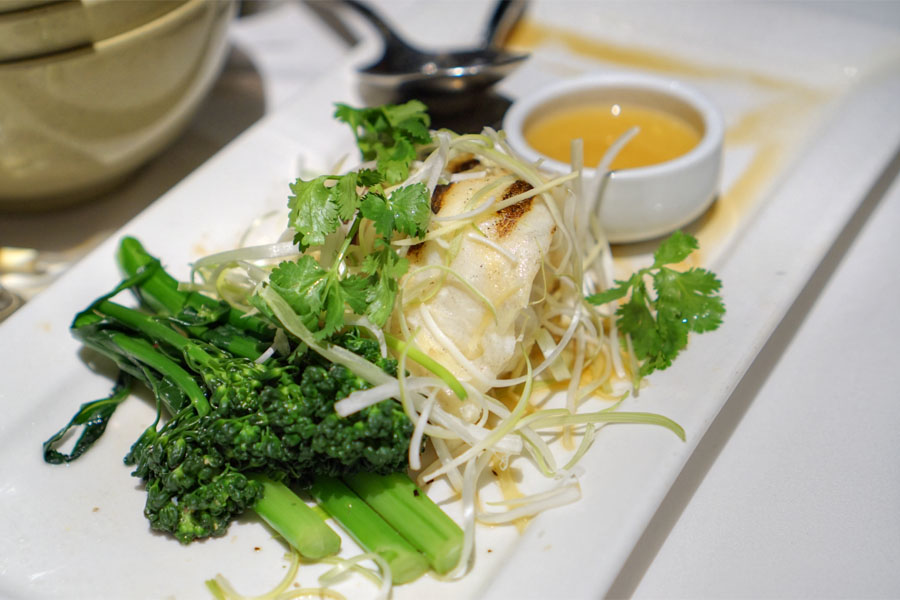 Steamed Chilean Seabass [$48.00]
Chilean sea bass is a bit of an anachronism on menus these days, but tonight it was offered as a special. The fish itself had a proper flake to it, and arrived tender, moist. Flavor-wise it was subtle, so the herbs on top were key. I wasn't as keen on the broccolini though, the blandest I've had.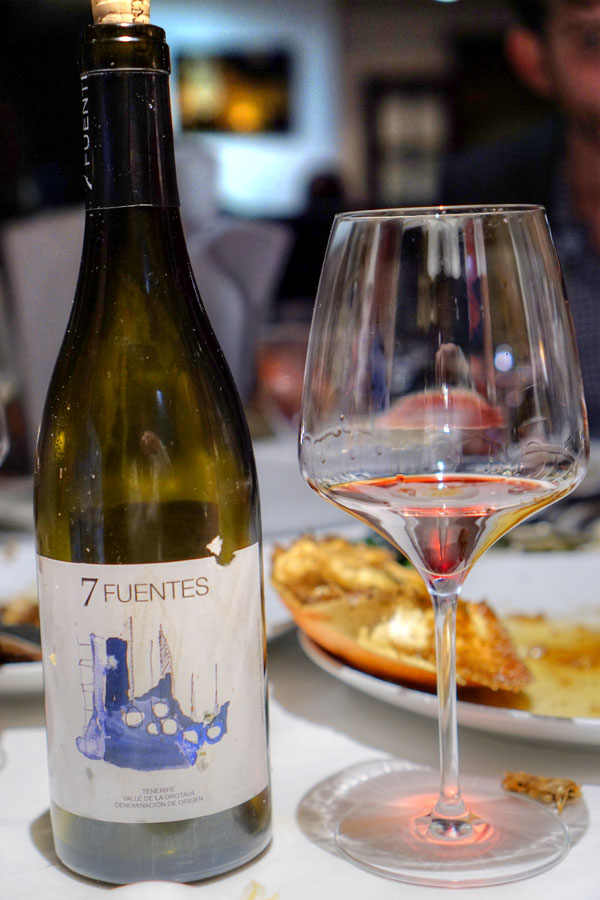 Our sole red was one that we'd brought, the
2013 Suertes del Marqués 7 Fuentes
, a listán negro from the Canary Islands. It was probably my favorite wine of the night. Deeply aromatic, intoxicating violet, dark fruit, and spice on the nose. The palate brought further floral notes and more spice, along with a fresh, fruity finish cut by a pleasant acidity.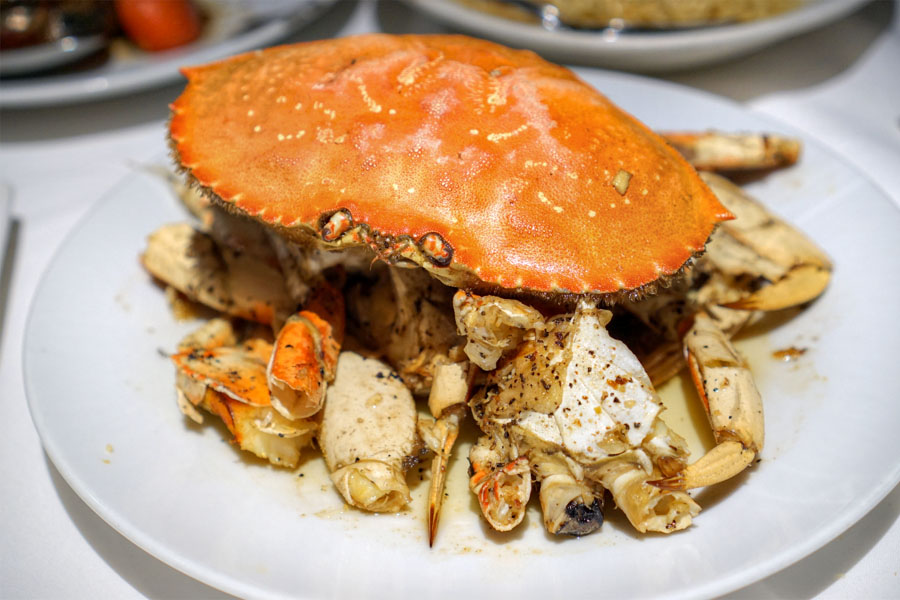 An's Famous Roasted Crab [$60.00]
| With An's Garlic Sauce & Secret Spices
Naturally, we ended with the restaurant's oft-mentioned crab, which managed to be a crowd pleaser. I found a great savoriness and peppery spice to go along with the garlicky notes and inherent brine and sweetness of the crustacean. I think you pretty much have to order this if you haven't tried it already.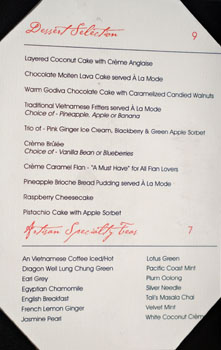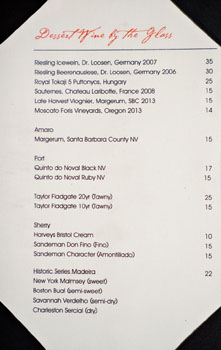 We had to try some dessert of course, all of which came out on some decidedly throwback dishware. Click for larger versions.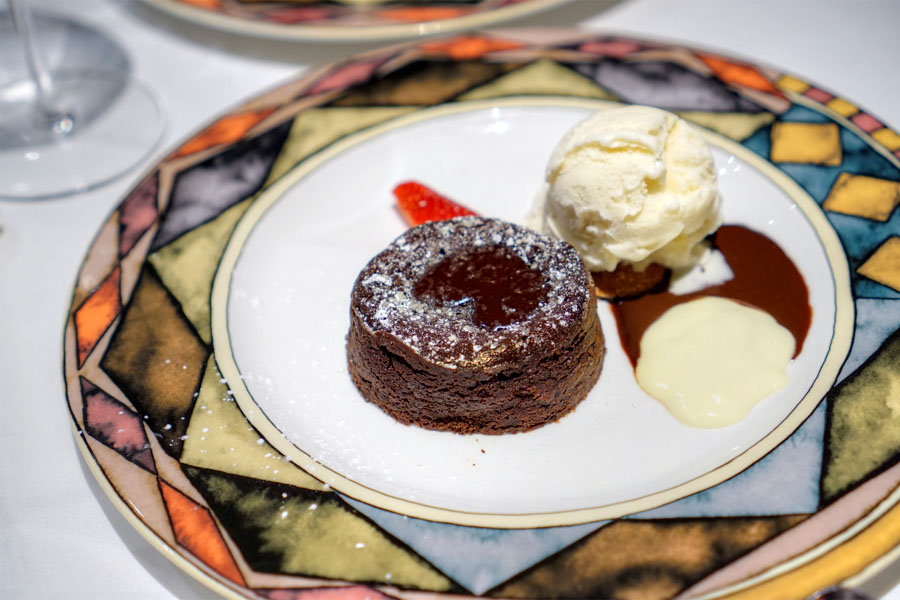 Chocolate Molten Lava Cake served À La Mode [$9.00]
A prosaic preparation of everybody's favorite dessert cliché. Not even molten.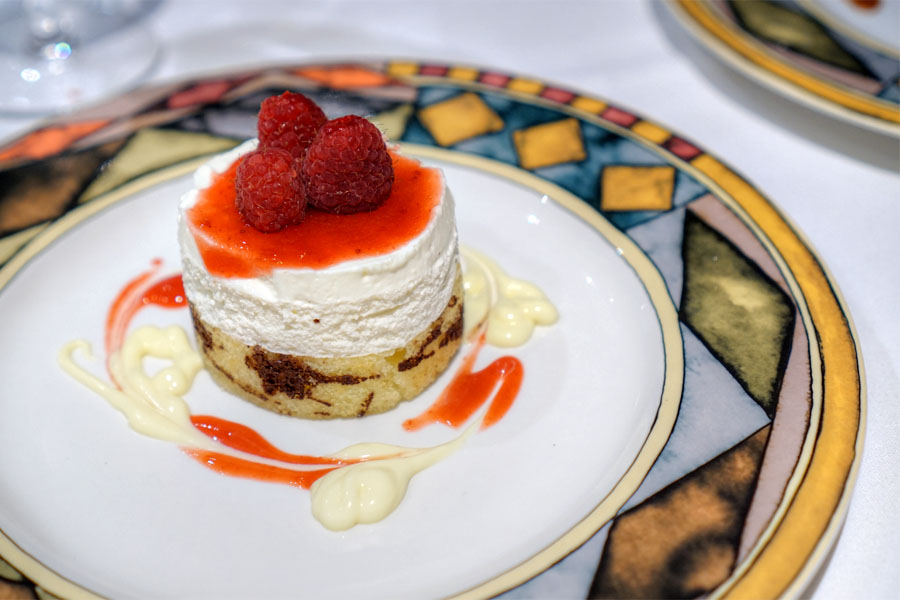 Raspberry Cheesecake [$9.00]
The cheesecake was decently creamy, with a slight lactic tartness to pair with the fruity flavors present.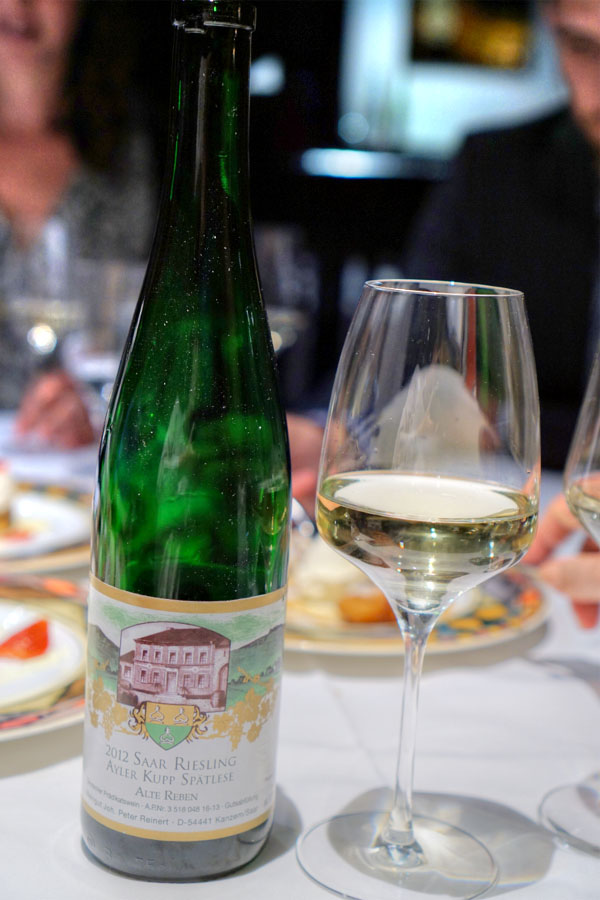 Continuing with the Riesling theme, we opted for a Spätlese to close, the
WJ Peter Reinert, 'Ayler Kupp,' Alte Reben, Saar 2012 [$66]
. It was just what I wanted: rife with aromas of sweet, tropical fruit, and tasting strongly of pineapple and citrus balanced by a marked acidity and minerality.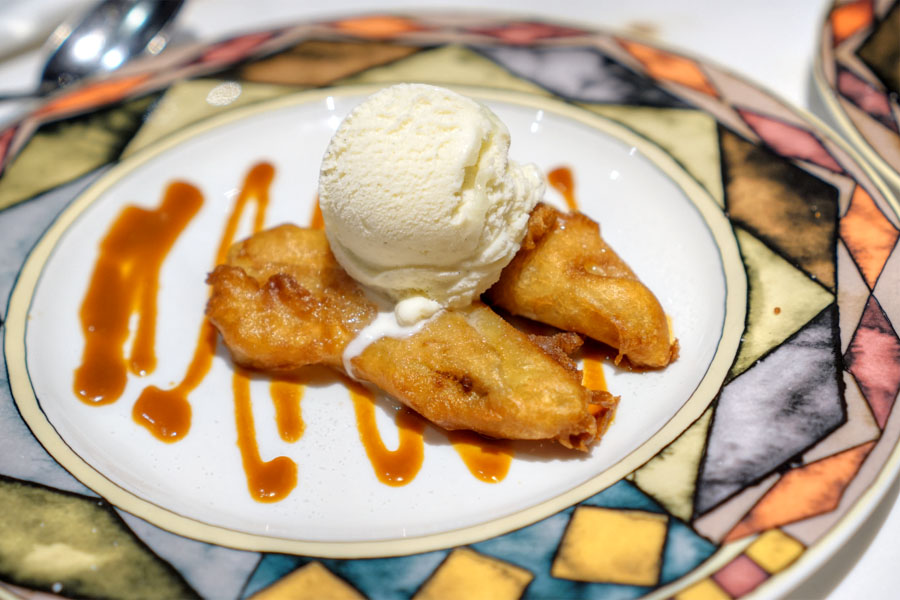 Traditional Vietnamese Fritters served À La Mode [$9.00]
| Banana
Fried bananas were tasty, as was the vanilla ice cream.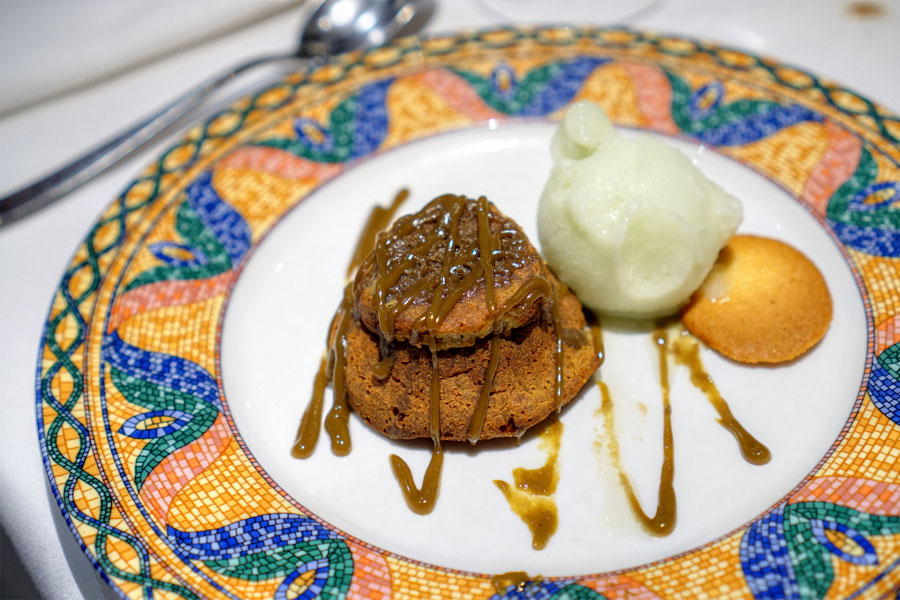 Pistachio Cake with Apple Sorbet [$9.00]
The pistachio cake was the weakest dessert of the five, no question, coming out dry, crumbly, and not particularly well-matched to the sorbet on the side. A chore to eat.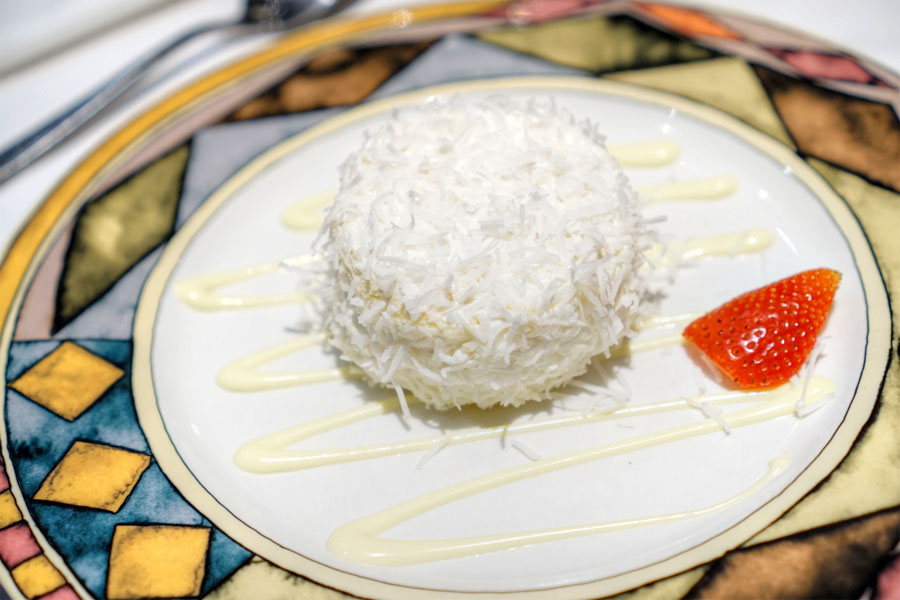 Layered Coconut Cake with Crème Anglaise [$9.00]
We ended with my favorite of the bunch. Think moist, rich, and with just enough sweetness from the coconut.
Crustacean was probably a bit better than I was expecting, though our meal was still a mixed bag. There were certainly successes on the menu, but the food was uneven, with some dishes being ill-conceptualized, others lacking in execution. I am glad that I finally crossed this place off my list though.