Hanjip (Culver City, CA) [2]
Hanjip Korean BBQ Restaurant
3829 Main St, Culver City, CA 90232
323.720.8804
www.hanjip.com
Sat 07/30/2016, 07:45p-11:05p

I last visited
Hanjip
--that KBBQ joint from Chef Chris Oh and partners Stephane Bombet and François Renaud--last November, shortly after the place opened, and returned recently to attend a birthday dinner.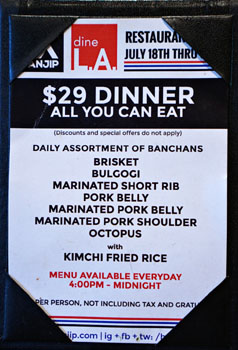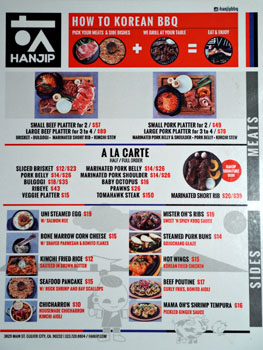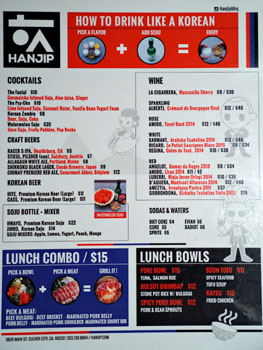 Since it was a birthday event, to simplify things we opted for the $29 all-you-can-eat DineLA special in lieu of the regular menu, though we did end up ordering a few supplemental dishes. Click for larger versions.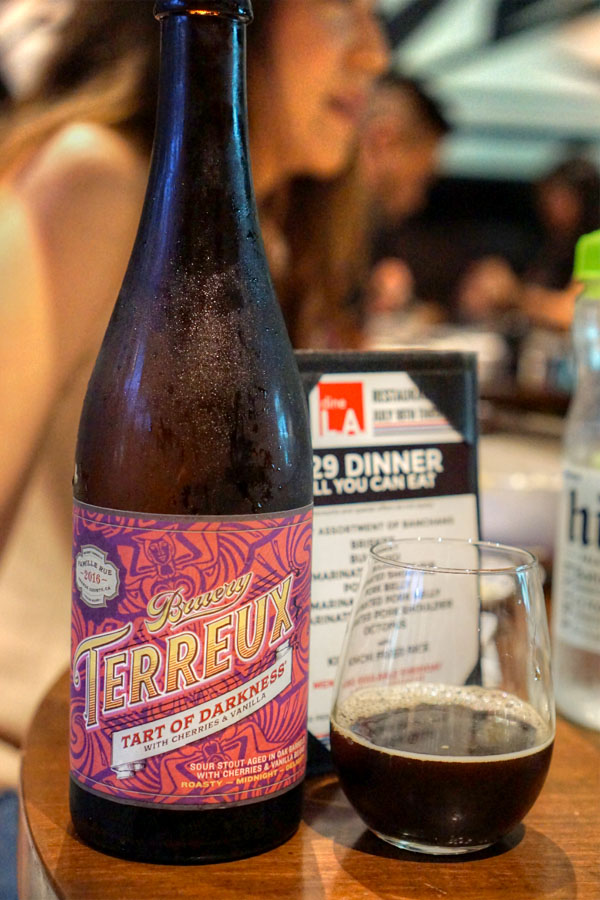 We drank beer this evening, beginning with the
2016 Bruery Terreux Tart of Darkness with Cherries & Vanilla
, a sour stout aged in third-use oak barrels. It smelled of tart cherry commingled with roasty malt, while the taste brought lots of rich, aromatic vanilla leading to a sweet-sour spice that I found reminiscent of Chinese
suanmei
.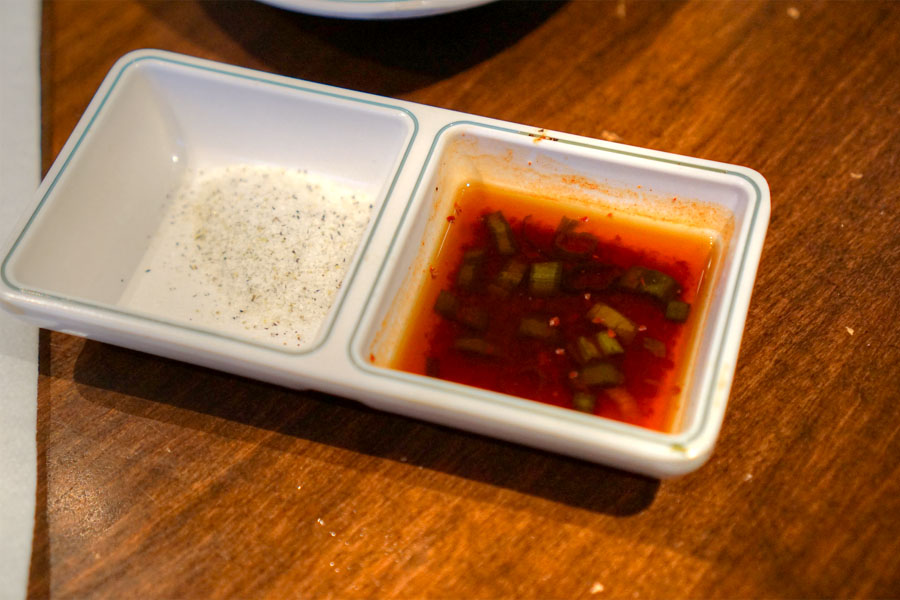 To dip: salt & pepper along with a tangy soy-based condiment.
Ssamjang
was also provided.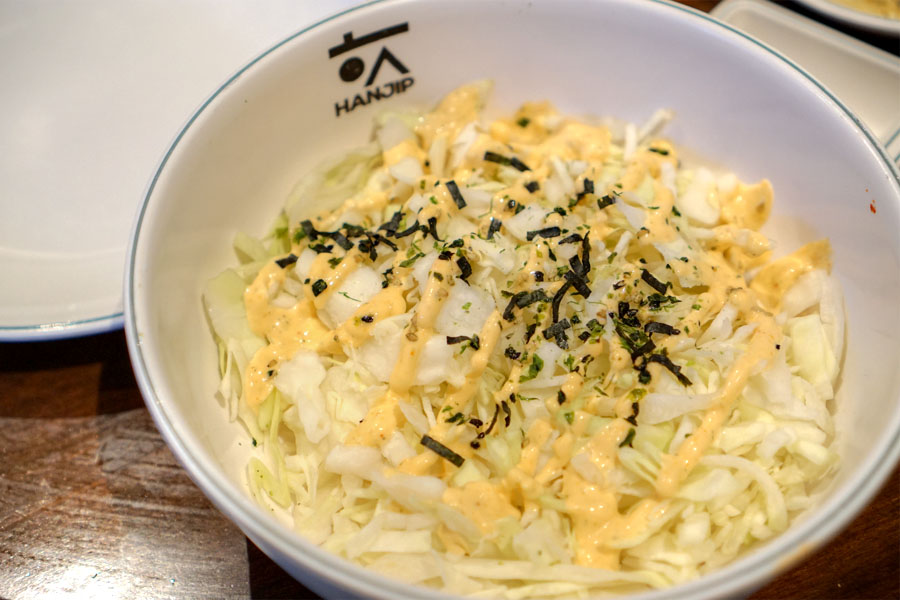 The salad--creamy and loaded with sesame--made for a contrast to all the meat we'd be having.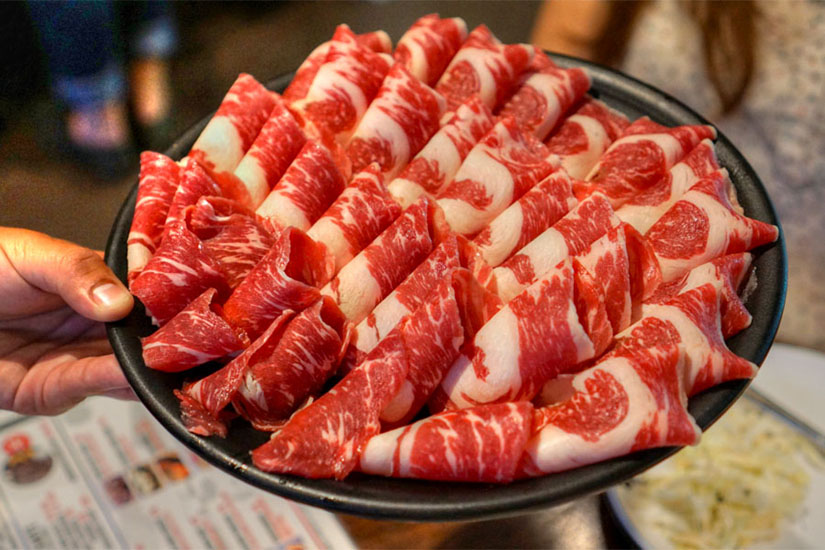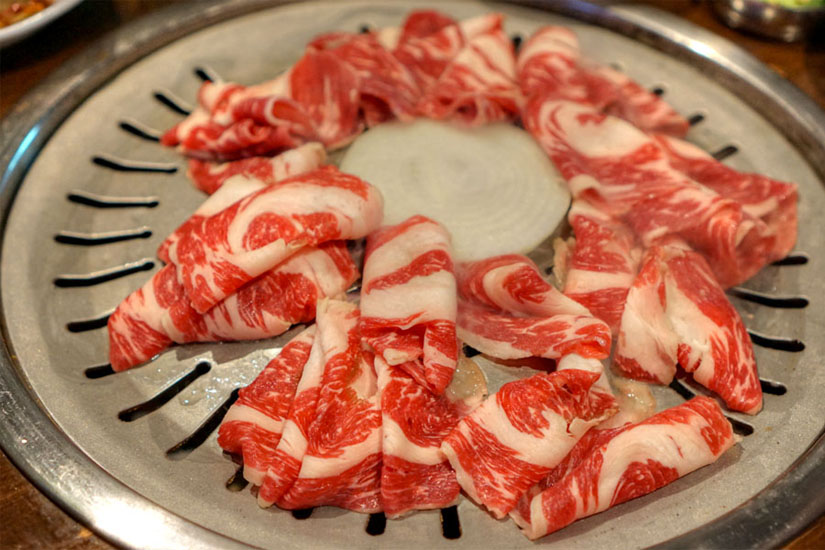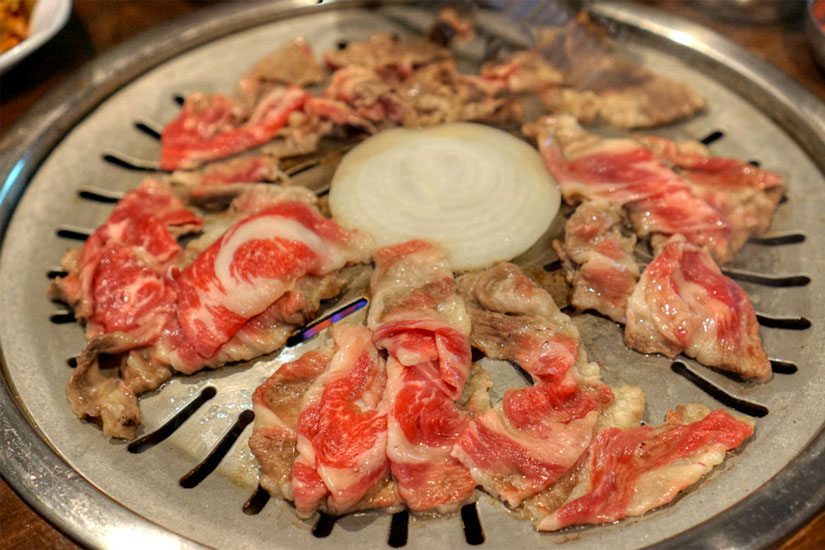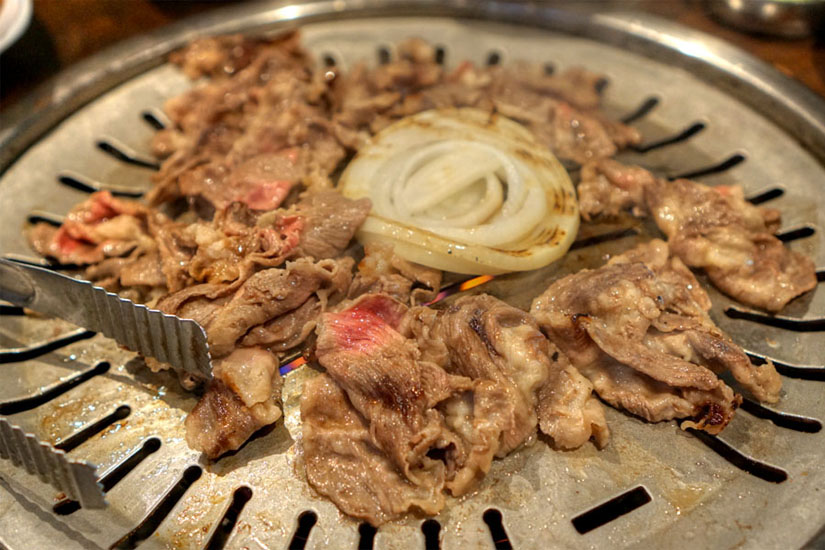 Brisket
The usual starter of
chadol
largely delivered with its balance of beefy and char flavors.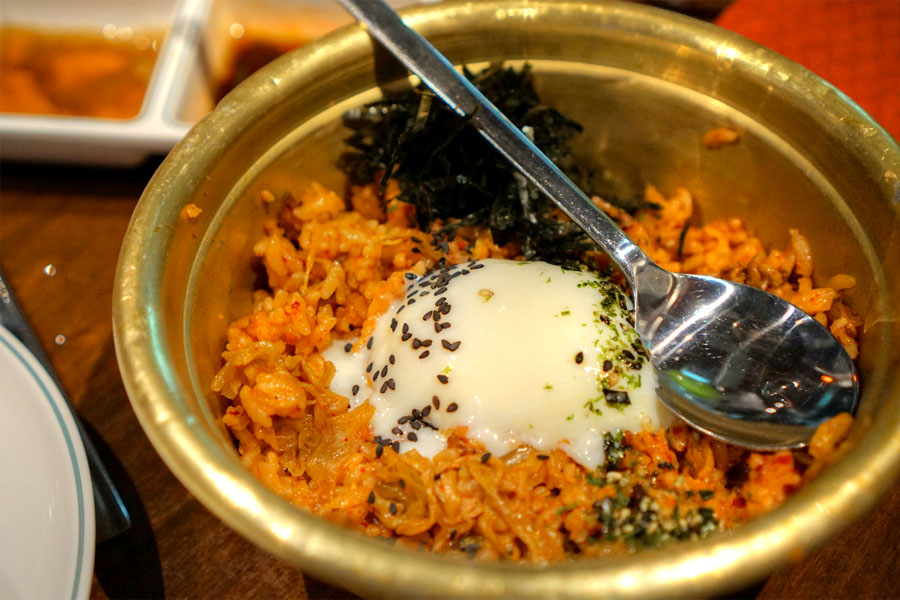 Kimchi bokkeumbap
came with the AYCE deal and was a pretty classic preparation, with a pleasant spice to it and plenty of umami courtesy of the
gim
.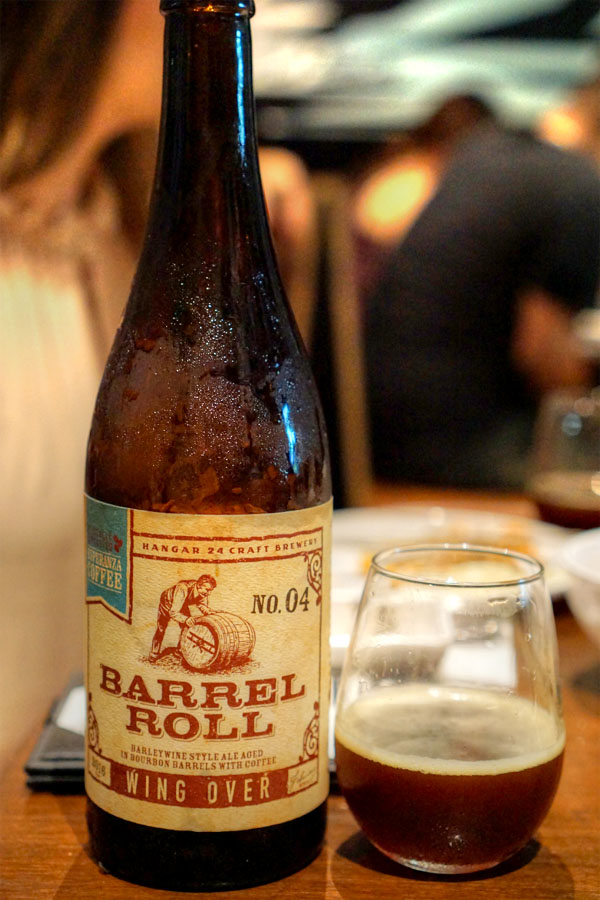 The
2016 Hangar 24 Barrel Roll No. 4 Wing Over Esperanza
was a dry-hopped, bourbon barrel-aged barleywine with Augie's Esperanza coffee from Guatemala. Nose of forceful malt and spicy, aromatic hops. Taste brought more hoppiness and tanginess on top of further malt, bitter coffee, bourbon, and strong caramel.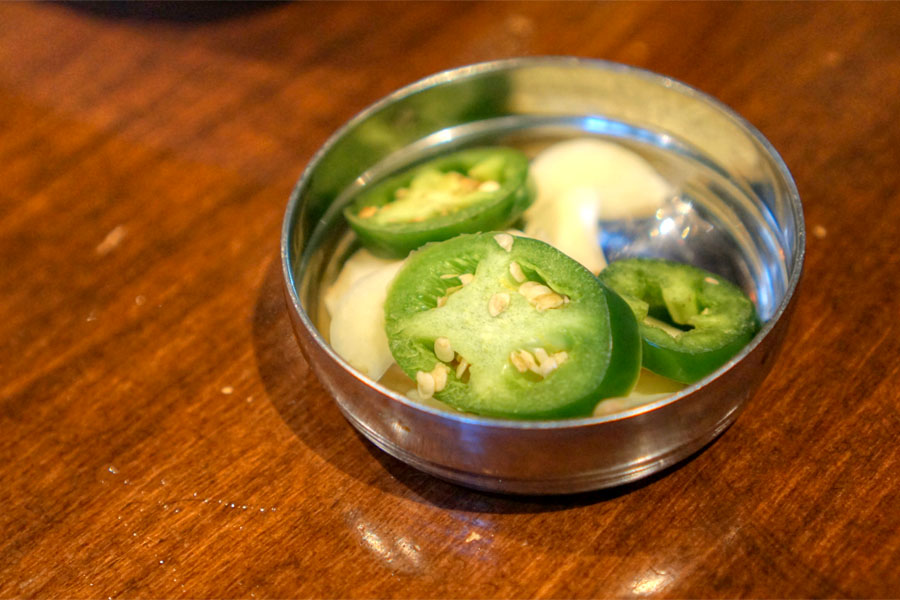 The requisite jalapeño and garlic, an LA invention I believe.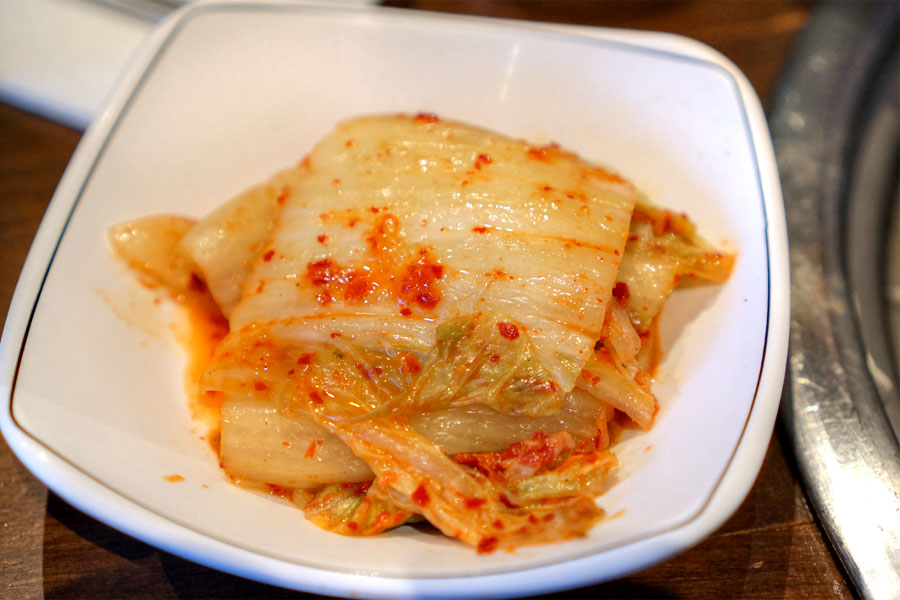 Baechu kimchi
was extra sour, and a bit reminiscent of Chinese
zha cai
, interestingly.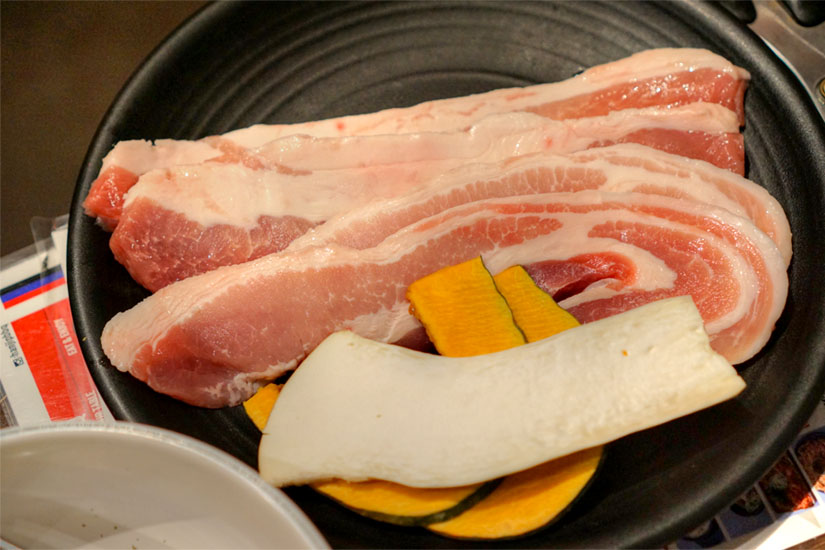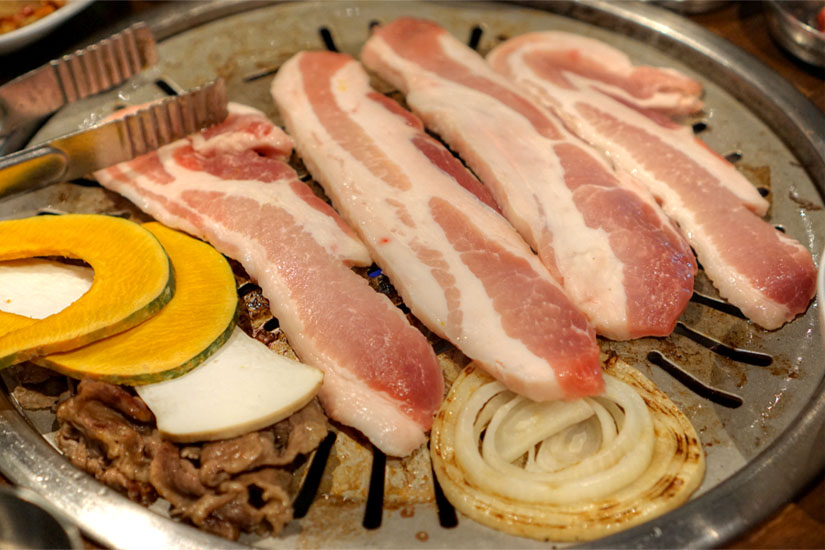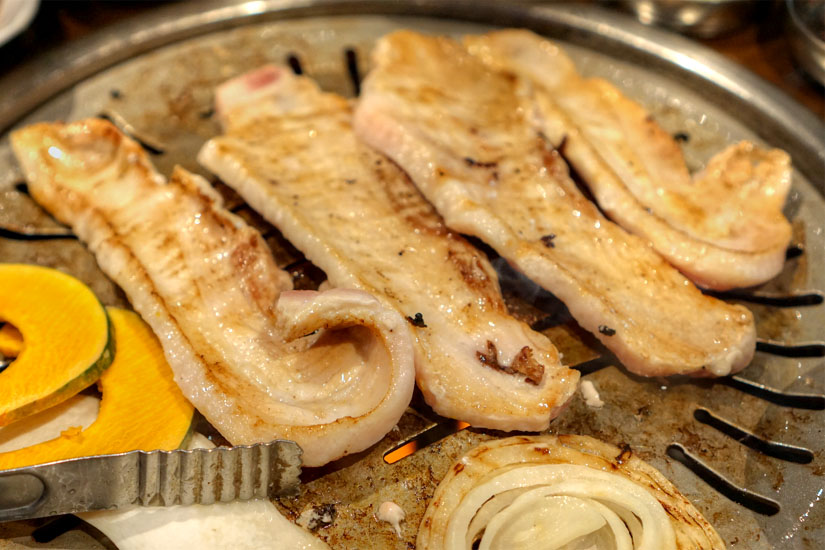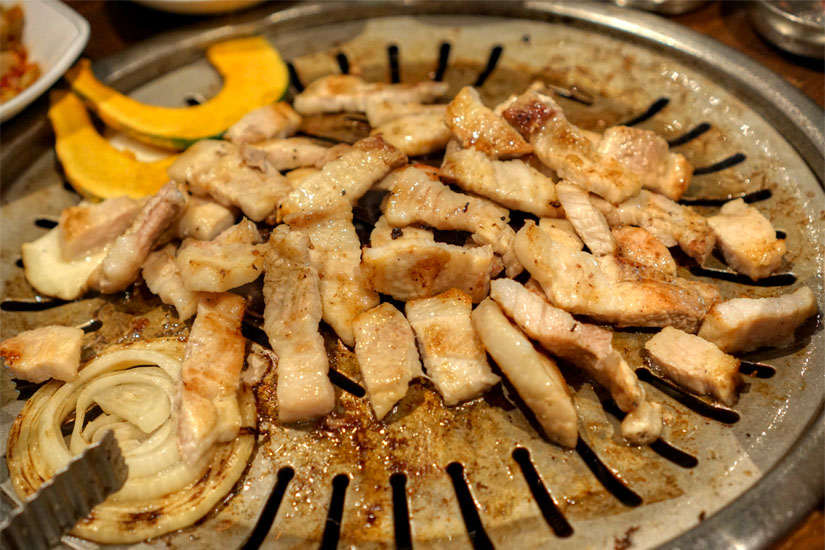 Pork Belly
Samgyeopsal
was properly porky as expected, with some nice charring going on.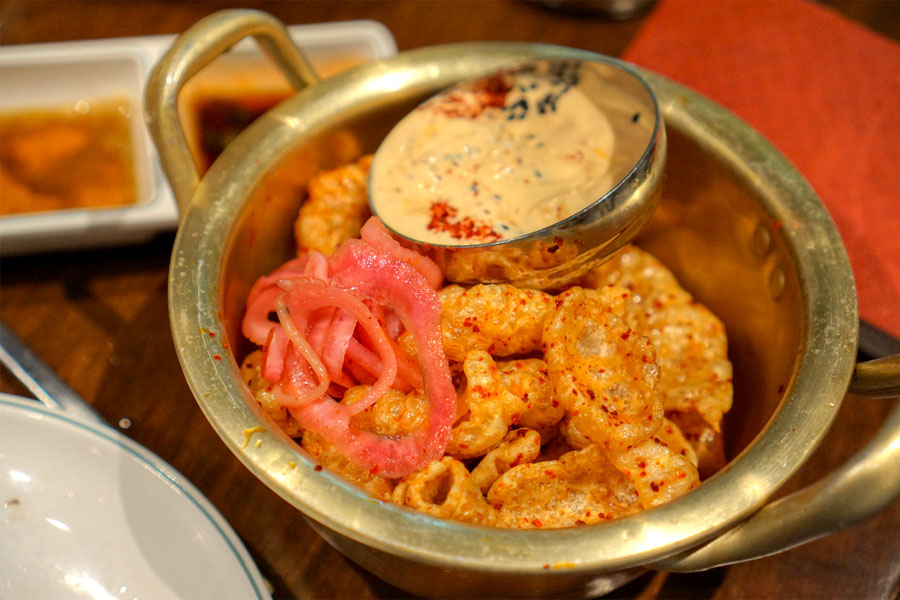 Chicharron [$10.00]
| Housemade Chicharron, Kimchi Aioli
Pork rinds were delightful thanks to their crunchiness and that creamy, zippy dip on the side.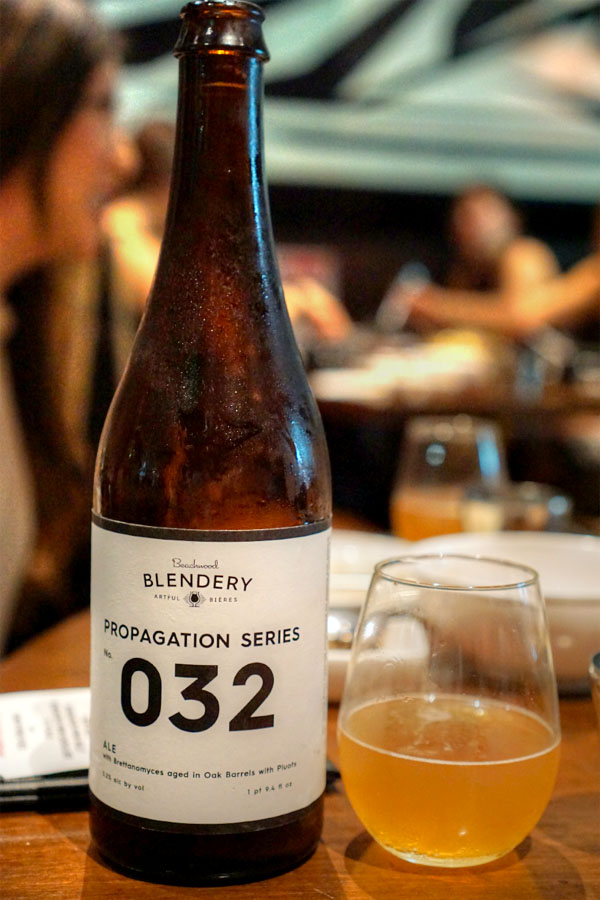 Here was a Brett saison aged in oak with Flavor King pluots, the
2015 Beachwood Blendery Propagation Series: No. 032
. Bouquet of the expected stone fruit commingled with sweet spice. On the palate, the Brett came out more prominently, joined by tartness and light pluot notes.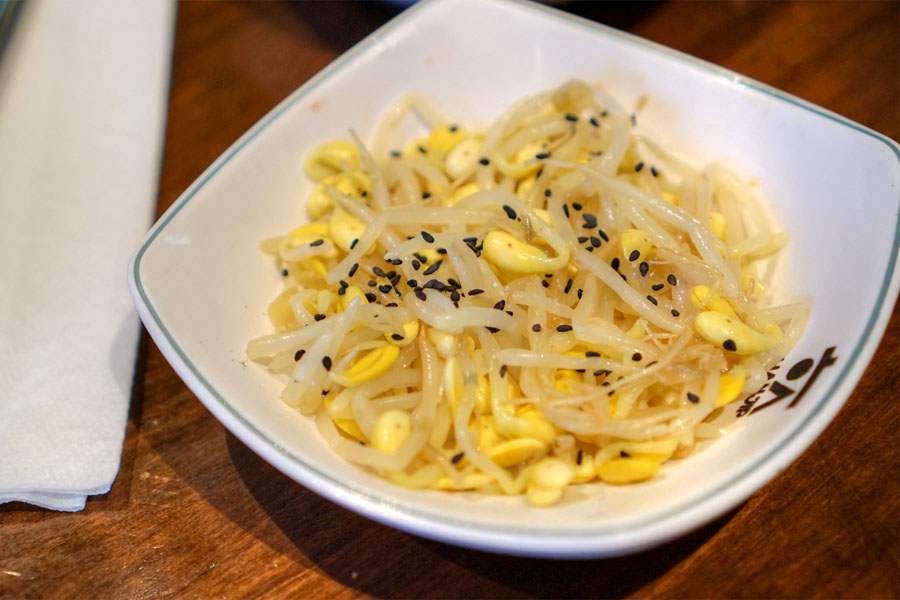 Kongnamul
were on point: crisp and well-accented by the sesame.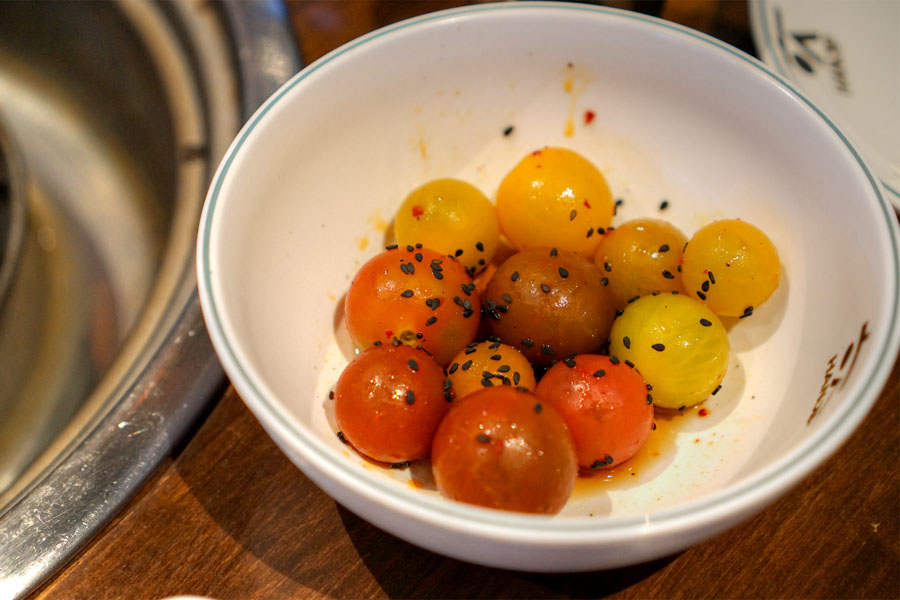 Tomatoes could've been a bit juicier though.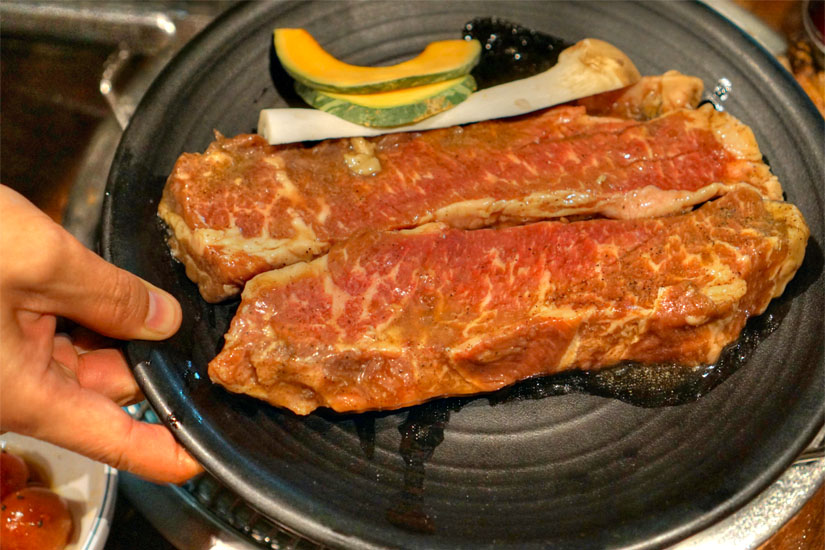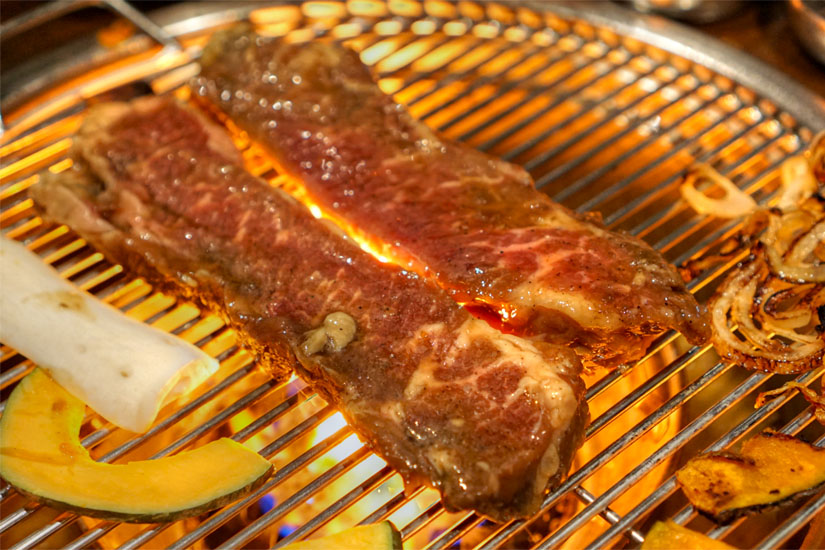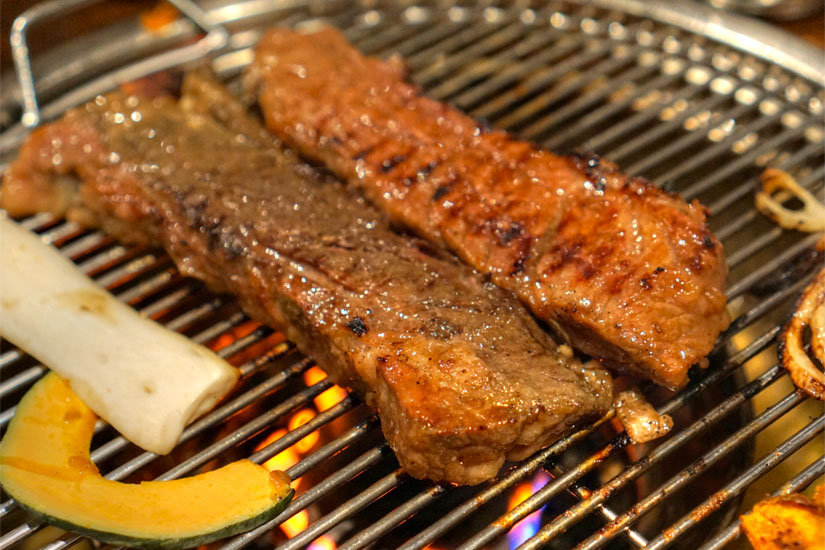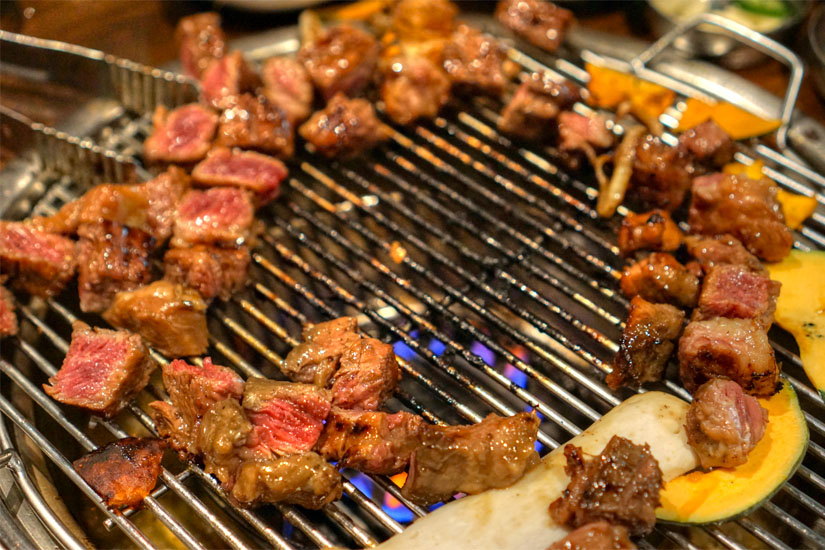 Marinated Short Rib
I don't think I've encountered a cut of
yangnyeom galbi
quite like this before, and I sort of missed the bone. In any case, the meat arrived in a sweet-yet-peppery marinade, and was pretty tender overall, but also chewier than I'd like in certain parts.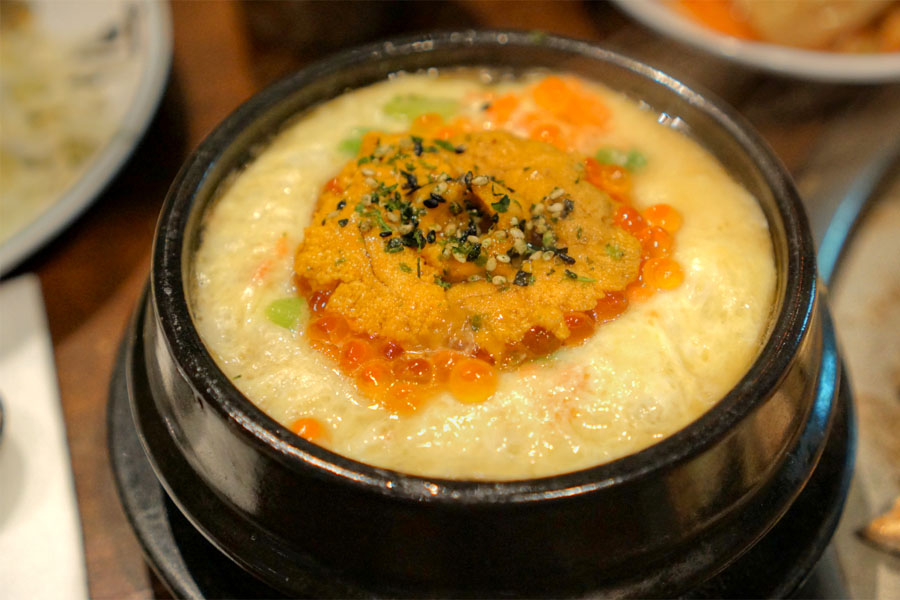 Uni Steamed Egg [$19.00]
| w/ Salmon Roe
Hanjip's take on
gyeran jjim
was as good as ever, the light, fluffy egg marrying beautifully with the oceany combination of salmon and sea urchin roes.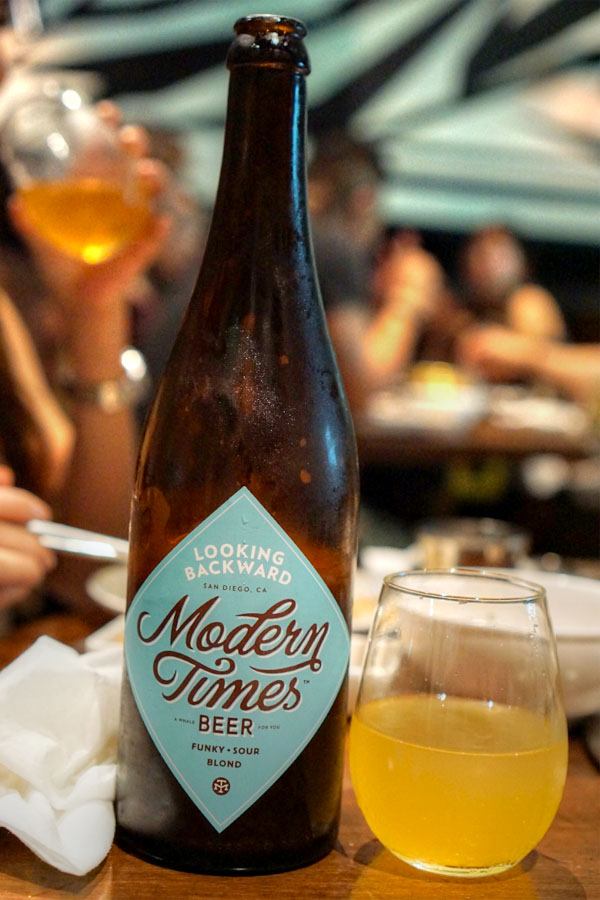 The
2015 Modern Times Looking Backward
was a sour blonde with Lacto, Pedio, and Brett, aged over a year in white wine barrels. Lovely nose of tartness, tropical funk, and fruit. In terms of taste, again quite sour and acidic, with more earthiness, wine-like nuances, and a distinct grain-y profile. This one did well in cutting through the heft of all the meat we had.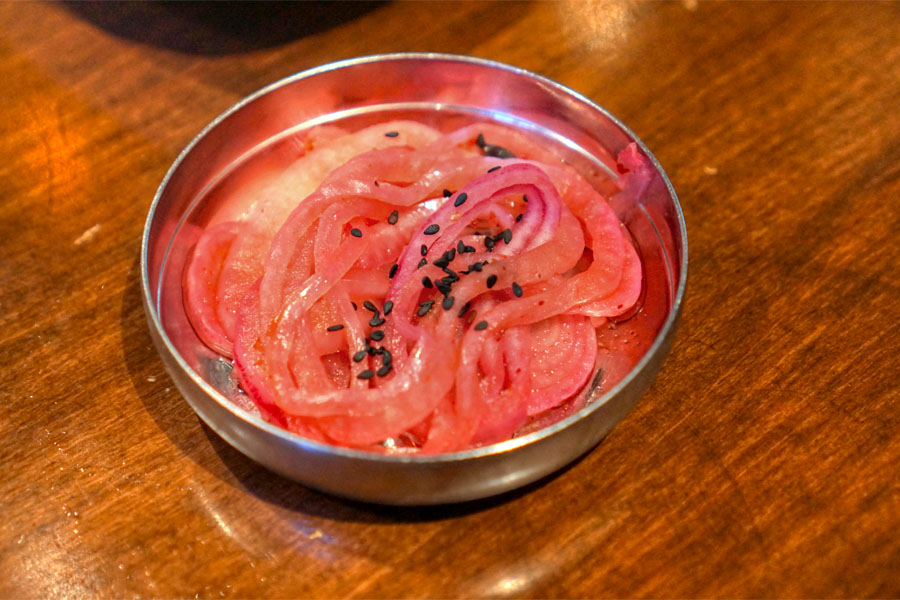 Pickled
yangpa
--tangy and sweet.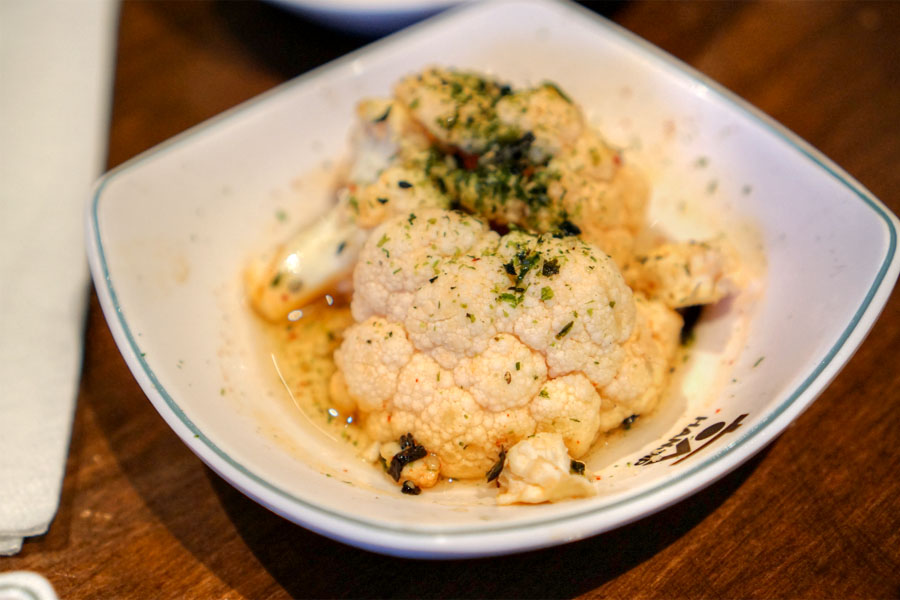 You don't see cauliflower
banchan
very often. I found it light and crunchy, though it could've used a touch more acid.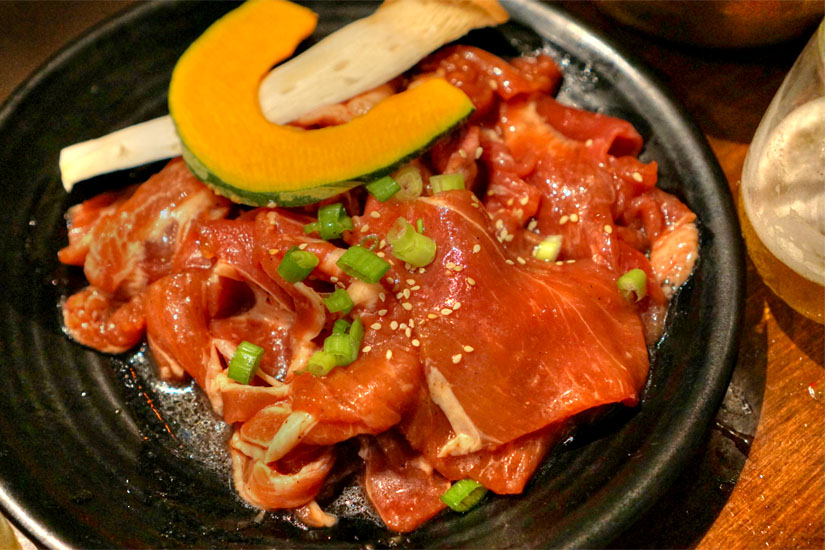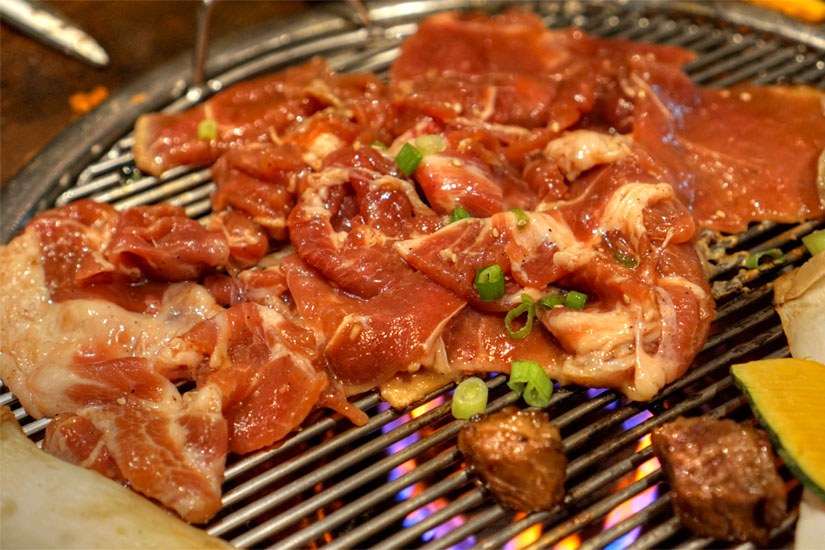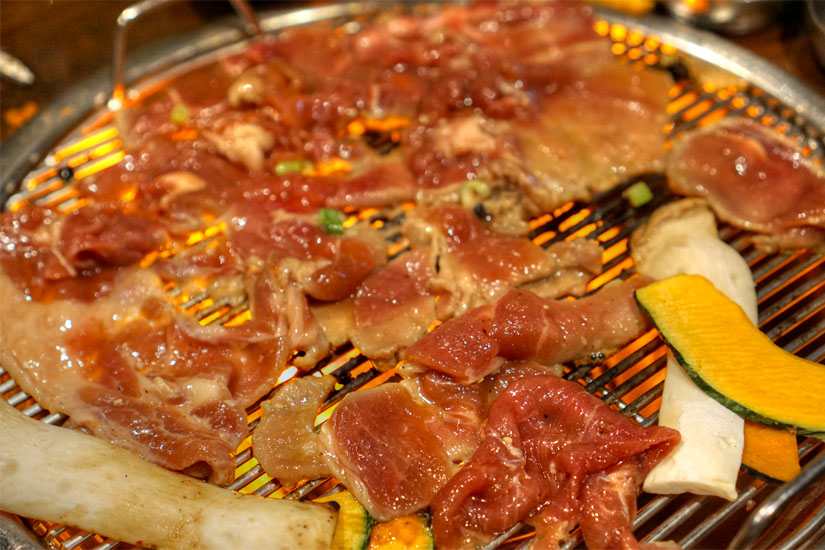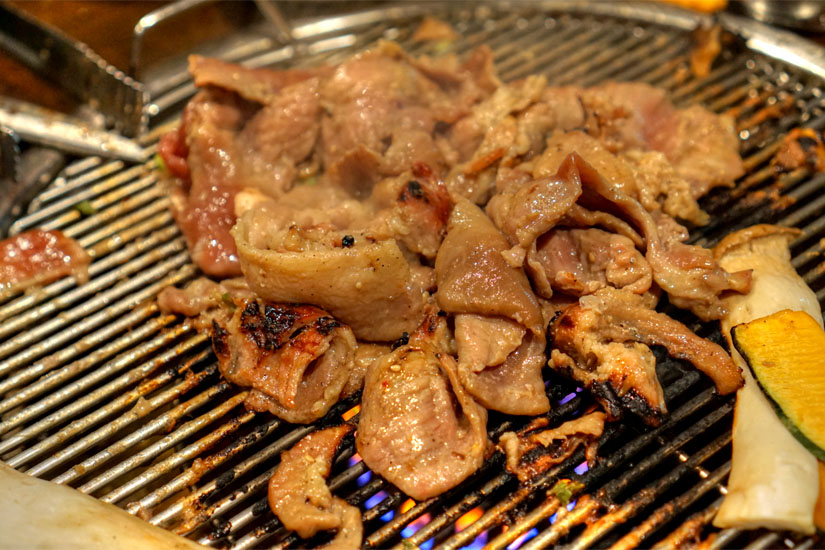 Marinated Pork Shoulder
Moksal
came out thinly-sliced instead of in the usual steak-like presentation. It did make for quicker cooking and some fairly tender bites, while taste-wise, the meat went sweet and porky, with a peppery spice and some charring.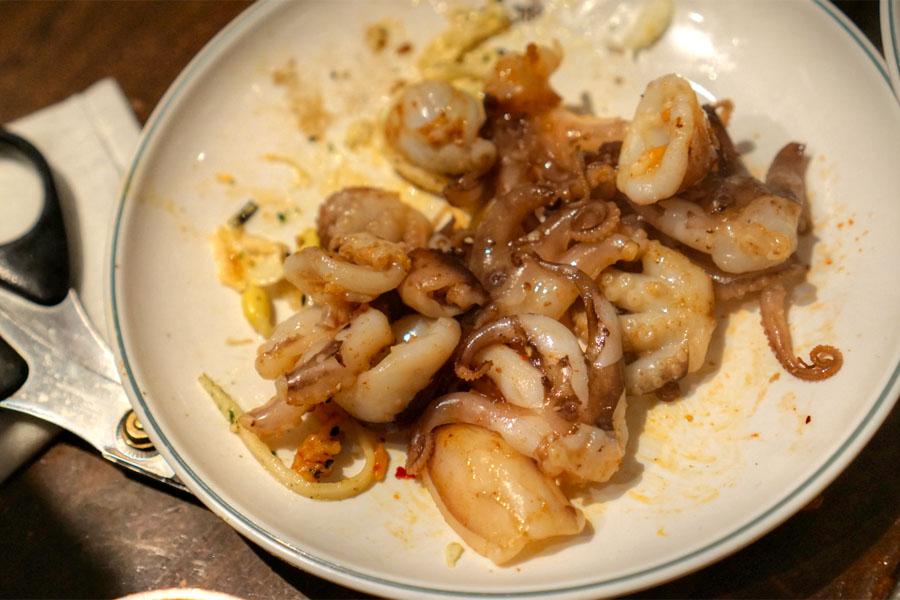 The other table in our party (we were split up given the size of the group) sent over some octopus that they'd ordered. The
nakji
was tender and snappy, though it veered overly salty.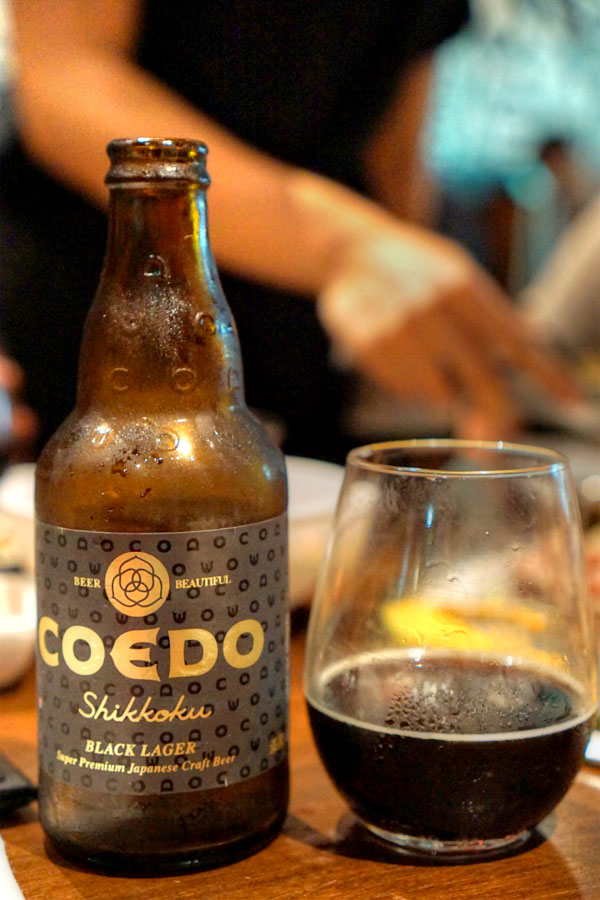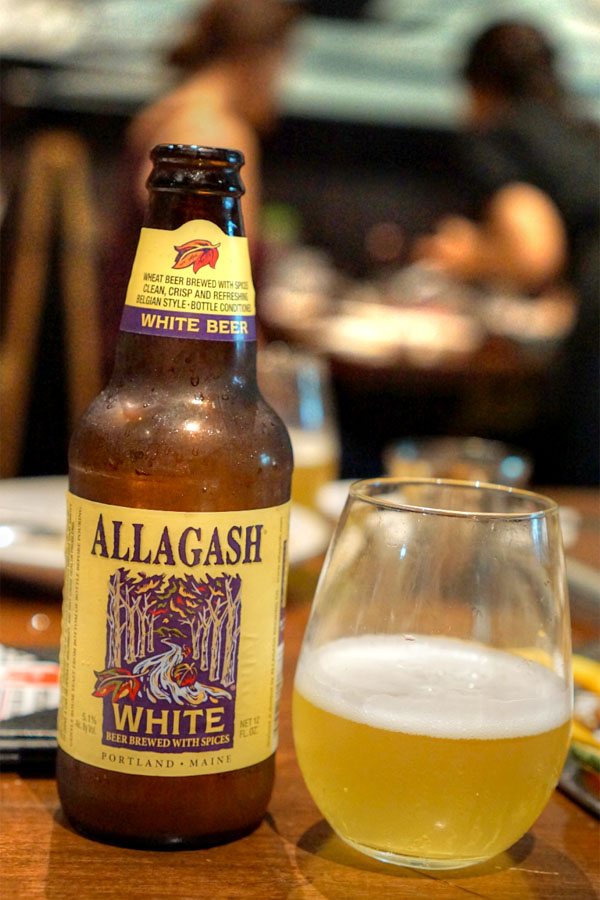 We also ordered a couple beers off the menu. The
Shikkoku Black Lager, Coede Brewery, Japan [$9]
didn't have much going on in terms of aroma. However, on the palate I got some nice bitter-roasty notes along with dark fruit and licorice. The
Allagash White Ale, Portland, Maine [$8]
, on the other hand, was crisp and refreshing, with plenty of tart, citrusy, yeasty notes to power through the richness of the meat.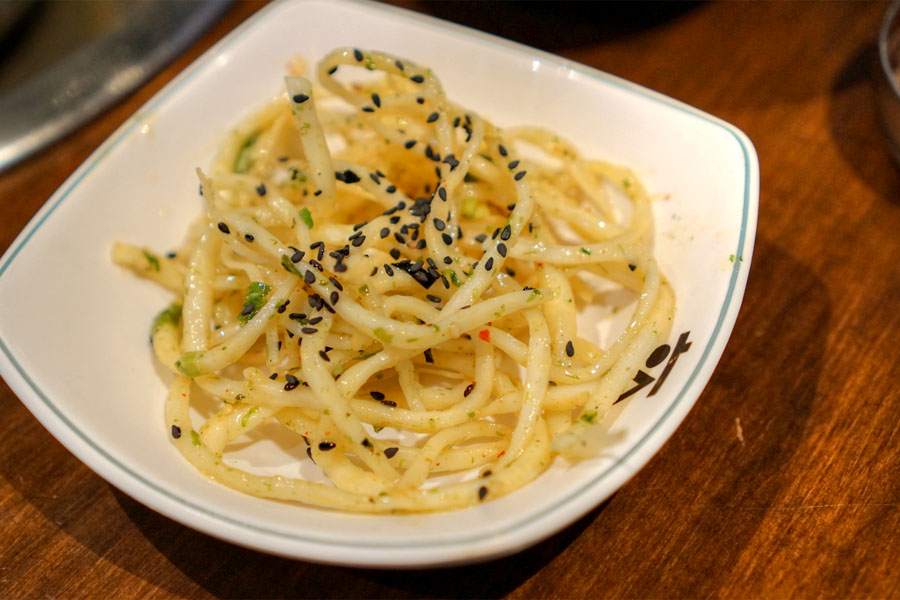 Ojingeochae
(dried shredded squid) was chewy and loaded with brine.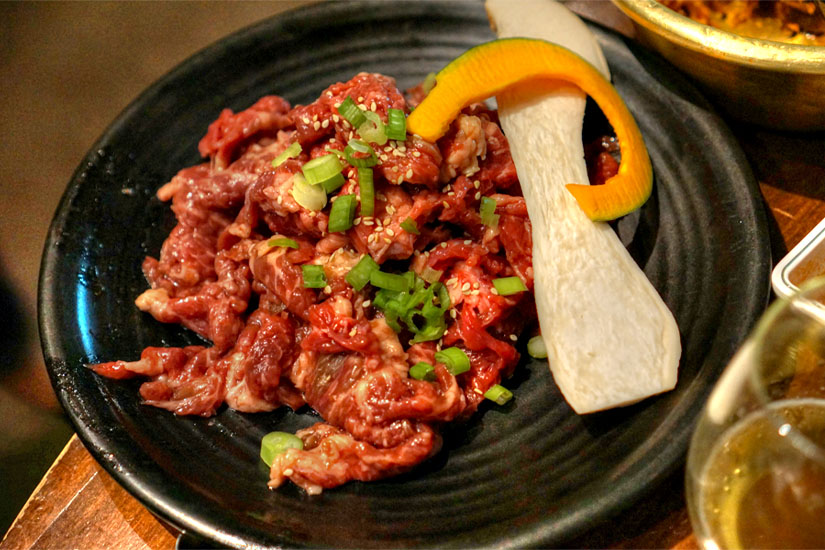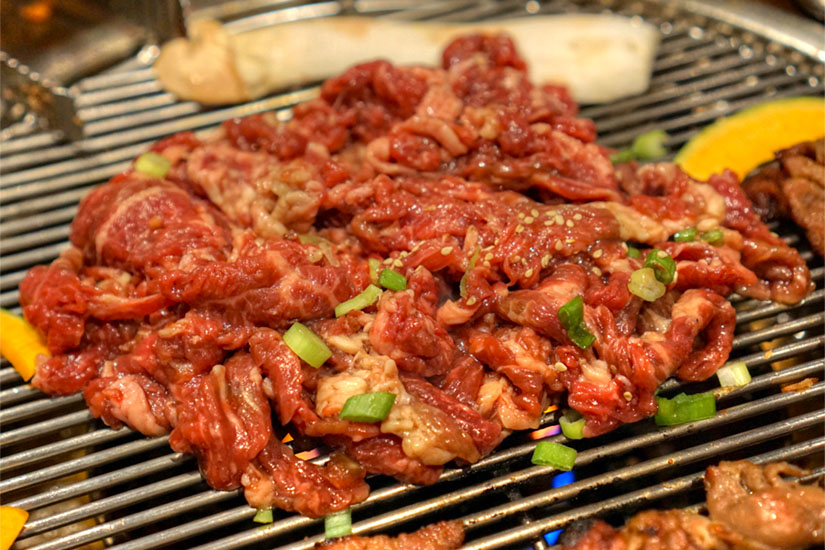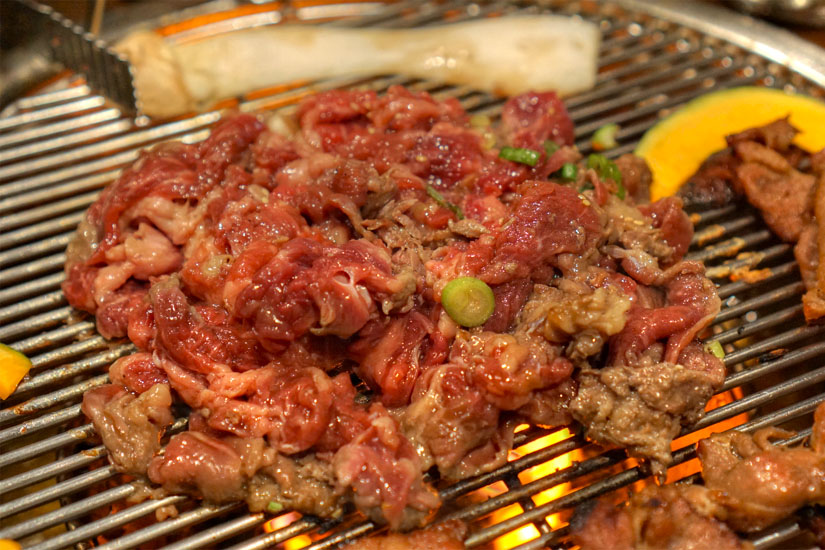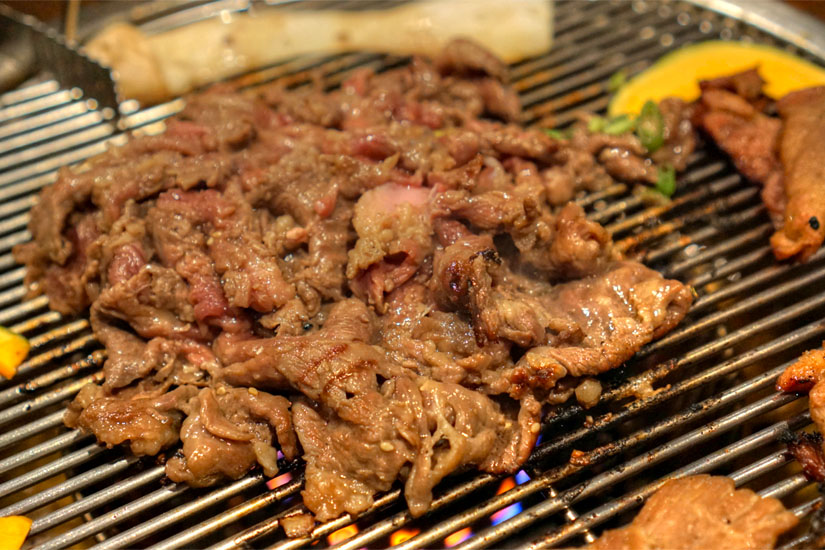 Bulgogi
We ended with a classic preparation of bulgogi, the meat cooking up tender to the bite with a sweet, beefy flavor throughout.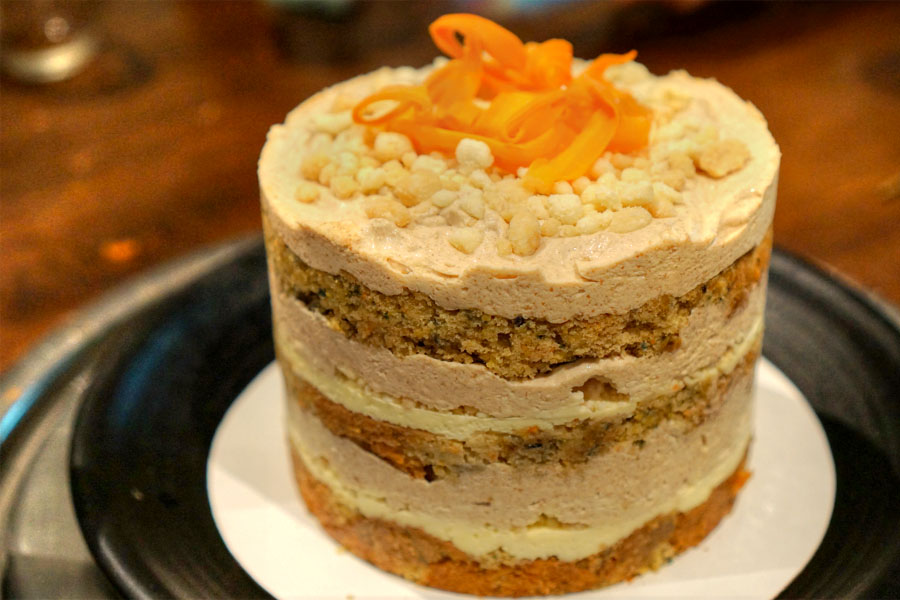 Given that it was a birthday, we had to have a cake of course, and one of my dining companions crafted this Momofuku Milk Bar-inspired Carrot Layer Cake. It tasted as good as it looked, with plenty of sweet carrot coming through, balanced by the saltiness in the cream, while the crumbs on top gave things a welcomed crunch.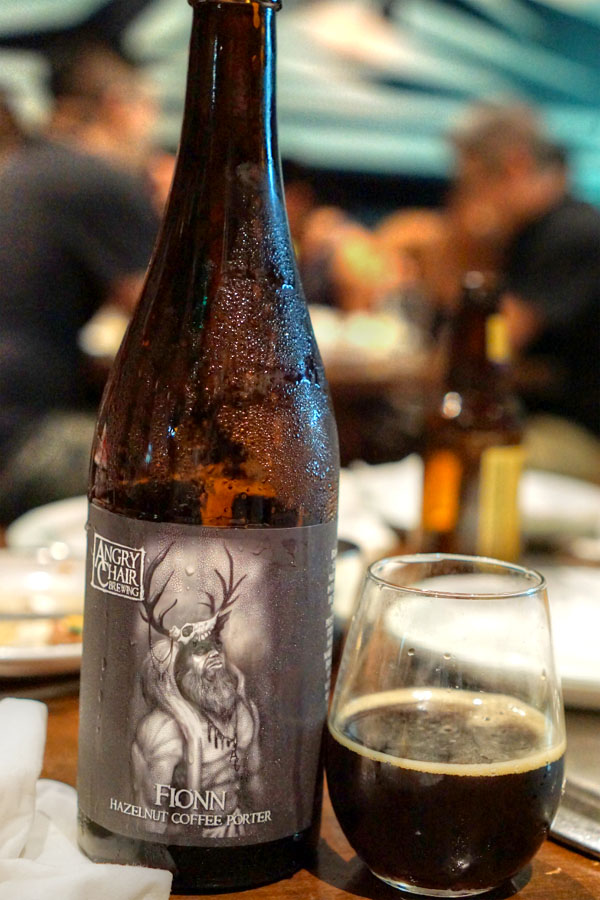 To go with dessert, I opened up the
2016 Angry Chair Fionn
, an imperial English porter with hazelnuts and coffee. Massive aromas of chocolate and sweet nutmeat everywhere. In terms of flavor, again, nuts all up in your face, leading to bitter-tangy coffee and a counterbalancing smokiness.
Having come here before for a non-DineLA meal, I will say that the à la carte meat selection was a cut above quality-wise, though what we enjoyed tonight was more than sufficient for an all-you-can-eat dinner. A fun birthday overall.