Trejo's Tacos (Los Angeles, CA)
Trejo's Tacos Restaurant
1048 S La Brea Ave, Los Angeles, CA 90019
323.938.8226
www.trejostacos.com
Thu 07/28/2016, 07:30p-09:45p

One of the more intriguing
taquería
projects in recent years comes to us from prolific actor Danny Trejo, who was apparently inspired to open the place by his late mother (who always wanted her own restaurant). Designed as casual, "healthier" taco spot, Trejo's Tacos was supposed to debut last summer, but ended up dropping at the start of March to considerable fanfare. Joining Trejo here are partners Jeff Georgino and producer Ash Shah, while running the kitchen is Executive Chef John-Carlos Kuramoto (Nice Guy, Michael's,
Pizzeria Mozza
,
Campanile
, brief stints at
Animal
and
Providence
, Michael Mina at the Bellagio), who's replaced opening chef Ramses Walker.

Trejo's Tacos takes over a Mid-Wilshire site that formerly held a long-abandoned Taco Bell. The building was drastically revamped by
Spacecraft
and now features a large dining patio out front (formerly covered by a trellis that had to be removed per the Department of Building and Safety).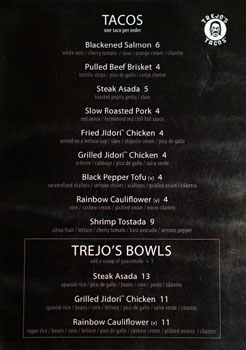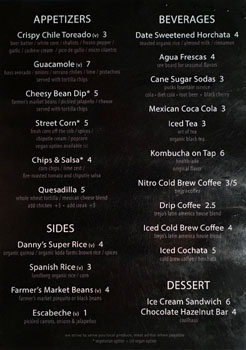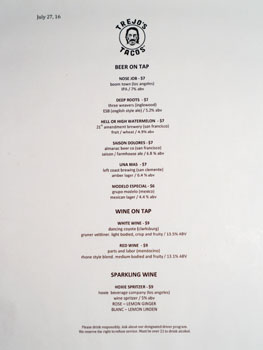 In terms of the menu (consulted on by
Daniel Mattern
), things are anchored by a selection of eight tacos (served on La Princesita tortillas, or lettuce), while you also get some heftier bowls and a smattering of other dishes and sides. To imbibe: horchata, agua frescas, Zona Rosa coffee, kombucha, as well as a handful of wines and beers. Click for larger versions.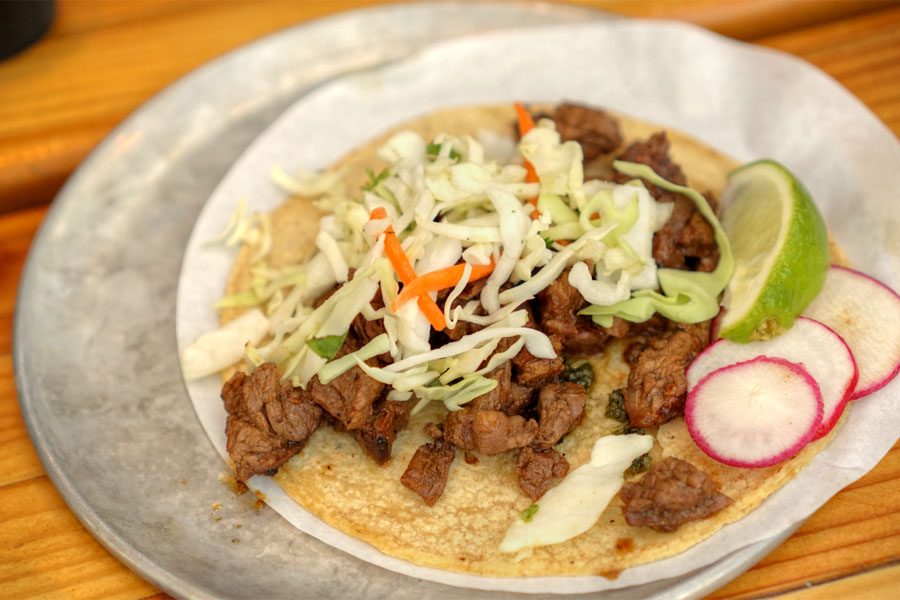 Steak Asada [$5.00]
| toasted pepita pesto / slaw
Fittingly, we began with the carne asada. The meat itself was pretty classic, with a nice char, nice flavor going on. Rather tasty overall, though I didn't get too much from the pesto.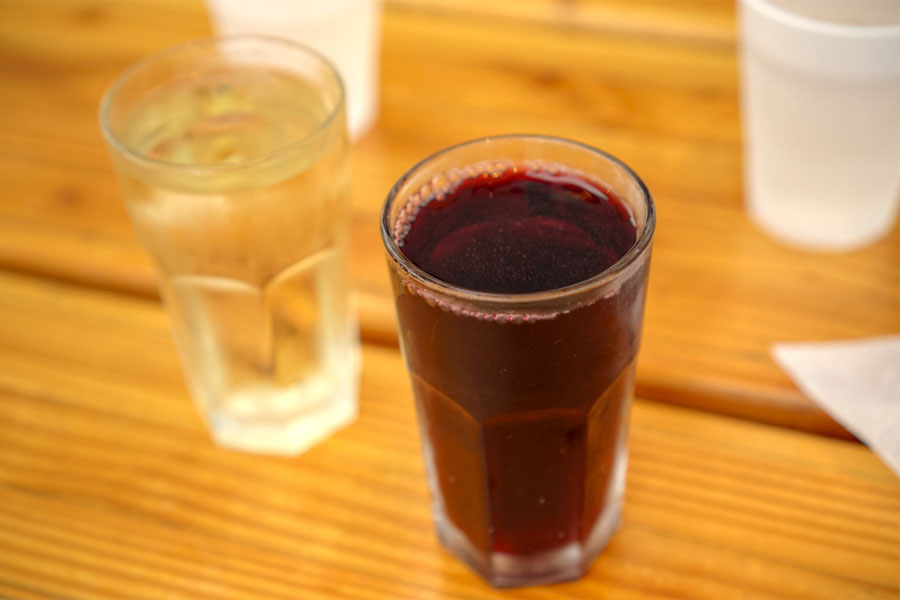 We sampled both of the wines on tap. Red duties were handled by the
parts and labor (mendocino), rhone style blend [$9]
. Think distinctly earthy on the nose, with lots of inky dark fruit; taste was more of the same, but with some gaminess and a noticeable boozy heat. The
dancing coyote (clarksburg), gruner veltliner [$9]
, meanwhile, worked as a contrast to the red wine. For this one, I got bountiful stone fruit aromas, while the palate brought more fruit, tartness, acidity, and a crisp mineral-driven backing.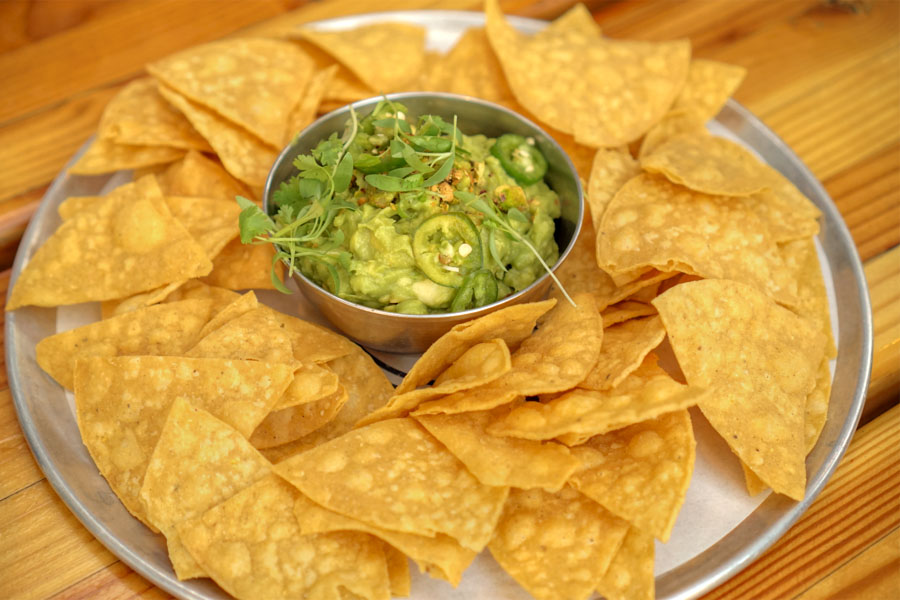 Guacamole [$7.00]
| hass avocado / onions / serrano chiles / lime / pistachios / served with tortilla chips
Guac had the right texture to it, but I really wanted more acidity, more punchiness in the dip. The serranos did help a bit in that regard though.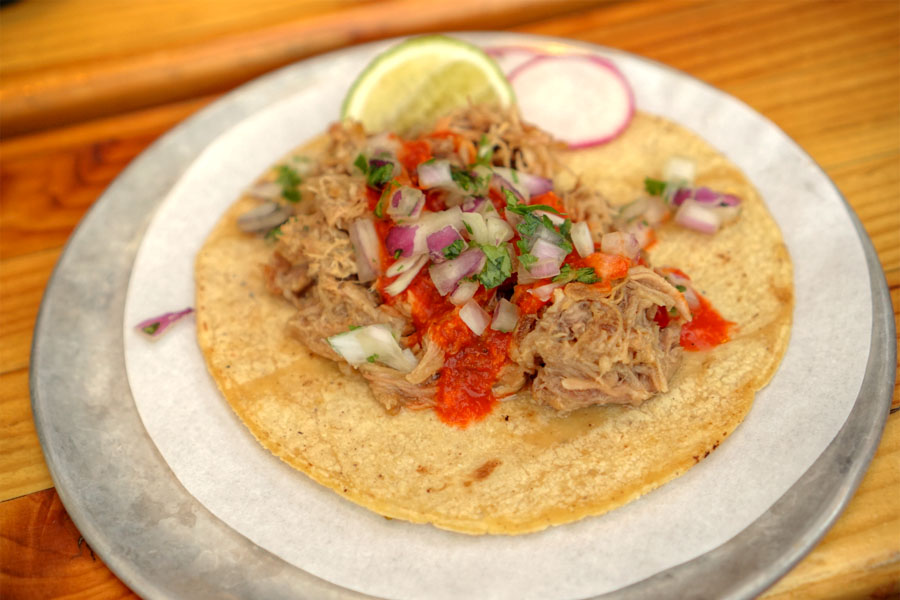 Slow Roasted Pork [$4.00]
| red onion / fermented red chili hot sauce
Long-cooked pork arrived soft and juicy, with a lovely smidge of creeping spice. Great zippiness from the red onion here too.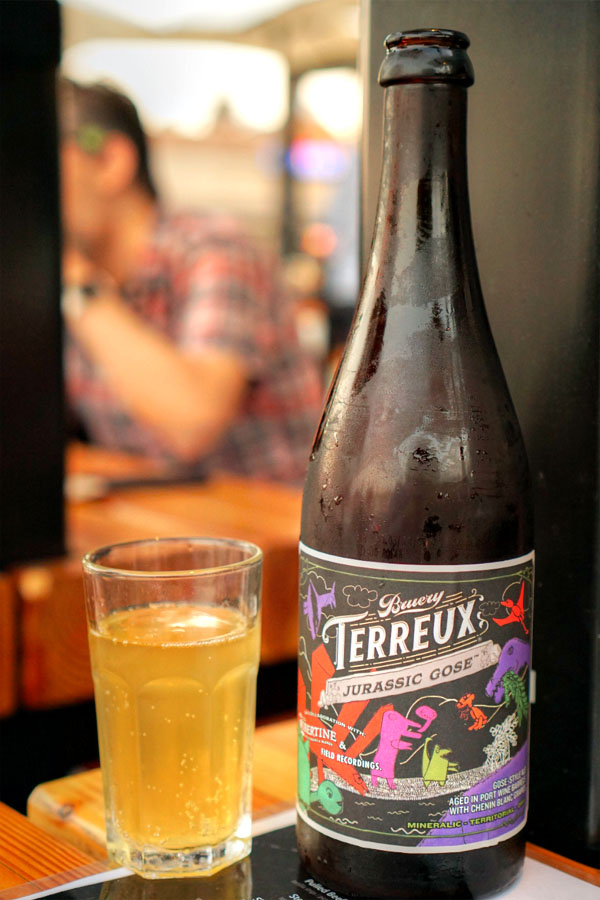 The first beer we had was the
2016 Bruery Terreux Jurassic Gose
. Created in collaboration with Libertine Brewing & Field Recordings Winery, this was a gose-style ale with Pacific sea salt, brewed using the
steinbier
method and aged in Port barrels with Chenin Blanc grapes. Nose of deeply floral, aromatic fruit with a trace of salt. The taste went tart, funky, dry, with lots going on, while the finish had a lingering minerality.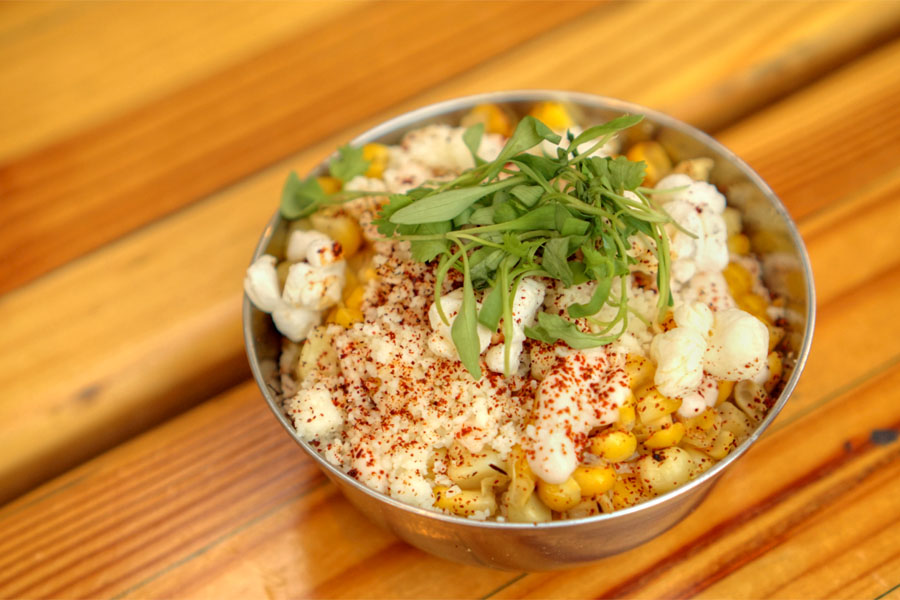 Street Corn [$5.00]
| fresh corn off the cob / spices / chipotle cream / popcorn
A take on
esquites
hit the mark, a creamy, sweet preparation with a welcomed prick of heat on the back end. I appreciated the textural contrast from the popcorn and the herbs up top as well.
Fried Jidori Chicken [$4.00]
| served on a lettuce cup / slaw / chipotle cream / pico de gallo
Here we see our most untraditional "taco" of the night. The chicken itself was great texturally and quite juicy, with a slight spice. It worked well with the various veggies, while the crema helped tie everything together. I didn't miss the tortilla.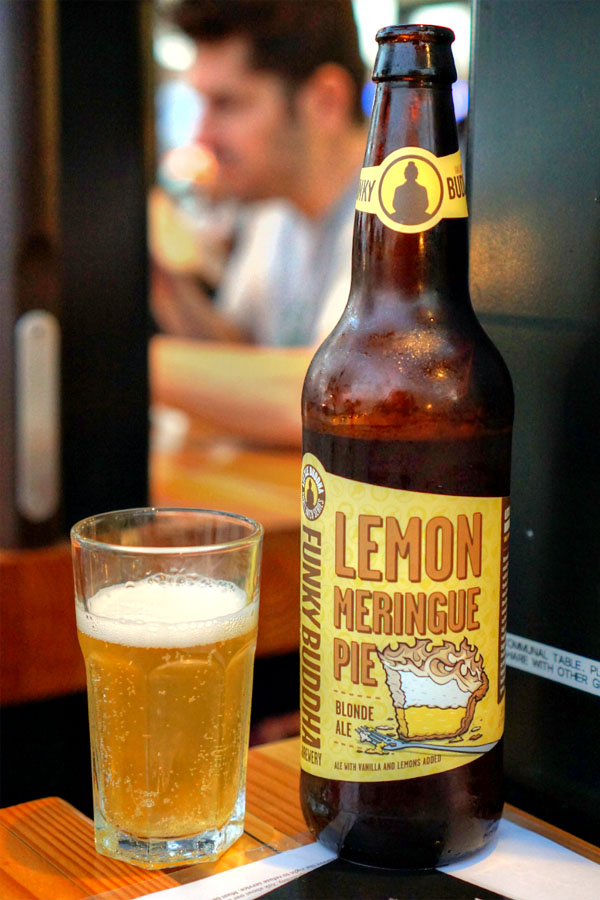 Designed to mimic its namesake, the
2016 Funky Buddha Lemon Meringue Pie
was a blonde ale with vanilla and lemon zest added. Smelled of tart, acidic citrus and marshmallow. Taste had more citrus and a tropical sweetness on top of a base of vanilla. I definitely got what they were going for.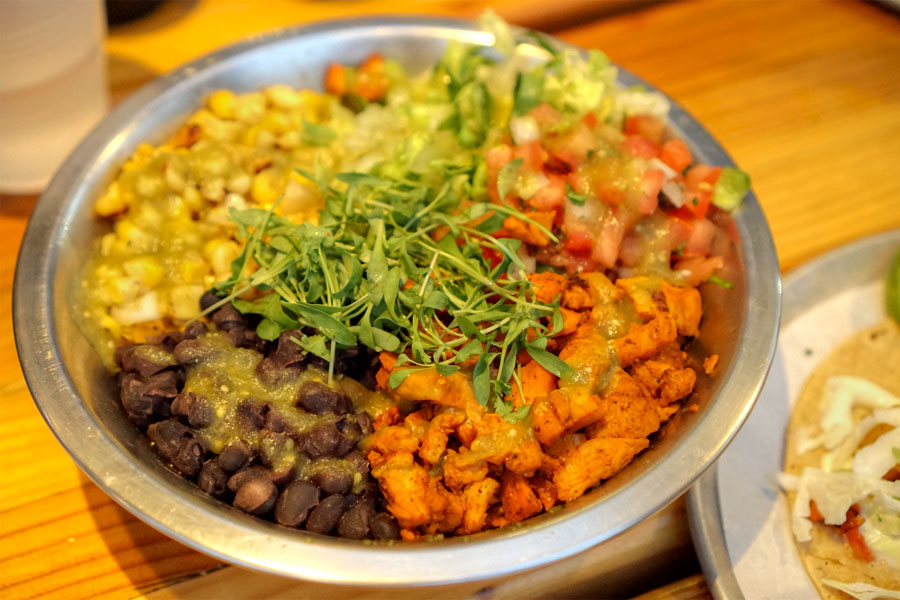 Grilled Jidori Chicken Trejo's Bowl [$11.00]
| spanish rice / beans / corn / lettuce / pico de gallo / salsa verde / cilantro
The bowl came out all neatly sectioned, though we made sure to thoroughly mix before eating. Everything actually came together here. The chicken itself matched well with the heft of the beans, while the veggies and salsa gave things a needed brightness and lightness. Very satisfying.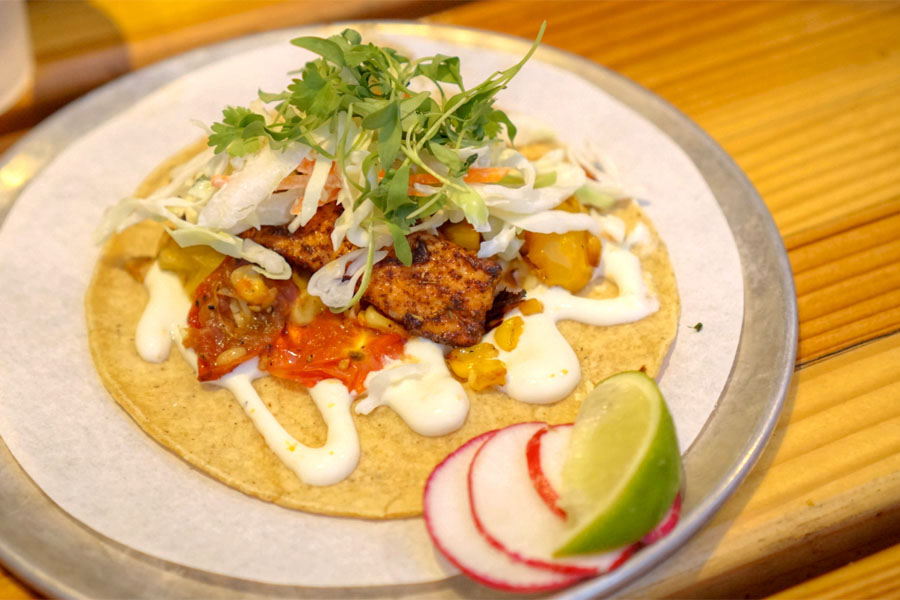 Blackened Salmon [$6.00]
| white corn / cherry tomato / slaw / orange cream / cilantro
Salmon was brinier than I would've liked. The blackening spices did help in that regard though, and the various accompaniments made sense too.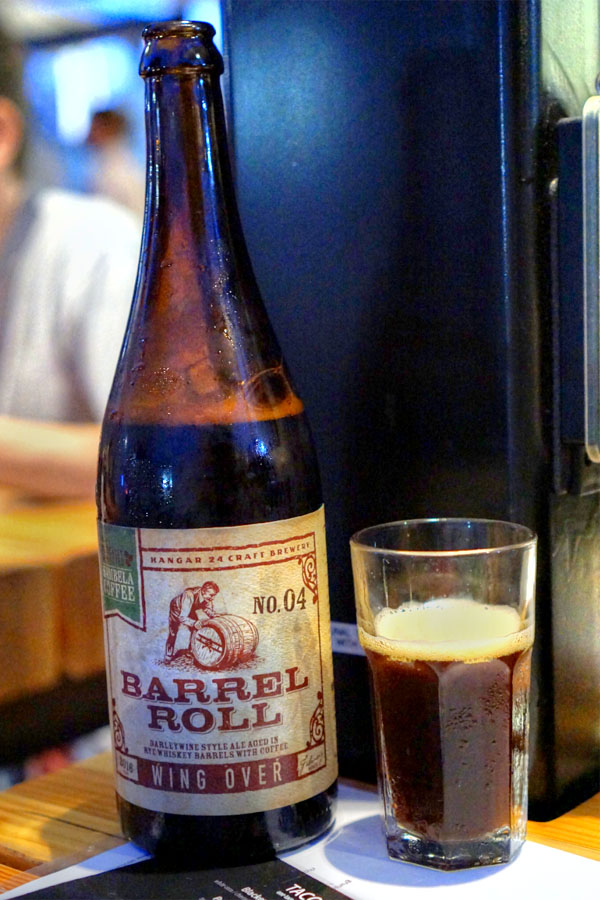 Moving on to something heavier, the
2016 Hangar 24 Barrel Roll No. 4 Wing Over Hambela
was an American barleywine aged six months in rye whiskey barrels with Augie's Hambela coffee from Ethiopia, then dry-hopped. On the nose I got strong notes of roasty coffee joined by rye spice and chocolate. Taste-wise, think spicy and hoppy at first, but with chocolate, malt, toffee, and bitter coffee coming in later and lasting long.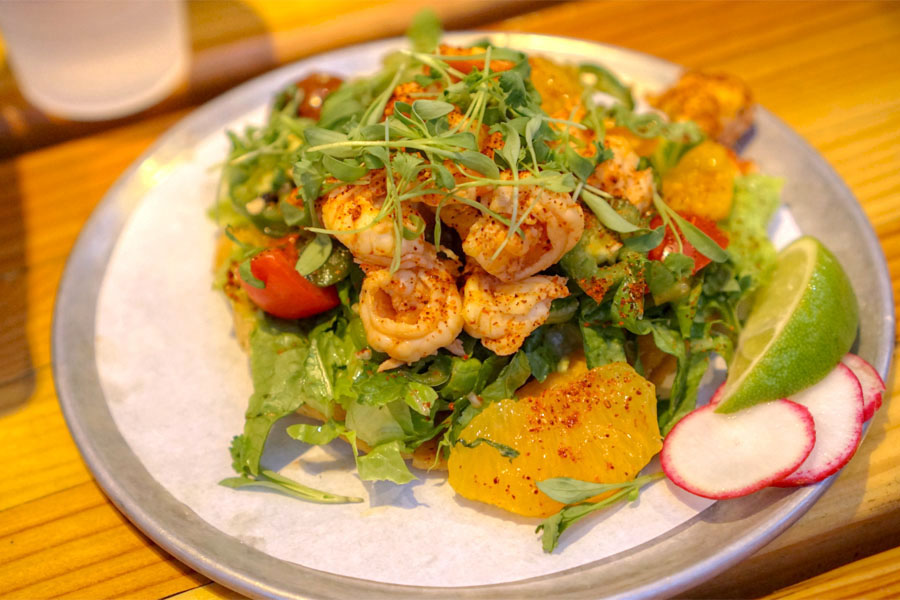 Shrimp Tostada [$9.00]
| citrus fruit / lettuce / cherry tomato / hass avocado / serrano pepper
The shrimp were overdone, though they worked well enough for their intended purpose. I was a fan of the juiciness of the citrus here and how that matched with the lushness of avocado. Great crunch from the tostada, too.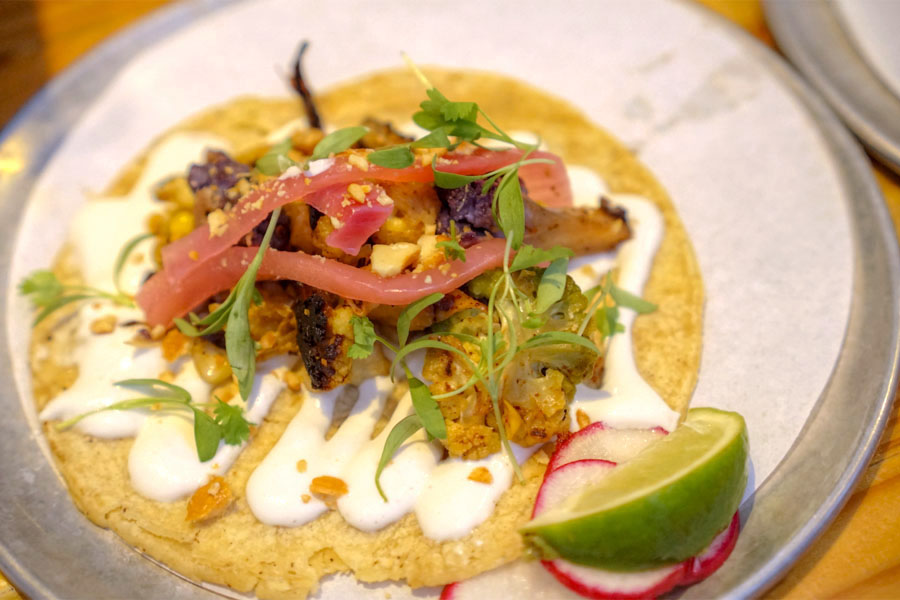 Rainbow Cauliflower [$4.00]
| corn / cashew cream / pickled onion / micro cilantro
Cauliflower showed off a nice char, and worked itself out with the sweet, creamy elements in the taco. Pleasant tanginess from the pickled onion as well.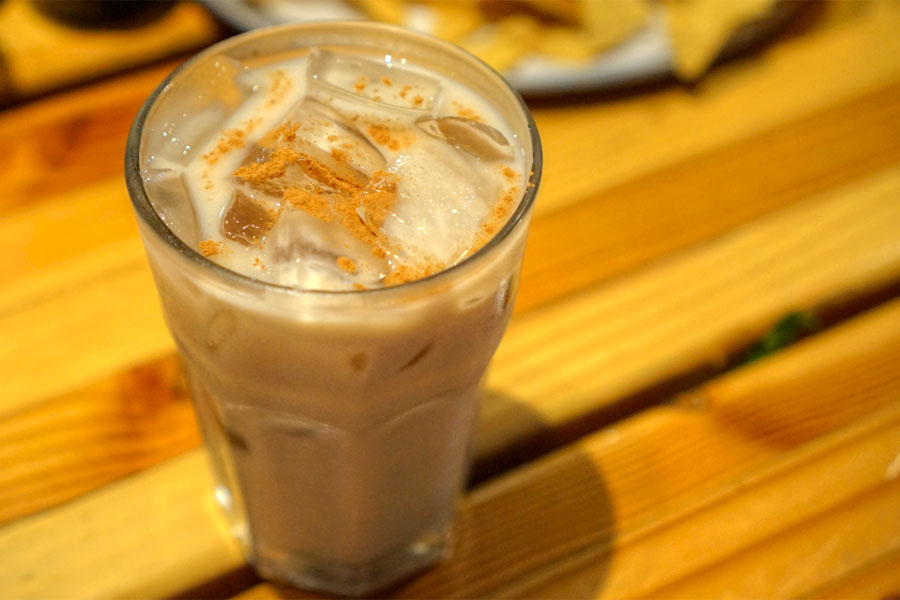 Date Sweetened Horchata [$4.00]
| toasted organic rice / almond milk / cinnamon
The horchata was a crowd pleaser thanks to its abundant amount of sweet spice and overall creaminess.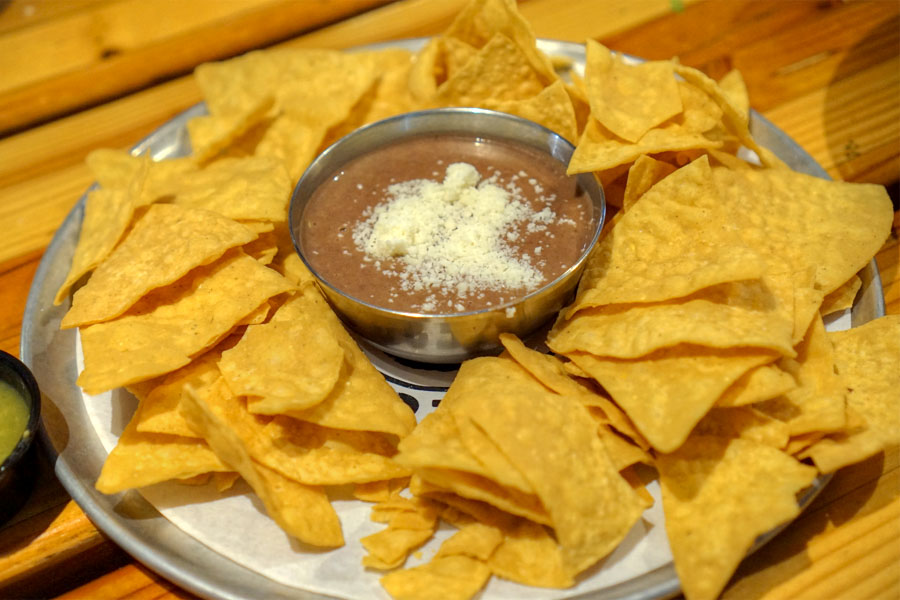 Cheesy Bean Dip [$5.00]
| farmer's market beans / pickled jalapeño / cheese / served with tortilla chips
This next dip was a surprise standout, with that combination of beans and cheese just making total sense with the chips.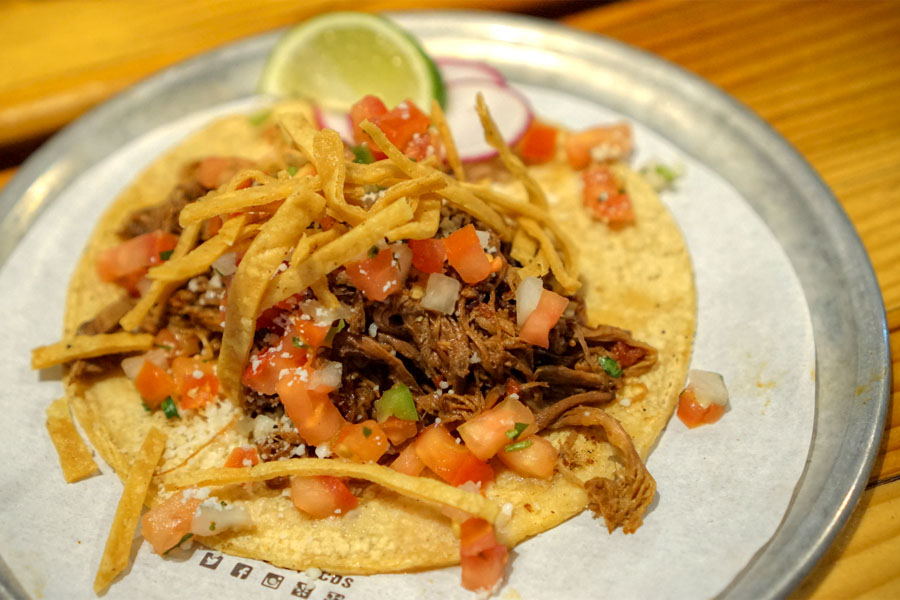 Pulled Beef Brisket [$4.00]
| tortilla strips / pico de gallo / cotija cheese
Tender shards of brisket conveyed all the dark, beefy flavors that one would expect, balanced out by the pico and crunch of the tortilla strips.
Next to drink came the
2016 Prairie Apple Brandy Barrel Noir
, an imperial stout aged in apple brandy barrels. Aromas of rich malt and boatloads of caramel. The palate brought more lush chocolate and more caramel, along with a strong apple sweetness. Like a caramel apple.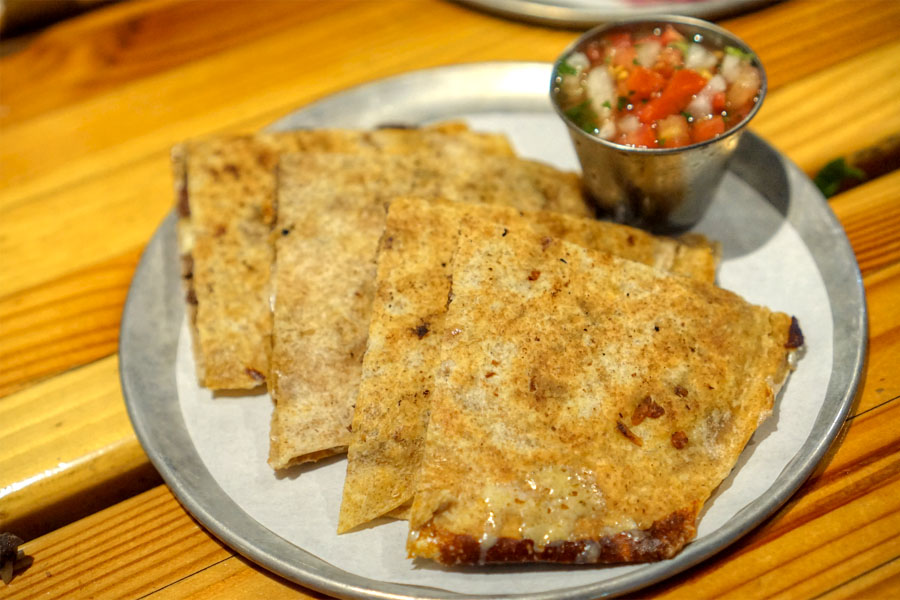 Quesadilla + add steak [$5.00 + $5.00]
| whole wheat tortilla / mexican cheese blend
We enjoyed the quesadilla as well, which showed off that classically gratifying combination of beef and cheese.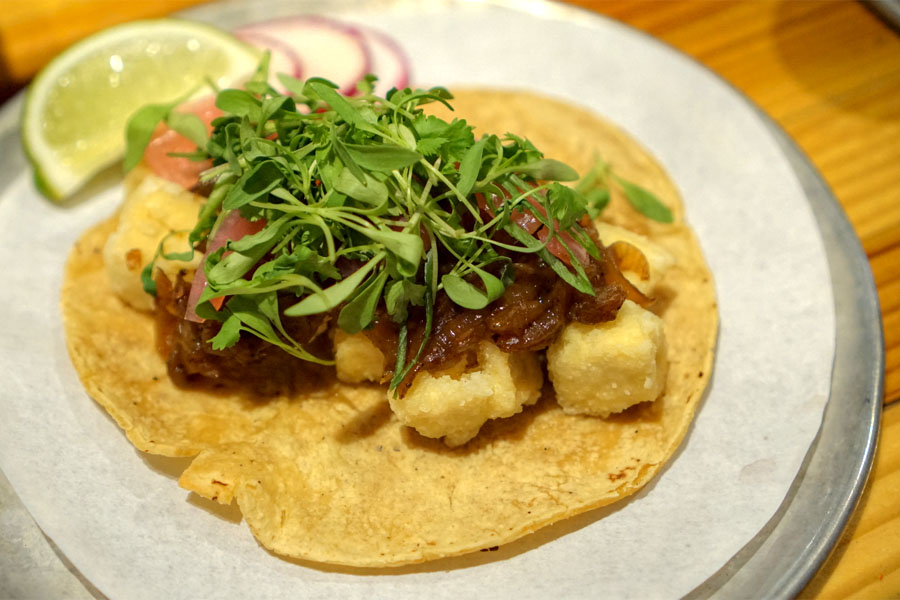 Black Pepper Tofu [$4.00]
| caramelized shallots / serrano chilies / scallions / pickled onion / cilantro
Cubes of tofu were delightfully crisp, enhanced by the deep, sweet flavors of caramelized shallots while the greenery provided a necessary lightness to the taco.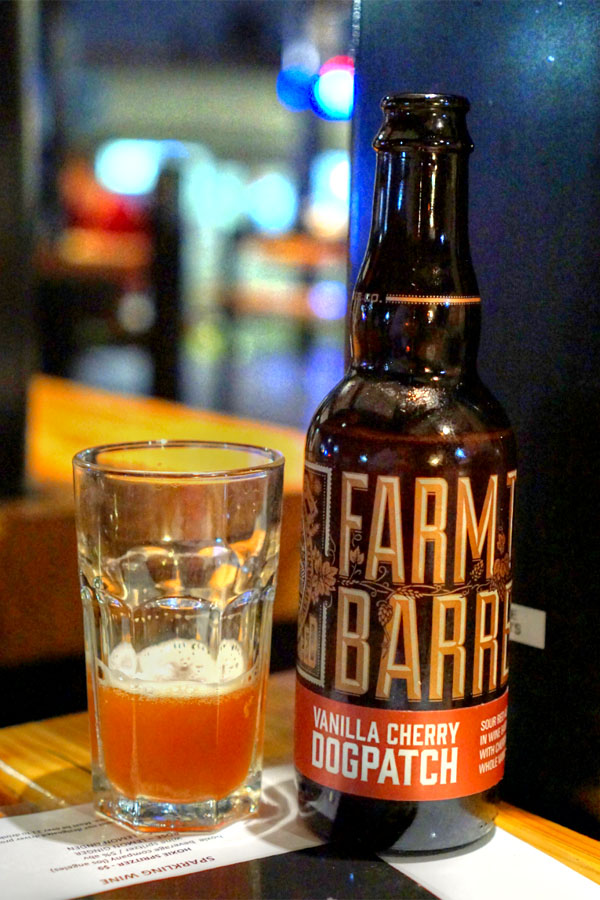 The
2016 Almanac Vanilla Cherry Dogpatch
was a sour red ale aged in wine barrels with cherries and vanilla beans. Tart nose with vanilla throughout but not much fruit; the taste was all about sour cherry though, with vanilla coming in as a counterpoint.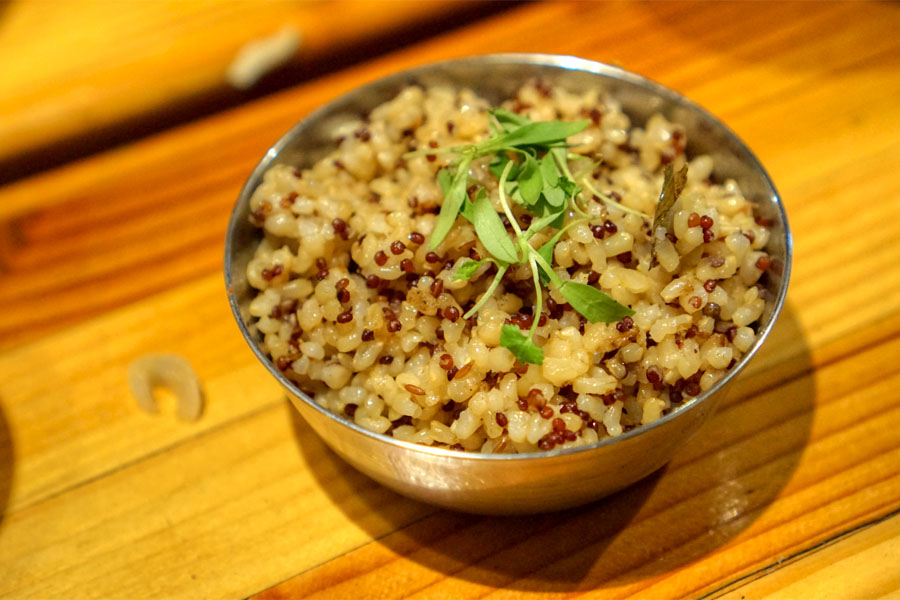 Danny's Super Rice [$4.00]
| organic quinoa / organic koda farms brown rice / spices
The "super" rice was probably healthy for you, but was on the bland side. One of my dining companions was reminded of "little pellets of cardboard."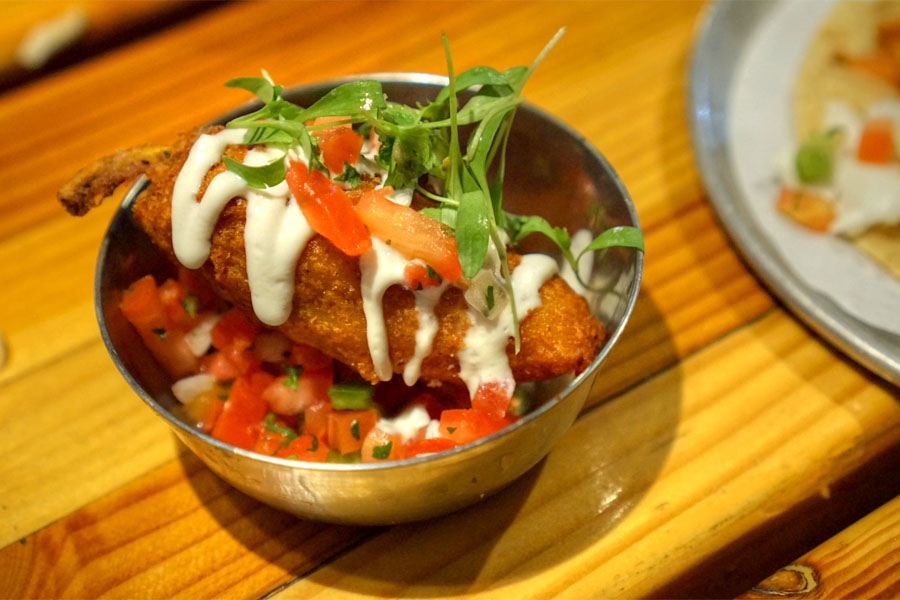 Crispy Chile Toreado [$3.00]
| beer batter / white corn / shallots / fresno pepper / garlic / cashew cream / pico de gallo / micro cilantro
Trejo's take on a
chile toreado
is worth trying. Loved the crispness of the actual pepper and how that paired with the creamy, tangy elements here.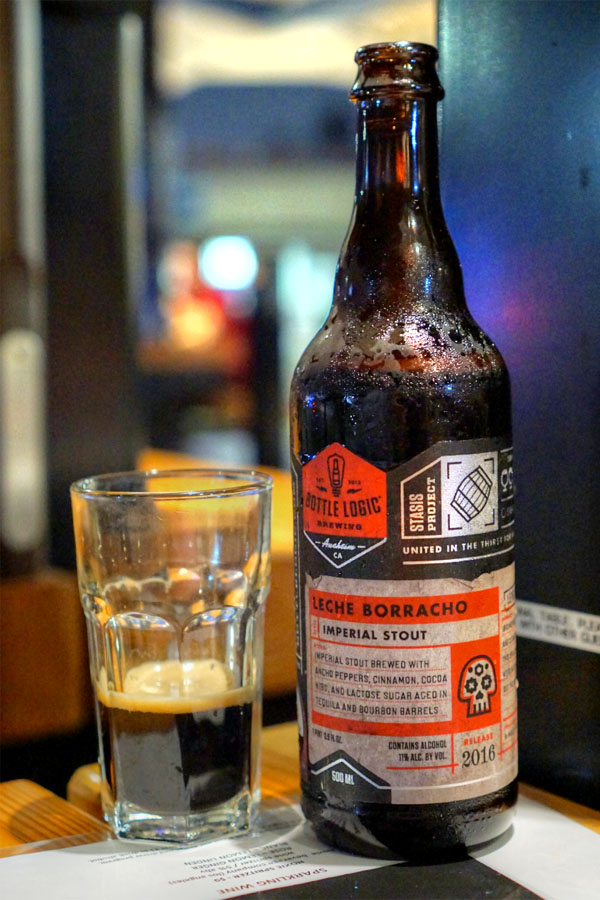 Fittingly, our final beer was the Mexican hot chocolate-inspired
2016 Bottle Logic Leche Borracho
, an imperial stout with ancho peppers, cinnamon, cocoa nibs, and lactose, aged 11 months in a mix of tequila and bourbon barrels. Huge sweet spice and malt on the bouquet, along with slight smoke. On the palate, again we had more sweet-n-spicy notes along with plenty of cocoa powder and oak, while the finish showed off a persistent boozy heat.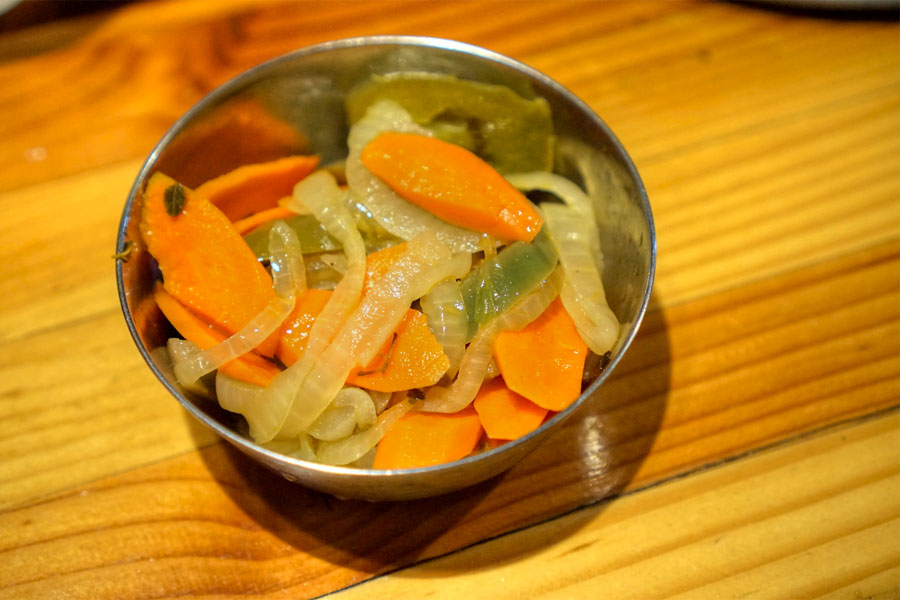 Escabeche [$1.00]
| pickled carrots, onion & jalapeños
Pickles were super acidic, and quite spicy to boot.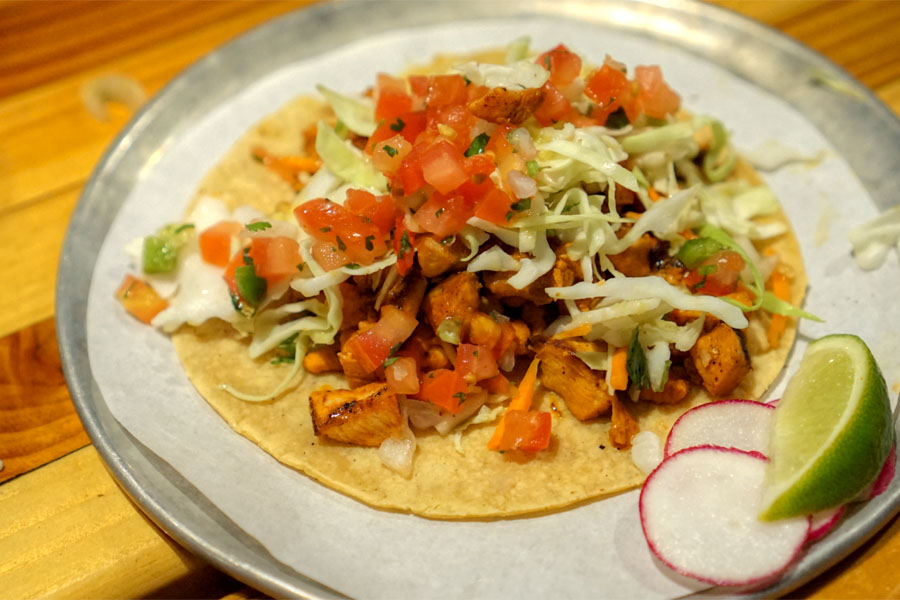 Grilled Jidori Chicken [$4.00]
| achiote / cabbage / pico de gallo / salsa verde
We closed with the chicken taco, a pretty prototypical sort of preparation that's probably the safest choice on the menu.
This place was never meant to be purely traditional, so given that, the food does largely deliver, save for a few issues here and there. It's a pretty fun concept too, and a worthy addition to a somewhat underserved locale. The response does seem to be fairly positive so far, and the team is actually looking to open more Trejo's Tacos restaurants. At the minimum, there's a Hollywood outpost coming soon, and a third one planned for East Hollywood, with additional locations possible. If that wasn't enough, they're also thinking about a coffee-and-donuts shop, also in Hollywood, so we'll see.