Plate by Plate 2016 (Los Angeles, CA)
Plate by Plate 2016 at the California Science Center
700 Exposition Park Dr, Los Angeles, CA 90037
www.platebyplate.org/la/
Sat 08/06/2016, 06:00p-10:00p

Project by Project
recently hosted its 14th annual
Plate by Plate
charity tasting benefit at the
California Science Center
's Wallis Annenberg Building, which, coincidentally, was where the first Plate by Plate that I attended
back in 2010
was held.
If you're not familiar with the organization, Project by Project is a 501(c)(3) not-for-profit centered on matters relating to the Asian-American community. Every year, the group chooses a different theme to concentrate on and partners with a local charitable organization in that space. With 2016's theme of LGBTQ advocacy, the partner picked was
APAIT
(Asian Pacific AIDS Intervention Team), a non-profit dedicated to providing HIV/AIDS testing, counseling, social support groups, and substance abuse prevention programs focused on the LGBTQ community.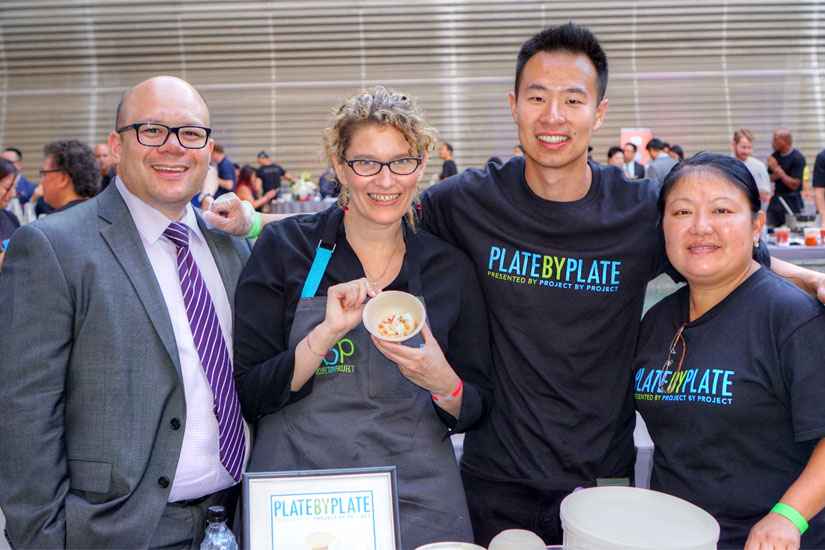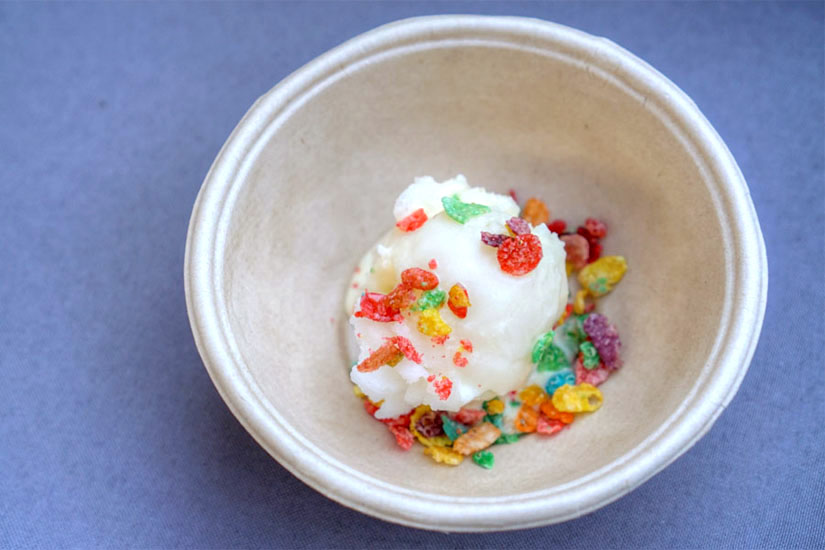 Perfect for the hot weather, owners Heather Winters and husband Michael of
Quenelle
served bowls of
White peach-white grape sorbet, milk sauce, frosted Fruity Pebbles
.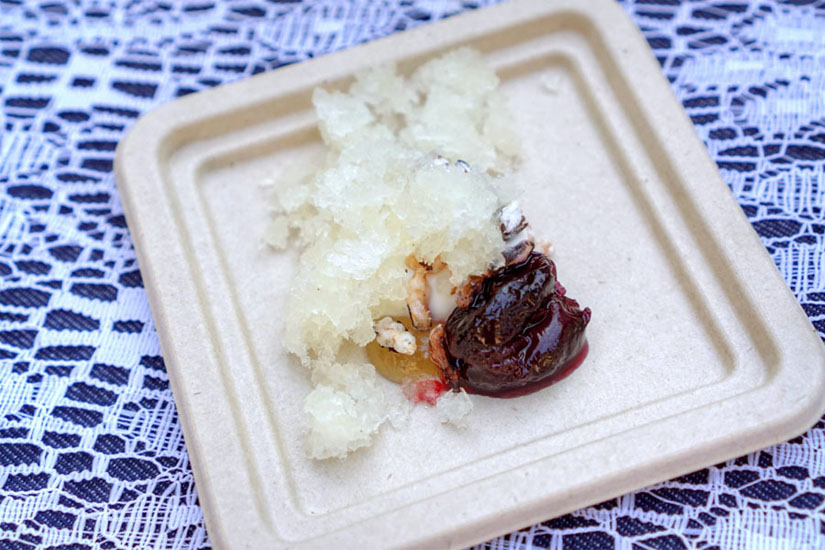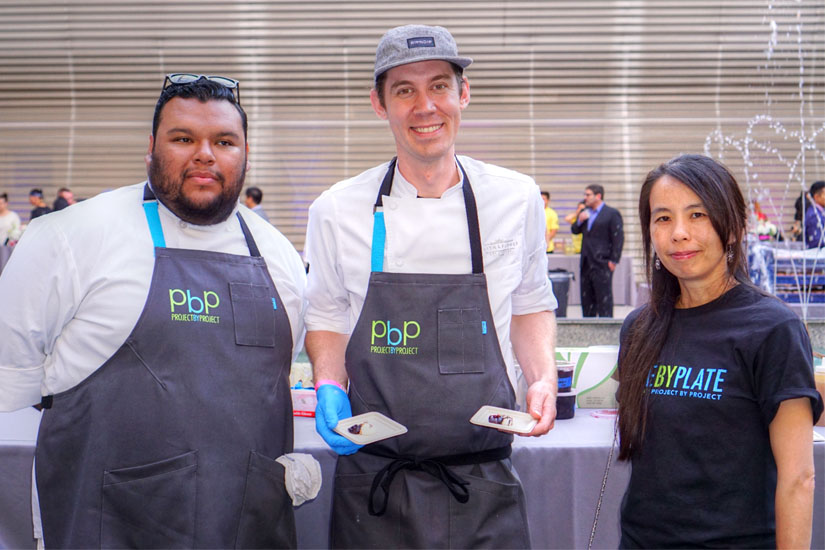 Assisted by PbP Volunteer Diane Leigh,
Faith & Flower
's Pastry Chef Joshua Graves brought another dessert:
Greek yogurt panna cotta, stewed cherries, puffed wild rice, honey, yuzu granita
. Note also the snazzy PbP-branded aprons, provided courtesy of LA-based designer
BlueCut
(use special code
PBPLA16
for 30% off your order).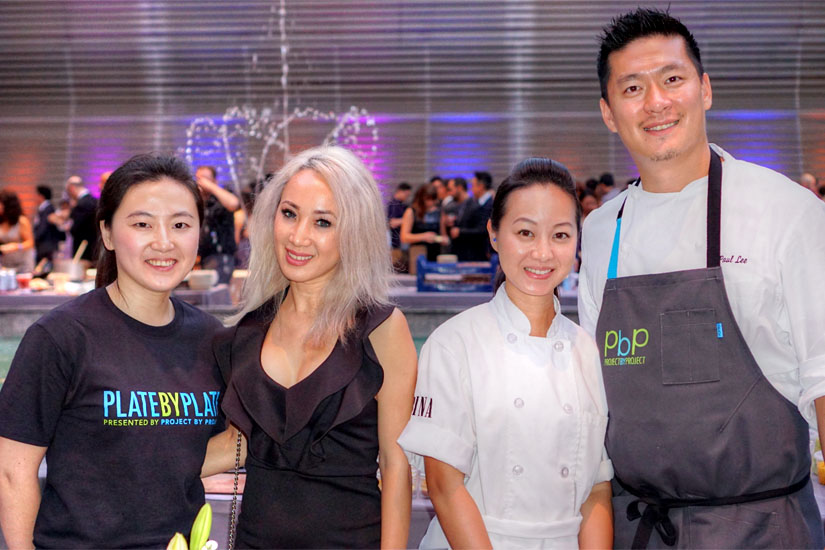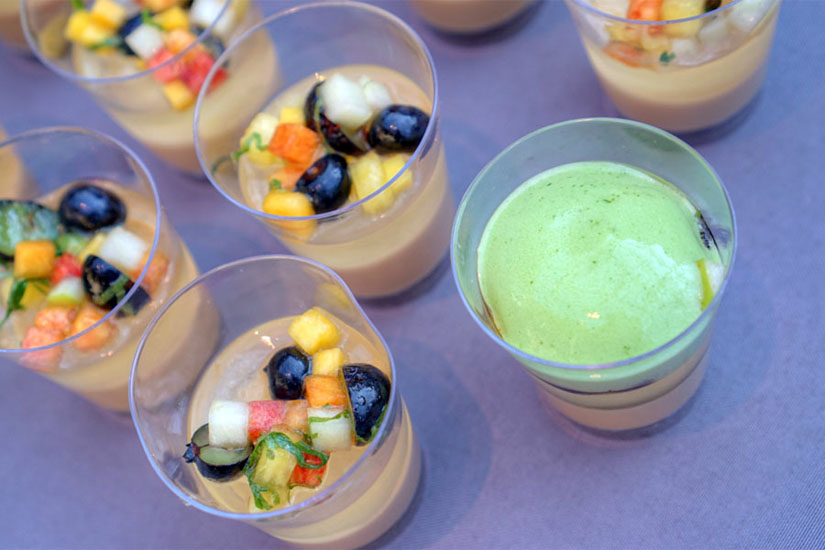 A
Riesling sangria, foie gras, nectarine, shiso espuma
was the contribution from
Patina
, represented by Executive Chef Paul Lee, wife Linny Lee, Marketing Manager Tracy Truong, and PbP Volunteer Zoe Chan.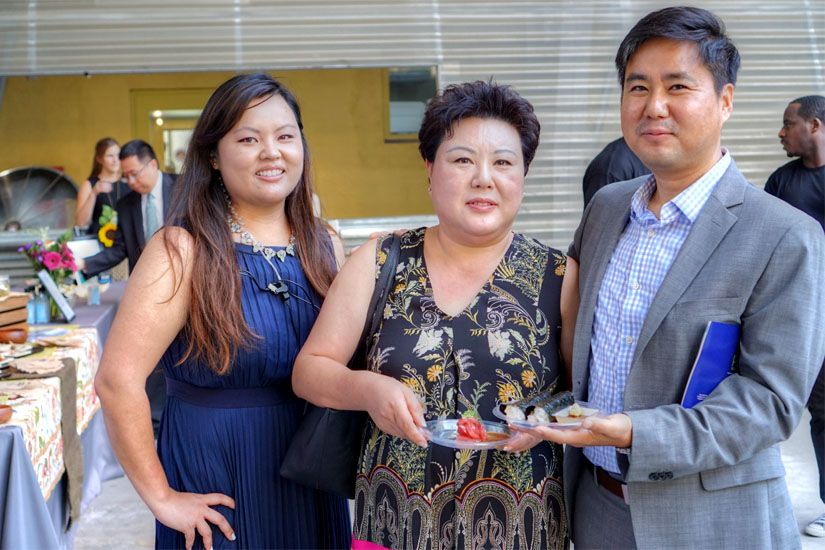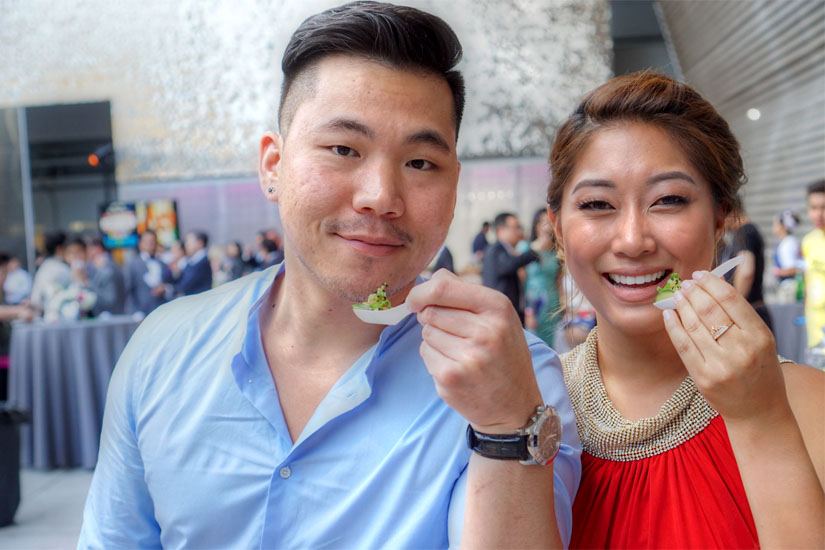 L:
PbP Director of Events Tuyet Nguyen with mom Sunny Park and uncle James Park.
R:
Former PbP National President JT Kim and former girlfriend Audrey Yun.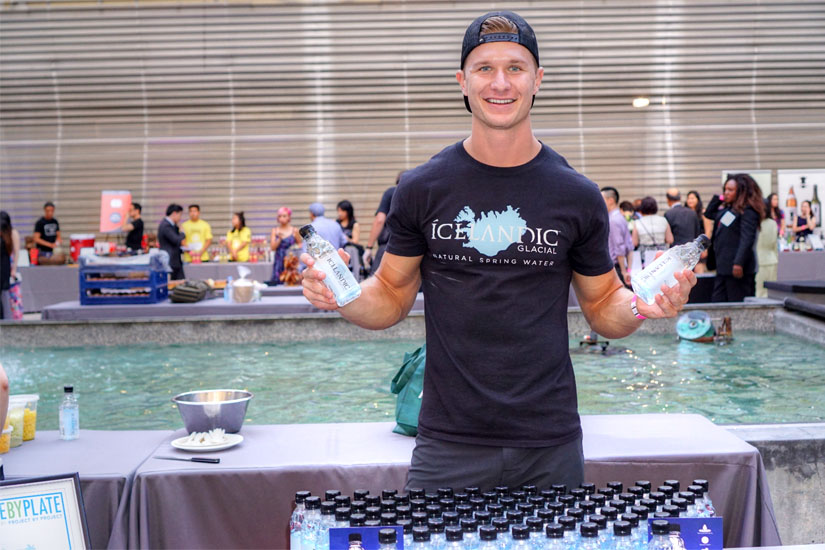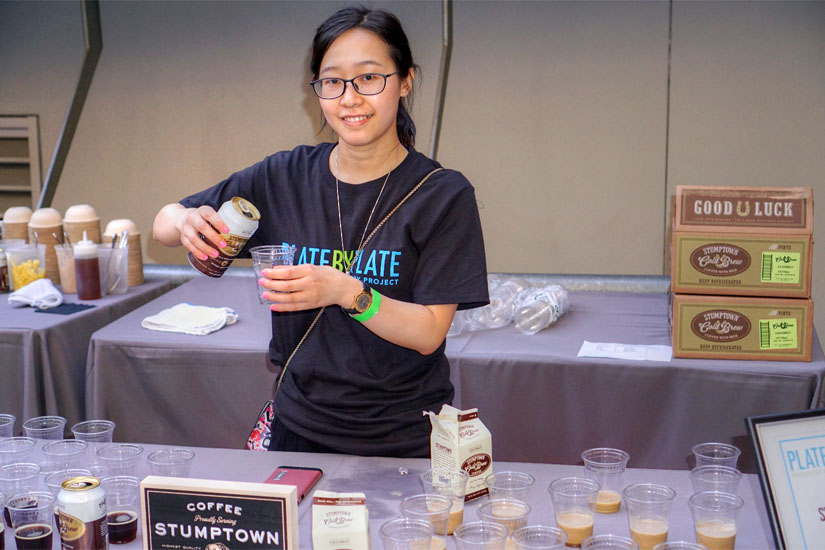 L:
Icelandic Glacial
was key, given that it was the event's sole water vendor.
R:
Coffee duties were handled by
Stumptown Coffee Roasters
and PbP Volunteer Minnie Gan.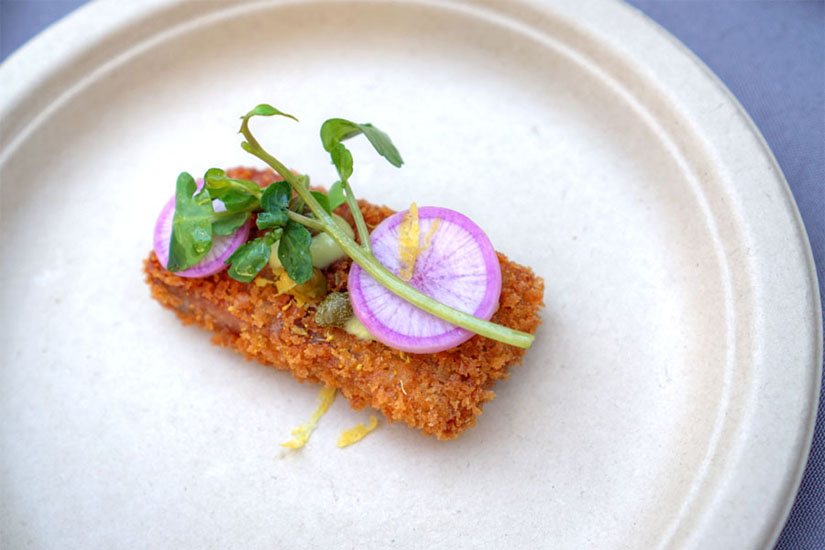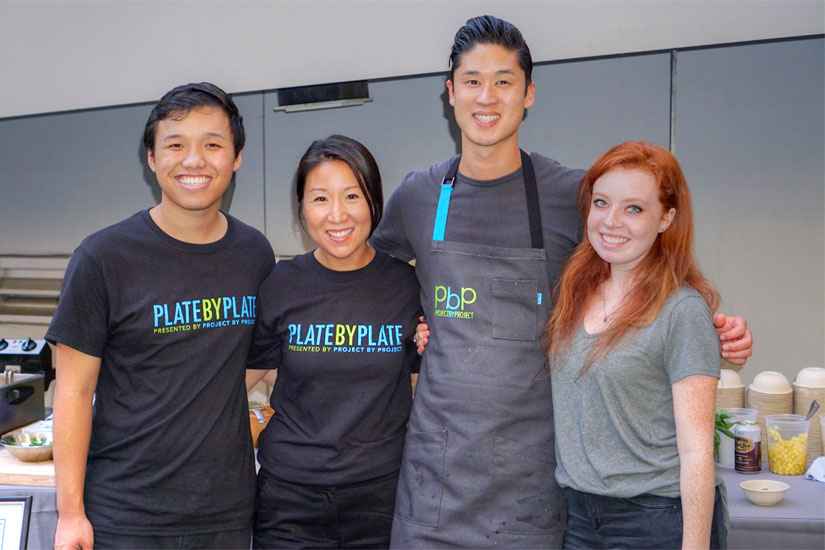 Plate by Plate newcomer Kris Tominaga showed off his new restaurant
Mardi
via two dishes: a
Headcheese schnitzel, pickled Mustard seed, fennel, lemon aioli, watercress
; and a
Pineapple brown rice pudding, lime, rum, coconut sorbet, meringue
(mouseover). Helping out were PbP Volunteers Jeffrey Leung and Betii Jung.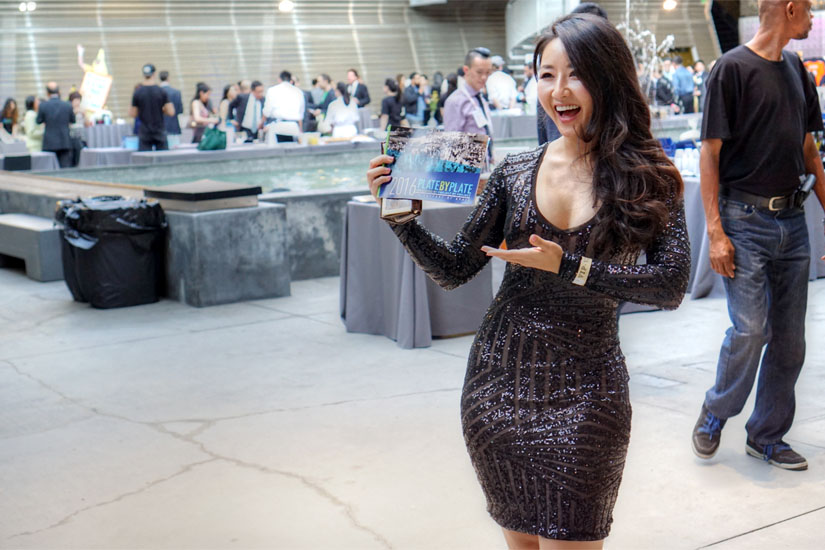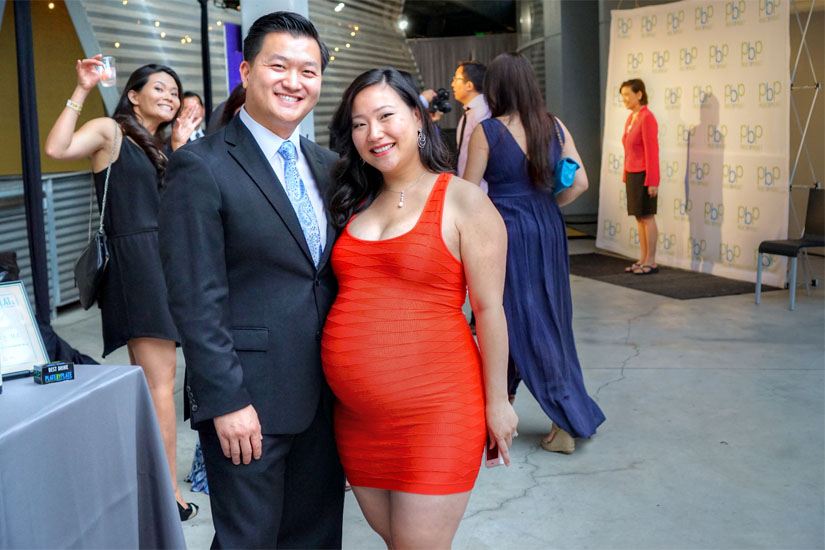 L:
Former PbP President Yulree Chun turned some heads in her little black number.
R:
Ex-PbP Manager of Beverage Relations Danny Li, along with a very,
very
preggers Margaret Lin. Casey Chiu in the back raising the roof.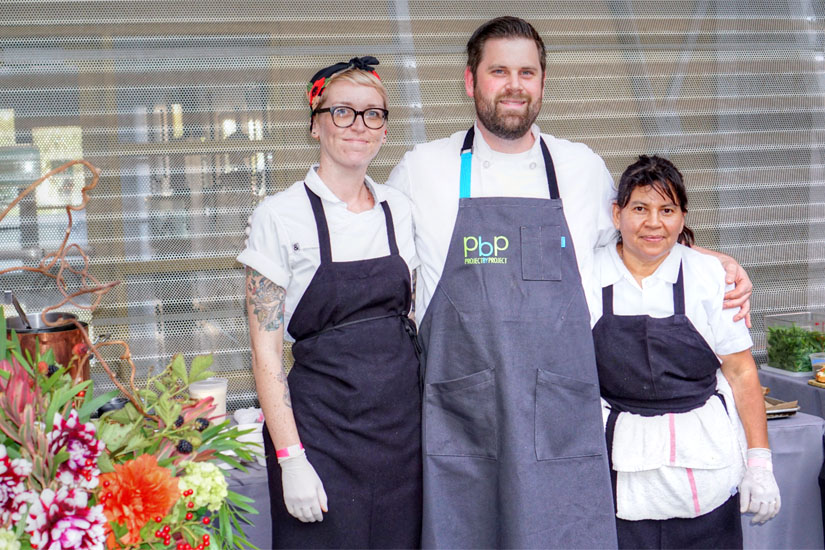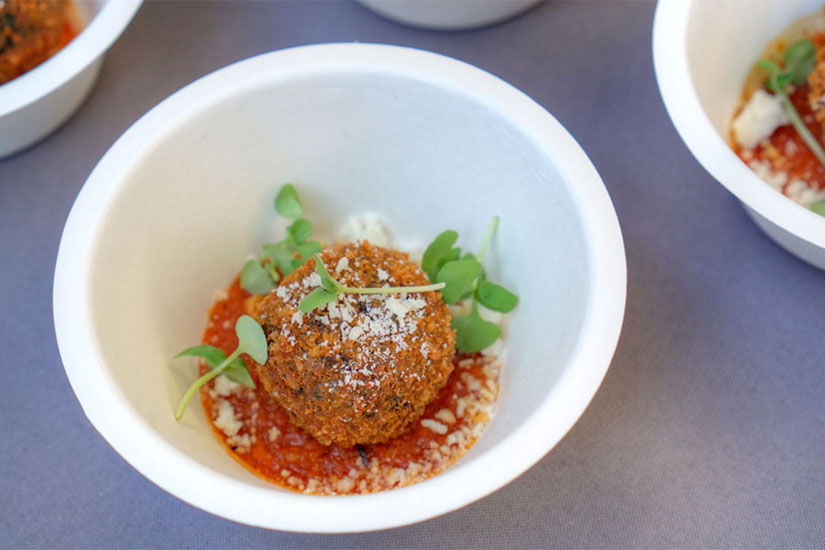 Local Kitchen + Wine Bar
's Stephen Murray served up a hit with his
Black garlic risotto arancini, smoked heirloom tomato sauce, parmesan
. The restaurant also created a refreshing cocktail incorporating donated
Ketel One
vodka:
"Isabela", Ketel One, roasted strawberry, lemon, soda
(mouseover). The Ketel was also used by the event's main bar, helmed tonight by K-town's
Lock & Key
.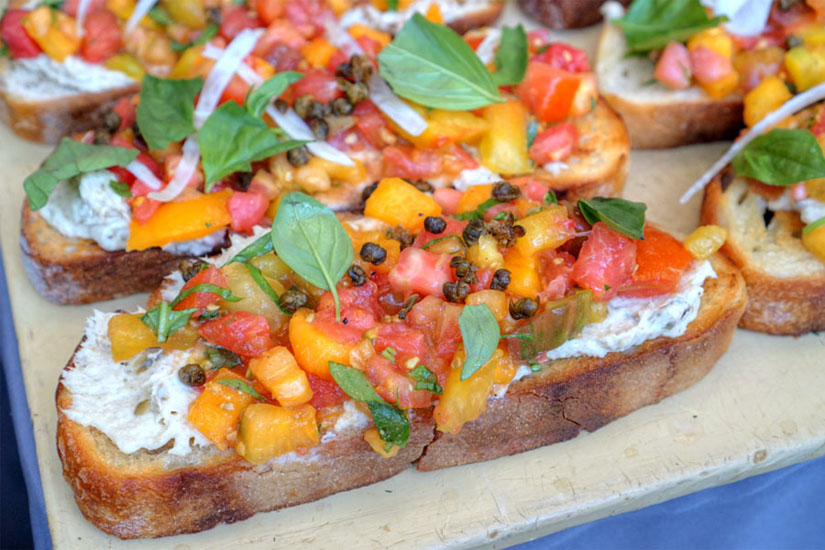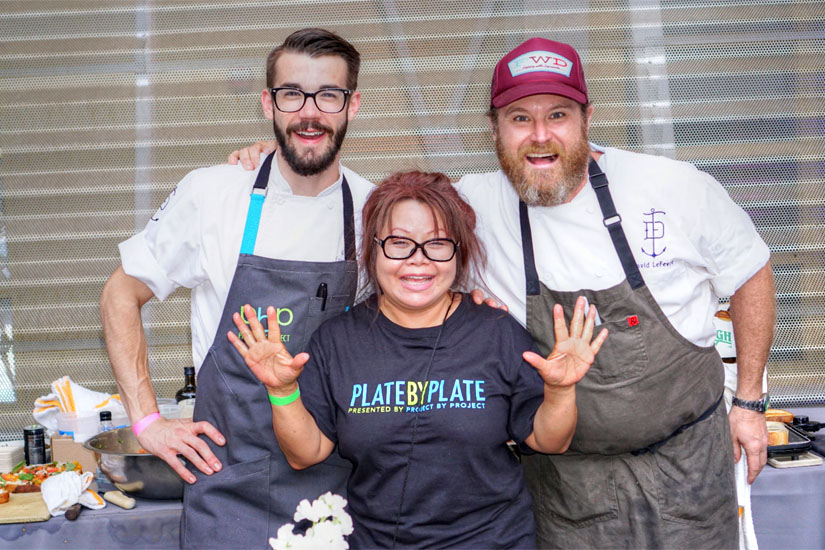 Chef/Owner David LeFevre of
Fishing with Dynamite
returned to Plate by Plate after a 10-year absence. His dish?
Heirloom tomato, tuna tonnato, country bread, capers
.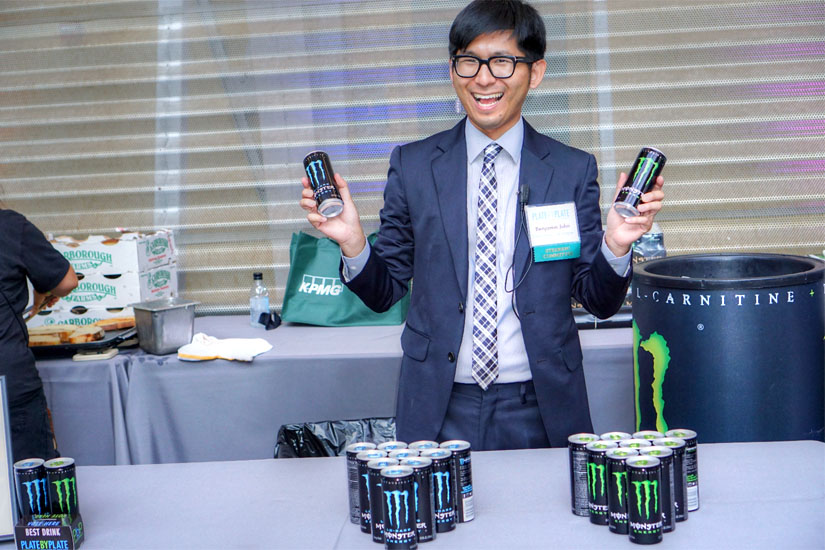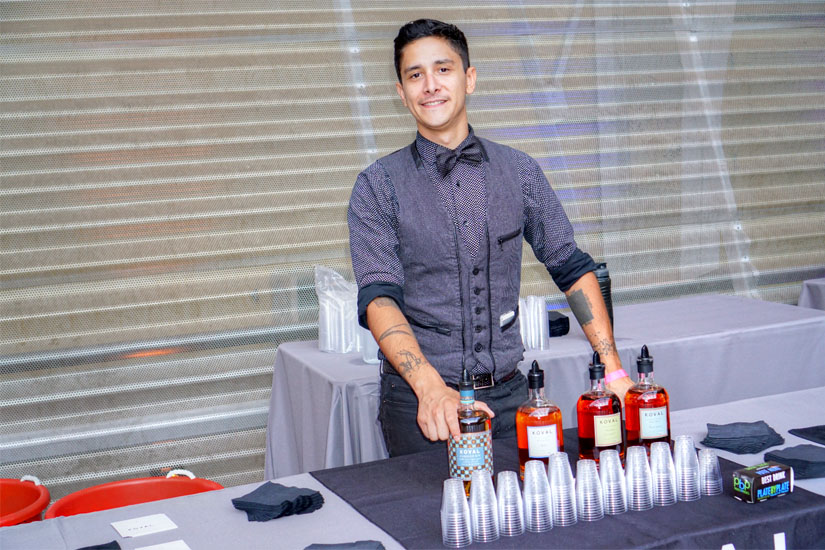 L:
PbP Events Team member Ben Juhn manned the booth for
Monster Energy
.
R:
Chicago's
Koval
brought an assortment of whiskey, which was much appreciated.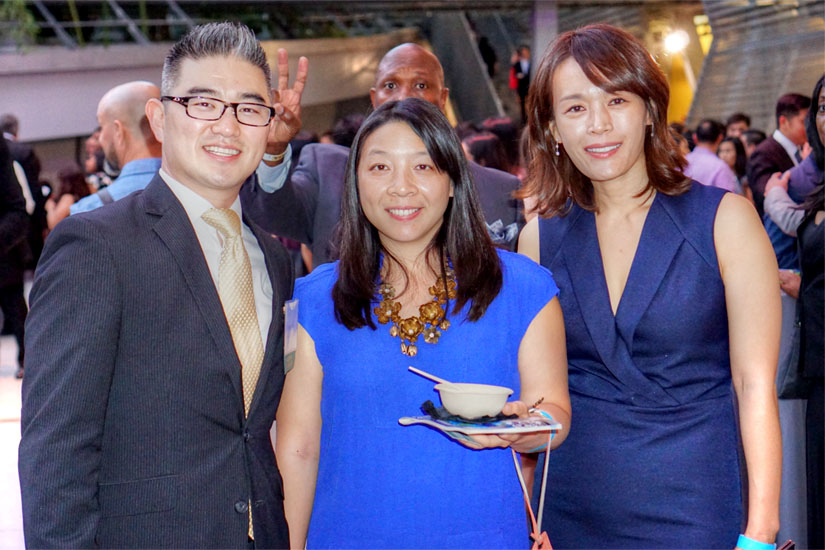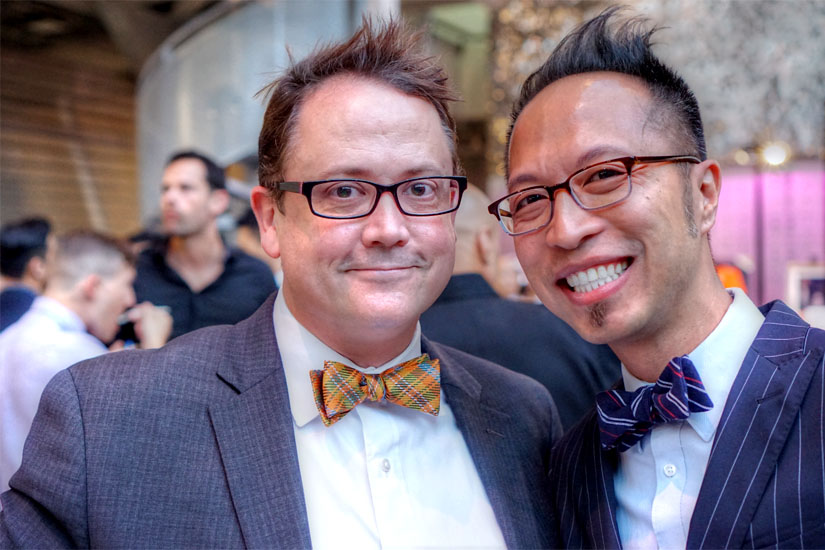 L:
PbP Manager of Fundraising Peter Yun and guests.
R:
Nice to see some bowtie action happening, courtesy of Clayton Yeung (Nielsen,
Visual Communications
boardmember) and friend.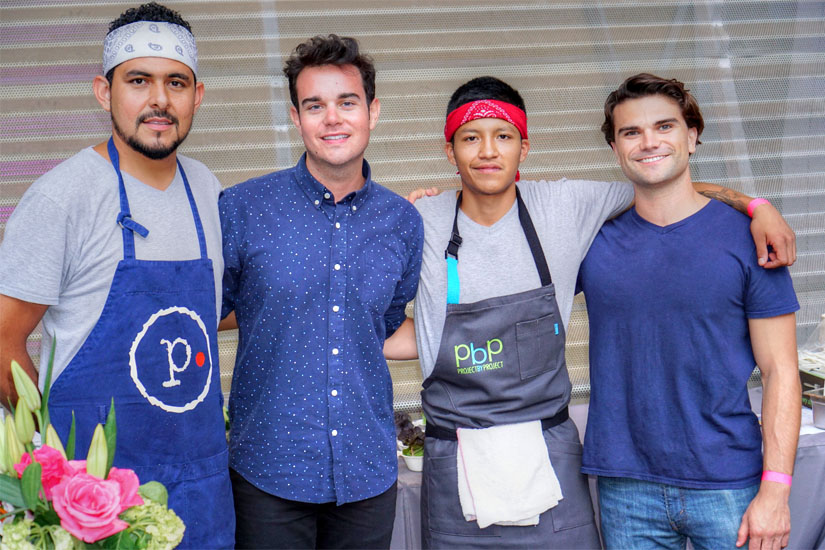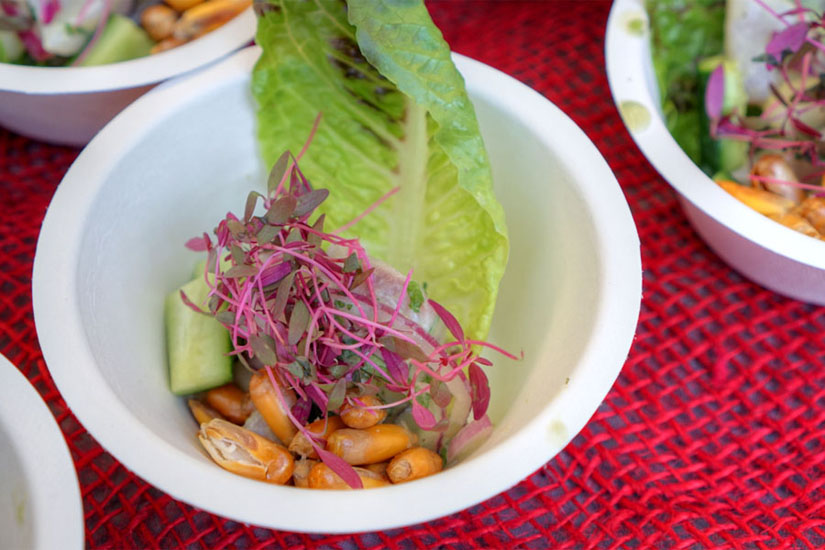 Picca
brought along a light 'n' bright
Ceviche Criollo, sea bass, jalapeño, cucumber leche de tigre, canchas
.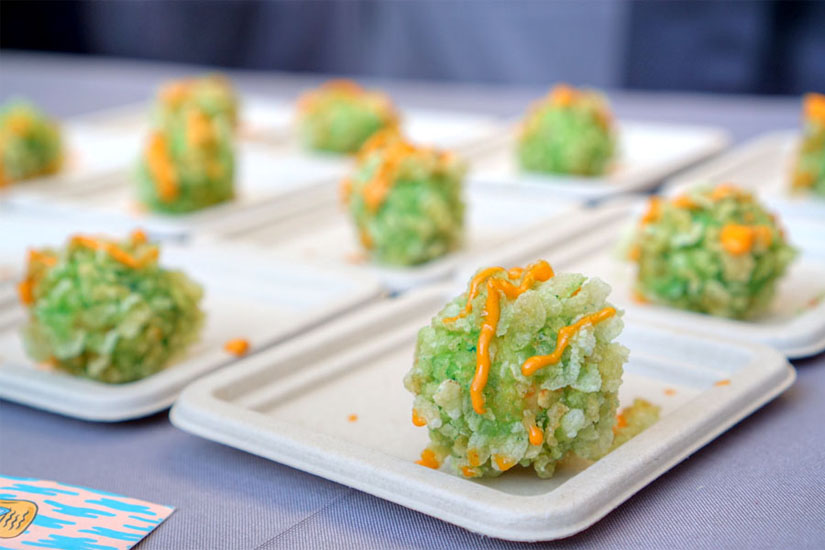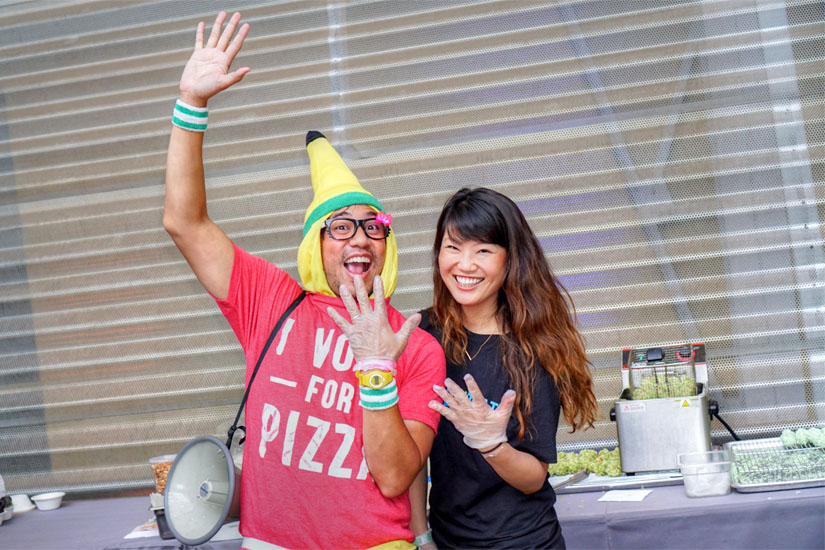 Starry Kitchen
's Nguyen Tran had his signature
Crispy tofu balls, sriracha aioli
ready for
yo' mouf
, along with an
Almond tofu, fresh fruit
for dessert (mouseover). Assisting, meanwhile, was PbP Volunteer Jessica Ho.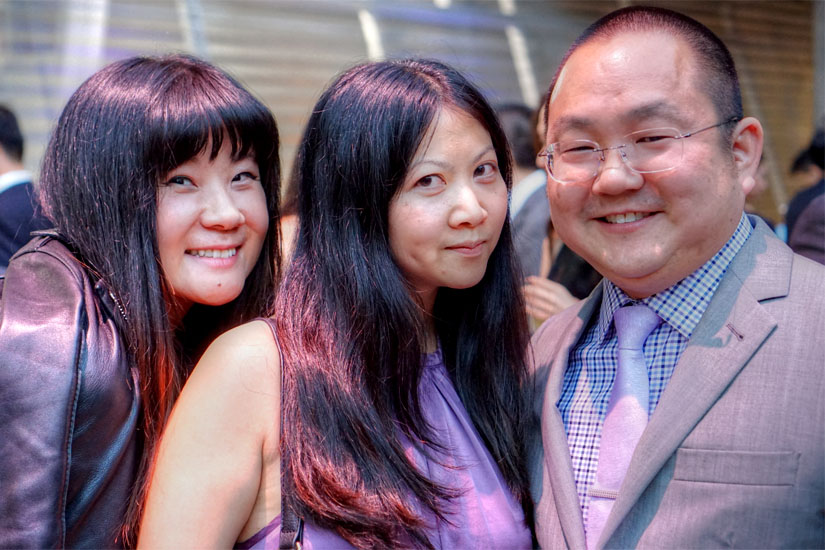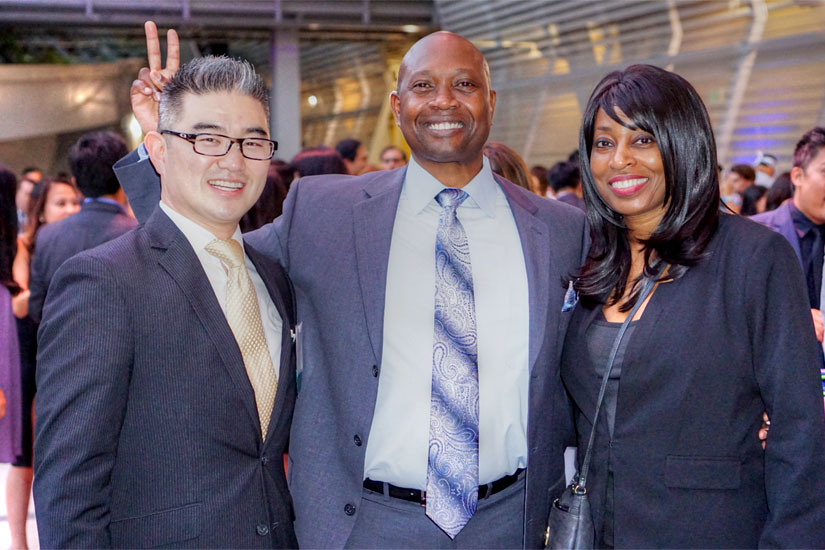 L:
Comedian Jenny Yang and actor Aaron Takahashi, along with San Tong (Saatchi & Saatchi) in the middle there.
R:
PbP Manager of Fundraising Peter Yun again, with Konica Minolta Business Solutions colleague Charles Turner and wife Linda.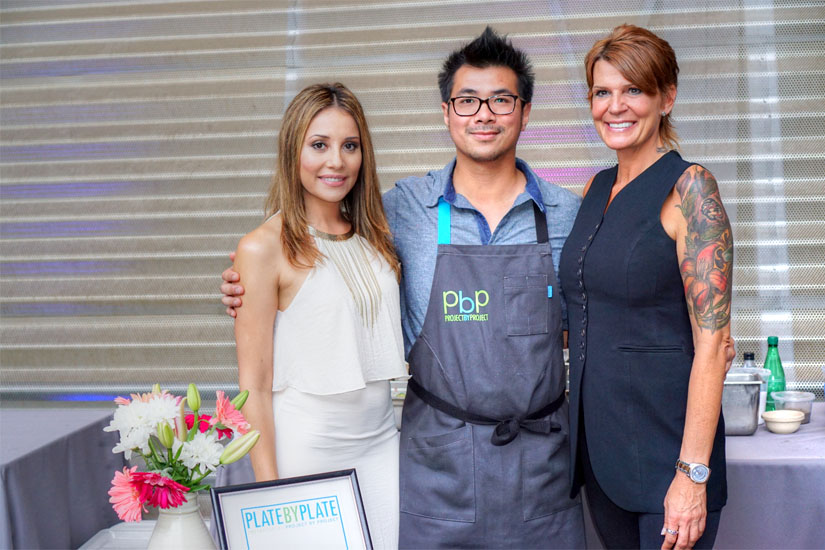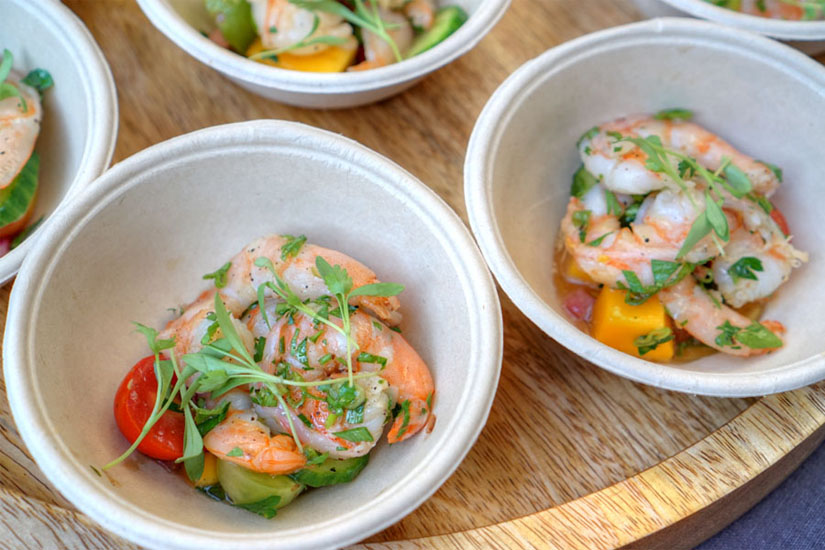 The
Grilled marinated shrimp, tomato and mango salad, bagoong vinaigrette
was the work of
Viviane
's Michael Hung (now with edgier haircut).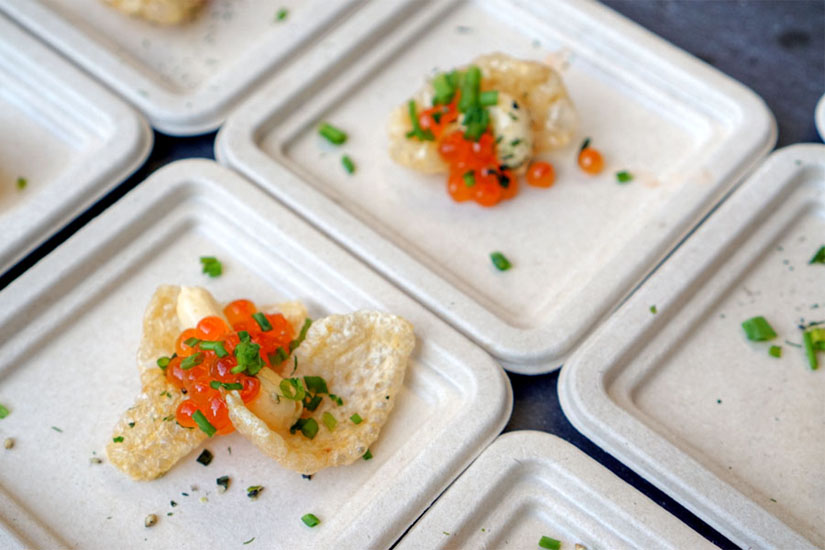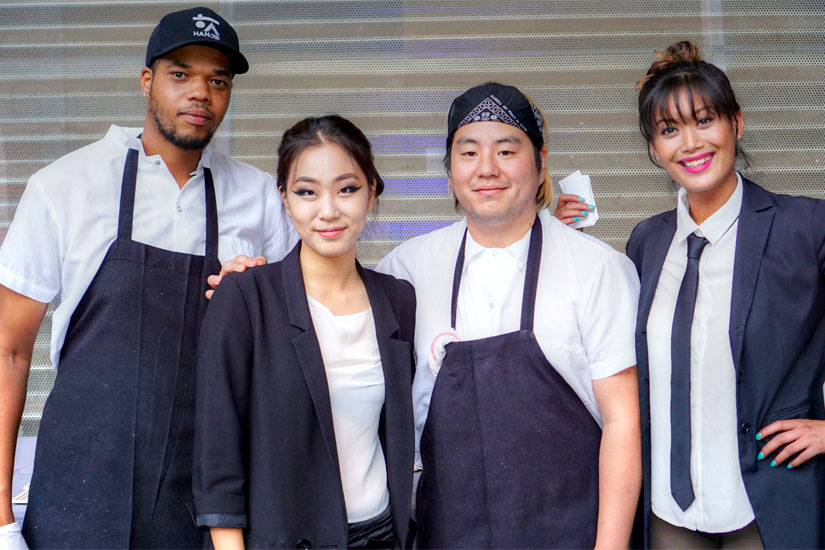 Can't go wrong with
Mister Oh's Surf N Turf, uni butter dipped chicharron, ikura, furikake
from Aimee Lee Lucas and the
Hanjip
team.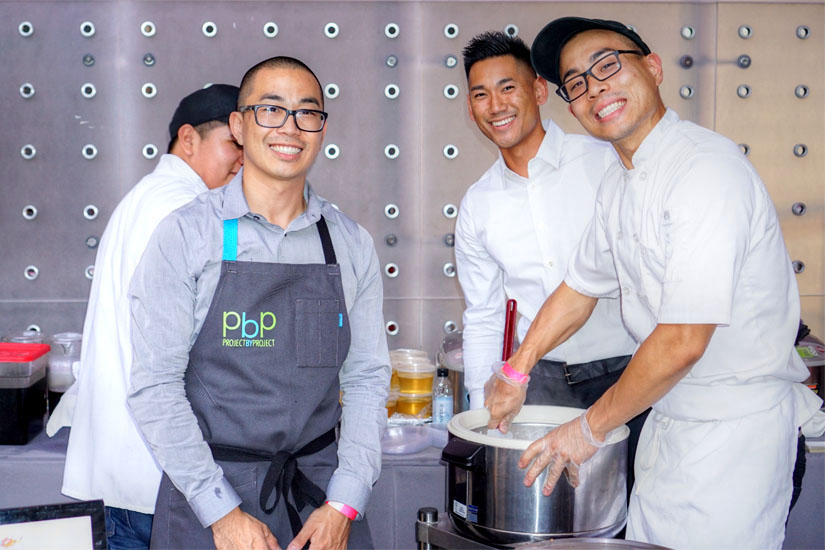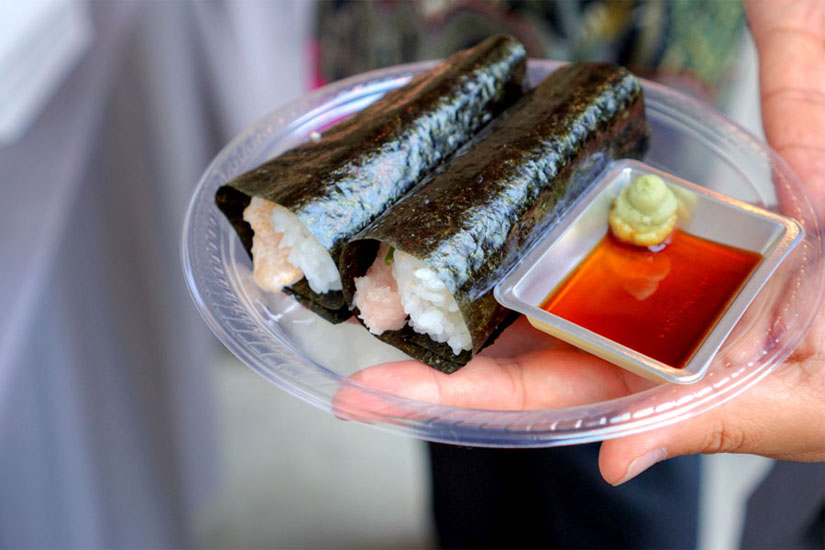 KazuNori
had by far the longest line of the event thanks to their bevy of customizable hand rolls (
Toro/Crab/Yellowtail/Salmon/Bay Scallop/Cucumber
) and
Tuna Sashimi
.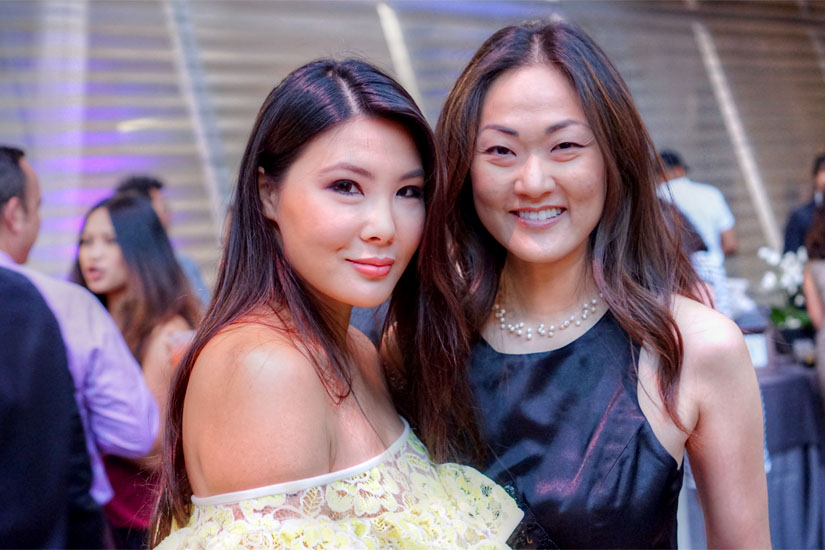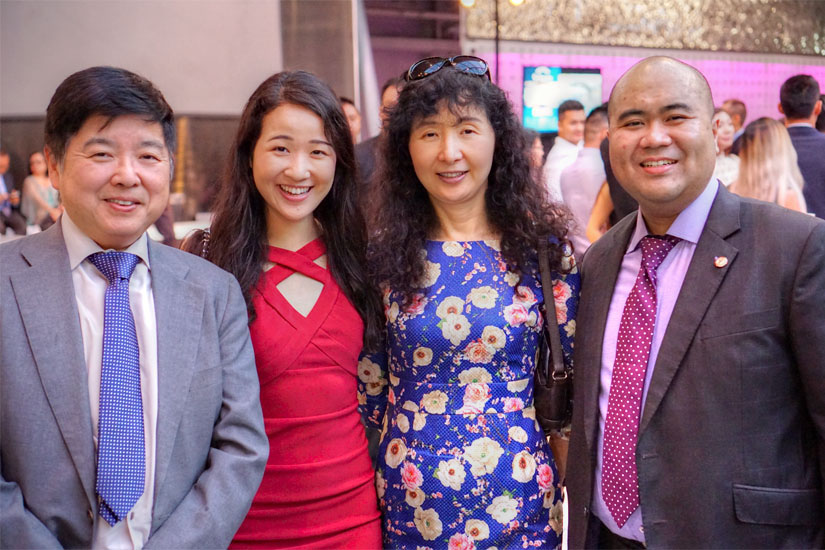 L:
A couple comely ladies.
R:
Former PbP member-slash-diehard Trojan Mikey Lumunsad on the right, with three
Li
's: Jeremy Li, Lori Li, Maria Li.

A view of the main event space from the second floor.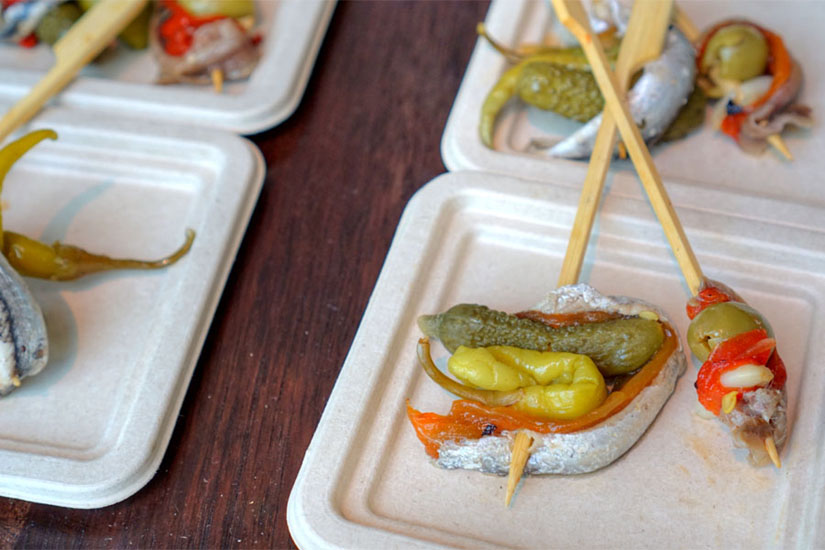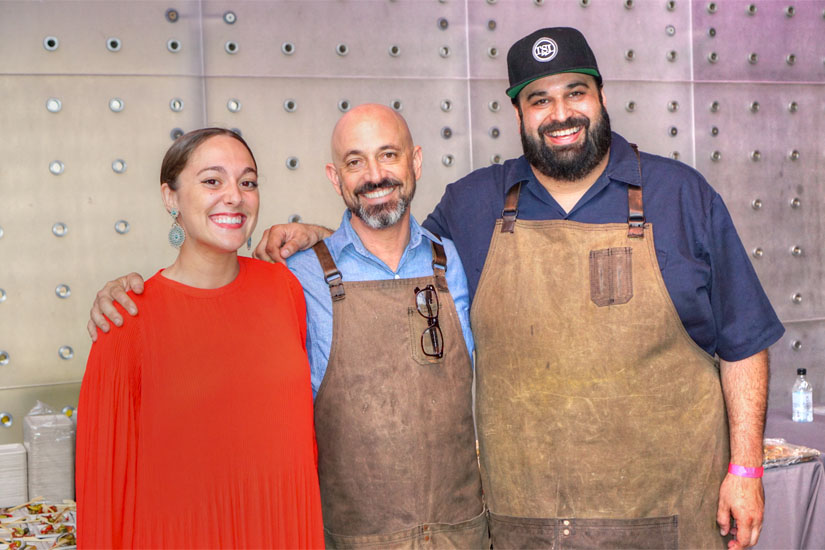 Chris Feldmeier and David Rosoff's
Moruno
had some
Gildas
going on.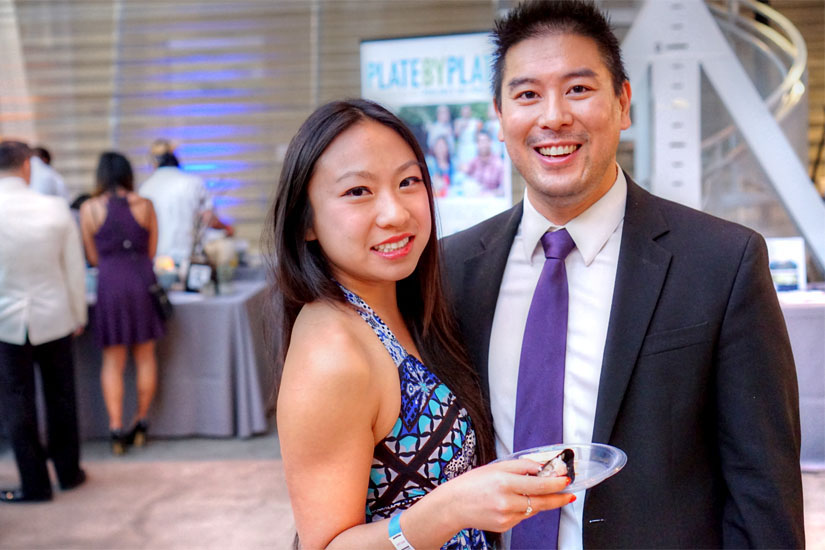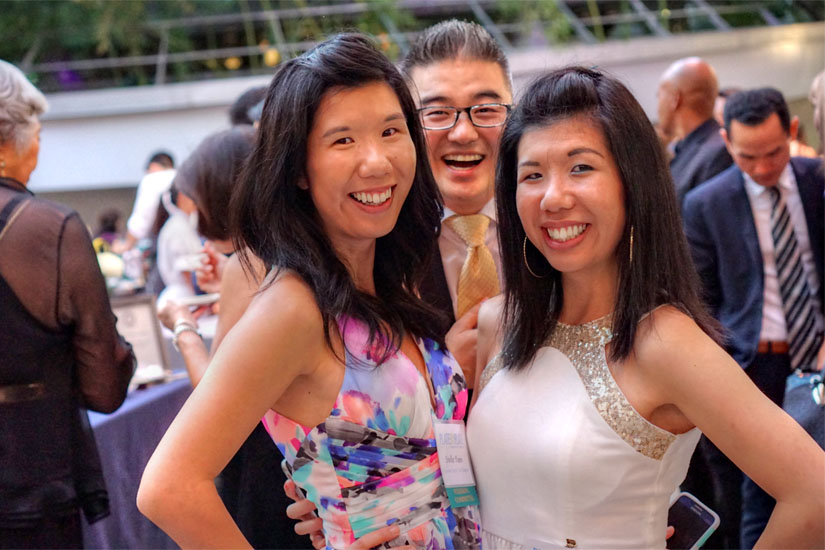 L:
Murphy Perng and Nart Charuworn, both of whom were involved with Project by Project a few years back.
R:
Seeing double with PbP Volunteer Team member Stella Yuen and PbP SF Director of Volunteer Management Sophia Yuen.
I'm pretty sure that Ricardo Zarate's been to more Plate by Plates than just about anyone. He missed last year's event, so it was nice to have him back representing his upcoming restaurant
Rosaliné
. And the dish?
Crispy causa sangrecita, morcilla causa, brie cheese, charred negi huacatay sauce
, with help from PbP Volunteer Vena Lam.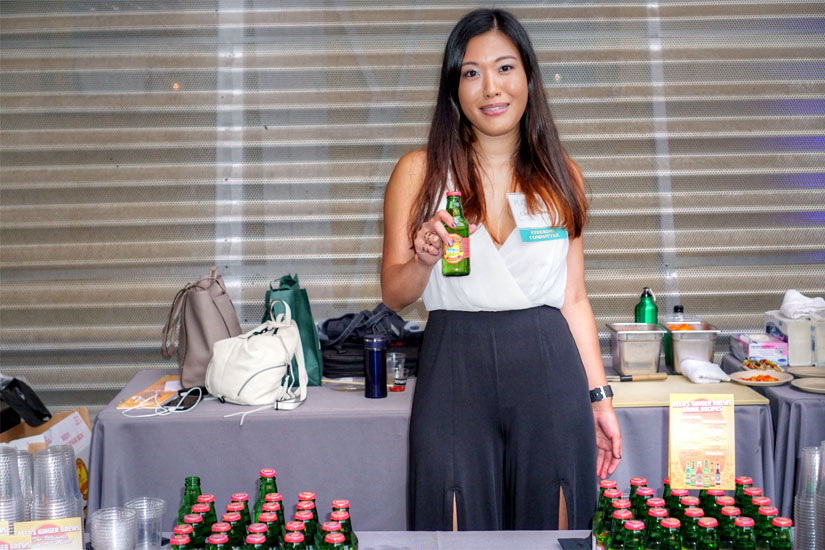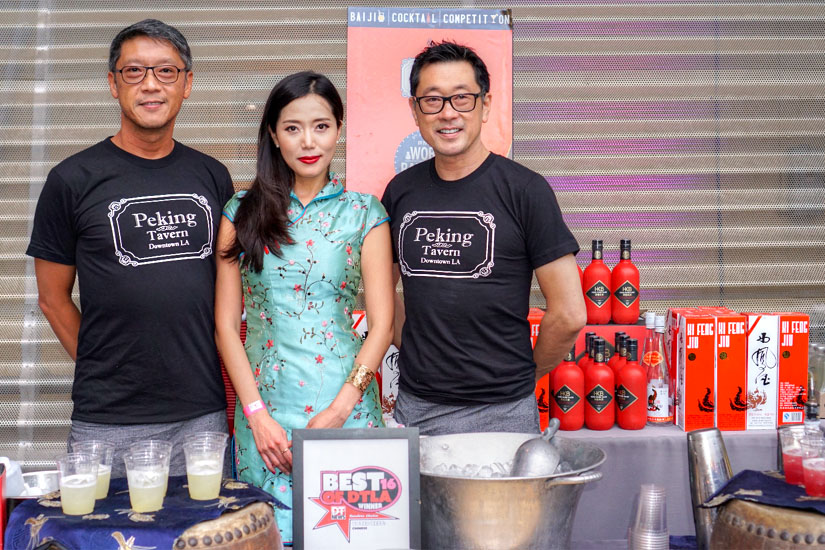 L:
PbP NY Events Team member Catherine Hu was pouring for
Reed's
.
R:
Peking Tavern
brought a twosome of
baijiu
cocktails: the
Wong Chiu Punch, Xi Feng bai jiu, hibiscus, fresh lemon juice
and the
One Inch Punch, HK bai jiu, peach, lemon and pineapple juice, Chambord
. Kee Lee was the meat in the Andrew sandwich.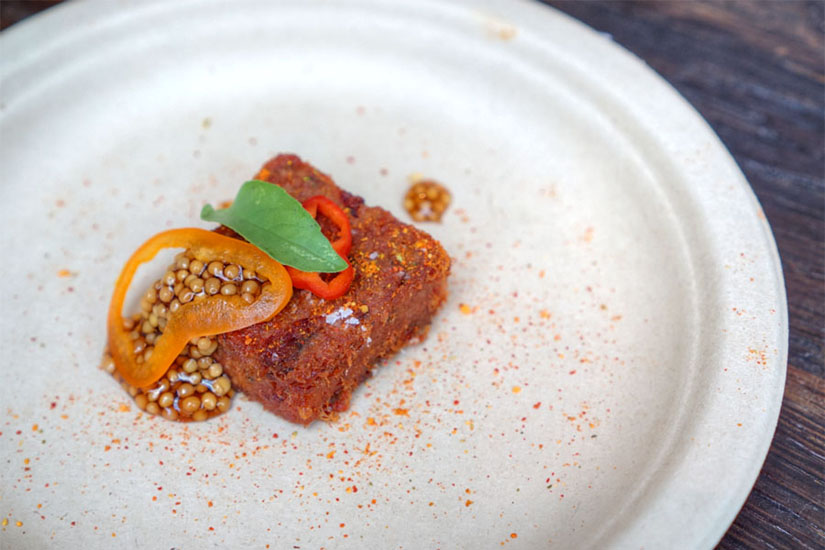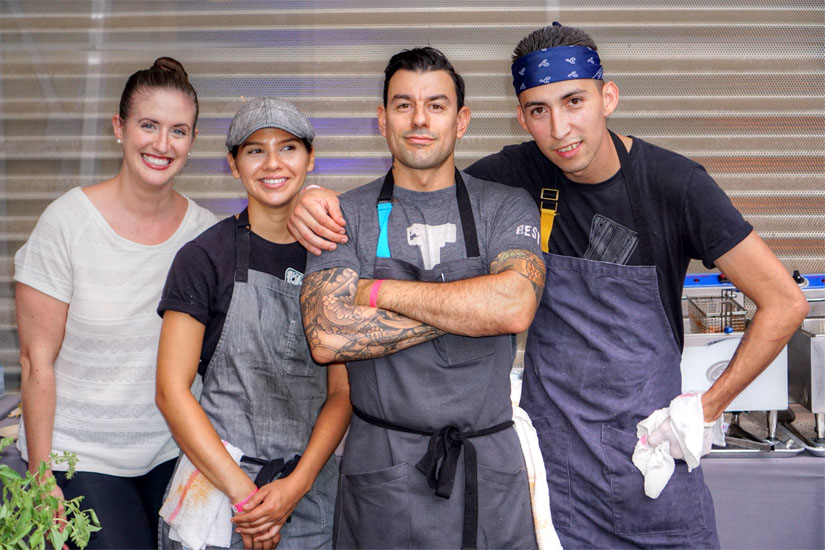 Christina Raptis and the
Bestia
team went porky with their
Smoked ciccioli, pomegranate molasses, pickled mustard seed, sweet peppers, lemon basil
.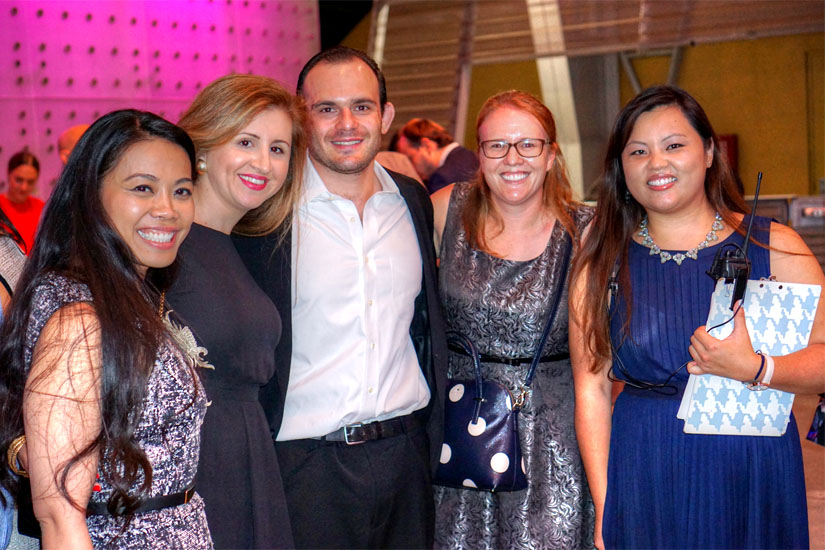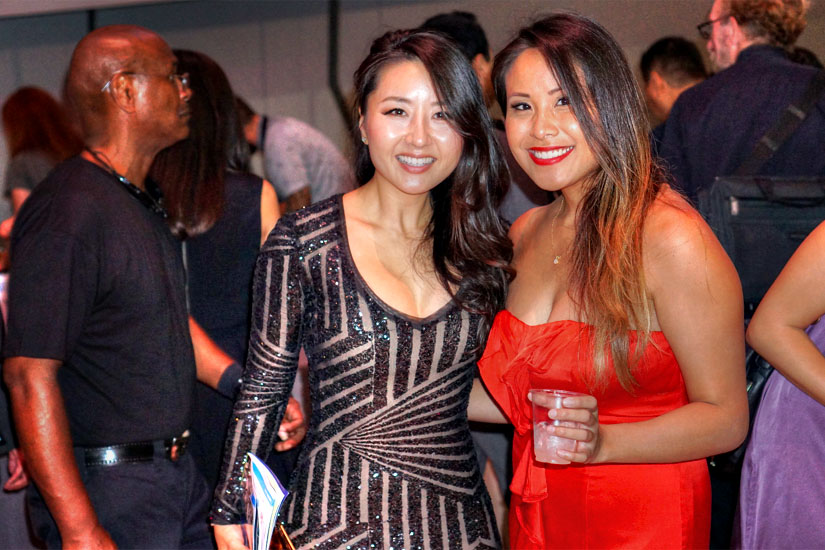 L:
Cherisse Cleofe, Selin Darkalstanian, Nicholas Friedman, and Michelle Lorme, with PbP Director of Events Tuyet Nguyen.
R:
Ex-President Yulree Chun and friend Catherine Tran.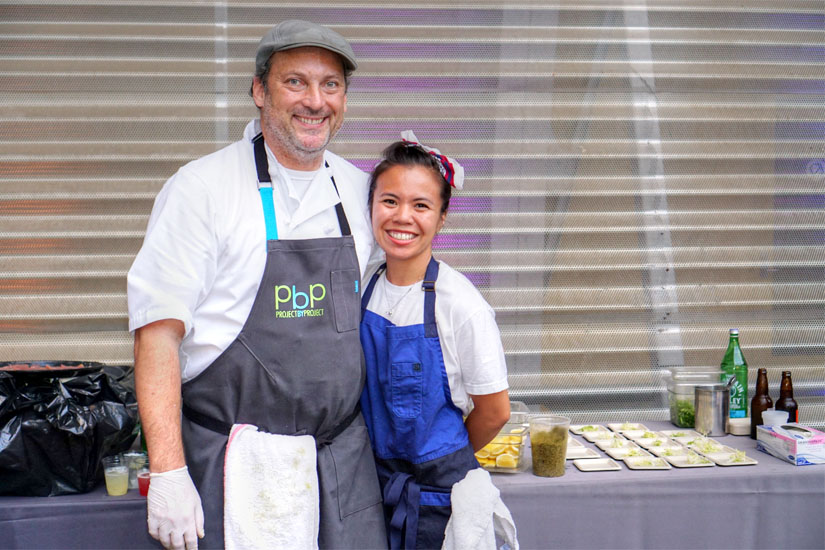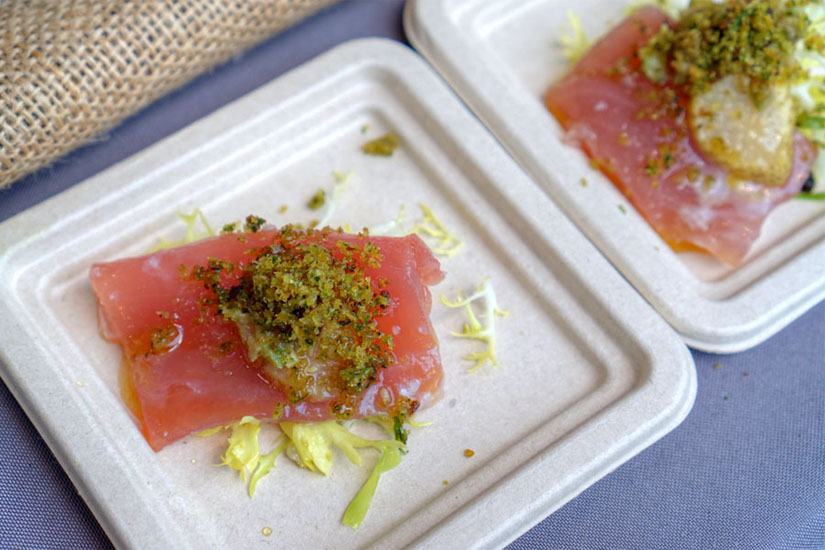 Steve Samson of
Sotto
had a glistening
Bigeye tuna crudo, pickled green strawberry, olive pistachio pesto, bread crumbs
.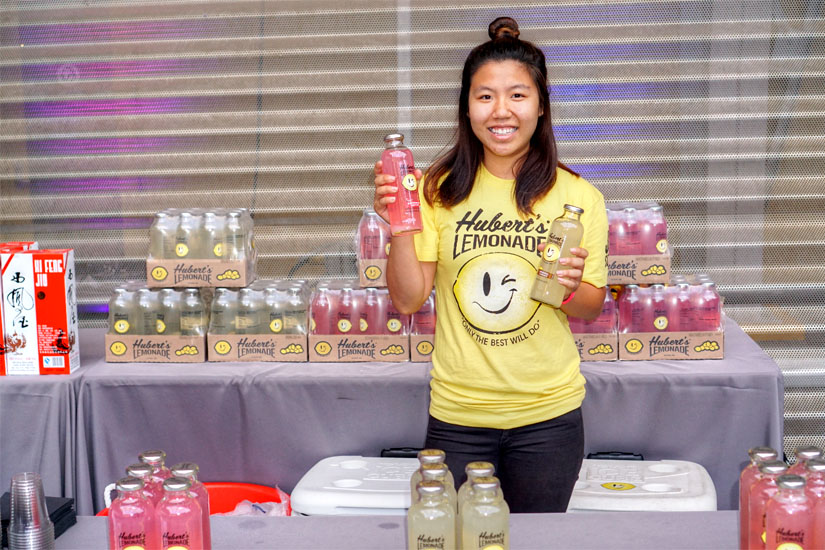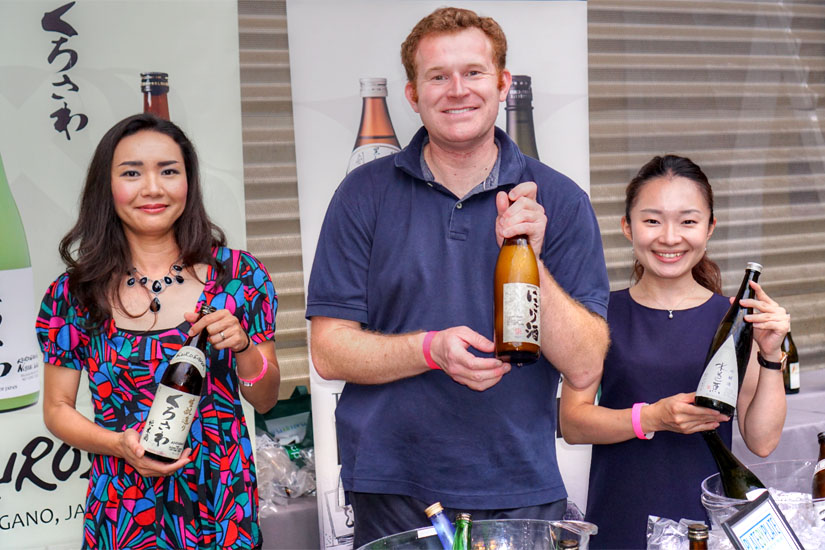 L:
According to guest votes,
Hubert's Lemonade
managed to be the favorite beverage of the night.
R:
Pacific International Liquor
/
Silk Road
brought a tasty variety of sakes to sample.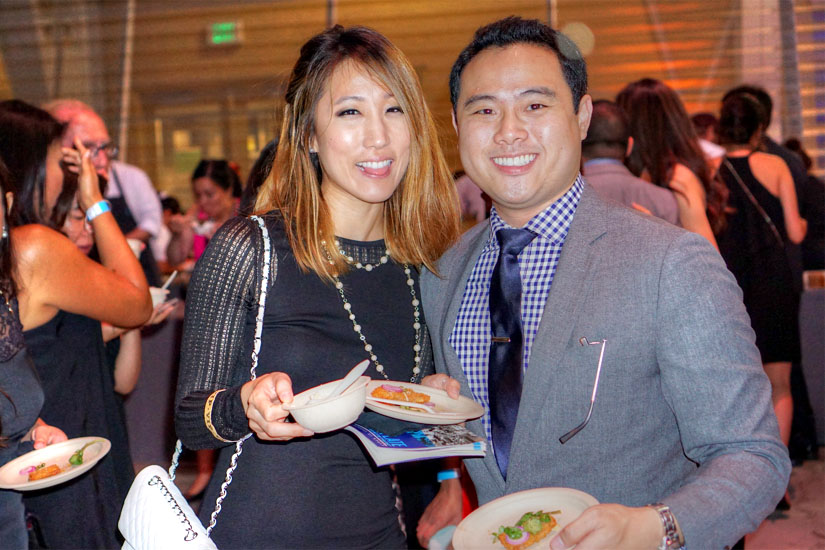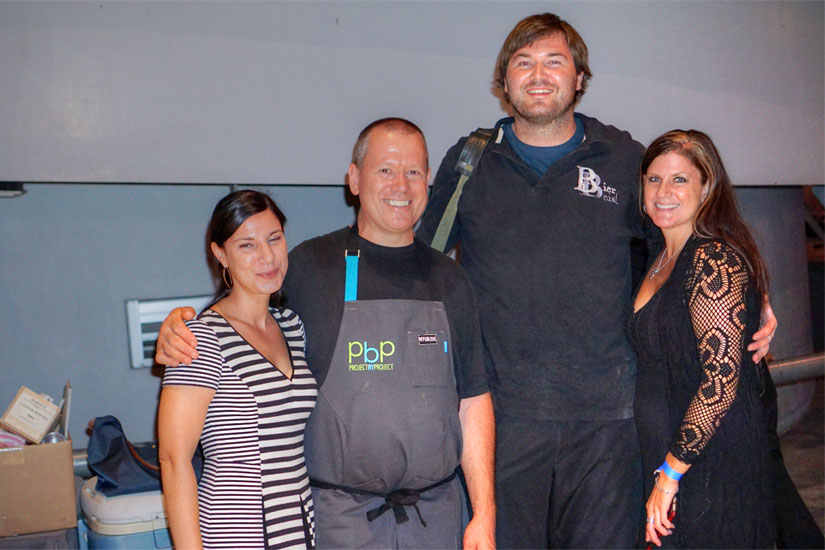 L:
More former PbP'ers: Nami Han and Clayton Tran.
R:
Rebecca Simon-Pearson and Tamara Sasso with Chefs Walter Manzke and Bernhard Mairinger.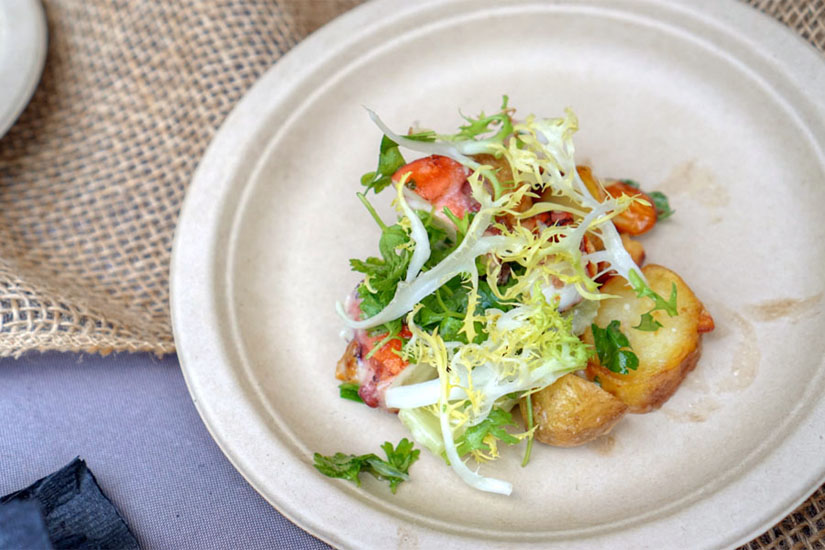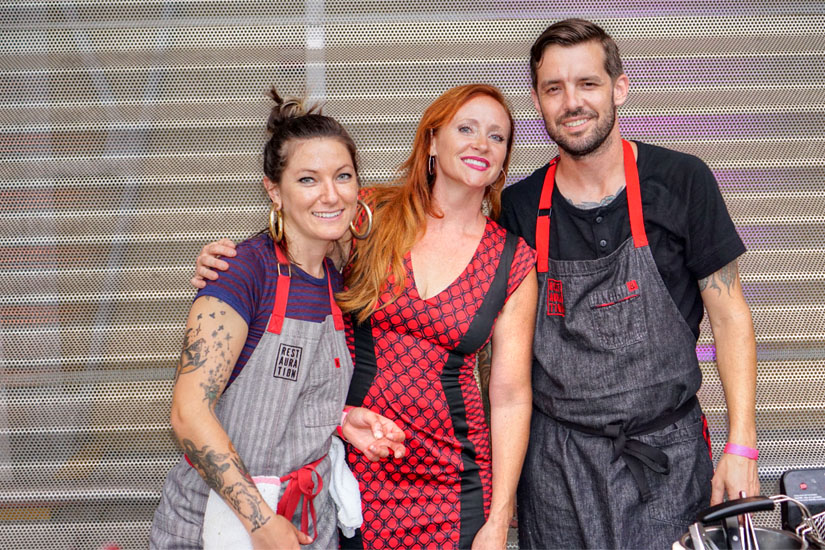 Chef Philip Pretty and Co-Owner Dana Robertson from
Restauration
were on hand to present their popular
Charred Spanish octopus, warm marble potato, celery heart, toasted almonds, frisée, caesar dressing
.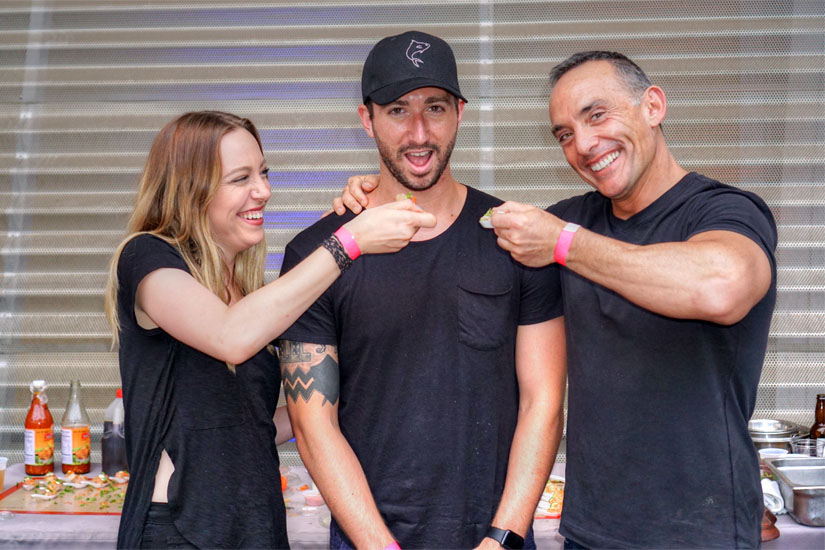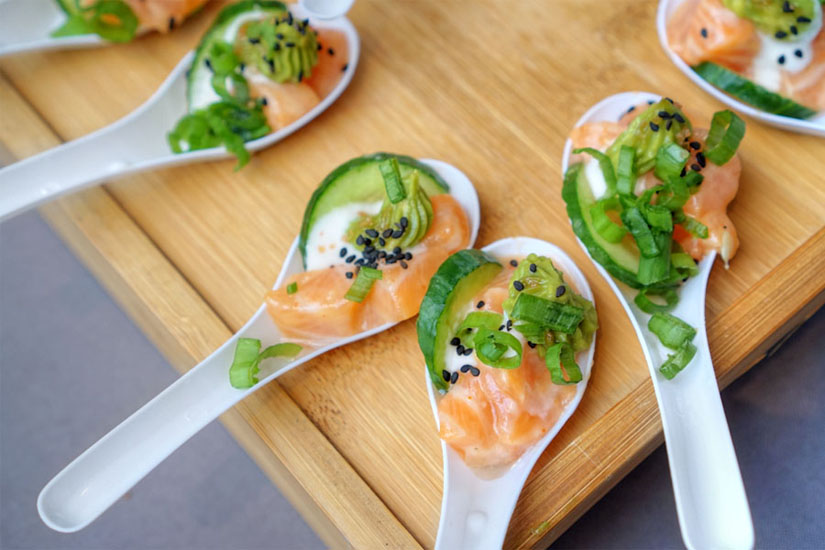 Ramy Elguindy from
Mainland Poke
served up two spoonfuls:
"So Cali", naturally raised king salmon, scallions, sriracha aioli, avocado
; and the
"Ichiban", fresh caught albacore, wasabi cream, green onions, tobiko
(mouseover).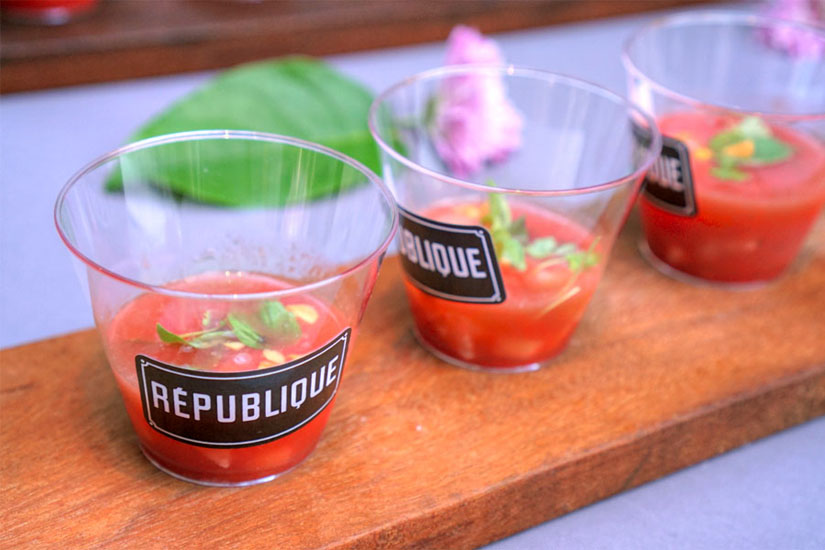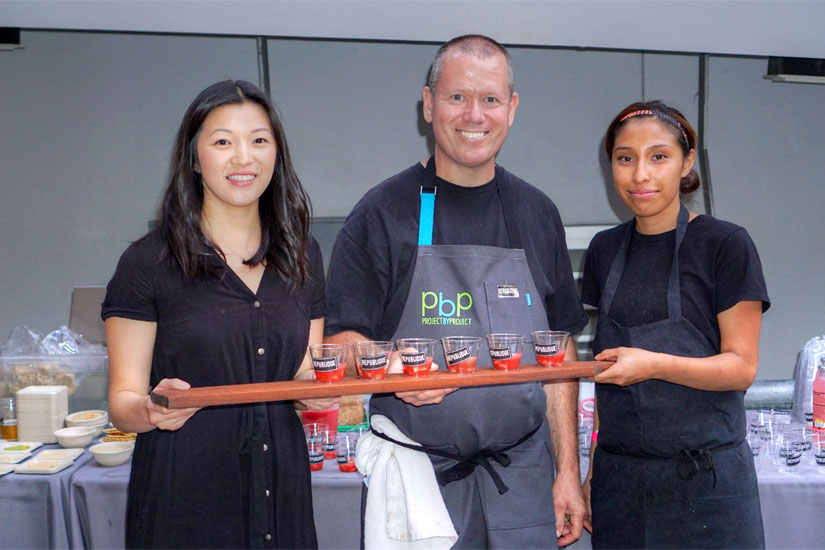 Walter Manzke's
République
prepared glasses of
Yellowtail crudo, watermelon, tomato, green Thai curry
.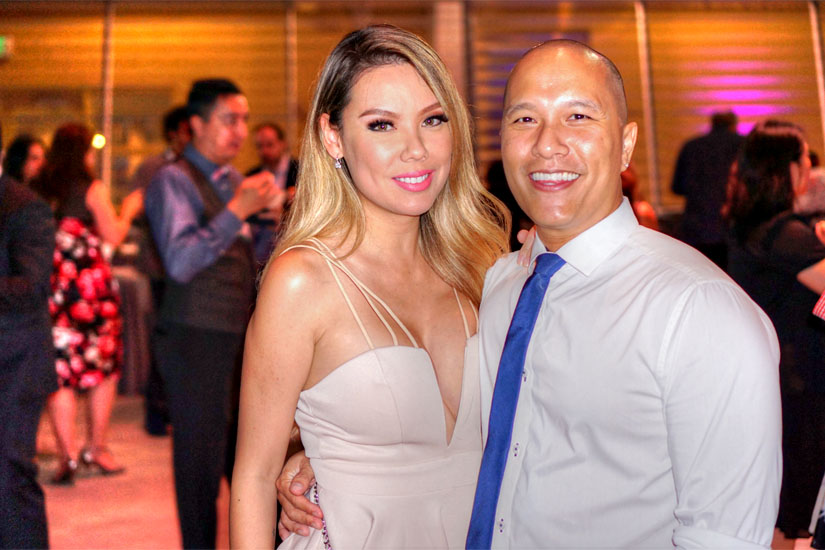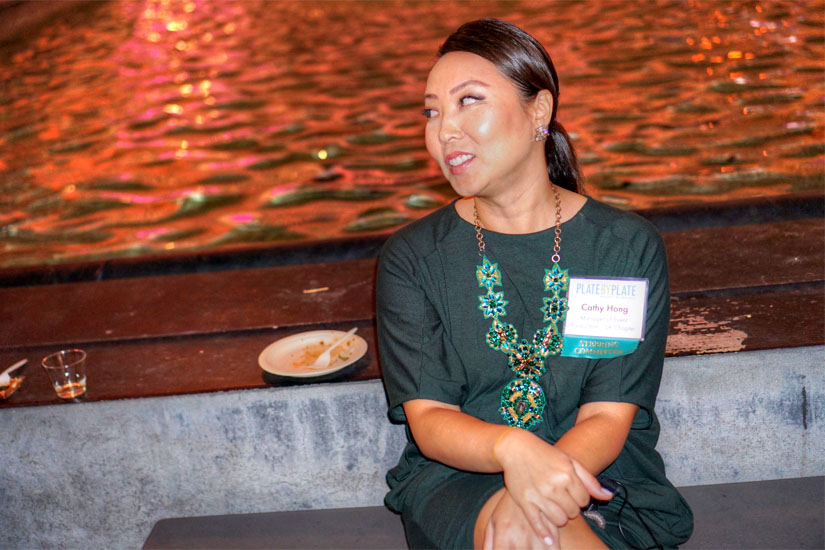 L:
Oanh Nguyen, PbP's Manager of Restaurant Relations from all the way back in 2010, with beau Dan Phan.
R:
Cathy Hong, PbP Manager of Event Production, with some side-eyeing.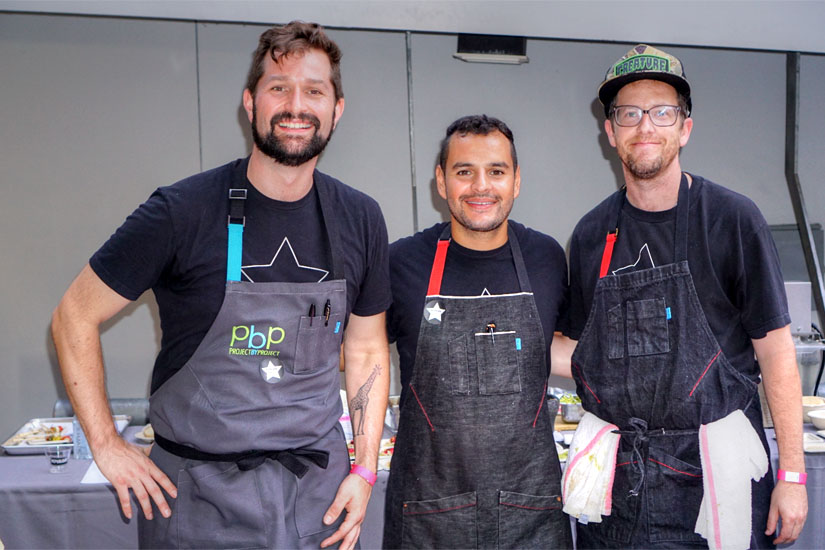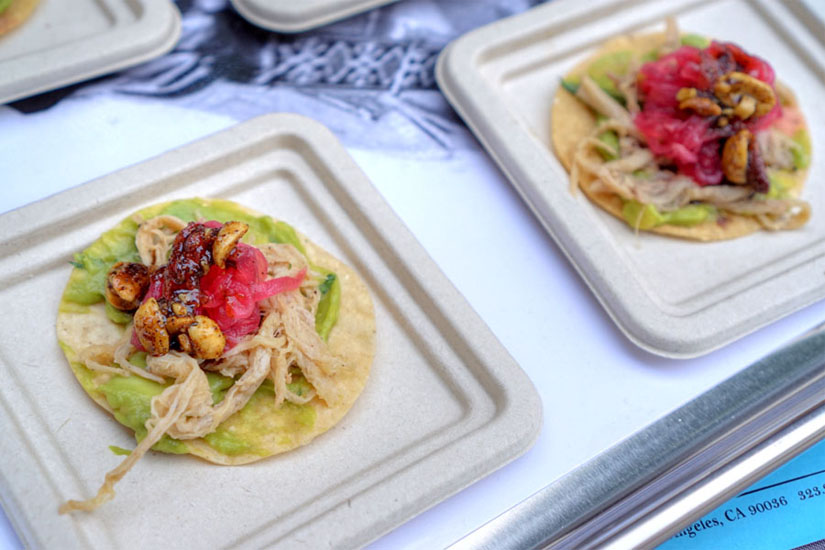 Chef Fabian Gallardo and
Petty Cash
had a fun
Pork belly tostadita, corn tostada, guacamole, pork belly, pickled red onions, roasted peanut sauce
.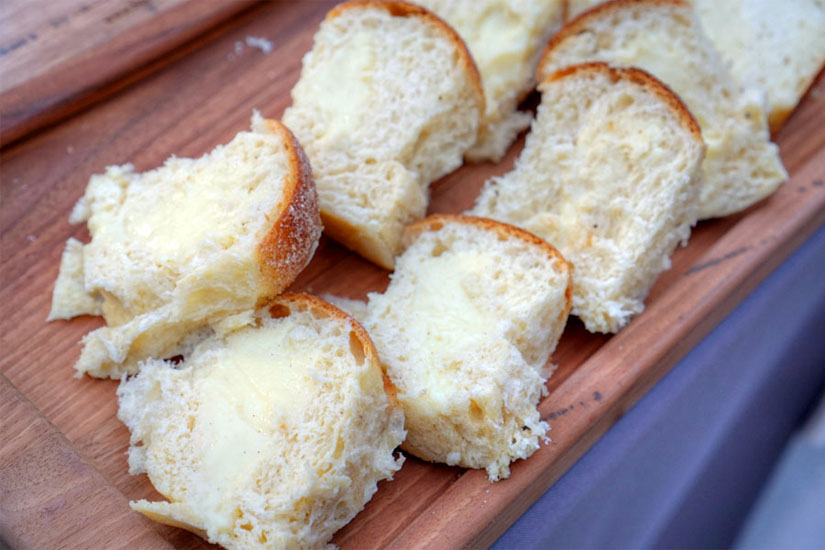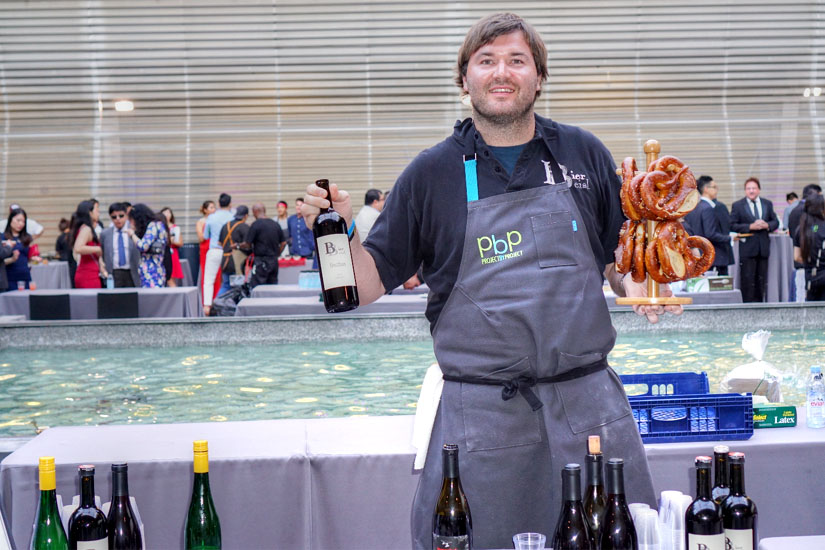 Bernhard Mairinger from the resurrected
BierBeisl Imbiss
had a
Vanilla custard infused brioche dumpling, cinnamon sugar
that was a crowd-pleaser. He was also pouring some wines: his private label
Riesling, Mosel
and
Zweigelt, Burgenland
, along with the
Stammtisch Pinot Noir, Santa Maria Valley
.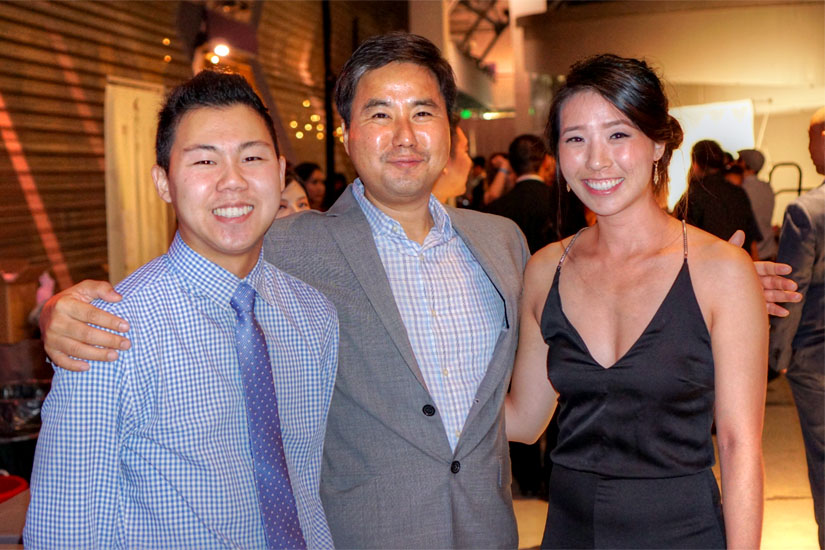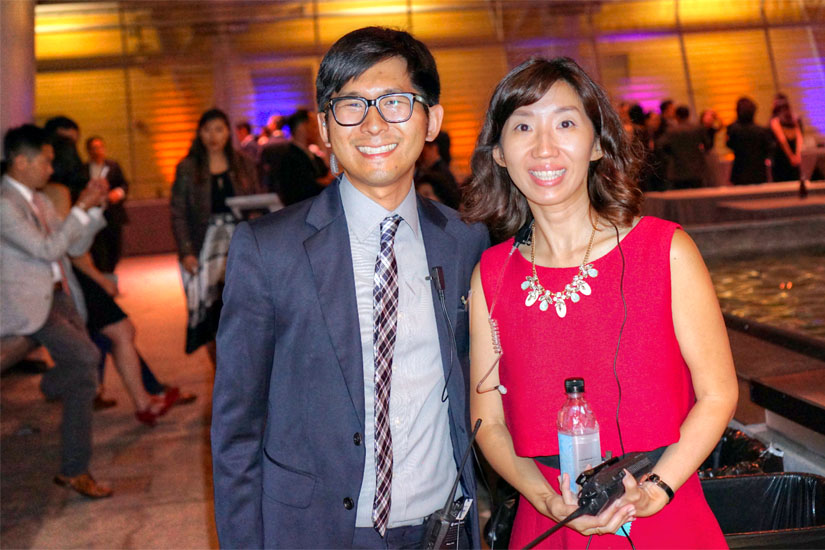 L:
Incorrect suit buttoning.
R:
PbP Events Team members (and couple) Ben Juhn and Rachel Kim.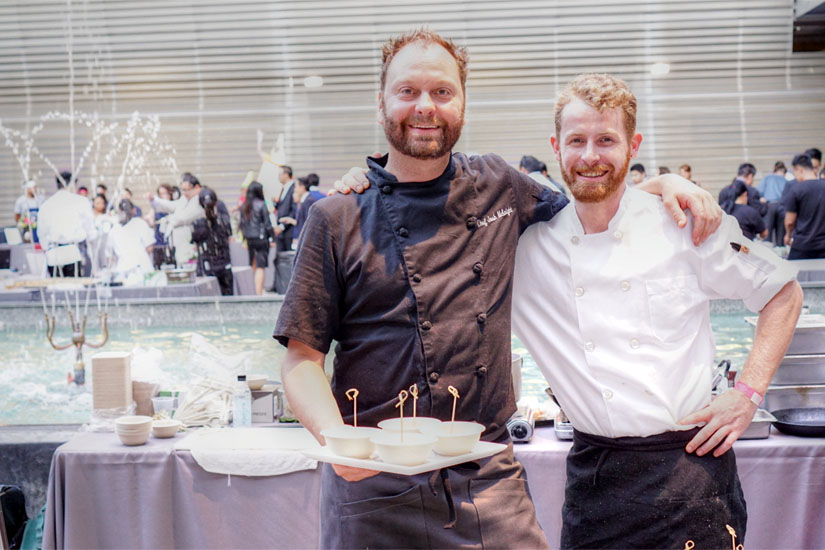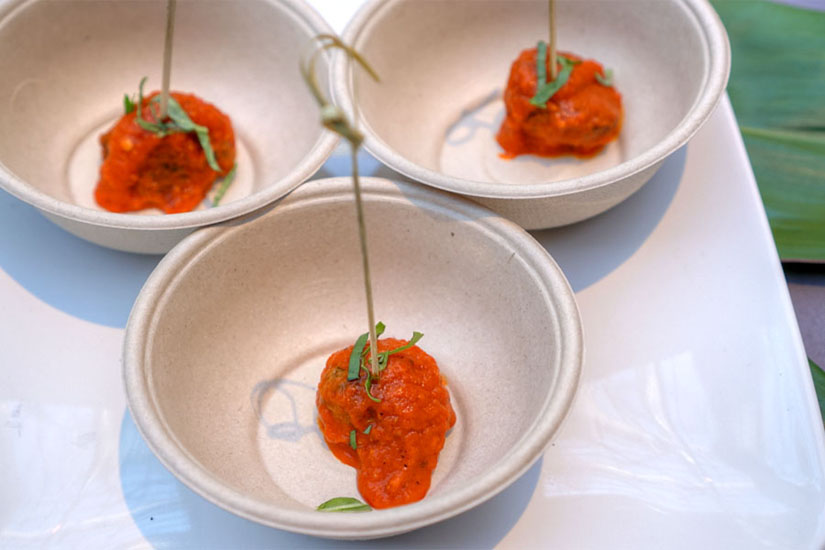 Maré
's Josh McKnight had our third ball-shaped dish of the night:
Lamb & steak meatballs, red pepper arrabbiata, mint salad
, created using donated meat from
Family's Beef
.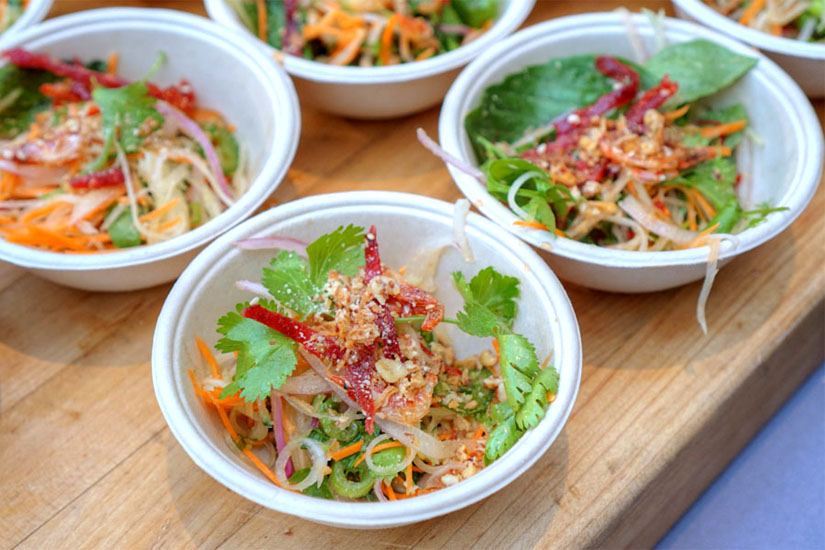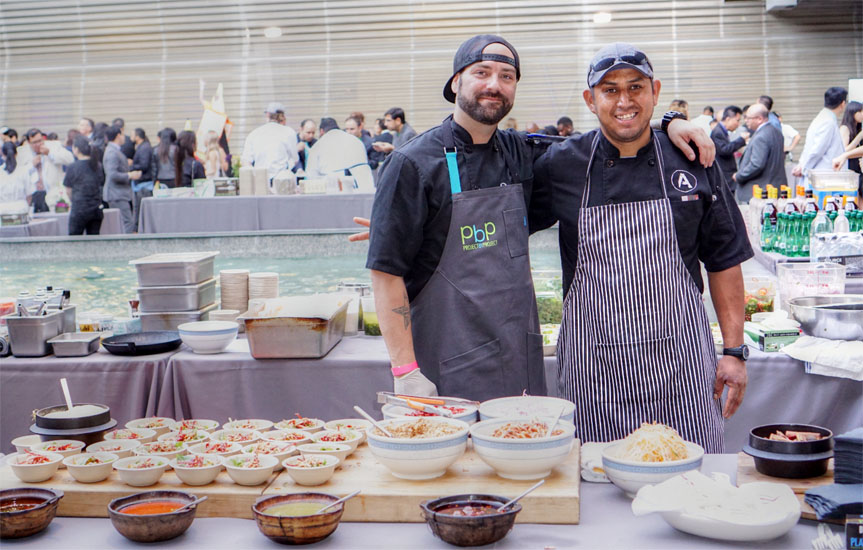 Chef de Cuisine Mikey Segerstrom from the new DTLA outpost of
Little Sister
busted out a very colorful
"Goi Du Du" papaya salad, Viet jerky, herbs, candied shrimp, nuoc cham
.

This year's event featured a "Beer Garden" setup in the space's upper level.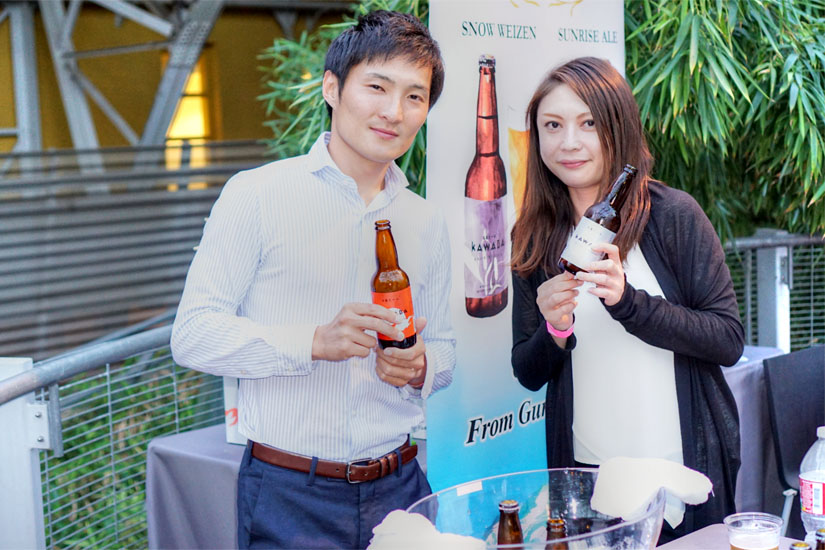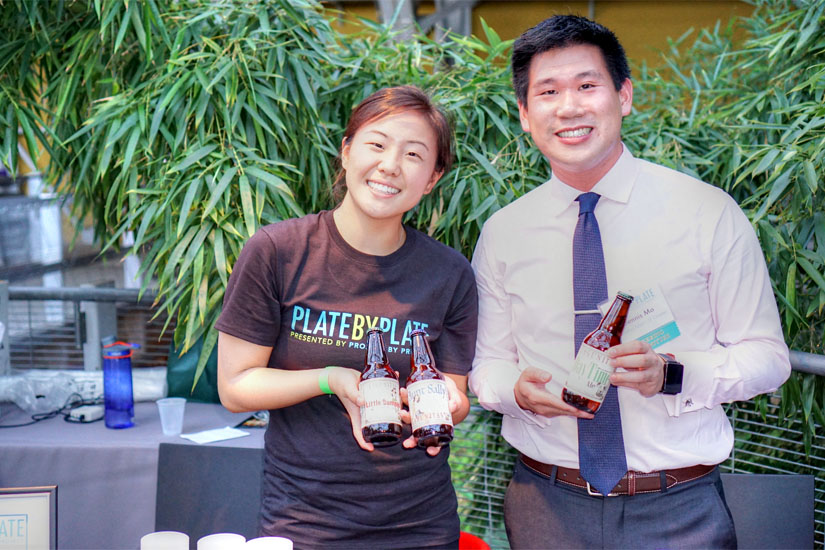 L:
Kawaba
was there pouring two of their beers.
R:
PbP SF Marketing Team member Dennis Mo and PbP Volunteer Anna Lee were in charge of
Lagunitas
' station.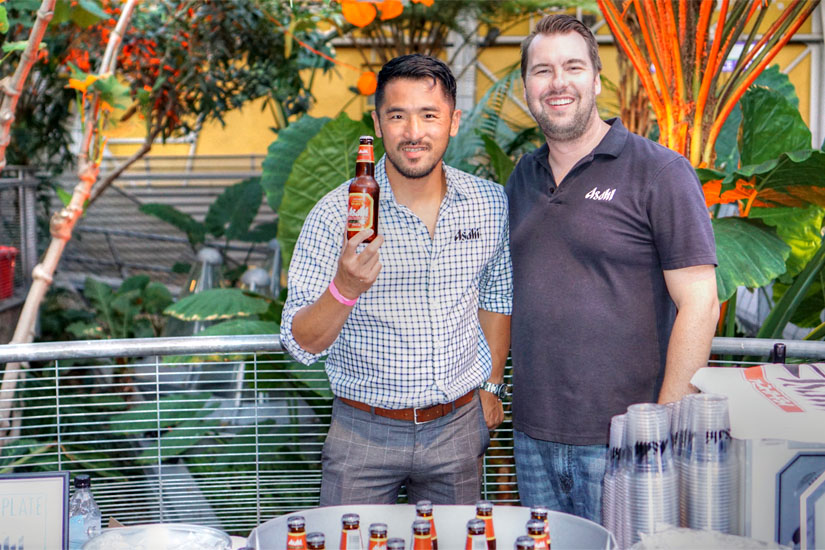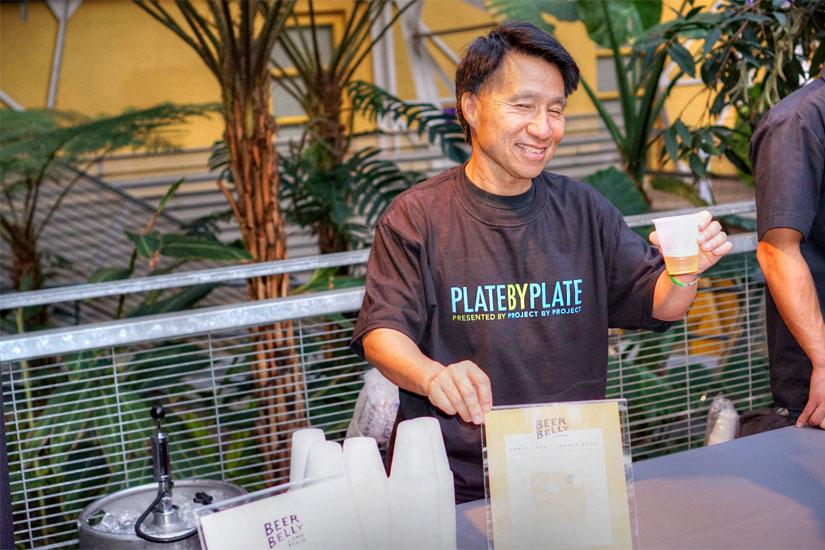 L:
Tan
Asahi
sales rep Taichi Seki made what I believe was his third appearance at Plate by Plate.
R:
PbP Volunteer Billy Wing (who usually hangs out with Asahi guy above) was manning the kegs at the
Beer Belly
station. On tap was the
El Segundo Citra Pale Ale
and
Monkish Ninja Star
Belgian blonde.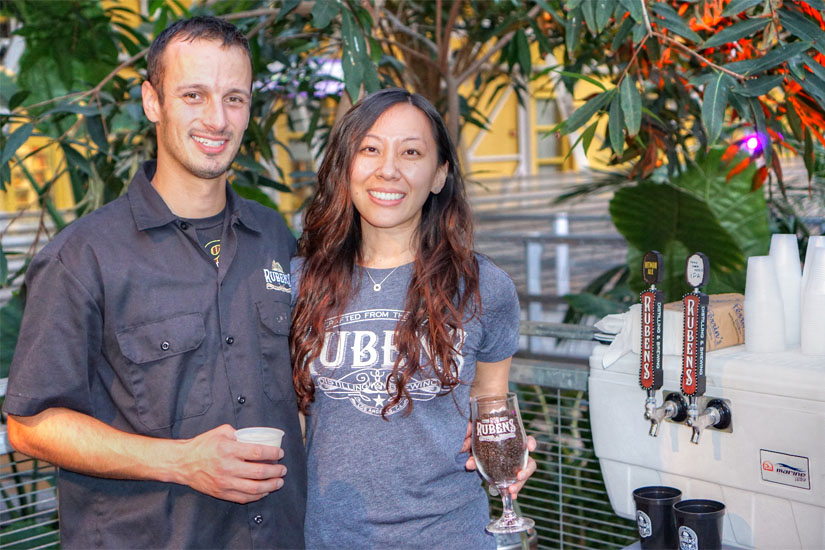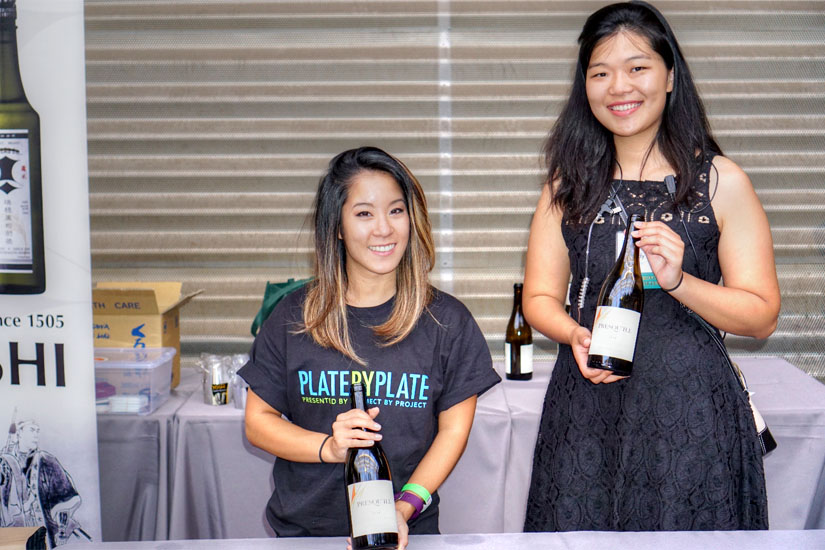 L:
Newbie brewer
Rob Rubens Distilling & Brewing
showcased their
Head Over Heels v1.0
IPA and
Hitman Ale
altbier.
R:
Presqu'ile
wines were poured by PbP Volunteer Team Member Cindy Lee and PbP Volunteer Brittany Yung.

Let's step into the blue-hued Muses Room, which housed the photobooth, three more restaurants, as well as the VIP area.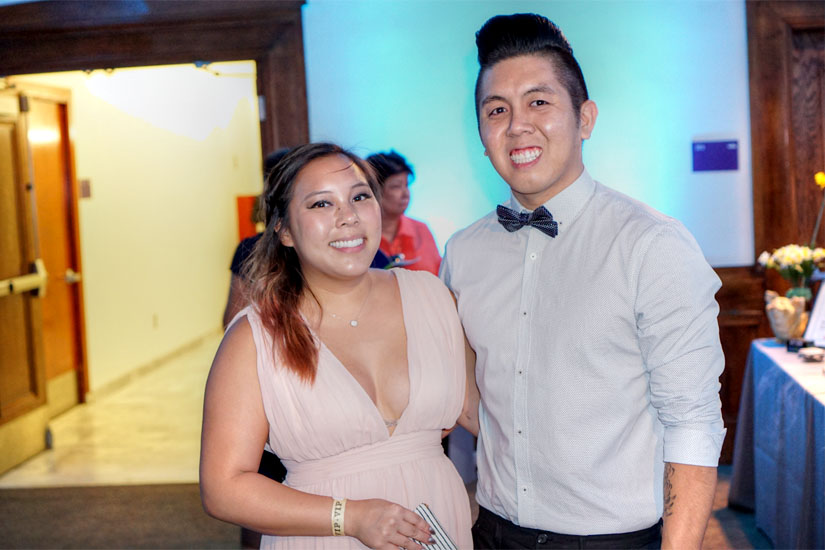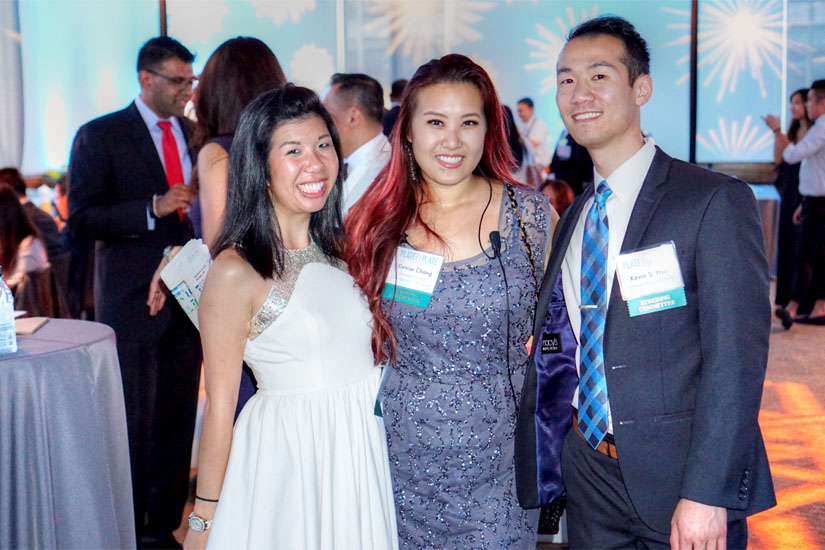 L:
Ex-PbP LA'er Marilyn Tran with PbP National Marketing Director-slash-SO Andrew Le.
R:
PbP SF Director of Volunteer Management Sophia Yuen, PbP Manager of Team Development Denise Chang, PbP Marketing Team Member Kevin S Hsu, and interim PbP National President Nirendran Kathirithamby hanging out in the background.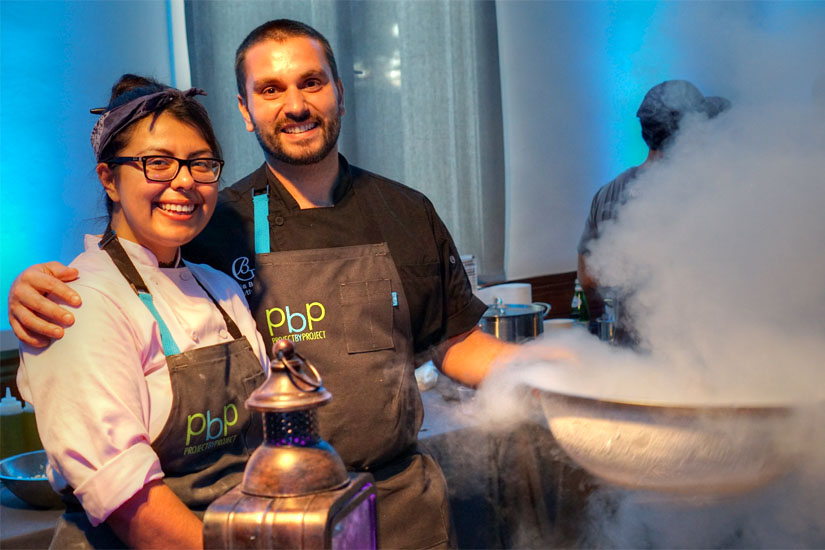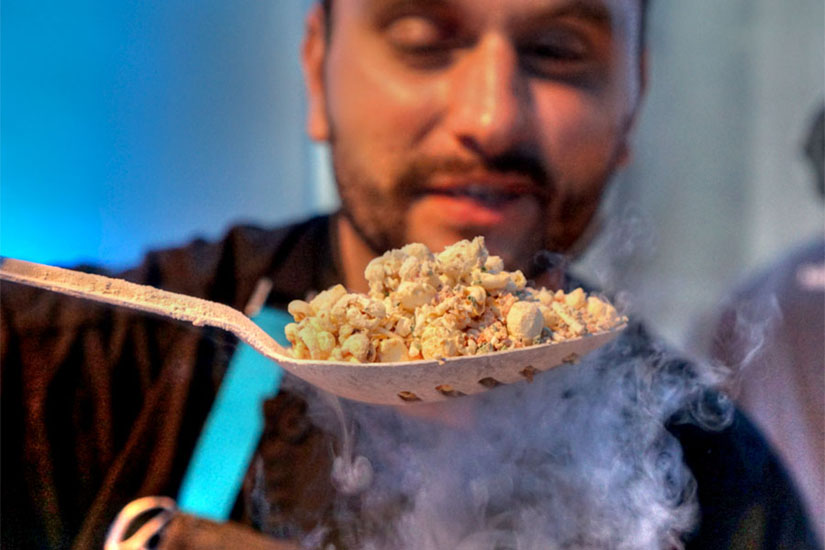 Not surprisingly,
Barton G
Executive Chef Attila Bollok and Pastry Sous Chef Gloria Jasso Villasana busted out the theatrics with their
Holy Smokes Popcorn
.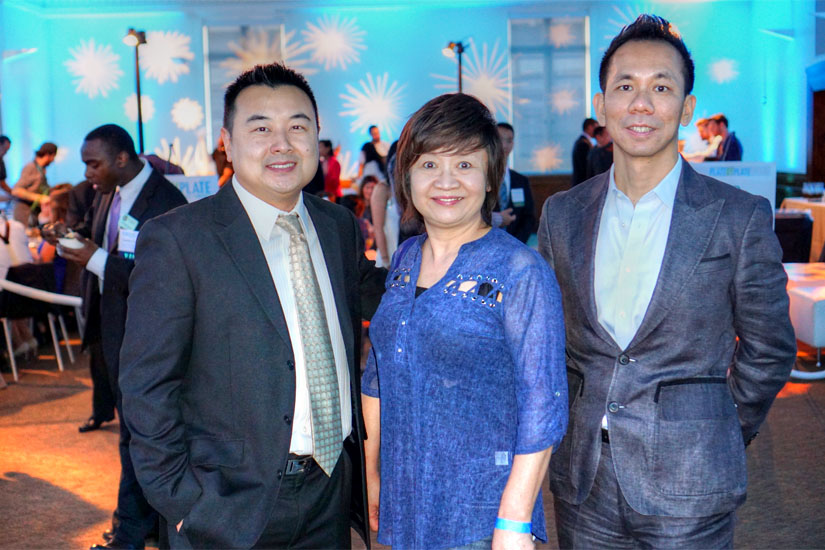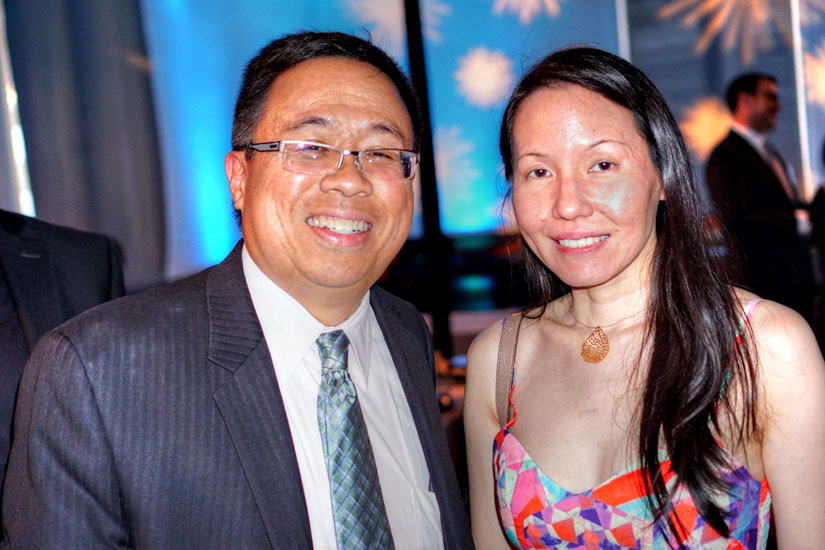 L:
Phil Cheng and mother-in-law Kelly Yang, along with friend Charlie Wu.
R:
Perennial Plate by Plate fixture Sherwin Goo was in attendance, natch.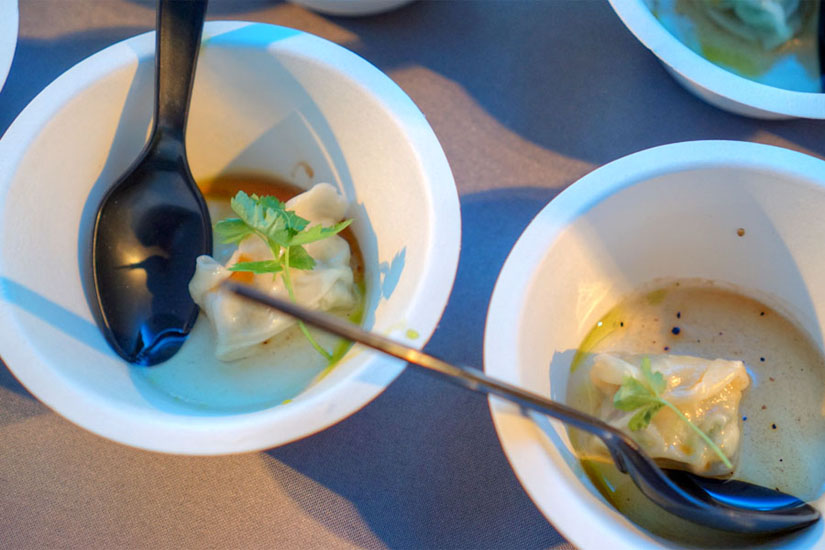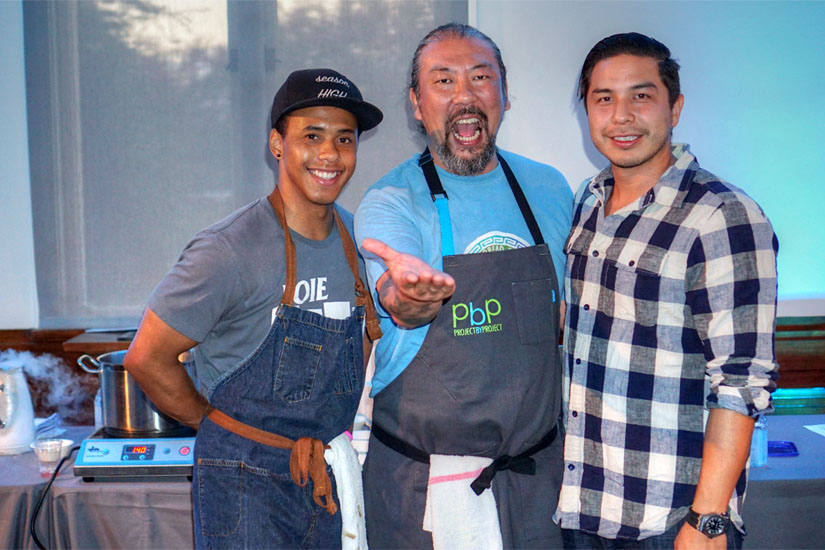 Yoya Takahashi and Jesse Duron repped
Hamasaku
with a
Hamachi dumpling soup
.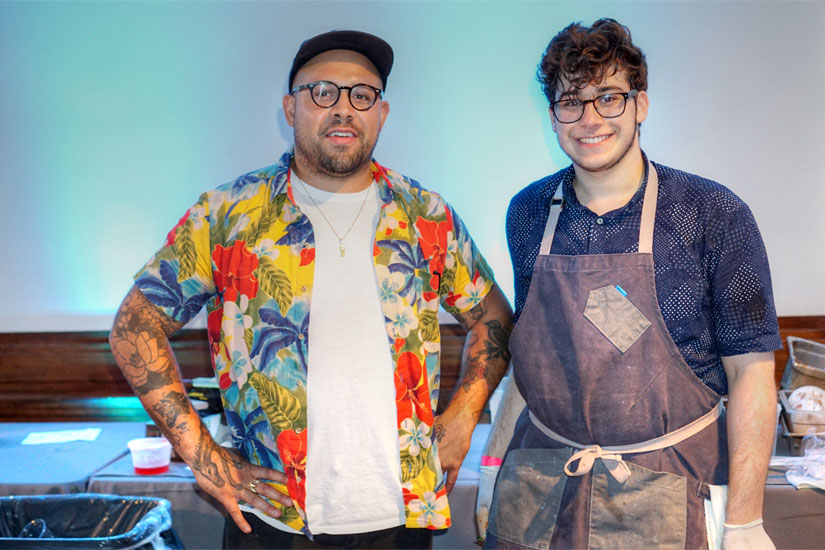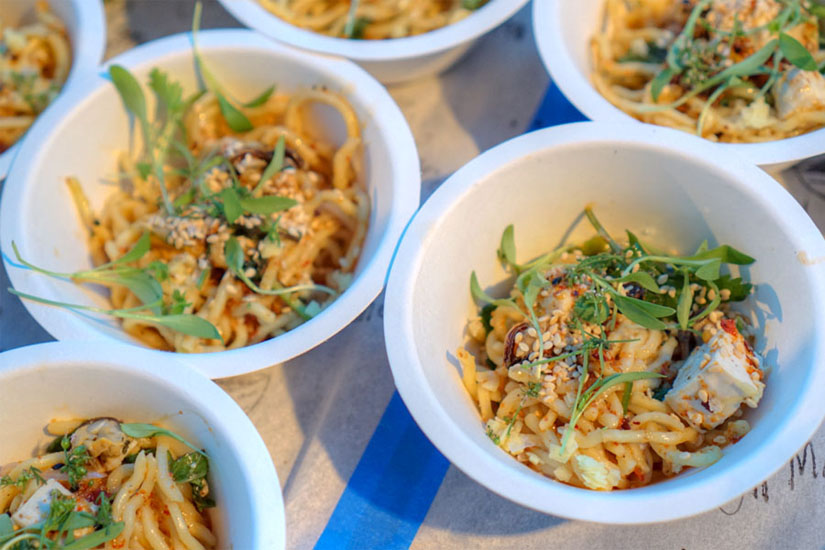 Luke Reyes of the soon-to-open
Oh Man! Ramen
had some zesty
Chilled spicy mussel ramen, togarashi shellfish broth, fresh herbs & coriander flowers
on offer.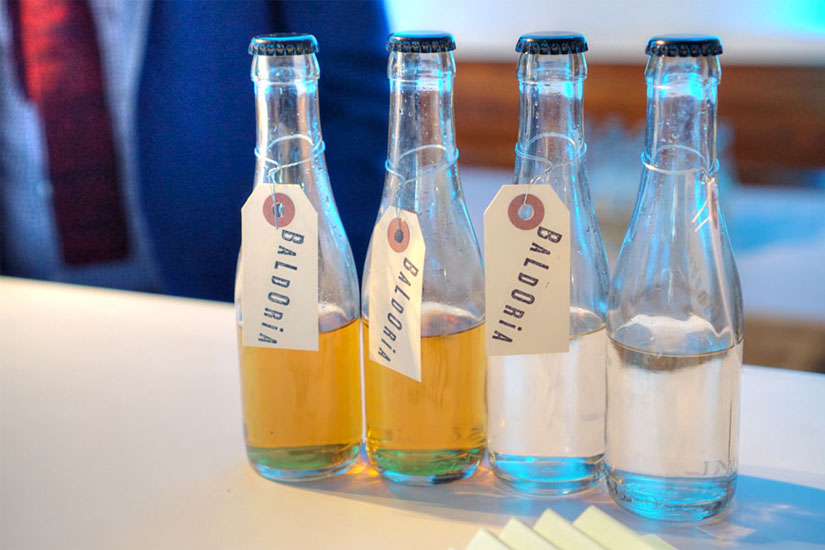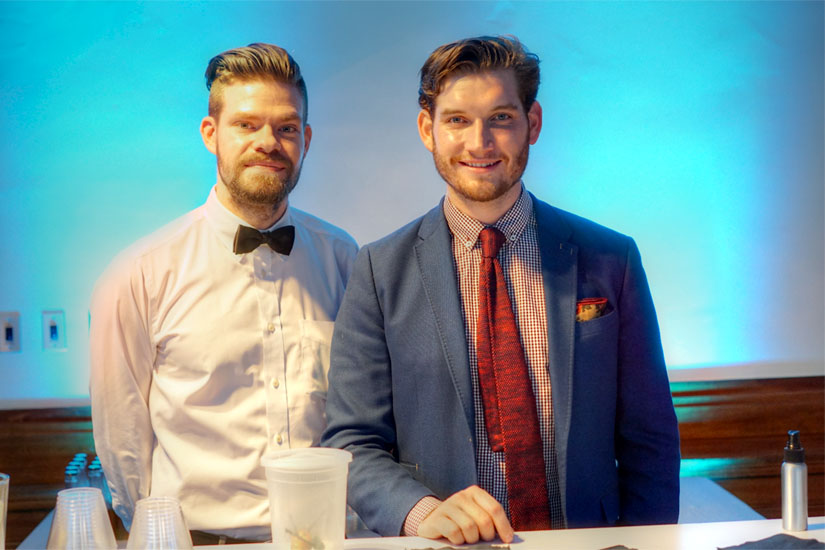 Moving into the VIP area now, the always dapper Matt Bostick from
Baldoria
prepared two bottled cocktails:
Sgt.'s Pepper Negroni, jalapeño-infused Yellow Chartreuse, Ford's gin, Dolin Rouge
and
Summer Lady, vodka, rose water, Dolin Blanc, Dolin Dry, white wine, grapefruit bitters
.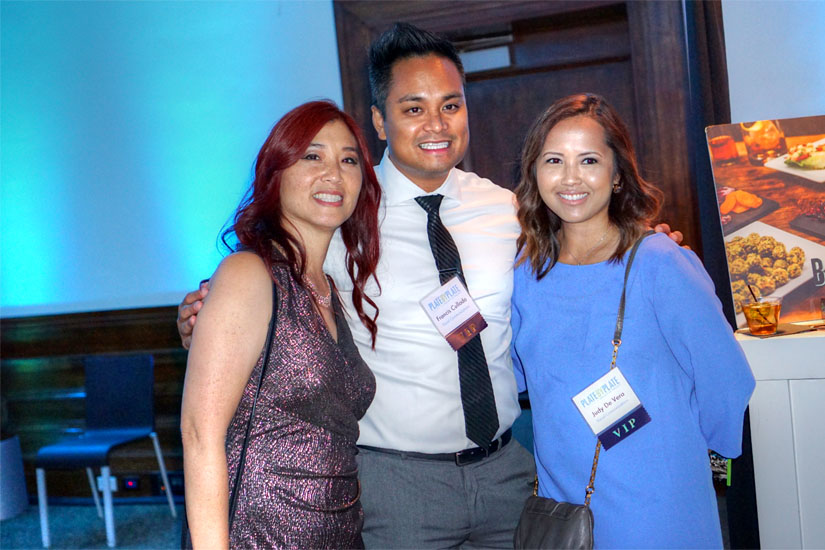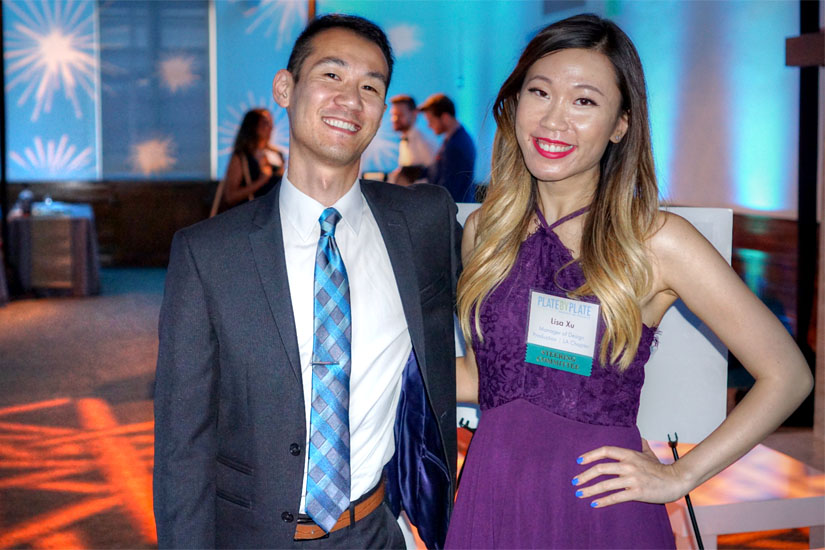 L:
Amy Lew with Francis Cullado and Judy De Vera from former PbP beneficiary
Visual Communications
.
R:
VIP bouncer duties: PbP Marketing Team Member Kevin S Hsu and PbP Manager of Design Lisa Xu.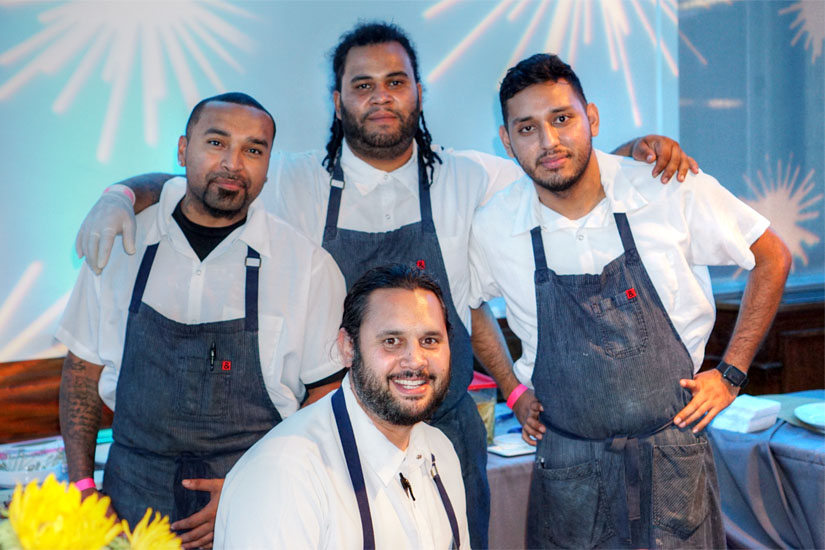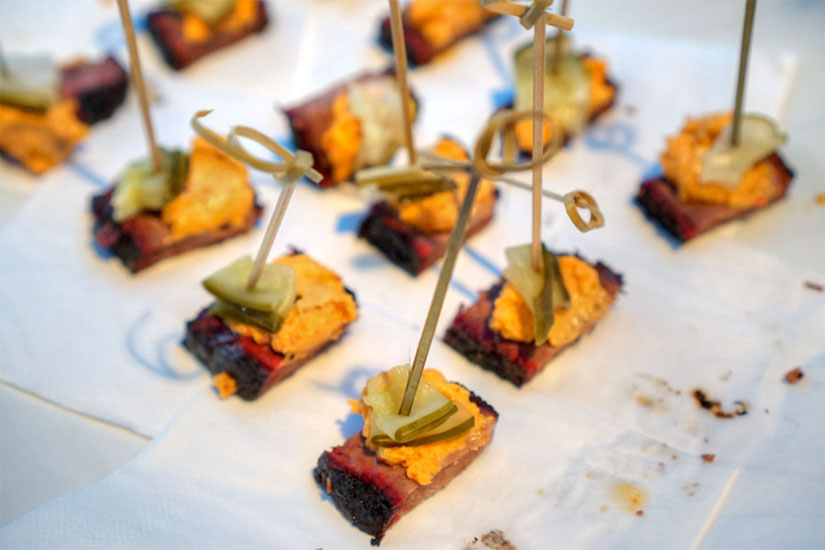 CdC Michael Kahikina and the
Barrel & Ashes
team stuck with a BBQ theme with their
Smoked beef brisket tartine, sour dough crouton, pimento cheese, dill pickle
and
Watermelon & jicama salad, radish blossoms, jalapeño, micro cilantro, lime vinaigrette
(mouseover). To drink, they also had a
Tennessee Punch, Tennessee whiskey, lemonade, cucumber, mint
.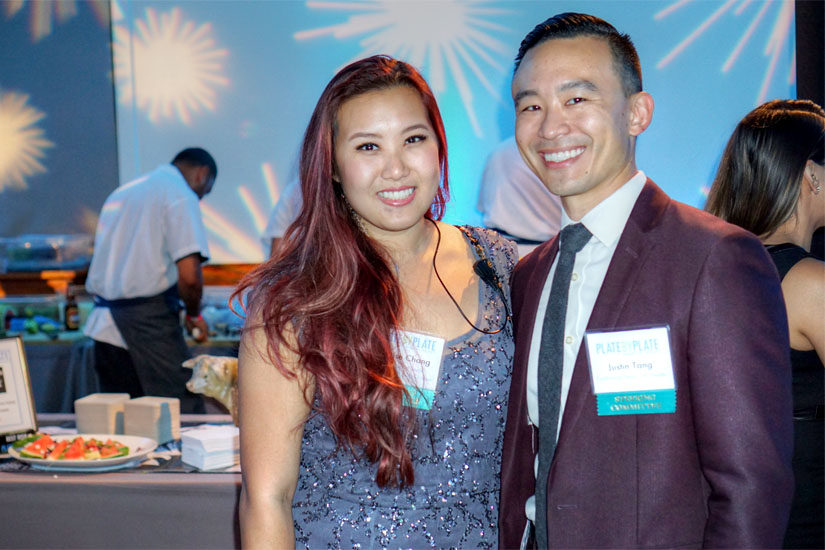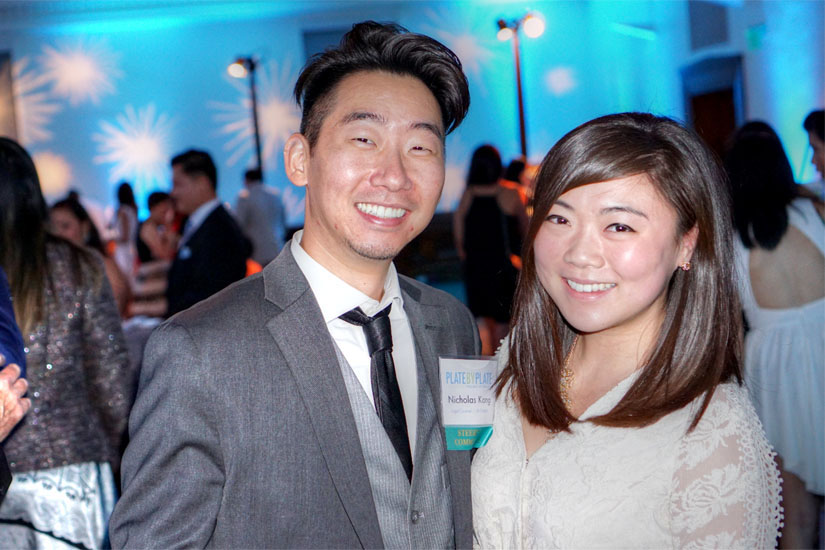 L:
PbP Manager of Team Development Denise Chang alongside PbP Fundraising Team member Justin Tang.
R:
PbP Legal Counsel Nicholas Kang with fiancée.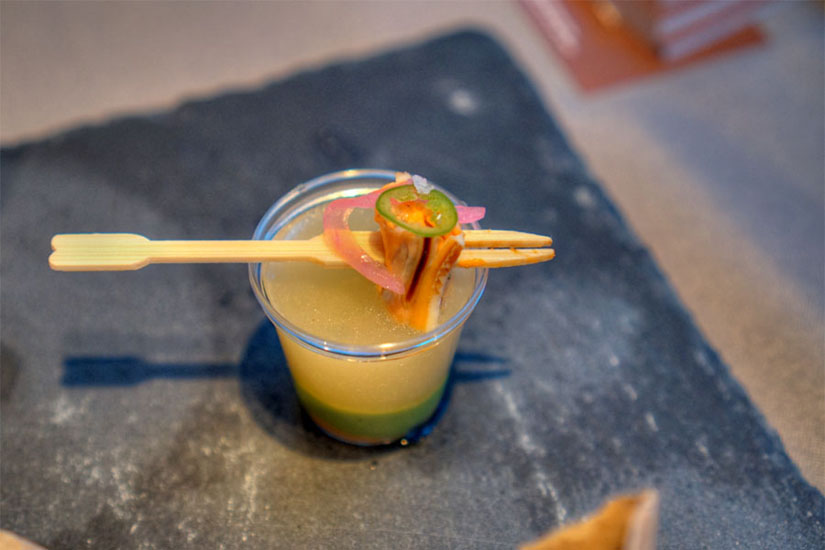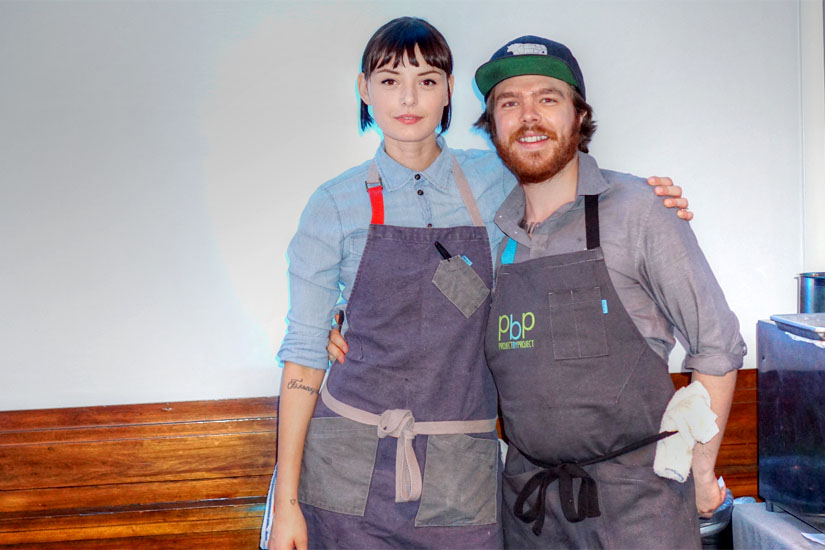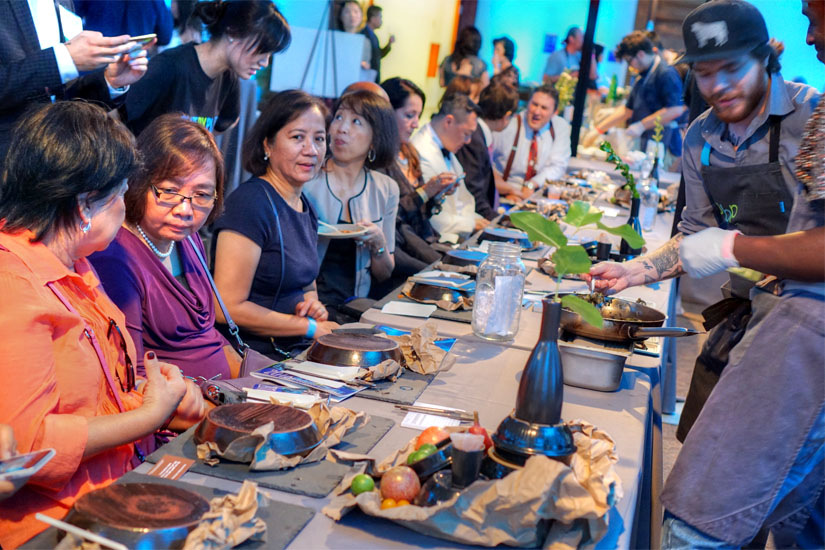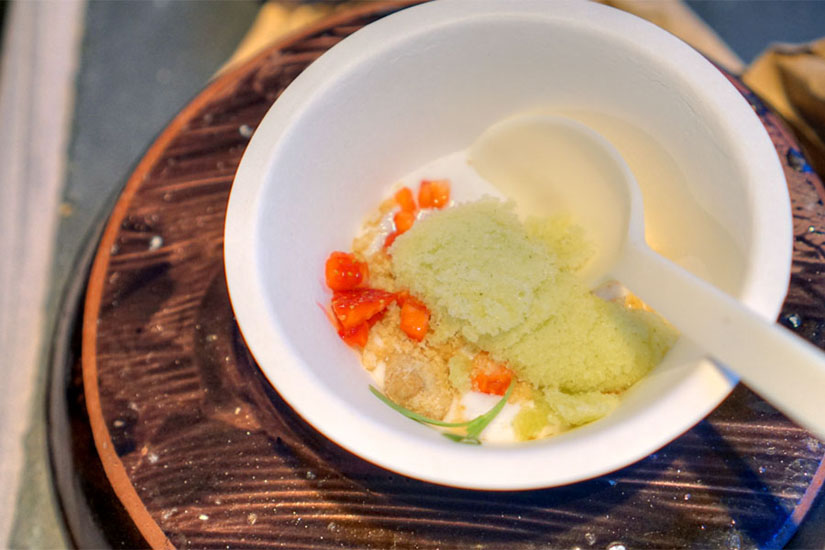 Phillip Frankland Lee and Margarita Lee from
Scratch Bar & Kitchen
had the most ambitious menu of the night, a four-course mini tasting comprising:
Green mussel & sea urchin sake shooter
,
Dry-aged ribeye carpaccio with whipped egg & ikura
,
Dry-aged hanger steak with parsnip & kale
, and
Coconut pudding with mojito granita, olive oil streusel & fresh berries
. As expected, the restaurant took home "best dish" honors, for the second time no less.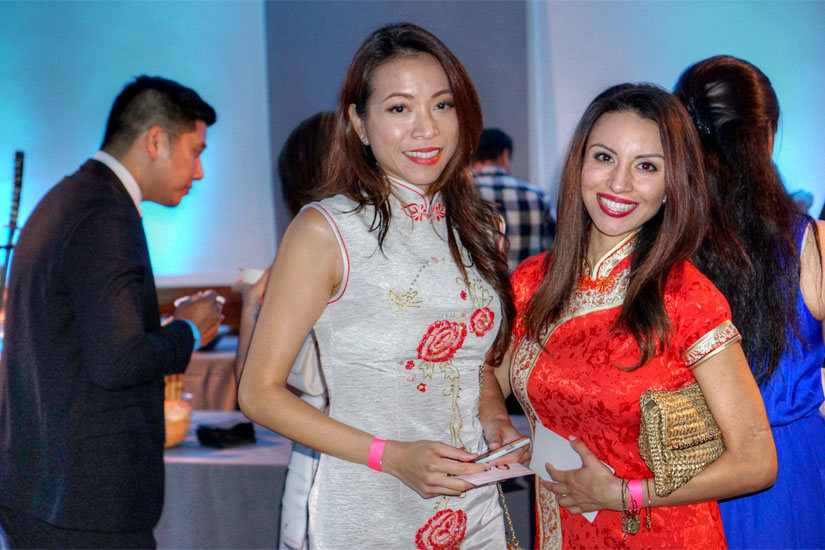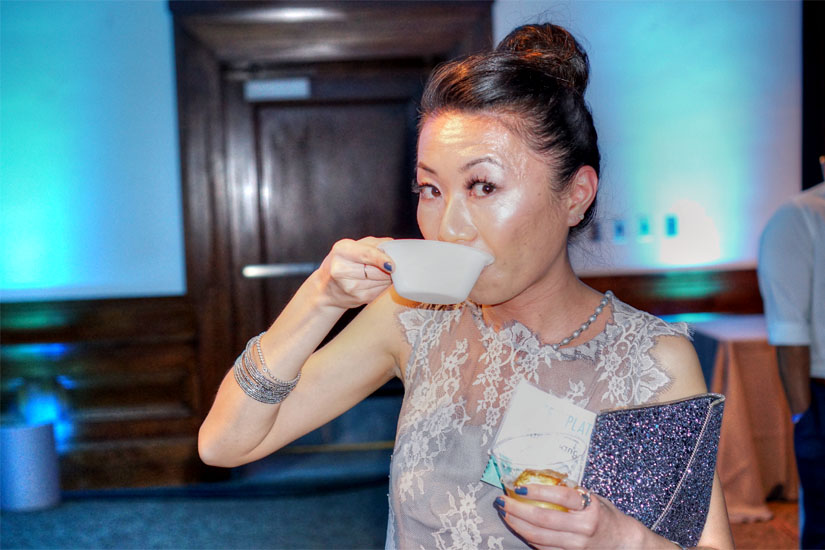 L:
Rebecca So and Mirtha Cabral were one of the few ladies rocking the
cheongsam
.
R:
PbP SF President Mary Zhang sampling some of Barrel & Ashes' punch.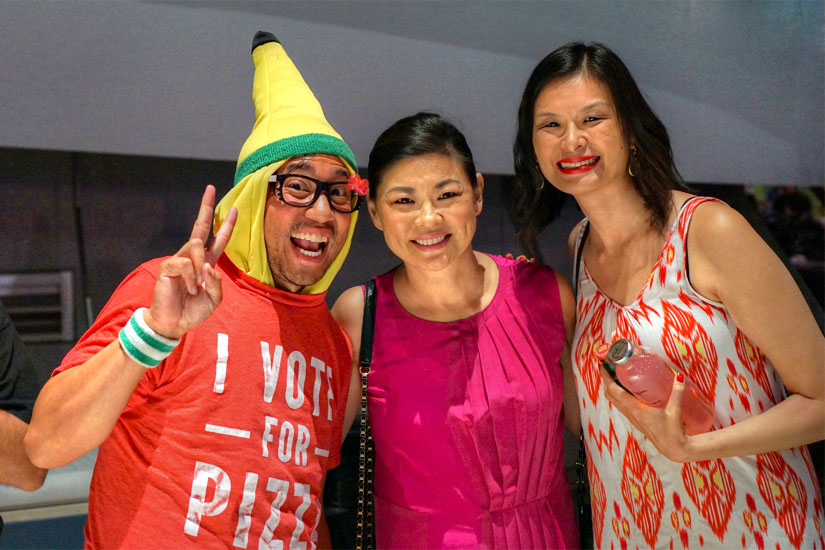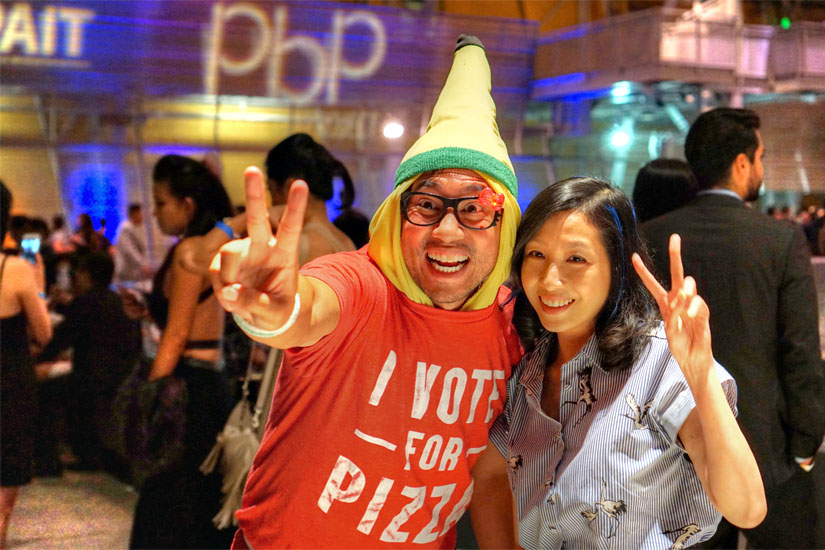 Starry Kitchen's Nguyen Tran and his signature banana suit made for a popular photo op.