Water Grill (Costa Mesa, CA)
Water Grill Restaurant
3300 Bristol St, Costa Mesa, CA 92626
949.208.7060
www.watergrill.com
Tue 11/15/2016, 07:00p-10:20p

The original Water Grill (est. 1989) was one of the first "fancy" restaurants I went to in Downtown when I started exploring the food scene in LA. This was back in '05, not long after
David LeFevre
had taken over the kitchen from
Michael Cimarusti
. Since that time, Water Grill's parent company, King's Seafood, has expanded the brand with outlets in Santa Monica (2013) and San Diego's Gaslamp Quarter (2014). This location at South Coast Plaza is thus the fourth, and opened not long ago on October 5th. Running the show here is Executive Chef Oscar Ledesma (Larsen's, Fig & Olive, Mastro's Ocean Club), while the FOH is managed by longtime King's Seafood employee Daniel Williams.



Water Grill takes over the old site of the longstanding Scott's, which closed at the start of 2016 after a 26 year run. The building's a brand new construction, one that cost a reported $12 million, making it without a doubt one of the priciest restaurants I've eaten at. The space was designed by the Costa Mesa-based
Hatch Design Group
, and spans roughly 18,000 square-feet. Total capacity is around 550, spread across the main dining room, the indoor-outdoor patio in the front, and multiple private dining rooms. The vibe's definitely nautical-themed, though fortunately it's done in a way that doesn't veer overly kitschy.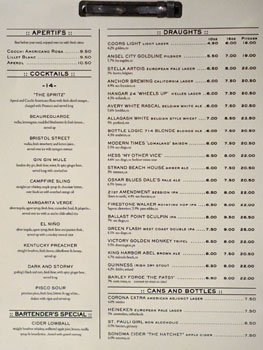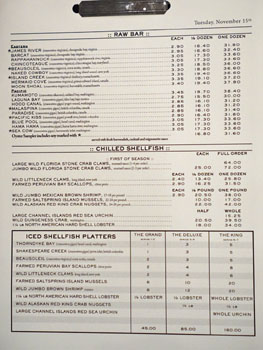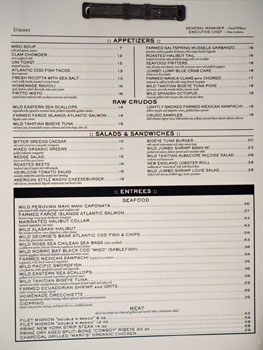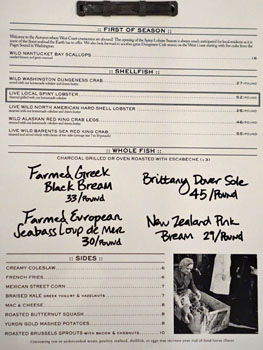 The menu's pretty huge, as expected from a place like this. You're presented with the raw bar first, with its extensive oyster list and the requisite chilled seafood platters/towers. This is followed by an array of starters, salads, sandwiches, and a healthily-sized list of mains. Finishing things up are pricey offerings of large format seafood and a smattering of sides. To imbibe, you get some solid cocktails, a decently lengthy tap list (though one filled with the usual suspects), and a good-sized, global wine selection. Click for larger versions.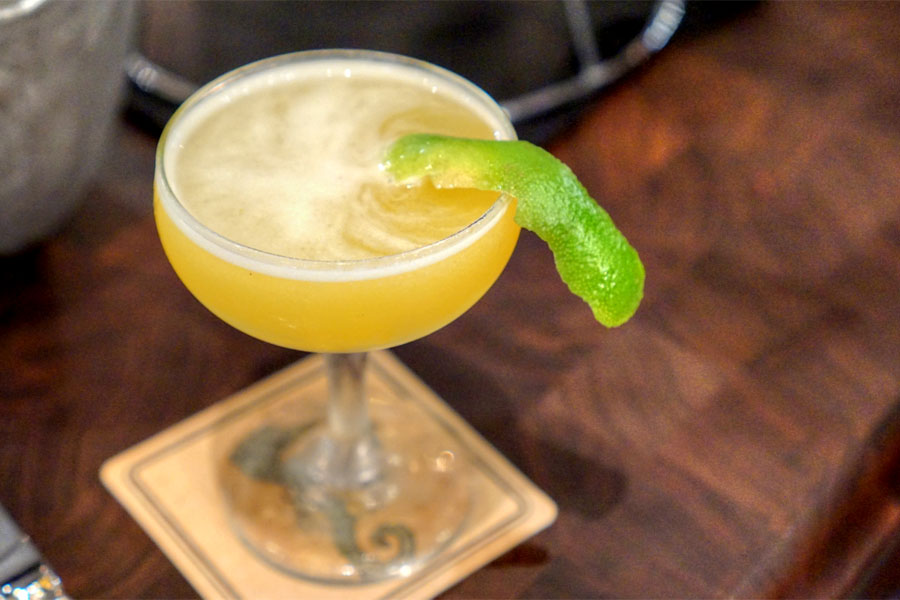 El Niño [$14.00]
| silver tequila, agave syrup, fresh lime and passion fruit...served up with a smokey mezcal mist
The cocktails sounded good, so we ended up starting with a number of them. Our first conveyed plenty of tart citrus on the nose, but with a sugary edge. The taste brought a balanced sweet 'n' sour, with the woodiness of tequila coming in on the finish, again with a lingering sugary element.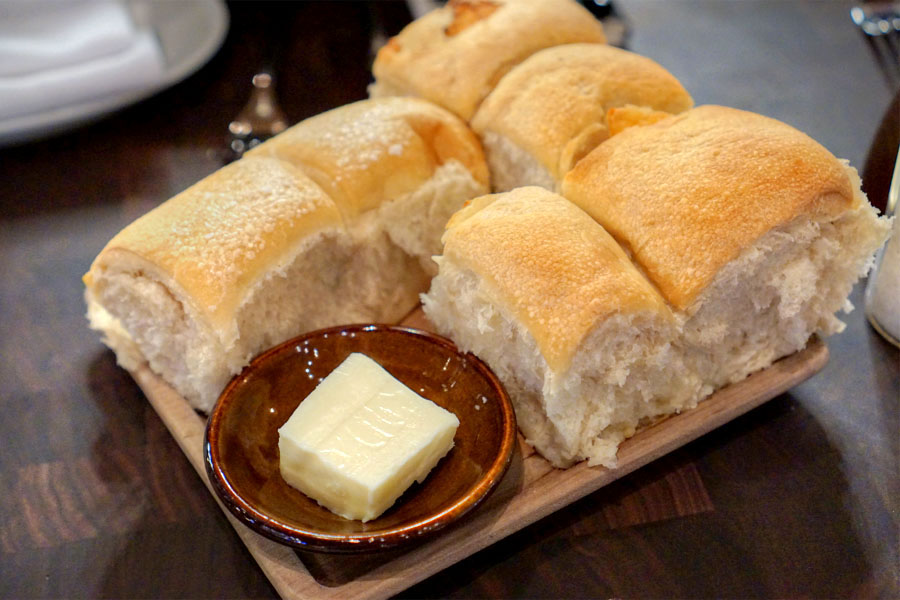 Bread appeared to be of the sourdough variety.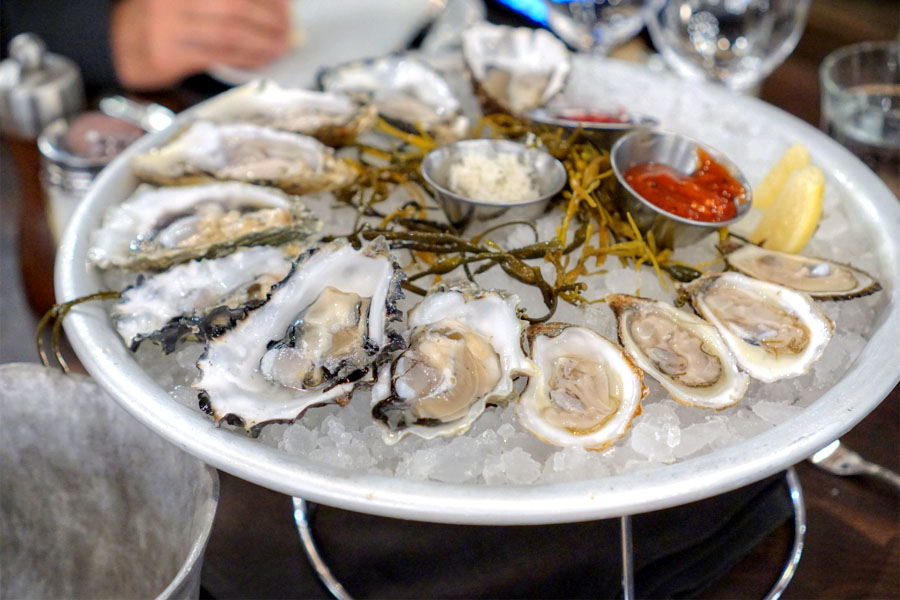 Beausoleil [$3.25x4]
| (crassostrea virginica), nova scotia, canada
Malaspina [$2.85x4]
| (crassostrea gigas), british columbia, canada
Sea Cow [$3.05x4]
| (crassostrea gigas), hammersly inlet, washington
Given where we were, we felt compelled to begin with oysters. Diminutive Beausoleils were crisp and uncommonly briny. Our favorites were the Malaspinas, which we found meaty and balanced, with a fruity, sweet bent to 'em. The Sea Cows, finally, were creamier in mouth feel, with a medium, lingering salinity.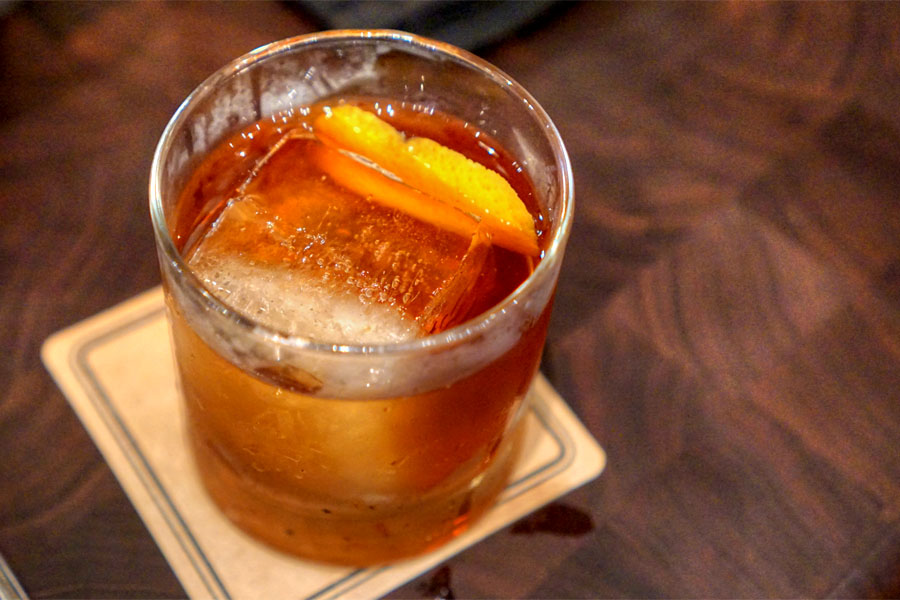 Campfire Sling [$14.00]
| straight rye whiskey, maple syrup & chocolate bitters...over block ice with scorched orange oil
Intense nose of chocolate and spice. On the palate: spicy from the rye, boozy, with a lasting heat evened out by the incorporation of maple.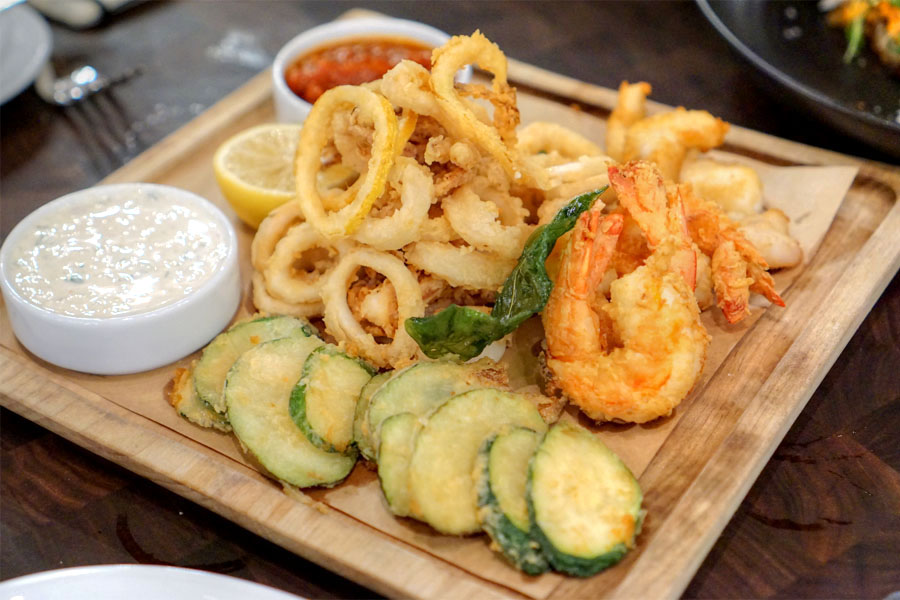 Fritto Misto [$16.00]
| mixed fried seafood with smokey marinara and tzatziki
Fried seafood was serviceable, well-textured overall, with a light batter and appropriate dipping sauces. Improved with a squirt of lemon.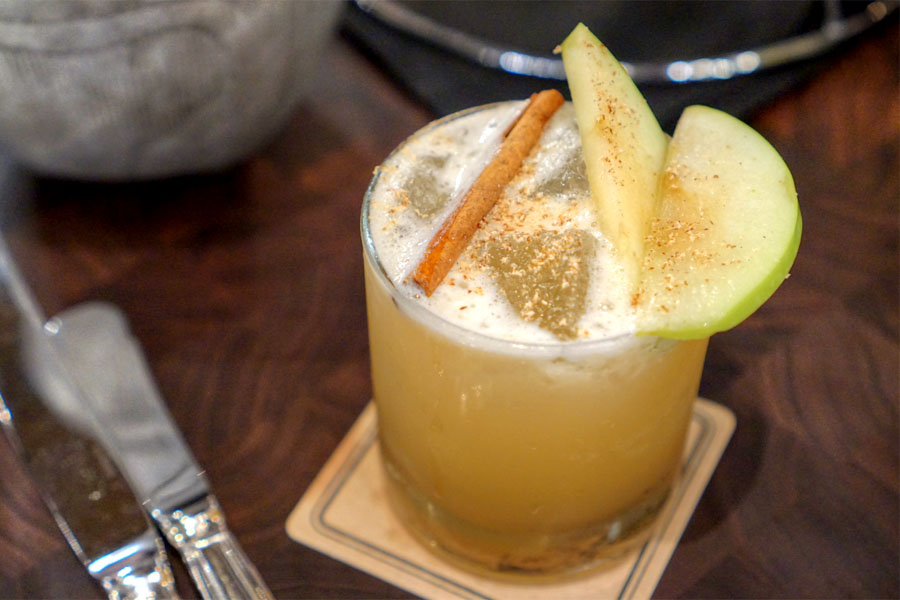 Cider Lowball [$14.00]
| straight bourbon whiskey, unfiltered apple juice, lemon, vanilla syrup & benedictine...dusted with grated nutmeg
Surprisingly little in terms of aroma here, with just a light dusting of sweet spice. The taste was more interesting, with more of that warm spice commingling with fruity apple on top of an undercurrent of vanilla-scented bourbon. Quite tasty and easy drinking, though we would've liked some more concentrated flavors overall.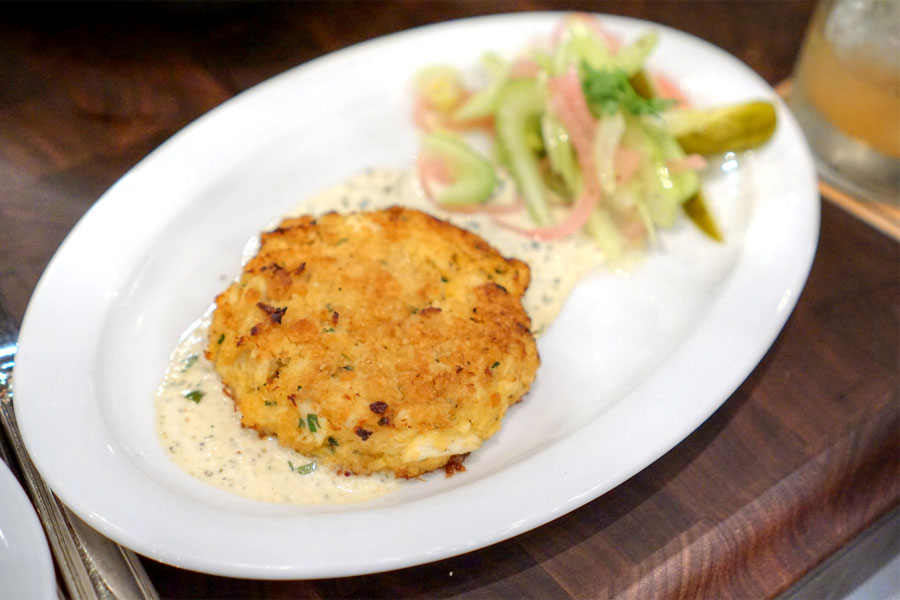 Jumbo Lump Blue Crab Cake [$16.00]
| celery root remoulade
The crab cake ate sweet and a bit spicy, though as is the case with pretty much every crab cake I've had, the actual crab could've stood to be more apparent. I didn't think that the veggies on the side added much either.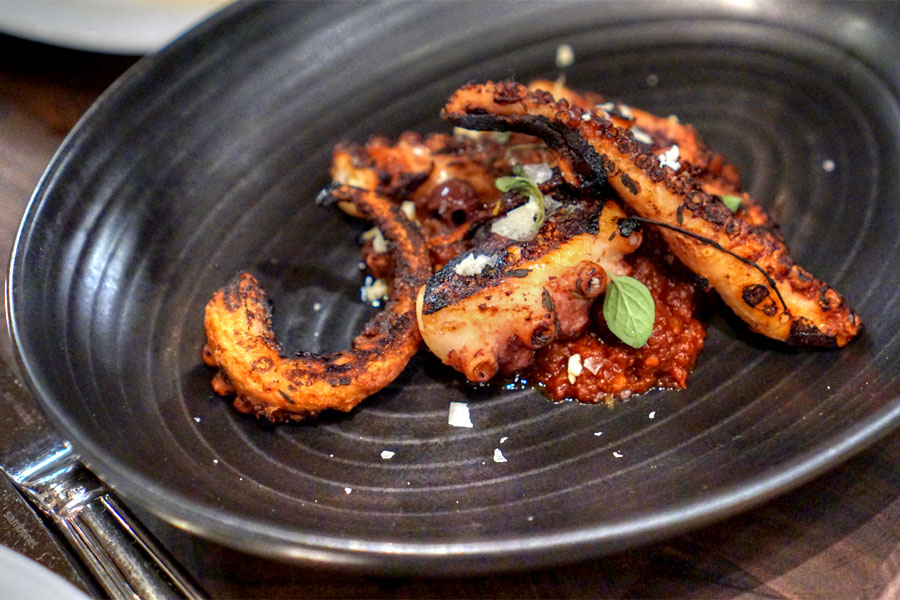 Wild Spanish Octopus [$19.00]
| charcoal grilled with tomato, feta and niçoise olives
Octopus came out tender and nicely charred, but was overpowered by the other components on the plate. We found the dish overly salty, with the olive in particular domineering.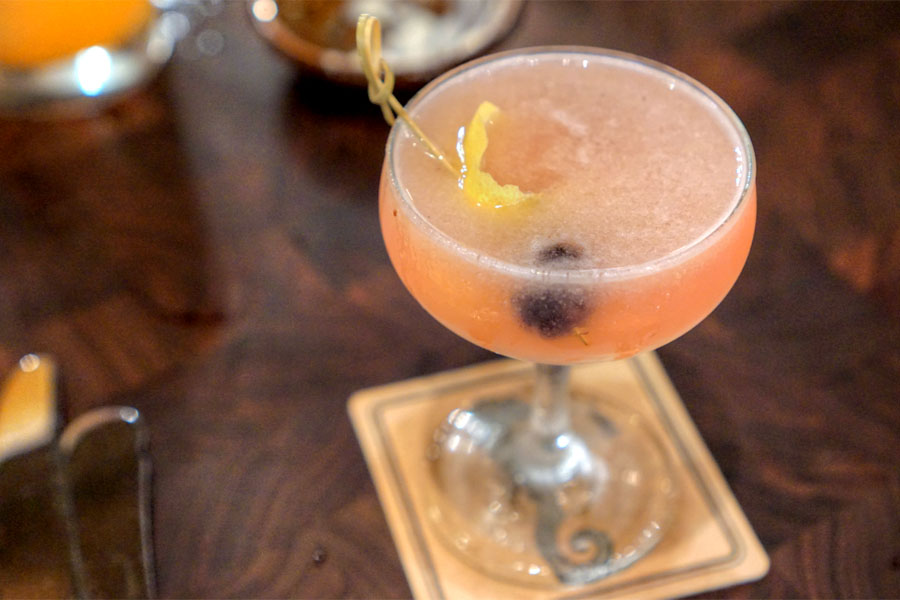 Beaureguarde [$14.00]
| vodka, lemongrass, muddled blueberries & fresh lemon...served up
Our next cocktail went down easy thanks to its marriage of tart lemony flavors and sweet berry, with nary a trace of booziness to be found.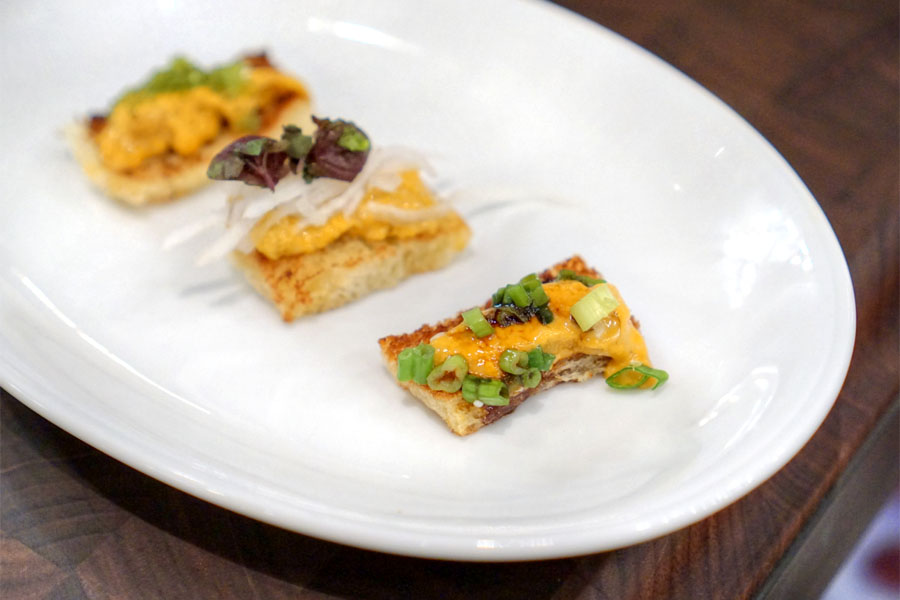 Uni Toast [$12.00]
| toasted brioche
The plating here was lacking, but the flavors worked, the rich, sweet brine of urchin roe meshing well with the greenery while toast served as an effective base.
Bristol Street [$14.00]
| vodka, fresh strawberry and lemon juice...served over ice with tarragon essence
Strawberry and tarragon for days on the nose. Taste-wise, I got loads of candied strawberry (one of my dining companions was reminded of Jolly Ranchers) and a light prick of citrus, all with a boozy backing.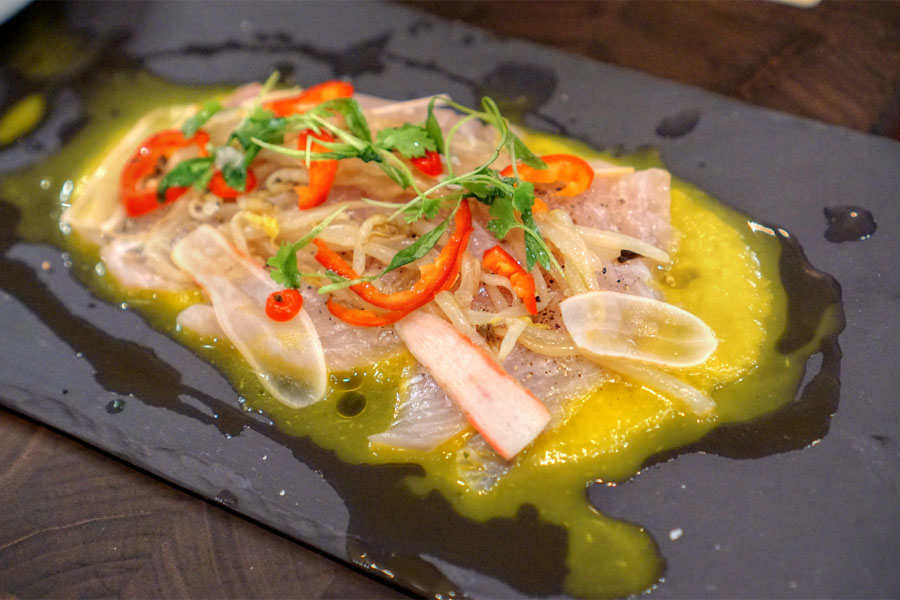 Lightly Smoked Farmed Mexican Kampachi [$16.00]
| yellow pepper and jalapeño cream, pickled bean sprouts
The kampachi was actually very smoky despite what was stated on the menu. Combined with the potency of the peppery cream sauce, the smoke largely obliterated any traces of the inherent taste of the fish, unfortunately.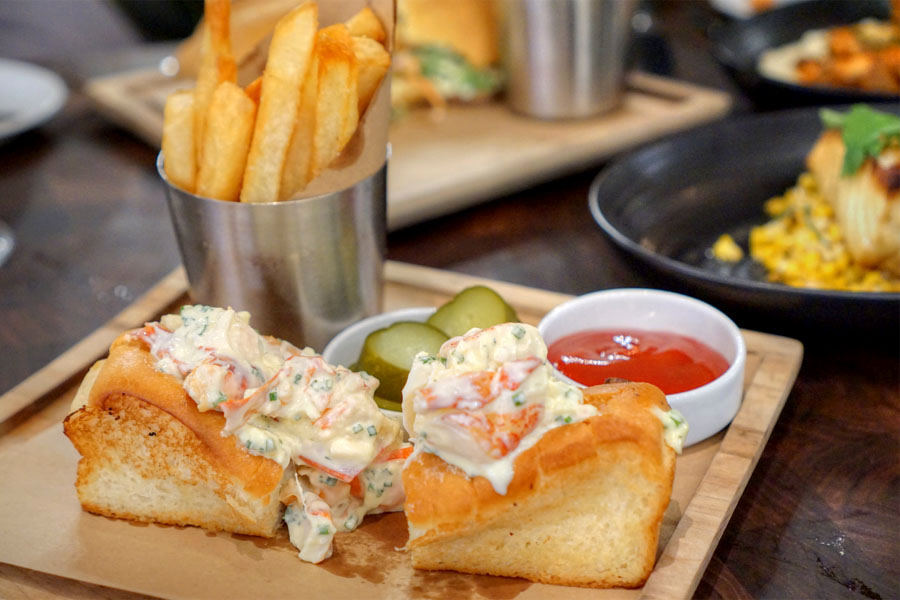 New England Lobster Roll [$28.00]
| traditional or "connecticut" style with french fries
The lobster roll largely satisfied, the creamy, herby meat combining in traditional fashion with a crusty, buttery roll. Fries were par for the course.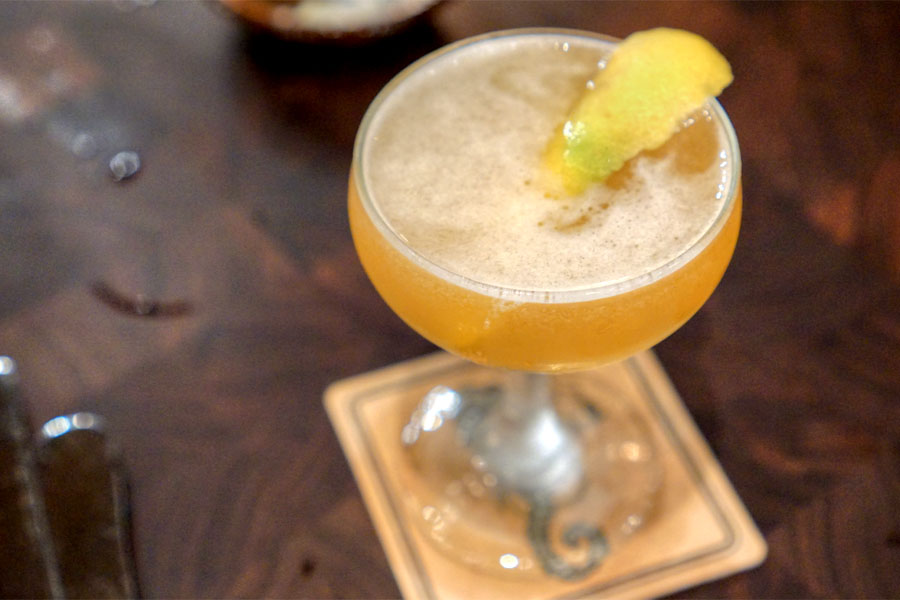 Kentucky Preacher [$14.00]
| straight bourbon, fresh lemon, elderflower & honey...served up
Our final cocktail smelled of robust whiskey and lemon. Its taste was boozy, spicy at first, but with the tart, astringent qualities of lemon coming in later, joined by sweeter notes from elderflower and honey.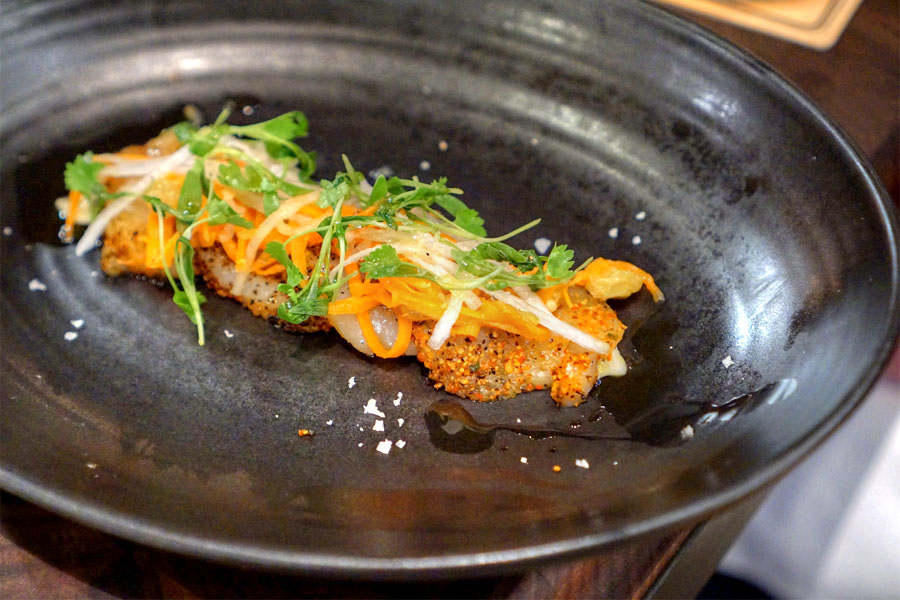 Wild Eastern Sea Scallops [$14.00]
| togarashi rub, japanese mustard aioli, pickled vegetable, golden raisins
Scallops were encrusted with a potent spice rub that was tempered, fortunately, by the brightness of the veggies layered on top. Again, the scallops themselves were a bit lost.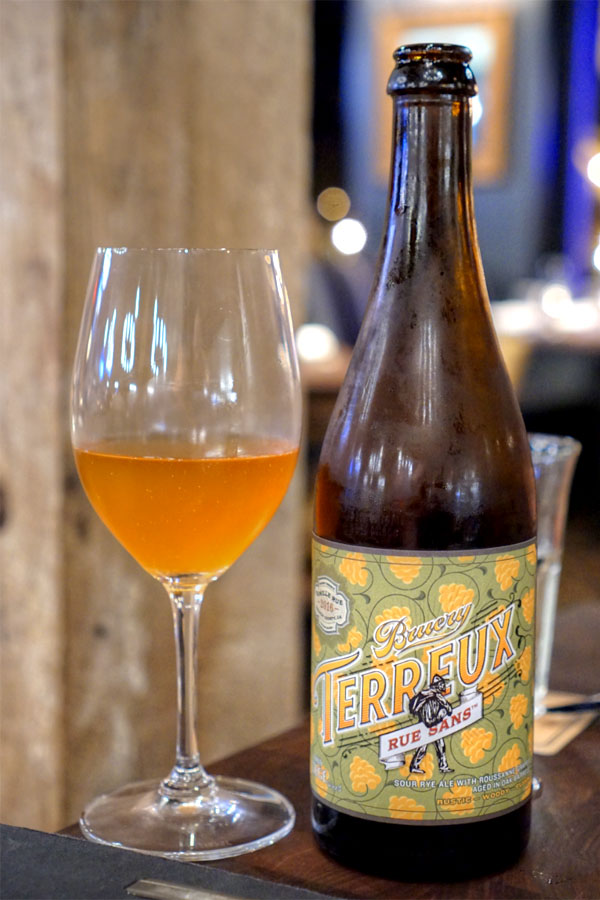 The restaurant offers free corkage, so we made sure to bring along a few bottles with us. First was the
2016 Bruery Terreux Rue Sans
, a sour rye ale blended with Roussanne grapes from Sans Liege Wines that was aged for nearly a year in American oak. Nose showed off lots of spicy, barnyard notes with a distinct stone fruit sweetness. The palate brought tart, earthy, rustic flavors along with a vinous funk and oakiness on the mid-palate that lingered long and strong.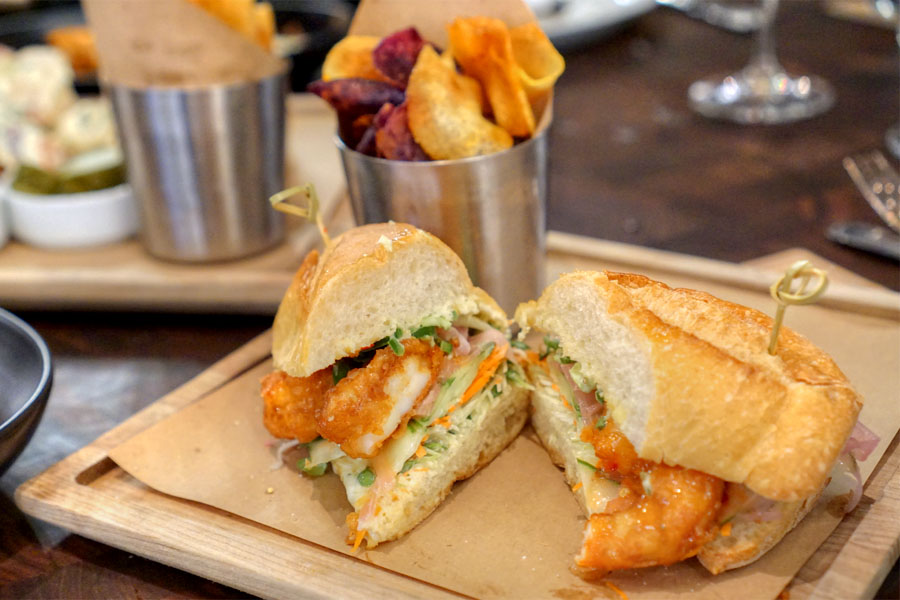 Wild Jumbo Shrimp Bánh Mì [$23.00]
| pickled red onions, daikon sprouts and cucumber salad
We were all curious about Water Grill's take on the traditional
bánh mì
. The actual shrimp were well-textured, well-fried, with a sweet 'n' sour quality to them that made sense with the tanginess of the accompanying veggies. Generally pretty tasty, though unfortunately the bread was on the stale side, and the accompanying chips on the limp side.
Farmed Ecuadorian Shrimp and Grits [$29.00]
| with merguez sausage ragout
I almost always have to get shrimp 'n' grits if I see it on the menu, and tonight was no exception. The ragout showcased a cozy, classic spice that worked seamlessly with the creamy grits, and I was a fan of the merguez as well. Everything was good except for the shrimp, which were sadly muddy tasting. A shame.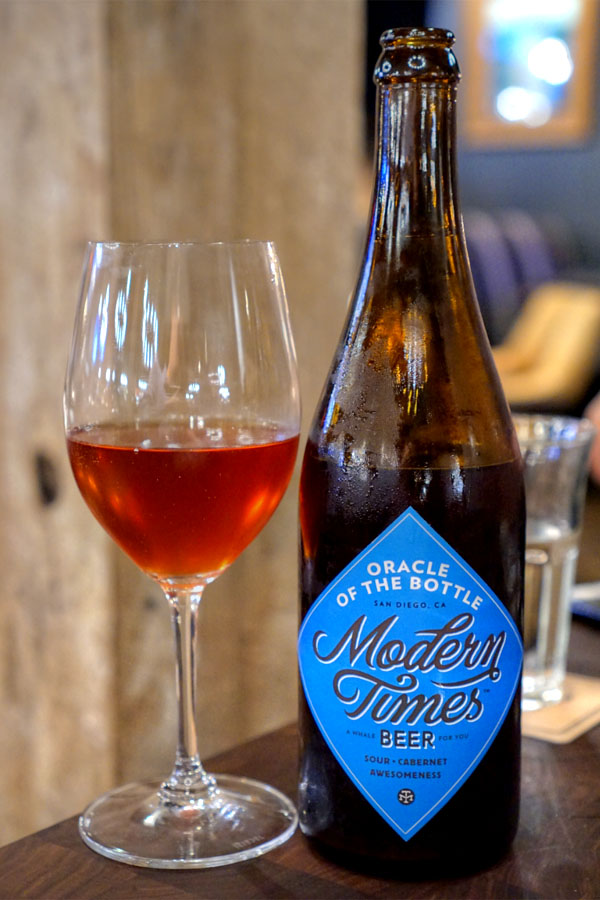 Next to drink was the
2014 Modern Times Oracle of the Bottle
, a Brett'd/Lacto'd/Pedio'd Flanders red aged in red wine barrels for 11 months, then aged another five months with Cabernet grapes. The beer smelled decidedly vinous, tart, oaky. Its taste was super wine-y, with more wood, barnyard, and a tart, acidic finish.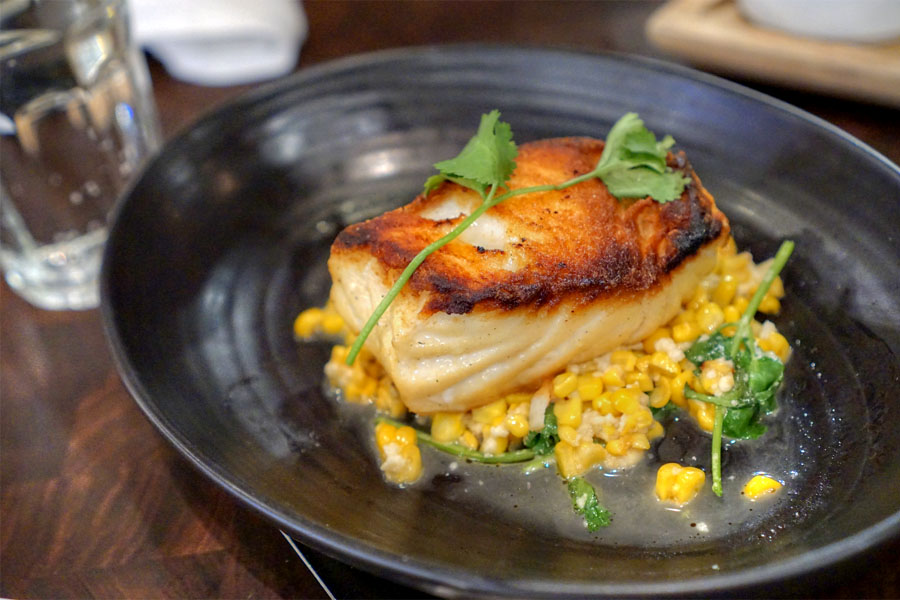 Wild Alaskan Halibut [$43.00]
| fire roasted yellow corn, jalapeños, cotija cheese
The halibut was the best thing we had tonight. The fish was spot on, coming out supple, flaky, and nicely caramelized, with a rich, refined taste that worked surprisingly well with the funk of the cotija. Nice sweetness from the corn as well.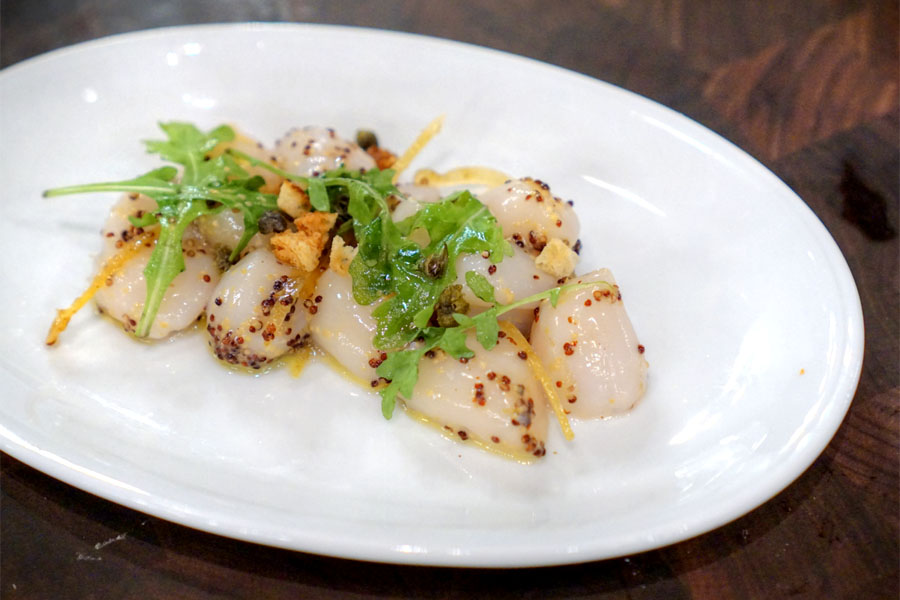 Wild Nantucket Bay Scallops [$18.00]
| candied lemon and grain mustard
We ended our savories on a lighter note. The scallops here were highlighted much better compared to the crudo course above, their fresh, briny flavors well-complemented by the tangy mustard while arugula added a great zestiness to the dish.


The dessert menu's relatively compact, with fairly traditional selections. Click for larger versions.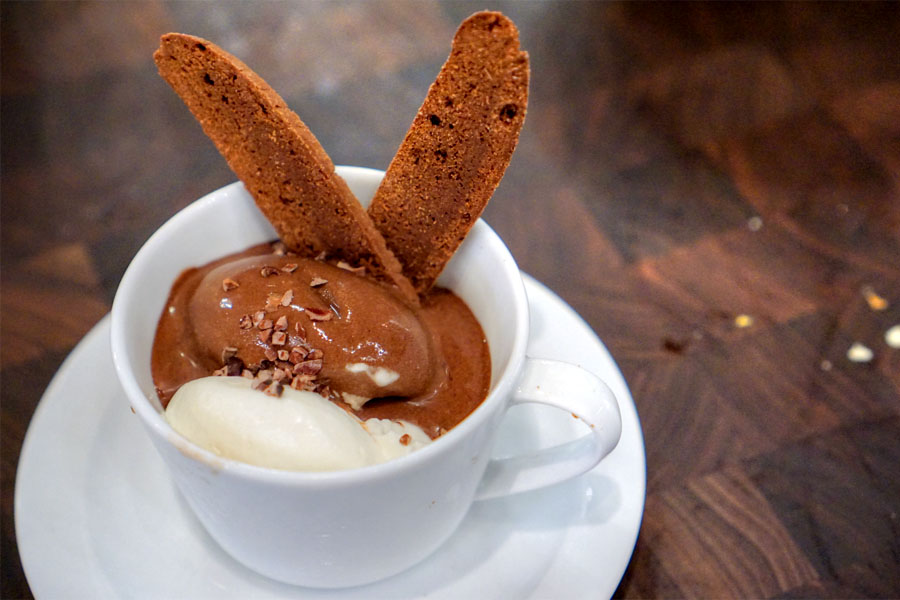 Pot de Créme [$11.00]
| chocolate creme, chocolate sorbet, chocolate biscotti, house made whipped creme and cocoa nibs
Multiple forms of chocolate made for an unabashedly rich, sweet dessert that was moderated just enough by the spicy ginger notes in the biscotti.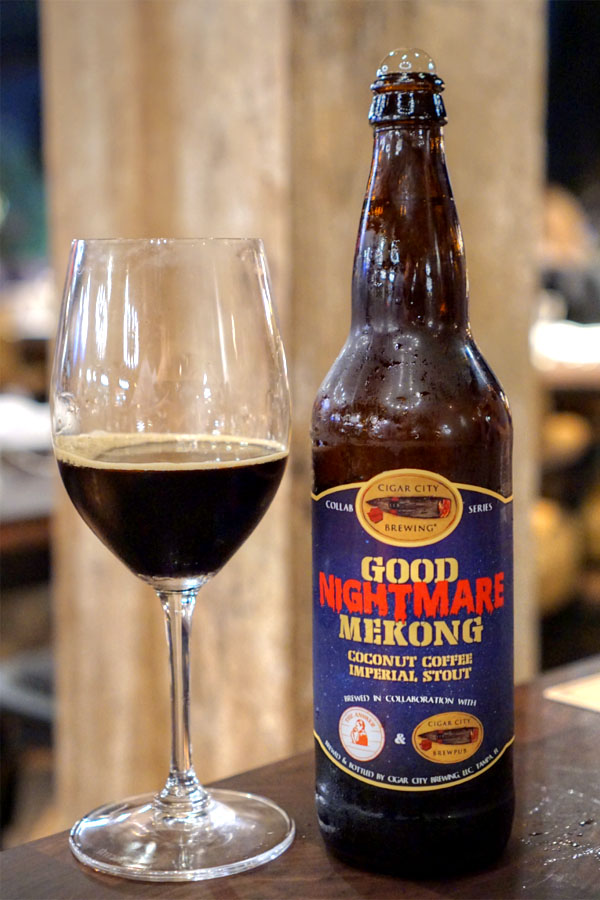 Our dessert beer was the
2016 Cigar City Good Nightmare Mekong
, an imperial stout with coconut, coffee, and cinnamon brewed in collaboration with The Answer brewpub out of Richmond, VA. Aromas here were brimming with the advertised coffee and coconut. On the palate I found lots of coconut, but not much coffee or cinnamon. I did gets lots of sweet, chocolatey flavors though, making this one of the sugariest beers I've had in a while.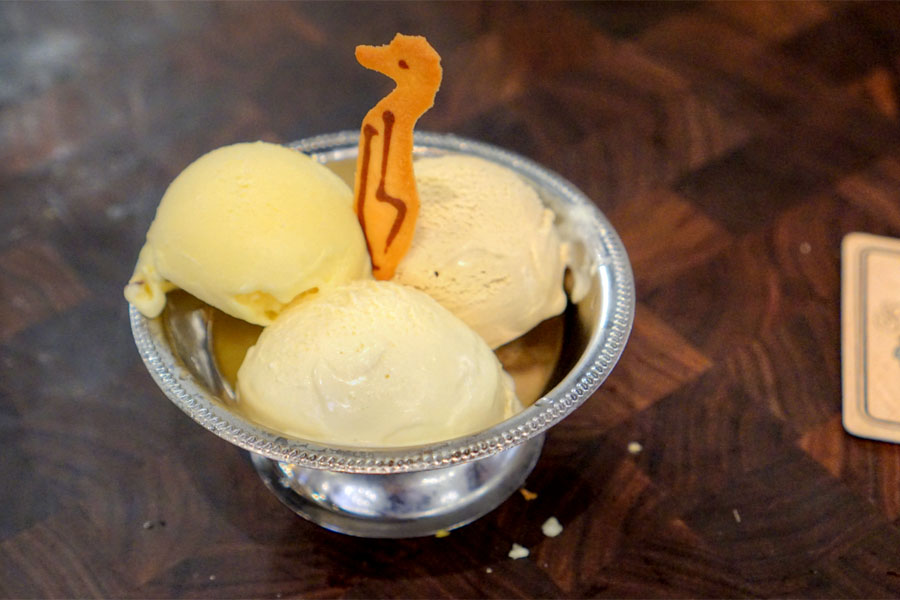 Daily Homemade Ice Creams and Sorbets [$9.00]
| sweet cream, white chocolate, peanut butter
The ice cream trio comprised an almost disconcertingly lactic sweet cream, a true-to-life white chocolate, and a fun, luscious peanut butter.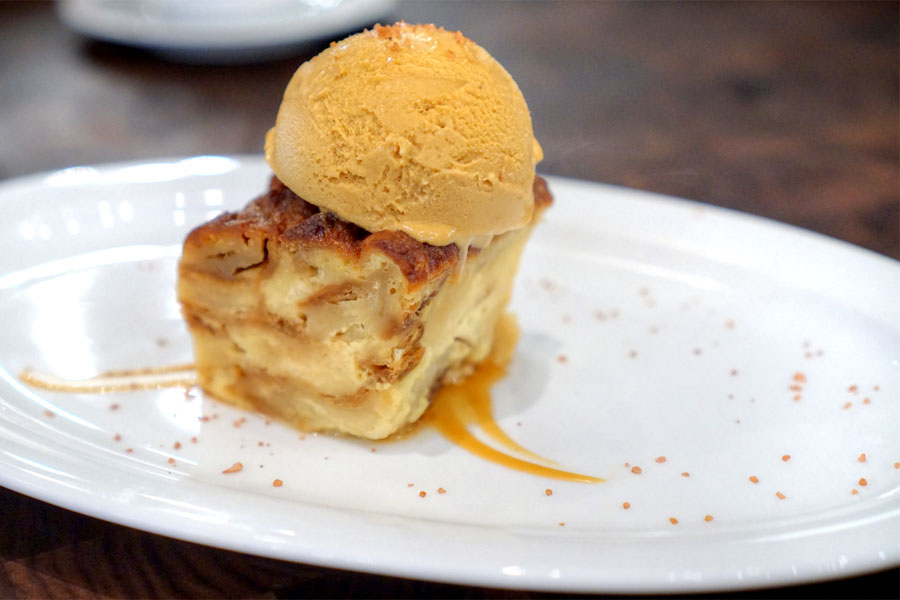 Caramel Bread Pudding [$10.00]
| with alaea red sea salt
My favorite dessert was this caramel-laced bread pudding, which was just on the edge of being cloying, but pulled back by the sprinkles of sea salt.
Our meal here was about what I expected, which wasn't much. You can certainly find some standout dishes (e.g. that halibut), but overall the food seemed to be lacking in finesse, which I guess isn't too surprising due to the size of the place and its chain-y nature. Given how busy the restaurant was, I'm sure that Water Grill appeals to a lot of people, just not me.