Salazar (Los Angeles, CA)
Salazar Restaurant
2490 Fletcher Dr, Los Angeles, CA 90039
858.352.7737
www.salazarla.com
Wed 11/02/2016, 08:05p-10:45p

LA's most bandied-about Mexican restaurant in a while (case in point: it was just named #34 in J. Gold's annual roundup of the
101 best
eateries in town) dropped on May 26th in the Los Angeles River-adjacent enclave of Frogtown. It's a Sonoran barbeque-inspired joint from Chef Esdras Ochoa (
Mexicali Taco Co
) and William "Billy" Silverman, the former editor of Huffington Post LA and a regular customer at the original Mexicali.


The restaurant occupies the previous address of Salazar Foreign Car Service, hence the name. The actual garage structure has been transformed into the kitchen and bar by the folks at
Project M Plus
(
Baldoria
,
L&E Oyster Bar
). However, most of the action happens outside, in a sprawling, dusty, desert-y patio replete with drought-tolerant vegetation and pergola. In total, Salazar spans roughly 5,000 square-feet and seats about 175.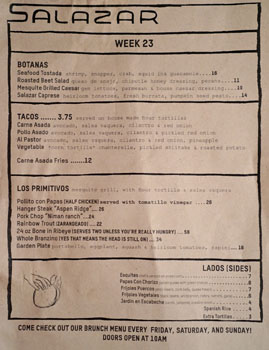 Given that the place is the work of one of the Mexicali guys, there are of course tacos, but also starters, sides, and large format proteins cooked on the mesquite-fired Santa Maria-style grill. Drink-wise, you'll find a range of cocktails from barman Aaron Melendrez, who comes to us from stints at Normandie Club/
The Walker Inn
, Pistola,
Escala
,
Pot Bar
, Ebanos Crossing, Cole's, Neat Bar, and
Plan Check
. In addition, there's a selection of wine and a small beer list. Click for larger versions.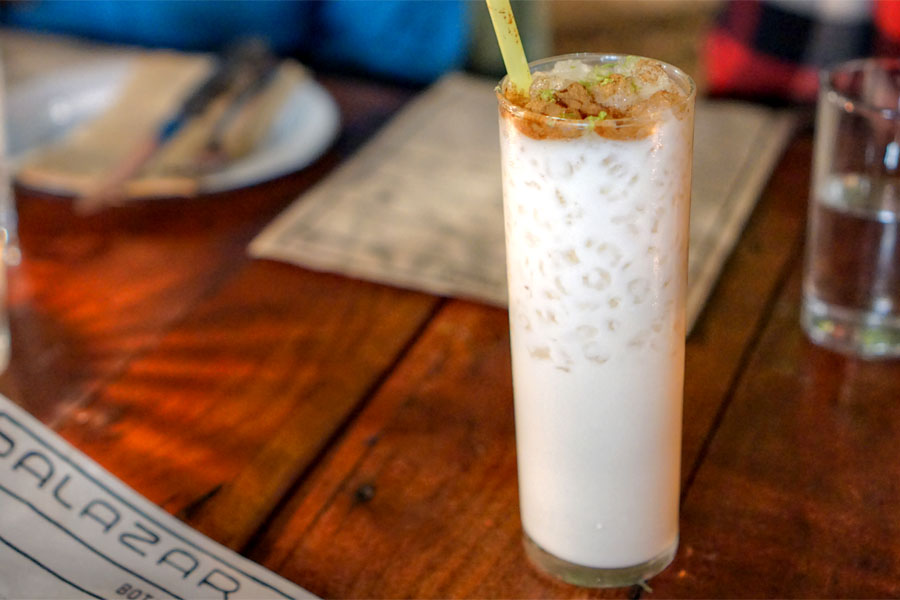 Horchata [$13.00]
| Mexican rice beverage with cacao rum, becherovka & mezcal
I'm generally a fan of boozy takes on horchata, and this was no exception: classically ricey at its core (and slightly reminiscent of Whoppers candy), with a proper amount of sweet spice and a hint of smokiness from the mezcal.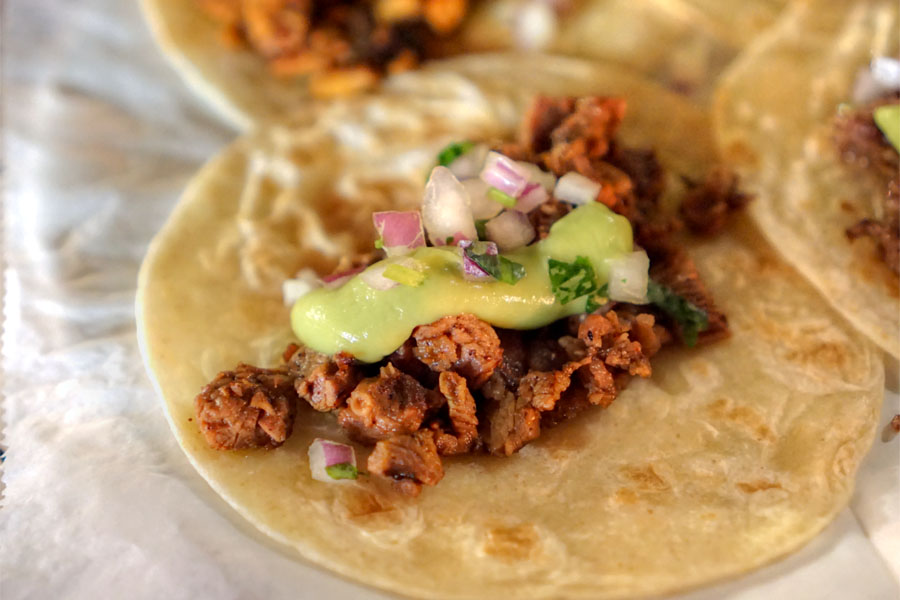 Carne Asada Taco [$3.75]
| avocado, salsa vaquera, cilantro & red onion
Given the Chef's background, we made sure to get all the taco options, beginning with the classic
asada
. It was a solid example, arriving all savory and a touch smoky, with the guac and veggies working for contrast. A fitting filling for those housemade flour tortillas (made with local Grist & Toll flour, apparently).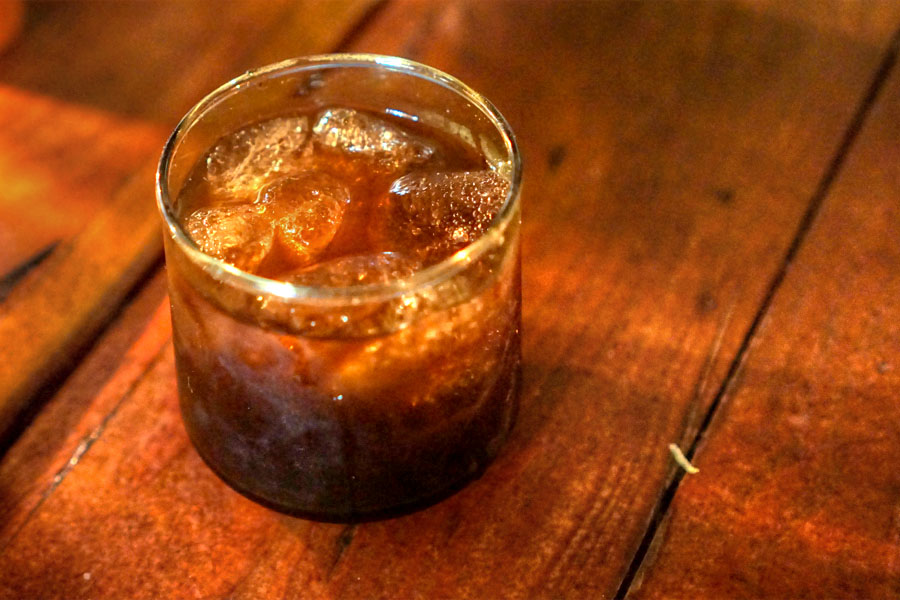 La Anticuado [$14.00]
| mezcal, whiskey, ancho chili, huitlacoche, mexican fernet
This was the booziest cocktail of the bunch. I found it quite smoky at first, but with bitter, spicy notes coming in later, the drink finishing somewhat sweet.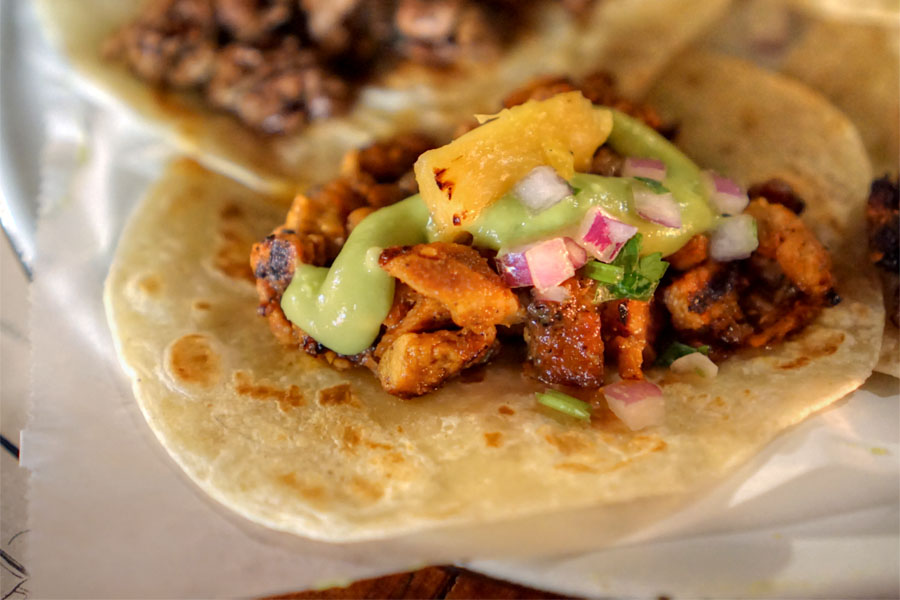 Al Pastor Taco [$3.75]
| avocado, salsa vaquera, cilantro & red onion, pineapple
The pork taco also hit the mark with its more aggressive spicing and punch of acidity from the pineapple.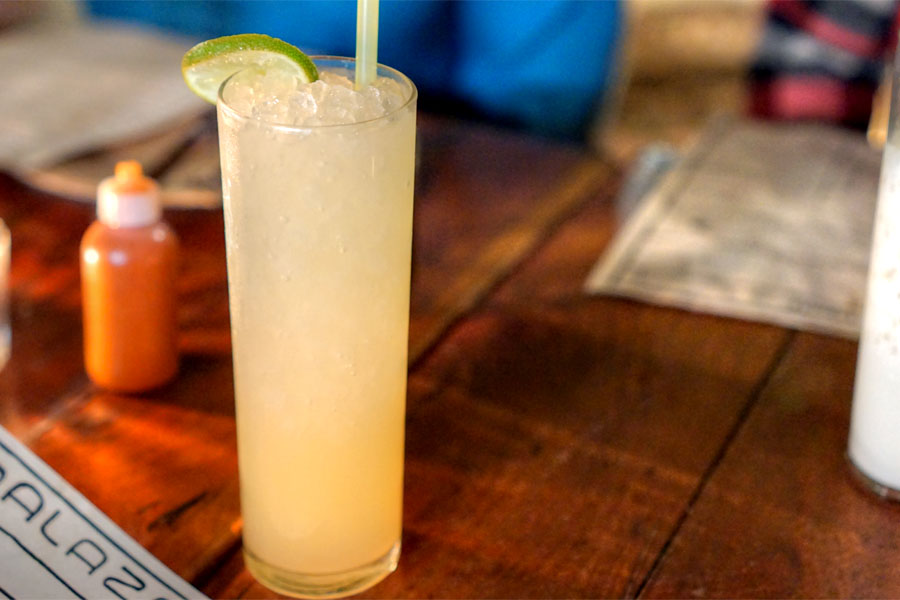 La Paloma [$12.00]
| mezcal, ancho chili, grapefruit juice, salt
Salazar's take on the Paloma substituted mezcal for tequila, but the spirit actually wasn't all that apparent. Rather, the grapefruit was clearly the hero, backed by just a smidge of ancho.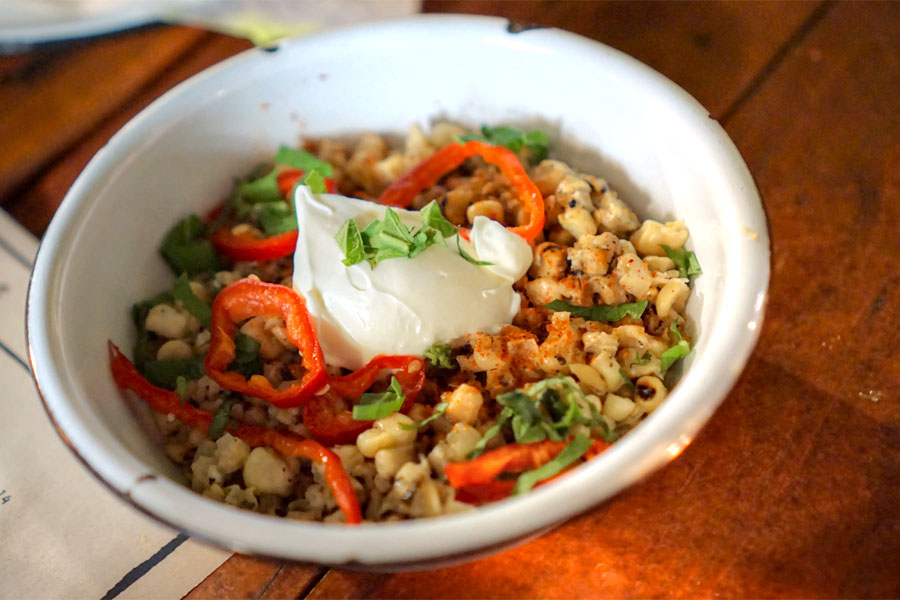 Esquites [$7.00]
| chef's version on street corn
Corn arrived quite sweet and lightly smoky, with a
very
pronounced spicing to it.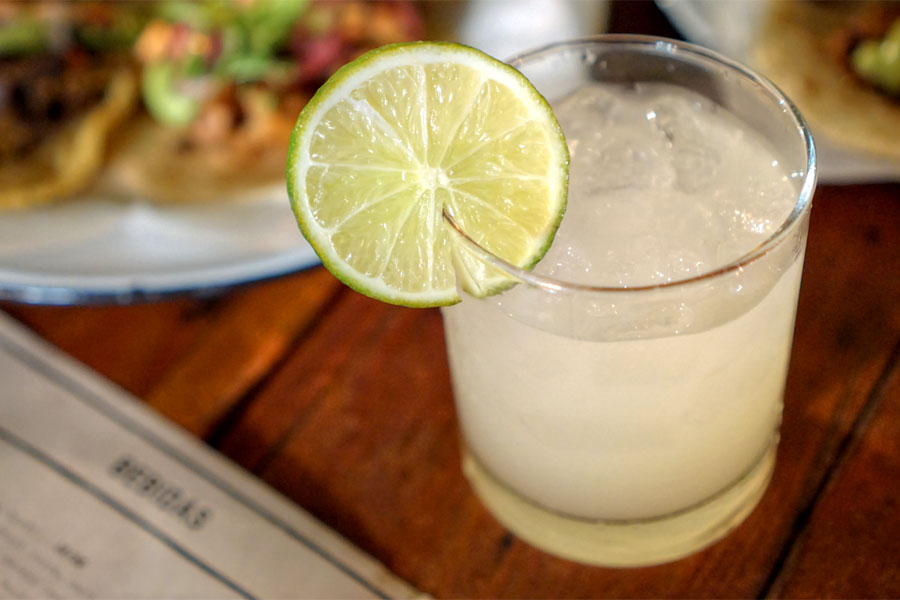 Margarita [$10.00]
| house margarita perfected draft!
The ubiquitous Margarita went down easy, with nary a trace of booze but plenty of citrus.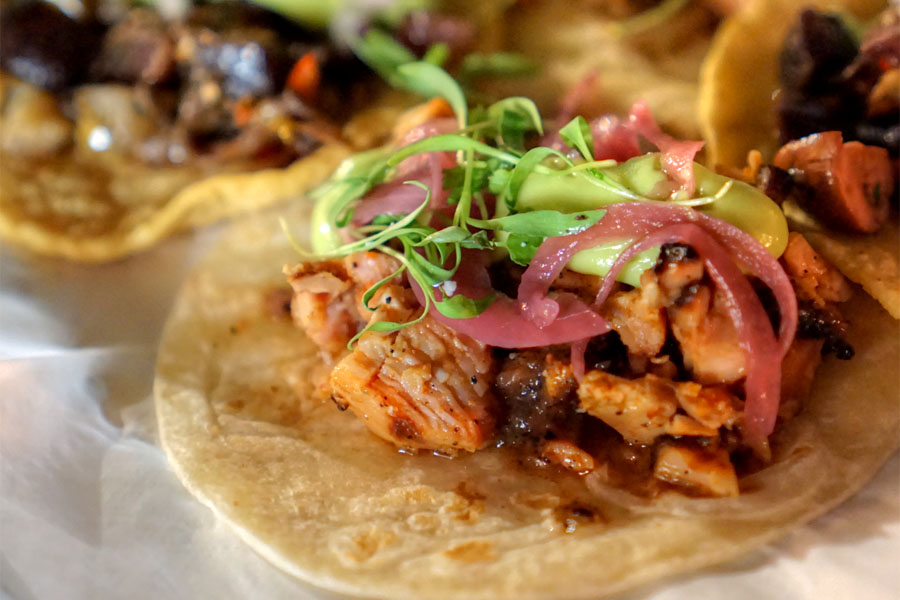 Pollo Asado Taco [$3.75]
| avocado, salsa vaquera, cilantro & pickled red onion
The chicken taco was a surprise standout thanks to its tenderness and considerable smoke character. Nice bit of acid too here from the onions.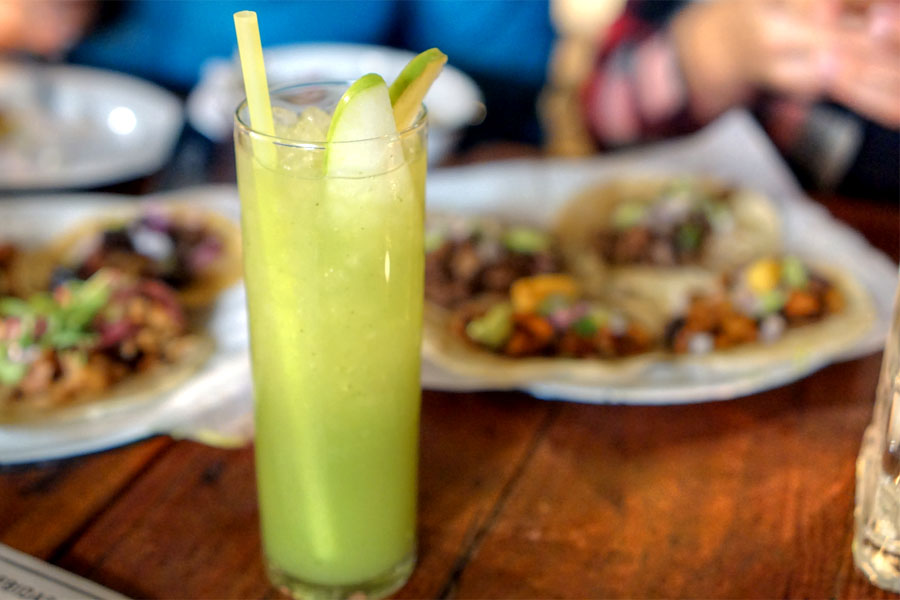 Verde [$13.00]
| cucumber, green apple, lime, cilantro, celery gin, pear brandy & fino sherry
Salazar's green-tinted
agua fresca
delivered as well. Think super bright, herby, and refreshing, with a delightful apple element throughout.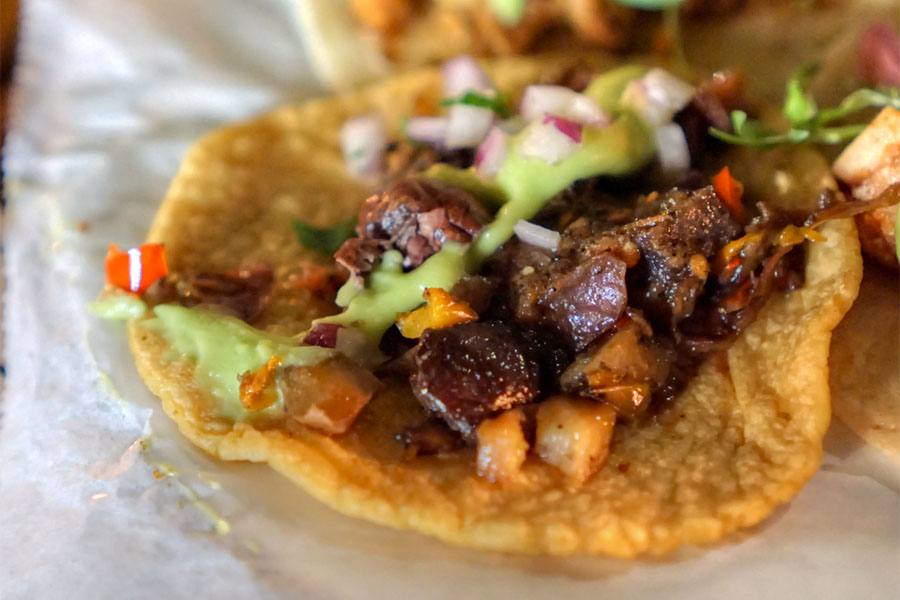 Vegetable Taco [$3.75]
| *corn tortilla* chanterelle, pickled shiitake & roasted potato
The veggie taco was actually quite satisfying due to its use of earthy, smoky 'shrooms and hearty potato.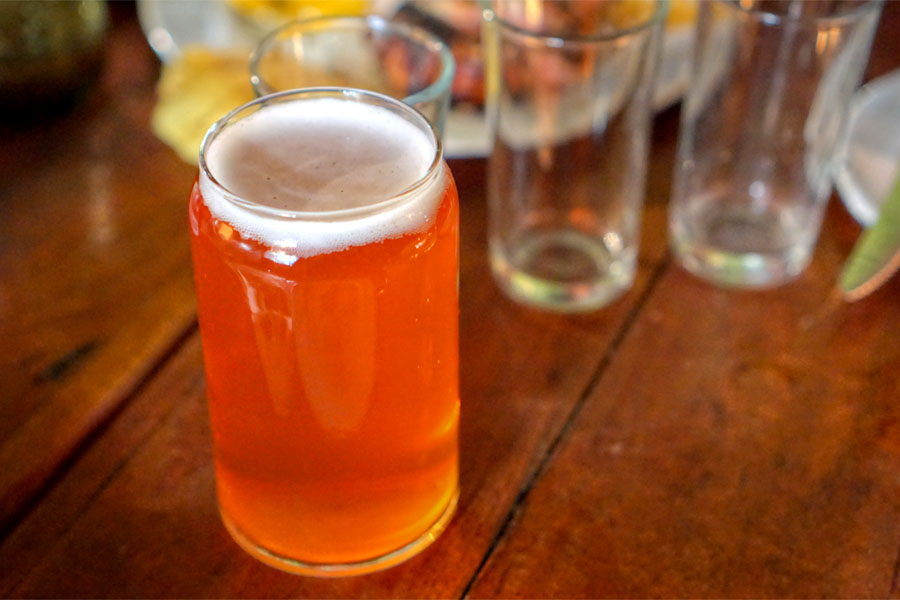 I can only assume that the beer advertised as the
Modern Times Blood Orange [$8]
was from the Fruitlands series. I didn't taste all that much like a gose though. Nose was sweet and legitimately juicy from the citrus, while the taste brought plenty of sweet and sour over a bitter backing, the whole thing finishing with more of that blood orange.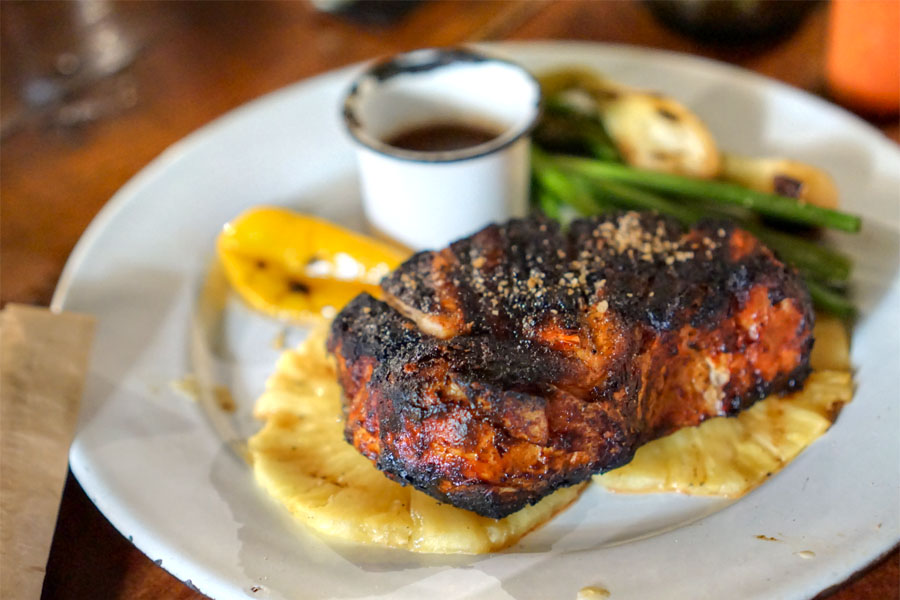 Pork Chop "Niman ranch" [$24.00]
Our first large format dish was a winner. It was one of the better pork chops I've had in a while--tender, succulent, and properly piggy, with a lovely char. The astringency of the green onions also made sense here, and the meat did quite well folded into the provided flour tortillas.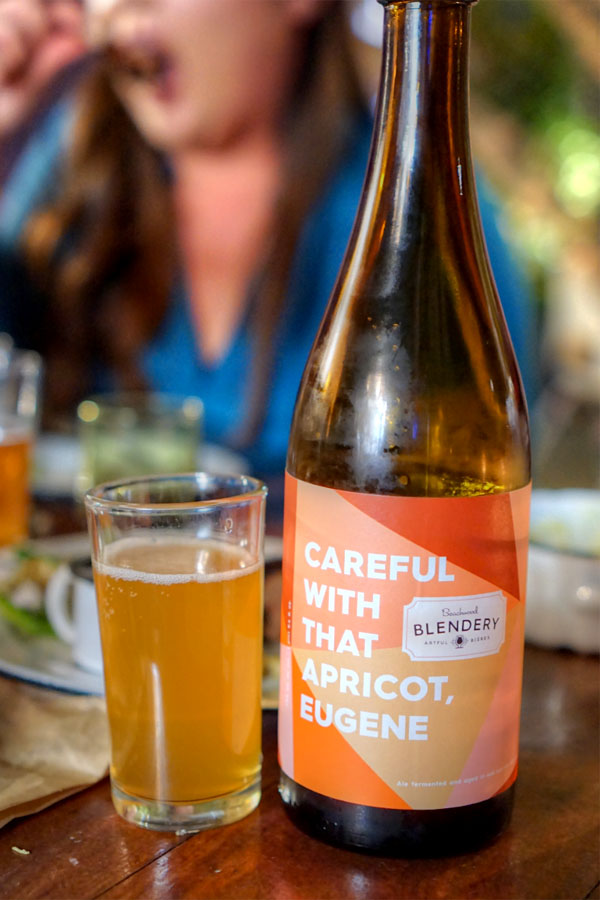 Given Mexicali's tradition of BYOB, we brought along a few bottles with us as well. First was the
2016 Beachwood Blendery Careful With That Apricot, Eugene
, a lambic-inspired, oak-aged ale with apricots. This one smelled funky for sure, with a good amount of stone fruit mixed in there as well. Meanwhile, the palate brought more earth, more barnyard, and plenty of tartness laced with sweet, pervasive apricot.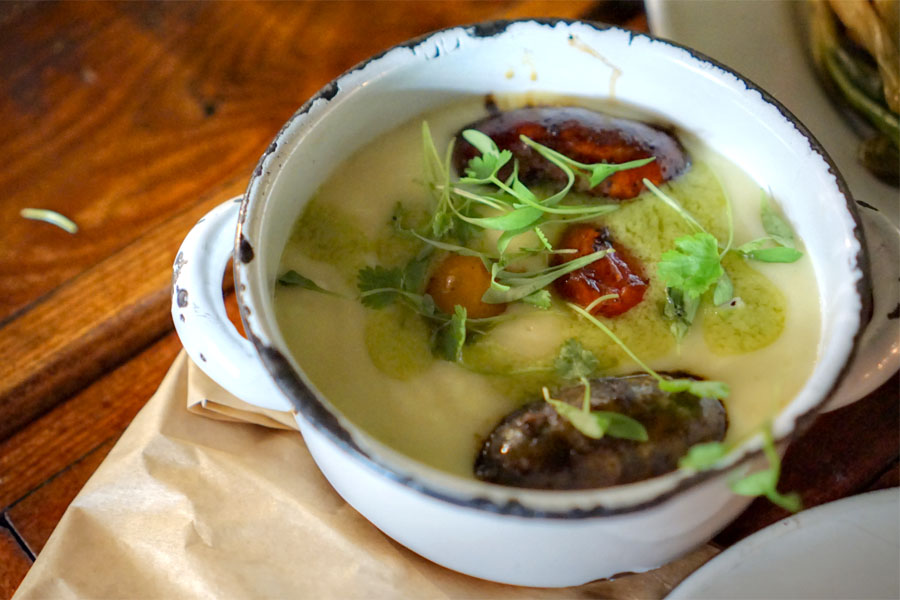 Papas Con Chorizo [$8.00]
| potato puree with green chorizo
A combination of creamy potato and spicy, charred chorizo was lovely.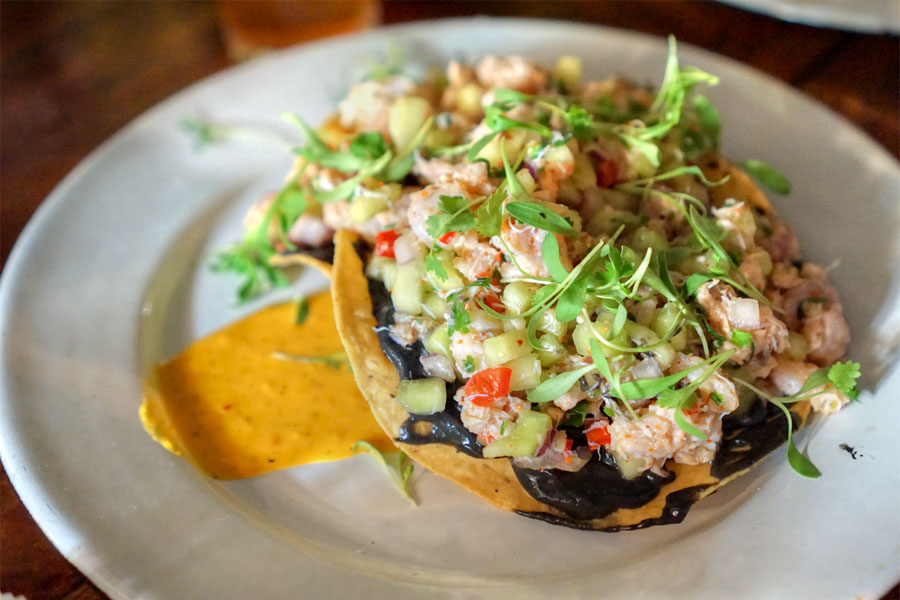 Seafood Tostada [$16.00]
| shrimp, snapper, crab, squid ink guacamole
Tostadas featured boatloads of bright, briny flavors, though I wasn't quite sold on the use of squid ink. Great crunch, though.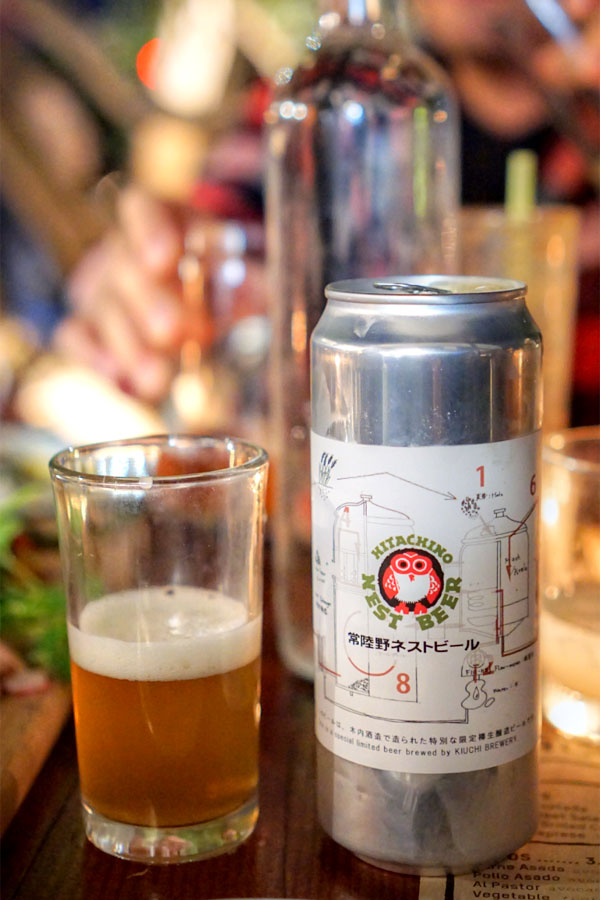 One of my dining companions actually brought this beer back from Japan, the
2016 Kiuchi Hitachino Nest Anbai Ale
, a white ale infused with sour plum (
ume
) and Japanese sea salt (
moshio
). Nose here was surprisingly sweet and grainy, while the taste also veered sugary, candied almost, without much salt at all. Not what I was expecting.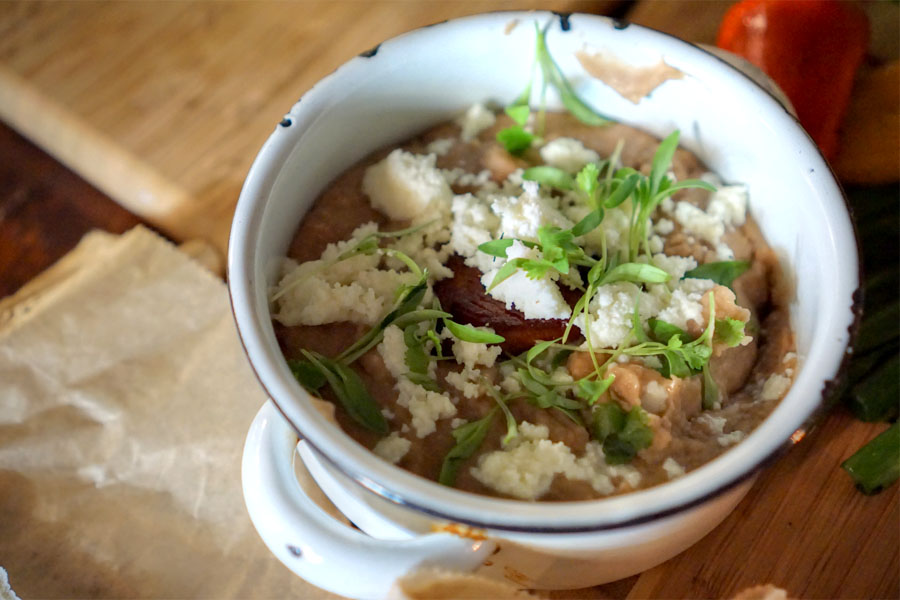 Frijoles Puercos [$7.00]
| pinto beans, pork belly, queso fresco
Beans were hearty alone, but definitely taken up another notch by the heft of that smoky pork belly (though unfortunately said belly was overcooked).
Whole Branzino (Yes That Means the Head Is Still On) [$34.00]
Branzino came out well-cooked, it's soft, juicy flesh giving up a mixture of savory and tangy flavors. Very nice with the cilantro, though I do think the seasoning could've been more aggressive.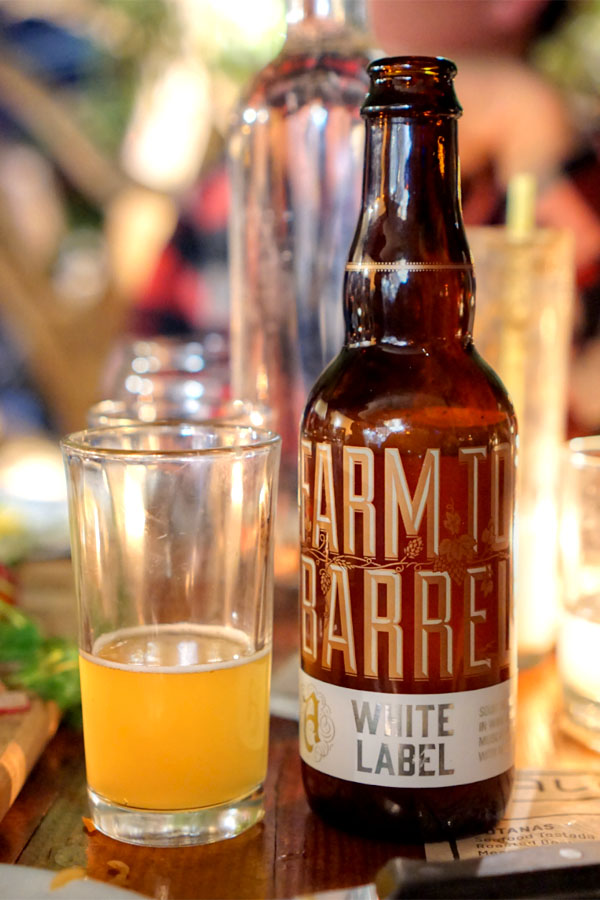 Next to drink was the
2016 Almanac White Label
, a sour blonde aged in white wine barrels with coriander and Muscat grapes, then dry-hopped with Hallertau Blanc. Aromas here were pleasantly tart, with a detectable fruitiness. Taste-wise, things were earthier, funkier, and dry, with a sort of vinous element and light hops overarching everything.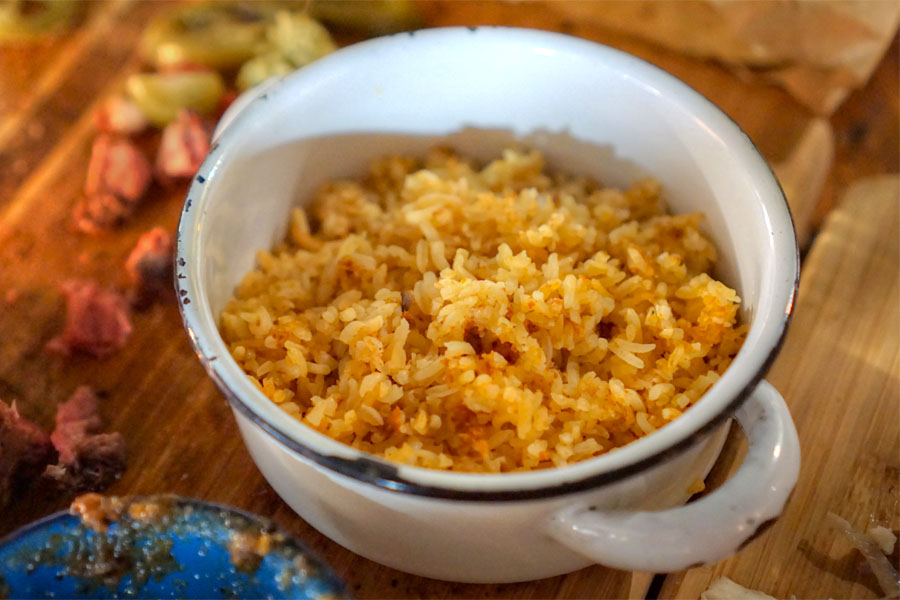 Spanish Rice [$4.00]
The rice was fairly forgettable unfortunately, and a tad on the dry side to boot.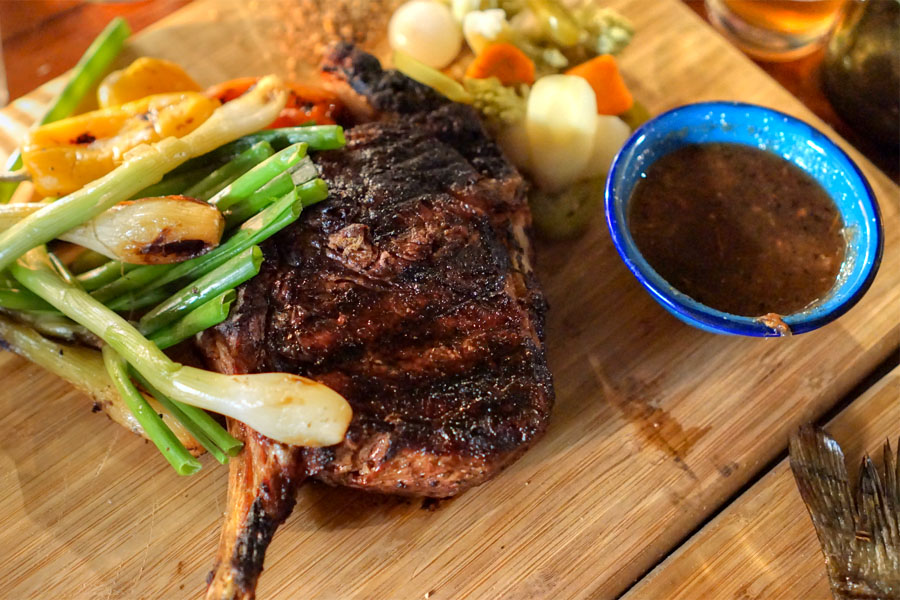 24 oz Bone in Ribeye (Serves Two Unless You're Really Hungry) [$58.00]
An impressive-looking rib eye was cooked medium-rare, as recommended by the kitchen, and ate tender and flavorful, with a very discernible smoke element from its grilling over open flame. Even better when tucked into a tortilla with those onions and a drizzle of salsa.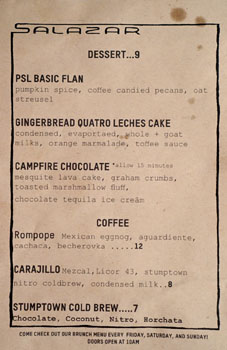 Dessert at Salazar is brief, comprising a couple twists on the classics. Click for a larger version.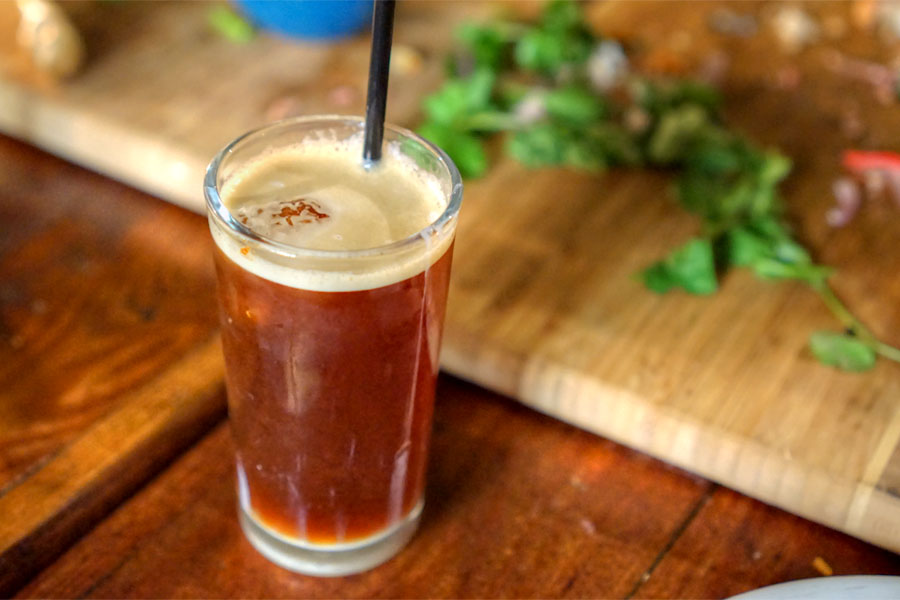 Carajillo [$8.00]
| Mezcal, Licor 43, stumptown nitro coldbrew, condensed milk
Our dessert cocktail really hit the spot: loads of roasty, aromatic coffee up front, mixed with dark fruit and soft, sweet spice throughout.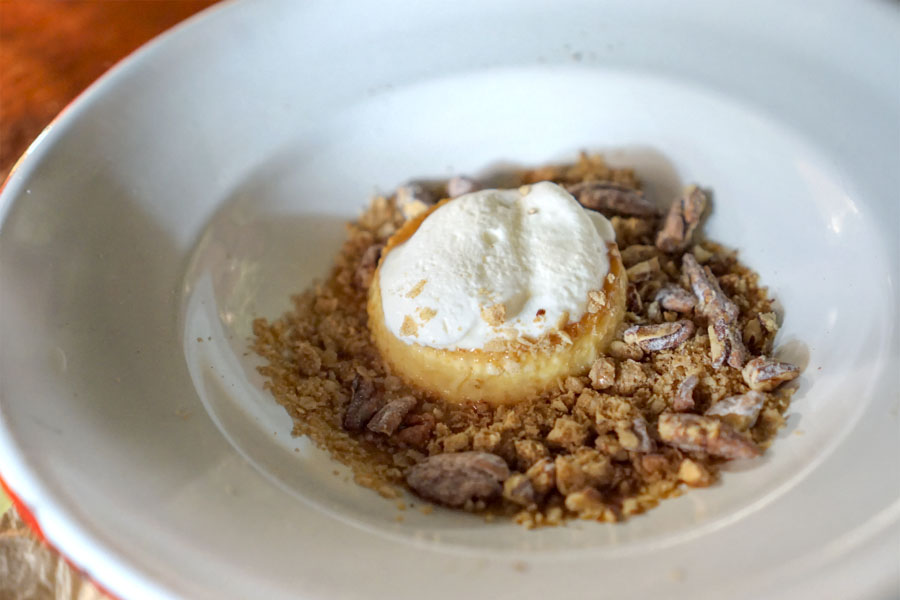 PSL Basic Flan [$9.00]
| pumpkin spice, coffee candied pecans, oat streusel
Salazar's take on flan had your traditional sugary, caramel-y notes, but balanced by a palpable spice and the crunch of those pecans.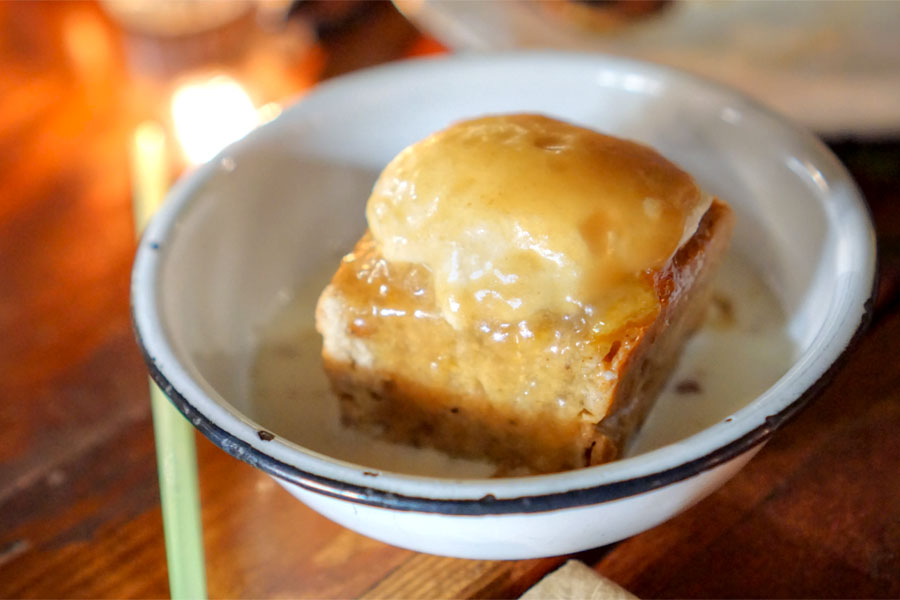 Gingerbread Quatro Leches Cake [$9.00]
| condensed, evaporated, whole + goat milks, orange marmalade, toffee sauce
The restaurant's amped up version of
tres leches
seemed light on the milk, but heavy on the citrus.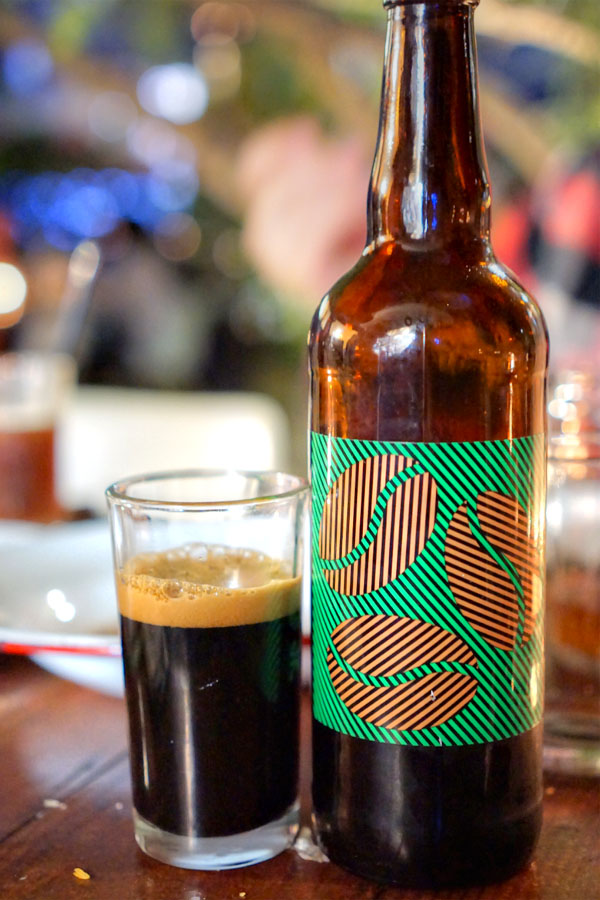 Our final beverage was the
2016 Cycle 3rd Anniversary BA Brazil Oberon
, a barrel-aged imperial stout with Mostra Coffee. Nose here was particularly fruity, but with a roast character. The palate was a tad harsher than I would've liked though, but still showed off more sweetness, bitterness, and an oaky presence.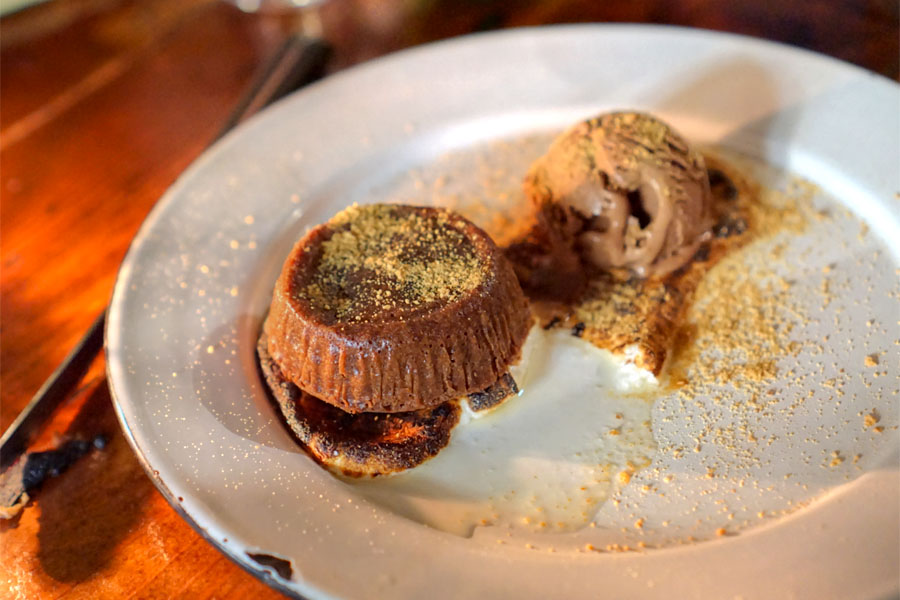 Campfire Chocolate [$9.00]
| mesquite lava cake, graham crumbs, toasted marshmallow fluff, chocolate tequila ice cream
Finishing things off was this reinterpretation of the prosaic molten lava cake. I will say that it was one of the more interesting variations I've had, mostly due to the smokiness of the dessert as well as the traces of tequila in the ice cream.
The parking sucks, the waiting (due to lack of reservations) sucks, and there were a couple quibbles with the food, but despite all that we managed to have a good time at Salazar. I generally enjoyed Ochoa's take on Mexican cookery here, which is of a style you don't encounter in LA all that often. It's like Mexicali, but taken to the next level. As for what's next for the Chef, it looks like he's got plenty on his plate. He's been running Califas Taco at Smorgasburg LA the past few months, and a second outpost of Mexicali is supposedly in the works, so we'll see.