Howlin' Ray's (Los Angeles, CA)
Howlin' Ray's Restaurant
727 N Broadway, Los Angeles, CA 90012
213.935.8399
www.howlinrays.com
Sat 11/05/2016, 03:15p-05:05p

The hottest fried chicken joint to hit LA in a while comes to us courtesy of Johnny Zone, whom I last reported on back in 2011 when he had just taken over the reins at
La Poubelle
.
The Chef's road to Howlin' Ray's began in 2014, when he
staged
at Sean Brock's Husk. During his time there, he was introduced to Nashville hot chicken, a cayenne-heavy style supposedly developed in the City during the 1930s. Zone fell in love with the fried chicken, and subsequently spent more time in Nashville in order to learn more about it. He reportedly took almost a year to perfect his recipe, and eventually he and wife Amanda Chapman launched the Howlin' Ray's food truck in June 2015 after first popping up at
Barrel & Ashes
(Zone worked with CdC Michael Kahikina at
Bouchon
).
Given the success of the truck, in October 2015 it was announced that Howlin' Ray's would be taking over the former
Littlefork
space in Hollywood, but the deal fell through just weeks later. Then, in December, Zone and company revealed that they'd secured a spot in Chinatown's Far East Plaza, right next door to
Pok Pok Phat Thai
(which subsequently shuttered and is now Baohaus). Howlin' Ray's thus debuted in April to considerable fanfare and even more considerable lines.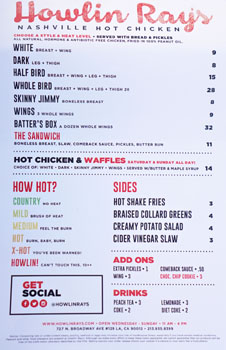 Menu-wise, Howlin' Ray's is all about that cayenne-laced bird, which is available in six heat levels and served with traditional accompaniments of bread and pickles. There's also a sandwich option, a handful of sides, as well as a chicken 'n' waffles combination on weekends. Click for a larger version.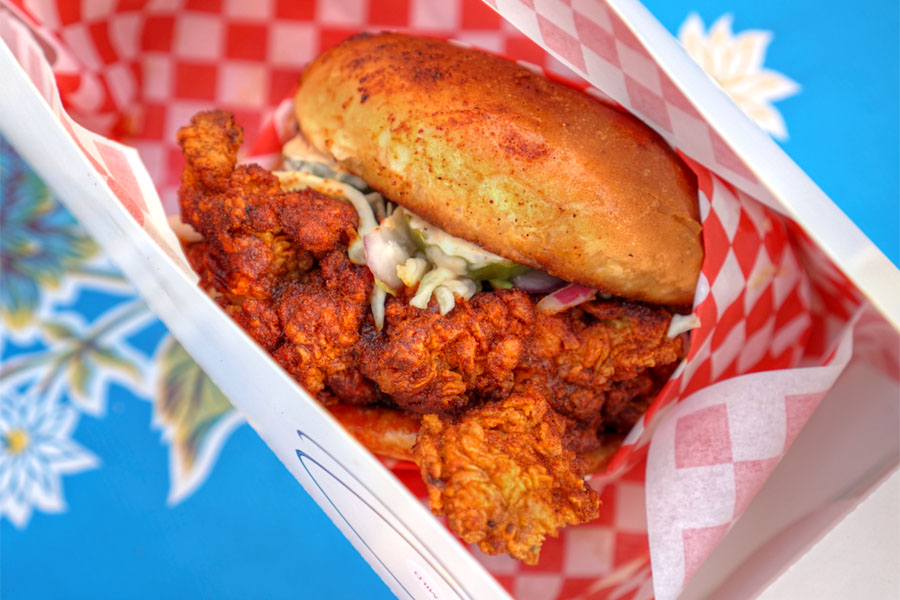 The Sandwich (Mild) [$11.00]
| boneless breast, slaw, comeback sauce, pickles, butter bun
We ended up ordering a bunch of stuff to share, and first up was one of my favorites. This was a pretty much spot on fried chicken sandwich, one with just enough spice, just enough tanginess from the bird to match the crunch and acidity of the pickles and slaw. If I were coming here on a regular basis, this would be probably what I'd get most of the time. Start with this.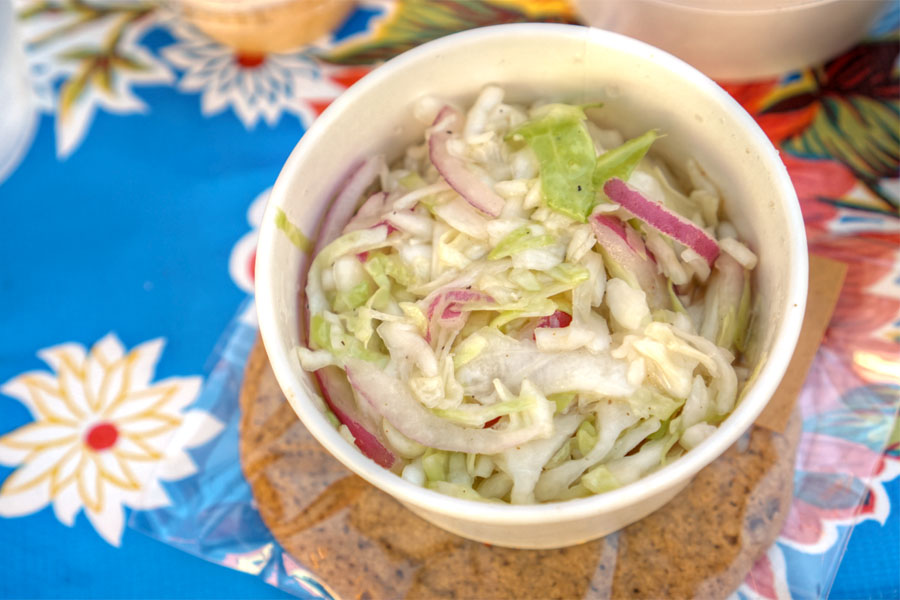 Cider Vinegar Slaw [$3.00]
Speaking of coleslaw, the example today ate crisp and tart, but also showed off a marked sweetness.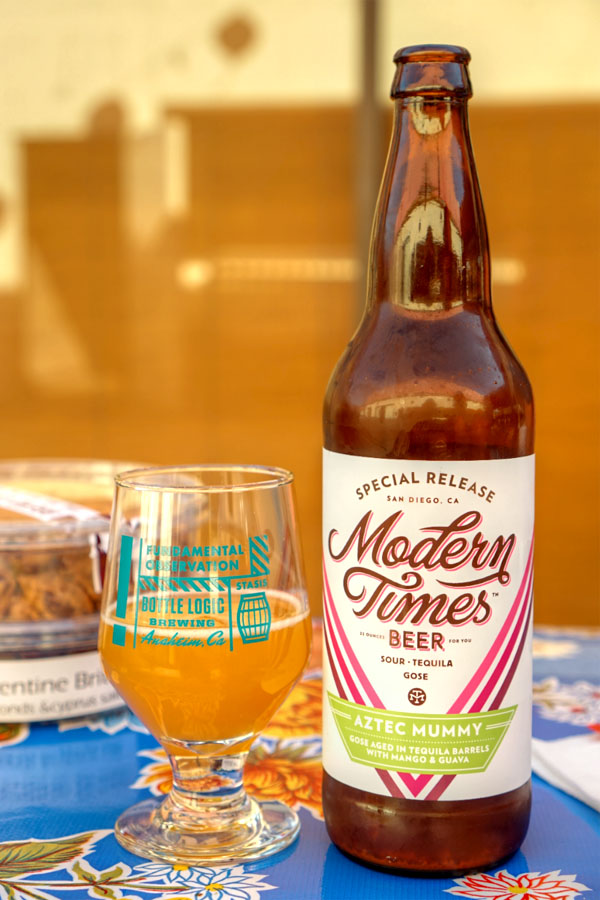 In terms of beverages, we opted for a few beers, the first of which was the
2016 Modern Times Aztec Mummy with Mango & Guava
, a tequila barrel-aged gose. This one smelled inviting, with plenty of fresh, super tropical aromas abound. The taste showed off more tart, true-to-life fruit at first, but with the woody, peppery kick of the tequila barrel appearing on the finish.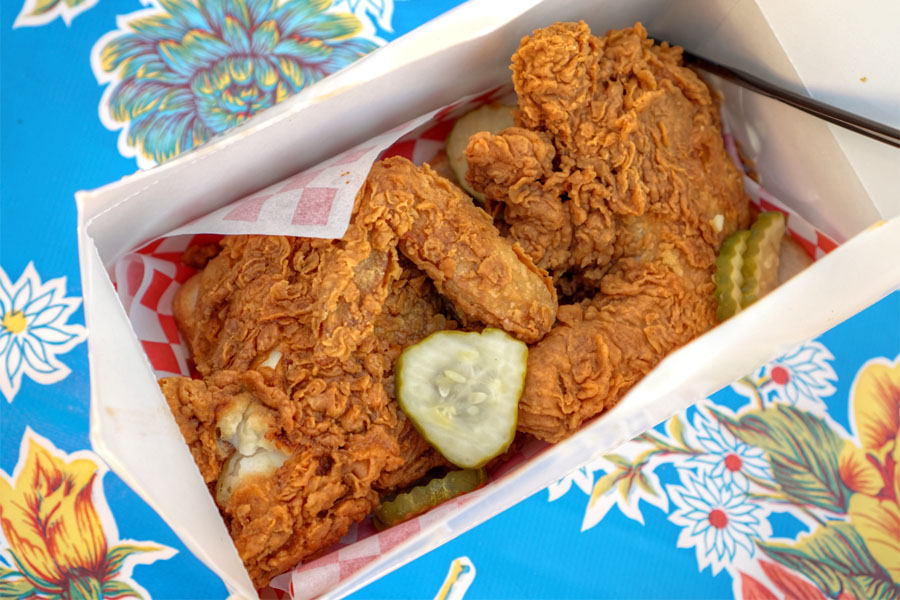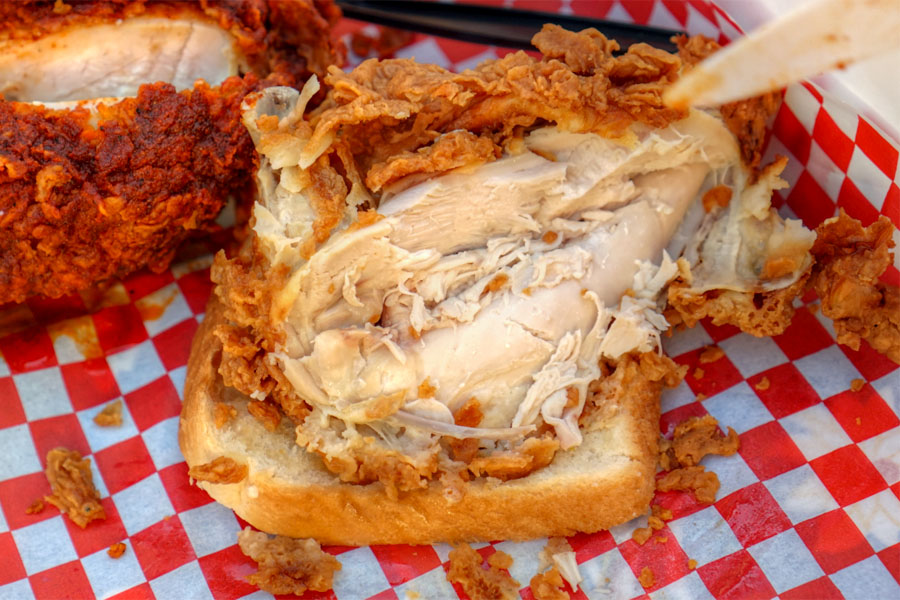 Half Bird (Country) [$15.00]
| breast + wings + leg + thigh
We ordered the no-heat version of the chicken in order to experience the inherent goodness of the bird, and it was
good
. In fact, it was arguably my favorite item we had: juicy, tender, flavorful, with crisp, crackly skin that made it a joy to eat.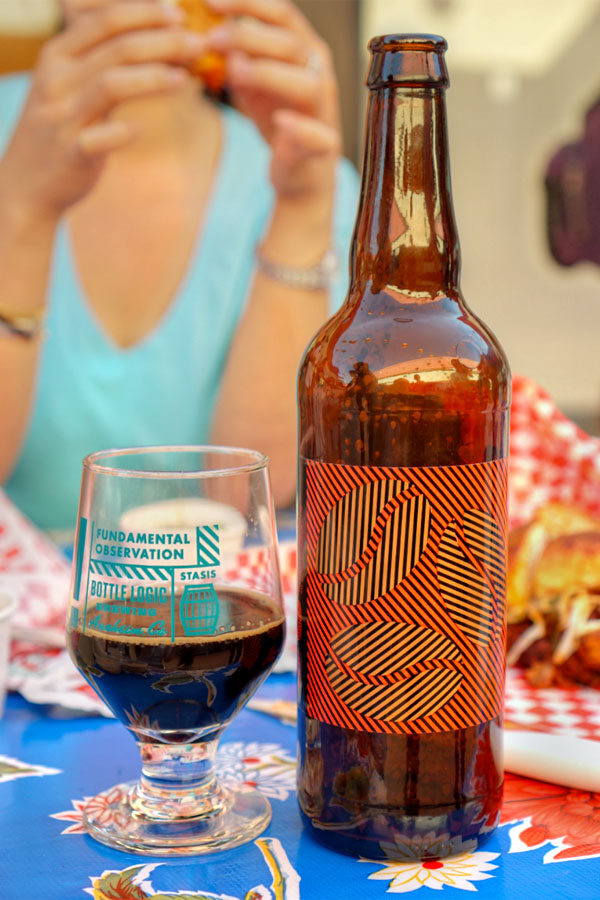 Next to drink was a bourbon barrel-aged imperial stout with coffee from Mostra, the
2016 Cycle 3rd Anniversary BA Vietnamese (Da Lat)
. Nose was lovely, filled with dark fruit and spice. The palate wasn't quite as inviting, but still tasty, displaying lots of oak, spice, and light roast.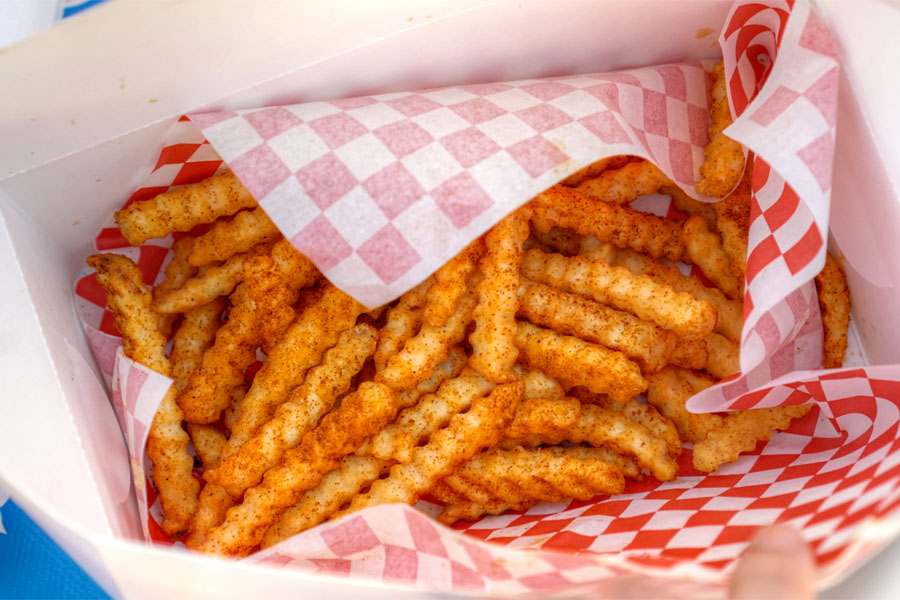 Hot Shake Fries [$3.00]
Fries were well-textured and quite healthily spiced.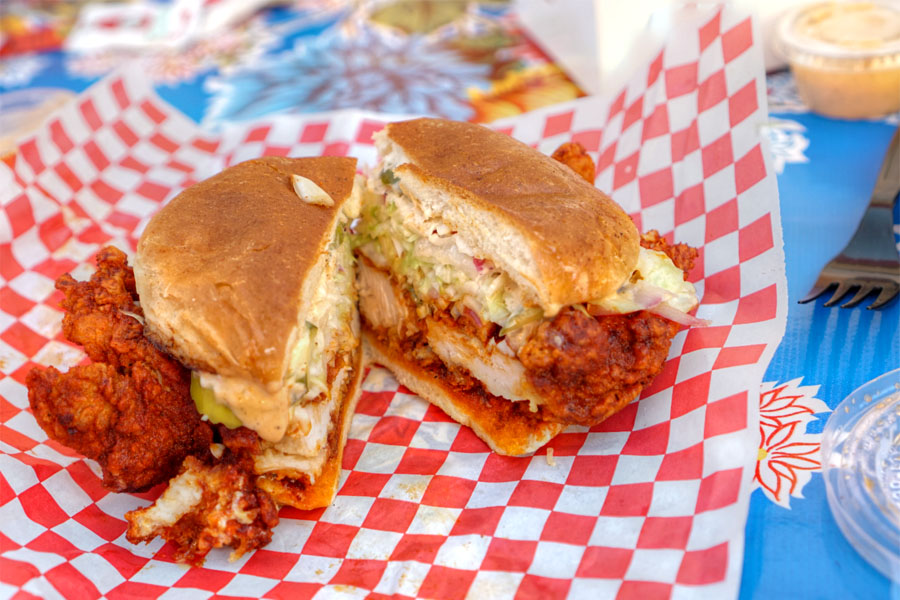 The Sandwich (Medium) [$11.00]
| boneless breast, slaw, comeback sauce, pickles, butter bun
Compared to the sandwich above, this was noticeably hotter, with a longer lasting burn to boot, though again, the slaw did help. The spiciest I'd go under normal circumstances.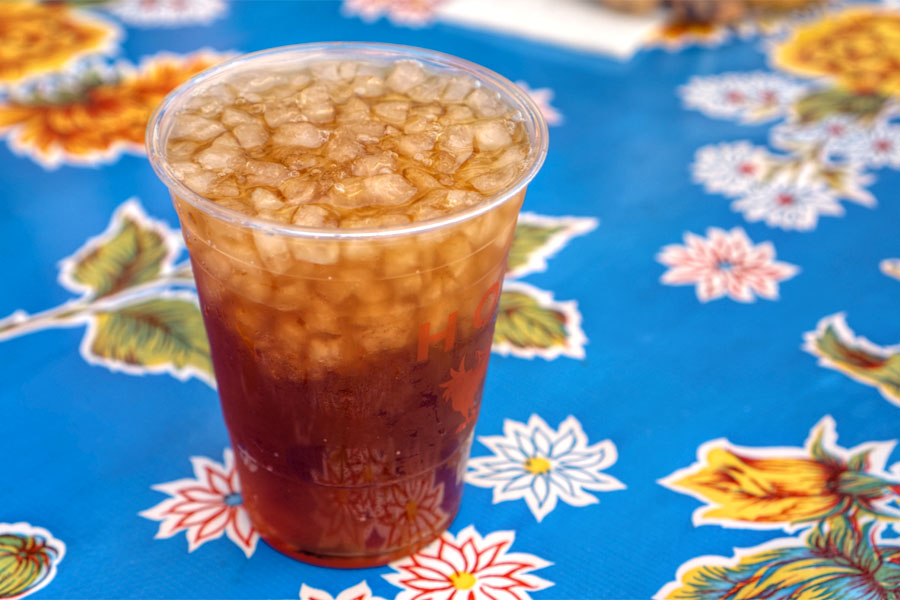 The
Peach Tea [$3]
worked well enough, conveying more of your classic tea notes at first, but with the stone fruit appearing mid way through and lingering.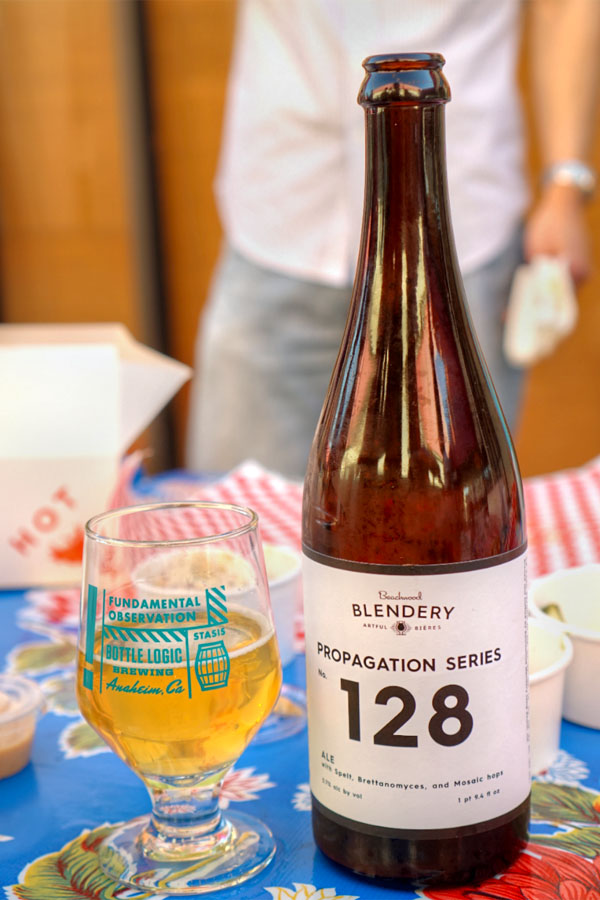 The
2016 Beachwood Blendery Propagation Series: No. 128
was a saison-style, Brett-fermented ale with spelt, dry-hopped with Mosaic. This one smelled refreshingly citrusy and just hoppy enough. The taste, meanwhile, was similarly bright, with more of an herbiness and a trace of spice.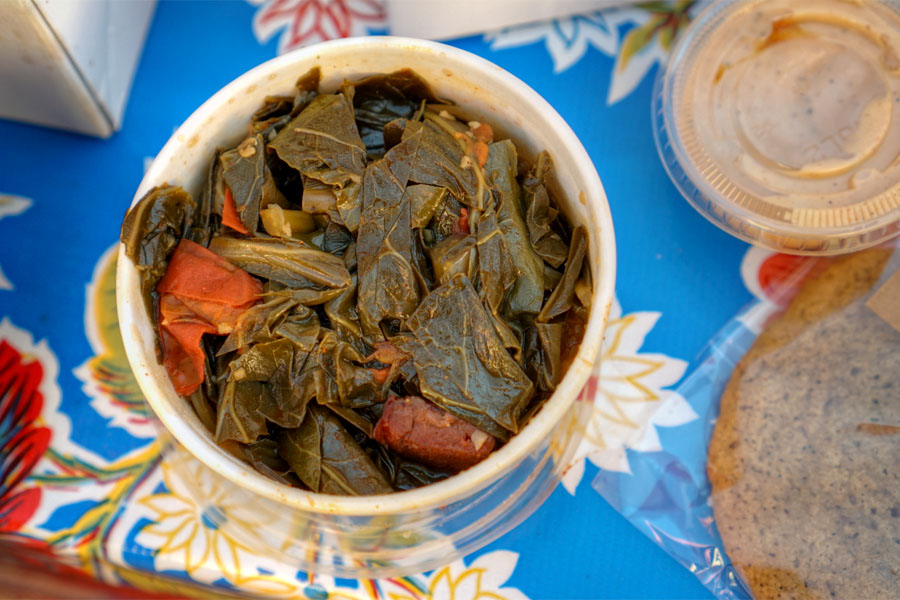 Braised Collard Greens [$4.00]
Collards were just what you'd expect: earthy, bitter, deep.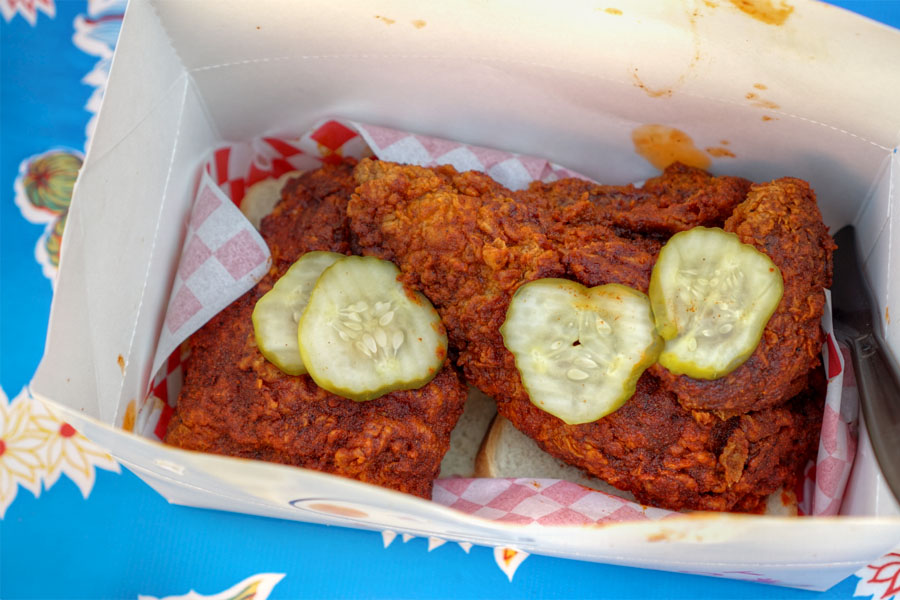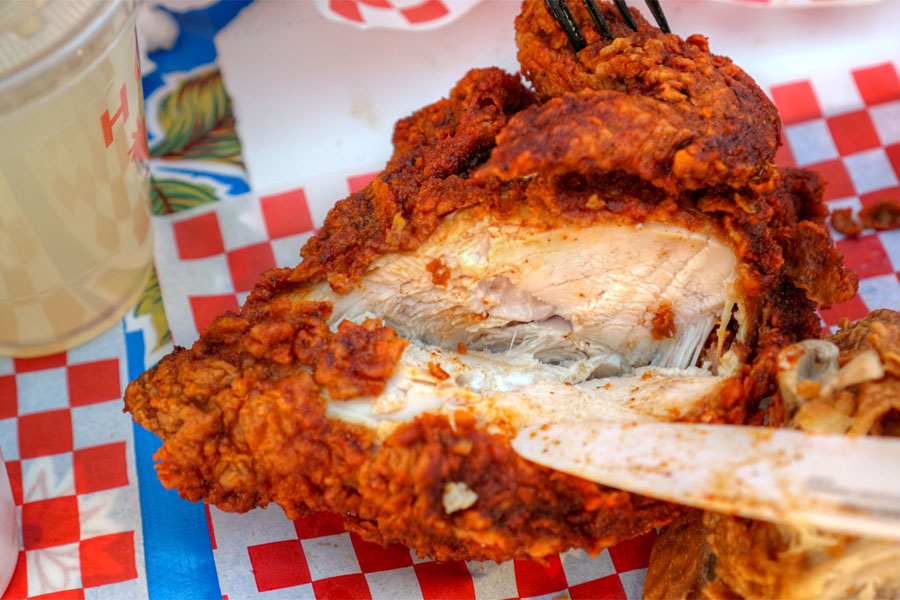 Half Bird (Medium) [$15.00]
| breast + wings + leg + thigh
For me, Medium was the borderline of eating semi-comfortably, though I will say that the higher meat-to-skin ratio of the breast did help temper the heat.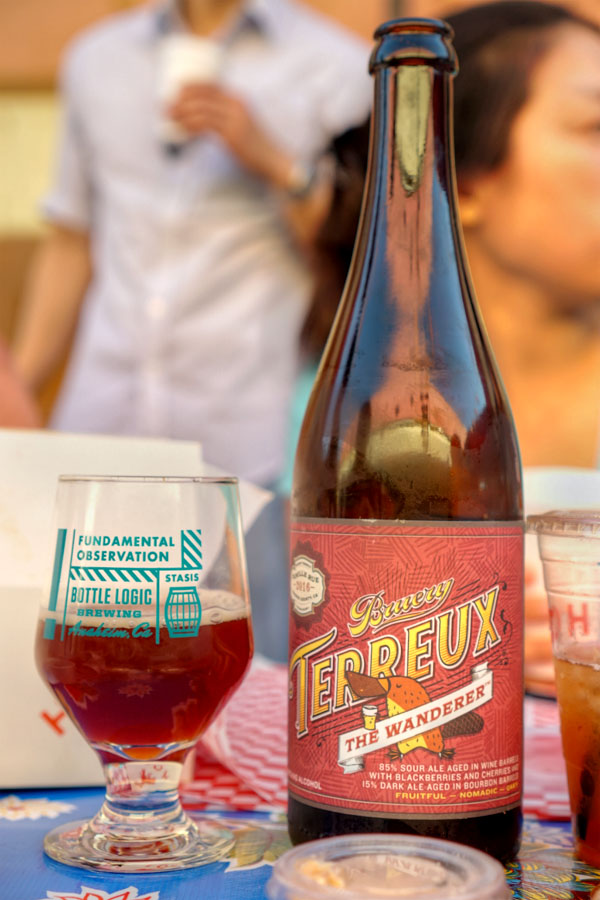 The
2016 Bruery Terreux The Wanderer
comprised a blend of wine barrel-aged sour ale with blackberries/cherries and bourbon barrel-aged dark ale. I found the nose here filled with tart, dark fruit and oak, and the taste brimming with more oak, earth, acidity, wine-like notes, and of course berry fruit.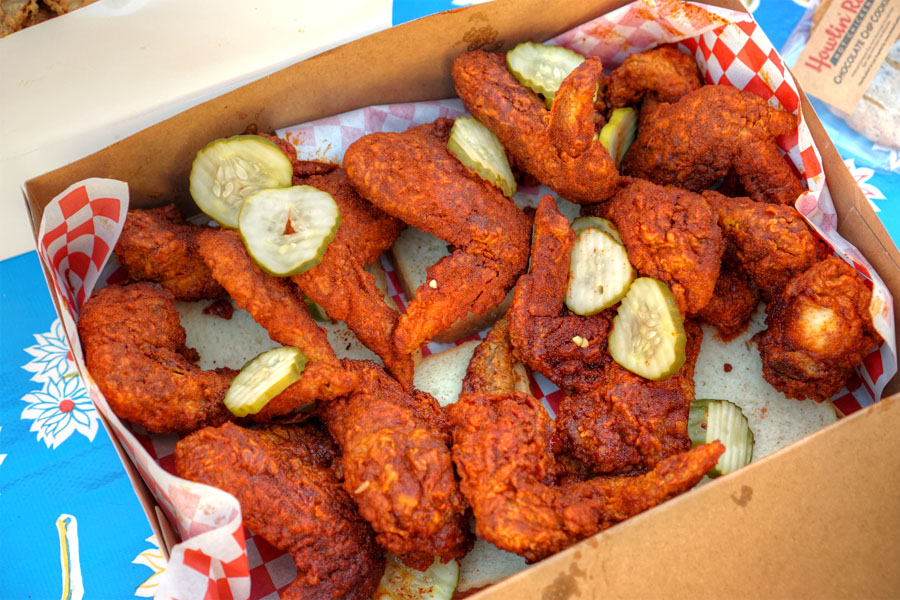 Batter's Box (Medium) [$32.00]
| a dozen whole wings
The wings definitely seemed more cayenne-forward than the other cuts due to the smaller amount of meat present.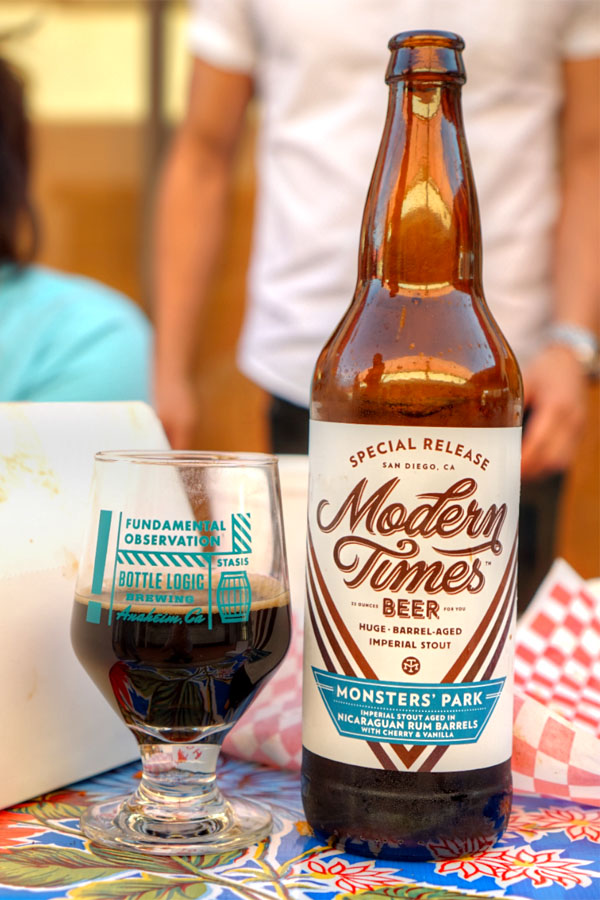 Here was an imperial stout, the
2016 Modern Times Monsters' Park Aged in Nicaraguan Rum Barrels with Cherries & Vanilla
. Bouquet on this one was teeming with cocoa and a good amount of the advertised vanilla. There wasn't much vanilla on the palate though, which instead showcased more chocolate, malt, and the dark fruit character of the cherry toward the back end.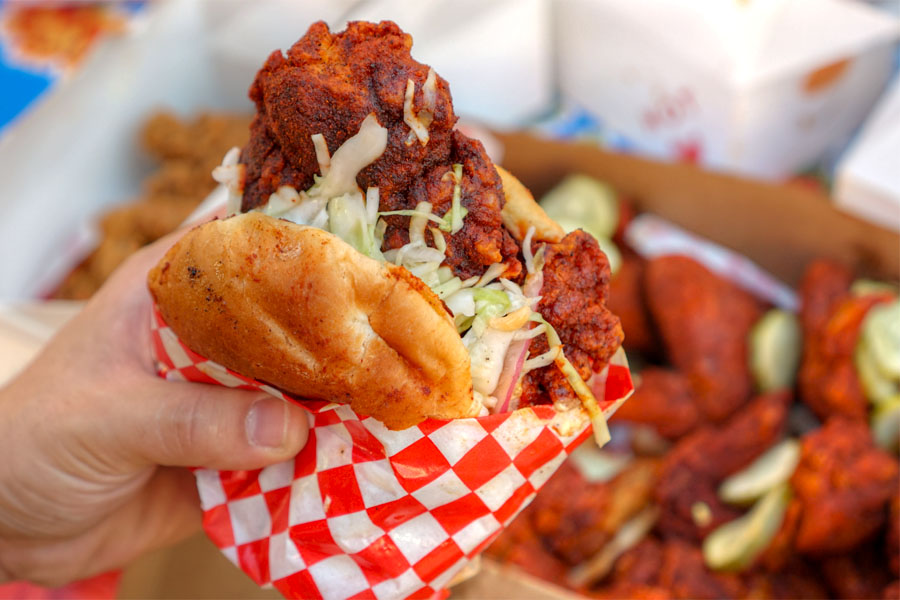 The Sandwich (Howlin!) [$11.00]
| boneless breast, slaw, comeback sauce, pickles, butter bun
Naturally, we had to try the marquee Howlin' spice level, though at least we had the sense to get it in sandwich form. Interestingly, the heat here was less overtly cayenne but rather a more focused, sharper pungency (which makes sense given that the marinade reportedly incorporates
bhut jolokia
, Habaneros, and Carolina Reapers) that actually had a multi-second delay before it hit you, and
stayed
with you. One of my dining companions reported dizziness upon eating, while another was forced to rush over to Scoops for ice cream. I was only able to come out relatively unscathed by consuming an inordinately small portion.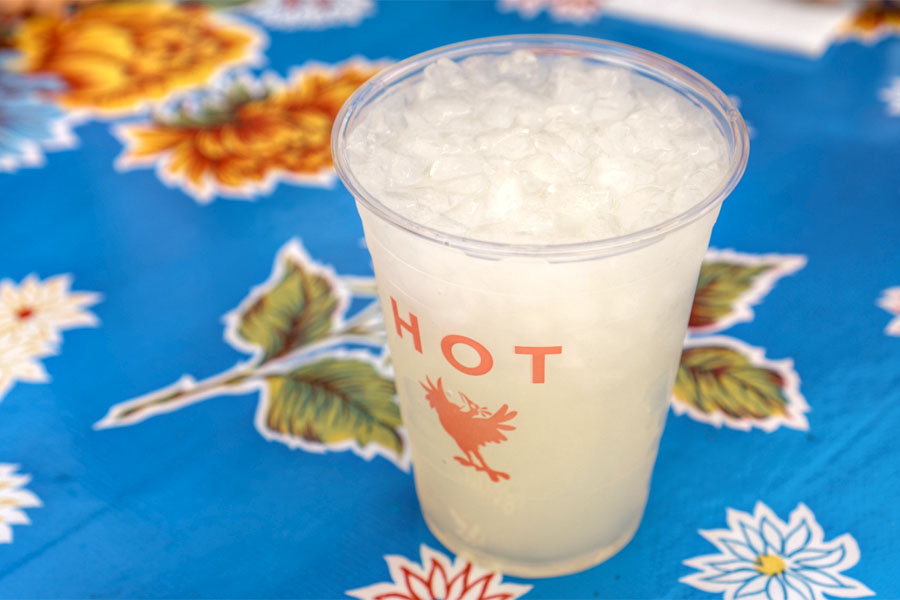 The
Lemonade [$3]
was pretty prototypical--not too sweet, not too sour.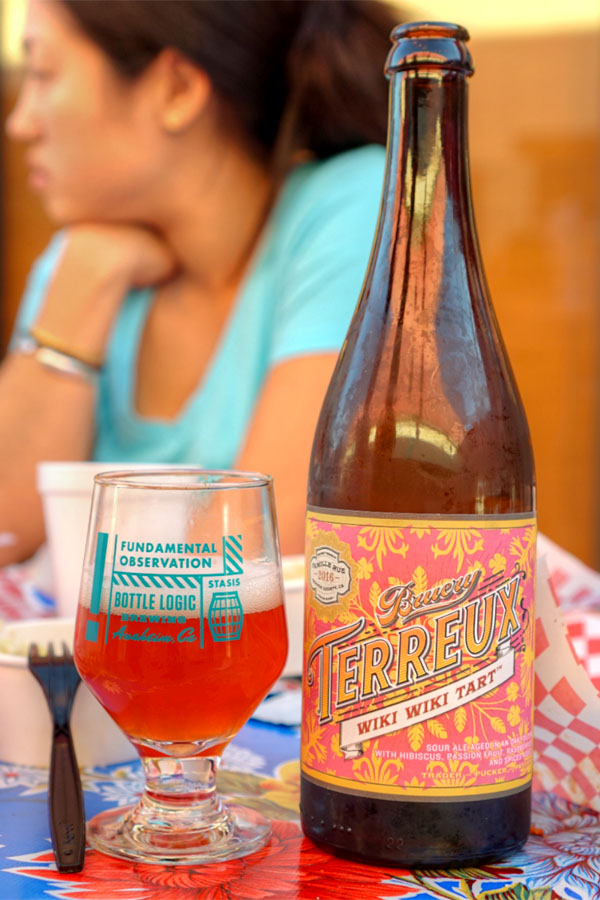 Next up came an oak-aged sour with hibiscus, passion fruit, raspberry, and spices, the
2016 Bruery Terreux Wiki Wiki Tart
. Not surprisingly, the nose here was super tart 'n' fruity, with a distinct sweet spice element. The taste brought more sour, tropical, floral notes along with an underlying graininess. Fun and easy drinking for sure.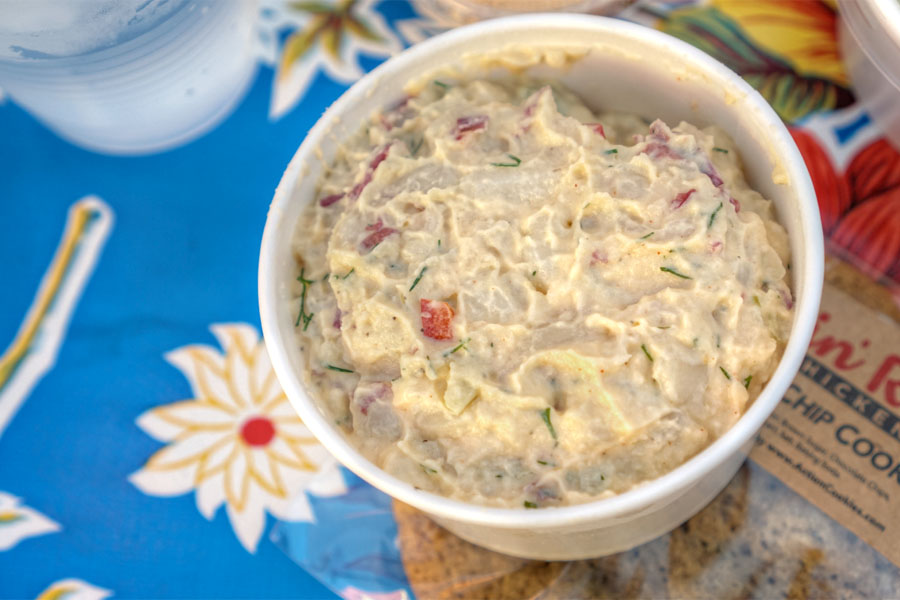 Creamy Potato Salad [$4.00]
The potato salad was a classic, and indeed creamy preparation. Quite tasty, though I actually wanted a bit more texture.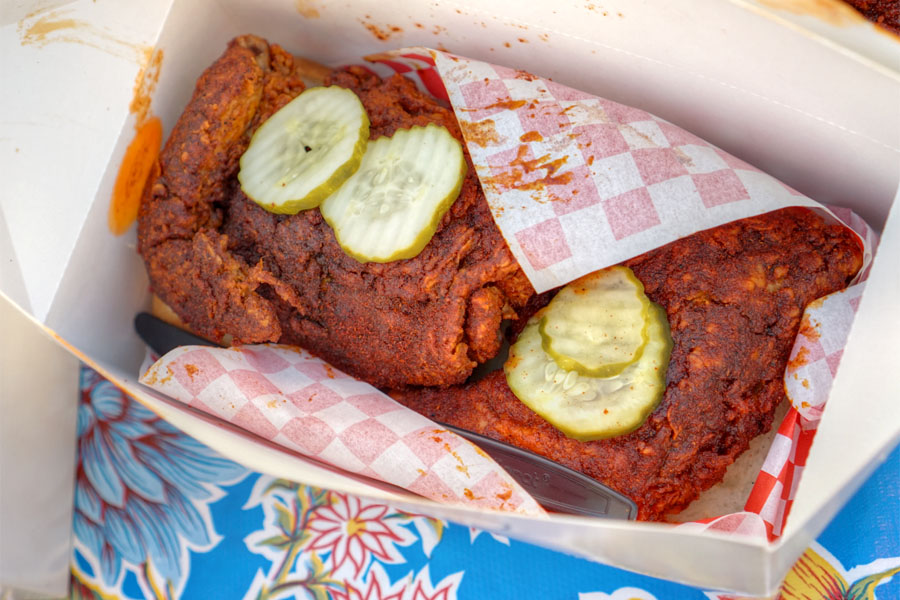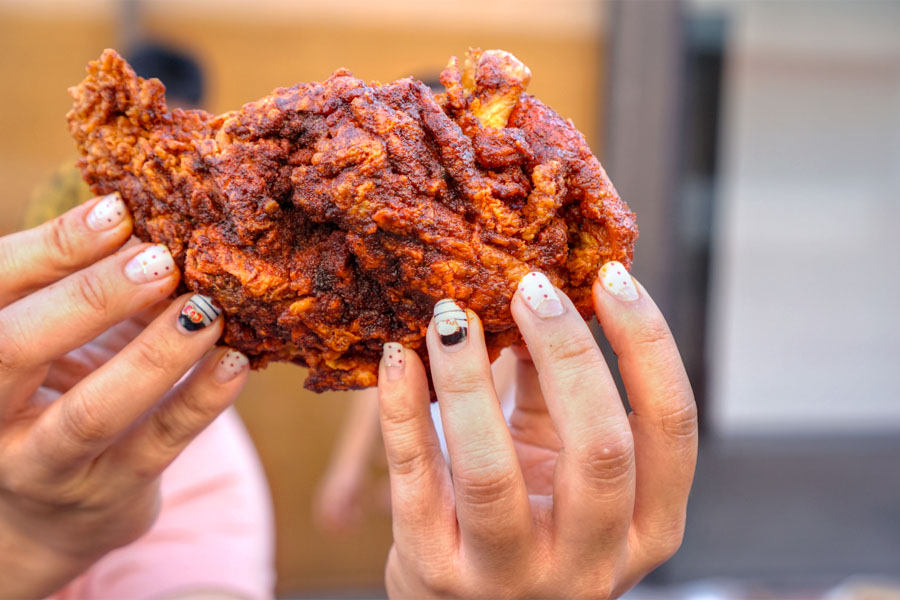 Half Bird (Hot) [$15.00]
| breast + wings + leg + thigh
The Hot was a perceptible step up from the Medium above. This one creeps up on you a bit too, and I found it barely bearable for more than a few bites.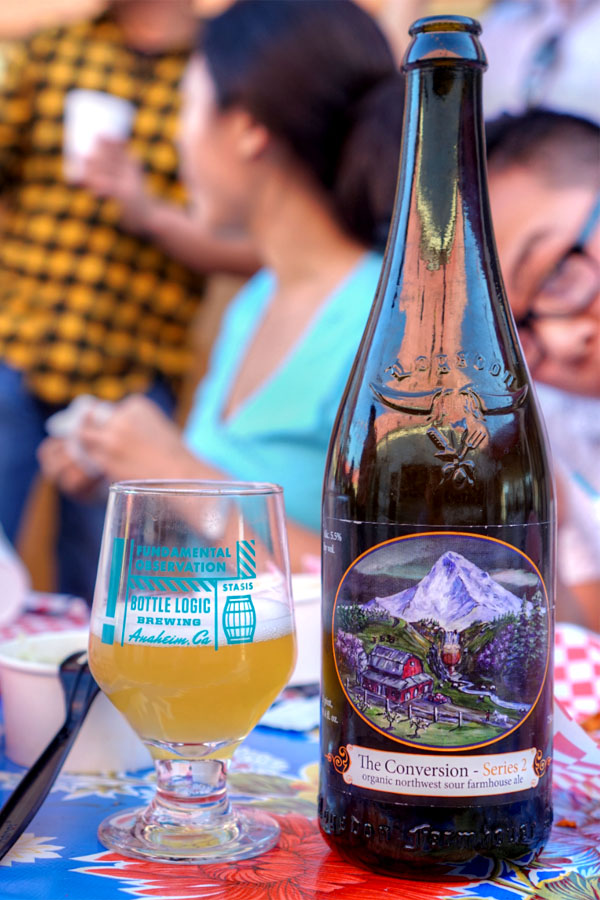 The
2016 Logsdon The Conversion - Series 2
was a sour, Belgian-style, wildly-fermented witbier. Aromas here were super funky, super lemony. The taste followed, with more farmhouse and a not all that inviting astringency (cleaning agent?) rounding things out.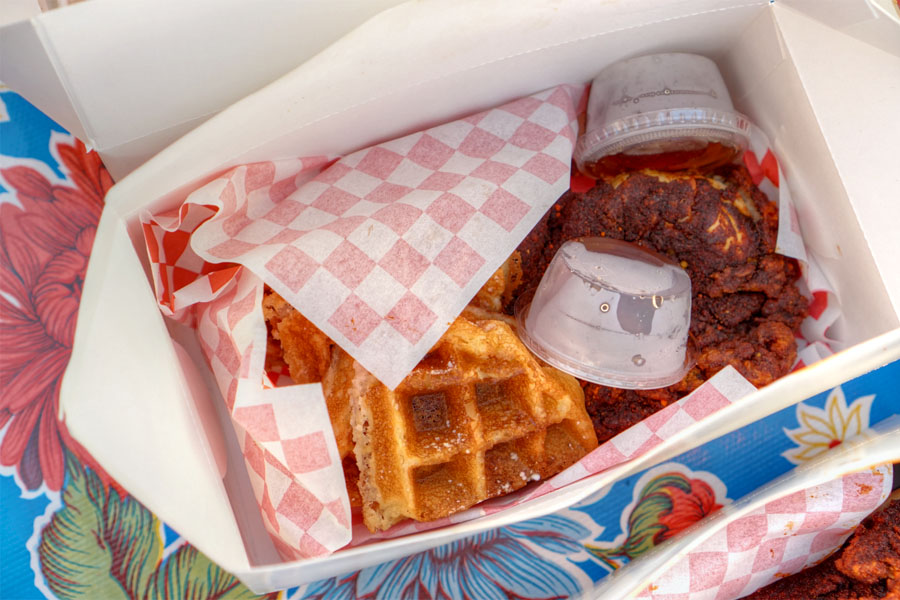 Hot Chicken & Waffles (X-Hot) [$14.00]
| Skinny Jimmy, served w/butter & maple syrup
I managed to tame the second hottest heat level by piling on plenty of the included maple syrup and stuffing my mouth with waffle. However, one of my fellow dining companions wasn't so lucky, as he reported hearing loss in his left ear after eating.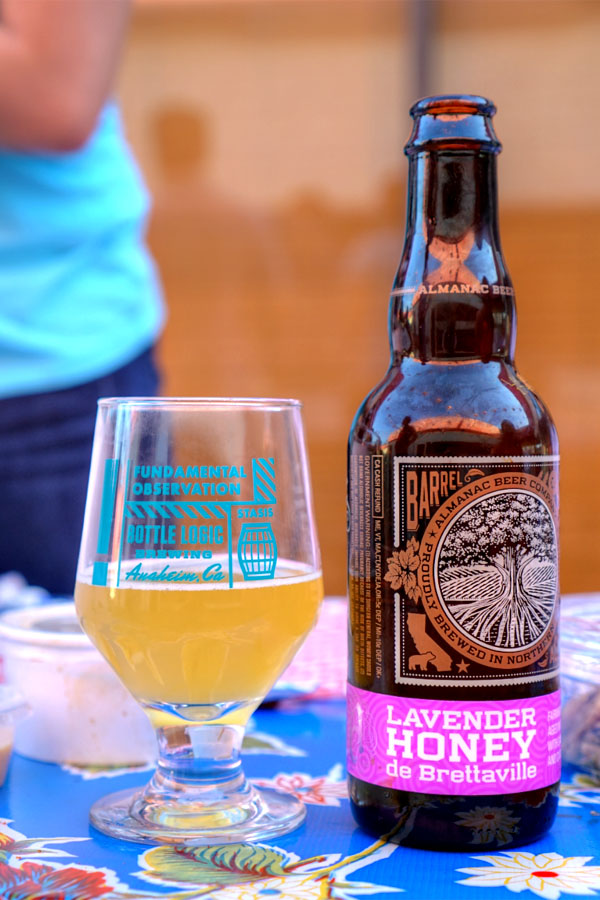 Our final beverage was the
2016 Almanac Lavender Honey de Brettaville
, a farmhouse ale aged in oak with lavender, honey, and Cara Cara oranges. It had a nose filled with floral, herbaceous nuances along with a pervasive tanginess. The palate veered super herby at first, with a bitterness coming in on the mid palate and the beer finishing with lots of lavender.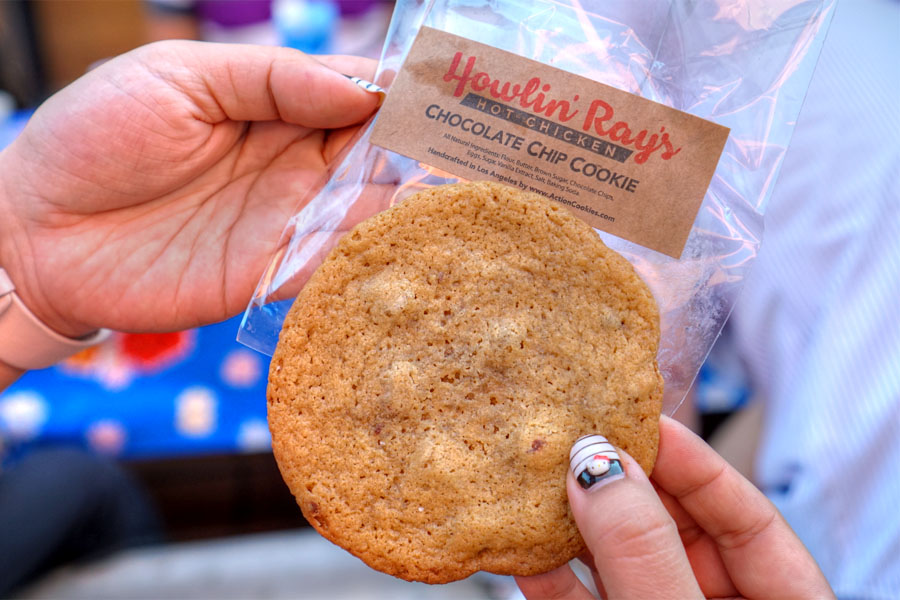 Chocolate Chip Cookie [$3.00]
Cookies were serviceable.
I'll take the perhaps unpopular stance that you should go easy on the heat here. A number of us at the table actually agreed that we liked the Country-style prep the most. It's just a really good fried chicken, some of the best I've had in fact. I'm not so sure that all the cayenne really improves the experience, though in moderation (up to Medium) it does add a further dimension that works. Go any higher, and you're sort of missing out on the quality of the actual bird. And Howlin'? Masochism or machismo I say.