Kettle Black (Los Angeles, CA)
Kettle Black Restaurant
3705 Sunset Blvd, Silver Lake, CA 90026
323.641.3705
www.kettleblackla.com
Thu 11/10/2016, 07:55p-10:40p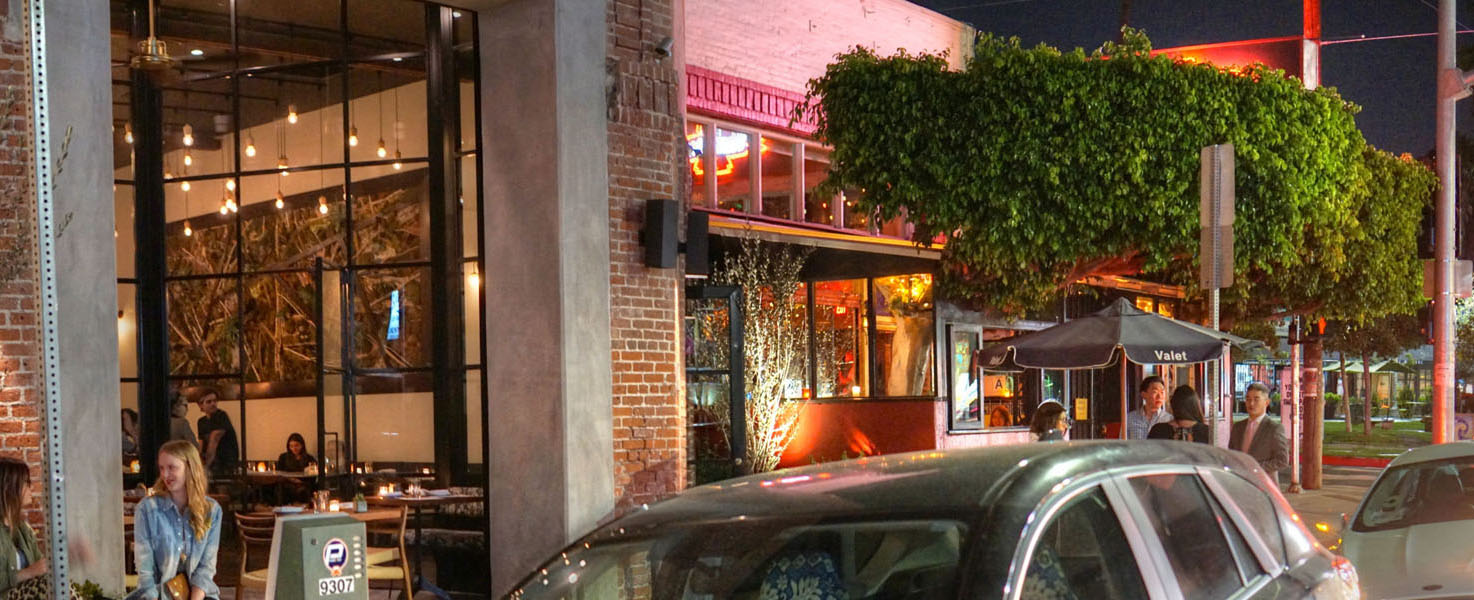 Back in October, we paid a visit to
Sawyer
, that seafood-y place in Silver Lake from Beau Laughlin and partners Brett Cranston and Jay Milliken. Today we take a look at its sister restaurant situated in the same building: Kettle Black, an Italian-inspired joint that opened at the start of August.
Helming the kitchen here is none other than Sydney Charles Hunter III, who also runs the show at Sawyer now (their original chef left). You may remember Hunter as the Chef de Cuisine over at
Petit Trois
. He left Ludo's side in August 2015 and took the reins at
Superba Snack Bar
, then spent time with
Patina
Group once Paul Hibler's spot shuttered at the start of this year.

The roughly 3,000 square-foot space (once home to California Bank, hence the vault door by the bathrooms) was largely penned by the partners themselves from what I understand. You get a banquette on one side, the bar on the other side, outdoor seating in the front, and the wood-fired oven-plus-dining counter in the back. There's also a much quieter area on the second floor (where we were seated). Total capacity is about 100.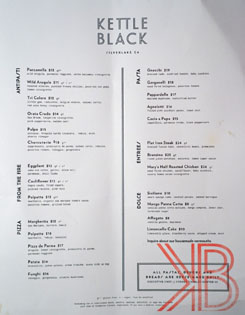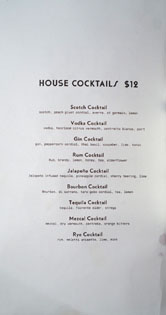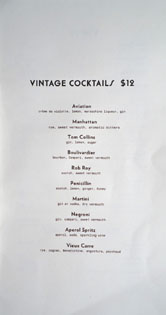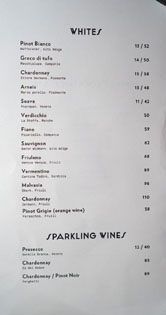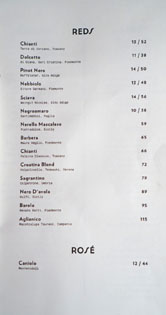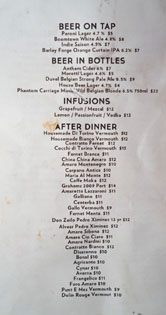 Menu-wise, Hunter's got an array of Italianate dishes carved up into the expected subdivisions. For beverages, cocktails are the focus, and the list is the work of Jordan Young, who comes here from Sawyer,
71Above
,
Cliff's Edge
,
Osso
, and
East Borough
(Damian Windsor was also involved early on, but I don't think he's still on board). Rounding things out are a few beers, Italian wines chosen by Dario Dell'Anno (who's since decamped), and a selection of after-dinner drinks. Corkage is $15 a pop. Click for larger versions.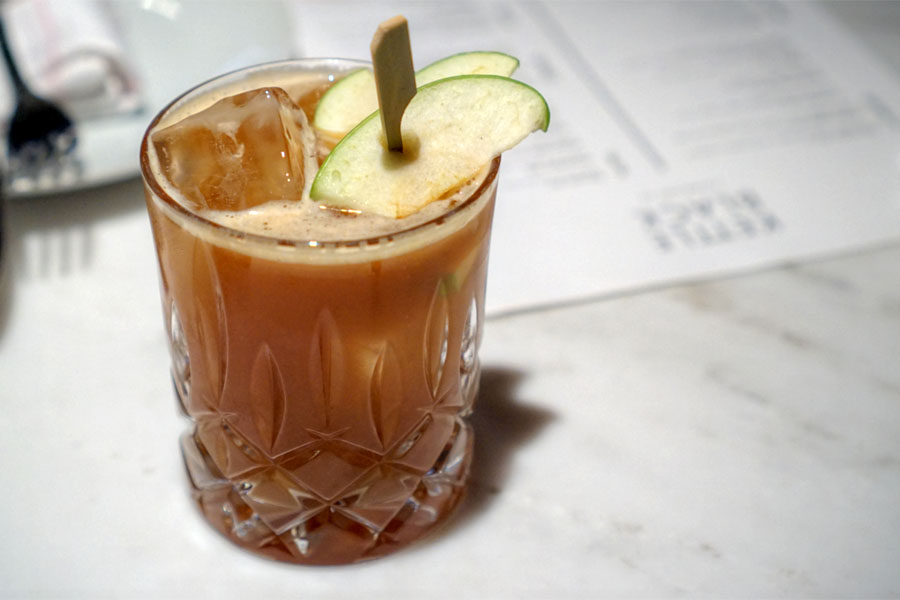 Scotch Cocktail [$12.00]
| scotch, peach pluot cordial, averna, st germain, lemon
Given the cocktail-focused nature of the place, we made our way through a number of 'em. Our first featured a nose of bright, luscious apple, with just a trace of the whisky peeking through. The taste brought more fruity sweetness, joined by some herbal notes and a spiciness toward the back end. A fitting start.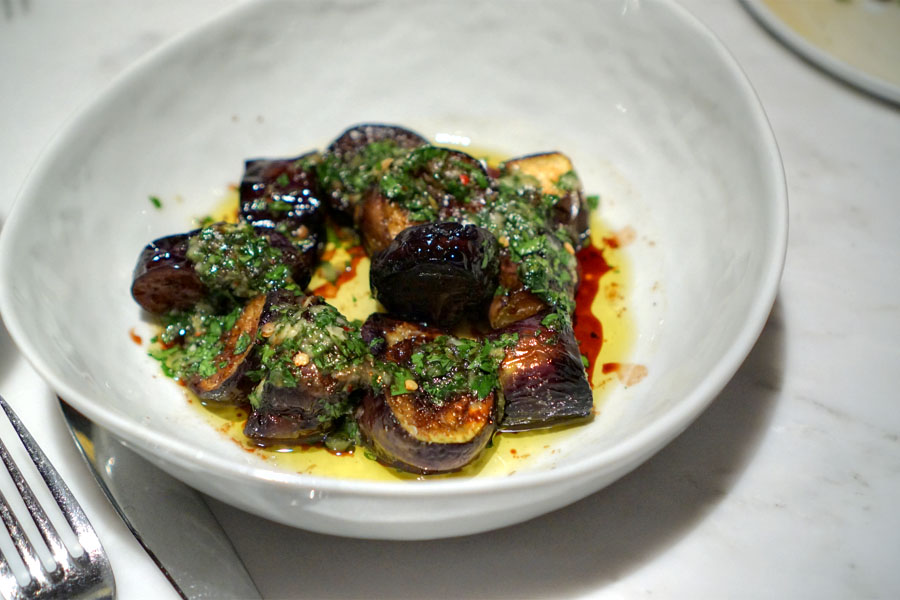 Eggplant [$12.00]
| saba vin cotto, garlic, olive oil, parmesan, chili flake
I'm not a huge eggplant fan, but the preparation tonight was one of the better ones I've had: smoky at its core, but sweet from the
saba
, with some well-placed herby, garlicky notes. Nice crispness on the skin as well for contrast.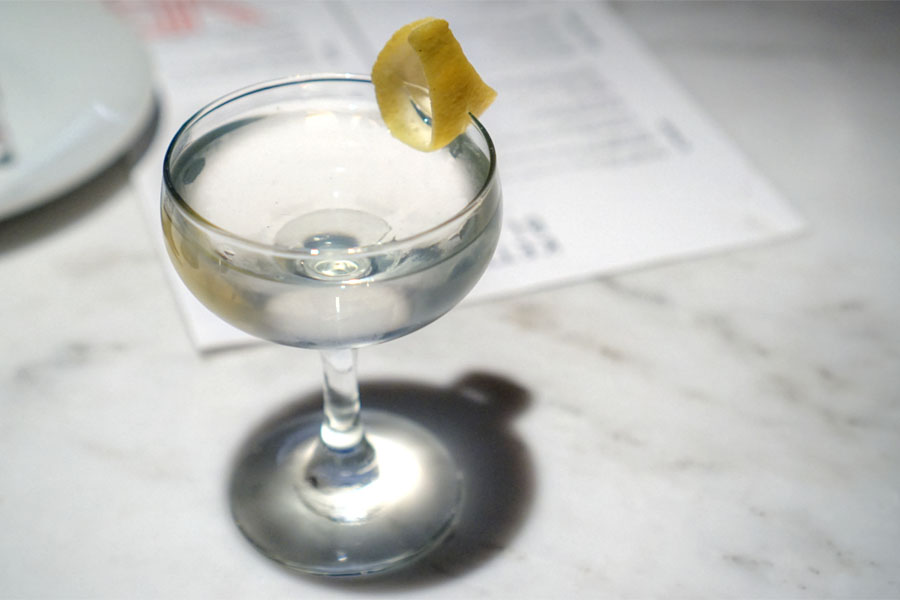 Mezcal Cocktail [$12.00]
| mezcal, dry vermouth, centreba, orange bitters
Our mezcal drink went very smoky on the nose, with citrus for balance. The taste followed, bringing more smoke, more wood, more vegetal notes, with a bitterness throughout.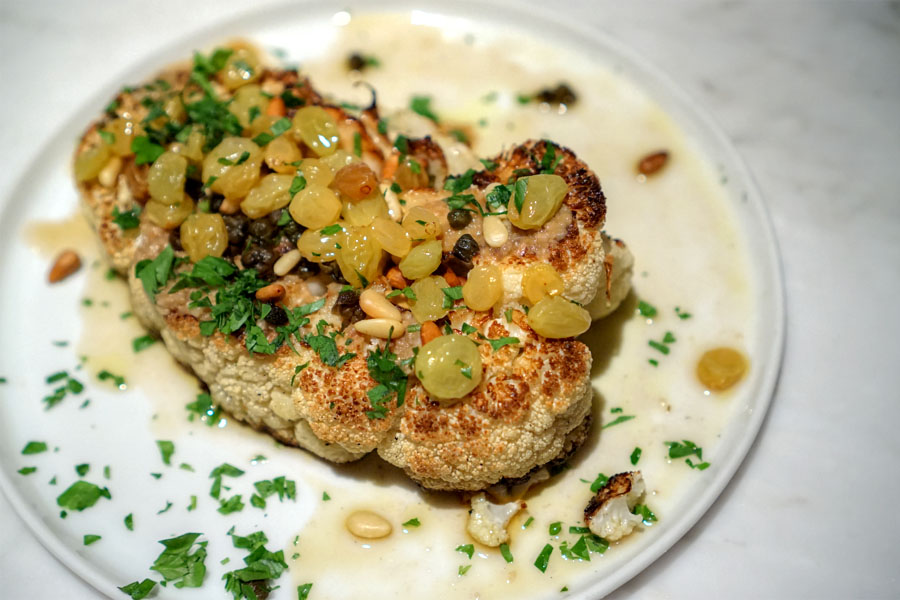 Cauliflower [$12.00]
| bagna cauda, fried capers, pickled raisins, pine nuts
Next was what must have been the largest single chunk of cauliflower I've had served to me in a restaurant. It was tasty though, bringing tangy, sweet flavors commingled with char, while texturally it showed off a proper crunch.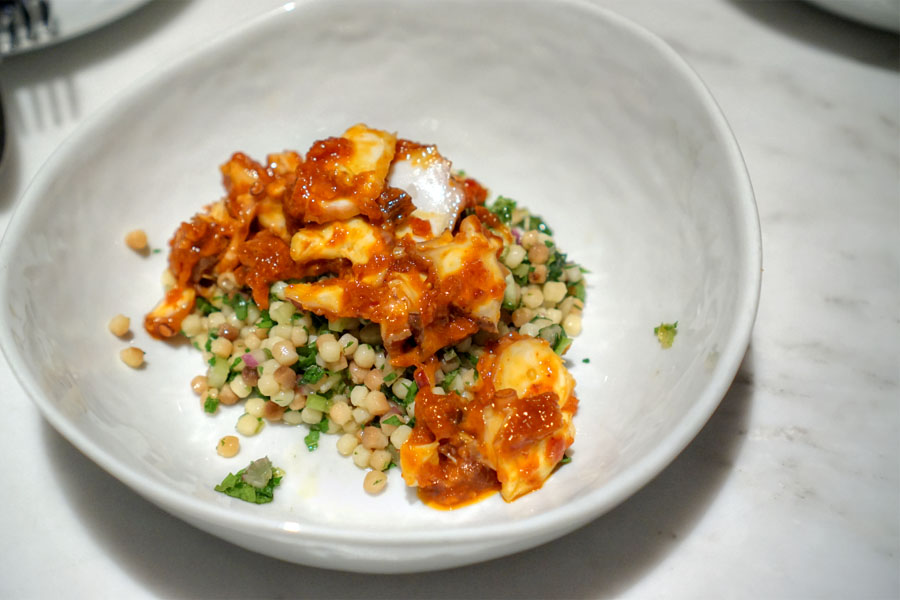 Pulpo [$15.00]
| octopus, fregola sarda insalata, 'nduja, mint, sherry vinegar
Octopus was super tender, and imbued with a creeping spice from the 'nduja that played perfectly against the light, bright nature of the fregula.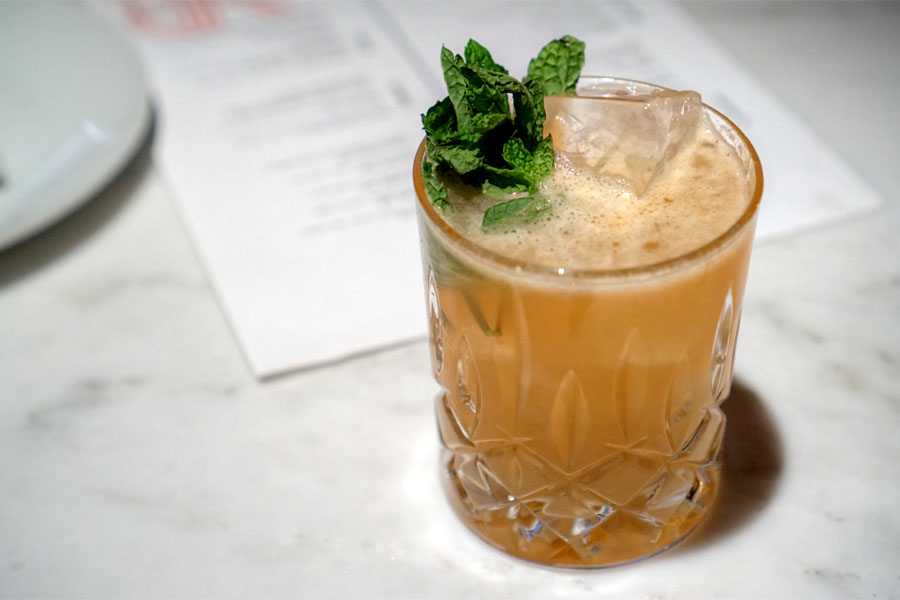 Rye Cocktail [$12.00]
| rye, meletti anisette, lime, mint
Savory and spicy to the smell, with a palate filled with bright, herby, bitter, medicinal notes and finishing with a strong kick of anise.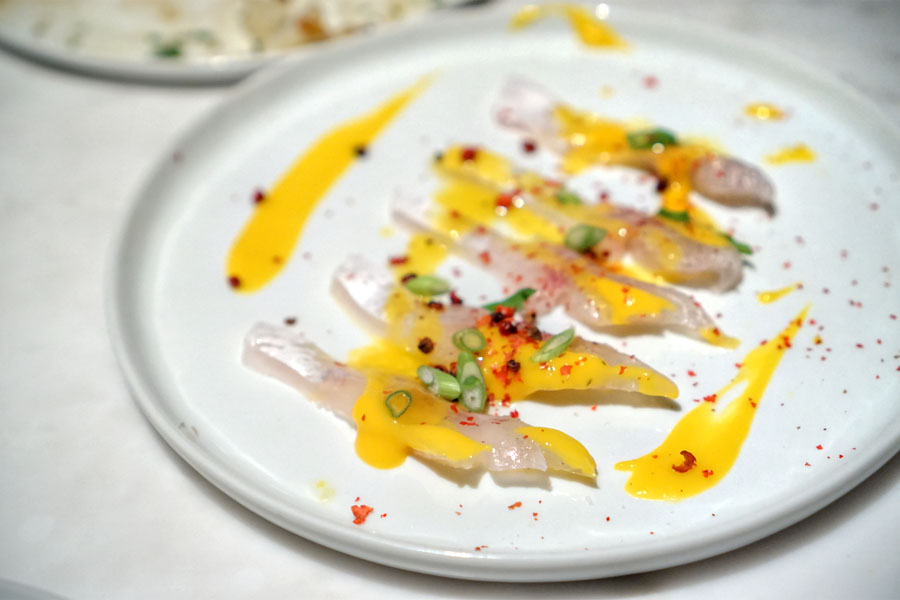 Orata Crudo [$14.00]
| sea bream, tangerine vinaigrette, pink peppercorns, maldon salt
Bream was soft and clean, but made sweet by the incorporation of that tangerine vin. Fortunately, the peppercorns and green onions allowed for a modicum of balance against the fruitiness of the dish.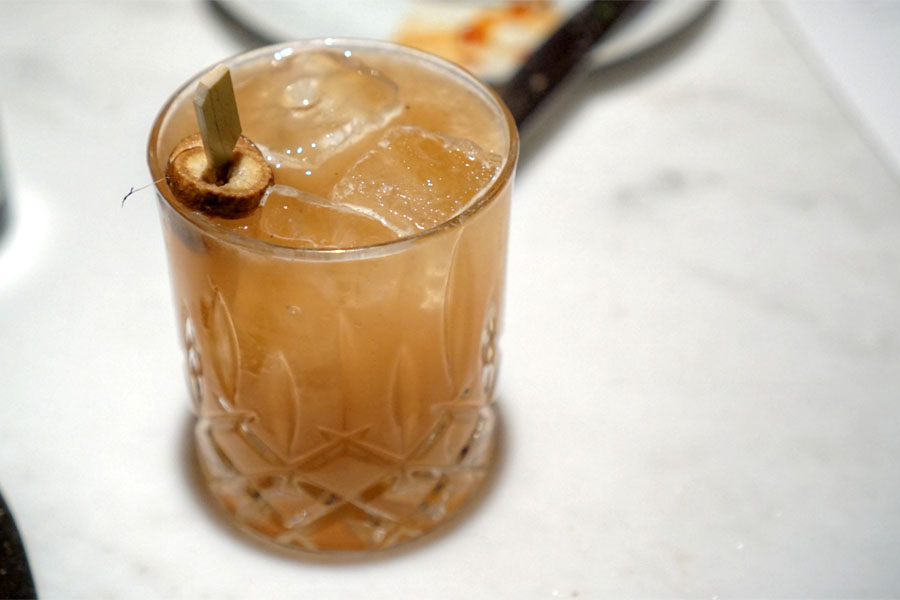 Bourbon Cocktail [$12.00]
| bourbon, di saronno, taro-gobo cordial, tea, lemon
This was sort of a fun one. I got a good amount of sweet, soft, dark fruit that was certainly appealing, but also countered by spice and the underlying booziness of the bourbon.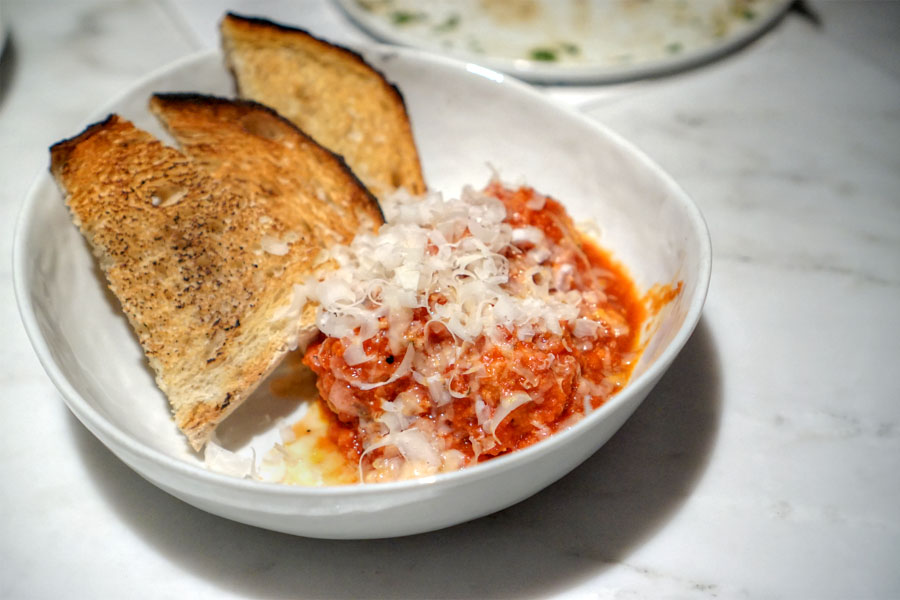 Polpette [$13.00]
| meatballs, organic san marzano tomato sauce, pecorino romano, grilled bread
Meatballs made for a homey, classic dish, with the tomato sauce adding a tart, tangy counterpoint. Nice bit of additional salt from the Pecorino in addition.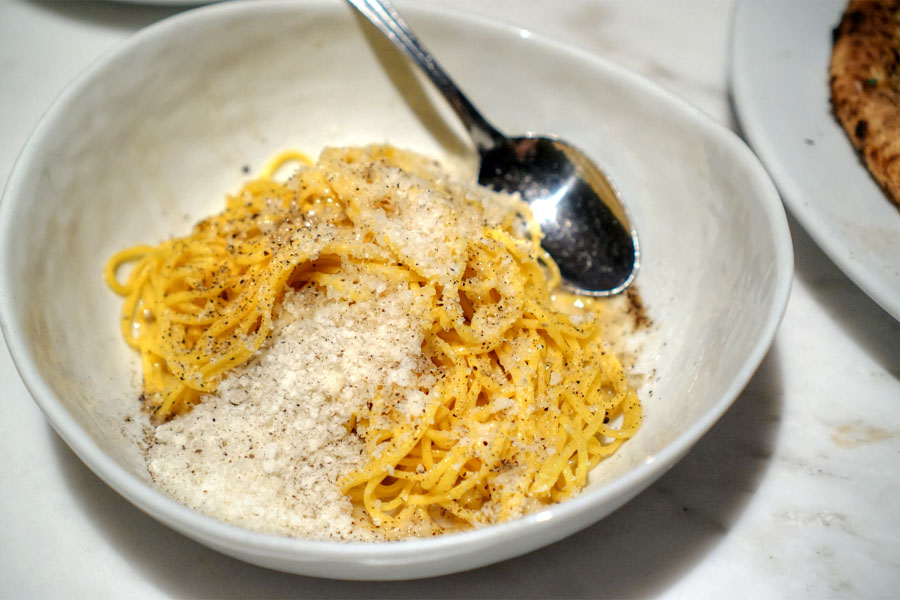 Cacio e Pepe [$15.00]
| cappellini, parmesan brodo, black peppercorn
The restaurant's take on this classic showed off a proper bite to the noodles and wasn't shy about the cheese. I would've liked a touch more pepper though.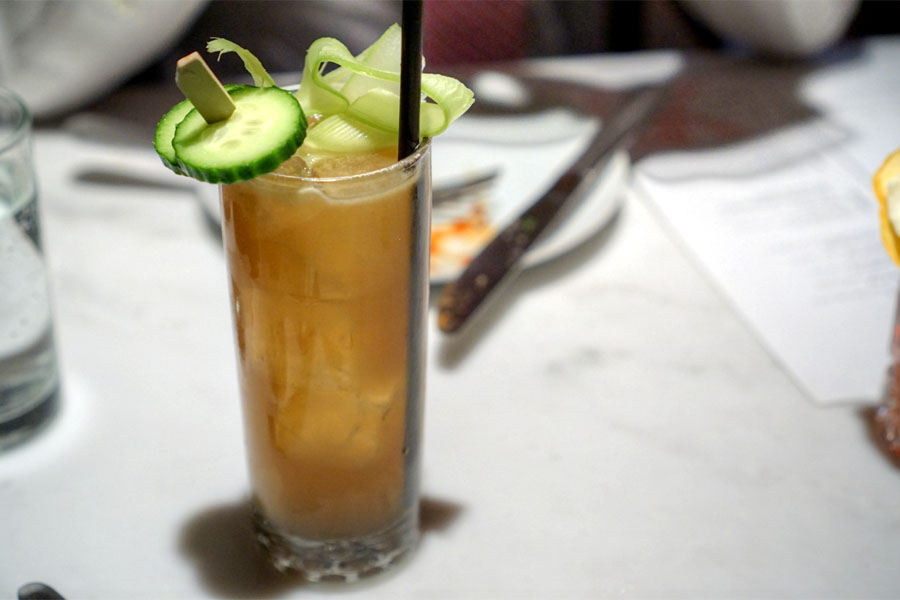 Gin Cocktail [$12.00]
| gin, peppercorn cordial, thai basil, cucumber, lime, tonic
This was just what I expected given the ingredients: spicy, bright, celery-centric, with botanicals from the gin meshing effortlessly.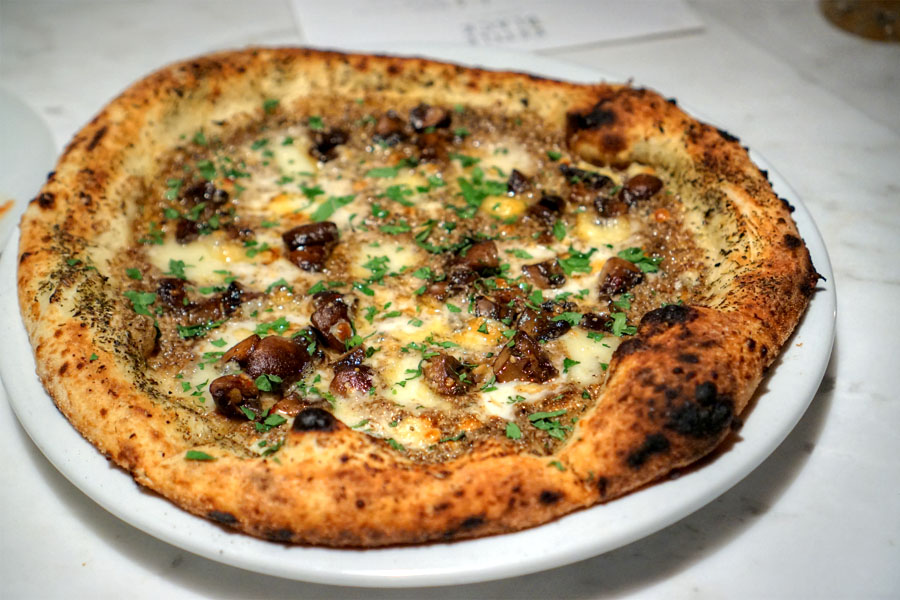 Funghi Pizza [$16.00]
| taleggio, gorgonzola, crimini mushrooms
Our lone pizza worked it out as well with its rich, earthy flavors from the mushrooms mashed up with the salty, funky bite of blue cheese.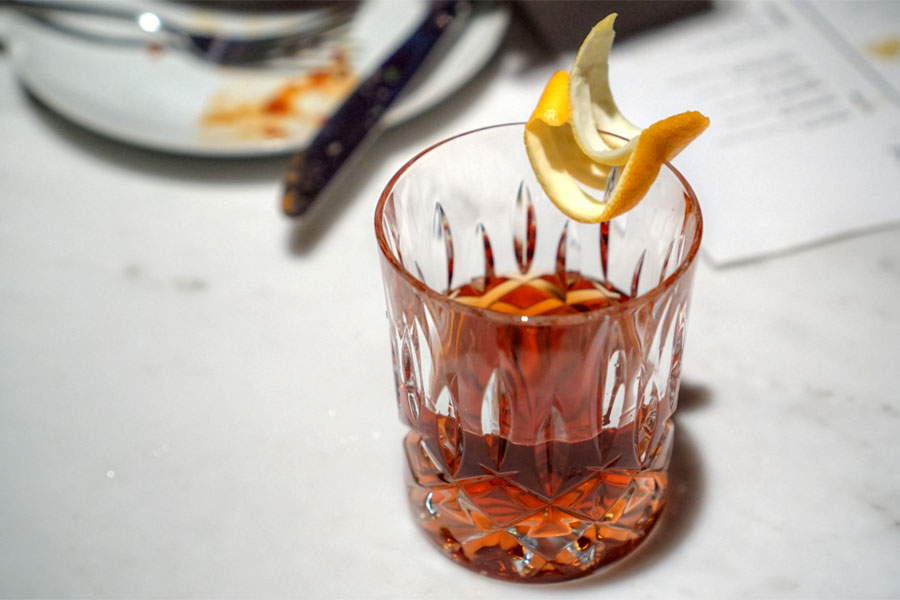 Vieux Carre [$12.00]
| rye, cognac, benedictine, angostura, peychaud
Kettle Black's version of the Vieux Carré hit the mark. Nose was rife with rich, dark fruit. Taste went boozy, medicinal, the spiciness of the rye working with the considerable bitterness in the drink.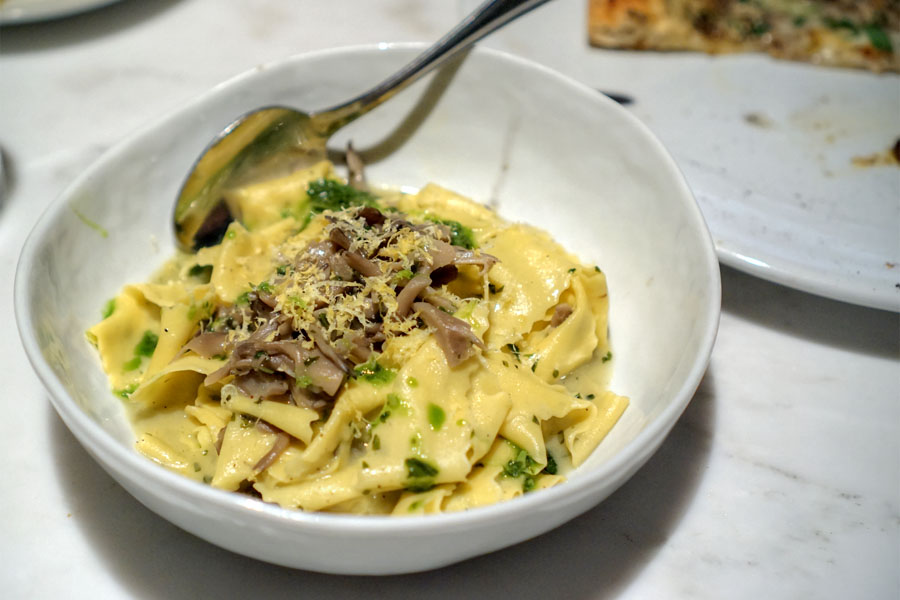 Pappardelle [$17.00]
| maitake mushroom, nasturtium butter
Pappardelle noodles were soft and slippery while maitake mushrooms contributed a woodsiness that made sense against the nasturtium.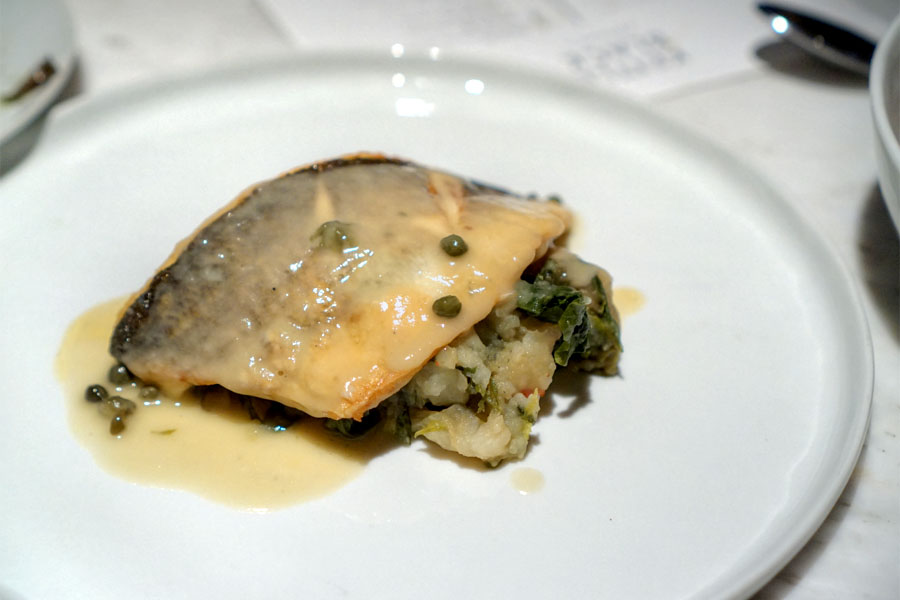 Branzino [$23.00]
| riced yukon potatoes, escarole, lemon caper sauce
The branzino was a surprise standout for me. The fish itself was spot on, crisp skin and all, and made perfect sense with the almost mustard-y lemon-caper sauce. My favorite part, though, was probably the combination of that earthy escarole with the potatoes, which matched the fish beautifully.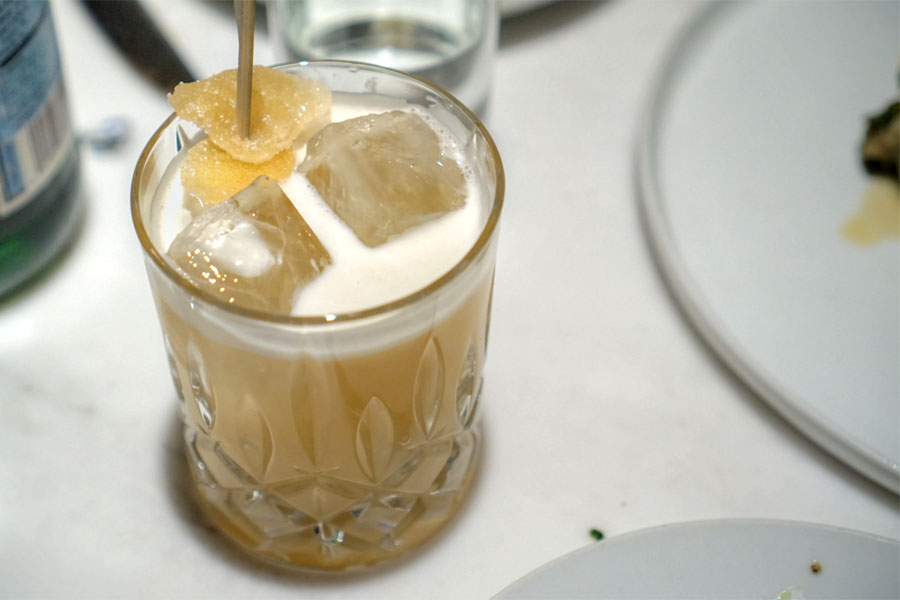 Penicillin [$12.00]
| scotch, lemon, ginger, honey
Our final cocktail is oft regarded as a modern classic, and tonight it did a deft job conveying the smokiness of the whisky, but contrasted against tart lemon and the in-your-face spiciness of ginger, all while honey served to moderate things.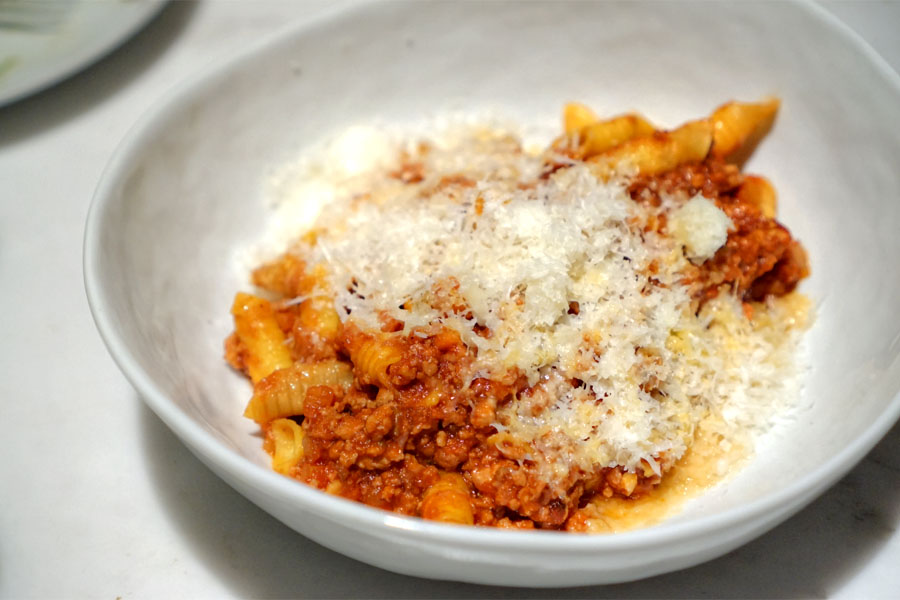 Garganelli [$18.00]
| wood fired bolognese, pecorino romano
For our final savory, garganelli worked as a suitable stage on which the cozy, comforting, unabashedly meaty flavors of the bolognese could shine.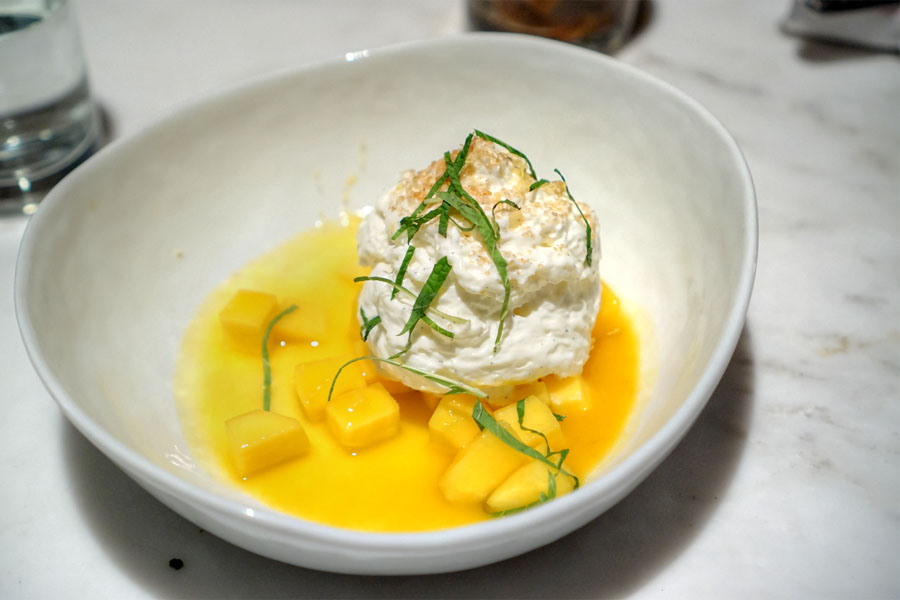 Mango Panna Cotta [$8.00]
| vanilla panna cotta schiuma, mango compote, lemon zest, turbinado sugar
Dessert time. In our first, the fruity mango played foil to the relatively light, airy panna cotta, while slivers of mint resulted in some overarching herby nuances. Refreshing.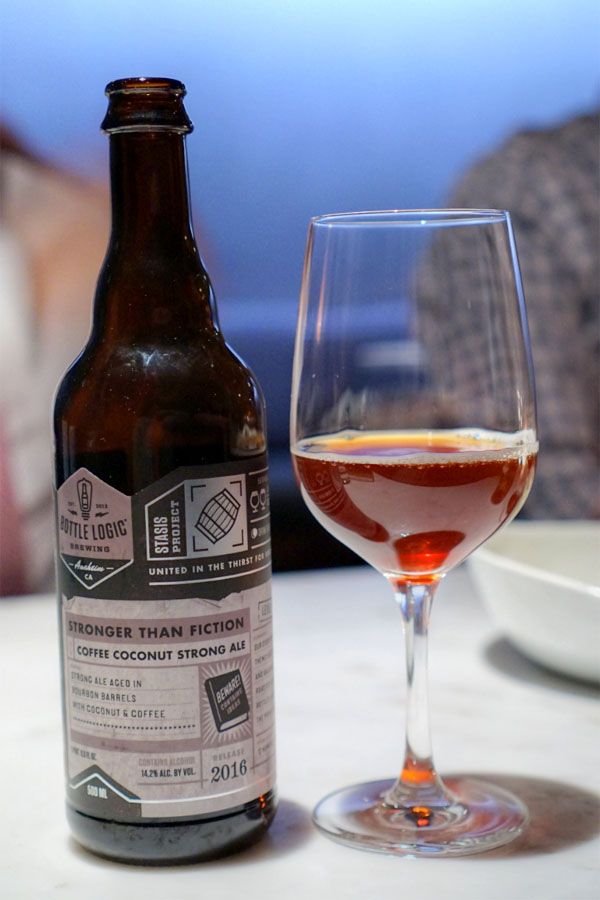 Dessert beverage duties were handled by the
2016 Bottle Logic Stronger Than Fiction
, a strong ale aged 14 months in bourbon barrels, with coconut and Coldbot coffee added. All I could think of here was vanilla-coconut macaron, both in terms of aroma and taste. The barrel was quite apparent, though I didn't get a huge amount of coffee.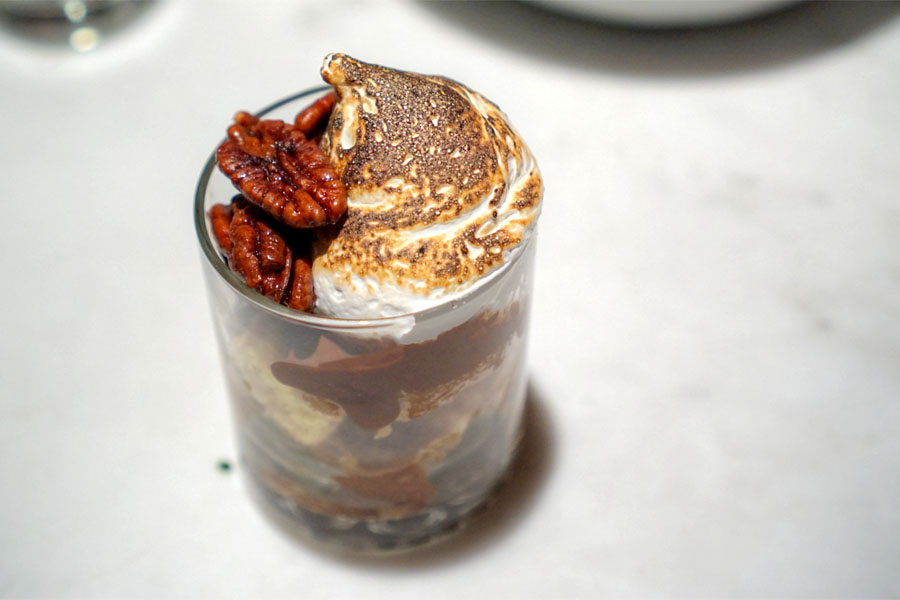 Siciliano [$10.00]
| amaro sponge cake, candied pecans, smoked meringue
Last up was a sweet, smoky dessert, one evened out by its coffee notes and a slight booziness from the amaro. Not bad with the beer above.
As was the case with Sawyer next door, we had a largely successful meal here tonight. Hunter doesn't appear to have a particular regional focus to his cooking, but seems to twist things just enough with his Italian-ish dishes to keep 'em fresh. A pretty neat addition to the neighborhood, and another good effort from the seemingly reinvigorated Beau Laughlin.