Sushi Enya (Los Angeles, CA)
Sushi Enya Restaurant
343 E 1st St, Los Angeles, CA 90012
213.626.3692
www.sushienya.com
Sun 11/26/2016, 06:45p-09:10p

I recently found myself in Little Tokyo and decided to check out one of the newer sushi joints in the area. Sushi Enya opened back in September 2011, and comes to us from Chef/Owner Kimiyasu Enya. A native of Iga in Mie Prefecture, he attended Teiko Daisan High School and later trained for over ten years in Japan before moving to the States.

Enya takes over the spot formerly occupied by the longstanding Usui. Initially, the Chef didn't changes things up inside too much, but later remodeled the place at the end of last year.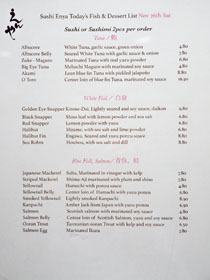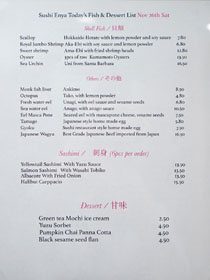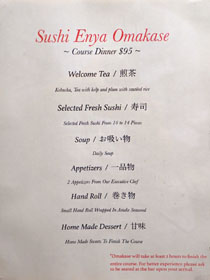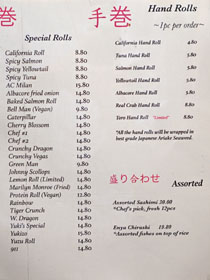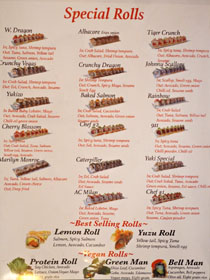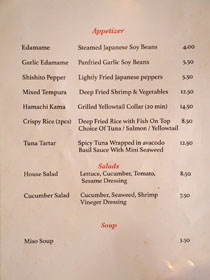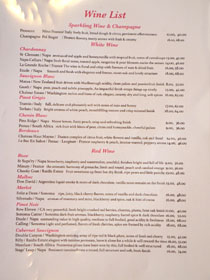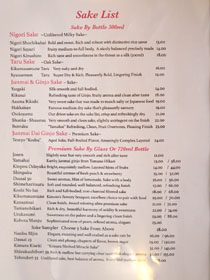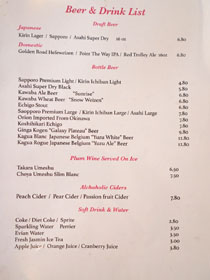 When Enya first opened, the restaurant seemed to focus more on outlandish rolls and whatnot, you know, the ones with names like Crunchy Vegas, Johnny Scallops, and Marilyn Monroe (how in the world did they not go with Marilyn
Monroll
instead?). Those rolls are still available, but I was more interested in the omakase option, which is selected from the day's specials and priced at a not unreasonable $95 for 18 or so courses. For drinks, you get a better-than-expected-for-a-sushi-joint wine list, a respectable sake selection, and a decent variety of Japanese beers. Corkage is $15 a bottle. Click for larger versions.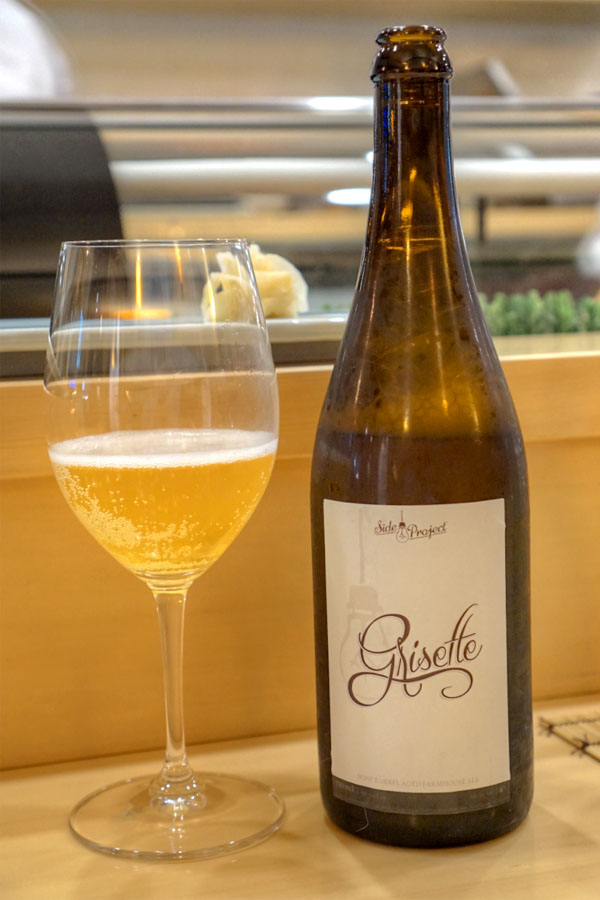 I took advantage of the corkage option and brought along a bottle of
2015 Side Project Grisette
, a Brett'd farmhouse table beer aged several months in wine barrels. Inviting nose of sweet stone fruit commingled with grain and yeast. Palate was floral, fruity, with light barnyard and a lingering dryness and bitterness on the close. Quite nice, and an appropriate pairing with the sushi.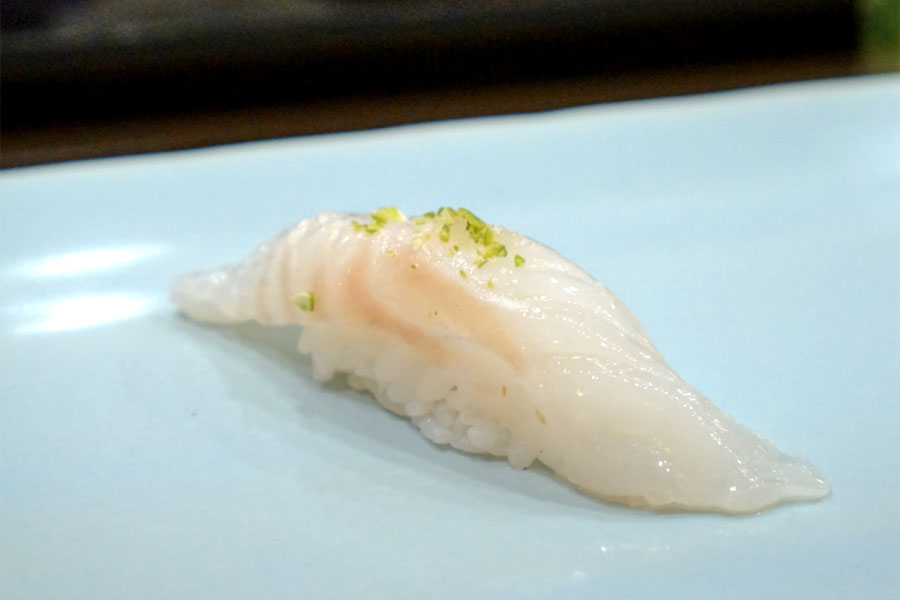 1: Hirame
We began with whitefish. Flounder was accented by sprinkles of sea salt and lime, and had a brinier-than-usual finish laced with more of that citrus.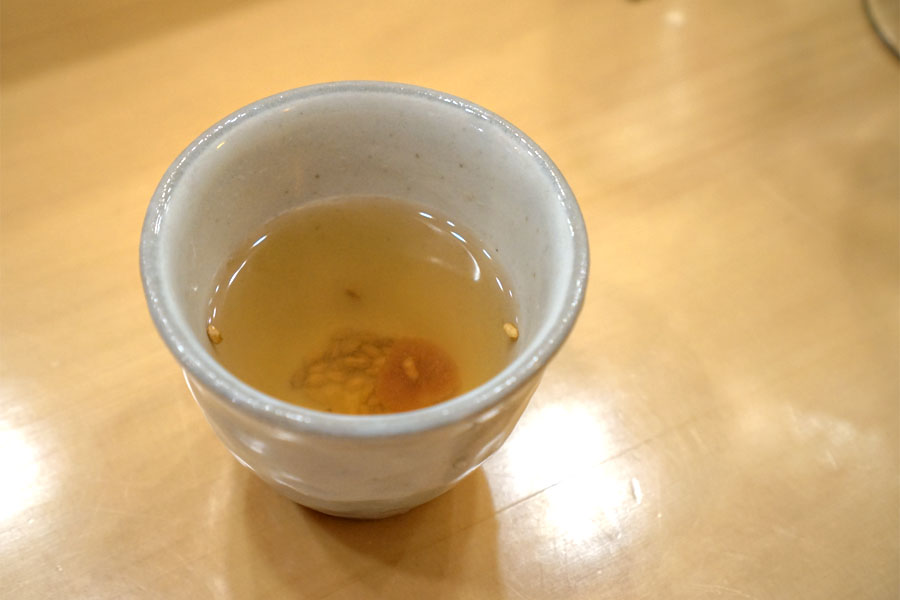 2: Konbucha
To pair with our first few courses was a warm cup of
konbucha
, basically kelp tea with
ume
plum and sautéed rice. I found it heady, oceany, with lots of umami and some contrasting nutty notes as well.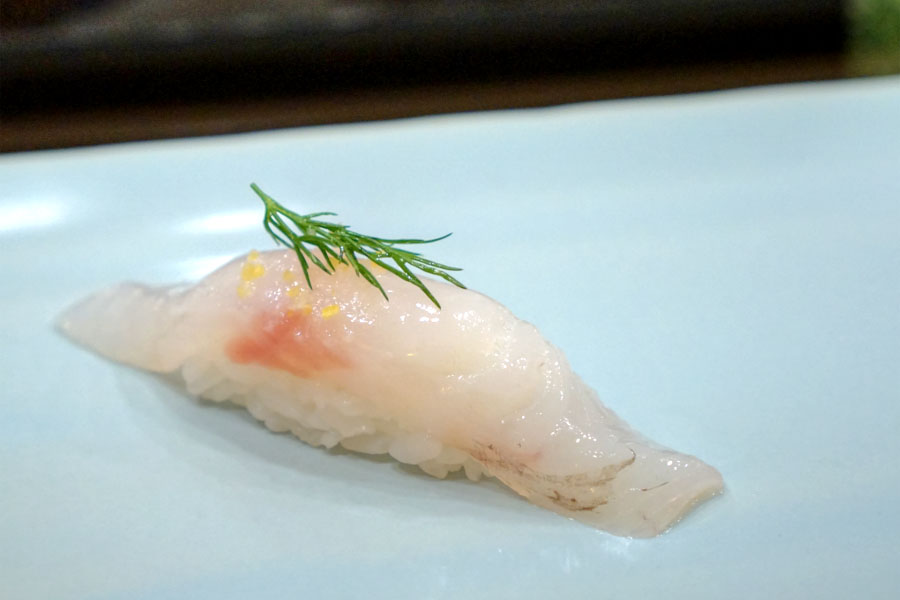 3: Hobo
The uncommonly-encountered sea robin was topped here with lemon and dill. It had a particularly nice chew to it, along with a great citric kick that meshed beautifully with the tangy-sweet, slightly warm, slightly sticky rice.
4: Satsumaimo Cappuccino
The steaming serving of sweet potato cappuccino made for an unexpected, milky, autumnal interlude.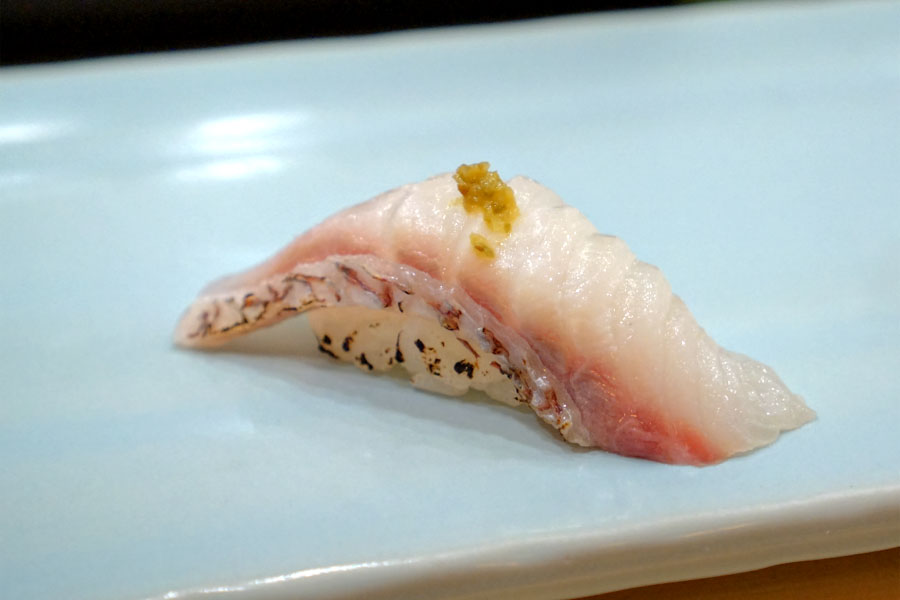 5: Tai
A meaty cut of red snapper was a standout. The fish had the slightest bit of char, which intensified its clean, lean flavors, and the
yuzukosho
provided a wonderfully salty, spicy counterpoint.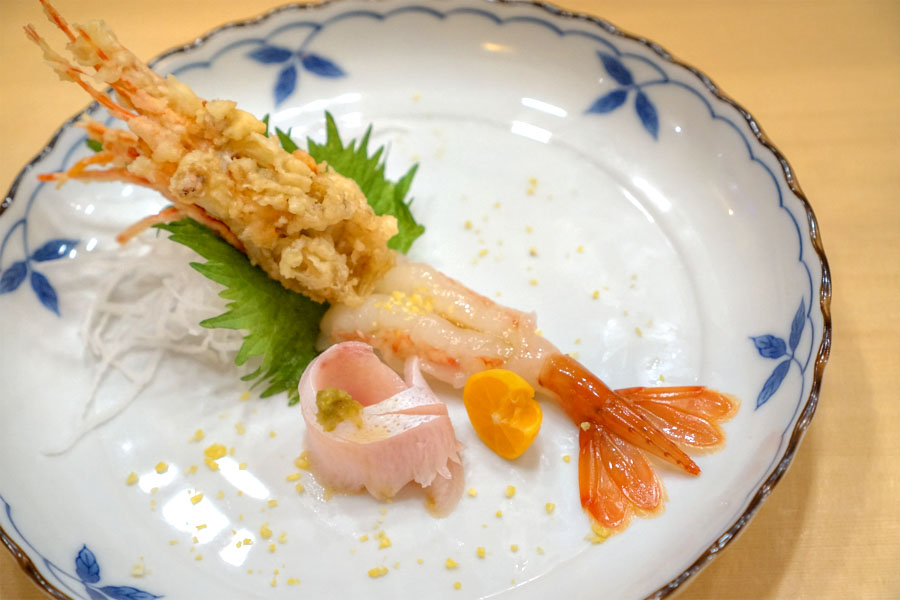 6: Amaebi & Hamachi Sunazuri Sashimi
The sashimi course was composed of two selections. We had a lush yellowtail belly with
yuzukosho
to cut the fat as well as a snappy-yet-creamy, lemon-tinged preparation of sweet shrimp. The fried head was tasty, though could've stood to be crispier.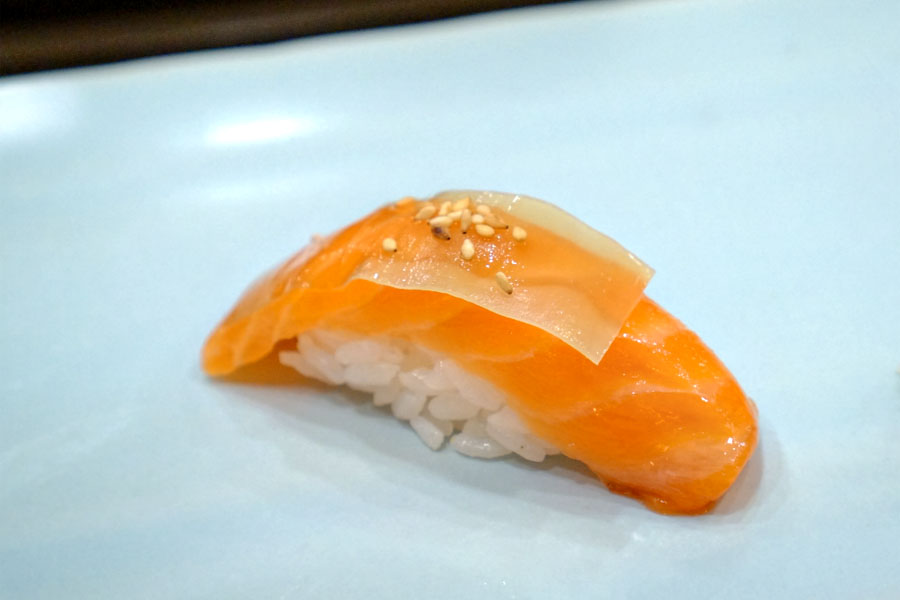 7: Nijimasu
Tasmanian ocean trout was another favorite thanks to the meshing of the fish, tangy kelp, nutty sesame, and soy sauce on the close. Particularly well-integrated with the
shari
.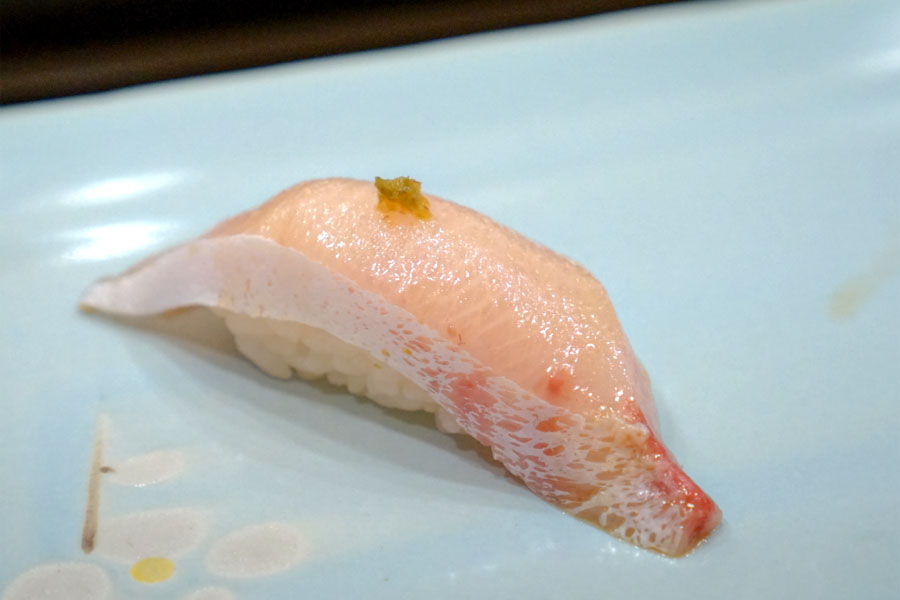 8: Hamachi Sunazuri
Yellowtail belly made another appearance, and again the fatty, almost sweet cut was perfectly paired with the punch of
yuzukosho
.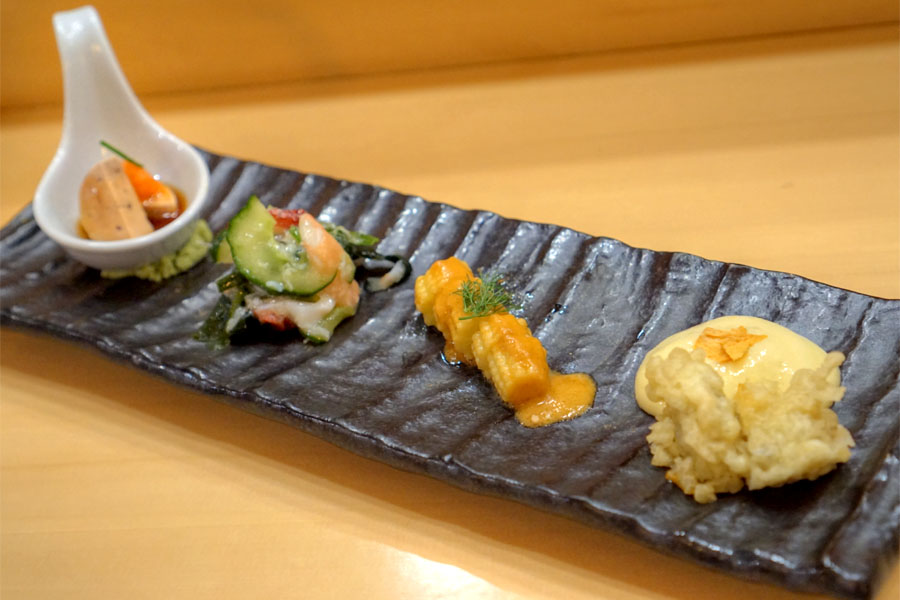 9: Zensai Moriawase
At this point I was provided a plate of four small appetizers. Left to right:
A rich-yet-restrained presentation of ankimo, with classic accoutrements of ponzu and momiji-oroshi.
A bright cucumber salad with umami-rich seaweed and sweet bits of crab, octopus, and shrimp.
Crunchy baby corn with an intense uni butter sauce.
Two fried oysters that should've been crisper. They were still tasty though, and went surprisingly well with the paired peach sauce.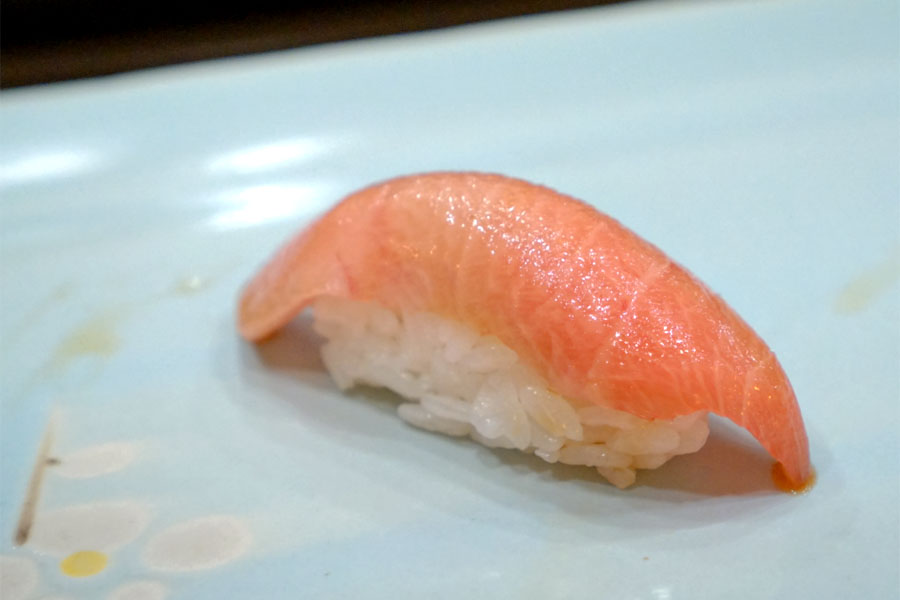 10: Toro
Blue fin tuna belly was appropriately fatty 'n' melty, and had a sweetness to it that was matched by a brush of soy.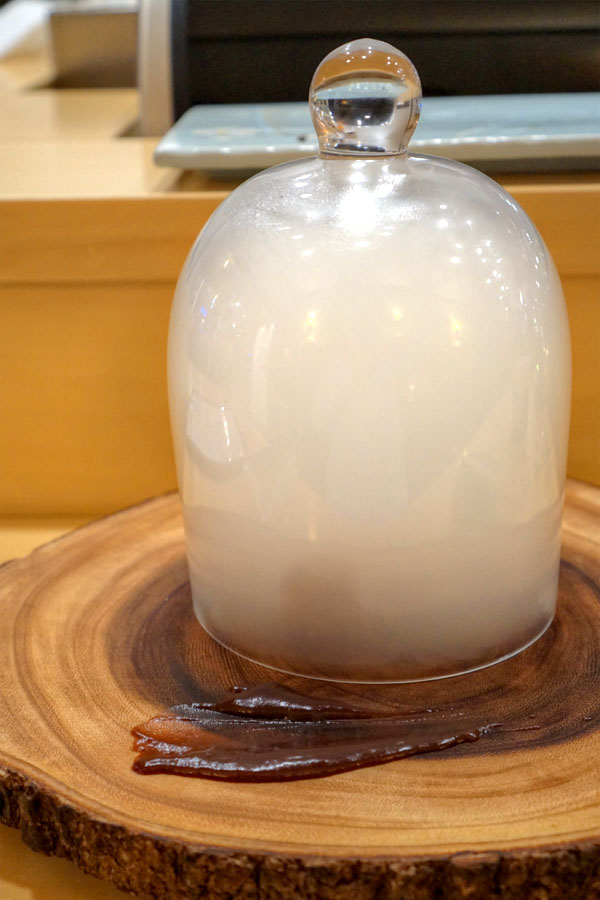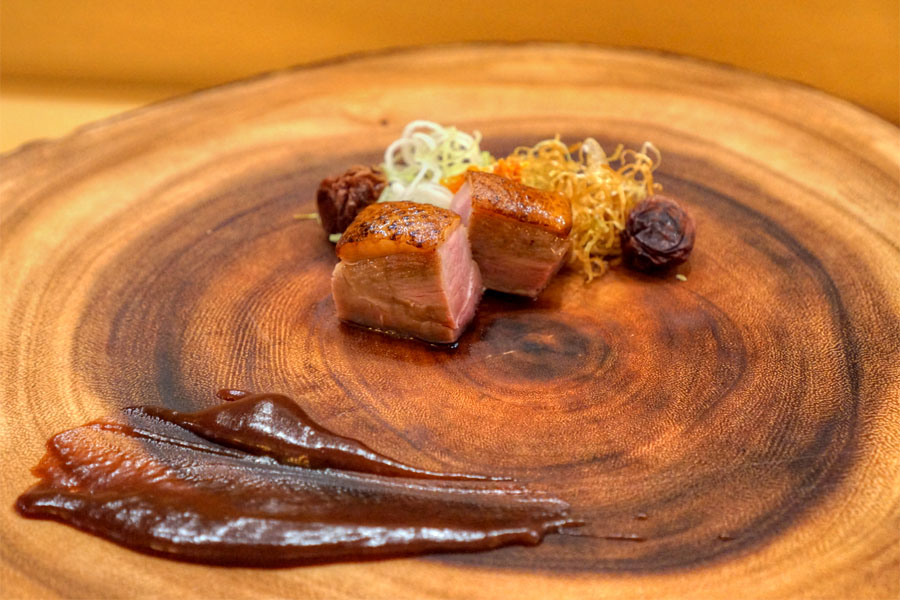 11: Kunsei Ahiru
Some theatrics for this next course thanks to the smoke-filled cloche. Hiding inside were cubes of duck: meaty, firm bites brimming with flavor and showing off an almost ham-like essence. The streak of raisin sauce worked surprisingly well, not overwhelming with its sweetness, and the curls of scallion were certainly appreciated.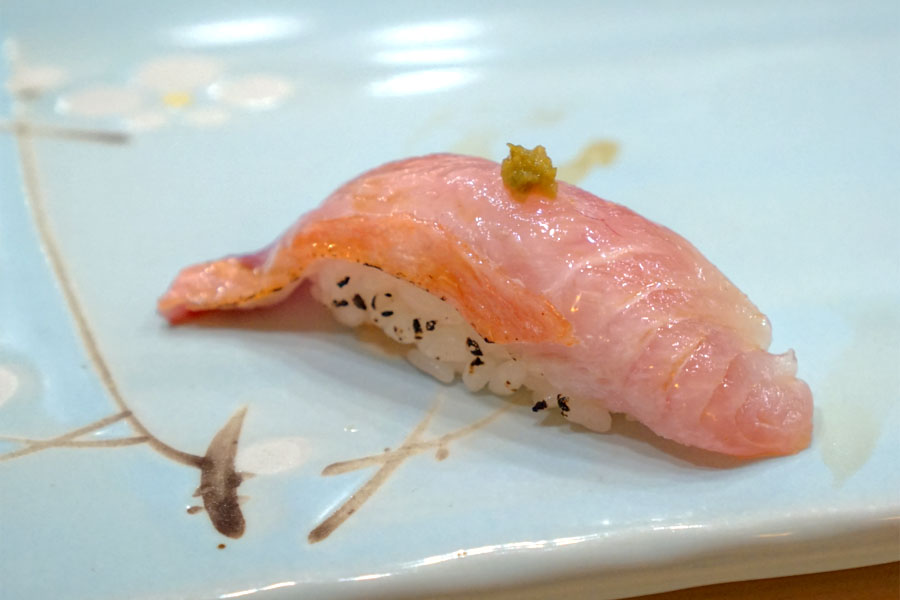 12: Kinmedai
Golden eye snapper is often a favorite of mine, and tonight that was certainly the case. I loved the light sear here and how the
yuzukosho
married with the cool, clean flavors of the fish. Great contribution from the rice too as a counterweight.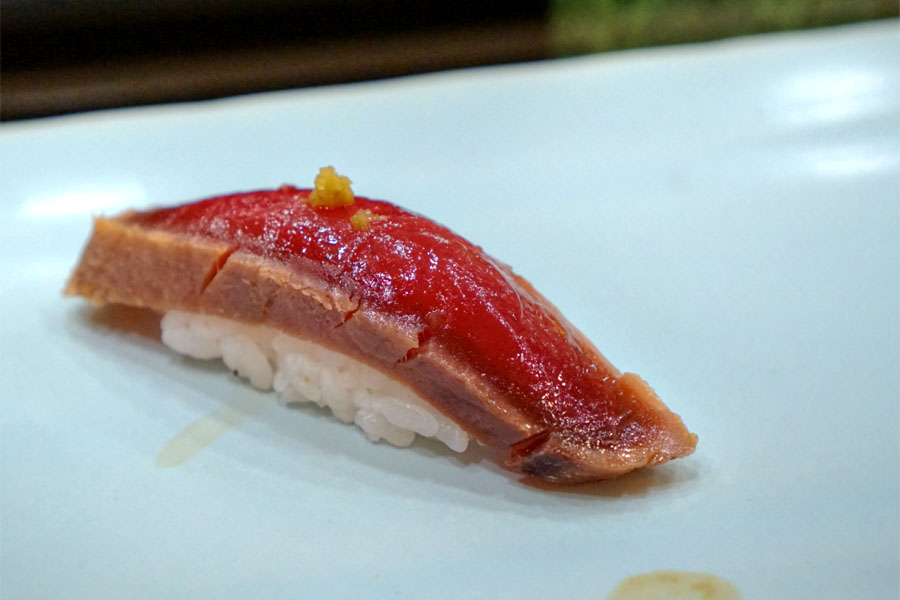 13: Maguro Zuke
Marinated tuna was firm to the bite, with an enhanced savoriness and a prick of salty heat from the
yuzukosho
on the finish.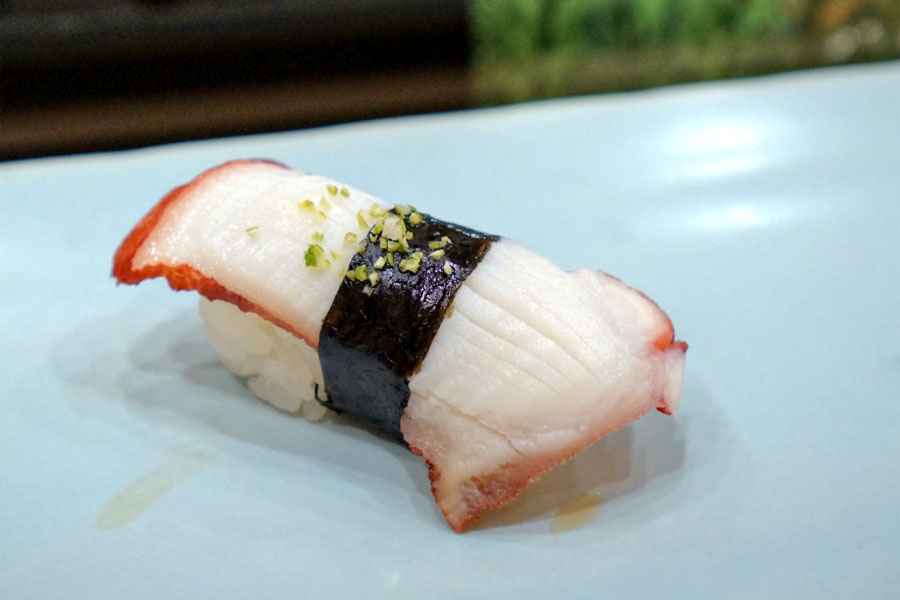 14: Tako
Octopus had a wonderfully meaty-yet-tender chew, along with a light brine that paired swimmingly with the lemony notes present. Nice umami on the back end from the nori, too.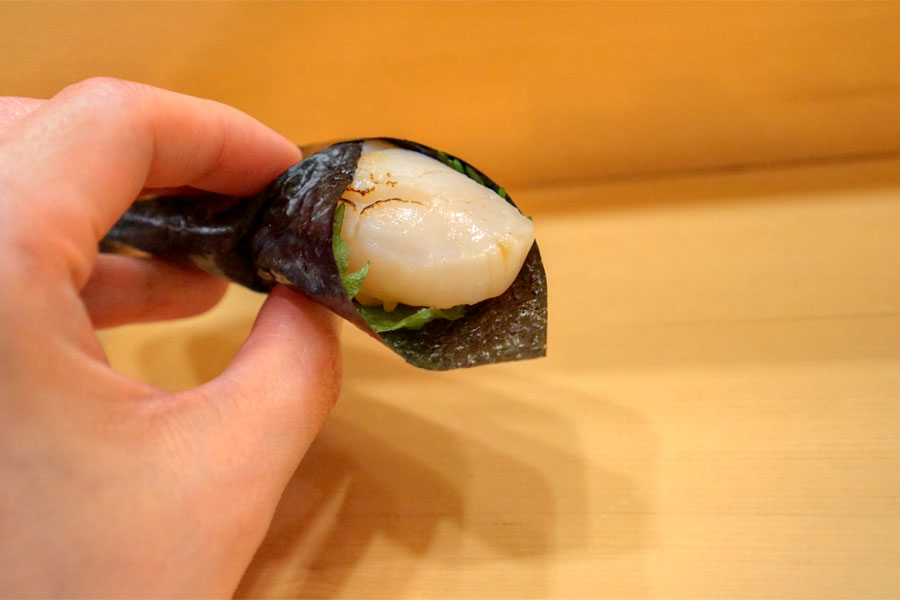 15: Hotate Temaki
Hokkaido scallop came in hand roll form. Think clean flavors paired with a strong shiso component.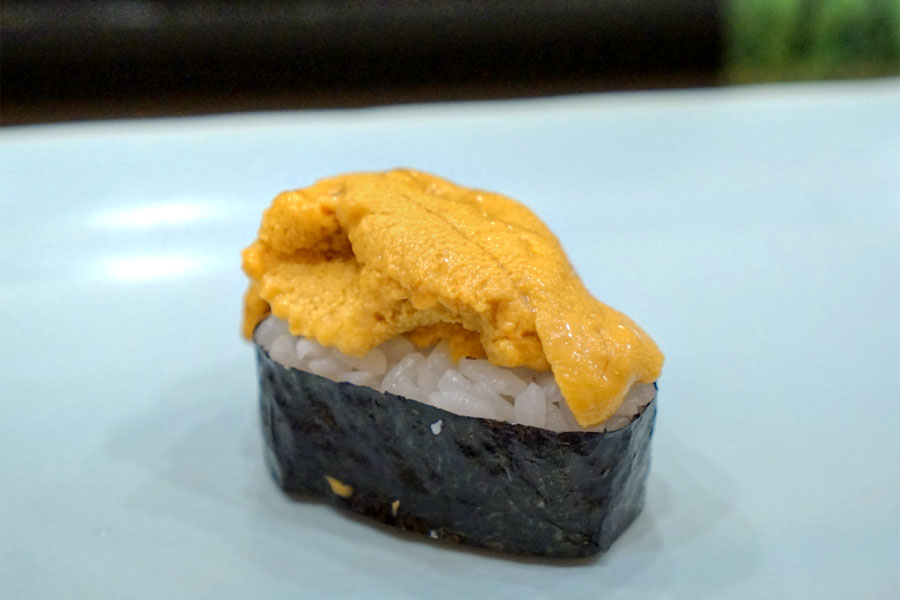 16: Uni
Silky slivers of Santa Barbara sea urchin came out as sweet and creamy as you'd want, balanced by both rice and seaweed.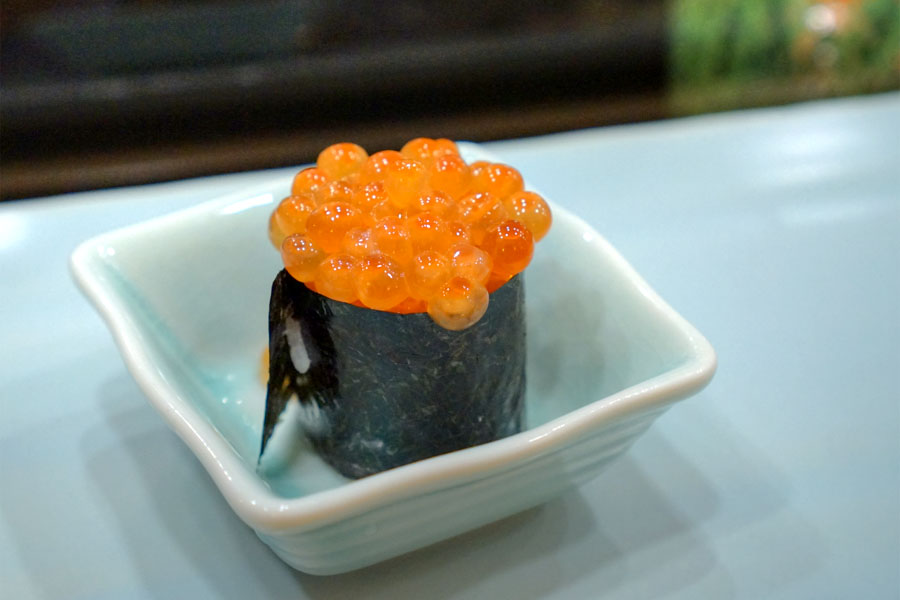 17: Ikura
Marinated salmon roe gave up the bursts of salinity that I expected, and again, the rice provided for a moderating effect.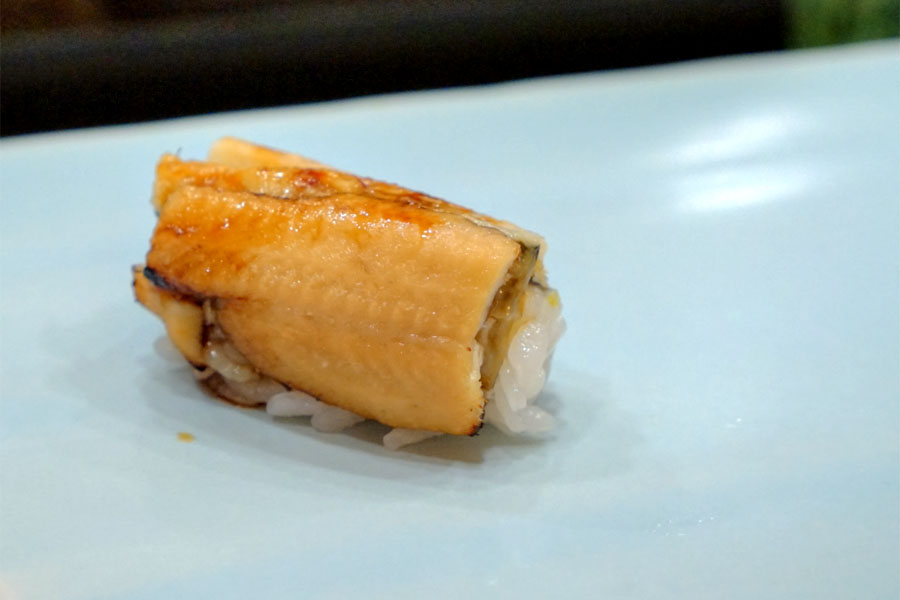 18: Anago
Soft, savory sea eel arrived with a hint of char and drizzles of sweet-ish sauce.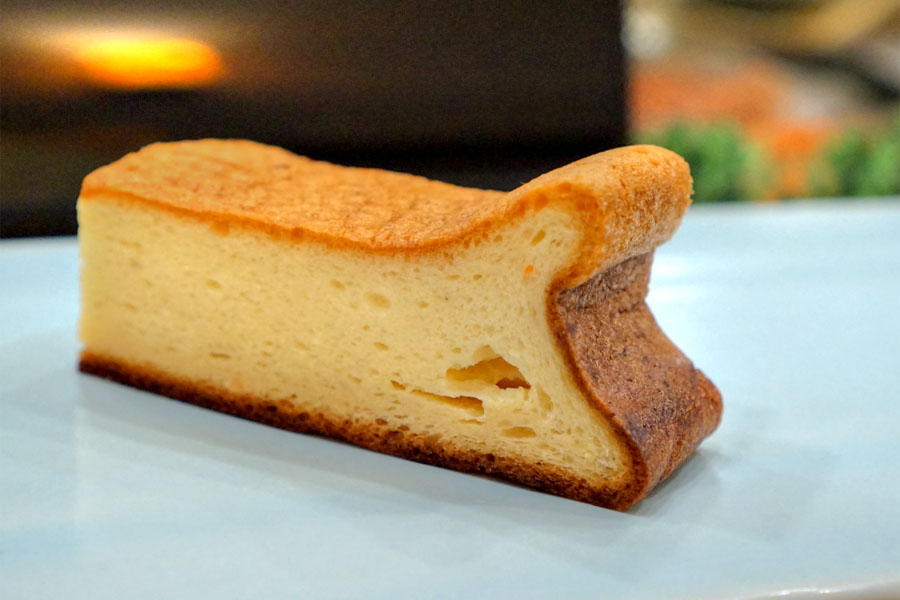 19: Gyoku
A "castella" style preparation of
tamago
was fluffy and sweet, with an eggy edge of course.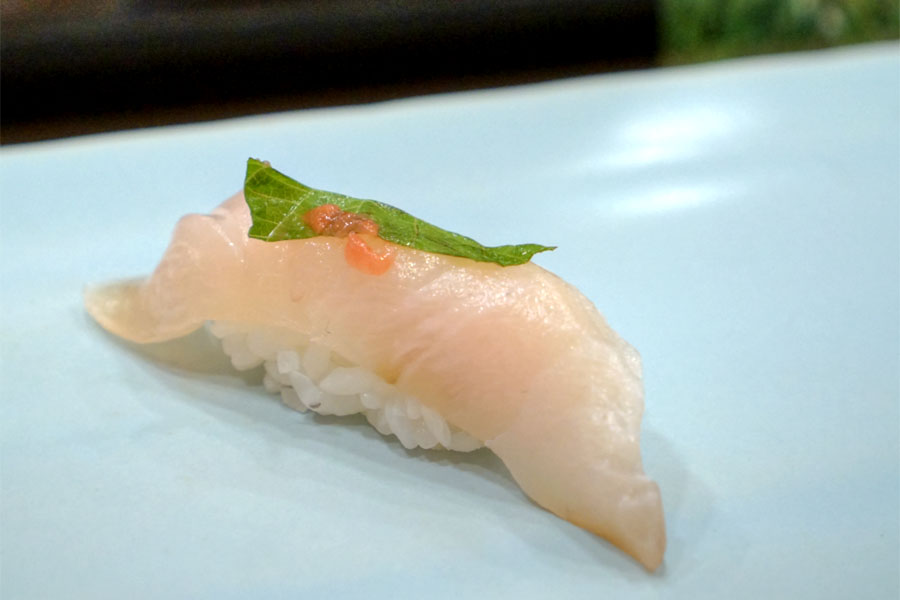 Shima Aji [$3.90]
The savory portion of the omakase menu stopped at this point, and I ended up adding on six more items à la carte. First was striped mackerel with plum and shiso, which I found subtly crunchy to the bite, with fatty, fishy flavors cut by the mintiness of shiso.
Engawa [$3.90]
Halibut fin was properly chewy, and showed off a strong char element along with a briny finish evened out by the use of
yuzukosho
.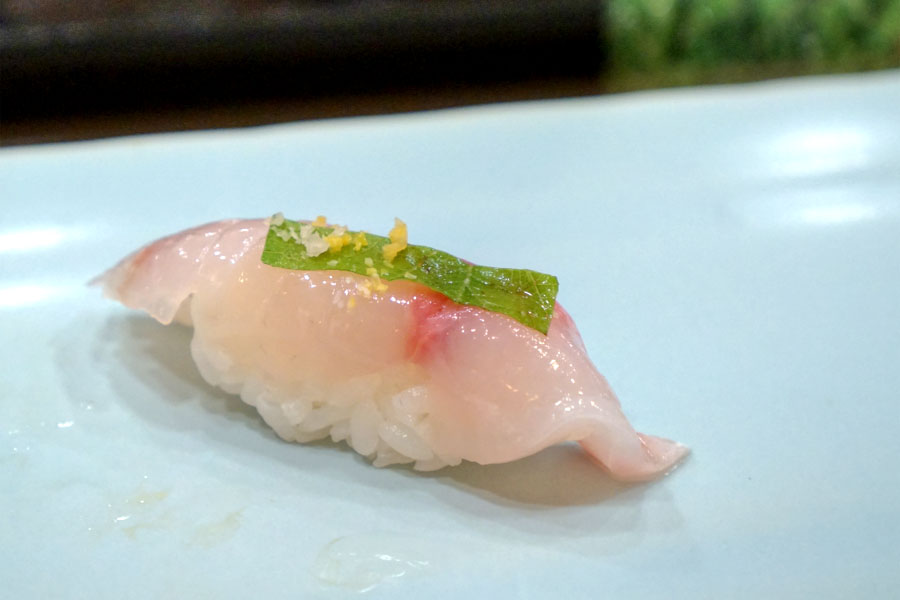 Kurodai [$3.40]
The black snapper was clean and bright, so fortunately the lemon, salt, and shiso here managed to complement, not overwhelm the fish.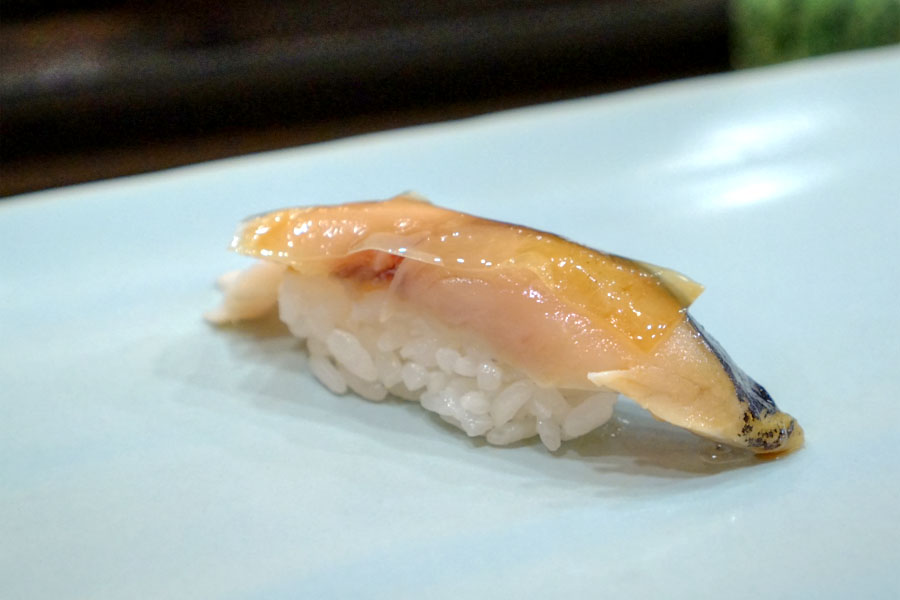 Saba [$3.90]
Marinated in vinegar and kelp, Japanese mackerel ate soft, fishy, and salty, with the thin layer of kelp on top working as a tart contrast.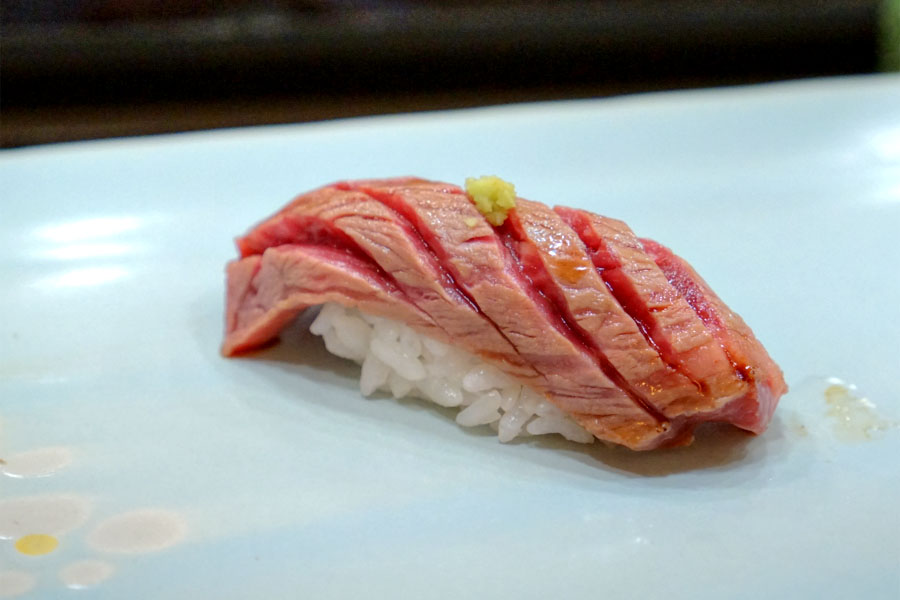 Wagyu [$8.25]
A5-rated beef from Iwate Prefecture was robust in flavor, though a chewier than I would've liked.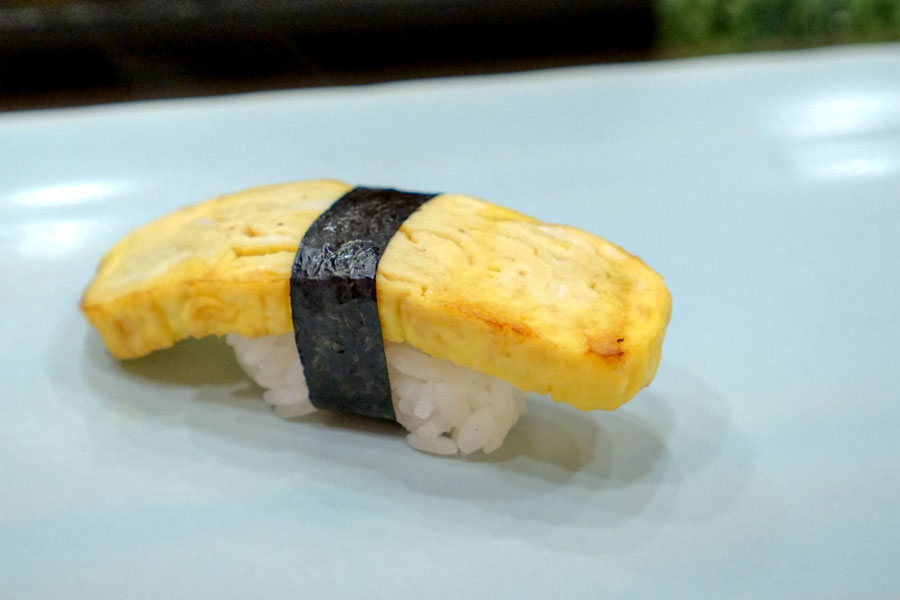 Tamago [$2.90]
Your classic omelet hit the mark, bringing eggy, savory, cozy flavors to end the meal with.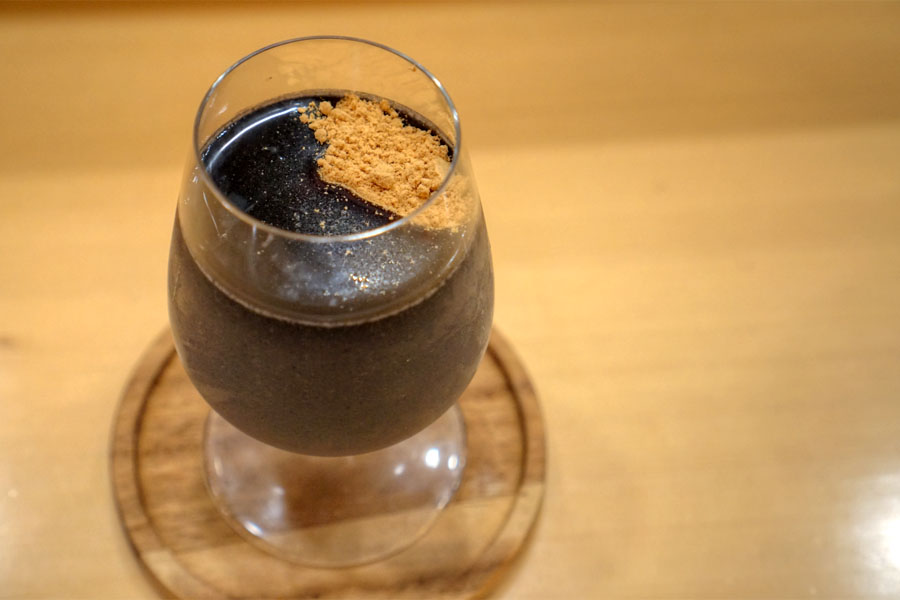 20: Black Sesame Seed Flan
The omakase menu comes with a choice of dessert, and I went with this richly-flavored flan. A nice showing from the black sesame here, and I much appreciated the dark fruit notes imparted by the
kuromitsu
syrup, not to mention the nuttiness of the
kinako
.
I was quite happy with my experience at Enya tonight. The restaurant doesn't seem to get as much attention as a lot of the other places in Little Tokyo, but based on this meal, I'd say that it could very well be the strongest sushi option in the area. Of course, the usual caveats of having to sit at the bar and ordering omakase apply.