Sushi of Gari (Los Angeles, CA)
Sushi of Gari Hollywood
6201 Hollywood Blvd, Los Angeles, CA 90028
323.400.6300
www.sushiofgari.com
Tue 10/18/2016, 08:05p-10:35p

LA's biggest sushi debut of 2016 is very likely Sushi of Gari, the first West Coast outpost of a New York-based mini-chain of
sushi-ya
(one of which is Michelin-starred) founded by Chef/Owner Masatoshi "Gari" Sugio.
Sugio hails from Fukuoka, and first became a sushi chef in Tokyo at age 19. In June 1978, he came to New York to help a friend open a restaurant, but soon decided to stay, finding employment at multiple Japanese eateries in the area. After working Stateside for a number of years, he developed his trademark sauces and toppings for
nigirizushi
, and opened up the first Sushi of Gari on the Upper East Side in January 1997. The place was largely a success, and was followed up in July 2001 by a second location in Aoyama, Tokyo. Gari Columbus debuted in January 2005 on the Upper West Side, and Sushi of Gari 46 bowed in November 2006 in the Theater District. June 2012 saw the opening of a Gari outpost at the Plaza Food Hall (now shuttered), and just three months later, Sushi of Gari Tribeca dropped. This brings us to Sushi of Gari Hollywood, which graced us at the start of May.


Sushi of Gari's situated on the ground floor of the new Eastown apartment complex (probably better known for being home to one of the few LA outposts of
Shake Shack
). Inside, you'll find a few tables out front, as well as a private dining space, but most of the action's understandably at the sushi bar.


Given that we were seated at the sushi counter, going omakase was the sole option and thus we weren't presented with any sort of food menu. There's no set price for the experience. Rather, pieces are charged individually and tallied, and our bill came in at $214 a head sushi-only, pre-tax and pre-tip. If you forego the counter, there's a full à la carte menu with your usual
nigiri
preparations, rolls, and a few specials. Take-out is also an option. Drink-wise, you get a nice selection of sakes, a compact wine list, as well as a handful of beers. Corkage is $30, limit 2. Click for larger versions.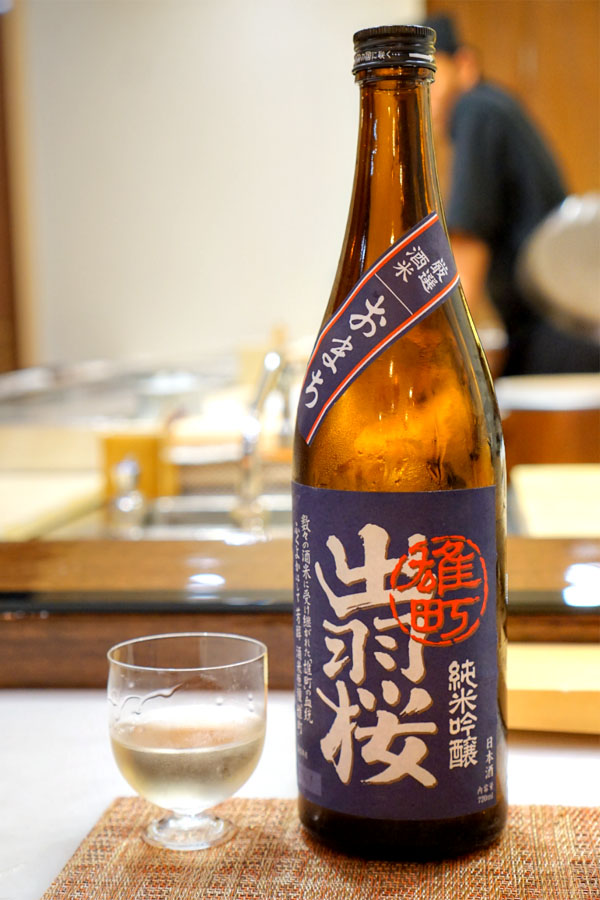 We opted for a bottle of sake to start, the
Omachi, Junmai Ginjo [$70]
from Yamagata Prefecture's Dewazakura Brewing Co. Nose was brimming with bold, aromatic melon and a warm booziness. The palate, meanwhile, was similarly sweet and citrusy at first, but with alcoholic heat and a saline quality coming in later. Quite nice overall.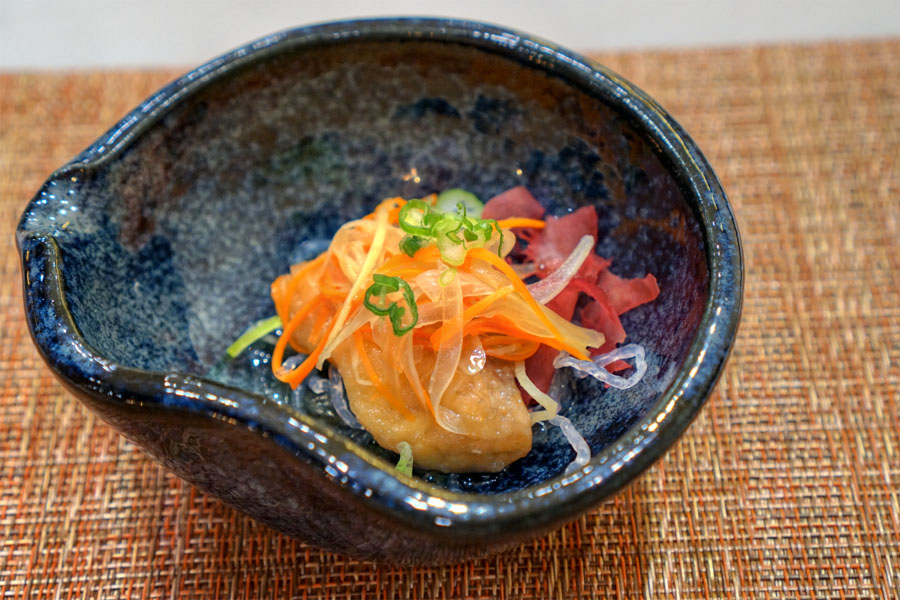 1: Kuromutsu Nanbanzuke [$6.00]
We began with pretty much our lone non-sushi dish of the omakase: deep-fried black bluefish, marinated in sweet vinegar. I appreciated the texture on the fish, which was simultaneously flaky and firm, while taste-wise, I found a balance of sweet and savory, with a great acidity from the pickled veggies on top. A promising start.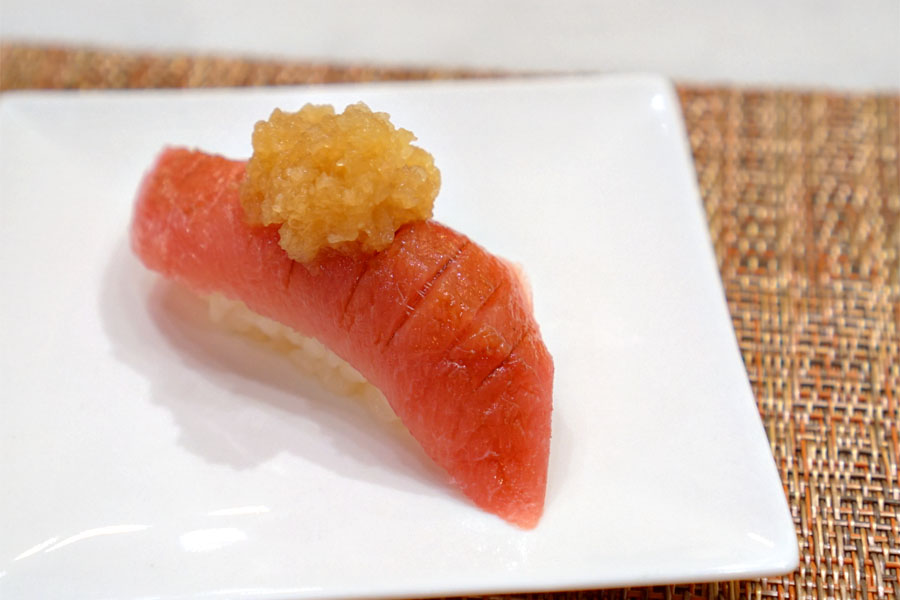 2: Hagashi Toro Ponzu [$14.00]
Our first sushi course brought Boston blue fin, specifically a cut advertised as
hagashi
, a form of tuna in which sinew in the cut is removed by the Chef. The result was a soft, melty consistency, with a good amount of richness (though it wasn't overtly fatty) that was cut by the acidity of the ponzu-enriched grated daikon. Excellent finish from the roughly room temperature rice to boot.
3: Tai Salad [$7.00]
Here was a "salad" of Japanese snapper with greens, roasted pine nuts, fried lotus root, and wasabi olive oil. Now,
tai
is usually a pretty mild fish, so I'm glad it wasn't completely lost in this dish. Rather, it seemed well-integrated with the bitterness of the greens and the wonderfully nutty finish courtesy of the pine nuts, and I was a fan of how the olive oil seemed to tie everything together. Superb crunch from the
renkon
, too. A standout for me.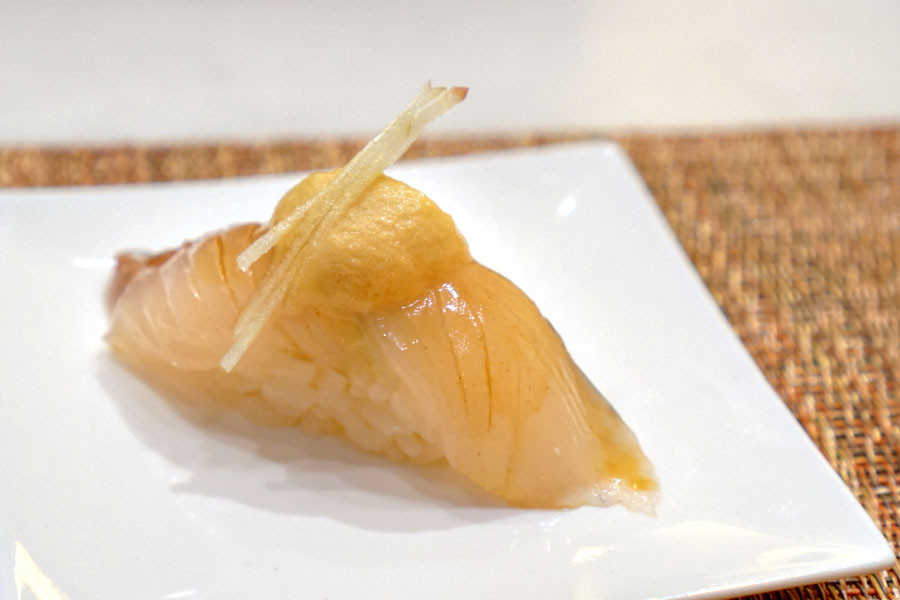 4: Yuki Masu Ringo Sauce [$7.50]
Snow trout from Nagano was a new one for me, and tonight it was served with a garlic apple sauce. The fish itself I found super soft, with an almost smoky flavor profile that matched beautifully with the sweetness in the fruit. Interestingly, Nagano's also known for its apples, so it was a bit of a clever pairing.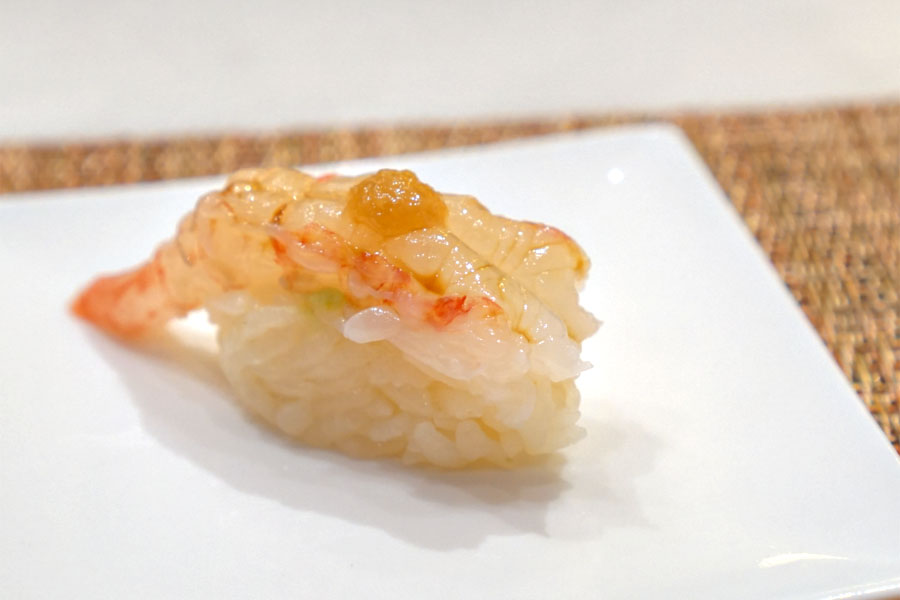 5: Amaebi Yuzu [$6.00]
Sweet shrimp was snappy, and seemed particularly sweet, though that could've been the result of the yuzu-miso sauce used here. Nice hit of countering heat from the wasabi on the finish.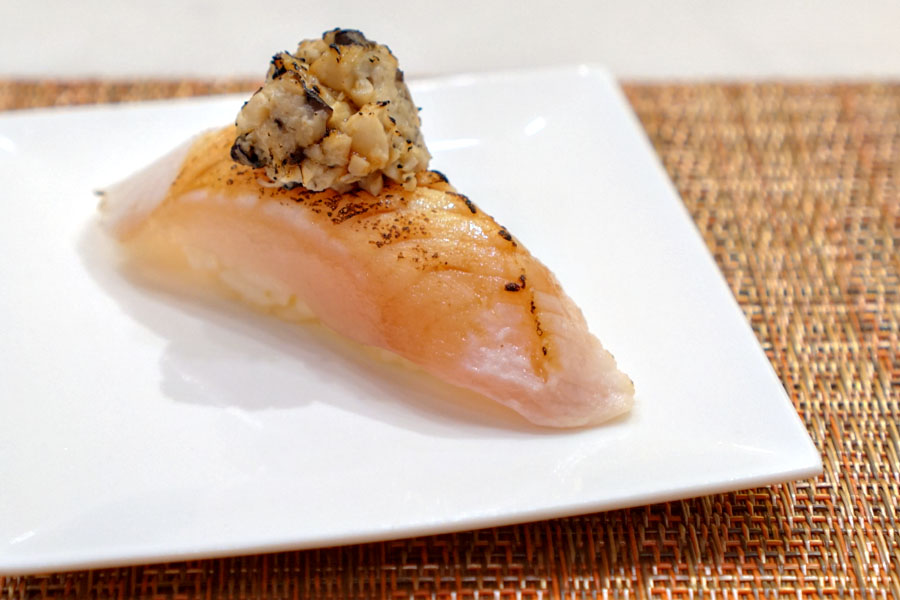 6: Yaki Sawara [$5.00]
Next, we were presented with seared king mackerel crowned with mushroom. This was a favorite of mine due to the briny smoke of the fish and how that played with the earthy, umami-rich flavors of the 'shrooms.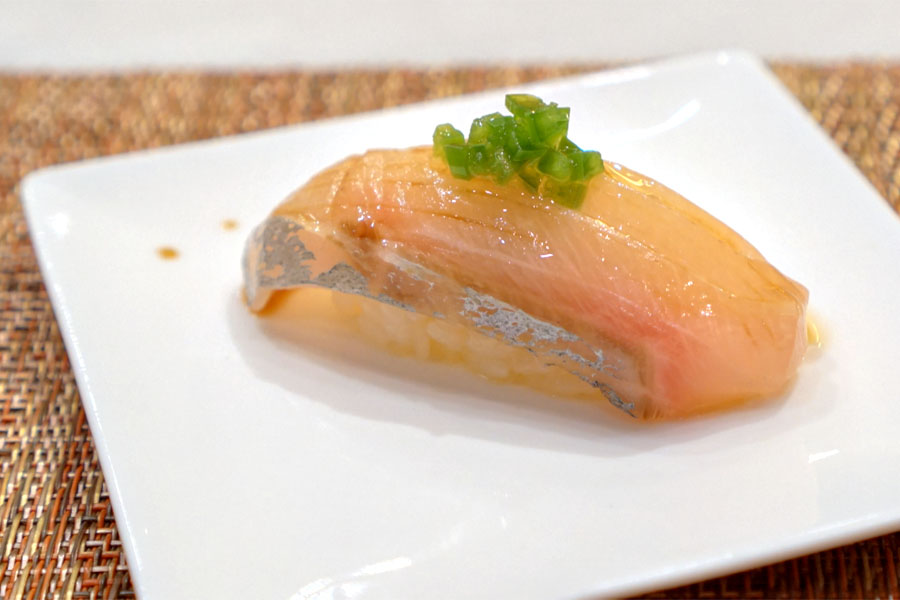 7: Shima Aji Jalapeño [$7.00]
Japanese striped jack came topped with chopped jalapeño. The fish ate crunchy, oily, fishy, so the peppers contributed a sort of moderating heat that complemented but never overpowered.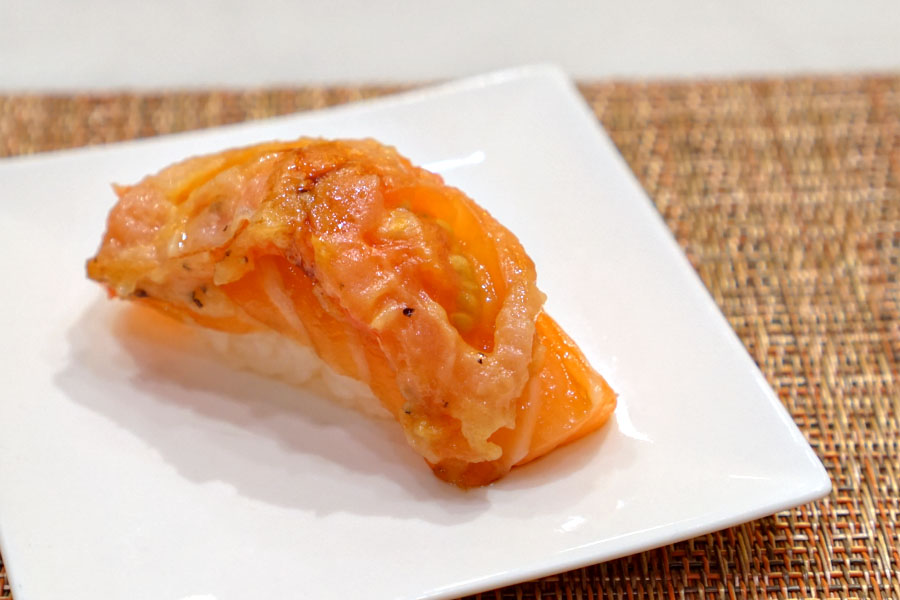 8: Sake Yaki Tomato [$5.50]
Another favorite was this salmon, enrobed in seared tomato and a sweet onion sauce. I loved the hot-cold temperature contrast on this one, and the savory sauce certainly made sense with the inherent fattiness of the fish.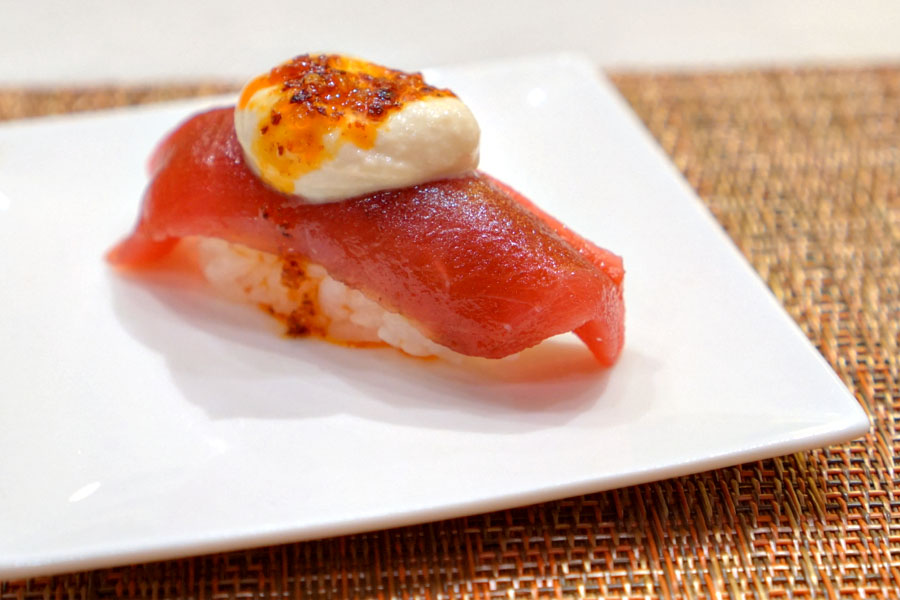 9: Maguro Tofu Rayu [$7.00]
Lean blue fin was kicked up a notch by the incorporation of an almost Chinese-y sesame chili oil, which imparted a focused heat to the course. Fortunately, the dollop of tofu purée helped tame the spice, making for a balanced bite overall.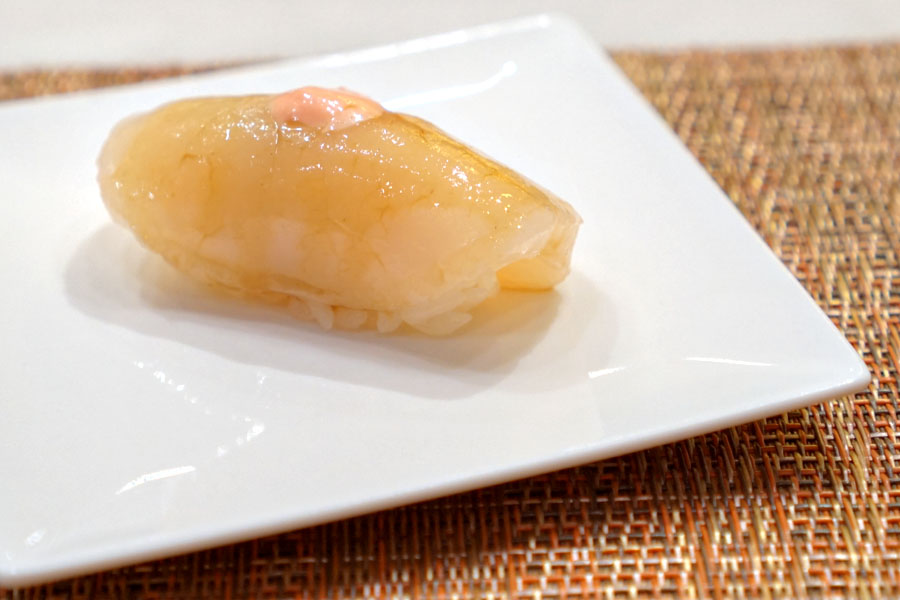 10: Nama Hotate Ume [$5.50]
Hokkaido scallop had its natural sweetness augmented in spades by an
umeboshi
plum sauce, which, interestingly enough, one of my dining companions likened to ice cream.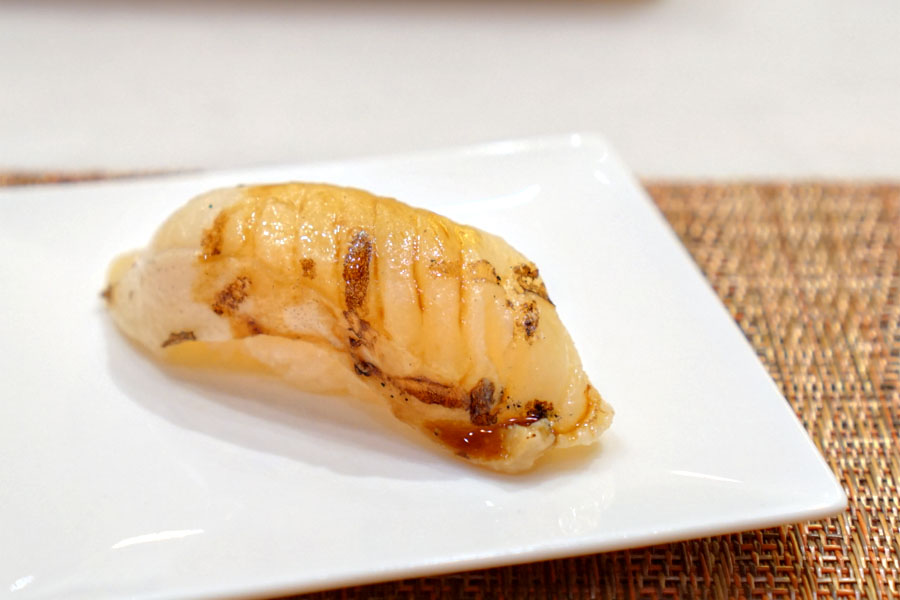 11: Gindara Misozuke [$6.50]
The ubiquitous miso black cod was seared, giving the fish a deep, smoky richness. Fantastic temperature contrast here, too.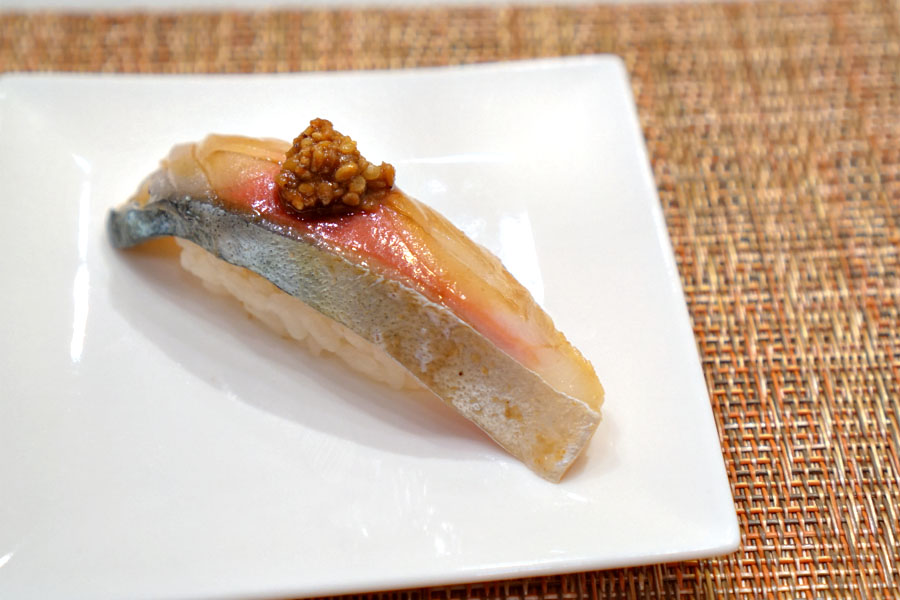 12: Nama Saba Goma [$6.50]
Here was Japanese
masaba
, marinated in soy and sesame instead of the typical salt and rice vinegar. It was perhaps a touch daintier than your usual mackerel, and had its brine contrasted by the earthy, nutty soy sauce-sesame up top.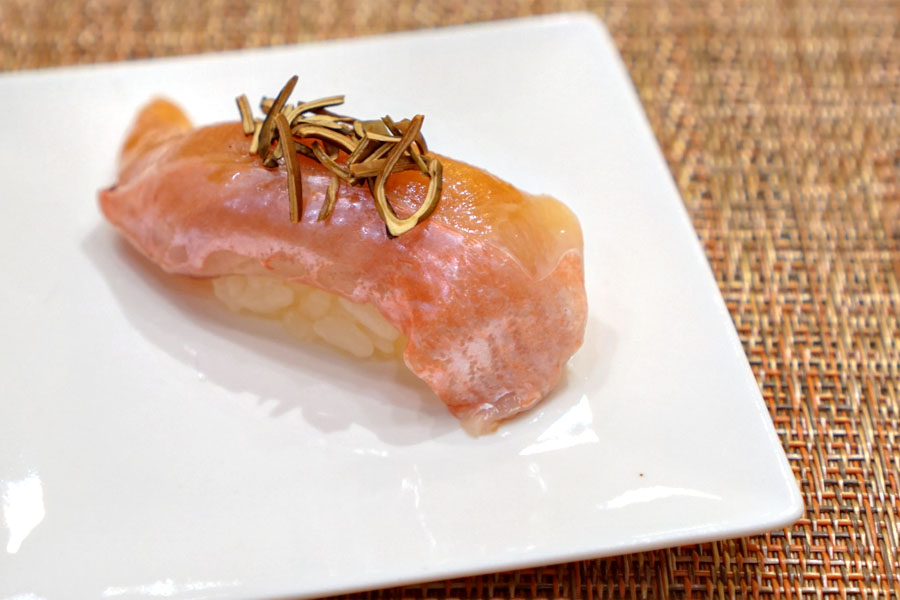 13: Zuke Kinmedai [$9.00]
Golden eye snapper was marinated in fish broth and came sprinkled with what we were told was a special type of kelp. The
neta
itself I found snappy and clean, while the kelp displayed an earthy, mushroom-like taste with considerable complexity.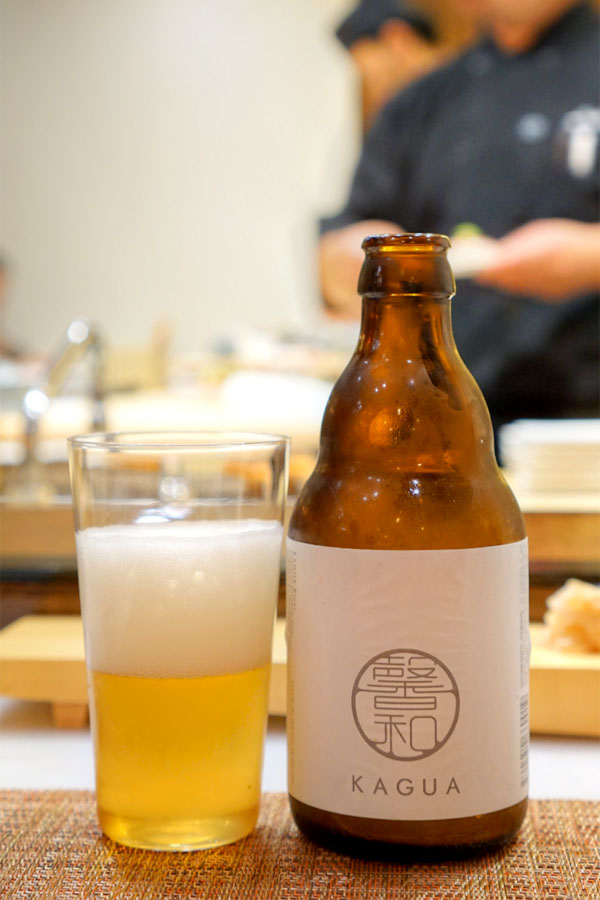 The restaurant had two beers that I'd never tried or even heard of before, the first of which was the
Kagua Blanc, Japanese Scented Ale, Fresh Yuzu [$15]
. This one smelled grain-y at first, with inviting traces of yuzu mixed in. The taste was similar, with more spicy, dry, Belgian-y notes coming into play.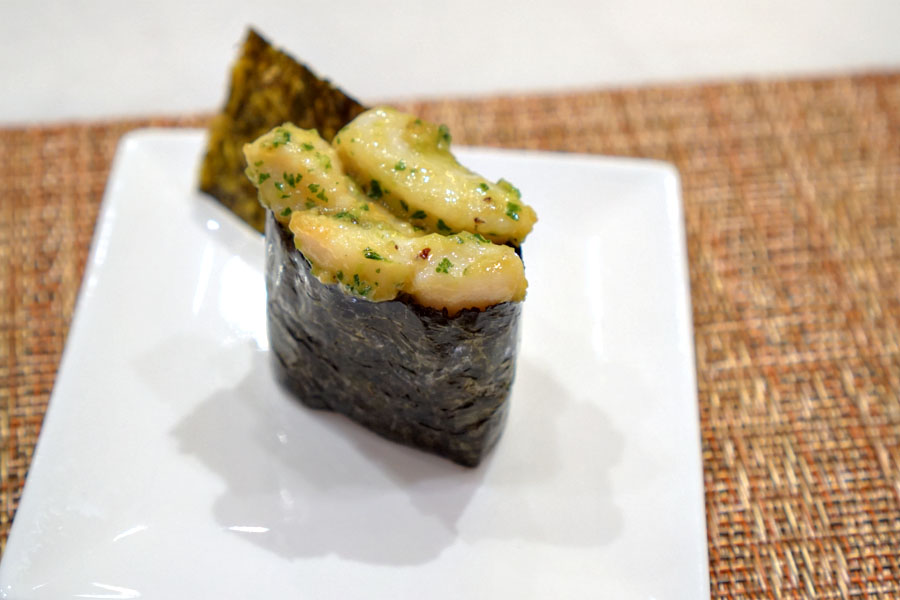 14: Hotate Parsley Sauce [$5.50]
Chewy bits of scallop were sautéed in butter and served with a garlic-parsley sauce. The end result was one of my most memorable bites of the meal, being almost escargot-like due to its texture and robust, buttery, garlicky flavors. Very gratifying.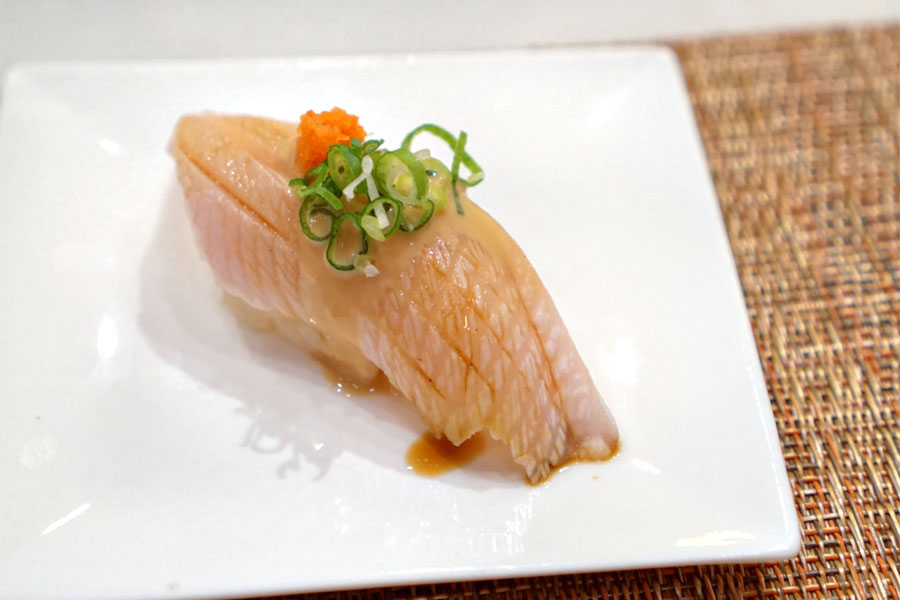 15: Hamachi Yubiki [$6.00]
Poached yellowtail had an almost "crunchy" texture to it that I enjoyed. Taste-wise, it was fairly fatty, fairly fish, so the combination of that nutty sesame sauce and zippy
negi
worked it out.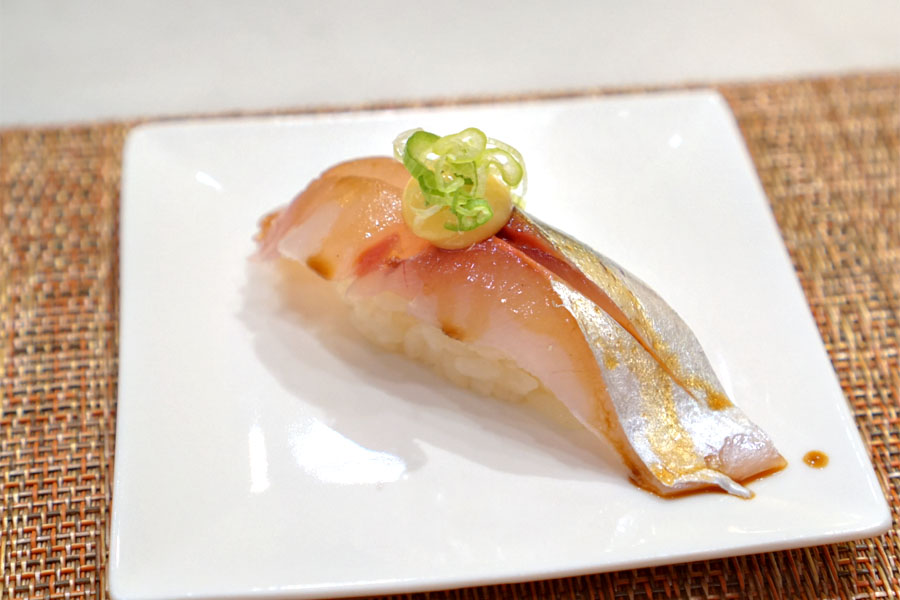 16: Aji Miso [$6.00]
Wild Spanish mackerel showed off its trademark salinity, evened out by the sweet creamy nature of the paired miso sauce.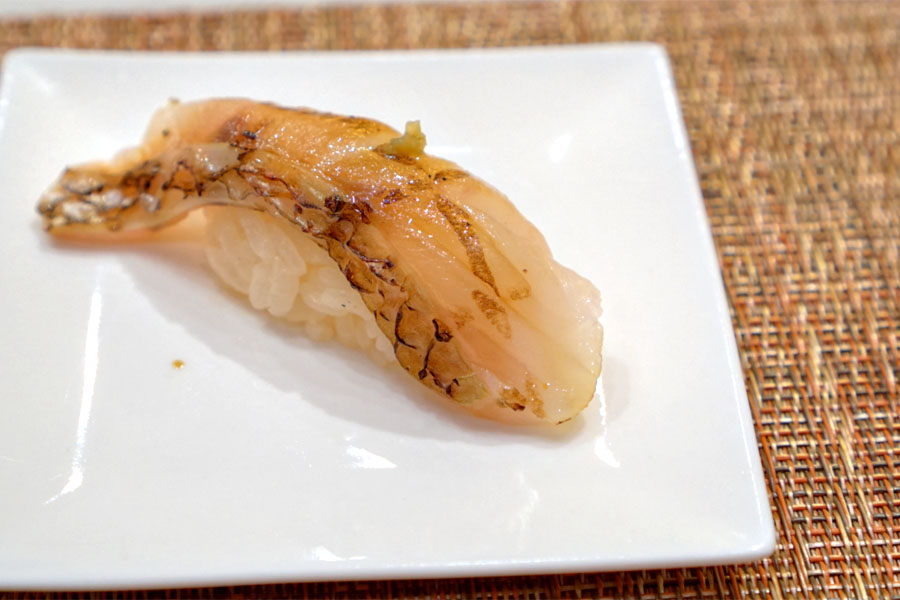 17: Nodoguro [$9.00]
Akamutsu
(rosy seabass or blackthroat seaperch) had a fantastic sear to it that matched gorgeously with the salty heat of
yuzukosho
. Lovely chew on the fish as well.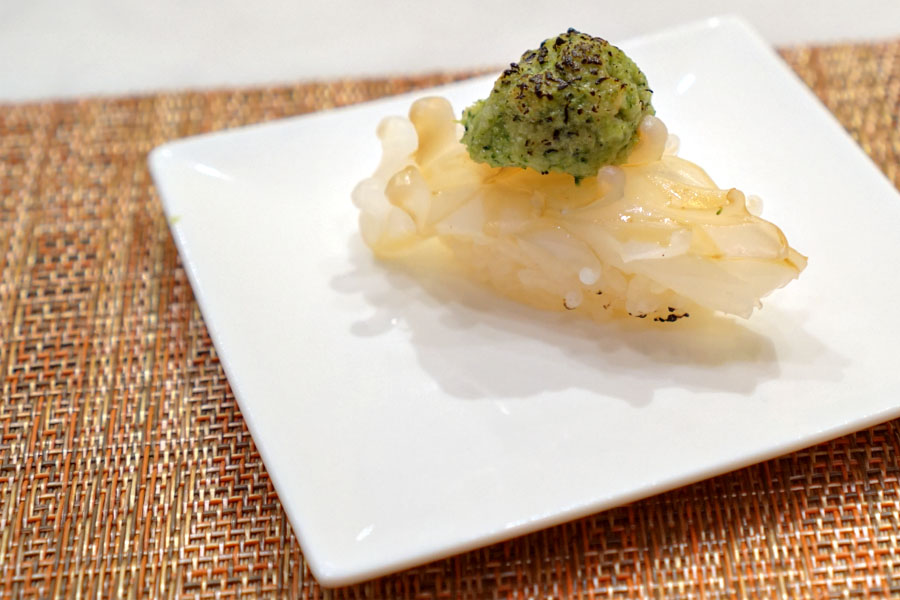 18: Ika Broccoli [$6.00]
Squid was suppler than usual, and saw its slight sweetness well-contrasted by the char and vegetal nature of that broccoli.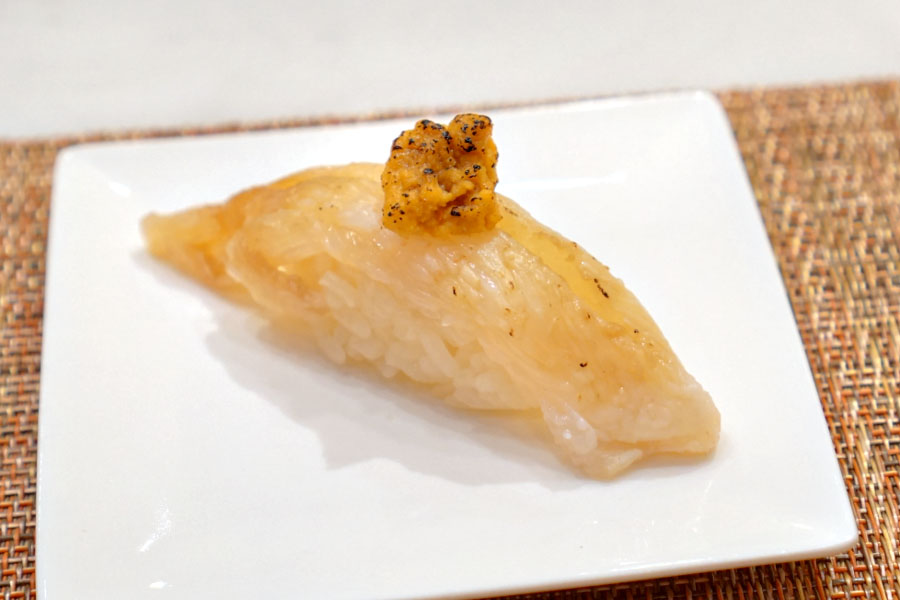 19: Zuwaigani Uni [$12.50]
Another highlight was the snow crab, a near ridiculously soft presentation that had just a kiss of charring to it. The blow-torching made for a sweet-smokiness that meshed wonderfully with the richness of the urchin roe on top.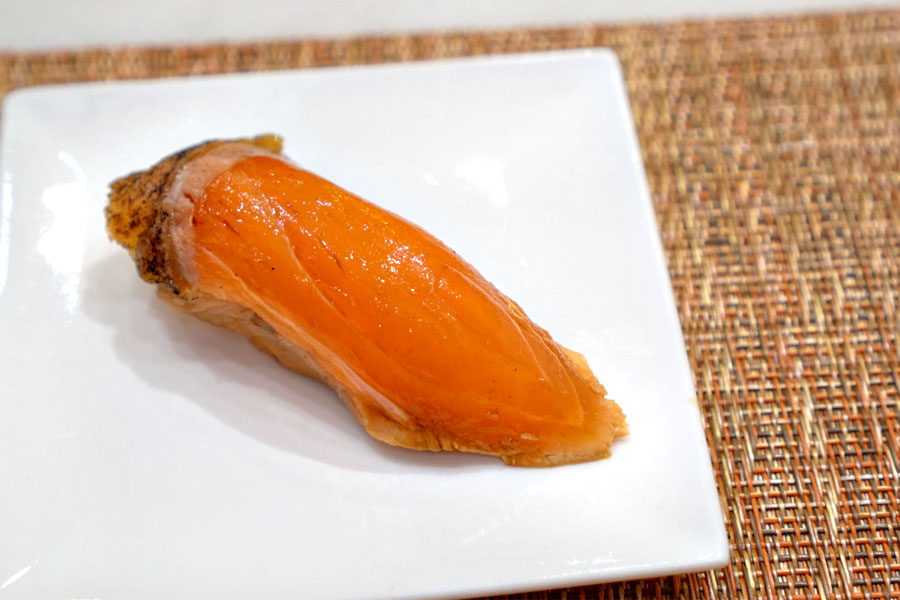 20: Yaki Sake [$5.00]
Seared salmon was marinated in fish broth and showed off a superb smoke and snap.
The
Kagua Rouge, Japanese Scented Ale, Sansho Pepper [$15]
was the sister beer to the Blanc above. It was definitely heftier, smelling of malt and warming spice, while the palate brought more roasty malt laced with crisp
sansho
pungency.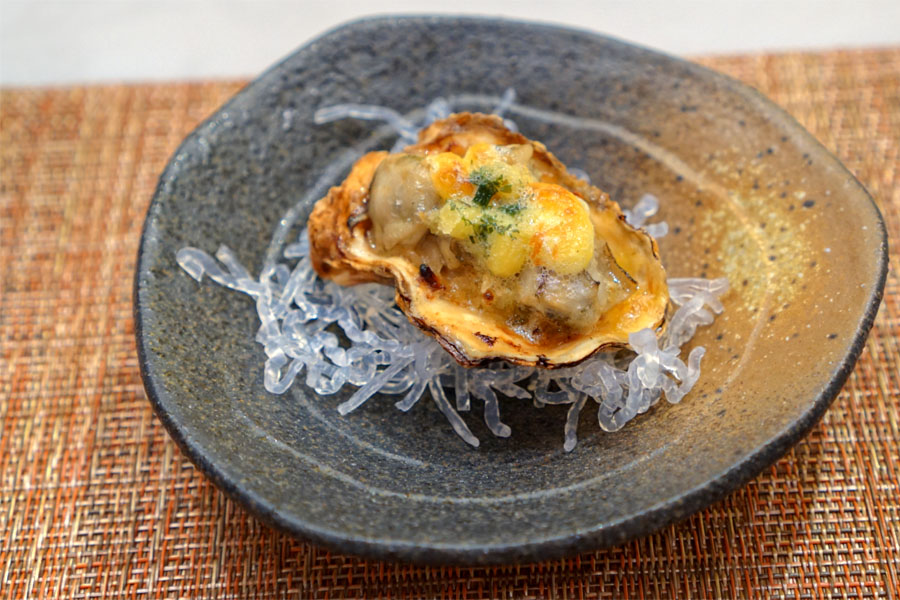 21: Yaki Kaki [$8.50]
A grilled oyster in the shell with breadcrumbs and a housemade herb mayo was a change of pace. Meaty, briny, and buttery, with a small amount of rice on the bottom, it was about as hearty as an oyster could be. Yum.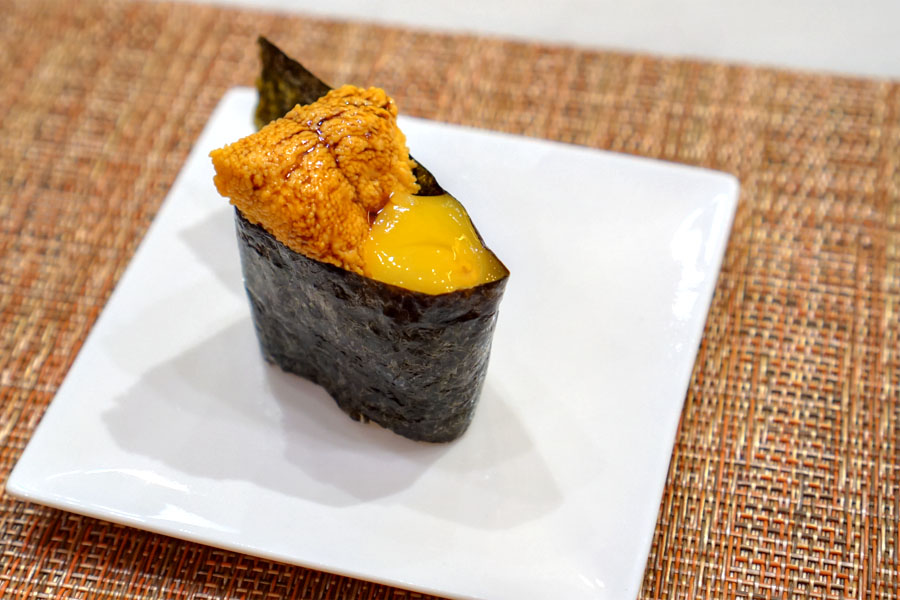 22: Santa Barbara Uni [$11.00]
Sea urchin roe from Santa Barbara was as sweet 'n' creamy as one would expect, though the inclusion of quail egg actually seemed to moderate its lushness. Great contribution of umami from the
nori
wrapper here as well.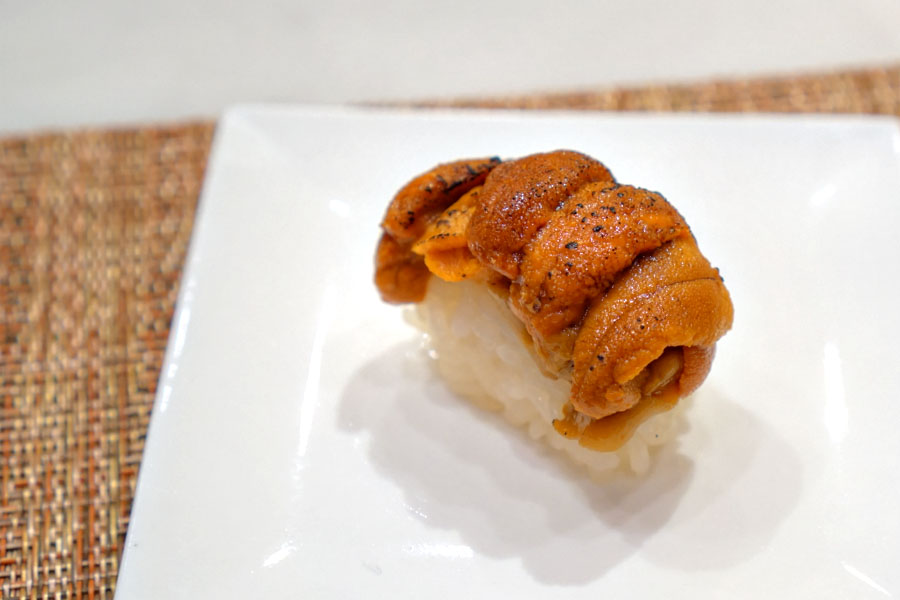 23: Yaki Hokkaido Bafun Uni [$12.00]
Bafun
urchin from Hokkaido had a deep char element to it, one that seemed to accentuate the inherent luxuriousness of the roe.
24: Yaki Kamatoro [$15.00]
Kamatoro
made for arguably the most luscious bite of the night. Think super rich, super fatty, with a great smokiness that matched effortlessly with the robustness of the ginger-garlic sauce.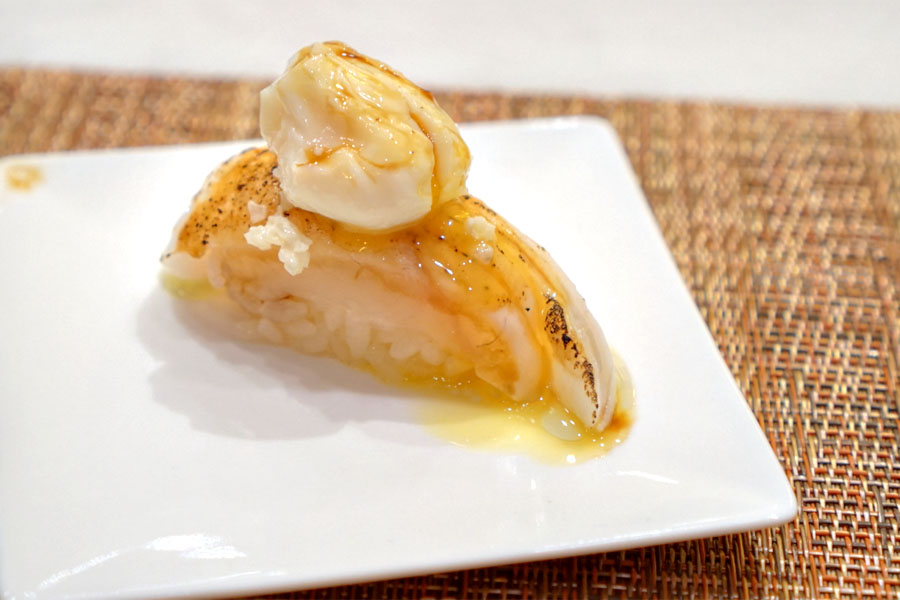 25: Hirame Truffle [$6.50]
Torched fluke arrived with poached quail egg, sweet onion sauce, and white truffle oil. I got loads of heady truffle at first blush, with the runny egg coming in later, joined by the cool, relatively austere nature of the fish.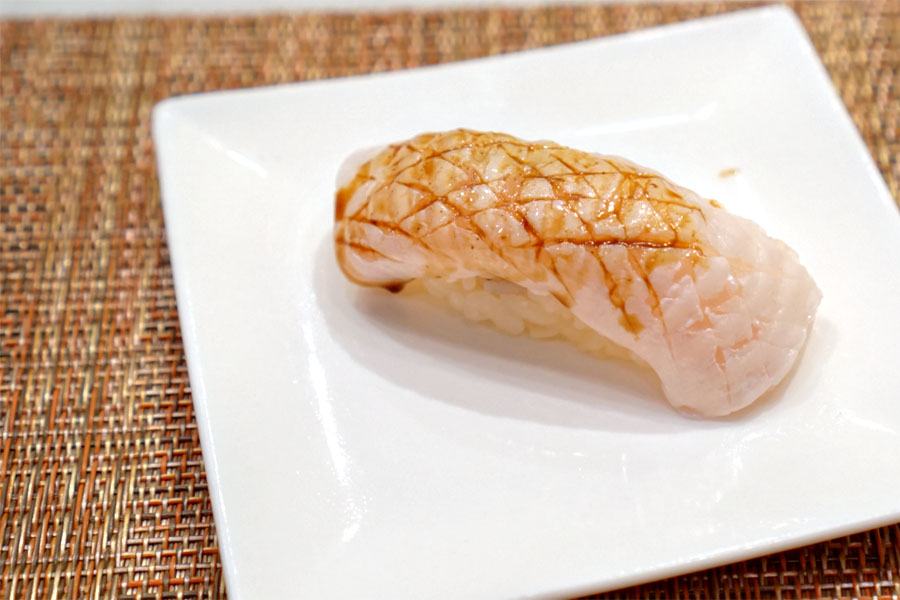 26: Engawa [$7.00]
We specifically requested flounder fin, so it came dressed simply in soy, and as expected, showed off the delightful chewiness that you typically find in the cut.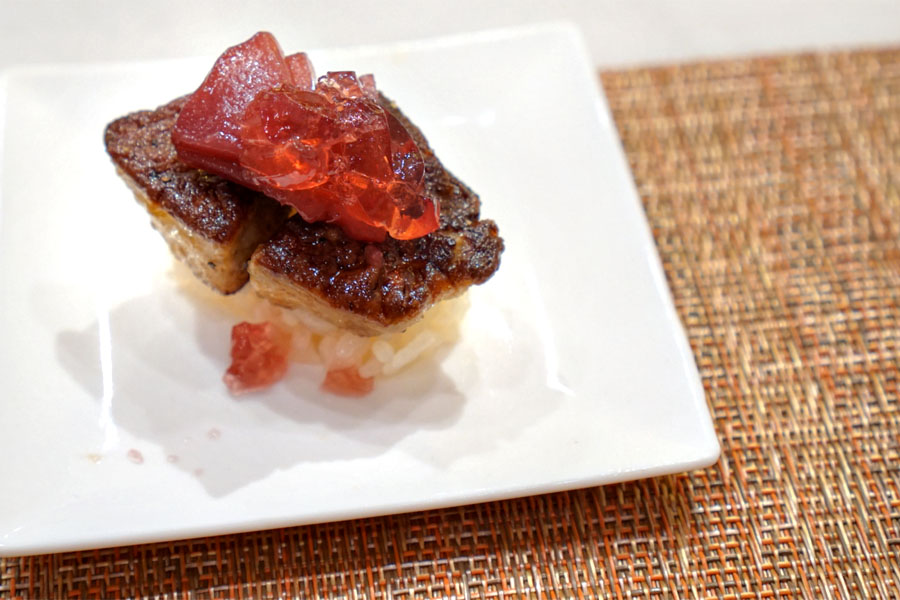 27: Foie Gras Nashi [$8.00]
Our final savory brought out the foie. It was just what I wanted from the liver, an explosion of fat and char tempered only slightly by the cool, fruity pear compote.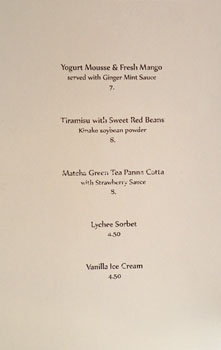 Dessert here is straightforward, and we ended up ordering all five options. Click for a larger version.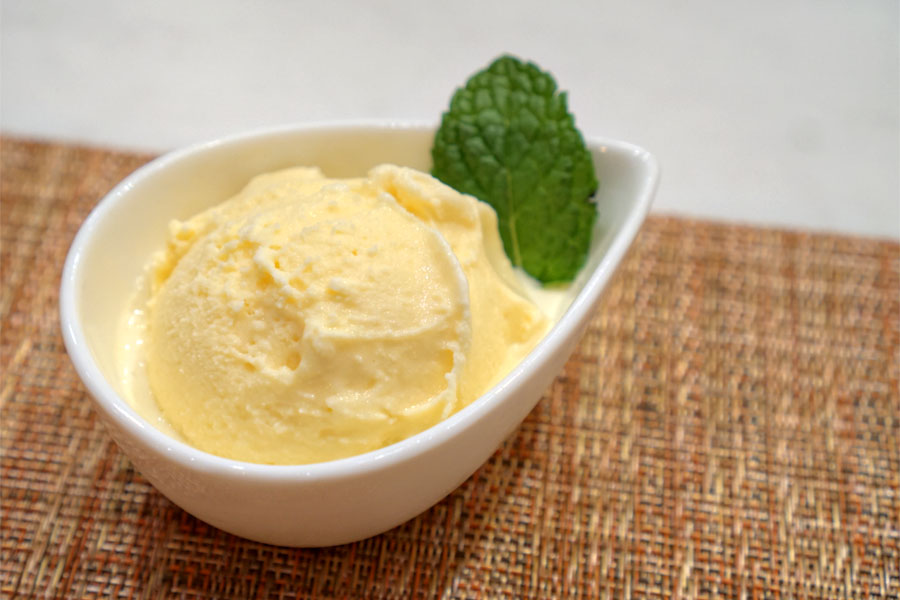 Vanilla Ice Cream [$4.50]
Vanilla ice cream was nice enough, and seemed more full-bodied than your usual preparation.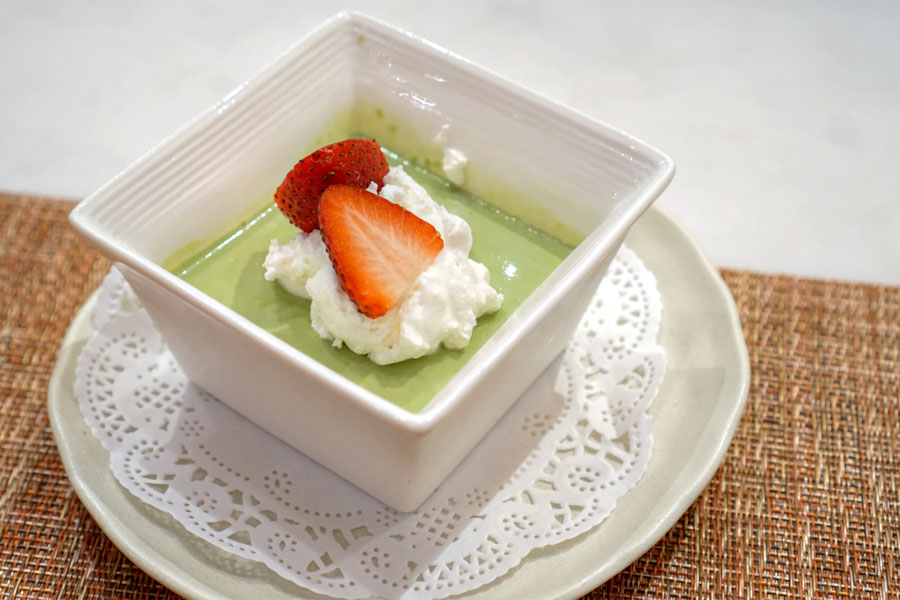 Matcha Green Tea Panna Cotta [$8.00]
| with Strawberry Sauce
A green tea panna cotta had a pervasive bitterness to offset the otherwise sugary flavors in the dessert.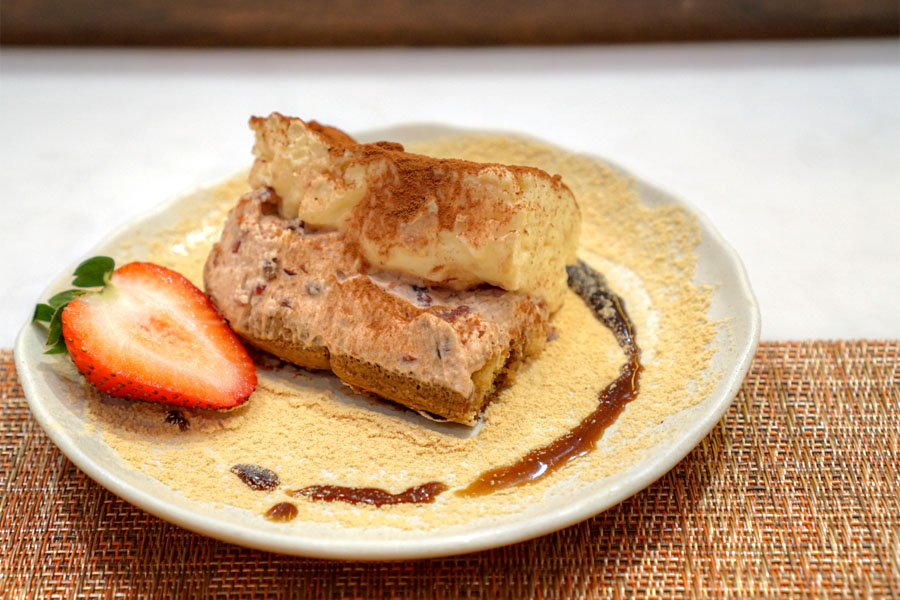 Tiramisu with Sweet Red Beans [$8.00]
| Kinako soybean powder
I liked the tiramisu thanks to its lightness, balance between coffee and cocoa, and particularly its use of roasted soybean flour.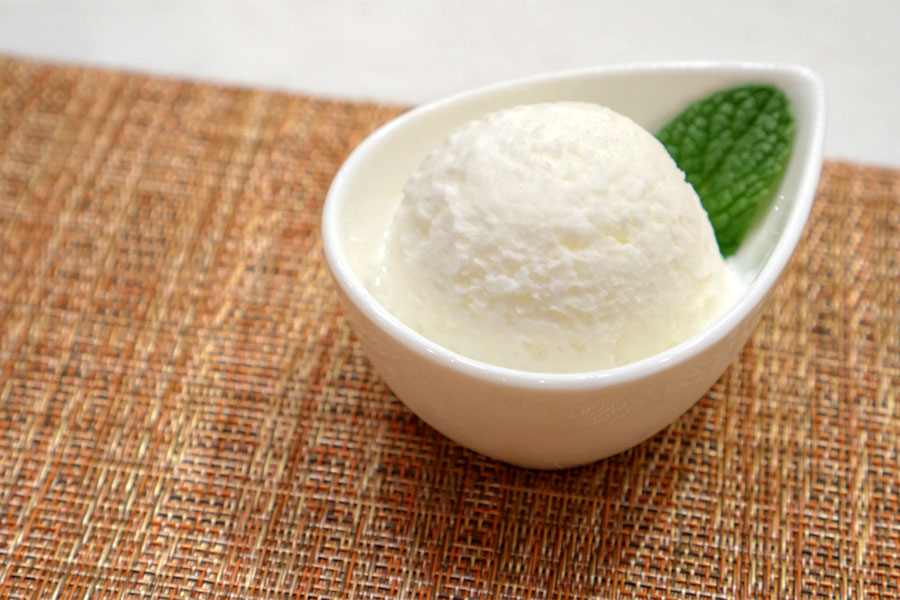 Lychee Sorbet [$4.50]
A sorbet featuring lychee came out super bright, fresh, fruity.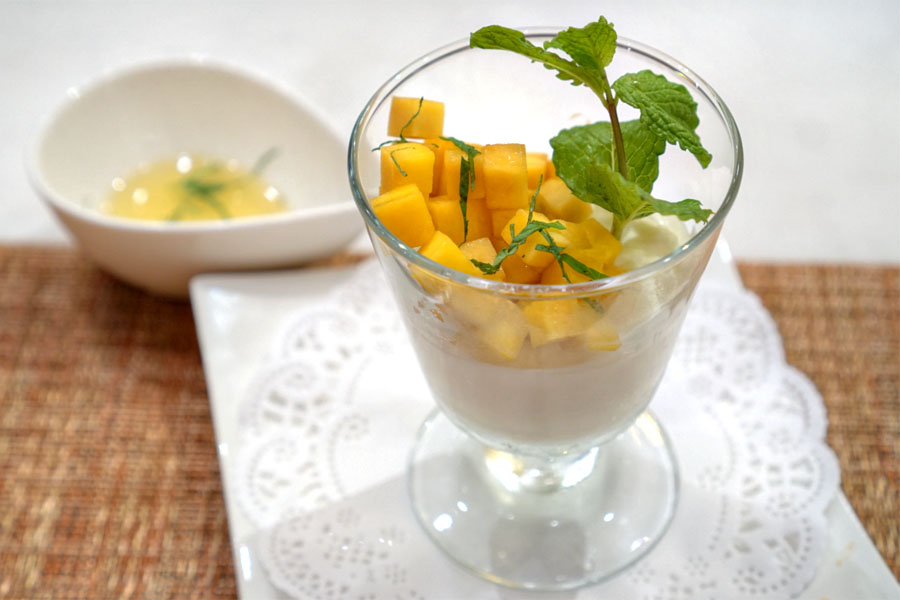 Yogurt Mousse & Fresh Mango [$7.00]
| served with Ginger Mint Sauce
Lastly, we had a marriage of tangy, lactic yogurt mousse and sweet mango, perked up by the zippiness of that ginger-mint dressing.
Sushi of Gari did not disappoint. Hardcore purists may be put off by the liberal use of toppings on the
nigiri
, but I found that they largely added a new dimension to the sushi. Many bites were almost like mini composed dishes, and never did I feel that the integrity of the fish or rice was being compromised. If you're a fellow sushi fiend, you owe it to yourself to give Gari a shot. Finally, I also have to give a special shout-out to our
itamae
for the evening, Take-san, who previously worked at
Mori Sushi
and did an admirable job taking care of us.