Ong Ga Nae (Los Angeles, CA)
OngGaNae Korean BBQ Restaurant
936 S Vermont Ave, Los Angeles, CA 90006
213.386.9292
www.ongganae.com
Sat 10/15/2016, 07:35p-09:40p

One of the latest entrants in Koreatown's perpetually-crowded KBBQ game is Ong Ga Nae. The restaurant opened at the start of June, and is the second outpost of the longstanding original down in Rowland Heights.

Ong Ga Nae takes over the address that formerly held noted AYCE KBBQ eatery Moo Dae Po (along with Vermont Garden and Haewoondae before that), and the new ownership hasn't really changed things up too much.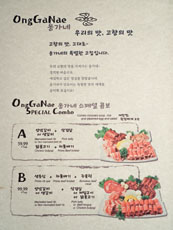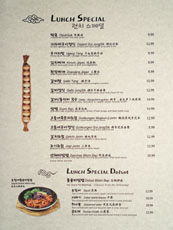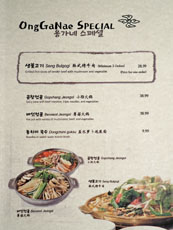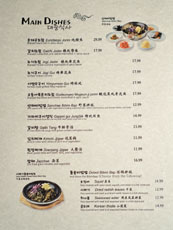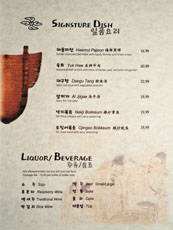 Menu-wise, Ong Ga Nae offers up a pretty prototypical array of meats for grilling, along with a selection of other Korean dishes including their signature
saeng bulgogi
. Typical beverages are available, while corkage is advertised at $15 (though we didn't end up getting charged, likely due to confusion on our servers' part). Click for larger versions.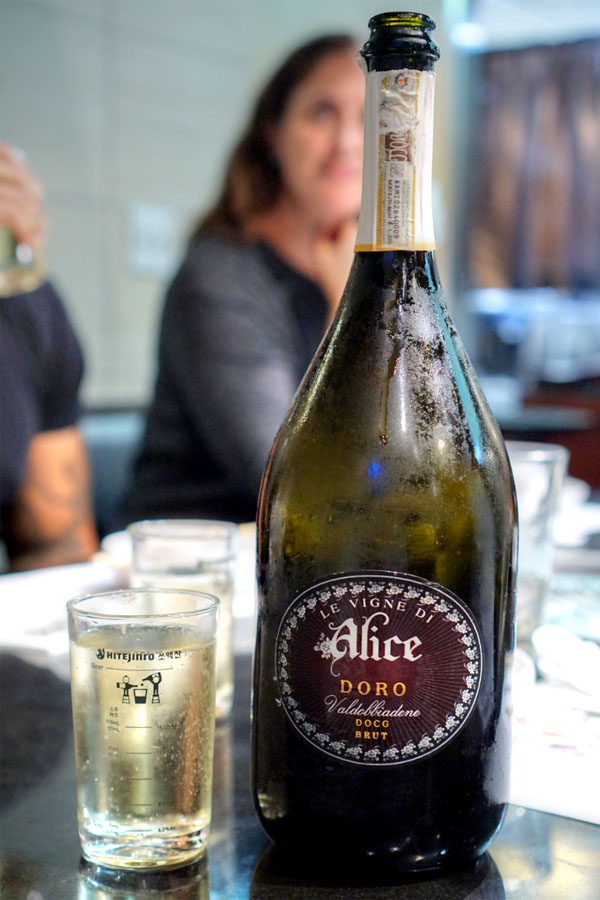 First to imbibe was some bubbly, the
2014 Le Vigne di Alice Prosecco di Valdobbiadene Doro
. This was an easy-drinking Prosecco, smelling of floral apple, with a refreshing, straightforward palate that displayed bright citrus and a touch of minerality.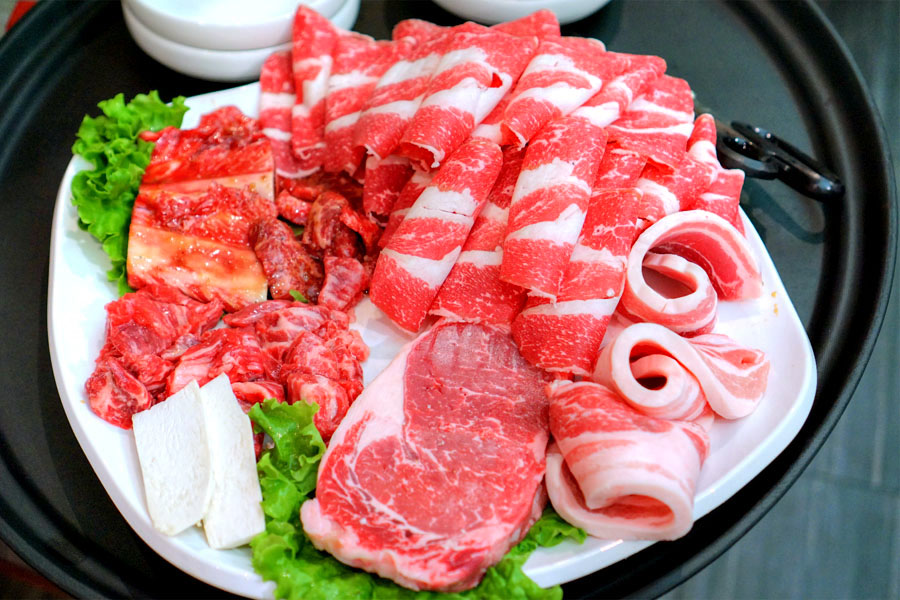 Combo B [$99.99]
| Prime rib eye + Prime beef brisket + Boneless beef meat + Non marinated beef rib + Pork belly
We ended up going with Ong Ga Nae's larger combo and supplementing with a couple other dishes, which was more than enough for our party of six.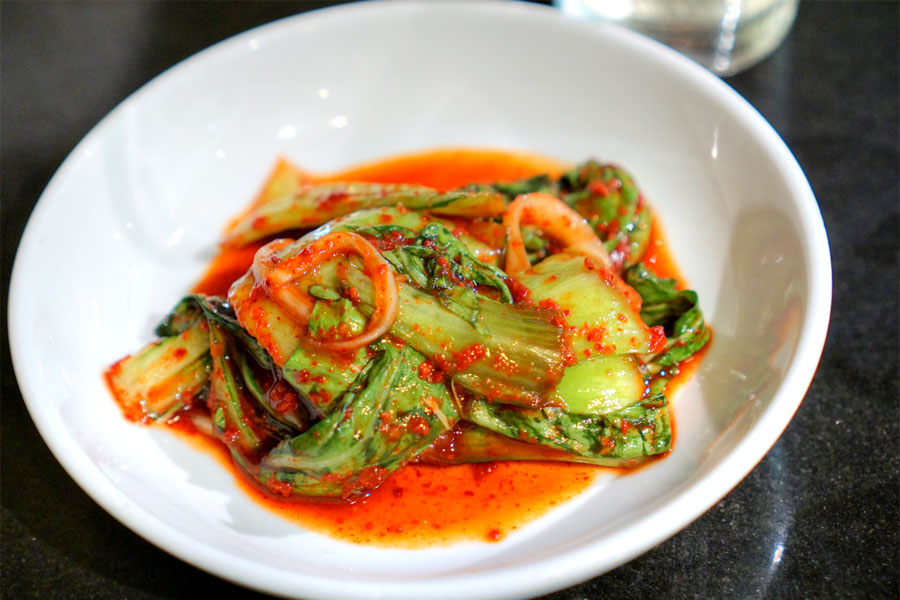 In lieu of the typical
baechu kimchi
, Ong Ga Nae instead had a wonderfully crunchy 'n' bitter bok choy
geotjeori
.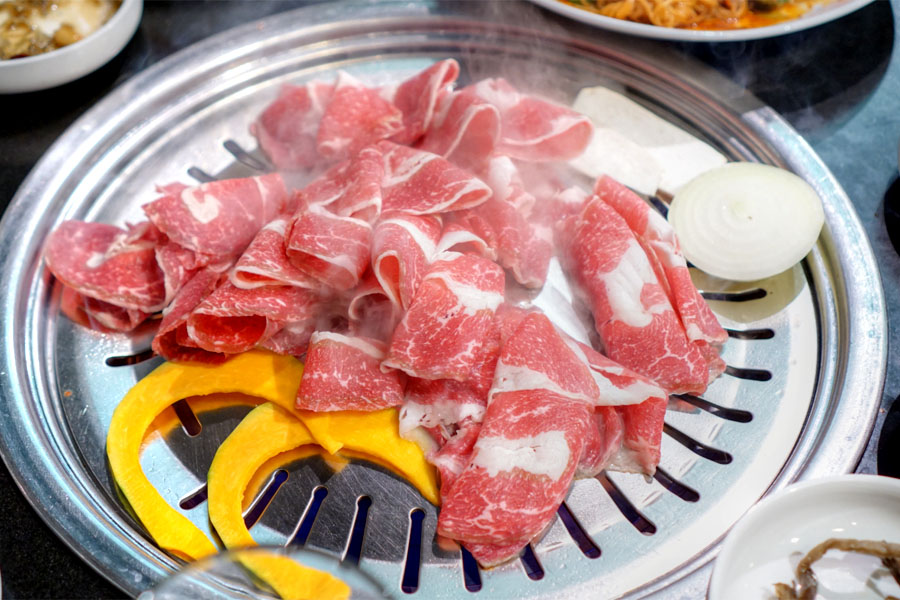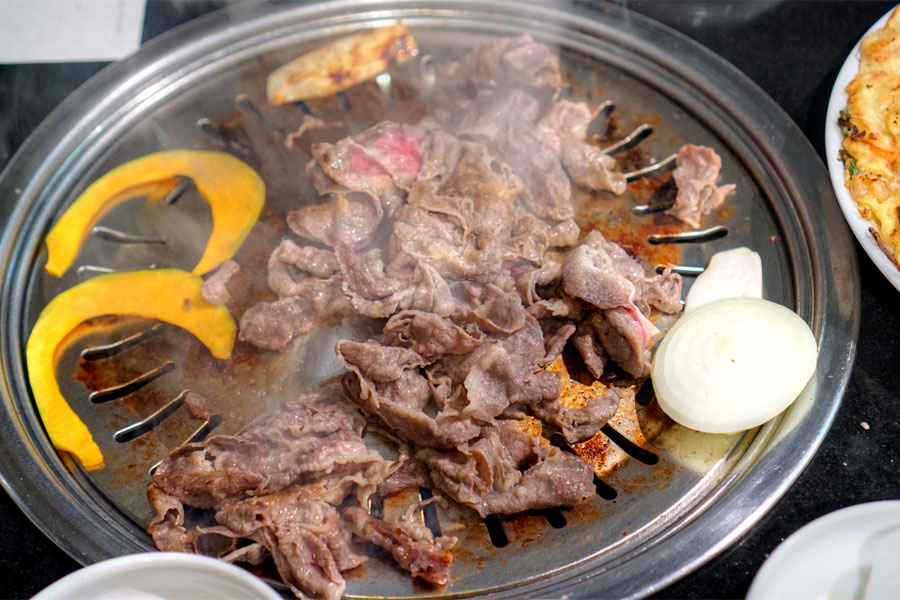 The traditional starting meat of
chadol begi
(brisket) was on point, cooking up earthy and unquestionably beefy.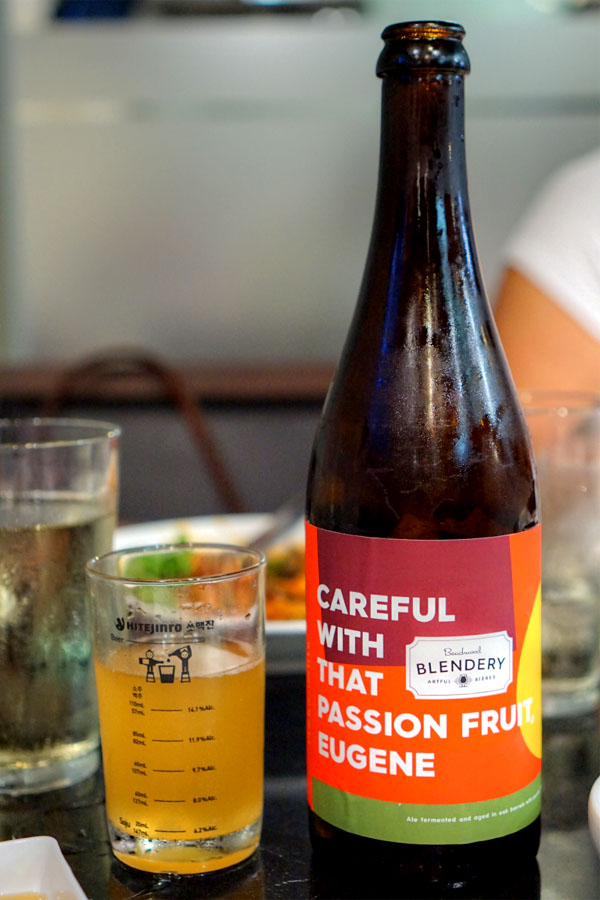 With the sparkling wine done with, we moved on to a beer, the
2016 Beachwood Blendery Careful with That Passion Fruit, Eugene
, a lambic-inspired sour created from a blend of 9-14 month-old oak aged ales, fermented with passion fruit for a month, then bottle conditioned another three months with wine yeast. Nose was delightfully tart with passion fruit throughout. On the palate, I found the beer funky and acidic, with more of those soft, sweet, fruity notes coming in toward the finish.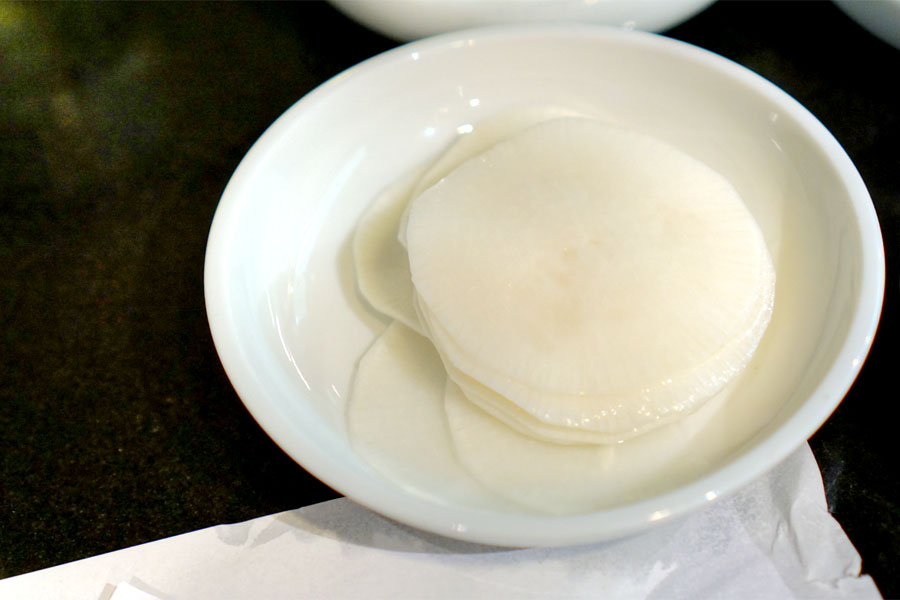 Ssam mu
pickled radish, for wrap purposes.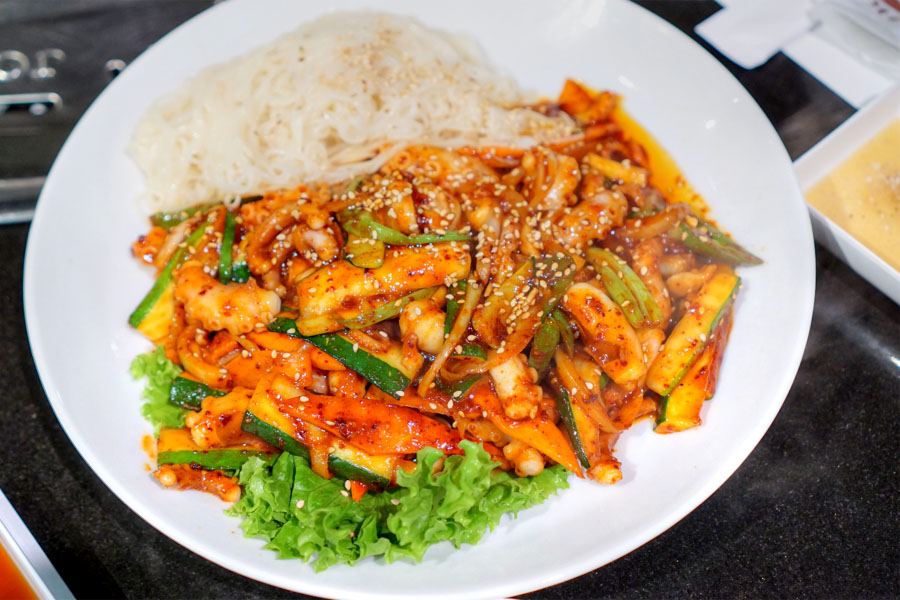 Nakji Bokkeum [$19.99]
| Stir-fried octopus with spicy seasoning
A classic preparation with a balanced spiciness and contrast from the veggies. The actual octo was generally well-textured, though some pieces did veer a touch chewy.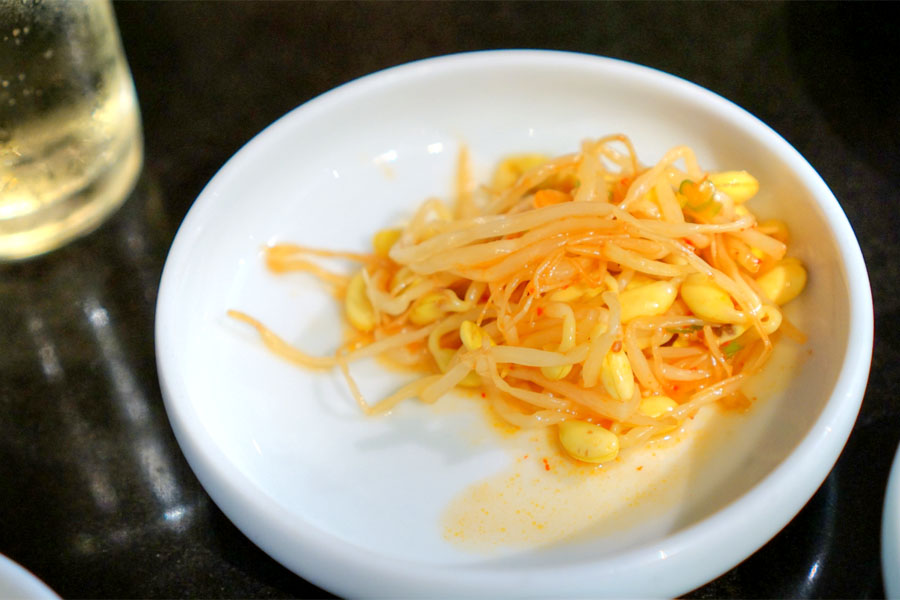 Kongnamul muchim
was spot on in terms of crunch and spicing.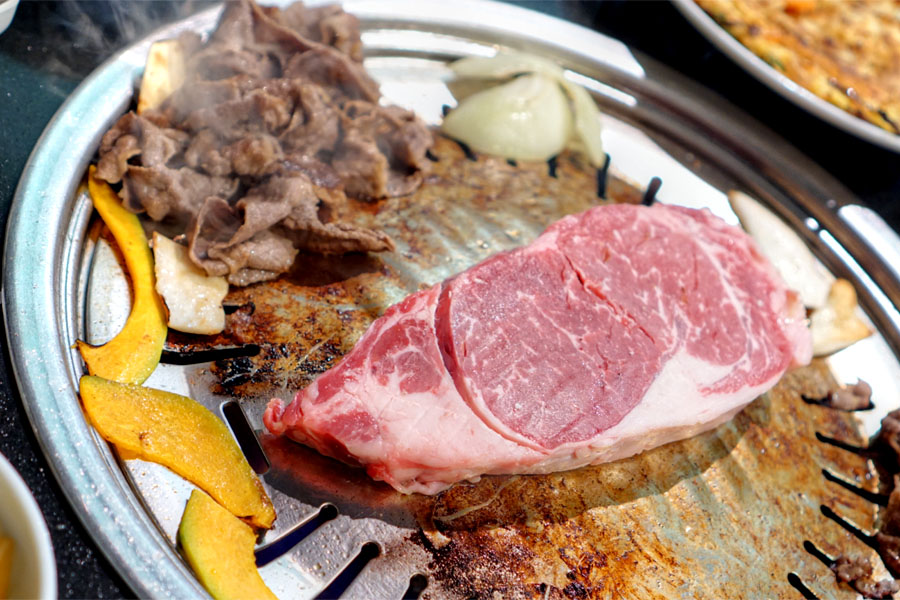 Next up was the
deungsim
, or beef sirloin, a tender, juicy cut that eventually developed a nice sear.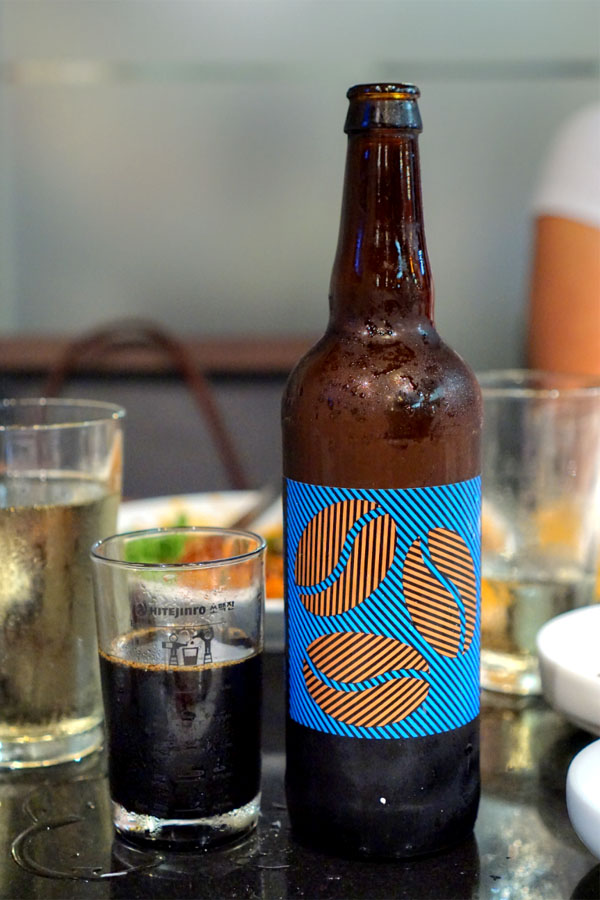 Here was a bourbon barrel-aged imperial stout with Mostra coffee, the
2016 Cycle 3rd Anniversary BA Indonesia Sumatra
. Bittersweet bouquet filled with roasty coffee. Taste was chocolate and rich malt, along with a strong, sweet dark fruit component (one of my dining companions identified overripe plum).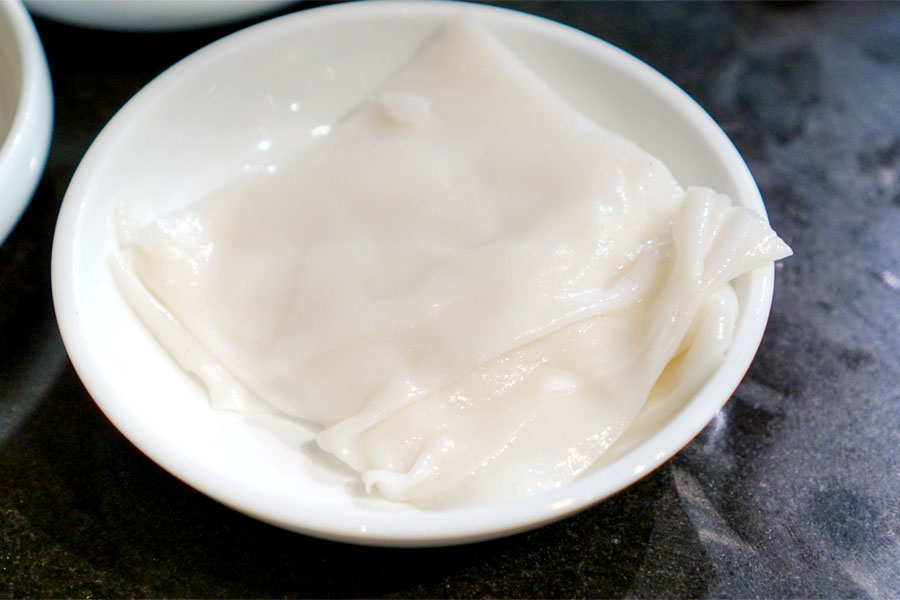 Rice paper, also for wrap purposes.
A delightfully spicy, funky
doenjang jjigae
was included in our combo.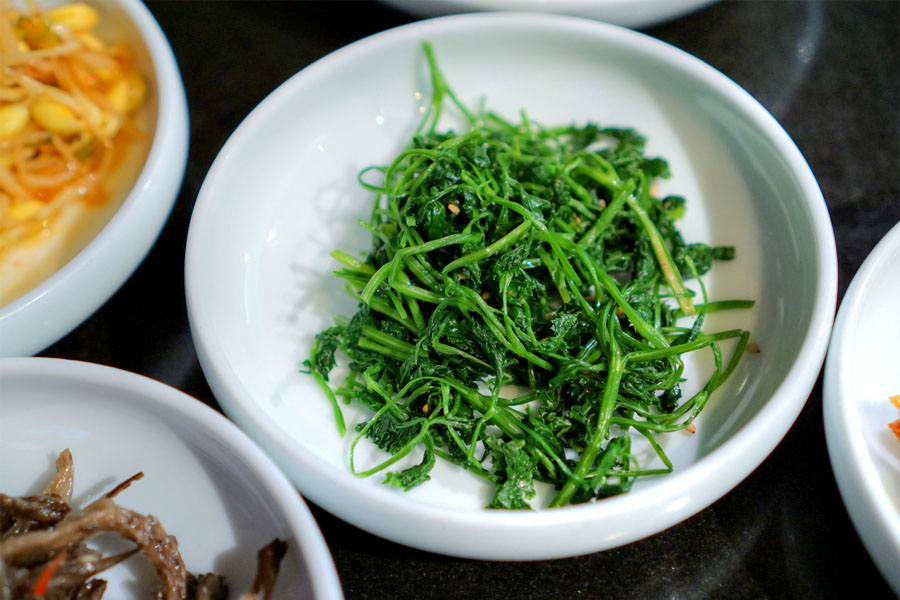 Korean parsley (
minari
) made for a bitter
banchan
with a lovely sesame element to it.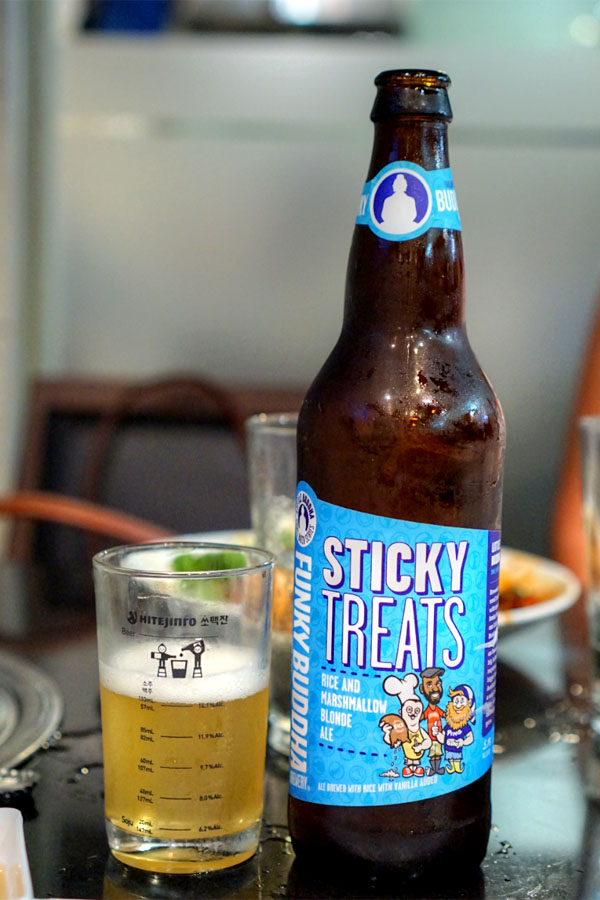 Inspired by Rice Krispies Treats, the
2016 Funky Buddha Sticky Treats
was a blonde ale with rice and vanilla added. Smelled of rice-y vanilla, while the taste brought more sweet, almost meringue-like flavors. A decent interpretation of the classic childhood treat.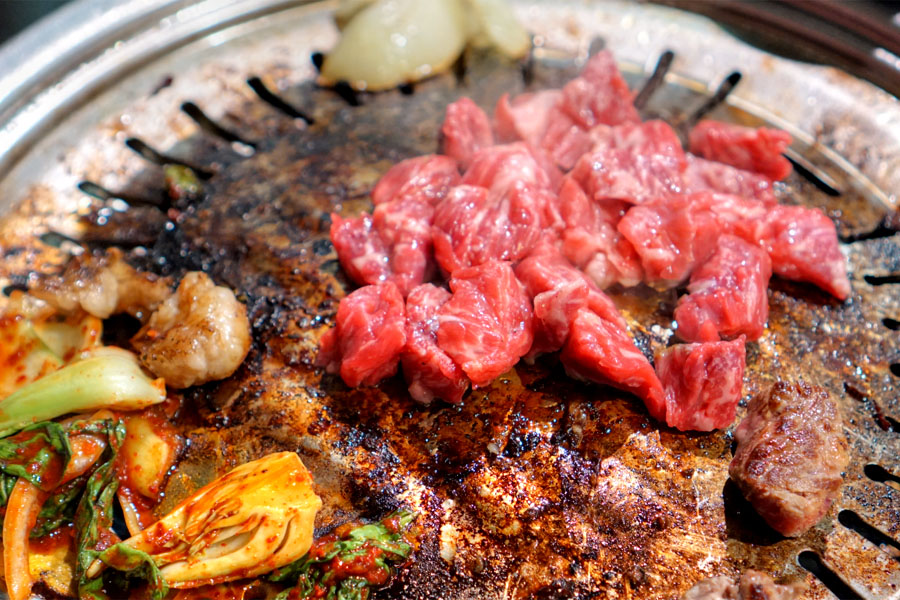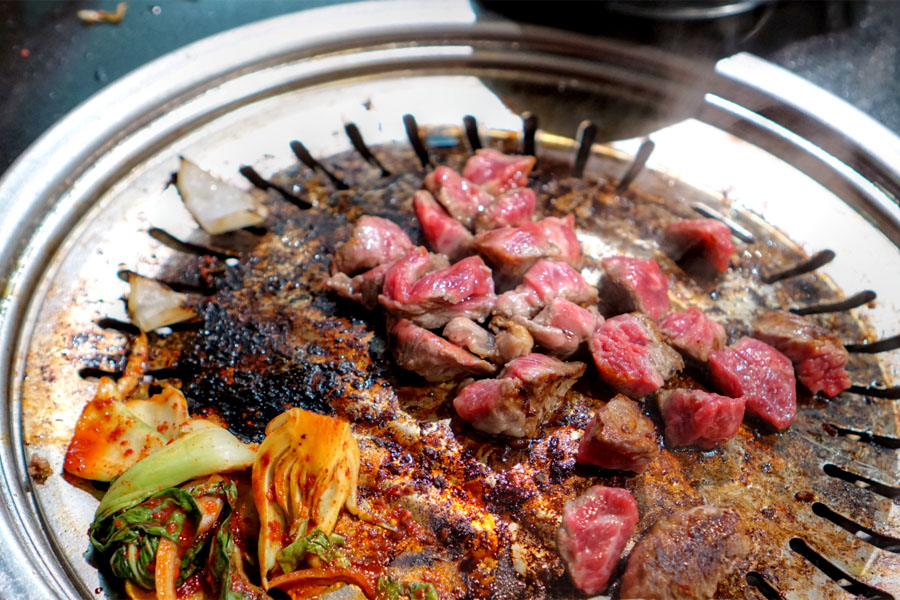 Next up was the
jumulleok
, or marinated boneless beef short rib. These were tender little morsels, beefy sure, but also with delectable flavors of sesame oil.
The potato salad was a tad sweeter than I would've liked.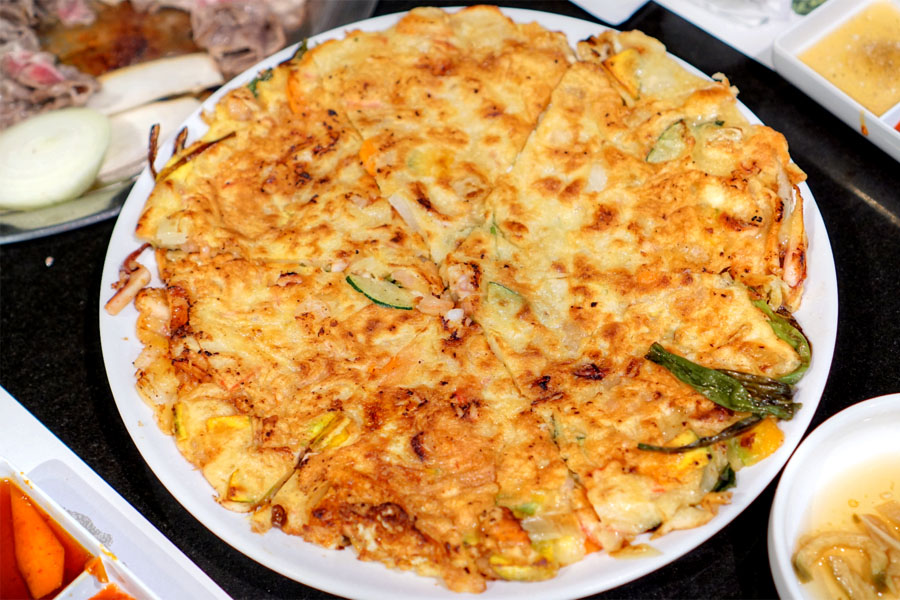 Haemul Pajeon [$16.99]
| Korean style pancake made with squid, shrimp, and green onion
Haemul pajeon
is one of my standbys. Ong Ga Nae's had a nice batter and green onion component, though I wanted more of the actual seafood.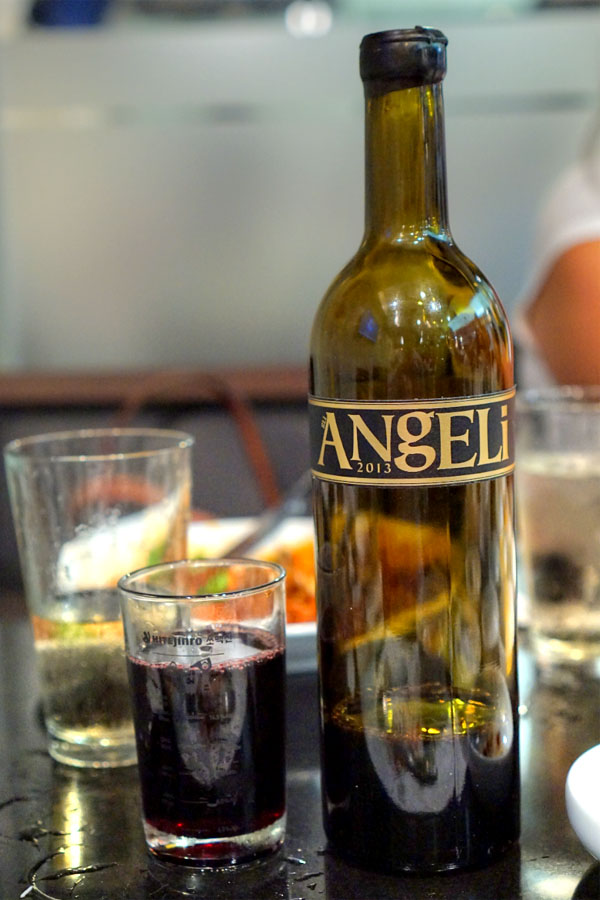 We moved back to wine with the
2013 Stolpman Angeli
, a Syrah from California's Central Coast. Highly aromatic nose loaded with rich berries and flowers. Palate brought more of that dark fruit, along with pepper and a subtle herbal tinge.
Gamjajeon
was almost gelatinous, with some nice browning going on.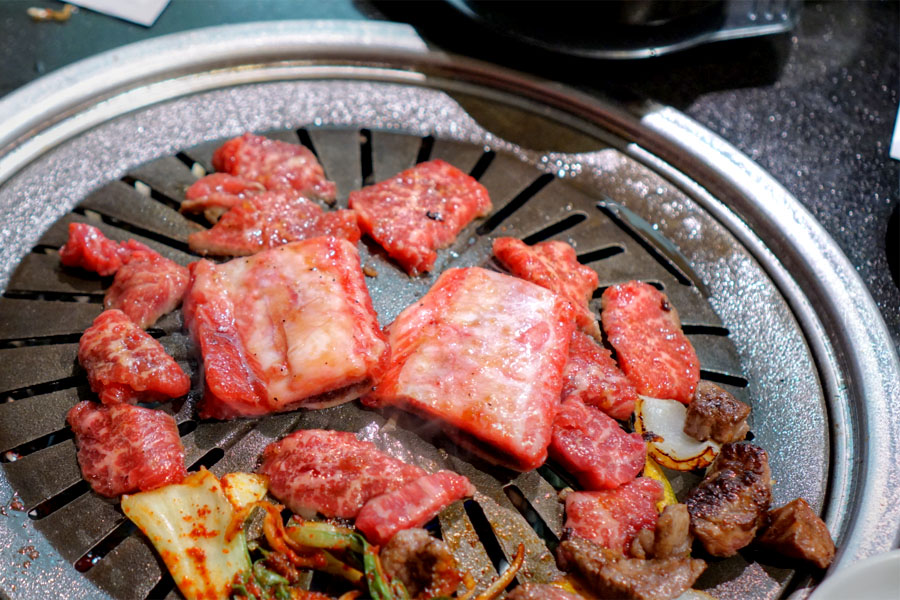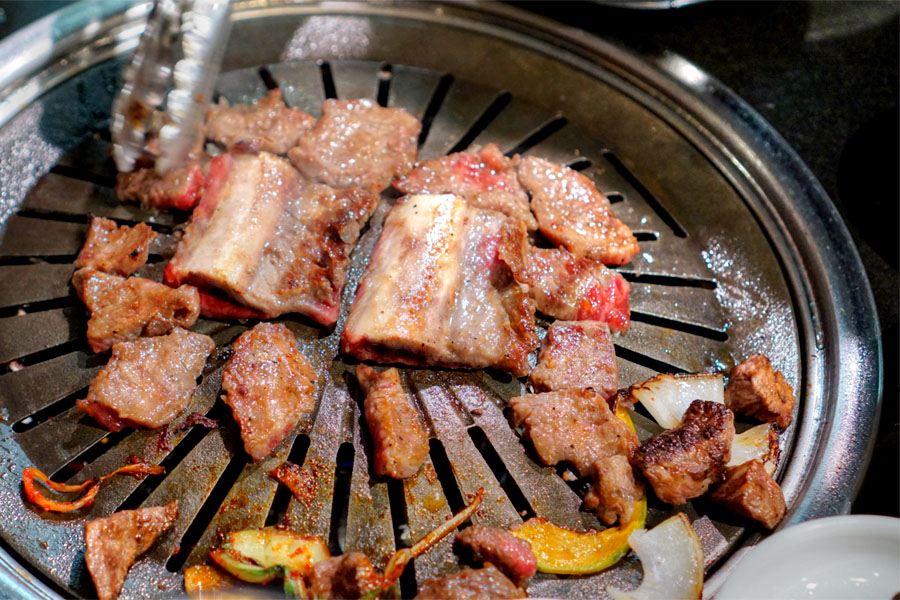 The
saeng galbi
was properly tender, though I found it on the sweet side for
non-marinated
beef short ribs. Still tasty though.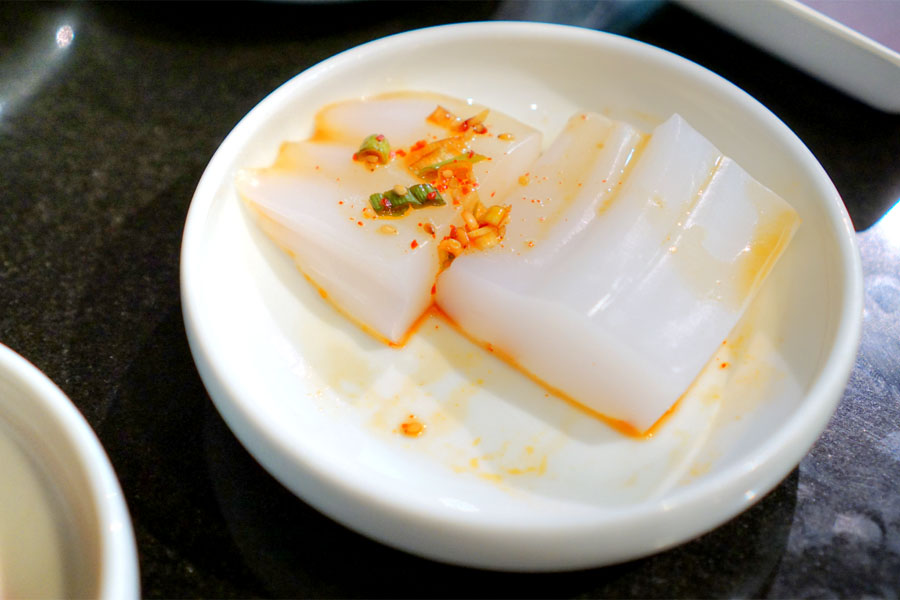 Jelly-like
nokdumuk
(made from mung bean) was dressed with a spicy chili oil condiment.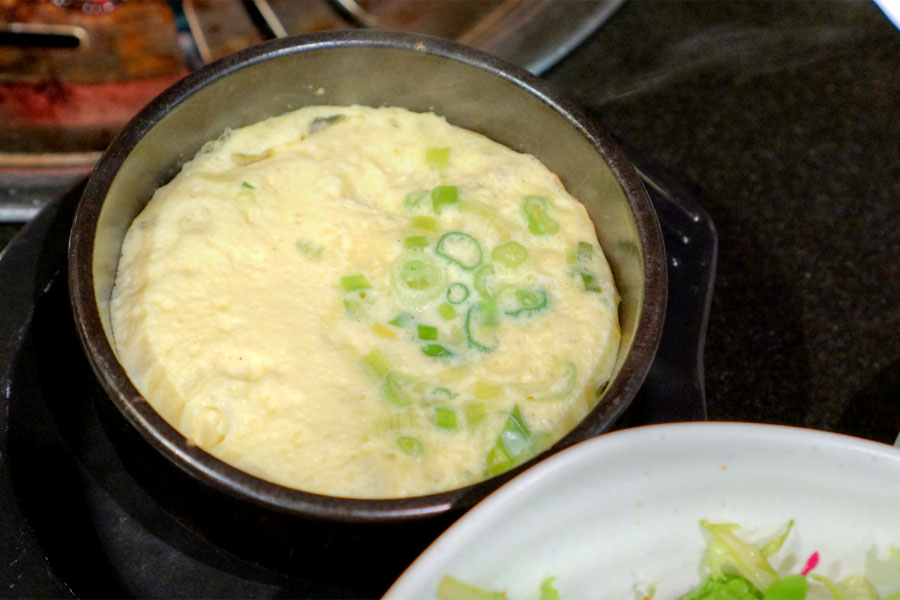 The
gyeran jjim
was a prime example: fluffy and light, but with a deep savoriness.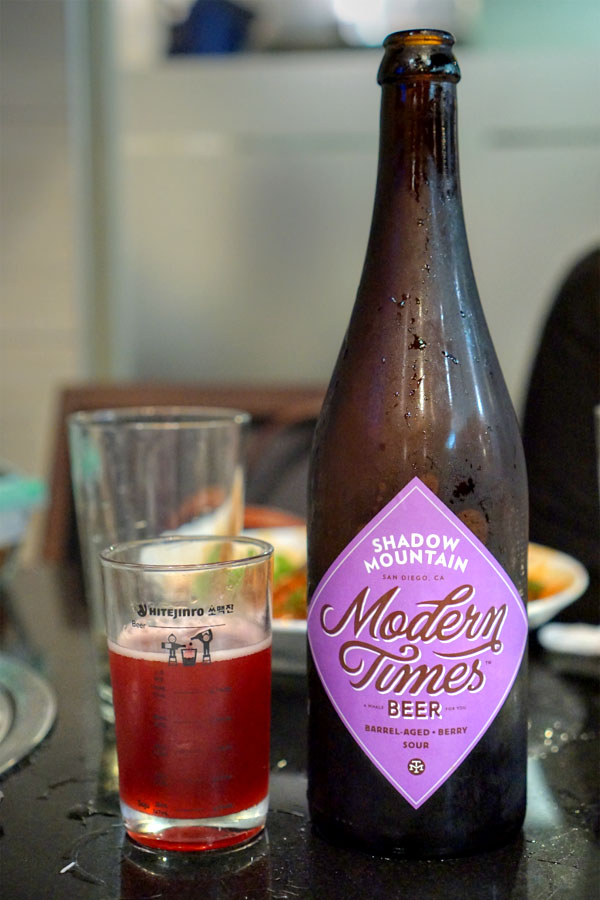 My favorite beer of the night was the
2016 Modern Times Shadow Mountain
, a red wine barrel-aged saison with boysenberries. The nose was super aromatic, brimming with fruit, while the palate went uber floral, but with countering notes of tartness and yeast to round things out.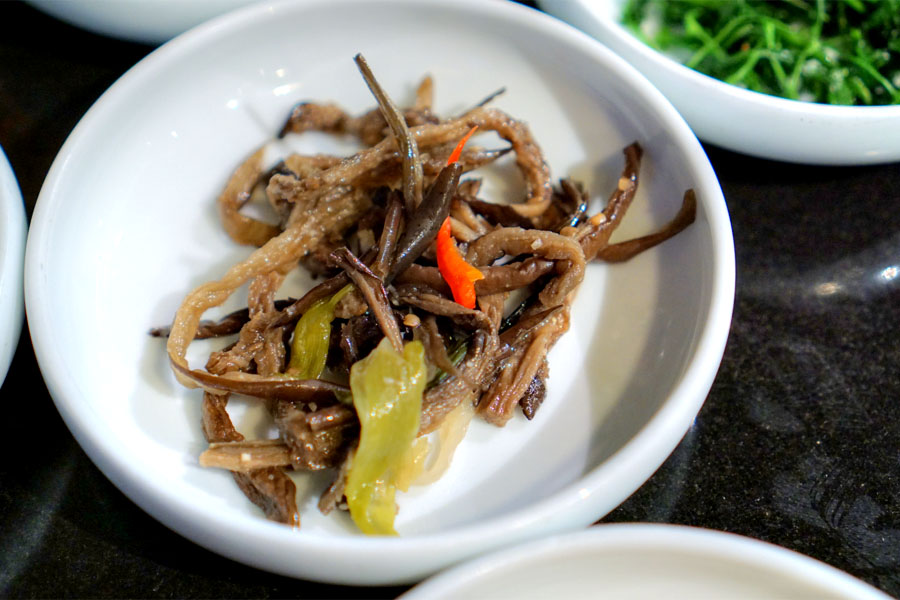 Gosari namul
(bracken fern) was mild, vegetal, with a slight crunch to it.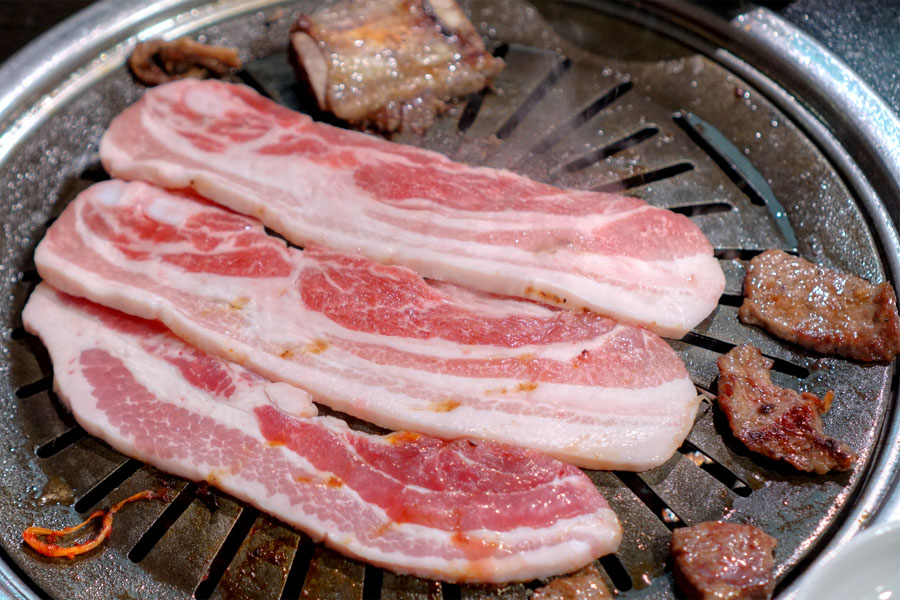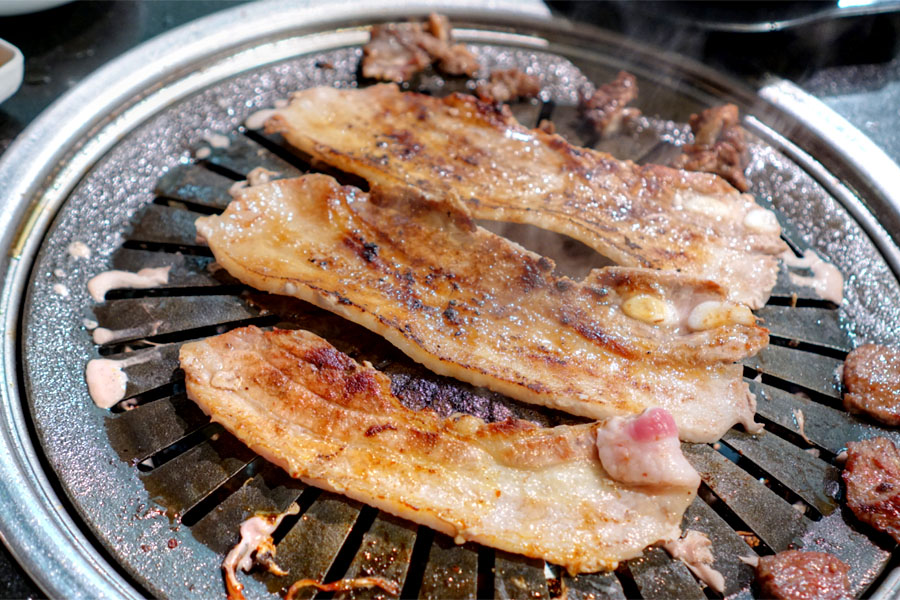 No complaints about the
samgyeopsal
(pork belly), a crispy, unabashedly porky presentation with a good balance of fat and lean.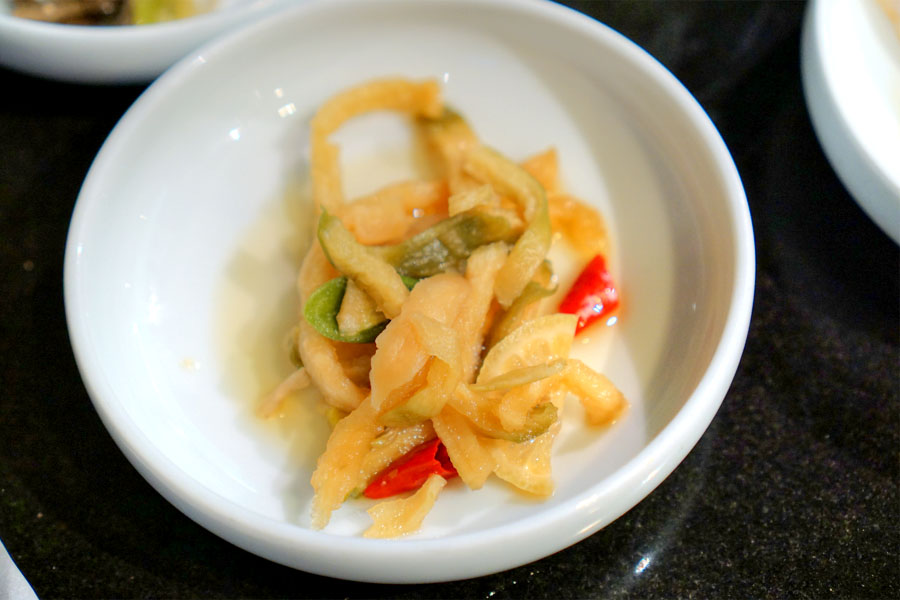 A type of
jangajji
pickle had a superb crunch to it, along with just a smidge of sweetness.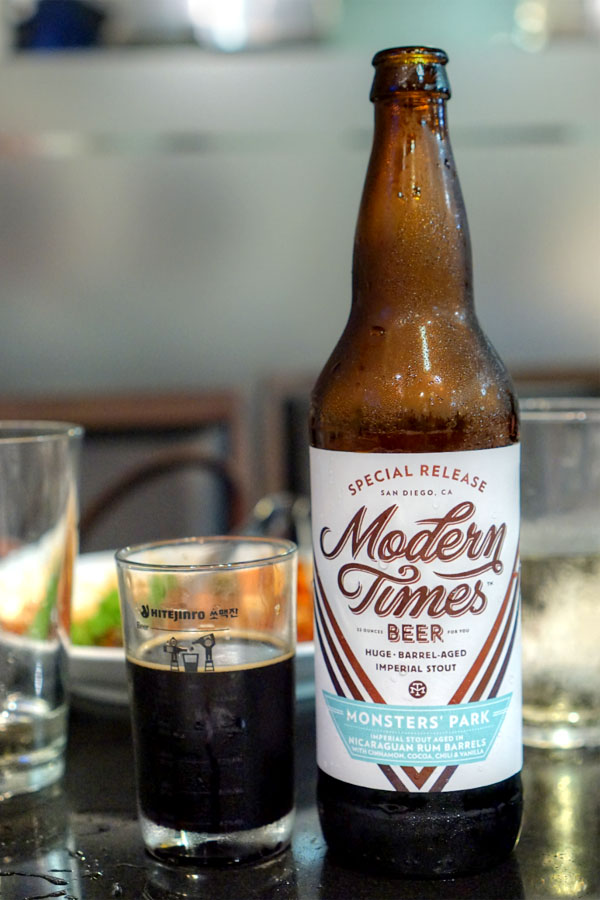 Our final bottle was the
2016 Modern Times Monsters' Park Aged in Nicaraguan Rum Barrels - Mexican Hot Chocolate Edition
, an imperial stout with cinnamon, cocoa, chili, and vanilla. Not surprisingly, this one smelled of warm, aromatic spice. The taste showcased more of the beer's malt character, along with dark fruit and more of that sweet spice toward the rear.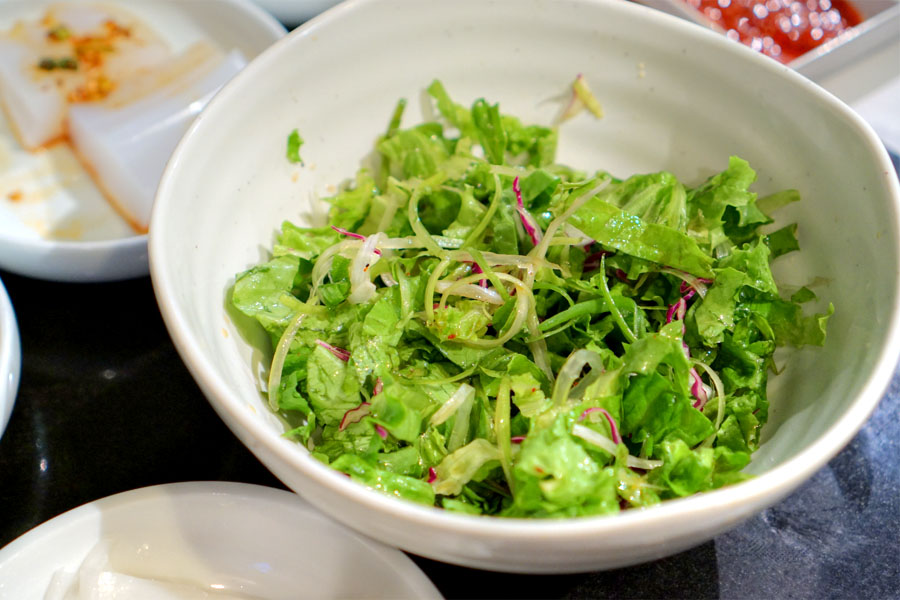 The requisite salad to go with your
gogi gui
.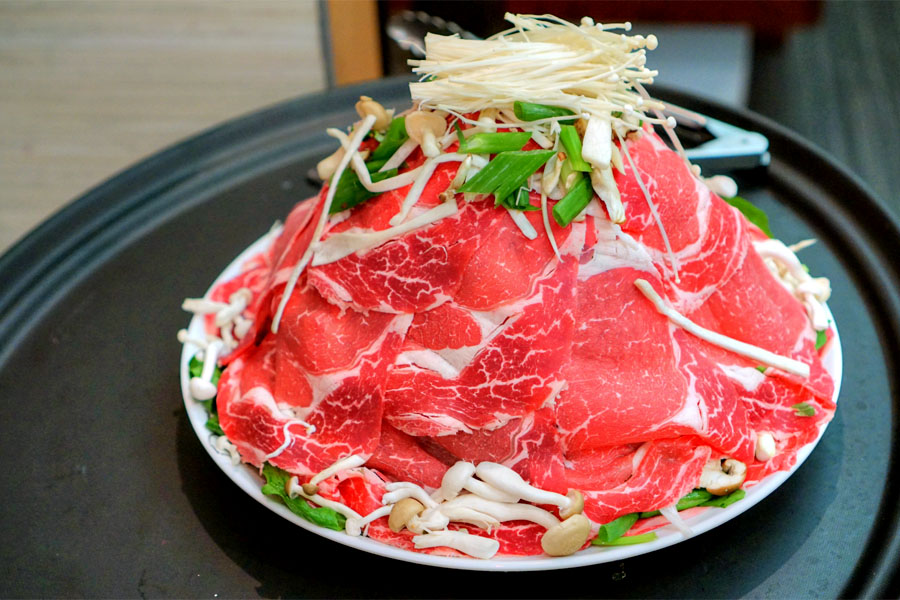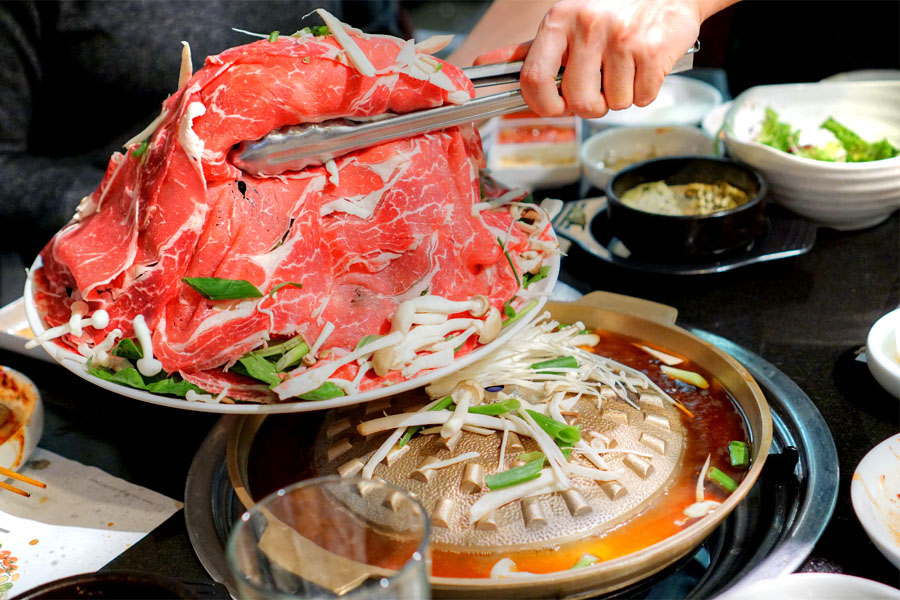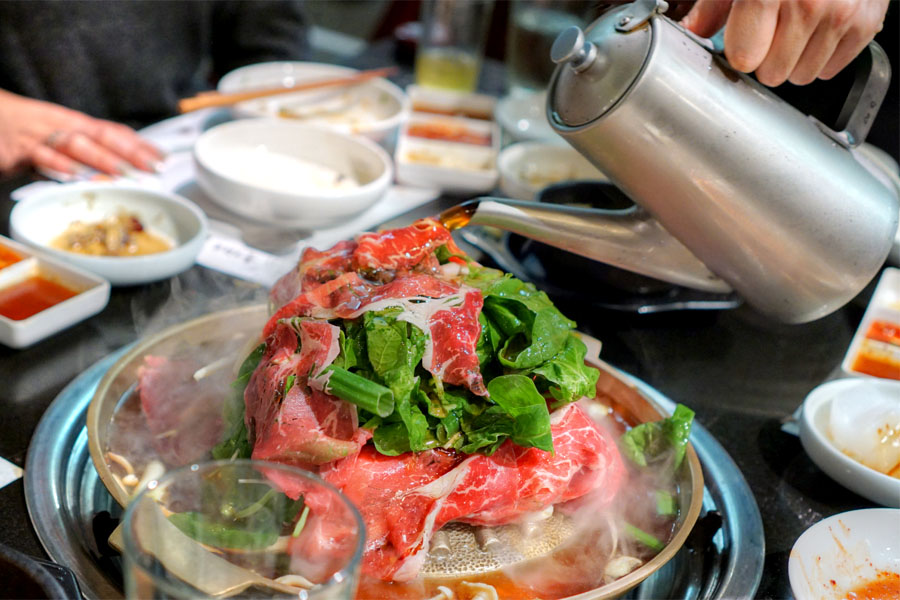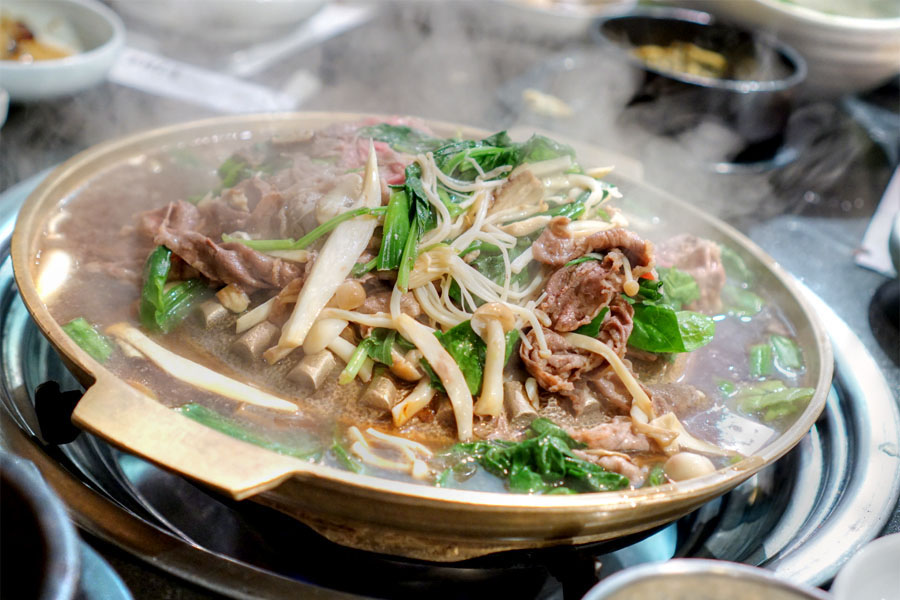 Seng Bulgogi [$28.99 x 2]
| Grilled thin slices of tender beef with mushroom and vegetable
We felt compelled to end with Ong Ga Nae's signature
saeng bulgogi
, an unmarinated preparation served with veggies and mushrooms and cooked in a sweet broth. I'd never had bulgogi done this way before, but thoroughly enjoyed it. The meat itself I found tender, robust, rich, well-contrasted by the bitterness of the greens while the broth imparted your classic sweet-savory flavors.
Ong Ga Nae made for yet another successful K-town KBBQ outing. The restaurant's main selection of meats certainly delivered, though I'd say that you should come here more for that
saeng bulgogi
, which really is something you don't see often at all.
---
Following dinner, we stopped by
B.S. Taqueria
for dessert and
ee-cha
before heading out to Seven Grand across the street.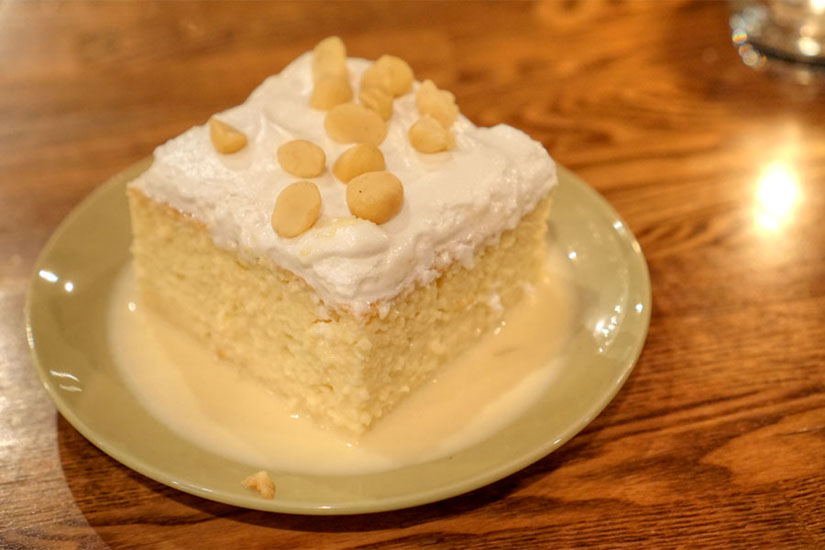 Tres Leches Cake [$8.00]
| Brown Sugar Meringue, Macadamia Nut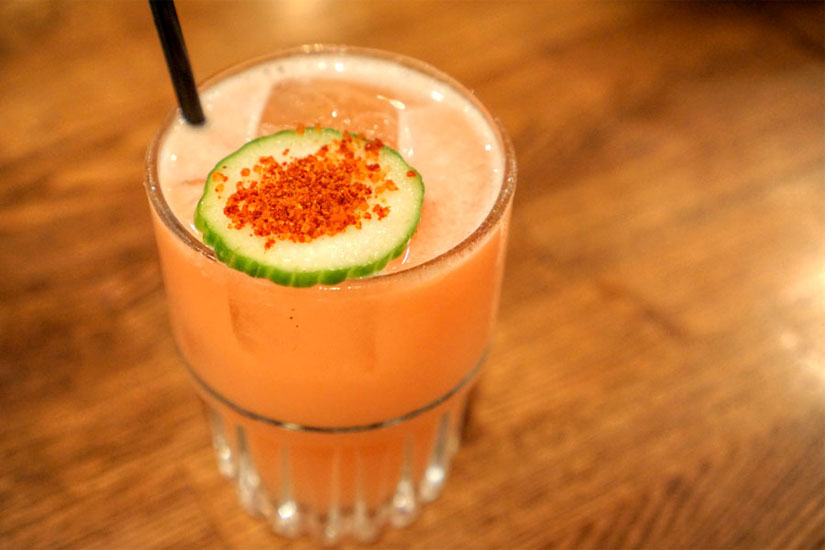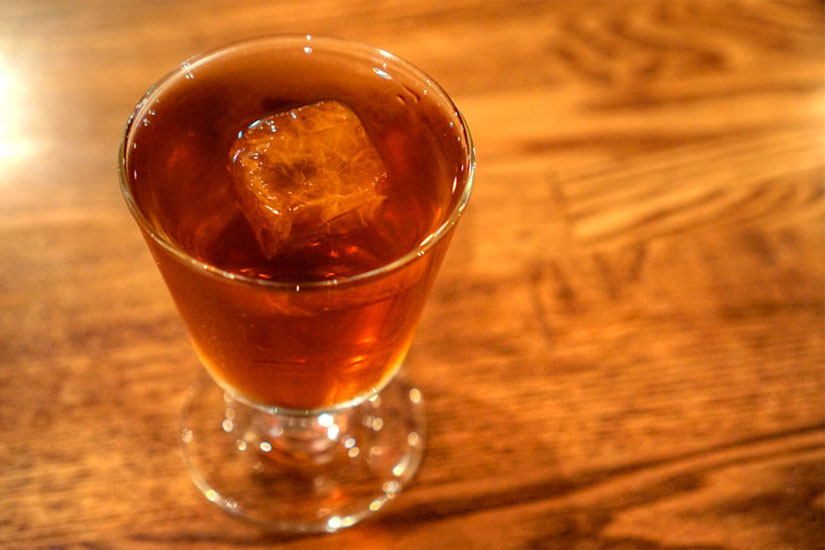 Broken Burro [$12.00]
| Mezcal, Guava, Cucumber, Ginger
De Effe [$13.00]
| Mezcal, Carpano Antica, Ancho Reyes, Cafe Lolita, Habanero Bitters