Sawyer (Los Angeles, CA)
Sawyer Restaurant
3709 Sunset Blvd, Silver Lake, CA 90026
323.641.3709
www.sawyerlosangeles.com
Thu 10/13/2016, 07:35p-10:10p

Beau Laughlin is back. After shuttering the ambitious
Fifty Seven
in September 2014, the man behind Cardiff Giant had wanted to take over the longstanding
Joe's
in Venice. However, those plans fizzled out (Joe's is now in the hands of
Evan Funke
), and he instead focused his efforts on revamping the old Naya in Silverlake with partners Brett Cranston (from Cardiff) and beverage branding vet John "Jay" Milliken, splitting the building into three separate business. The first concept to debut was Sawyer, which bowed at the end of May.
The restaurant opened with Executive Chef Alex McWilliams at the helm, a former private chef who'd previously cooked in Brooklyn (Chió, Royal's Downtown), DC (Wagshal's, Ardeo + Bardeo), Connecticut (The Dressing Room), the Pacific Northwest, and Manhattan (Zoe, Craft, La Reserve). However, he ended up leaving Sawyer around the start of July (apparently due to medical issues), and has been replaced by none other than Sydney Hunter, whom I last saw over at
Petit Trois
. Hunter also happens to be the Chef over at sister restaurant Kettle Black next door. And speaking of departures, opening GM Dario Dell'Anno (Rare by Drai's, Marina Bay Sands,
Wood & Vine
,
Providence
,
Bastide
) also parted ways recently.


Situated next to
El Condor
and catty-corner to
Cliff's Edge
, the site formerly held Indian eatery Naya, and before that, Tantra, another Indian joint. Laughlin has divided the 6,000 square-foot structure into three distinct concepts: Sawyer, Clover Juice, and Kettle Black. From what I understand, Sawyer occupies 2,400 square-feet, and was largely penned by the partners themselves. It's a cozy, warm space, with a couple high tables and a long banquette set along an exposed brick wall (look closely and see the outlines of the old
Spacecraft-designed arches
from the Naya lounge days). My guess is that many patrons prefer the patio out back though, with its abundant greenery and fireplace. Total seating is about 90.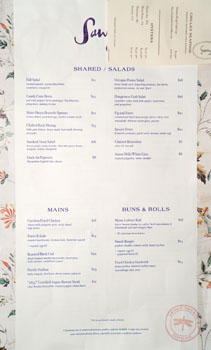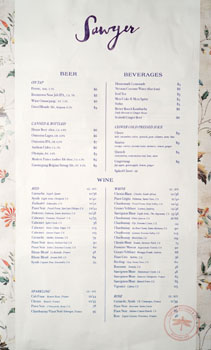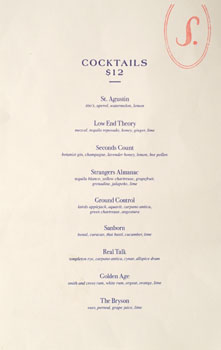 Sawyer offers up a seafood-heavy, new American menu that fits the casual vibe of the place. Drink-wise, Dell'Anno assembled an Old World-leaning wine list before he left, and you also get four beers on tap and a few more crafty options in cans/bottles. In terms of cocktails, Devon Espinosa (whom we last saw at
The Church Key
, and who's currently working on Woodley Proper with
Phillip Lee
and Luke Reyes) put together the initial list, though from what I understand, he's no longer actively involved with the restaurant. Corkage was advertised at $15 a pop, but was kindly waiver by our server this evening (we made sure to share with him). Click for larger versions.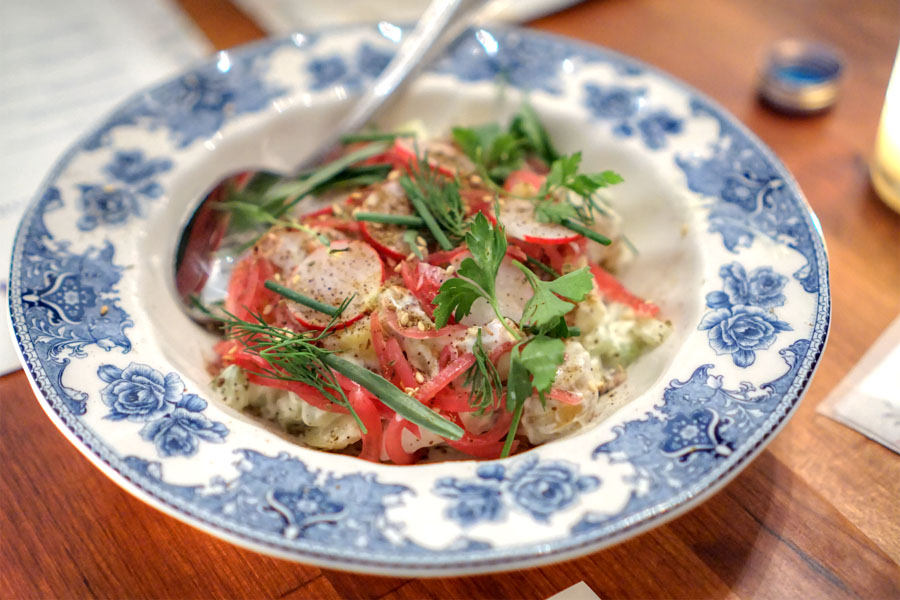 Octopus Potato Salad [$16.00]
| house made aioli, fingerling potatoes, fine herbs, pickled red onion, Za'atar spice
I'm quite the potato salad fiend and octopus enthusiast, so our first dish was a no-brainer. The octo I found tender, meaty to the bite, with a slight brine that meshed well with the potatoes and overall piquancy and acidity of the dish. I just would've liked more of it.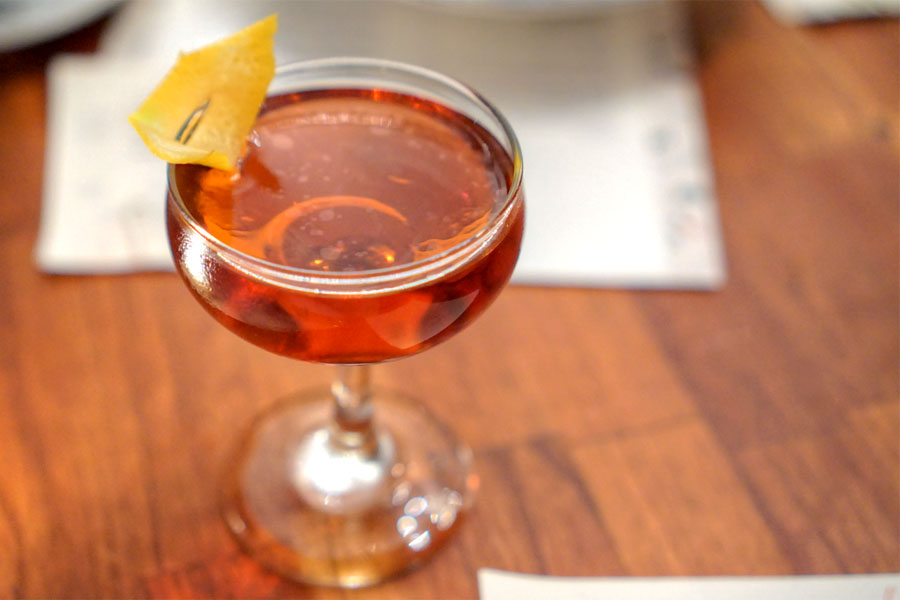 Ground Control [$12.00]
| lairds applejack, aquavit, carpano antica, green chartreuse, angostura
We made sure to give the cocktails a go as well of course. Our first went bittersweet at first blush, with plenty of herbal, spicy aromatics and a trace of fruitiness from the applejack peeking through.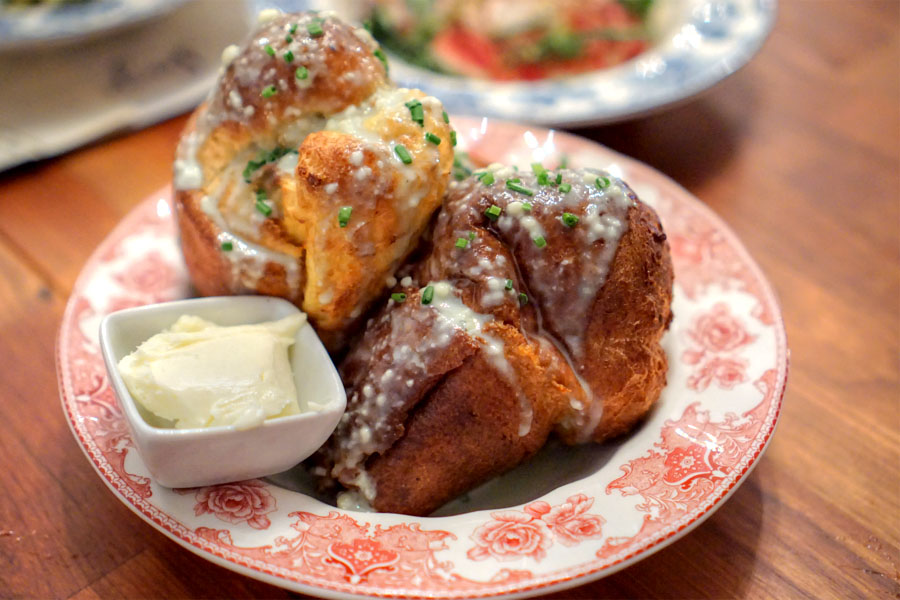 Duck-fat Popovers [$8.00]
| Shropshire English blue cheese
Popovers were creamy on the inside, yet crusty, and their eggy flavors made sense with the salty tang of the bleu.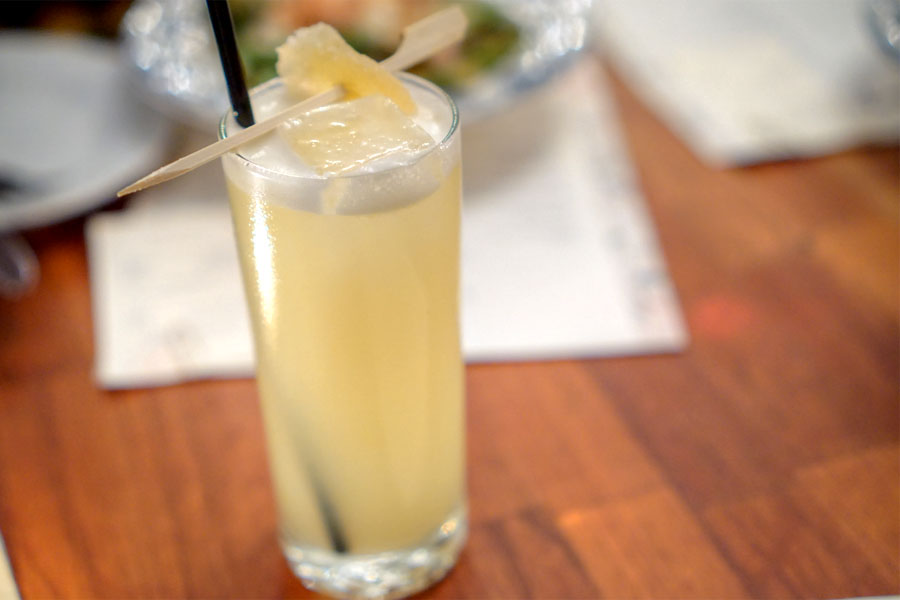 Low End Theory [$12.00]
| mezcal, tequila reposado, honey, ginger, lime
The requisite agave cocktail was indeed smoky initially, but then had the super zesty, bracing nature of ginger kick in, with just a trace of tempering honey for good measure.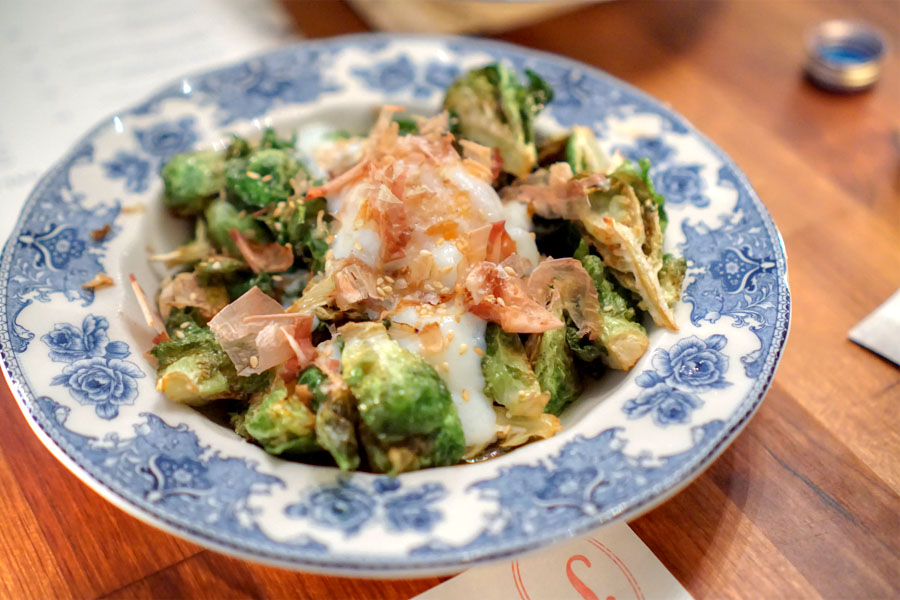 Shiro Shoyu Brussels Sprouts [$12.00]
| bonito flakes, poached egg, toasted sesame seeds
Brussels had a great bite to 'em. Taste-wise, I got plenty of bitterness, which married beautifully with the enveloping smokiness from the
katsuobushi
and the strong umami notes from the soy.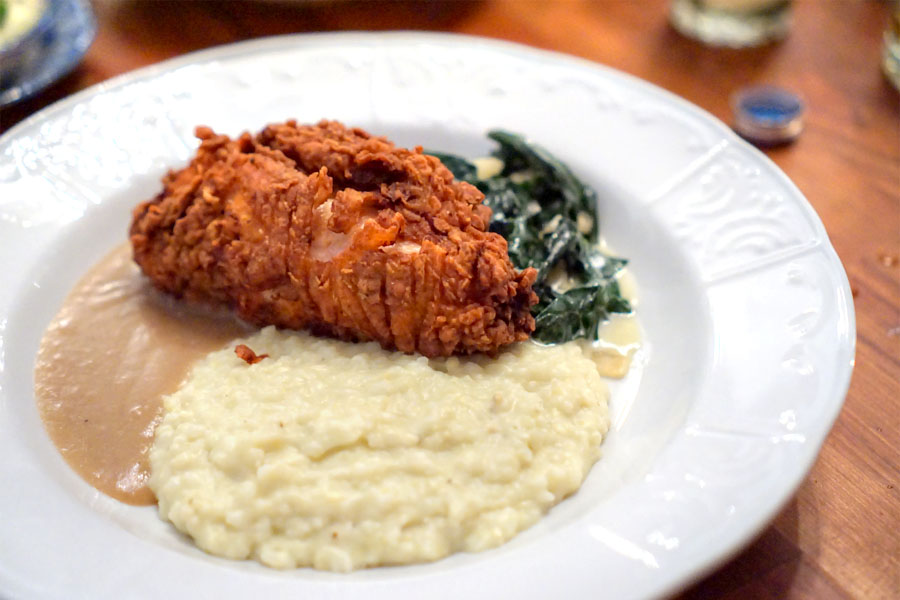 Carolina Fried Chicken [$16.00]
| Anson Mills jalapeño grits, swiss chard, sage gravy
The fried chicken came out super juicy, tender, with extra crispy skin and some lovely spicing to it. The bird matched perfectly with the earthiness of the chard, and the heat on the grits was spot on to boot.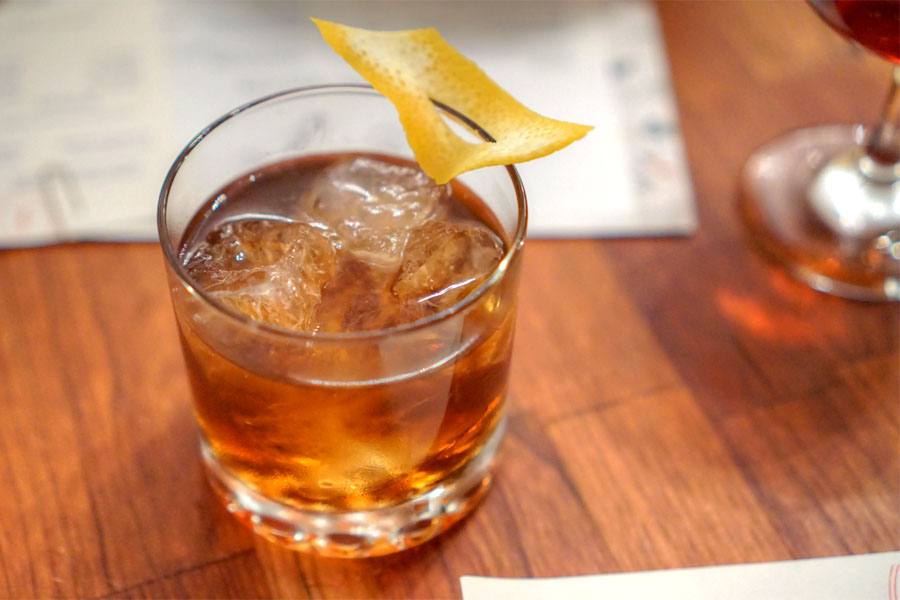 Real Talk [$12.00]
| templeton rye, carpano antica, cynar, allspice dram
I detected a lot of sweet, almost candied nuances in this next cocktail, both in terms of aroma and taste. On the palate though, it was balanced by a vegetal sort of bitterness, I'm assuming from the Cynar.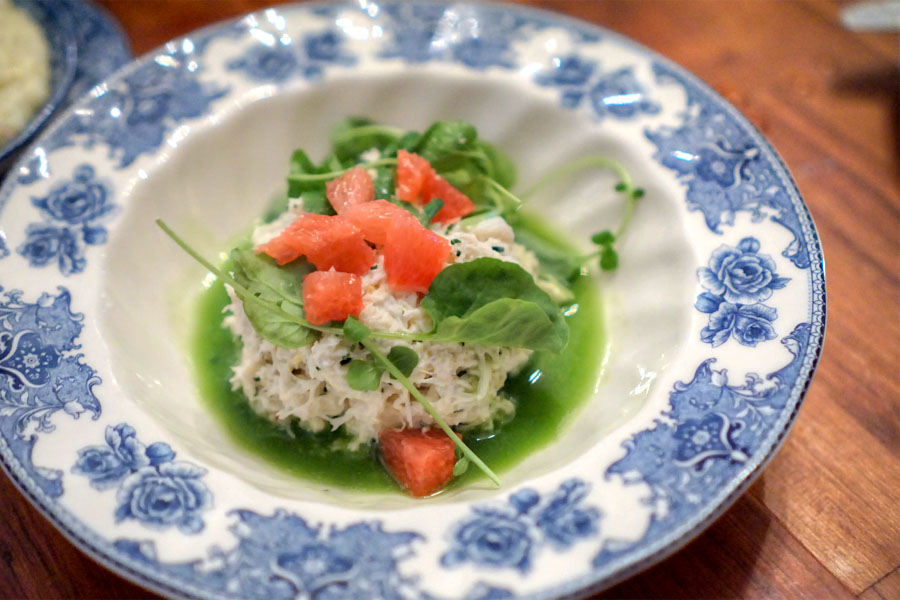 Dungeness Crab Salad [$16.00]
| cucumber water, pink lady apples, watercress, pink grapefruit
Dungeness arrived briny and especially sweet, but also well-moderated by the bright, refreshing flavors of cucumber and the punch of acidity from the citrus.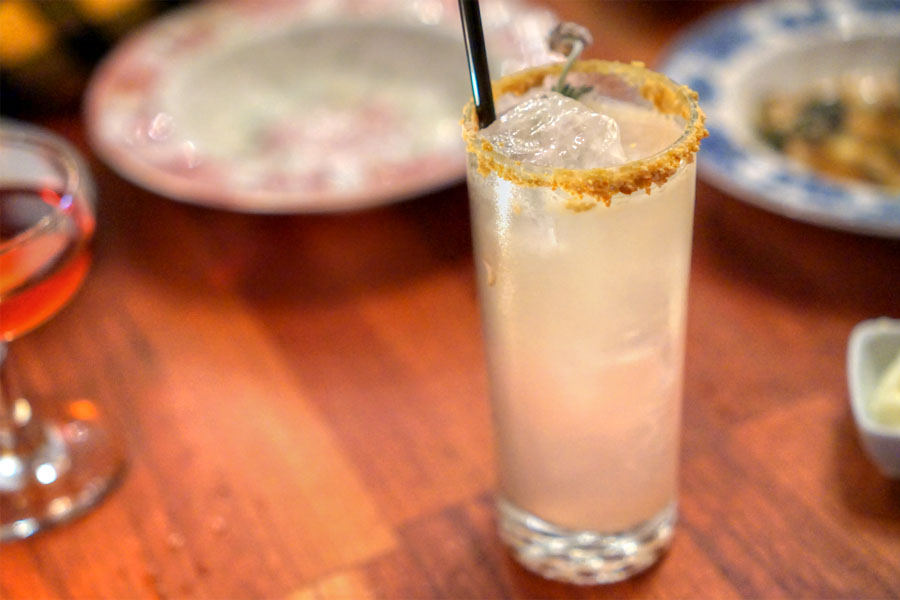 Seconds Count [$12.00]
| botanist gin, champagne, lavender honey, lemon, bee pollen
This was definitely on the lighter, breezier side, with its floral bent, acidity, and subtly sweet honeyed flavors going down easy.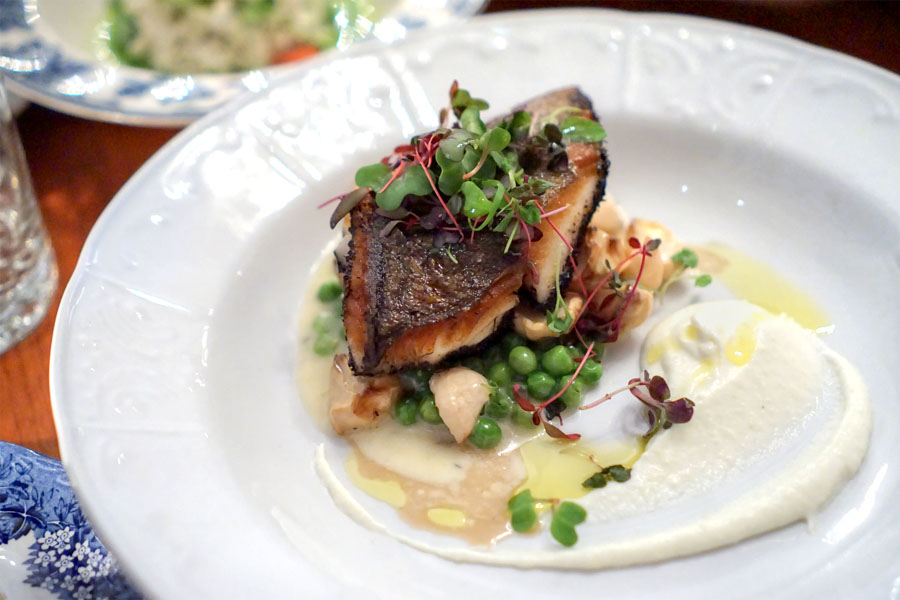 Roasted Black Cod [$22.00]
| black trumpet mushroom powder, sweet peas, baby turnips, cauliflower puree
The cod delivered with its crisp skin and soft, flaky flesh, while turnips made for a wonderfully bitter textural element. Nice brightness from the peas too, which really helped lift the dish.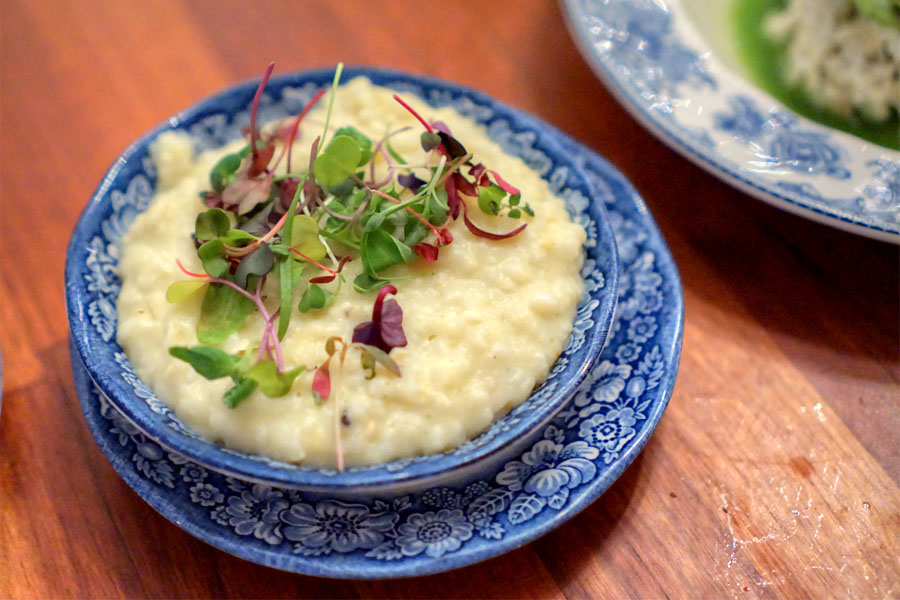 Anson Mills White Grits [$6.00]
| roasted jalapeños, white cheddar
An extra serving of the spicy grits from the chicken above.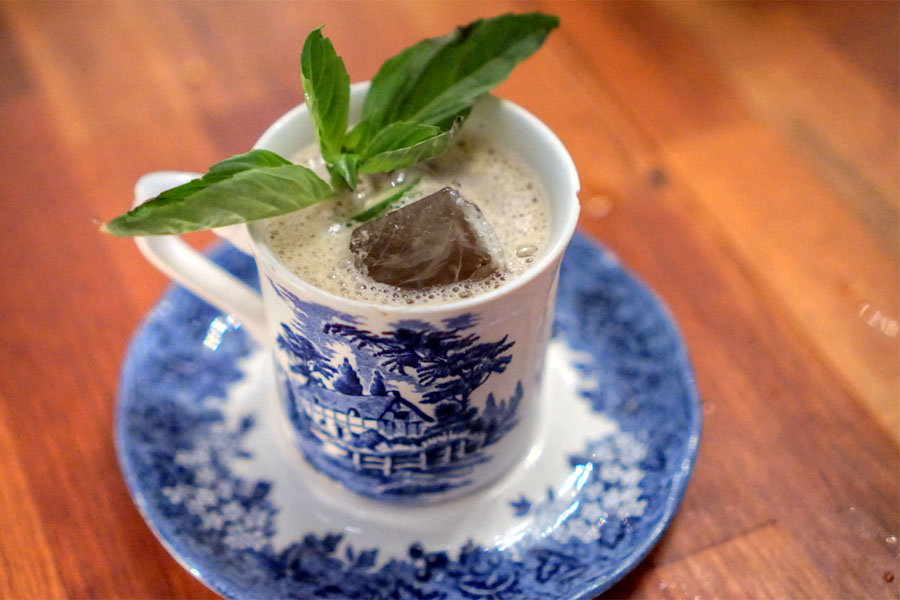 Sanborn [$12.00]
| bonal, curacao, thai basil, cucumber, lime
This was one of my favorites, a softly sweet, softly spicy cocktail deftly perked up by Thai basil and a touch of sour lime.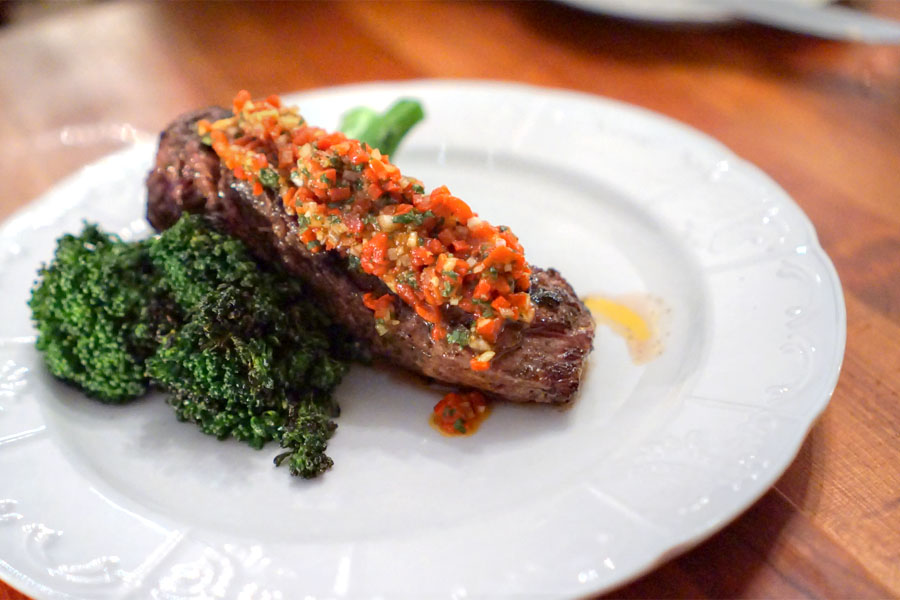 "1855" Certified Angus Bavette Steak [$21.00]
| char-broiled broccolini, roasted pepper chimichurri
Flank steak was more tender than expected, and rather flavorful to boot. The zippy salsa on top was a fitting match, as were those bitter, smoky greens.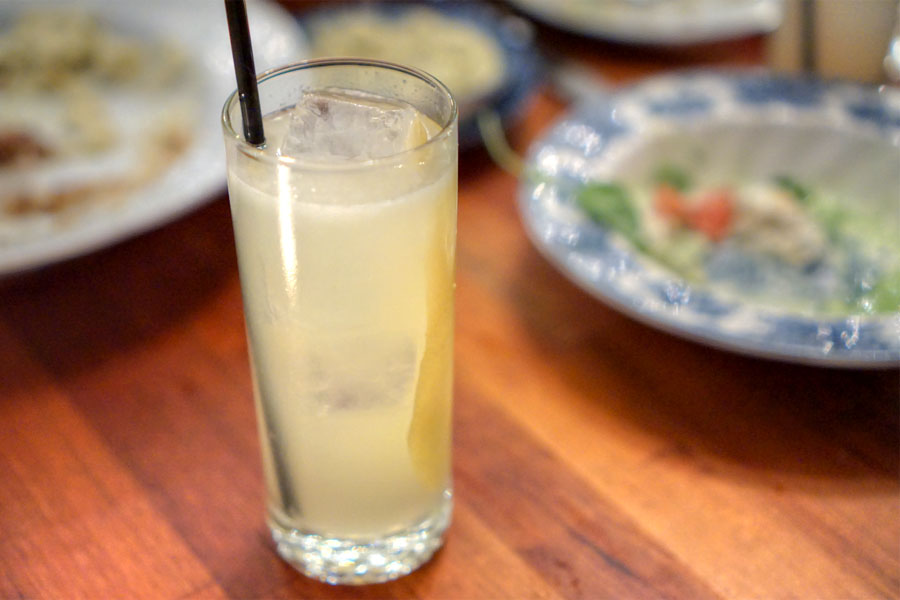 Strangers Almanac [$12.00]
| tequila blanco, yellow chartreuse, grapefruit, grenadine, jalapeño, lime
I found this one surprisingly boozy, with a strong medicinal, bittersweet character, though I didn't detect much heat from the jalapeño.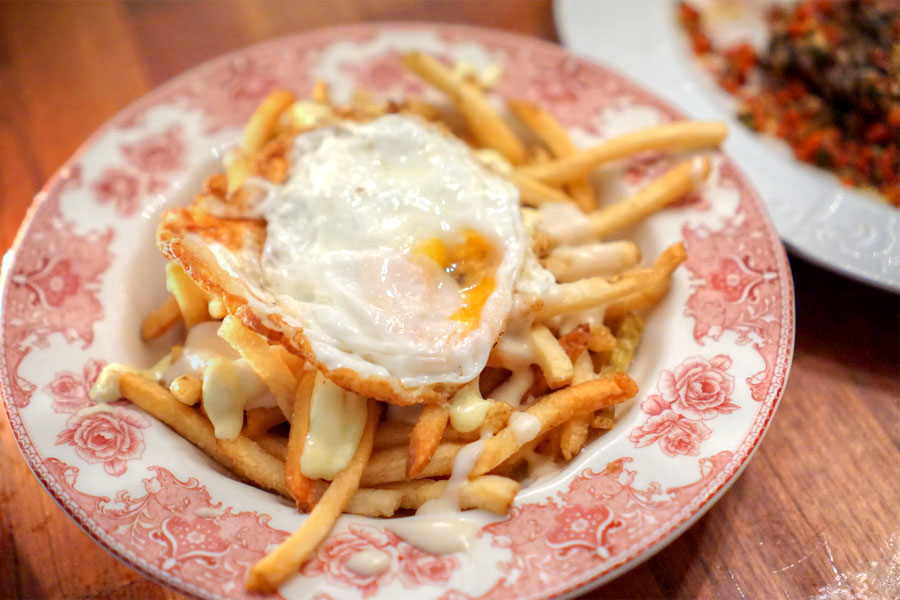 Sawyer Fries [$10.00]
| Kennebec potatoes, garlic aioli, mornay, sunny egg
Fries were on the crispier side, and worked reasonably well with the lushness of the aioli and mornay, but I will say that the egg definitely could've been runnier.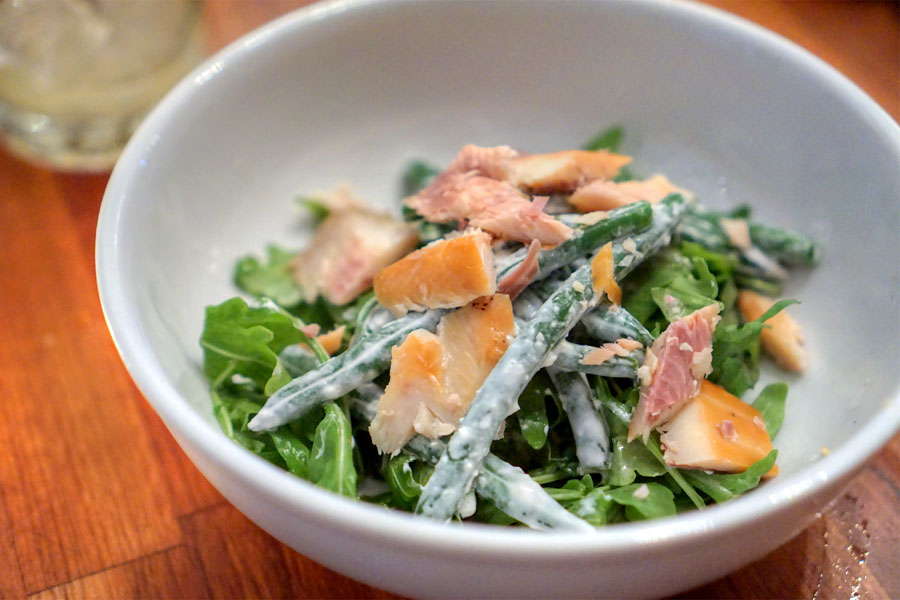 Smoked Trout Salad [$16.00]
| horseradish crème fraiche, blue lake green beans, arugula, lemon vinaigrette
This was an unexpected surprise. I got a lovely smoke from the trout, balanced by the tang of horseradish, while the crunchy lightness of the beans was absolutely key as well.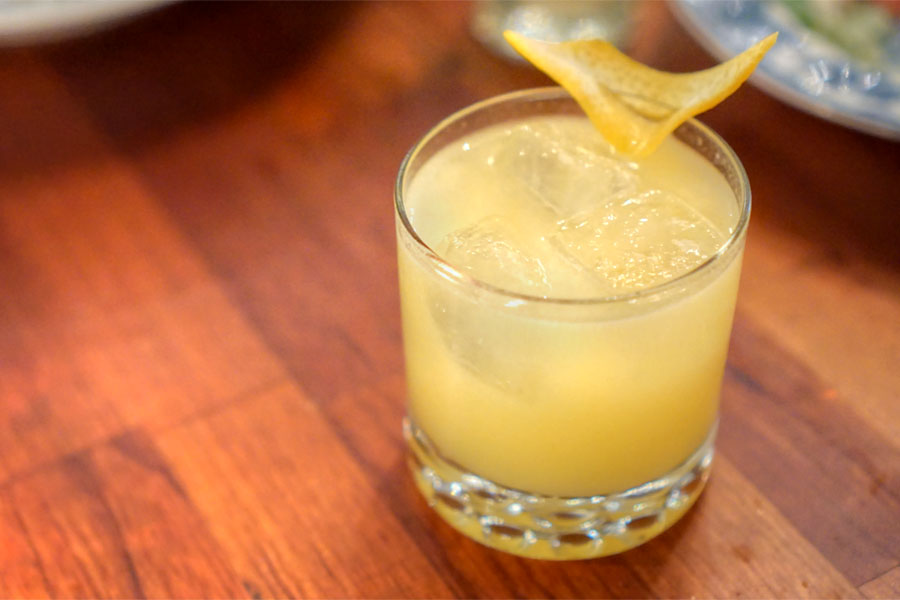 Golden Age [$12.00]
| smith and cross rum, white rum, orgeat, orange, lime
Our final cocktail showcased strong, juicy flavors of citrus on top of a base of rum, with just a trace of sweet spice overarching everything.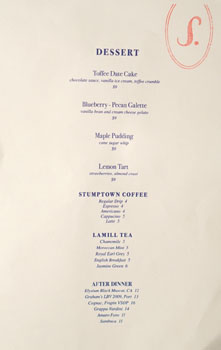 A small selection of desserts to end things. Click for a larger version.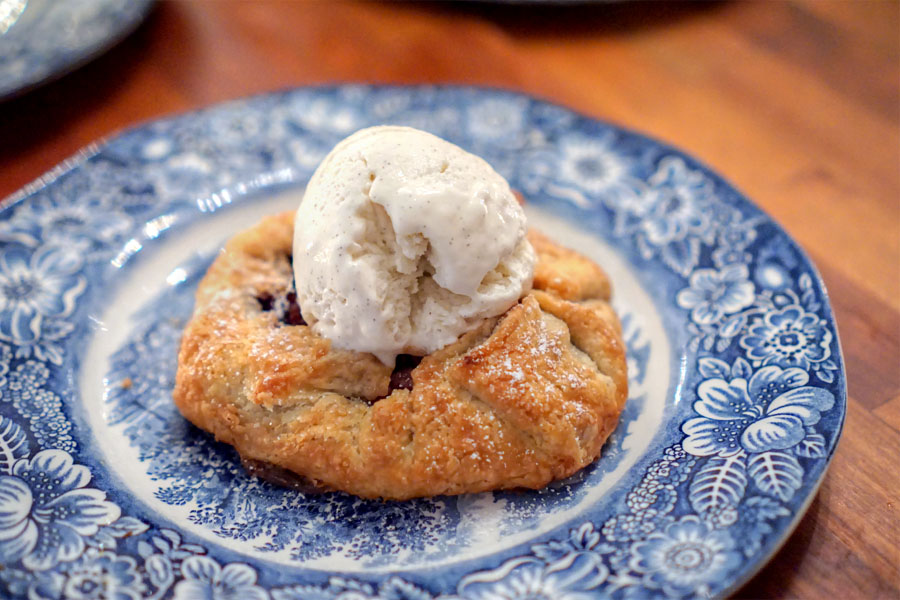 Blueberry - Pecan Galette [$9.00]
| vanilla bean and cream cheese gelato
The galette satisfied with its rich fruit flavors and flaky crust, and I certainly appreciated the counterpoint from the ice cream too. Some great nutty bits in there as well.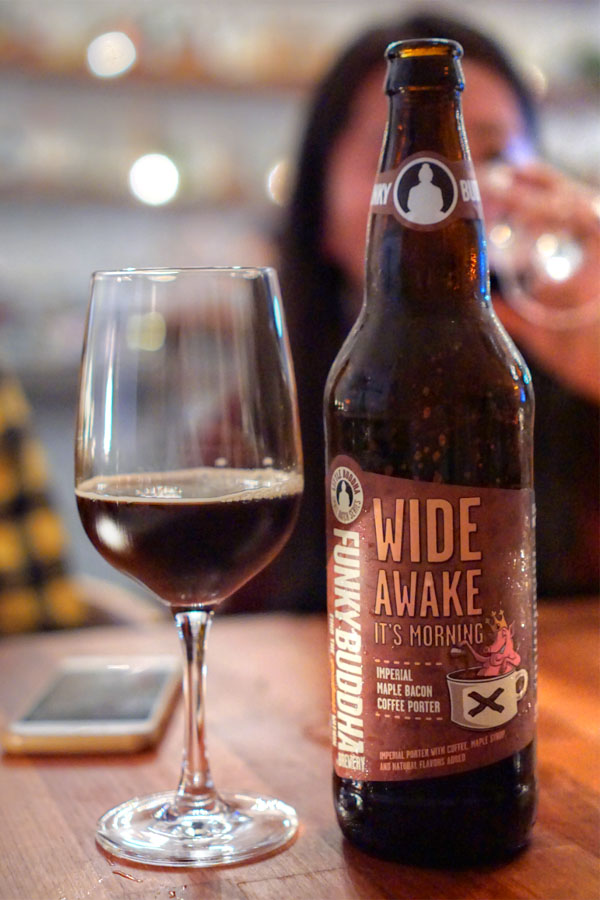 Our dessert beer was the
2016 Funky Buddha Wide Awake It's Morning
, an imperial porter with coffee, maple syrup, and bacon (basically an amped up version of the brewery's well-known
MBCP
). It was breakfast-y to be sure, with bountiful aromas of coffee and intense maple. On the palate I got a bevy of sweet, smoky flavors, with bacon lingering long and strong.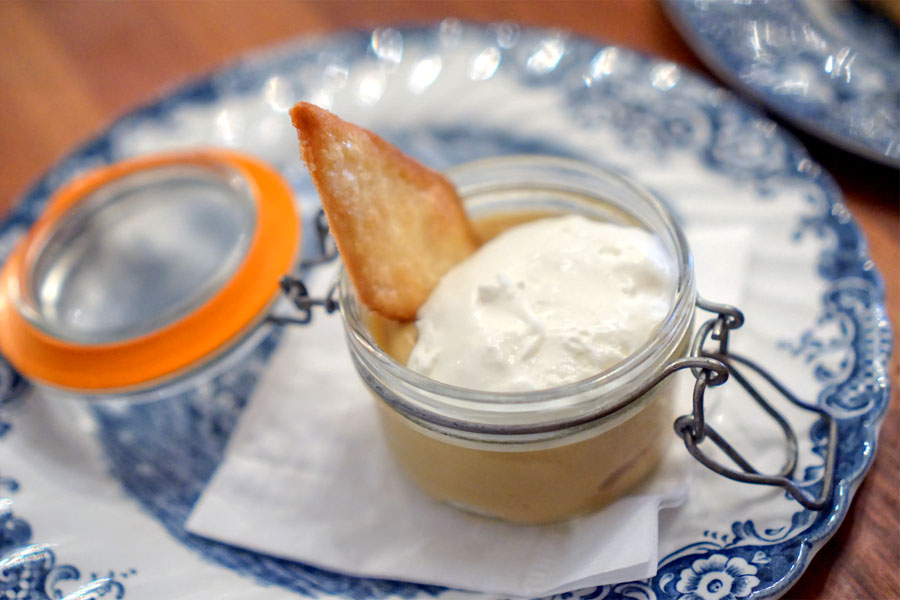 Maple Pudding [$9.00]
| cane sugar whip
The pudding did a nice job conveying the rich, sugary taste of maple syrup, while the whipped cream provided a modicum of lightness. Great with the beer above, unsurprisingly.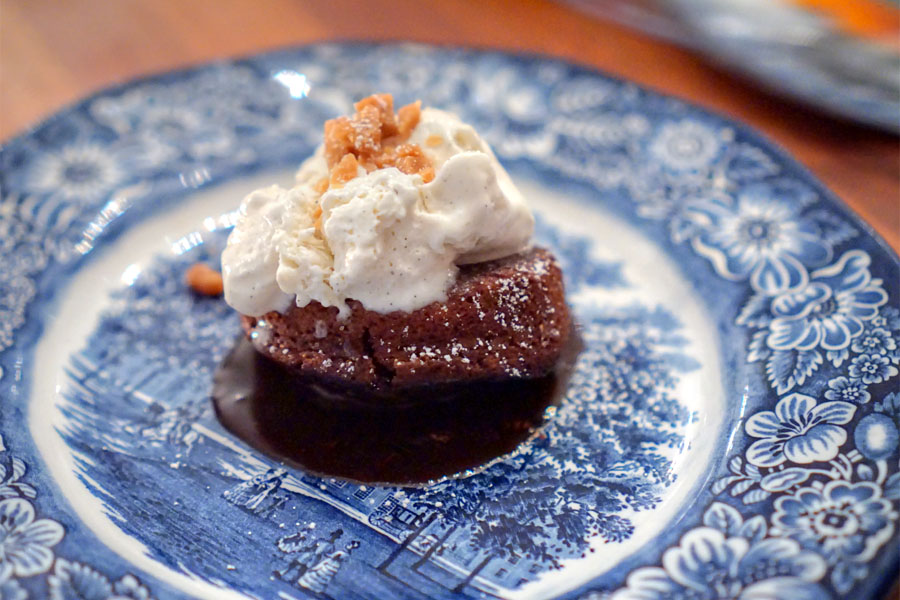 Toffee Date Cake [$9.00]
| chocolate sauce, vanilla ice cream, toffee crumble
This was arguably my favorite of the desserts thanks to its hefty chocolate and dark fruit flavors, all set against a scoop of vanilla. Excellent toffee crunch, too.
Beau Laughlin is back, and with a vengeance it seems. After stumbling with Fifty Seven, it looks like he's doing well with Sawyer. The place makes sense for the neighborhood, and the quasi-seafood-centric menu here is enough of a departure from the norm to keep things interesting. I'll be looking forward to trying Kettle Black next door.