Fritzi Coop (Los Angeles, CA)
Fritzi Coop Arts District
814 Traction Ave, Los Angeles, CA 90013
213.537.0327
www.fritzicoop.com
Sat 02/11/2017, 02:45p-06:10p

It'd been a while since I'd last eaten in the Arts District, and so on this latest visit, we checked out
Neal Fraser
's new fried chicken joint, Fritzi Coop. There have been a number of eateries featuring the Fritzi moniker, so here's a quick summary to get everyone up to speed:
Oct 2012 - Fraser and partner John Moshay open Fritzi Dog, a fancy build-your-own-hotdog place, at the Original Farmers Market.
Apr 2015 - Fritzi Dog pops up at Vibiana as a lunch-only operation, though this residency lasts only a few months.
Dec 2015 - Arts District Brewing opens, with a Fritzi-branded window serving beer-friendly bites.
Jan 2016 - Situated in the same building as ADB (and sharing the same kitchen with the window), Fritzi debuts with a gastropubby menu featuring rotisserie chicken.
Sep 2016 - Fritzi Dog at the Farmers Market turns into Fritzi Coop; Fritzi Dog becomes an event-only operation (though it's apparently still available at the Coliseum).
Feb 2017 - The Arts District's Fritzi morphs into a second Fritzi Coop; the Fritzi window inside Arts District Brewing remains.

Inside, things look about the same as they did in the Fritzi days. There's space for maybe 50 indoors, and around 16 outside (where we sat). Order at the counter, get a number, and your food 'n' drink are brought out to you.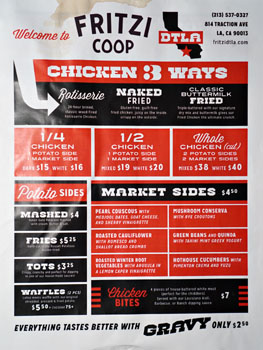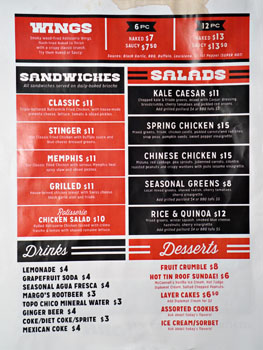 Menu-wise, Fritzi Coop is centered around three types of chicken: the original rotisserie from Fritzi, a "naked fried," and buttermilk fried. The bird is joined by appropriate sides--both classic and new wave--along with sandwiches and salads and such. To drink, you'll find beers from Arts District Brewing, a full (but small) bar, and a range of non-boozy options. Click for larger versions.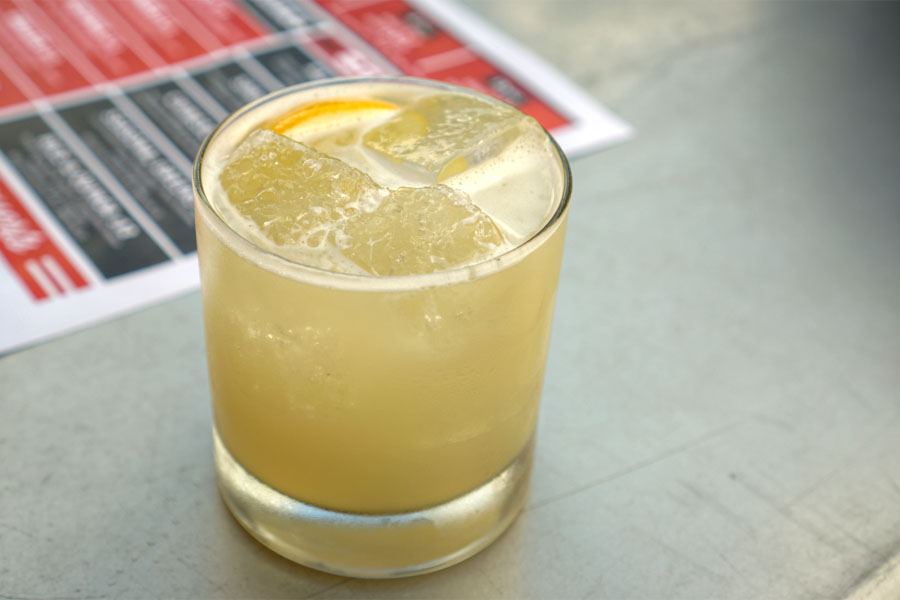 Bee's Knees
We ended up trying most of the cocktail options, and first up to bat was this seemingly Prohibition era-inspired number. It drank light, tart, with a bit of a ginger-herbal bent and a somewhat floral element on the finish.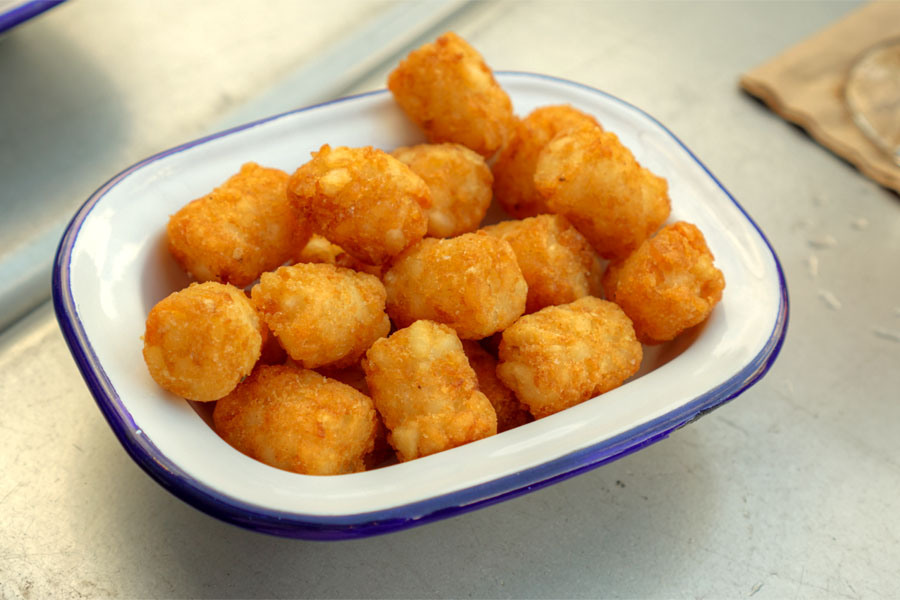 Tots [$3.25]
| Crispy, crunchy and perfect for dipping in one of our house-made sauces!
This fifth grade cafeteria staple of mine hit the spot.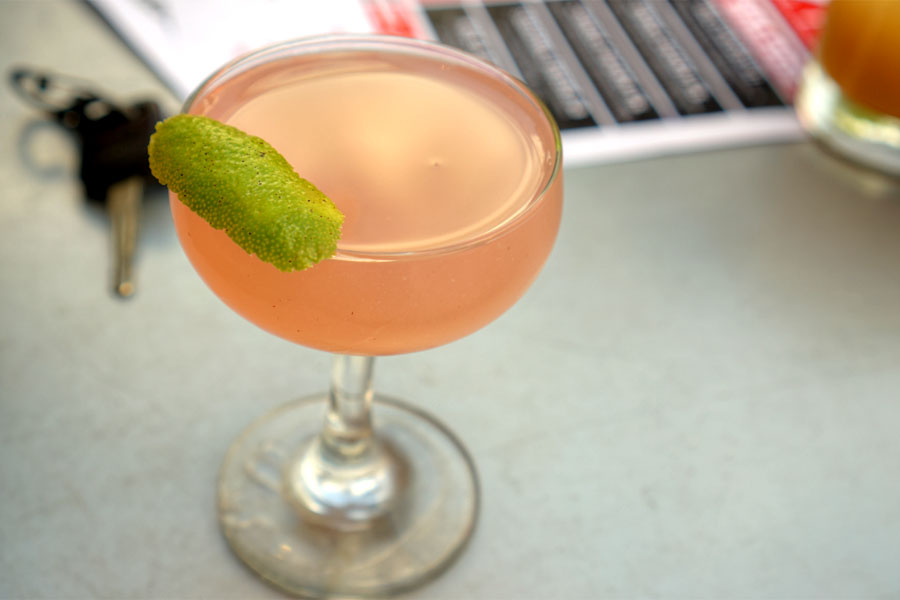 Daiquiri
A take on the classic daiquiri cocktail showed off a puckering, citrusy, almost astringent character and not much booze.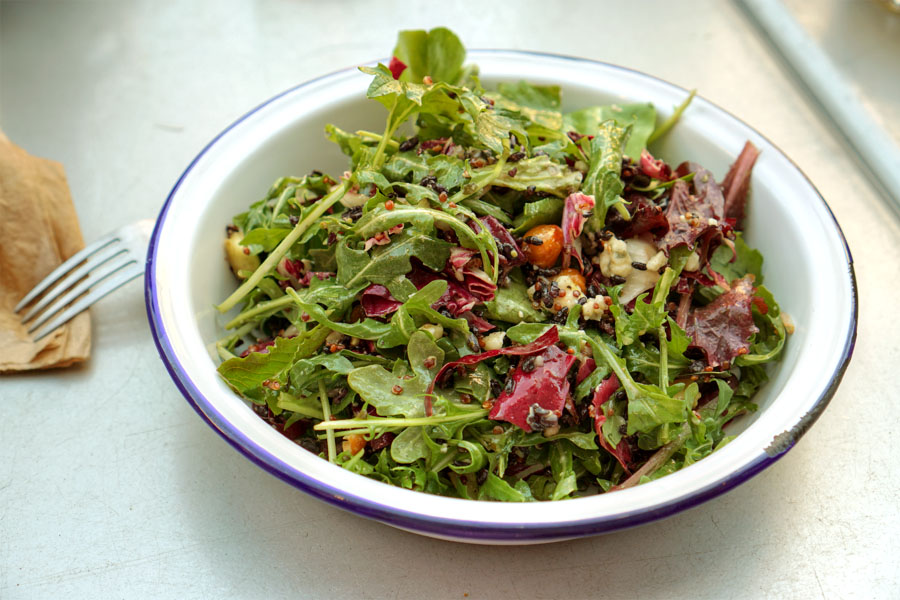 Rice & Quinoa [$12.00]
| Mixed greens, winter squash, smoked blue cheese, hazelnuts, sherry vinaigrette
Our sole salad this afternoon went over pretty well. I got lots of bitterness from the arugula here, paired with the salty, lactic tang of blue cheese and the crunch of hazelnuts, the tart sherry vin tying it all together.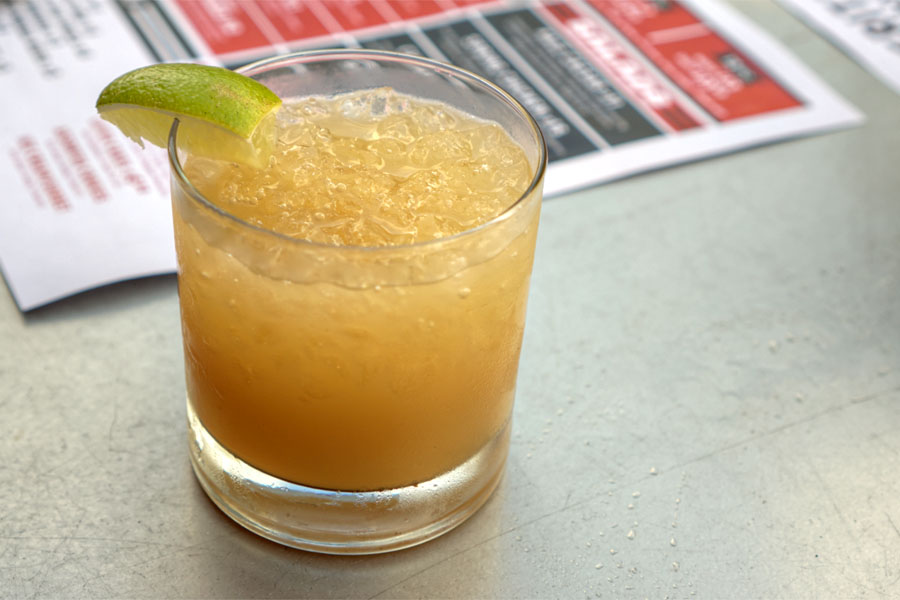 Mai Tai
Our next cocktail was definitely on the viscous side, and also quite boozy and a touch sharp, though the sweetness on the back end certainly helped even things out.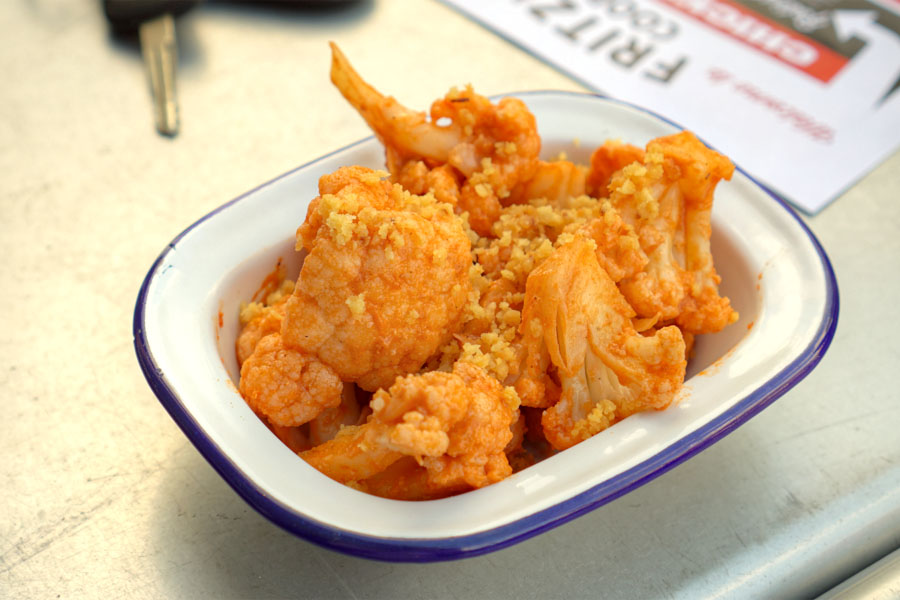 Roasted Cauliflower [$4.50]
| with romesco and shallot bread crumbs
Florets of cauliflower came out cold, which was a bit surprising. Taste-wise, they showed of a pleasant spiciness, while the breadcrumbs added a textural element.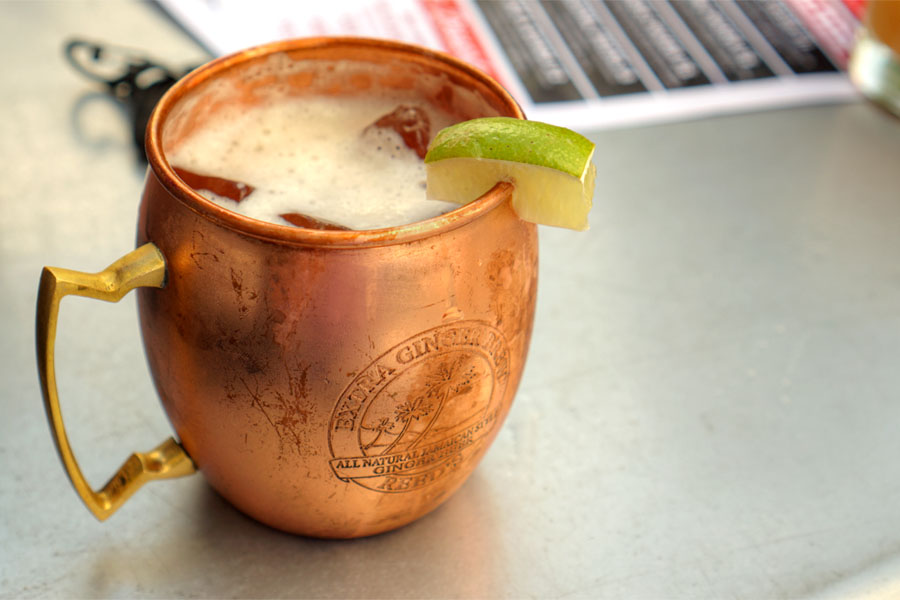 Mule
This was certainly the lightest, more effervescent of our cocktails, with plenty of ginger in there to boot.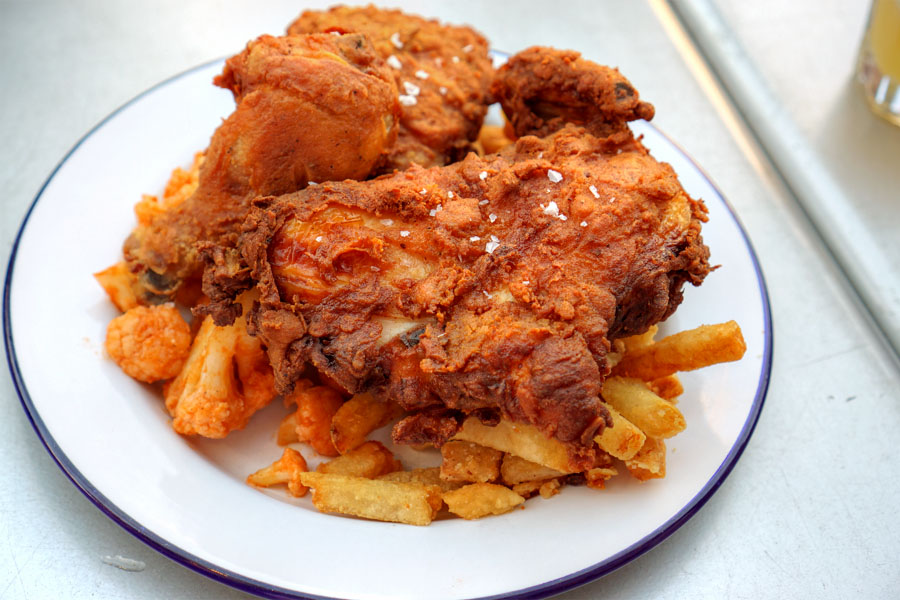 Classic Buttermilk Fried - 1/2 Chicken - Mixed [$19.00]
| Triple-battered with our signature dry mix and buttermilk gives our Fried Chicken the ultimate crunch
A half chicken, done in classic fried fashion. I didn't get to sample this particular plate, but those who did seemed to enjoy it.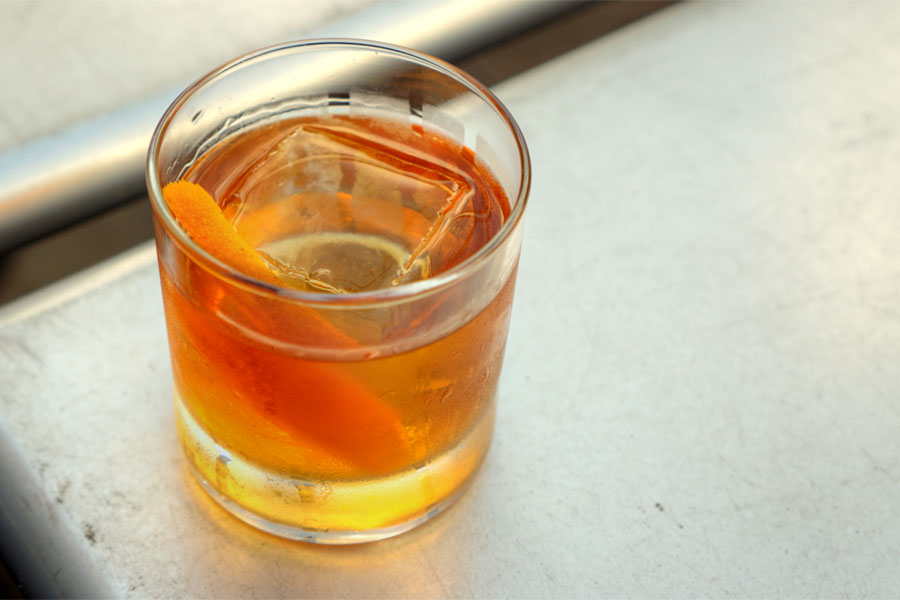 Old Fashioned
Our last cocktail was the most potent of the bunch. Nice aromatic, almost candied nose here leading to a thick, spirit-forward palate filled with sweet spice and light bitterness.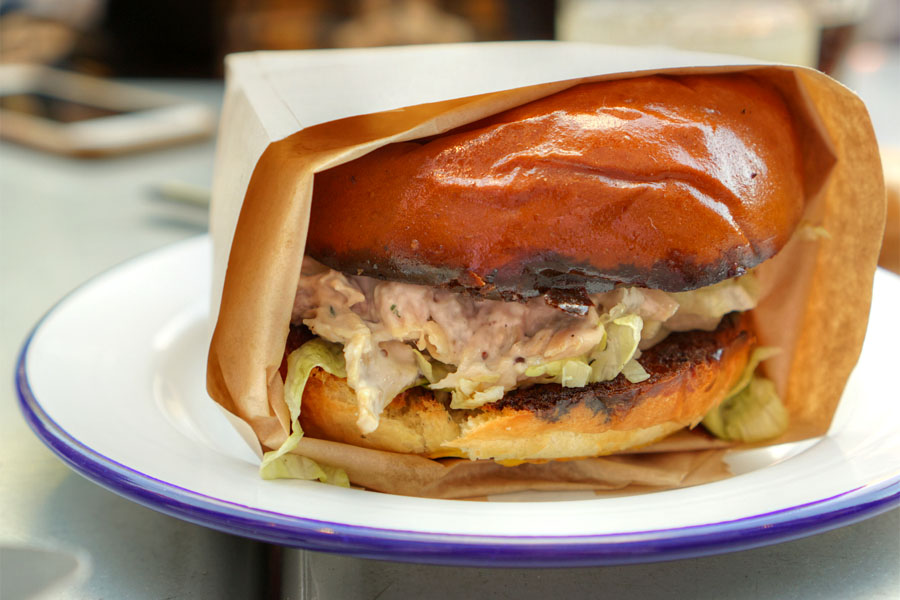 Rotisserie Chicken Salad [$10.00]
| Pulled Rotisserie Chicken tossed with crème fraiche & lemon with shaved romaine lettuce
I'm a big proponent of chicken salad in general, so this suited my fancy. I liked the pepperiness of the salad and how it all worked with the subtle sweetness present in the bread.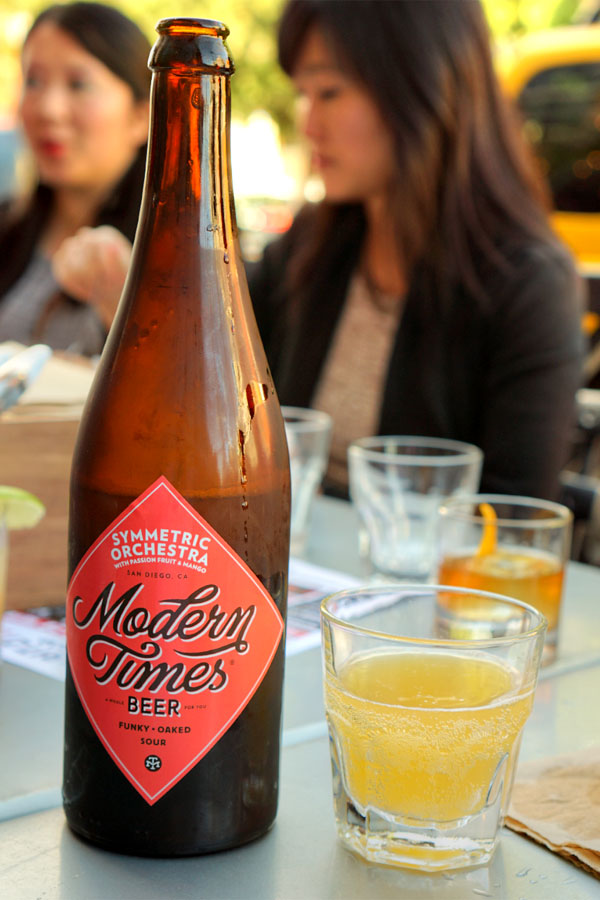 With all the cocktails drunk up, we moved on to beer, beginning with an oak-aged sour with Brett, the
2016 Modern Times Symmetric Orchestra with Passion Fruit & Mango
. Appealing nose of big, bright, tart mango. The taste was more austere, with a good amount of tartness and some oak, but still had a distinctly tropical character that showed off more of the passion fruit side.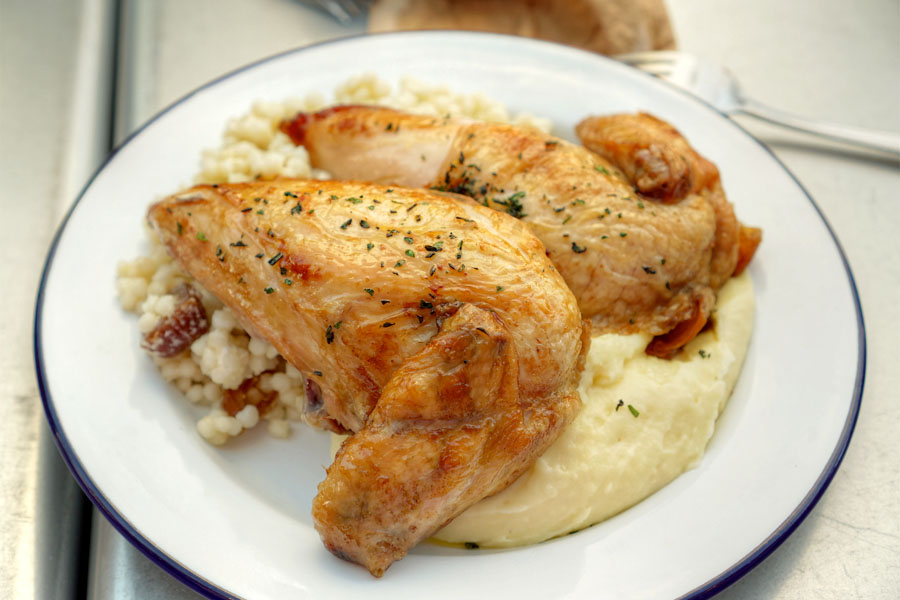 Rotisserie - 1/2 Chicken - White [$20.00]
| 24-hour brined, classic wood-fired Rotisserie Chicken
The rotisserie bird ate tender, and pretty juicy for a breast, and conveyed some lovely herby notes as well. The paired mashed potatoes were creamy and classic, and matched well with the chicken. Meanwhile, the pearl couscous was more unexpected with its surprisingly strong cheesiness.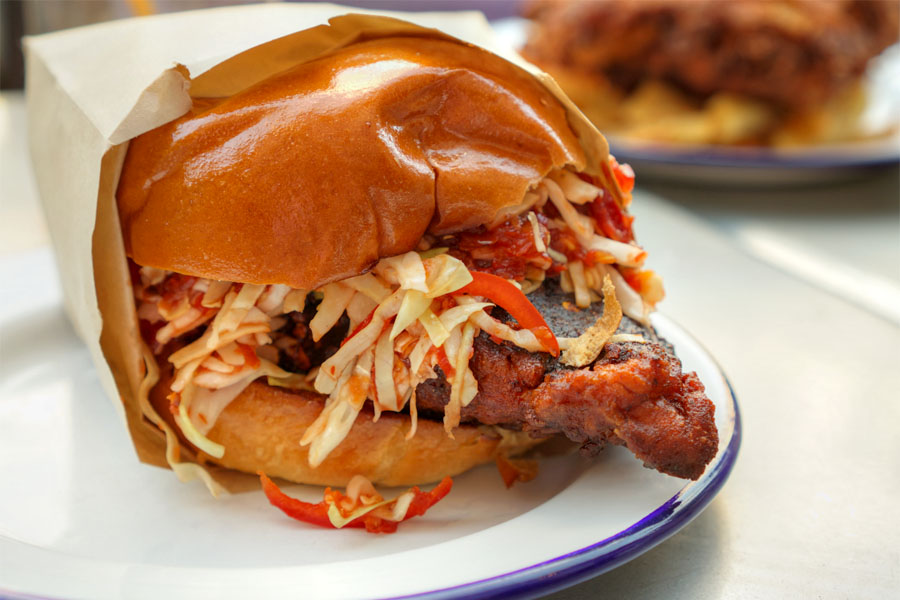 Memphis [$11.00]
| Our Classic Fried Chicken with serious Memphis heat, spicy slaw and sliced pickles
Fritzi's take on hot chicken worked it out with its rich depth of spice and spot-on crunch. The slaw and pickles were crucial as well of course, working as a counterpoint in the sandwich.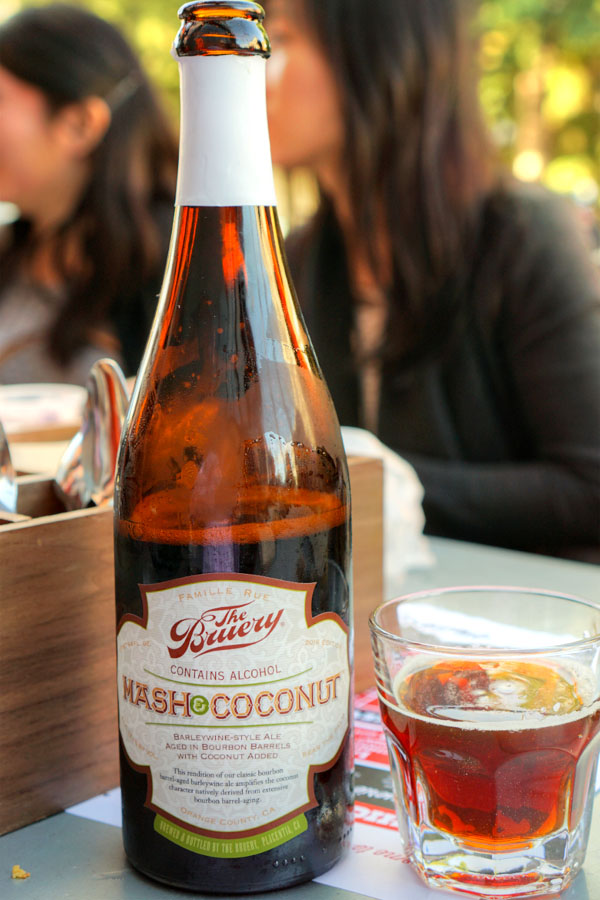 The
2016 The Bruery Mash & Coconut
was a barleywine ale aged in bourbon barrels with coconut. This one smelled of sweet coconut and vanilla, while the taste displayed more rich coconut flavor and more sweet vanilla over a malty, bourbon-y base. A pleasant surprise.
Classic Buttermilk Fried - 1/2 Chicken - Dark [$19.00]
| Triple-battered with our signature dry mix and buttermilk gives our Fried Chicken the ultimate crunch
I had a drumstick here, and found it super crispy, juicy, and properly flavorful. The waffles fries were an interesting take on the potato side, with an extra helping of cheesiness. The green beans with quinoa and tahini was a healthier option, though I wanted more firmness on the vegetable.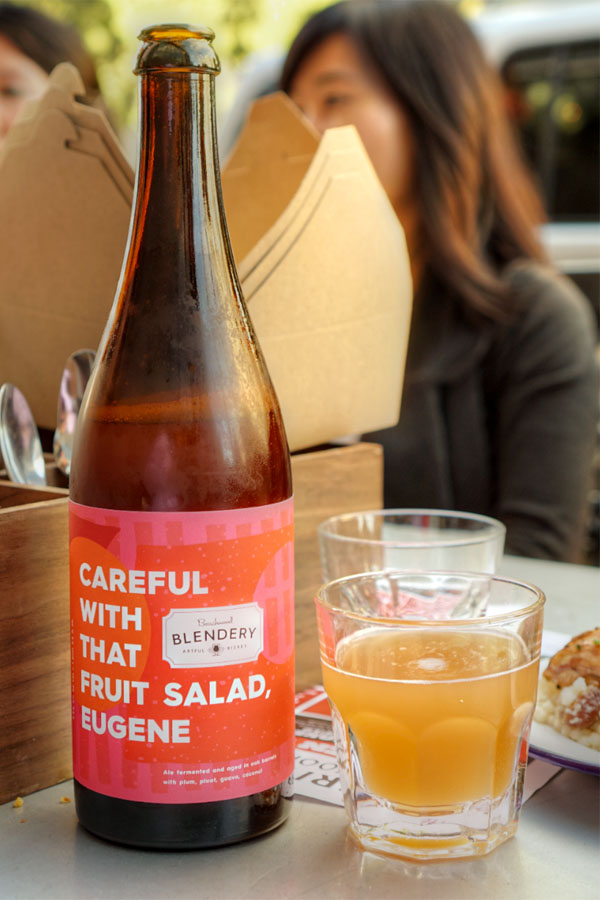 Next to drink was the
2017 Beachwood Blendery Careful with That Fruit Salad, Eugene
, a lambic-inspired sour ale fermented and aged in oak with plum, pluot, guava, and coconut. Nose was filled with a mélange of fruit with coconut at the forefront. Taste-wise, I got lots of tart, sweet, tropical fruit notes that all came together to make for a pretty accurate recreation of the beer's namesake.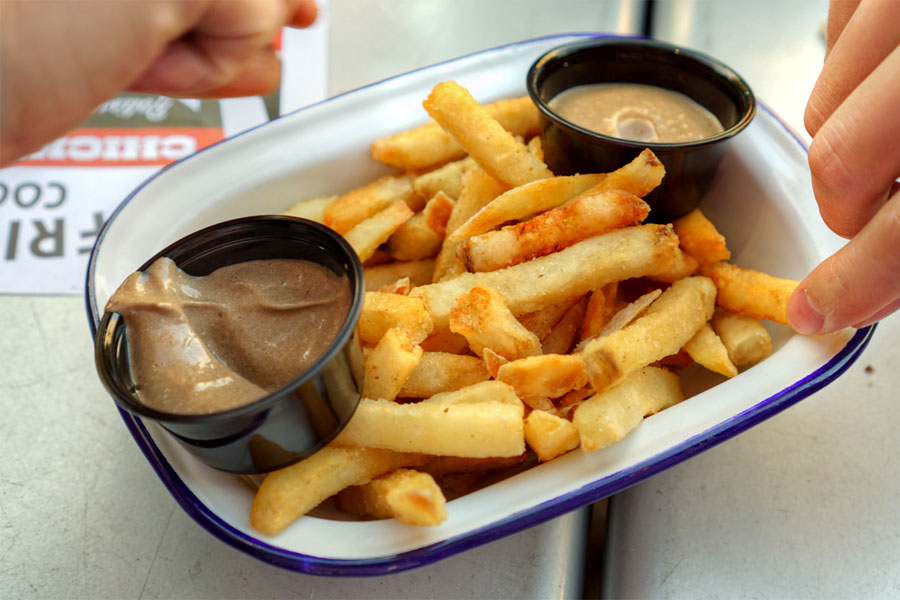 Fries [$5.25]
| Hand-cut Idaho Russet Potatoes double-fried
Fries were particularly crisp, and probably more full-flavored than most.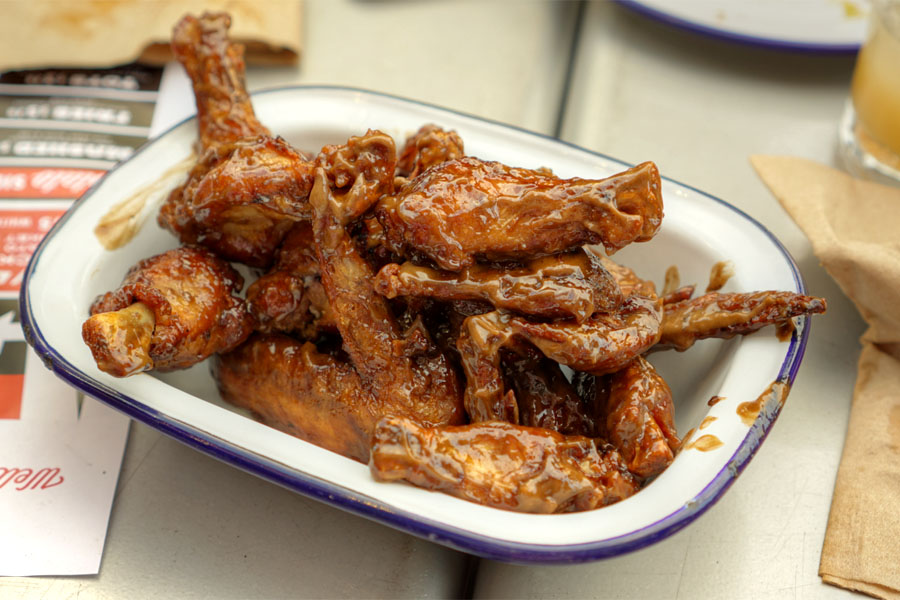 Wings - Black Garlic [$7.50]
| Smoky wood-fired Rotisserie Wings, flash-fried Naked to finish with a crispy classic crunch. Try them Naked or Saucy!
Speaking of being particularly crisp, the wings were especially so, but also very light. Black garlic, meanwhile, contributed a deep, pungent savor here.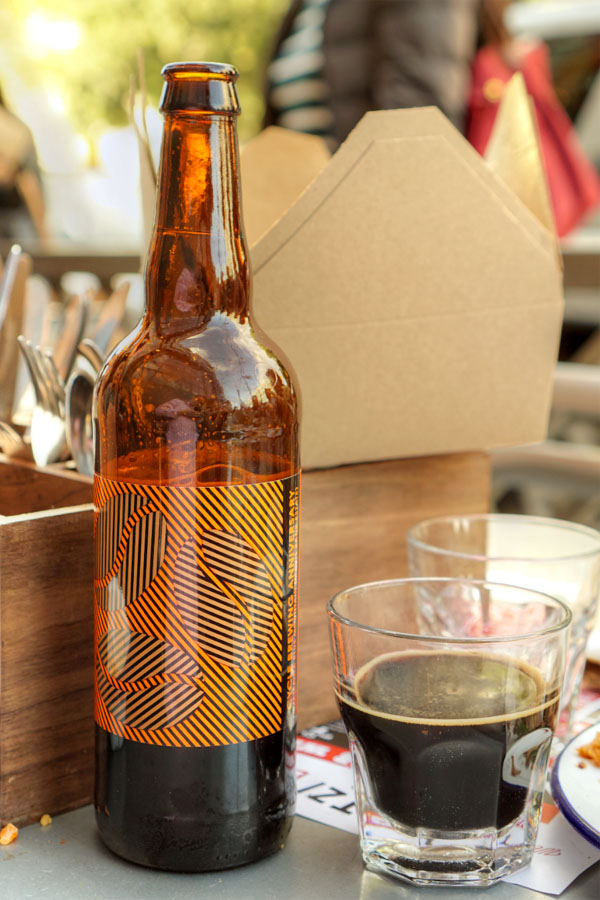 Our first barrel-aged stout was the
2016 Cycle 3rd Anniversary BA Jamaica Blue Mountain
, featuring Mostra coffee from the Mavis Bank estate. Aromas here were dark fruit-focused, with a persistent tartness. The palate conveyed a good amount of cocoa, some oak, and a finish that was on the fruitier side, with little coffee bitterness.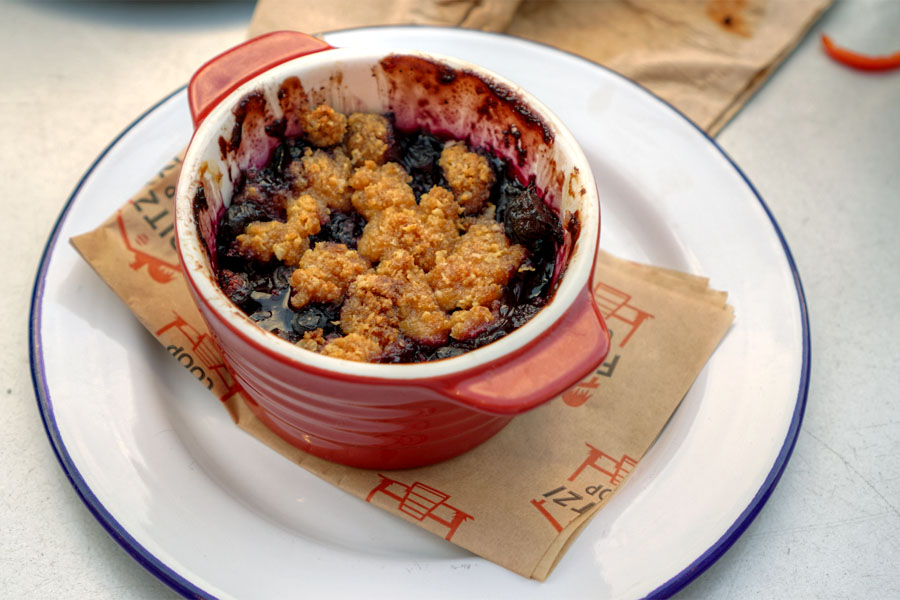 Fruit Crumble [$8.00]
At this point we ordered a couple desserts, beginning with this surprisingly savory berry crumble.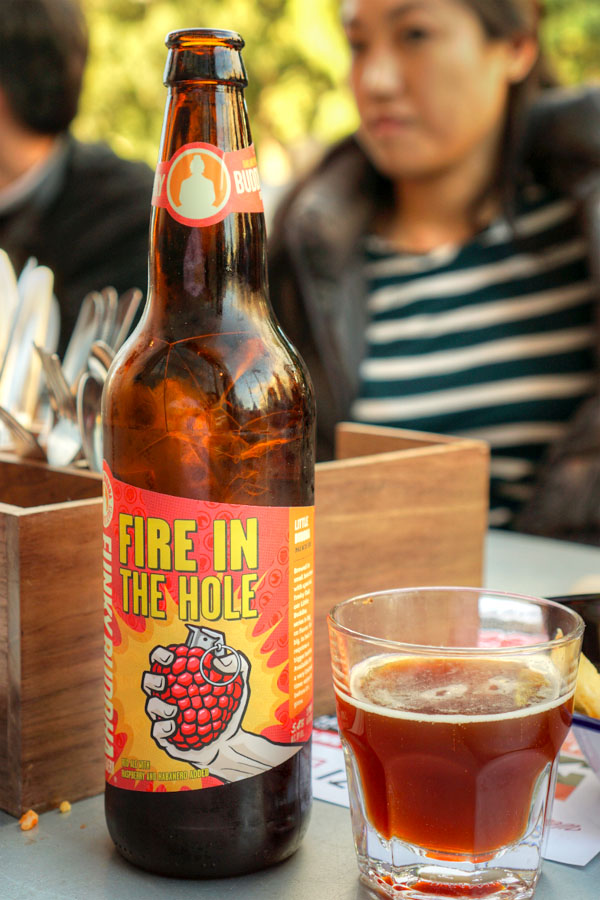 Here was a red ale with raspberry and habanero, the
2016 Funky Buddha Fire in the Hole
. Lots of sweet heat on the bouquet, while the palate gave off some true-to-life pepper flavors transitioning to a fruity, lingering burn.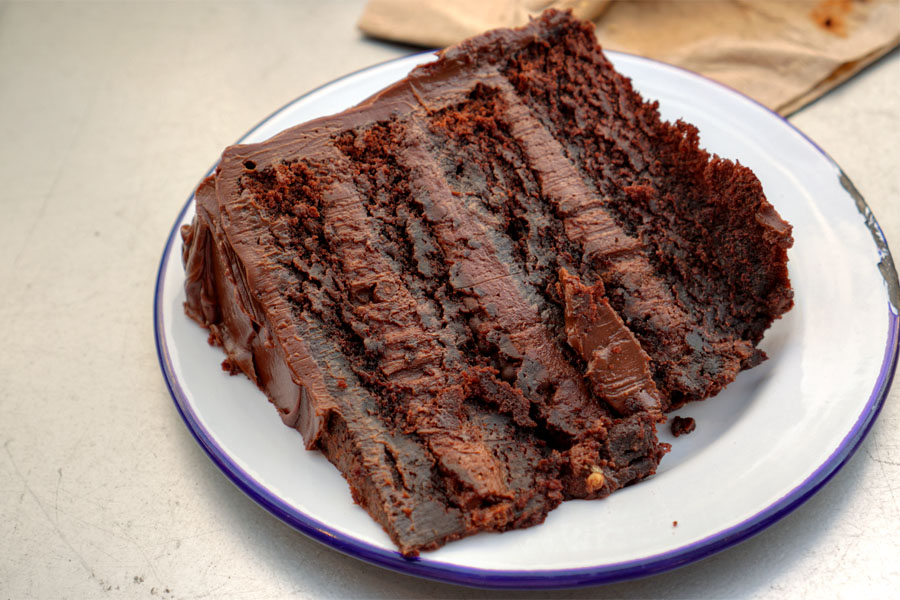 Chocolate Layer Cake [$6.50]
Next up: an expectedly dense, rich chocolate cake with some extra bits in there for texture.
I never made it out here when it was still just Fritzi, so I don't know how it compares, but we had a good time, and I have to give a special thanks to the staff for handling our rather large party (I think there were about 14 of us). The food's certainly not ground-breaking, but it hit the mark overall. There was some solid fried chicken to be had, and rest of the menu ain't bad, either.
---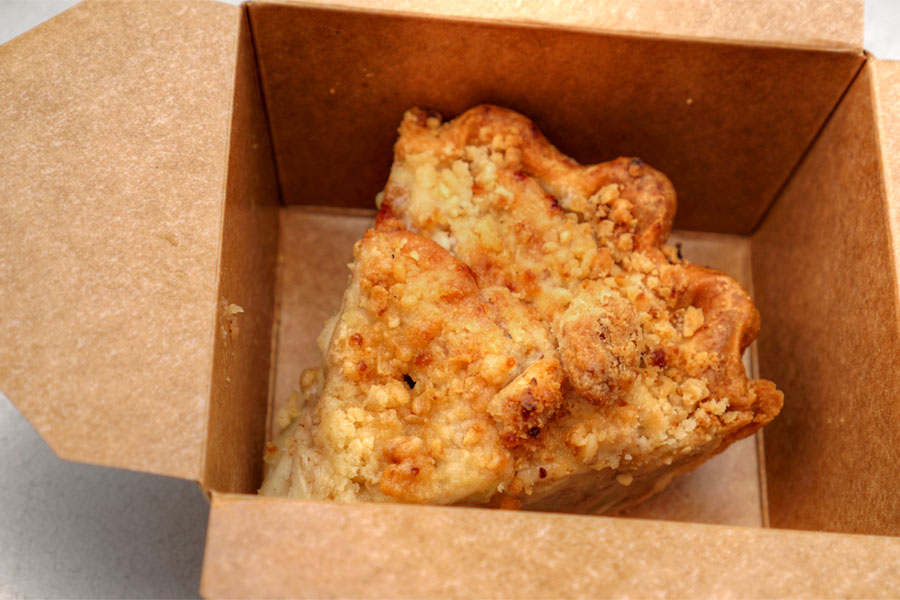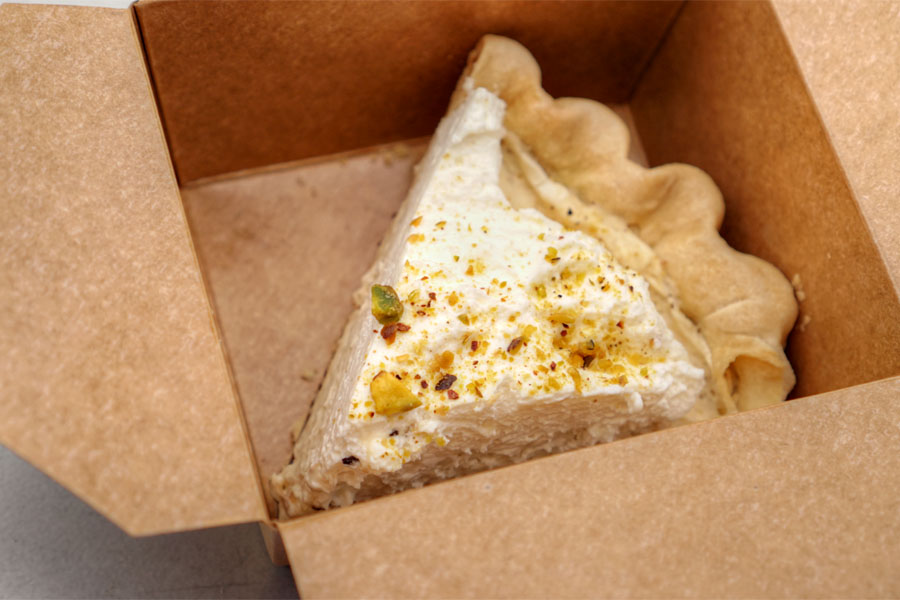 A few of my dining companions hopped over to The Pie Hole and got some more sweets. Above we see the
Mom's Apple Crumble [$6.25]
and
Earl Grey Tea [$6.75]
pies.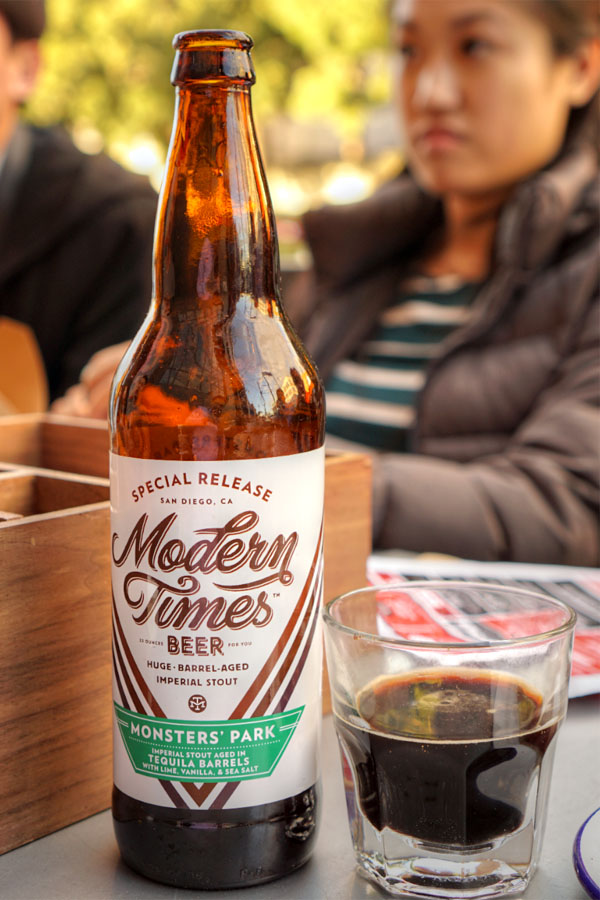 Our second barrel-aged stout was the
2016 Modern Times Monsters' Park Aged in Tequila Barrels with Lime, Vanilla & Sea Salt
. The nose here definitely showed off the woody, spicy nature of the spirit. The herbaceous, earthy notes of the tequila were very apparent on the palate as well, where it was joined by the sweetness of vanilla, some oak, and chocolate-y malt.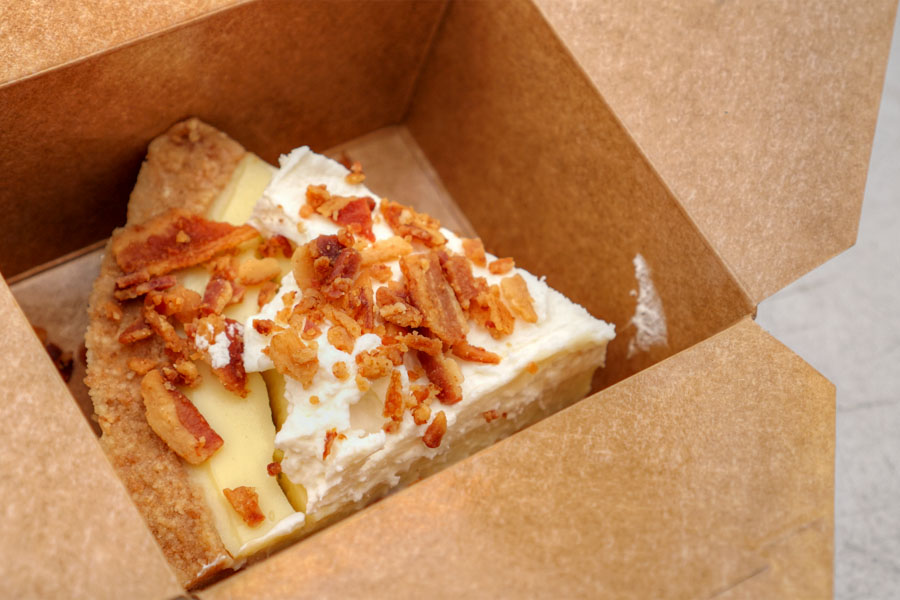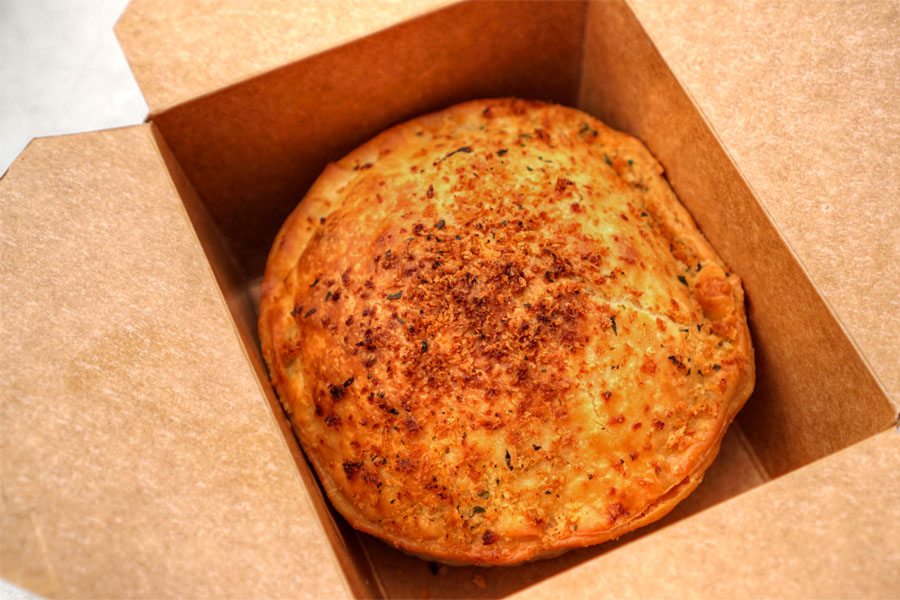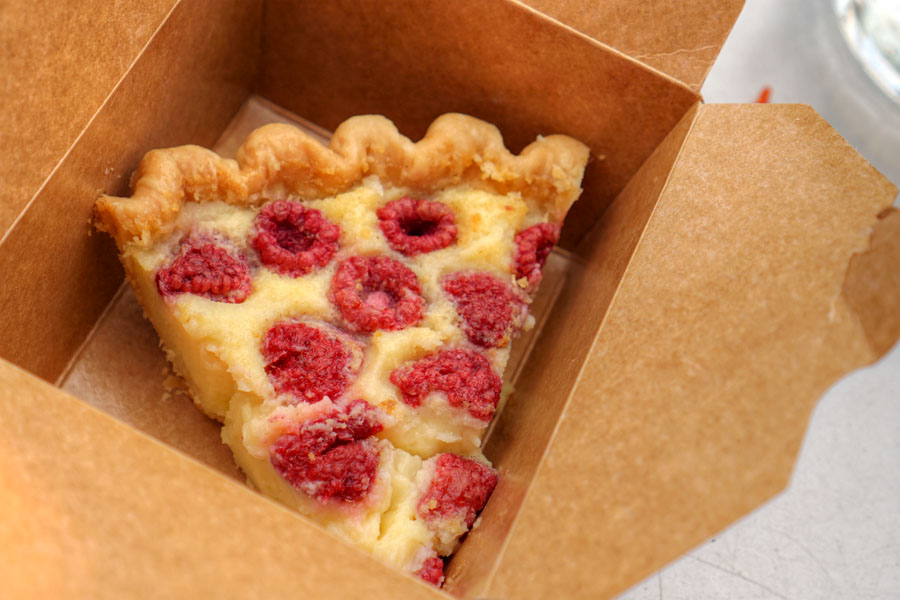 More treats from The Pie Hole:
TCB: Peanut Butter Banana Cream with Bacon [$6.00]
, savory
Mac 'n' Cheese [$7.25]
, and
Raspberry Chess
pies.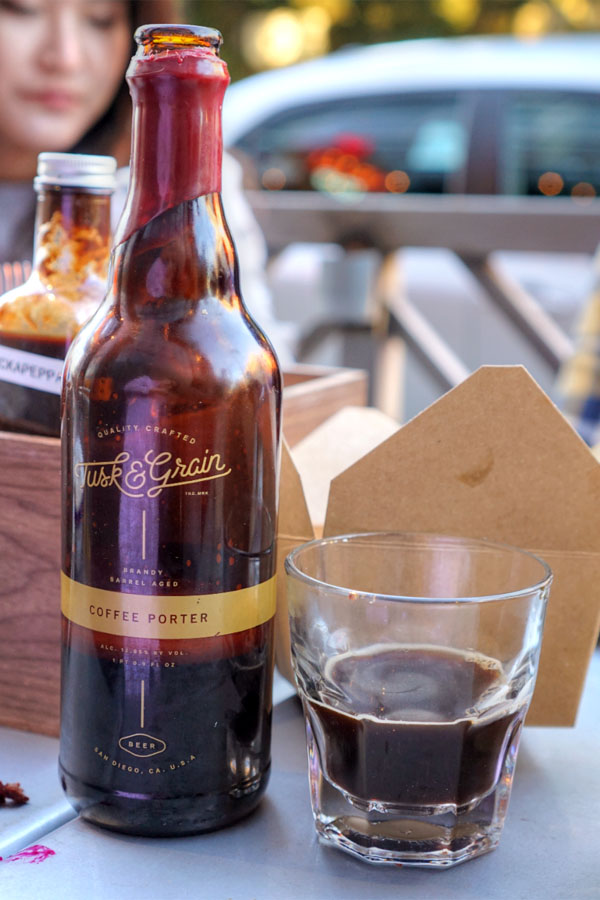 The
2016 Saint Archer Tusk & Grain Brandy Barrel Aged Coffee Porter
with Bird Rock Coffee Roasters' Kenyan Karagoto beans had a nose that really highlighted the bitter, roasty qualities of the coffee, with a touch of fruit. In terms of taste, I again found it very roasty, with some chocolate, fruit, and light barrel in there.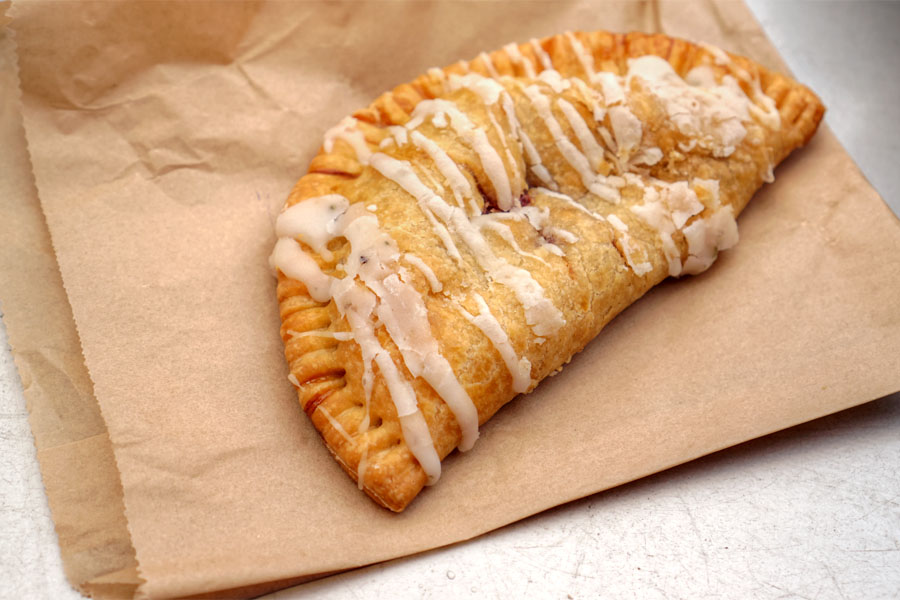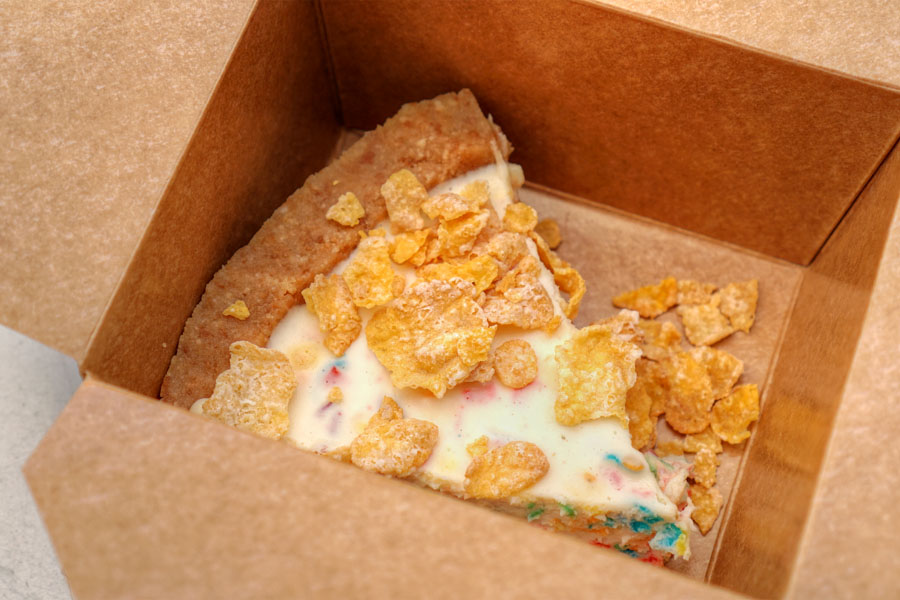 The final two goodies from The Pie Hole were the
Strawberry Lavender Hand Pie [$5.75]
and
Cereal Killer Cheesecake [$6.25]
.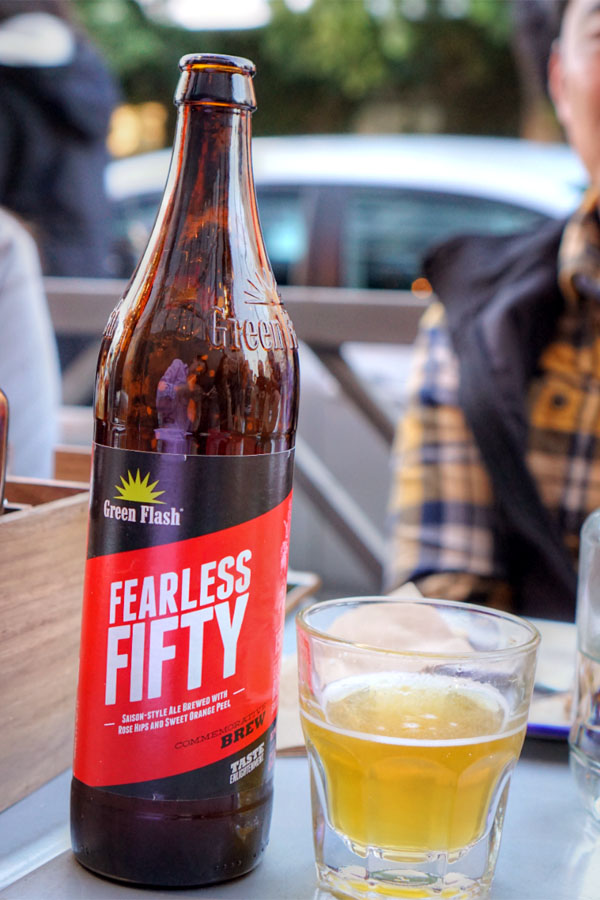 Last to drink was the
2017 Green Flash Fearless Fifty
, a saison-style ale brewed with rose hips and sweet orange peel, created to celebrate Trader Joe's' 50th anniversary. Nose was on the yeasty, wheat-y side with a bit of spice. The palate brought sweetness and grain, along with a grassy bitterness and hints of the rose. Not as good as I thought it'd be.