Redbird (Los Angeles, CA) [2]
Redbird Restaurant
114 E 2nd St, Los Angeles, CA 90012
213.788.1191
www.redbird.la
Sun 12/04/2016, 07:05p-10:05p

The last time I reported on Neal Fraser and Amy Knoll Fraser's
Redbird
was January 2015, shortly after the place opened. Since then, the restaurant has become a fixture in the Downtown dining scene, and I figured it might be time for a revisit. Personnel-wise, CdC Jason Bowlin's still here, though opening sous Austin Cobb is out, and in the FOH, GM Lucy Stewart's replaced Christian Philippo, who moved to
Otium
.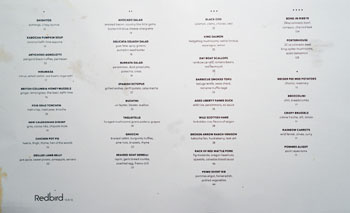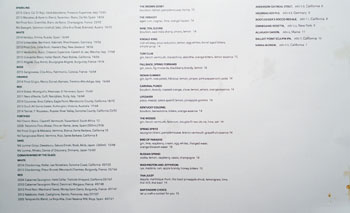 Fraser's modern American menu retains its familiar format and cadence. Most of the dishes are new, though there are a few stalwarts such as the shishitos and pot pie. With
Julian Cox
out of LA, cocktails are now the sole responsibility of Bar Director Tobin Shea, while the wine list is the charge of Sommelier Ben Teig, who comes to Redbird from the SLS/sbe/
Bazaar
group. Click for larger versions.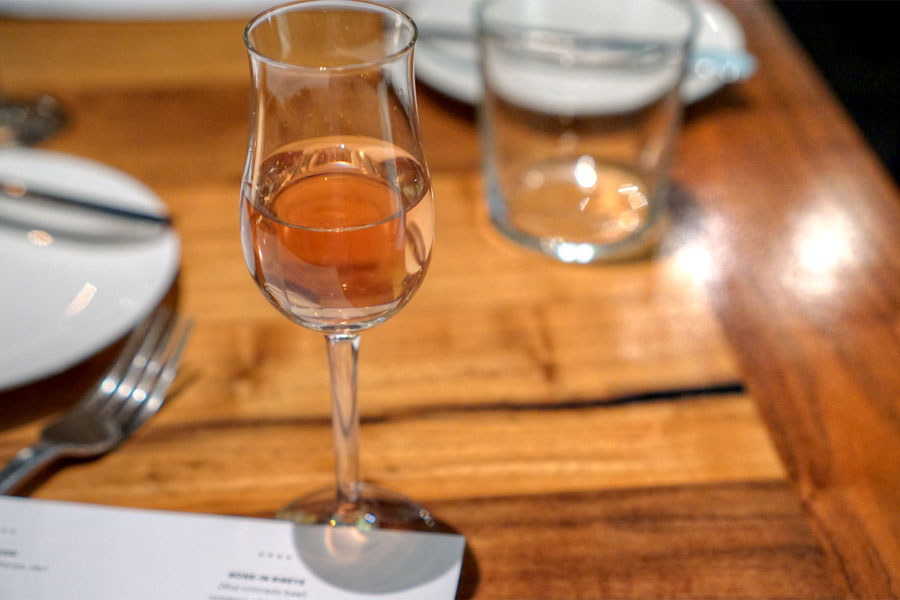 Tonight's welcome apéritif comprised vermouth, gin, lemon, and sparkling rosé. Think light 'n' fruity on the nose, with a taste that showed sweet dark fruit with a slight oxidative bent. One of my dining companions even likened it to "boozy apple juice."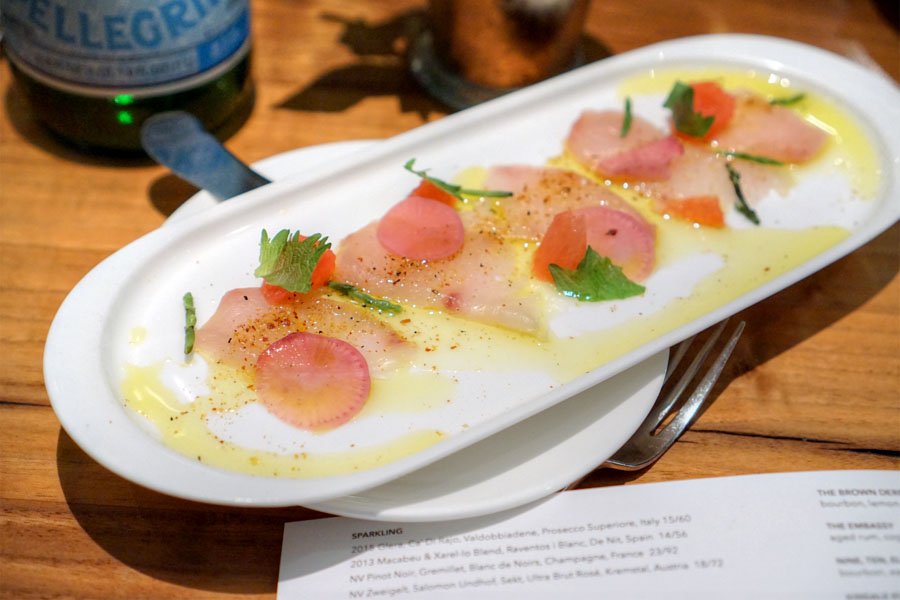 Hiramasa [$17.00]
| citrus, salted radish, sea beans, togarashi
First to the table was a crudo of yellowtail amberjack, a clean-eating, firm-textured fish that took well to the
togarashi
and saltiness of sea beans while olive oil brought everything together.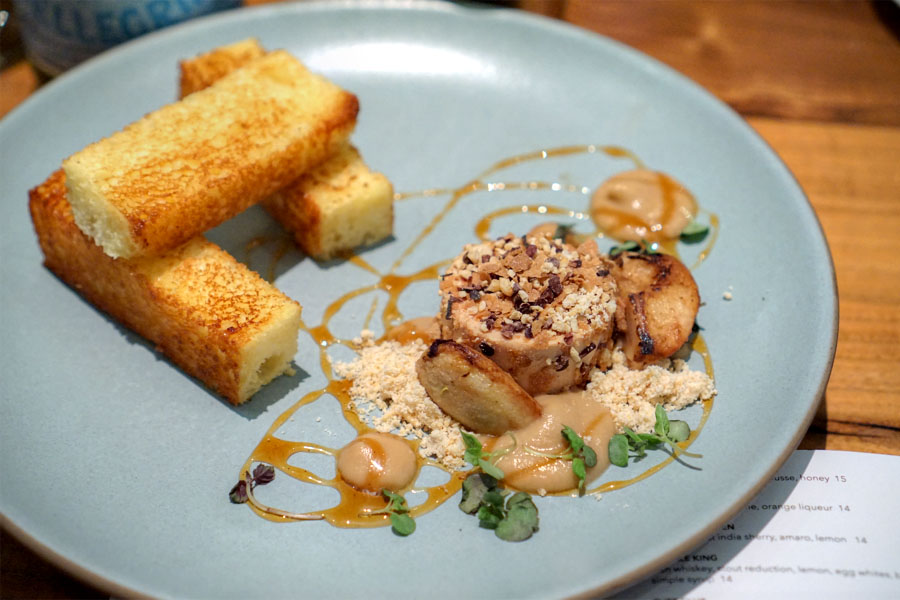 Foie Gras Torchon [$26.00]
| malt crisp, roast pear, brioche
The foie was on point, and showed off all its classic characteristics. I appreciated the contrast imparted by the nutty, crunchy elements on the plate, and those buttery blocks of brioche balanced things out as well.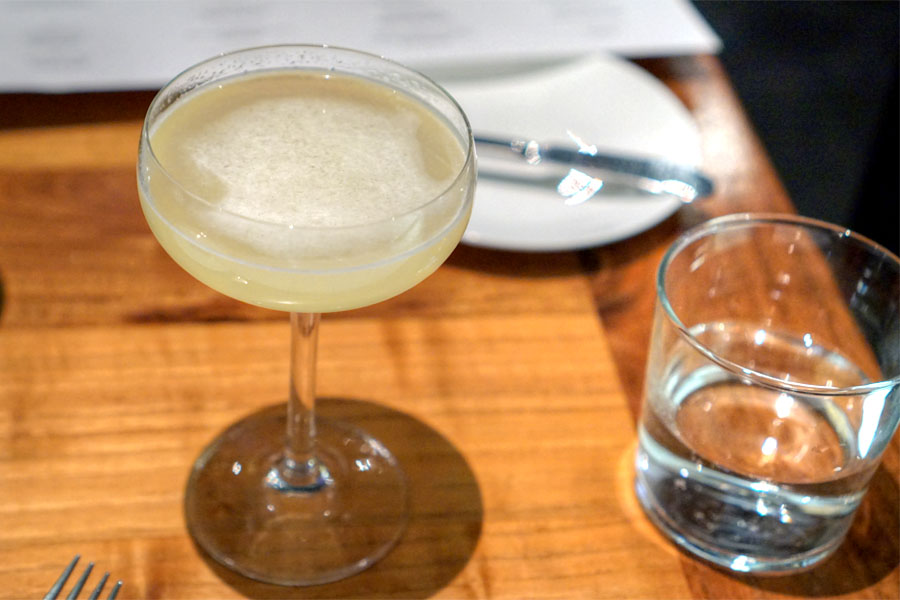 Lifesaver [$14.00]
| pisco, mezcal, salers aperitif, lemon, pineapple gomme
We made sure to give Shea's cocktails a try of course. Our first smelled strongly of mezcal intertwined with strong citrus. The taste went smoky at first, then tart and softly bitter, with a sweet edge from the gomme coming in on the back end.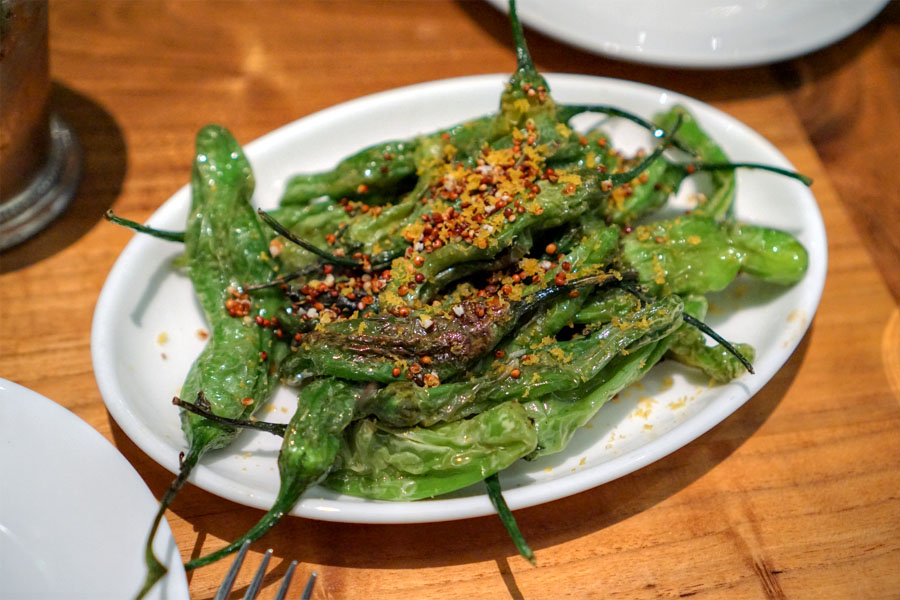 Shishitos [$13.00]
| bottarga, crispy quinoa
Shishitos were superb, their smoke and restrained heat joined by the weighty flavors of cured fish roe. One of the strongest presentation of the peppers I've had--I guees there's a reason why the dish has been on the menu since Redbird opened.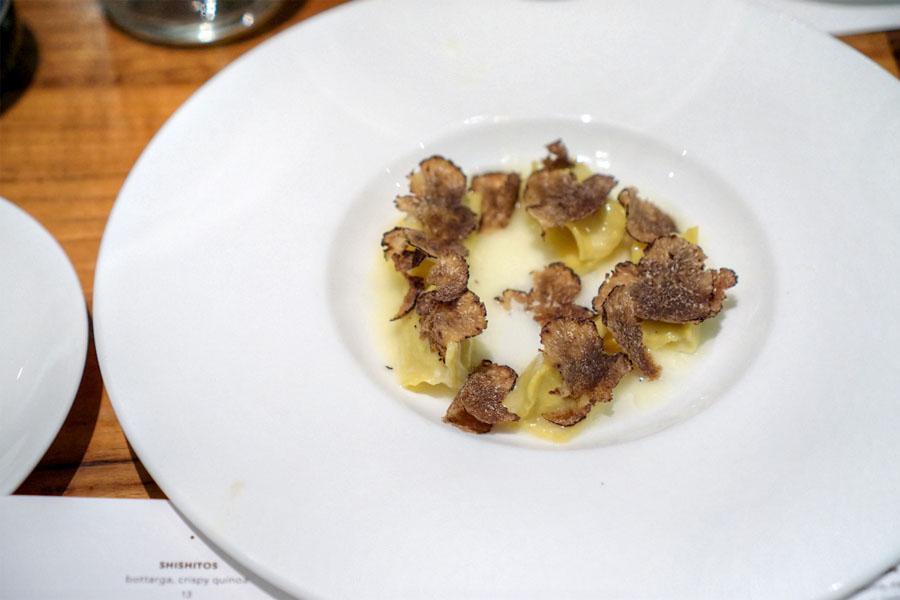 Artichoke Agnolotti [$25.00]
| perigord black truffles, parmesan
Parcels of agnolotti were fairly mild on their own, so the rich, musky truffles were key, as was the savoriness of the cheese.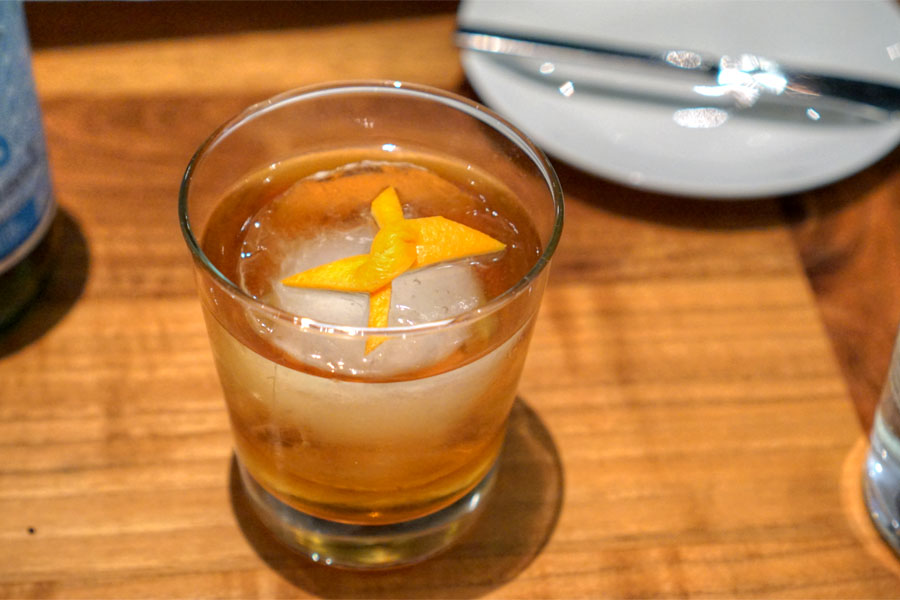 Kentucky Colonel [$14.00]
| bourbon, benedictine, bitters, orange essence
Here we had an Old Fashioned variation with the sugar replaced by Bénédictine. Aromatic nose filled with citrus and bourbon. Palate was boozy at first blush, with dark fruit notes along with a bittersweet, herbal component.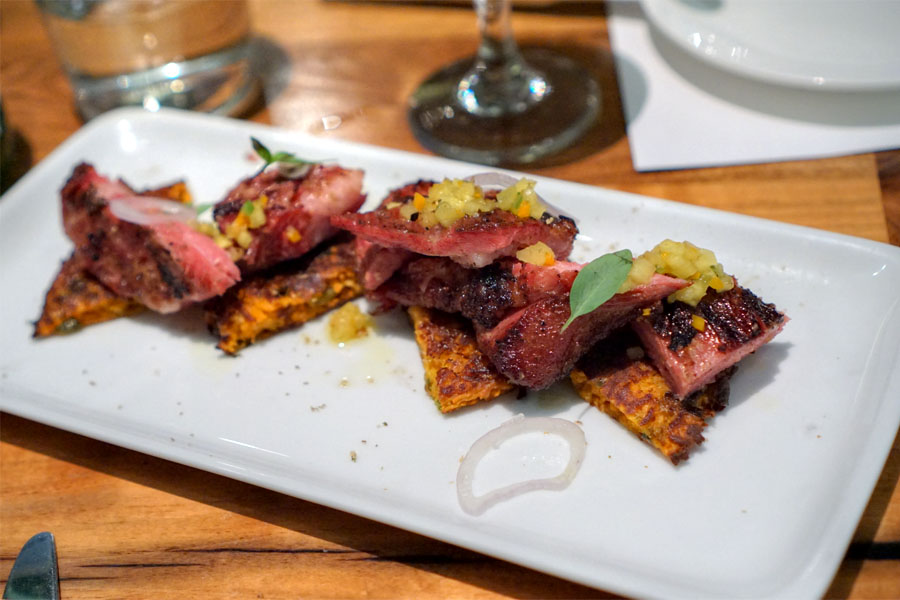 Grilled Lamb Belly [$20.00]
| jerk spice, sweet potato, pineapple, serrano
Lamb came out fatty and flavorful, with a nice char and bountiful amounts of spicing. One of my dining companions even described it as being
char siu
-like.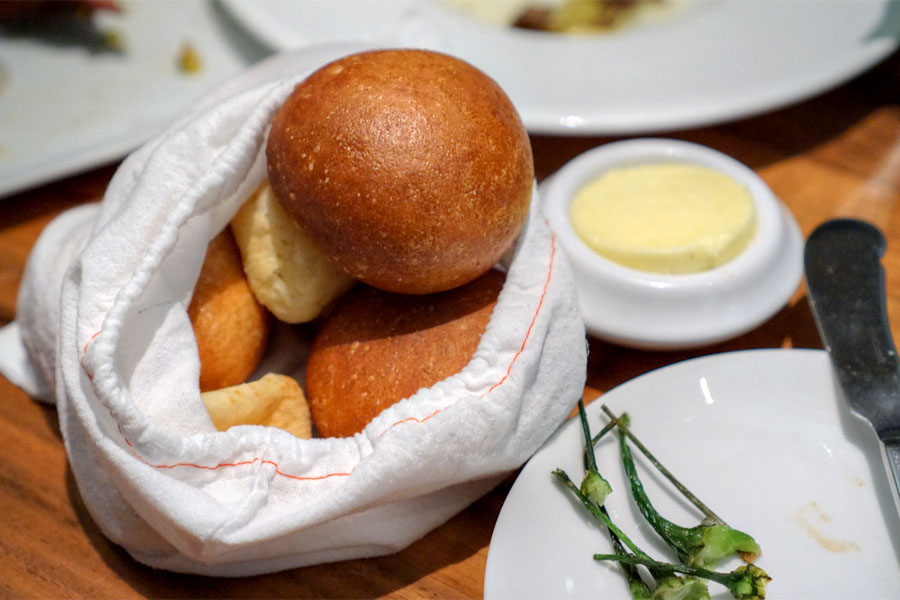 Bread service was composed of cheesy, elastic
pão de queijo
and what appeared to be dinner rolls, both accompanied by a wonderfully spreadable butter.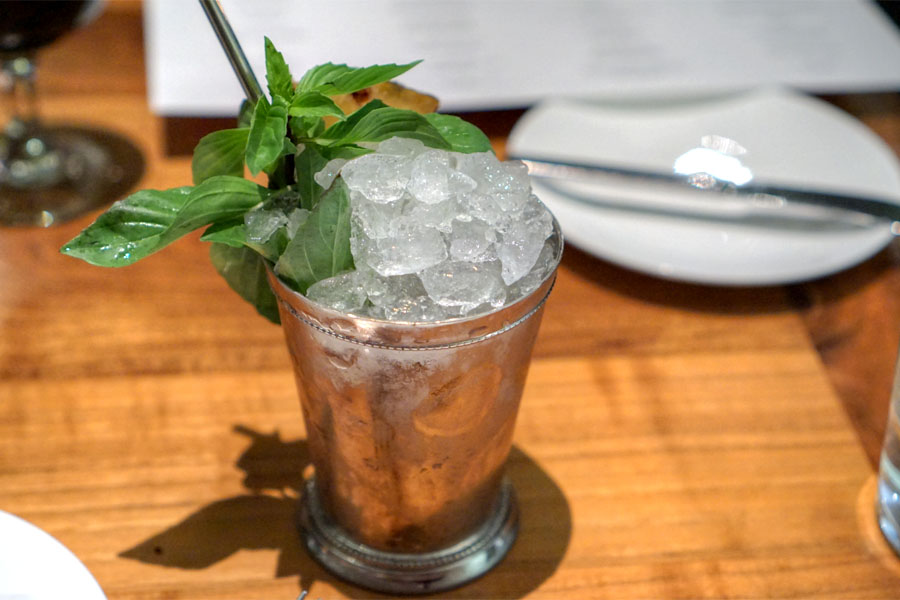 Thai Julep [$14.00]
| tequila, martinique rhum, thai basil pineapple shrub, lemongrass, lime, thai chili, thai basil
This take on a julep drank thick and viscous, with a tangy, tropical, sweet-spicy nature backed by the booziness of tequila.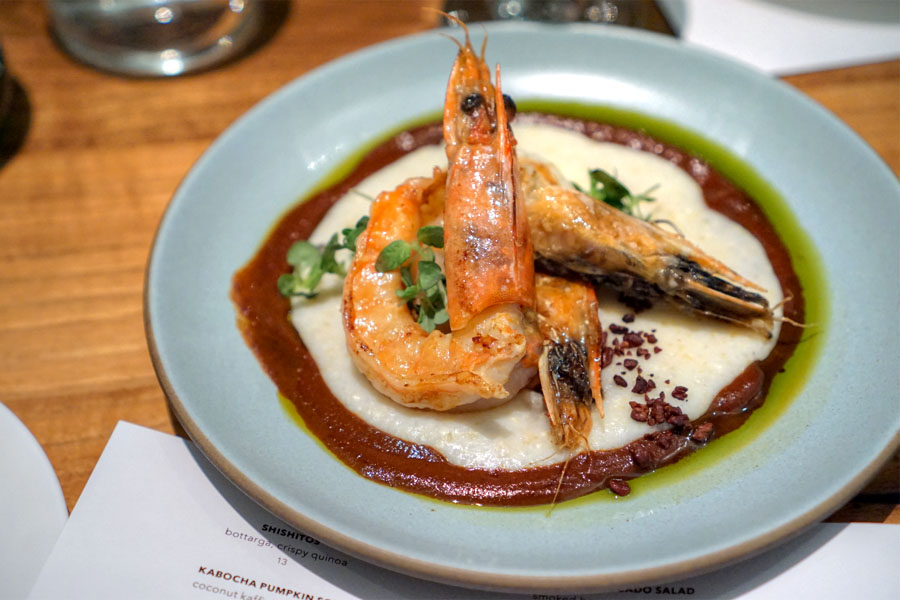 New Caledonian Shrimp [$19.00]
| grits, cocoa nibs, chipotle mole
Fraser's version of shrimp 'n' grits featured a pairing of the two namesake ingredients, but with the addition of a rich, multifaceted mole-inspired spice that was absolutely crucial. Nice creaminess on the grits, also.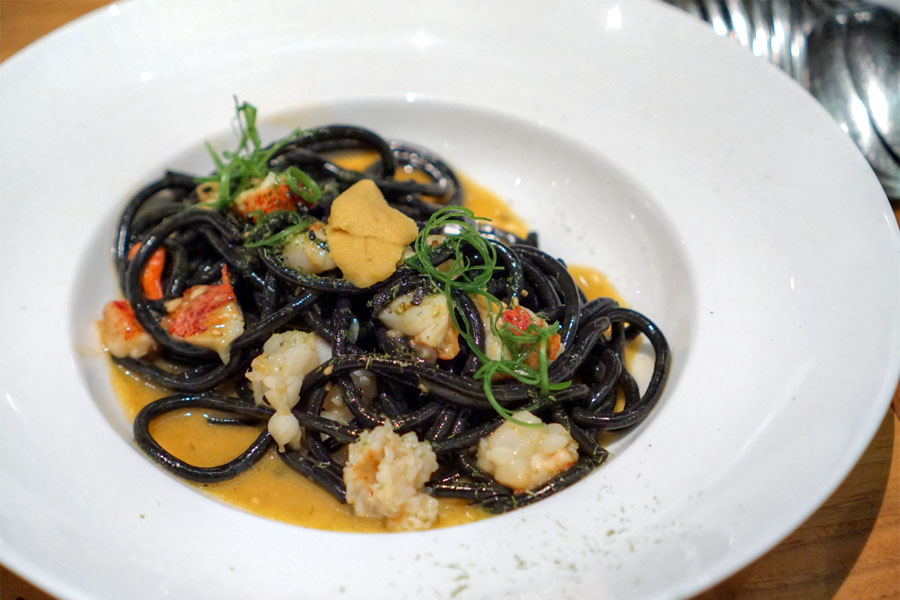 Bucatini [$25.00]
| uni butter, lobster, scallion
Al dente strands of squid ink-infused bucatini made good sense when taken with the ocean-y flavors of uni and lobster, while slivers of scallion provided a welcomed astringency.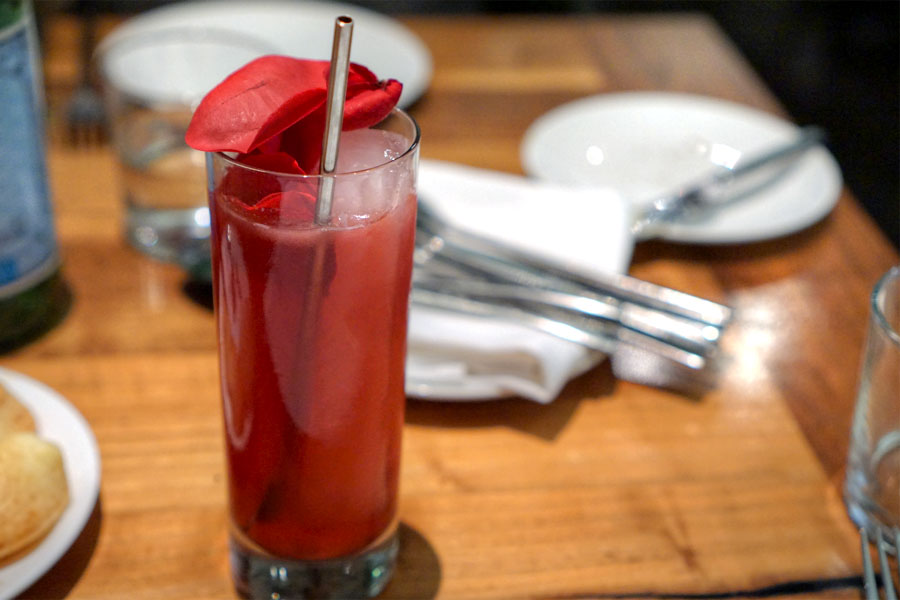 Indian Summer [$14.00]
| gin, byrrh, rose petals, hibiscus, lemon, juniper, pink peppercorn, soda
This long drink went down easy, an effervescent cocktail with plenty of sweet, floral flavors cut by the presence of citrus and spice.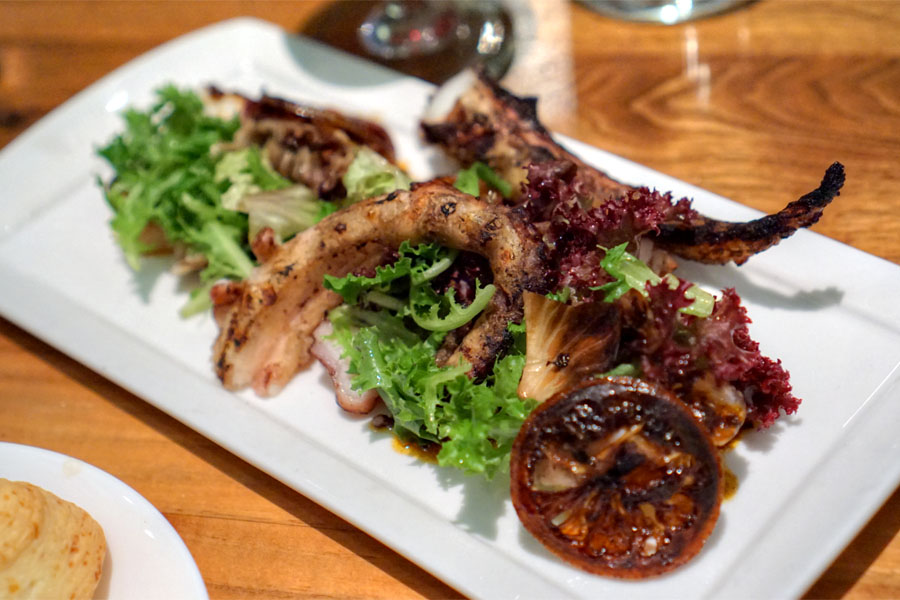 Spanish Octopus [$22.00]
| grilled endive, confit potato, salsa macha
Octo was as tender as I wanted, with a lovely char bitterness to go with the greens and salsa. Great weightiness and heft from the potatoes, too.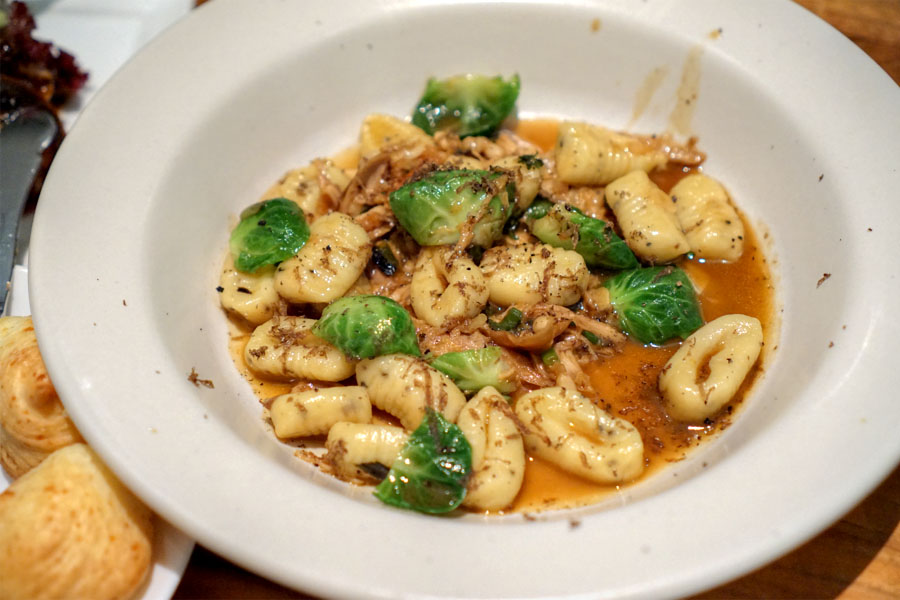 Gnocchi [$23.00]
| braised rabbit, burgundy truffles, pine nuts, brussels, thyme
Gnocchi were paired with the richness of long-cooked rabbit augmented by truffle. I was a fan of the lightness offered up by the Brussels, as well as the added crunch of the pine nuts.
Nine, Ten, Eleven [$14.00]
| bourbon, east india sherry, amaro, lemon
This next cocktail conveyed strong, sweet notes of dark fruit layered over whiskey, but with the amaro providing a sort of moderating bitterness.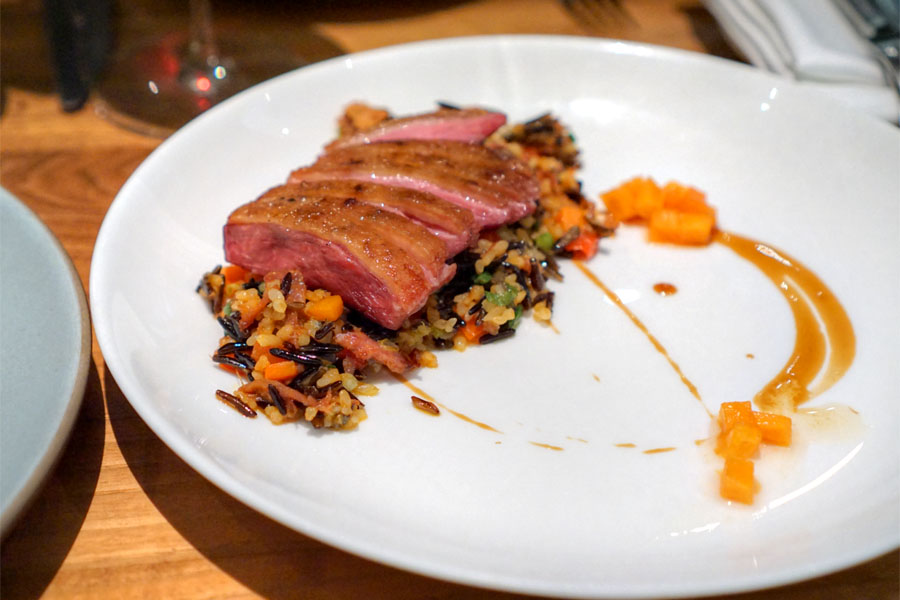 Aged Liberty Farms Duck [$35.00]
| wild rice, persimmons, xo sauce
The duck showed off some truly intense flavors and was highlighted by its crispy skin. Rice worked as a counterpoint to the bird, though I didn't get much in terms of overtly "XO" type flavors.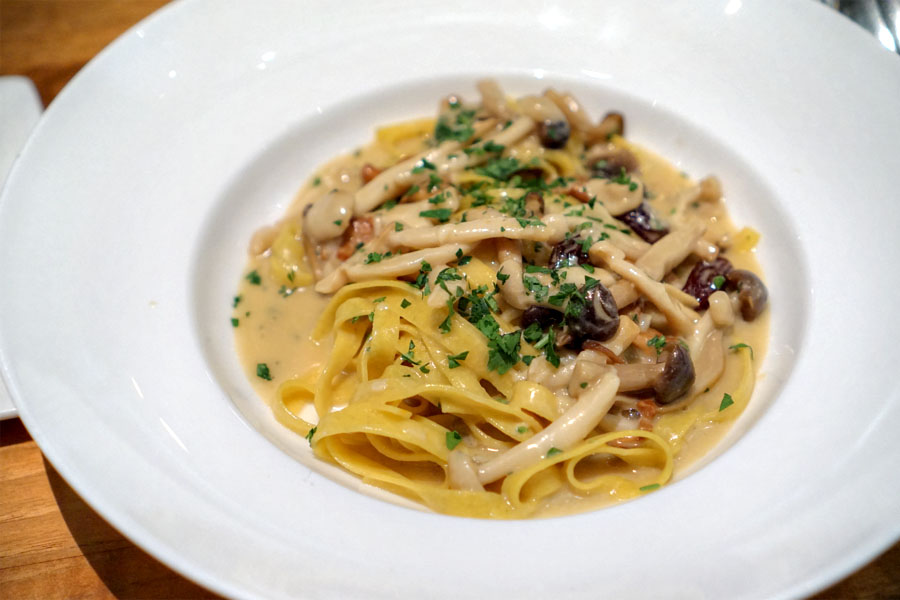 Tagliatelle [$24.00]
| foraged mushrooms, grana padano, grapes
Tagliatelle came out just firm enough, a fine base for the combination of earthy mushrooms and lush cheese, with some offsetting herby accents to boot. The sweetness from the grapes was unexpected, but not unwelcomed.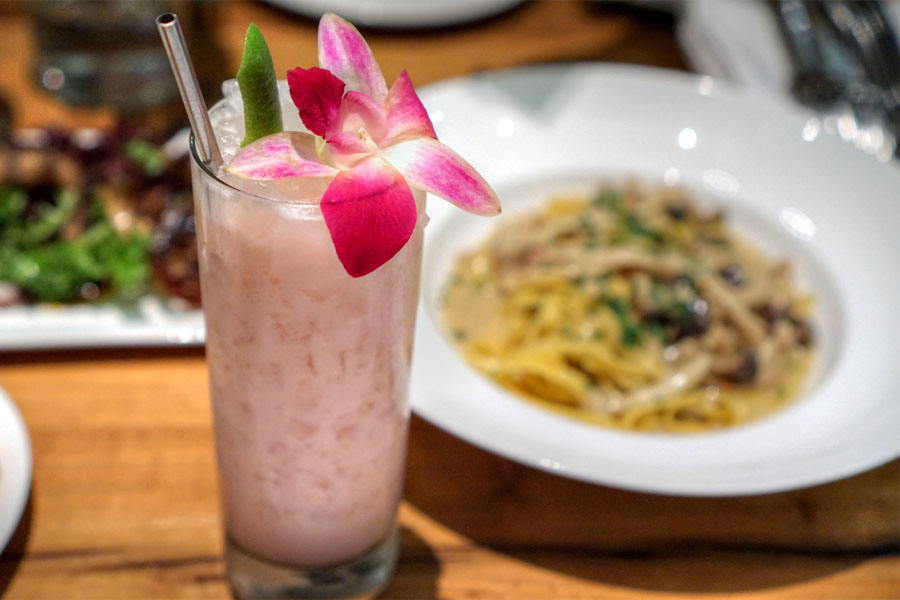 Bird of Paradise [$14.00]
| gin, lime, raspberry, cream, egg whites, charged water, orange blossom water
Our final cocktail was sort of a fun one. I found it boozy and botanical from the gin, but with some delightful bittersweet flavors as well, everything finishing super floral.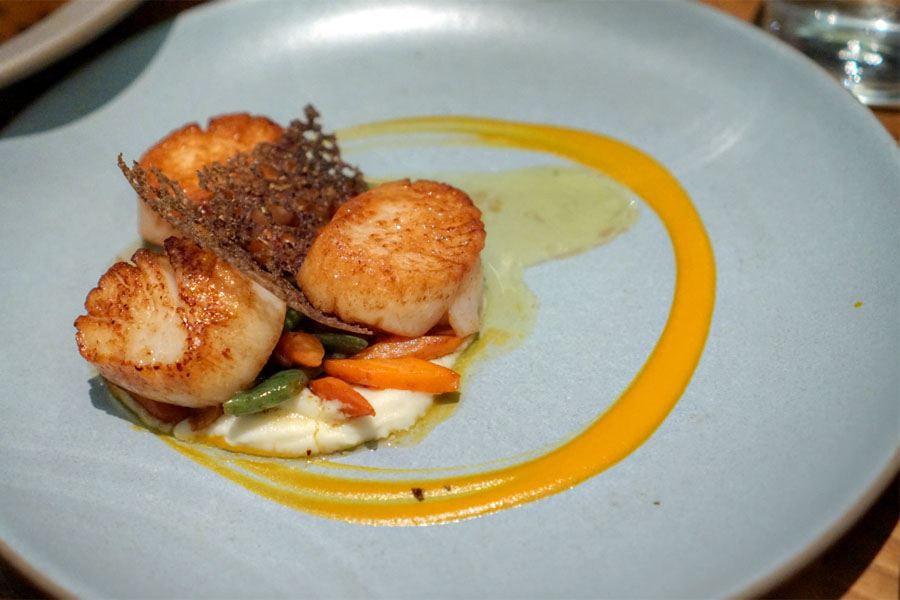 Day Boat Scallops [$35.00]
| rainbow carrots, romano beans, red vermouth
Scallops were perfectly-textured and well-caramelized, their brine meshing here with a trace of sweet, autumnal spice.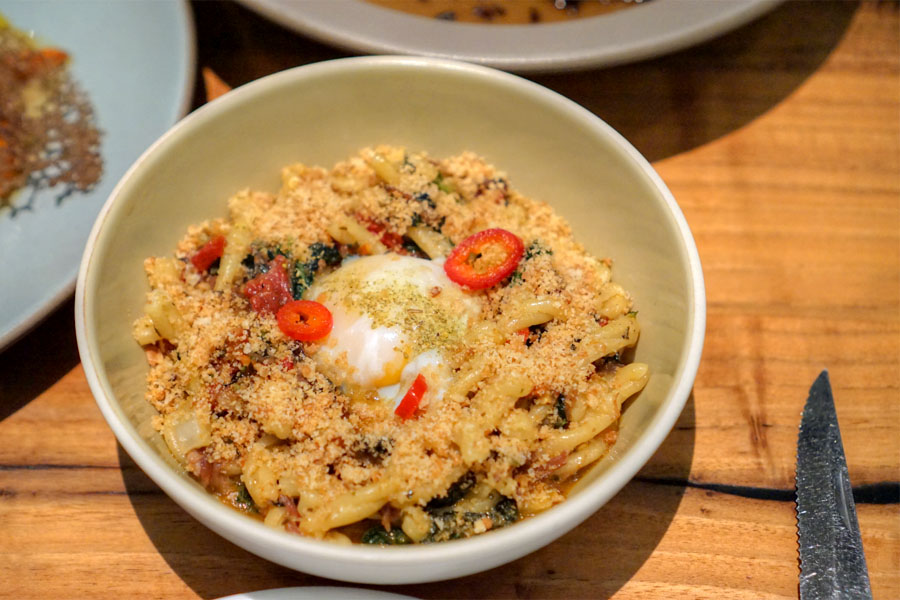 Braised Goat Gemelli [$23.00]
| rapini, garlic bread crumbs, poached egg, fresno chili
Our final pasta, the gemelli certainly worked it out as well, with its cozy chunks of goat marrying with the bitterness of rapini while fresnos added a whisper of heat to it all. Bread crumbs, meanwhile, gave the dish some more textural interest.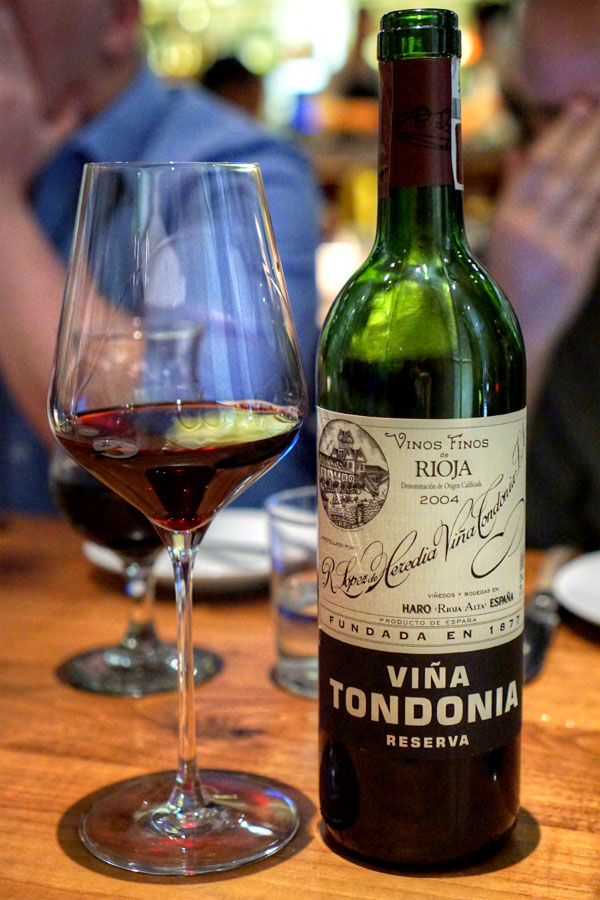 For wine, we went with the
2004 Tempranillo Blend, R. Lopez De Heredia, Viña Tondonia, Reserva, Rioja, Spain [$94]
. Nose was rustic, subtly funky, with light berry fruit. In terms of taste, I found it on the acidic side and spicy, with some fruit and oak in there, and a bit of heat, too.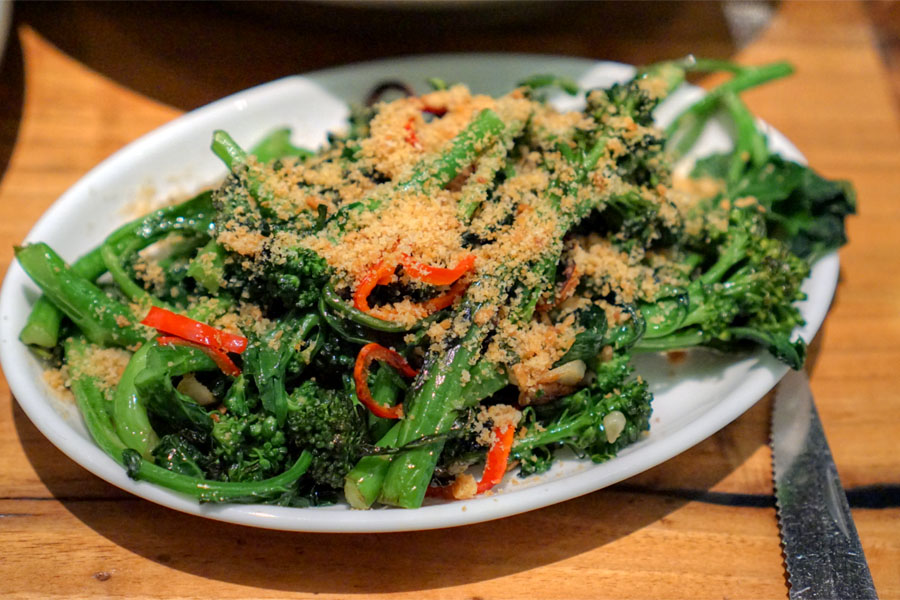 Broccolini [$11.00]
| chili, breadcrumbs
Broccolini made for a fitting side, its inherent bitter and slightly sweet flavors well-paired with a touch of heat from the chilis.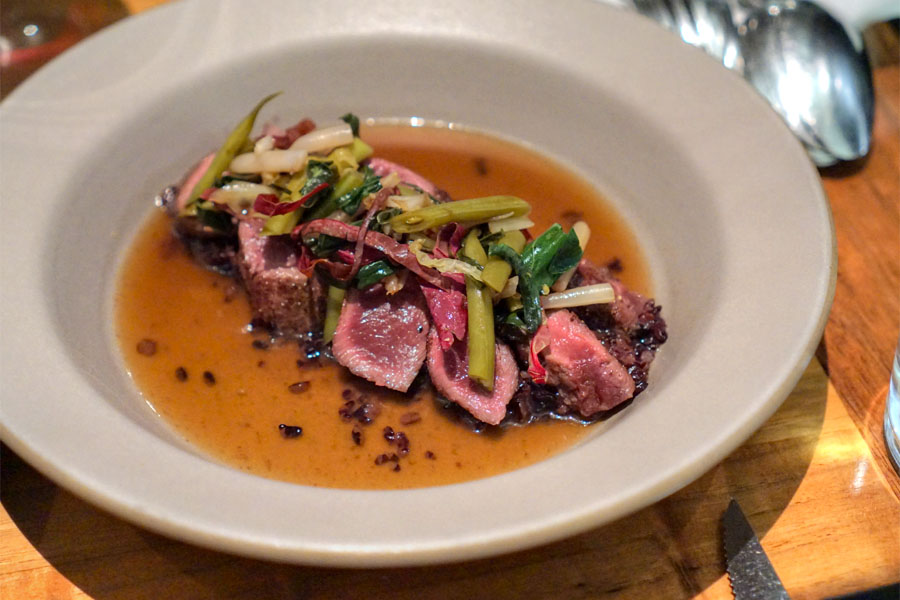 Wild Scottish Hare [$38.00]
| forbidden rice, flavors of saigon
For our final savory, hare came out rare, and displayed a woodsy flavor profile that matched with the black rice and veggies. Quite tasty, though I will say that I didn't get all that much "Saigon" in the dish.

Opening Pastry Chef Jashmine Corpuz has left the building (she seems to have started her own business,
Sugar Pop 55
). However, the desserts have held up just fine thanks to her replacement Kasra Ajdari, a familiar face from The Getty,
Patina
,
Raphael
, and
Saddle Peak Lodge
. Click for a larger version.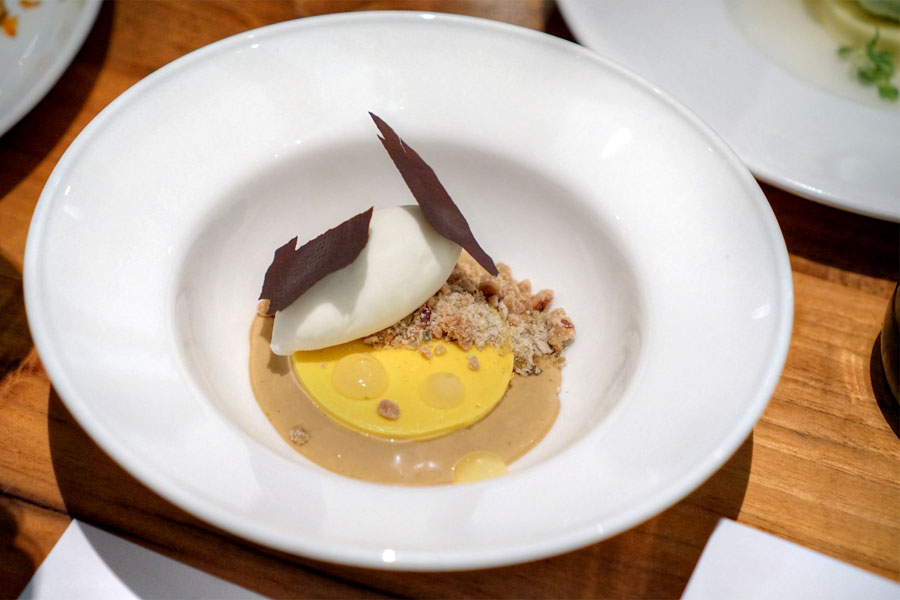 Kabocha Bavarois [$13.00]
| chicory anglaise, pecan penuche, mascarpone sherbet
In our first dessert, rich, super sweet flavors of kabocha squash were joined by a comparatively subdued chicory-infused anglaise. Crumbles of pecan penuche made for some textural variation, while the sherbet helped lift the dish.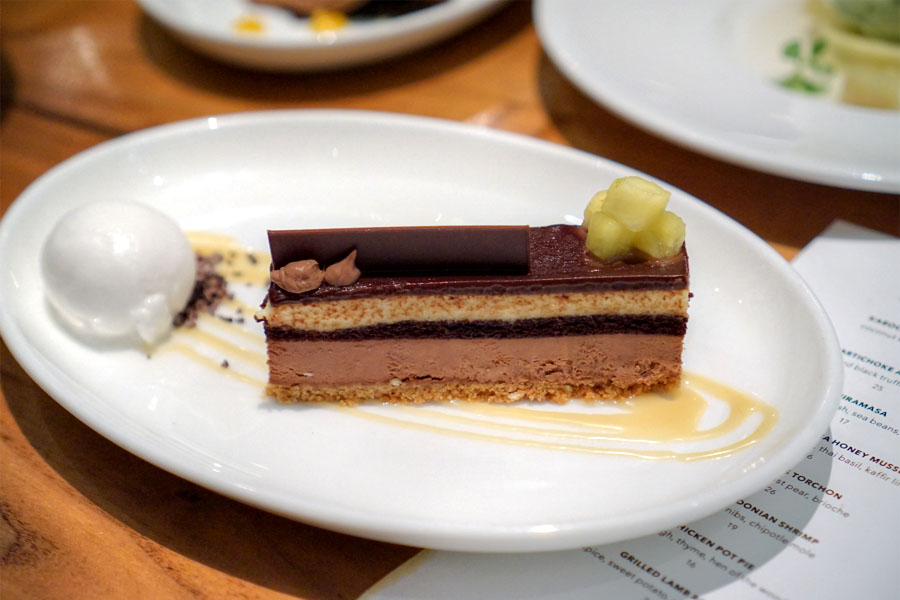 Chocolate Caramel Bar [$13.00]
| valrhona caramelia, pineapple mousseline, coconut sorbet
Redbird's semi-signature dessert has been revamped. It's a bit lighter now, with the chocolate evened out by tart pineapple and the almost airy qualities of the sorbet.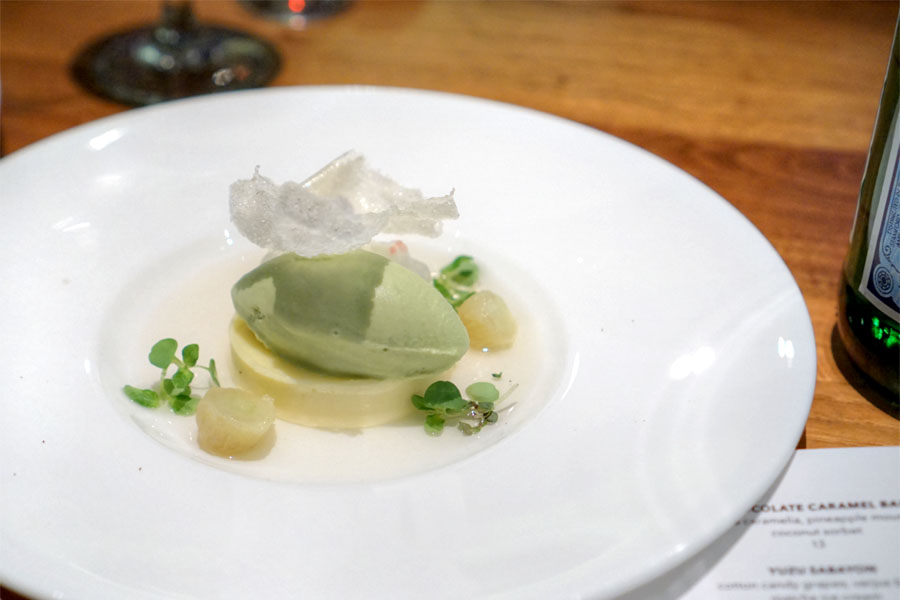 Yuzu Sabayon [$13.00]
| cotton candy grapes, verjus blanc, matcha ice cream
Tart, true-to-life flavors of yuzu matched effortlessly with the bittersweet green tea notes present, the verjus and grapes adding an extra layer of interest to the dessert.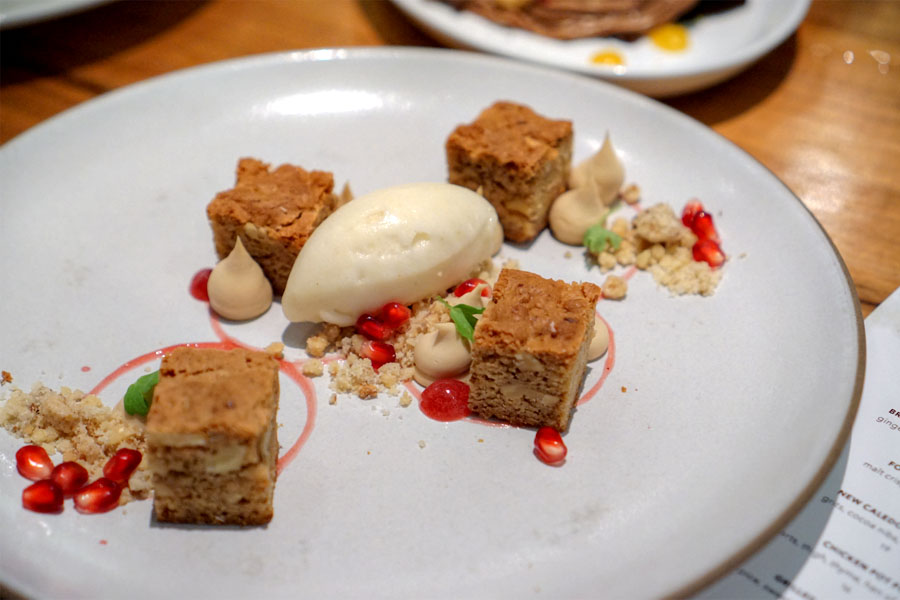 Walnut Blondie [$13.00]
| dulce de leche, pomegranate, pear sorbet
Nutty cubes of walnut blondie were augmented by the sugariness of dulce de leche, while a bright, fruity pear sorbet and pops of tartness from the pomegranate functioned as counterpoints. I would've preferred more moistness to the cake, though.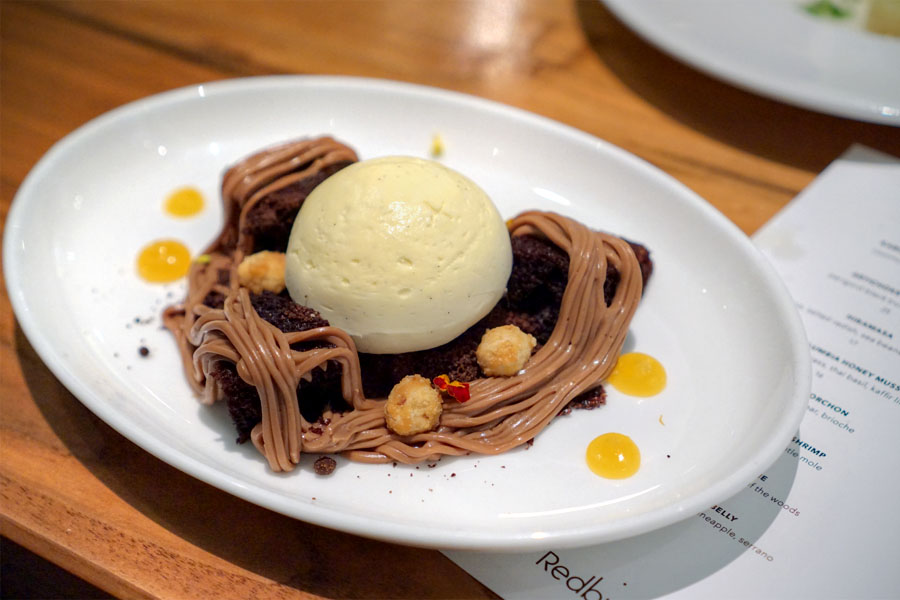 New Tella [$13.00]
| valrhona azélia, candied hazelnuts, frozen passion fruit
A rich devil's food cake base and Valrhona cremeux combined with candied hazelnuts to convey your traditional Nutella-inspired flavors. At the same time, passion fruit semi freddo and gel served as a tart, fruity counterpoint.
Redbird is holding up rather strongly after two years. The cooking's gotten a touch more refined I'd say, though still presents an air of familiarity along with a bit of a multicultural influence. Fraser and company seem to be doing quite well with the place, so hopefully the restaurant will continue to stick around.