Baohaus (Los Angeles, CA)
Baohaus at Far East Plaza
727 N Broadway, Los Angeles, CA 90012
213.935.8740
www.baohausnyc.com
Sat 01/28/2017, 03:10p-04:50p

Our latest foray into Chinatown's booming Far East Plaza (on Chinese New Year's day, appropriately) brought us to Baohaus, a shop serving
gua bao
(a Taiwanese snack comprising meat folded into a steamed bun) that comes to us from food personality Eddie Huang. The place opened in November, and occupies the spot of the old
Pok Pok Phat Thai
(which may hard to spot behind the omnipresent line for
Howlin' Ray's
).
Some background
: Edwyn Huang was born in 1982 in Washington DC to a Taiwanese immigrant family, one of three sons. He grew up around DC's Chinatown, but the family later moved to Orlando, where his father ran a number of restaurants. He got into food from watching his mother cook, and also from working at his father's businesses; he also took on an interest in African-American culture at an early age. Huang attended the University of Pittsburgh and later Rollins College, graduating from the latter school in 2004 with an A.B. in English and Film.
In 2005, he started his studies at the Cardozo School of Law at Yeshiva University. He worked summers at Chadbourne & Parke in 2006 and 2007, and later secured a full-time position after finishing his degree in 2008. During this period, he also started a streetwear company called Bergdorf Hoodman (later Hoodman Clothing after a lawsuit from the department store) and dabbled in freelance journalism and dope slanging. Huang was laid off from Chadbourne & Parke in March 2009, and following, tried his hand at being a stand-up comedian. Hoodman was shuttered in August that year, but he'd already founded a second clothing line called Tonk in June.
Eventually, Huang and brother Evan teamed up and opened the first Baohaus at 137 Rivington in Manhattan's Lower East Side. The Taiwanese bun restaurant debuted on Christmas Eve 2009 and garnered considerable attention. In July 2010, the brothers launched Xiao Ye, a schmancier joint that closed after just four months following poor reviews and multiple SLA raids stemming from the restaurant's much-hyped all-you-can-drink Four Loko promotion. July 2011 saw Baohaus relocate to 238 E 14th in the East Village, with the original location turning into
Andy Ricker
's Pok Pok Wing.
In late 2011, Huang hosted the Cooking Channel's
Cheap Bites
and also appeared on
Unique Eats
, but ultimately decided not to stay with the channel (after lambasting colleagues Anne Burrell and Guy Fieri).
Fresh Off the Boat: A Memoir
was released at the start of 2013 to some acclaim, and in 2014, ABC started working on a TV series based on the book, which debuted in February 2015. In 2016, Huang launched
Huang's World
on Viceland, a food-focused travel documentary series, and also saw the publication of his second book:
Double Cup Love: On the Trail of Family, Food, and Broken Hearts in China
.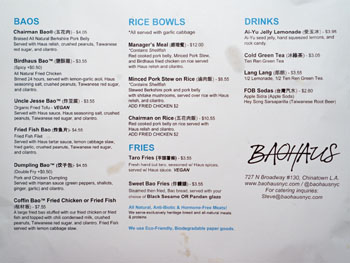 Baohaus' menu is straightforward: six types of buns, some bowls, fries, and appropriate beverages. Click for a larger version.
We had some bottles with us of course, and first up to the plate was the
2016 Boulevard Collaboration No. 6 - Barrel-Aged Blend
, created in collaboration with Firestone Walker. It comprised a blend of Boulevard Bourbon Barrel Quad (45%), Firestone Stickee Monkee (35%), Boulevard Whiskey Barrel-Aged Imperial Stout X - Tart Cherry (10%), and Firestone Velvet Merkin (10%). Nose of dark fruit and toffee punctuated by a very noticeable tartness. The taste brought sour cherry to the forefront, along with oak, caramel, bourbon, and a finish of dark fruit.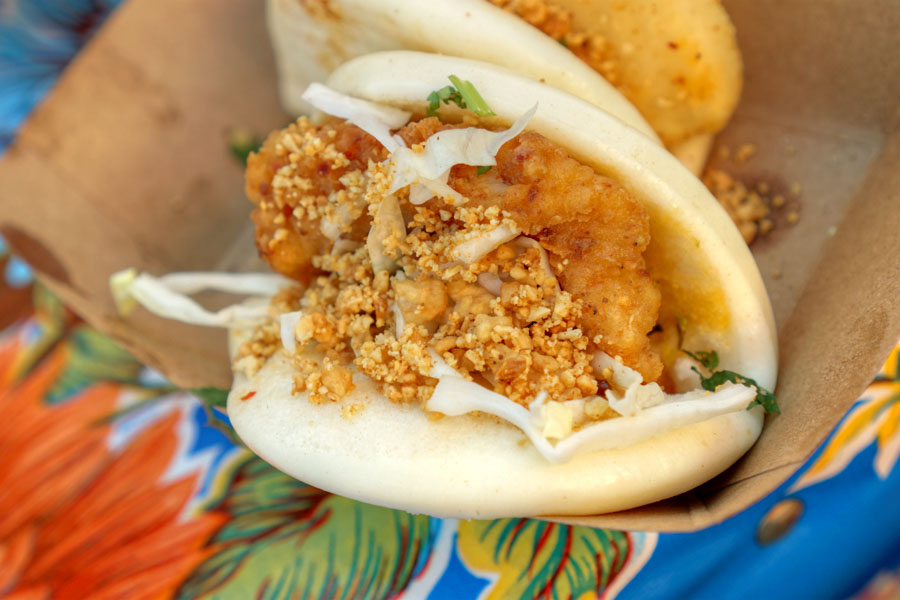 Fried Fish Bao [$4.55]
| Fried Fish Filet, Served with Haus tartar sauce, lemon cabbage slaw, fried garlic, crushed peanuts, Taiwanese red sugar, and cilantro.
Kicking things off was the fish bun, one of my favorites of the bunch. I found the fish itself soft, flaky, and well-spiced, with a slight sweetness to it that worked. I got a nice bit of acidity and crunch from the slaw as well.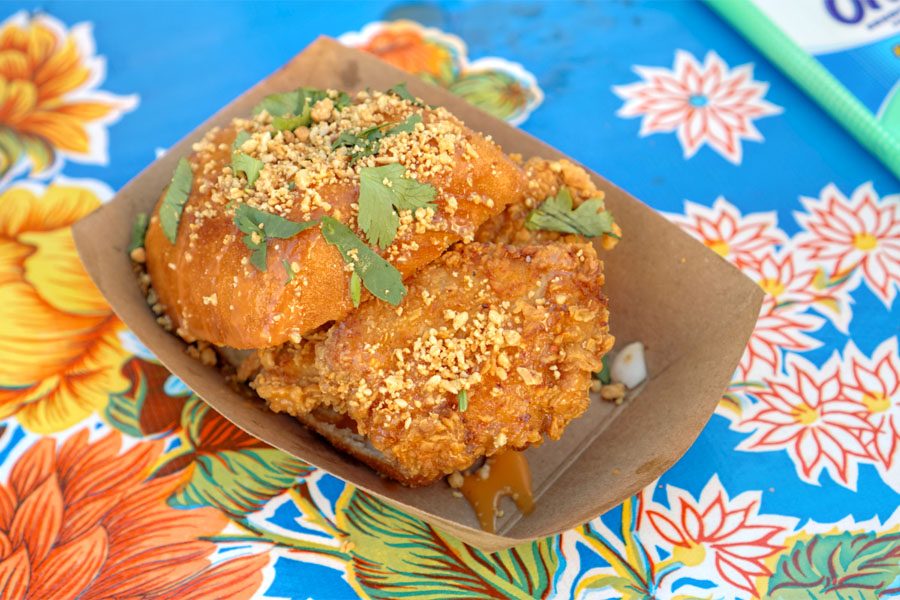 Coffin Bao - Fried Chicken [$7.55]
| A large fried bao stuffed with our fried chicken and topped with chili condensed milk, crushed peanuts, Taiwanese red sugar, and cilantro.
The large format bao showed off a lovely texture on the bun, and I liked the subtle sugary element as well, which I gather was from the condensed milk. I would've liked more aggressive seasoning on the actual chicken though (perhaps a result of the larger size of the cutlet here).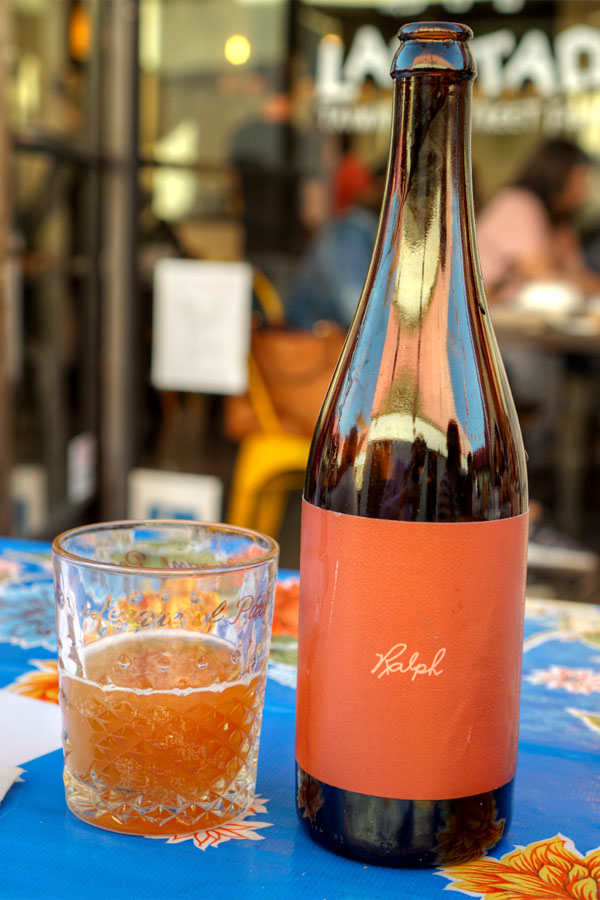 Next was a mixed culture farmhouse ale aged in oak barrels with cherries, the
2016 Good Beer Co Ralph
. This one smelled straightforwardly of tart cherry. The palate brought more of the same, with dry, restrained cherry notes and not much funk. Easy drinking.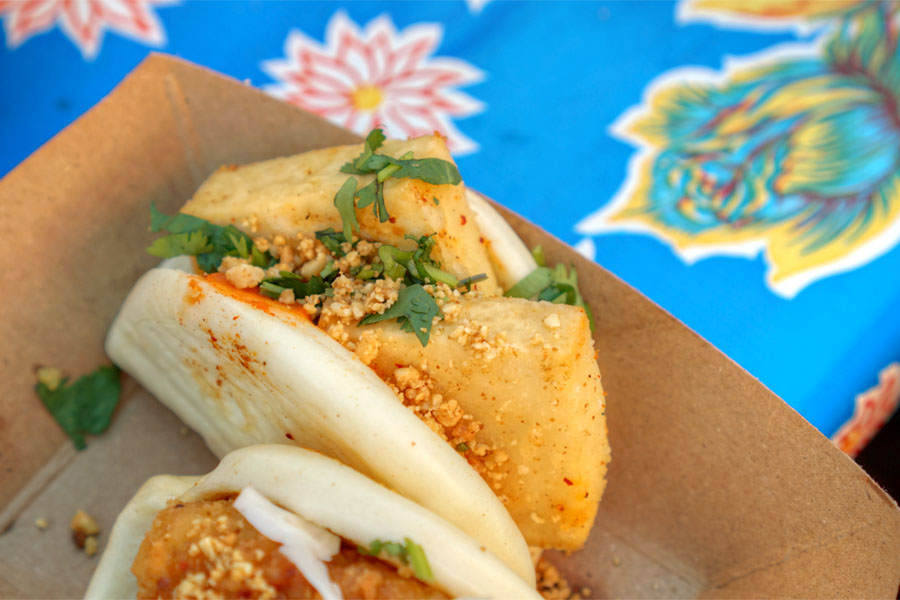 Uncle Jesse Bao [$3.55]
| Organic Fried Tofu, Served with Haus sauce, Haus seasoning salt, crushed peanuts, Taiwanese red sugar, and cilantro.
Tofu came out soft and silky, but with properly crispy exteriors. The blocks were fairly restrained flavor-wise, so the various accompaniments were key in completing the experience.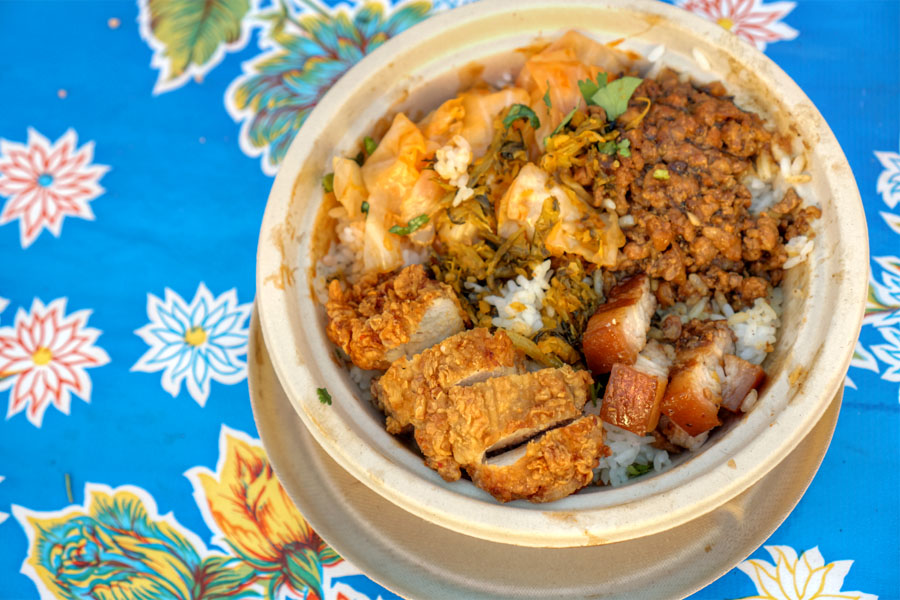 Manager's Meal [$12.00]
| Red cooked pork belly, Minced Pork Stew, and Birdhaus fried chicken on rice served with Haus relish and cilantro.
This multi-meat bowl certainly hit the spot. I was particularly partial to the deeply savory, comforting flavors of the pork stew and how the pickles (
suan cai
I assume) and garlic cabbage added just the right amount of brightness and crunch to the mix. Everything just came together in cozy fashion, and this is probably what I'd get if I were to come here regularly.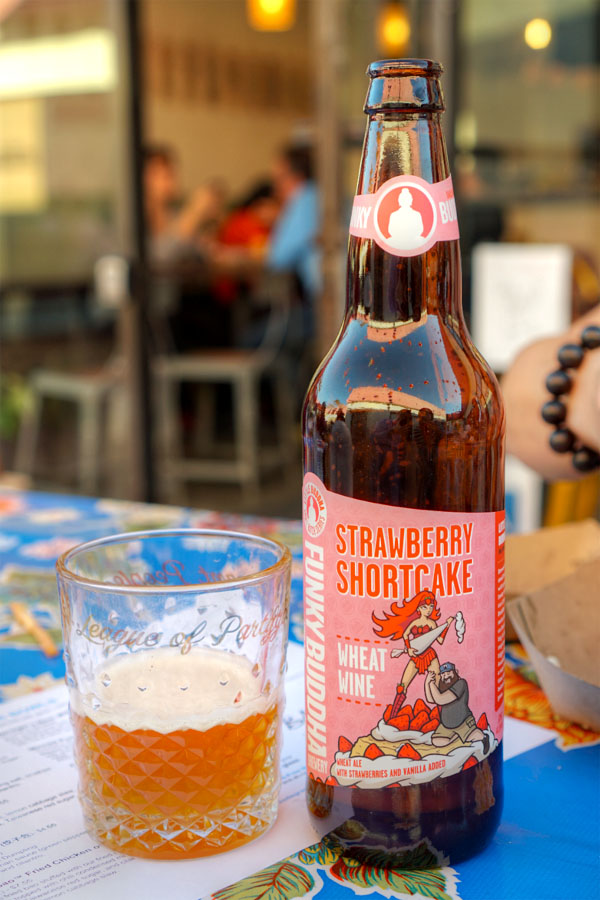 The
2016 Funky Buddha Strawberry Shortcake
was a wheat wine-style ale brewed with strawberries and vanilla beans. Aromas were surprisingly weak, with just a smidge of fruit poking through. Now the taste was much more assertive, bringing a marriage of the advertised strawberry and vanilla that certainly did recall the beer's eponymous dessert.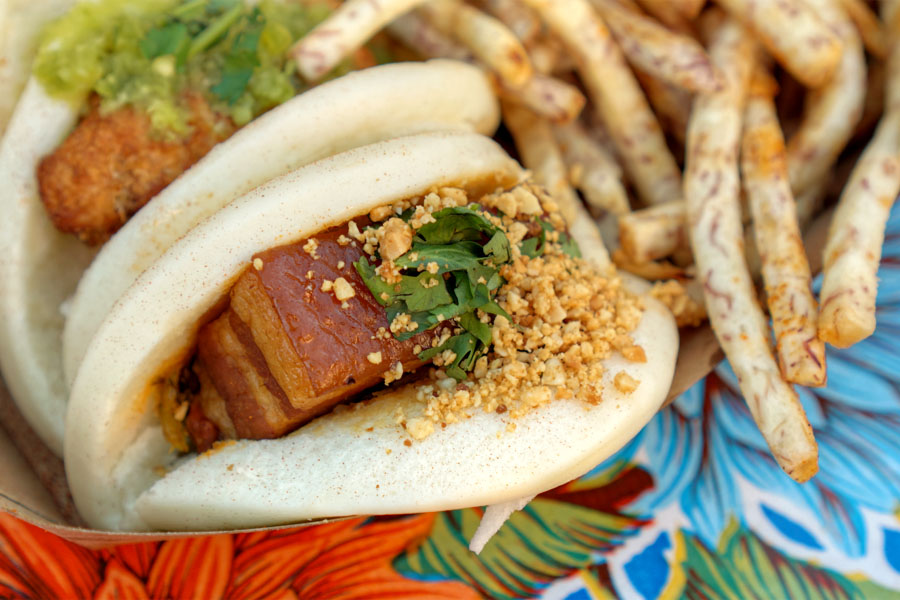 Chairman Bao [$4.05]
| Braised All Natural Berkshire Pork Belly, Served with Haus relish, crushed peanuts, Taiwanese red sugar, and cilantro.
The restaurant's signature bao met the mark, displaying the sweet-savory-spicy mix of flavors that you'd expect from
hongshao rou
, tempered only just by the included greenery and bun.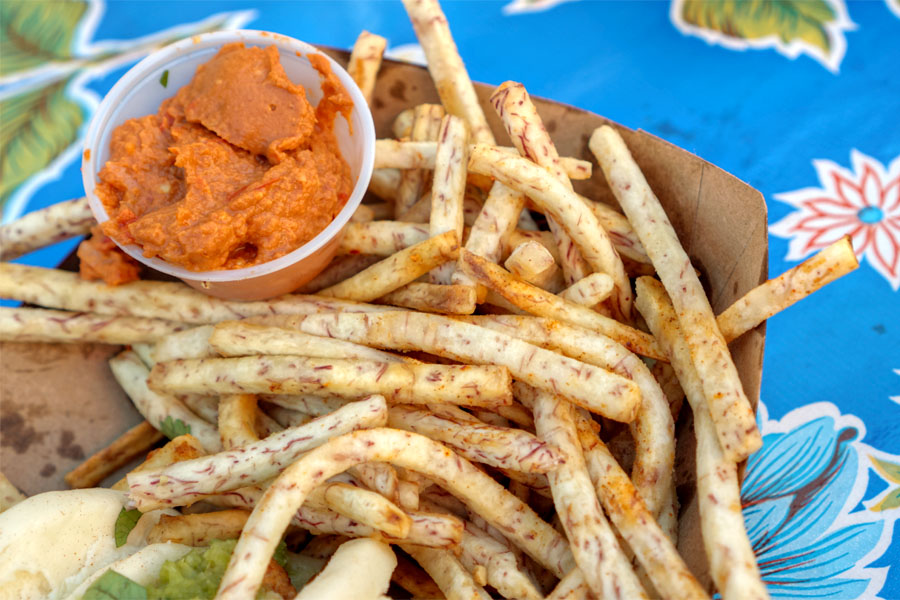 Taro Fries [$3.55]
| Fresh hand cut taro, seasoned w/ Haus spices, served w/ Haus sauce.
Taro fries worked, and were starchier and sweeter than your usual variety. I wasn't as sold on the tangy, tomato-y condiment that was included though.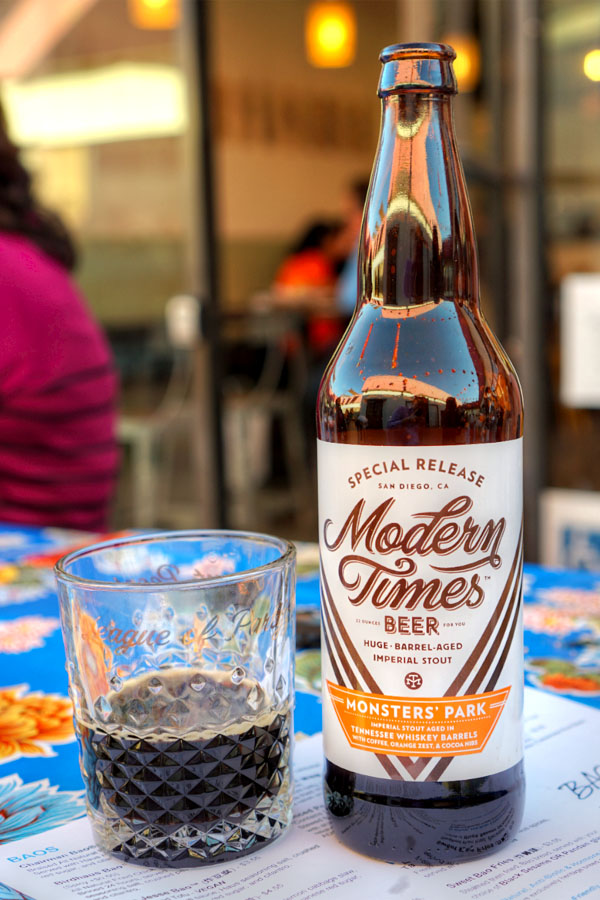 An imperial stout aged for over a year, the
2016 Modern Times Monsters' Park aged in Tennessee Whiskey Barrels with Coffee, Orange Zest & Cocoa Nibs
was the heftiest beer we had today. I got a nose brimming with rich malt and chocolate, though not much else. The orange came through on the palate though, commingling with the stout's cocoa-fueled notes in effective fashion. I really didn't get too much coffee, though there was a pleasant spice character on the finish.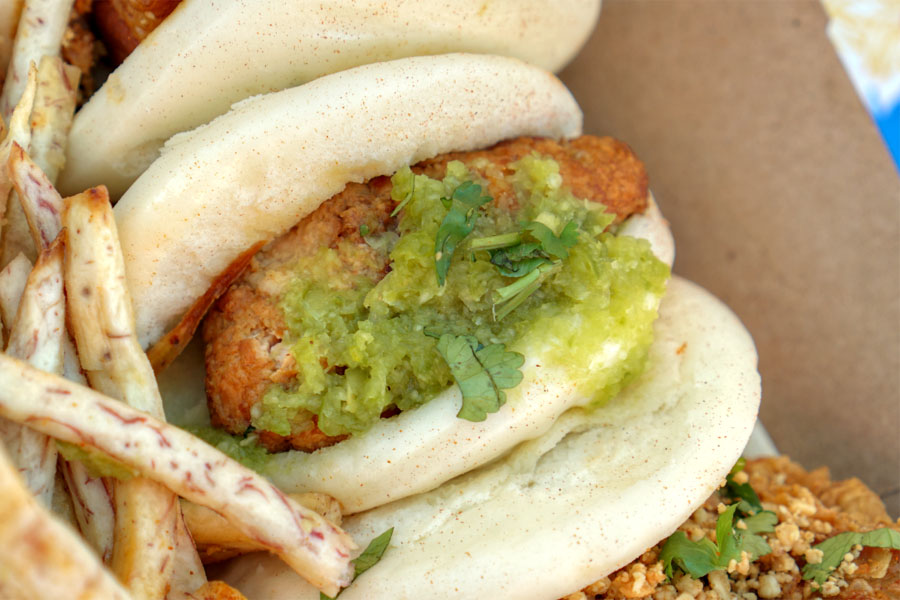 Dumpling Bao [$4.55]
| Pork and Chicken Dumpling, Served with Hainan sauce (green peppers, shallots, ginger, garlic) and cilantro.
The dumpling bao's a relatively new addition to the menu, and was another standout for me. The marriage of chicken and pork here really worked, making for a juicy, homey eating experience that worked beautifully with the punchiness of the Hainanese chicken-inspired sauce.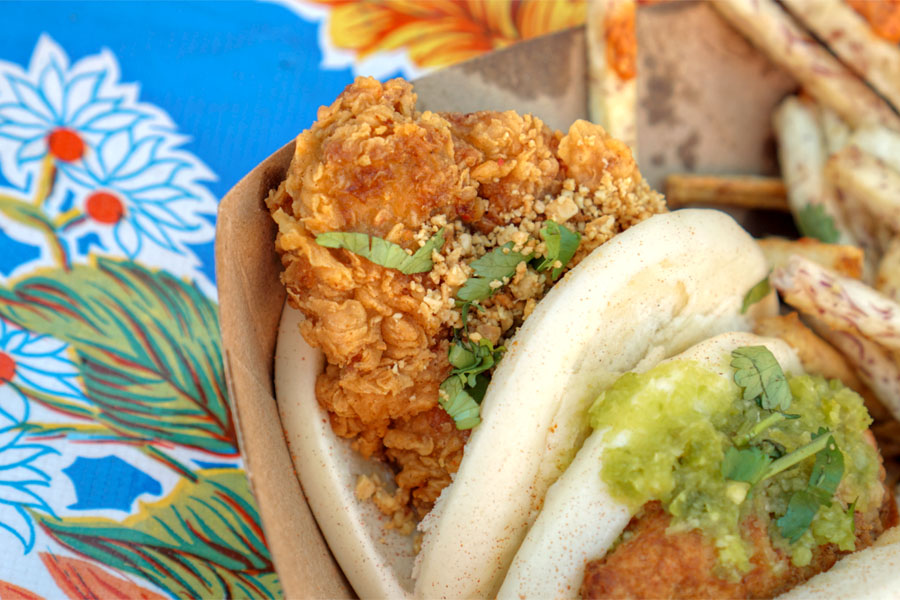 Birdhaus Bao [$3.55]
| All Natural Fried Chicken, Brined 24 hours, served with lemon-garlic aioli, Haus seasoning salt, crushed peanuts, Taiwanese red sugar, and cilantro.
The fried chicken in this particular bao was the best I had today, better than what I saw in the coffin bao and bowl. Seasoning was pretty much spot on, as was the bird's texture and crunch, which made for a nice contrast with the fluffy-ish bun.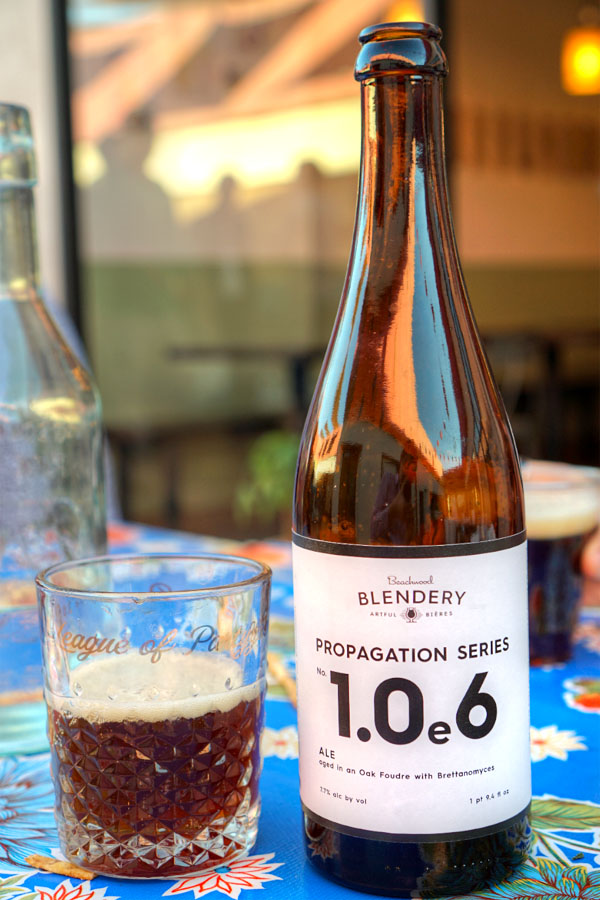 Our final beer was the
2016 Beachwood Blendery Propagation Series: No. 1.0e6
, a Belgian sour brown (oud bruin) aged in an oak foudre, with Brett. Here, a bouquet of tart berry fruit and oak led to a malty palate with more fruity notes, light funk, and light vinegar.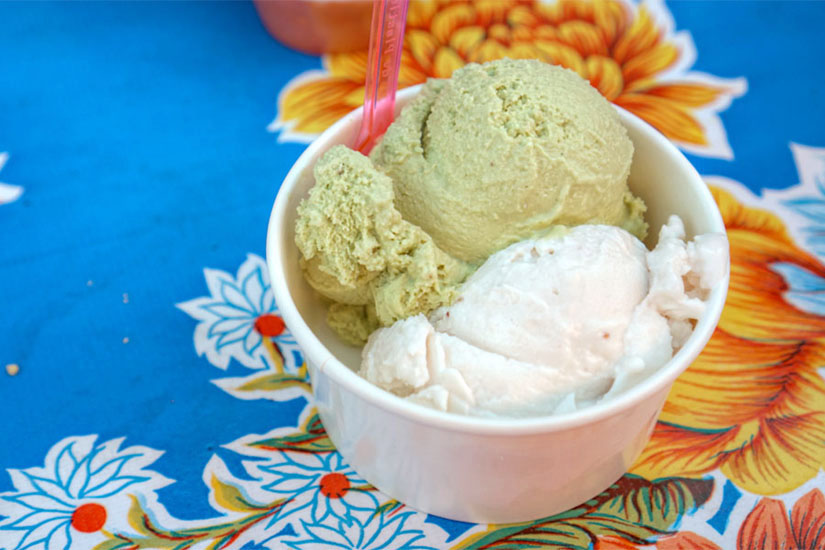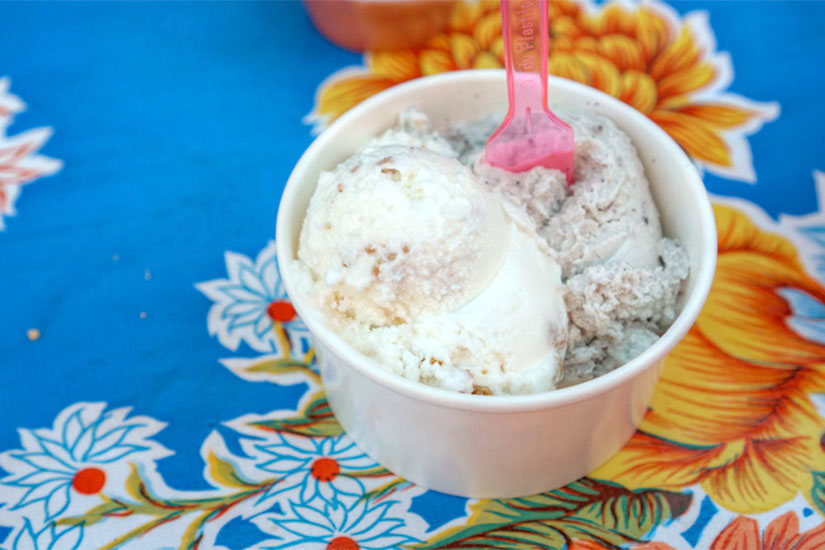 They weren't serving dessert at Baohaus, so we opted for some ice cream from Scoops:
Hazelnut Green Tea - Great bitterness from the matcha, but comparatively little hazelnut.
Strawberry Lychee - Tasty strawberry flavors, with the lychee augmenting its inherent sweetness.
Bianco Bread Mascarpone - My favorite of the four. Rich and almost buttery, with some fantastic crunchy bits thrown in for texture.
Black Sesame Caramel Almond - Very good, though I didn't detect much caramel. Almost tangyuan-like with the sesame.
I think the general consensus was that the food at Bauhaus met expectations for the most part. Inevitably, comparisons to
The Chairman
will arise, especially since it's located less than two miles away. In fact, the opening of Baohaus could possibly be viewed as a middle finger to The Chairman, given the two restaurants' contentious history (The Chairman was renamed from Chairman Bao in 2011 following threats by Huang). There was no clear winner between the two, at least not today, with the eateries trading off between dishes. Given that they're so close so each other, perhaps a head-to-head match-up needs to happen...