Birds & Bees (Los Angeles, CA)
Birds and Bees Bar
207 S Broadway, Los Angeles, CA 90012
213.537.0510
www.birdsandbeesla.com
Thu 02/09/2017, 10:20p-12:20a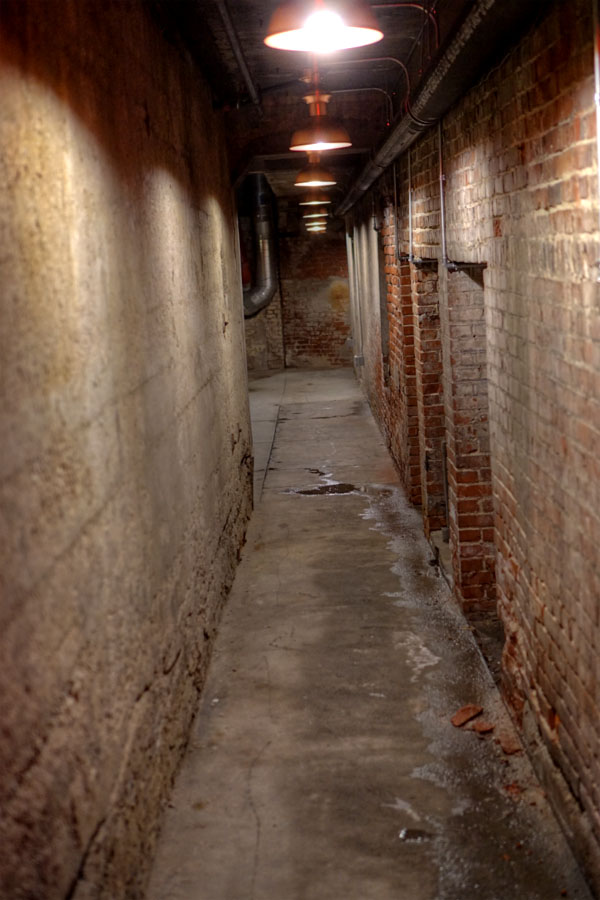 After enjoying dinner at the new
Wolfdown
in Silver Lake, we headed Downtown to one of LA's newest bars, a subterranean joint located underneath the Broadway Media Center complex (enter via the stairway at the northeast corner of the parking lot). Birds & Bees opened on January 28th, and is the work of former finance guy Dev Desai and his childhood friend Ankur Desai. The two brought on
Marcos Tello
to consult on the place, while day-to-day, Bethany Ham (The Corner Door) serves as Bar Manager while Nikki Sunseri (Las Perlas) is GM.

Birds & Bees was penned by Raveled Studio, the local firm behind the likes of Mikkeller Bar, Boomtown Brewery,
Arts District Brewing
,
Preux & Proper
, and
Plan Check
. It's a 1950s-ish, lounge-y type space, but with some grit, spanning nearly 3,000 square-feet and holding about 120 patrons.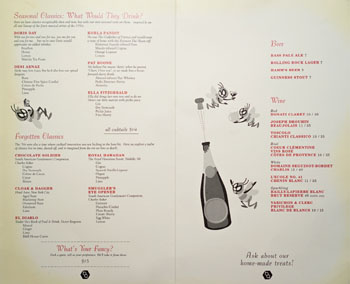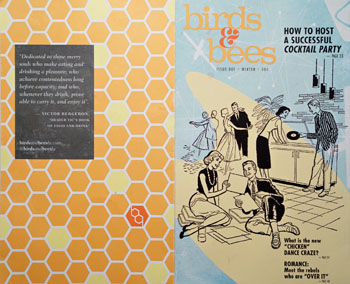 As for the menu (loved that graphic design), you get a short list of revamped, reimagined, '50s-inspired classics, along with a few Old World wines and a handful of uneventful beers. Click for larger versions.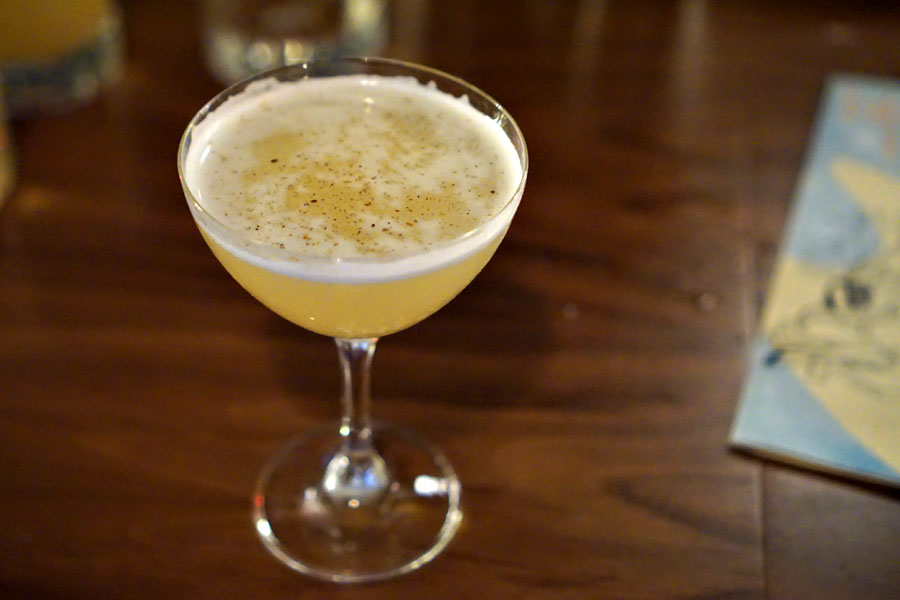 Desi Arnaz [$14.00]
| Rum, Chinese Five-Spice Cordial, Crème de Peche, Pineapple, Lime
We began with a spiced daiquiri of sorts, a variation on the Hotel Nacional. I got lots of stone fruit and citrus at first blush to go with the rum, while the lime added an ever-persistent tartness. The crux, though, was the Chinese-y
wuxiang fen
, which imparted a layer of aromatic spice to the drink.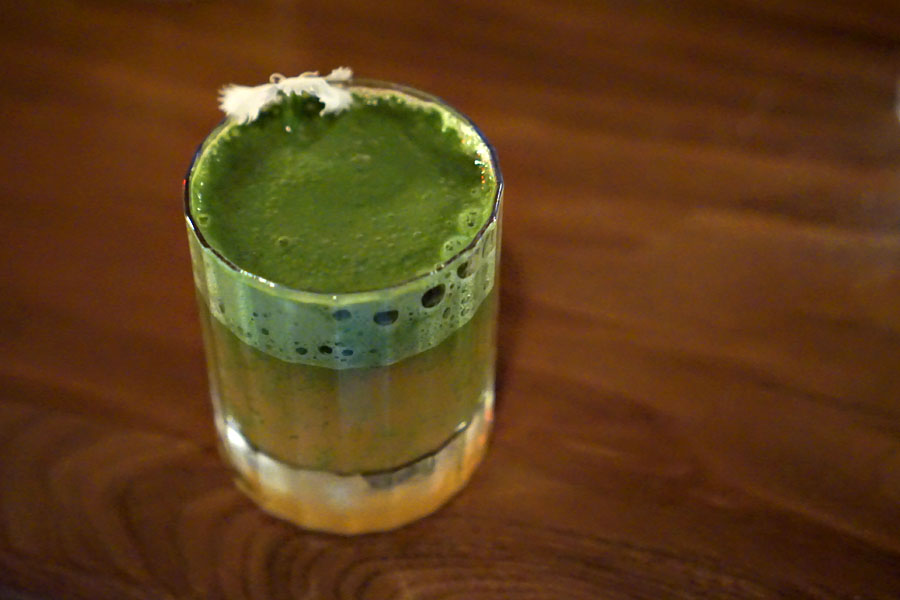 Doris Day [$14.00]
| Bourbon, Honey, Lemon, Matcha Tea Foam
Next up was a take on the modern classic that is the Gold Rush. It was probably the most fascinating cocktail we had this evening, with an effective marriage of sweet and sour finished by the bitterness of the green tea. Texturally, the foam provided a point of interest as well that I enjoyed.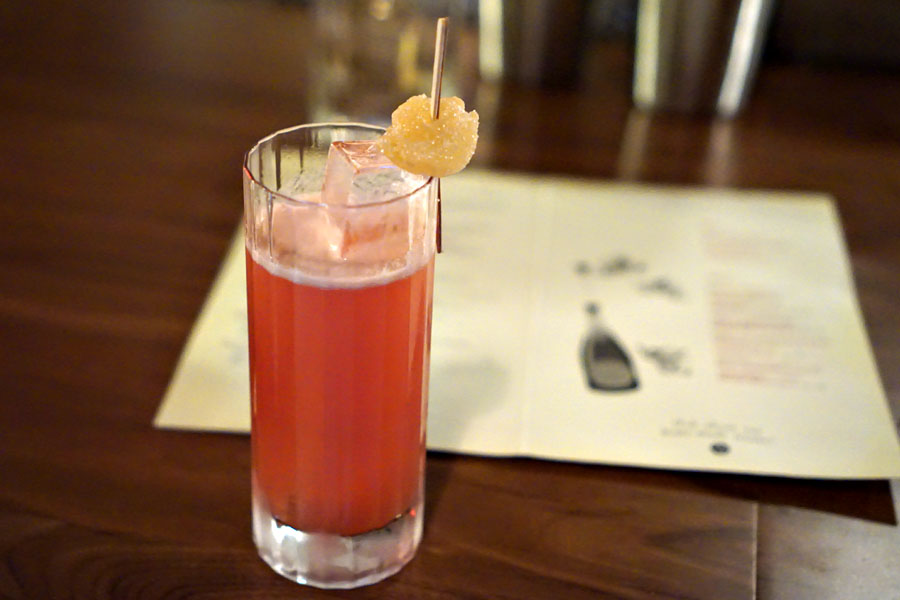 El Diablo [$14.00]
| Mezcal, Ginger, Lime, B&B House Cassis
The El Diablo cocktail usually features tequila, but Birds & Bees' version incorporated mezcal instead. This made for a smokier, weightier drink, but one balanced by the zestiness of ginger and the refreshing nature of the crème de cassis.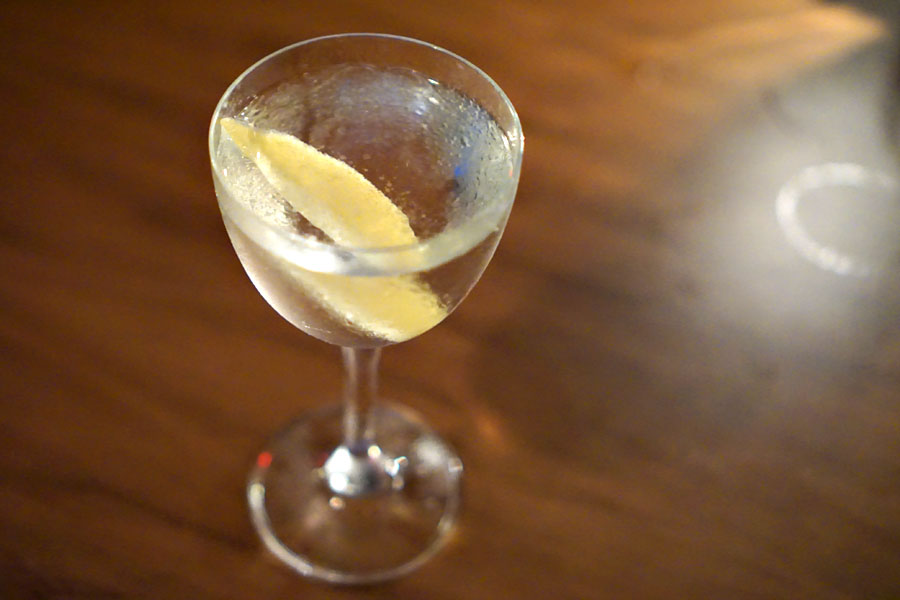 50-50 Martini
One of my fellow drinkers requested this 50/50 martini, which ostensibly uses equal parts of gin and dry vermouth. Unfortunately I didn't get to try it, but he seemed pretty happy with the result.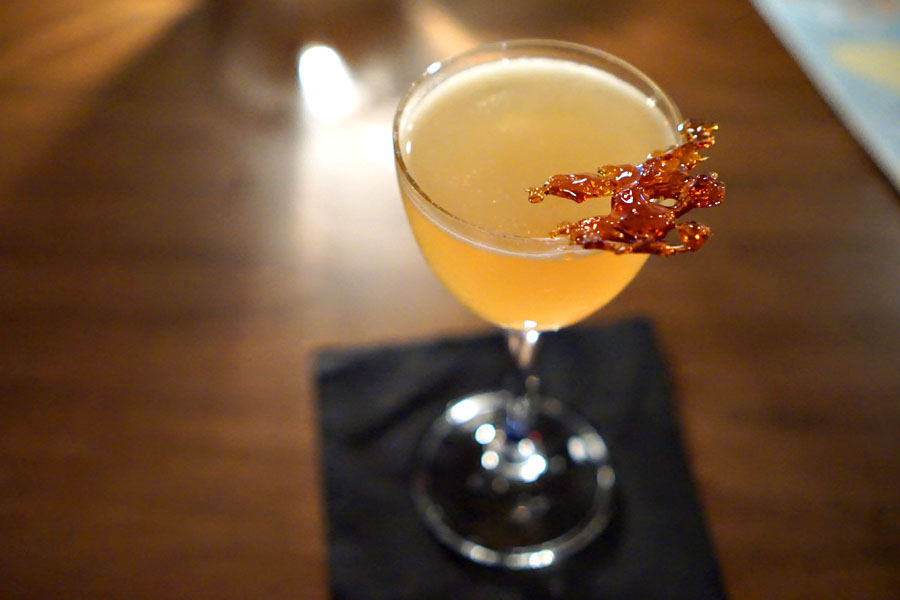 Korla Pandit [$14.00]
| Butternut Squash-infused Rum, Masala-infused Cognac, Orange Liqueur, Lemon
Here we had a riff on the classic Between the Sheets. The addition of butternut squash and masala imparted a bit of an exotic edge to the cocktail, and I liked the shard of candy on the rim, which could be tossed into the drink to impart further sweetness.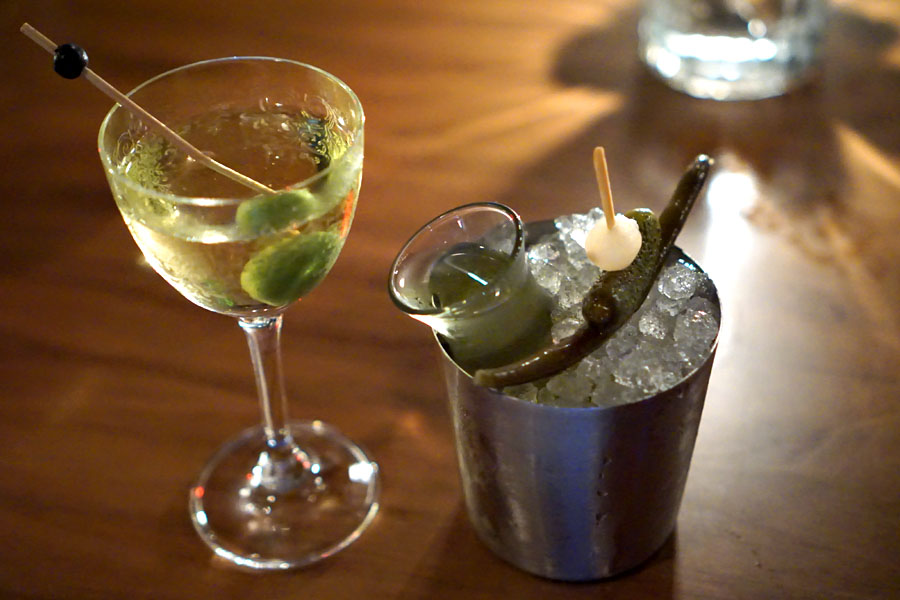 Ella Fitzgerald [$14.00]
| Gin, Dry Vermouth, Pickle Juice, Fino Sherry
A martini replete with pickle juice and sherry was very dirty indeed, showcasing bountiful amounts of pickle-y brine evened out just a smidge by the sherry. I definitely appreciated the sidecar, which came with its own garnishes of onion, cornichon, and green bean.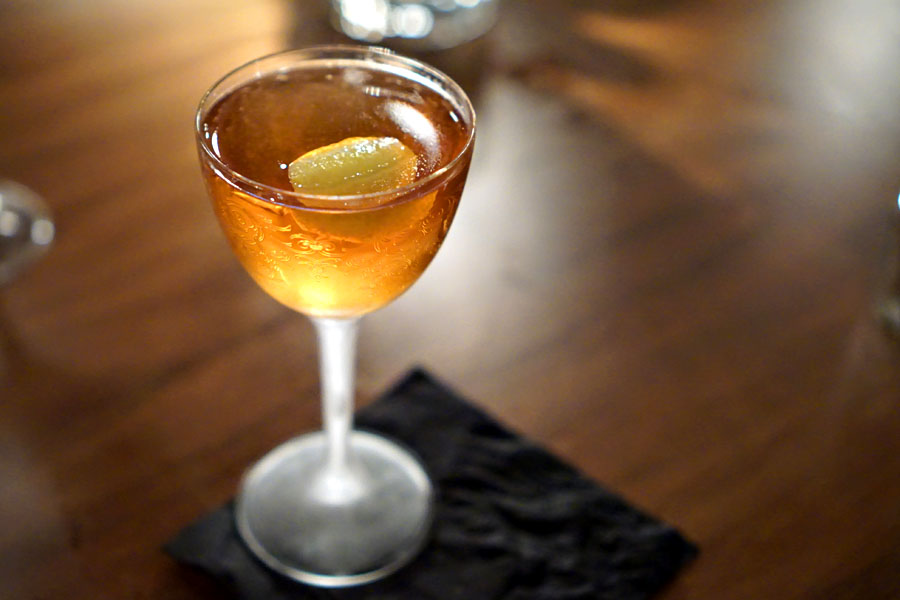 Chocolate Soldier [$14.00]
| Cognac, Dry Vermouth, Crème de Cacao, Cynar, Bitters
Last up was the Chocolate Soldier, this particular preparation featuring Cynar. Think decidedly boozy, bittersweet, with the vermouth coming to the forefront before things transitioned to a slightly sweeter side thanks to the crème de cacao.
Birds & Bees made for an agreeable end to the evening. The cocktails worked, and had their own charms, and I appreciated the vibe of the place, which was on the more relaxed side (hopefully it stays like that). The idea is to have the menu change seasonally, so it'll be nice to see how things progress.