Michael's (Santa Monica, CA)
Michael's Restaurant
1147 3rd St, Santa Monica, CA 90403
310.451.0843
www.michaelssantamonica.com
Tue 01/03/2017, 07:00p-09:15p

The last time I reported on Miles Thompson, he was in the process of closing down
Allumette
, his Echo Park eatery that was perhaps ahead of its time for the neighborhood (it was replaced by The Holloway, a sports bar). Following the shutter, he relocated to northern California and became Culinary Director at SHED in Healdsburg, where he stayed until September 2015. He then moved to St. Kitts to work as Executive Chef at Christophe Harbour resort. Thompson left the Caribbean in July last year to revamp the iconic Michael's, a pioneer in California Cuisine that grand re-opened on September 15th after closing a few weeks for renovations.
A bit of history
: Michael's is named, of course, after its eponymous founder: Michael McCarty. McCarty was raised in the tony town of Briarcliff Manor, New York, and his parents' frequent, fancy dinner parties got him interested early on in food and hospitality. He was sent to boarding school at The Hill in Pottstown, Pennsylvania, and during his junior year there, spent time (1969-1970) in Rennes, France as part of the School Year Abroad program, thus furthering his interest in the gastronomic arts. His family eventually moved to Rockford, Illinois, and McCarty subsequently took a job at a nearby restaurant called The Mayflower, then studied briefly at the University of Colorado Boulder.
He ended up returning to Paris in 1972, where he attended Le Cordon Bleu, École Hôtelière de Paris, and Académie du Vin, all while catering and working at a restaurant. After completing his culinary education in 1974, he moved back Stateside and enrolled in Cornell's summer hotel management program. McCarty ended up going back to Colorado and attained his B.A. in the Business and Art of Gastronomy in 1975. During this time, he also taught cooking at a local college, where he met his future wife, Kim. With his degree in hand, he relocated to Los Angeles, where his family had moved to. Here, he did some catering, taught more cooking, worked a bit at the legendary L'Ermitage (now Koi), and helped run a duck farm with the restaurant's co-owner Jean Bertranou.
On April 22 1979, at age 25, McCarty opened Michael's in a building that previously housed a pub called Brigadoon. The restaurant was pretty revolutionary for its time, marrying French technique with the Southland's top-notch produce, and helped define LA's own iteration of Cal Cuisine. Michael's also served as a sort of training ground for numerous chefs that have come up through the ranks in SoCal: Jonathan Waxman (fresh off his stint at
Chez Panisse
), Ken Frank,
Mark Peel
, Roy Yamaguchi,
Nancy Silverton
,
Sang Yoon
,
Brooke Williamson
,
John-Carlos Kuramoto
, and even
Moruno
's David Rosoff in the FOH, to name a few.
The success of Michael's allowed McCarty to add more restaurants to his portfolio. Partnering with Chef Jimmy Schmidt, he opened Denver's Rattlesnake Club/Grill Room in 1985 (rebranded to Adirondacks in 1989), another Rattlesnake Club in Detroit in 1988, and Adirondacks in Washington DC in 1989. The duo split amicably in 1989 however, with McCarty losing his interest in the Detroit property. Later that year, he debuted the second outpost of Michael's in Manhattan (still open). During this period, he invested significant funds in a hotel that was slated to open at the site of the old Sand and Sea Club (now the Annenberg Community Beach House). That project ended up falling through due to local opposition, resulting in McCarty's bankruptcy and sale of his non-Michael's restaurants. Further trouble came in 1993, when he lost his Malibu home in the Old Topanga fire.
Things seemed to be fairly calm after this era, though Michael's certainly lost some of its luster in the 1990s and 2000s. In April 2002, one Michael "Mikey" Stern started as a garde manger at the restaurant. He would work his way up the ranks, and in summer 2007, became Executive Chef. However, in April last year, Stern announced his intention to leave, and as a result, McCarty began his search for a new Chef. Thompson came recommended by some colleagues (
Kevin Meehan
and
Zach Pollack
I hear), and coincidentally, was visiting LA around the same time. He and McCarty soon convened at the Santa Monica Farmers Market, purchased some produce for dinner service, and that was it. He was hired without even having to cook.


Inside, things have been redone, but the place is still a bit of a throwback, replete with McCarty's art collection adorning the walls. The heavily-vegetated patio ("The Garden") remains intact, thankfully.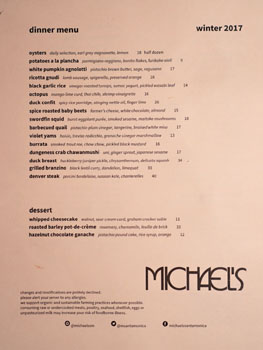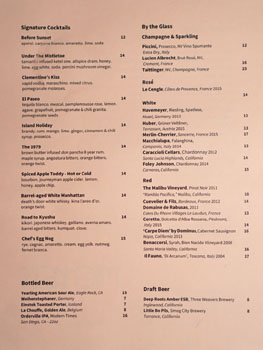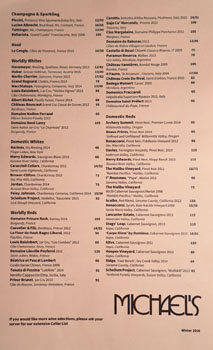 Food-wise, Thompson's completely reworked things at Michael's, and the menu reads a lot more modern, a lot more diverse than what I've seen here in the past. Meanwhile, to drink, you get a new array of cocktails from Meredith Hayman (
Bestia
,
Faith & Flower
), a handful of beers, and a short, reasonably-priced selection of wines augmented by the more extensive "Cellar List." Click for larger versions.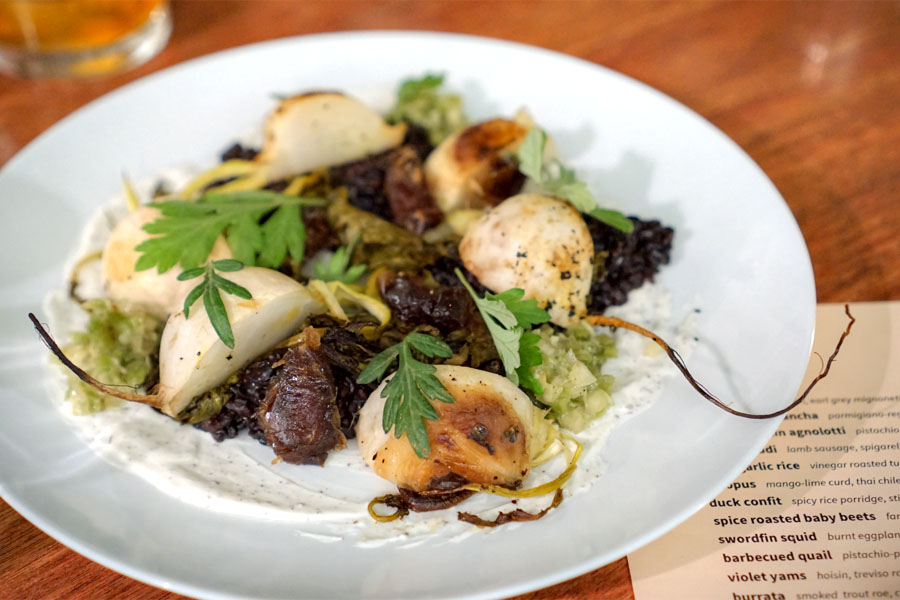 black garlic rice [$14.00]
| vinegar roasted turnips, sumac yogurt, pickled wasabi leaf
Let's get into it. Our first dish was one of my favorites. The rice came thoroughly imbued with the tang of black garlic. It was almost too pungent on its own, but was spot on when paired with the heat of wasabi and the cooling effect of yogurt. The juicy, bitter, crunchy turnips served as a perfect finish.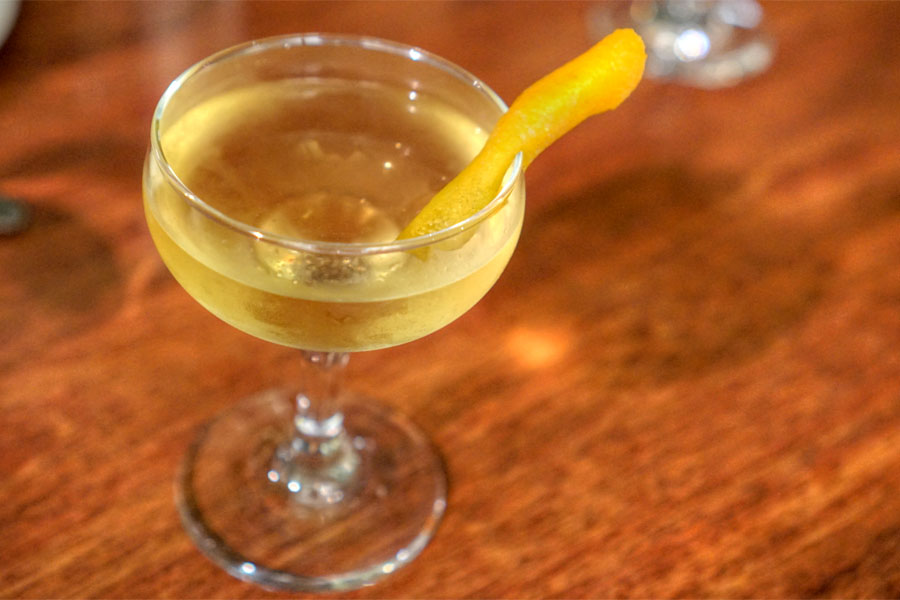 Barrel-aged White Manhattan [$14.00]
| death's door white whisky. kina l'aero d'or. orange twist.
We ended up trying all the cocktails that were available this evening, beginning with this. Nose of light, bright citrus and surprisingly little alcohol. The taste went bittersweet, grassy, with light spice and a definite heat backing everything up.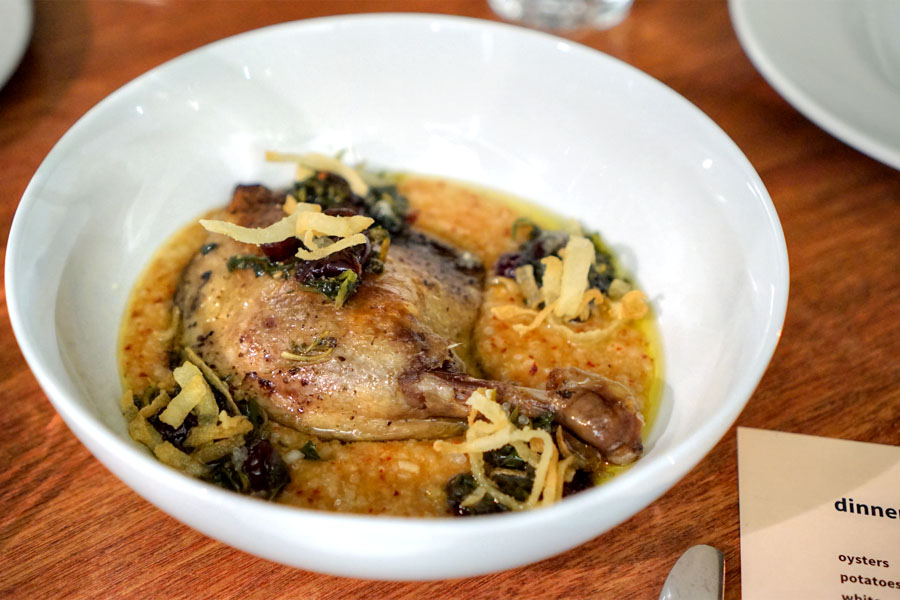 duck confit [$26.00]
| spicy rice porridge, stinging nettle oil, finger lime
The confit was all that you'd want, with the crispy-skinned bird exuding boatloads of rich, deeply savory flavors that were softened by the coziness of the porridge. I found an unexpected, but not welcomed fruity sweetness in the dish as well.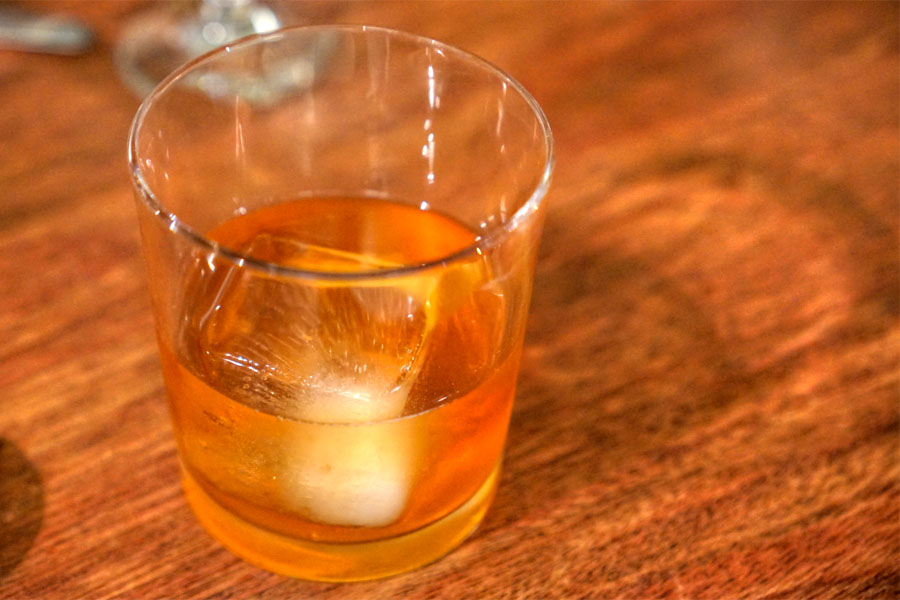 The 1979 [$14.00]
| brown butter infused don pancho 8 year rum. maple syrup. angostura bitters. orange bitters. orange twist.
This next cocktail was likely my favorite of the bunch. Smelled of citrus intertwined with sugar 'n' spice. The taste followed, with more decadent brown butter notes and maple in a boozy, viscous package.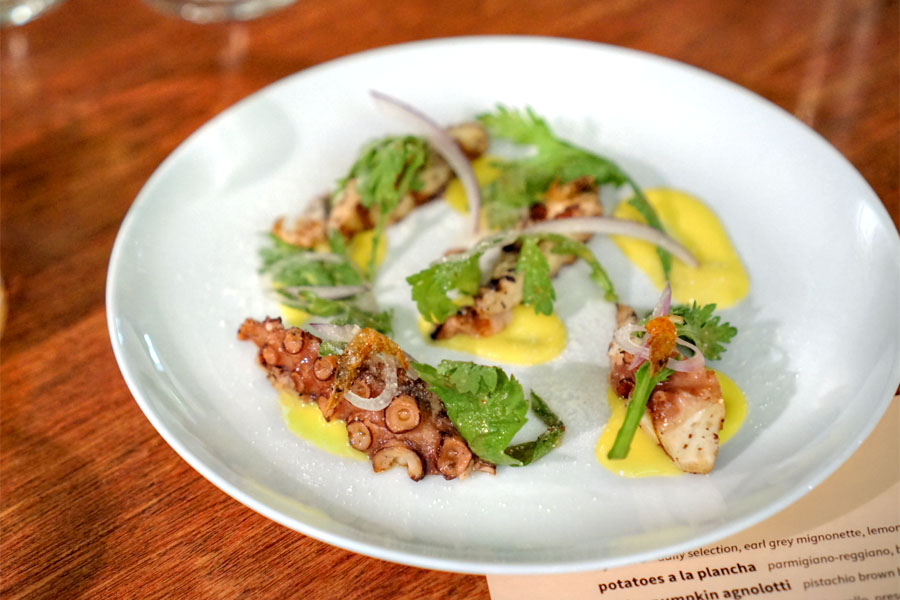 octopus [$16.00]
| mango-lime curd, thai chile, shrimp vinaigrette
Octopus came out ridiculously tender and super flavorful, though I would've liked a bit more char on the tentacles. Well-matched to the acidic, almost bracing curd and the slivers of red onion.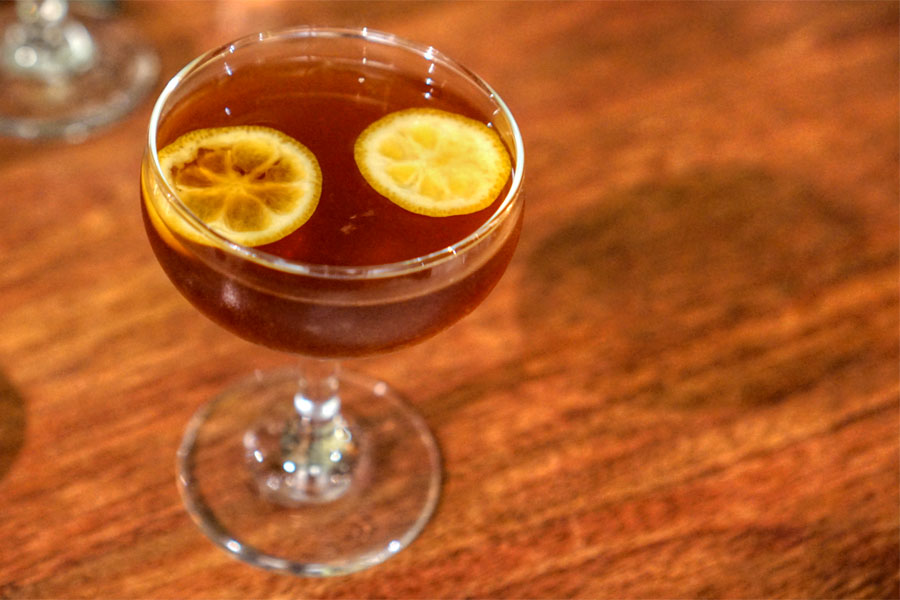 Road to Kyushu [$14.00]
| kikori. japanese whiskey. galliano. averna amaro. barrel aged bitters. kumquat. clove.
Rice whiskey was the star of the show here, serving as a workable base for the plethora of bittersweet, herbal, lightly spicy, citrusy flavors appearing in the cocktail.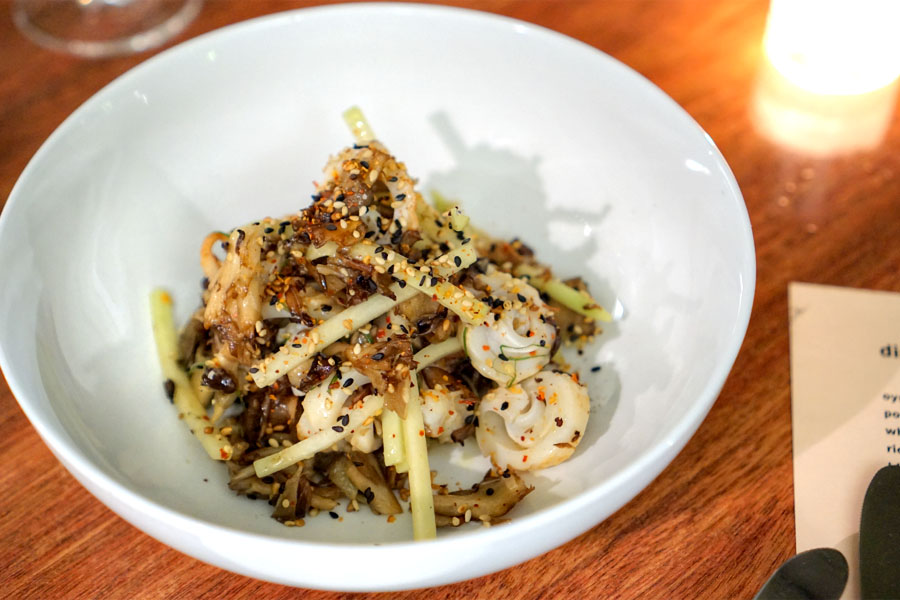 swordfin squid [$18.00]
| burnt eggplant purée, smoked sesame, maitake mushrooms
This was another favorite for me. The squid came out properly snappy to the bite, and matched beautifully with the nuttiness of sesame and the smokiness of eggplant. There was a trace of heat present as well that I enjoyed, and the mushrooms imparted a great umami component. Perhaps the best part though were the batons of chayote, which worked as a light, crunchy counterbalance to complete the dish.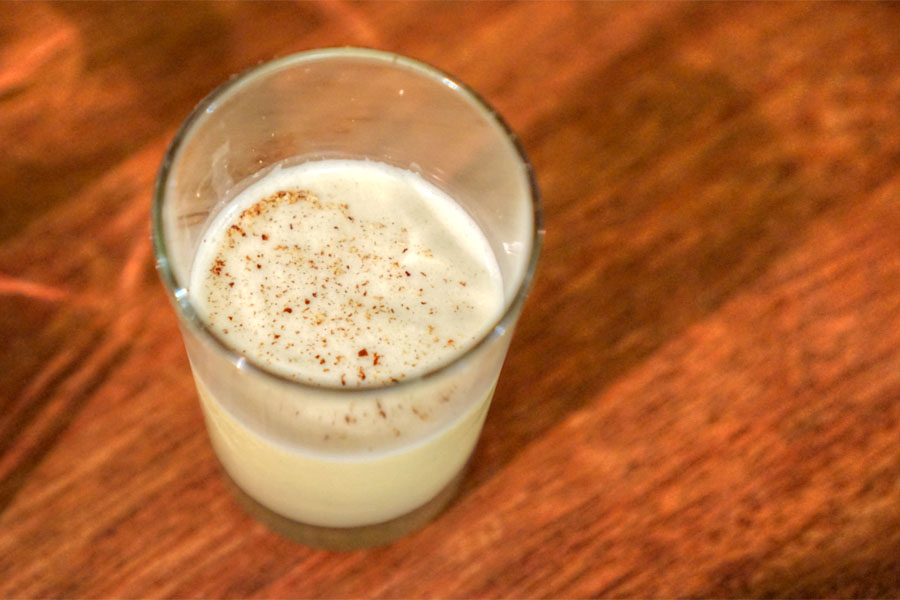 Chef's Egg Nog [$15.00]
| rye. cognac. amaretto. cream. egg yolk. nutmeg. fernet branca.
Some eggnog seemed apropos for the season. It didn't let us down with its marriage of sweet, spicy, dark fruit flavors underscored by the warmth of alcohol.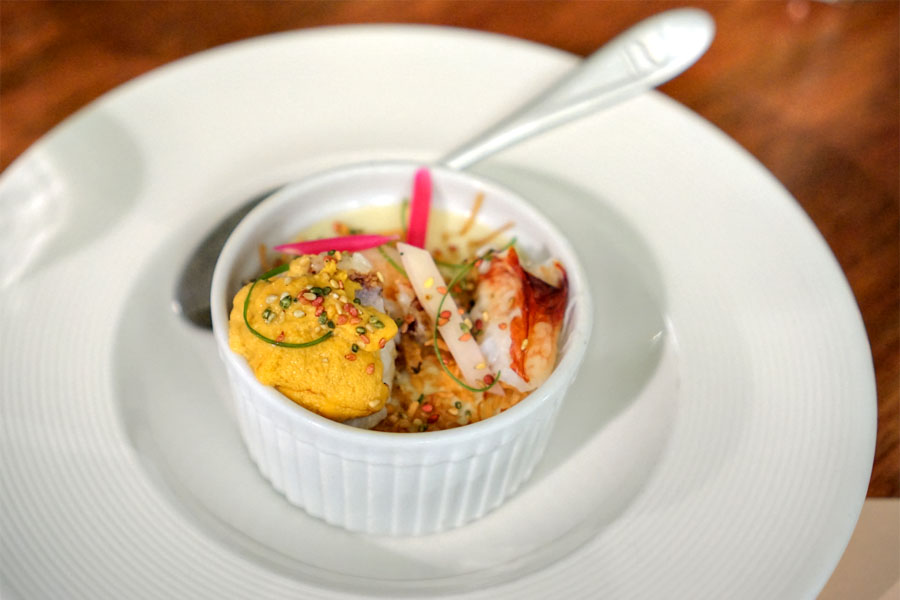 dungeness crab chawanmushi [$17.00]
| uni, ginger sprout, japanese sesame
A take on
chawanmushi
combined two types of sweet brine that played well off of each other, moderated by the comparative mildness of the egg custard. In addition, I loved the nuttiness and savor provided here by the sesame, which seemed to amplify the inherent oceany flavors in the dish, and the zestiness of the ginger was crucial as a contrast, too. I will note that this was served cold, so I'm curious how it'd be if it were warm instead.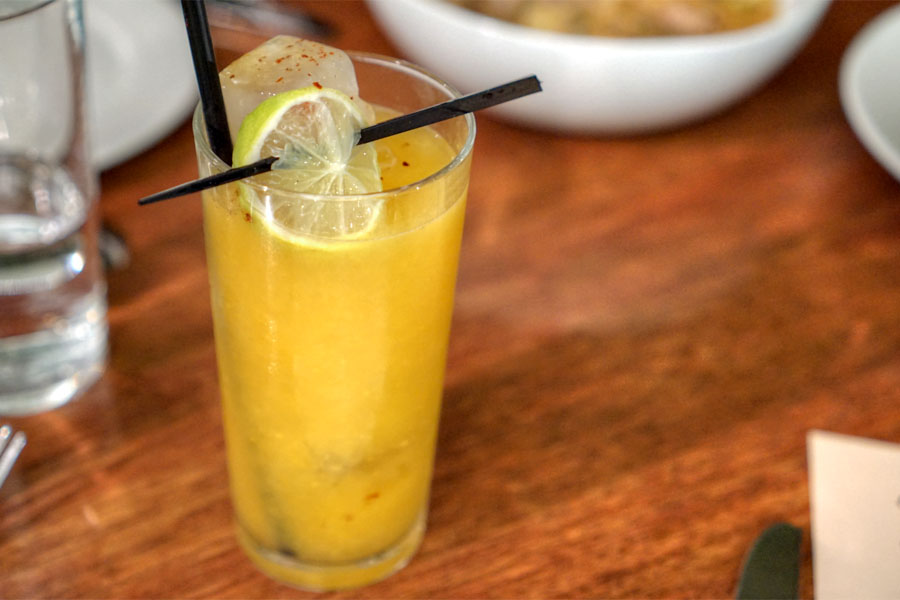 Island Holiday [$14.00]
| brandy. rum. mango. lime. ginger, cinnamon & chili syrup. prosecco.
This next cocktail was sort of a fun one. Lots of bright, fruity flavors and notes of dried mango here, accented by a smidge of spiciness from the cinnamon-chili.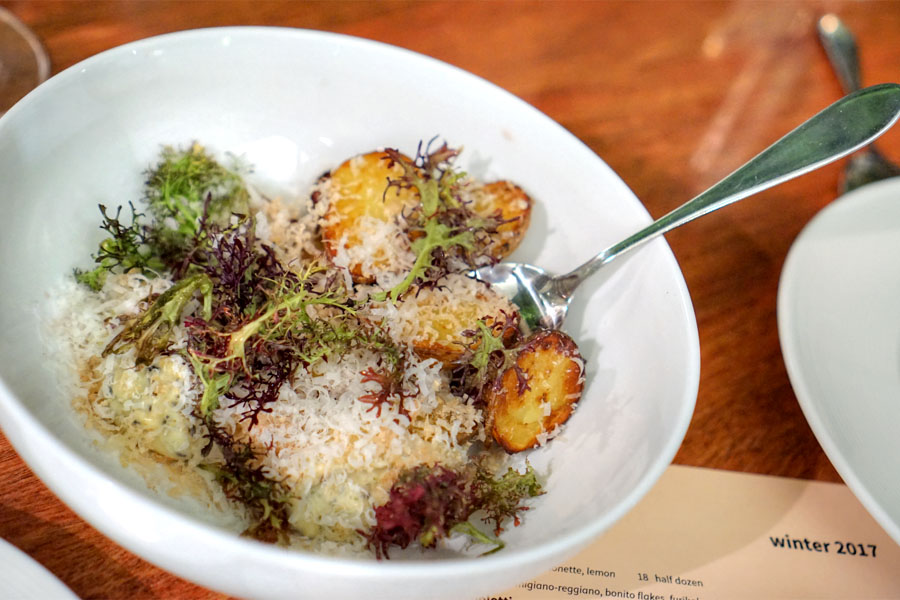 potatoes a la plancha [$9.00]
| parmigiano-reggiano, bonito flakes, furikake aioli
A revisit to the old Allumette days, potatoes were hearty and homey, amped up in the salt department by the Parm while
katsuobushi
shavings heightened the umami factor. The presence of the aioli served to add some luxuriousness to the dish, and the bitterness of the greens helped keep it all in check.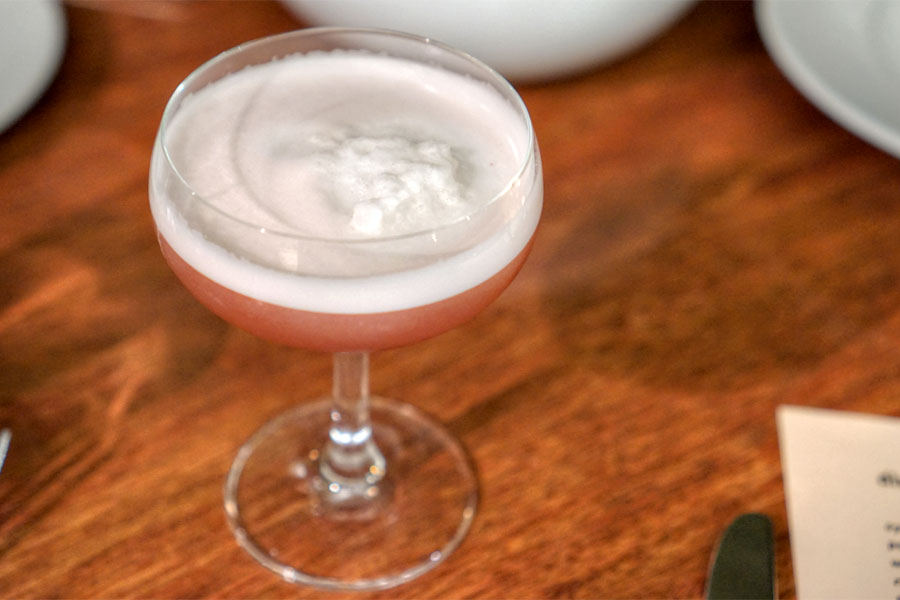 Under The Mistletoe [$14.00]
| tamarillo infused ketel one. allspice dram. honey. lime. egg white. soda. porcini mushroom vinegar.
Humorously, one of my dining companions commented that this cocktail "tasted like Cost Plus World Market." I don't think I've ever been to a Cost Plus, but I can see where he was coming from thanks to the surfeit of warm, sweet spice in the drink, along with its tarter, more bitter, vegetal notes.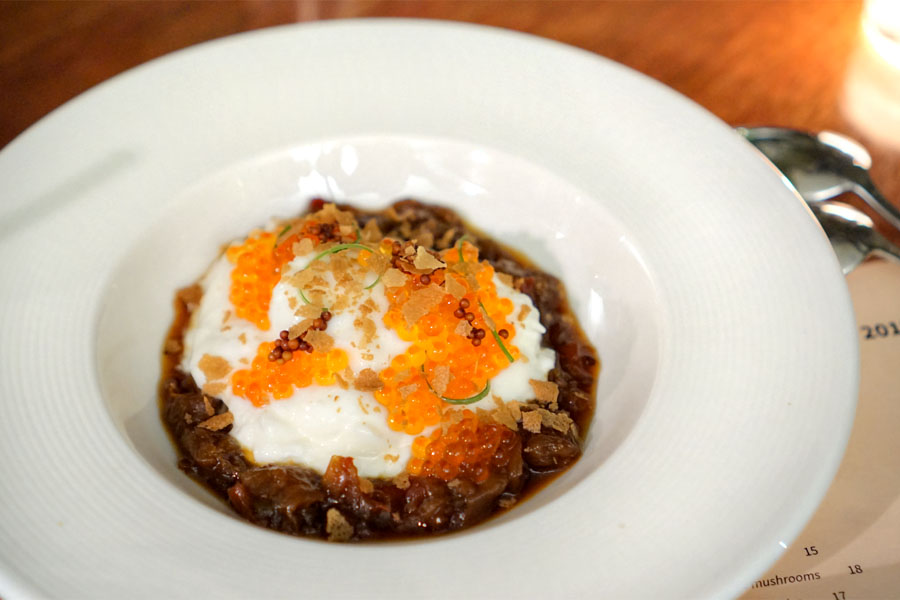 burrata [$16.00]
| smoked trout roe, chow chow, pickled black mustard
Burrata came in an unconventional preparation to say the least. It was as creamy and lush as ever, but punctuated by the smoky salinity of the
ikura
sprinkled on top. What was more interesting was the chow-chow, a penetrating, concentrated condiment that further offset the cheese.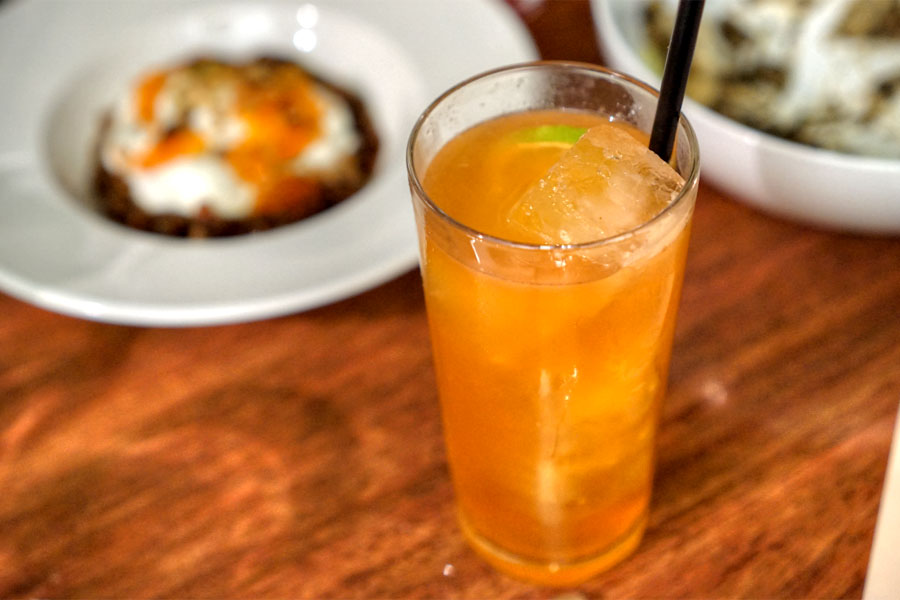 Before Sunset [$12.00]
| aperol. carpano bianco. amaretto. lime. soda.
This was another easy-drinker. I got tons of amaretto-like sweetness, but cut just enough by the Aperol and vermouth. Another person at the table even likened the cocktail's taste to that of an "orange popsicle."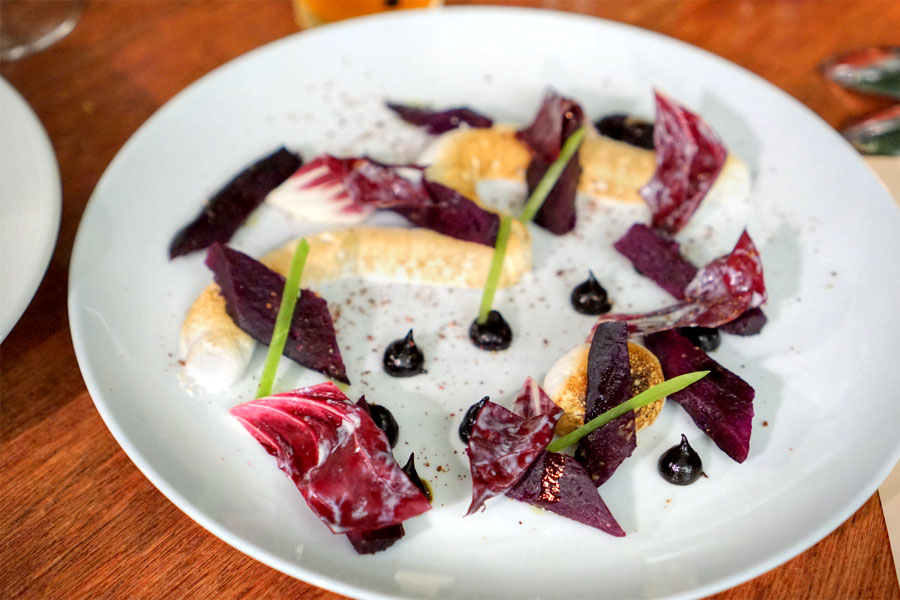 violet yams [$13.00]
| hoisin, treviso radicchio, grenache vinegar marshmallow
Yams arrived earthy, sweet, and kicked up a notch by the use of hoisin. For balance, vinegar-laced marshmallows provided a wonderful punch of acidity, and the radicchio imparted bitterness. I also got a hint of overarching spice that was much appreciated, too. Neat.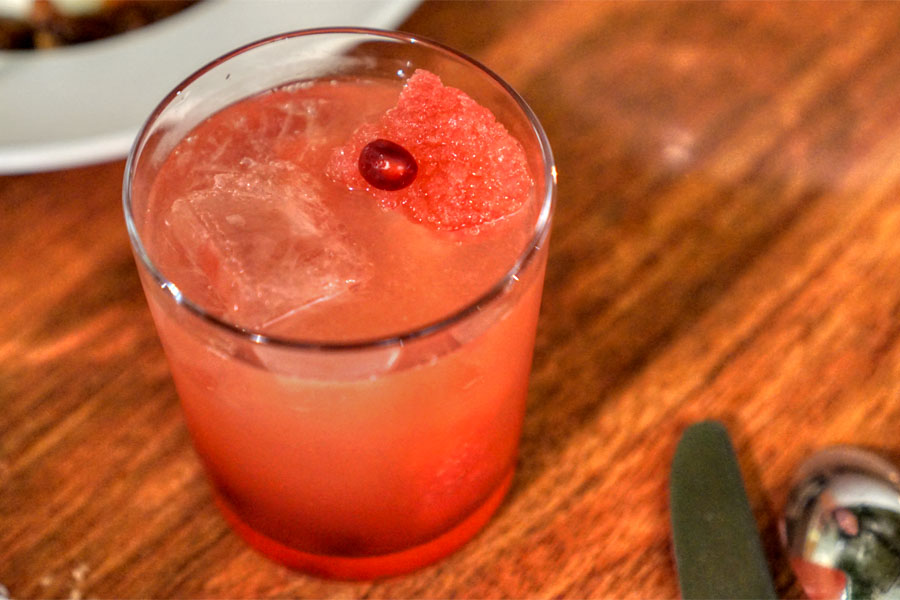 El Paseo [$14.00]
| tequila blanco. mezcal. pamplemousse rose. lemon. agave. grapefruit, pomegranate & chili granita. pomegranate seeds.
Here, tequila and mezcal made for a smoky, woody flavor profile at first, but one transitioning to brighter, juicier, sugarier flavors of fruit on the mid-palate.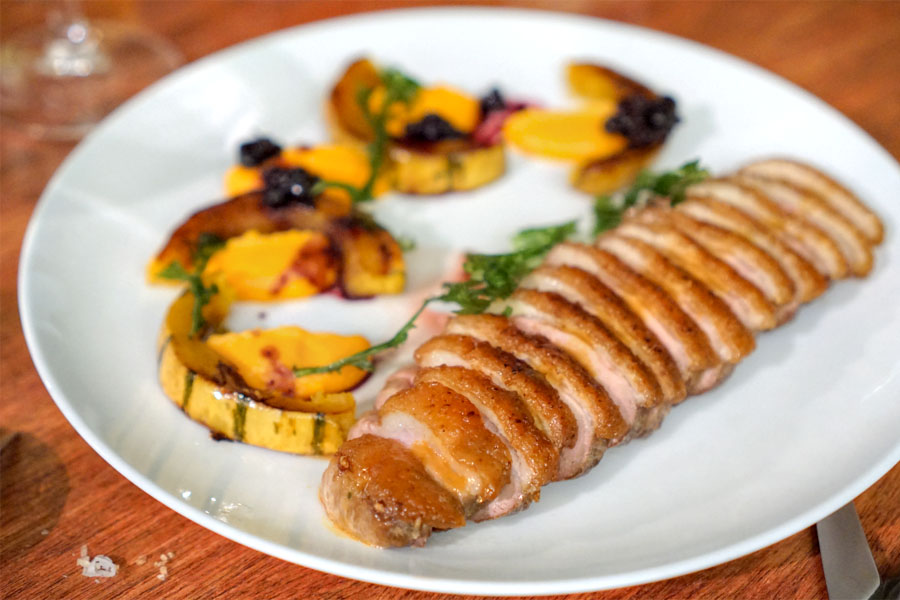 duck breast [$34.00]
| huckleberry-juniper pickle, chrysanthemum, delicata squash
Perhaps unsurprisingly given McCarty's previous interest in ducks, this was a standout. The bird was definitely one of the better preparations I've had thanks to its perfectly crispy skin and tons of deep, unmistakably duck-y funk. I loved it just by itself, though the zesty huckleberry-juniper pickles were a welcomed accompaniment. I could've used less sweetness on that squash, however.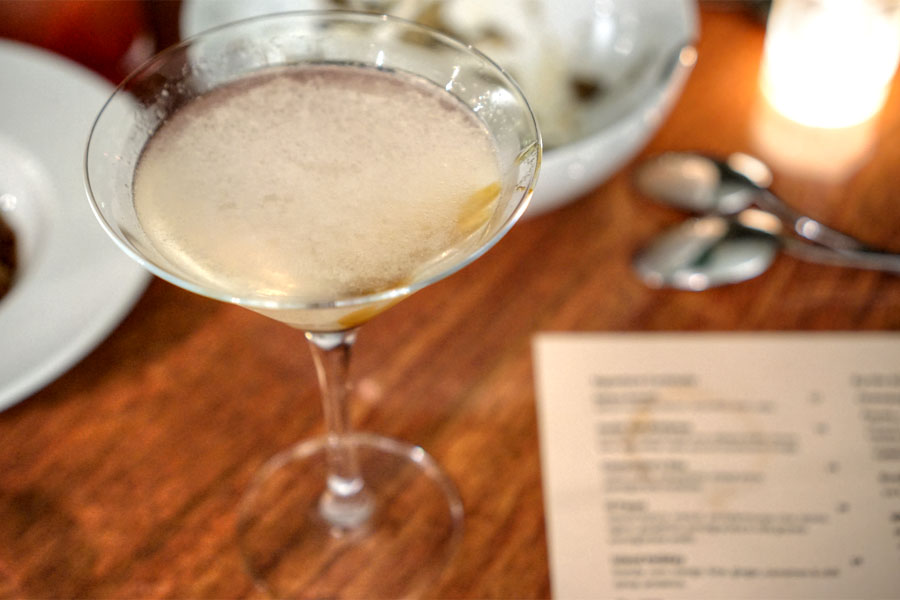 Clementine's Kiss [$14.00]
| vapid vodka. maraschino. mixed citrus. pomegranate molasses.
For our final cocktail, the bitter, nutty, sweet flavors of maraschino were out in full force, joined by plenty of citric notes and the weightiness of that molasses.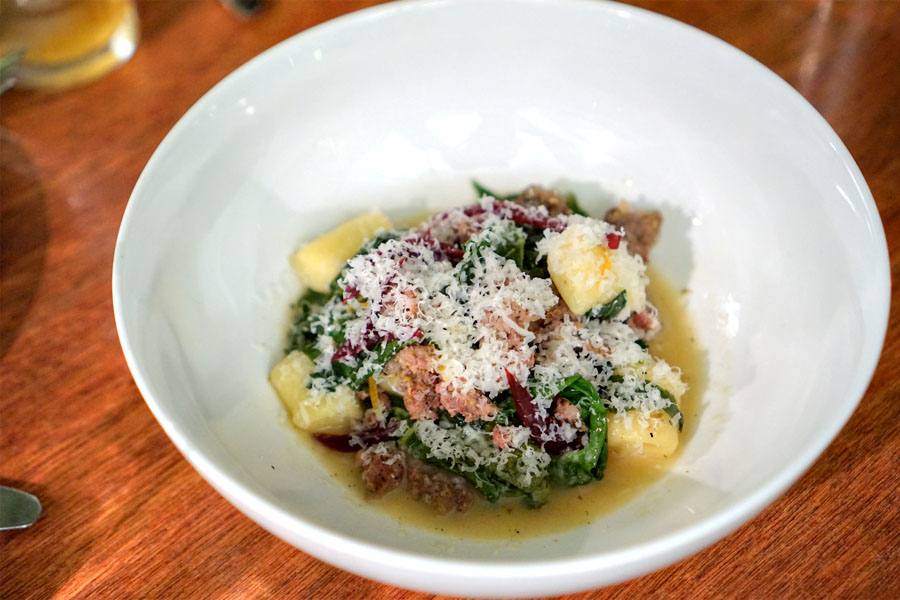 ricotta gnudi [$18.00]
| lamb sausage, spigarello, preserved orange
"Pillowy" was an apt description of the gnudi, which were particularly light, and showcased a restrained cheesiness that matched well with the bitter greens and crumbles of sausage. Preserved orange, meanwhile, served as an unexpected accent to the dish.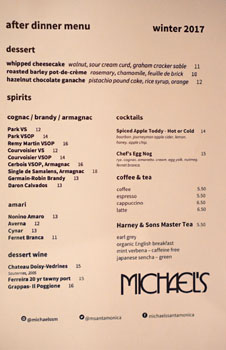 There were but three selections for dessert, all created by Thompson himself (former Pastry Chef Tracy Magaña left at the start of 2016). Click for a larger version.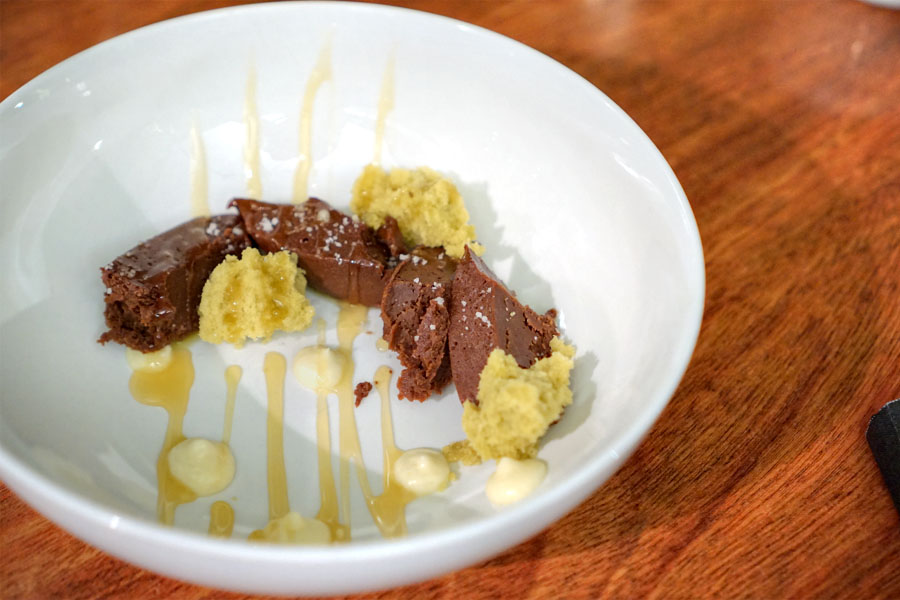 hazelnut chocolate ganache [$12.00]
| pistachio pound cake, rice syrup, orange
A dense, super rich, gianduja-like ganache brought the classic pairing of chocolate and hazelnut. An airy pound cake made for an effective counterweight, and the rice syrup worked wonders in lifting the dish.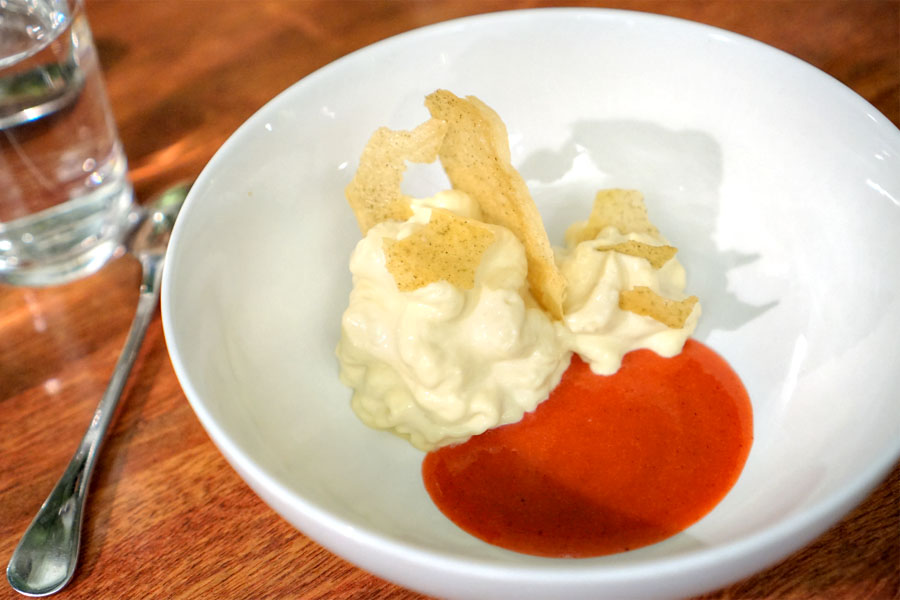 roasted barley pot-de-crème [$10.00]
| rosemary, chamomile, feuille de brick
Another holdover from Allumette, the pot de crème was one of the lightest I've had, and came steeped with some lovely coffee-like elements from the roasted barley that matched swimmingly with the fruity, floral sauce included. At the same time, shards of pastry dough provided some much needed textural variation.
I was a proponent of Thompson's cooking from all the way back in the
Vagrancy Project
days, so I was heartened to hear that he'd finally returned to Southern California. One could posit that his cooking appears to have become a bit less "precious," as they say, though he's still got a cerebral edge and an element of surprise to his food. Initially, it seemed a bit odd to me that he would pop up at Michael's, but I guess it sort of makes sense. Early on, the restaurant pretty much built its reputation on the back of innovation and experimentation, so in a way, Thompson's returning to the place's roots by presenting his own, newer interpretation of "California Cuisine." McCarty has certainly taken a chance by bringing Thompson on board, so we'll see if that risk pays off. My hope is that it does.