Wolfdown (Los Angeles, CA)
Wolfdown Restaurant
2764 Rowena Ave, Los Angeles, CA 90039
323.522.6381
www.wolfdownla.com
Thu 02/09/2017, 07:45p-10:00p

Wolfdown's a place that managed to slip under my radar until recently, when it was suggested by one of my fellow diners. Situated on a not-as-popular stretch of Silver Lake (not far from
Salazar
), the restaurant opened in December, and comes to us courtesy of Chef Jason Kim and wife Chrissy, the duo behind Forage on Sunset. Wolfdown represents a more ambitious project for the couple, who aim to serve a somewhat more finessed, more global menu here.
About the Chef
: Kim grew up in SoCal, and graduated from Fullerton's Sunny Hills High School in 1993. He attended Boston University, and later worked in tobacco distribution before deciding to go to culinary school. He enrolled in the CSCA's Le Cordon Blue program in 2002, and eventually landed an externship at
The Dining Room
at the Ritz-Carlton San Francisco. Kim apprenticed there for a few months in the first half of 2004, working under Sylvain Portay, an old school French chef who'd previously cooked at Le Cirque and Le Louis XV. He then transitioned to Greek eatery Kokkari Estiatorio in July 2004, where he lasted until the start of 2005.
At that point, Kim moved back to LA and found a chef de partie position at Gerard Ferry's fine dining bastion L'Orangerie (where Jean Francois Meteigner and
Ludovic Lefebvre
first made a name for themselves). He stayed at the restaurant until March 2006 (it would close at the end of '06, after being sold to
Nobu
). His next move came quickly, and he soon found himself the sous at Suzanne Goin's seminal
Lucques
. Kim decamped from the WeHo restaurant in July 2009 to start work on Forage, which ended up debuting in January 2010 in the former home of Town and Country in Silver Lake. His partner there was Amanda Bacon, who also cooked at Lucques as well as at
Canelé
(she later left to start Moon Juice). With Forage off and running, Kim's next step came in November 2013, when he took over the old Nicky D's Wood-Fired Pizza and began planning for Wolfdown.


The former Nicky D's has been transformed into a space that's a bit homey, a bit country with its abundance of light wood. The bi-level main dining groom seats about 30, and is centered around a communal bar on the lower level, while the upper provides a close-up view of the kitchen. There's also an inviting patio out front that holds another 30 or so.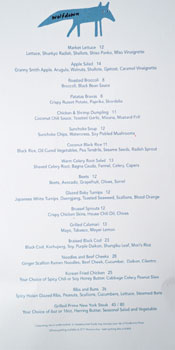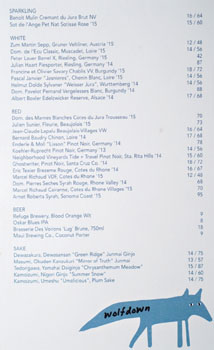 As for Wolfdown's menu, think cross-cultural, in mostly small plate format. Drink-wise, you get a brief wine list focused on France and Germany, a handful of sakes, and an even smaller handful of beers. Corkage is a $25 a pop, limit two. Click for larger versions.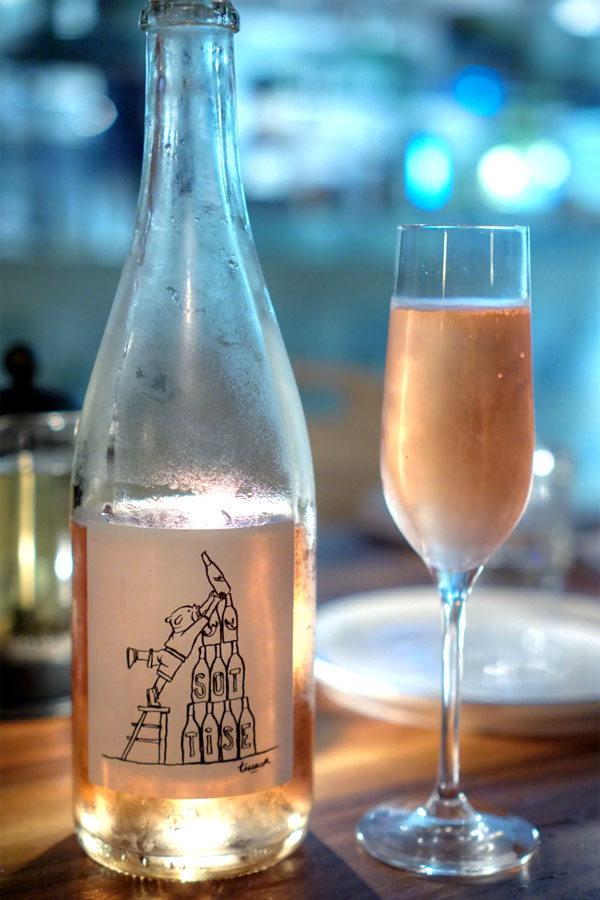 We started with a bottle of bubbly, the
Sot de l'Ange Pet Nat Sottisse Rosé '15 [$60]
. Fragrant nose filled with sweet, juicy apple and berry. The palate was definitely more austere, with light berry notes at first backed by a persistent minerality and a touch of heat on the close.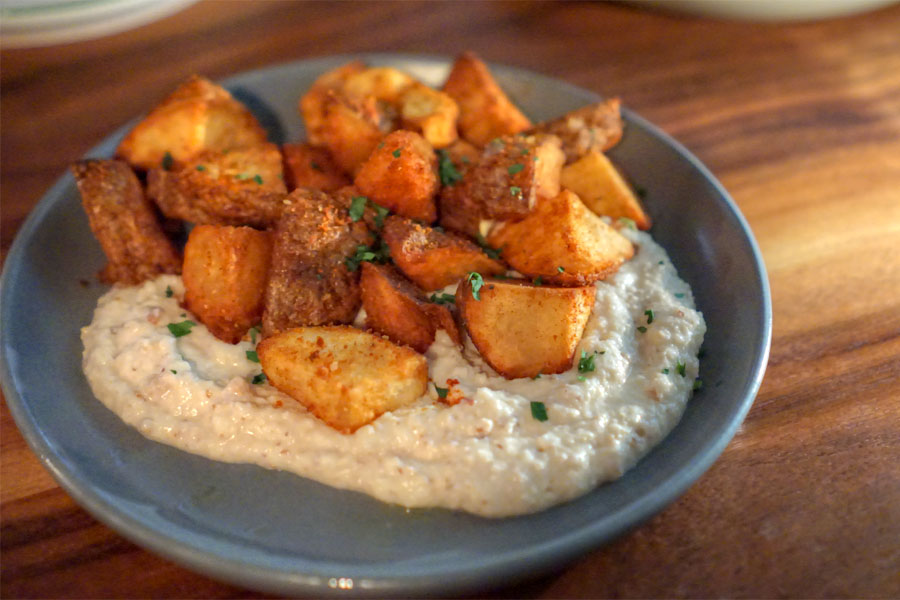 Patatas Bravas [$8.00]
| Crispy Russet Potato, Paprika, Skordalia
Kim's take on the tapas staple
papas bravas
may have been the best presentation of the dish I've tasted. The potatoes themselves ate hearty and savory, with crisp outsides and almost fluffy interiors. Paprika contributed a deep spice to the dish, but the crux for me was the gritty, garlicky
skordhalia
used in place of the usual aioli, a perfect complement.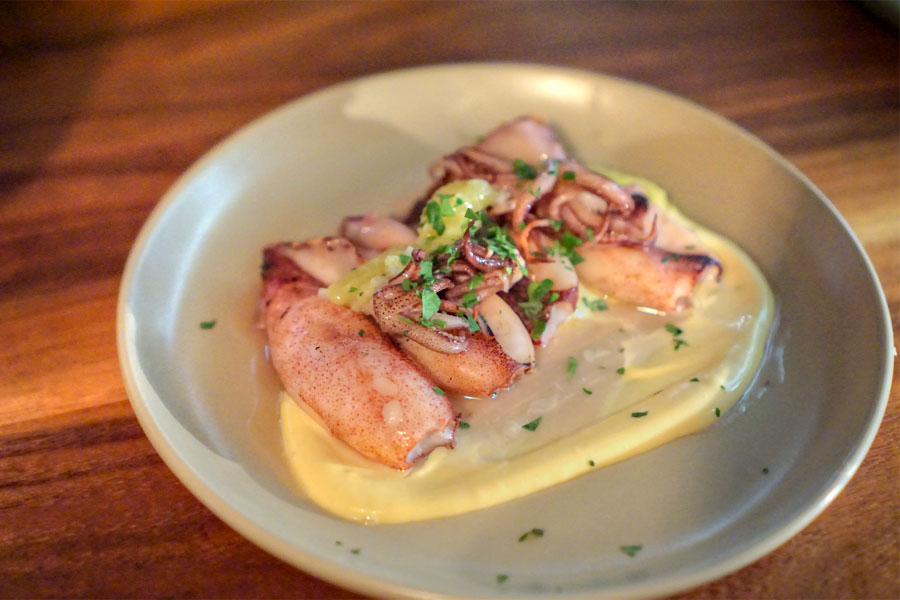 Grilled Calamari [$13.00]
| Mayo, Tabasco, Meyer Lemon
Squid seemed particularly snappy, and conveyed a strong, lasting brine that was well balanced by the sharp, vinegary condiment provided.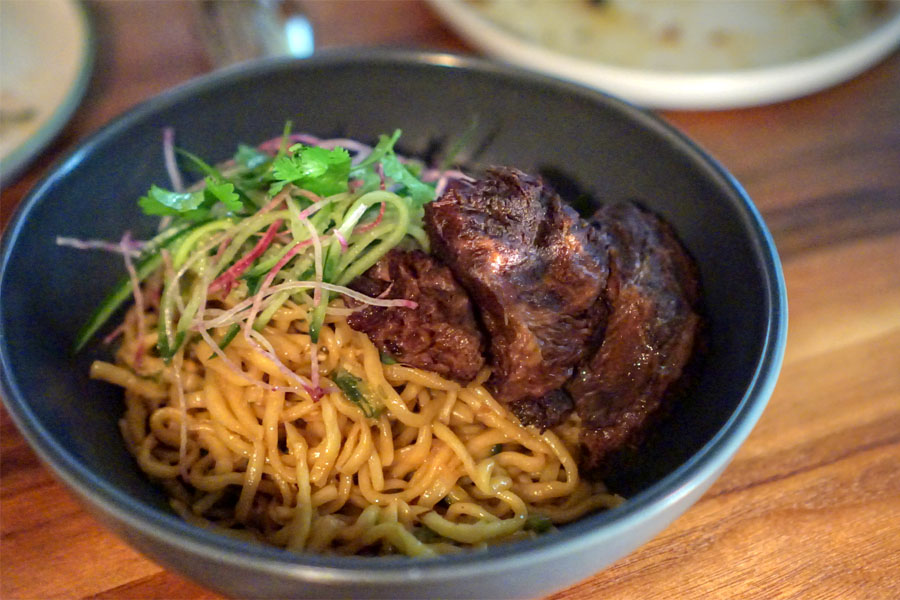 Noodles and Beef Cheeks [$28.00]
| Ginger Scallion Ramen Noodles, Beef Cheek, Cucumber, Daikon, Cilantro
Beef cheeks were as tender as you'd want, and loaded with deep, savory spice. They were certainly tasty alone, but also paired beautifully with the gingery, slightly al dente noodles and veggies to make for a very satisfying experience indeed.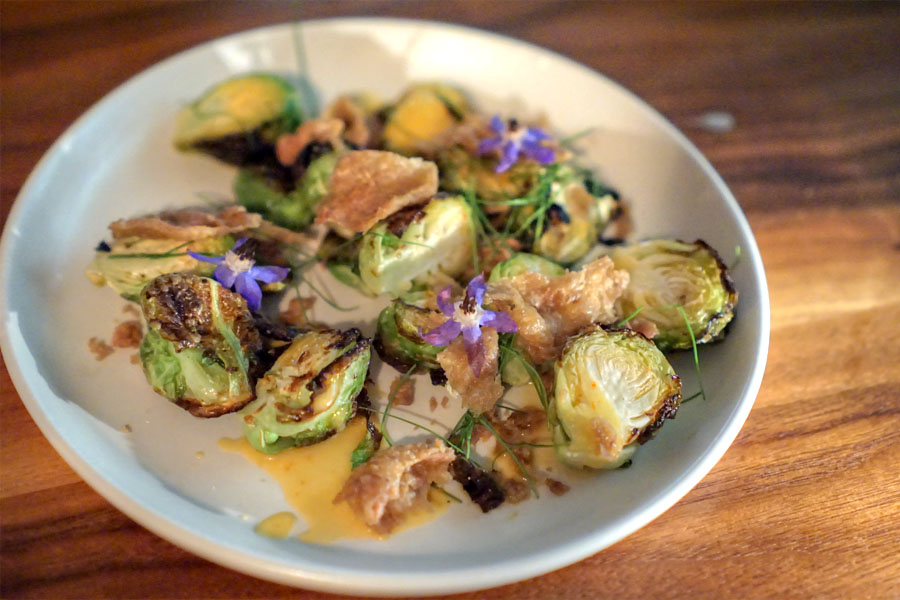 Brussels Sprouts [$12.00]
| Crispy Chicken Skins, House Chili Oil, Chives
Brussels were another standout, and one of the more interesting versions I've had in recent times. Texturally they were spot on, and in terms of taste, their char and bitterness really matched the Asian-y savoriness and spice present in the dish. Great hit of salt and crunch from the chicken skins, too.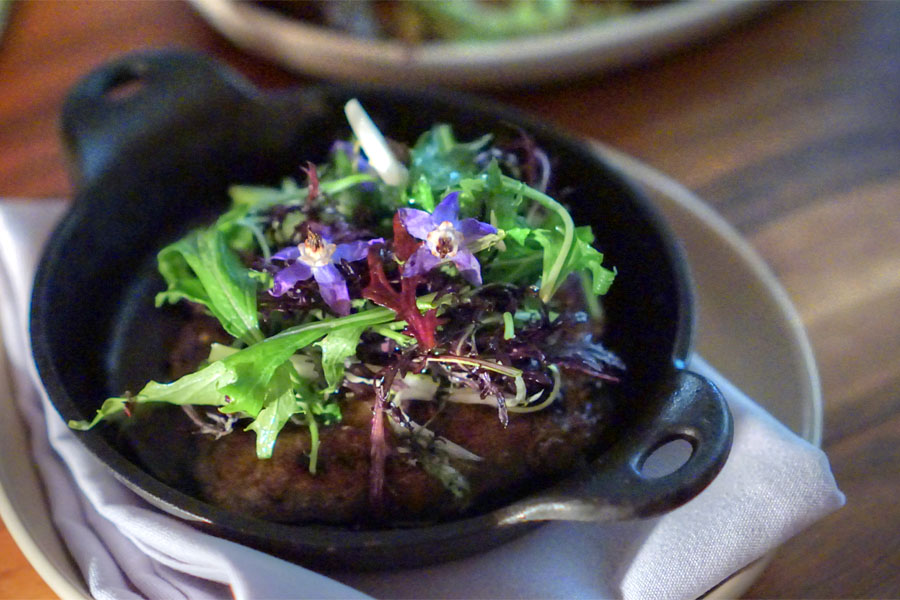 Chicken & Shrimp Dumpling [$11.00]
| Coconut Chili Sauce, Toasted Garlic, Mizuna, Mustard Frill
This wasn't what we were expecting. Instead of something like gyoza, we got what basically amounted to a somewhat gelatinous brick o' meat. It did sort of taste like gyoza though, its briny, umami-laced flavors accented by a touch of sweetness. The various veggies, thus, worked as a necessary counter.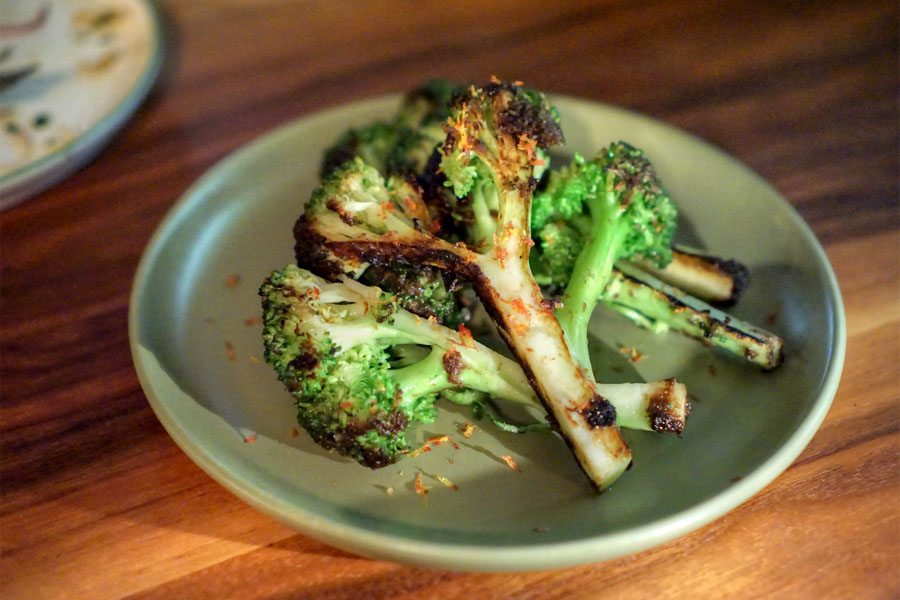 Roasted Broccoli [$8.00]
| Broccoli, Black Bean Sauce
Big stalks of broccoli arrived crunchy and charred, the black bean imparting a tangy depth to the dish.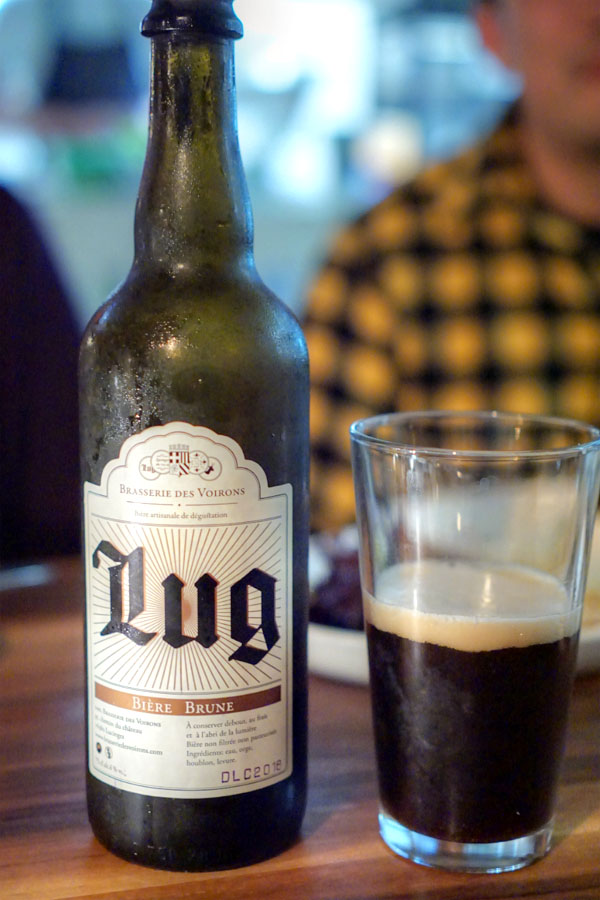 With the wine done with, we ordered some beer in the form of the
Brasserie Des Voirons 'Lug' Brune [$18]
, a Belgian brown ale. This one smelled quite roasty, with lots of sweet malt to boot. The taste displayed more of that sweet, dark malt along with a tanginess and a slight metallic character.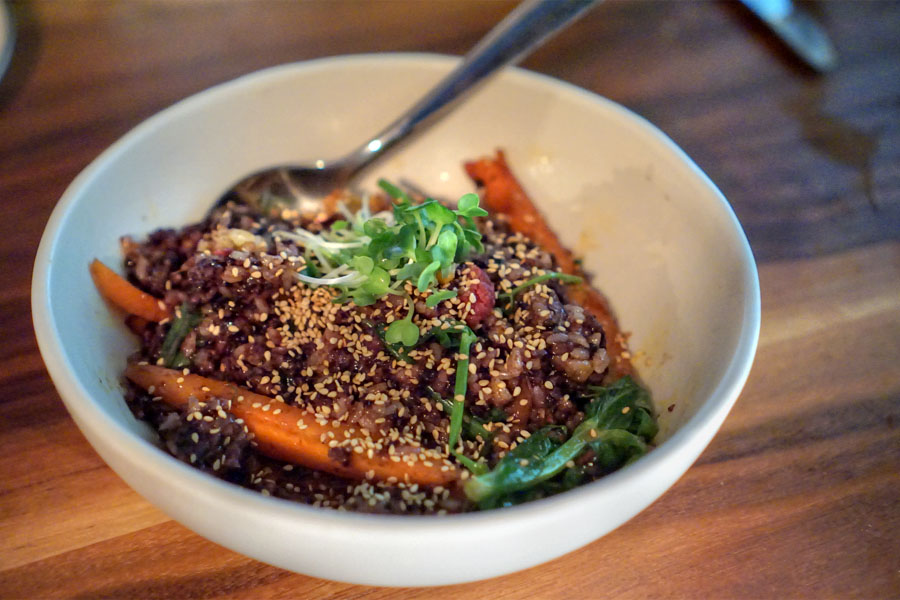 Coconut Black Rice [$11.00]
| Black Rice, Oil Cured Vegetables, Pea Tendrils, Sesame Seeds, Radish Sprout
Sticky and sweet, the black rice was almost Thai-like in nature. I liked the balance provided by the ginger and spice notes present, as well as the bitterness from the greens. Nice crunch from those carrots as well.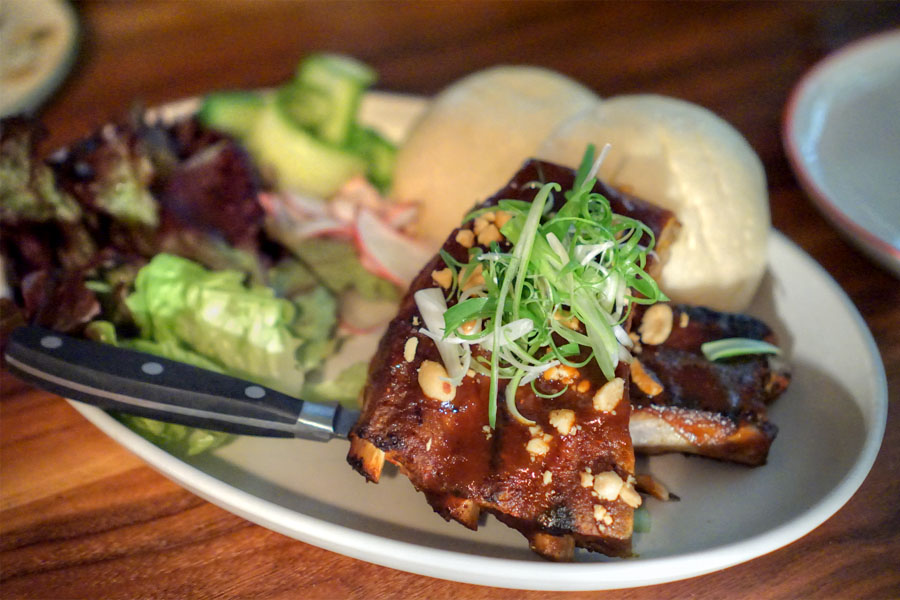 Ribs and Buns [$36.00]
| Spicy Hoisin Glazed Ribs, Peanuts, Scallions, Cucumbers, Lettuce, Steamed Buns
Ribs could've been a touch more tender, but still ate pretty well. Taste-wise I got a lot of the sweetness and savoriness from the hoisin, so the various accompaniments worked in making a balanced bite. As for the buns: fluffy and a good counterpoint to the meat.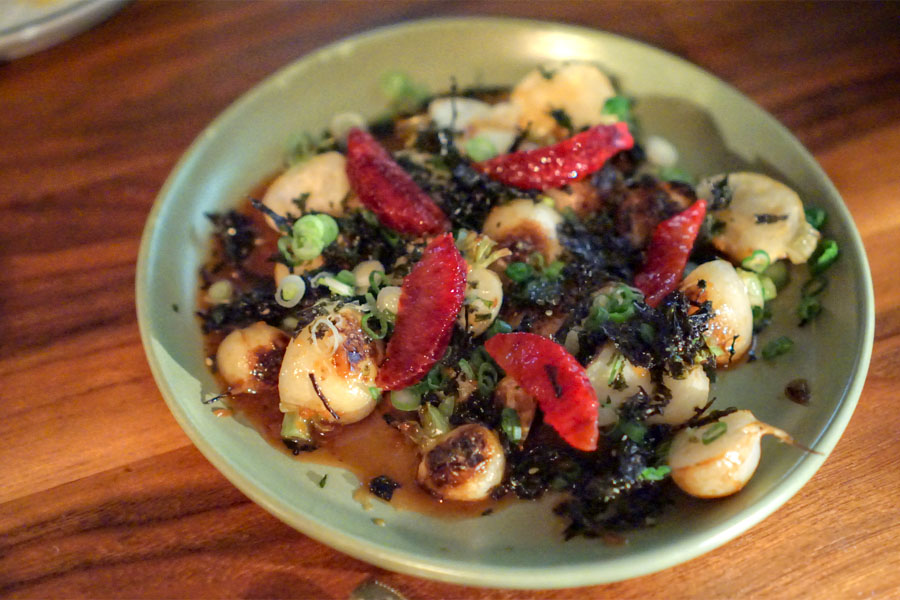 Glazed Baby Turnips [$12.00]
| Japanese White Turnips, Daengjang, Toasted Seaweed, Scallions, Blood Orange
Our final dish before dessert was another favorite. I loved the crunch and bitterness of the turnips, and how that played with the umami flavors from the
doenjang
and
gim
, all while citrus and scallion worked as an offset.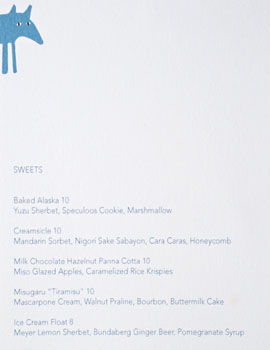 You get a quintet of dessert options, which all seem to follow the main menu's global bent. Click for a larger version.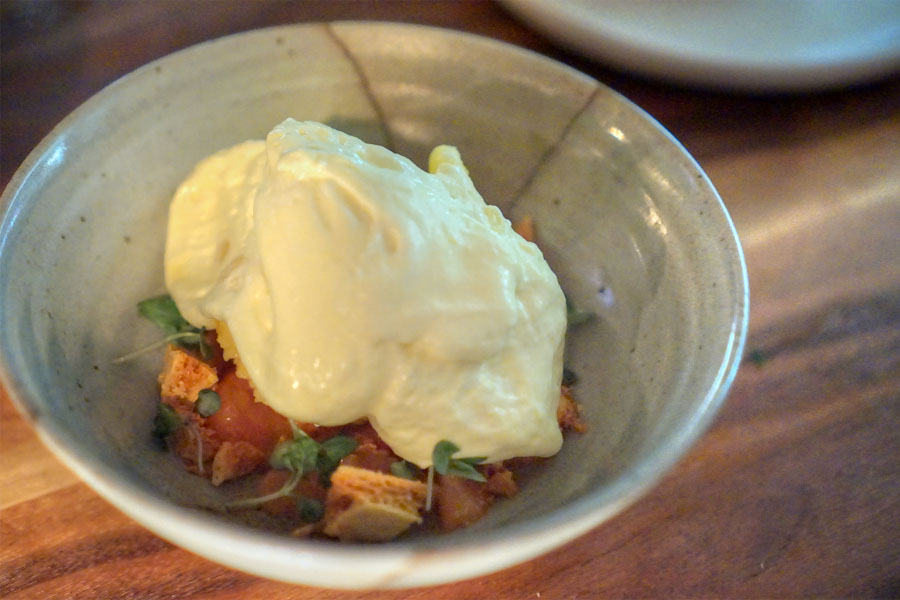 Creamsicle [$10.00]
| Mandarin Sorbet, Nigori Sake Sabayon, Cara Caras, Honeycomb
The "Creamsicle" ate more or less like its namesake childhood treat--a creamy, orange-y, sometimes bracing dessert with traces of
nigorizake
hiding in there.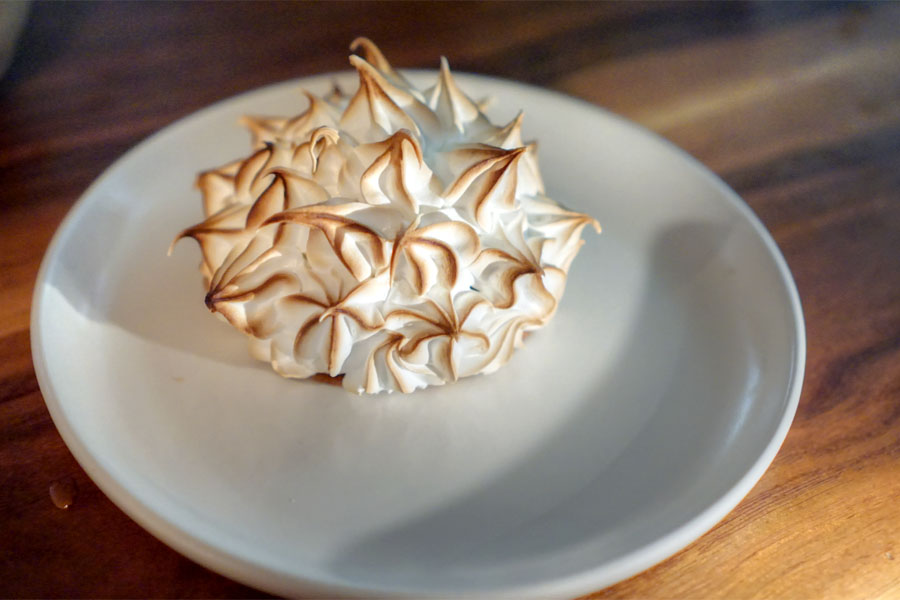 Baked Alaska [$10.00]
| Yuzu Sherbet, Speculoos Cookie, Marshmallow
A revamped take on an old school dessert was effective. The sherbet definitely veered tart, and was tempered just a tad by the speculoos and more than a tad by the perfectly browned marshmallow.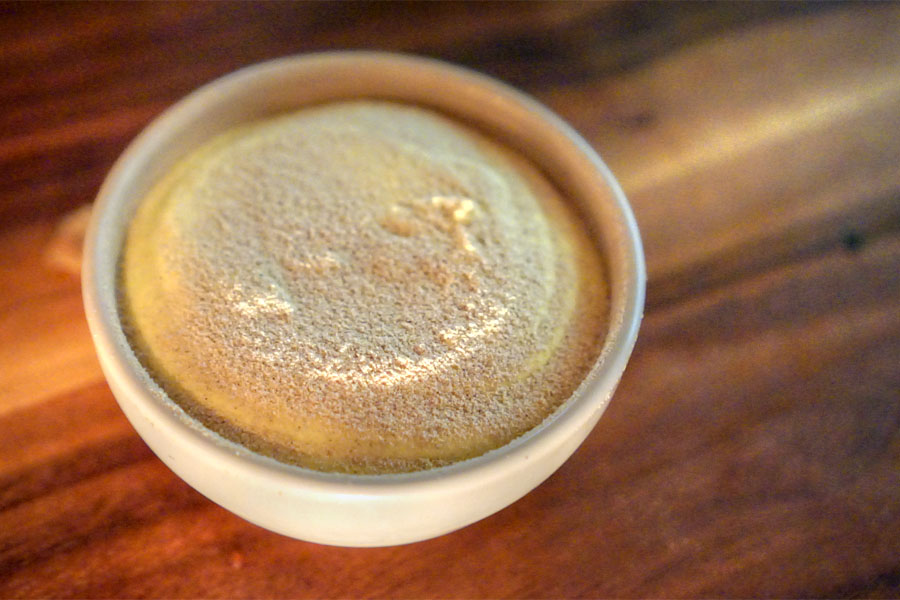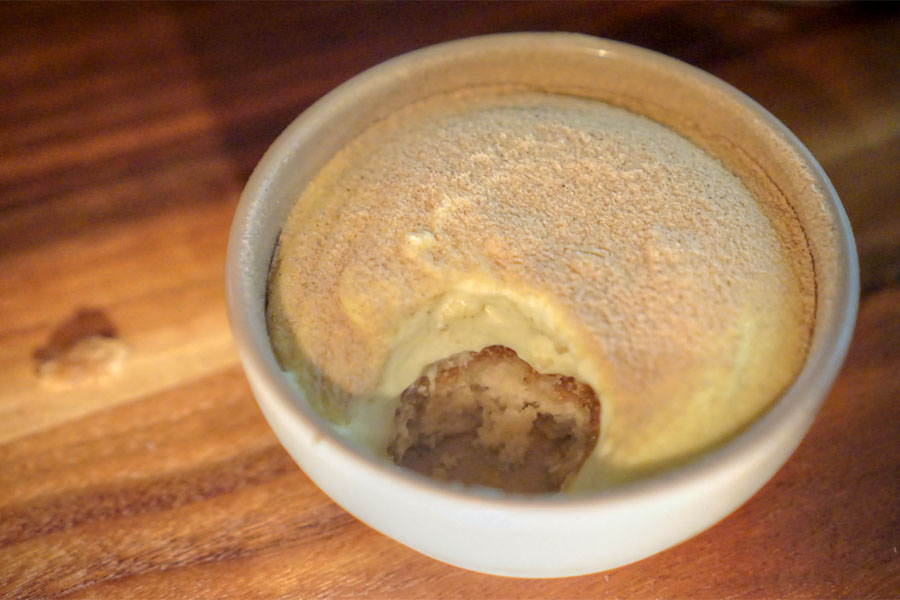 Misugaru "Tiramisu" [$10.00]
| Mascarpone Cream, Walnut Praline, Bourbon, Buttermilk Cake
We concluded with unquestionably my favorite of the desserts, and one of my favorite "tiramisus" ever. The key was absolutely the
misugaru
, a powdered grain mixture that lent a wonderfully nutty, gritty element to the sugary, subtly bourbon-y cake. This is the one to get.
I'm glad that one of my dining companions suggested that we check this place out. Kim's cooking hit mostly the right notes, and I liked the international, and especially Asian-y influences in the food. It's a bit of a mash-up, but almost seamless at the same time. Don't let Wolfdown slip under your radar too.