Little Fatty (Los Angeles, CA)
Little Fatty Restaurant / Accomplice Bar
3809 Grand View Blvd, Los Angeles, CA 90066
310.574.7610
www.littlefattyla.com / www.accomplicebar.com
Mon 01/30/2017, 06:30p-08:10p

Mar Vista landed its first Taiwanese-y eatery recently with the opening of Little Fatty in November. The place comes to us from Chef/Owner David Kuo and wife Maki, and is named after a translation of the Chef's childhood nickname:
xiao pang
. It takes over the location of Kuo's former rotisserie joint Status Kuo, and joining the restaurant is Accomplice, an adjacent bar run by GM/Beverage Director Aaron Siak (
The Walker Inn
, The Franklin Bar in Philadelphia). If you recall, we actually tried to eat here a couple weeks ago, but were thwarted by the hour-plus wait (we ended up having a lovely meal at
Wallflower
instead). In order to avoid disappointment again, we made sure to come early, on a Monday.
About the Chef
: Kuo was born to a Taiwanese family, the youngest of four brothers, and was raised here in LA. He attended UCLA for political science, and started cooking for his fraternity house. After graduating in 2001, he got a job in property management, but quickly grew tired of the office environment. Kuo thus decided to enroll in the Le Cordon Bleu program at the California School of Culinary Arts in Pasadena. From there, he went on to cook at
Jean-Georges
in New York,
Charlie Palmer
in Costa Mesa, and Wolfgang Puck at Hotel Bel-Air, and even worked occasionally at
Craft
.
In July 2011, Kuo took possession of a property in Culver City and started building it out with the goal of turning it into an all-day, full-service restaurant called Assembly. However, his investors backed out and he ended up losing the spot (which eventually became
East Borough
). Despite the setback, Kuo continued to press forward, and ended up debuting the rotisserie-focused Status Kuo in December 2014 with Keith Silverton (opening chef at
MessHall
) as his CdC. He closed the restaurant for renovations in April 2016, and re-opened in July with a liquor license and a bar in the space next door. This setup lasted until last November, when Status Kuo turned into Little Fatty, and its bar into Accomplice.


Little Fatty occupies the address that once held Status Kuo, La Petite Crêperie, and Valle de Oaxaca Restaurant before that. The original Status Kuo interior by
Design, Bitches
(
Button Mash
,
Superba Food + Bread
,
Superba Snack Bar
) has been given a bit of a makeover, and is more colorful, less minimal than it'd been in the past. Meanwhile, Accomplice shows off a much darker, but complementary look.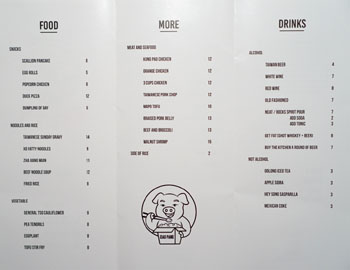 As for Little Fatty's menu, you get a focused selection of familiar Taiwanese and (American) Chinese classics, including holdovers from the Status Kuo days such as the
luroufan
and duck pancake. There are a few alcohol options, but for more serious drinking, you'll want to mosey on over to Accomplice. Note that, somewhat annoyingly, you can't actually order cocktails at Little Fatty, so do what we did and bring 'em over yourself. Click for a larger version.
Smoke and Mirrors [$13.00]
| scotch, grapefruit cordial, honey, aquafaba
We arrived early for dinner and thus ordered a couple cocktails at Accomplice. This Scotch-focused number was probably my favorite of the evening. I got wonderful layers of smoke backed by the sweetness of honey and bitterness of grapefruit, all while aquafaba imparted creaminess to the drink.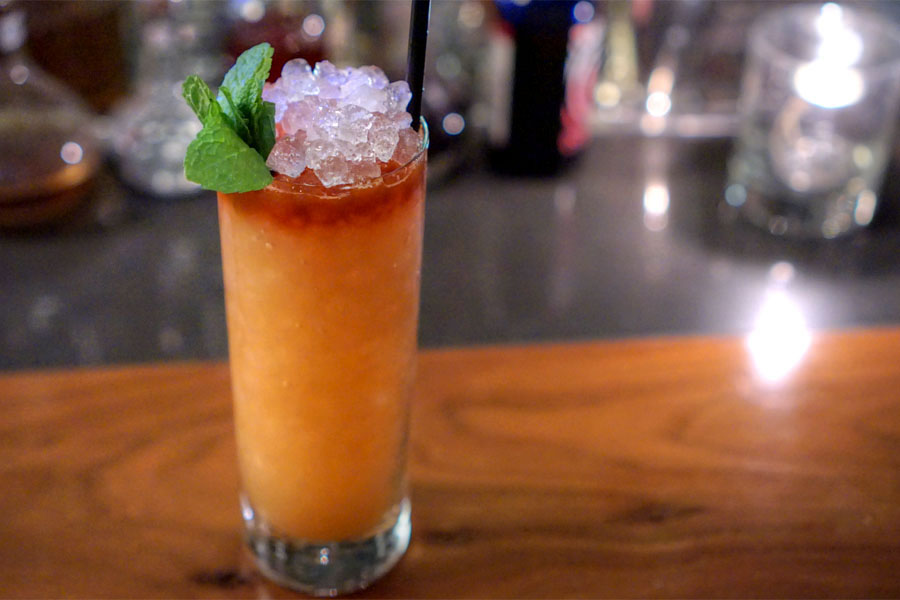 The Mother We Share [$12.00]
| bourbon, fernet branca, ginger, lemon, pineapple
The next cocktail was also effective, showing some delightfully bittersweet, almost astringent elements over a base of sweet spice and tropical fruit.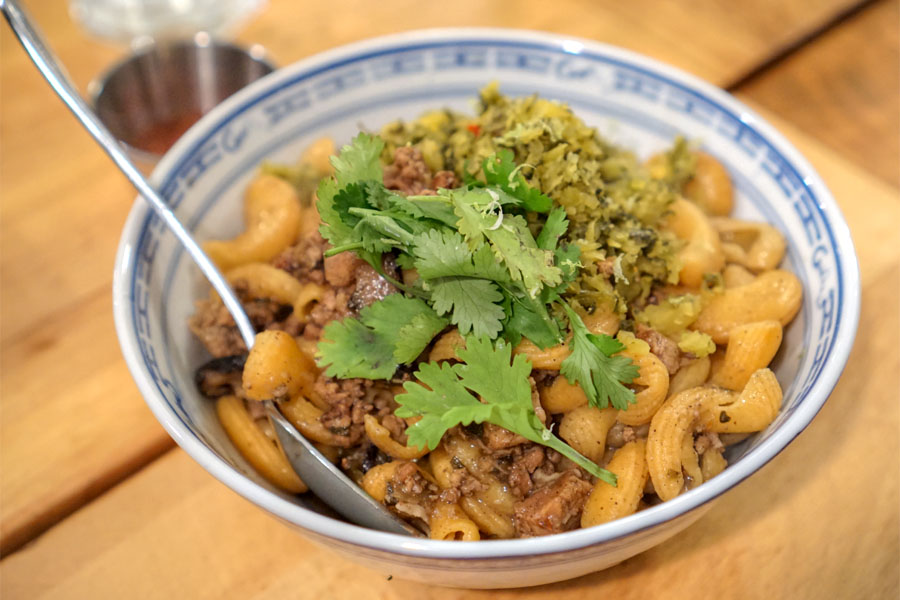 Taiwanese Sunday Gravy [$14.00]
Kuo's take on
lu rou fan
is perhaps the restaurant's most well-known dish. The minced meat conveyed your classically cozy, deep, savory flavors, amped up by shiitake, but also key were the pickled mustard greens (
suan cai
), which provided a countering crunch and acidity. The dish's base of pasta was untraditional, but still successful, serving as a lighter vessel than the usual rice.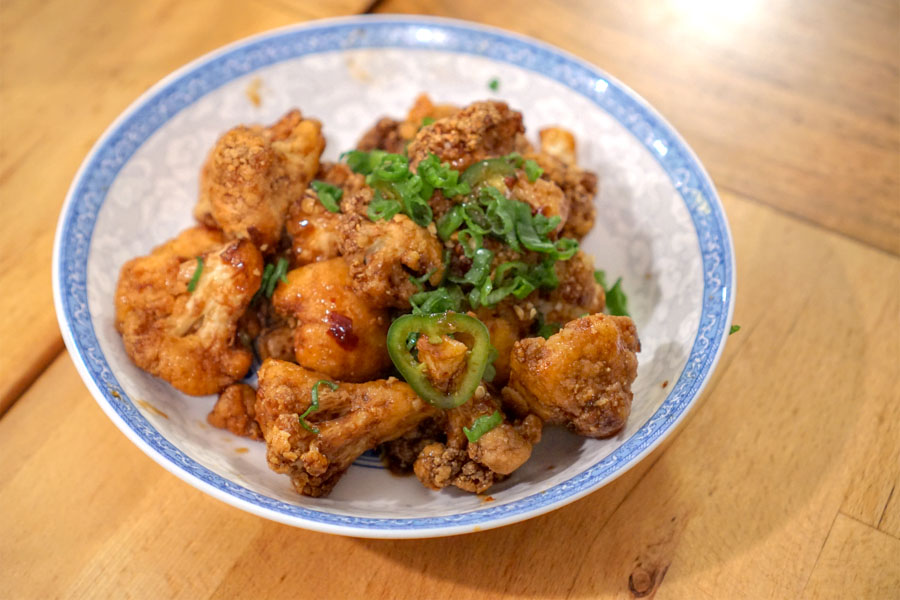 General Tso Cauliflower [$8.00]
A play on the ubiquitous General Tso's chicken featured cauliflower in place of the namesake protein. The vegetable was a reasonable substitute, coming out crispy, yet substantial to the bite, with all the expected savory, piquant flavors.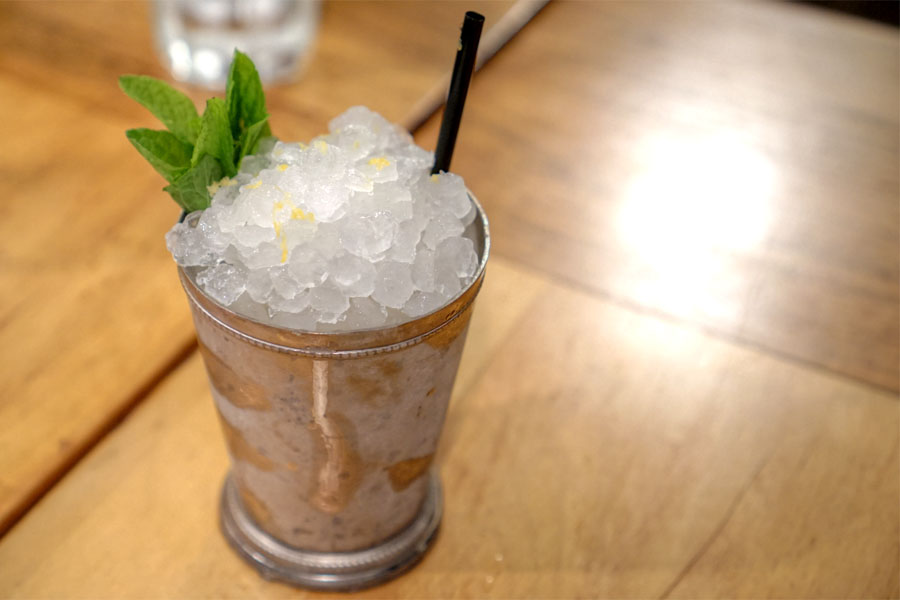 Midnight Tommy [$11.00]
| sherry, cognac, toasted sesame, green tea
This julep-y cocktail gave up sweet, tea-like notes at first, with the weight of the sherry and cognac coming in on the back end for balance.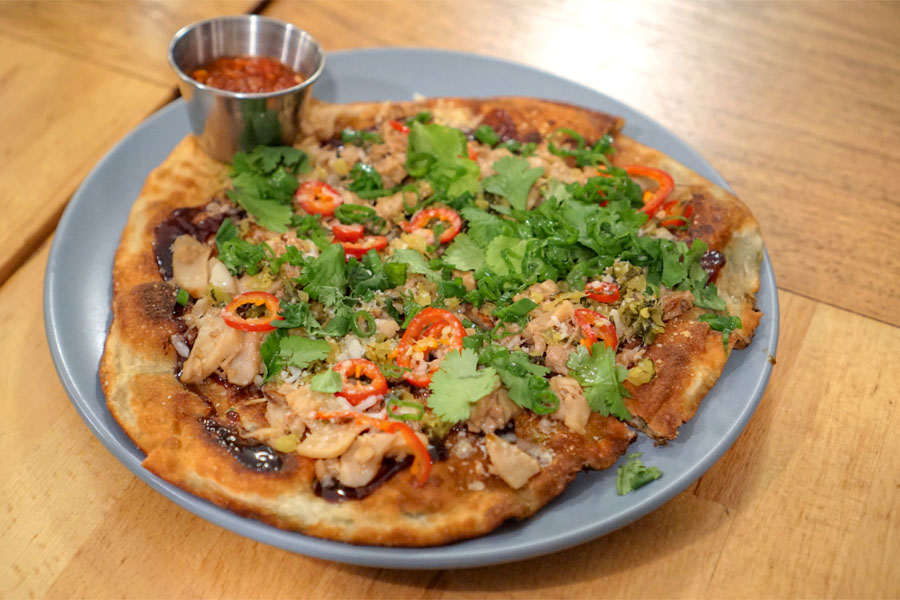 Duck Pizza [$12.00]
Another leftover from Status Kuo, this pseudo-pizza was a fun one. The bird itself ate distinctly "ducky" as it should, and meshed beautifully with the sweetness of hoisin, the brightness of the various greens, and the smidge of heat present. Also critical was the dish's base of scallion pancake (
congyoubing
), which came out crunchy and well-charred, thus making it a textural contrast to the toppings.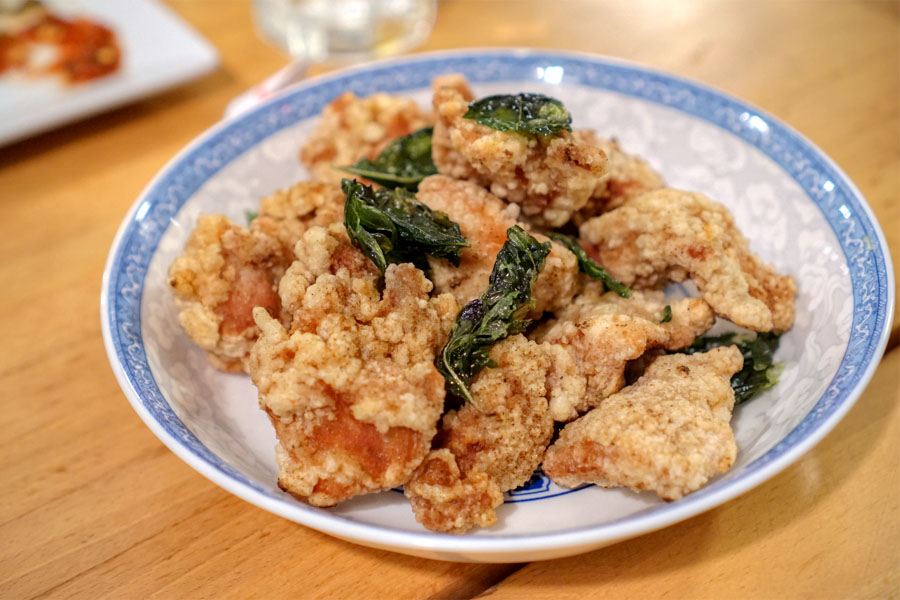 Popcorn Chicken [$8.00]
Kuo's version of
xiansuji
(Taiwanese fried chicken) came out super tender, with a crisp yet light batter. However, I would've liked more from the basil, as well as more heat in the dish (I made use of the chili sauce from the pizza above).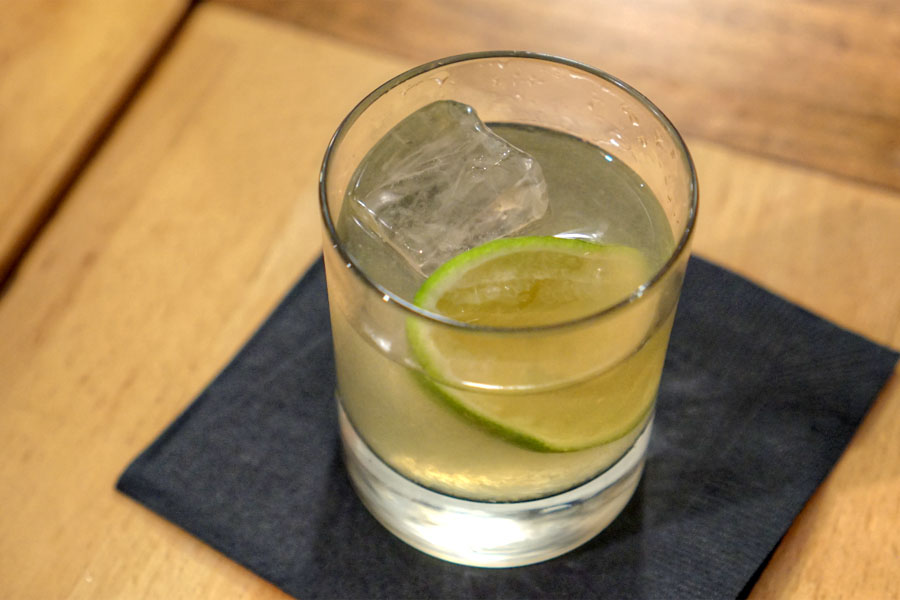 Gunwalled [$14.00]
| rum, swedish punsch, pimento dram, cane sugar
Our next cocktail displayed a sugary, cachaça-esque booziness, tempered by strong citric notes and a touch of spice. I found it almost caipirinha-like.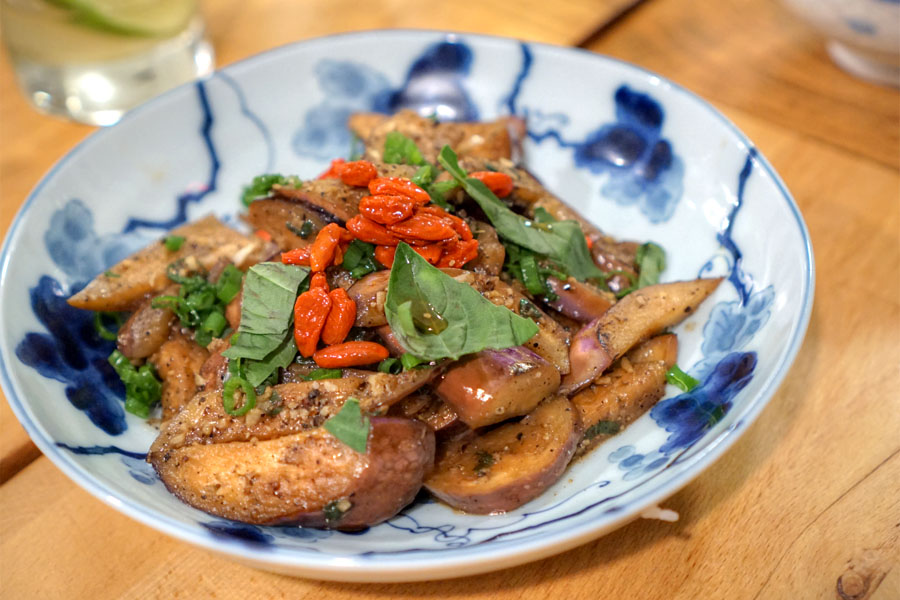 Eggplant [$8.00]
I'm generally not huge into eggplant, but I have to say that was one of the tastiest I've had thanks to the dish's abundance of umami, char, and smoke, which made me just want to keep eating. Meanwhile, texturally, think firm, but with a spongy quality to it.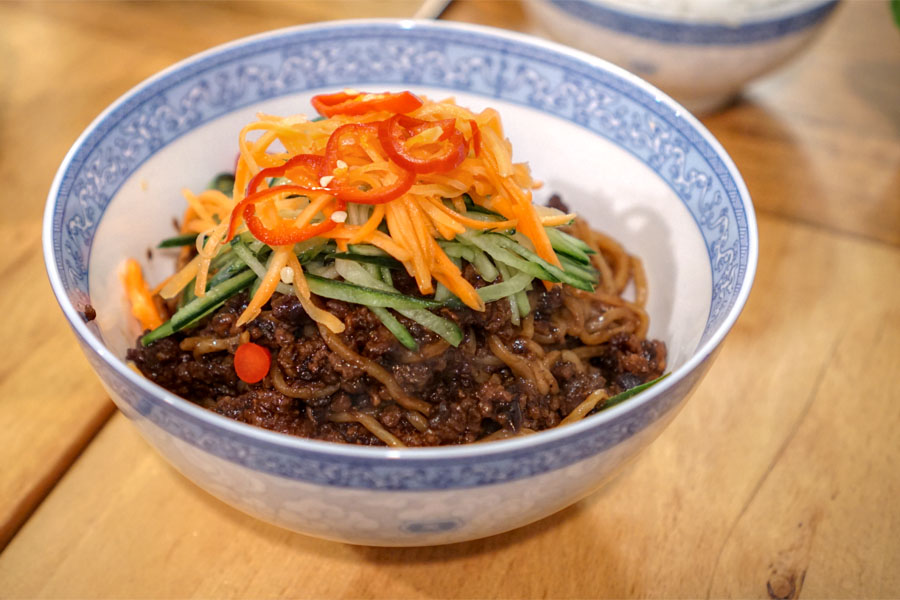 Zha Jiang Mian [$11.00]
I tend to eat a lot more Korean
jajangmyeon
these days, so I sort of had to recalibrate for this more O.G. Chinese-style
zhajiangmian
. The noodles were on the firmer side, and the actual sauce veered far less sweet, instead showing off the rich, savory flavors of the soybean paste and pork, the veggies providing a crunch and lightness to the mix.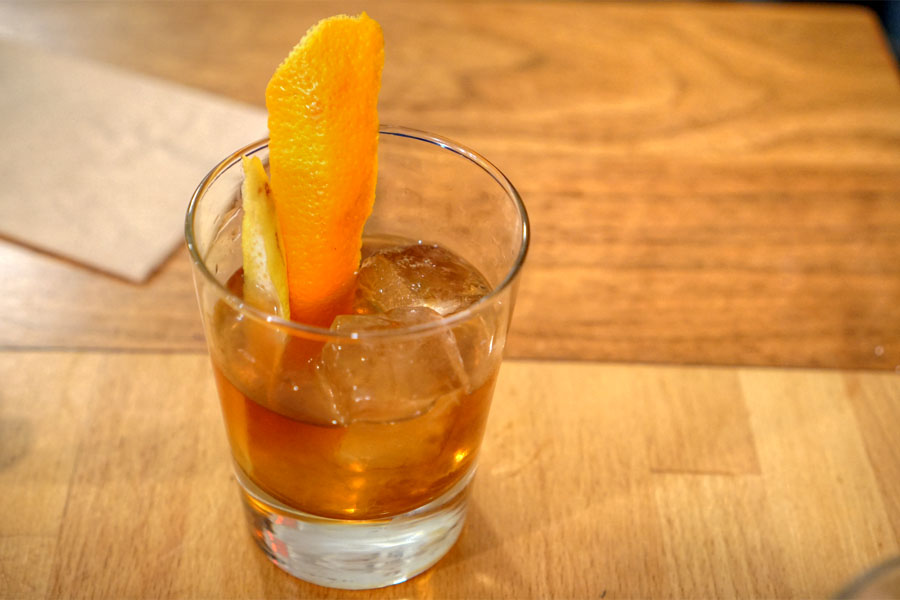 The Unusual Suspect [$13.00]
| bourbon, genever, velvet falernum, demerara
Another favorite of the cocktails married bourbon and jenever in effective fashion. Nose of juicy citrus and bourbon, with sweet spice from the falernum peeking through. The taste was spirit-forward, bitter, with more tropical notes and a spicy/herbal undercurrent.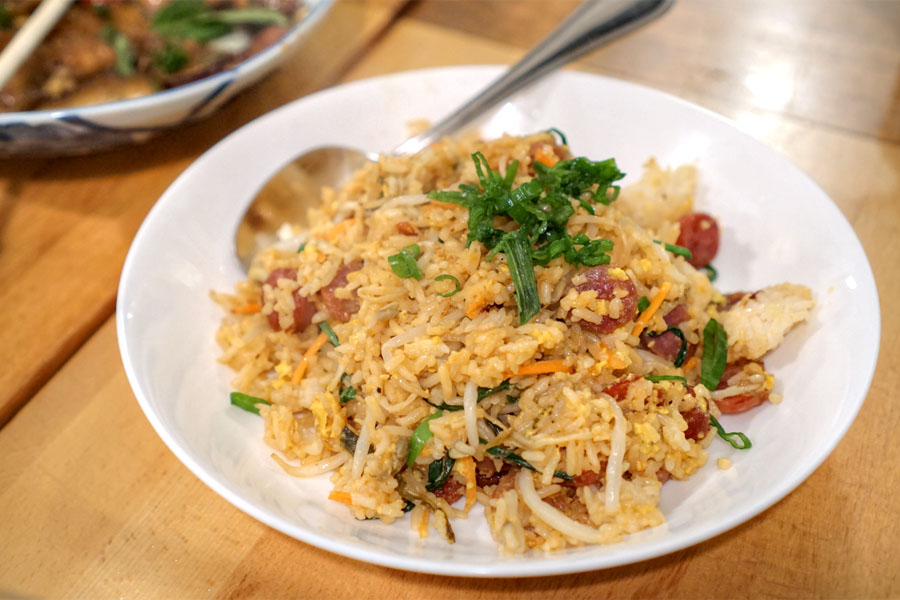 Fried Rice [$8.00]
The staple dish of fried rice certainly delivered with its use of sweet-salty
xiangchang
and various veggies.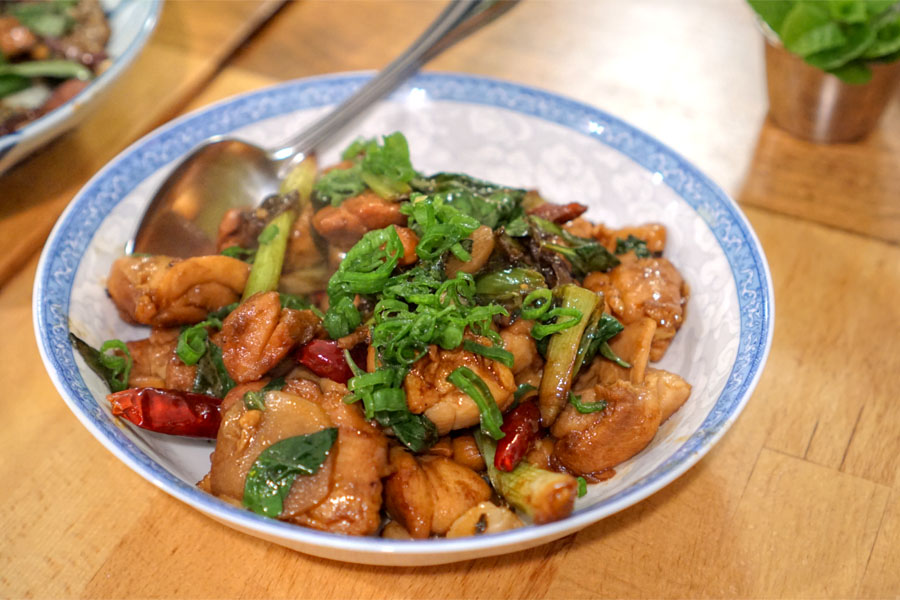 3 Cups Chicken [$12.00]
I was curious about the Chef's interpretation of
sanbeiji
, so this was a must-try for me. The chicken itself I found super tender, with a great contribution from the basil. At the same time, I felt that that the savory notes from the soy (one of the three cups of sauces required) could've been more apparent.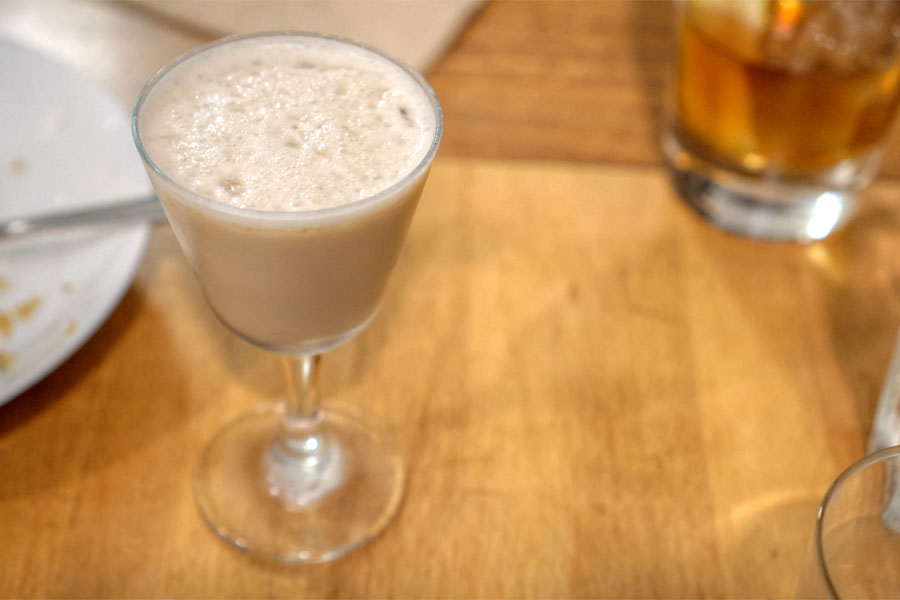 Child's Play [$12.00]
| galliano, espresso, cream, cacao
This dessert-y cocktail went down easy with its plethora of creamy, coffee, and chocolate notes. I got almost no booziness at all here.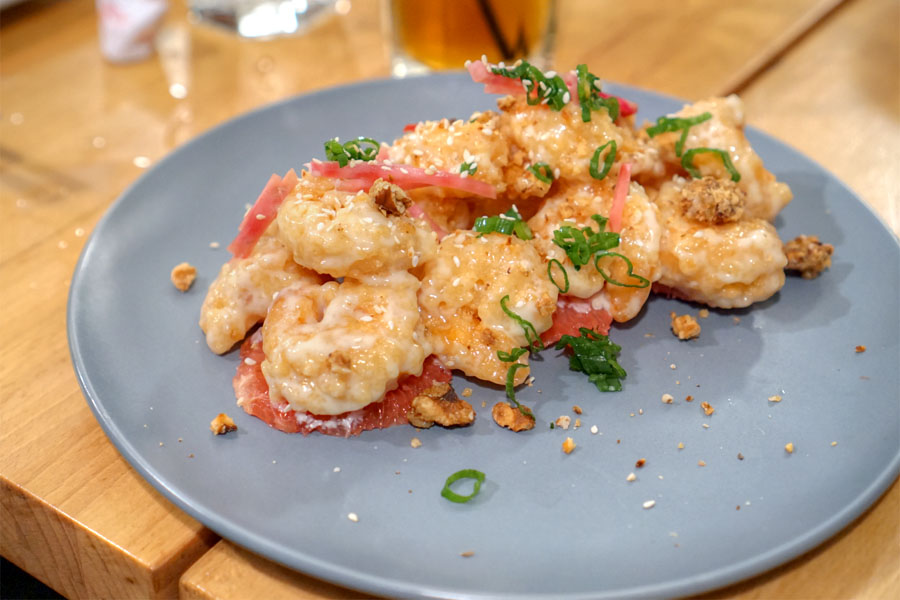 Walnut Shrimp [$15.00]
Honey walnut shrimp is a favorite dish of my mother's these days, so I tend to have it fairly often. Kuo's iteration tonight was surely one of the best I've had. The shrimp were particularly well-cooked--snappy, soft, yet just crisp enough on the outside--and I was a fan of the restrained sweetness in the dish. The walnuts, meanwhile, came out almost candied.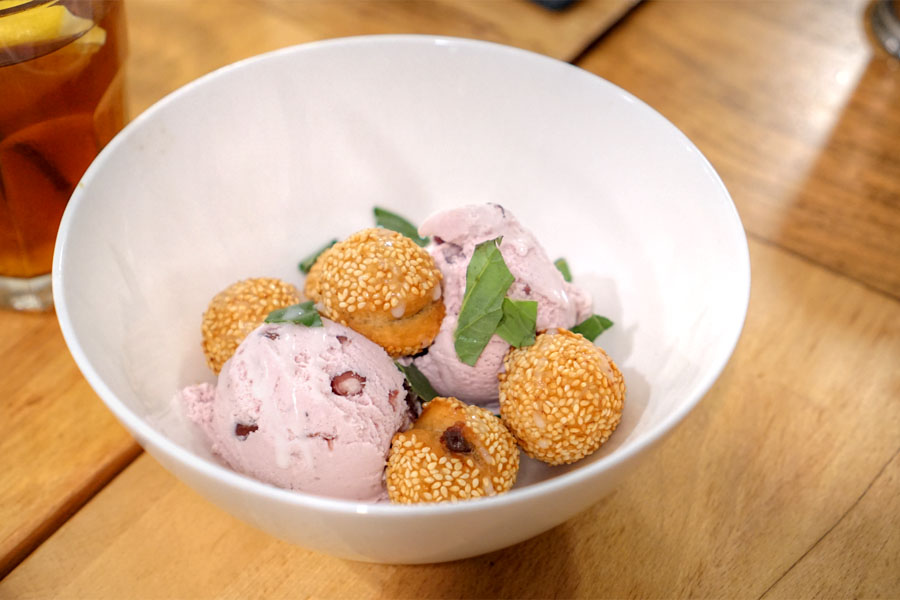 Red Bean Ice Cream with Sesame Seed Balls [$8.00]
There was one off-menu dessert tonight, so naturally we had to get it. The
hongdou
ice cream was a strong effort, with sweet, almost floral notes and bits of the actual bean incorporated. Even better were the
jian dui
(sesame balls): warm, nutty, filled with sweet bean paste, and probably the best I've had. Superb accent from the shards of mint, too.
I was sort of bummed that I didn't get an opportunity to visit Status Kuo before the place closed, but Little Fatty is a strong consolation. Kuo's rejiggered versions of Taiwanese/Chinese comfort food classics largely met the mark, and actually left me curious about the rest of the menu. The bar program at Accomplice is certainly worthwhile as well, and I hope that it continues to evolve too. Now I can see why the place gets so busy.