LSXO (Huntington Beach, CA)
LSXO Restaurant
21016 Pacific Coast Hwy, Huntington Beach, CA 92648
714.374.0083
www.dinebluegold.com/lsxo/
Thu 01/19/2017, 08:15-11:10p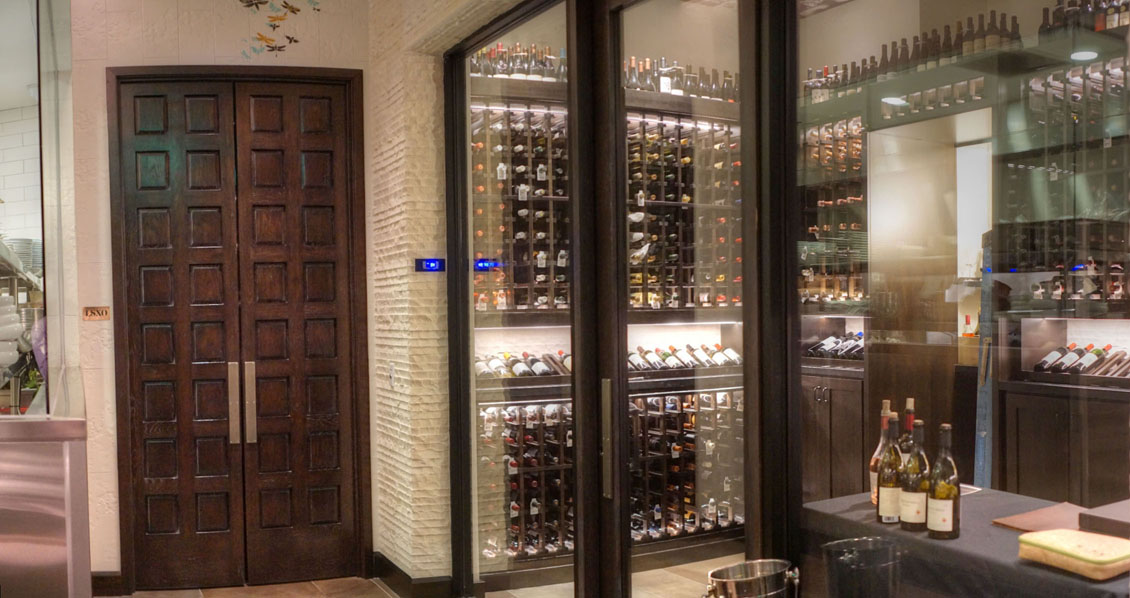 I grew up around Huntington Beach, and unfortunately the dining scene there has always been sort of tepid. Things got a little more exciting in November though with the debut of Bluegold, a "coastal California eatery" with a definite multicultural bent.
Spread over almost 9,000 square-feet in the Pacific City development, the restaurant is the work of Chef Tin Vuong and Jed Sanford's
BlackHouse Hospitality Management
(the guys behind Suburbia,
Steak & Whisky
,
Dia de Campo
,
Little Sister
, Wildcraft, Abigaile, etc.), and represents the group's first foray outside of the South Bay.
What I found surprising is that Bluegold actually includes a "secret" restaurant-within-a-restaurant concept called LSXO, designed to basically be a more intimate version of Little Sister, hence the "LS." The "XO" in the name, by the way, is a nod to that ubiquitous Hong Kong staple of XO sauce.

Situated behind some unmarked doors next to Bluegold's wine room, LSXO is a dark, somewhat clubby space with room for a mere 28 diners.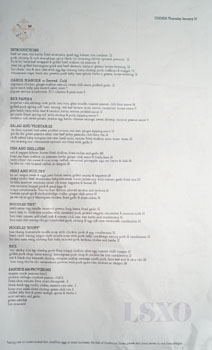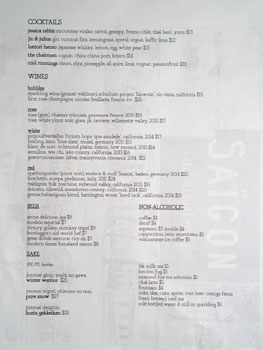 LSXO's menu doesn't stray too far from that of the previous two Little Sisters. It's a lengthy affair, with numerous Vietnamese-y dishes in pretty much every conceivable category. To drink, you'll find a brief list of Southeast Asian-leaning cocktails, a half dozen beers, and a short wine list. Corkage is $25 a pop. Click for larger versions.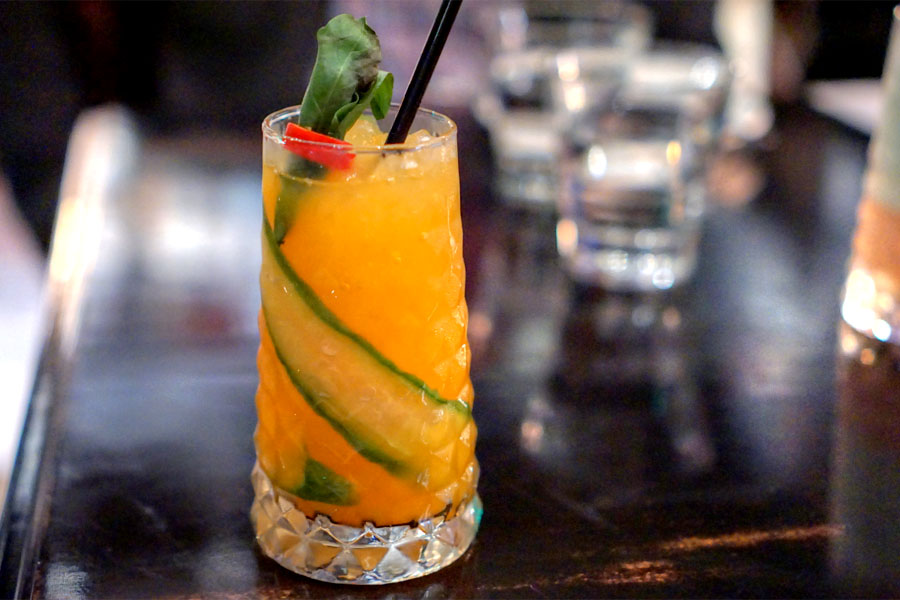 jessica rabbit [$13.00]
| cucumber vodka, carrot, genepy, fresno chile, thai basil, yuzu
I'm not sure about the Jessica Rabbit reference here, but our first cocktail largely delivered despite that. I found it sweet at first, then vegetal and herby, with a savoriness creeping in near the finish. Nice touch of heat layered over everything as well.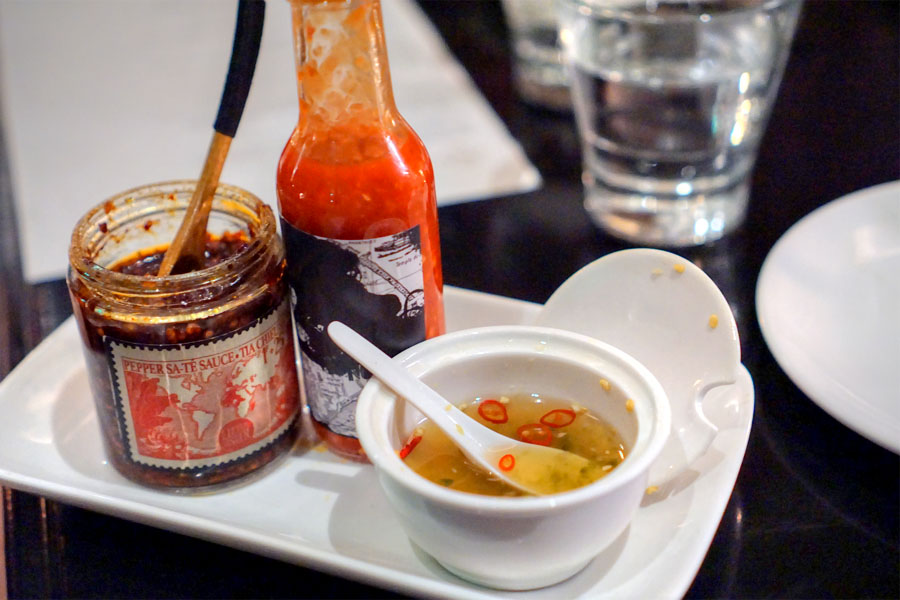 Tabletop accompaniments included housemade fish sauce and XO. I found these unnecessary, as the seasoning on the food was pretty much right on the money to begin with.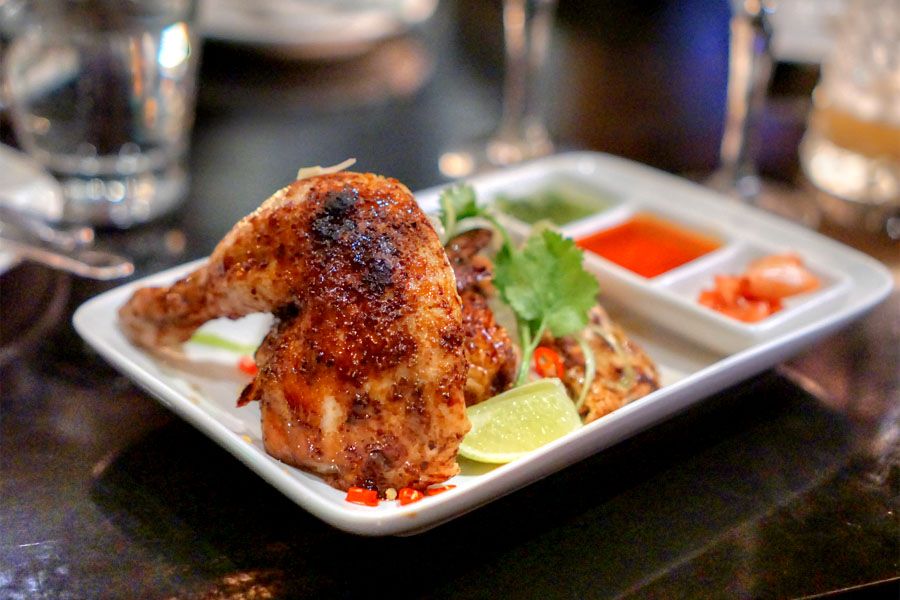 supreme chicken, ginger-scallion sate oil, sweet chili sauce, pickled garlic [$11.00]
A half chicken ate tender, juicy, and showed off a lovely char element to boot. Flavors here were a smart mix of sweet and savory, and well-complemented by the bright, piquant sauces on the side.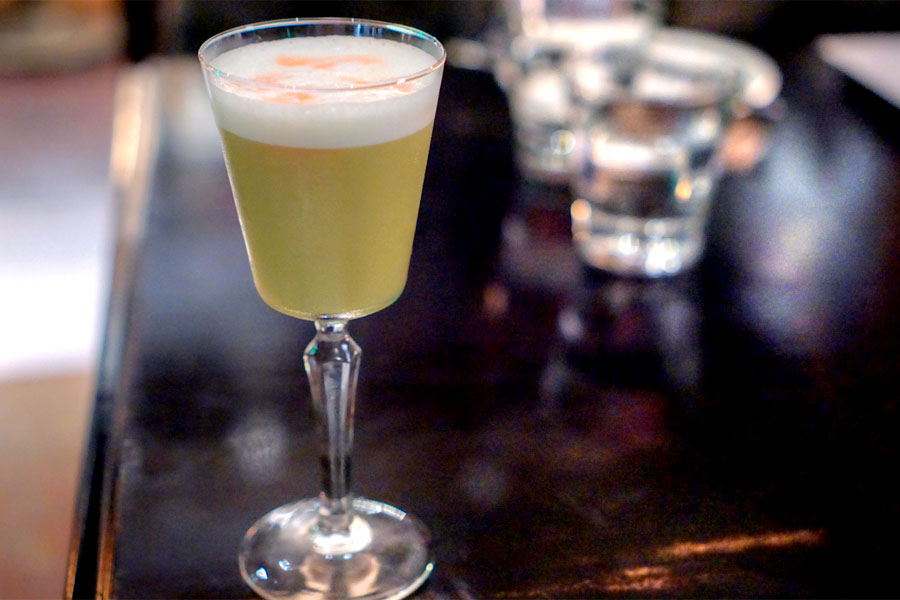 hattori hanzo [$13.00]
| japanese whisky, lemon, egg white, pear
Our next cocktail was a take on the whiskey sour. Nose was certainly eggy, with a sweet spice element, while the taste went fruity and vegetal, but with a bitter backing.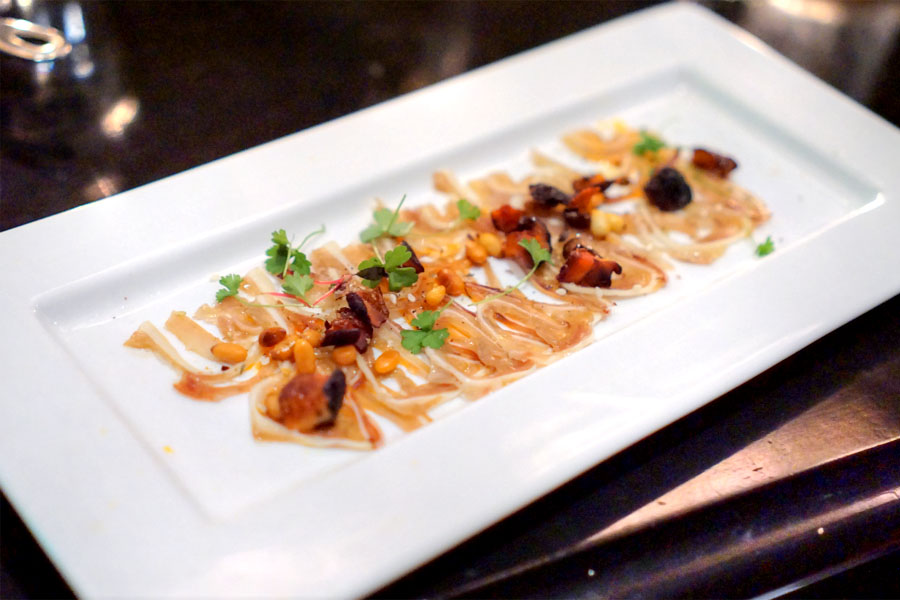 pig ear terrine, mushroom XO, cilantro & pine nuts [$6.00]
Pig ear was done justice here. Superb, persistent spice on this one, and I loved how the mushroom augmented the inherent porkiness of the dish. Great toastiness and crunch from the pine nuts, too.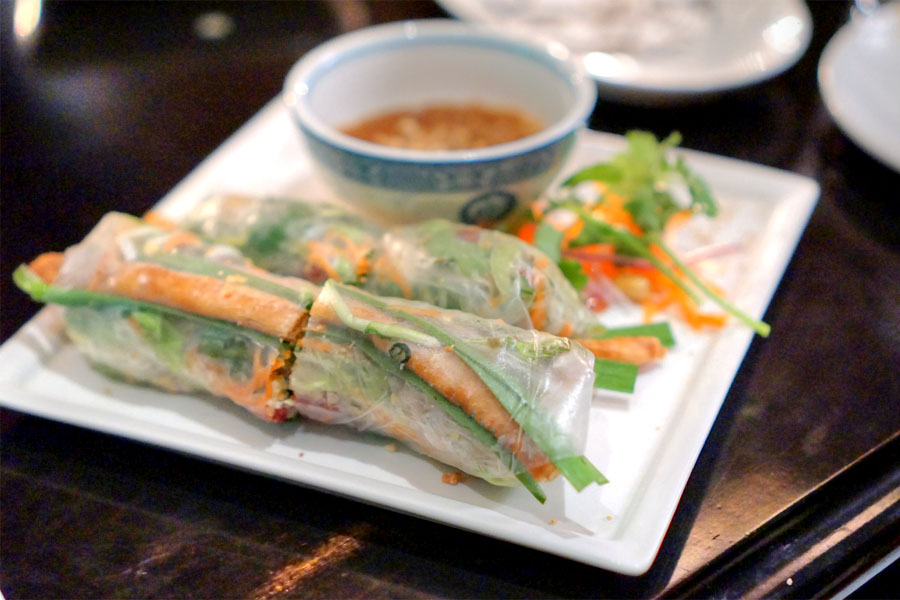 autumn roll, sweet potato, jicama, egg, herbs, chinese sausage, sweet shrimp, coconut peanut sauce [$9.00]
A riff on the classic spring roll was delightful. There was a lot going on here--the sweetness of coconut, the saltiness of
lap chong
, the moderating effect of the egg and sweet shrimp, the
crunch
--but it all came together swimmingly, tied together by the hot, nutty sauce on the side.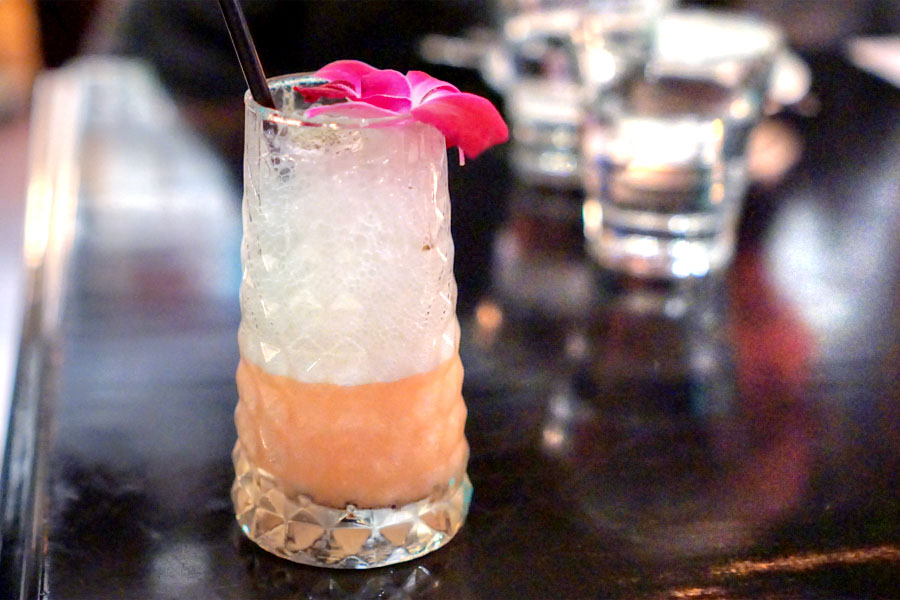 jin & julius [$12.00]
| gin, coconut fizz, lemongrass, aperol, orgeat, kaffir lime
This was definitely our sugariest cocktail of the evening, a creamy, viscous concoction with plenty of tropical flavors and a hint of nuttiness for balance.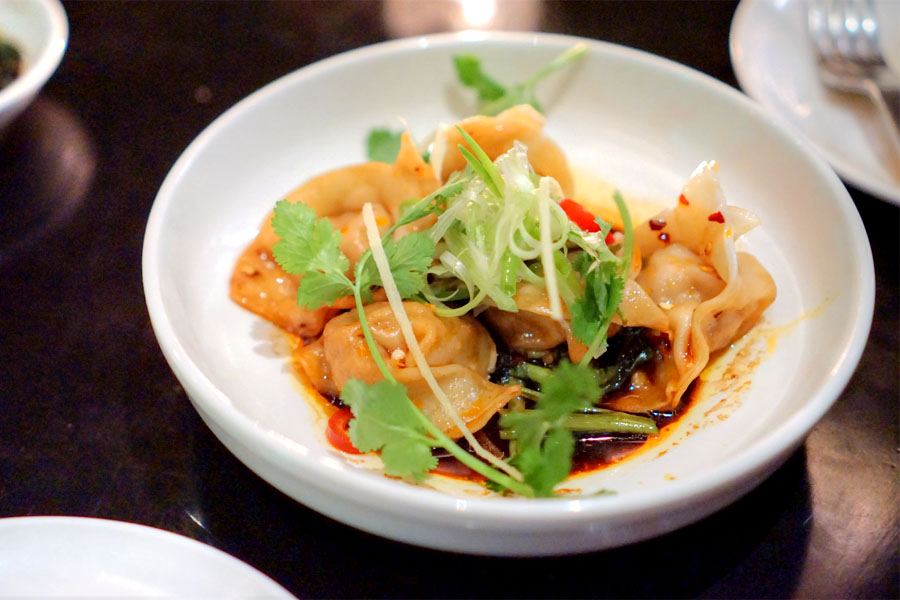 pork, shrimp, & crab dumplings, spicy black vin dressing, chives, spinach, peanuts [$12.00]
Dumplings showcased some really satisfying, savory, homey flavors that made me want to keep eating. Excellent contrast from the cilantro and ginger on the finish.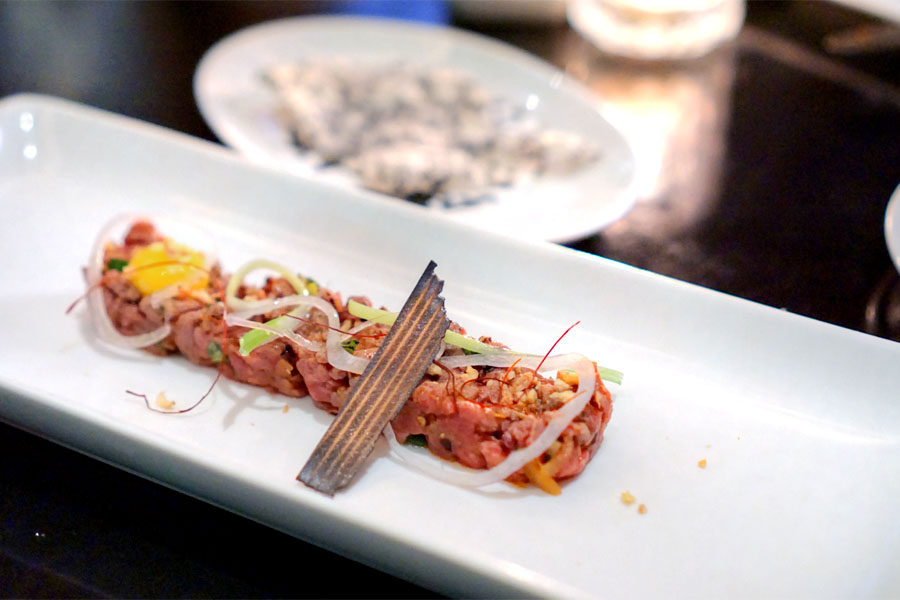 beef tar tare, viet herbs, fried aromatics, quail egg, lobster rice crackers [$12.00]
The classic beef tartar was given a Vietnamese update to great effect. The beef itself ate soft and springy, and displayed just the right amount of sweetness, herbaceousness, and lingering spice. Fantastic textural contrast from the rice crackers, too.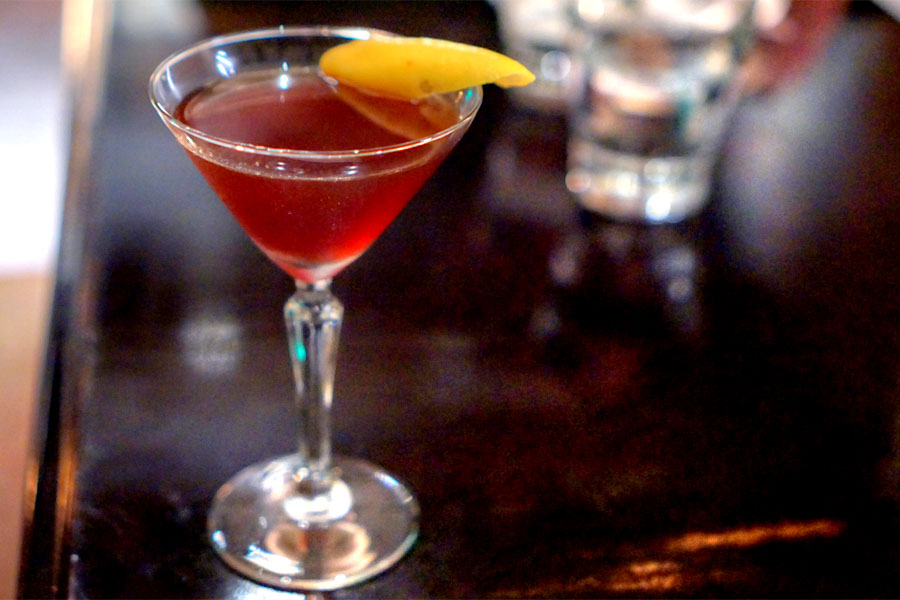 the chairman [$14.00]
| cognac, china china, port, bitters
This cocktail was the booziest of the bunch, but still balanced thanks to the bittersweet, aromatic, spicy nature of the China China and port combination.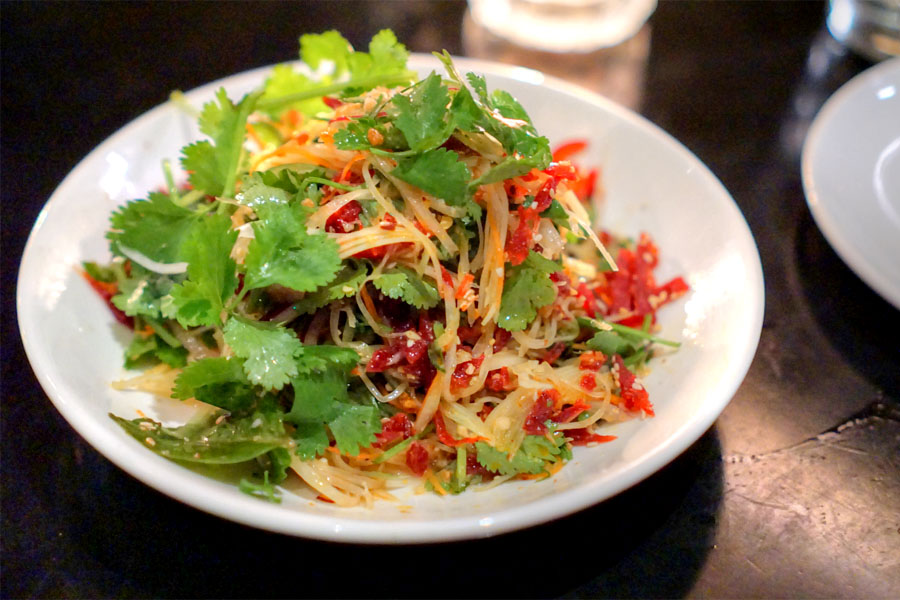 'goi du du' green papaya salad, viet beef jerky, peanuts, chili lime vin [$12.00]
The papaya salad hit the spot, giving up a bevy of sour, spicy, savory notes bound by the funky, ferment-y flavors of fish sauce.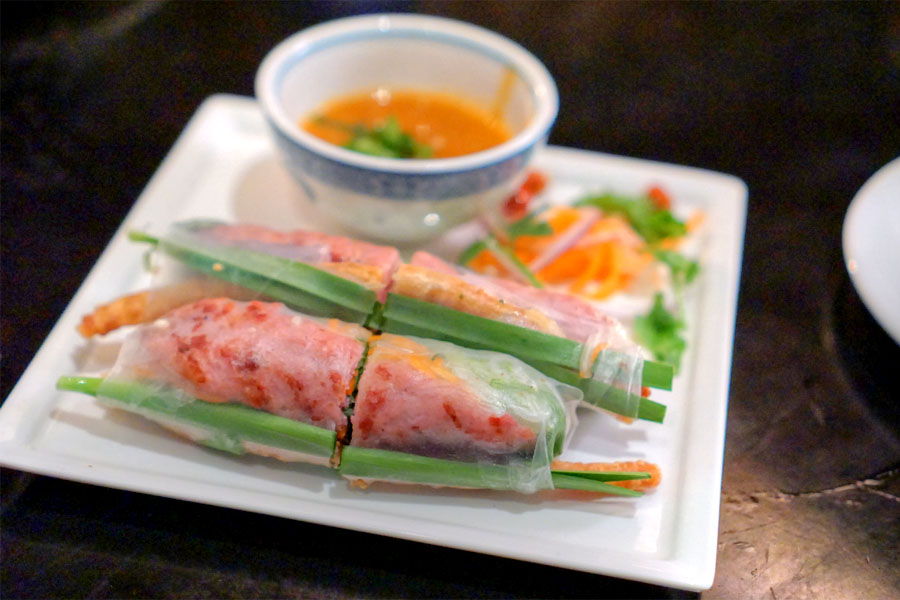 grilled pork spring roll 'nem nuong', red leaf lettuce, mint, carrot, cucumber, house sauce [$9.00]
By this point, pretty much everybody's had
Brodard
's legendary
nem nuong cuon
, which set a high standard for the dish. LSXO's were a valiant effort, giving us a marriage of sweet, savory, smoky pork with bright veggies and a well-placed crunch. I could've used less noodles in the rolls though, as they tended to temper the flavors at play.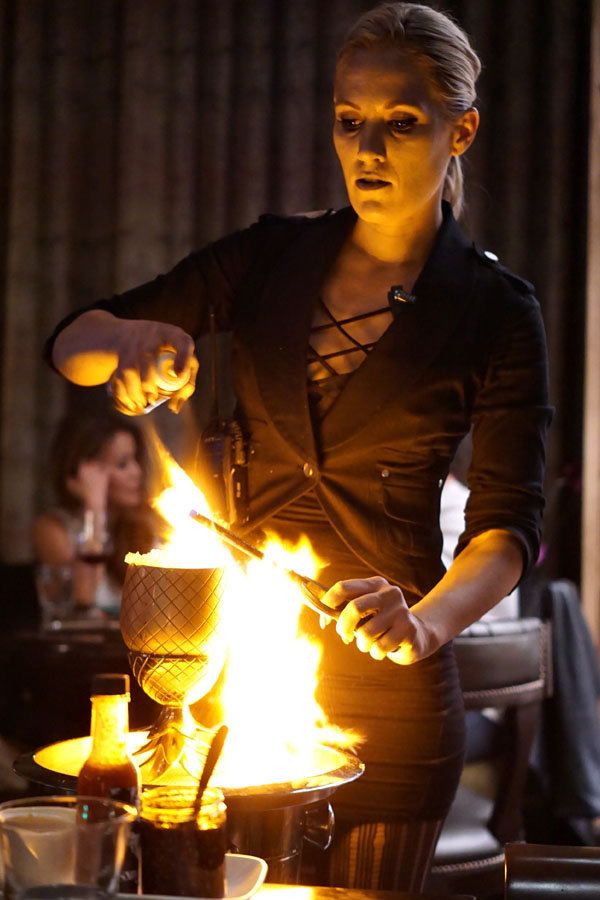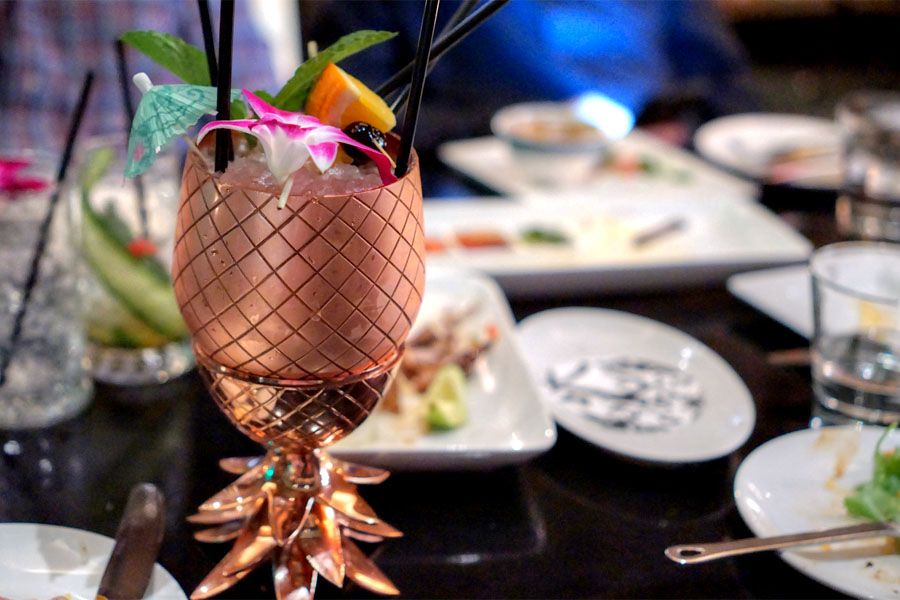 cool runnings [$33.00]
| rhum, elyx, pineapple, all spice, lime, cognac, passionfruit
The last of the five cocktails was a large format drink meant to be shared, and came with some tableside theatrics. It was a thick, tropical, tiki-ish commixture for sure, loaded with sweet spice and nary a trace of booze.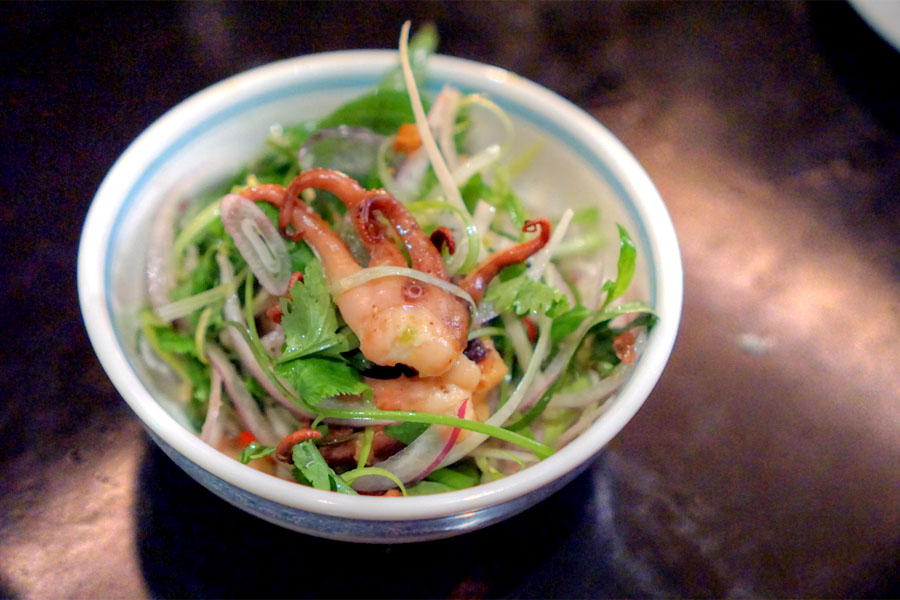 chili salted baby octopus, rau ram, basil, mint, onions, fried shallots, nuoc mam cham [$12.00]
Octo was aggressively flavored, but effectively balanced by the bright, zesty components in the dish. Great crunch from the peanuts, too.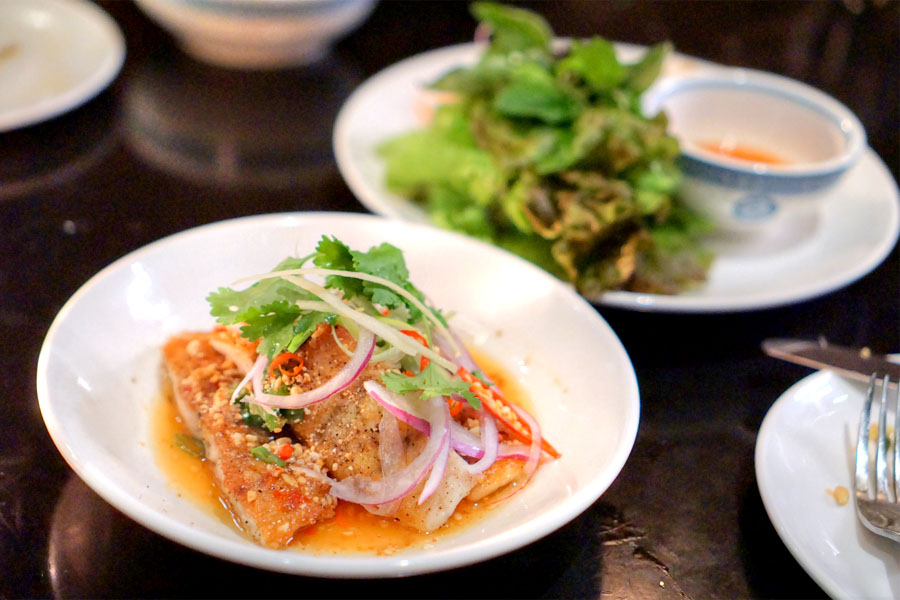 fried sea bass, scallion oil, peanuts, herbs, ginger chili sauce & fresh lime [$16.00]
Sea bass was a winner, arriving juicy and soft, imbued with a sweet savor and garlicky notes. Even better when wrapped in the included greenery.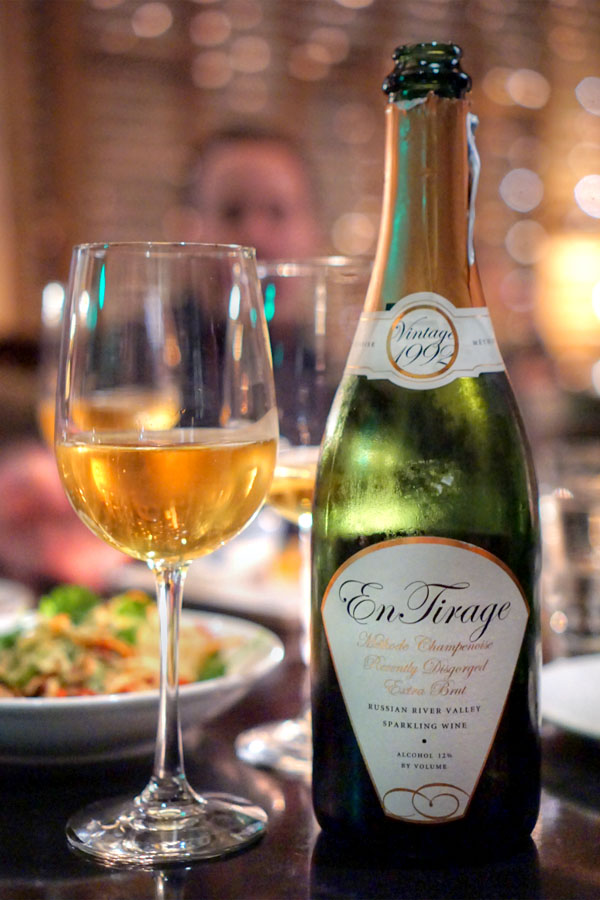 We brought our own bottles this evening, and with the cocktails all drunk up, opened the
1992 En Tirage Extra Brut
, a sparkling Pinot Meunier from Sonoma's Russian River Valley. The wine was absolutely lovely, showing off a nose rife with biscuit, apple, and yeast. The taste followed, with more breadiness and tart apple, joined by a mature, oxidative edge.
spice lamb belly, pea tendril salad, mint [$7.00]
Lamb belly was just the right amount of gamy, and perfectly matched by the brightness of the salad up top. Reminiscent of Chinese cold cuts, in a good way.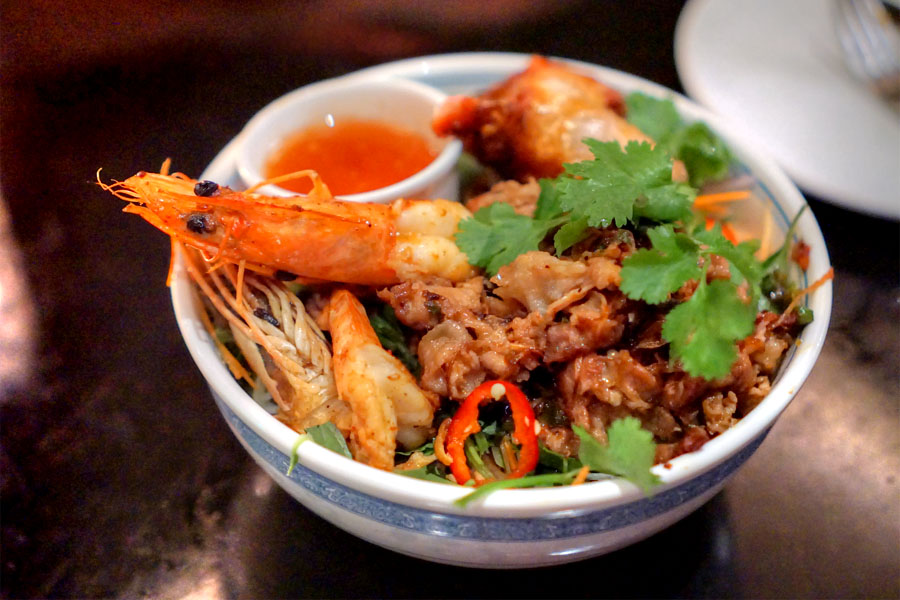 'bun tom thit nuong cha gio' charbroiled pork, shrimp & egg roll over vermicelli, condiments [$16.00]
A take on the iconic
bun thit nuong
went over well. The noodles were somewhat snappier, firmer than usual, and worked beautifully as a base for the various toppings, with the zippy, sour-ish
nuoc cham
working to tie it all together.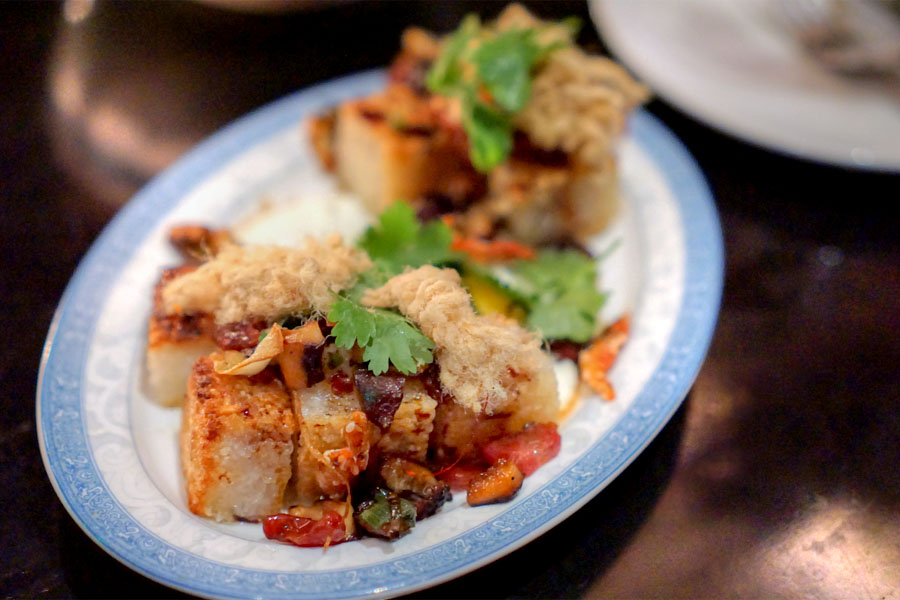 'xio' sticky rice, lap cheung, pork floss, crispy shallots, slow egg, roasted chili vinegar [$10.00]
Blocks of sticky rice were wonderfully crisp, and worked as a complement to the sweet-salty flavors of the sausage-shallot combo. I was a fan of the runny egg here as well, and how its lushness just enveloped everything.
Our final beverage was the
2015 Jester King Synthesis Analogous
, a farmhouse ale refermented with second-use raspberries and blackberries, then aged in sherry barrels. The beer smelled tart, funky, with light berry throughout. The taste veered similar, with tangy, barnyard-y flavors joined by a restrained fruitiness on the back end.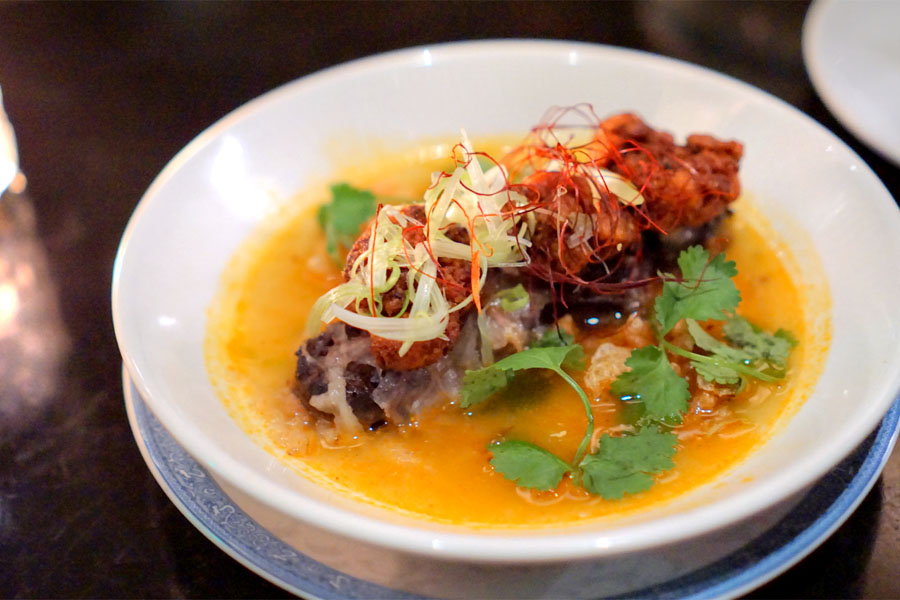 crispy sweetbreads, 'bun bo hue' flavors, shaved tendon and lardons [$13.00]
Sweetbreads were as crispy as advertised, and offered up some deep flavors that made this dish of the tastier preparations I've had in recent times. What appeared to be a sort of blood sausage added even more earthiness to the equation, while the shaved onion imparted the right amount of astringency.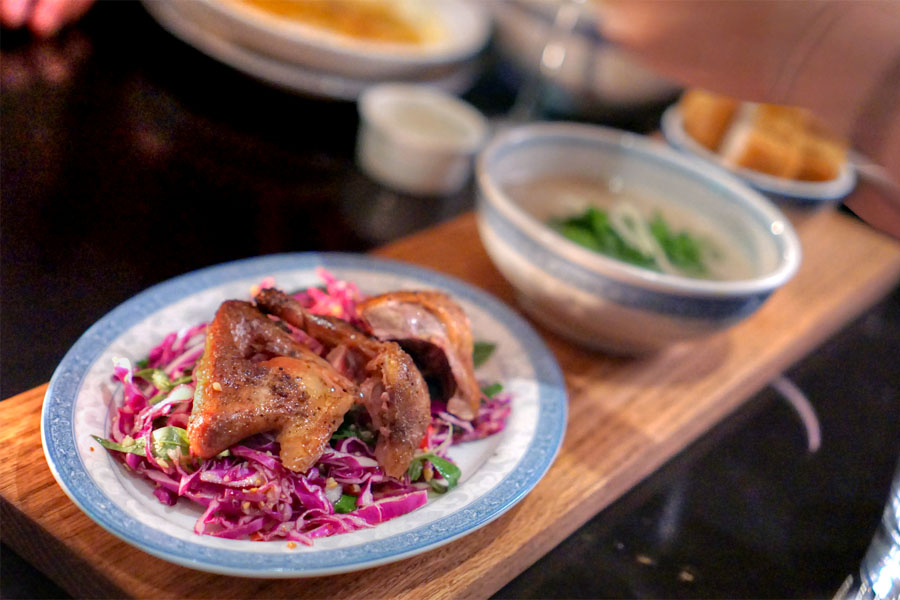 roasted squab goi & duck porridge, cruller, ginger chili sauce [$18.00]
Squab came out noticeably juicy, with ample amounts of sweet spice to go along with the bird's intrinsic savoriness. The best part of the dish, though, was that porridge, a fantastically cozy
cháo
that married perfectly with the dense,
youtiao
-like crullers.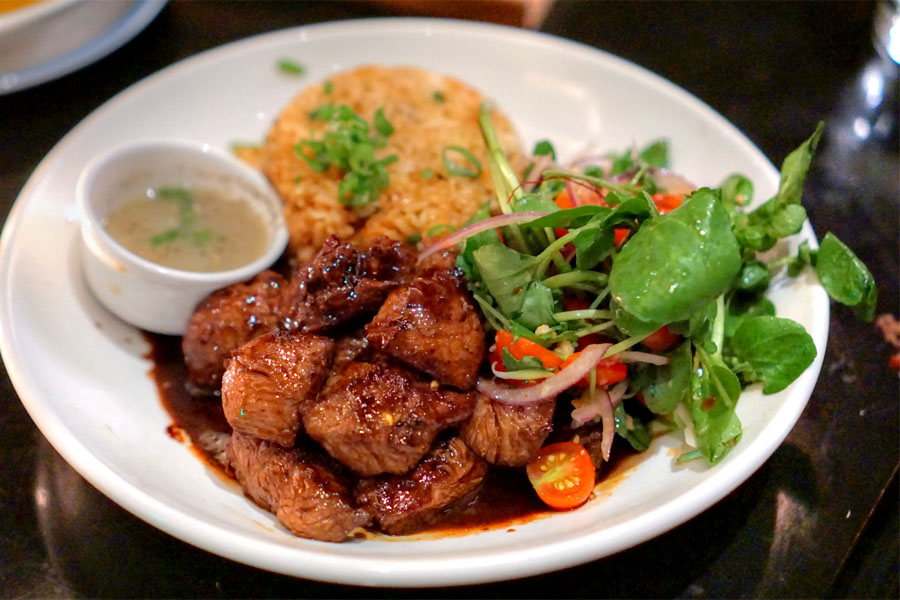 shaky shaky beef, watercress, baby tomatoes, burnt butter soy with tomato garlic fried rice [$28.00]
We ended, somewhat appropriately, with LSXO's version of
bo luc lac
. It was actually one of the better iterations I've had thanks to the tenderness of the beef (make sure to dip it in the super zippy sauce provided) and the excellent fried rice on the side.
My entire table came away very satisfied with our meal at LSXO. The food was pretty much spot on throughout the entire night. Vuong's cooking doesn't stray far from its Vietnamese roots, presenting traditional flavors with aplomb and just the right amount of modernity. It's a balancing act of sorts, but it seems to be paying off here. What's coming out of the kitchen is at least as good as what you get at the original Little Sister, and the more intimate service and surroundings are icing on the cake.
---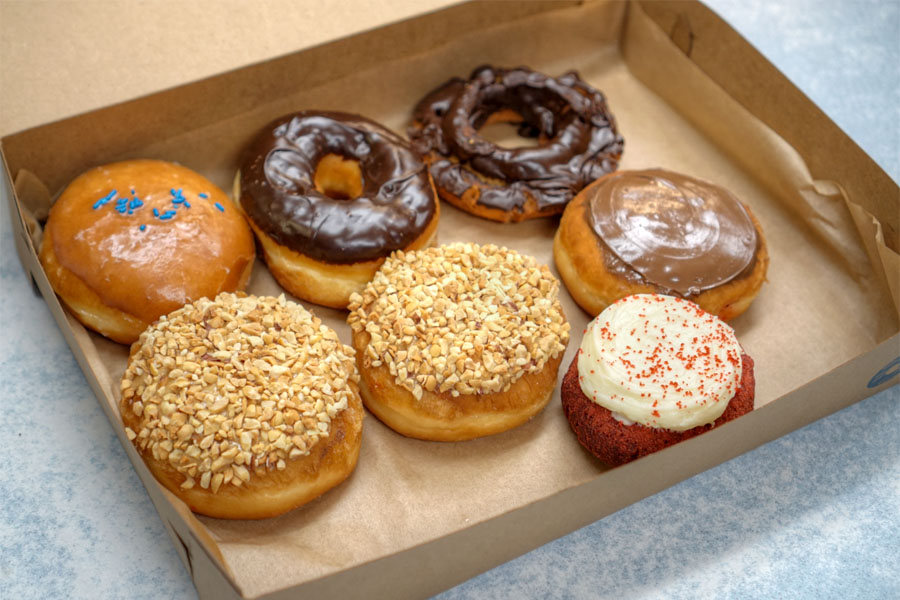 Unfortunately, the kitchen had closed by the time we were done with our savories, so we were unable to order dessert. However, given that we were still craving some sweets, we made sure to stop by
The Donuttery
on the way back home.