Here's Looking at You (Los Angeles, CA)
Here's Looking at You Restaurant
3901 W 6th St, Los Angeles, CA 90020
213.568.3573
www.hereslookingatyoula.com
Mon 08/08/2016, 08:25p-11:55p

Koreatown's dining scene got a lift recently with the opening of Here's Looking at You. The work of Chef/Partner Jonathan Whitener and Managing Partner Lien Ta, the restaurant dropped on July 13th and features what the team describes as "Progressive SoCal Food." That's understandably vague, but the idea is basically to marry the Chef's French background with the various "ethnic" traditions found in the Southland. It's right in line with the "modern LA cuisine" mantra that's been quite fashionable over the past few years (I remember first really hearing about it at
Michael Voltaggio
's
Ink
back in 2011).
About the Chef
: Whitener was born in 1987 to a German father and Mexican mother. He grew up in Orange County, and got his first restaurant gig at age 13, working as a dishwasher. While attending Huntington Beach High School (c/o '05), he took vocational cooking classes and landed a job at The Californian restaurant inside the local Hyatt Regency as a way to pay for a classic Cadillac that he was lusting after. Whitener worked there for about four years, mostly in pastry, and decided that he wanted to pursue cooking full time. He eventually found his way to
Marché Moderne
in Costa Mesa, and later attended the Culinary Institute of America.
After graduating in 2009, he moved back to LA and got a job at
Craft
, under Matthew Accarrino. Following, Whitener relocated to France, where he worked at Mauro Colagreco's Mirazur in Menton. From there, he returned once again to Los Angeles, finding employment at
Patina
, then under the command of
Tony Esnault
. His next post was that of sous chef for
Micah Wexler
at
Mezze
. During this period, Whitener even appeared on
Iron Chef America
, assisting in a wild striped bass battle against Bobby Flay. Once Mezze shuttered in 2012, he began working at
Animal
, where he stayed for three years before leaving last December.
Lien Ta, for her part, graduated from Emerson College in 2003 with a BFA in Writing, Literature & Publishing, and afterward, moved to SoCal to become an entertainment reporter. She wrote for Movies.com and Hollywood.com, and eventually rose to the position of Managing Editor at the latter site in March 2009. Ta grew tired of the work though, and decided to switch careers and immerse herself in the food biz. She started eating out more, learning about wine, writing about the LA dining scene (HuffPo), and even interned for three months at
Lucques
and waitressed at Tiki No. In July 2011, Ta began working as an admin at both
Picca
and
Sotto
, and just a few months into the job, was offered the GM position at Picca. She eventually made her way to Animal, which is where she met and became friends with Whitener.
The two thought about opening a restaurant together, but the timeframe was apparently driven by the space, which was made available by
Beer Belly
's Jimmy Han in the first half of 2015. HLaY came together relatively quickly, and the team first previewed the spot in January, when they popped up at Alvin Cailan's
Unit 120
culinary incubator in Chinatown. In June, the team ran a brief Vietnamese concept called Tet-a-Tet in the space (a nod to Whitener growing up near Little Saigon) before finally debuting the restaurant proper in July.

Here's Looking at You takes over the former home of cheesesteak-ery Whiz, along with two adjoining businesses (a beauty salon and psychic), and spans roughly 1,000 square-feet. The space was redone by the partners themselves, and exudes a slick mid-century sort of vibe (coincidentally, Whitener used to refurbish MCM furniture in his younger years) that's more than appropriate for the concept.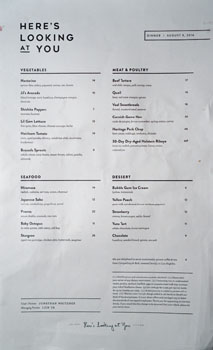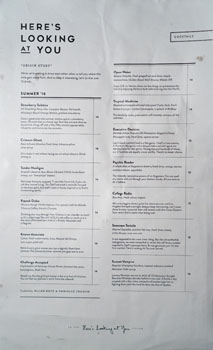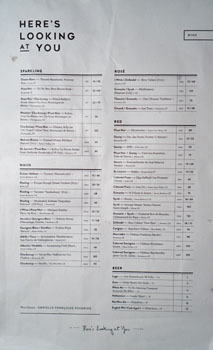 As for the menu, Here's Looking at You features a reasonably compact selection of dishes incorporating those aforementioned SoCal influences. We ended up trying everything save for the rib eye, which they'd run out of. To imbibe, you get cocktails created by power couple
Allan Katz and Danielle Crouch
(probably most known for their work at Caña Rum Bar), wines chosen by
Danielle Françoise Fournier
(corkage is $25, limit 2), and a half-dozen beers. Click for larger versions.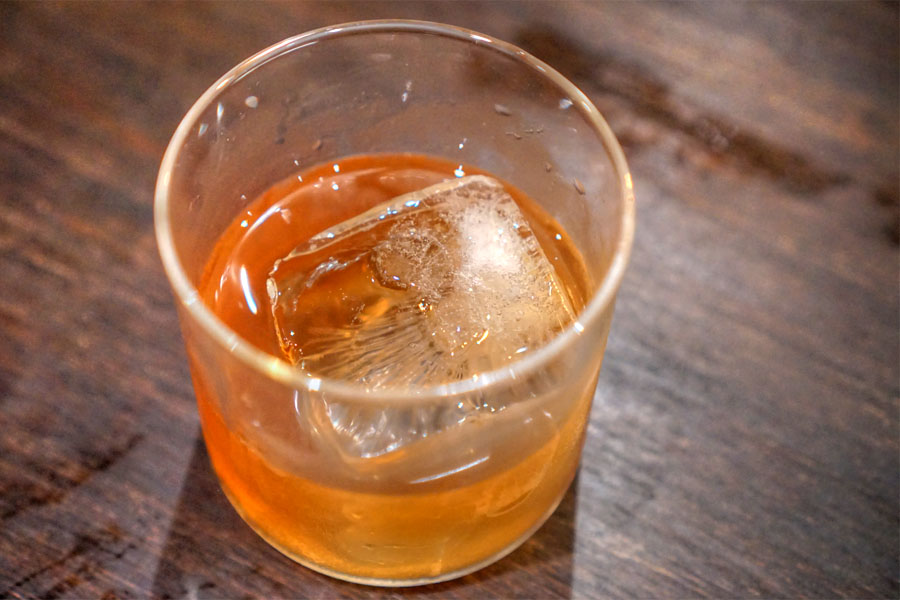 Tender Hooligan [$14.00]
| Russell's Reserve Rye, Rhum Clemént VSOP, buckwheat honey, our "breakfast" bitters
The cocktail list was one of the best-sounding we'd seen as of late, so we made sure to give all 13 creations a whirl. Up first was this honey-enriched take on an Old Fashioned. The nose was super aromatic, with a pleasant bittersweetness and distinct notes of apple. Taste brought warm, sweet spice, booze, and a finish that went almost candied.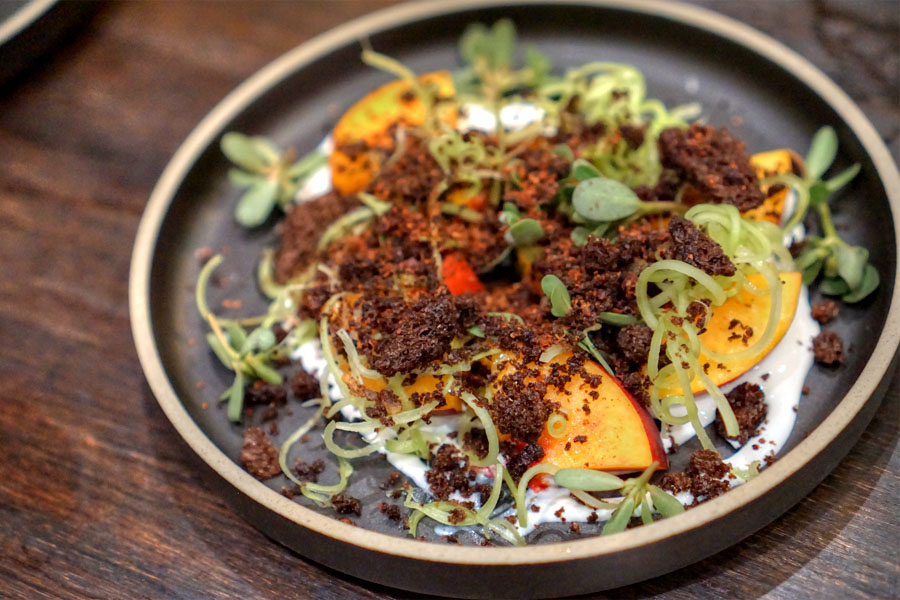 Nectarine [$14.00]
| syrian feta, celery, pigweed, sumac, rye, lemon
Nectarines made for a neat dish. The sweetness of the fruit was at the forefront, mixed with the tang of feta. Good balance from the rye bits here, and I was especially keen on the astringency of the celery.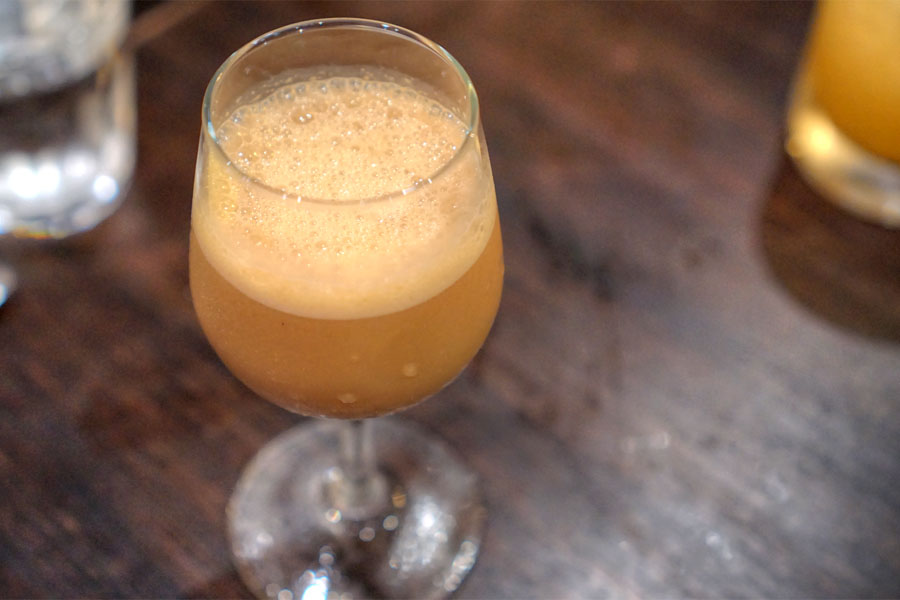 French Disko [$14.00]
| Maison Rouge VSOP Cognac, five-spiced Café du Monde Chicory Coffee, Barolo Chinato
Described on the menu as a cross between a Brandy Alexander and a Negroni, our next cocktail was the most dessert-like of the bunch. Loved the huge bouquet filled with sweet, savory, aromatic spice, while flavors brought bittersweet coffee and spice in a decidedly creamy, luscious package. Delish.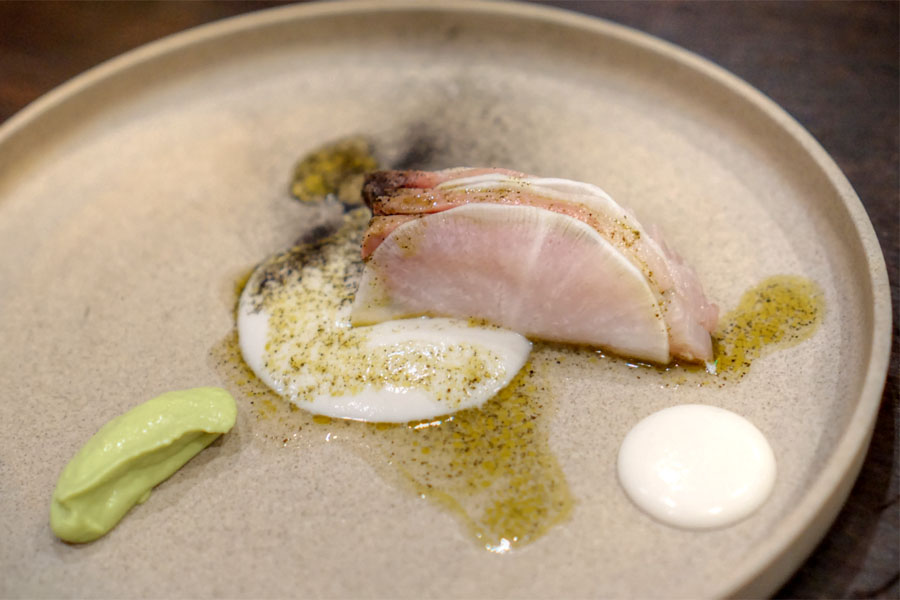 Hiramasa [$14.00]
| radish, wakame, serrano, onion, charcoal
Yellowtail kingfish was fatty and fishy (in a good way), and had its brine matched by the bitterness of charcoal and the crunchy daikon. Great contribution from the intense heat of the serrano too.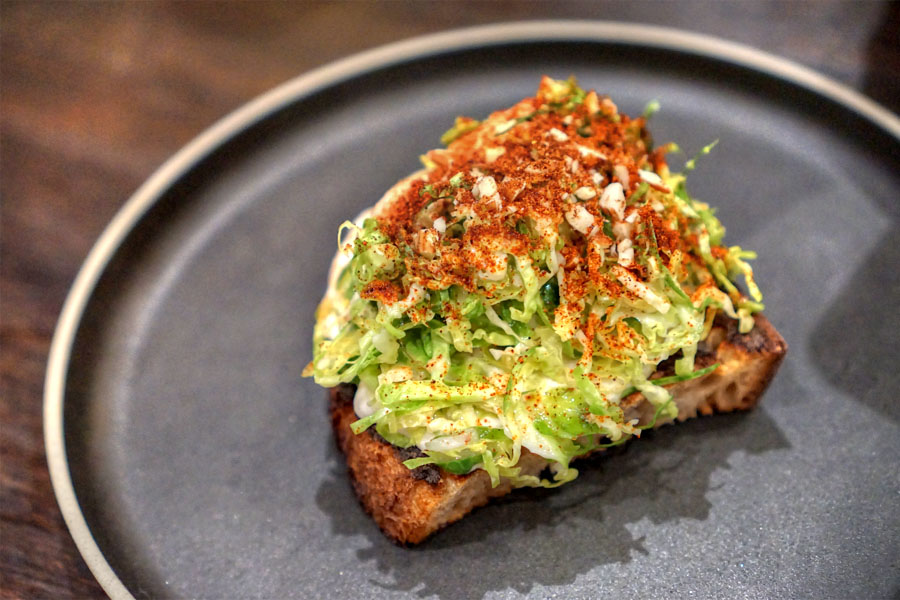 Brussels Sprouts [$8.00]
| whole wheat, navy beans, meyer lemon, tahini, pasilla, almonds
Brussels made for a bright, creamy dish, the beans adding a much-appreciated heftiness to things. I did miss the texture of the sprouts here, though I was alright with that due to the crunch of the bread.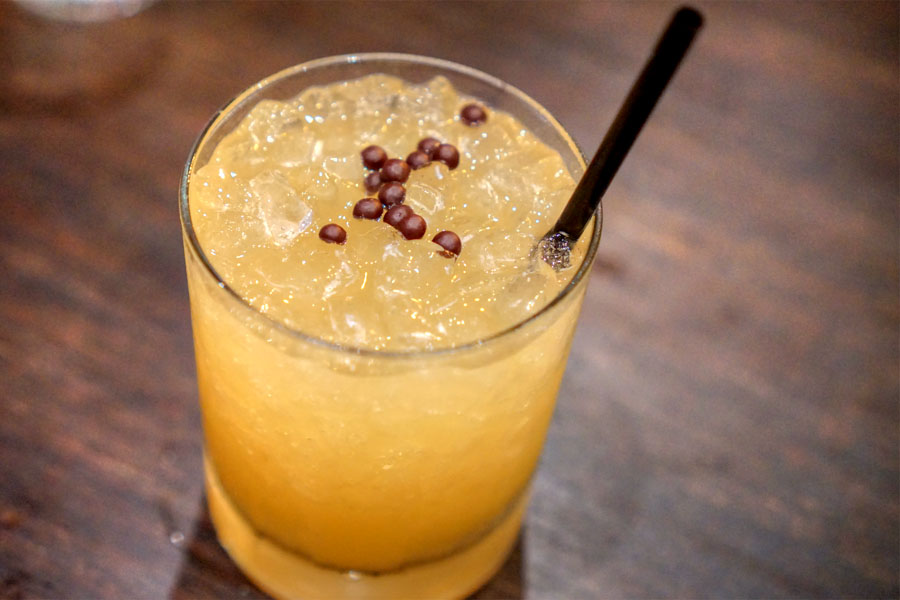 Challenge Accepted [$14.00]
| Diplomatico & Selvarey Cacao Rums, coconut tea, yuzu, lemongrass, fresh lime
I rather liked this cocktail as well, thanks to its lush, almost creamy mouth feel and delectably chocolatey-yet-fruity flavors.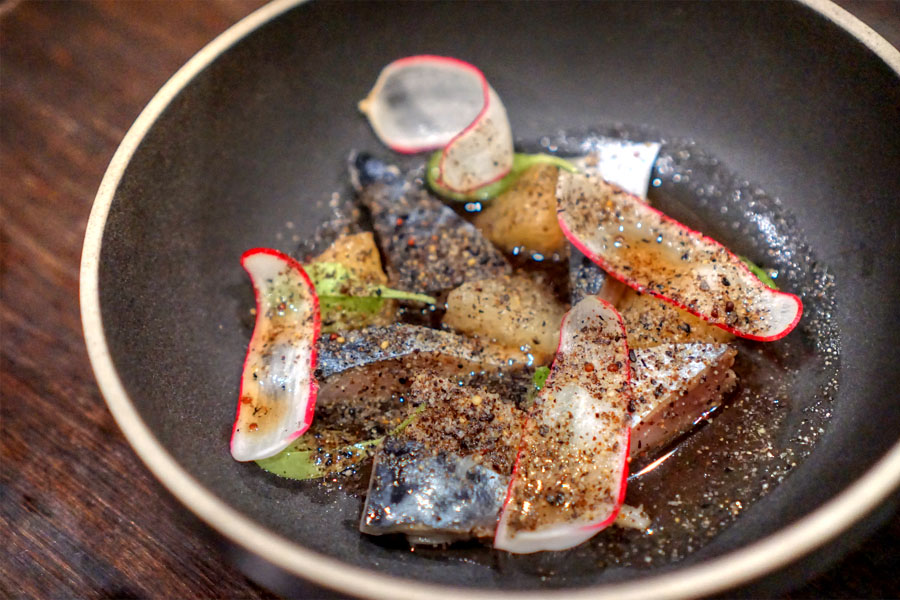 Japanese Saba [$12.00]
| red ale, smoked soy, grapefruit, sorrel
Mackerel was meaty to the bite and properly briny, its oceany flavors augmented by the weight of soy while citrus, sorrel, and radish brought the needed brightness.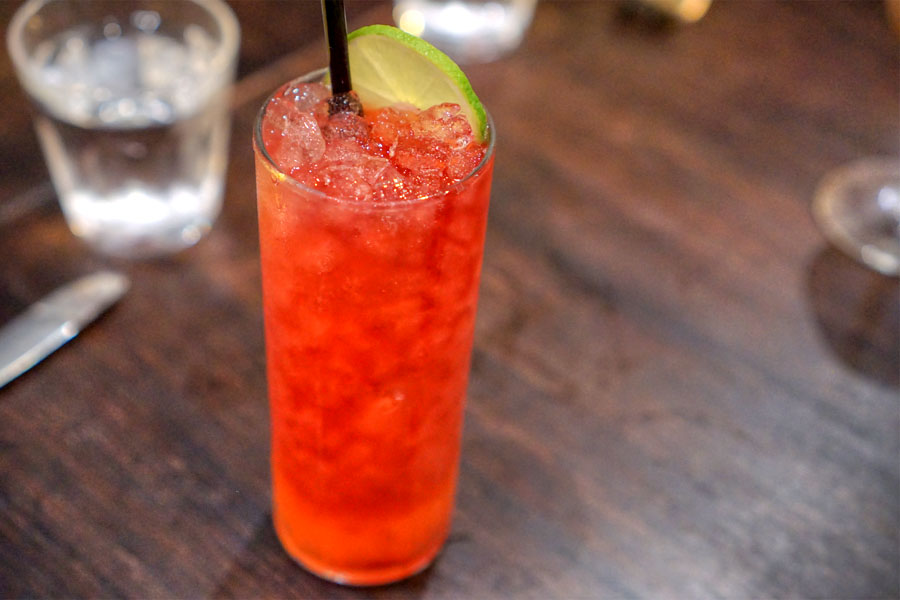 Seascape Swizzle [$15.00]
| Mezcal Espadin, summer berries, fresh lime, cassis, Lillet Rouge, rose, sea salt
Our first long drink was ostensibly inspired by the Seascape Strawberry & Rose Geranium Jam at Sqirl. Think a rich, jammy, but multifaceted berry sweetness at first, with countering notes of tart lime and a touch of booziness from the mezcal.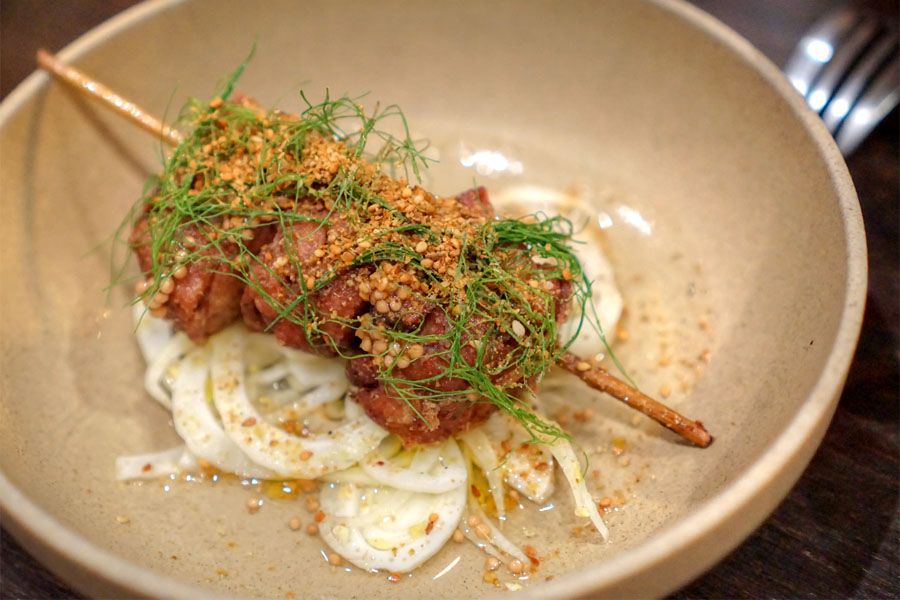 Veal Sweetbreads [$18.00]
| fennel, mustard seed, sesame
Sweetbreads were just what you'd want: creamy yet crisp, with loads of heady flavors balanced by the zippiness of fennel.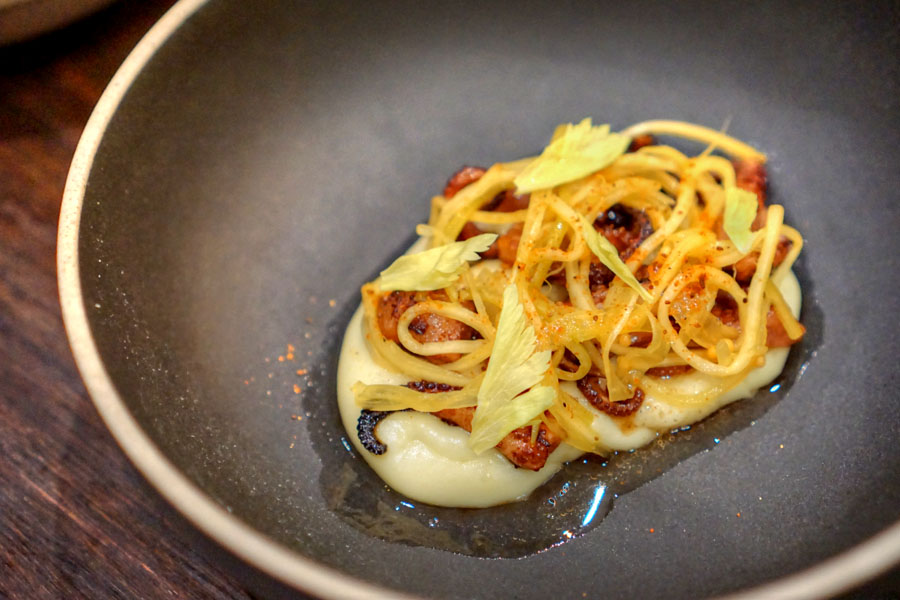 Baby Octopus [$11.00]
| la ratte potato, b&b celery, old bay
Octo came out tender and flavorful, spiced up by the Old Bay while the potatoes worked beautifully as a creamy counterpoint. Great bitterness here from the celery, though perhaps a bit more charring/crunch on the protein would've been nice.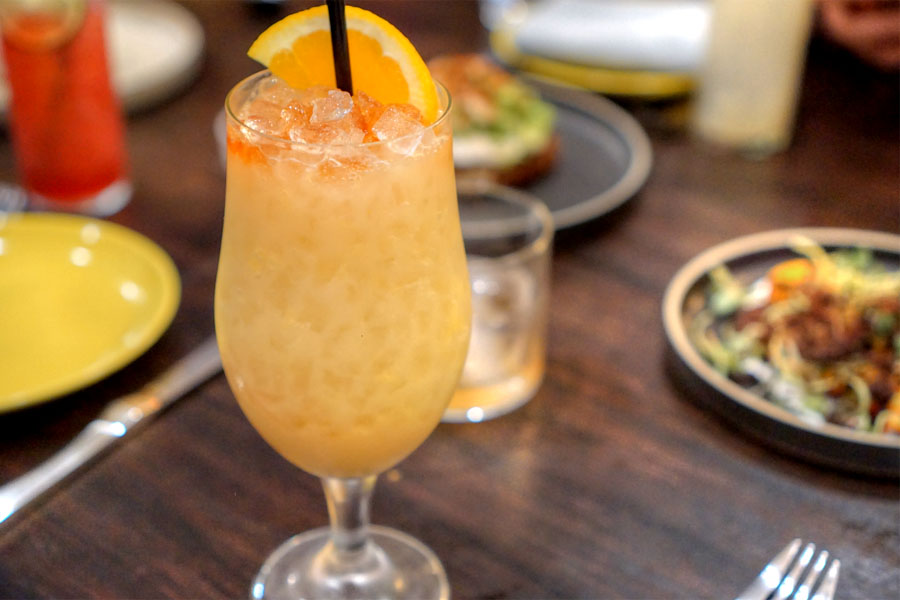 College Radio [$15.00]
| Bourbon, fresh citrus, orgeat
Next to drink was a take on the Eastern Sour, a quaffer of a cocktail that had plenty of refreshing citrusy notes commingled with sweet spice over a base of bourbon.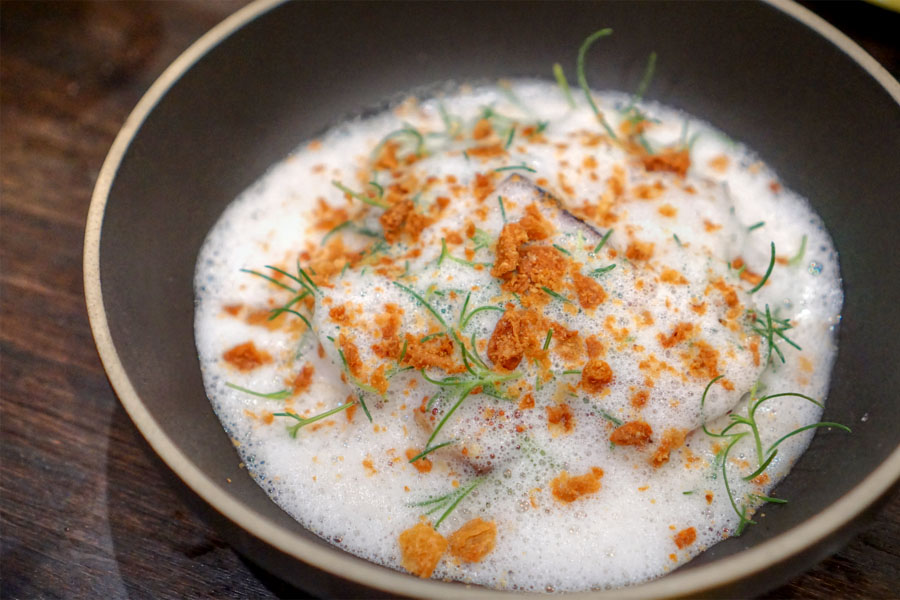 Sturgeon [$26.00]
| aged rice porridge, chicken skin, buttermilk, seagrass
The sturgeon satisfied with its meaty texture and deep, briny flavors that worked beautifully when taken with the porridge. Big fan of the crunch and salt from the chicken skin too.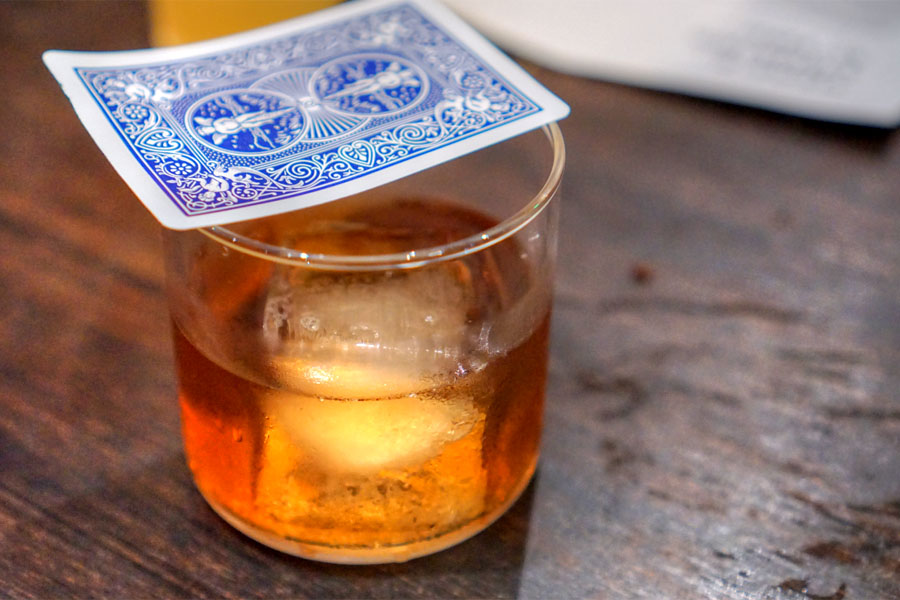 Sunset Vampire [$14.00]
| Regular-changing bourbon, organic tobacco-smoked Mexican Coke syrup
Inspired by Motörhead frontman Lemmy (hence the
Ace of Spades
garnish), this next cocktail was a winner, an explosion of sweet, aromatic, boozy dark fruit and spice, all finished with a tinge of chocolate.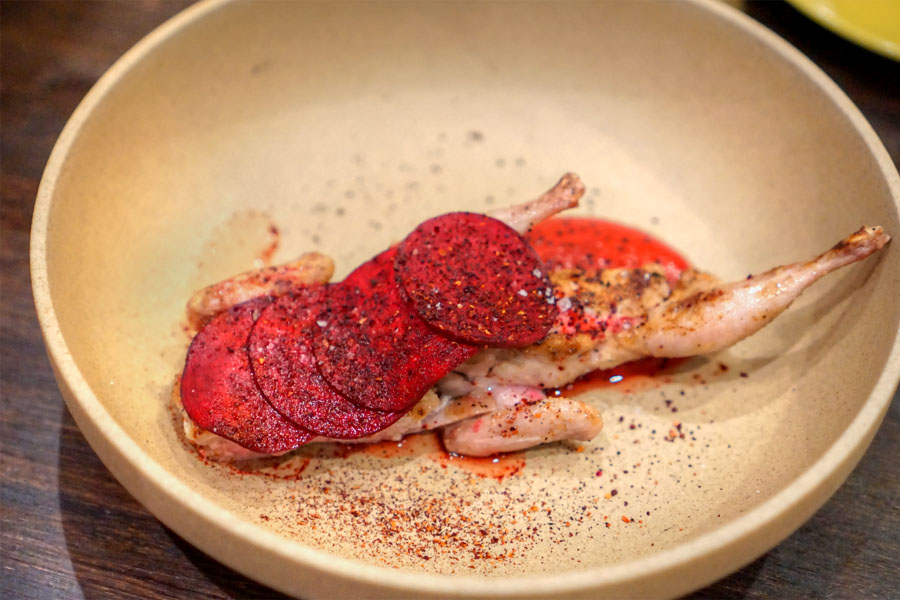 Quail [$16.00]
| beet, red wine vinegar, spices
Quail was among the juiciest preparations I've had, coming to us savory, salty, and richly-flavored, with plenty of char to boot. The beet actually worked out well as a tangy, tart contrast.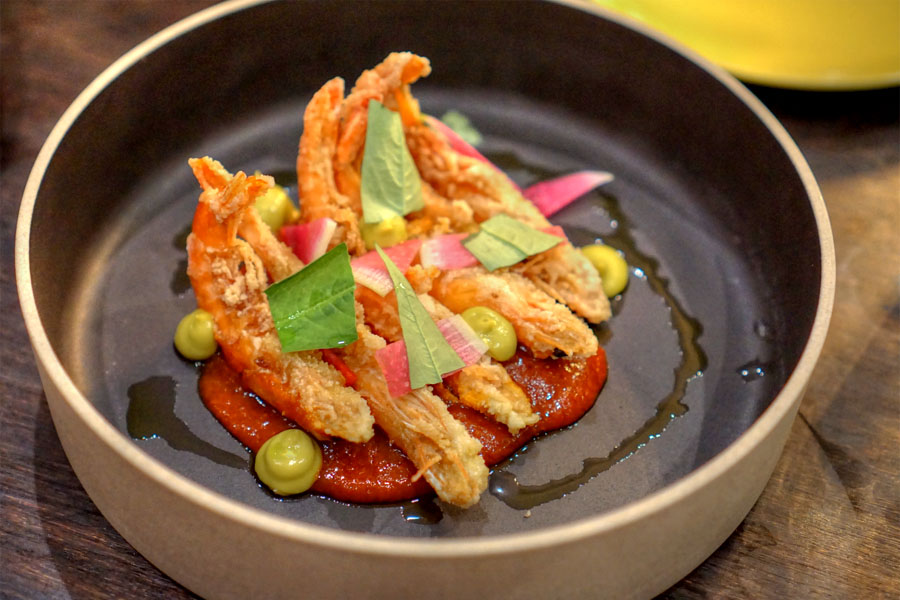 Prawns [$22.00]
| sauce diabla, avocado, rau ram
The shrimp was another favorite. They arrived wonderfully crispy, with just a hint of the ocean coming through. The star, though, was that sauce, which I found simultaneously hot and sweet, and utterly addictive. Nice hit of mintiness from the Vietnamese coriander as well.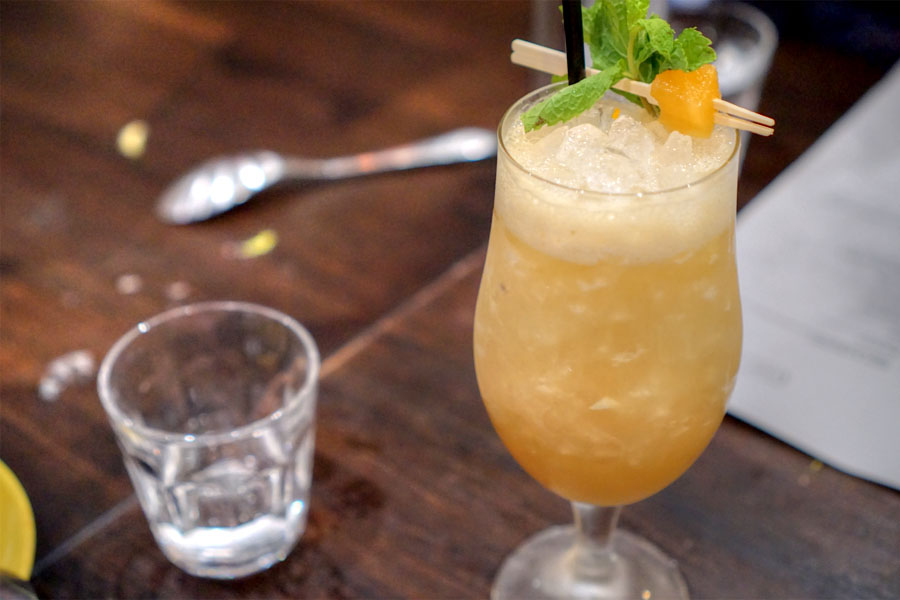 Tropical Medicine [$14.00]
| Roasted pineapple-infused 100-proof Cutty Sark, fresh lemon & ginger, roasted pineapple, a splash of Ardbeg
The ginger was the main event in this next cocktail, its zesty, spicy flavors tempered only a smidge by the drink's sweet, tropical notes. I would've liked to have tasted more from the Ardbeg though.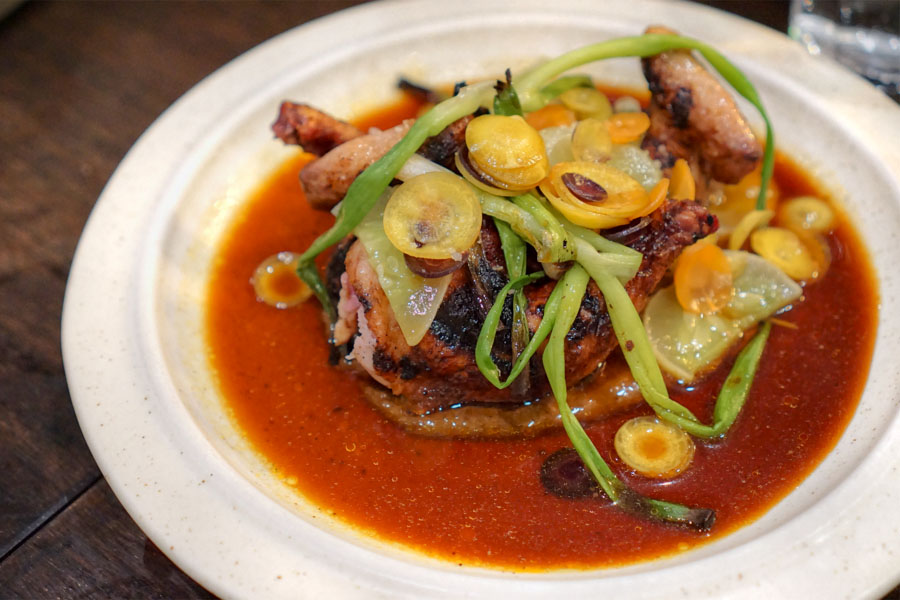 Cornish Game Hen [$26.00]
| mole de sangre, lemon cucumber, spring onion, carrot
The poussin hit the mark. I found the bird particularly tender, juicy, with some nice char bitterness going on. The mole imparted a sweet spice and depth to the dish, while the veggies gave the necessary lightness.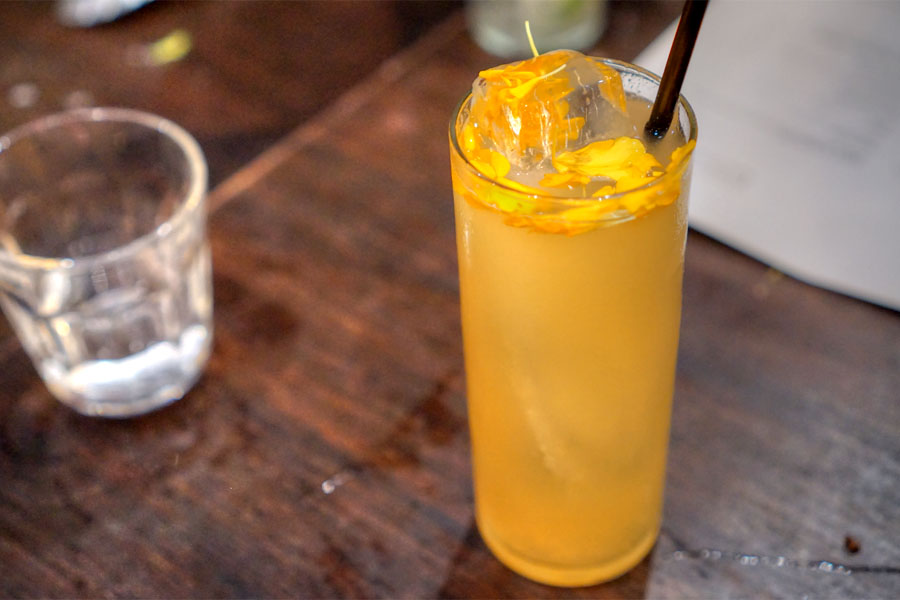 Open Water [$14.00]
| Blanco Tequila, fresh grapefruit and lime, maple, maraschino, Golden Road Wolf Among Weeds IPA
This was another favorite of mine. I got a lightly floral, citrusy nose leading to a bittersweet palate with traces of maple and maraschino, while the finish showcased the aromatics of the IPA.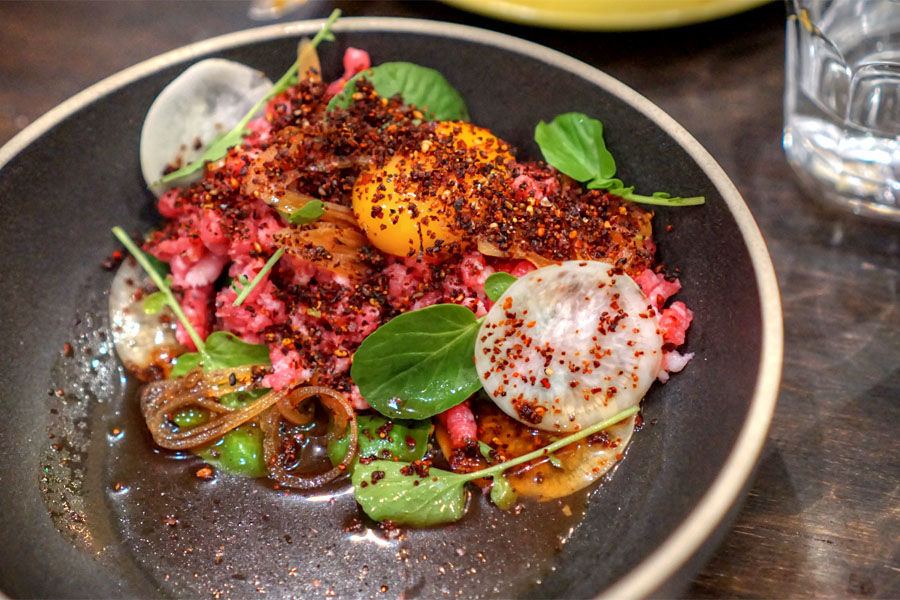 Beef Tartare [$17.00]
| red chili, ramps, yolk, turnip, cress
The tartar was one of the better ones I've had courtesy of its heightened complexity and depth from the red chili-enriched dressing. Even better when paired with the smoky bread on the side.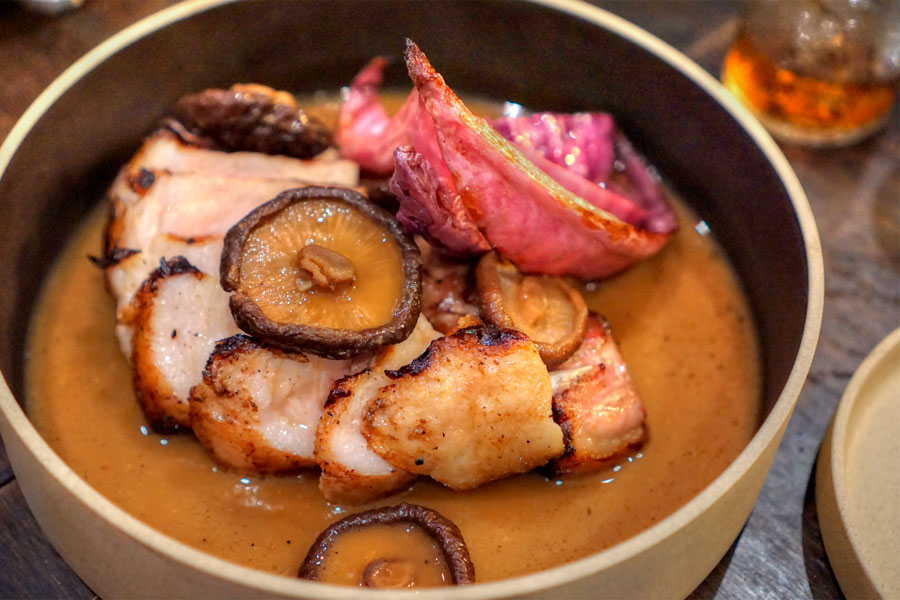 Heritage Pork Chop [$46.00]
| beer yeast, cabbage, tonkotsu, shiitake
Our most substantial dish of the evening, the pork was an especially tender, juicy preparation elevated by the richness of the
tonkotsu
broth and a trace of sweetness. Props to the mushrooms and cabbage here as well.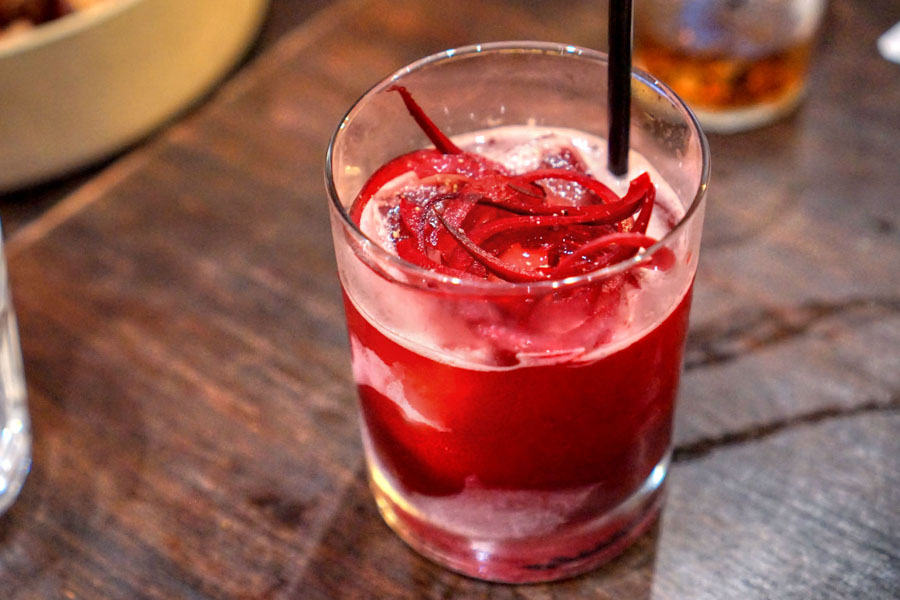 Crimson Ghost [$14.00]
| Beet-infused Absolut, fresh lime, hibiscus-plum wine syrup
This was no doubt the most beet-forward cocktail I've had, and I appreciated how its earthy-sweet flavors never overwhelmed.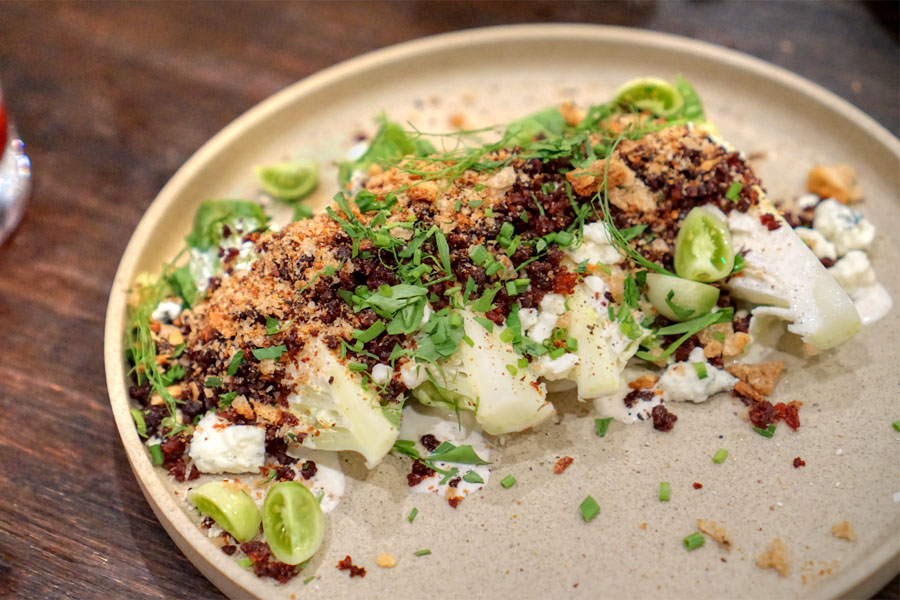 Lil Gem Lettuce [$12.00]
| five spice, blue cheese, chinese sausage, herbs
We ended our savories with the four remaining veggies dishes that we hadn't ordered yet. This first one did a nice job playing the bright, crisp lettuce against the funk of the cheese, though I could've used more acidity overall.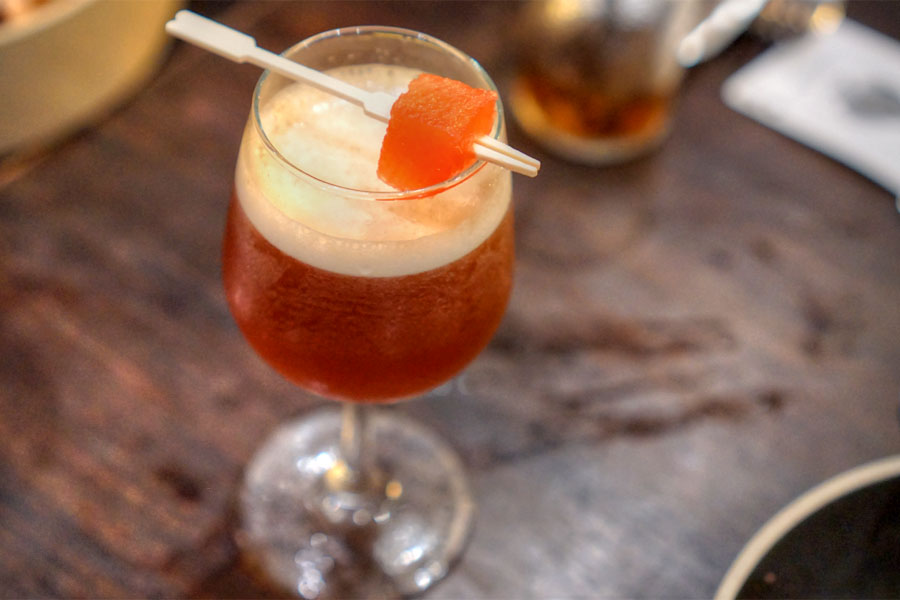 Known Associate [$14.00]
| Cynar, fresh watermelon, lime, Mezcal del Amigo, raw sugar, pink salt
This was a neat one. Great juicy watermelon notes at first, with bittersweet, vegetal, boozy notes coming in later and lingering.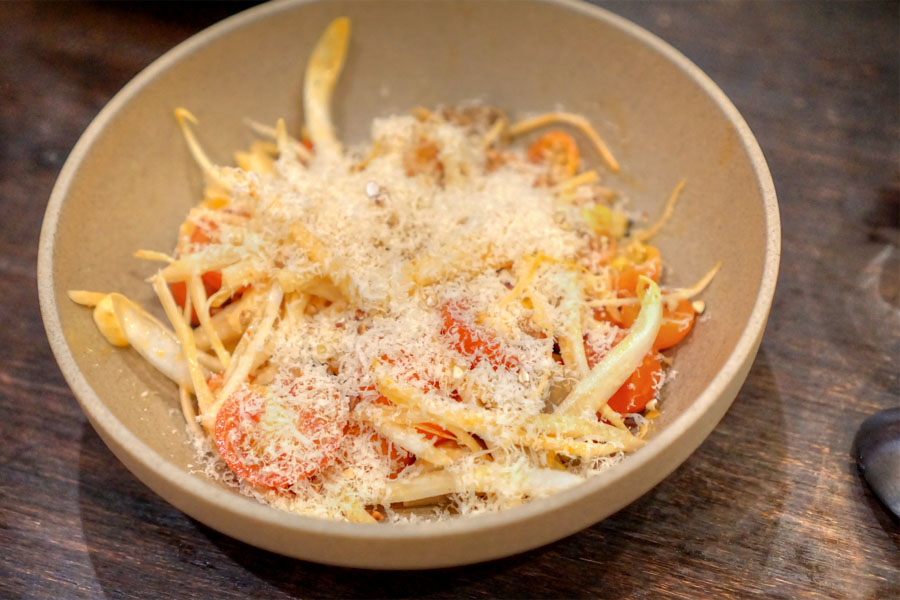 Heirloom Tomato [$14.00]
| corn, aged gouda, chicory, calabrian chili, mushroom, buckwheat
Tomatoes were bright and juicy, pairing well with the bitterness of chicory while the gouda imparted a sweet, earthy taste to the dish. The chilies were a bit muted, however.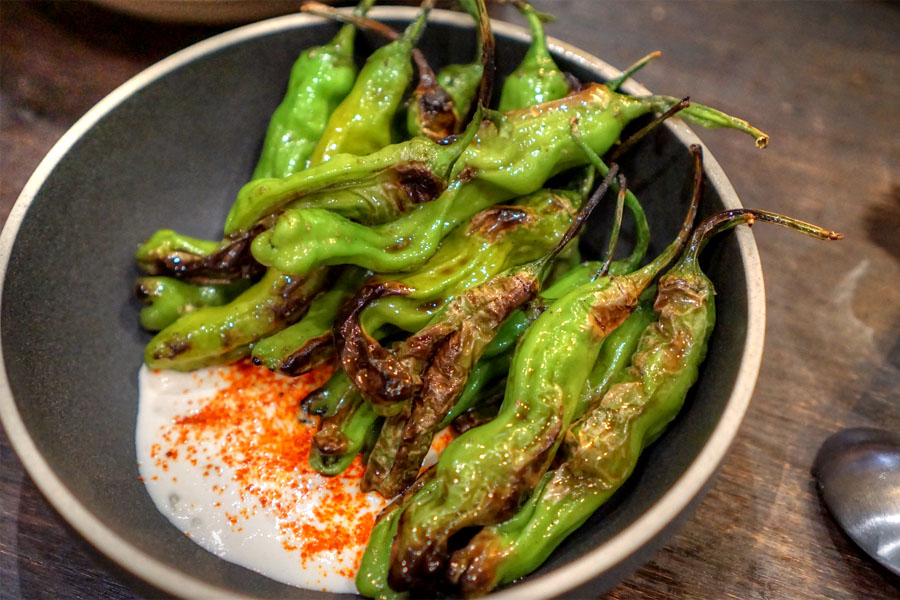 Shishito Peppers [$7.00]
| tonnato, huamei
Shishitos were among the best I've had. Their spiciness and char were on point, and worked beautifully with the fishy depth of that tonnato.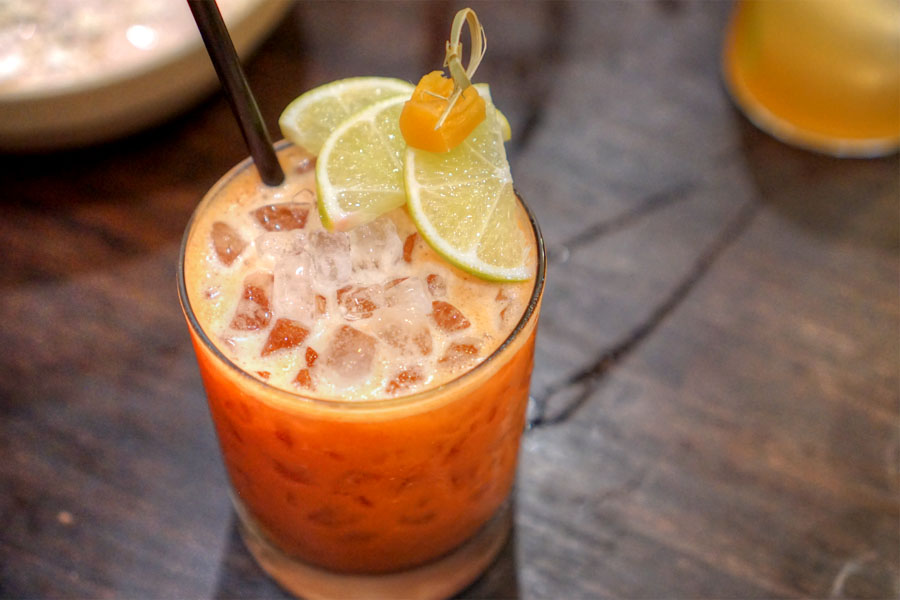 Psychic Reader [$15.00]
| A whole shot of Angostura bitters, fresh lime, mango nectar, coconut cream, aquafaba
A take on the Angostura Fizz met the mark too. Lovely sweet baking spice and tropical notes abound, augmented by the lusciousness of coconut cream and aquafaba, with the Angostura providing a bitter backing. As for the name? A reference to the psychic reader that used to occupy part of the dining room.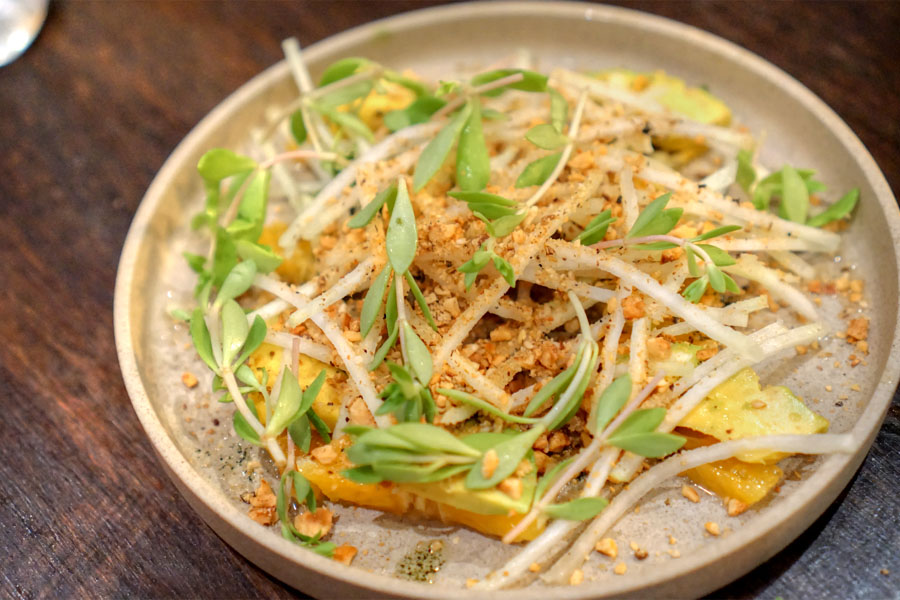 JJ's Avocado [$15.00]
| blood orange, nori, hazelnut, champagne vinegar, kohlrabi
Avocado's lushness was well conveyed in our final savory, cut by the hazelnuts and kohlrabi while the blood orange gave us pricks of citrus here and there.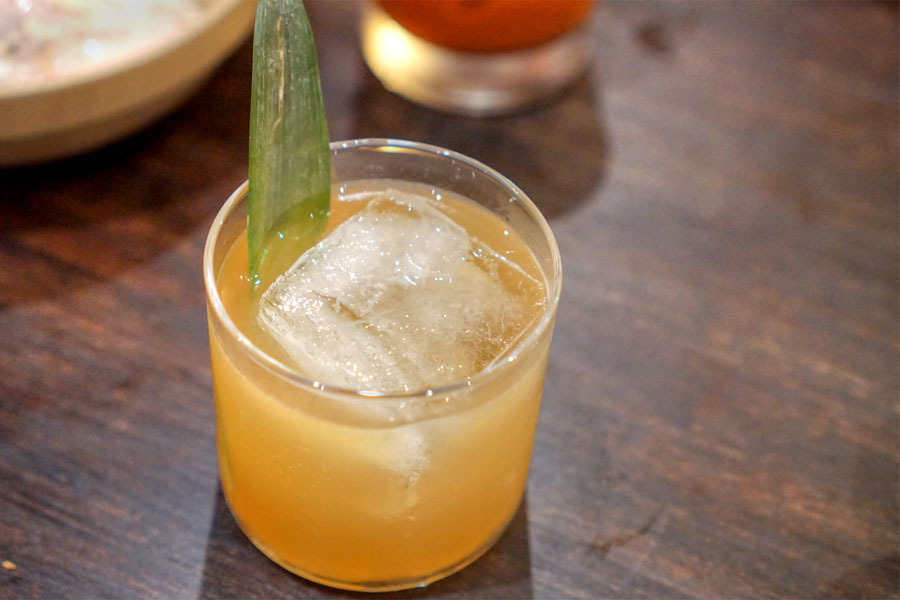 Executive Decision [$15.00]
| Partida Añejo Tequila OR Plantation Stiggin's Fancy Pineapple rum, fresh lime, agave nectar
We opted for the rum, a good decision it seems. Nose was like boozy apple juice, while the palate brought more sweet fruit, more heat from the rum, and a superb hit of acidity from the lime.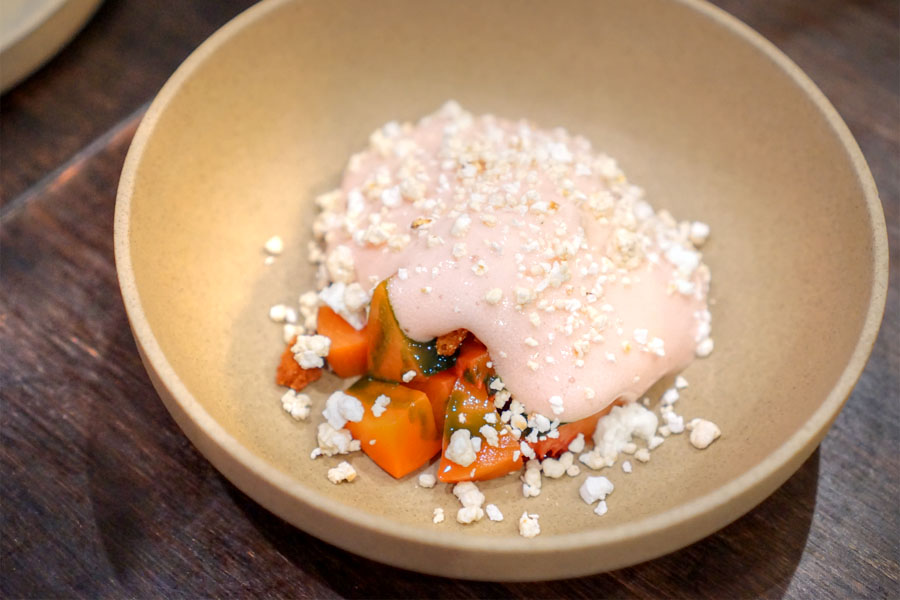 Yellow Peach [$12.00]
| goat milk, cornbread, lemon verbena, popcorn
Dessert time. Peaches, interestingly, ate almost like persimmons. They did make sense though with the goat milk, not to mention the tanginess of the lemon verbena and almost caramel-y crunch of the popcorn.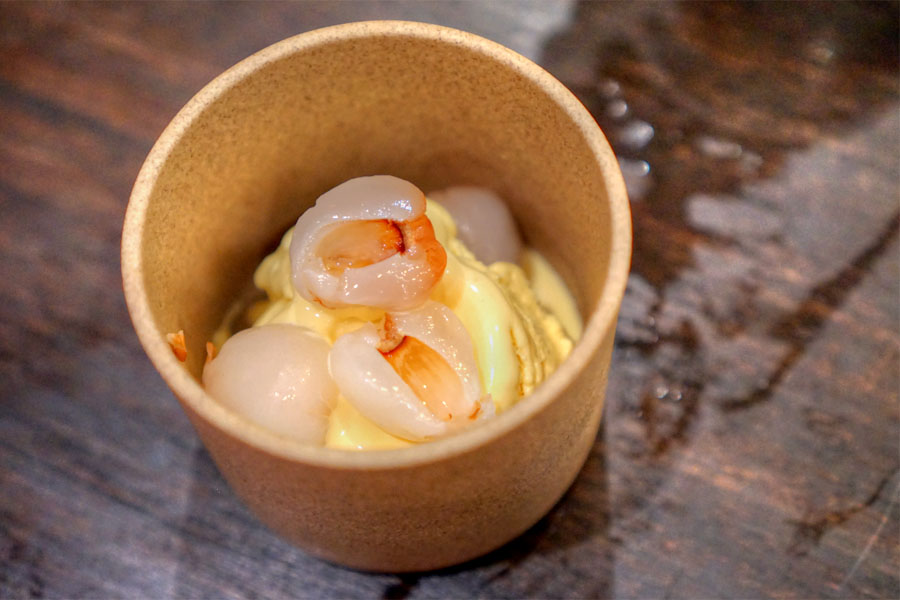 Bubble Gum Ice Cream [$6.00]
| lychee, botanicals
The bubble gum ice cream certainly lived up to its moniker. Think Bazooka all over the place, but smartly moderated, somewhat astoundingly, by the tropical fruitiness of lychee.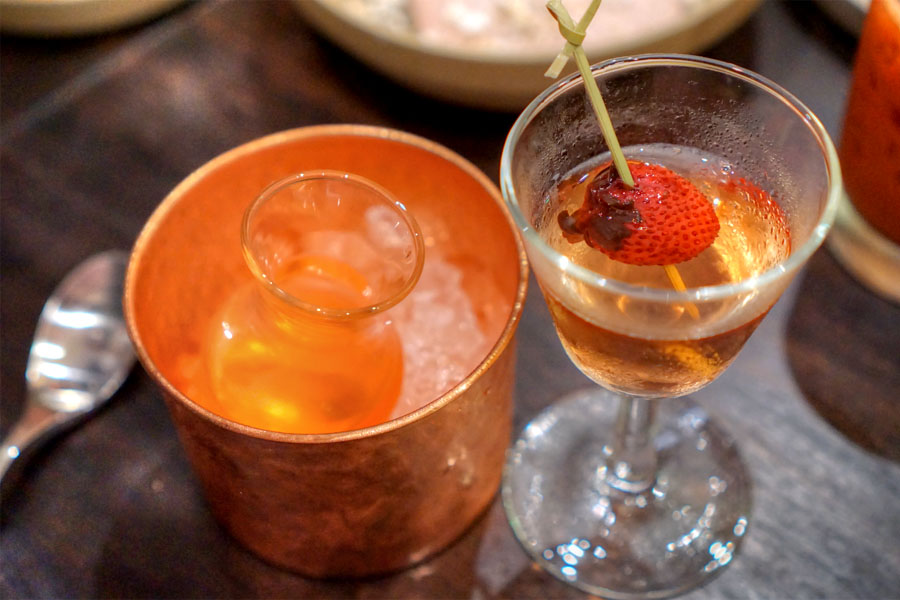 Strawberry Solstice [$14.00]
| NY Distilling Navy Gin, Carpano Bianco Vermouth, Winship's Blood Orange Bitters, pickled strawberry
A variation of a fifty-fifty martini, this one had all your classic bitter, botanical notes, but with delectable overtones of strawberry to brighten things up.
An off-menu dessert was a sort of ice cream sandwich made from almond cookie and what I believe was an anise hyssop ice cream. It was a neat combination, with the sweet-nuttiness of the cookies meshing beautifully with their minty-anise-y filling.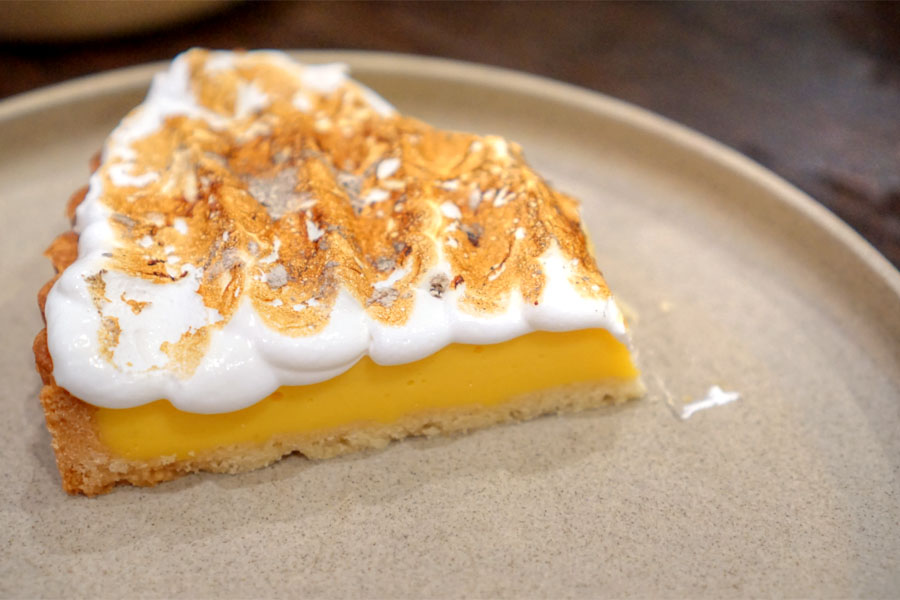 Yuzu Tart [$11.00]
| white chocolate, burnt meringue
Classic flavors of tart citrus against a vanilla-infused meringue with a whisper of smokiness. Great crust, too.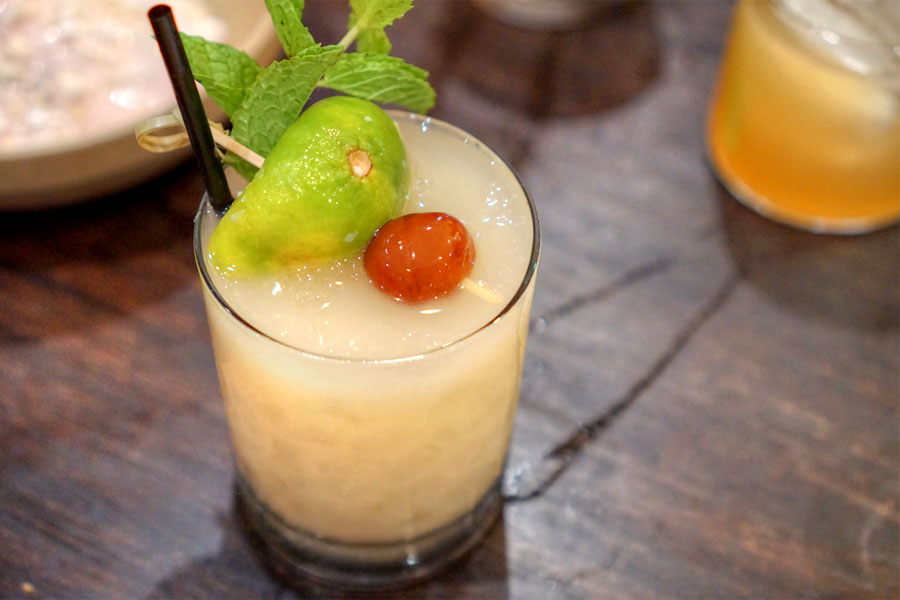 Our $26 Almost-Original Mai Tai [$26.00]
| Smooth Ambler Jamaican Revelation Rum, fresh lime, our incomparable orgeat & curaçao
Our final cocktail was a bit of a historical piece, designed to mimic the original Trader Vic's recipe for a Mai Tai (a favorite drink of the Chef). In place of the J. Wray & Nephew 17 Year Old rum used back in the 1940's (which sells for five-figures these days), it utilized a blend of Jamaican rums from the same distiller, the youngest of which dates to 1990 apparently. The end result was a bit more contemplative than your usual Mai Tai. The tropical, tiki-ish sweetness was there, balanced by the lime while the rum contributed undertones of brown sugar, light smoke, and spice.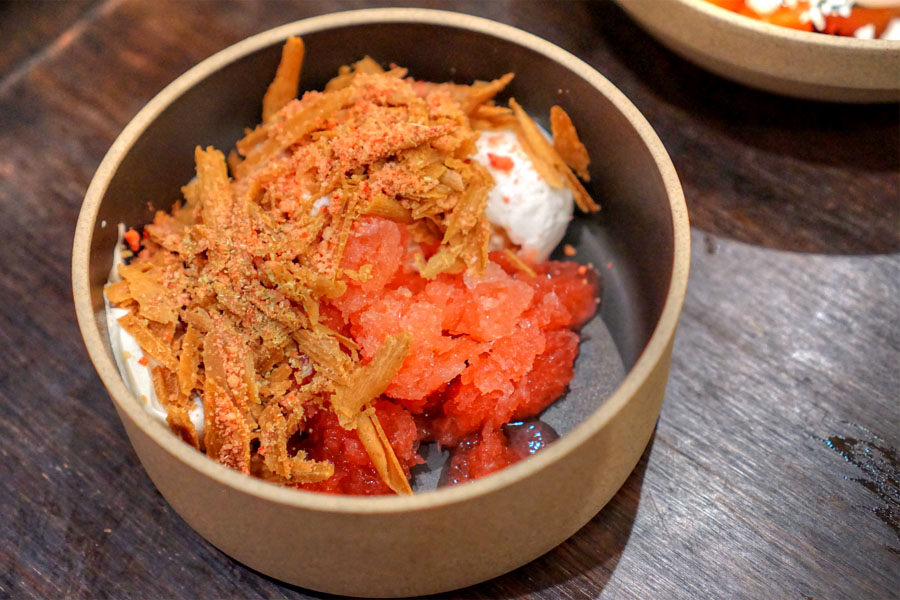 Strawberry [$12.00]
| crema, brown sugar, sable, fennel
This reminded us a bit of the Strawberry Sundae at McDonald's, and I mean that in the best way possible. Great marriage of fruit and brown sugar, with just a hint of fennel, the whole thing balanced by the relatively mild flavors of crema.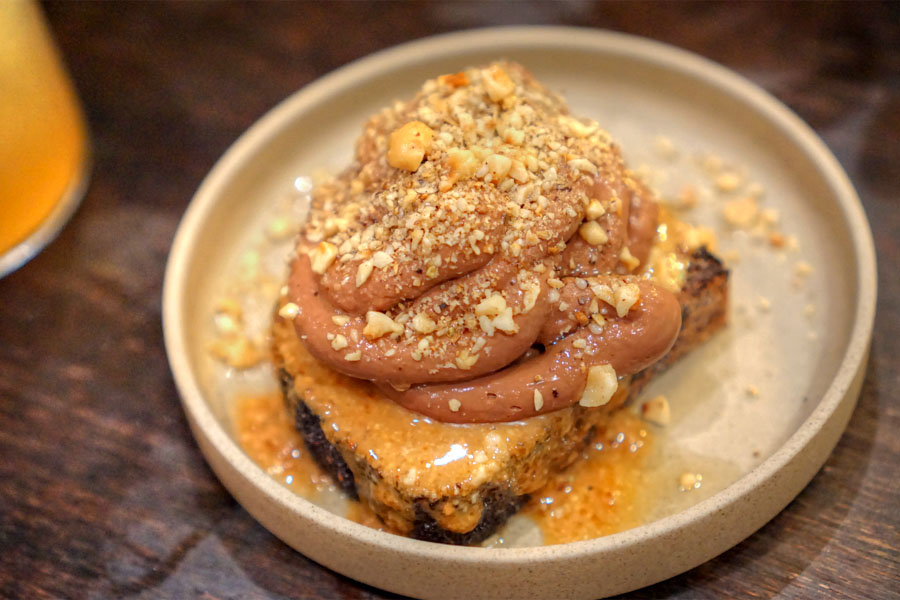 Chocolate [$9.00]
| hazelnut, seeded bread, spices, sea salt
Finally, the chocolate dessert. Great interplay between the chocolate and hazelnut, but the star was the bread, which contributed both texture and a trace of smokiness to the dish.
I came out of Here's Looking at You pretty impressed. Whitener's cooking is some of the more venturesome that I've encountered in recent times, combining a freshness and a contemporariness with that LA sensibility of his. We may finally have a restaurant to take over where
Saint Martha
left off, and that's not even taking into account the cocktails, which were some of the strongest I've seen all year. I'm definitely looking forward to seeing how this place evolves, and given the quality of the meal, I'm actually thinking that the team should consider turning their Vietnamese concept Tet-a-Tet into a permanent place too.