Restauration Farm Dinner (Long Beach, CA)
Restauration Farm Dinner
6751 Atlantic Ave, Long Beach, CA 90805
562.439.8822
www.restaurationlb.com
Wed 08/16/2017, 06:50p-09:30p

The last time I caught up with Philip Pretty, he had just taken over the kitchen at Long Beach's
Restauration
. Since then, the Chef has really put down roots in the community, a process that has included the establishment of a working relationship with a local urban farm. Located in North Long Beach, the farm was formerly known as Top of the Town, but is now under the purview of
Organic Harvest Gardens
, an entity that specializes in the design, installation, and maintenance of organic gardens. Pretty turned 37 on August 16th, and, since he always cooks on his birthday, decided to host a celebratory dinner on the farm, which I was invited to attend.
The garden currently supplies about 60% of the produce used at Restauration (note that the farm's output is shared with fellow LBC eateries James Republic and Thai District). Items that are grown here include watermelon, squash, lettuces, watercress, tomatoes, beans, beets, carrots, corn, artichokes, chilies, edible flowers, and numerous herbs such as sage, parsley, cilantro, lavender, dill, basil, and pineapple sage. There's even a small chicken coop for egg production (to be enlarged to eventually accommodate 100 birds), while microgreens are grown in a greenhouse at a separate Organic Harvest Gardens location. By the end of next year, the team hopes to expand the garden to adjacent parcels of land, which means the farm should hopefully supply at least 90% of Restauration's produce needs.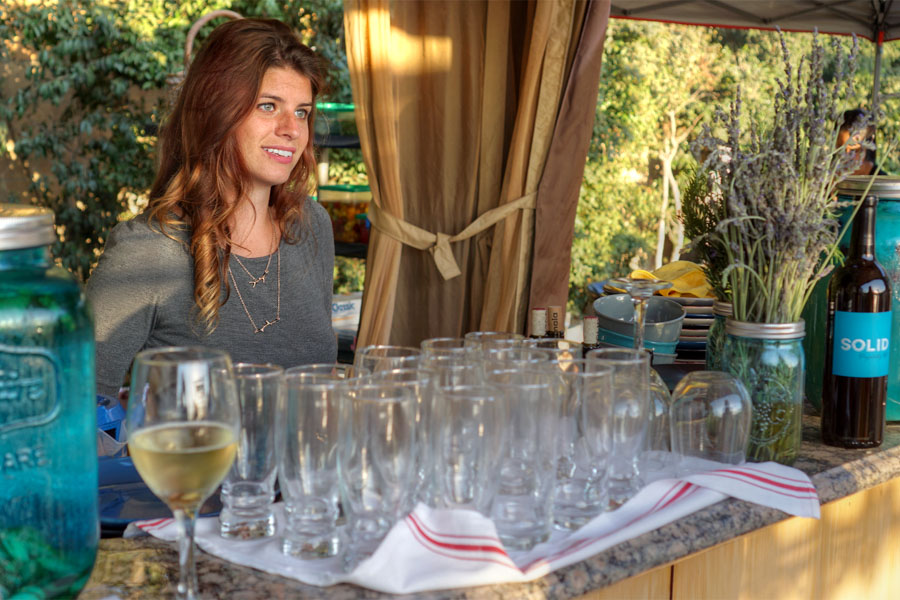 First things first: getting my drink on, courtesy of Mackenzie Hedges.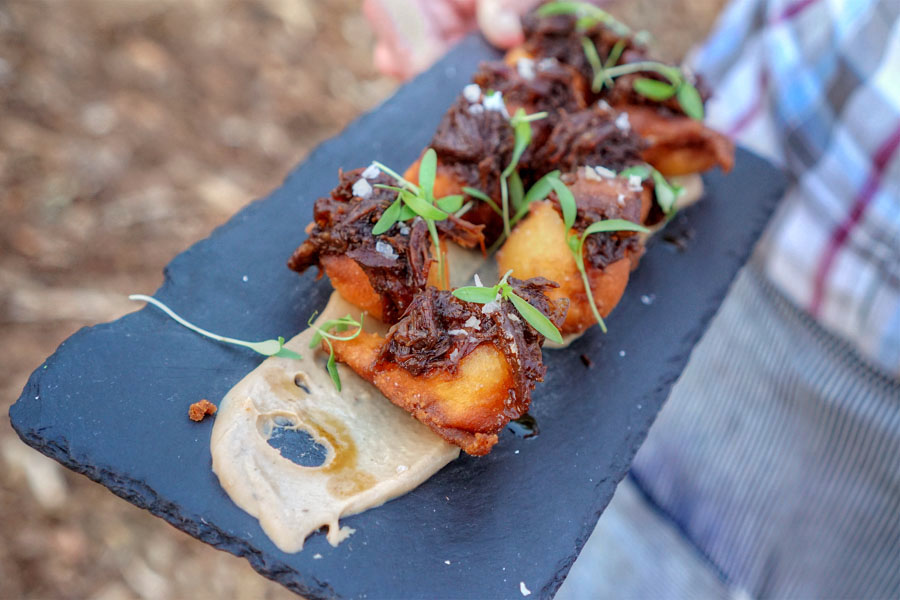 AB1: Oxtail Doughnuts
Upon arrival, we were quickly presented with a trio of passed
hors d'œuvre
, and first was a dish that the Chef actually served recently at
Plate by Plate
. I didn't get to try it then, so I was glad to see it offered again here. The salted donuts ate soft and chewy, with dark, heady flavors of oxtail joined by notes of brown sugar and the zing of that black garlic-salsify purée.
The live music was a classy touch.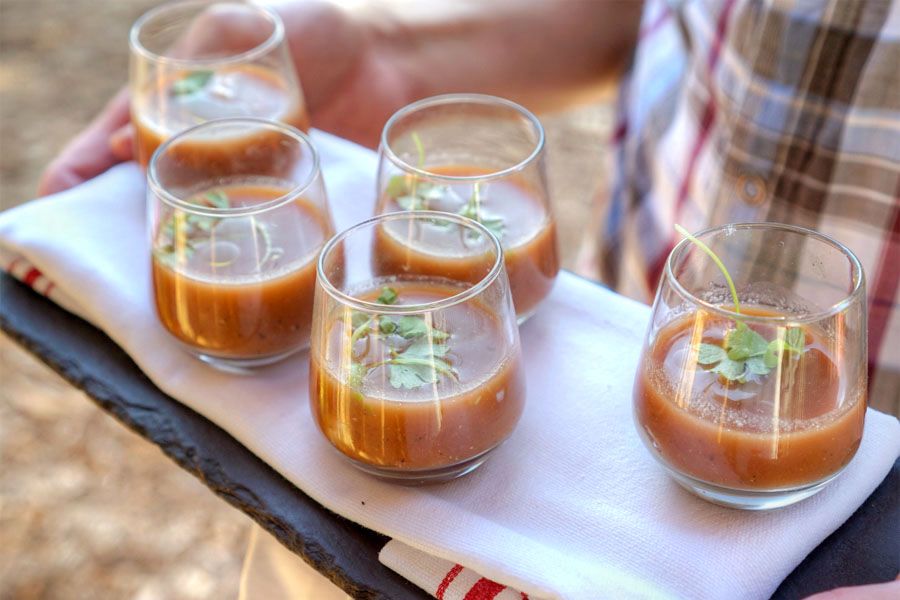 AB2: Bloody Mary Oyster Shot
The shooters were a pleasant surprise. I got plenty of aggressive, Bloody Mary-inspired flavors, but they never overwhelmed or masked the Blue Point oysters. The cilantro was a perfect finishing touch.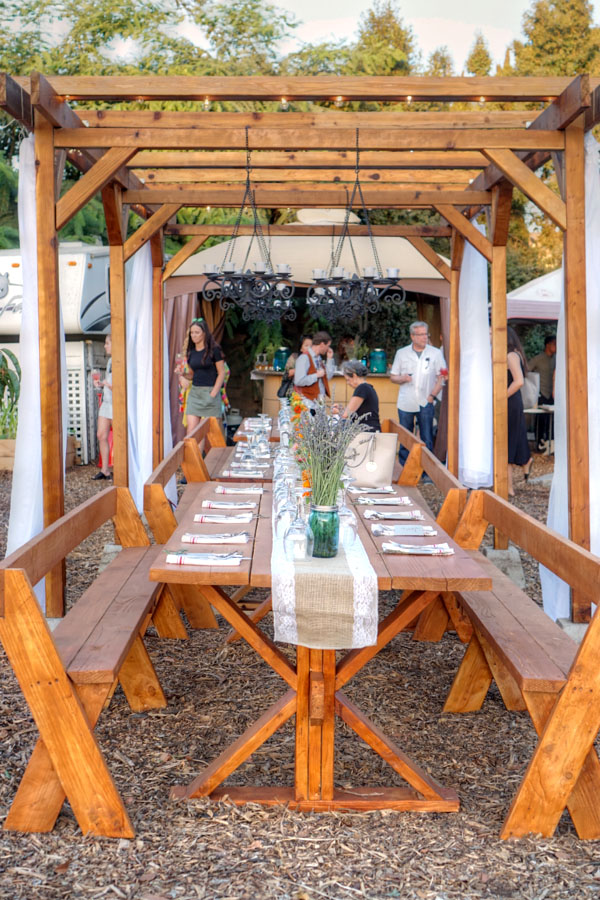 We were seated at a homemade table and bench setup, replete with pergola. The furniture is a permanent addition to the garden, as dinners are planned to be held here every other month or so going forward.
AB3: Crab Deviled Eggs
Given how much of an egg slut I am, I ended up downing several of these guys. Think smoky-sweet crab flavors that just made sense with the egg.

A view of the main garden space.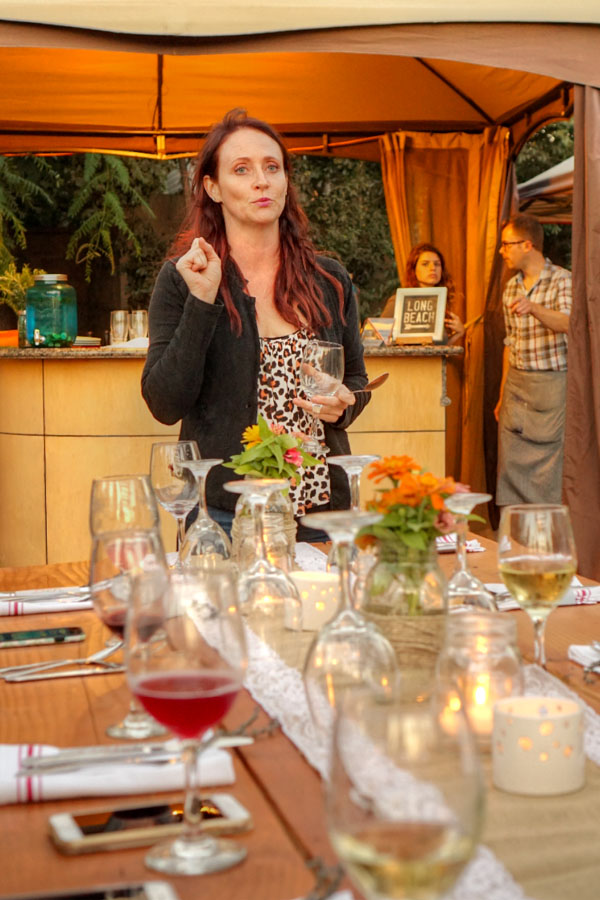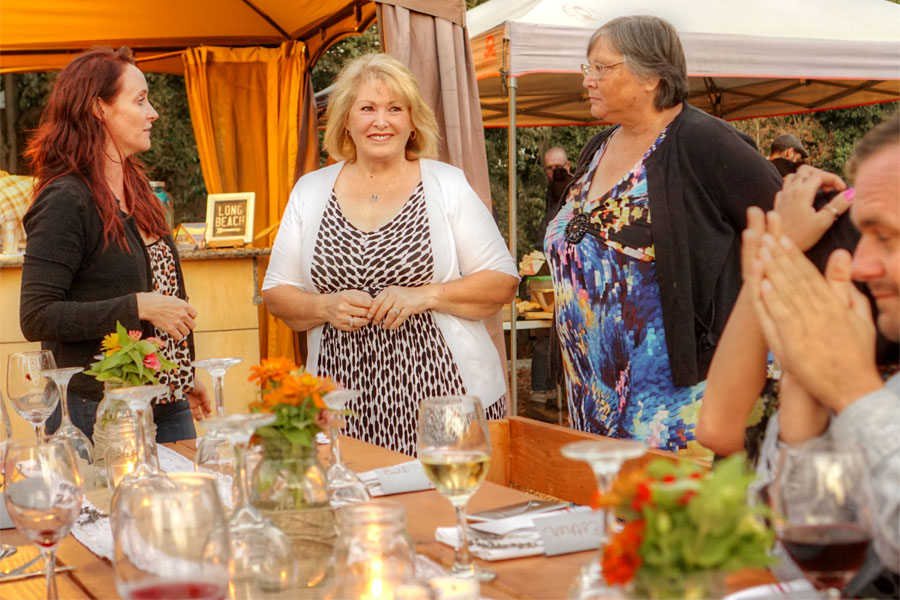 Restauration co-owner Dana Tanner, introducing and thanking the owners of the land on which the farm resides.
1: Harvest Tomato Salad
| pickled tomatoes / compressed watermelon / cilantro oil / marinated feta / nasturtium leaf / tarragon sorbet
We were seated at this point, and the meal proper commenced. Our first course succinctly showcased the farm's produce. I enjoyed the interaction between the watermelon-tomato-nasturtium, and how that all worked with the richness of feta while drizzles of cilantro oil helped tie everything together. My favorite element, though, was that tarragon sorbet, which I found super bright, tangy, and a much appreciated exclamation point in the dish. Nice array of textures, too.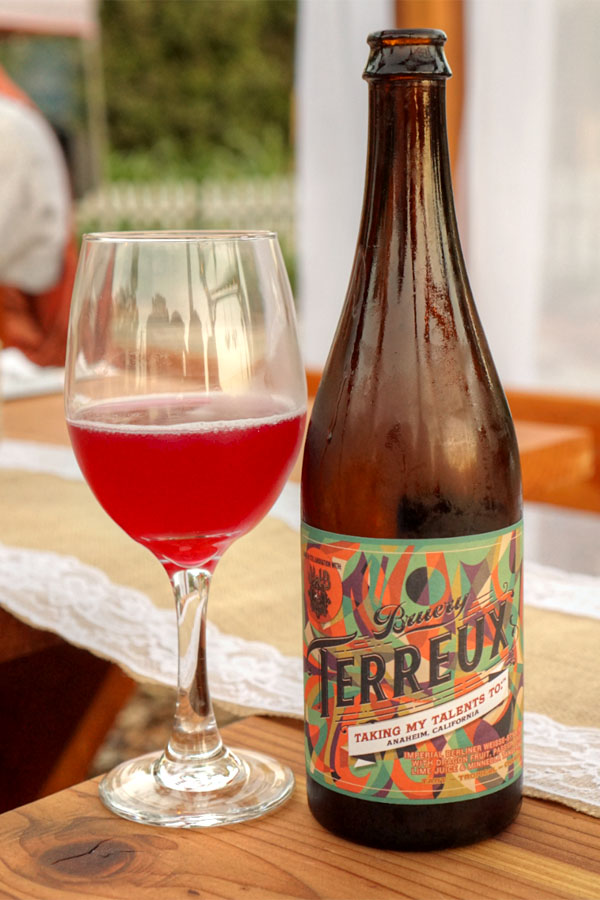 I wasn't aware that booze would be provided, so I ended up bringing my own, which I shared with my fellow diners. We began with the
2017 Bruery Terreux Taking My Talents To: Anaheim, California
, an imperial Berliner Weisse with dragon fruit, passion fruit, lime juice, and Minneola tangerines that was created in collaboration with Miami's J. Wakefield Brewing. Nose was expectedly tart 'n' fruity, but also earthy, with overarching citrus. The taste showcased a multifaceted sourness with floral-tropical quality and more tangelo--lots going on, but it all came together beautifully. A table favorite, and one of the tastiest sours that I've had from the brewery.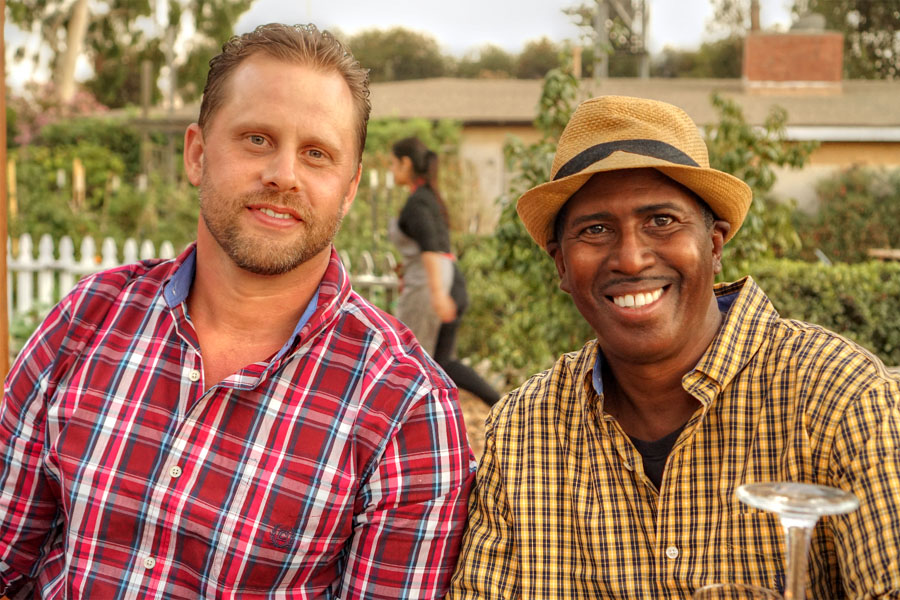 Pictured above are Adam and Rod, the founders of Organic Harvest Gardens. The two actually met in church and both men had been gardening for a long time prior to founding the business. Rod used to be in research at USC and UCLA (and is also a pretty good cook himself), while Adam had a residential nursery background. After forming OHG, the two started out focusing on gardens for private estates and were based in LA. However, they later moved to Long Beach and began targeting restaurants, hence where we are today.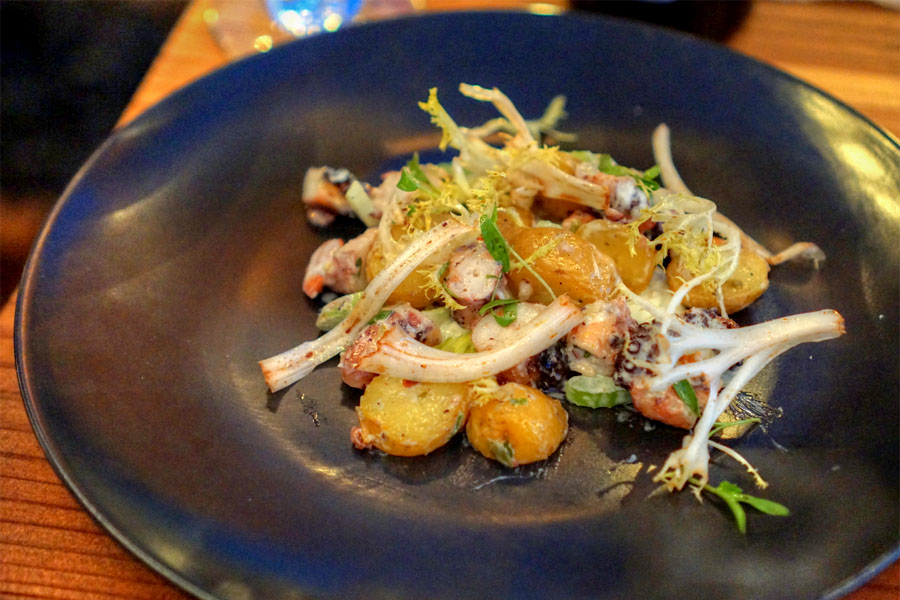 2: Warm Octopus Caesar Salad
Octopus was done justice. Its brine and char were super apparent, and meshed just right with the potato and frisée. Nuts provided a crunchy accent, and I even liked the astringency imparted by the bits of celery (I'm not usually a fan of celery). Rounding things out was a creamy Caesar dressing, which worked to bind the various parts together.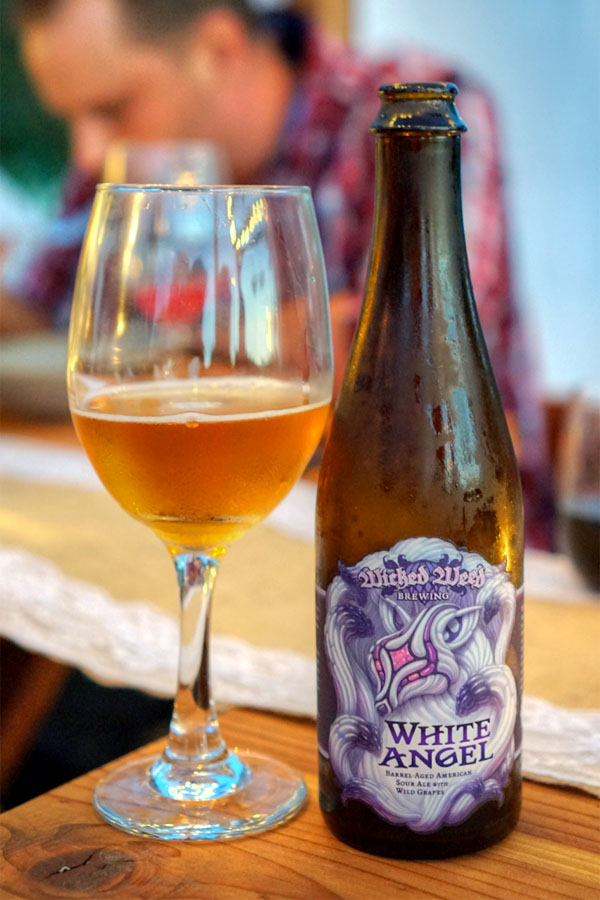 My second beer was the
2015 Wicked Weed White Angel
, a sour ale with Muscadine and Scuppernong grapes that was first aged in white wine barrels for eight months. Following, Albariño wine must was added in and the beer was aged in stainless steel another month. This one smelled yeasty, oaky, with a distinct vinous edge. The taste went very funky, with some almost blue cheese-like notes joined by a persistent tartness and a grapey sweetness on the close.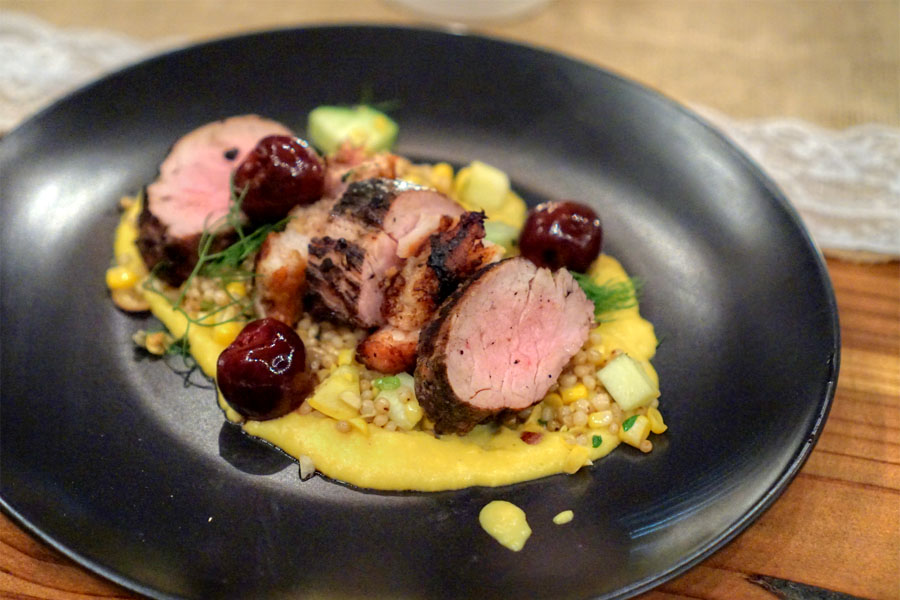 3: Pork Tenderloin
| squash / zucchini / sorghum grain / corn / honey glaze / frisee
In our main course, Kurobuta tenderloin was cooked the proper amount of rare, making for a tender, flavorful cut with a slight smokiness. Meanwhile, pork belly imparted a blast of fat and char that worked hand-in-hand with the more restrained fillet. Corn gave the dish a homey sweetness (actually, the sweetness could've been toned down a notch), while veggies served to lighten and brighten the plate. Nice textural contrast from the sorghum, too.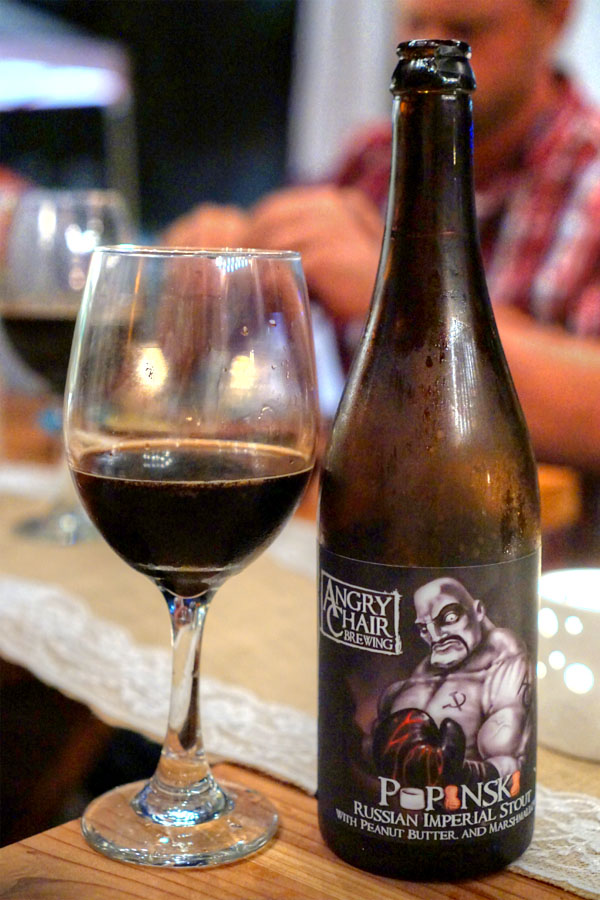 Moving on into some heavier beer now, here we had a Russian imperial stout, the fluffernutter-inspired
2017 Angry Chair Popinski with Peanut Butter and Marshmallows
. Aromas were super intense, with loads of nutty sweetness all over the place. Taste-wise, I got lots of peanut butter intertwined with roast, dark fruit, and molasses. Delish.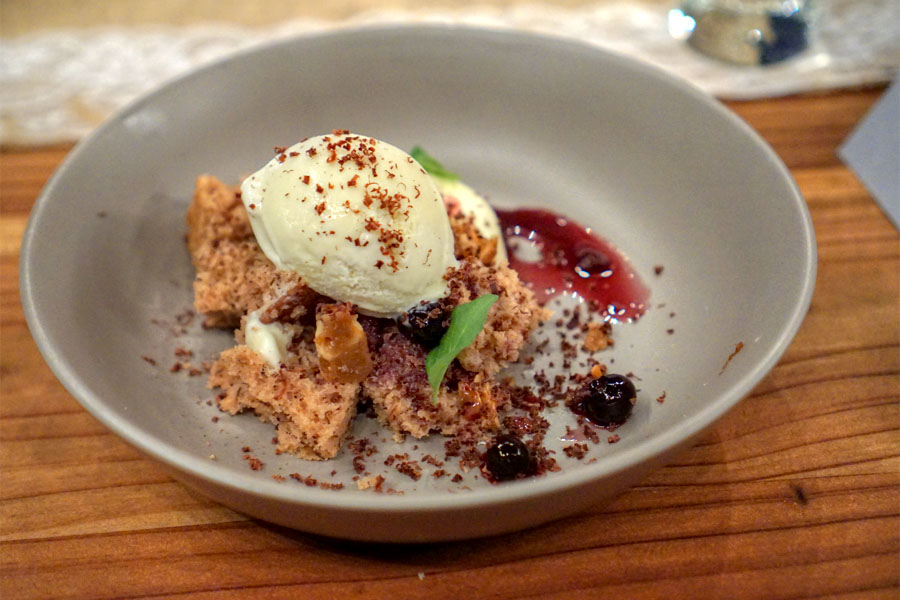 4: Banana Nut Cake
| white chocolate parfait / flambe green blueberries / sunchoke ice cream
Dessert was superb. The advertised banana and nuts were on point, and had a great back-and-forth with the sweet-spicy nuances present. A white chocolate semifreddo added further interest to the dish, as did the sunchoke ice cream, and I was a big fan of the blueberries and mint. Fantastic textures to boot.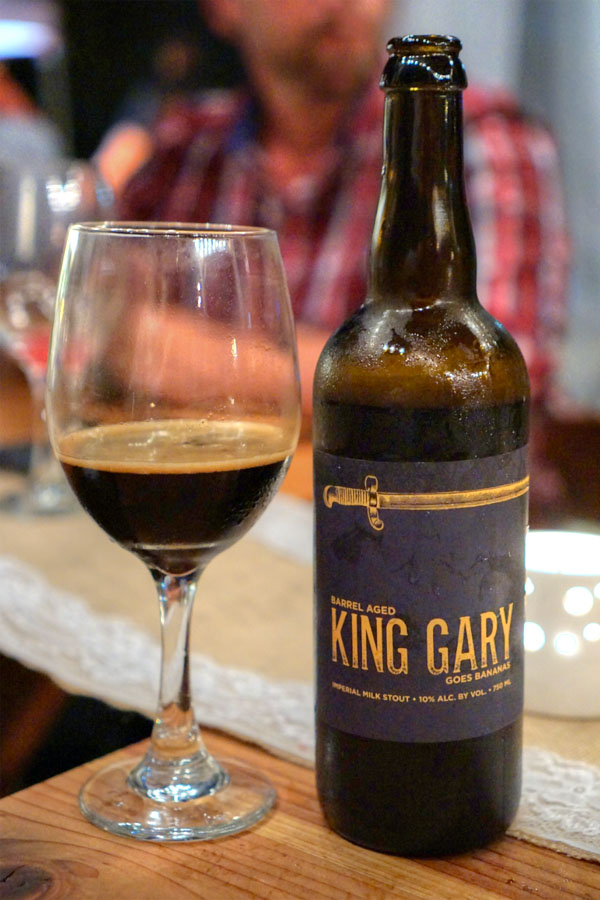 Last to drink was the
2017 Civil Society Barrel Aged King Gary Goes Bananas
, a barrel-aged imperial milk stout with "Bananas Foster coffee." The nose was definitely roasty and bitter, but with a vegetal component that I wasn't too keen on. The taste brought oak and coffee bitterness layered over chocolatey malt, with just a bit of banana coming on the back end.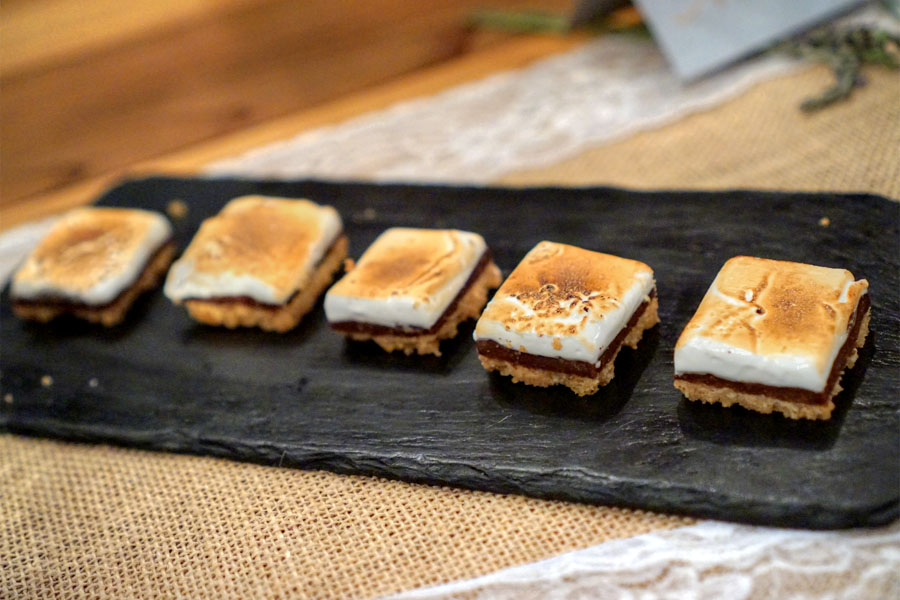 To close: s'mores, a fun campfire treat that was gussied up just enough.