Tintorera (Los Angeles, CA)
Tintorera Restaurant
2815 Sunset Blvd, Los Angeles, CA 90026
323.741.0055
www.tintorera.la
Fri 08/18/2017, 07:50p-10:20p

Situated in the heart of Silver Lake, LA's newest Mexican contender soft-opened at the start of August (the grand opening was September 1st). Named after a Mexican horror film starring a shark, Tintorera is a modern, seafood-focused joint from Mexico City chef Maycoll Calderón, who's best known for his grill-heavy eatery Huset in the D.F.
About the Chef
: Calderón was born and raised in Caracas, Venezuela, but moved around a lot as a child. After living in Bogotá, Quito, and Santo Domingo, he eventually settled in Puerto Rico. He graduated from the Baldwin School in Guaynabo in 2001, then moved to Zarautz, Spain to attend Aiala culinary school. During his tenure there, Calderón apprenticed at the associated Hotel Restaurante Karlos Arguiñano, and ended up completing his studies in 2003. Following, he
staged
for over a year at Arzak in San Sebastián, and in June 2004, transitioned to Ferran Adrià's iconic ElBulli, where he stayed for three months. Calderón then went to work in pastry at Restaurante Marina Berri in Zumaia, where put he put in five months. From there, he landed the sous chef position at
Jean-Georges
in February 2006.
That gig lasted until September 2009, when he became exec sous at The Mark by Jean-Georges, also in NYC. A year later, he was Chef de Cuisine at Fern by Jean Georges at the St. Regis Bahia Beach in Puerto Rico. April 2012 saw Calderón go to Mexico City to become CdC at J&G Grill at the St. Regis. In July 2015, he finally left Vongerichten's side, partnered with Fortuna Mezcal co-founder Walter Meyenberg (Sesame, Paprika, La Nacional, La Botica), and opened his first solo project: Huset, a
cocina de campo
eatery located in CDMX's trendy Roma Norte neighborhood. It quickly became one of the City's most popular restaurants, and in February 2016, Calderón followed up with Hanky Panky, a speakeasy-type cocktail bar located in the nearby Colonia Juárez. Tintorera is the Chef's first solo foray into the US, and apparently he chose Silver Lake for its hipster, creative vibe that recalls that of La Roma.

Tintorera takes over the former home of Cowboys & Turbans, along with its associated entities Silverlake Alimentari, Sprouted Garden Cafe, and Silverlake Juice & Tea. The space was revamped by Meyenberg and Juan Pablo Wolffer, and the main dining area above I have to say was rather endearing.
There's also an indoor "speakeasy" area off to the side, which houses a Mexican marble bar and a small bit of seating. The vibe they were going for is, to quote the Tintorera team, "Acapulco's golden era of the 1950s."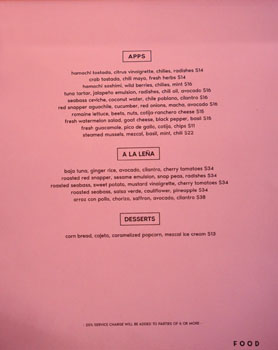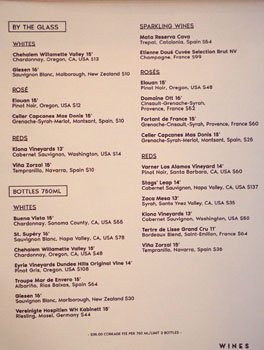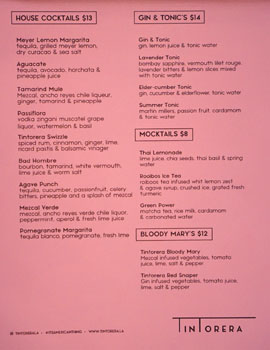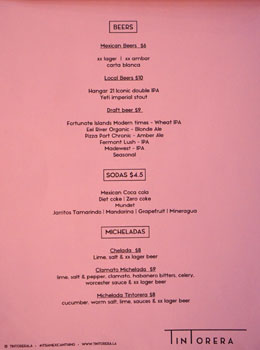 Calderón's menu is compact, which I like. It's divvied up into sections for apps, mains, and a single dessert, and is, as expected, heavily seafood-based. Drink-wise, you get a brief wine list ostensibly put together by the Chef himself, one that features selections from across the globe, though unfortunately none from Mexico (which was publicized early on). Corkage is a hefty $35 a bottle, limit three. In terms of cocktails, there's an appealing, diverse selection put together by barman David Mora, who hails from Mexico City, and he's even got a separate selection for those drinking inside. Rounding things out are a handful of beers, Mexican sodas, and micheladas. Click for larger versions.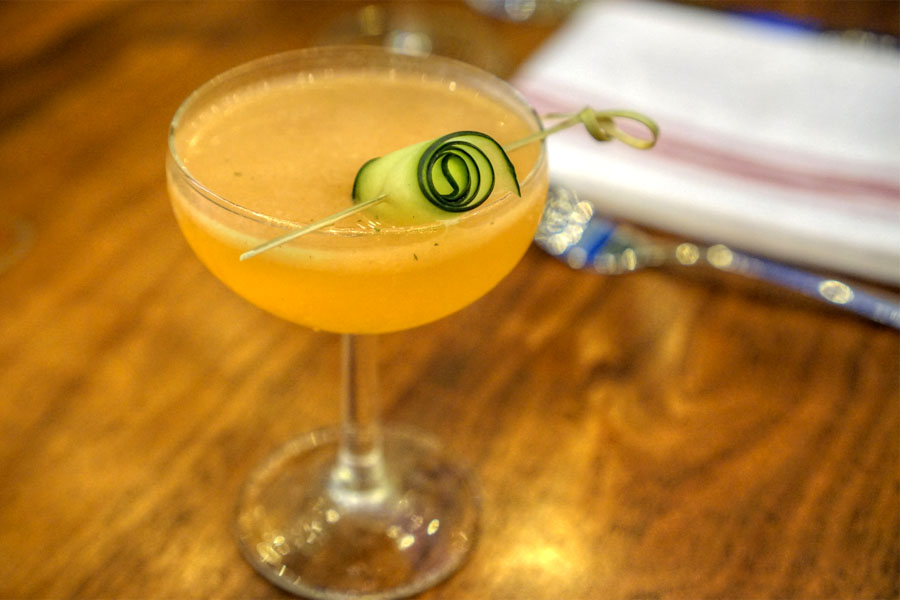 Mezcal Verde [$13.00]
| mezcal, ancho reyes verde chile liquor, peppermint, aperol & fresh lime juice
We made sure to try the majority of Mora's cocktails. Our first highlighted the smokiness of mezcal, on top of which was layered complementary notes of sourness and spice. Not a bad start.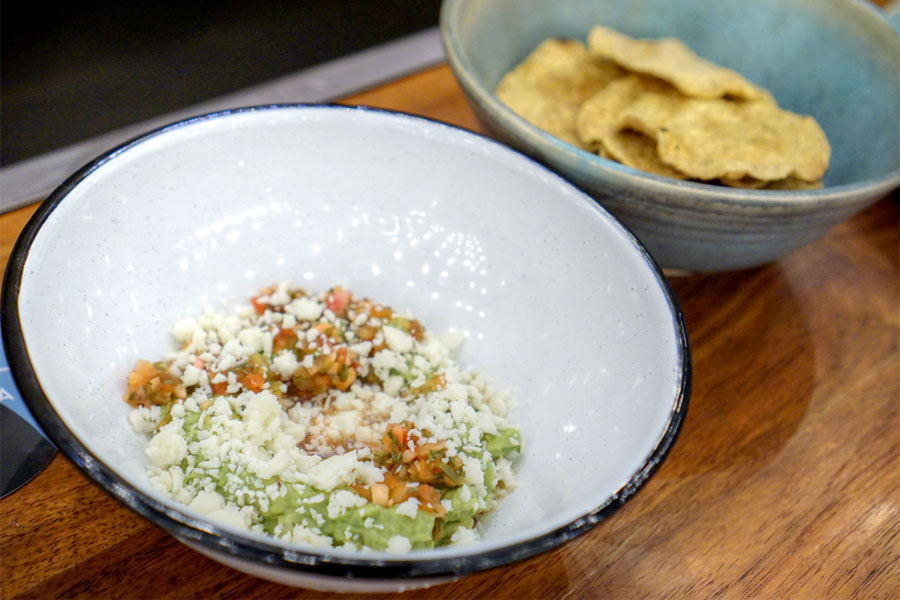 fresh guacamole, pico de gallo, cotija, chips [$11.00]
I tend to get the guac when it's offered, and tonight was no exception apparently. It hit the mark I have to say, with a good interaction between the avocado and cheese that was lightened up by the heaps of tangy
pico
in there. As for the chips, I liked what they were going for, but I found 'em far, far over-fried (or stale?), and thus annoyingly hard.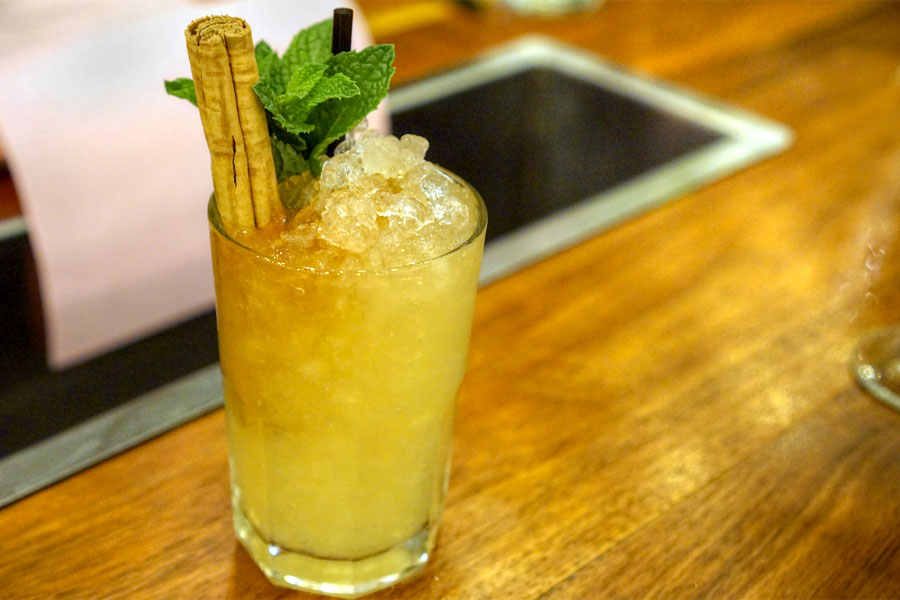 Tintorera Swizzle [$13.00]
| spiced rum, cinnamon, ginger, lime, ricard pastis & balsamic vinegar
A take on Bermuda's national cocktail fell a bit flat. I got a lot of anise-y spice from the pastis, along with minty aromatics and an acerbic edge, but not much else. I really wanted more robustness to the flavors here.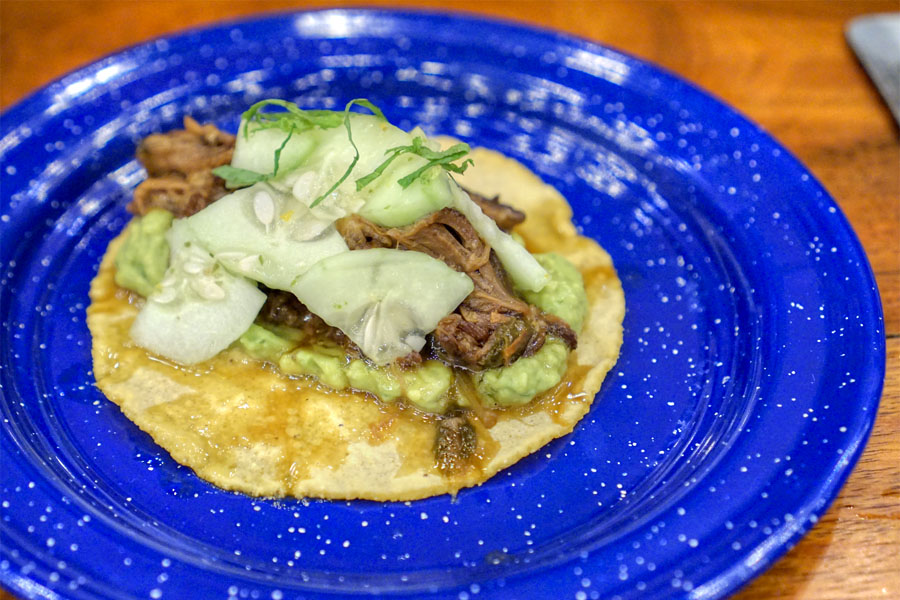 short rib taco [$7.00]
This was the special of the evening. The actual short rib itself came out as tender as expected, but veered way too far into the sweet side. It was a bit much for me. Fortunately, the guacamole did help moderate things, as did the cucumber-mint salad on top. Nice corn tortilla, too.
Aguacate [$13.00]
| tequila, avocado, horchata & pineapple juice
Our next cocktail was my favorite of the bunch. I found it superbly balanced, with flavors of creamy avocado, nuts, spice, and tropical fruit perfectly melded together.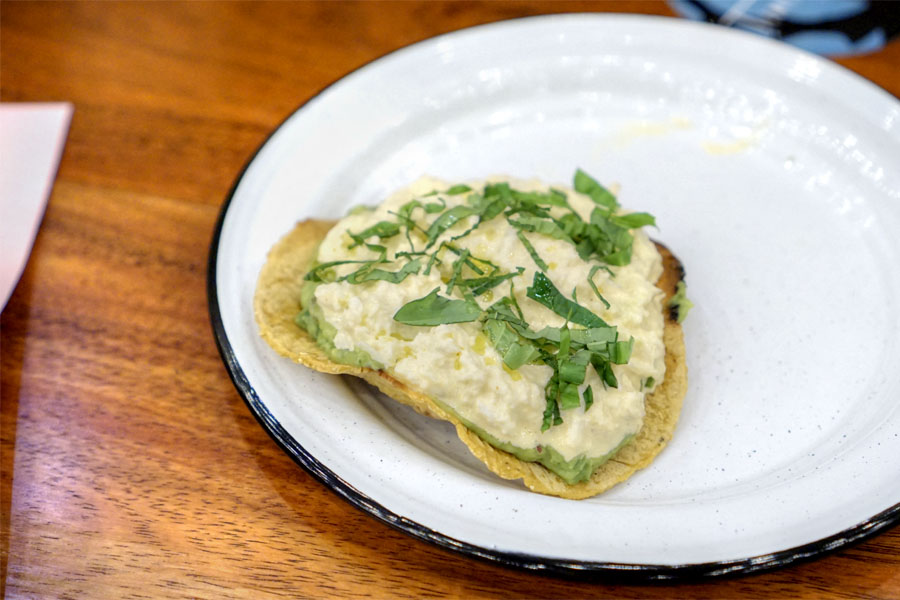 crab tostada, chili mayo, fresh herbs [$14.00]
Crab arrived in a near tuna salad-like preparation, but fortunately its sweetness and brine were left intact, perked up by the herbs on top. The crunch of the tostada was on point and overall the dish was pretty tasty, but I almost feel like the crab should've been left in more of an unadulterated state.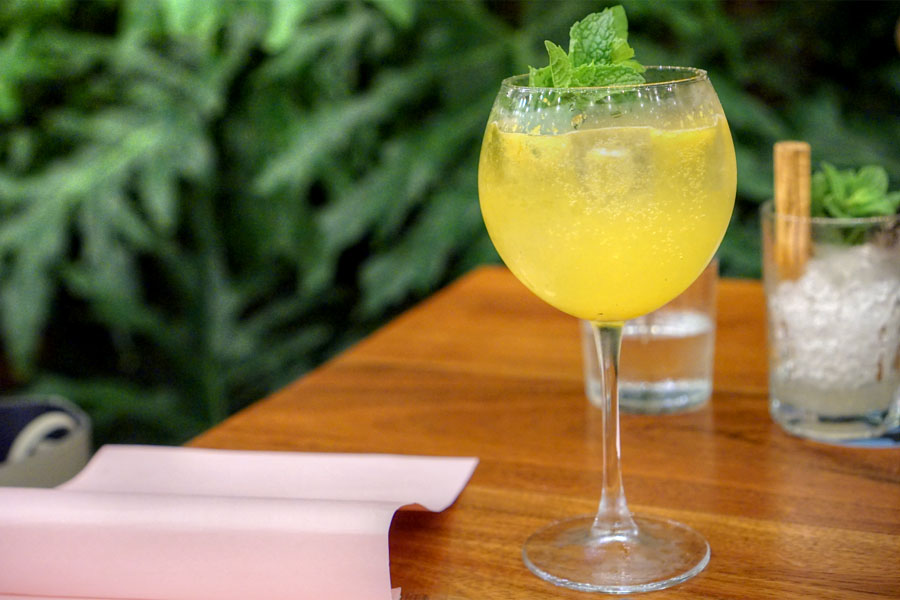 Summer Tonic [$14.00]
| martin millers, passion fruit, cardamom & tonic water
This was a fun take on the classic gin & tonic. I got lots of sweet-tart passion fruit up front, which actually married quite well with the botanicals from the gin. The cardamom didn't have much of an impact, though.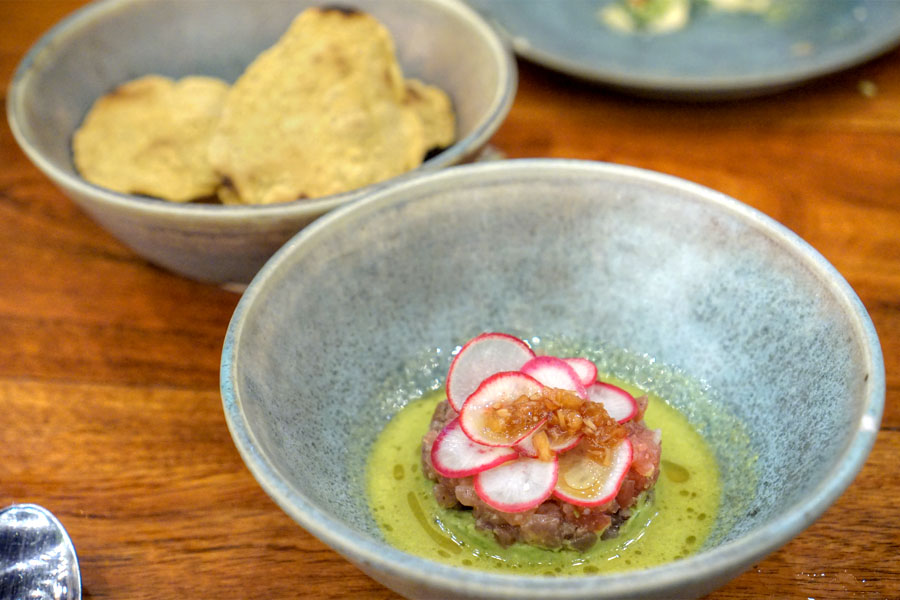 tuna tartar, jalapeño emulsion, radishes, chili oil, avocado [$16.00]
The tartare delivered. The tuna itself ate firm and fresh, and worked well as a base for the back-and-forth between creamy avocado and a lingering, tingling heat. The dish also came with another round of chips, and I have to say that this batch was noticeably better.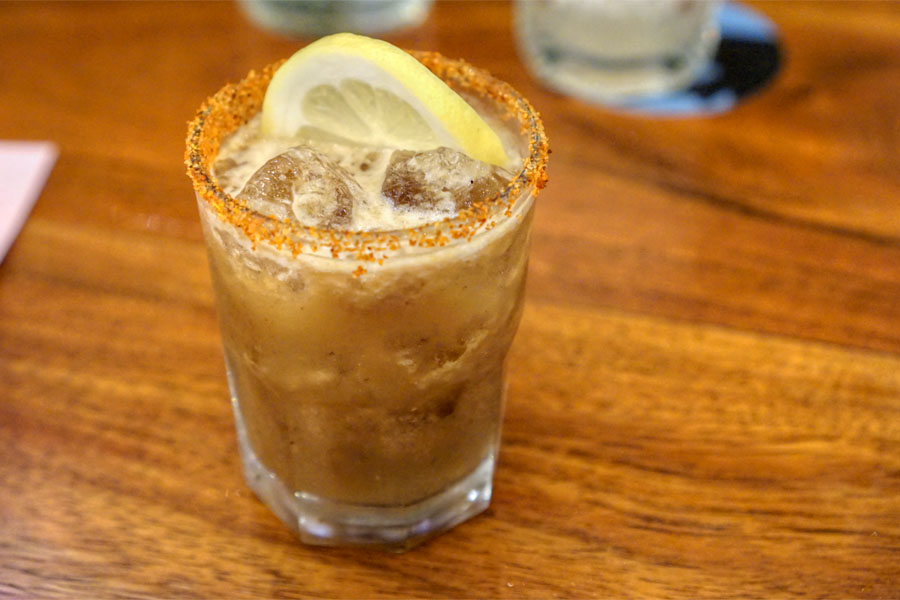 Bad Hombre [$13.00]
| bourbon, tamarind, white vermouth, lime juice & worm salt
Our next cocktail was another standout. I got some delightfully fruity flavors from the tamarind, which were dutifully kept in check by the bourbon and vermouth. Great blast of salt from the
sal de gusano
, too.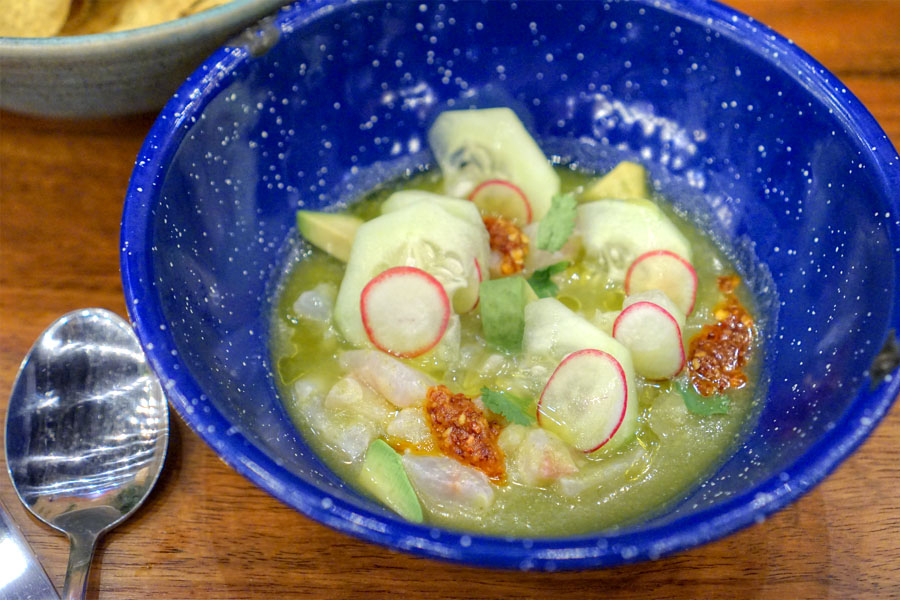 red snapper aguachile, cucumber, red onions, macha, avocado [$16.00]
The
aguachile
featured clean, meaty cuts of snapper, punctuated by a sharp, growing spice from the
salsa macha
and bursts of acidity from the red onion. Tempering all this, meanwhile, was the cucumber and avocado.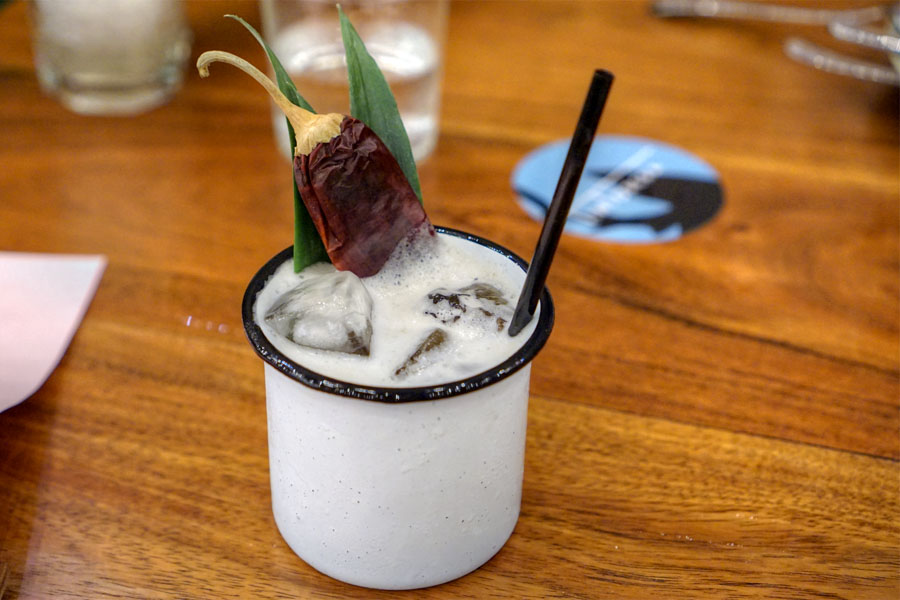 Tamarind Mule [$13.00]
| mezcal, ancho reyes chile liqueur, ginger, tamarind & pineapple
This mule variation showcased the smoky, woody character of mezcal along with a trace of persistent heat. Ginger imparted some zestiness to the equation, though it could've been more apparent.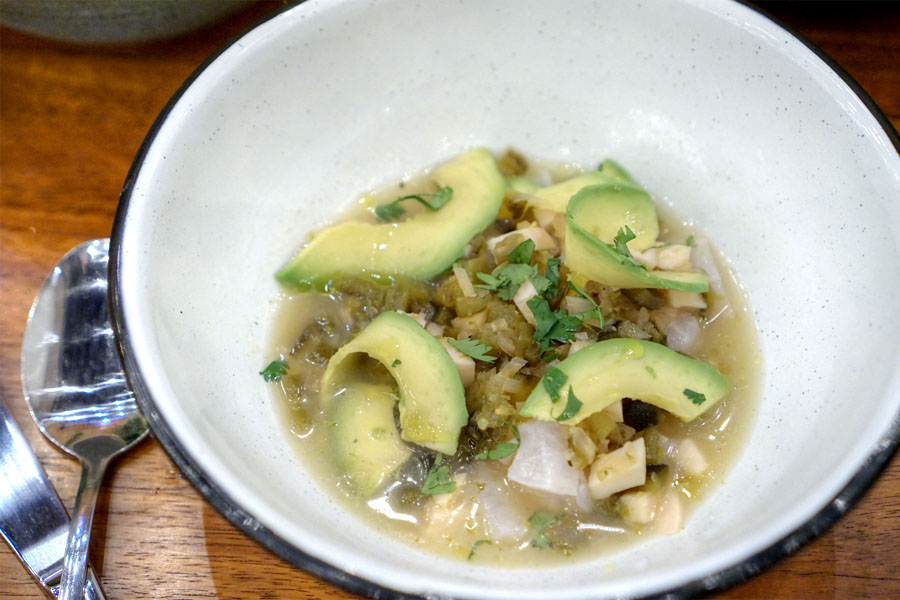 seabass ceviche, coconut water, chile poblano, cilantro [$16.00]
The sea bass had a substantial bite, which I appreciated, and the fish worked with the strong, almost bracing citrus notes in the dish. I liked the additional complexity imparted by the poblanos, though I wasn't keen on the crunchy bits here (heart of palm?); they seemed a bit out of place.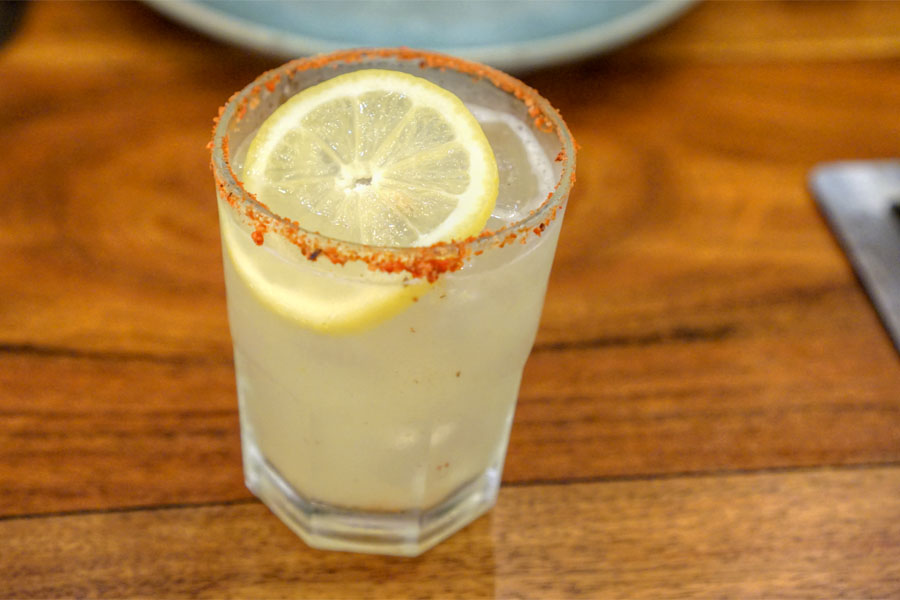 Meyer Lemon Margarita [$13.00]
| tequila, grilled meyer lemon, dry curacao & sea salt
Our first of two margaritas showed off the Meyer lemon for sure, with the tequila and Curaçao in the background--a smart reworking of the classic cocktail. Note, also, that we subbed the
sal de gusano
above for the drink's standard sea salt.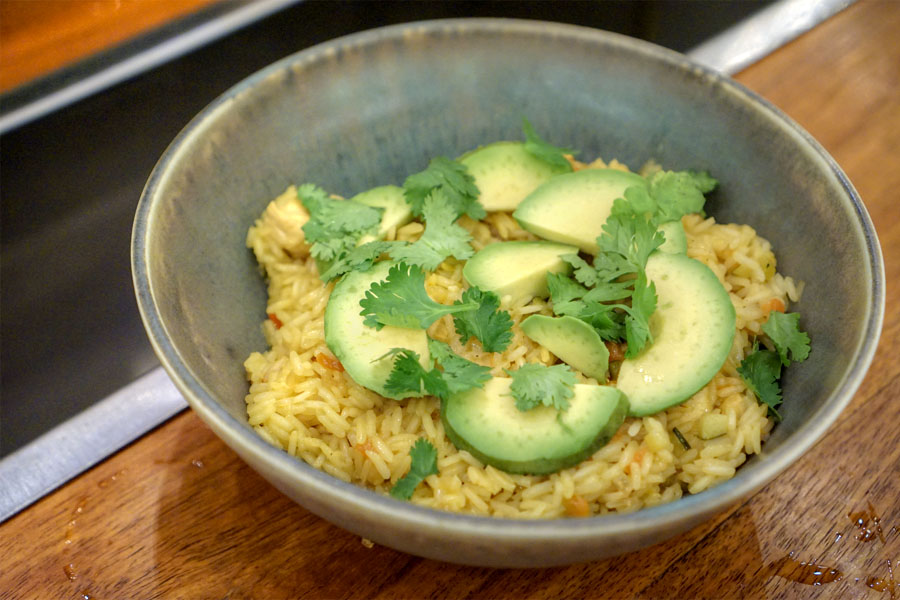 arroz con pollo, chorizo, saffron, avocado, cilantro [$38.00]
The
arroz con pollo
was a table favorite. The rice itself was richly-flavored, imbued with the grassy flavors of saffron. It worked well as a foil to the chicken, and I appreciated the contrast provided by the cilantro and avocado, too.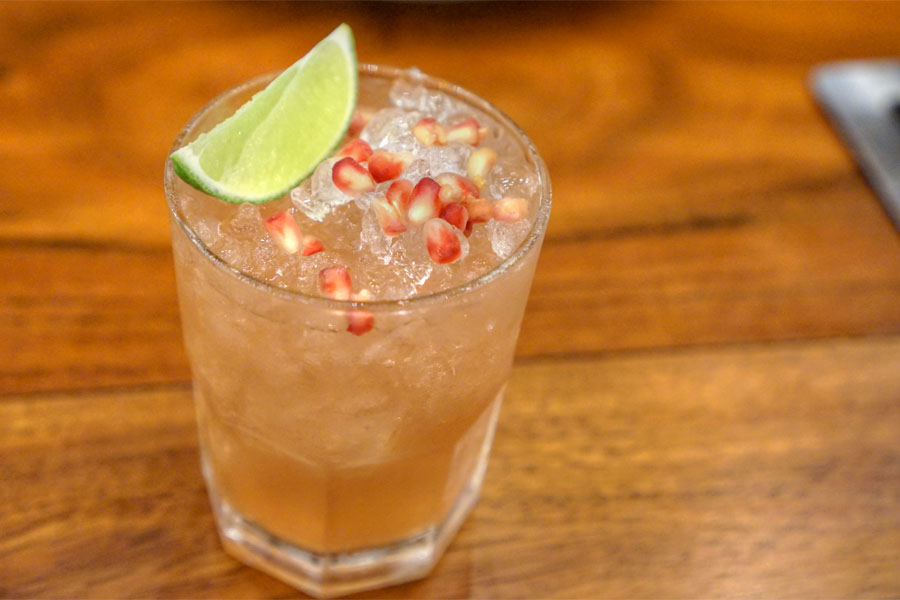 Pomegranate Margarita [$13.00]
| tequila blanco, pomegranate, fresh lime
The second margarita was on the lighter, easier-drinking side, and was nice enough, though I would've liked to have tasted more of the drink's advertised pomegranate.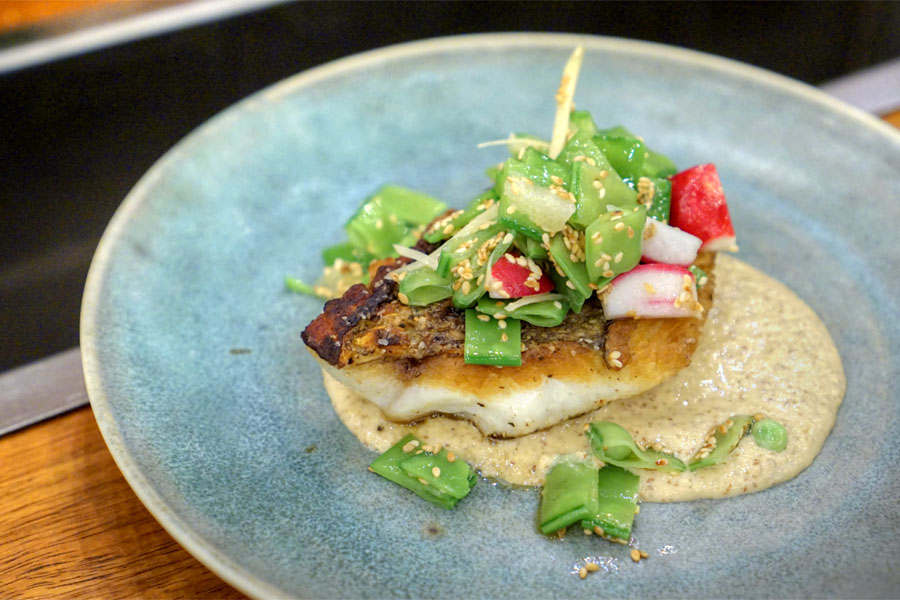 roasted red snapper, sesame emulsion, snap peas, radishes [$34.00]
Our final savory, the snapper arrived expertly cooked. Think soft, juicy, flaky, with a wonderfully crisp, charred skin. The sesame imparted a very strong nuttiness to the dish that you sort of had to be careful with, but overall it was delish. Nice crunch and contrast from the peas and radishes, too.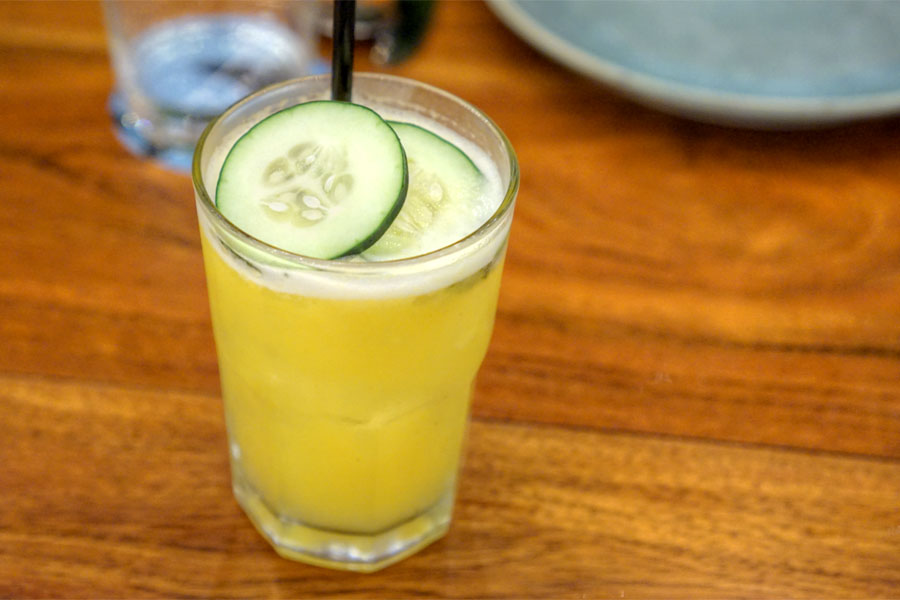 Agave Punch [$13.00]
| tequila, cucumber, passionfruit, celery bitters, pineapple and a splash of mezcal
The final cocktail came out surprisingly viscous. Taste-wise, I got lots of sweet-tart passion fruit and pineapple, which was then evened out by the astringency of celery.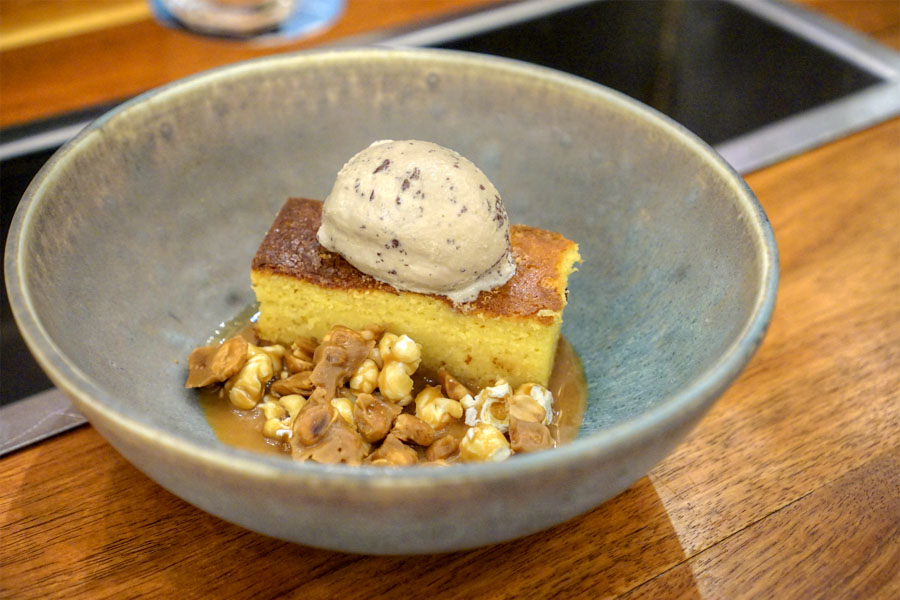 corn bread, cajeta, caramelized popcorn, mezcal ice cream [$13.00]
Dessert (created by Calderón) was another highlight. The corn bread was spot on, a rich, moist preparation that worked beautifully with the sugary
cajeta
and crunchy popcorn. The mezcal ice cream was replaced by what I believe was a salted caramel version, but it worked nonetheless in tying everything together.
There were some kinks here that should be worked out, but nothing that can't be fixed, especially since the place just opened. The space is lovely, and service was actually better than I'd anticipated. I'm glad to see Calderón's take on modern Mexican fare, and I think that Tintorera can help continue the advancement of the cuisine here in LA. Looking forward to seeing where this goes.