Partido (Los Angeles, CA)
Partido Bar + Kitchen Restaurant
5684 York Blvd, Los Angeles, CA 90042
www.instagram.com/partido_hp/
Thu 08/17/2017, 08:25p-11:00p

If you recall, Highland Park's longstanding El Arco Iris shuttered back in April after being purchased by Coda Equities, a local real estate investment firm. Since then, the Coda team has partnered with Chef Lynne Tolentino to bring us Partido ("party"), a transient, "French-influenced, Filipino-inspired" eatery that dropped on July 26th. They serve dinner Thursdays through Saturdays (and brunch Saturdays), and given LA's recent renewed interest in Filipino cuisine, I figured that I should check the place out before it's gone.
About the Chef
: Tolentino was born and raised in Long Beach, the daughter of an African-Filipino mother and Filipino-Italian father. Her mom (and sometimes dad) cooked Filipino food growing up, and she always had an attraction to the cuisine. In her younger years, she was a bit of a tomboy, and spent significant time skating and surfing, but also had an interest in fashion and interior design. After finishing high school in the LBC, Tolentino got a full ride to FIDM. However, her mom, unsurprisingly, wanted her to become a nurse. Thus, she attended nursing school and later worked in urgent care, during which time she also surfed (she even got sponsored for a bit) and dabbled more in Filipino cookery. After viewing an ex's performance on
Hell's Kitchen
, she was inspired to enroll in the Culinary Arts program at Long Beach City College. Tolentino worked on the Queen Mary and
staged
at
Alain Giraud
's Anisette Brasserie throughout this period.
After graduating, she returned to Anisette and remained there until it closed in 2010. The following year, she landed a chef de partie position at
Patina
, which was under the command of
Tony Esnault
(she was also a
stagiaire
at
Providence
during this time). After Esnault left in 2012,
Charles Olalia
took over, and Tolentino would stay at the restaurant until the latter half of 2014. Following, she helped out
Bernhard Mairinger
for a bit, then became CdC at the second outpost of
Superba Food + Bread
in El Segundo, working alongside EC James Trees and Pastry Chef
Carlos Enriquez
. In 2016, the Chef started her own pop-up series called Air.Mail (the name was inspired by the voice recordings that her paternal grandparents in the Philippines used to mail over to her parents in the US), which continued into 2017. Tolentino then left Superba in June to focus her attention on Partido.

Inside, things really haven't changed much at all from the El Arco Iris days--not necessarily a bad thing. I found the vibe low key and rather comfortable.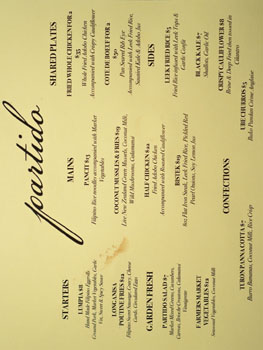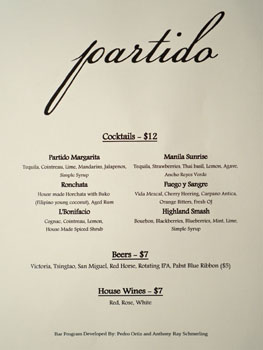 Partido's menu is pleasantly compact, with a handful of starters, mains, sides, and larger format dishes, along with two desserts. Be sure to check out the
specials
as well. To imbibe, you get the usual beers, "house" wines, and a half-dozen cocktails by Pedro Ortiz and Anthony Schmerling (who spent time at K-town's
Escala
). Note that we weren't charged a corkage fee for our BYOB bottles, though we did make sure to share with the Chef. Click for larger versions.
Fuego y Sangre [$12.00]
| Vida Mezcal, Cherry Heering, Carpano Antica, Orange Bitters, Fresh OJ
We ended up having four of the six cocktails on offer, and I was drawn to the first due to its mezcal. The nose on this was boozy to be sure, with lots of smoke intertwined with citrus. The taste, surprisingly, was relatively subdued, showing off dark fruit and smoke accented by a layer of bitterness and light spice.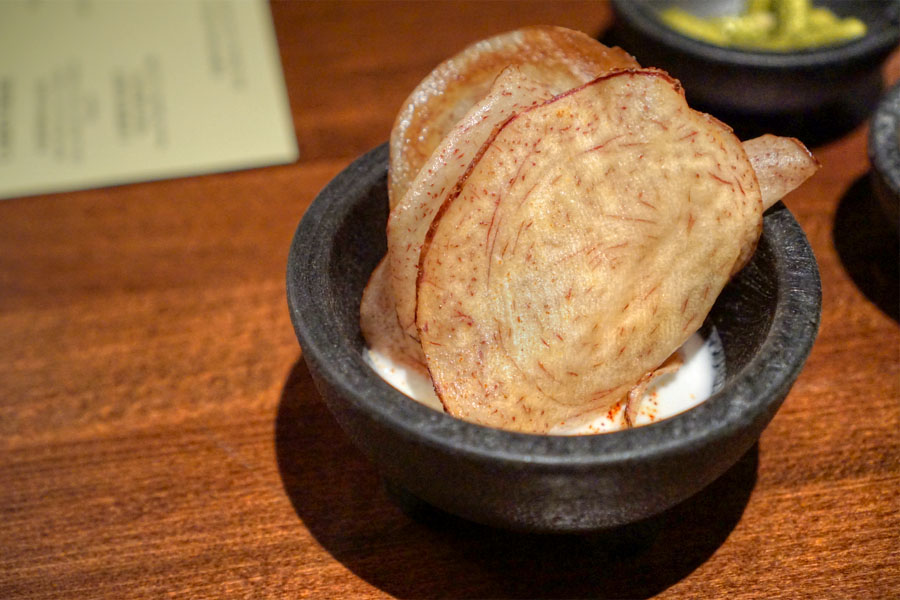 We were quickly presented with three complementary snacks. Taro chips were thin 'n' crisp, with pricks of salt that balanced out the sweetness of that coconut-y sauce on the bottom.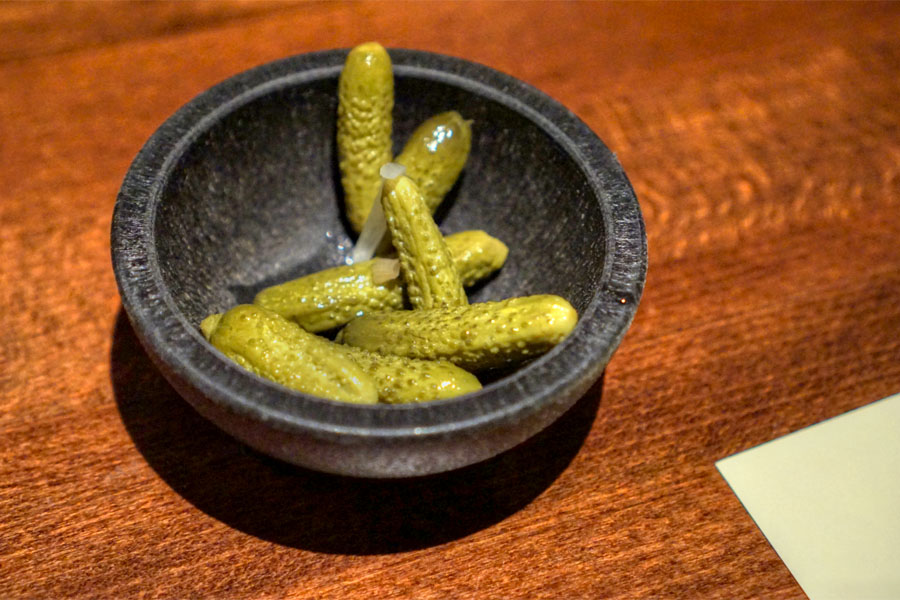 Cornichons were pretty classic, coming out all crunchy with a pleasant acidity to 'em.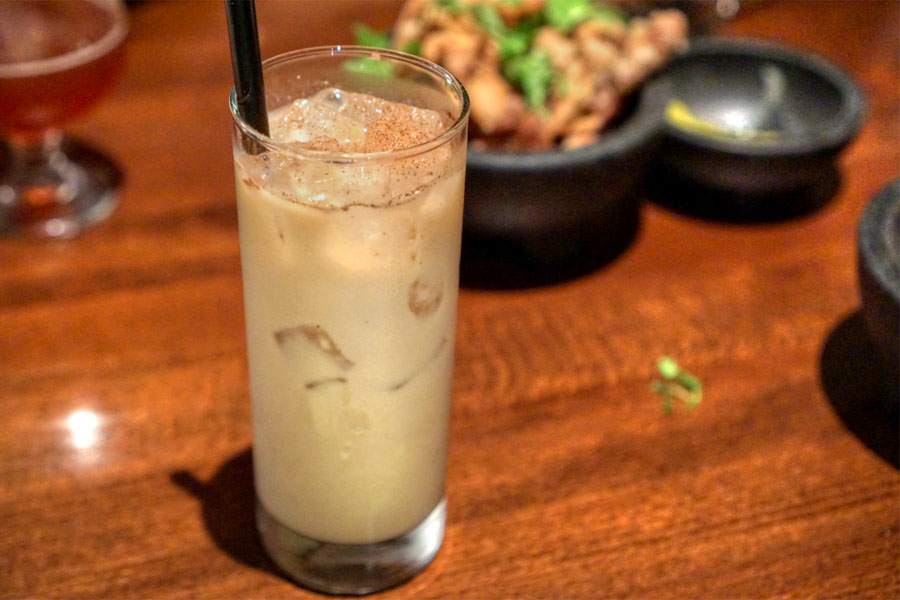 Ronchata [$12.00]
| House made Horchata with Buko (Filipino young coconut), Aged Rum
A horchata-inspired cocktail was delightful, displaying all the creamy, sweet, spicy flavors that you'd want with almost no hint of the booziness lurking below. This could be dangerous.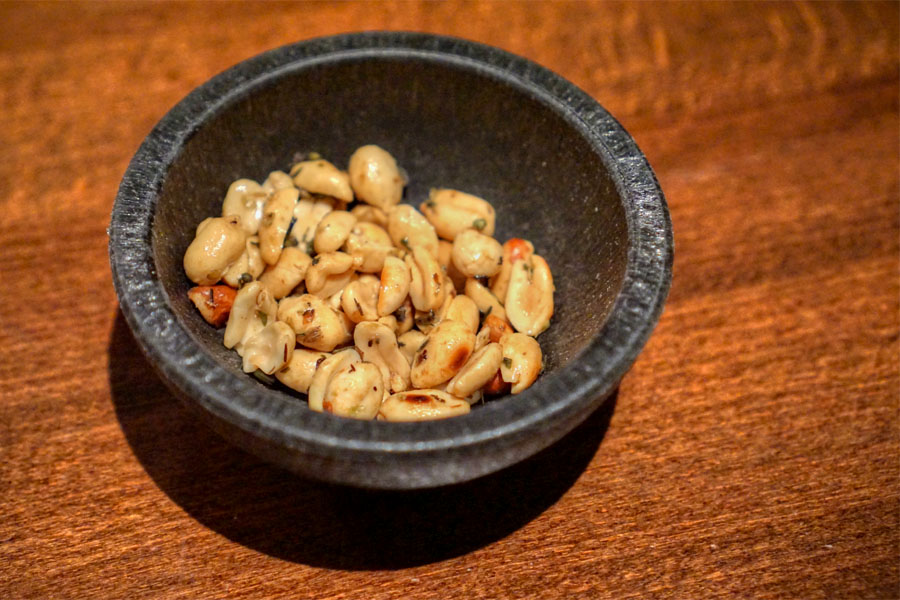 Salty-sour peanuts were my favorite of the snacks thanks to their seasoning of lavender, garlic confit, and
herbes de Provence
.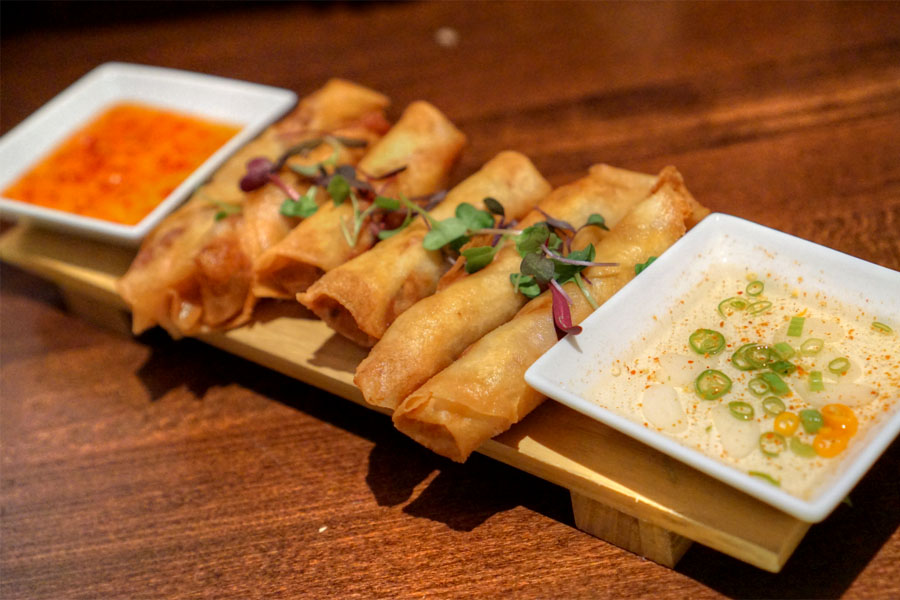 Lumpia [$8.00]
| Hand Made Filipino Eggrolls, Ground Pork, Market Vegetables, Garlic Vin, Sweet & Spicy Sauce
The
lumpiang prito
was a clear standout, and quite possibly the best egg roll that I've had, Filipino, Chinese, or otherwise. The key for me was the pork filling, which had a wonderful sweet-savoriness and an almost sausage-like consistency. The meat paired beautifully with the included veggies as well as the rolls' crisp, shatter-y skin. Even better with a dip into that acidic, funky, spicy garlic vin.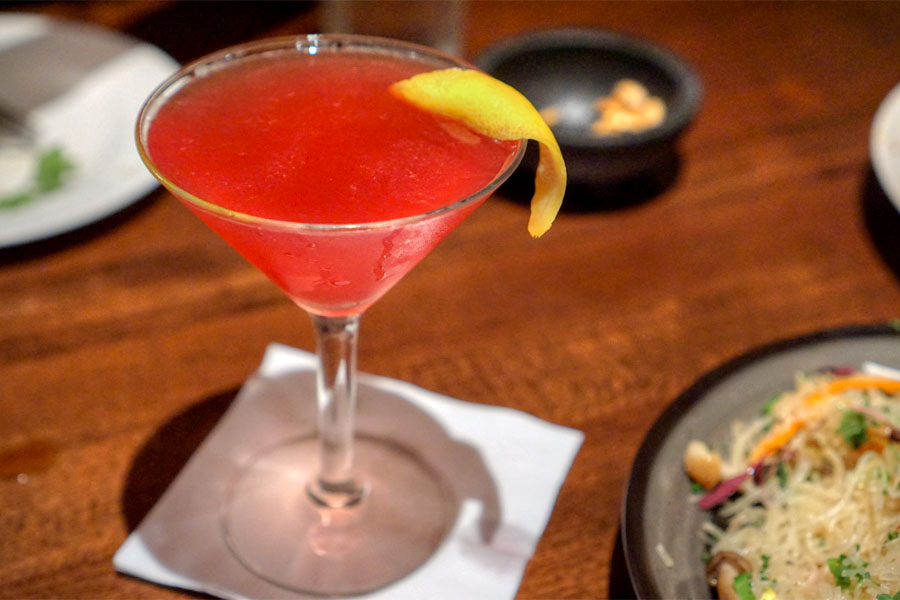 L'Bonifacio [$12.00]
| Cognac, Cointreau, Lemon, House Made Spiced Shrub
This next cocktail veered sugary at first, but fortunately its sweetness was moderated by the application of citrus and just a smidge of bitterness. You could barely taste the cognac.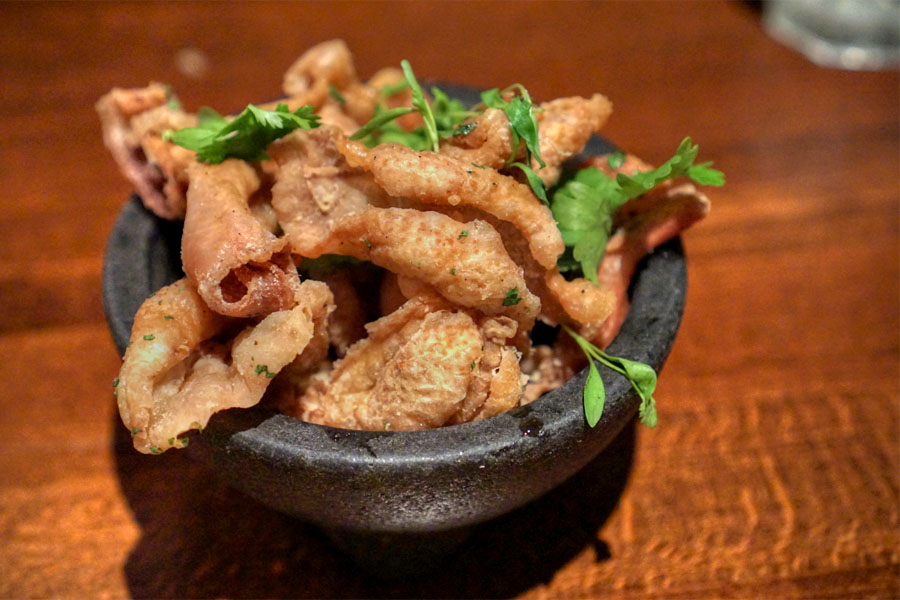 Crispy Chicken Skins [$6.00]
| Ponzu, Soy Sauce, Cilantro
A special for the evening, the
chicharon manok
was a winner. The skins were everything that I wanted from the dish, coming out crispy and meaty, with bountiful amounts of salt and umami that played well with the tartness of ponzu.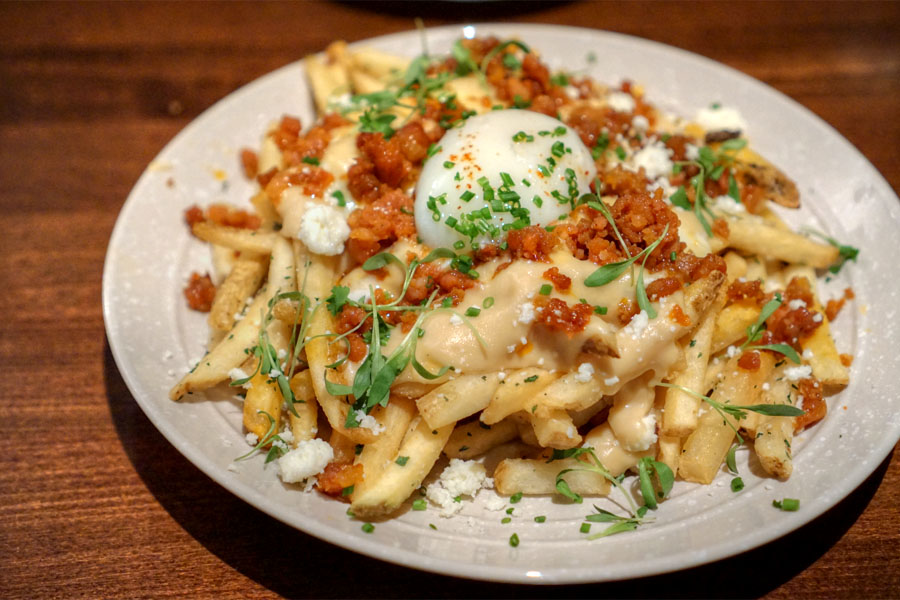 Longanisa Poutine Fries [$12.00]
| Filipino Sweet Sausage, Gravy, Cheese Curds, Circulated Eggs
Poutine seems to be all the rage these days, so we had to give this version a go. What stood out to me most, unsurprisingly, was the
longganisa
, and I really appreciated how the cheese just brought everything together. Nice saltiness and crispness on the fries, too. Overall, a fitting Filipino twist on the traditional dish that doesn't stray too far from what makes poutine a quintessential comfort food.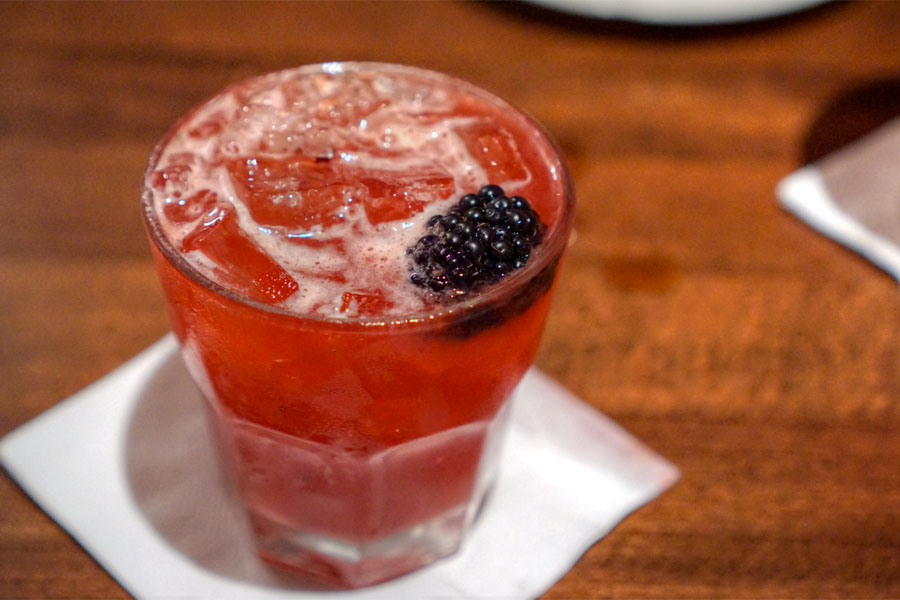 Highland Smash [$12.00]
| Bourbon, Blackberries, Blueberries, Mint, Lime, Simple Syrup
Our final cocktail was definitely on the refreshing and easy-drinking side of things with its light booziness and strong fruit flavors, perked up by wisps of mint.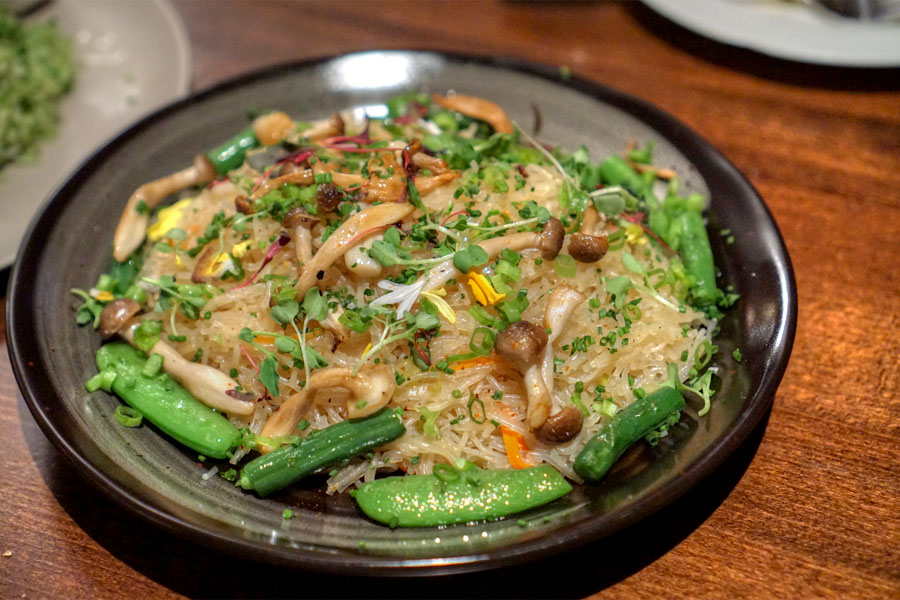 Pancit [$13.00]
| Filipino Rice noodles accompanied with Market Vegetables
The pancit delivered for sure. The noodles themselves were richly flavored, and quite good alone. However, I really enjoyed how the mushrooms amplified the savoriness of the dish even further, while the veggies did a great job lightening and brightening things. Yum.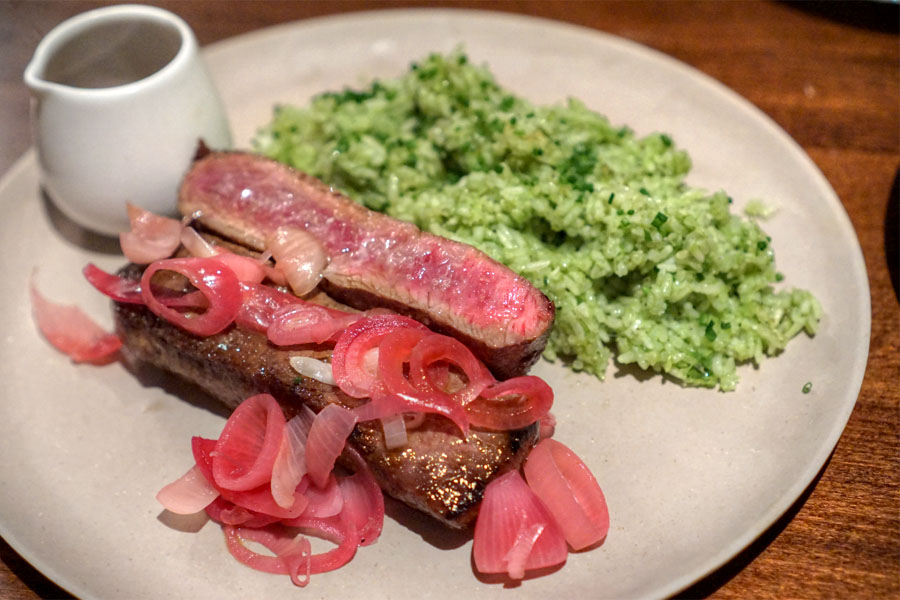 Bistek [$19.00]
| 8oz Flat Iron Steak, Leek Fried Rice, Pickled Red Pearl Onions, Soy Lemon Jus
The Chef's version of
bistek Tagalog
was juicy and super flavorful, with the beef augmented by a combination of umami and tartness from the soy-lemon jus. The accompanying leek- and garlic confit-infused fried rice was aggressively seasoned and a great pairing, and I loved the acidity from the pickled onions too. My only concern was that the steak could've been more tender.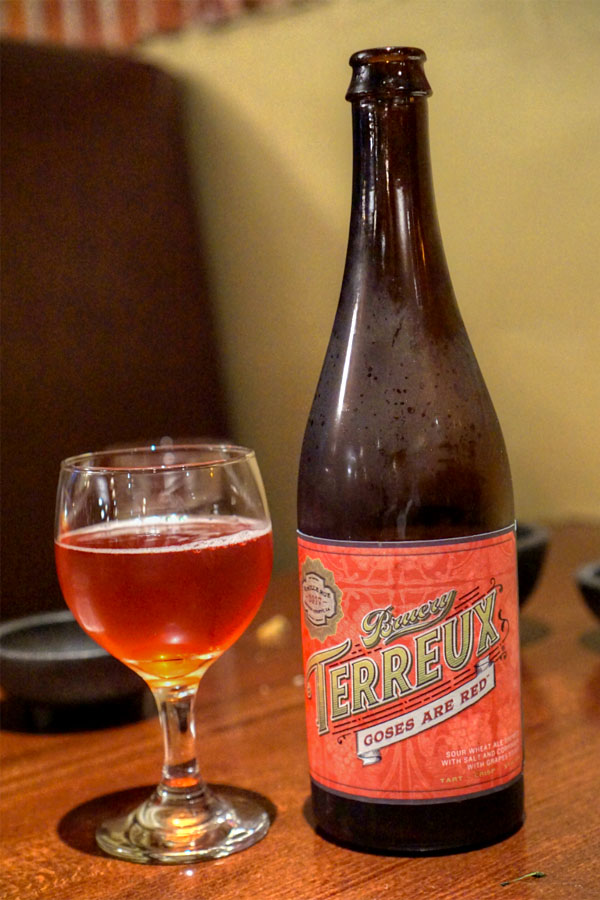 At this point we moved on to some beer that I'd brought, the
2017 Bruery Terreux Goses Are Red
, a sour wheat ale brewed with salt and coriander, aged in oak, with grapes added. Nose was expectedly tart and funky, with a wine-like quality. Taste-wise, I again got a marked vinous character, along with a subtle fruitiness, more sourness, and a crisp acidity.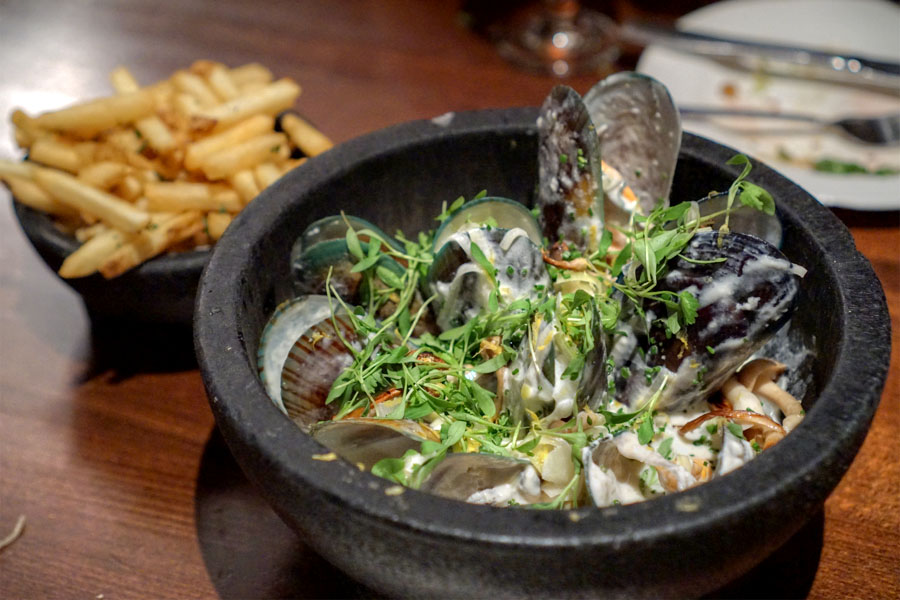 Coconut Mussels & Fries [$19.00]
| Live New Zealand Green Mussels, Coconut Milk, Wild Mushrooms, Calamansi
Mussels were meaty, and perhaps the largest I've had. They conveyed a very apparent brine that was offset by the sweetness of coconut, all while the herbs and kalamansi worked to lift the dish. Nice fries on the side, too.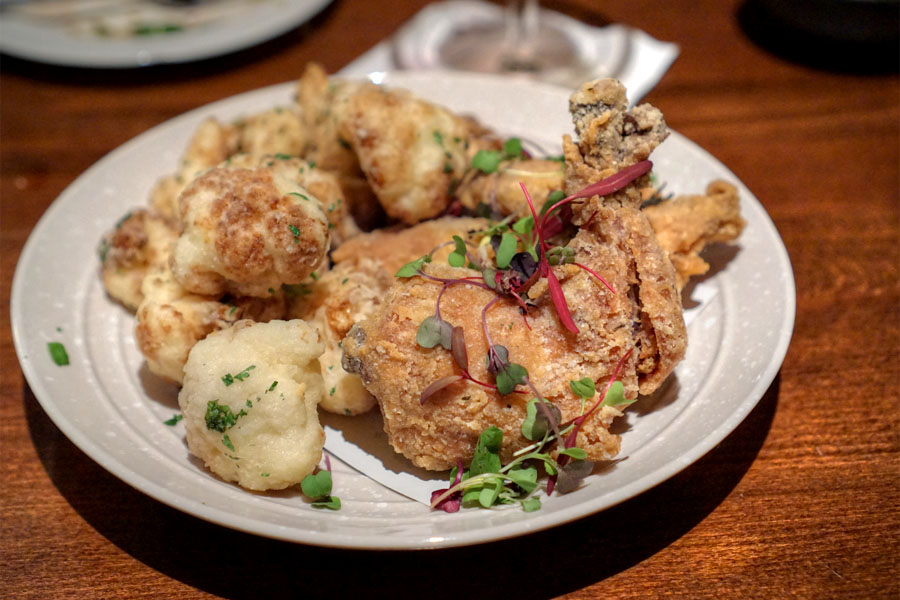 Half Chicken [$22.00]
| Fried Adobo Chicken, Accompanied with Roasted Cauliflower
I would've preferred the fried chicken juicier, but the bird was still tender, with adobo-esque flavors complemented by a heady beer sauce on the side. The cauliflower, meanwhile, came brined and deep-fried to a semi-crisp consistency, though I found the florets a tad underseasoned.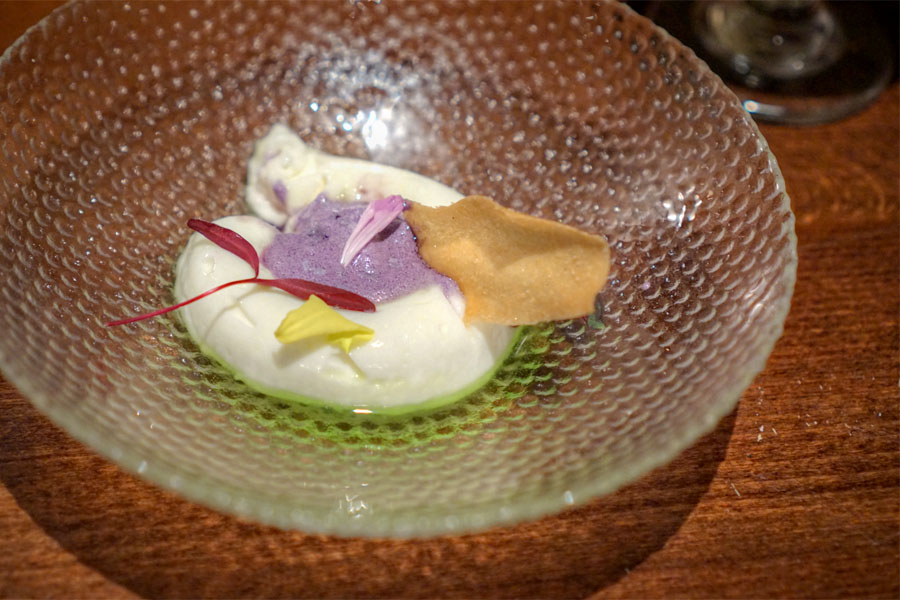 Turon Panna Cotta [$7.00]
| Burro Bananas, Coconut Milk, Rice Crisp
Time for dessert. A reinterpreted
turon
of sorts hit the mark with its lovely banana flavors, which meshed perfectly with the coconut. I liked the crispy bits here too, a reference to the traditional dish's spring roll wrapper.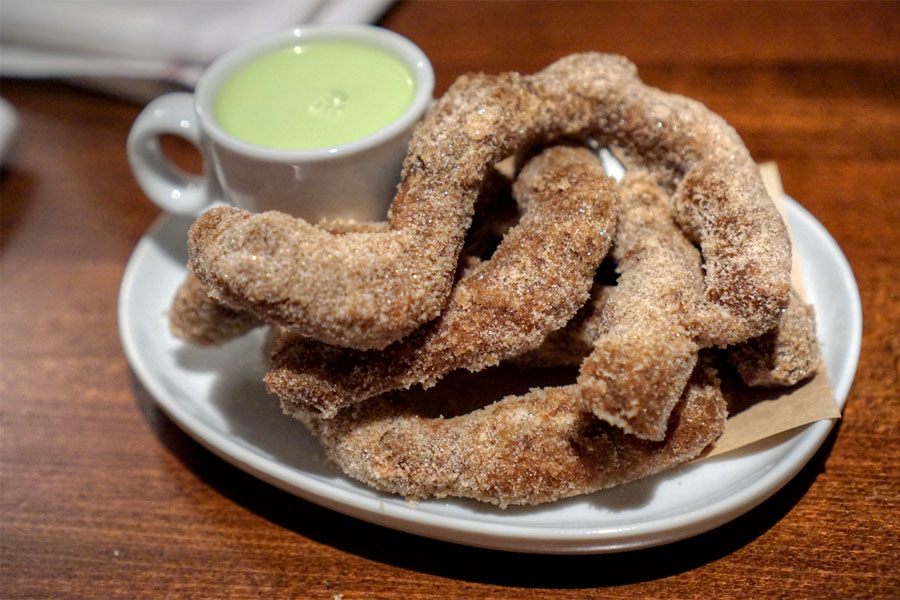 Ube Churros [$5.00]
| Buko Pandan Crème Anglaise
Churros made for a worthy close to the meal. I found 'em super delicate, and brimming with sweet, warm spice. Delish alone, and even more so when taken with a dab of the coconut-y crème anglaise.
We liked our meal at Partido. It was great to see Tolentino's personal take on Filipino cookery, to see how she's balancing her heritage with her classical French training. The food fits in with what's going on in LA currently with Philippine cuisine, though its feel is distinct and unique. As for what's next, apparently the Coda people are turning El Arco Iris into a barcade, so we'll have to see where the Chef ends up.