Tamaen (Lomita, CA)
Tamaen Japanese BBQ Restaurant
1935 Pacific Coast Hwy, Lomita, CA 90717
310.326.0829
www.tamaenus.com
Sun 08/20/2017, 08:00p-10:45p

My latest yakiniku craving brought me to Tamaen, which had been on my "to-eat" list for a while now. The place was opened circa 2003 by Chef/Owner Masafumi Higashiyama, who'd actually worked at the original Tamaen in Osaka. Sometime around 2016, the restaurant was purchased by Kengo Kuba's
K&K International
, a wholesaler of Japanese beef founded in 2001. Along with the ownership change came a remodeling of the space, as well as a fancier menu with a focus on genuine wagyu beef.

Above we see the revamped space, which is nice enough, and not overly smoky fortunately.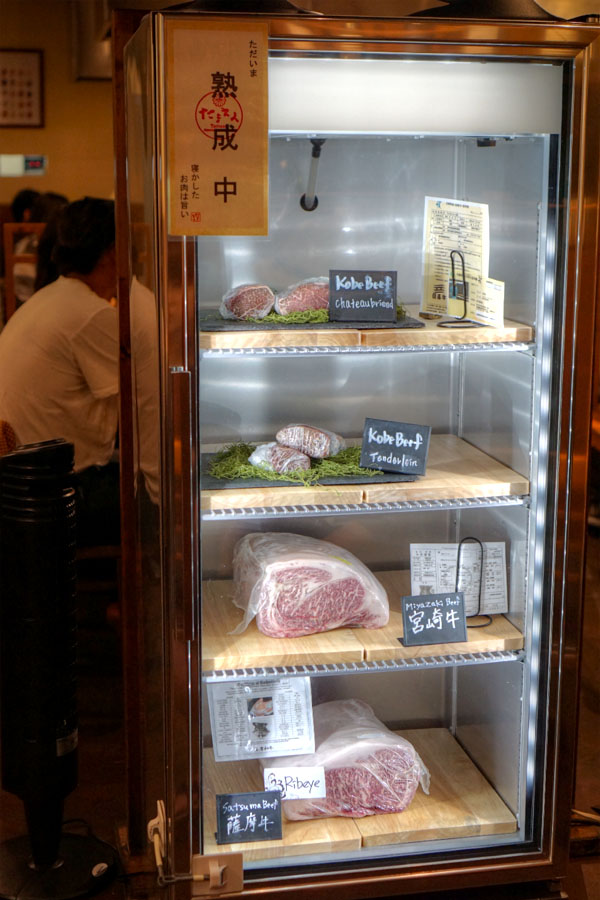 Right up front is the meat case, which highlights some of the restaurant's Japanese beef selection. Note that the Miyazaki and Satsuma cuts on the bottom two shelves weren't available this evening, as they were still aging. Note, also, the presence of Kobe beef. According to the
official Kobe beef web site
, Tamaen is one of only three restaurants in the Los Angeles area to serve the real deal (and nope,
Shibumi
wasn't the first).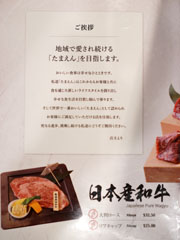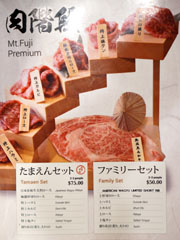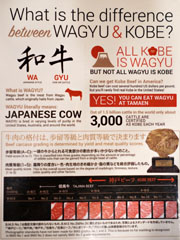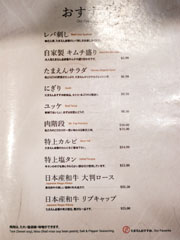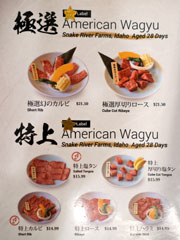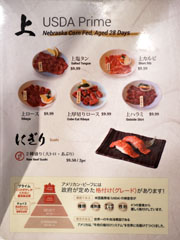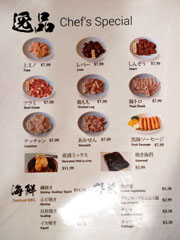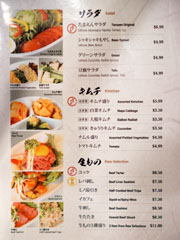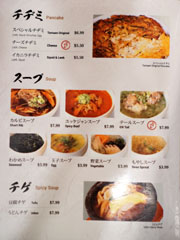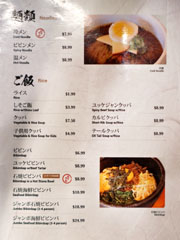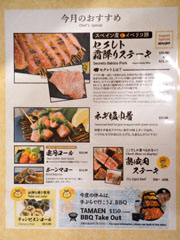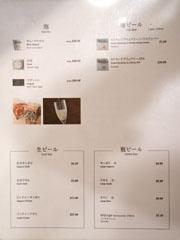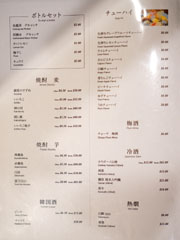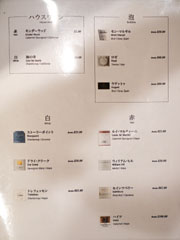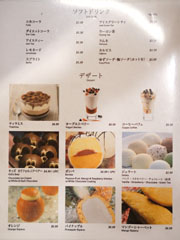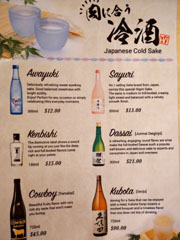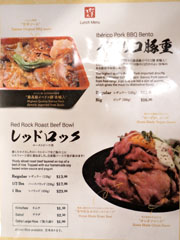 Menu-wise, Tamaen of course features a variety of beef choices, segregated into various grades--Japanese wagyu, American wagyu, USDA Prime--along with
horumon
(offal), pork, seafood, and veggie options. Not surprisingly, there's also a wide range of accompanying dishes (mostly of Korean origin) to pair with your meat. To drink, you get your usual beers, some wine, shochu, soju, and sake, natch. Corkage was $15, and we were only charged once. Click for larger versions.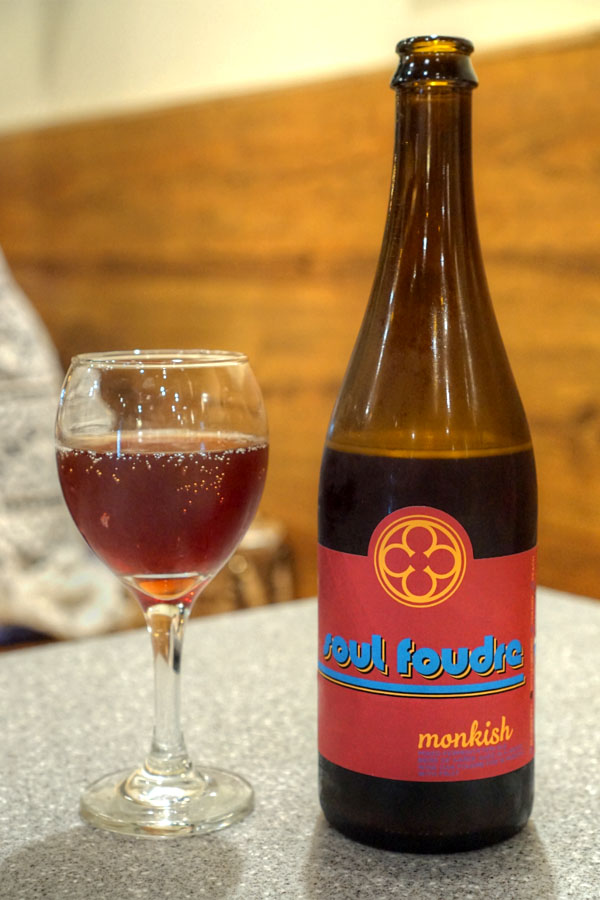 Our first beer was the
2016 Monkish Soul Foudre with Boysenberries
, a
bière de garde
aged in a white wine oak foudre for 16 months. On the nose I got lots of tartness and acidity, along with the purported fruit and an almost balsamic vinegar-type character. In terms of taste: berries of course, joined by light funk, subtle yeast, and a trace of oak. Nice and refreshing.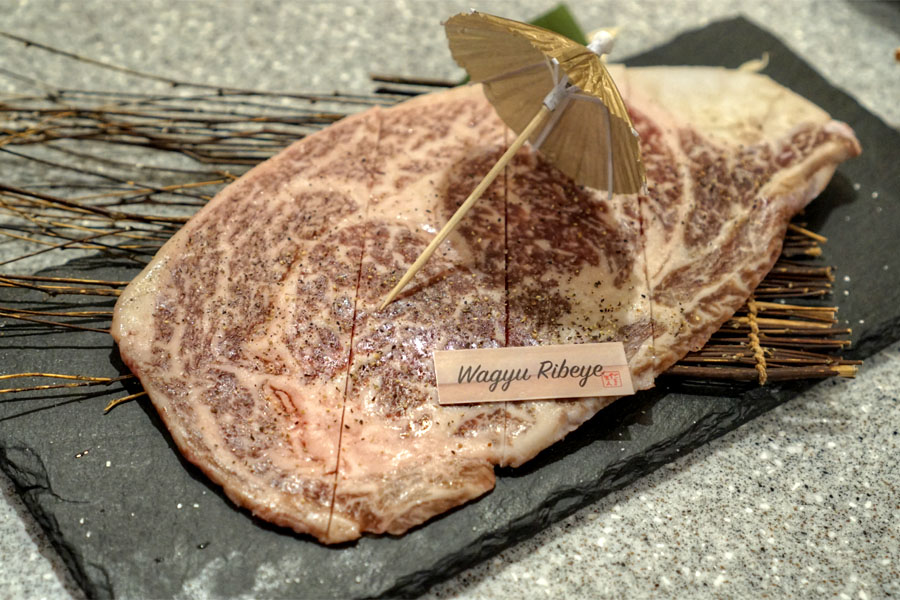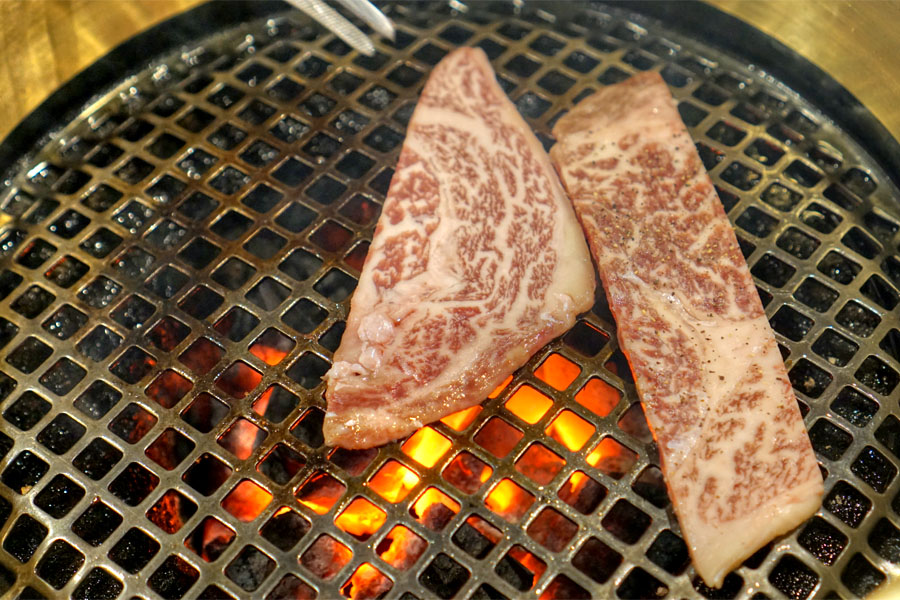 Japanese Pure Wagyu Ribeye [$32.50]
We began with the 29-day wet aged Kobe rib eye, seasoned simply with salt & pepper. The meat cooked up nicely to be sure, with well-integrated fat and just enough of a chew. It ate super flavorful, with a great touch of sear, and was finished beautifully by pinpricks of salt. A very promising start.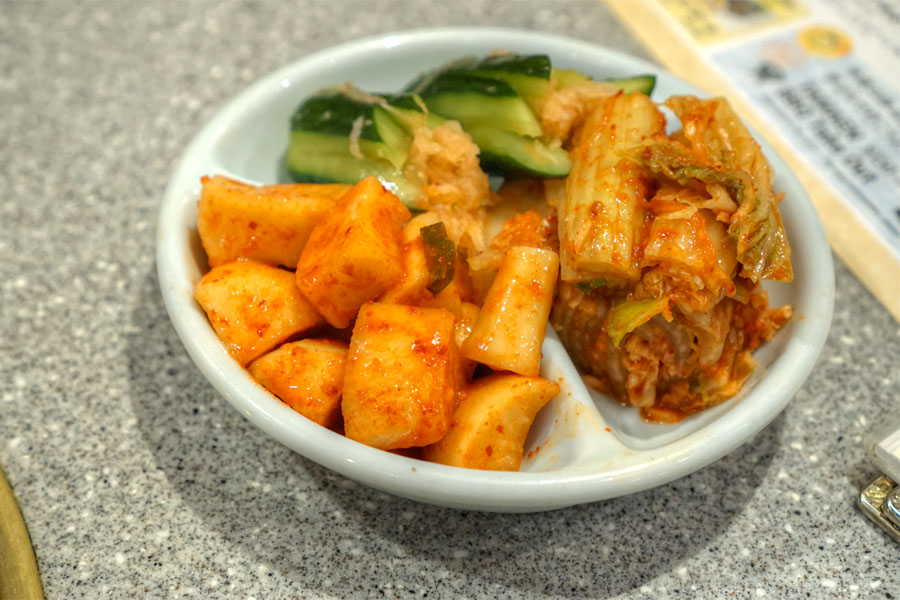 Assorted Kimchee [$5.99]
Clockwise from bottom, we had: extra crunchy, extra funky
kkakdugi
; sesame oil-laced
oisobagi
; and some earthier than usual
baechu kimchi
.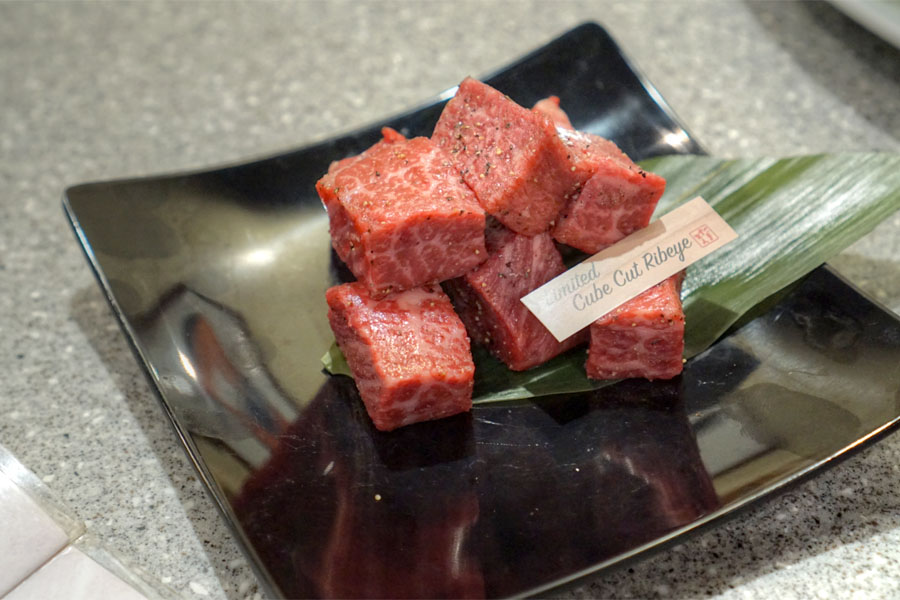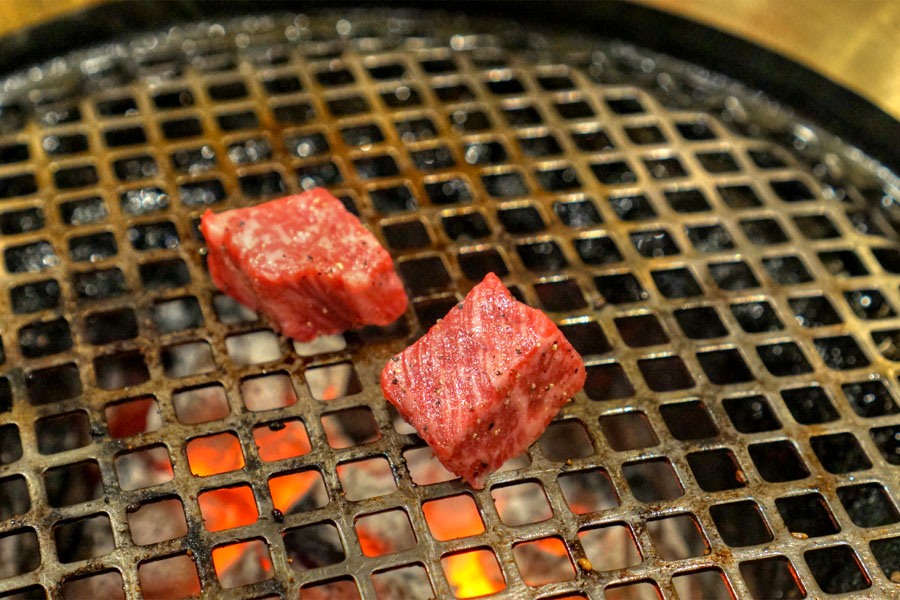 American Wagyu Limited Cube Cut Ribeye [$21.50]
Next came 28 day-aged rib eye from popular producer Snake River Farms out of Idaho, seasoned once again with S&P. Due to its cube cut, this was a heartier, heftier eating experience compared to the Kobe above, and showed off a great mix of melt-in-your-mouth fat and lean. Yum.
Beef Tartar [$8.50]
Made from Prime tri-tip, the
yukke
hit the mark with its rich, soy-fueled flavors. There was a satisfying texture to the meat, and I appreciated the zestiness of the onions on the side too.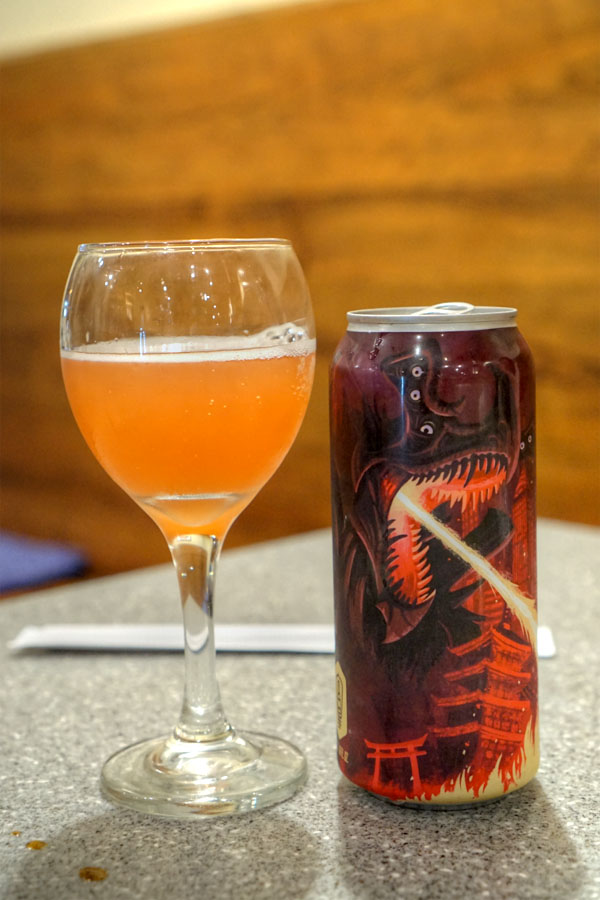 Next to drink was the
2017 Bottle Logic Titan of Tokyo
, a Berliner Weisse-style wheat ale brewed with jasmine rice, dragon fruit, and loquat. Wonderfully aromatic nose just brimming with sweet, floral notes. On the palate, think modestly sour, fruity, floral, almost candied, with a trace of wheat and rice underneath everything. Delish.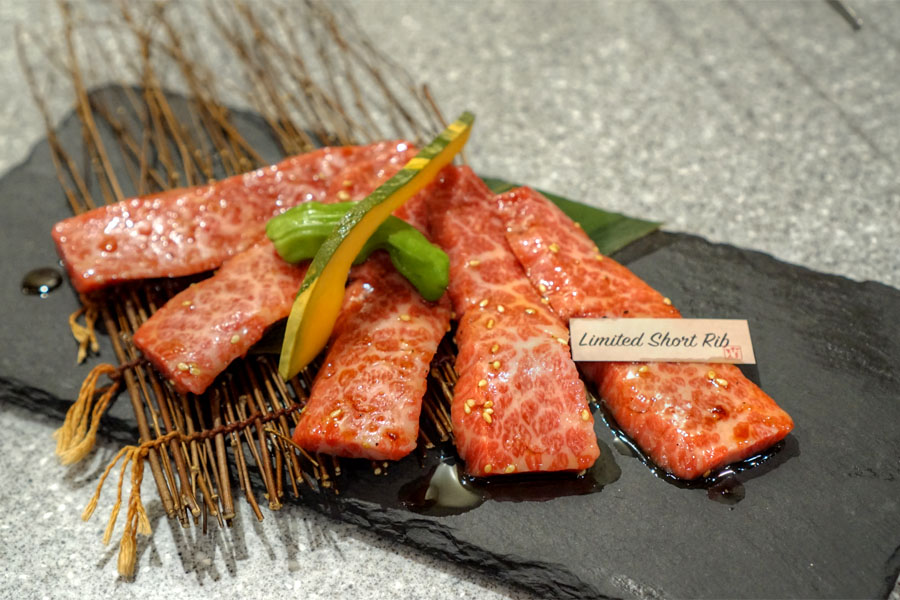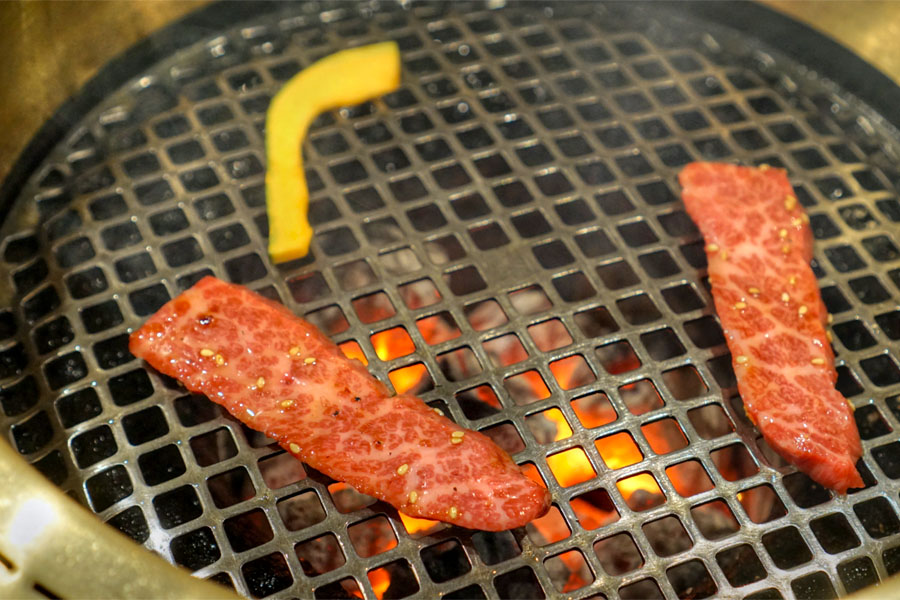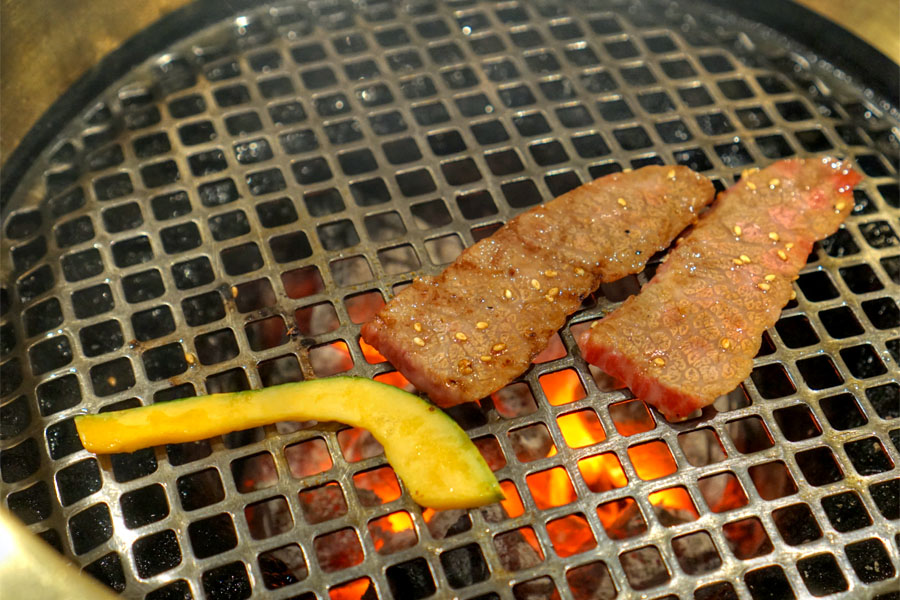 American Wagyu Limited Short Rib [$21.50]
Next came
karubi
, also advertised as Snake River Farms 28 day-aged. It was basically like a really nice
kkotsal
, an brazenly fatty, almost gelatinous cut possessing a sweetness that matched up well with its marinade.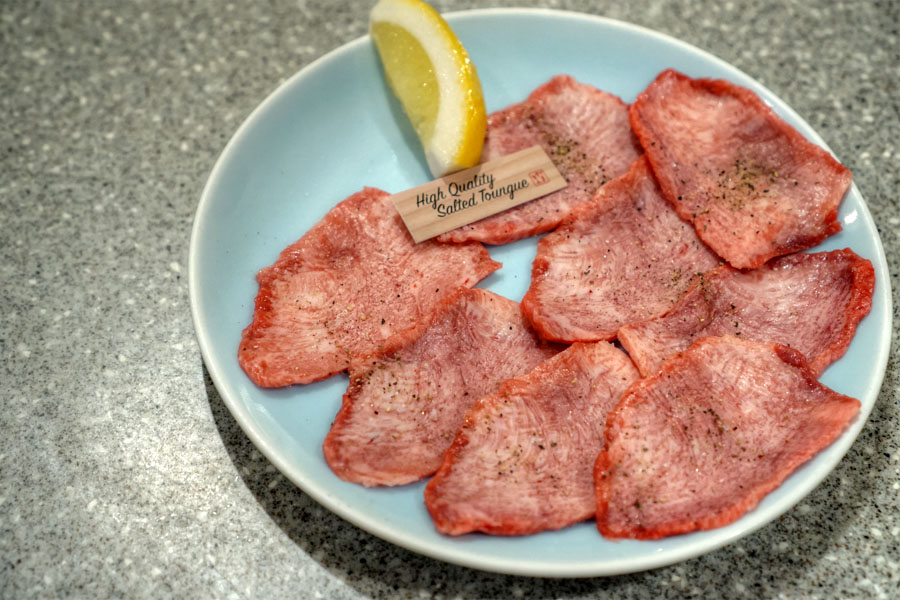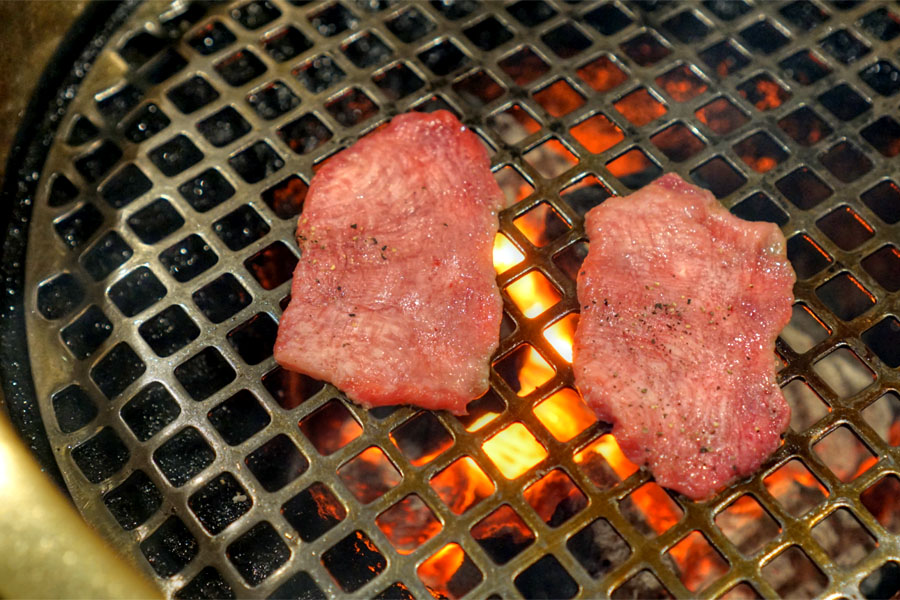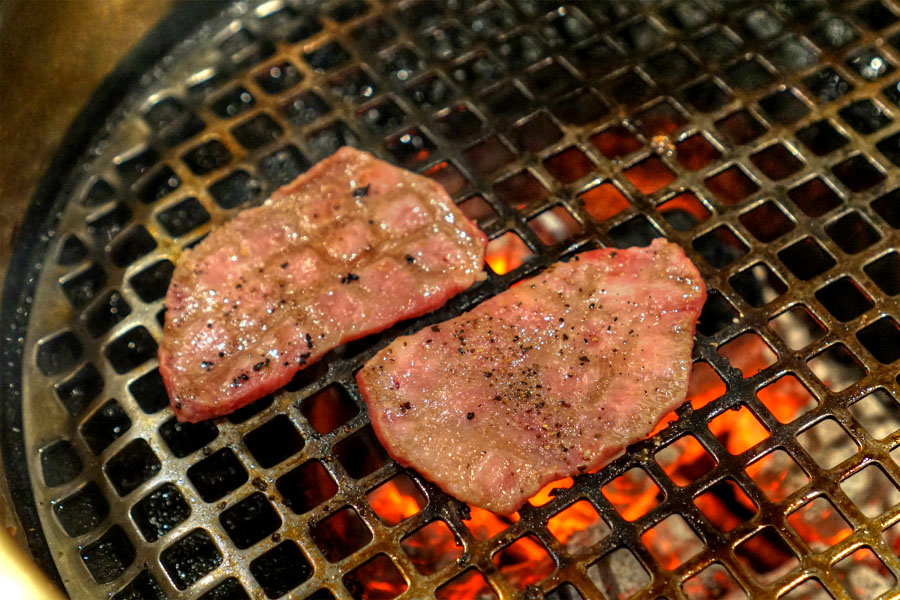 American Wagyu High Quality Salted Tongue [$15.99]
I always like to order
tan
, and this
tokujo
grade cut, once again from Snake River, certainly delivered. Snappy yet soft to the bite, this was a wonderfully savory, salty meat perked up by a squirt of lemon. A model of what tongue should be.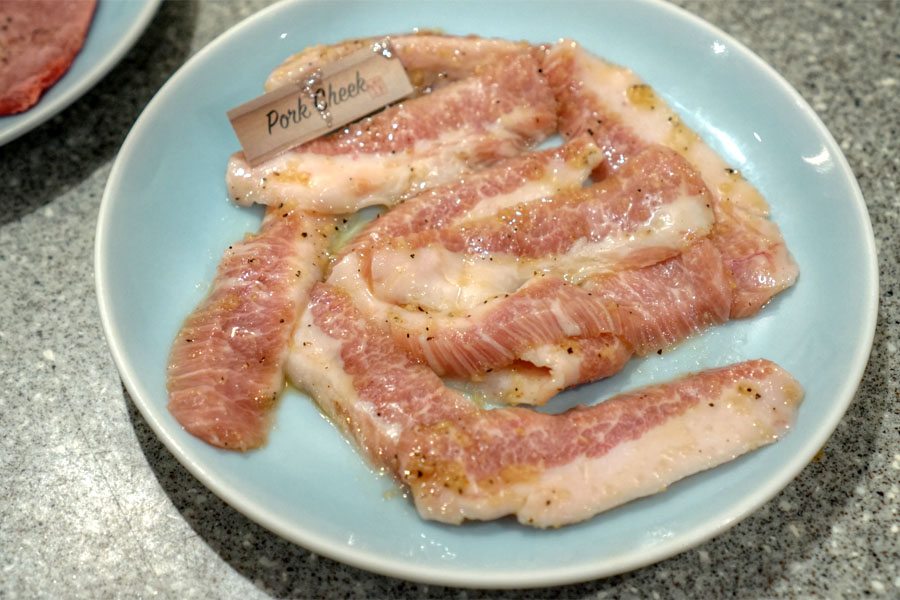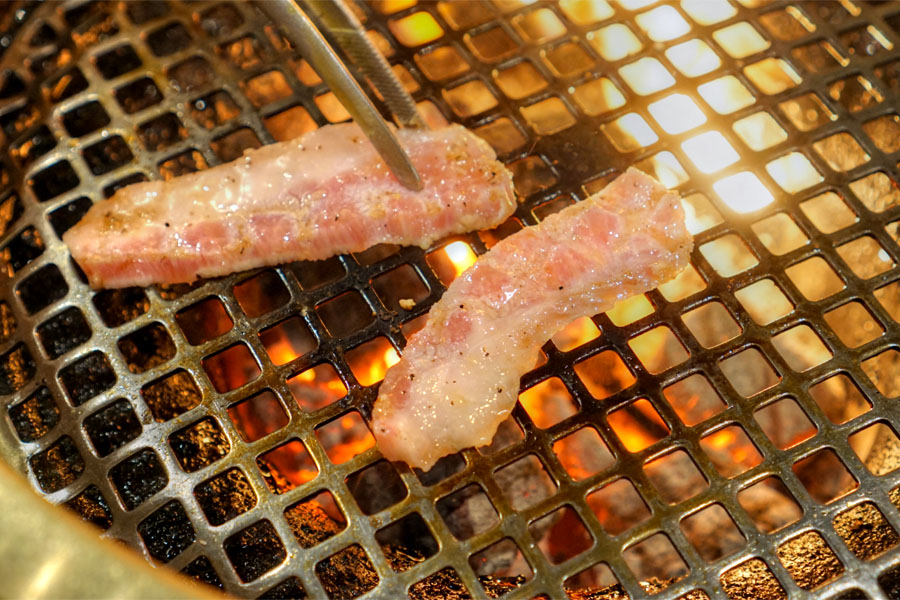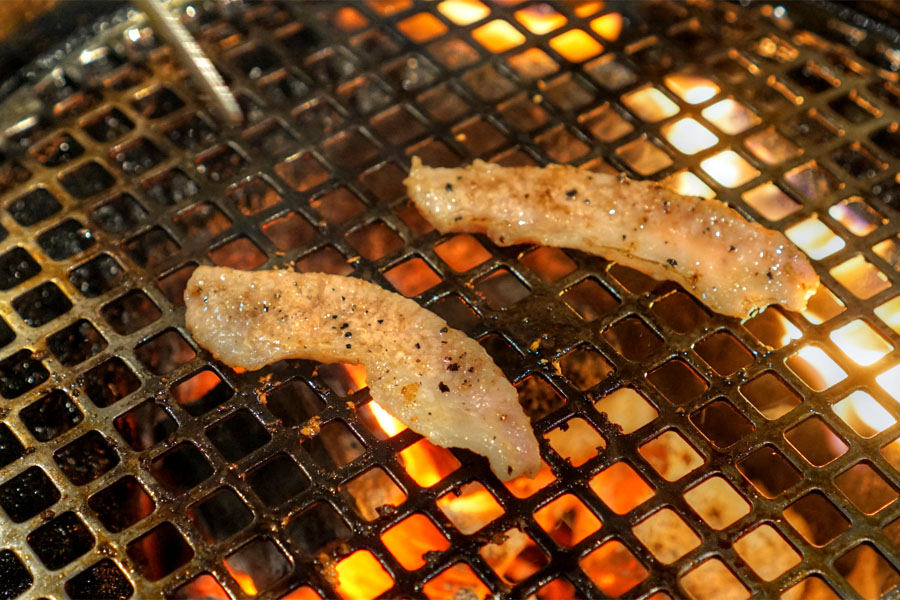 Pork Cheek [$7.99]
Our sole pork selection of the night, the
shio
(salted)
tontoro
was just what we were looking for. Texturally it had that crunch, that chew, that fattiness you expect from the cut, while its flavors were intensely porky and well matched to all that smoke and char.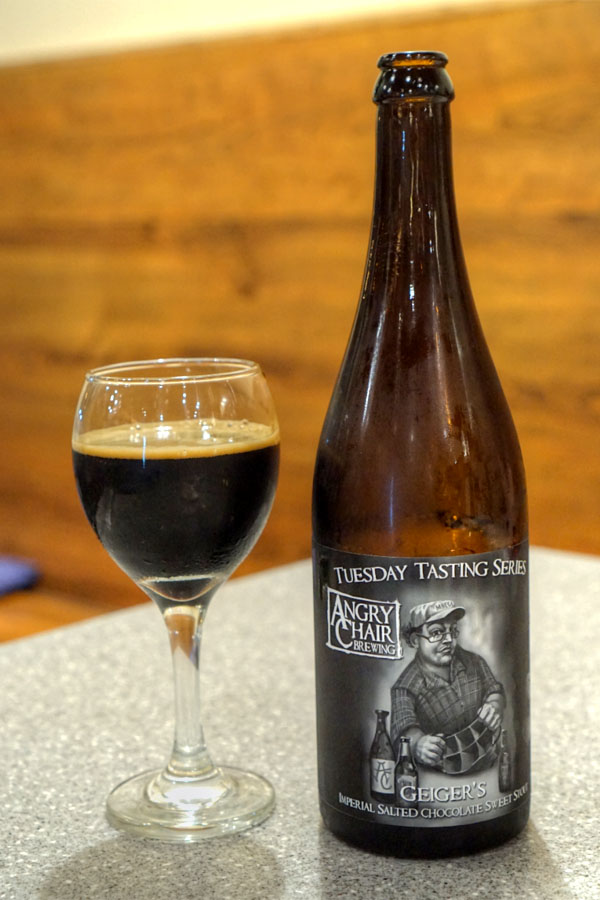 Last to drink was the
2016 Angry Chair Geiger's Imperial Salted Chocolate Sweet Stout
, a lactose-boosted stout with cacao and salt. I definitely got the salt and chocolate on the nose, along with coffee and roast--very nice. The taste brought more of the same in a smooth, soft package that went down easy.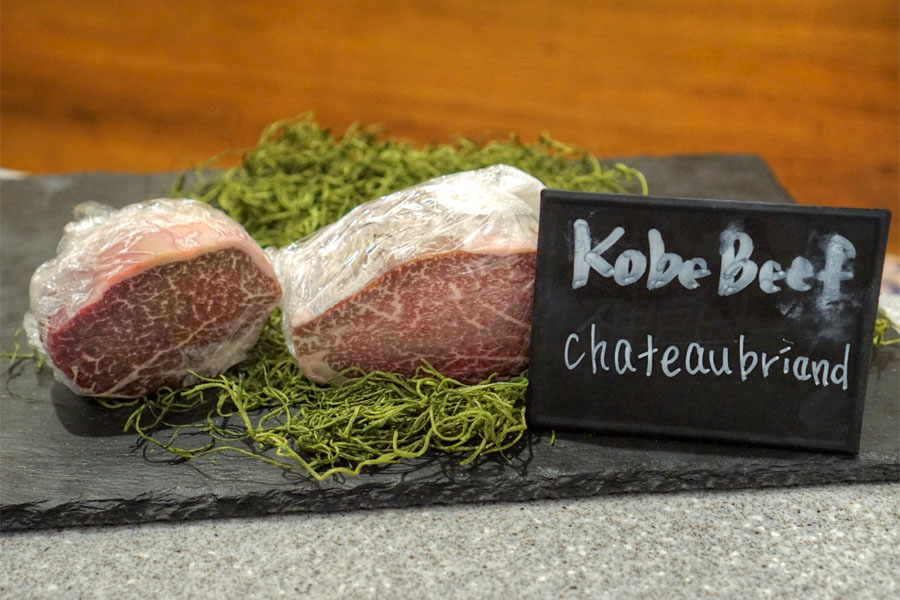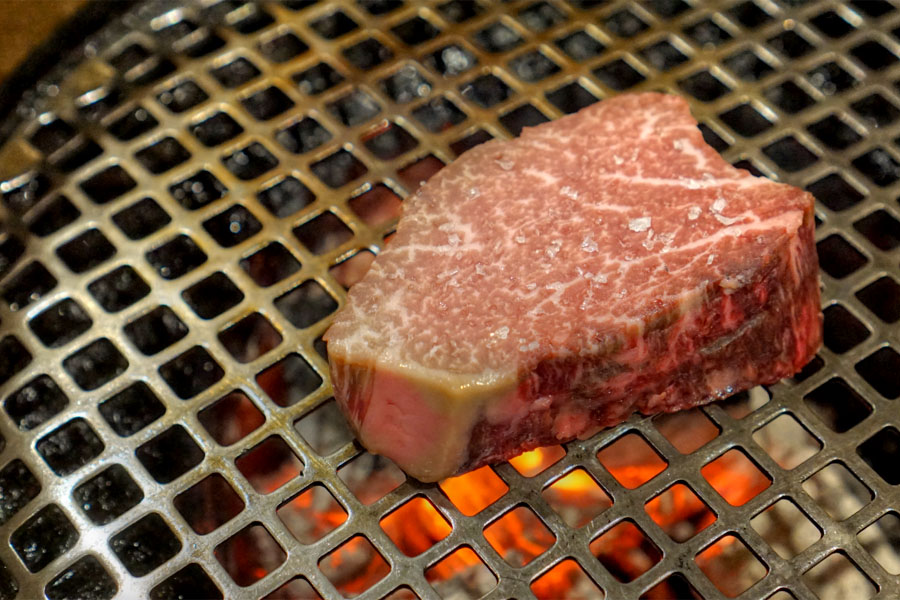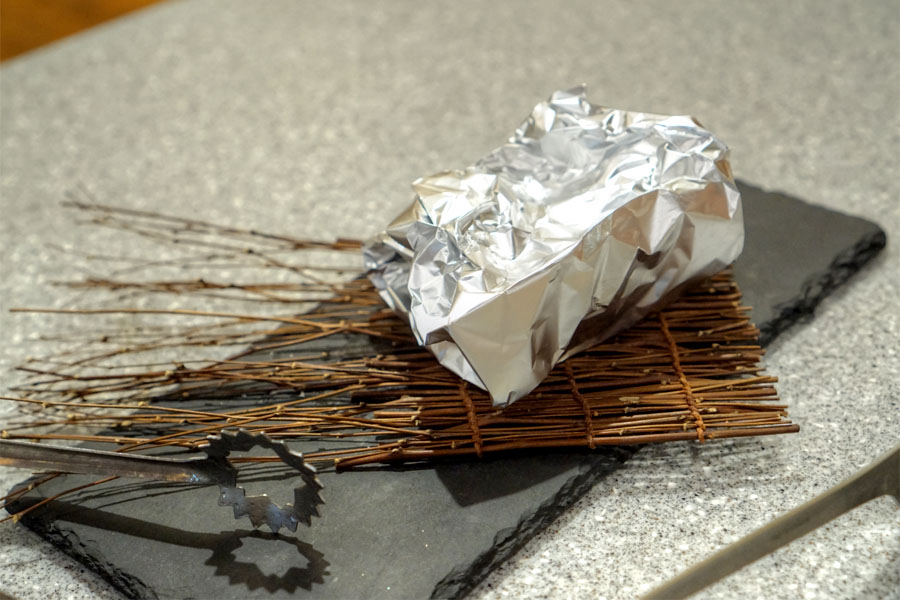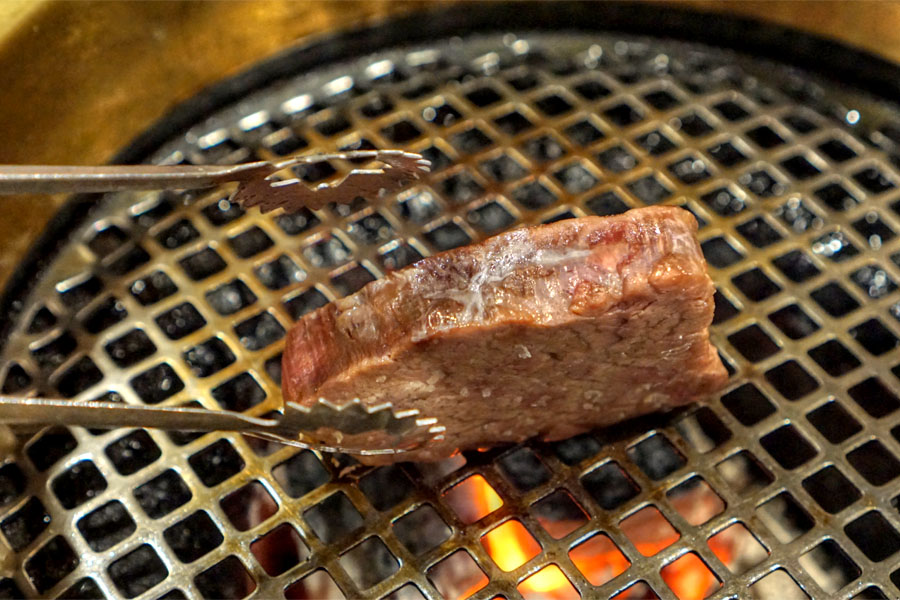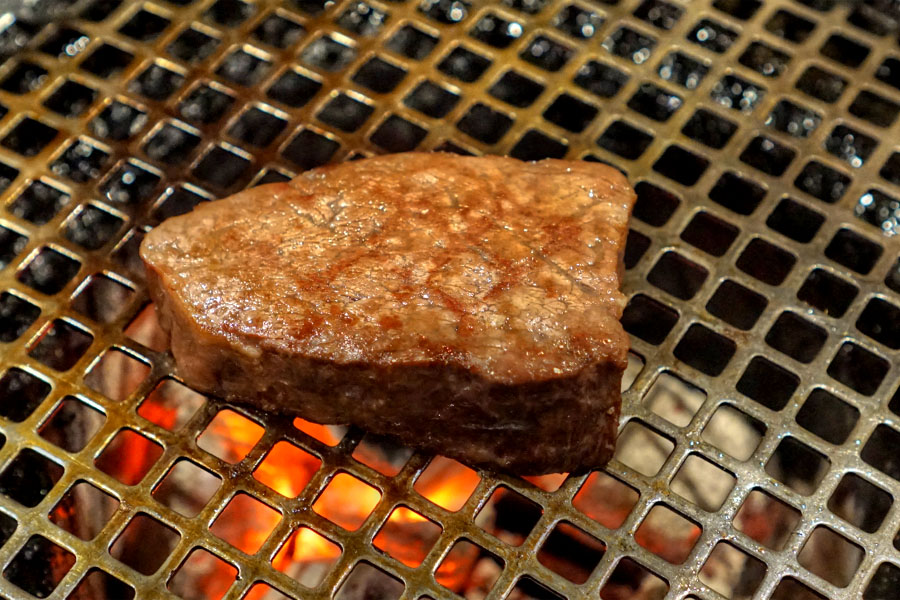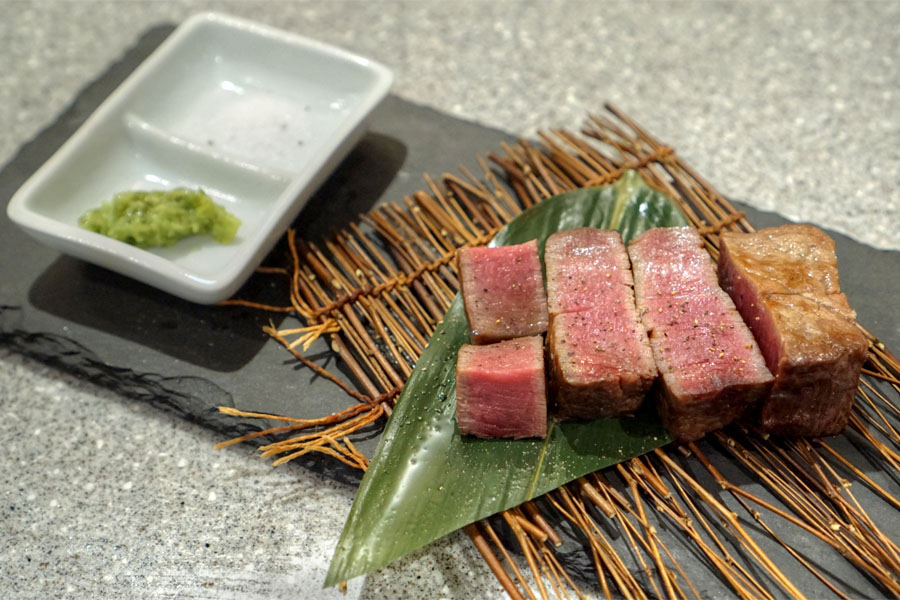 Kobe Beef Chateaubriand [$75.00/4oz]
We ended with the two week dry-aged Kobe chateaubriand, which our server proclaimed as the "middle of the middle" of the tenderloin (the "standard" tenderloin was also available at $70/4oz). This was the only course that our servers cooked for us, and there was a whole process involving a timer and multiple rounds of grilling and resting in aluminum foil. The end result was easily one of the most robustly-flavored pieces of beef I'd ever tasted. Due to the dry aging, there was this deep, umami-powered funk, this pungency, while in terms of texture, I found it uncommonly dense, yet soft, yielding, and very gratifying. It was an aggressive eating experience, and definitely
not
for everybody. I made sure to try the provided salt, which seemed to draw out the filet's flavors even further, as well as the wasabi, which effectively cut through the potency of the meat. My only quibble was that the beef could've been juicier.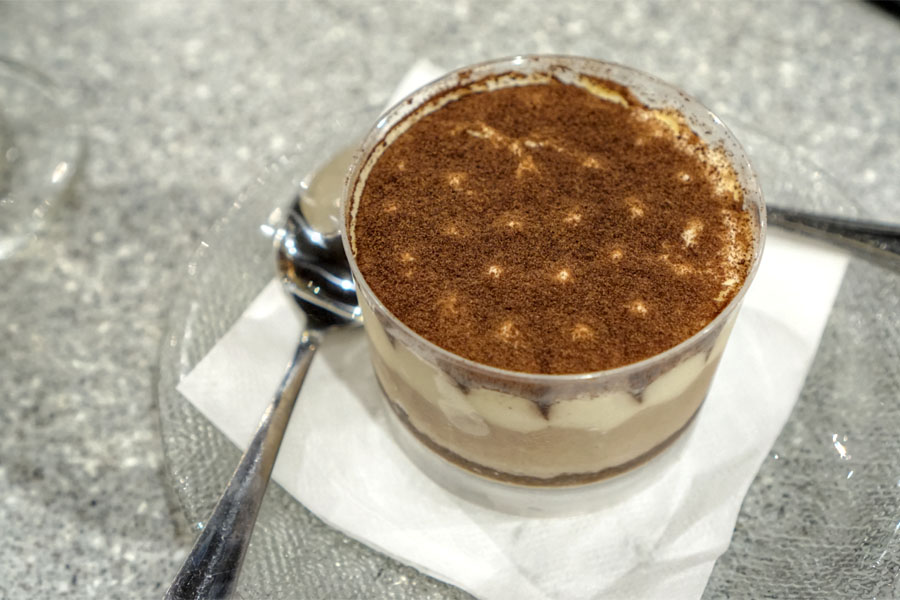 Tiramisu [$4.99]
Desserts aren't made in-house unfortunately, but the tiramisu was actually still quite good, with some very classic flavors all in balance.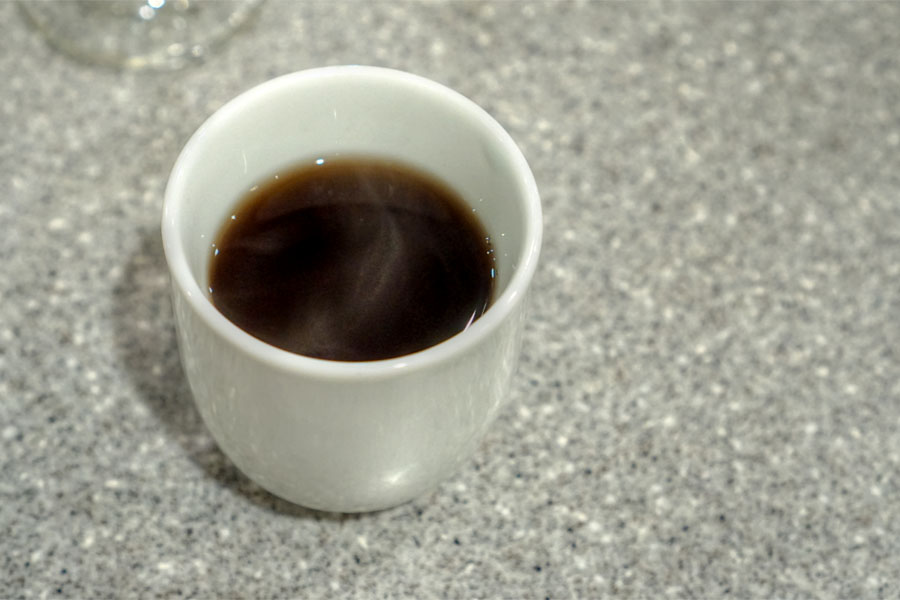 A serving of cozy, roasty
hojicha
closed out our meal.
Tamaen made for a very strong JBBQ experience in the South Bay. The quality of the meat was hard to fault, and the option of authentic Japanese wagyu (even Kobe) is definitely a selling point for me. Service was actually quite good as well. Overall I'd say that this is one of the top yakiniku joints in Southern California, and certainly worthy of your consideration.