The Blind Rabbit (Anaheim, CA)
The Blind Rabbit Bar at The Packing House
440 S Anaheim Blvd, Anaheim, CA 92805
www.theblindrabbit.com
Tue 09/12/2017, 08:30p-11:20p

When it comes to cocktail bars in Orange County, I think the general consensus is pretty much that Blind Rabbit is the best of the bunch, known for its drinks as well as its concealed "speakeasy" entrance and strict rules/dress code. I'd been here a couple times before, but I figured I should probably give the place a proper go and write it up.
The Blind Rabbit is largely the work of the husband-and-wife team of Robert Adamson and Ying Chang. An OC native, Adamson was born in Fountain Valley and grew up in Anaheim. After finishing up at Magnolia High School, he spent four years in the Navy (he got out in '99) and then attended The Art Institute of California-Orange County, graduating in 2003 with a degree in graphic design. However, he also boasts over 20 years experience in the hospitality biz, including time spent bartending.
Chang, for her part, hails from Milwaukee, and graduated with a Social Ecology degree from UCI. She worked as a server, then a bartender, and later got into restaurant training and management. The two started conceptualizing The Blind Rabbit in 2013, and ended up partnering with Leonard Chan's
The Alchemists
, the group behind the likes of Iron Press, Hatch, Rolling Boil, Shuck Oyster Bar, McFadden Public Market, En Tu Boca, and Cal Shabu. They debuted the bar at the end of May 2014, along with the grand opening of the entire Packing House.
Rounding out the Blind Rabbit bar team are Head Bartender Andrew Winters, Bartender Nikki Pascua, Bar Manager Frank Bui, and Bar Apprentice Moises Garcia. Alisha Buehn handles Sommelier duties, while Lynette Le serves as General Manager. The food, finally, is the charge of Hiro Uchida, who's sort of the corporate-y chef for The Alchemists.

Inside, things are tight. It's a dimly-lit, roughly 550-square-foot space with room for about 30 seated guests I'd say (about a third of which are at the bar). There's a sort of a 1920s vibe happening, with eclectic, whimsical touches abound. Do note, however, that the place actually featured a much sparer decor when it first opened in '14.






The cocktail lists at The Blind Rabbit tend to follow a theme, and tonight's was pirate-y/tiki-ish. We had an appealing selection of 20 or so drinks, divided simply into stirred ("calm") and shaken ("storm"), and there was also a separate section highlighting absinthe. If cocktails aren't your thing, you'll also find five beers on tap as well as a handful of wines. Spirits are also available unadorned, natch. I always like to eat when I drink, and food-wise, there's a limited menu (it rotates about twice a year) that's made in the same kitchen used for The Iron Press and delivered via dumbwaiter. The dishes tend to be straightforward, with the signature item being the duck confit mac 'n' cheese (and burger, to a lesser extent). Click for larger versions.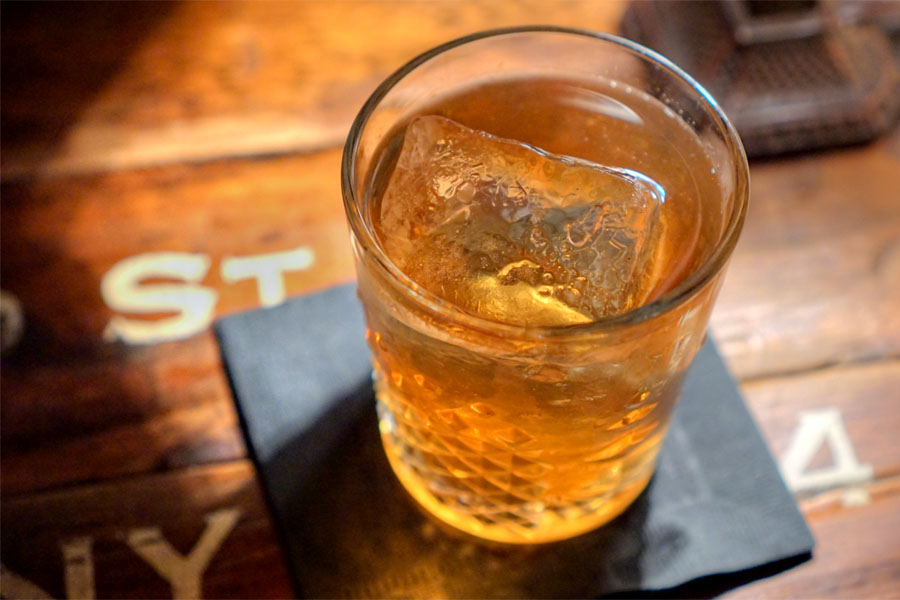 The Fearsome Pirate Frank [$14.00]
| rye, amaro, mezcal, green chartreuse, cardamom & mole bitters
We began with a cocktail named in honor of Frank Bui. The drink showcased aromas that were fruity, almost apple-y, with a cardamom-fueled spice. On the palate, I got sweet, tropical notes along with more spice, herbaceousness, and a prickly booziness on the back end. A promising start.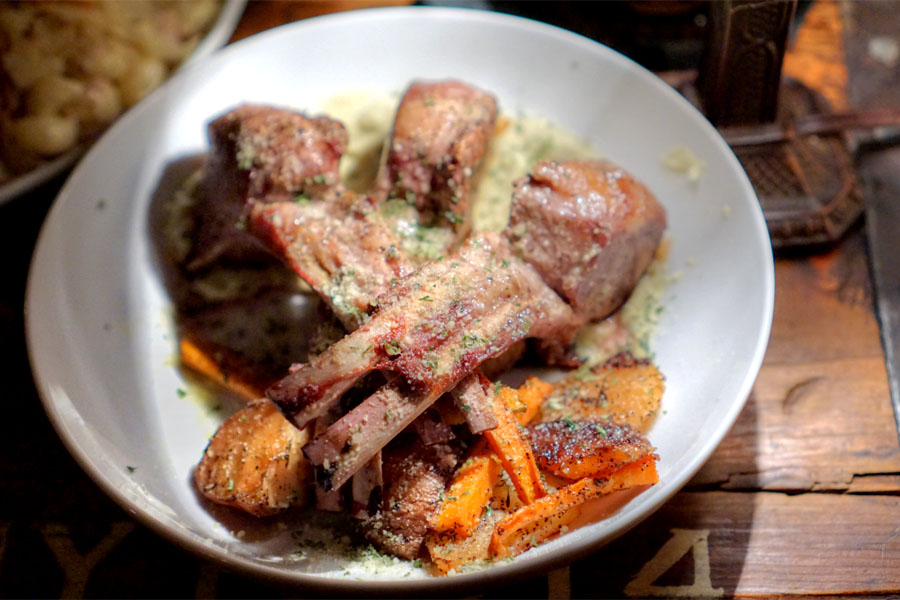 Seared Lamb Chops [$20.00]
| rosemary lemon-marinated lamb, heirloom cauliflower purée, roasted red bliss potatoes, carrots in a ras el hanout honey glaze, topped with garlic-parmesan
Lamb chops were a pleasant surprise, arriving tender, juicy, and superbly seasoned. A joy to eat, especially with the roasted potatoes, though I wasn't nearly as keen on the puréed cauliflower.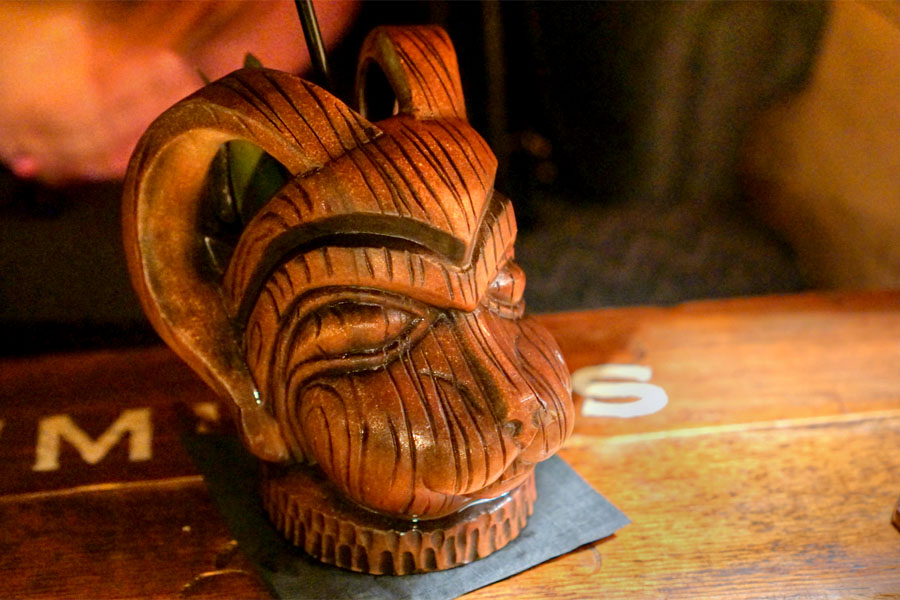 The Five Spices of Death [$16.00]
| aged rum, smith & cross, absinthe, black strap rum, pineapple, grapefruit, chinese 5 spice, lime, barrel aged bitters
We made sure to sample what's deemed "the official tiki drink of The Blind Rabbit." It fit the bill nicely I have to say, with its balance of fruit and sweet, cinnamon-y spice beautifully finished by the familiar, almost savory flavors of
wu xiang fen
. Easy drinking, with the liquor very well hidden. Note, also, the schmancy limited edition tiki mug, which was created by Doug Horne and is actually available for purchase.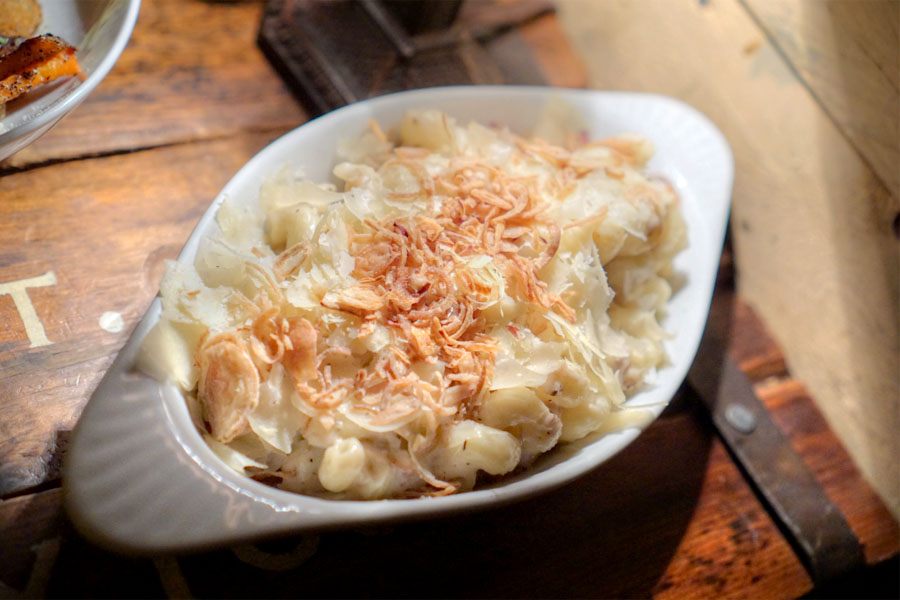 Duck Confit Mac & Cheese [$15.00]
| shredded duck confit, three cheese béchamel sauce, truffle essence
The mac was tasty, the pasta coming out well-textured, delightfully cheesy, and smartly accented by some distinct garlicky notes. I will say, though, that I really didn't get much from the duck, nor the truffle.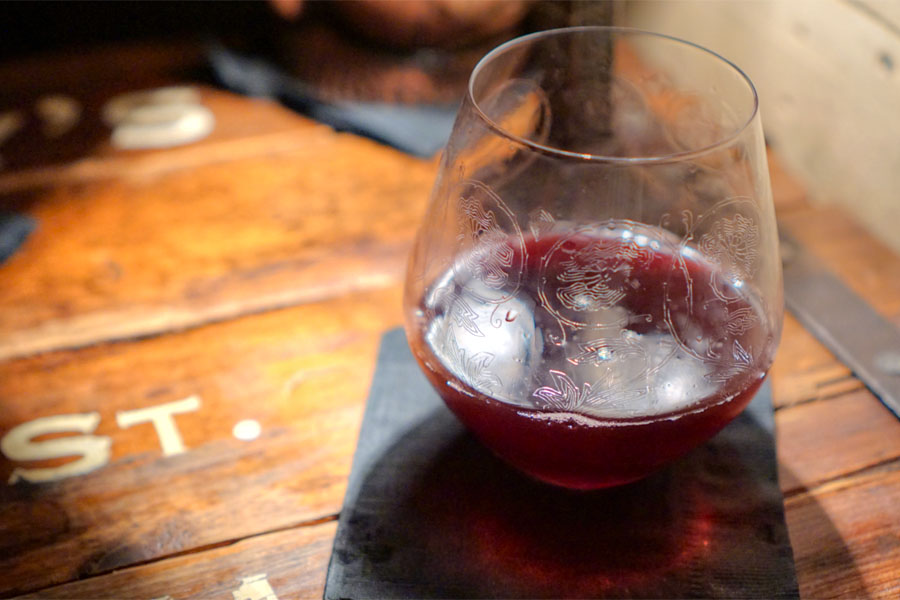 Port of No Return [$14.00]
| red wine, bourbon, benedictine, amaro, creme de cacao, maple syrup, mole & apple bitters
An uncommon marriage of red wine and bourbon made for my favorite cocktail of the evening. Wonderfully aromatic nose brimming with smoked wood and backed by a wine-y sweetness. The palate, meanwhile, was super smooth, displaying more vinous character and a restrained sugariness, along with nuances of smoke, whiskey, and light herb. With time, the drink displayed more of its booziness, as well as a pronounced vegetal element on the back end.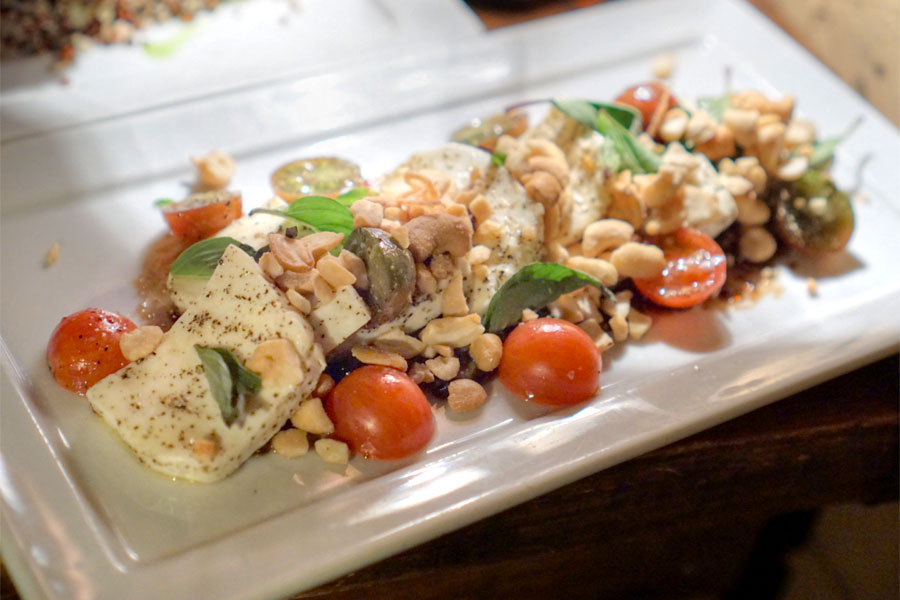 Mozzarella & Thai Basil Salad [$9.00]
| heirloom baby tomatoes, fig balsamic, cashew topping
A take on the
insalata Caprese
worked, delivering classic flavors augmented by the nutty crunch of those cashews.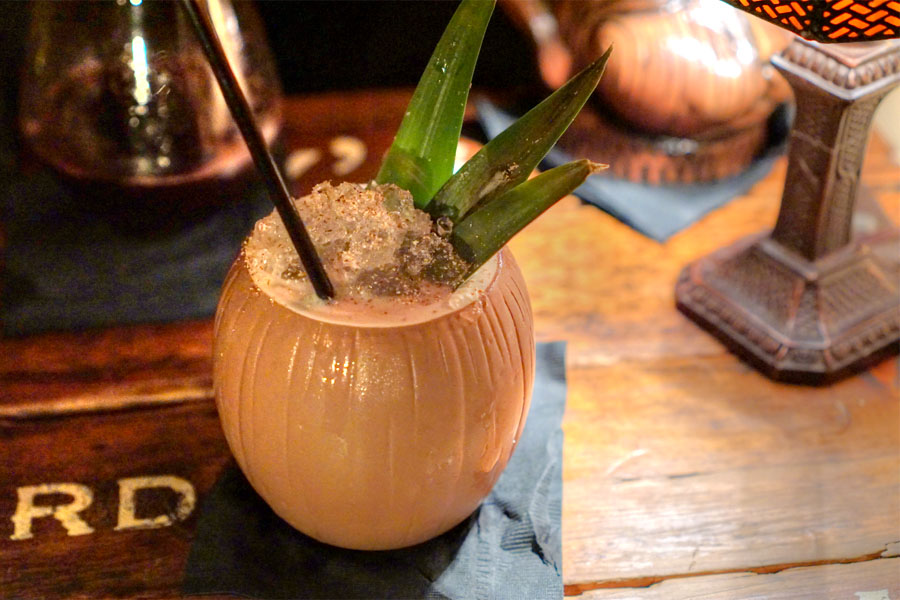 Sucking the Monkey [$13.00]
| coconut & spiced rum, young coconut water, lime, pineapple, orange flower water
This next cocktail went down easy for sure. Think super smooth, sweet, coconuty flavors, accented by a hint of floral and citrus, with very little heat. As the drink warmed, I got a nice nuttiness on the finish that really worked for me.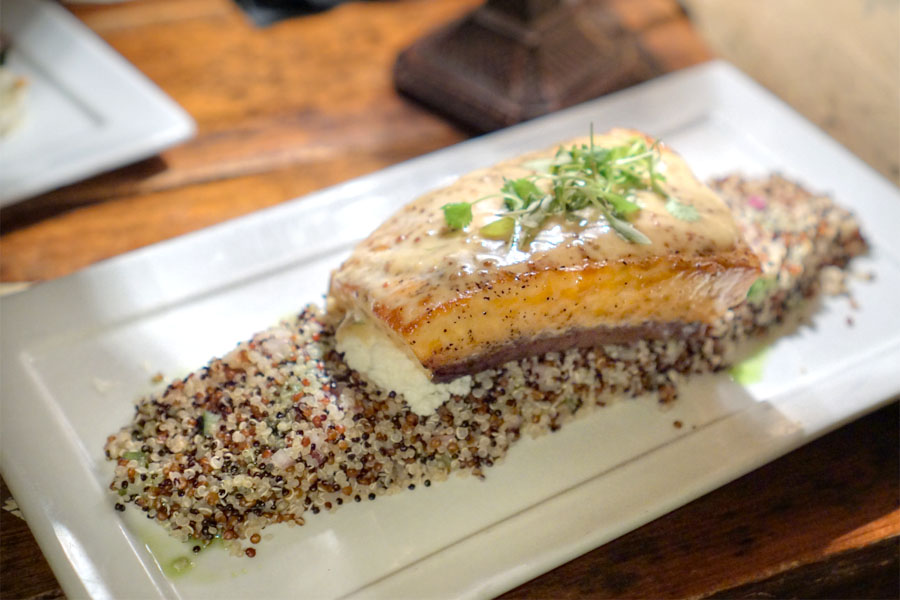 Seared Salmon [$18.00]
| chilled quinoa, cucumber salad, dill, mint, bell peppers, micro cilantro, ricotta
Our final dish hit the mark as well. The salmon itself showed off a nice cook (i.e. it was still slightly rare), and worked perfectly with the brightness from the dill and mint. Great contrast and texture provided by the quinoa, too.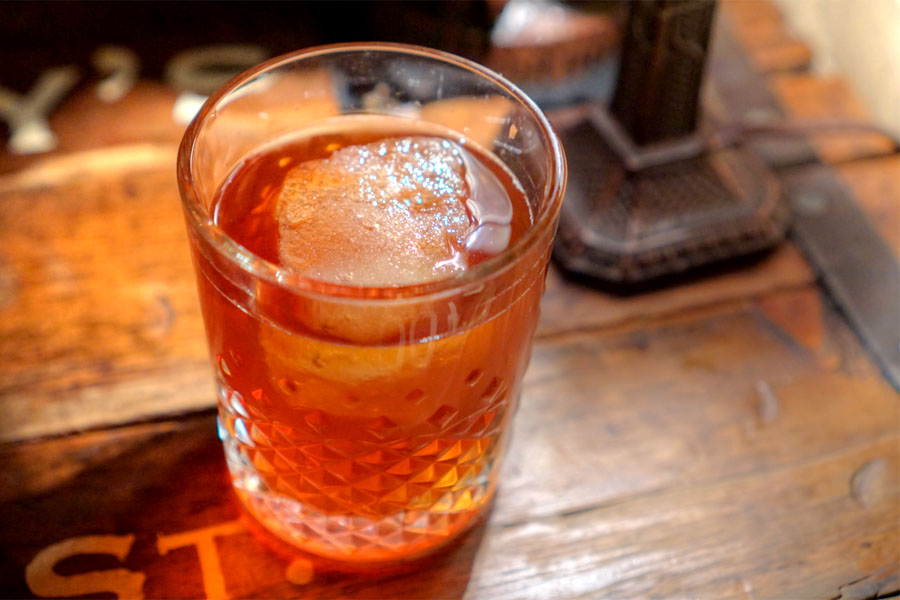 Black Tuesday [$18.00]
| bourbon, amaro, aperol, coffee liquor, fernet branca, chocolate bitters
The last cocktail we had sort of worked as dessert. Nose was of strong, fragrant coffee intertwined with the bittersweetness of Aperol and a trace of fernet. The taste brought more coffee, chocolate, and dark fruit, ending with a lingering vegetal bitterness.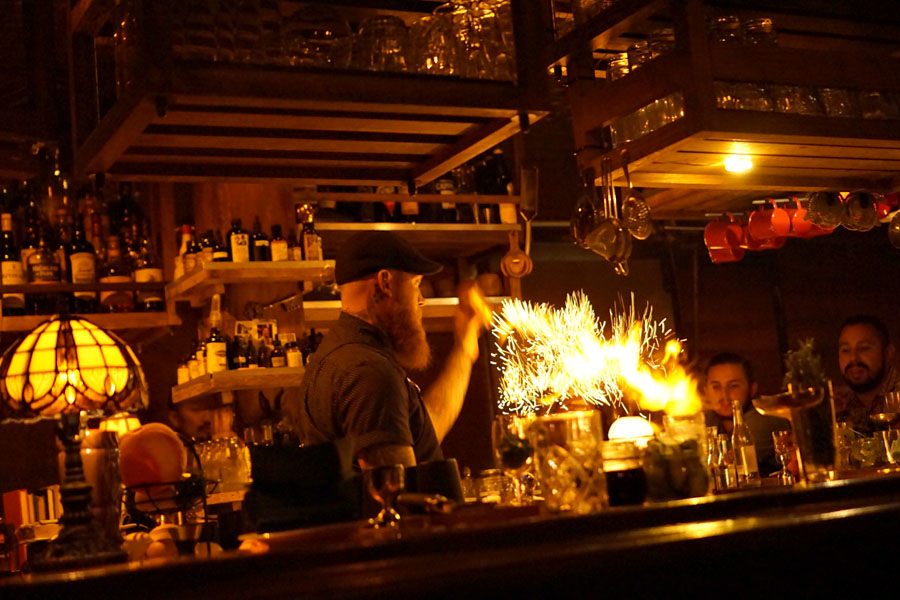 Some pyrotechnics at the bar, courtesy of Andrew Winters.
As expected, the bar served up some great cocktails, and I wish I could've tried more of the menu. This was actually my first time having food here as well, and I was pretty satisfied by it, especially since the cooking isn't really the focus. The Blind Rabbit is sort of an "essential" OC spot in my book, so check it out if you haven't already. As for what's next, apparently the team is working on a new restaurant that brings together Asian eats with tiki drinks, so that's something to look forward to coming up.