Dialogue (Santa Monica, CA)
Dialogue Restaurant
1315 3rd Street Promenade, Santa Monica, CA 90401
www.dialoguerestaurant.com
Wed 09/27/2017, 09:15p-12:15a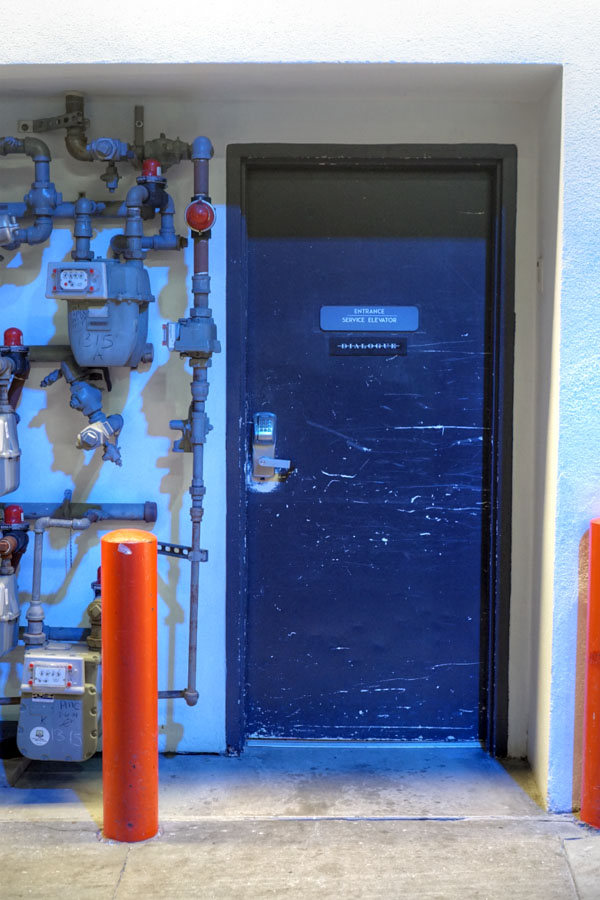 In terms of progressive, tasting menu-only, "destination" dining, Los Angeles traditionally hasn't been well-represented. However, 2017 has seen the emergence of a new entrant in that arena: Dialogue, which comes to us courtesy of Chicagoan and
Alinea
Group vet Dave Beran. For this project, the Chef has partnered up with Michael Simkin (a producer at Zac Efron's Ninjas Runnin' Wild Productions), as well as other members of the Simkin clan (it's a family affair!). Given the lofty aspirations of Beran and his team, I absolutely had to prioritize a visit.
About the Chef
: David Beran was born in Ashland, Wisconsin in 1981, and spent many of his younger years in Paw Paw, Michigan and Fayetteville, a suburb of Syracuse. During high school summer breaks, he got his first job in the industry, washing dishes and cooking breakfast at Cathy's Kitchen in Paw Paw (near the home of his mother Sheryl). Curiously, it was also during his sophomore year of high school that he became vegetarian, a phase that lasted seven years and included stints of veganism. In 1999, Beran started earning his undergrad degree at Lake Forest College, majoring in business with minors in psychology and philosophy. He played hockey during this period, and went on to coach the women's team after injuring his knee. His father Bradley taught hotel and restaurant management at Syracuse University, so during breaks from school, he would go with his dad to the National Restaurant Association show in Chicago, where he got introduced to some of the City's top eateries.
One summer, Beran got a job at Latitude, a restaurant close to his grandmother's home in Bay Harbour, Michigan, and it was here where he began to get serious about cooking. After finishing college in 2003, he wanted to go to culinary school, but couldn't afford it, so he started looking for entry level positions in Chicago. He eventually landed at Michael Kornick's MK and quickly became a tournant. After a year-and-a-half, he was asked to be sous, but decided to leave. He then went to Rick Tramonto's Tru, arguably the City's best restaurant at the time. Beran stayed for another year-and-a-half, then, at the recommendation of a colleague, emailed Grant Achatz for a position at Alinea. He got the job, obviously, and started at the restaurant in June 2006, which at the time was under the supervision of CdC Curtis Duffy (who would eventually leave and open Grace). He was a food runner for a month, then worked as cook for seven months and a floater for six months. In 2007 he became sous, and in '09 was promoted to Chef de Cuisine, replacing Jeff Pikus.

Beran stayed at Alinea until January 2011, when he left to become Exec Chef at Achatz and Nick Kokonas' groundbreaking Next. He was largely given free rein of the ever-evolving restaurant, and was rewarded by James Beard with a "Best New Restaurant" win and a "Rising Star Chef of the Year" nomination in 2012. Beard returned with a "Best Chef: Great Lakes" nomination in 2013, and delivered a win in 2014. 2014 also saw an "America's Best New Chefs" nod from
Food & Wine
, as well as the marriage of Beran and Jamie Schneiter. Despite the accolades, the Chef departed from Next in April 2016 and moved to LA. After scoping out the scene for a bit, Beran wound up running things at
Wolfgang Puck Test Kitchen
. However, things really started to get going with Dialogue at the start of this year, and he left Puck's side in early June.
The location of Dialogue, inside The Gallery Food Hall in a tourist-y part of SaMo, is curious, and indeed, the restaurant was initially slated for a Downtown debut. What happened apparently was that Beran was approached about the location through a friend, who initially wanted him to do a sandwich shop or another casual concept. The Chef, on the other hand, felt that a test kitchen with a temporary dining facility would be more appropriate. As construction moved forward though, he decided to change direction (basically, he didn't want to deliberately limit himself by making it temporary), and turned the space into a proper restaurant. Dialogue, thus, grand-opened on September 5th.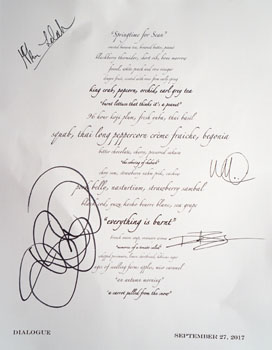 There's only one menu on offer, a 21-course,
kaiseki
-inspired affair that's designed to be a progression through the seasons (spring-summer-fall). Tickets range from $175 to $210 (not inclusive of 10.25% tax) depending on the desirability of the reservation time (ours were $205), and are available via Resy (and not
Tock
, surprisingly). Note that parties larger than two are usually not allowed at the bar, and so given that we were a group of five, we were considered a private event and thus had to add on a reserve wine pairing, which was another $175 per head. Normally, there'd also be a mixed beverage pairing available at $125, and in addition, you'll find a small wine list as well as a few non-alcoholic options.
Also of interest is the actual text on the menu--larger font for larger courses, and if you turn the menu sideways, a sound wave-like ebb and flow--which recalls the similar sort of typographical schema they had at Alinea. Signatures on the menu include: Chef Beran, Sous Chef Matthew Kim (
71Above
,
Mozza
, Next, Trio), Pastry Chef Daniel Song (NoMad, Next), and McKenna Lelah (Mozza,
Arc Food & Libations
). Click for a larger version.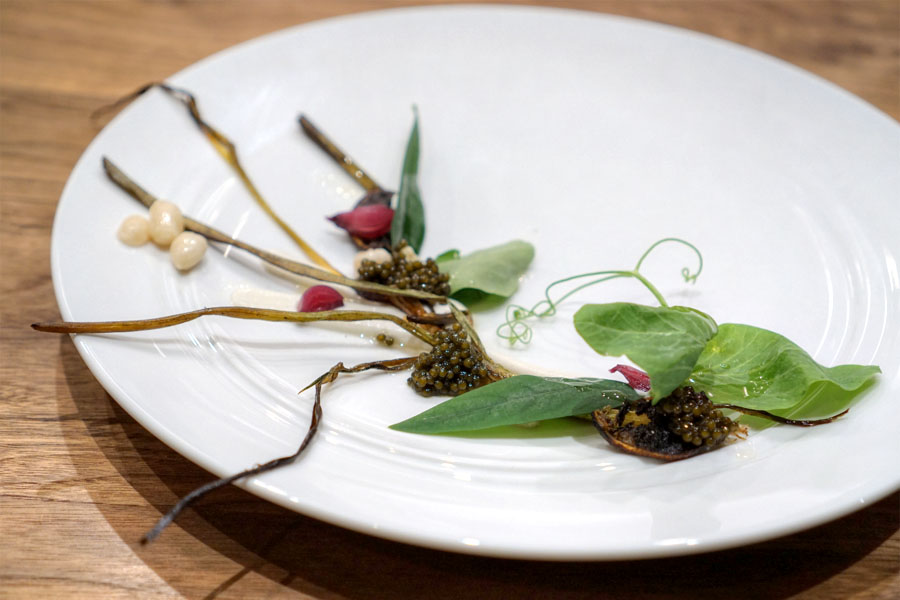 1: "Springtime for Sean"
Champagne JL Vergnon, Confidence, Grand Cru, Brut Nature, 2009
Our meal commenced with a somewhat disconcertingly-plated dish of osetra caviar, peanuts oiled in white peanut butter, pea tendrils, and charred scallions, which I tried, not entirely successfully, to twirl around and eat like pasta. Each bite was slightly different, but the main theme for me was the back-and-forth between bitter char and the creamy, nutty, almost hummus-esque nut butter, the entire interaction punctuated by bursts of brine from the caviar. The finish conveyed a lingering sourness, and I appreciated the texture provided by the peanuts. The dish seemed to really draw out the apple-like, malic sweet-tartness from our paired Le Mesnil-sur-Oger
blanc de blancs
, which previously had shown more of a dry, toasty character. A strong start.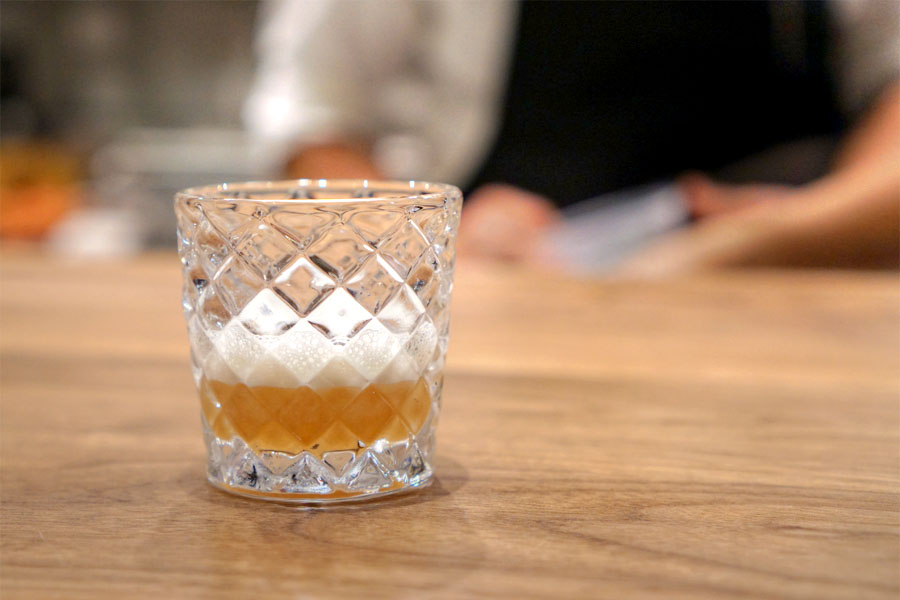 2: roasted banana tea, browned butter, peanut
Champagne JL Vergnon, Confidence, Grand Cru, Brut Nature, 2009
A faceted shot glass held roasted banana vinegar with a topping of peanut and brown butter. The aromas here went in a tart, pungent direction, which belied the tea's soft, creamy palate, imbued with an immensely satisfying sweetness from the brown butter and banana. A tad nostalgic I'd say, and I even remember commenting that I wanted a milkshake flavored with this stuff.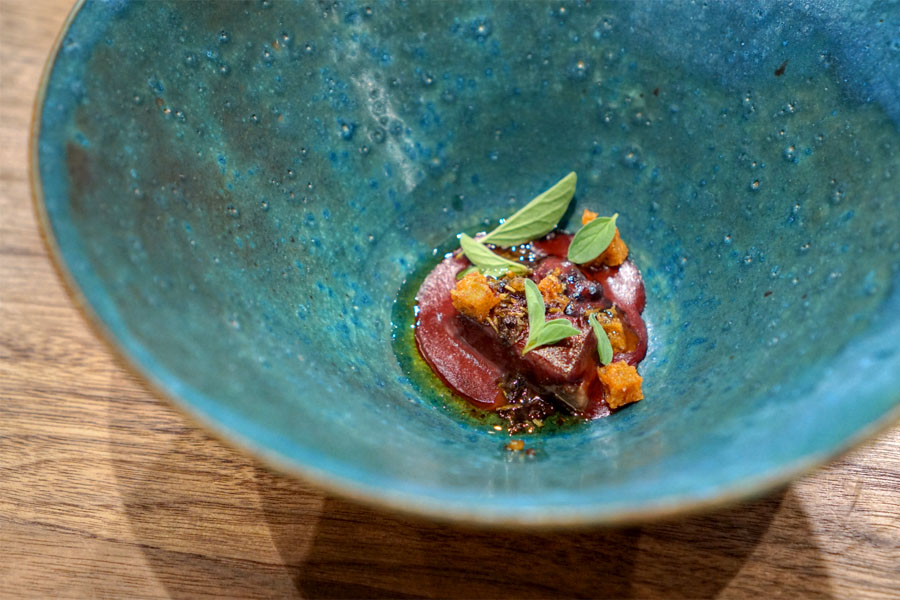 3: blackberry thermidor, short rib, bone marrow
Champagne JL Vergnon, Confidence, Grand Cru, Brut Nature, 2009
Short rib was accompanied by a bone marrow vinaigrette incorporating a housemade blackberry-red wine drinking vinegar. Flavors were rich and deep, with classic red wine nuances contributing to a definite coziness. Diminutive croutons provided a welcomed crunch, while the greenery offered up a bit of a bracing element. The dish linked up seamlessly with our now weightier, fruitier glasses of Champagne, which had that same drinking vinegar poured in (effectively transforming it into a rosé of sorts). A curious note here is that the Chef described this as a "rewarding" course, one that serves as a counterpoint to the parade of perhaps more challenging dishes to follow. And indeed, one of my dining companions actually stated that she was reminded of Stove Top stuffing!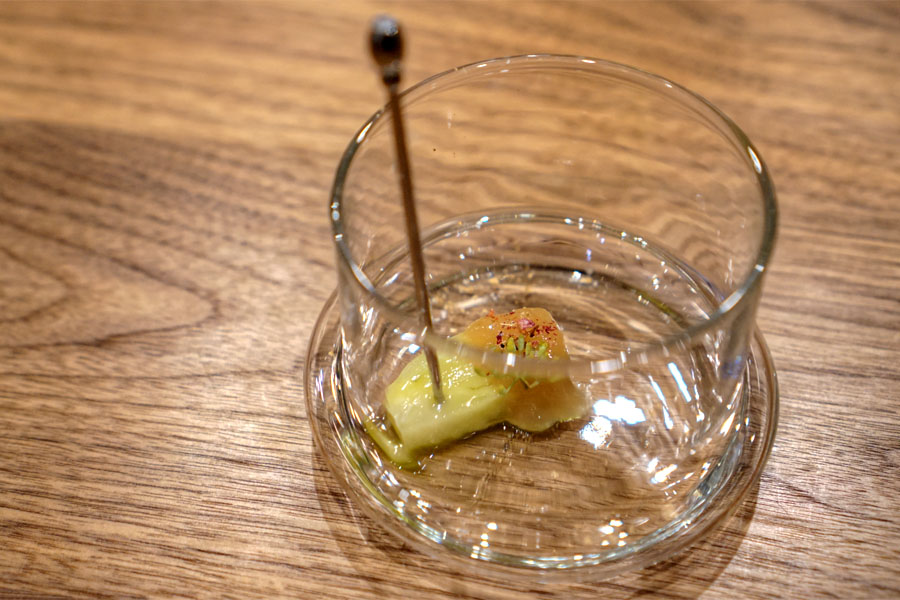 4: fennel, white peach and rose vinegar
Brooks, Amycas, Willamette Valley, OR 2016
Our next wine was an Alsace-inspired creation featuring Pinot Blanc, Riesling, Pinot Gris, Gewürztraminer, and Muscat grapes, and was meant to be the hero, with the accompanying two dishes built around it. Its nose was intensely aromatic, showcasing sweet, honeyed fruit and flowers, while the palate was light and bright, with more perfume-y, floral, fruity character joined by a touch of grassiness and a refreshing acidity. The fennel, meanwhile, ate crunchy and bitter, with a sweetness from the rose-peach combination leading to a finish filled with anise. It really seemed to bring out the herbaceous qualities in the wine.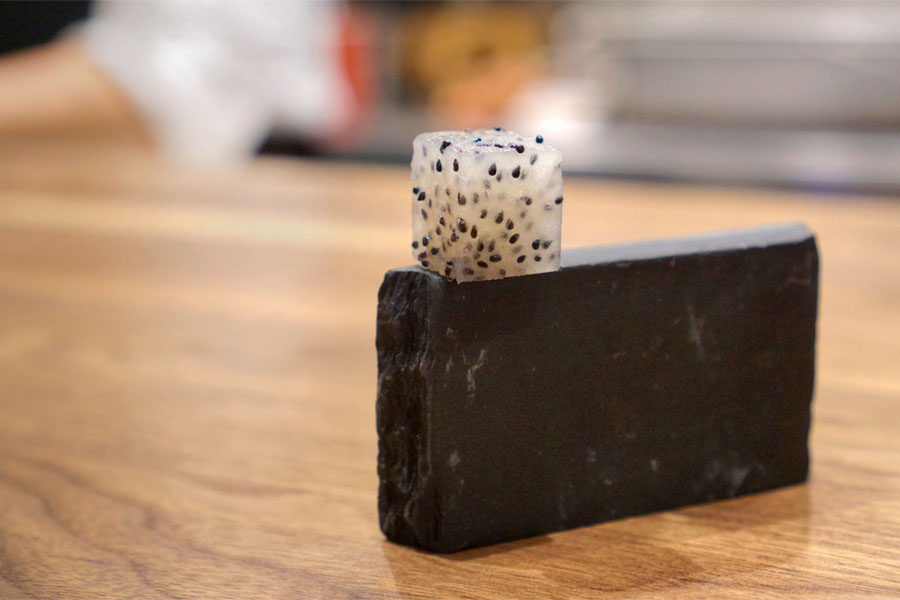 5: dragon fruit, scented with roses from early spring
Brooks, Amycas, Willamette Valley, OR 2016
A cube of dragon fruit with rose from last year was fun, floral, and fragrant, and seemed to emphasize the fruitiness inherent in the Amycas.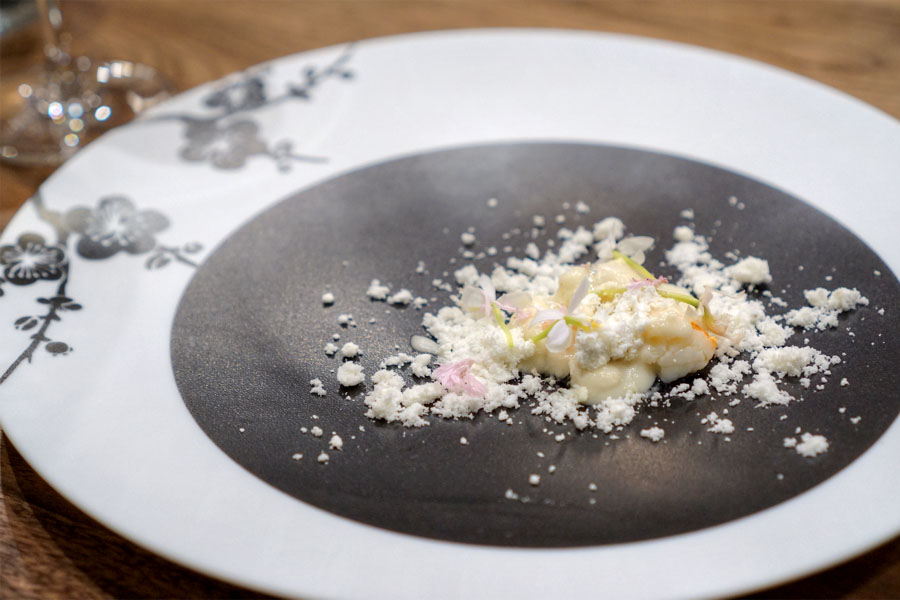 6: king crab, popcorn, orchid, earl grey tea
Chateau Beru, Montmains 1er Cru, Chablis 2014
The Chef's childhood springs always ended with roses (his grandfather had a rose garden that bloomed during that time frame), while his summers commenced with popcorn (watching movies while school was out), hence this course, meant to bridge the seasons. I got loads of buttery popcorn at first blush, which was then joined by sweet, floral nuances and light herbaceousness. For me, the crab came through more on the back end, complemented but not overwhelmed by its accompaniments. The paired Chablis, meanwhile, was delightful, with a buttery, rich, saline, yet fresh nose that mimicked some of the elements in the dish. Its palate went in a grassy, fruity direction, with some further mineral-y elements that were teased out.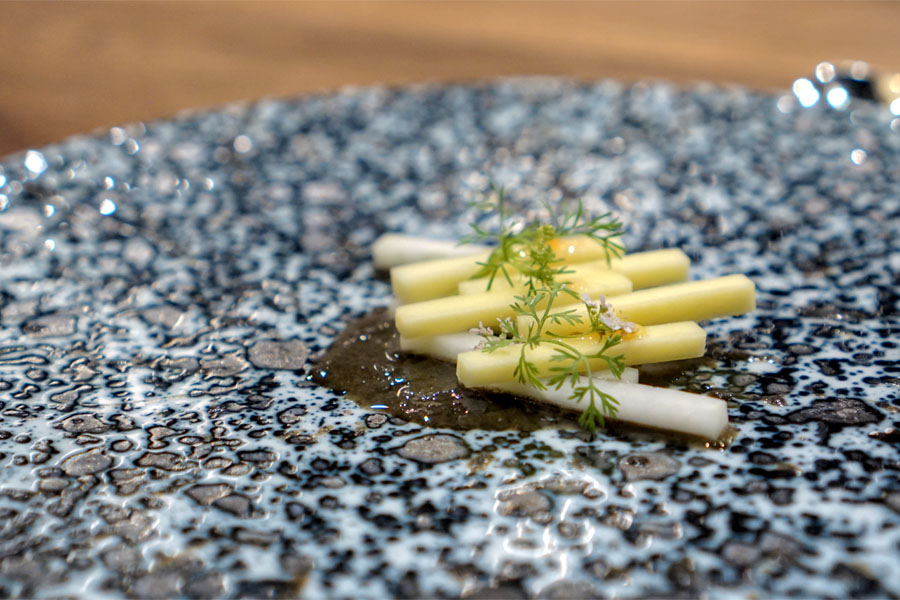 7: "burnt lettuce that thinks it's a peanut"
Pascal Janvier, Jasnieres Cuvee du Silex 2016
We moved on to a thoroughly reimagined
som tam
, comprising perfectly cut batons of green papaya and mango, crab paste, fish sauce, palm sugar, and the secret ingredient: burnt lettuce, which effectively mimicked the taste of the peanuts one typically finds. The course was one of my favorites, and really did recall the traditional Thai dish, the brightness and crunch of the papaya-mango combination proving to be the perfect stage for that funky, nutty vinaigrette. The paired Loire Valley Chenin Blanc was another winner, delivering crisp, vibrant flavors of melon, hay, and honey, as well as a stone-y minerality that was heightened by the food.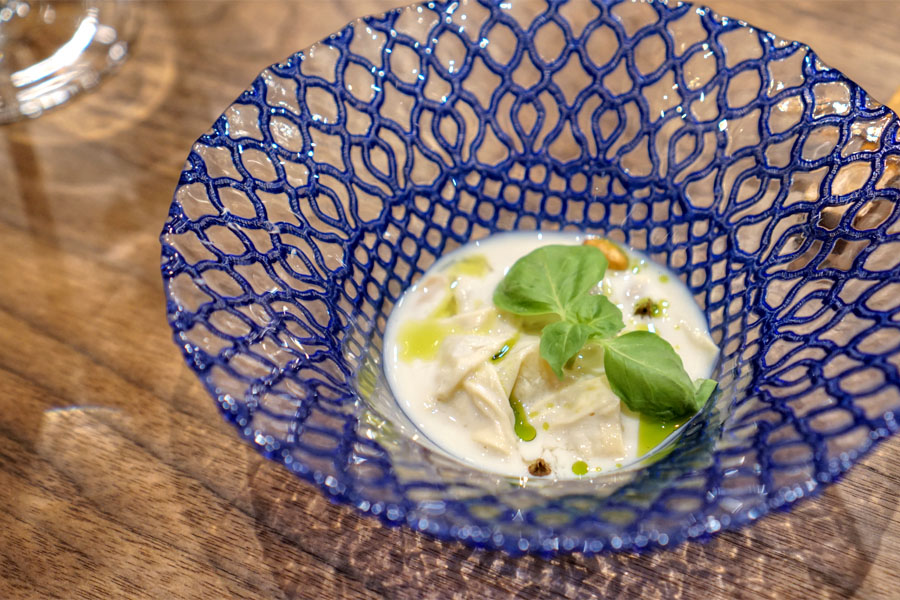 8: 96 hour koji plum, fresh yuba, thai basil
Pascal Janvier, Jasnieres Cuvee du Silex 2016
The wine also linked up like clockwork with our next course. We had here plums that were fermented with
koji
for four days, along with a vinaigrette made from the liquid of the plums, toasted soy nuts, toasted soy pudding, yuba skin, soy milk, and basil. Sweet-savory and herby notes were at the forefront, transitioning to nutty, tofu-like flavors that lingered. Beran mentioned that the overall effect was like that of Honey Smacks cereal, and he was spot on! I even got the proper texture, courtesy of the soy nuts. Another standout.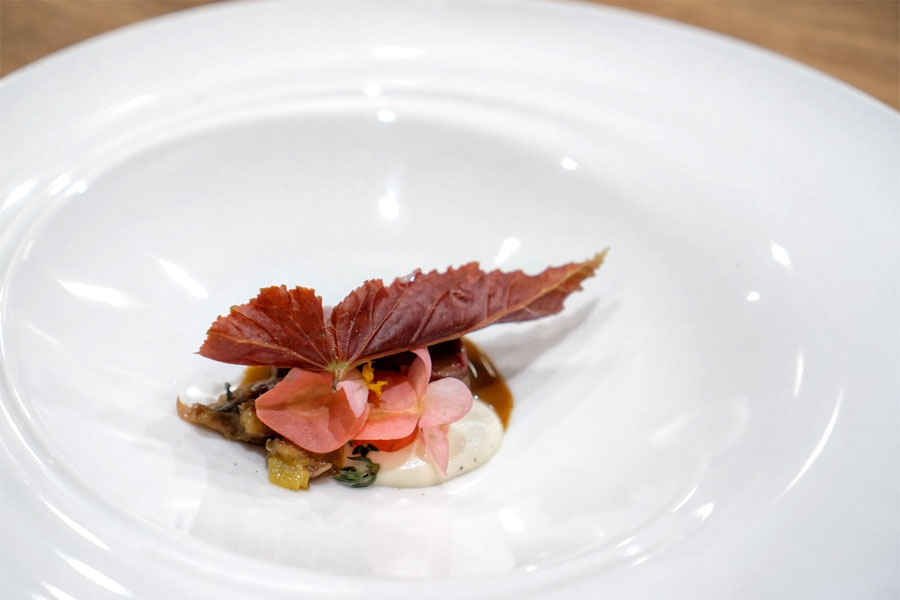 9: squab, thai long peppercorn crème fraiche, begonia
Hirsch, Pinot Noir, San Andreas Fault, Sonoma Coast, CA, 2014
The squab was another highlight, served with long pepper, plum, begonia leaf, and begonia flowers. It was about as perfect of a preparation as you could imagine, the bird coming out immensely flavorful and tender, and I especially appreciated the sharp contrast imparted by the begonia. As for the accompanying wine, I found it spicy, tart, and rich in berry flavors that became even more apparent when paired with the food.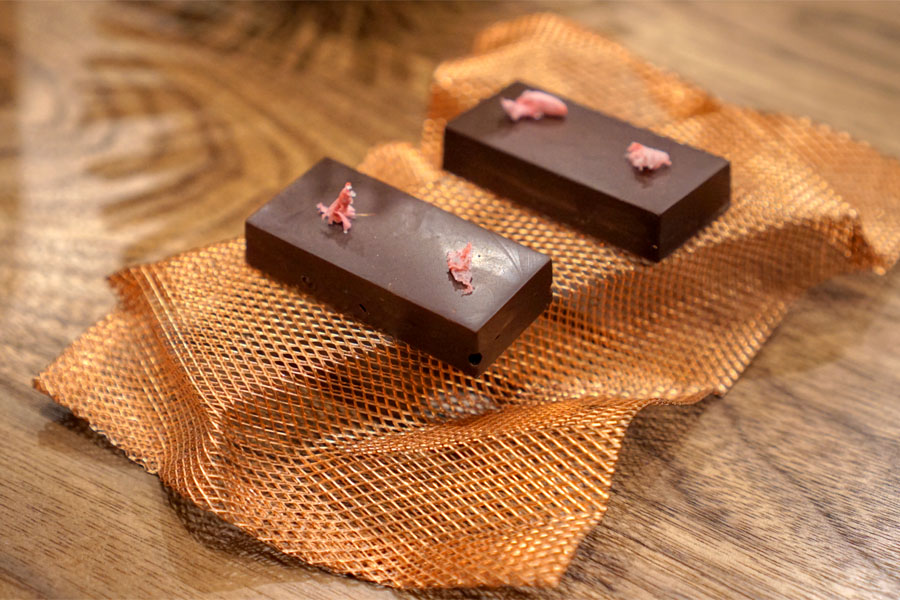 10: bitter chocolate, cherry, preserved sakura
Hirsch, Pinot Noir, San Andreas Fault, Sonoma Coast, CA, 2014
At this point we had an Alinea-style sweet interlude. Chocolate bars were crisp, brittle, featuring bittersweet flavors that matched effortlessly with fillings of salted cherry and red wine. Note the serving piece used, custom fabricated to resemble the packaging of a chocolate bar.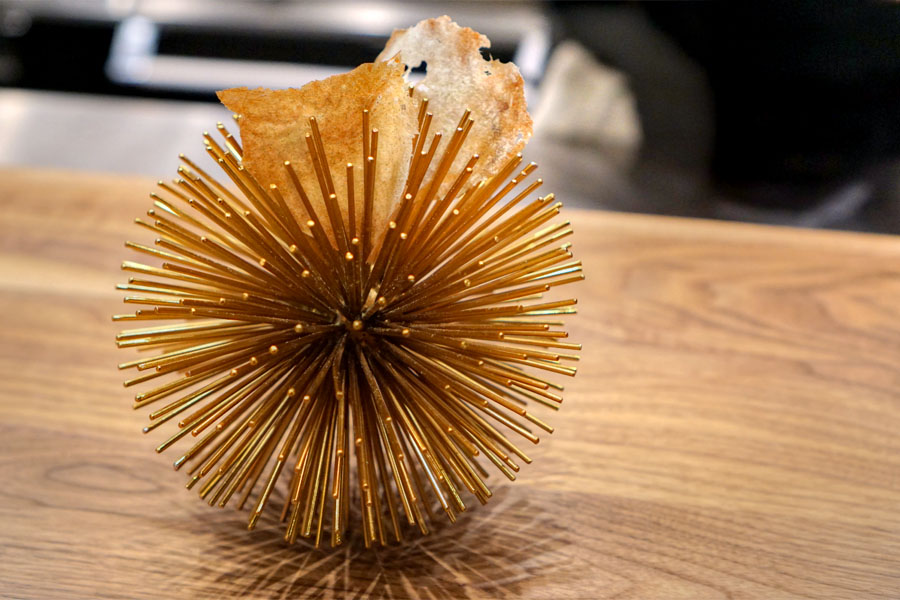 11: "the sobering of rhubarb"
Hirsch, Pinot Noir, San Andreas Fault, Sonoma Coast, CA, 2014
Following the chocolate were sweet-tart, Fruit Roll-Up-esque shards of rhubarb and yogurt that'd been dehydrated, designed to linger in your mouth and carry you into the next course.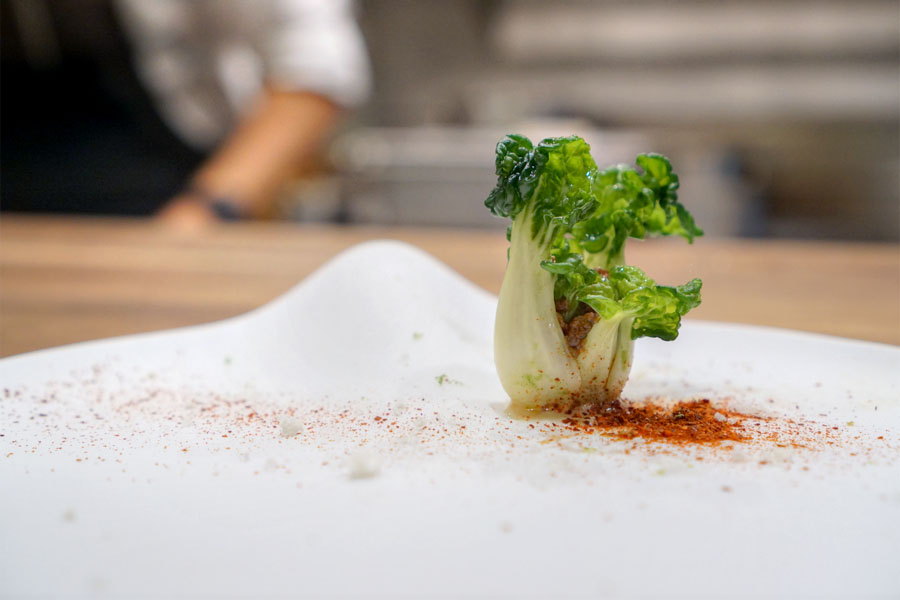 12: choy sum, strawberry nahm prik, cashew
A.J. Adam, Riesling, Feinherb, Dhron Hofberg, In Der Sangerei 2015
We continued on with the Asian theme. A crunchy stalk of
choy sum
was stuffed with a strawberry-laced
nam phrik phao
, the funky, spicy, slightly sweet sauce making for a smart counter to the light, bright vegetable. Meanwhile, a cashew purée imparted a welcomed nuttiness to the course, and I loved the additional sweet-heat provided by the powdered Korean chili and freeze dried strawberry. The Mosel Riesling that came with the course drank beautifully, its off-dry, honeyed, melon-y notes evening out the flavors in the dish. Superb.
13: pork belly, nasturtium, strawberry sambal
A.J. Adam, Riesling, Feinherb, Dhron Hofberg, In Der Sangerei 2015
Here, we had a "salad" of nasturtium, strawberry, pork belly, and trout roe. There was a very clear relationship between this course and the last. Again, the star of the show was the interaction between sweet 'n' spicy, with the piquant, puckering sambal serving as a foil to the weightiness of the pork. At the same time, the zestiness of nasturtium was a perfect accent.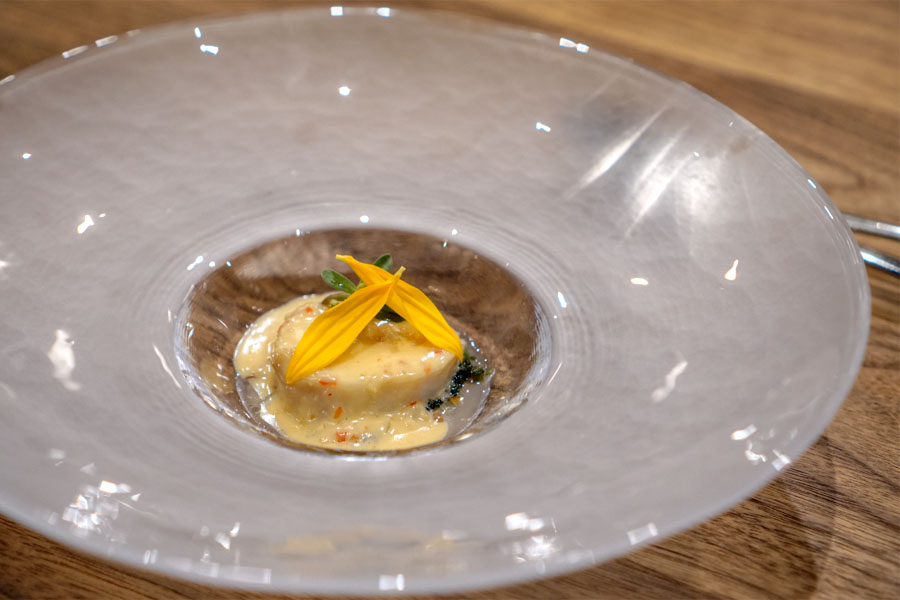 14: black cod, yuzu kosho beurre blanc, sea grape
Jolie Laide, Trousseau Gris, Russian River Valley, CA 2015
Finca Parera, Fins Als Kullons, Penedès, Spain 2016
For this course, we had a choice between a skin contact white or a red wine, and the conceit was that you'd probably think about the dish differently depending on which you chose. If going with white, you'd approach this more in a French fashion, thinking of a dish of black cod poached in
beurre blanc
. Red wine drinkers, meanwhile, would take on a more Japanese view, with the yuzu and sea grapes emphasized. I tried both wines, and I'd give a slight edge to the funky, fruity, racy, almost beer-like red, which was very friendly with the flaky fish.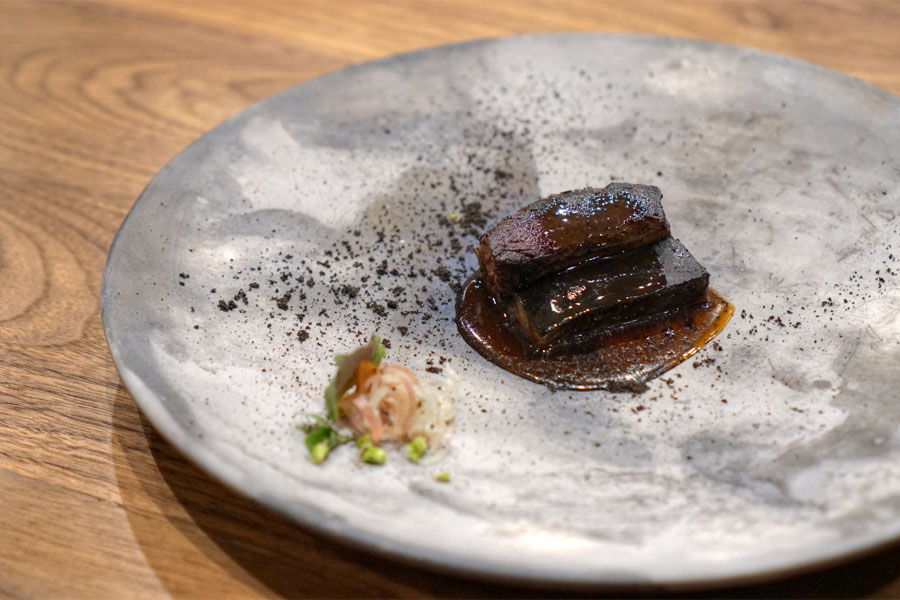 15: "everything is burnt"
Chambeyron-Manin, Cote Rotie, FR 2012
This course marked the end of summer, as the Chef's childhood summers often ended with backyard barbecues in which much of the meat was inevitably burnt. We had hangar steak, marinated for three days and then charred, with a burnt onion cream and burnt onion ponzu. That last ingredient has an interesting history: in summer 2016, Beran burned 100 pounds of onions, pressed them, stabilized the juice with salt and sugar, aged the liquid in new charred oak for a year, then added
sudachi
. Unsurprisingly, there were plenty burnt, smoky flavors at play, but they worked seamlessly with the slightly chewy steak, and I much appreciated the zippy bits of onion on the side, too. The whole effect was rustic and quite comforting, and reminiscent of the (oft failed) family cookouts I attended as a child. The dish called for a hefty wine to go along, and the paired "old school" Rhône Syrah fit the bill nicely with its heavy hits of spice, smoke, and pepper, with a anise-y edge.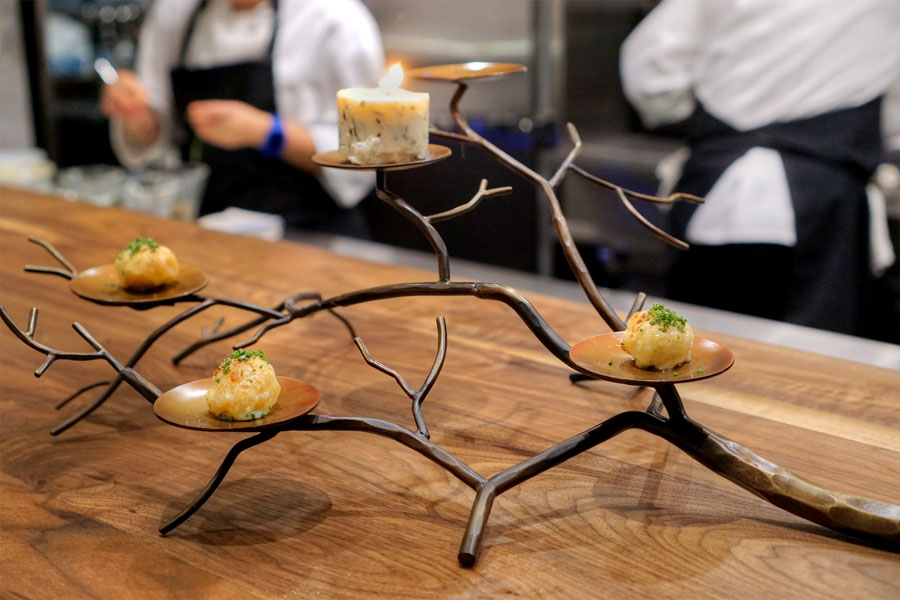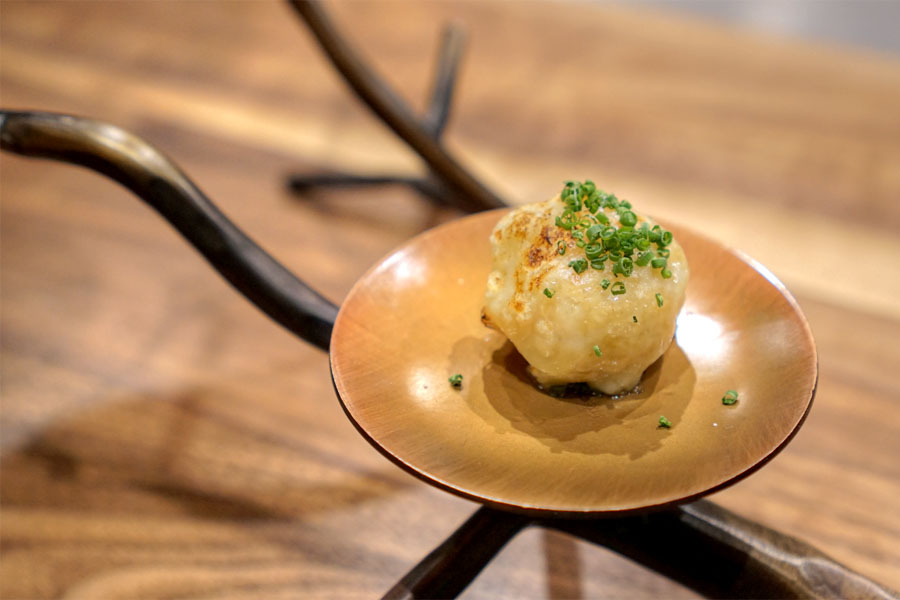 16: French onion soup, rosemary aroma
El Maestro Sierra 12 Year Amontillado, Jerez, Spain
Our next course was the only one that came with explicit instructions: eat it in a single bite, and close your mouth to contain the juice (à la Alinea's signature "Black Truffle Explosion"). Indeed, there was a pop of liquid upon mastication, one loaded with the heady, concentrated, caramelized essence of the iconic soup. Completing the course were aromatics provided by the rosemary-Crisco-soy wax candle (edible, by the way).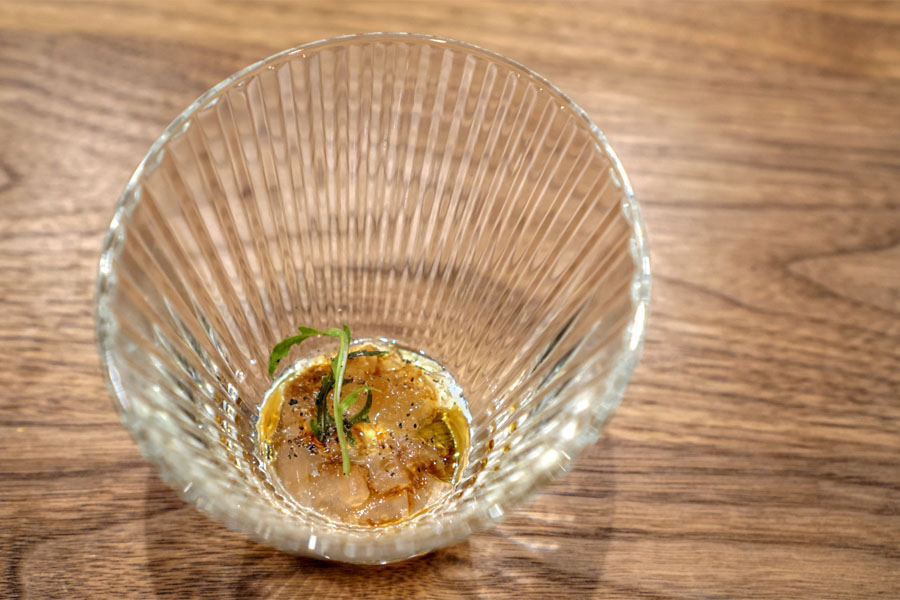 17: "memories of a tomato salad"
El Maestro Sierra 12 Year Amontillado, Jerez, Spain
For our final savory course, we had a reworked tomato salad of sorts, one ostensibly inspired by those often accompanying heavily charred steaks in Spain. If I recall correctly, it featured both fresh tomato and fermented tomato, in gelée form, along with pepper and basil. Flavors were simultaneously savory and sweet, with a great, almost puckering acidity that really lifted the dish.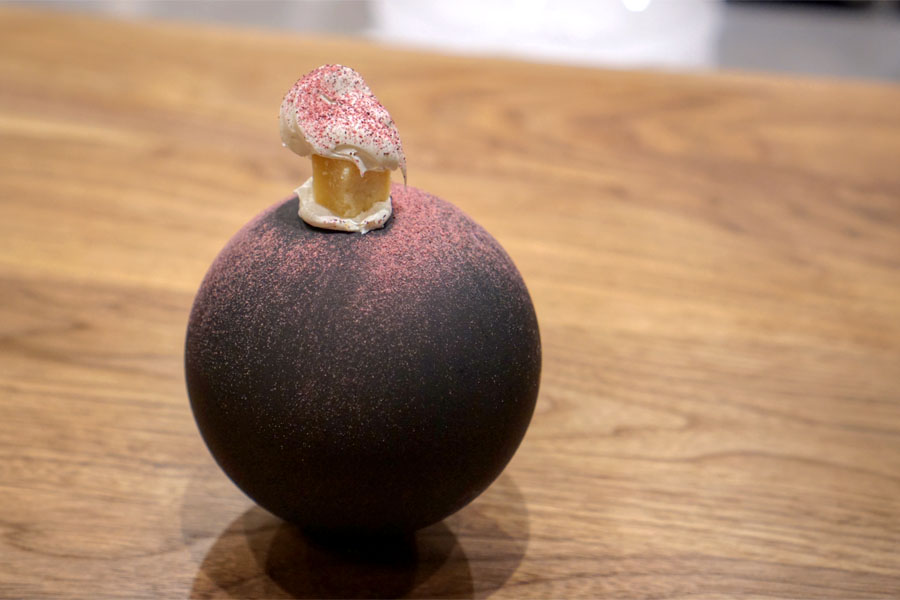 18: whipped persimmon, lemon shortbread, hibiscus sugar
El Maestro Sierra 12 Year Amontillado, Jerez, Spain
Here was hibiscus sugar, atop whipped persimmon, atop a cube of lemon shortbread, atop a sphere dusted with more of that aforementioned sugar. Another one-biter, the dense, sour shortbread worked as a complement to the sweeter nuances in the course. Make sure to lick the balls clean.
19: ages of seedling farms apples, miso caramel
Bodegas Los Bermejos Malvasia Naturalmente Dulce, Lanzarote, Canary Islands NV
Now firmly in autumn, we had a course that was actually inspired by the plate it was served on. A riff on a caramel apple (a childhood treat of mine that I never really got to enjoy as much as I wanted to), it was composed of Michigan apples that had been buried and fermented in miso for a year, miso caramel, fresh apples, white sesame "Butterfinger," sesame seeds, vanilla yogurt, and soy. Not surprisingly, I'd never had apples done like this before. They were transformed, their natural sweetness taking on an uncommon depth and united with a bevy of nutty, citrusy, herbaceous notes.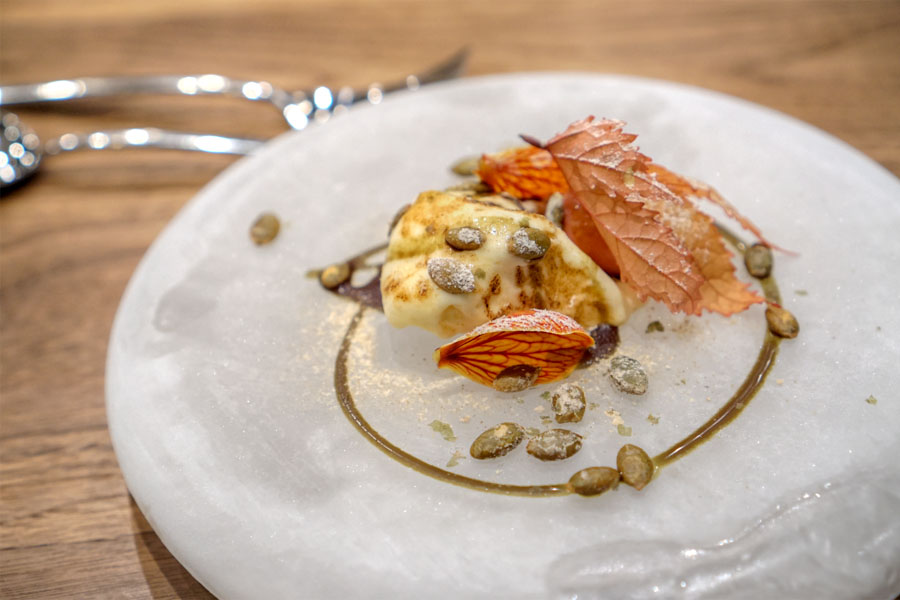 20: "an autumn morning"
Bodegas Los Bermejos Malvasia Naturalmente Dulce, Lanzarote, Canary Islands NV
A pumpkin spiced oatmeal ice cream arrived in burnt form, its cozy sweetness joined by whispers of char while pepitas added a crunchy, nutty element and the hibiscus leaves a touch of tartness to the mix. It was a smart pairing with the accompanying Malvasia and its bitter, sweet, citrusy flavors.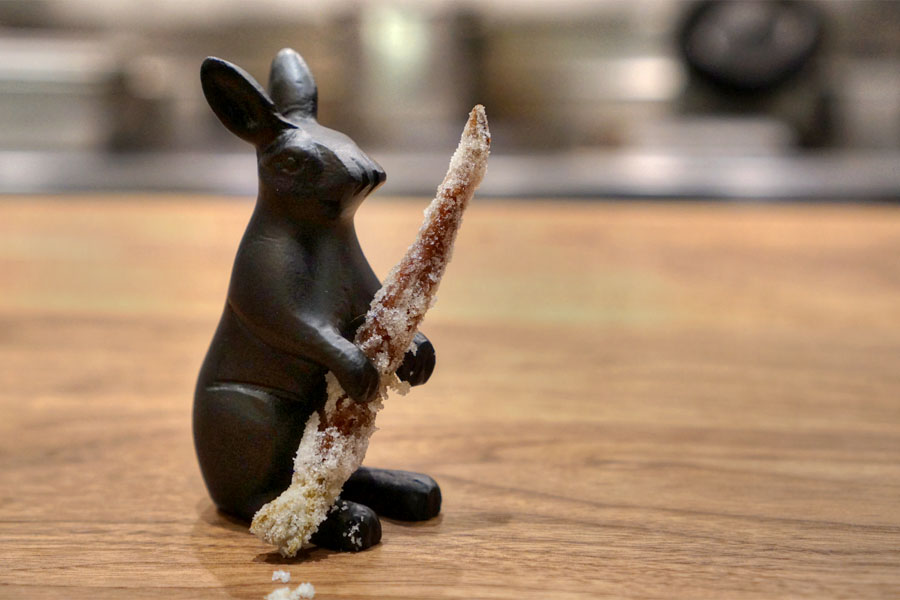 21: "a carrot pulled from the snow"
Bodegas Los Bermejos Malvasia Naturalmente Dulce, Lanzarote, Canary Islands NV
The Chef began his discussion of our final course by describing how the best carrots are those that are picked right before the frost, as they're trying to load up on sugars to survive the winter. Conversely, the worst carrots would be ones harvested when the last snow melts, since they'd be on the starchy side, and thus require significant cooking time (referencing René Redzepi's famed "vintage carrot"). Thus, we had here a carrot that'd been cooked for four hours, a process that involved tossing it in sugar, then baking it in sugar. The end result? A carrot that was dense, sticky, with a distilled sweetness and an almost "briny" quality that made for a fitting end to our meal.
There are dining experiences and then there are dining
experiences
, with Dialogue falling firmly into the latter camp. The key I think is the whole "storytelling" aspect of it all. There's a really nice progression here, an introspectiveness. You can see it in how courses reach forward and backward and tie into each other, the passages of the seasons, how there's a balance between more challenging courses and cozier ones. And yes, there was indeed a
dialogue
happening with the guests, one in which we were invited to apply our own memories and emotions to the cuisine. Elements of whimsy, and of nostalgia definitely come into play, and yeah it can be a bit cerebral, but never at the expense of deliciousness. And get this: the staff mentioned that they were "starting off slow," so to speak, and would only be pushing things further as they get more comfortable.
Jordon Sipperley's beverage pairings, meanwhile, were also amongst the most thoughtful I've encountered. The wines were lovely in their own right, but shined even further when matched with the food--a real collaboration going on. Service, directed by Ann Hsing and Jeremy Overby, was efficient but never harried, formal enough without being stuffy. I really don't have much, if anything, to complain about. If Michelin were to ever return to LA, I'd expect no fewer than two stars to be bestowed. In fact, our dinner tonight was superior to a number of meals I've had at three-star restaurants.
As for what the future holds, word is that Beran and the team are working on a second project, one that's going to be much larger, much more casual. Initially, Dialogue was supposed to be situated inside this other restaurant, but obviously that didn't pan out. Location-wise, the Chef lives in Downtown and is apparently partial to the Arts District, so that area is probably a frontrunner. And even for Dialogue itself, there's the possibility that it may move to a different location, which wouldn't surprise me. I'm expecting big things.