Apotheke (Los Angeles, CA)
Apothéke Bar
1746 N Spring St, Los Angeles, CA 90012
323.844.0717
www.apothekela.com
Fri 03/09/2018, 08:05p-09:15p

We were finally able to get a reservation to Majordomo, but it was a late one, 9:15, so we made it a point to stop by the new apothecary-inspired cocktail bar Apotheke for some pre-dinner drinks. The original Apotheke debuted in September 2008 in New York, and is the work of siblings Heather and Christopher Tierney. This LA outpost, meanwhile, opened on January 11th in a former warehouse in an out-of-the-way location in the north-eastern part of Chinatown, a stone's throw from the Los Angeles River.

Aesthetically, the space is very similar to that of the first Apotheke; note the intentional lack of seating at the bar. We arrived right at opening, so we were easily able to snag a corner table. Otherwise, you'll probably want to try for a reservation.

New for LA is an outdoor area with its own bar and patio seating.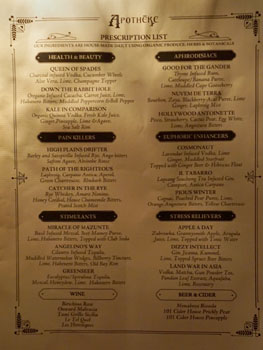 The cocktail menu is called a "prescription list," keeping with the place's theme. Curiously, no prices are listed, but I will tell you that all the drinks are priced at $16 (the new normal for LA it seems). No food is served. Click for a larger version.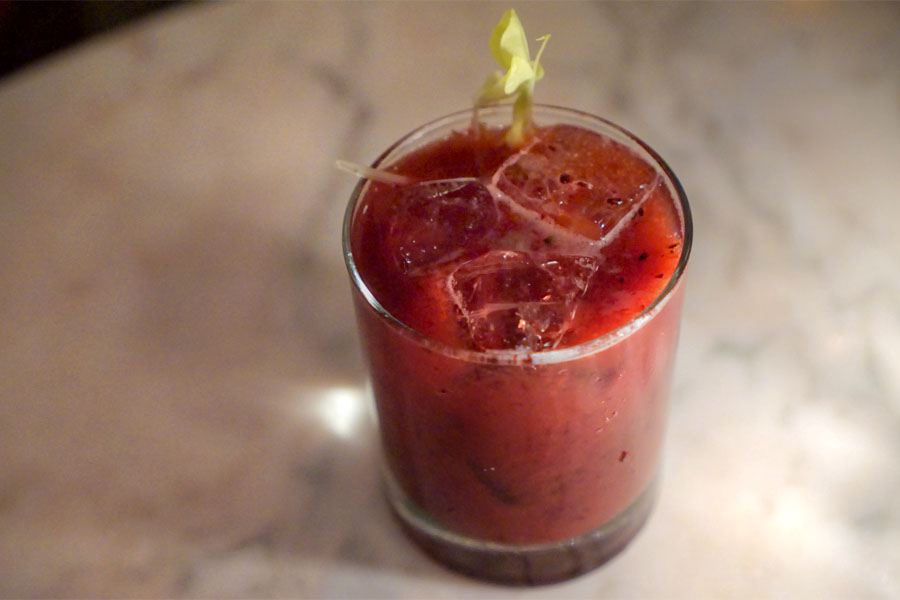 Nuvem de Terra [$16.00]
| Bourbon, Zaya, Blackberry-Acai Puree, Lime, Ginger, Laphroaig Mist
We began with this colorful cocktail. Unsurprisingly, I found it fruit-forward at first, but with astringent, vegetal notes creeping in later. The drink also displayed a cool, herbaceous quality that I enjoyed.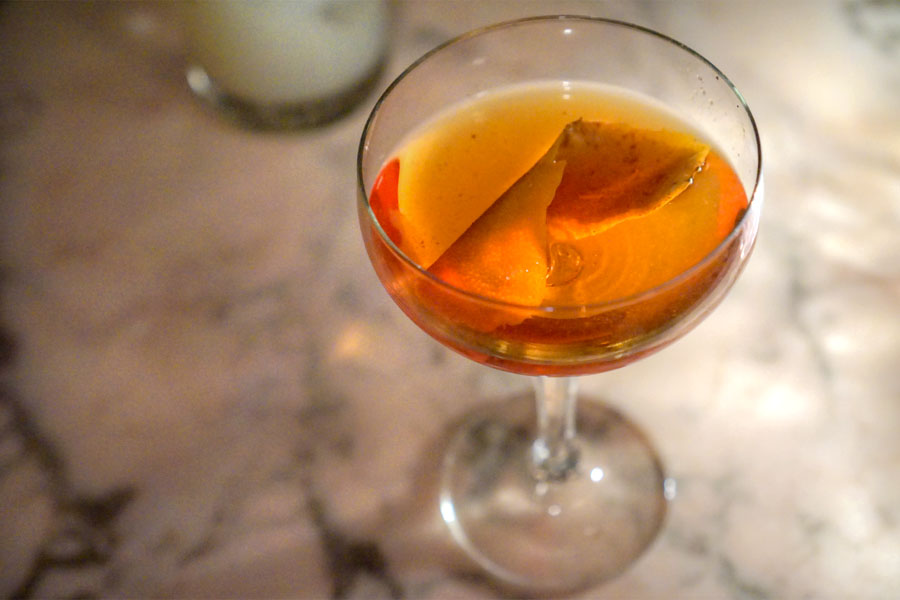 High Plains Drifter [$16.00]
| Barley and Sarsaparilla Infused Rye, Ango bitters, Saffron Agave, Absinthe Rinse
This cocktail had an unexpectedly muted scent, with light vanilla and heat. The taste, though, was much more assertive, with an overall savoriness joined by boozy rye spice, medicinal and grassy nuances, not to mention a sort of nutty character.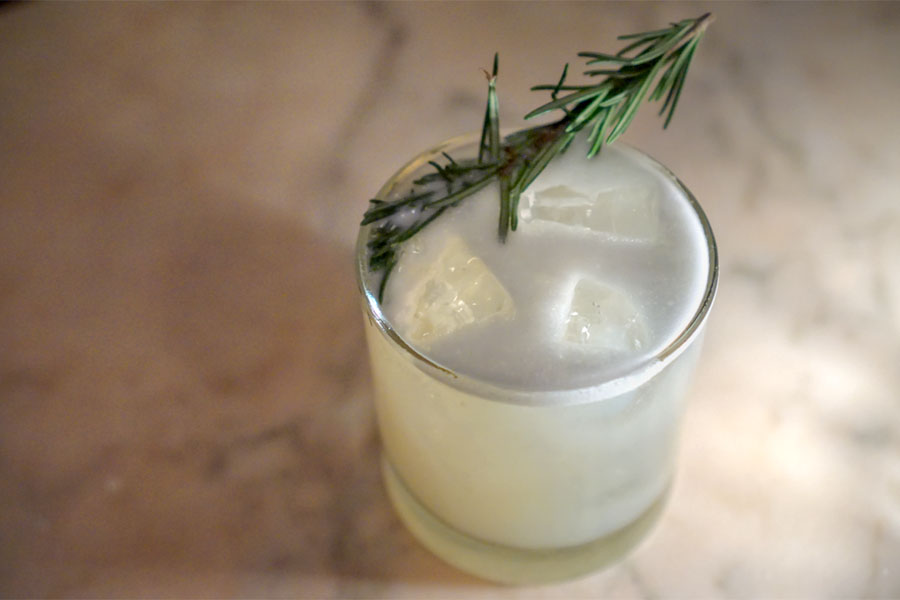 Land War in Asia [$16.00]
| Vodka, Matcha, Gun Powder Tea, Pandan Leaf Extract, Aquafaba, Lime, Rosemary
Rosemary was all up in your nose with this next cocktail. However, the drink had a sweet, tangy, fruity palate that belied the sheer herbaceousness of the aroma, as well as a subtle touch of tea astringency on the close.
Miracle of Mazunte [$16.00]
| Basil Infused Mezcal, Beet Mamey Puree, Lime, Habanero Bitters, Topped with Club Soda
The bouquet on this one was dominated by basil and sweet mamey. Taste-wise, think smoky and fruity, with a hint of heat from the habaneros and a refreshingly fizzy mouth feel.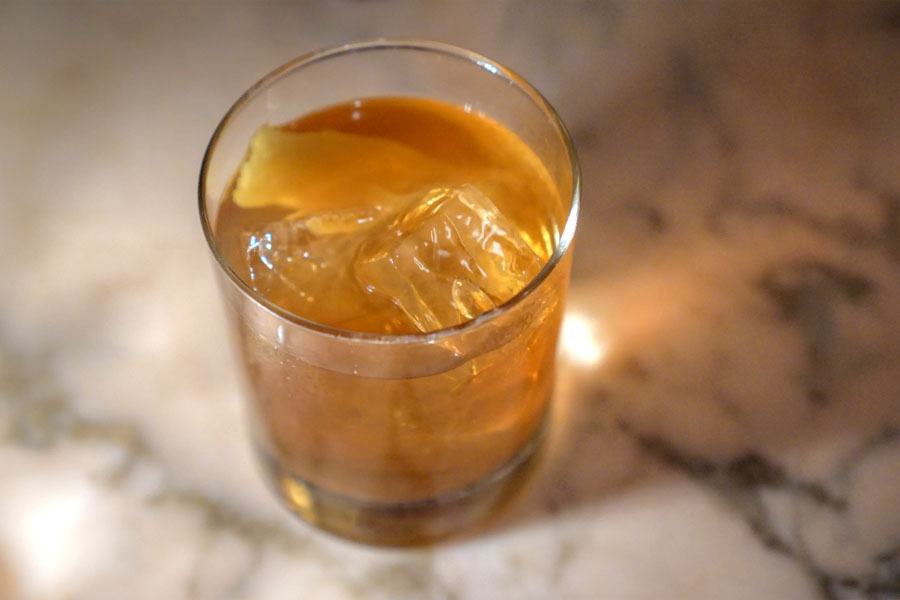 Catcher in the Rye [$16.00]
| Rye Whiskey, Amaro Nonino, Honey Cordial, House Chamomile Bitters, Peated Scotch Mist
Here we had perhaps the booziest cocktail of the night. It smelled heavily of rye spice, along with citrus and herb. The palate was definitely spirit-centric, but also displayed a lovely toffee element as well as more spice and a smidge of chamomile. I will say that I didn't detect much from the advertised scotch though.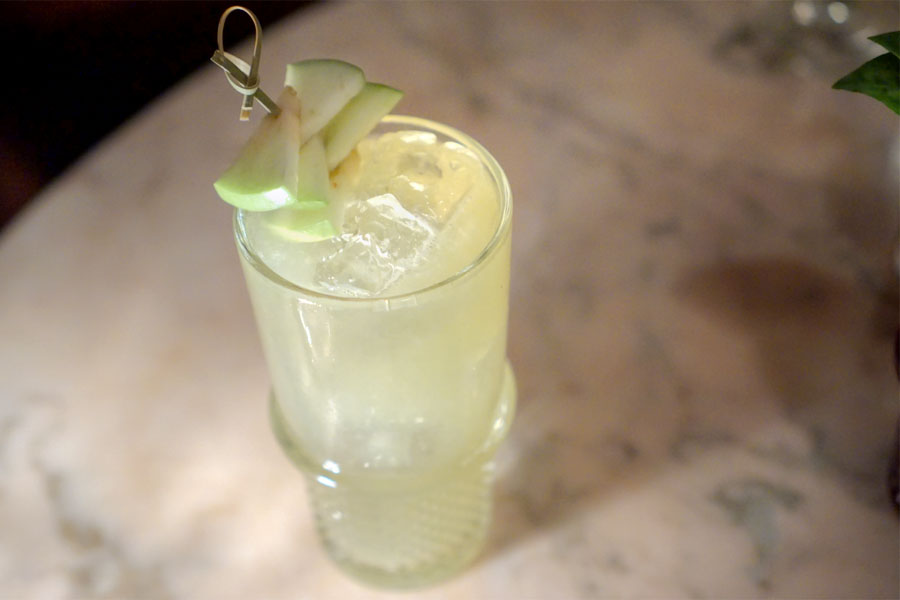 Apple a Day [$16.00]
| Zubrowka, Grannysmith Apple, Arugula Juice, Lime, Topped with Tonic Water
This was a fun one. Think juicy apple mixed with the zippiness of arugula, with nary a hint of booze. Goes down easy.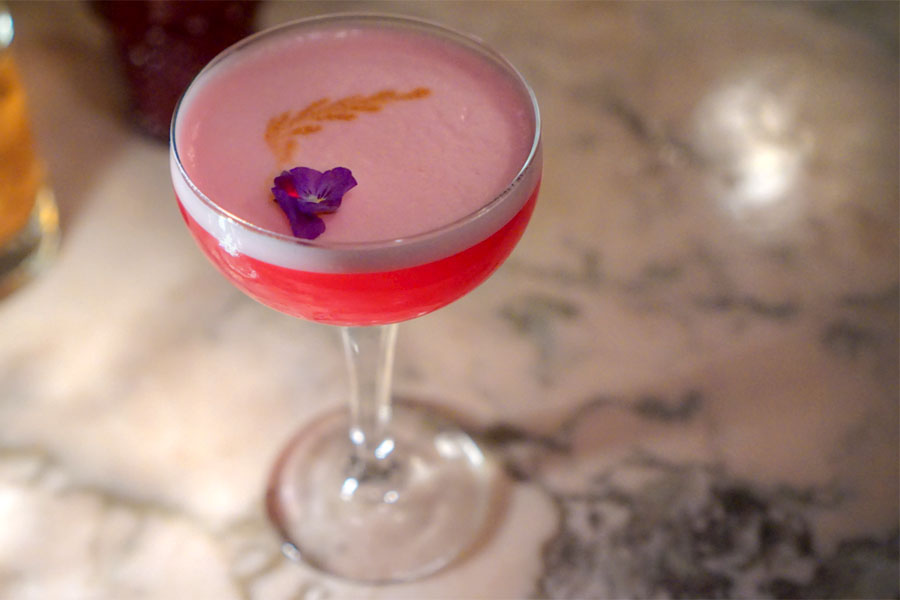 Hollywood Antoinette [$16.00]
| Pisco, Strawberry, Cactus Pear, Egg White, Lime, Angostura Bitters
Up next was another easy-drinker. I definitely got the sweetness of the strawberry and
tuna
, but fortunately this was countered by the frothiness of egg white as well as a persistent-but-restrained savoriness.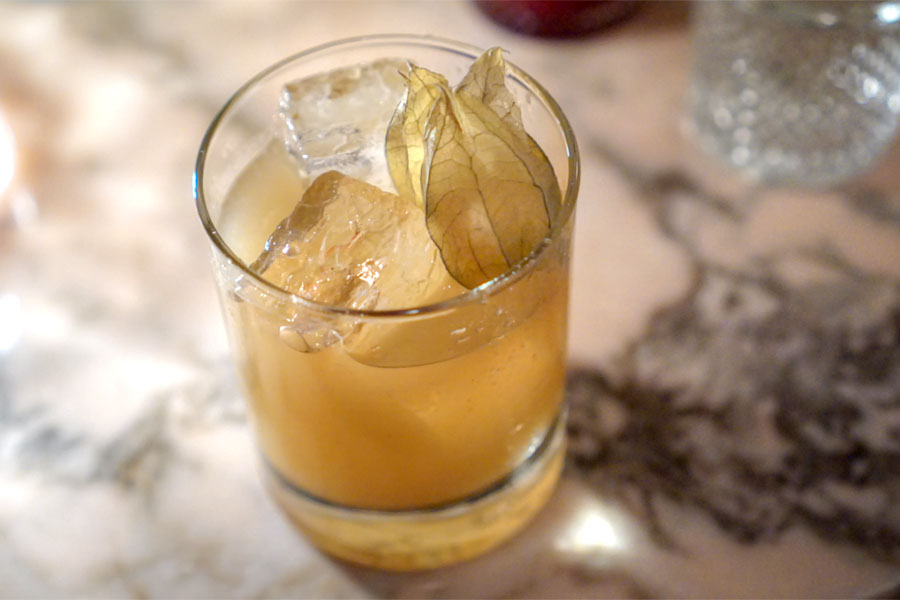 Good for the Gander [$16.00]
| Thyme Infused Rum, Cantaloupe/Banana Puree, Lime, Muddled Cape Gooseberry
We ended with a table favorite. It did a nice job conveying the character of the fruit, and I especially appreciated the tartness from the gooseberry. The thyme-enriched rum served as a counterbalance to it all, and really, this is something I could drink all day.
Apotheke's a worthy add to the City's imbibing scene set in an unlikely location. I appreciated the breadth of the cocktails, and the strong emphasis on herbs, botanicals, and fruit made for a drinking experience that was more interesting than many. I also liked the chill vibe of the place, though that was probably due to the fact that we arrived early. Overall a good spot, and I imagine that this'll go on my regular rotation of cocktail bars.