Inko Nito (Los Angeles, CA)
Inko Nito Restaurant
225 S Garey St, Los Angeles, CA 90012
310.999.0476
www.inkonitorestaurant.com
Tue 02/20/2018, 08:05p-10:30p

My latest visit to the Arts District brought me to Inko Nito, which opened back on December 20th. The place comes to us from Azumi Limited, Arjun Waney and Rainer Becker's
restaurant management group
lifestyle hospitality company responsible for the likes of Zuma, Roka, and other worldwide brands. They're most known for Zuma, a chain of scene-y izakayas, but for Downtown, the company has embraced a more casual approach for their "unconventional Japanese robatayaki" joint, led by Chef Hamish Brown.
About the Chef
: Brown was born and raised in Christchurch, New Zealand, and was first introduced to the business by his father, who was a chef. He got his first real restaurant job while he was in high school, and quickly fell in love with the craft. Following graduation, he stayed at said restaurant for about half a year, then moved to Australia to surf, but returned home after only for months, having run out of money. In 1995, Brown enrolled in the culinary program at the Christchurch Polytechnic Institute of Technology, and during this period, apprenticed at the nearby George Hotel. He finished his studies in 1998, and ended up working at the George for five years, taking charge of the property's 50 on Park restaurant.
Afterward, he cooked in the US for three months (via connections that his father had), then moved to England in 2004. Brown spent some time in the northern part of the country at first, then relocated to London to work at a gastropub called The Hole in the Wall over in Chiswick. He then landed a job at The Providores in Marylebone, cooking under Chef Peter Gordon for 18 months. In 2006, Brown left the restaurant for a position at Roka, Azumi's contemporary robata concept, and in 2012, became Group Executive Chef for all Roka restaurants.
Meanwhile, running the day-to-day here is Head Chef Oliver Lorenz (Josie), while sous duties are handled by Tom Watson (Crêpes & Grapes Café in Whittier).
[3/7 Update: I'm told that Lorenz is no longer with the restaurant.]

Inko Nito's located right across the street from
Manuela
, in a spot penned by
Studio Mai
(
Wolfdown
,
The Cannibal
,
Hinoki & the Bird
,
Gjelina
). The space is centered, as per tradition, around a large charcoal grill, while seating capacity is around 120 across standard tables, high tops, counter spots, and communal seats. There's also a pretty decently sized patio area out front.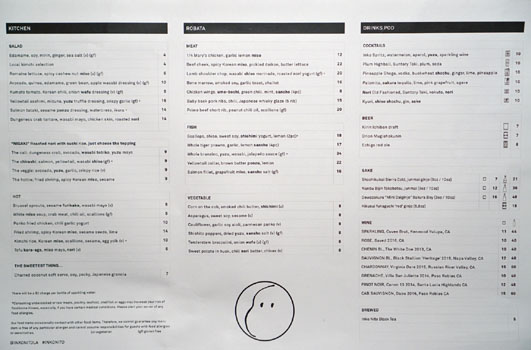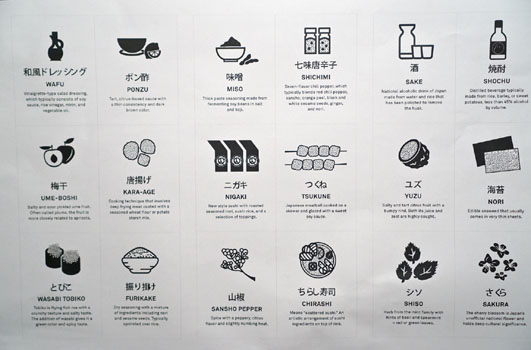 Food-wise, you'll find a variety of robata selections joined by just as many small plates, making for a more diverse eating experience. To drink, there's a half dozen cocktails along with a smattering of beer, sake, and California wine. On the back of the menu is an illustrated glossary of terms. Click for larger versions.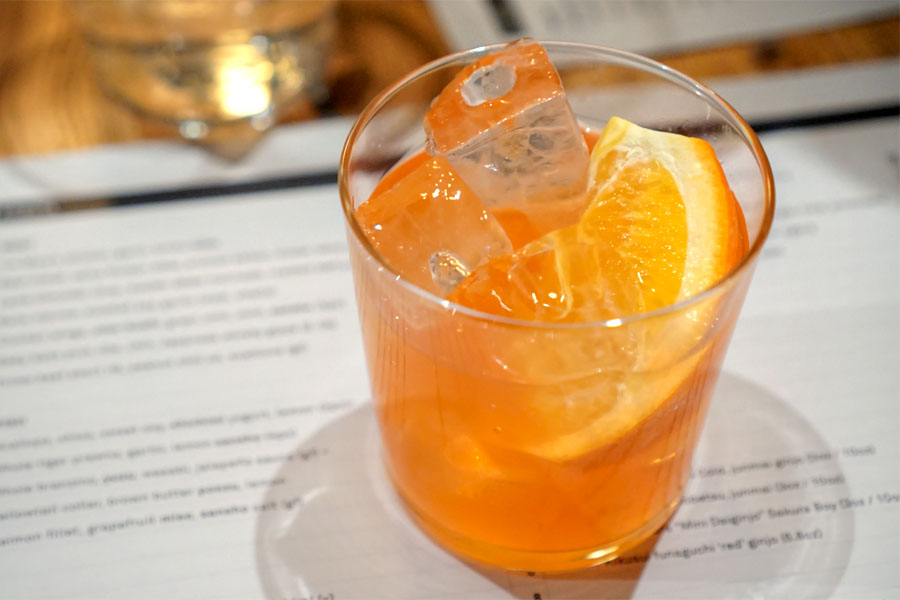 Inko Spritz [$10.00]
| watermelon, aperol, yuzu, sparkling wine
This take on the classic aperitif cocktail showcased sweet, somewhat "candied" flavors of watermelon (think Jolly Ranchers), tempered by the bitterness of Aperol on the finish.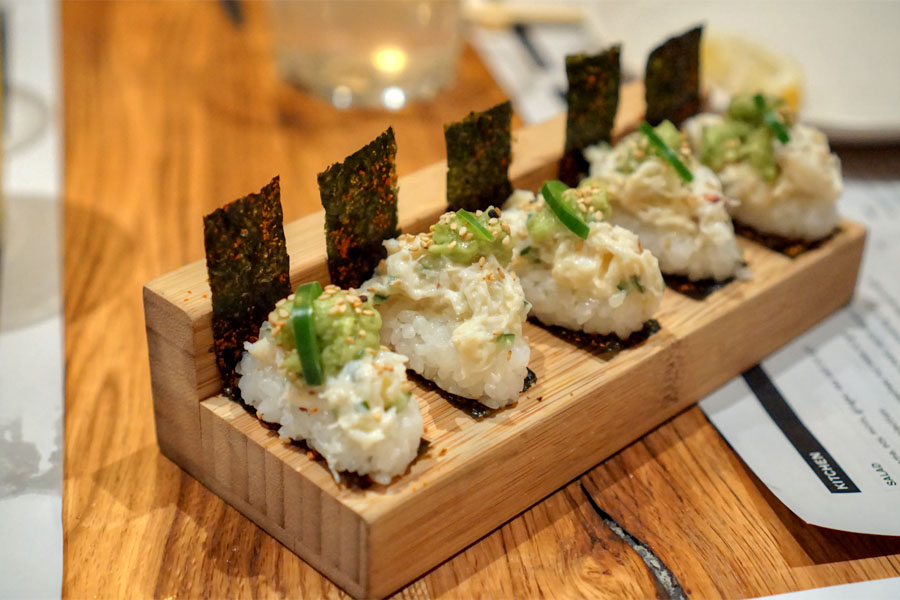 The cali [$9.00]
| dungeness crab, avocado, wasabi tobiko, yuzu mayo
We made sure to try a couple of the restaurant's "nigaki," basically a sushi-esque creation featured roasted seaweed. This ostensibly California-inspired version featured dollops of cool, creamy, sweet crab, accented by a smidge of heat and the umami-rich goodness of that nori.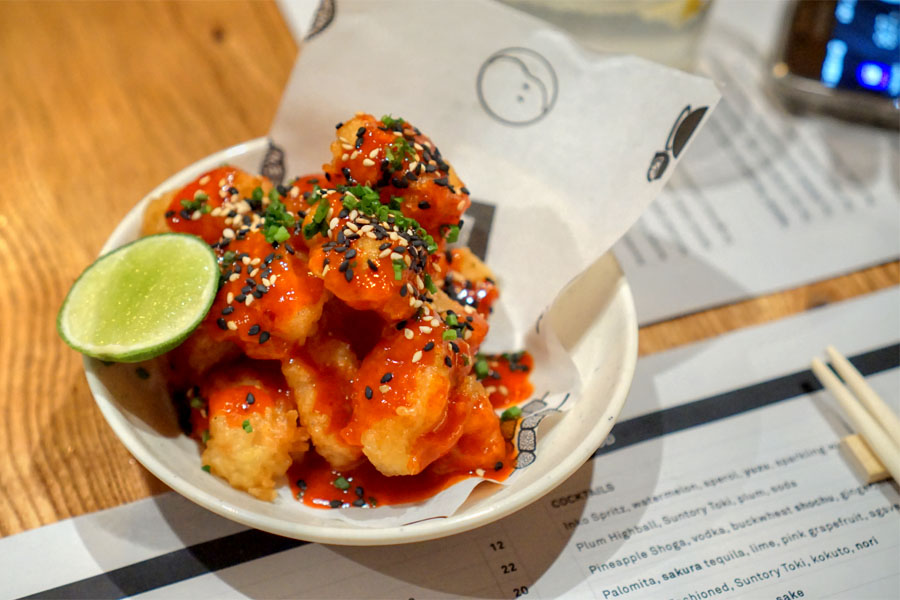 Fried shrimp [$14.00]
| spicy Korean miso, sesame seeds, lime
Shrimp were well-textured and snappy, with relatively delicate battering and a detectable brine. They were tasty little morsels, and I did appreciate the spice imparted by what I believe was
gochujang
.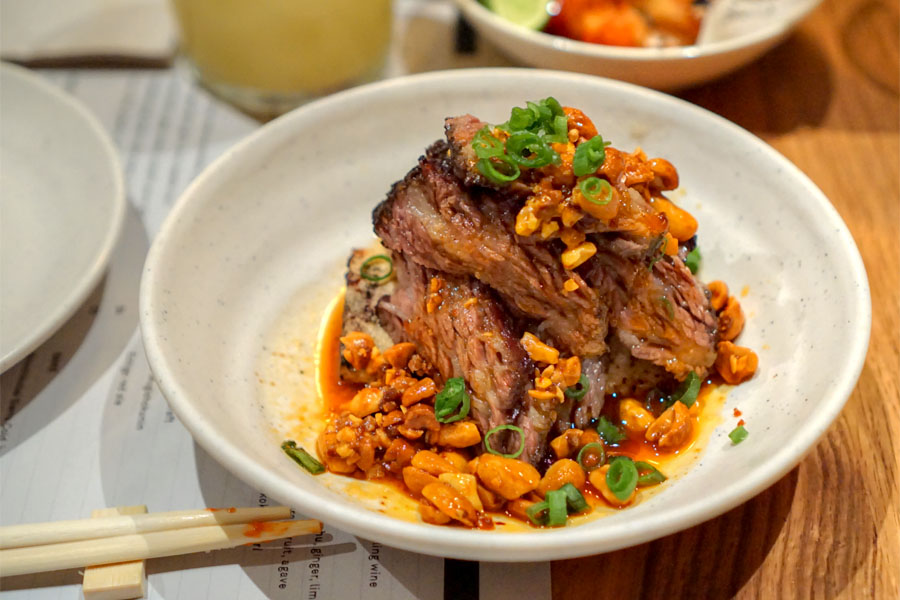 Prime beef short rib [$20.00]
| peanut chili oil, scallions
Short rib came out toothsome and tender, and was made even more enjoyable by the heat and crunch of the peanut-infused chili oil.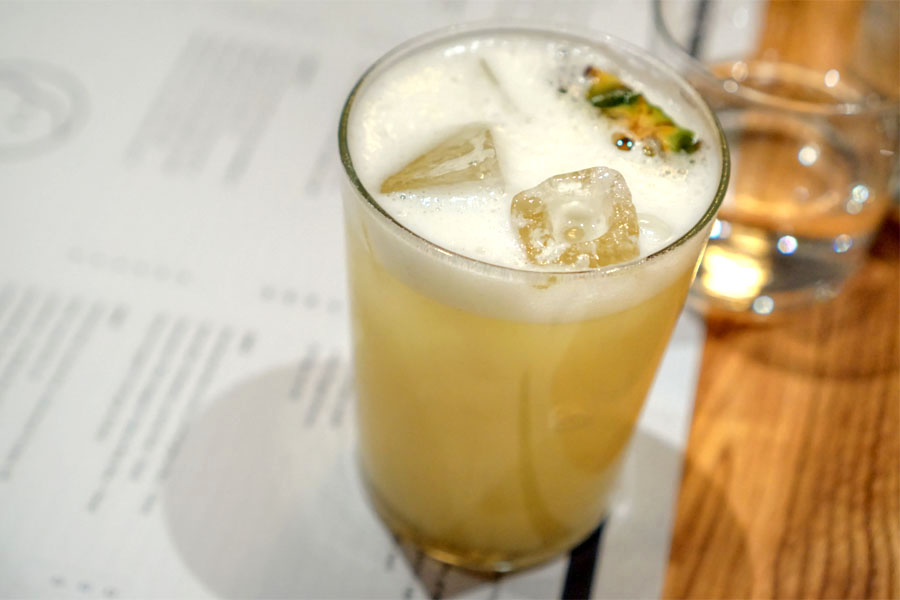 Pineapple Shoga [$10.00]
| vodka, buckwheat shochu, ginger, lime, pineapple
This next cocktail was definitely heavy on the advertised
shoga
(ginger), making for a zippy, zesty, somewhat bitter drink with surprisingly little pineapple.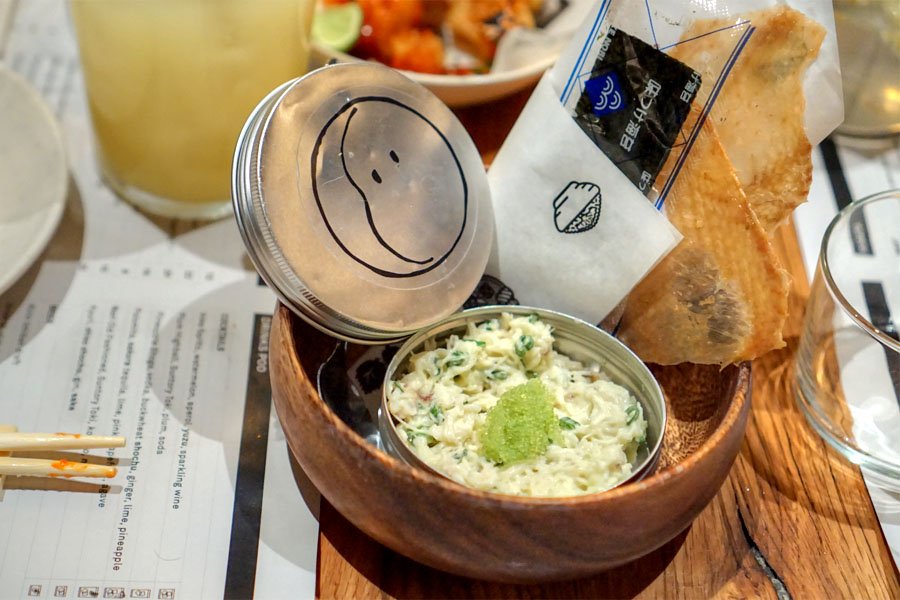 Dungeness crab tartare [$14.00]
| wasabi mayo, chicken skin, roasted nori
The crab tartar worked out, matching the sweet, creamy brine of Dungeness with the heat of wasabi and salty crunch of chicken skin, the nori once again serving as a great finishing touch.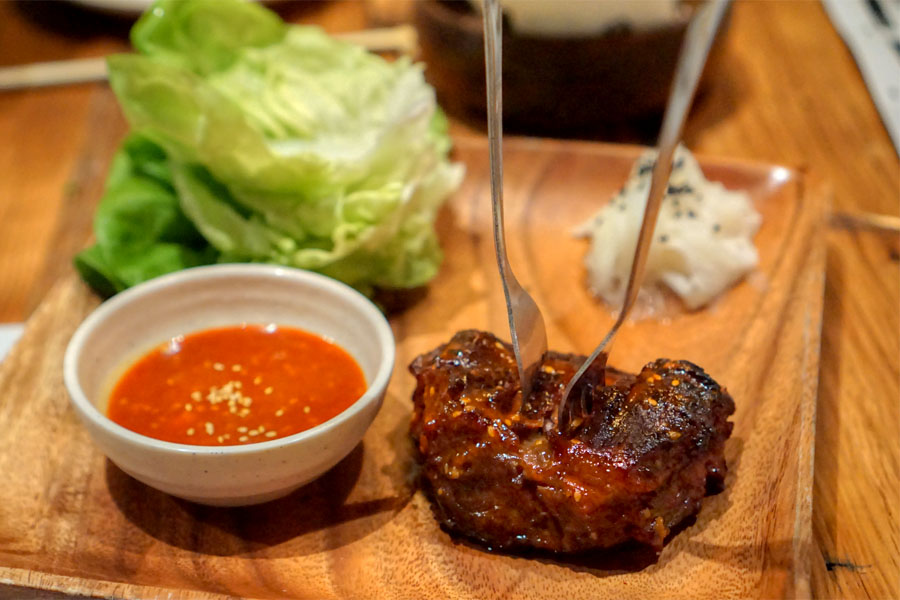 Beef cheek [$22.00]
| spicy Korean miso, pickled daikon, butter lettuce
Beef cheek was robustly flavored, pull-apart tender, and quite enjoyable alone. The key here though, of course, was to wrap it up with the earthy, spicy
ssamjang
and crunchy pickles to make for one utterly gratifying bite.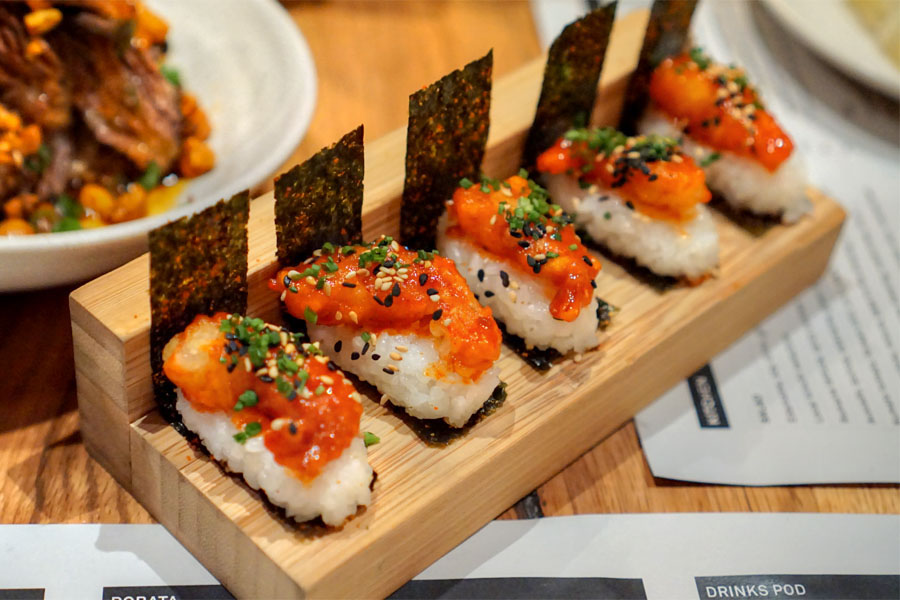 The hottie [$9.00]
| fried shrimp, spicy Korean miso, sesame
This was basically a "nigaki" version of our fried shrimp dish above. It probably was even better, as the rice and nori really worked to balance out the potency of the shrimp.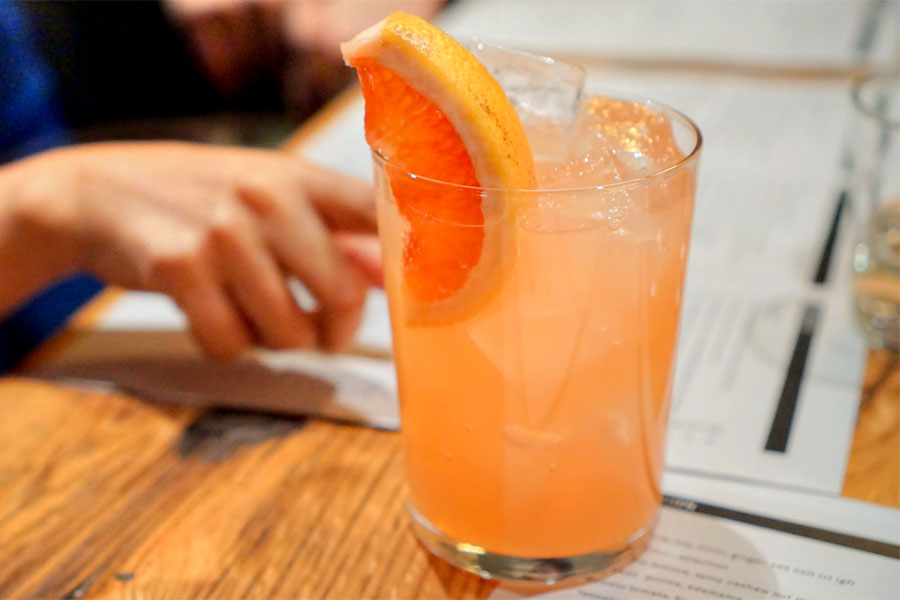 Palomita [$10.00]
| sakura tequila, lime, pink grapefruit, agave
A take on the paloma made sense. Think grapefruit-y, but with a boozy bite and a moderating bitterness on the back end.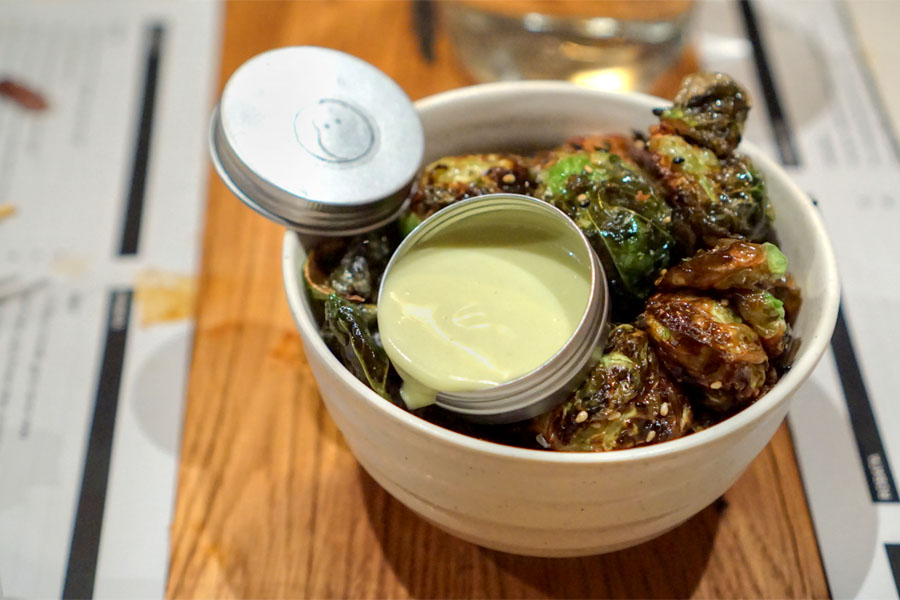 Brussel sprouts [$6.00]
| sesame furikake, wasabi mayo
Brussels were heavy on the char and bitterness, but fortunately that zippy, creamy mayo was actually pretty effective as a counterpoint.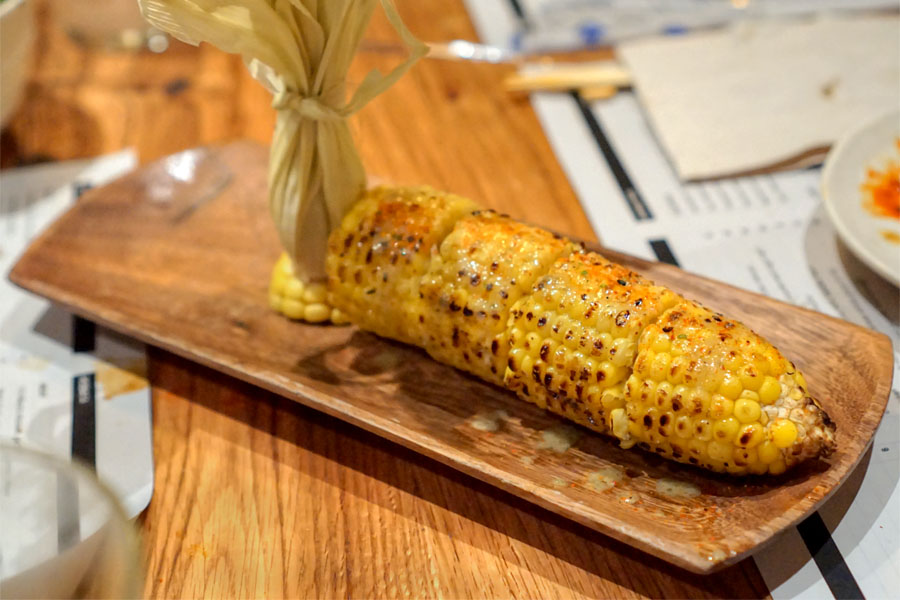 Corn on the cob [$8.00]
| smoked chili butter, shichimi
A Japanese-y take on
elote
largely hit the mark, the sweet kernels meshing well with all the buttery, smoky flavors at play.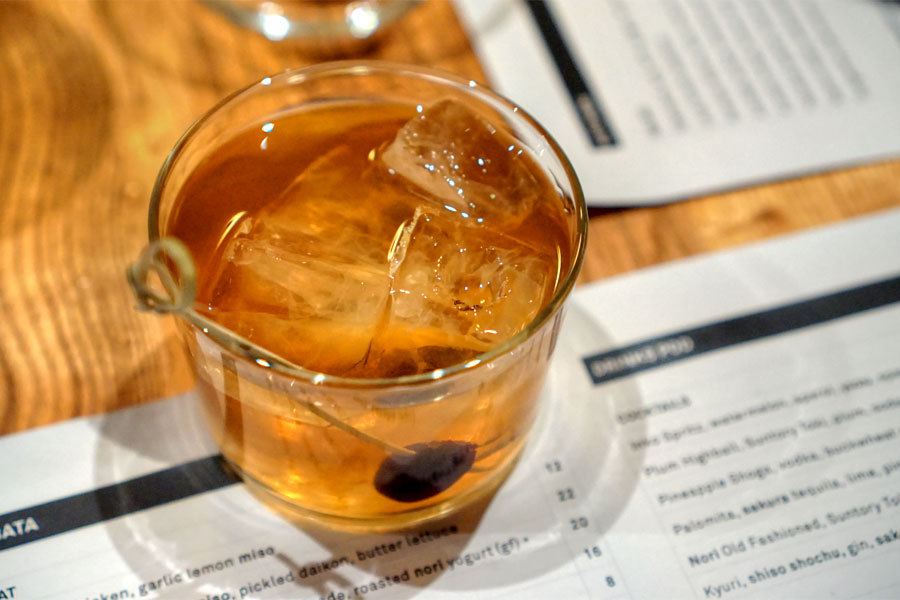 Nori Old Fashioned [$10.00]
| Suntory Toki, kokuto, nori
Inko Nito's twist on the most classic of cocktails showed off a nose rife with dark fruit and brown sugar (the
kokuto
), with a boozy backing. Taste-wise, I got a lot of the Toki at first, joined by more stewed fruit, toffee, and nori on the finish if you're looking for it.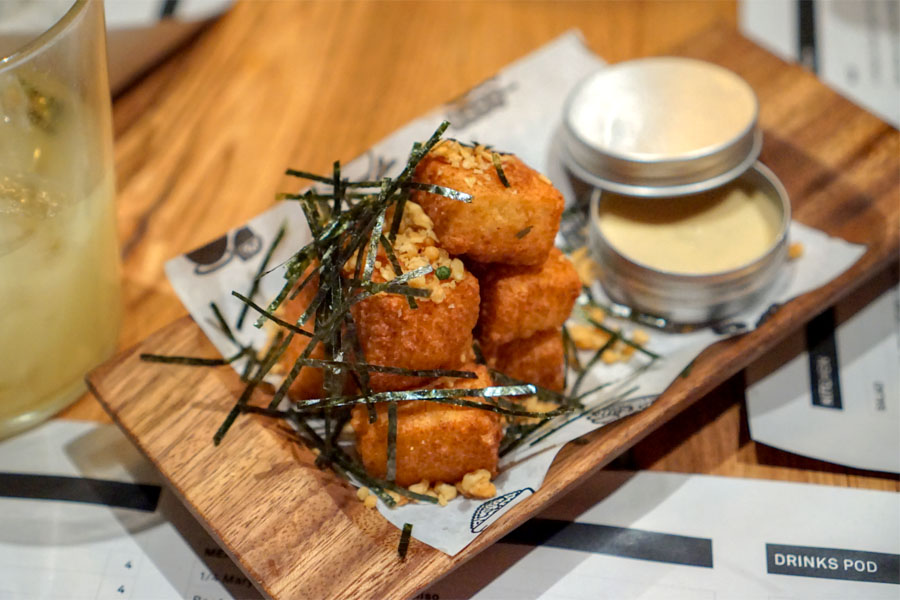 Tofu kara-age [$6.00]
| miso mayo, nori
Fried cubes of tofu were perfectly textured: crispy, light, and almost fluffy on the inside. I thoroughly enjoyed the garlickiness of the dish, and the miso-enriched mayo worked as a condiment, too.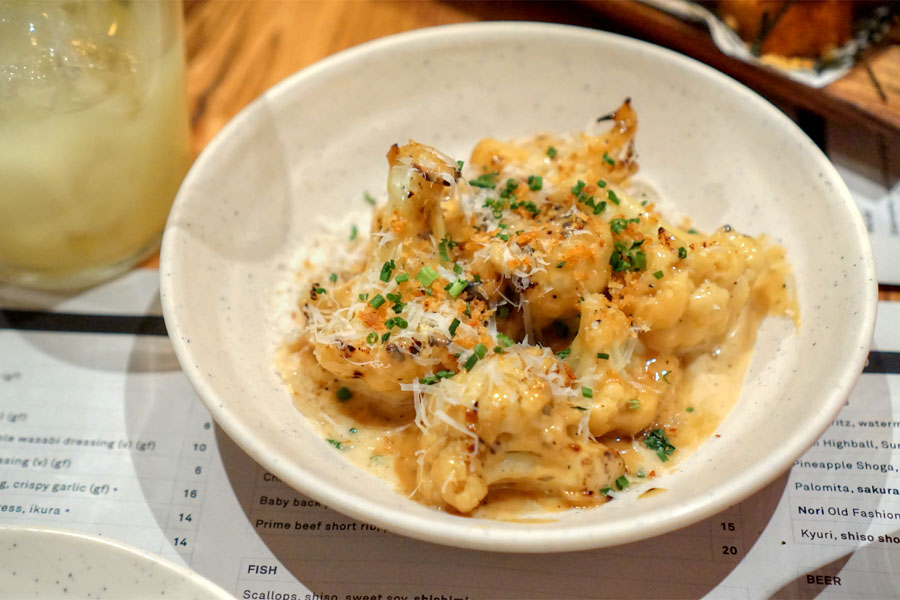 Cauliflower [$8.00]
| garlic soy aioli, parmesan panko
Cauliflower, fortunately, wasn't overcooked, and still had a nice crunch to it. Flavors, meanwhile, were rich, savory, smoky, satisfying--yum.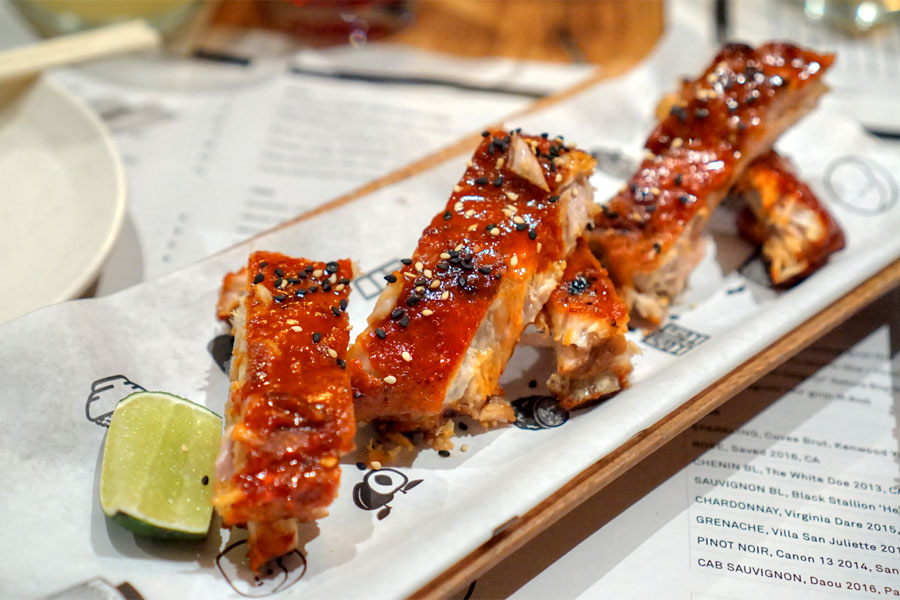 Baby back pork ribs [$15.00]
| chili, Japanese whisky glaze
Pork ribs were properly tender, and tore cleanly, though not too easily off the bone, while the glaze gave 'em a sweet 'n' spicy taste with a creeping touch of heat.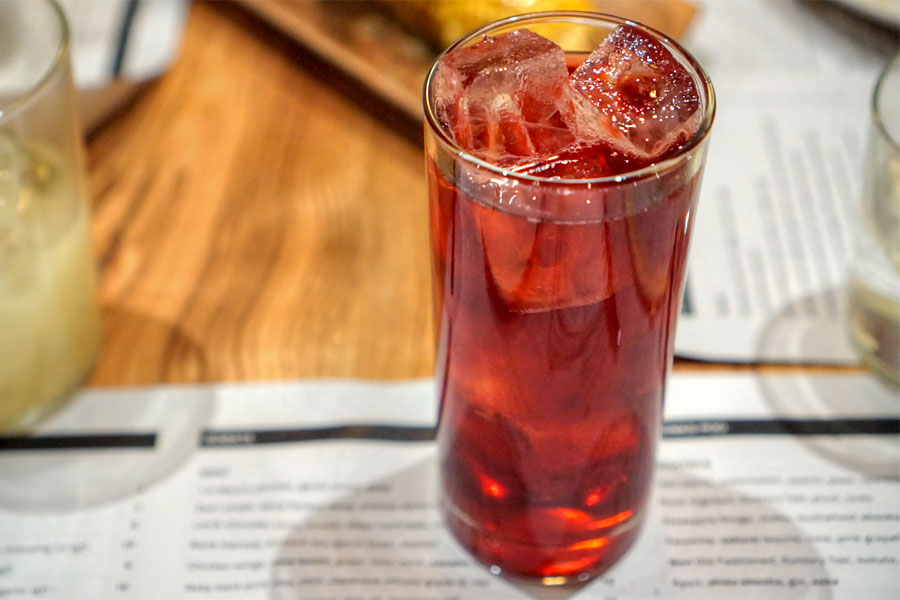 Plum Highball [$10.00]
| Suntory Toki, plum, soda
The highball displayed plenty of the claimed plum initially, but this quickly transitioned to the scotch-y sensation of the Suntory, with the back end giving up a lingering bitterness.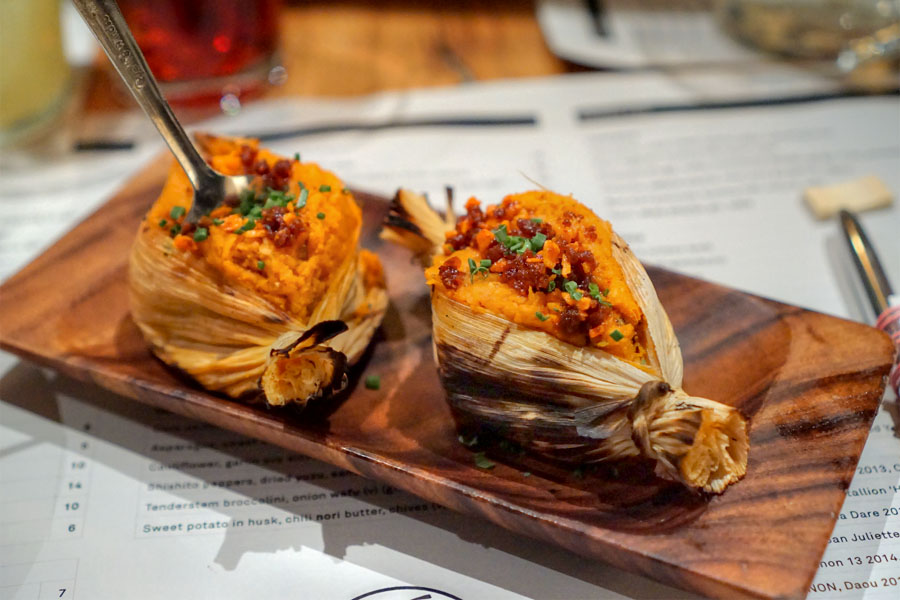 Sweet potato in husk [$8.00]
| chili nori butter, chives
This was a surprise standout for me, and probably one of the best preparations of sweet potato I've ever had. The crux here was that it wasn't overly sugary, but instead had more of a floral character, with contrasting spicy and savory notes for balance.
Panko fried chicken [$10.00]
| chili garlic yogurt
Fried chicken arrived crispy, juicy, and tender, but also underseasoned. Fortunately, the yogurt on the side did help amp up the flavors.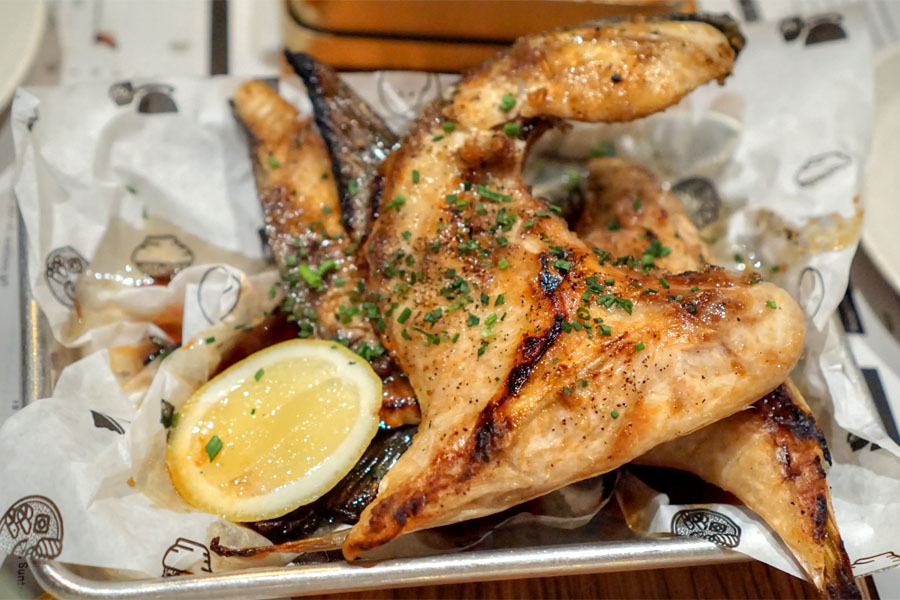 Yellowtail collar [$22.00]
| brown butter ponzu, lemon
Rare-cooked hamachi collar was aggressively briny, with some lovely accents of smoke and citrus.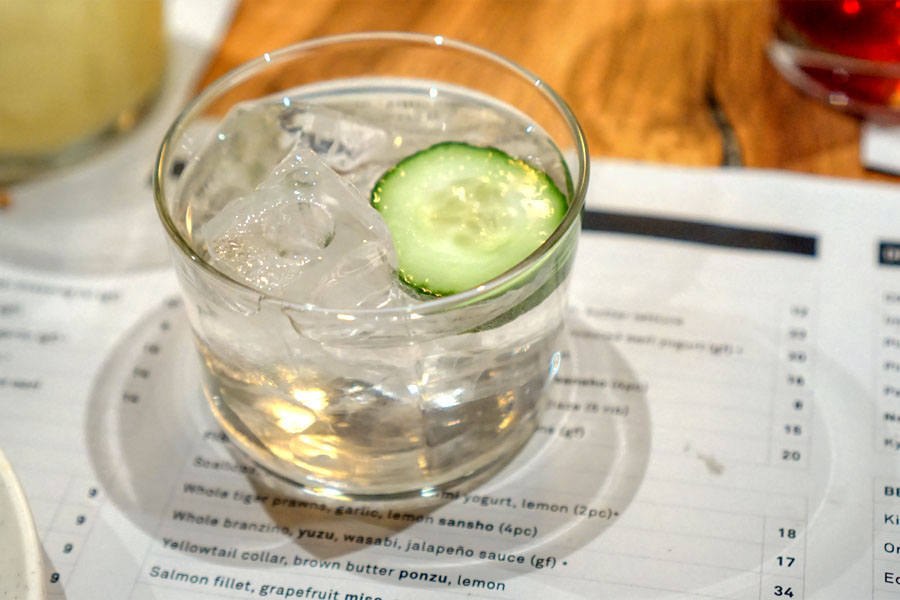 Kyuri [$10.00]
| shiso shochu, gin, sake
Kyuri
is Japanese for "cucumber," and indeed the vegetable was highlighted here, set against the botanicals of the gin and pervasive notes of minty shiso.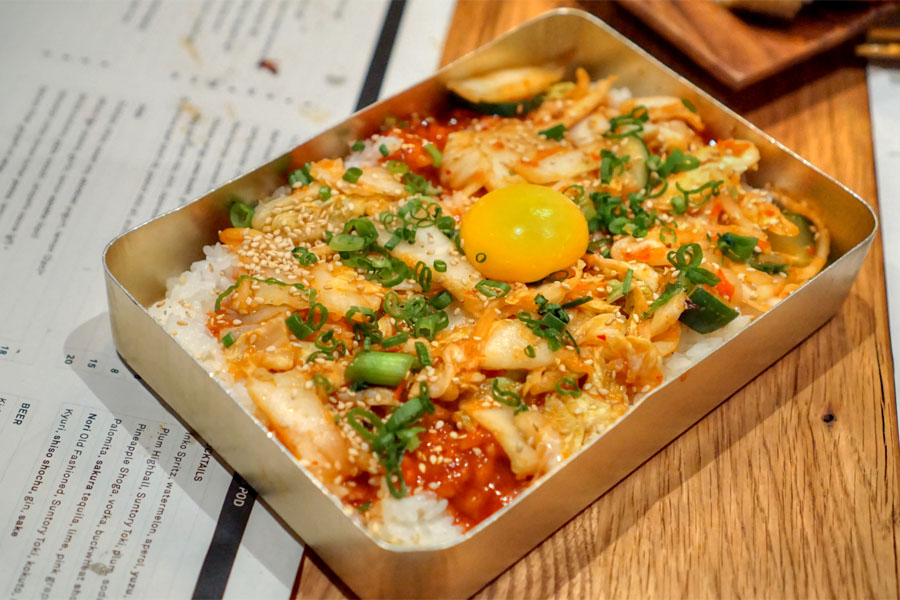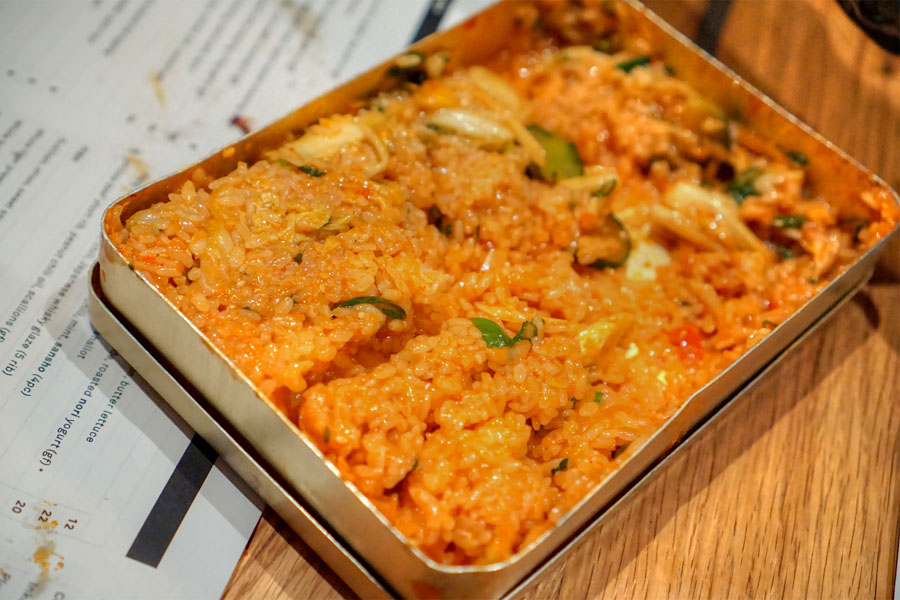 Kimchi rice [$10.00]
| Korean miso, scallions, sesame, egg yolk
Our final savory dish instantly reminded me of the
yennal dosirak
at
Kang Hodong
. Sadly, the version tonight wasn't nearly as effective. It lacked any sort of ferment-y depth or funk, and instead showed off a prickly heat, but with nothing behind it. There was also an omnipresent bitterness that we weren't keen on, either. In addition to wanting more kimchi character, we also thought that some
gim
or
furikake
sprinkled on top would've been nice, and perhaps a fried egg should've been used instead.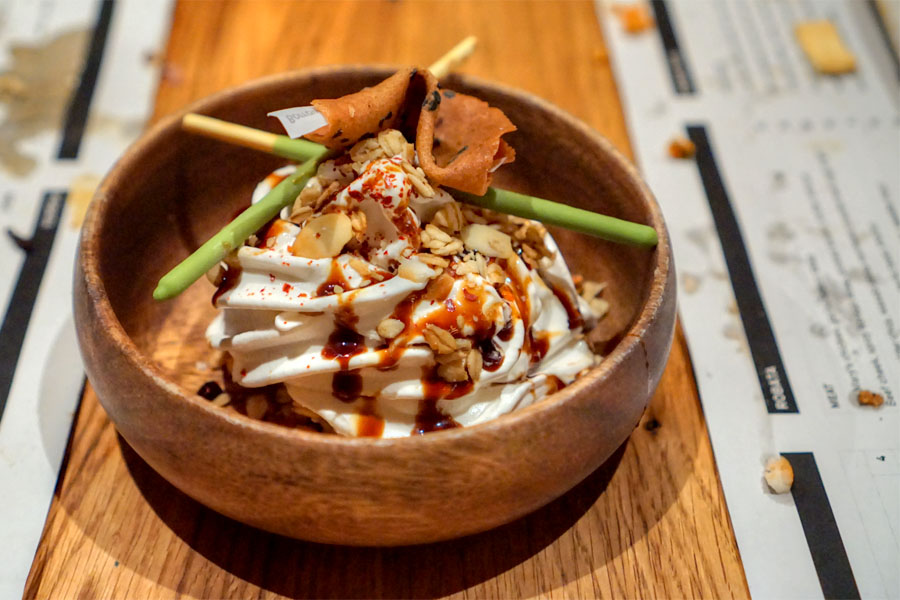 Charred coconut soft serve [$7.00]
| soy, pocky, Japanese granola
There's but one dessert at Inko Nito, so naturally we had to give it a shot. It did not disappoint. The soft serve itself was commendable, but what made this special was the umami element from the soy, which I found surprisingly effective. I also liked the crunchiness and nuttiness of the dessert, as well as the bitterness from the green tea Pocky.
I actually enjoyed this place more than I was expecting to. It's a fun concept, and the food was by and large quite good, drawing upon Japanese and Korean traditions in a sort of not-too-serious manner, but one that works. I think this is a welcomed add to the Arts District, and interestingly enough, apparently Azumi's actually importing Inko Nito
back
to London, and opening up an outpost in the Soho district sometime this year.