LASA (Los Angeles, CA) [2]
LASA Restaurant
727 N Broadway, Los Angeles, CA 90012
213.443.6163
www.lasa-la.com
Sun 04/08/2018, 11:10a-01:30p
Chad and Chase Valencia's
LASA
is no doubt one of the restaurants leading the charge in LA's recent Filipino cuisine renaissance. I'd visited the Chinatown eatery a couple times before, and recently stopped by to check the place out for lunch.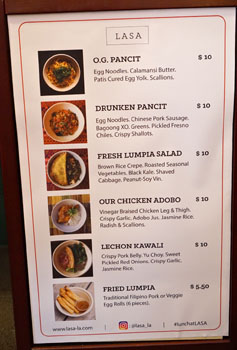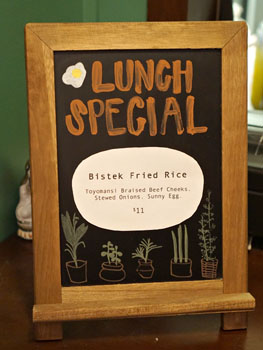 While LASA's dinner menu features elevated Cal-Philippine fare, lunch is much more casual, focusing on rice and noodle bowl type dishes. Click for larger versions.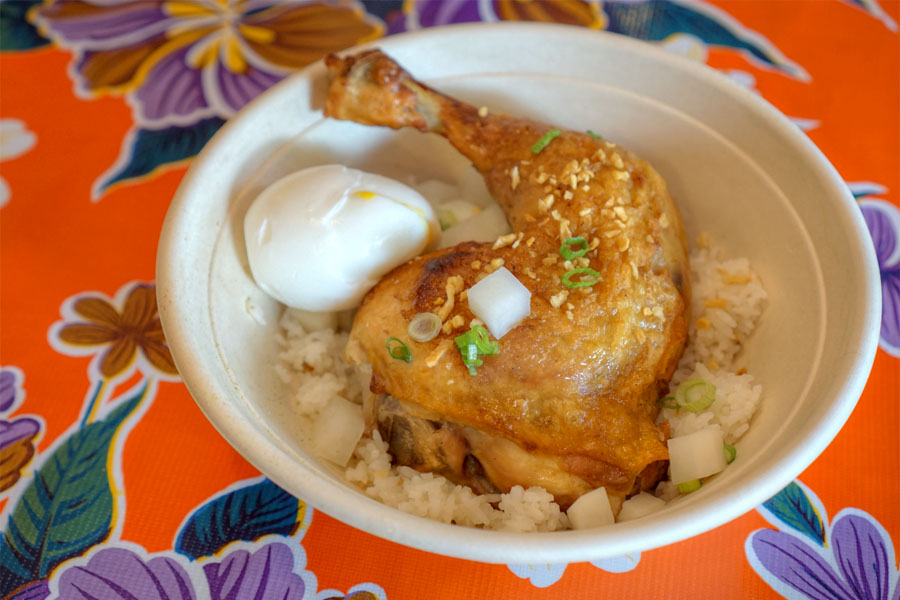 Our Chicken Adobo [$10.00 + $1.50]
| Vinegar Braised Chicken Leg & Thigh. Crispy Garlic. Adobo Jus. Jasmine Rice. Radish & Scallions. + Soft Egg
Chicken arrived flavorful and pretty juicy, and was tasty just by itself, though the garlicky rice made sense as an accompaniment. I especially appreciated the crunch and acidity provided by the cubes of radish.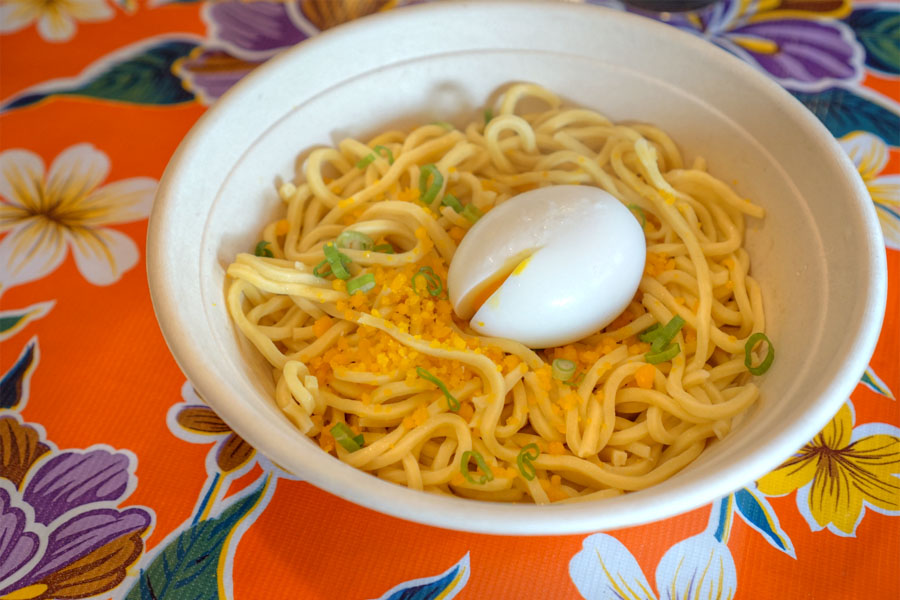 O.G. Pancit [$10.00 + $1.50]
| Egg Noodles. Calamansi Butter. Patis Cured Egg Yolk. Scallions. + Soft Egg
Noodles were chewy and substantial, accented by tart, citric notes and a bit of funk from the
patis
, while scallions added a zestiness to the fray. The runny egg was a welcomed addition, since the yolk contributed a luxuriousness to the otherwise unfussy dish.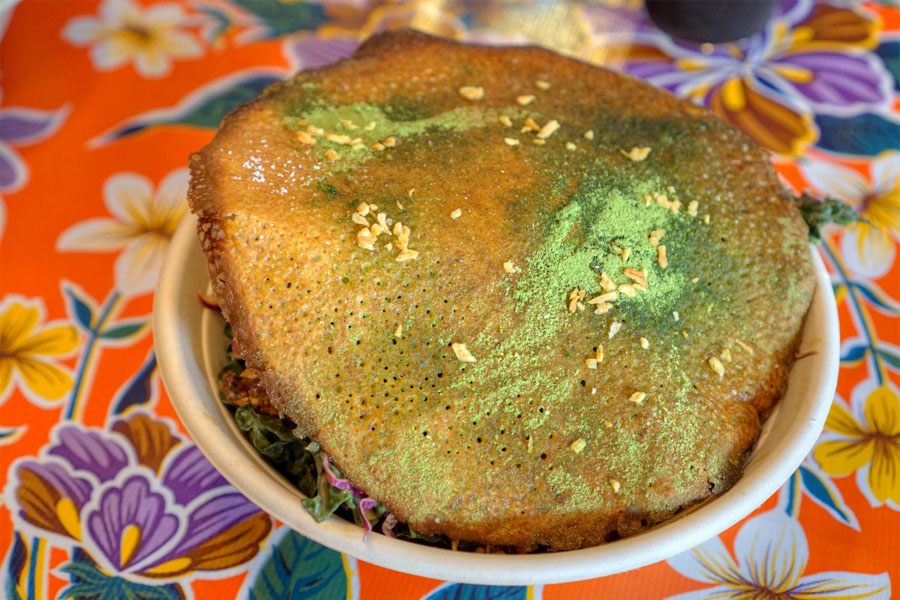 Fresh Lumpia Salad [$10.00]
| Brown Rice Crepe. Roasted Seasonal Vegetables. Black Kale. Shaved Cabbage. Peanut-Soy Vin.
The salad was a surprise standout. The veggies were bright, bitter, crunchy, and beautifully bound together by that creamy, nutty vinaigrette. Fried shallots added a crunch and savoriness to the mix, and the crêpe on top made for a hearty, satisfying complement. Mouseover for a secondary photo.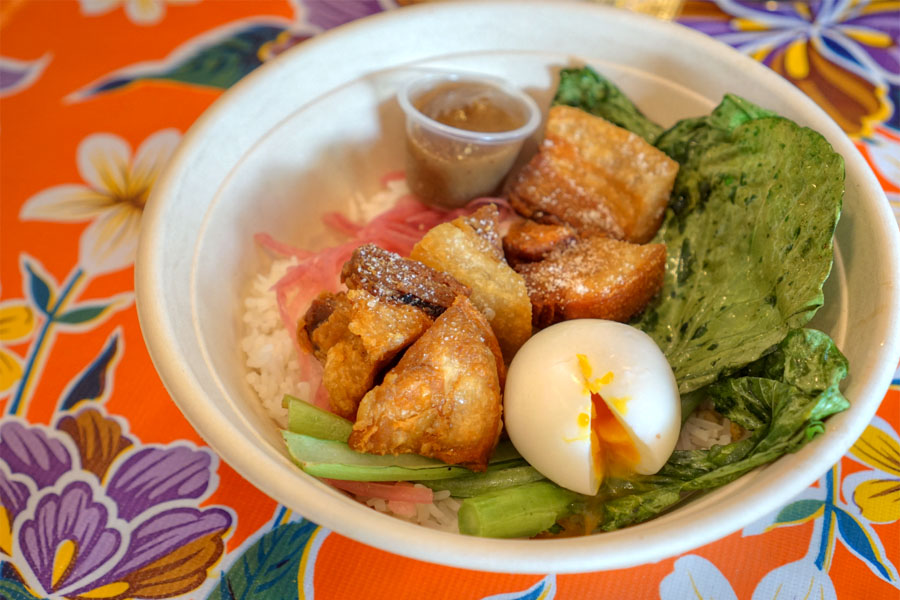 Lechon Kawali [$10.00 + $1.50]
| Crispy Pork Belly. Yu Choy. Sweet Pickled Red Onions. Crispy Garlic. Jasmine Rice. + Soft Egg
Pork belly came out super crispy, with a nice balance of lean and fat. Pickled onions and
yu choy sum
worked effectively for contrast, and I certainly didn't mind that soft boiled egg, either.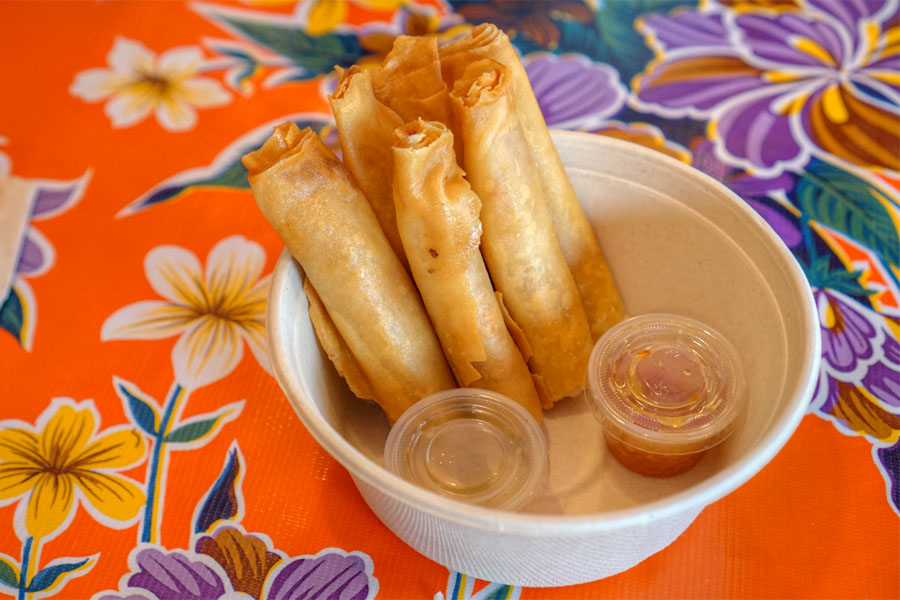 Fried Lumpia [$5.50]
| Traditional Filipino Pork Egg Rolls (6 pieces).
Lumpia were delightfully crisp, and displayed a classic, porky savoriness that just made sense with the included sweet 'n' sour condiment.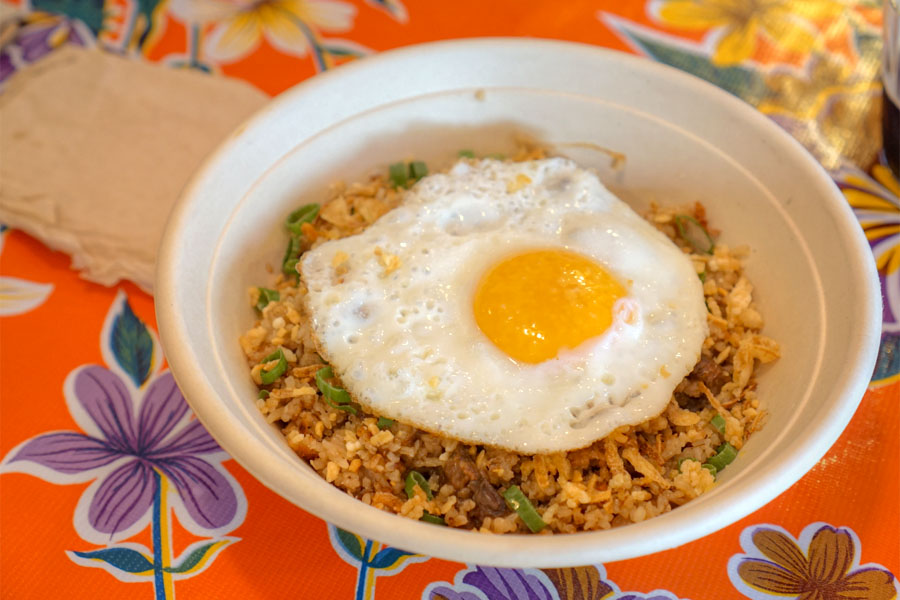 Bistek Fried Rice [$11.00]
| Toyomansi Braised Beef Cheeks. Stewed Onions. Sunny Egg.
The fried rice was a special today, as well as another table favorite. The beef itself was rich and well-spiced, with a pervasive tanginess from the
toyomansi
and some lovely crispy bits for texture. The rice, meanwhile, was on point, and you certainly can't go too wrong with that sunny side up egg.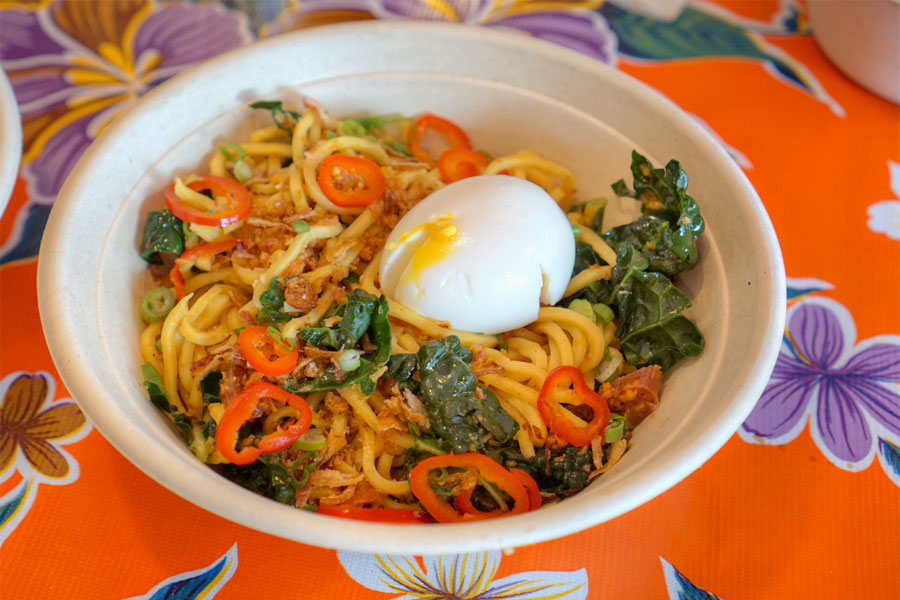 Drunken Pancit [$10.00 + $1.50]
| Egg Noodles. Chinese Pork Sausage. Bagoong XO. Greens. Pickled Fresno Chiles. Crispy Shallots. + Soft Egg
Our final savory was a reworked version of
pancit
. I liked its building, growing heat, as well as the sweet, gingery notes that pervaded the dish. The use of
bagoong
added an "oomph" to things, and kale definitely worked as a counterpoint. The egg, finally, actually served to temper the flavors at play.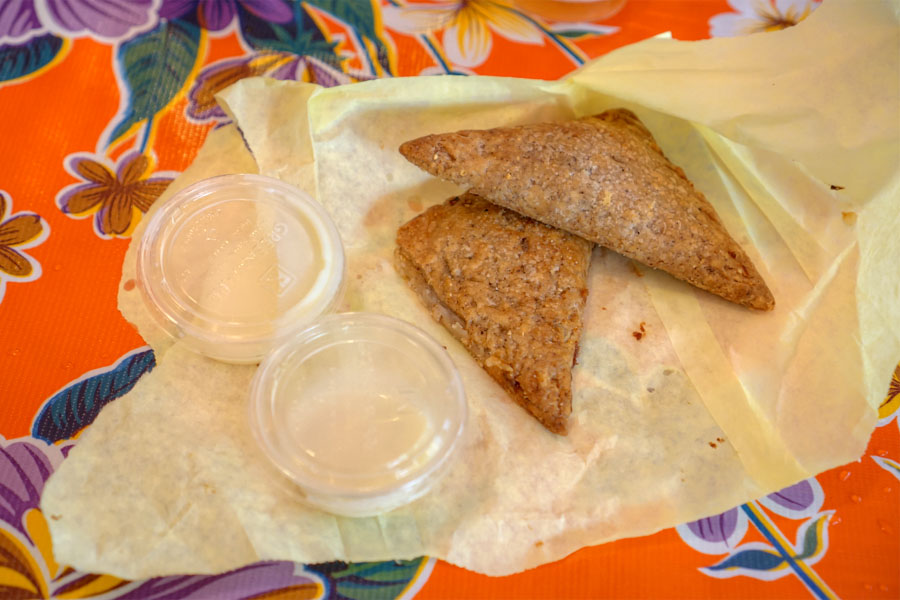 Coco Mama [$3.50]
| Coconut Cream + Guava Sauce
Dessert duties were handled by these "empanadas" of sorts, made of blue cornmeal. Sadly, I really didn't taste much coconut, and overall the pastry was a touch dry.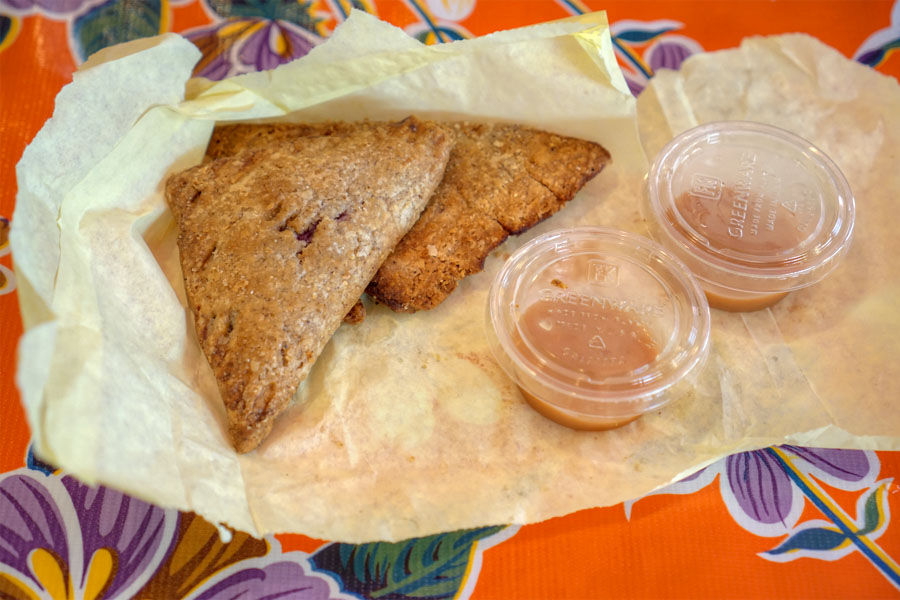 Ube Bae [$3.50]
| Creamy Ube + Condensed Milk
Our second dessert fared better thanks to the more assertive flavors of ube here. Note, also, that the paired sauces (guava vs. condensed milk) seem to have been switched.
Certainly, compared to what's available at dinner, the daytime menu's not nearly as ambitious. That being said, the place is still a worthwhile option for lunch, and if I worked in the area, I could see myself stopping by every so often.