Vacation (Santa Ana, CA)
Vacation Bar
204 W 4th St, Santa Ana, CA 92701
657.266.0855
www.vacationdtsa.com
Sat 03/24/2018, 07:10p-09:20p

Downtown Santa Ana has established itself as one of the hippest locales in Orange County over the past few years, and the area just got another feather in its cap with the debut of Vacation. The cocktail bar opened in August 2017 after being in the works for three years (its original name: Spurgeon Social). It's the creation of Harrison "Harry" Kho (Harry's Deli in Irvine) and Chris Parker, and features cocktails ostensibly inspired by world travels.
As to who came up with those cocktails, it's none other than Gabriella Mlynarczyk, whom we've seen at the likes of
Accomplice
,
Birch
,
Cadet
,
ink
, and Eva. Food-wise, things are the work of Chef Aron Habiger, who returns to DTSA after a stint at
Petit Trois
. Before that, he cooked at
The North Left
and The Crosby, which were both just up the street from Vacation (at the current site of
Irenia
).

Vacation resides on the ground floor of the 1913-era W.H. Spurgeon Building (Spurgeon was the founder of Santa Ana), a designated historical landmark. The spot previously housed a fragrance retailer (Fragrance House), and before that, a jeweler (Joyeria Valencia), but has been completely revamped by Parker himself, with help from locals
Desanka Fasiska
and
George Bernal
(who did the custom furniture). It's a pretty large, spread-out space, and has a vacation-y, tropical hotel lobby-ish feel.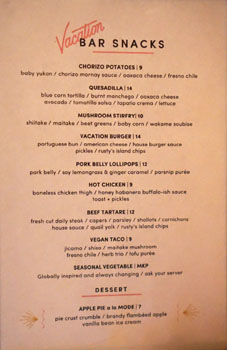 The bar sports a compact list of Mlynarczyk's cocktails, along with a few beers and the requisite wines. The food menu, meanwhile, features fancy bar fare, also with a bit of an international bent. Click for larger versions.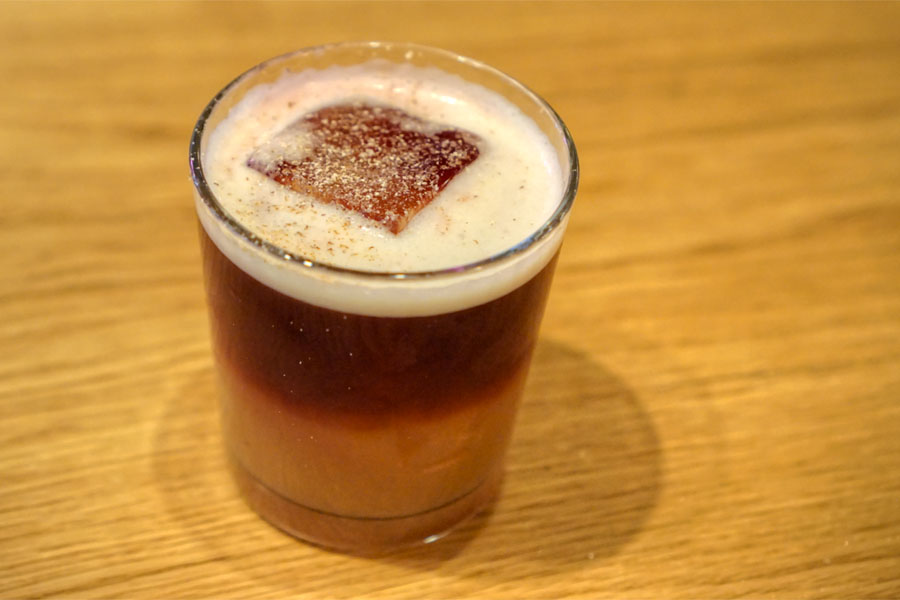 New York, USA [$13.00]
| cinnamon, bourbon, red wine, apple lemon, aquafaba
We commenced with this cinnamon-boosted variation of the New York Sour cocktail. I got an astringent, eggy nose, with a pinch of spice. The taste leaned tart, fruity, and showed off more sweet spice along with a red wine element in the background. A good start.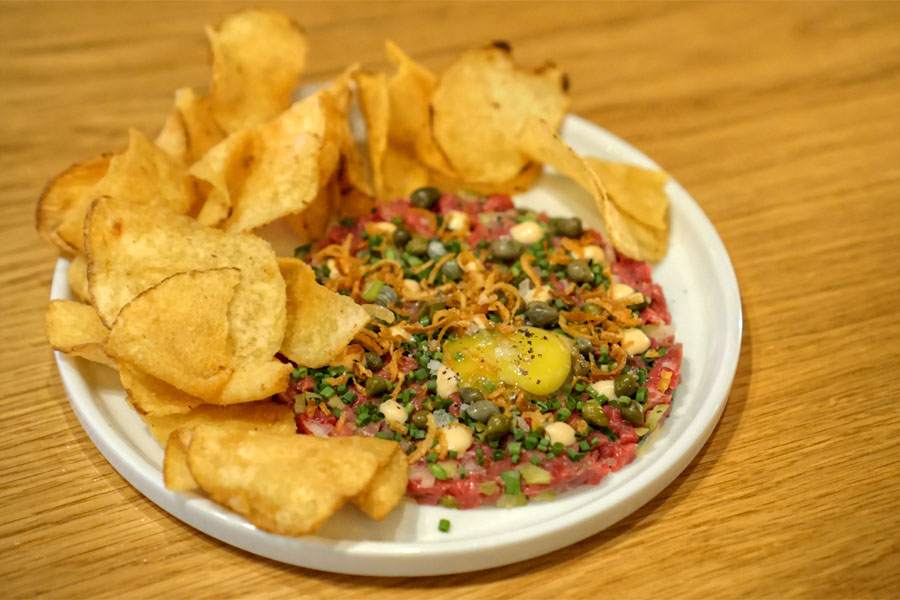 Beef Tartare [$12.00]
| fresh cut daily steak / capers / parsley / shallots / cornichons / house sauce / quail yolk / rusty's island chips
This was definitely a favorite of ours, and one the tastier tartars I've had recently. The beef was perfectly textured, and paired in classic fashion with its various accompaniments, the creamy, tangy "house sauce" tying it all together. Superb crunch and salt on those chips as well.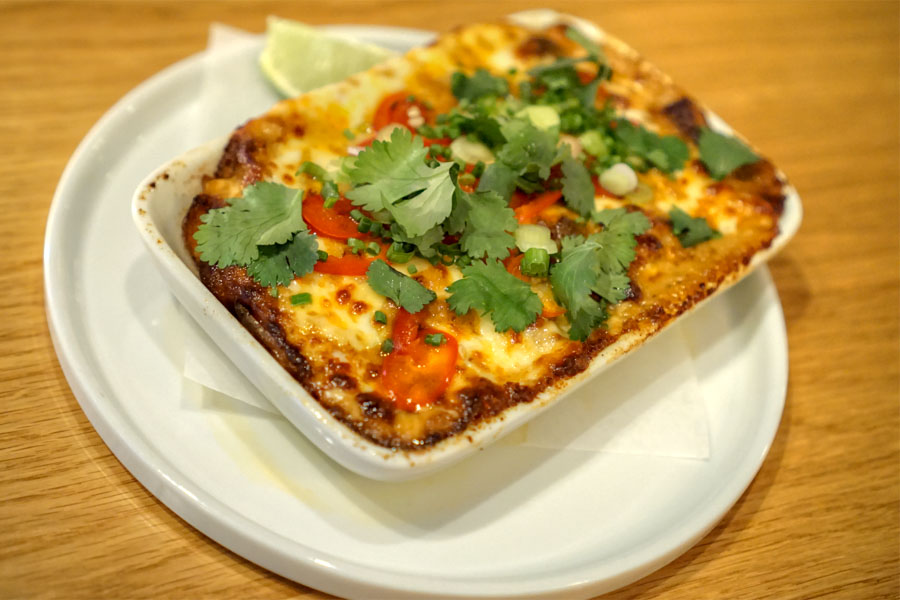 Chorizo Potatoes [$9.00]
| baby yukon / chorizo mornay sauce / oaxaca cheese / fresno chile
Next was a cheesy combination of chorizo and potatoes that needed a couple tweaks. I didn't get much spice from the advertised chorizo, and the dish overall could've used more acidity to counter the heavy, slightly sweet flavors at play. I would've liked a firmer consistency on the taters, too.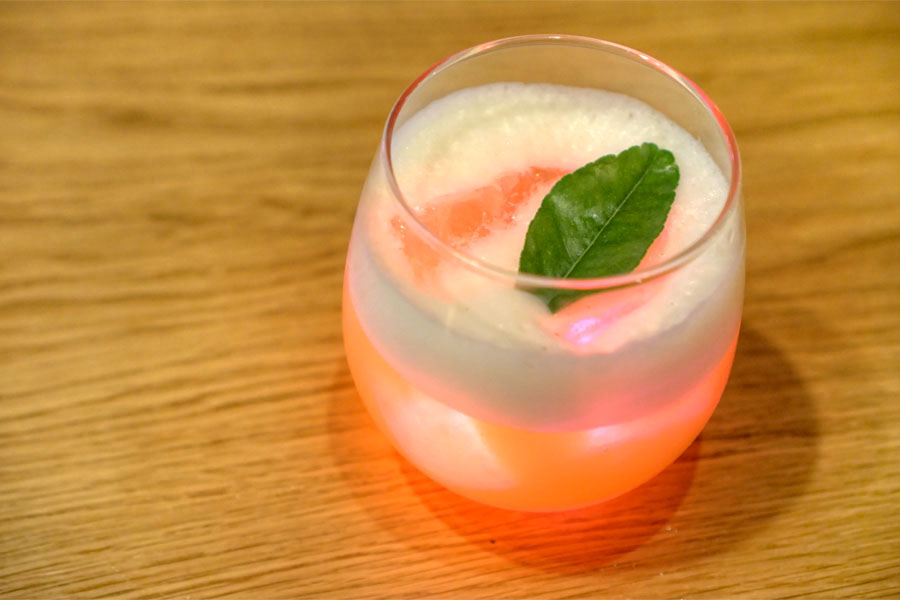 Tokyo, Japan [$13.00]
| matcha green tea, pear eau de vie, sake, peach calpico, aquafaba
This was the first time I'd encountered an LED light in a cocktail, but it made sense I suppose as a reference to the plethora of neon dotting Tokyo's thoroughfares. The nose here was super fruity, but with a moderating acerbic quality. The taste went in a sweet, fruit-forward direction, but had more of those tart, sharp flavors for balance. I also got loads of pear on the back end of this Ramos gin fizz-like concoction.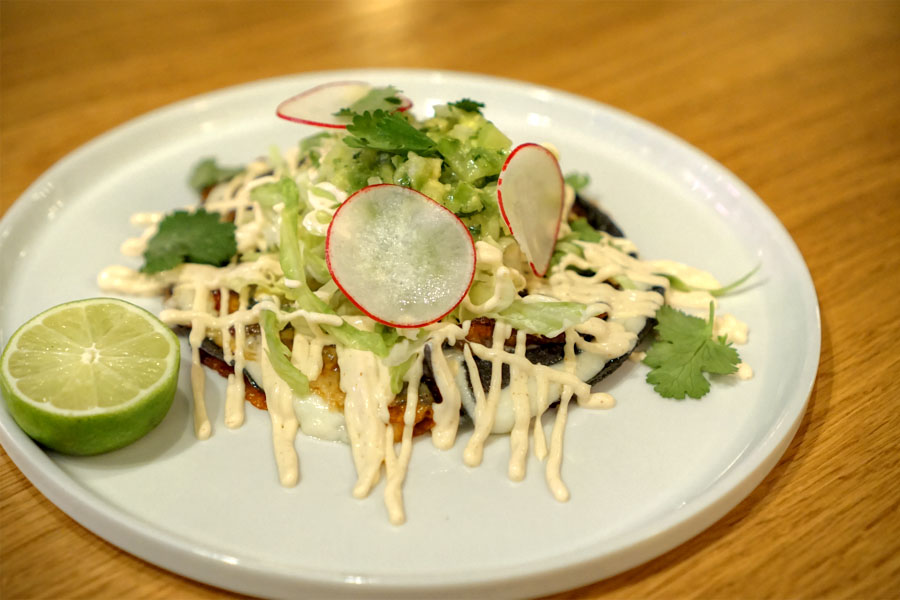 Quesadilla [$14.00]
| blue corn tortilla / burnt manchego / oaxaca cheese / avocado / tomatillo salsa / tapatio crema / lettuce
The 'dilla was another standout. I loved its sheer cheesiness, as well as the smokiness from the charred
manchego
. The tortilla worked to ground the dish, and I definitely appreciated the contrast provided by the various greenery.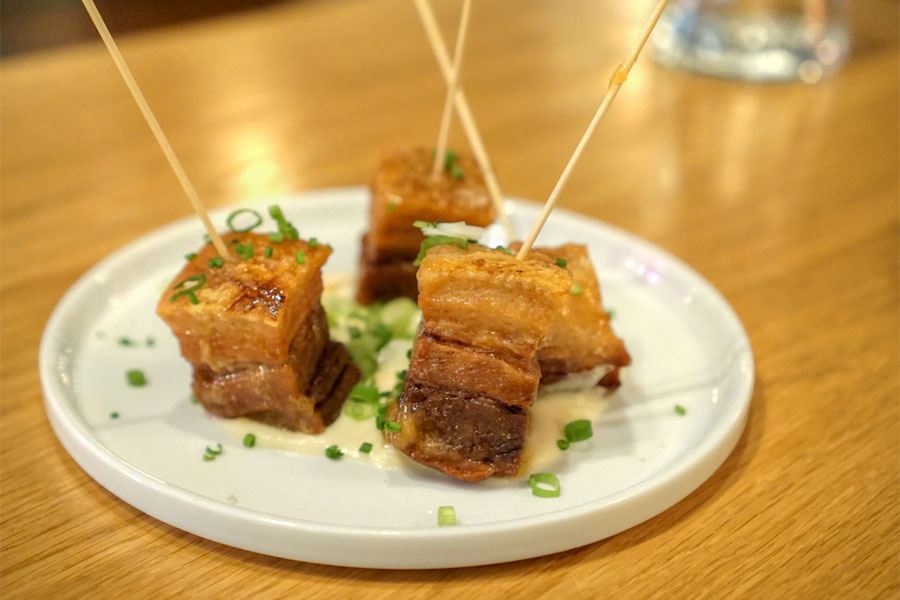 Pork Belly Lollipops [$12.00]
| pork belly / soy lemongrass & ginger caramel / parsnip purée
Pork belly was richly flavored, with a marked sweetness and an almost funky quality evened out by the presence of parsnip. However, I really wanted more tenderness, more juiciness to the meat.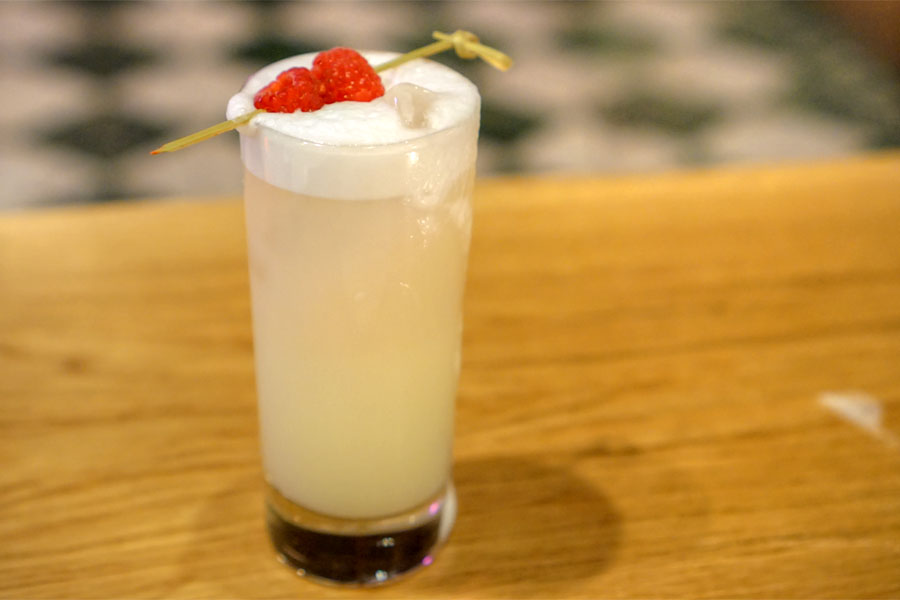 Saint-Jean-Cap-Ferrat, France [$13.00]
| raspberry eau de vie, orgeat, lemon, absinthe, lacroix berry
Next was a drink taking inspiration from Cap Ferrat's Villa La Mauresque and the traditional Mauresque, a cocktail popular in the south of France. I found it fruity for sure, but never cloying thanks to the somewhat oxidative flavors present, as well as its pervasive-but-delicate notes of anise.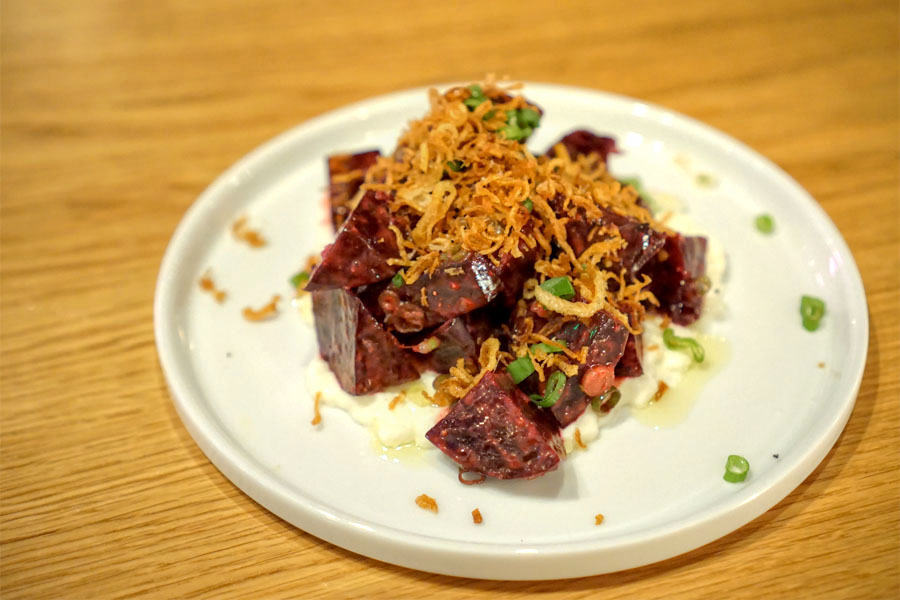 Seasonal Vegetable [$10.00]
| Globally inspired and always changing / ask your server
The evening's special veggie dish was a combo of beets and burrata. It's a classic marriage for sure, and it definitely worked. I got a firm texture on the beets, which I appreciated, and the cheese functioned as a cool, creamy counterpoint. Great savoriness and crunch from the fried shallots too.
Hot Chicken [$9.00]
| boneless chicken thigh / honey habanero buffalo-ish sauce / toast + pickles
Fried chicken was a must-try for us. The bird came out well-textured and pretty juicy, with a flavor profile that was a balance between spicy and sweet. The scallions provided a welcomed zippiness, while toast and pickles worked as traditional companions.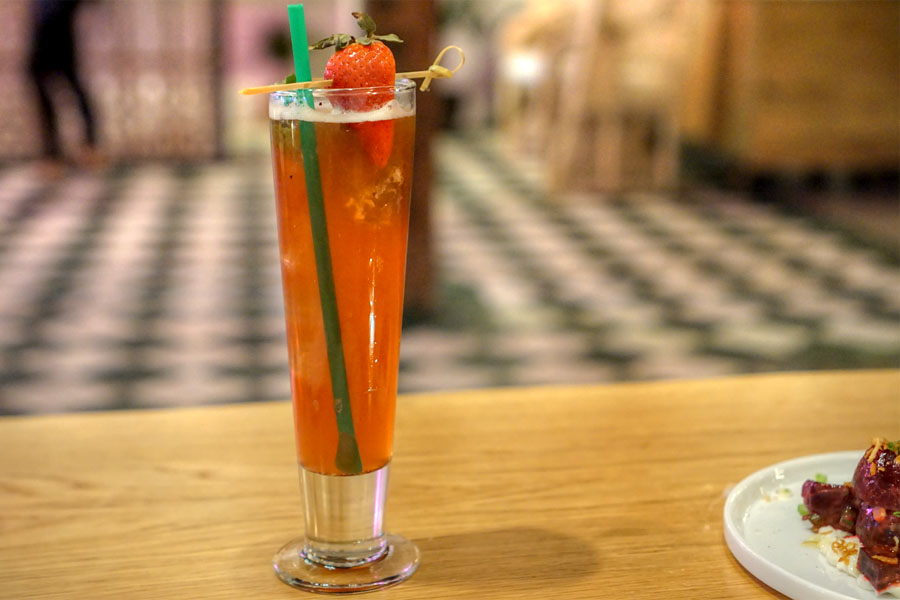 Andalusia, Spain [$13.00]
| strawberry, manzanilla sherry, rosewater, lemon, strawberry ale, pink peppercorn
Our final libation draws from the Andalusian beverage of
manzanilla
(a type of chamomile tea) as well as the
Rebujito
cocktail (sherry and soda). I got plenty of rich, fruity, floral flavors on the front end. This was joined by tempering bitter, saline, and oxidative notes, while the finish again showed off the fruit.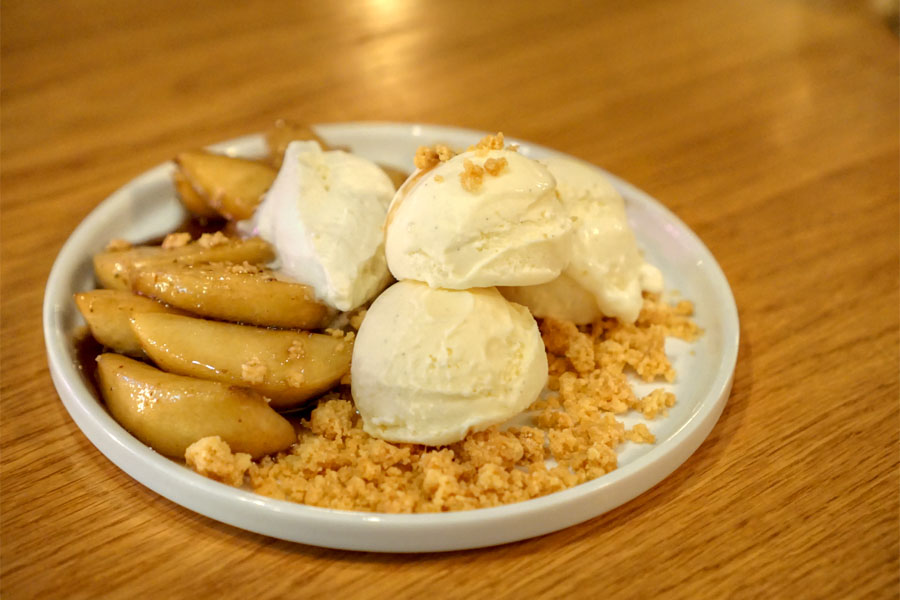 Apple Pie a la Mode [$7.00]
| pie crust crumble / brandy flambéed apple / vanilla bean ice cream
The dessert ended up being gratis, and was this sort of deconstructed apple pie. There was a nice back-and-forth between the ice cream and richness of the crust, which had a butteriness that recalled Danish biscuits. The apples, meanwhile, had an almost minty quality, probably from what they were flambéed in.
If I'm in OC, I tend to gravitate toward Downtown Santa Ana pretty often, so I'm glad to have another worthwhile drinking option there. The cocktails were interesting and well-made, but there was also a playfulness, a whimsy to them that I appreciated, while the food lived up to expectations for the most part despite some misfires. I can sorta see Vacation being one of my go-to spots in the area.