Majordomo (Los Angeles, CA)
Majordomo Restaurant
1725 Naud St, Los Angeles, CA 90012
323.545.4880
www.majordomo.la
Sat 03/09/2018, 09:20p-01:00a

The restaurant formerly known as North Spring was officially announced back in July last year, and ever since then, we Angelenos have been champing at the bit, waiting for the David Chang spot to drop. The Chinatown-but-not-really eatery finally opened on January 23rd, and I think it's safe to say that it's the most hyped debut of 2018. In fact, I'd say that Majordomo has supplanted
Bestia
as the toughest reservation in town--no easy feat. According to Chang, he'd been wanting to open a restaurant in LA for years now, and the timing of the pan-Asian-inspired place is certainly fortuitous, coinciding with the Chef's work as a Winter Olympics reporter for NBC, the premiere of his Netflix series
Ugly Delicious
, and perhaps most importantly, the launch of his multimedia entertainment company Majordomo Media (in partnership with Christopher Chen and Scott Dadich).
About the Chef
: Chang was born in 1977 in Northern Virginia, the youngest son (he has a sister and two brothers) of a mother from South Korea and a father from North Korea, both of whom had immigrated to the US in the 1960s. His dad started out at the bottom in the food service biz in New York, and eventually owned two delis in NOVA, but had sold them and started a golfing supply business by late 70s. Chang excelled in golf and also dabbled in football as a youngster; he actually didn't have a super strong interest in food, though his mom and grandmother were both good cooks, and he developed a taste for Japanese cuisine from his grandfather (Japanese occupation and all...). He went to high school at Georgetown Preparatory in North Bethesda, Maryland (not exactly a model student), and then made his way to Trinity College in Hartford, Connecticut, where he studied religion for four years. During his time at Trinity, he spent a semester abroad in London, and had a life-changing meal at Alan Yau's Wagamama (a Japanese noodle joint) that really made him consider cooking professionally.
Following graduation, Chang taught English in Wakayama, Japan, and ate his fair share of ramen in the process. Upon returning Stateside, he moved to New York, worked as a busser, dabbled in finance, and, in 2000, finally enrolled at the French Culinary Institute. He didn't particularly enjoy the educational aspect of FCI, but while attending, he cooked at
Jean-Georges
Vongerichten's Mercer Kitchen and got his foot in the door at Tom Colicchio's Craft after agreeing to answer phones for month. This led to Chang doing free prep work in the morning, and eventually a paid cook position under CdC Marco Canora. After finishing culinary school (he was only there for six months), he stayed at Craft for two years, but wound up returning to Japan again. A family friend, Reverend Paul Hwang, ran a hostel-slash-homeless shelter in Tokyo, and allowed him to live there while working at a ramen shop on the ground floor. Unfortunately, the ramen chef was of questionable sanity, and Chang lasted only a few days there before switching over to the building's izakaya, where he worked for a few weeks.
Soon after, another family friend hooked him up with an apprenticeship at Fuyu-Rin, a soba shop run by one Akio Hosaga. Even though he was more into ramen than soba, he studied diligently, but was dismissed four months in after Hosaga discovered that what he really wanted was to open a
ramen-ya
. Through some connections from Craft, Chang then went on to cook at the Tokyo Park Hyatt, first at its steakhouse New York Grill (where he saw sous vide cooking for the first time) and then at its Japanese spot Kozue. After eight months in Tokyo, he moved back to the US, turned down a chance to work at Sushi Yasuda, tried to get a job at Chipotle (he was already formulating his "Asian burrito" concept), and in the end landed at Café Boulud, under Andrew Carmellini. He worked as a line cook there for under a year, and was forced to return to Virginia due to his mom's cancer diagnosis and drama over the fate of the family business. Things eventually got better though, and Chang's father later lent him just under $200,000 to start his first restaurant.
He ended up taking over a tiny chicken wing spot in the East Village, and recruited Joaquin Baca to run the place with him. Momofuku Noodle Bar thus opened in August 2004, named after both the Japanese term for "lucky peach" and Momofuku Ando, the inventor of instant ramen. Business was slow at first, but picked drastically as the duo started expanding the menu and cooking more interesting food. In 2006, Chang garnered a "Rising Star Chef of the Year" nomination from James Beard for his work, and was also named one of "America's Best New Chefs" by
Food & Wine
. In August that year, his sophomore effort Momofuku Ssam Bar dropped, also in the East Village. The place was originally an Asian-y "burrito bar," but the idea never caught on, and the Chef wound up turning it into a more serious small plates restaurant. Sales improved dramatically, and Chang subsequently won Beard's "Rising Star Chef of the Year" award in 2007, along with "Chef of the Year" from both
Bon Appetit
and
GQ
. 2007 also saw the shutter of the original Noodle Bar, which moved to larger digs just a few doors down.
The space was transformed into Momofuku Ko, a 12-seat tasting menu spot that opened in March 2008. Ko is easily the Chef's highest-end location, and was quickly awarded two Michelin stars (which it has continuously retained) as well as a "Best New Restaurant" win from Beard. In 2008, Beard also deemed Chang "Best Chef: New York City," and we saw the debut of Momofuku Milk Bar that November. The casual dessert destination sat next door to Ssam Bar, and was run in partnership with Pastry Chef Christina Tosi. Milk Bar has since expanded to nine location just in NYC: East Village (2008), Midtown at the Chambers Hotel (2009), Williamsburg (2011), Upper West Side (2011), Carroll Gardens (2012), Chelsea (2016), Nolita (2016), West Village (2017), and Financial District (2017); note that the original closed in 2011, and a SoHo outpost shuttered in June 2015. There are also Milk Bars in Toronto (2013), Las Vegas at the Cosmopolitan (2016), and two in Washington DC (2015 at CityCenterDC and 2018 at the Wharf).
In October 2009, Clarkson Potter published the
Momofuku
cookbook, written by Chang and Peter Meehan. The Chef debuted Má Pêche in May 2010, situated in the Chambers Hotel in Midtown (a temporary operation was set up in the property's mezzanine the previous year). The food leaned French-Vietnamese, the work of Chef/Partner Tien Ho, though the cooking changed to modern American when Paul Carmichael took over in '11. Heather Machovec became Exec Chef in 2015 after Carmichael moved to another position within the company, though keep in mind that the restaurant is slated to close this June. Chang dropped the first issue of
Lucky Peach
in summer 2011, and the food magazine ran until May 2017. October 2011 witnessed the debut of Chang's first outpost outside the US, with Momofuku Seiobo opening at the Star City Casino in Pyrmont, a suburb of Sydney. In January 2012, Booker & Dax bowed in the original Milk Bar space next to Ssam Bar; the progressive cocktail bar was run by Dave Arnold, but ended up closing in October 2016.
In September 2012, a quartet of restaurants landed in Toronto, all set in a glassy three-level edifice: Momofuku Noodle Bar, bar-lounge Momofuku Nikai, the fancier Momofuku Daisho, and Momofuku Shoto, a dining counter inside Daisho. However, the latter two closed this February, and are being reworked into a new Momofuku-branded eatery. Milk Bar Toronto opened in 2013, also in the same building. Chang's next move was to PBS' series
The Mind of a Chef
, which he hosted for its first season, starting in November 2012. Beard's "Outstanding Chef" award came in 2013, and in 2014, Momofuku Ko moved to a new, larger location further south, but still in the East Village. In June 2015, Chang launched Fuku, a chain of fast casual fried chicken restaurants, and the first one was placed in the original home of Noodle Bar/Ko. Further locations have since opened in Financial District, Battery Park City, Madison Square Garden, Citi Field, and Hard Rock Stadium in Miami Gardens, FL. There's also a Fuku+ in Midtown's Chambers Hotel with an expanded menu, but that's slated to shutter along with Má Pêche.
We saw the premiere of Momofuku CCDC and Milk Bar inside Washington's CityCenterDC mixed-use development in October 2015. January 2016 had the introduction of Momofuku Nishi, an Italian-Korean hybrid that was poorly received. It closed for renovations in fall 2017, and has since reopened as a more focused Italian eatery. Chang launched Ando in May 2016 (named, once again, after Momofuku Ando), a delivery-only concept that eventually spawned a brick-and-mortar location in September 2017, but both efforts were shut down this January. Lastly, the massive Momofuku Las Vegas (situated inside The Cosmopolitan) dropped at the start of 2017, replete with a $7 million construction budget and Michael Chen installed as Executive Chef (though he only last two months). With Vegas done, Majordomo was next, so here we are.
Given the size of his business (annual revenues are in the tens of millions), Chang's obviously not going to be around all the time, so steering the ship at Majordomo day-to-day is Executive Chef Jude Parra-Sickels, an LA native born in 1979. After studying at the University of Wisconsin, he attended the French Culinary Institute in New York (Chang's alma mater). Following, the Chef worked as a line cook at Momofuku Ssam Bar, and later served as sous at Momofuku Noodle Bar. In 2010, Parra-Sickels moved back to the Southland and began working with Roy Choi, first at
A-Frame
, then at
Sunny Spot
, and eventually at
Pot
, where he was Exec Chef. Most recently, he opened
The Cannibal
in Culver City in May 2016 (the place shuttered at the end of January this year).
The front-of-the-house, meanwhile, is run by General Manager Christine Larroucau. She first made a name for herself over at
Osteria Mozza
, where she worked as a manager for a year starting in October 2012. In June 2014, she moved to Pedalers Fork in Calabasas, serving as the restaurant's AGM and wine buyer. She left the following August and returned to the Mozza family, this time becoming GM at the
Pizzeria
, a position she stayed at until August last year, when she decamped to start at Majordomo.


Majordomo sports a large-ish dining area, flanked on one side by the bar/kitchen, while the other opens out to the patio seating area outside. There's certainly a nod to the restaurant's previous life as an industrial space, but overall it's a warm, lively environment. Total capacity is around 180 apparently.
Majordomo's menu features dishes running the gamut in size, style, format, and inspiration. Fortunately, it looks like Chang and company have designed it specifically for us Angelenos, and it doesn't read as merely a listing of Momofuku's greatest hits. The
gua bao
won't be missed, at least by this diner. Click for a larger version.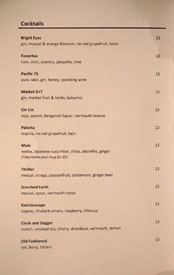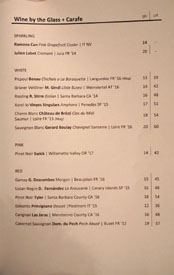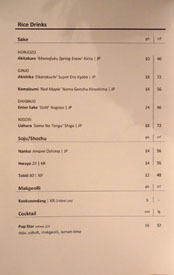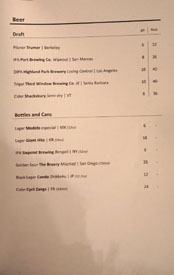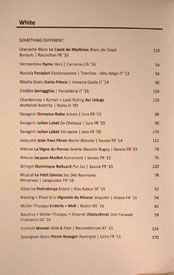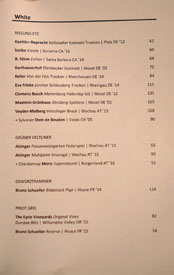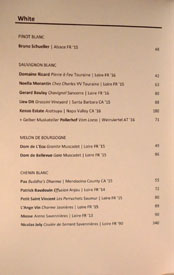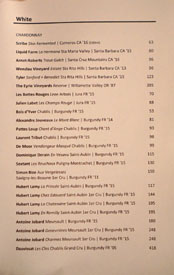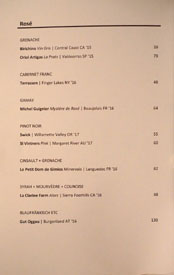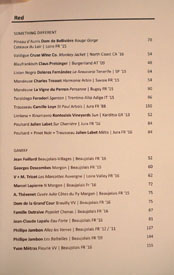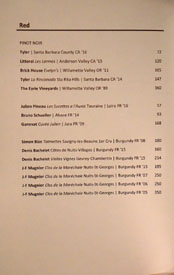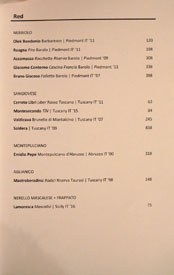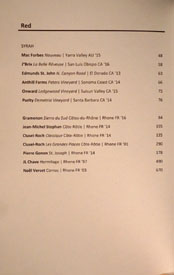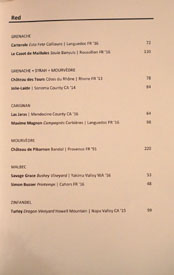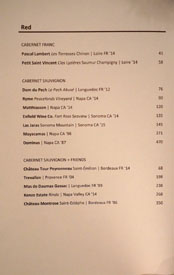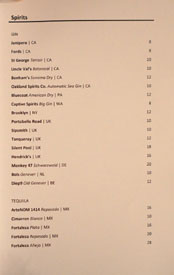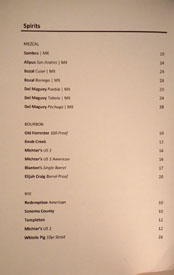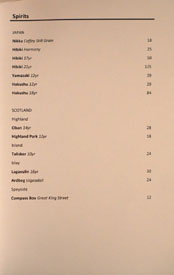 Drink-wise, Majordomo sports a dozen or so cocktails, a better-than-expected wine list with some compelling selections, a small array of beer, and sake/shochu/etcetera to round things out. Corkage is $30 a pop for the first two bottles ($50 after that), though we were charged only once. Click for larger versions.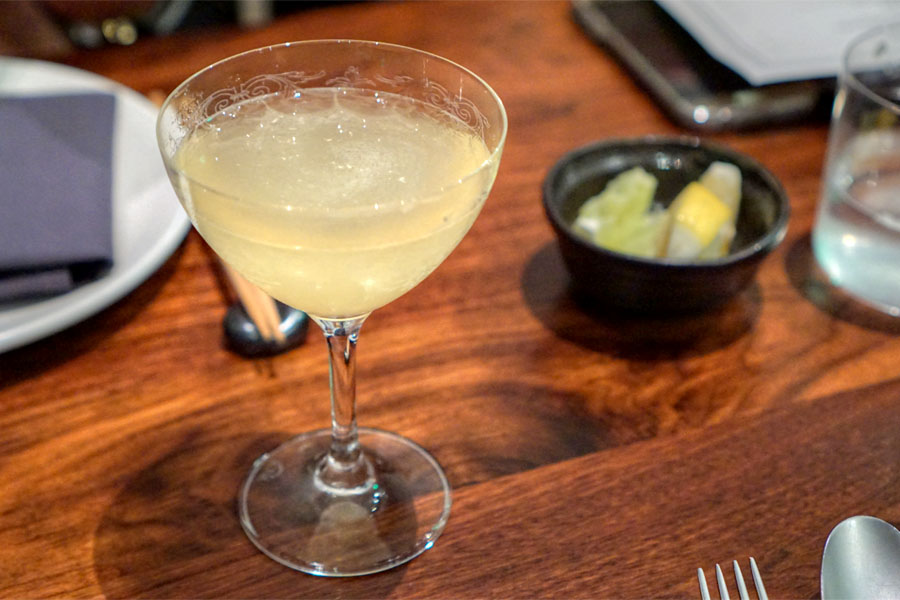 Pacific 75 [$13.00]
| yuzu sake, gin, honey, sparkling wine
We ended up going through about half the cocktail list, starting with this lightweight, French 75-inspired concoction that blended tart yuzu and sweet honey with the botanicals of gin and a noticeable bitterness on the back end.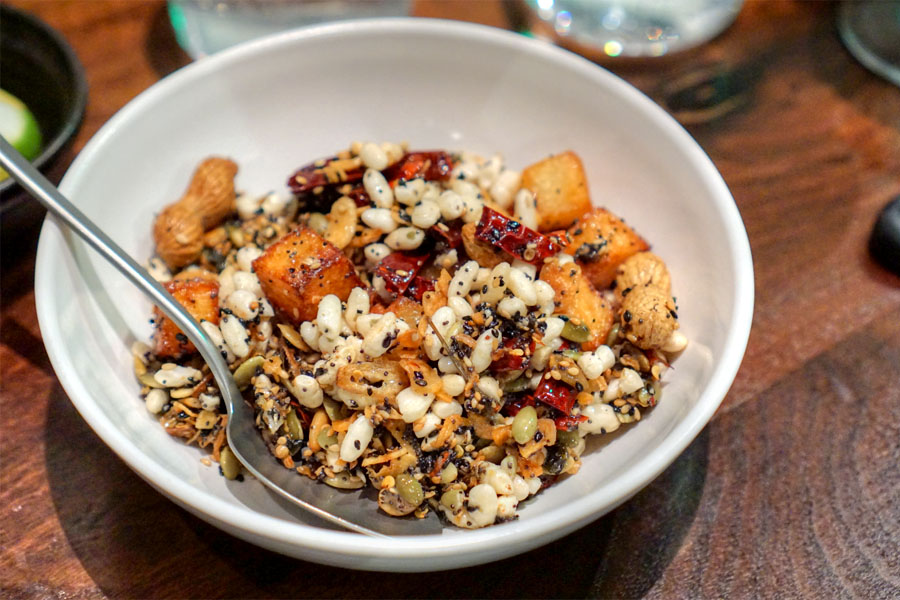 Fried Butterball Potatoes [$10.00]
| salsa seca, peanuts
I wanted more actual potato in this potato dish, but I will say that it was damn tasty overall. What little potato there was paired beautifully with the heat present, and I thoroughly enjoyed the contrast provided by the puffed rice and pepitas. Some marvelous textures, too.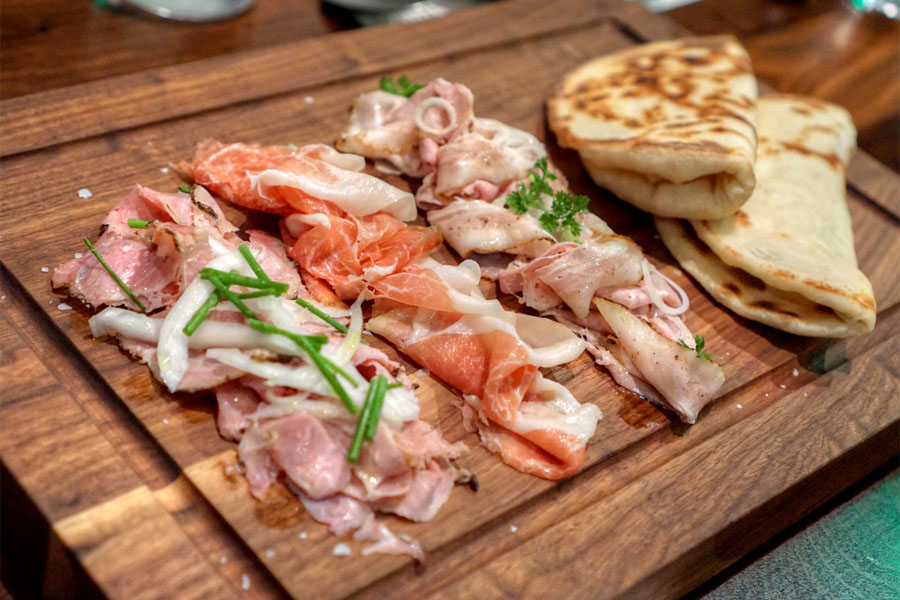 Coppa, Benton's Reserve Ham, Pork Shoulder Bing [$25.00]
Next was plancha-grilled Chinese-style flatbread (delicious just by itself), served with three preparations of pig. On the left we had coppa, which I found wonderfully porky, with a great smokiness and brightness from the fennel and chives. In the middle was Benton's ham, aged 24-28 months specifically for the restaurant--think fatty, nutty, and slick, with a great depth. Last up was pork shoulder cured in
katsuobushi
. Unfortunately I didn't get to try this one, as my dining companions ate it all.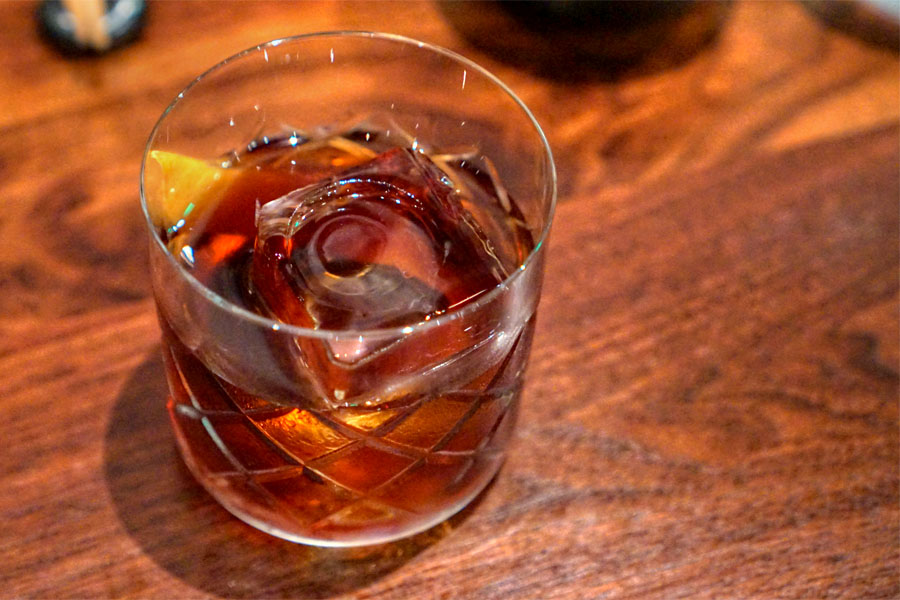 Scorched Earth [$13.00]
| mescal, cynar, vermouth rosso
The first of two mezcal-centric cocktails showed off a nose brimming with toffee and light fruit. The taste was definitely smoky, but again filled with dark fruit as well as a bevy of bitter, herby nuances. Not bad.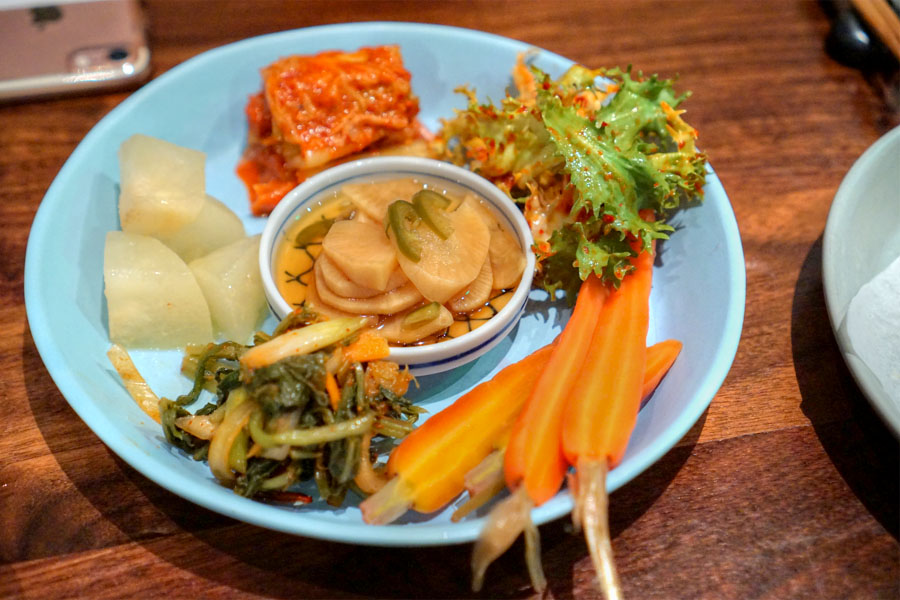 Pickles [$10.00]
| kimchi, brined, cured
The pickle plate included your good ol'
baechu kimchi
, an interesting chicory, bitter mustard greens, sweet carrot, and a super crunchy
mu jangajji
.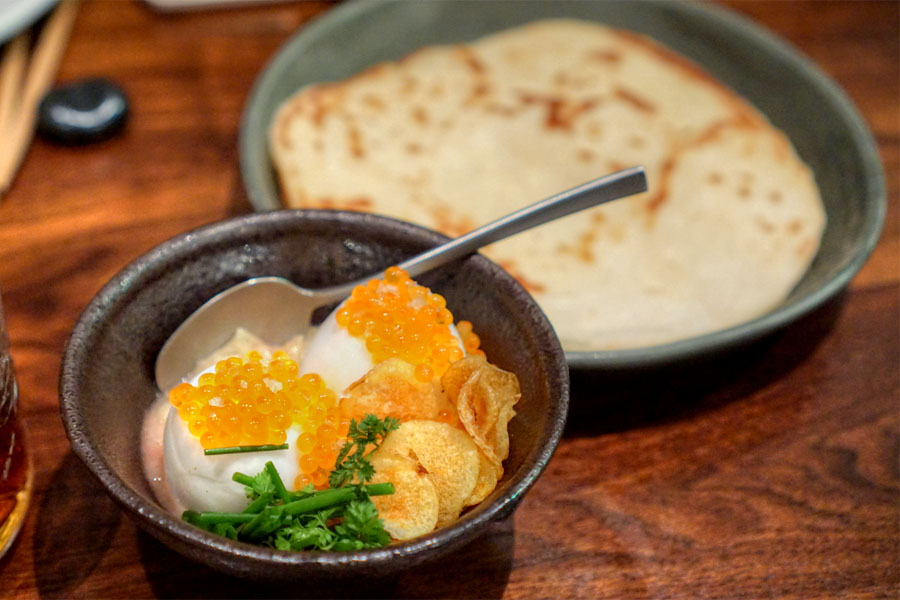 Eggs & Smoked Roe Bing [$18.00]
This seems to be the most popular of the
bing
, and for good reason. The key is to mix up everything in the bowl, and then spread it on the bread. Do that, and you'll encounter some superb egg-on-egg action meshing lush and smoky with a pop of greenery and the salty crunch of those chips. And the flatbread? The perfect vessel. A favorite of mine.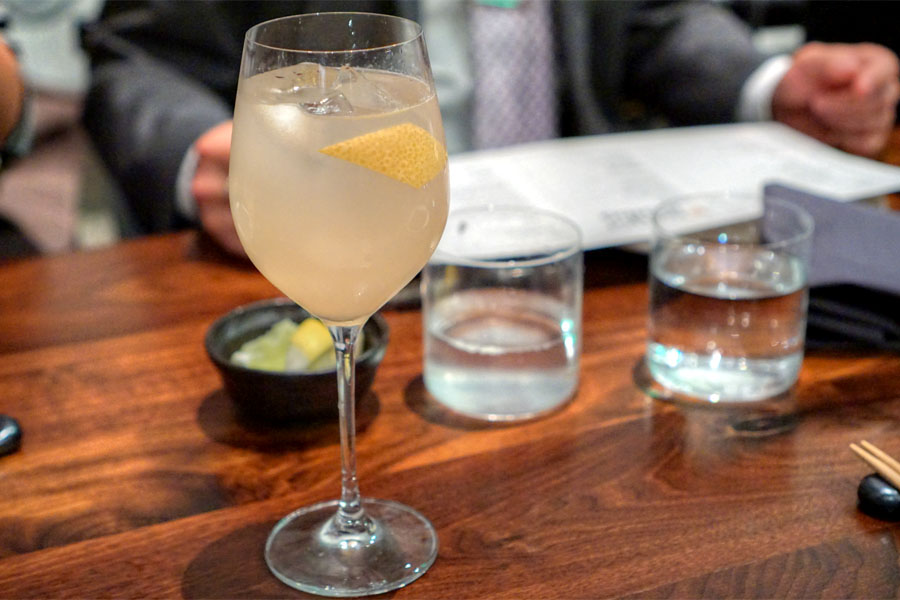 Bright Eyes [$13.00]
| gin, muscat & orange blossom, rio red grapefruit, tonic
Here we have the most quaffable of our cocktails, one with a super fruity, almost candied sort of flavor profile tempered only just by the gin.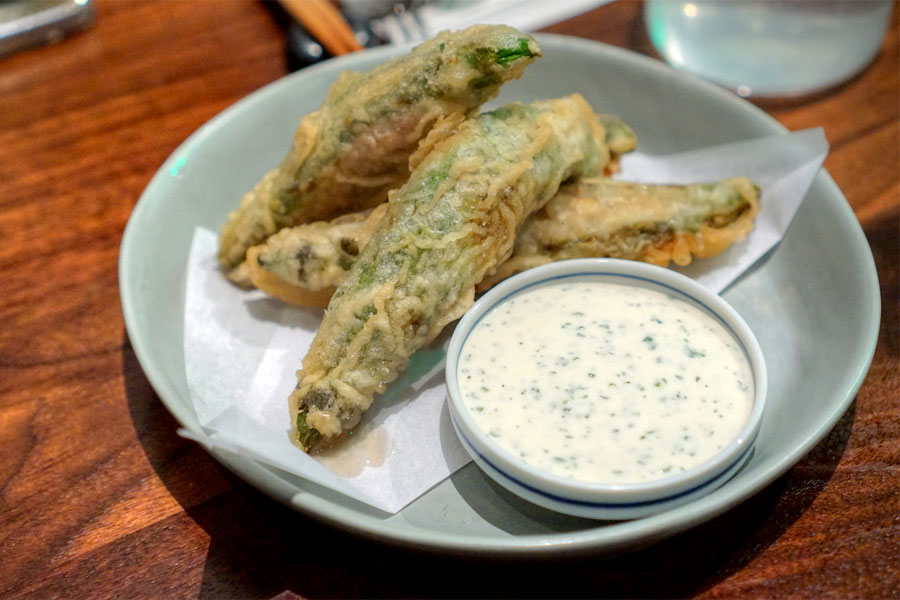 Stuffed Peppers [$14.00]
| Benton's sack sausage, buttermilk
Next was one of Majordomo's most talked about dishes, and also a standout for me as well. A sort of rejiggered
gochu jeon
-meets-
chile relleno
, it married moderately-spiced, just-crispy-enough peppers with an utterly homey, savory filling to make for a very familiar, yet fascinating eating experience. Lovely either with or without the buttermilk.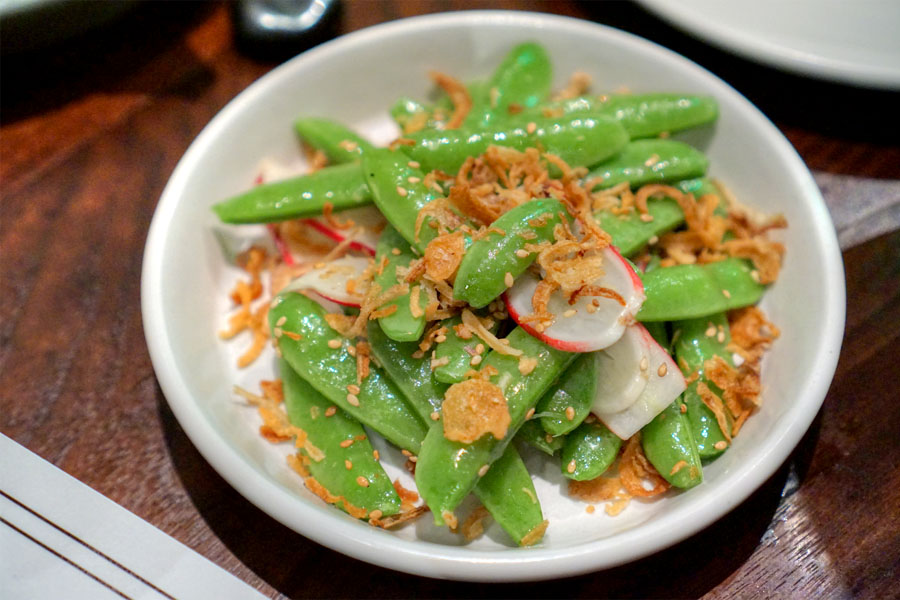 Raw Sugar Snaps [$10.00]
| horseradish, lemon, shallot
I'm a big fan of peas, so this was a must-order. The sugar snaps came out properly crunchy, their bright, green flavors well-accompanied by the zing of horseradish and a squirt of lemon, all while the fried shallots imparted some savoriness to the mix.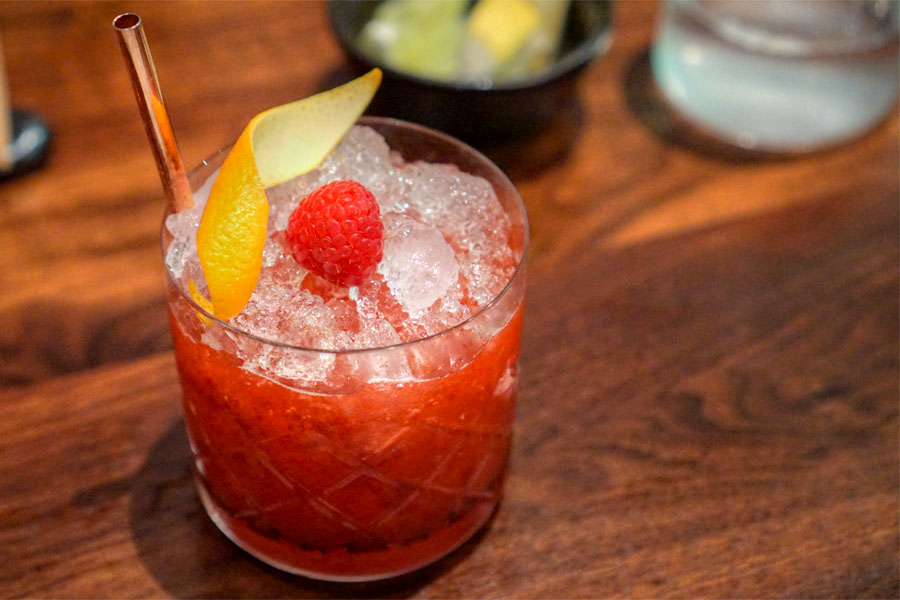 Kaleidoscope [$13.00]
| cognac, rhubarb amaro, raspberry, hibiscus
Here was a fun cocktail, one that blended loads of sweet berry 'n' hibiscus with the moderating effect of amaro and cognac.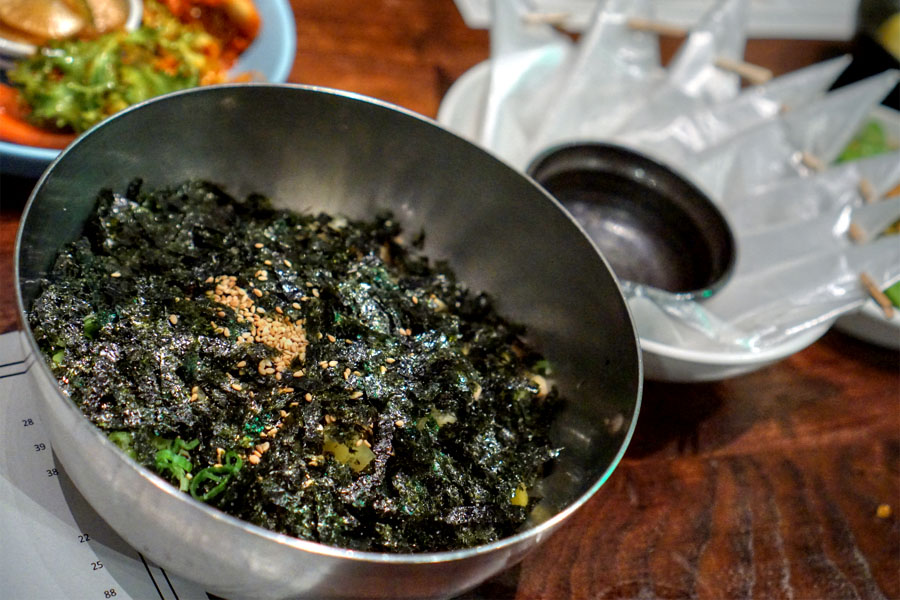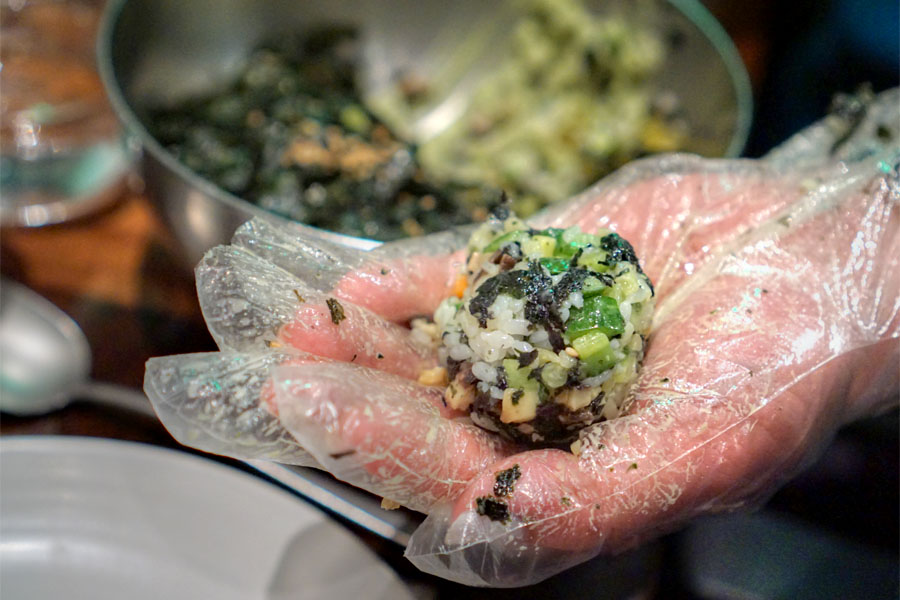 Jumeokbap [$12.00]
| seaweed, avocado, sesame
Chang's riff on
jumeok bap
managed to be another favorite of mine. This do-it-yourself dish was super satisfying, with a great blast of umami from the
gim
and an interesting element from the avocado, the rice bringing it all together.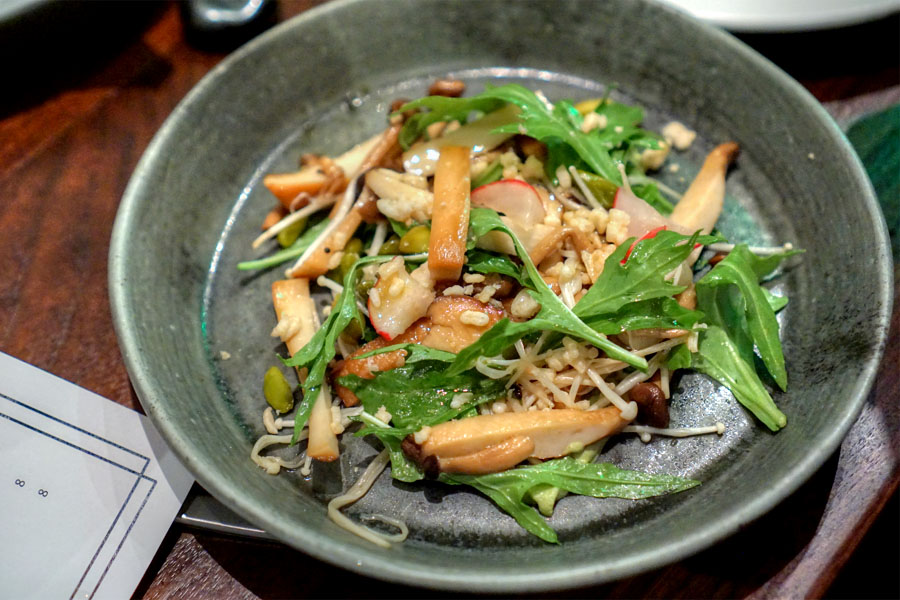 Marinated Mushroom [$17.00]
| pistachio, radish, mizuna
Mushrooms arrived as woodsy and earthy as you'd want, and I especially appreciated the incorporation of
enokitakes
. The various elements in the dish made for smart contrasts in both taste and texture, though again, some more actual 'shroom would've been nice (why so stingy with it?).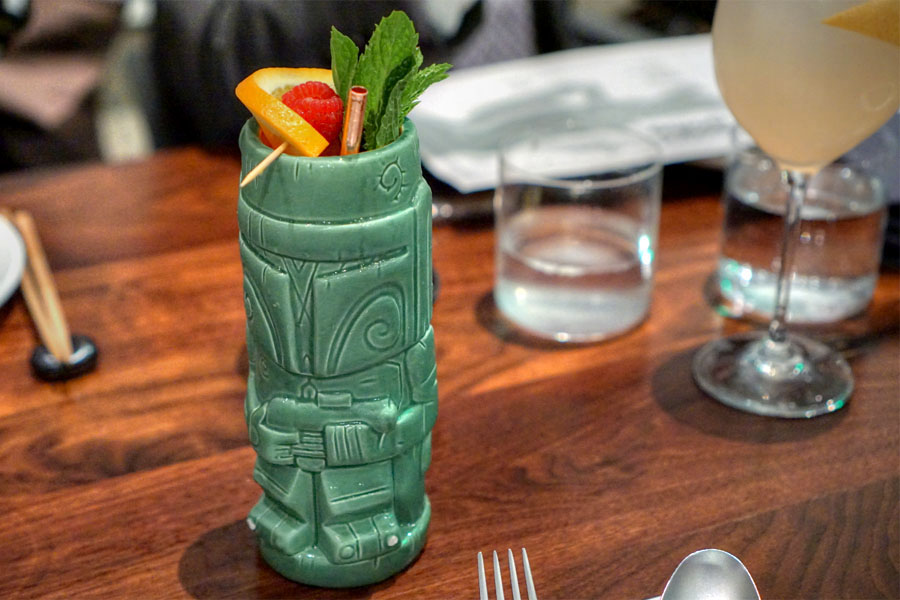 Thriller [$13.00]
| mescal, strega, passionfruit, cardamom, ginger beer
This tiki-ish cocktail went heavy on the fruit and spice, with counterbalancing bitterness, smoke, and herbaceousness from the Strega, as well as a persistent element of cardamom. And yes, that's Boba Fett.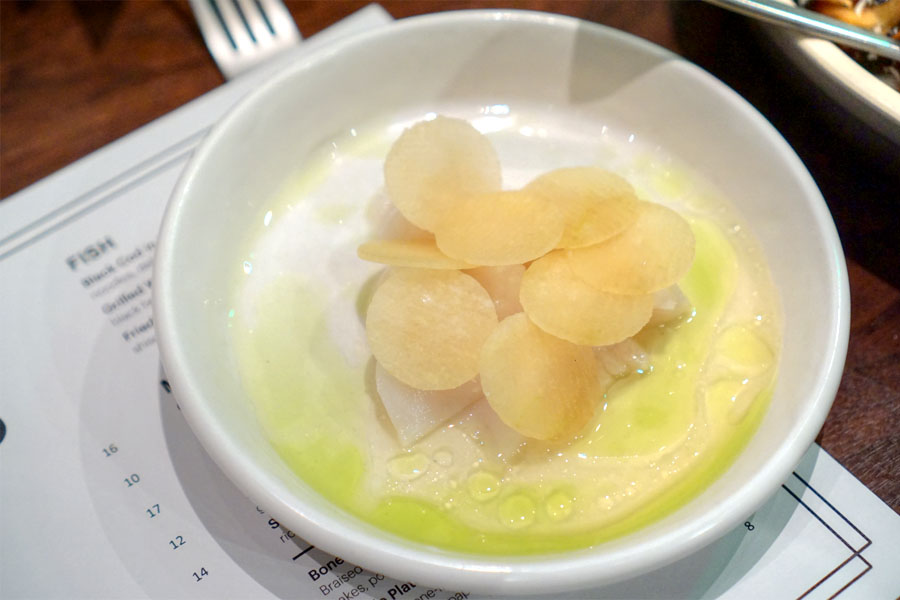 Kombu Cured Diver Scallop [$14.00]
| Pink Lady apple dashi
Scallops were clean-tasting, with a focused hit of umami from the
kobujime
curing process and a tart accent in the form of that apple-infused dashi.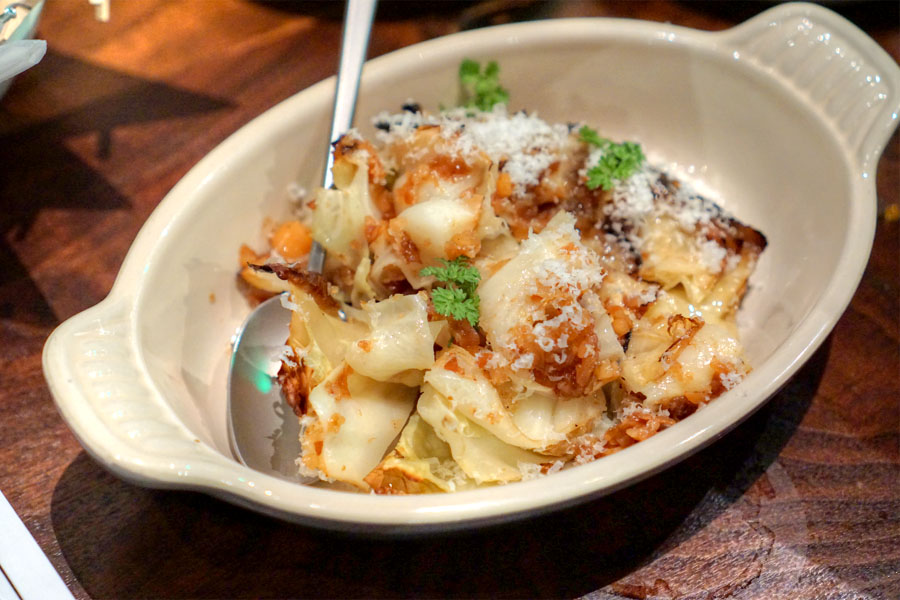 Smoked Cabbage [$12.00]
| brown butter, macadamia, chervil
I'm a sucker for cabbage, and this preparation mostly hit the mark with its bitter, smoky astringency playing off of the richness of brown butter. Nice textures here to boot.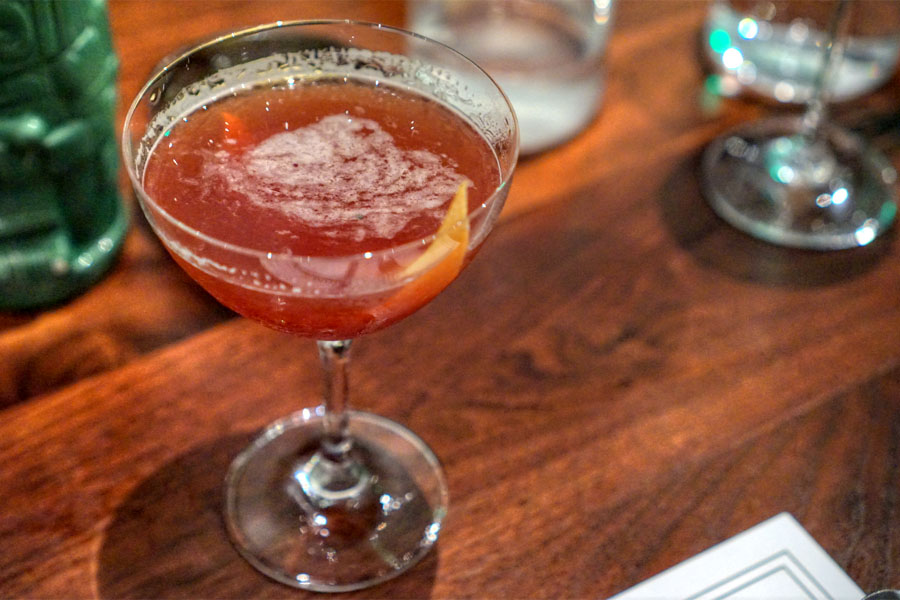 Cloak and Dagger [$13.00]
| scotch, smoked tea, cherry, drambuie, vermouth, lemon
Our final "savory" cocktail showed off aromas of dark fruit and herb, with a bitter backing. Taste-wise, I got lots of cherry up front, along with some tea-like, astringent notes and a prick of lemon on the back end.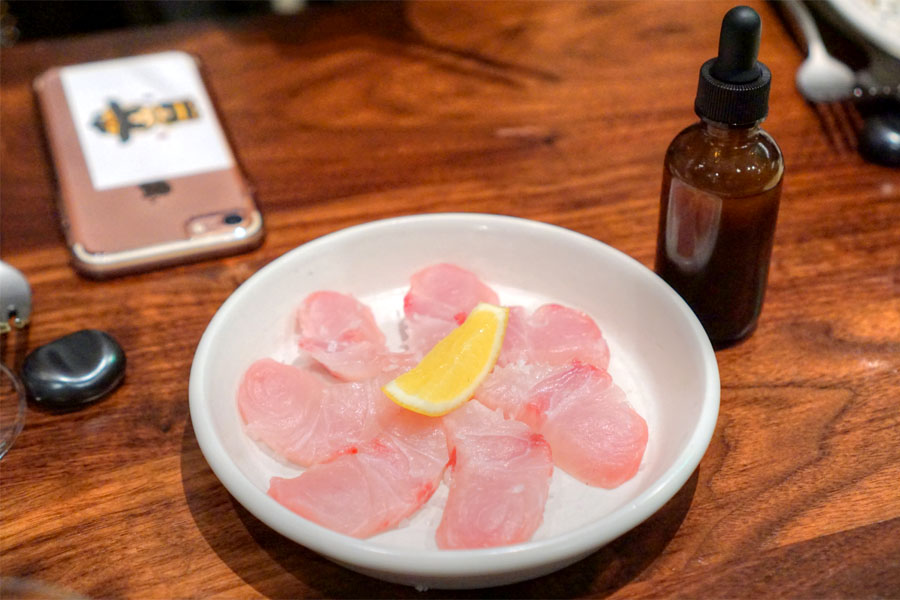 Sliced Kanpachi [$16.00]
| citrus, Bonji
Amberjack ate clean and lean, with a nice snap and pops of salt. Lemon worked to accentuate, but more interesting was that Bonji, a soy-sauce like condiment made from fermented grain, one with absolutely massive amounts of umami.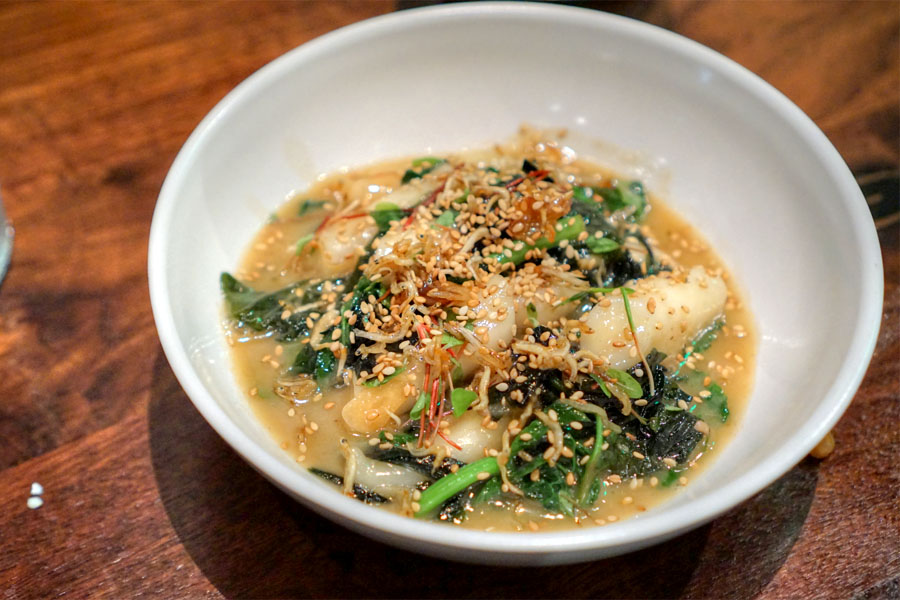 Rice Cakes [$16.00]
| spinach, seaweed, anchovy
The
tteok
dish was to my liking, and I'm generally not super into
tteok
. I was a fan of the texture on those rice cakes, and really appreciated the depth of flavor provided by the anchovy, while spinach helped moderate things.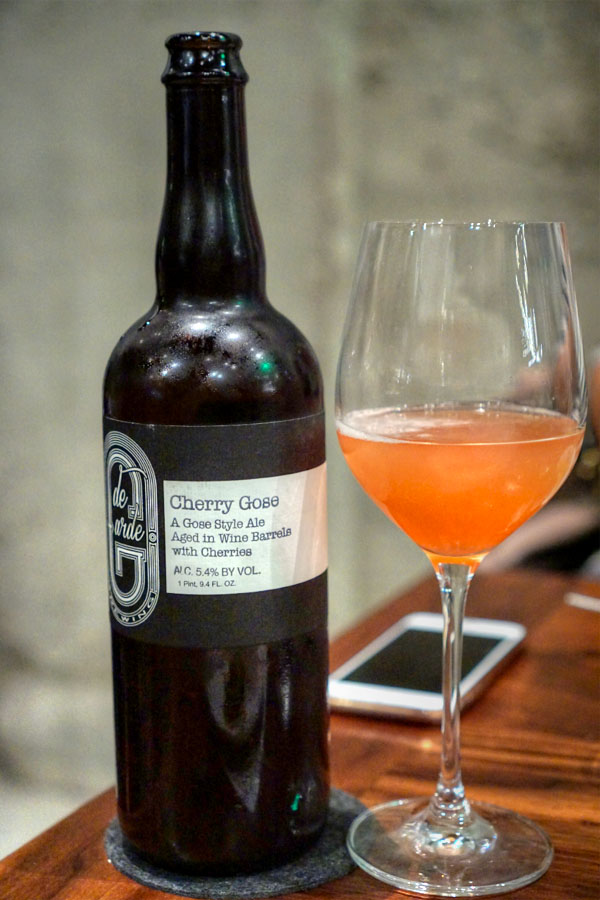 Next to drink was some beer, the wine barrel-aged
2015 de Garde Cherry Gose
. Nose of sweet, warm, cherried spice, along with a pinch of salinity and a big helping of funk. In terms of taste, think sweet 'n' sour mostly, but with a savory edge and light barnyard layered on top.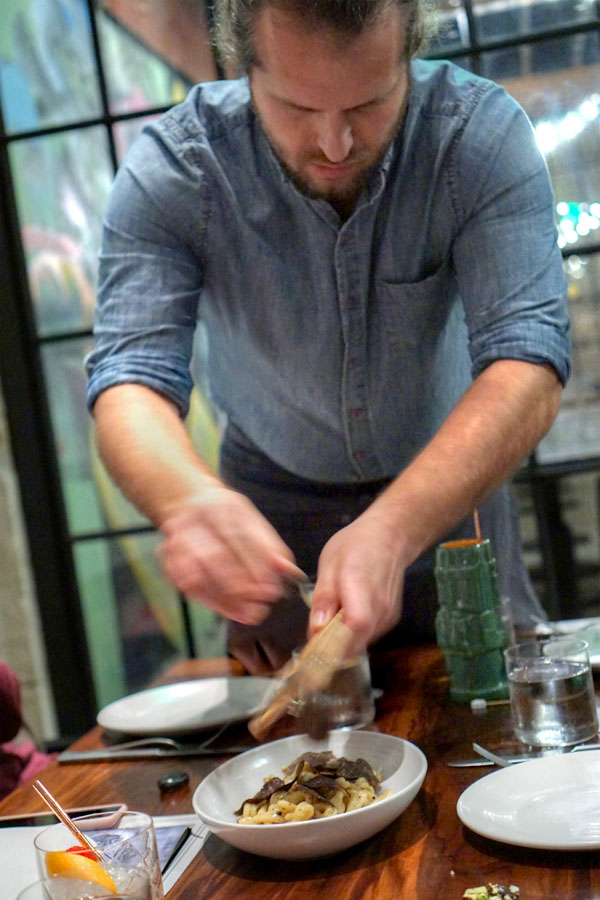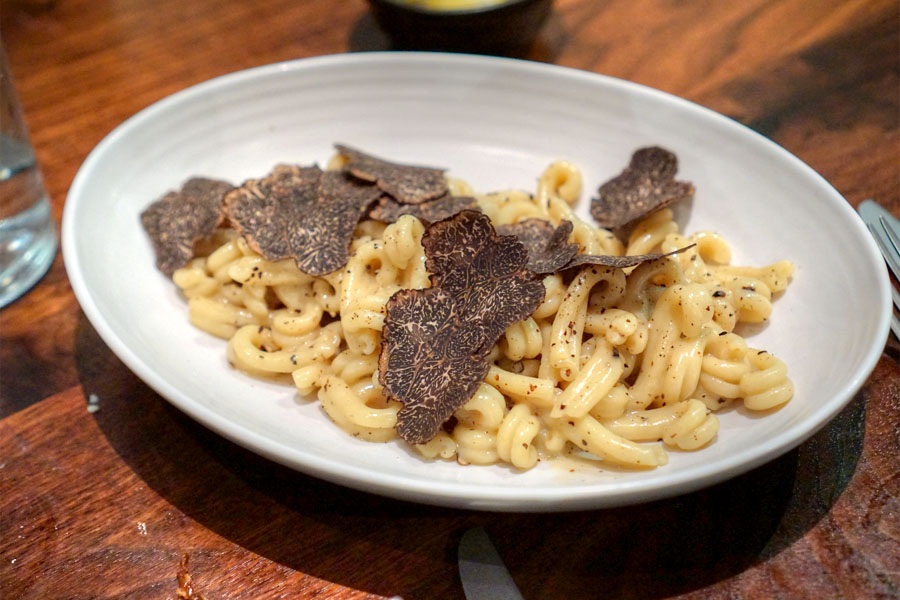 Macaroni & Chickpea [$52.00]
| black pepper, black truffle
Macaroni was well-textured, and had a particular sweetness to it (from the chickpea Hozon?) that I found interesting, and which made sense with the truffle. That truffle, though, really could've been more assertive, and almost seemed forgettable here.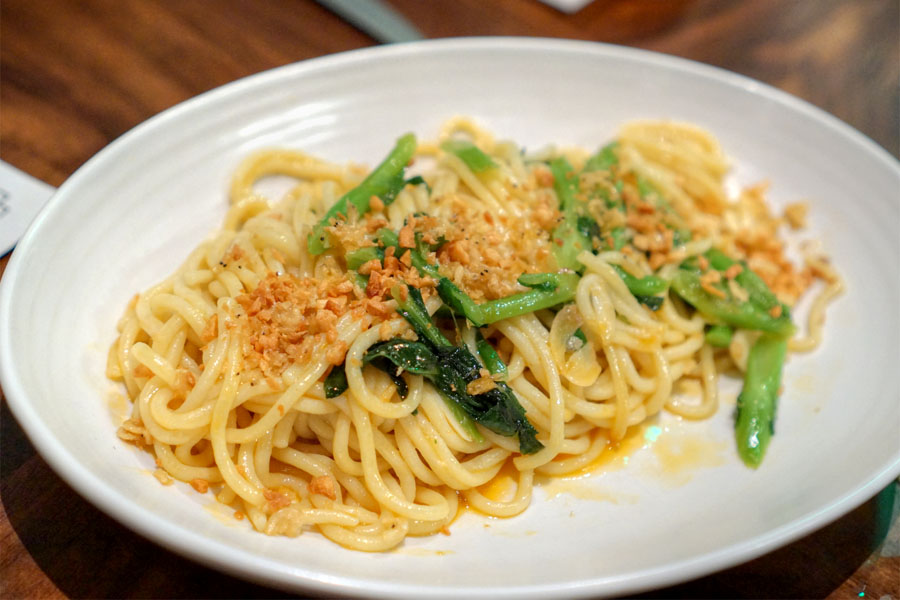 Tapioca Lo Mein [$15.00]
| rapini, garlic, krill
The
lao mian
was more successful. The noodles had the perfect consistency, and I loved the garlickiness of it all. Krill (
saeu jeot
?) added a pointed brine to the mix, and the rapini a bitterness, and there was even a sprinkling of heat that worked.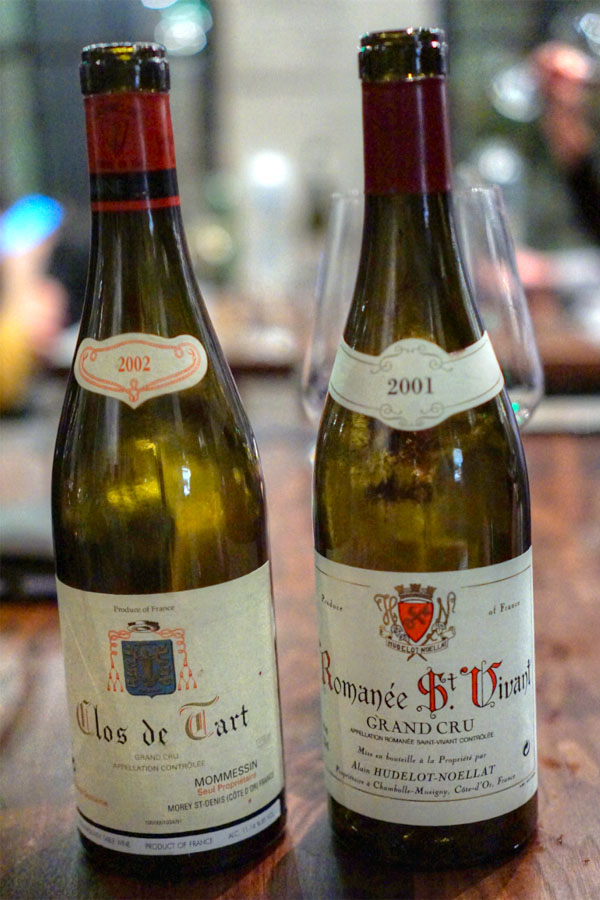 Coincidentally, we happened to be seated next to the inimitable Charlie Fu--local lawyer and well-known Burgundy fiend--and he shared some of the wine that his party had brought: a
2002 Mommessin Clos de Tart
, and the
2001 Alain Hudelot-Noellat Romanée St. Vivant
.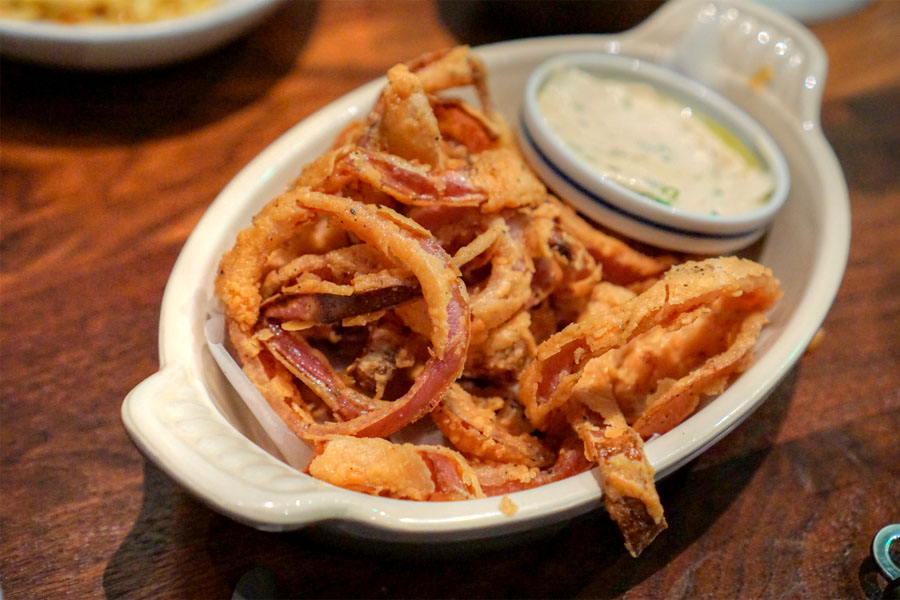 Onion Rings [$8.00]
Onions rings were lightly-battered, with a crisp, "shatter-y" consistency, and ate beautifully either alone or with the provided dip.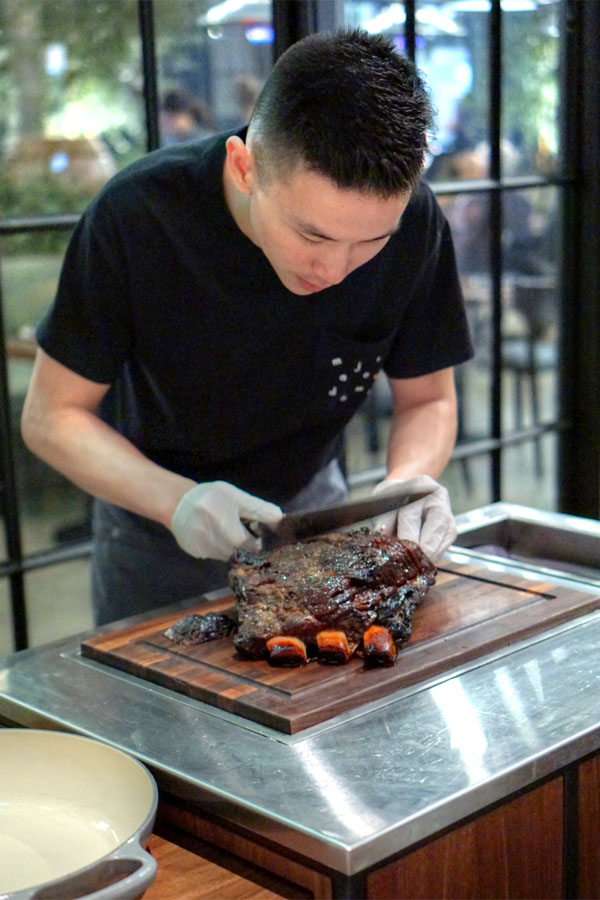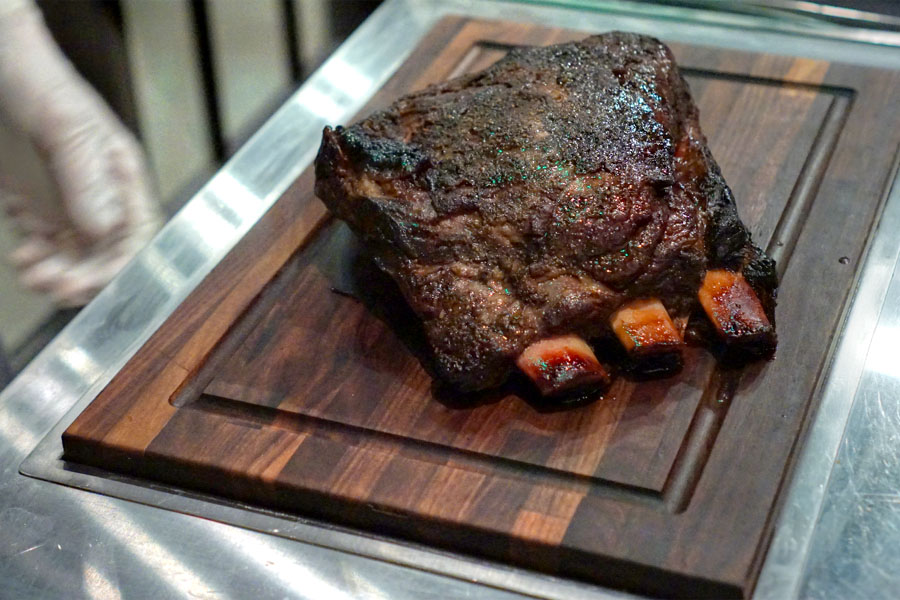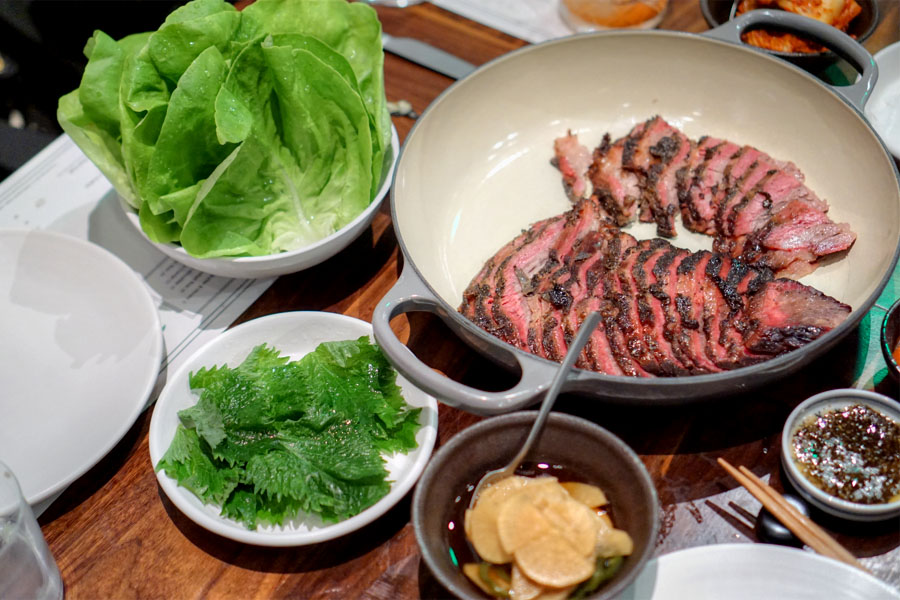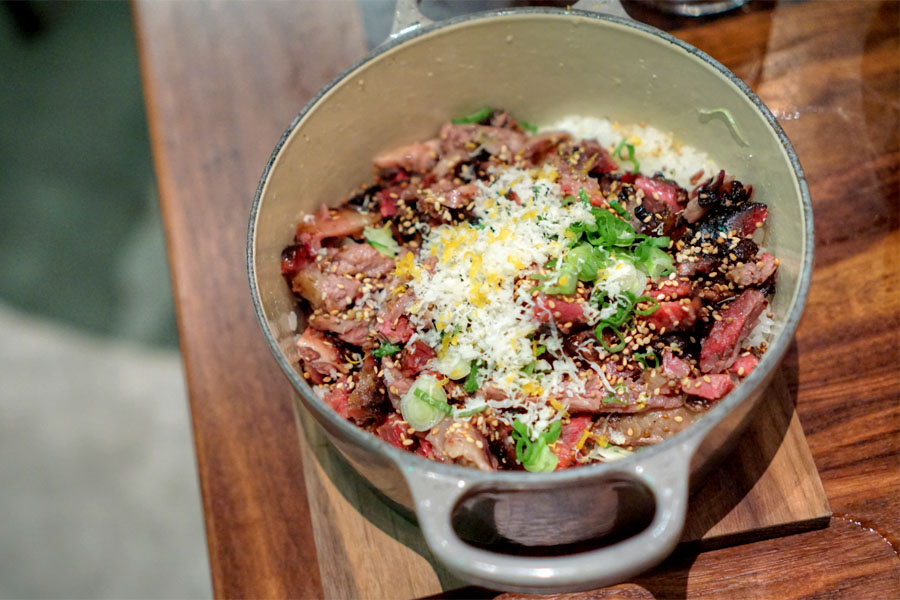 Whole Plate Short Rib (4-6 people) [$190.00]
| Smoked bone-in APL-style ribs. Served with beef rice, shiso rice paper, ssamjang & condiments.
No doubt, tonight's
pièce de résistance
came in the form of short rib, carved tableside, apparently the last order available this particular evening. I don't know what
Adam Perry Lang
taught the Majordomo team about smoking, but whatever he told 'em, the end product is remarkable. What we got was pretty much a perfect example of short rib: perfect texture, perfect smoke, perfect fattiness, perfect flavor. I'm very tempted to deem this BBQ-KBBQ mash-up the best short rib I've ever had, and that's even without any of the accompaniments (that
ssamjang
was mighty fine). If that wasn't enough, the meat from the bones was removed and added to rice, then topped with horseradish, scallion, and orange zest, a technique I've encountered (in less fancy form) at a number of Korean eateries throughout the years. The result was perhaps the most satisfyingly decadent bowl of rice I'd ever experienced--a stunner, especially with the heat of that horseradish.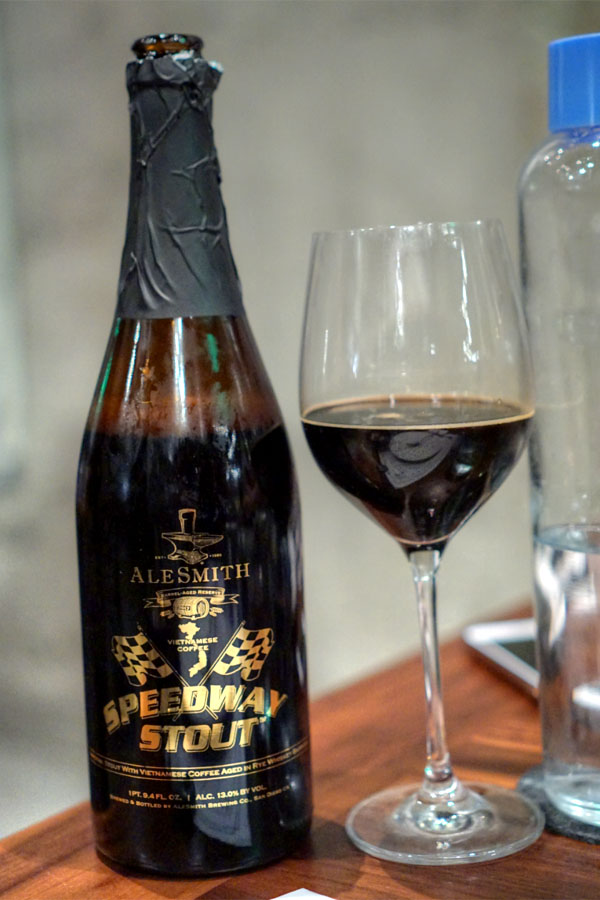 Along with the meat, we opened a bottle of the
2017 AleSmith Rye Whiskey Barrel Aged Vietnamese Coffee Speedway Stout
. It smelled great, with aromas of sweet chocolate and roasty coffee all over the place. The palate was thick and rich--notes of oak and spice at the forefront, giving way to more fragrant coffee and chocolate, with vanilla appearing toward the close.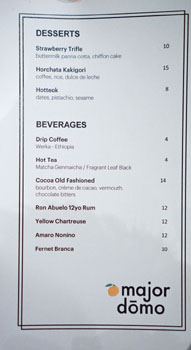 There are but three desserts on offer, so we just ordered 'em all. Click for a larger version.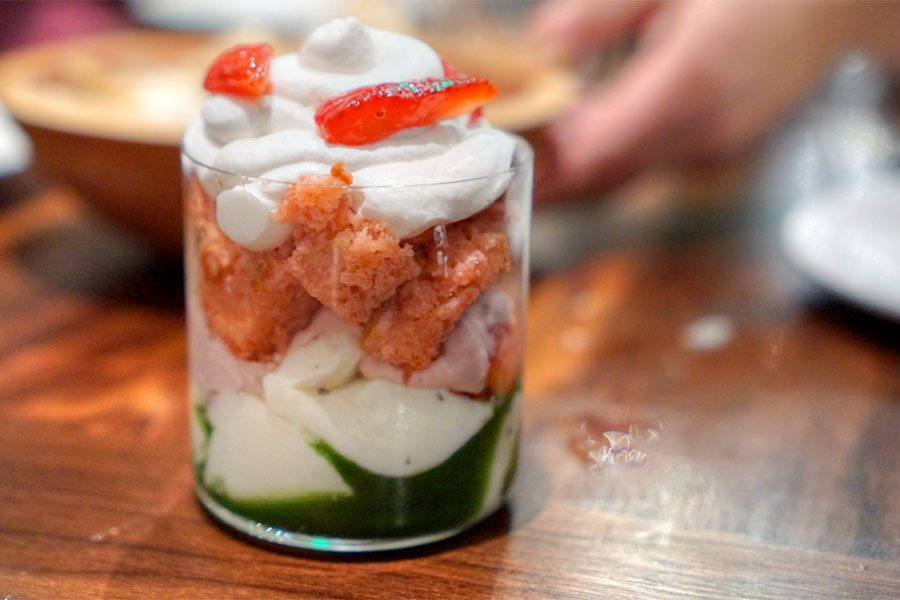 Strawberry Trifle [$10.00]
| buttermilk panna cotta, chiffon cake
This modernized trifle featured the time-tested combination of strawberries and cream, with a smart complementary note from what I believe was pandan on the bottom.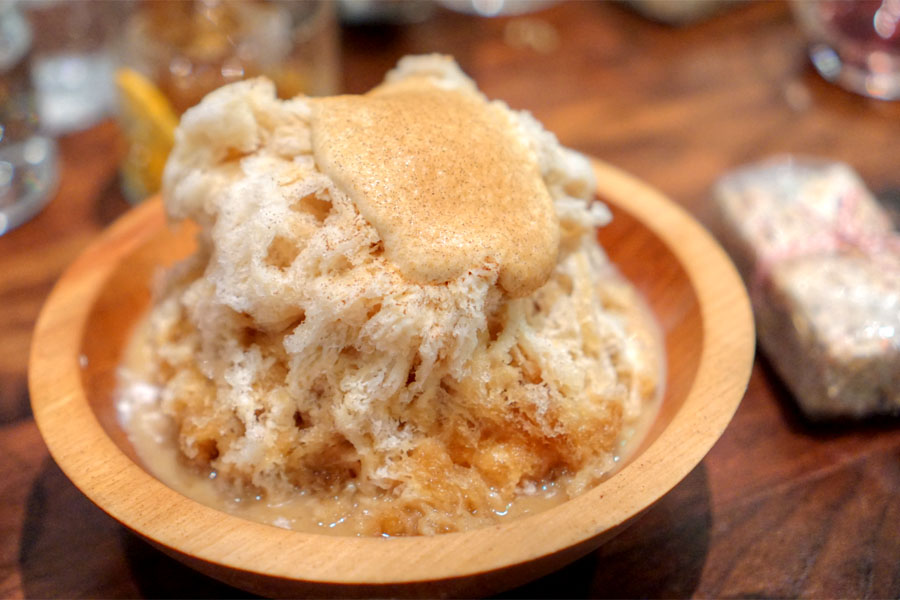 Horchata Kakigori [$15.00]
| coffee, rice, dulce de leche
Majordomo's version of Japanese shaved ice worked well enough, though I wish they would've been more heavy-handed with the coffee. The
dulce de leche
did help, though.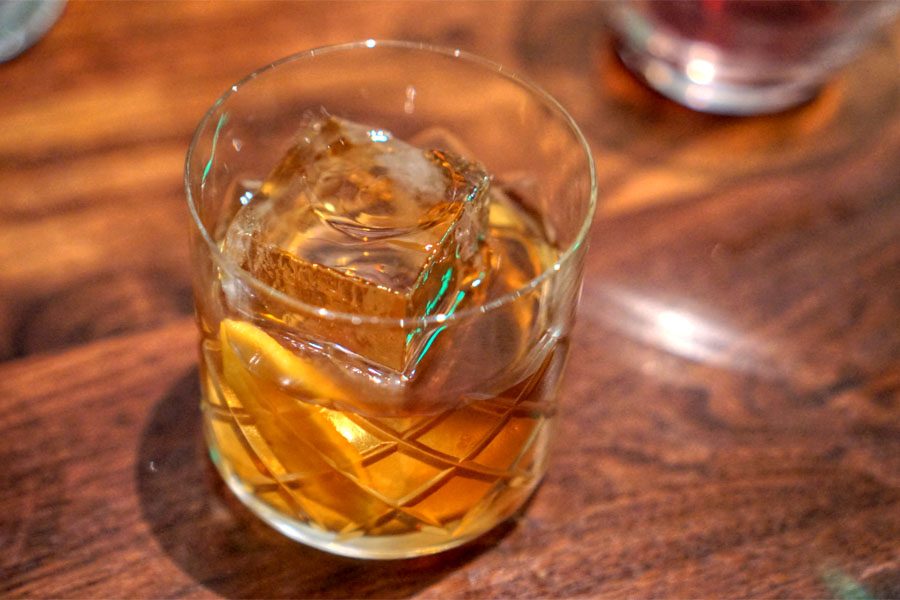 Cocoa Old Fashioned [$14.00]
| bourbon, crème de cacao, vermouth, chocolate bitters
Time for a dessert cocktail. Aromas here were toffee-esque, with citrus interspersed. In terms of taste, I found things boozy and quite spicy, with dark fruit, nuts, and cocoa coming in later.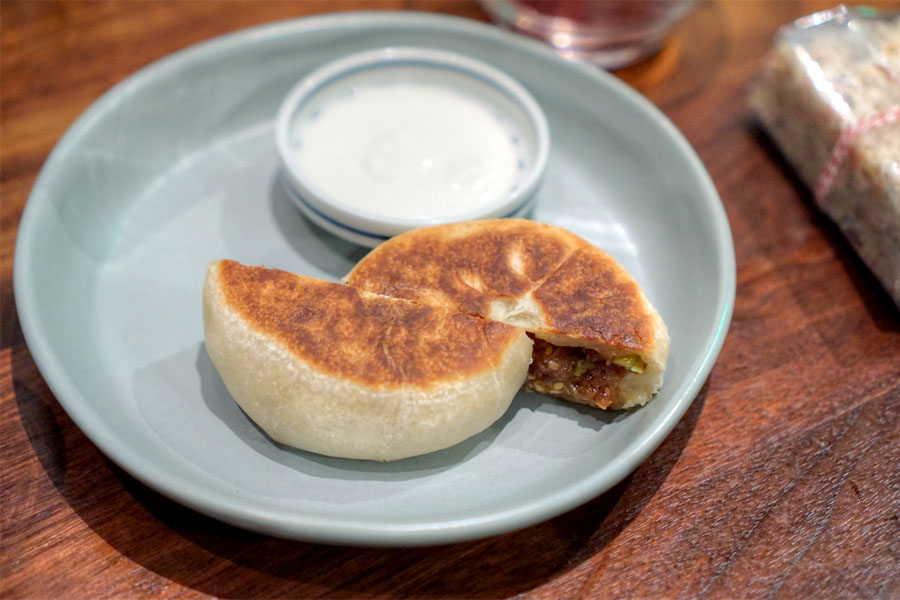 Hotteok [$8.00]
| dates, pistachio, sesame
Chang's play on
hotteok
, a sort of Korean stuffed pancake, was probably my fav of the desserts thanks to its spot on blend of nutty-sweet flavors.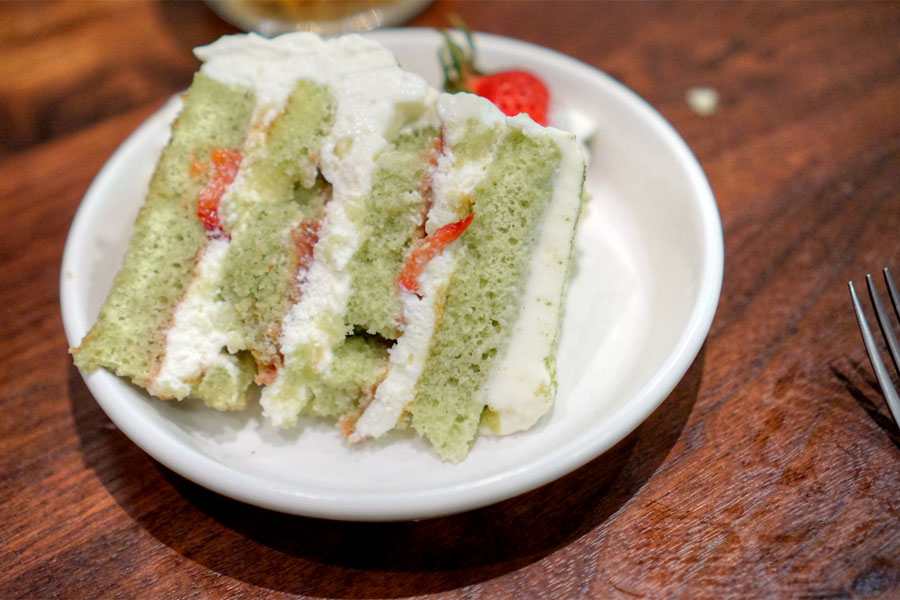 This was a birthday dinner, and a fellow diner made this delightfully bittersweet green tea cake (there's a cake cutting fee of $3 per head), one that wouldn't have seemed terribly out of place on the restaurant's menu.
Majordomo has been hyped to hell, but it looks like most of that is justified. The place fits LA, and works because it's not just a Momofuku rehash. The cooking's kinda-sorta fusion, but doesn't really look like it, and seems specifically designed for an audience that's ostensibly already deeply familiar with the "Asian" cuisines from which Chang draws from. It just works, and in fact, a number of my dining companions have already booked a reservation for a return visit in the near future--that almost never happens with them. As for next steps, I don't know what's in store for Chang with regard to LA (other than another Milk Bar), but personally, I'd love to see a smaller, more intimate, tasting menu-focused spot, a "Majordomo Ko" if you will.