Kith and Kin (Washington, DC)
Kith/Kin Restaurant
801 Wharf St SW, Washington, DC 20024
202.878.8566
www.kithandkindc.com
Wed 03/14/2018, 07:30p-10:15p

Over the past few years, one of the District restaurants that I was most excited about was Kwame Onwuachi's Shaw Bijou. Unfortunately, the decidedly upmarket, tasting menu-centric joint managed to last about 10 weeks before it closed (these days, the Chef humorously refers to it as a "pop-up"). Onwuachi didn't let that indignity deter him though, and he's back on the scene with Kith and Kin ("friends and family"), which opened on October 12th last year. Situated at The Wharf development, the spot serves Afro-Caribbean cuisine inspired by the Chef's multicultural heritage, presented in a more casual, approachable format that's already allowed the place to outlast its predecessor.
About the Chef
: Onwuachi was born in 1990 on Long Island to a Creole-Trinidadian mother and a Jamaican-Nigerian father. Dad worked in construction while mom was an accountant, but the pair divorced when the Chef was two years old. Afterward, he and older sister Tatiana moved with mother Jewel Robinson to an apartment in the Bronx. In order to spend more time at home, Robinson quit her 9-5 and started a craft service catering company called Jewels, and he and Tatiana were forced to help out. Onwuachi attended the gifted program at P.S. 153 and got good grades, but was also a troublemaker. He got a stepfather at age nine, but that didn't help, and when he was 12, mom ended up sending him to live in a village in Nigeria with his paternal grandfather, Patrick Chike Onwuachi (a former professor at Howard). The point of this was to teach the young man "respect," and during his time there, Onwuachi lived a tough life, even having to catch and kill his own food.
After two years, he returned to the US with an enlightened outlook, and later graduated from the Bronx Leadership Academy in 2007. He went on to study business at the University of Bridgeport in Connecticut, but dropped out after his sophomore year. He then moved to Louisiana to live with his mother, who had become a hotel chef in Baton Rouge. The Deepwater Horizon disaster occurred in April 2010, and Onwuachi ended up landing a gig on one of BP's clean-up ships, eventually becoming head cook for the 40-person vessel. He moved back to New York later that year and started working as a waiter at Craft, but quickly grew dissatisfied being in the FOH. Somewhat randomly, he offered to cater a grand opening for a small retail shop in SoHo, free of charge no less. The opening went well, and he was inspired to start his own catering company.
He quit Craft and, interestingly enough, started hawking candy on the subway to raise funds. Purchasing wholesale from BJ's and reselling, he managed to raise $20,000 in two months, which allowed him to secure a spot at the Hot Bread Kitchen incubator. Coterie Catering was thus born at the start of 2011, and operated for about a year-and-a-half, providing food services for events big and small. Onwuachi wanted to learn more though, and so in 2012, he enrolled at the Culinary Institute of America. He still catered on the side briefly during this period, and even offered jobs to his fellow students. He also
staged
at John Besh's Restaurant August (where he met mentor Marcus Samuelsson) and
Per Se
, and cooked on the line at Eleven Madison Park. After graduating in summer 2014, Onwuachi joined Dinner Lab, a roving pop-up competition for up-and-coming cooks (he won), and ended up being introduced to Kelly Gorsuch and Glenn Paik at a stop in DC.
The two businessmen agreed to fund a restaurant with virtually no restrictions (apparently $2 million was raised). The Shaw Bijou (an homage to mom, as "bijou" translates to "jewel" in French) was thus born at the start of 2015, with Greg Vakiner joining the team as GM. The two longtime friends were sent around the globe for R&D, and later that year, Onwuachi participated in
Top Chef: California
, which started airing in December. He finished 6th among a field that included SoCal chefs
Amar Santana
,
Phillip Frankland Lee
, and Giselle Wellman. In March 2016, he cooked at the White House Easter Egg Roll, and that August, landed a book deal with Knopf for a memoir with the cringe-inducing title of
Chasing Happiness
. November 1st, 2016 saw the debut of Shaw Bijou in Gorsuch's former residence, and the restaurant was quickly attacked for its high price point: $185 for food, another $185 for wine, tax and tip not included. Two months in, the menu was changed to seven courses for $95, and the planned members-only upstairs lounge was turned into a bar with à la carte ordering.
That wasn't enough though, and the place shuttered shortly after, in January 2017, having not even made it three months. After this humiliation, Onwuachi considered getting out of the restaurant biz, but wound up doing some traveling in Latin America, and bounced back quickly. In May that year, he was contacted by the InterContinental hotel and started work on Kith and Kin, which opened in October serving food that's much more accessible compared to that of his previous venture.
Top Chef: Colorado
premiered in December, and he reappeared as a returning contestant, competing (along with
Marcel Vigneron
) in Last Chance Kitchen for the opportunity to enter the main competition (which featured the likes of
Bruce Kalman
and
Joe Sasto III
). He got close, but didn't quite make the cut, eliminated in the last round.


Kith and Kin sits on the ground floor of the InterContinental Washington D.C., facing the water. The dining room, swathed in golden and neutral tones, is actually quite luxe, and offers seating for 96 guests.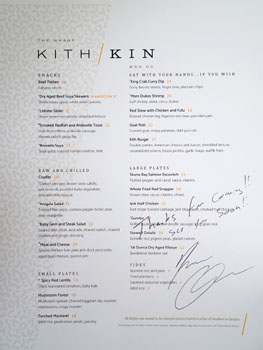 The menu draws inspiration from the Chef's background, featuring updated versions of African, Caribbean, and Creole dishes. There's also an abbreviated bar menu, and given that this is a hotel restaurant, breakfast and lunch are also options (though the breakfast fare is pretty typical). Click for larger versions.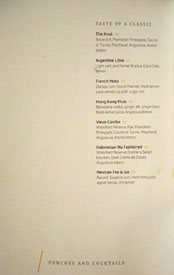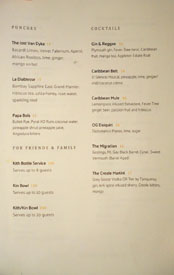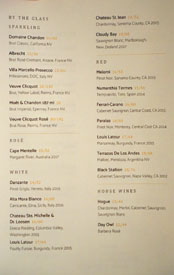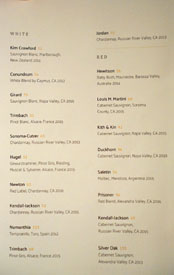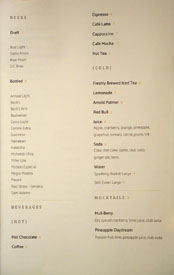 Beverage-wise, you get a surprisingly appealing, rum-heavy cocktail list from lead barman Zachary Hoffman, a Shaw Bijou alum who most recently tended bar at Mirabelle (which is on my list to try). If that's not your thing, there's also a small, humdrum wine list and a pretty pedestrian selection of beer. Click for larger versions.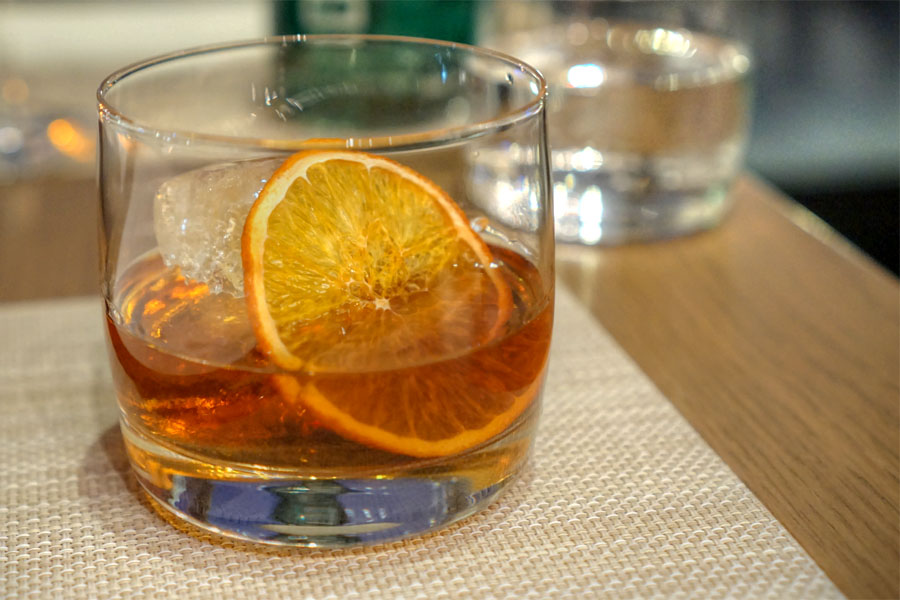 Vieux Carribe [$16.00]
| Woodford Reserve Rye, Plantation Pineapple, Cocchi di Torino, Peychaud, Angostura, Alomo bitters
My first cocktail was a Caribbean-ish take on the classic Vieux Carré, with rum in place of cognac (among other changes). I got a wonderfully aromatic nose filled with spice and citrus, with a hint of booziness underneath. The taste brought fruit flavors at first, with bittersweet notes coming in later, the whole thing finishing with lingering spice, rye, and overtones of vanilla. Nice!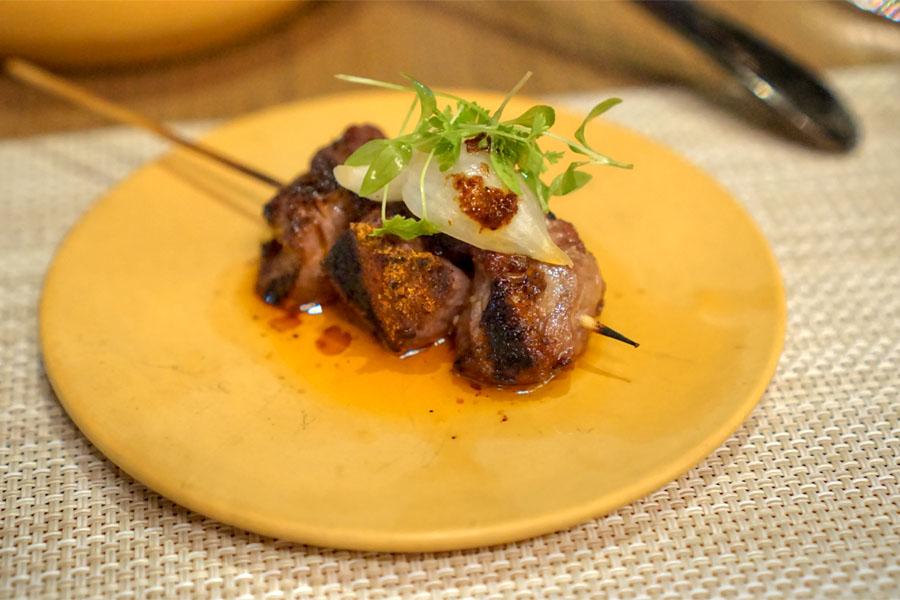 Dry Aged Beef Suya Skewers [$6.00]
| Shitto honey glaze, white onion, parsley
Up first was the Chef's interpretation of the
suya
skewer, one of the national foods of Nigeria. This polished version of the street snack showed off a lovely smoke and char, along with a robust, building spice and a blast of savory funk from the dry-aged meat. The onions proved to be a zesty counterpoint, and there was even this undercurrent of sweetness that worked. A fun, easy start.
Bread duties were handled by this housemade coco, a Caribbean staple. Think soft, buttery, just sweet enough, with some well-placed pricks of salt for balance. Pretty addictive, so be sure not to fill up on it.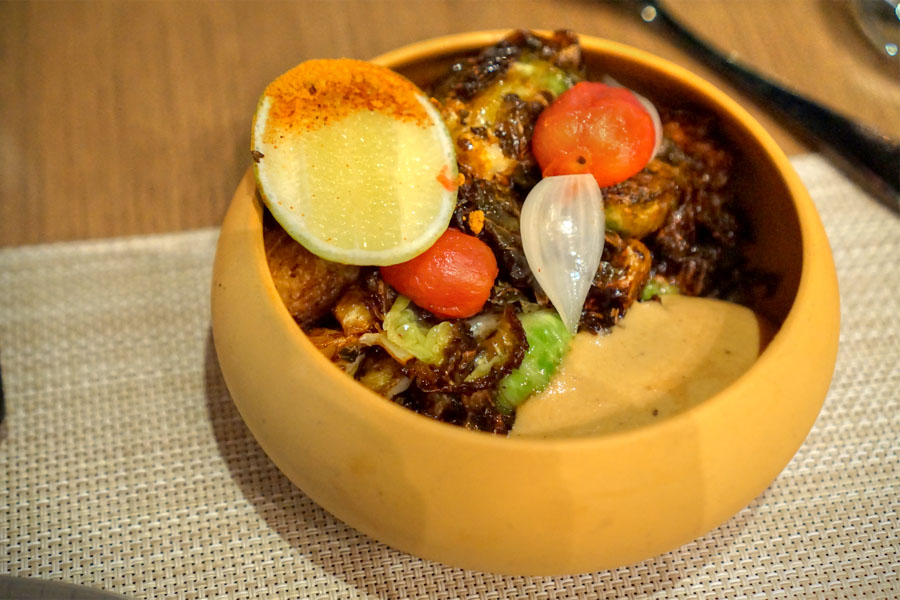 Brussels Suya [$12.00]
| Suya spice, roasted tomato soubise, lime
Given my penchant for Brussels, I had to get this, and wasn't disappointed. I loved the satisfyingly firm-but-yielding texture on the sprouts, while the smoke and sear was just to my liking. The key here, though, was that
suya
spice blend, which provided a creeping heat as well as complementary savory-sweet notes that meshed beautifully with the veggies. Excellent brightness from the combination of lime, onion, and tomato, too.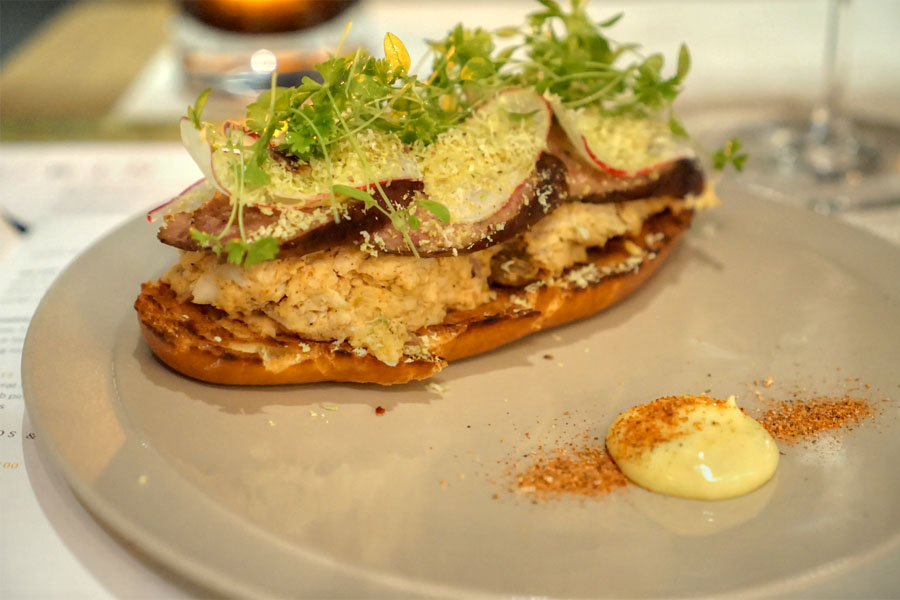 Smoked Redfish and Andouille Toast [$12.00]
| Red drum rillette, andouille sausage, shaved radish, pistachio
Rillettes of red drum ate creamy and mild, with a restrained sweetness, and worked better than I expected with the super flavorful, snappy andouille while all the greenery offered up a light, zippy contrast.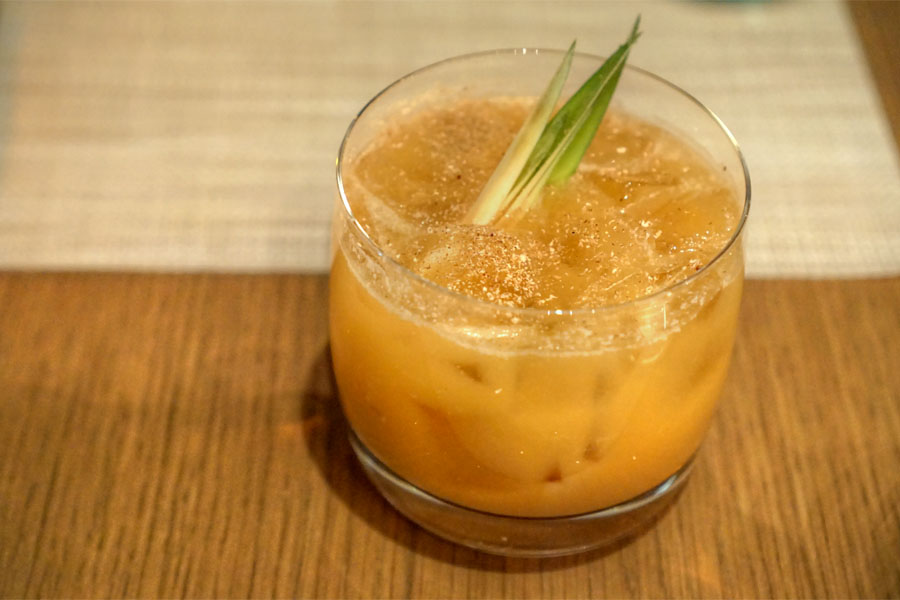 Papa Bois [$15.00]
| Bulleit Rye, Pyrat XO Rum, coconut water, pineapple shrub pineapple juice, Angostura bitters
For my next cocktail, I moved on to the punch section of the list. The drink smelled of sweet spice and citrus, while the taste brought more of that tropical spice, along with a healthy dosing of pineapple and light coconut toward the back end. Quaffable.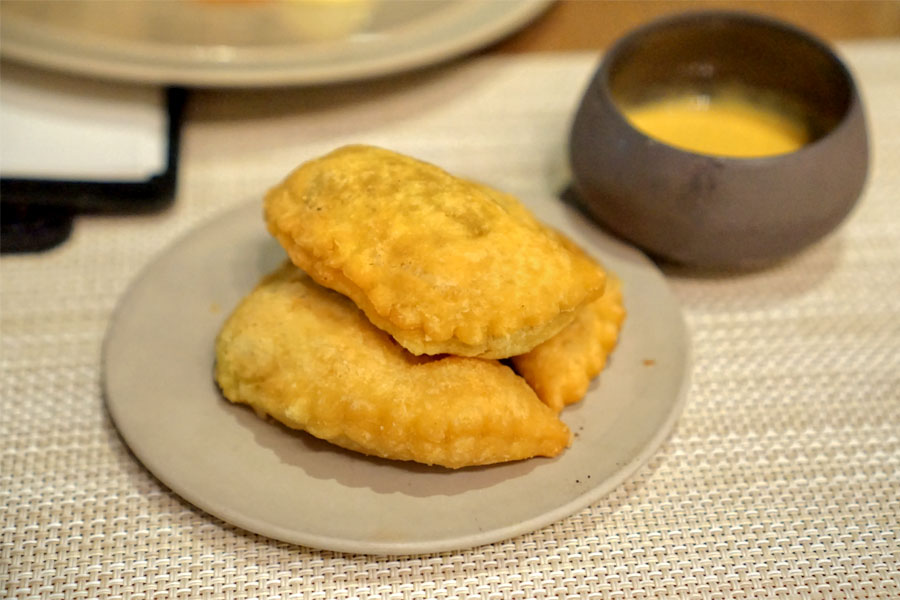 Beef Patties [$10.00]
| Calypso sauce
Here were the Chef's reworked versions of the iconic Jamaican patty. A soft, flaky, crumbly pastry crust was filled with a well-spiced, almost curry-ish preparation of ground beef, and the zippy sauce on the side helped lift the dish.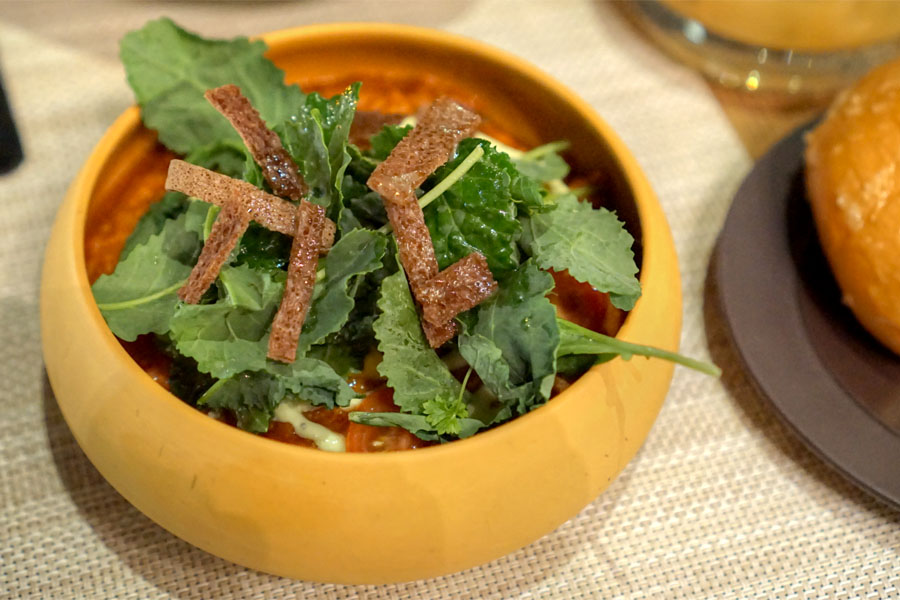 Spicy Red Lentils [$13.00]
| Shiro, marinated tomatoes, baby kale
This Ethiopian-ish dish was one of my favorites. There was just this great depth and coziness to the lentils that was perfect for DC's cold, blustery weather. The kale proved to be a wonderful counterbalance for the stew, and the tomatoes added just a smidge of lightness to things. Excellent crunch from the fried
injera
bits, too.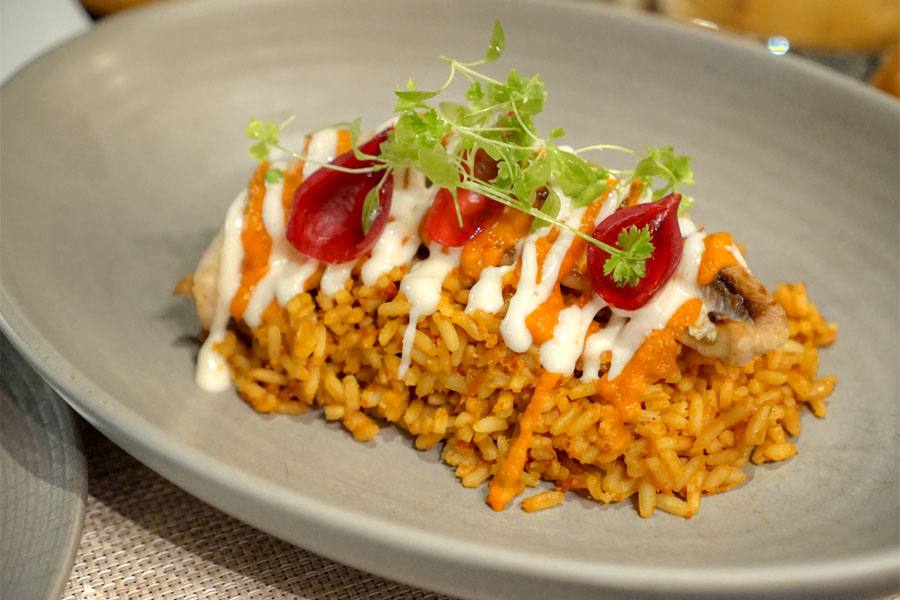 Torched Mackerel [$18.00]
| Jollof rice, pearl onion petals, parsley
Mackerel arrived soft and characteristically briny, and was tasty in its own right, but the star here was that
jollof
rice, which I'll describe as somewhat reminiscent of Spanish rice, with some jambalaya-esque elements. Its taste was definitely homey, yet multifaceted and subtly spiced, and I quite enjoyed eating it just by itself. Great tanginess and crunch from the onions to boot.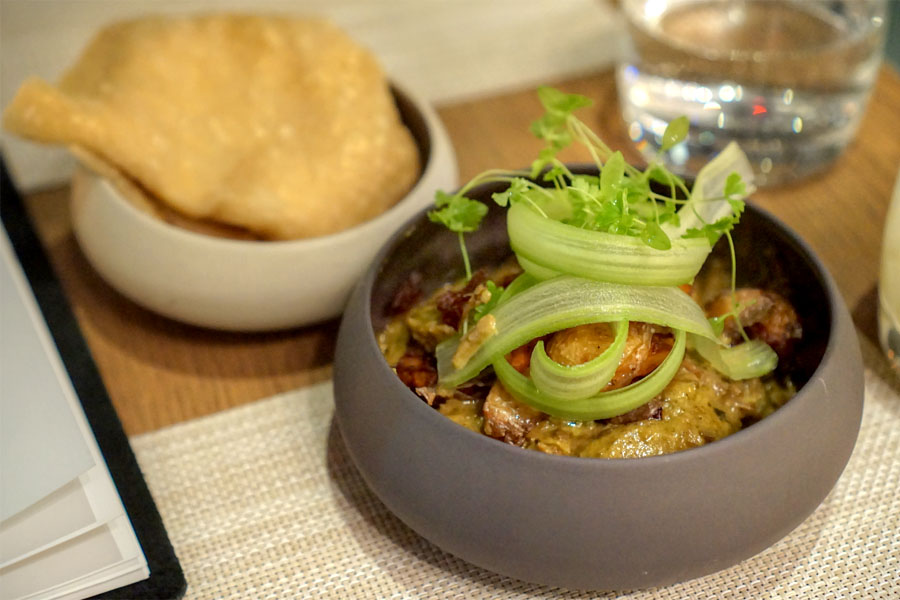 Goat Roti [$22.00]
| Curried goat, crispy potatoes, dahl puri roti
The goat was another standout, arriving tender, toothsome, and well-accompanied by chunks of potato. The Trinidadian-inspired green curry packed a punch for sure, but was never overwhelming, and always deeply satisfyingly. Veggies up top offered just a smidge of lightness, and I loved the fluffiness of that
roti
--a perfect pairing.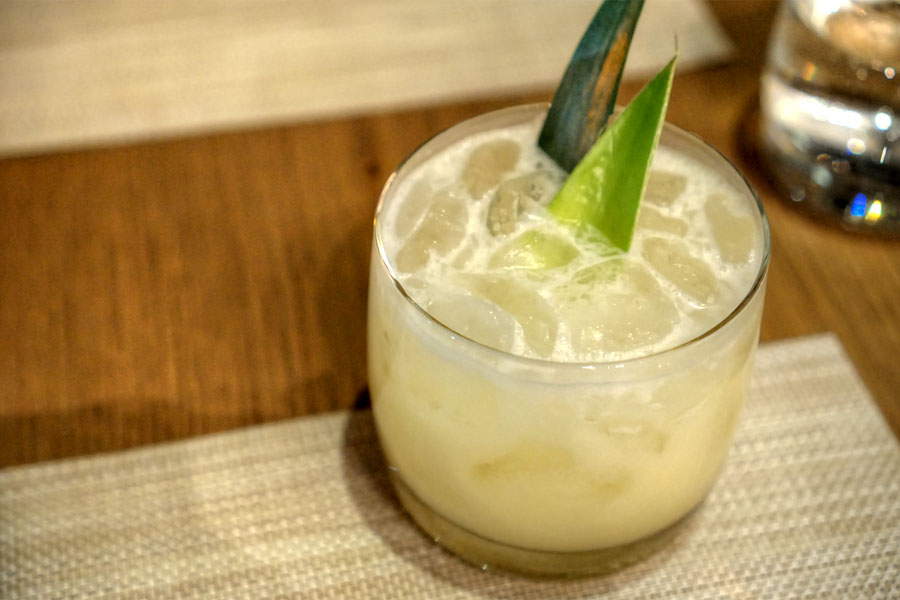 Caribbean Belt [$16.00]
| El Silencio Mezcal, pineapple, lime, ginger/chili/coconut crème
My final cocktail smelled of coconut and pineapple, with a slight heat. Taste-wise though, things were much more assertive. I got lots of tropical sweetness up front, leading to smoky mezcal and a strong, long-lasting, in-your-face heat.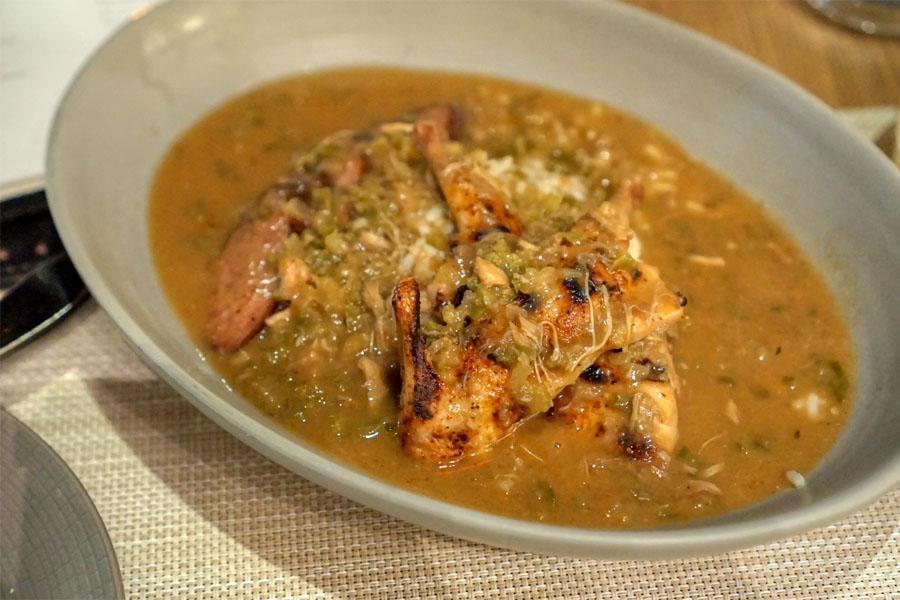 Gumbo [$24.00]
| Grilled quail, smoked andouille sausage, long grain rice
The last savory dish of the night was a gumbo inspired by what the Chef's mother used to prepare back in the day in the Bronx. I found the quail juicy and tender, with a great smoke to it, while the andouille was just as good as you'd expect. The hero here, however, was the gumbo stock. Its flavors were super well-developed, with an earthiness, a grassiness, a funkiness, a brininess to it that really sang.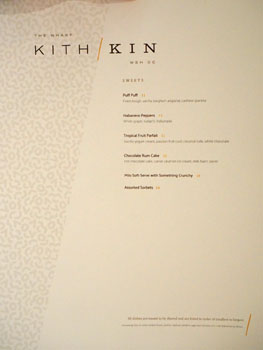 Desserts are the work of Pastry Chef Michael Brown. Click for a larger version.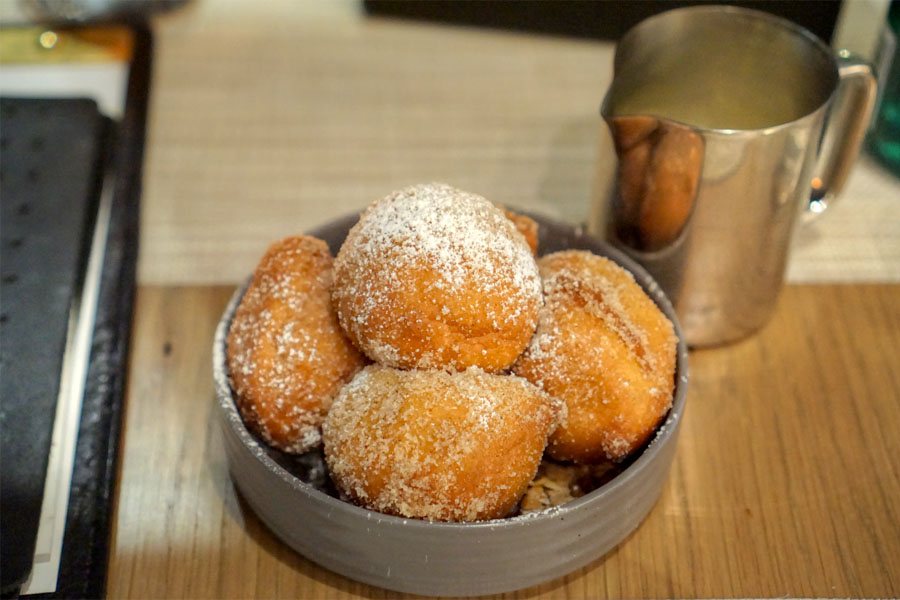 Puff Puff [$11.00]
| Fried dough, vanilla sorghum anglaise, cashew granola
My first dessert was puff-puff, a decidedly beignet-like creation common in Nigeria. The fritters were soft, light, and fluffy, with a slightly sweet-spicy nature and a cool, creamy counterpoint in the form of that vanilla-scented crème anglaise. The granola, meanwhile, worked to provide a contrasting crunch and nuttiness to the dish.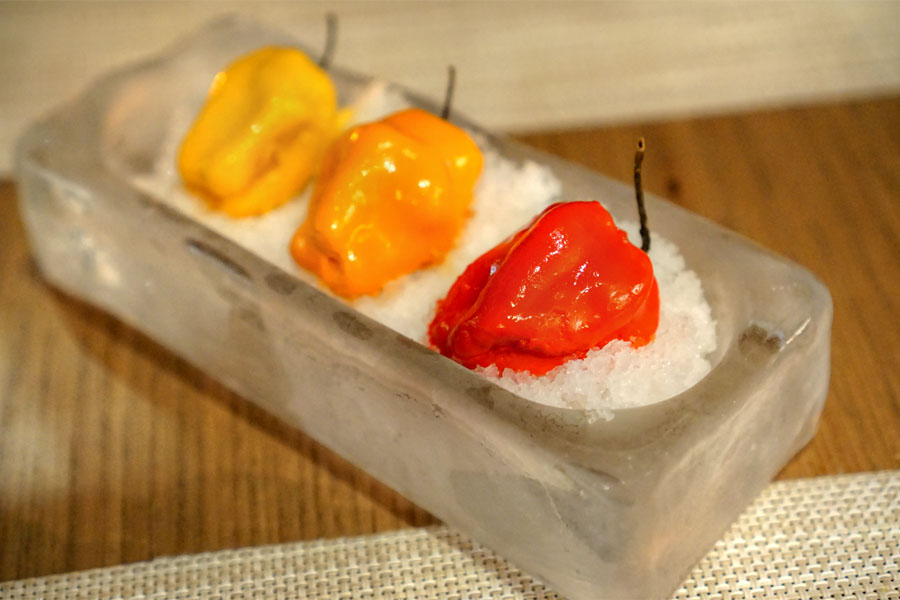 Habanero Peppers [$11.00]
| White grape, sudachi, habanada
The second dessert was
much
more intriguing. Rest assured, these were not your typical habaneros. Rather, we had a heatless strain called the habanada ("nada"=nothing, get it?), which are cooked, puréed, and mixed with white grape. The resultant mousse is then frozen in molds, glazed with white chocolate and colored gelatin, and served in an elderflower and
sudachi
granita. Tasting a "pepper," I got the fruity, floral nature of the habanero, intermixed with grape, while the "snow" functioned as a tangy, refreshing contrast. Unique for sure.
Sadly, I never got to try The Shaw Bijou, so I can't compare Kith and Kin to it, but I can say that I definitely enjoyed this meal. I've never had cooking quite like this before. Flavors are big, bold, but never clumsy, always precise, and the food really is Onwuachi on a plate, so to speak. Afro-Caribbean cuisine isn't very well represented in general, and I think that this place can function as a worthy introduction for many diners. As for what's next, I'm told that ideally the Chef would like to venture into the high-end again with a more intimate, more personal restaurant with a West African focus, but I think we might have to wait a while for that to materialize.