Kinship (Washington, DC)
Kinship Restaurant
1015 7th St NW, Washington, DC 20001
202.737.7700
www.kinshipdc.com
Thu 03/15/2018, 09:00p-12:05a
I started coming to DC for business over 10 years ago, and Eric Ziebold's CityZen was the second or third restaurant I ever dined at (the first was
Zaytinya
I think). The place closed a while back though, and when I found out that he'd opened a new spot, I had to prioritize a visit. Created in partnership with Célia Laurent (his wife), Kinship offers up the Chef's take on modern American cuisine (a nebulous term I know, but appropriate in this case) in a more relaxed setting compared to CityZen.
About the Chef
: Ziebold was born in 1972 in Iowa. To make some extra cash, he began working at a place called Cafe Maude in his early teens, learning under mentor Matt Nichols. Following high school, he enrolled at the University of Northern Iowa for finance, and continued cooking while attending classes. After two years, Ziebold realized that his calling was in the kitchen, quit UNI, and enrolled at the Culinary Institute of America. While attending the CIA, he externed at the old
Spago
on Sunset, since Nichols had become Exec Chef there. He graduated in 1994, cooked briefly on the line at Jeffrey Buben's
Vidalia
, and also
staged
in France at Taillevent, L'Aubergade, and La Bastide Saint Antoine.
In March 1996, Ziebold landed a position at
The French Laundry
, where he worked closely with mentor Thomas Keller (things were a lot more low key back in the 90s) and became the restaurant's first Chef de Cuisine. He stayed at TFL for eight years, and during the end of his tenure, even assisted with the opening of
Per Se
. He left for DC in early 2004, and in September, opened CityZen (the somewhat cringey name was not the Chef's choice) at the new Mandarin Oriental. The place received significant praise right from the start and racked up a number of awards: "America's Best New Chefs" from
Food & Wine
in 2005, "Best New Restaurant" from the Restaurant Association of Metropolitan Washington in 2005, "Best New Restaurants" from
Esquire
in 2005, "Best Chef: Mid-Atlantic" from James Beard in 2008, "Chef of the Year" from the RAMW in 2008.
In September 2009, Ziebold opened Sou'Wester at the Mandarin Oriental, a more casual, American Southern eatery replacing the former Café MoZU. The place suffered from poor reviews however, and was replaced by Muze in April 2014. In August 2014, the Chef signed a lease for his first solo restaurant, and left CityZen that December; the restaurant shut down immediately afterward. Kinship soft-opened almost exactly a year later, and grand-opened on January 4th, 2016 to considerable anticipation. Métier, Ziebold's higher-end, tasting menu-only restaurant debuted in April that year.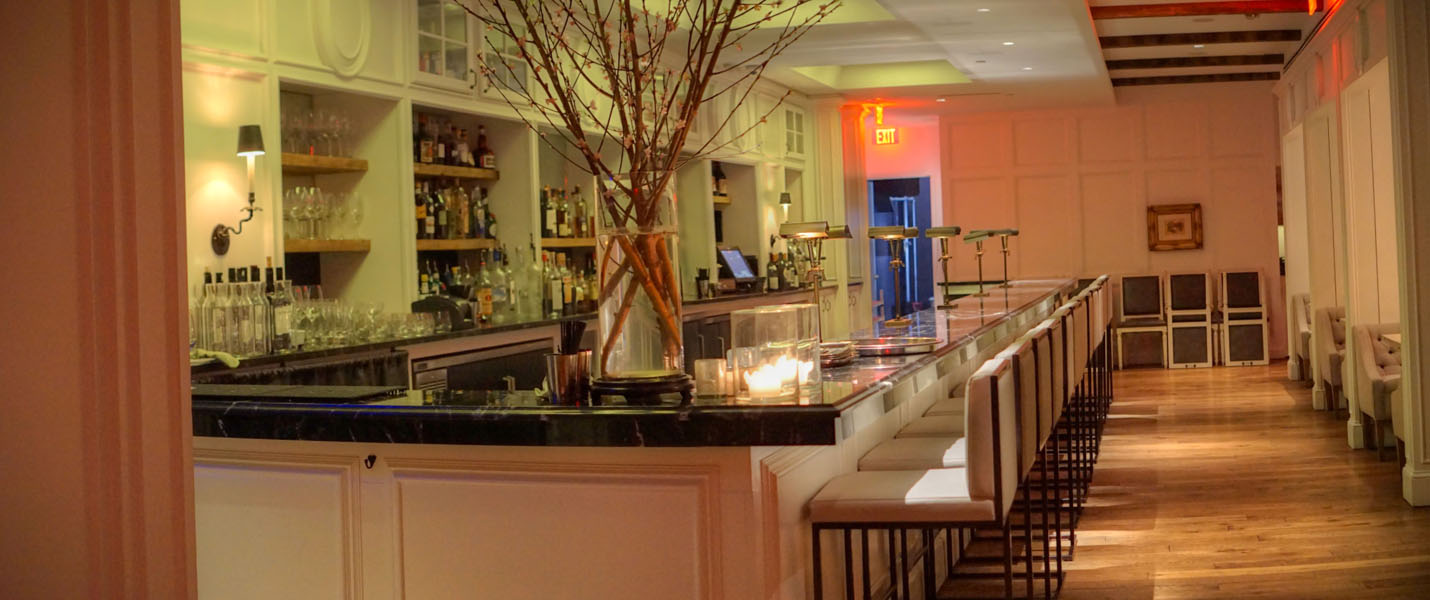 Kinship's located in an 1887-era building in Mount Vernon Square, the former home of the longstanding Alperstein's Furniture Company. The interior was redone by Darryl Carter in a mostly neutral color palette. There's room for around five dozen diners in the main dining area, with additional capacity in the bar/lounge. A private dining room seats 20 more.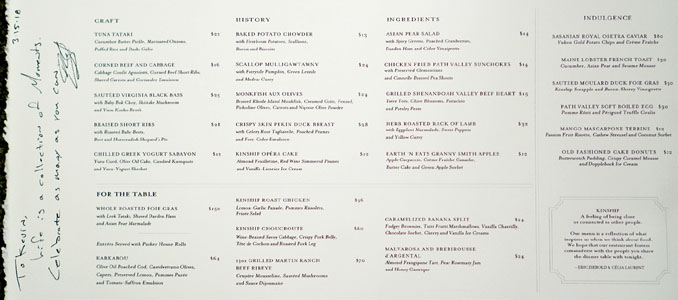 The menu's interestingly formatted, divvied up into sections for Craft (showcasing a particular a cooking technique), History (classics revisited), Ingredients (highlighting a specific product), Indulgence (featuring more luxurious items), and For the Table (larger format choices). Click for a larger version.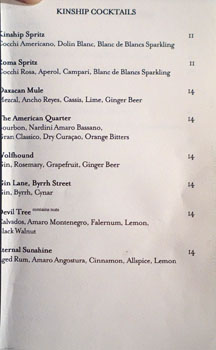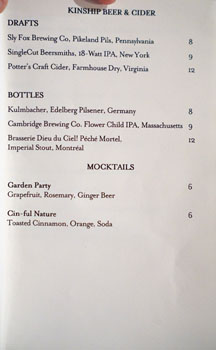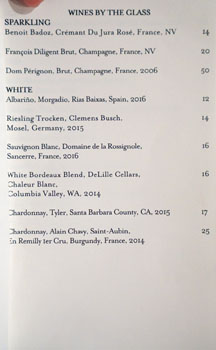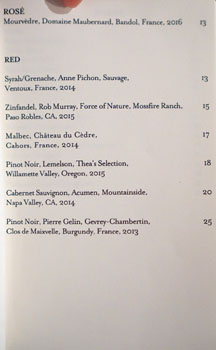 Drink-wise, you get eight cocktails, a handful of beers, and a compact wines by the glass selection. Note, however, that there's also a much more extensive wine list (not pictured) from Sommelier Chase DuBay (The Modern, Momofuku, Eleven Madison Park,
Cyrus
, CityZen), one featuring mostly French and American bottlings, some at quite reasonable prices (a magnum of 2000 Latour for $3400?). Corkage is $50 a bottle, with a limit of one per every two diners. Click for larger versions.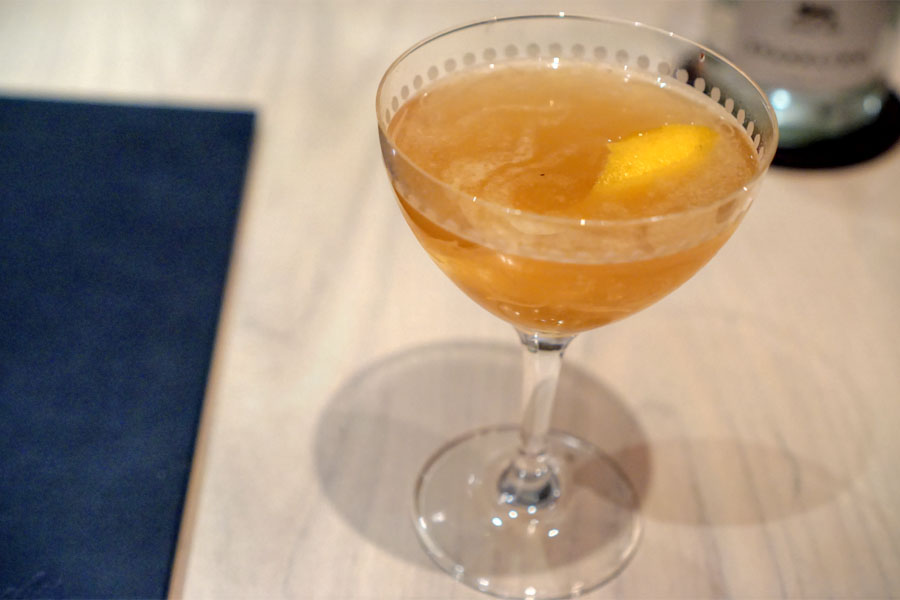 Devil Tree [$14.00]
| Calvados, Amaro Montenegro, Falernum, Lemon, Black Walnut
My first cocktail had a base of calvados, a relatively uncommon sight. I got lots of citrus on the nose, along with a marked astringent quality. The taste was tart, earthy, even a bit funky at first, with nutty and chocolate-y notes appearing in the middle.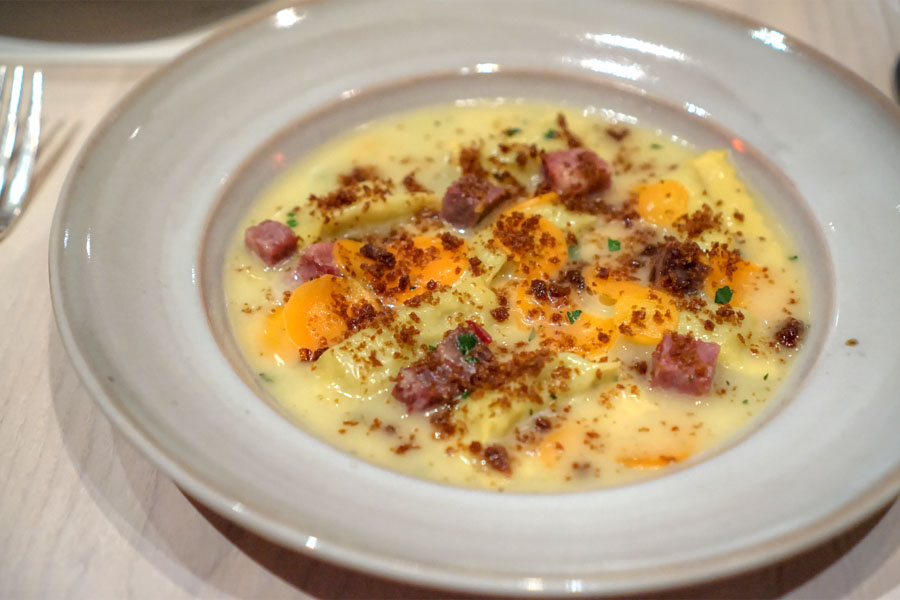 Corned Beef and Cabbage [$16.00]
| Cabbage Confit Agnolotti, Corned Beef Short Ribs, Shaved Carrots and Coriander Emulsion
I began with a reinvented version of the classic pairing of corned beef and cabbage. It was a homey sort of combination, the sweet, vegetal, almost buttery pasta playing well with the aggressively-seasoned beef while carrots added a pop of brightness.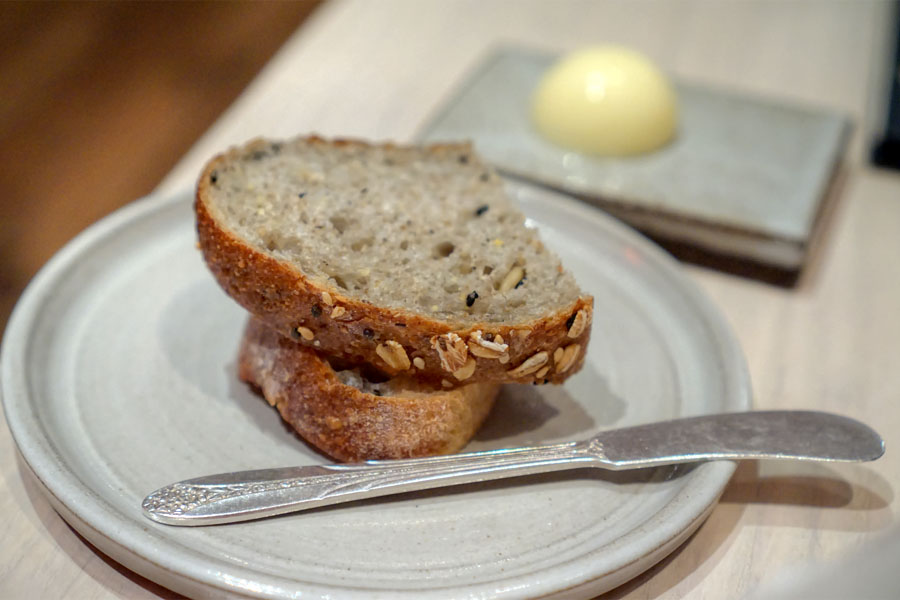 Two varieties of bread were offered. The Italian was fairly typical, with a slight sourness. I much preferred the multigrain, which conveyed an excellent nuttiness and roast, along with a savoriness that almost recalled Japanese rice crackers (
senbei
). A demisphere of butter, meanwhile, was just as soft and sweet as I wanted.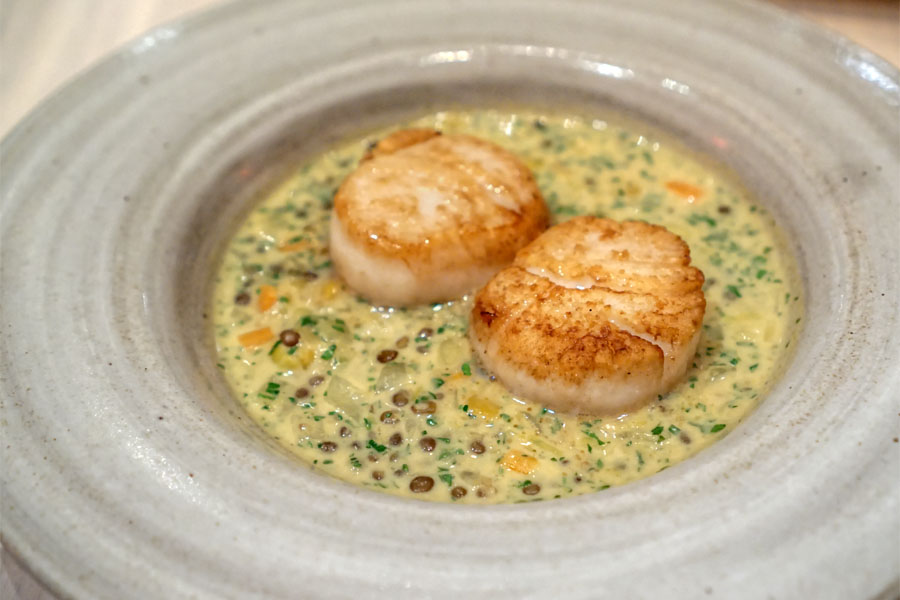 Scallop Mulligawtawny [$24.00]
| with Fairytale Pumpkin, Green Lentils and Madras Curry
Scallops were well-caramelized, yet still supple and rare on the inside, and showed off a forceful brine that worked surprisingly well with the dish's curried, coconut-y, mulligatawny-inspired broth. I especially appreciated the incorporation of lentils.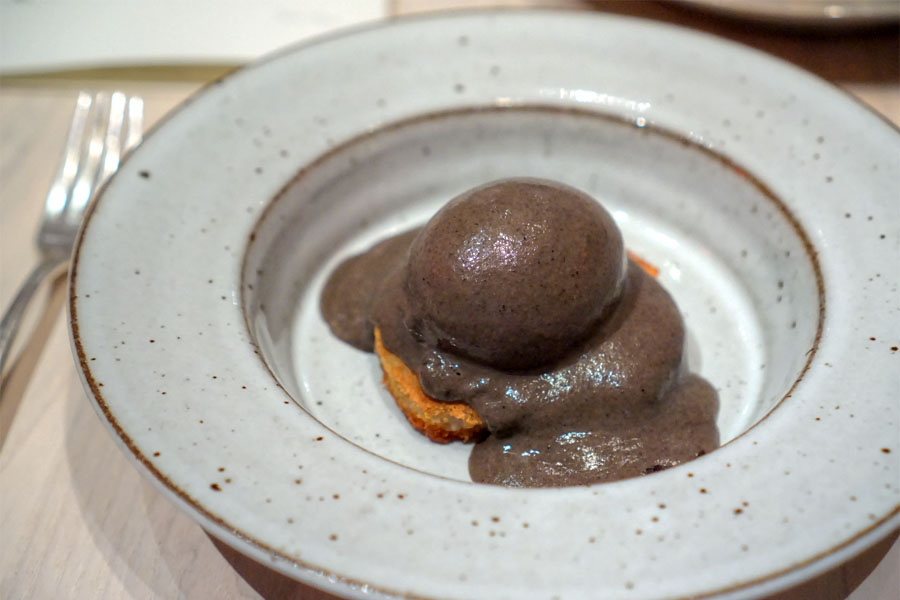 Path Valley Soft Boiled Egg [$30.00]
| Pomme Rösti and Périgord Truffle Coulis
A perfectly cooked runny egg came dressed in a coulis with some of the most concentrated truffle flavor that I'd ever experienced. That super funky, barnyard-y character worked beautifully with the comparatively mild taste of the egg, and I loved the contrast provided by the hash brown-like potatoes. As delicious and decadent as you'd expect--a favorite of mine.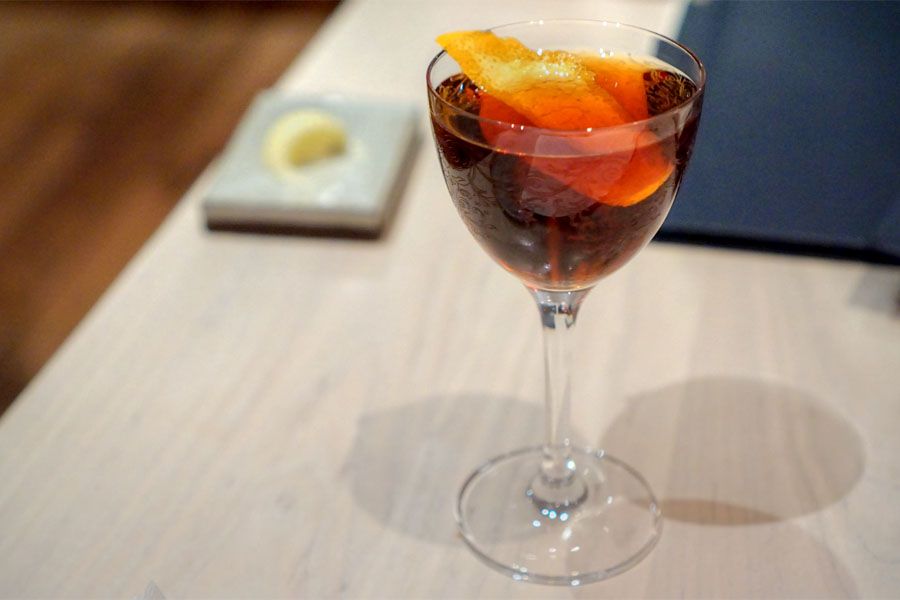 The American Quarter [$14.00]
| Bourbon, Nardini Amaro Bassano, Gran Classico, Dry Curaçao, Orange Bitters
This next cocktail showcased a thoroughly aromatic nose filled with bittersweet dark fruit, herbs, and citrus. The taste brought a fruitiness at first, which led to more bitter, medicinal nuances and the heat of the whiskey, while the finish has a surprising mintiness that lingered.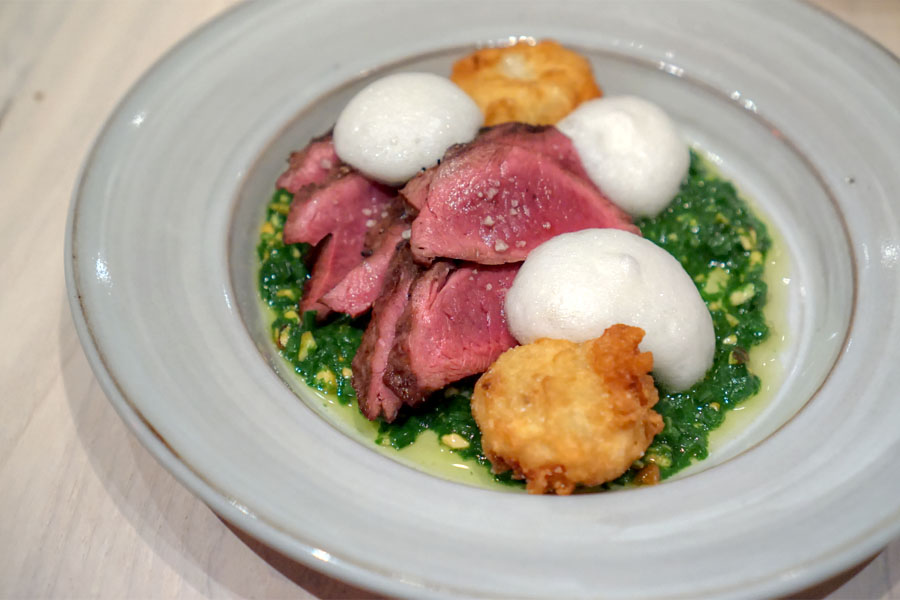 Grilled Shenandoah Valley Beef Heart [$15.00]
| Tater Tots, Chive Blossoms, Pistachio and Parsley Pesto
Beef hearts had a snap to 'em, along with some really deep, earthy flavors. The paired pesto worked perfectly as a bright, zippy contrast, and I loved the counterpoint provided by the tots, too.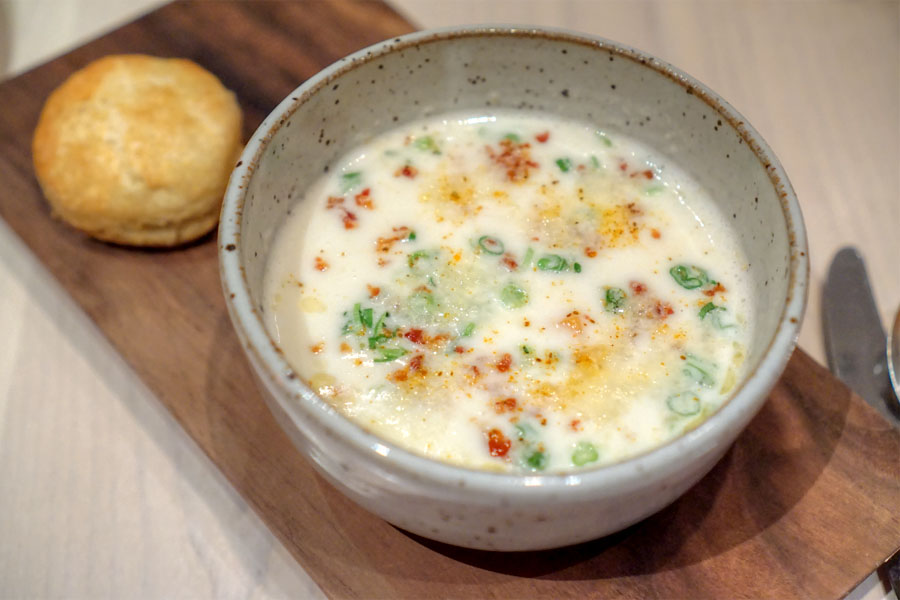 Baked Potato Chowder [$13.00]
| with Heirloom Potatoes, Scallions, Bacon and Biscuits
The chowder was as advertised, tasting just like a baked potato. It was comfy, hearty, and very apropos for the cold weather we were having. I especially enjoyed the cheesiness of the dish, as well as the zestiness of the scallions.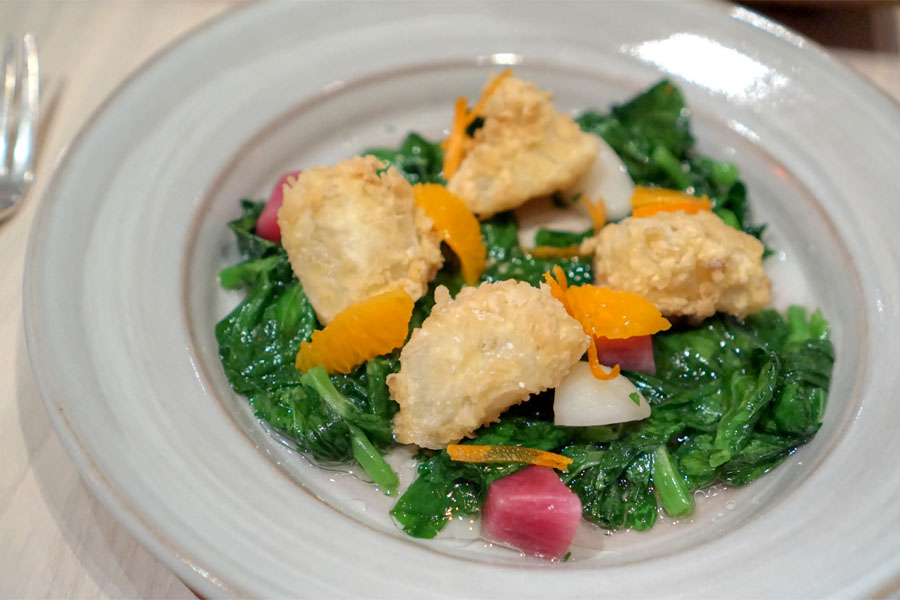 Chicken Fried Path Valley Sunchokes [$14.00]
| with Preserved Clementines and Cannelle Braised Pea Shoots
Fried sunchokes had a light, crisp batter that linked up great with the sort of fibrous texture of the root vegetable. Flavors were subtly sweet, nutty, vegetal, and worked well with the pea shoots, all while the citrus imparted a bit of astringency to the mix.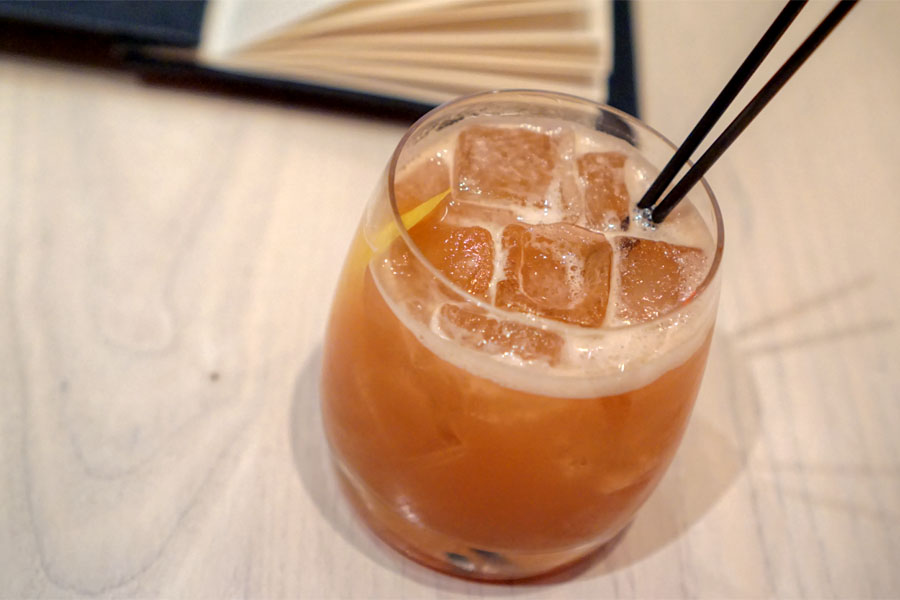 Eternal Sunshine [$14.00]
| Aged Rum, Amaro Angostura, Cinnamon, Allspice, Lemon
The evening's third and final cocktail displayed a marriage of dark fruit, rum spice, and herbaceousness from the Angostura, set against cinnamon and lemon on the mid-palate, while the finish was all about that allspice.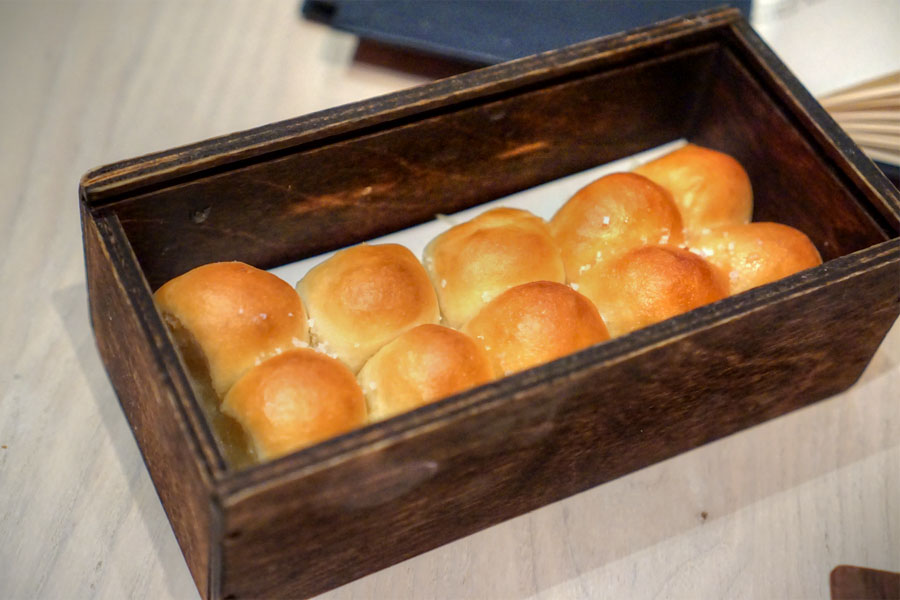 Parker House Rolls [$10.00]
I was a big fan of the Parker House rolls over at CityZen, and the ones tonight might've been even better: super soft, airy, fluffy, with a subdued sweetness punctuated by pops of salt. Delish.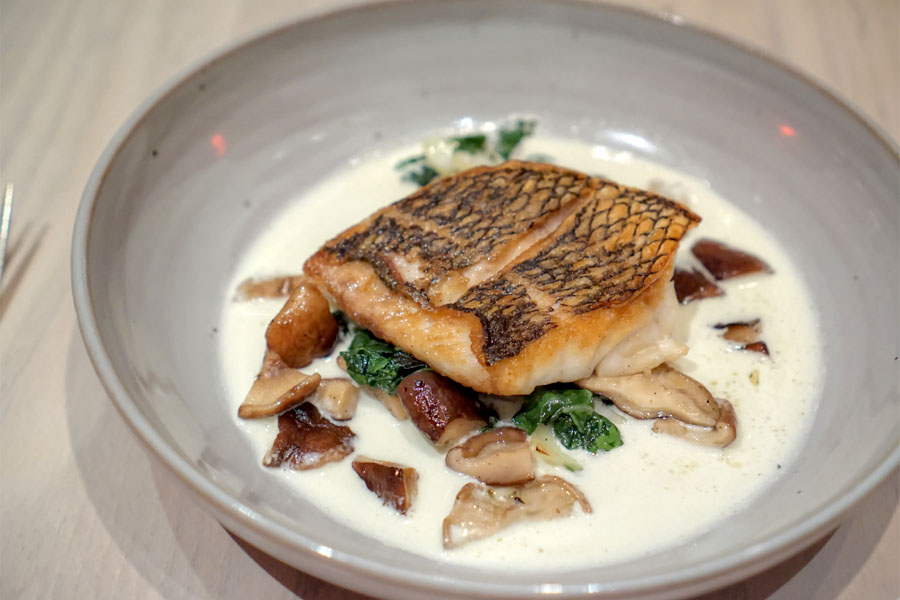 Sautéed Virginia Black Bass [$25.00]
| with Baby Bok Choy, Shiitake Mushroom and Yuzu Kosho Broth
This was another standout for me. The bass came out perfectly cooked, with its crispy, flavorful skin working as a foil to the fish's moist, meaty flesh. The mushrooms contributed an additional hit of umami, and I definitely liked the contrast provided by the bok choy. However, my favorite element here was that
yuzukosho
, which gave the dish a wonderful creeping, building heat.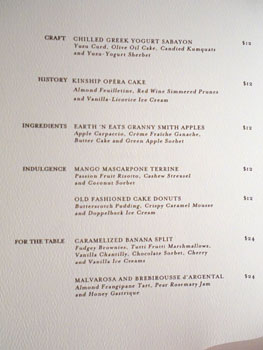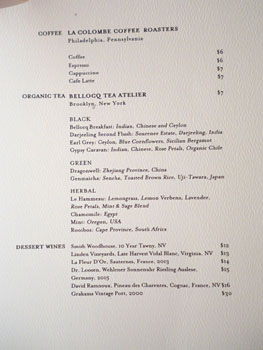 Desserts are the work of Pastry Chef Anne Specker, a CityZen vet. I was quite full at this point, so I only ordered one, the lightest by my server's estimation. Click for larger versions.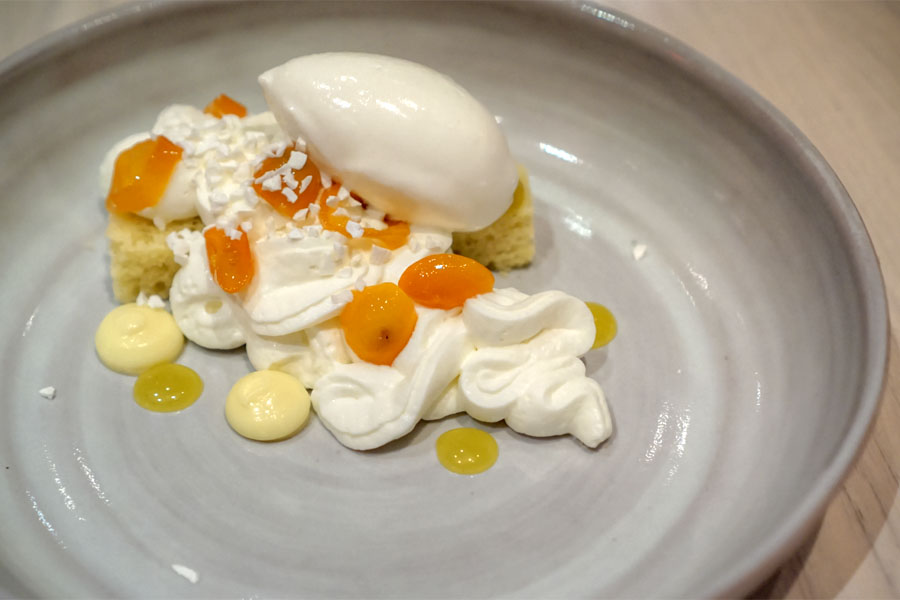 Chilled Greek Yogurt Sabayon [$12.00]
| Yuzu Curd, Olive Oil Cake, Candied Kumquats and Yuzu-Yogurt Sherbet
As mentioned above, I was looking for a lighter dessert, and this fit the bill. There was just a superb mix of citrusy and lactic flavors here that made for an almost Creamsicle-like sensation. I got some great textures too, especially from the olive oil cake.
It was nice to see Ziebold back in action after all these years. The food was executed beautifully, and I appreciated the diversity of the cooking, with its multitude of influences, balancing familiarity with creativity. I almost think of the place as a more casual, more playful version of CityZen, which isn't a bad thing at all. By the same token, I envision Métier as a more formal, more intimate incarnation, and hopefully I'll get to visit it on my next trip out here.