Longo Seafood (Rosemead, CA)
Longo Seafood Restaurant
7540 Garvey Ave, Rosemead, CA 91770
626.280.8188
Sat 06/23/2018, 07:00p-10:00p

Some friends and I had been wanting to do a Chinese banquet dinner for a while now, and we finally made it happen recently. Our venue of choice was Longo, which opened last September and is one of the more talked-about Hong Kong-style seafood restaurants around. As far as I know, the place isn't affiliated with the popular Toyota dealership in El Monte. Rather, the name is based on the restaurant's Chinese moniker:
Hong De Pinwei
.


Longo's probably one of the nicer-looking Chinese joints around town. The main dining area features a showy chandelier replete with an awkwardly placed column that I'm assuming is meant to evoke a tree trunk. The space also boasts an almost comically large television screen and is flanked by a number of private and semi-private dining rooms. We were fortunate enough to be seated in the fanciest of the PDRs, one featuring built-in karaoke equipment as well as its own bathroom. Note that this address has been home to a number of restaurants throughout the years, and former residents include Sunshine Seafood Palace/New Sunshine, Crown Palace, The Sun City, Sun City Seafood, LA Bistro, King Palace, New Capital/Seafood King, and Seafood City.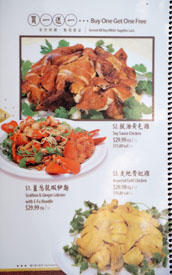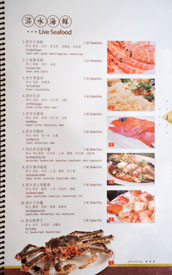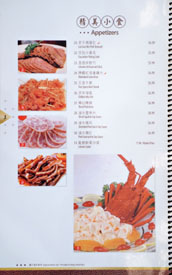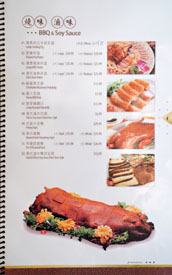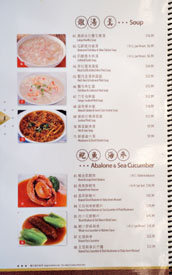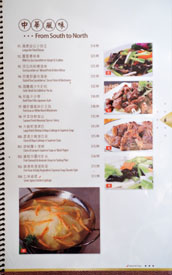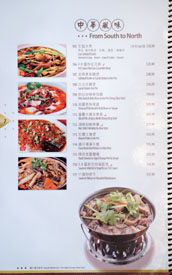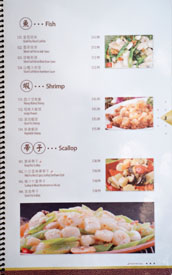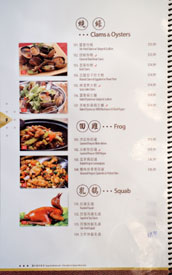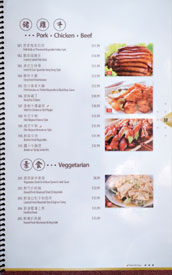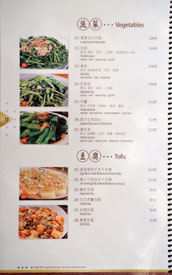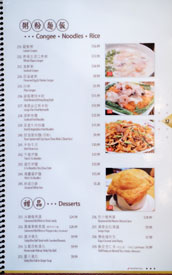 Above we see Longo's menu, which is about par for the course, listing your usual Cantonese favorites in addition to some more unexpected choices. Note, however, that we didn't actually order from said menu. Instead, the organizer of our dinner had his uncle arrange everything ahead of time, and we paid an agreed-to price of $139.75 a head--not including 9.5% tax and mandatory 20% gratuity--for our party of eight. Click for larger versions.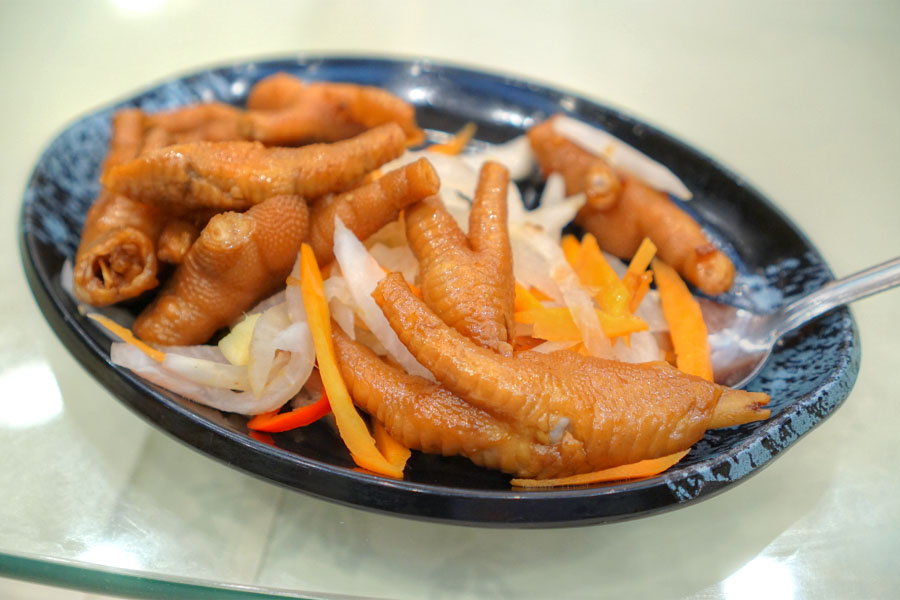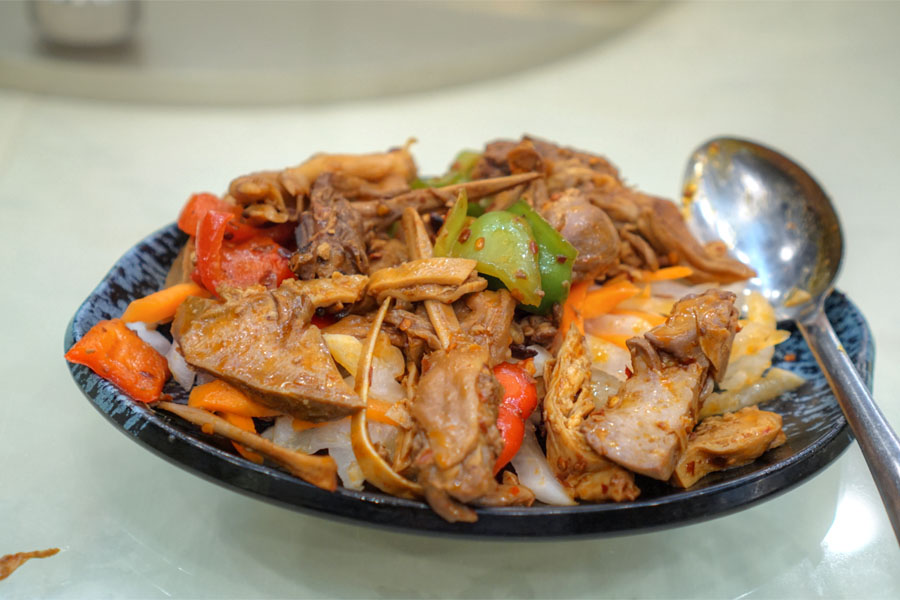 When I arrived, I found that our table was already set with a couple complementary appetizers: chicken feet and assorted duck parts in soy sauce.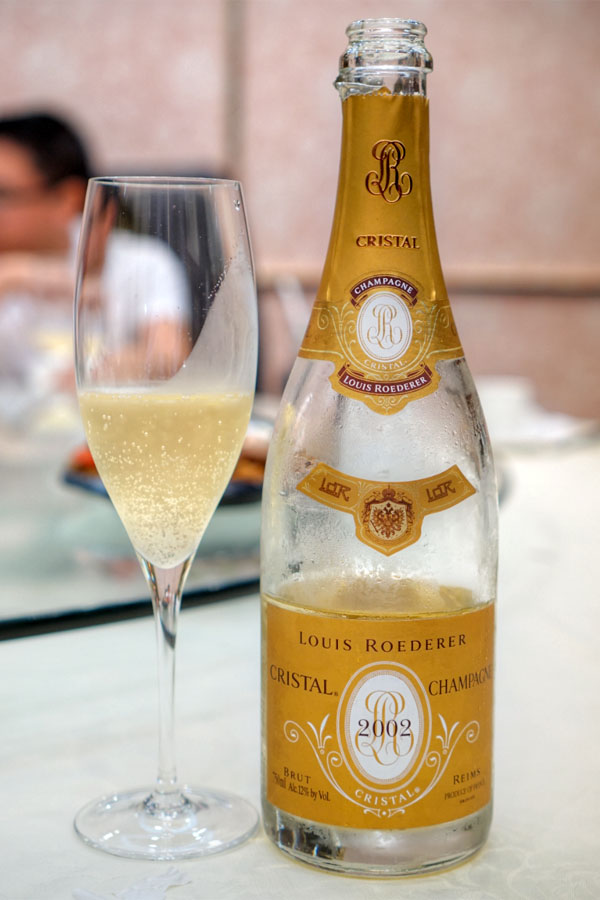 We were able to get corkage waived, so I brought along a bottle of
2002 Louis Roederer Champagne Cristal Brut
. Very appealing bouquet of apple with traces of minerality and light citrus. Its palate was fresh, bright, smooth, with massive amounts of pome fruit backed by a trace of toast. The wine really had a vivaciousness that belied its age, and was drinking very well this evening.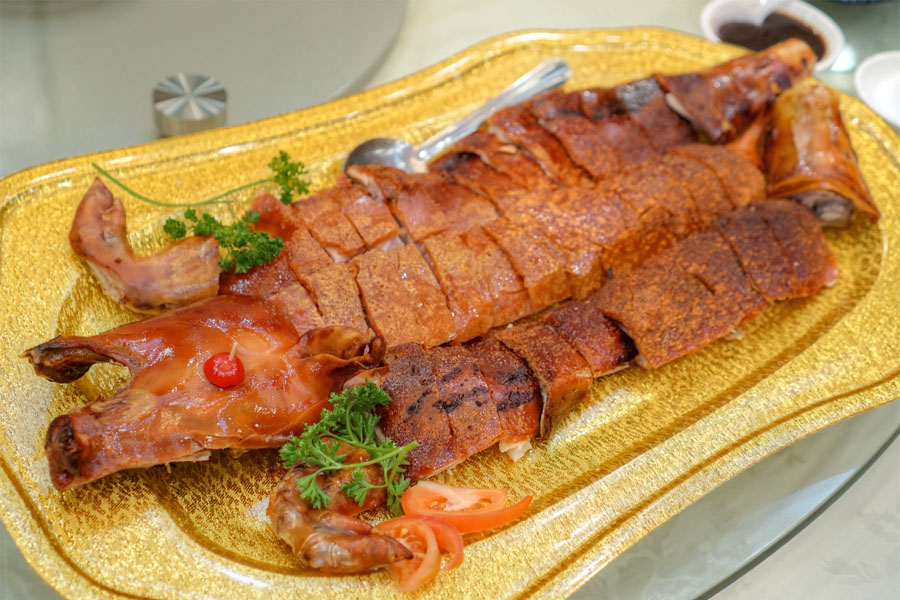 1: Longo Suckling Pig (Half)
We commenced with half a roast pig, one featuring tender, juicy, richly flavored flesh and, more importantly, a wonderfully thin, crisp, "shatter-y" layer of skin that seemingly broke apart at the slightest bite. It was certainly delicious alone, but I didn't mind a dab of the sweet-ish, hoisin-like sauce on the side either. Probably the best
cui pi shao zhu
that I've had, and a very promising start to the meal.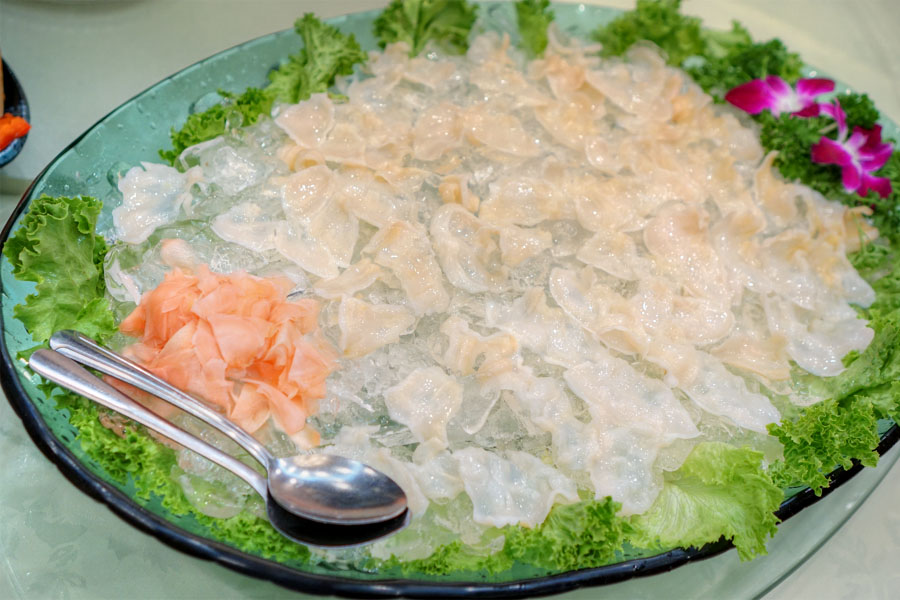 2: Live Giant Clam
| Sashimi
A raw presentation of
xiang ba bang
worked as a welcomed contrast to the meat above. Texturally, I found the geoduck somewhat crunchy, but still supple, with a fresh, mild sweetness at first transitioning to a growing, persistent brine. Great with a dip into the paired soy sauce (which also contained a dollop of the strongest wasabi any of us had ever had).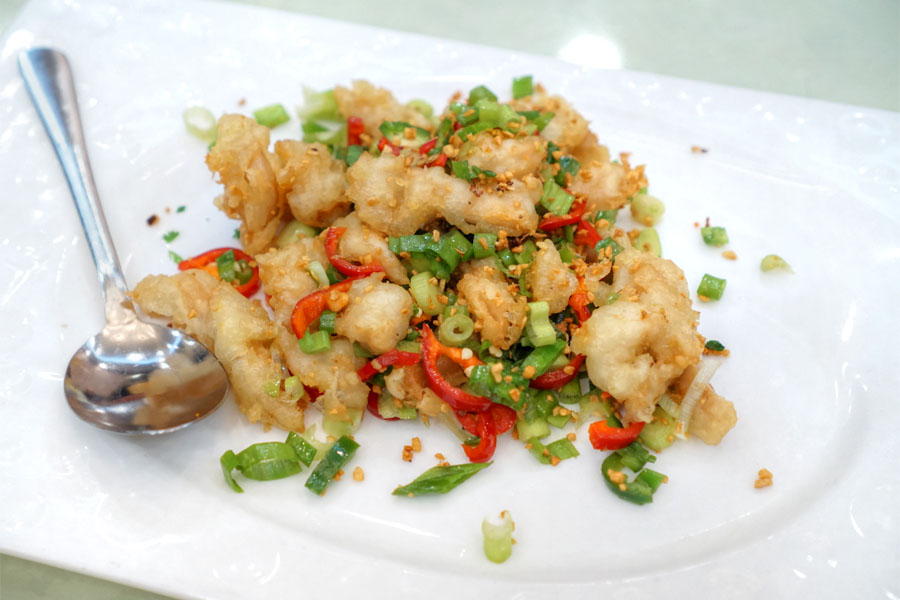 The innards of the clam were prepared salt-and-pepper style, which was a hit as well. I loved how the soft, creamy internals worked with their fried exteriors, while the salinity of the clam just made sense alongside the aggressive S&P notes and heat present.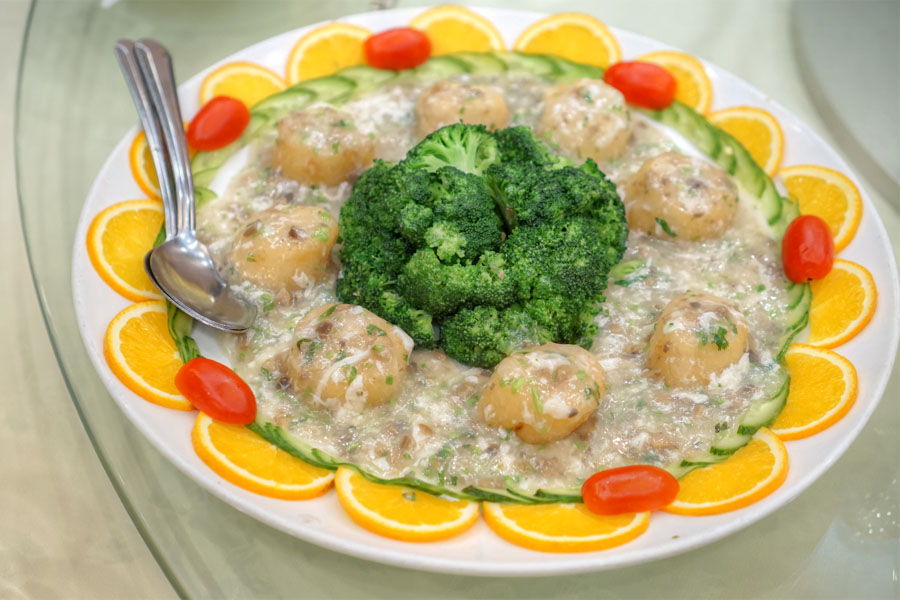 3: Live Scallop
| Steamed w/ Garlic
This was another table favorite, and one of the best preparations of
shanbei
that I've had in recent memory (Chinese or otherwise). I was a huge fan of the scallops' thin, crisp "skin," which worked wonders texturally. Meanwhile, flavors were subtly sweet 'n' oceany, and a great match with the dish's exquisitely herby, eggy sauce (we eagerly supped up the remainder).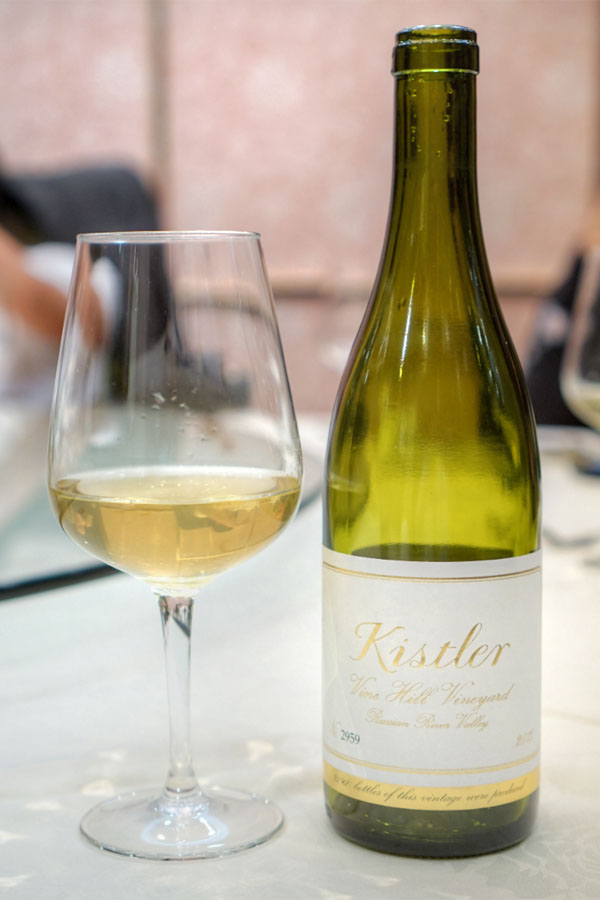 Next to imbibe was the
2015 Kistler Chardonnay Vine Hill Vineyard
. Lovely aromas of peach and flowers, with a definite sweetness. The palate was very enjoyable too, showcasing rich, concentrated tropical fruit and herb, all leading to a slight nutty character on the finish.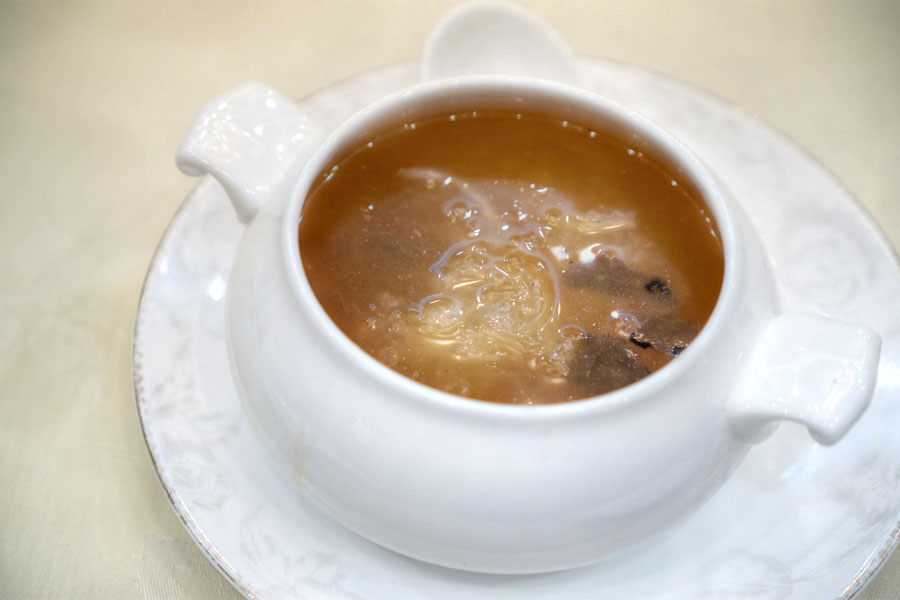 4: Black Truffle & Bird's Nest Thick Soup
The soup course was another standout. Its aromas were really quite heady, displaying an almost cheese-like funk intermingled with a mushroom-y umami note. The taste was similarly intense with its aggressively earthy, barnyard-y, but super comforting flavors, while the
yanwo
contributed a silky, gelatinous consistency to the broth.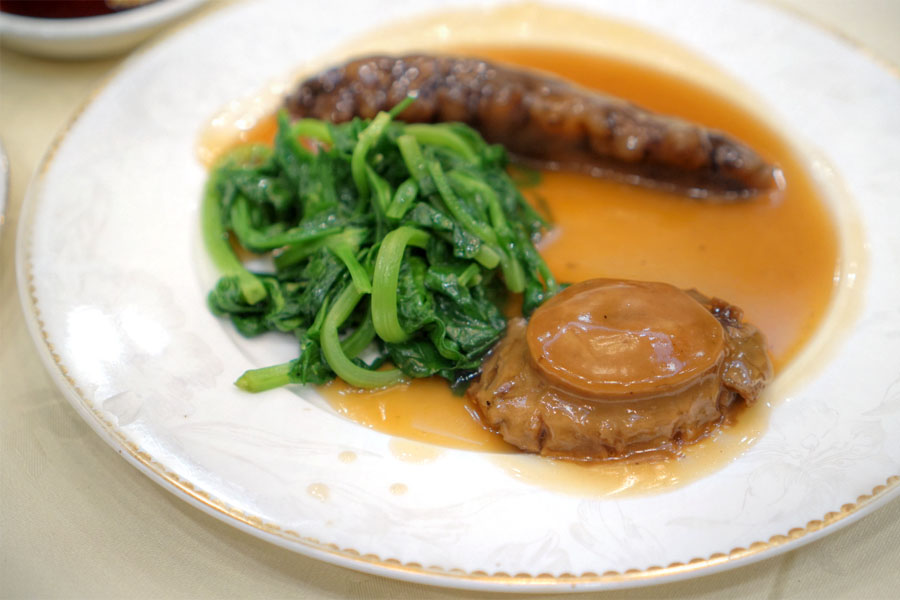 5: Braised Fresh Abalone
Baoyu
had a meaty, satisfyingly substantial texture that almost reminded me of an especially firm tofu. Its taste, meanwhile, was rich and robust, with tons of umami backed by a layer of marine sweetness. Great counterpoint here from the paired pea shoots.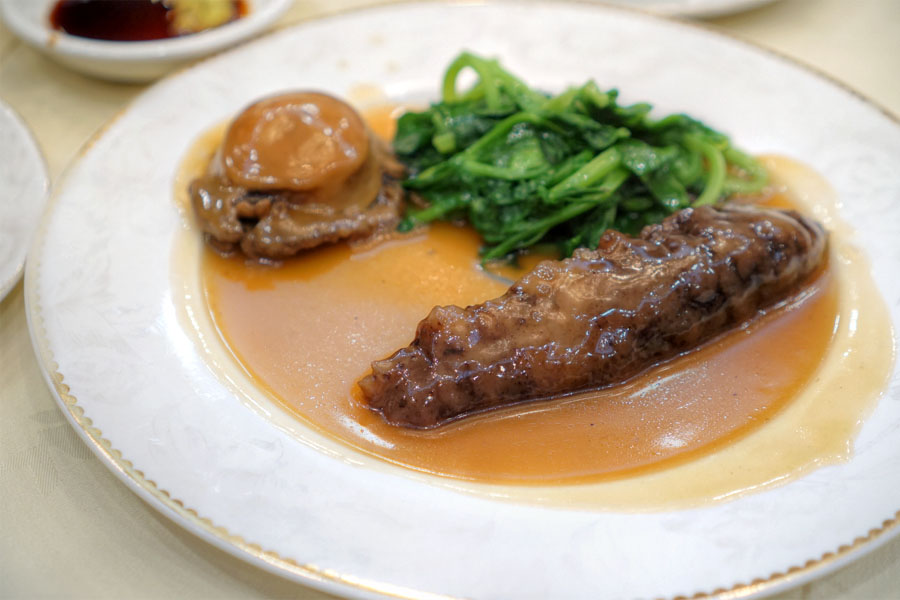 6: Braised Sea Cucumber
Along with the abalone came a whole
haishen
, with its slippery, jellylike consistency. As expected, it didn't have much flavor on its own, but instead took on the dark, savory flavors of its sauce. And again, the slight bittersweetness of the pea pod leaves really worked for balance.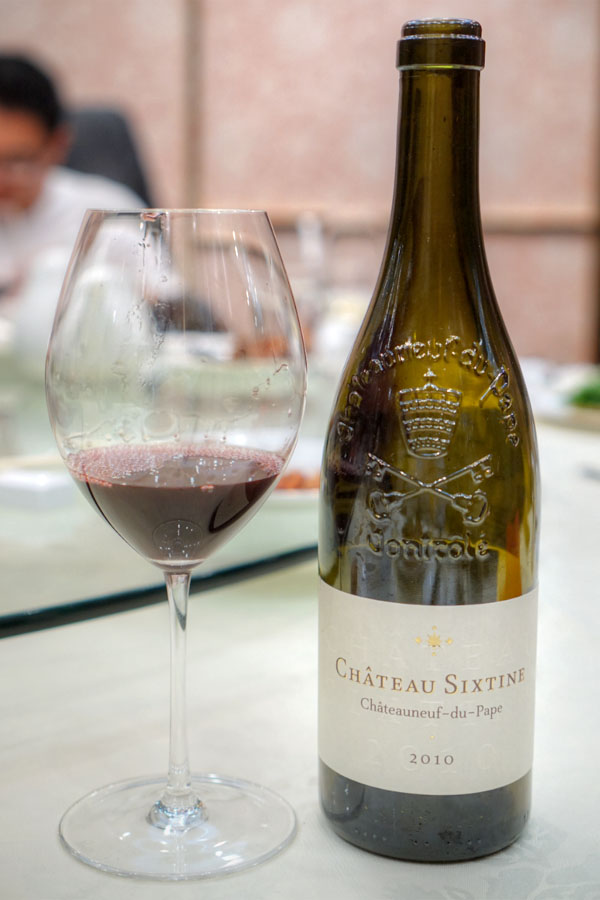 Red wine duties were handled by the
2010 Château Sixtine Châteauneuf-du-Pape
, which we decanted for about an hour. I thoroughly enjoyed this one. I got an intense nose brimming with dark fruit, meat, earth, and olive. On the palate I detected more savory nuances, more olive, along with eucalyptus, mint, and berry fruit. Superbly balanced overall, and a beautiful pairing with some of our more darker-toned dishes.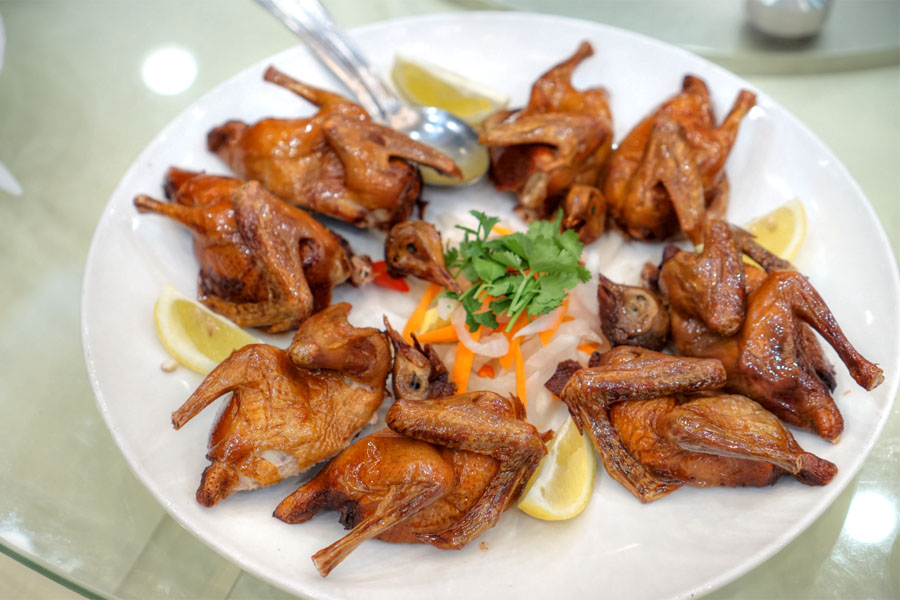 7: Fried Squab
Deep-fried
ru ge
was as good as any I've had. The bird came out properly juicy, with an immensely gratifying savoriness cut by the sweet spiciness of star anise. The best part? That ultra thin, crisp skin that broke apart perfectly.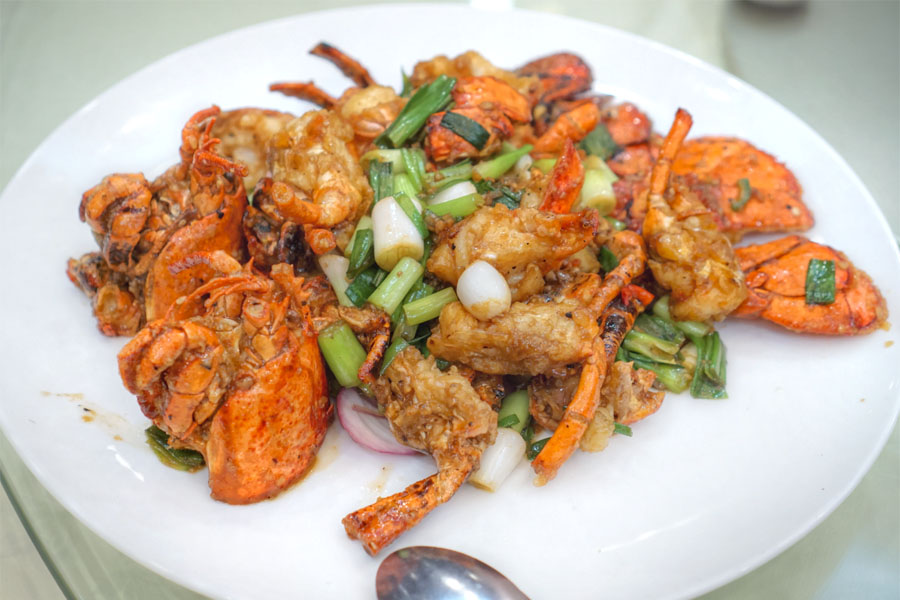 8: Live Boston Lobster
| Ginger & Scallion
Next was a prototypical Hong Kong-style preparation of lobster. This one hit the mark as well, its springy, spongy flesh displaying a sweet 'n' savory flavor profile that really sang with the zestiness of those scallions.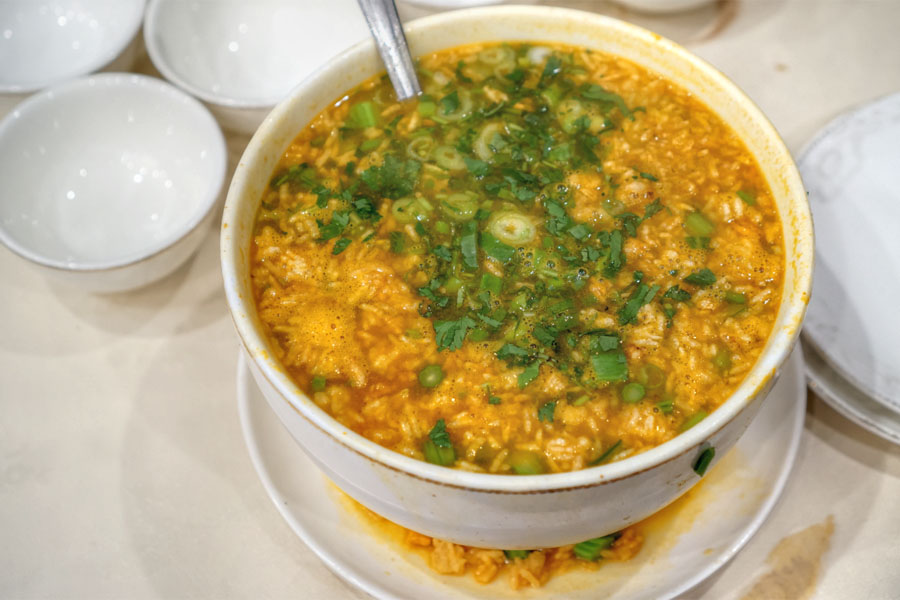 The miscellaneous bits of the lobsters above were incorporated into a soup. For me this was cozy and homey, with a refreshingly robust vegetal component and a great textural element from all the rice.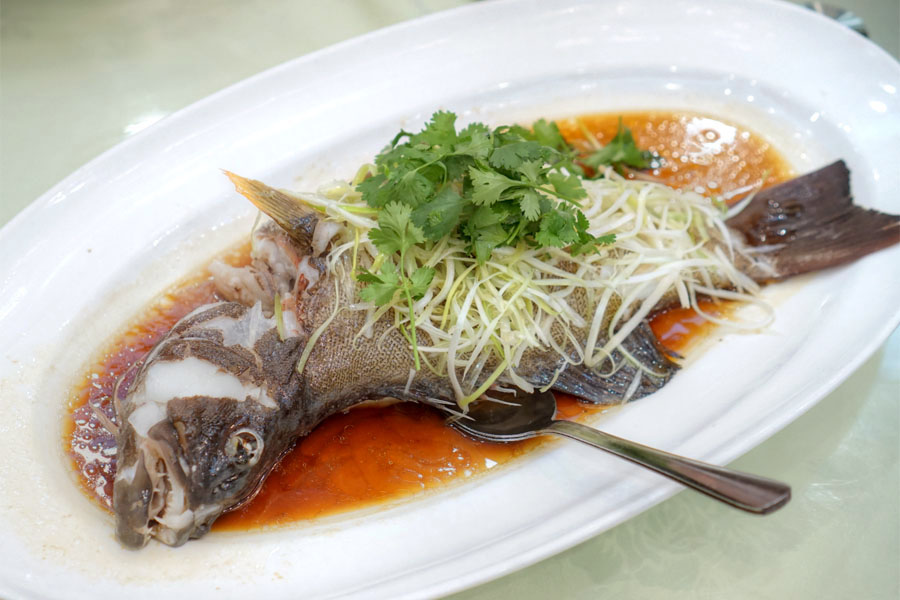 9: Live Coral Trout
| Steamed
Our final savory course brought out steamed
dongxingban
. I found the fish utterly tender, with an almost pillow-y consistency, while flavors were decidedly delicate, really taking well to the soy and scallion.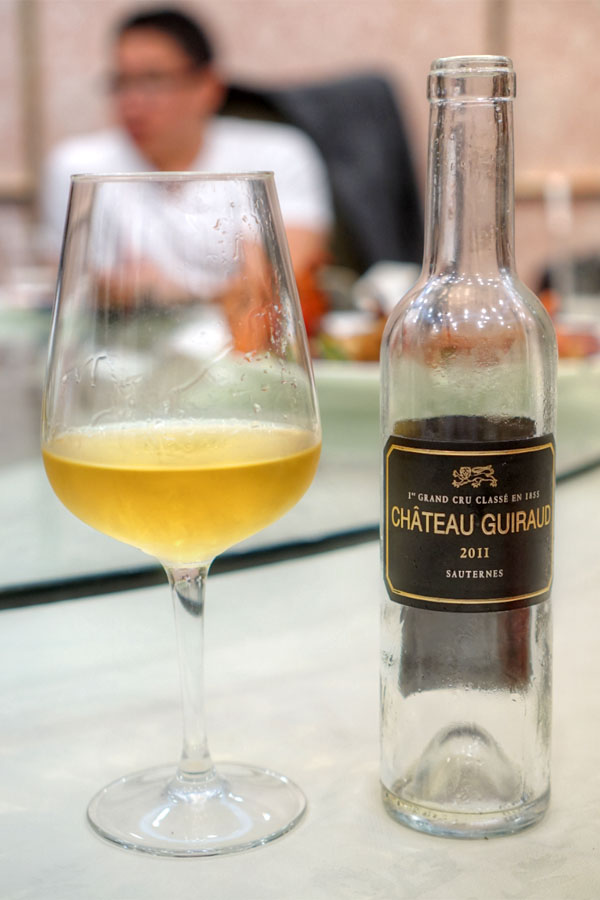 A half bottle of the
2011 Château Guiraud Sauternes
served as our dessert wine. It smelled delectable, conveying super concentrated notes of pineapple and dried apricot, along with a bit of floral character. The palate was thick, round, and loaded with honey, stone fruit, and raisin, but also backed by a balancing acidity. Delightful.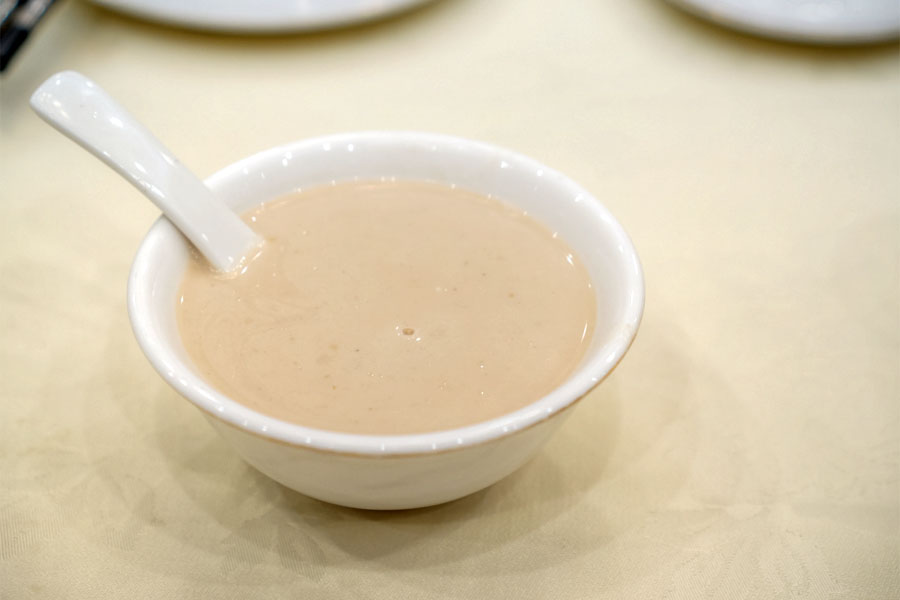 10: Homemade Walnut Sticky Rice Ball
I found our first dessert somewhat reminiscent of Nesquik (a childhood staple of mine), but diluted. Think chocolate-y and nutty, with soft
tangyuan
-like glutinous rice balls adding further interest to the dish.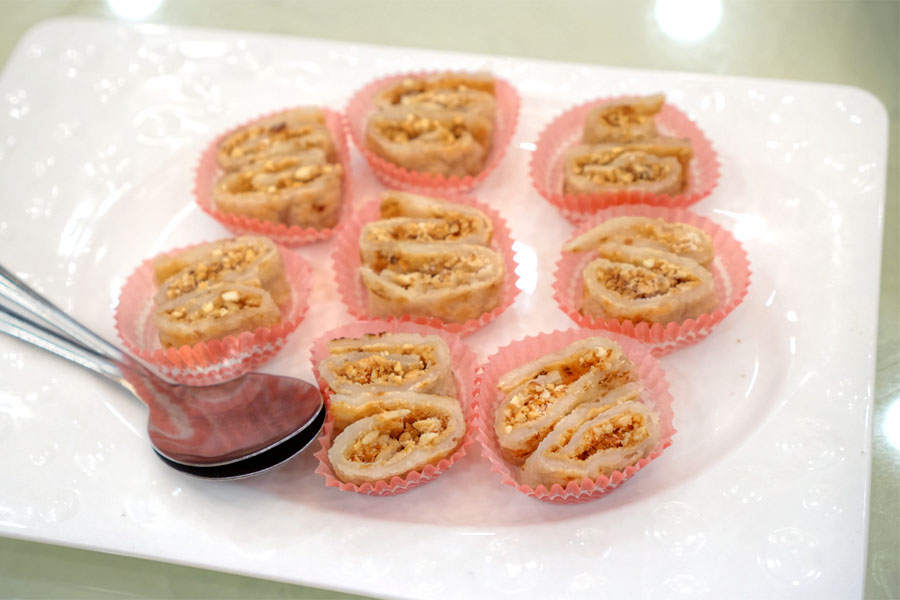 11: Longo Crepe
Next up were thin, savory, somewhat
cong you bing
-esque pancakes, wrapped around a sweet, nutty filling.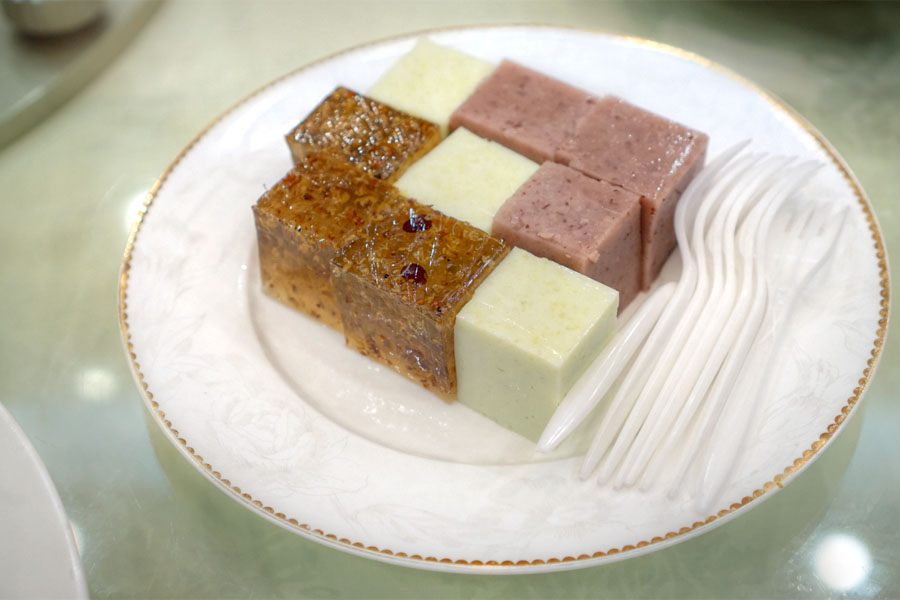 We ended with blocks of fragrant, tea-like
Osmanthus Pudding
; classically sweet
Coconut Milk Red Bean Cake
; and cool, nutty, minty
Imperial Green Bean Cake
.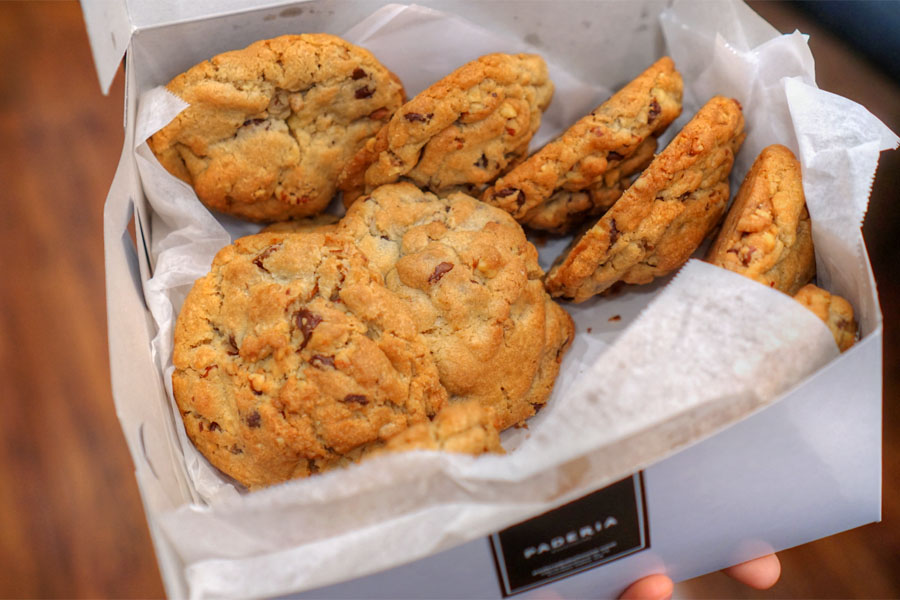 One of my fellow diners happened to be an investor in
Paderia Bakehouse
in Fountain Valley, one of the buzzier OC openings of the past year. To supplement the desserts above, he brought along a box of the bakery's signature
Chocolate Walnut Cookies
. Weighing in at six ounces each, they were certainly the
heaviest
cookies I've ever tried, and rather tasty too: crisp on the outside, soft and oh-so chocolate-y on the inside, with walnuts plus pecans for a nutty contrast.
It'd been way too long since I'd last had a banquet-style dinner, and I'm really glad we finally got around to organizing one at Longo. The meal was basically flawless, and the food was executed with level of precision and finesse that I frankly wasn't expecting. In fact, many of the items were among the best (if not the best) examples of their respective dishes that I've tasted. Service, meanwhile, was pretty exceptional, though this was probably because we were in a private dining room. Overall, one of the strongest Chinese meals I've ever had, no doubt.