Pizza Supreme (West Covina, CA)
Pizza Supreme Restaurant
19070 La Puente Rd, West Covina, CA 91792
626.965.1683
www.eatpizzasupreme.com
Sun 04/22/2018, 06:35p-09:25p

I'm well aware that this is somewhat of a random spot to visit. Quite frankly, the reason we ended up here was that we were looking for a BYOB-friendly restaurant to drink some beer, and one of my dining companions happened to know the owner and was thus able to secure free corkage. Said owner is one Steve Trinh (he also operates Dim Sum Co in Westminster), who bought the business in October 2017. The place was originally opened by John and Monica Lo all the way back in 1983.

The interior certainly looks the part, reminding me of the pizza joints that I used to frequent as a kid in the 80's.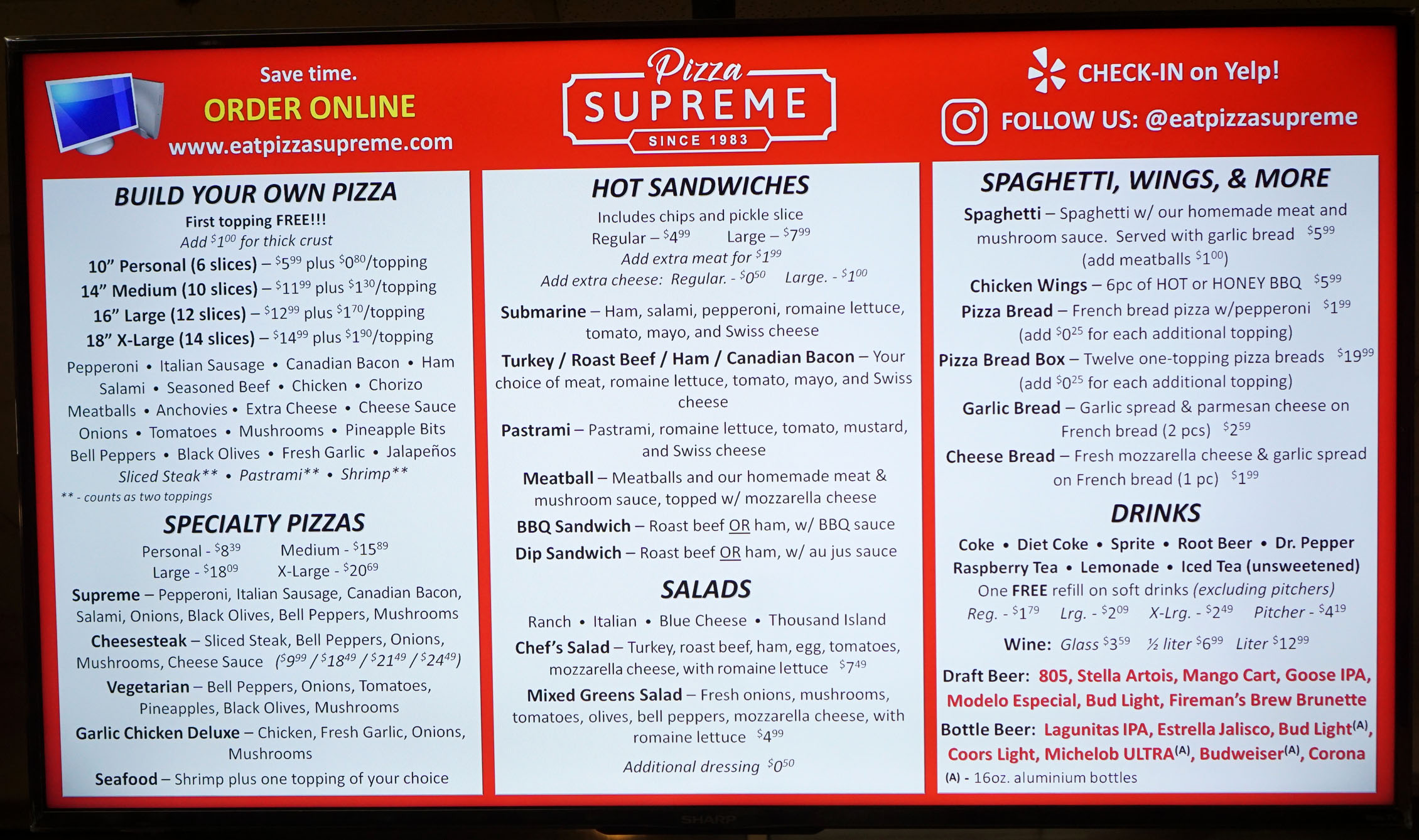 As far as the menu goes, you have your various varieties of pizza, joined by sandwiches, salads, and more. For beverages, you'll probably want to go with beer, and according to Trinh, he's actively trying to improve the selection (as evinced by the inclusion of Mango Cart and 805).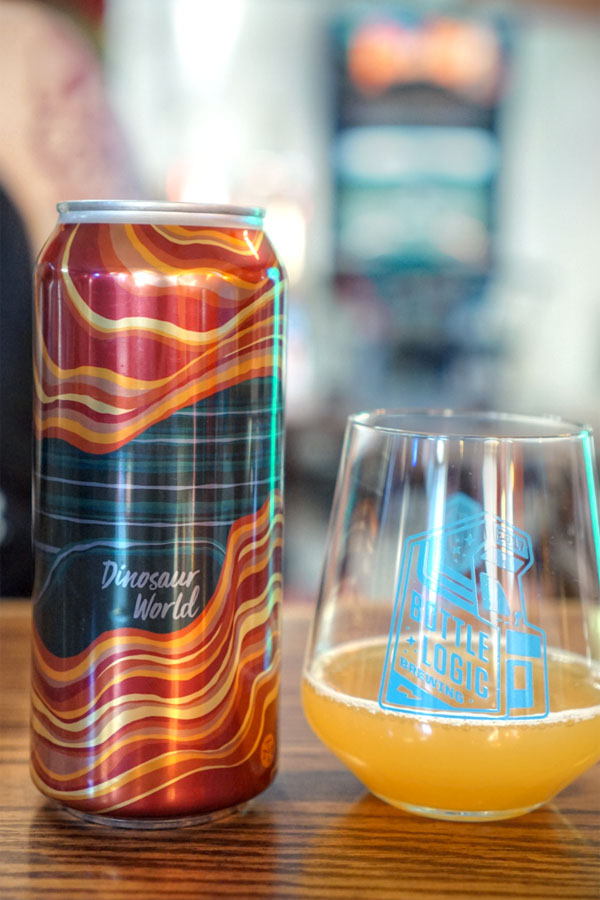 Beer-wise, we got things going with the
2018 Modern Times Dinosaur World
, a hazy double IPA hopped with Citra, Amarillo, and Mosaic. I detected a super appealing nose of juicy, sweet tropical fruit, with pineapple at the forefront. The taste was more bitter, more resinous, more bite-y, but I still got plenty of citrus character for balance. A nice start.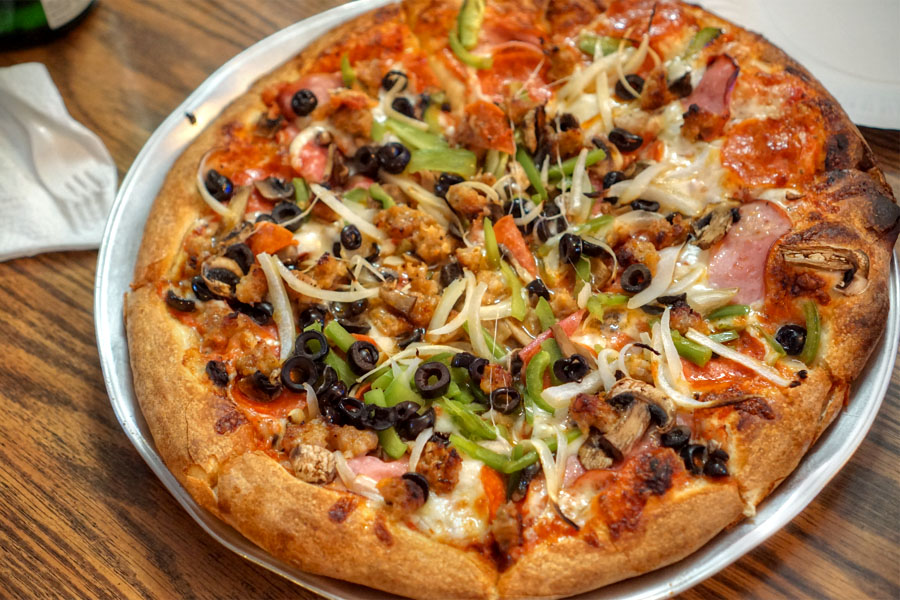 Supreme Pizza (Medium) [$15.89]
| Pepperoni, Italian Sausage, Canadian Bacon, Salami, Onions, Black Olives, Bell Peppers, Mushrooms
We had to go with the restaurant's namesake pizza of course, and it didn't disappoint. In fact, I'd say that it was one of the tastiest supreme pizza's I've had. The combination of meats ate savory and salty, and was well matched by the veggies, making for a balanced, super satisfying flavor profile. The crust was notable too, coming out just thin enough, but still substantial, with a lovely crispness to it. Yum.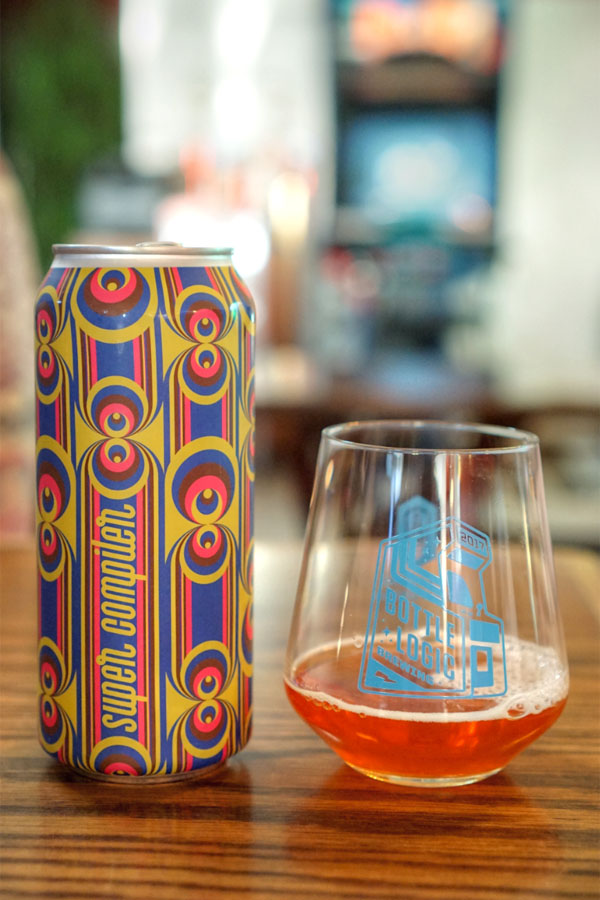 Created in collaboration with Florida's Civil Society Brewing, the
2018 Modern Times Super Compiler
was an IPA made with Grenache grape must, dragon fruit, hibiscus, and guava, then hopped with Mosaic, Citra, and Huell Melon. Nice floral, fruit-forward aromas, but with hops underneath. The taste was heavy on the tropical fruit and grapes, though there was a bitterness and bright, almost tannic quality that made for some contrast.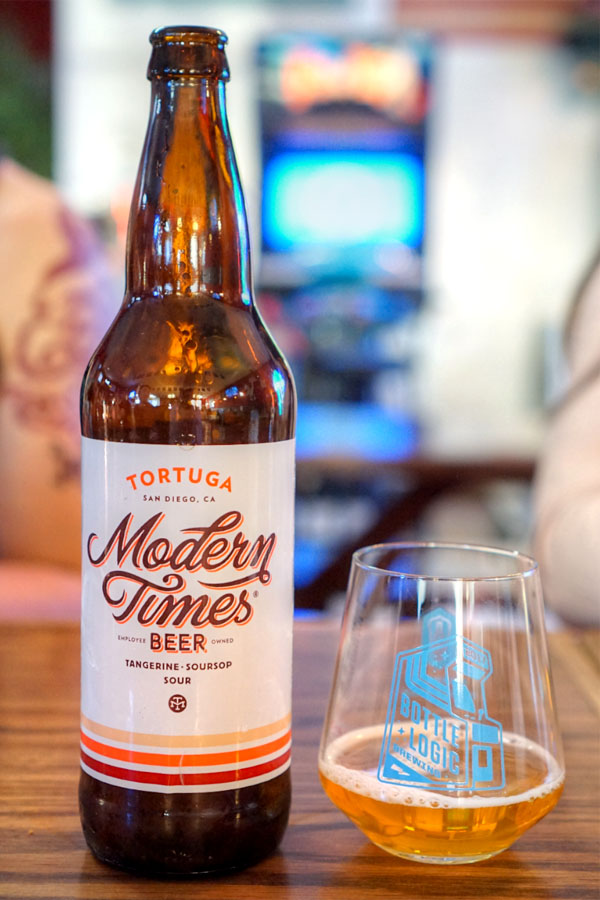 Next came the
2018 Modern Times Tortuga
, a Berliner Weisse with tangerines and soursops. The beer smelled of sweet malt and wheat, with fruit mixed in. Taste-wise, I found it sour, acidic, with a definite "wheat-y" character. Refreshing, though lacking in complexity.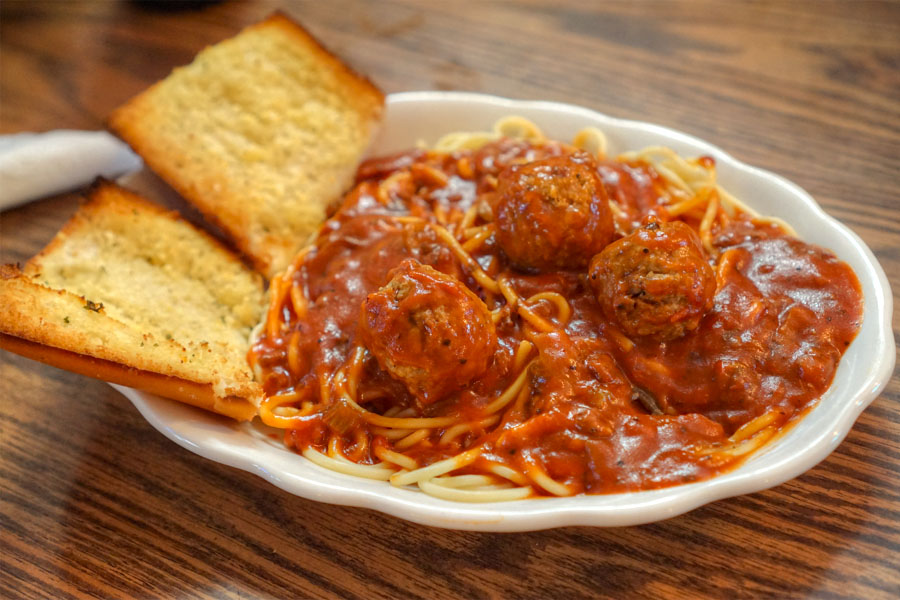 Spaghetti + Meatballs [$5.99 + $1.00]
| Spaghetti w/ our homemade meat and mushroom sauce. Served with garlic bread
Soft-ish strands of spaghetti made for a customary pairing with the copious amounts of tangy tomato sauce, while meatballs were pretty much what you'd expect. Nostalgic.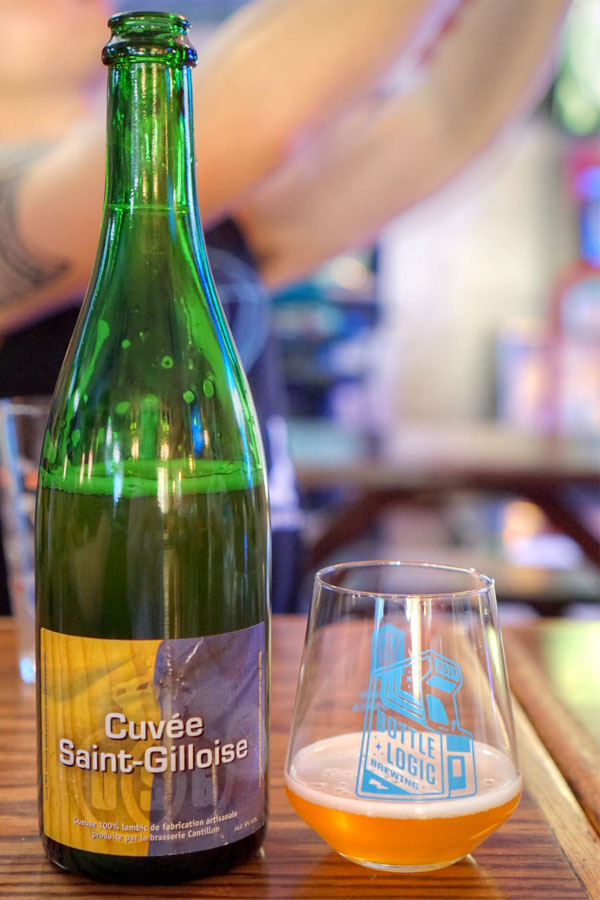 The
2015 Cantillon Cuvée Saint-Gilloise
was a two-year-old lambic that was dry-hopped and refermented in the bottle. Wonderfully intense, delightful bouquet filled with stone fruit and funk. This led to a palate bursting with lemon and a hoppy astringency, with more barnyard and some graininess. Very nice.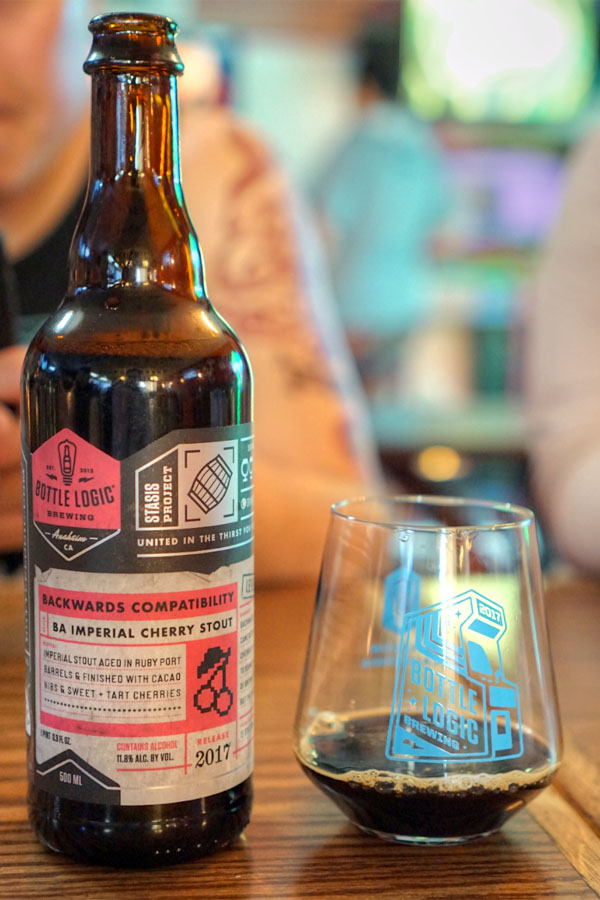 Our first dark beer was the
2017 Bottle Logic Backwards Compatibility
, an imperial stout aged in ruby port barrels and finished with cacao nibs and both sweet and tart cherries. Rich, chocolate-y nose with tart fruit and slight soy sauce. The palate was smooth, and again heavy on the chocolate, which was joined by a sweet-n-sour element from the cherries as well as oak, while the finish was all about port wine and cocoa. Better than I expected.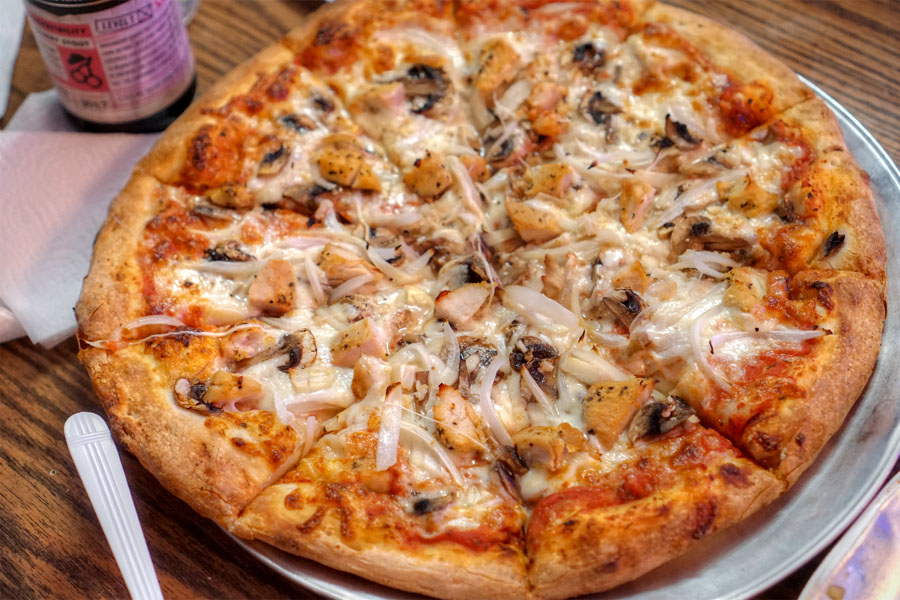 Garlic Chicken Deluxe Pizza (Medium) [$15.89]
| Chicken, Fresh Garlic, Onions, Mushrooms
Our second pizza met the mark as well. The chicken itself was pretty tasty, but the key here was how delightfully garlicky the pie was. Great use of the onions for contrast, too.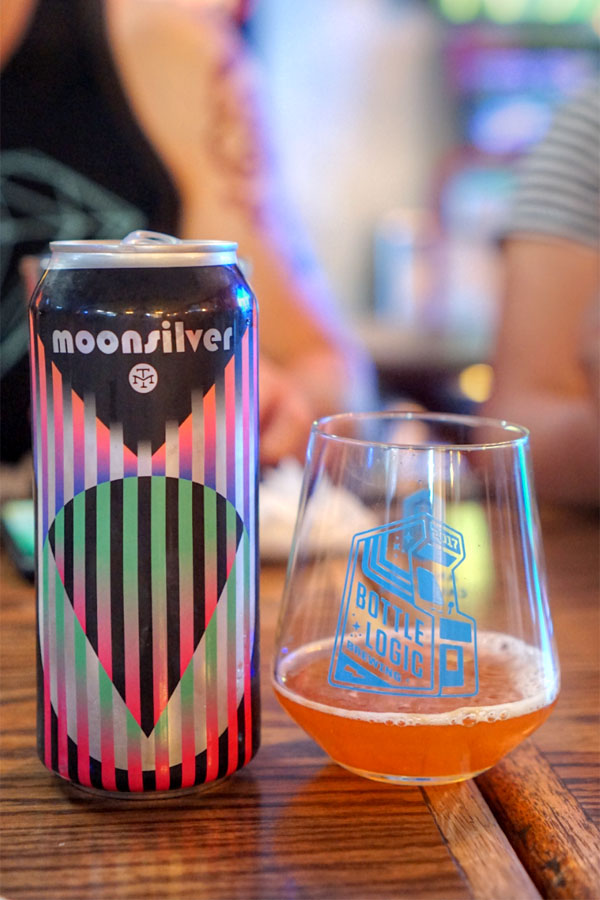 The
2018 Modern Times Moonsilver
was a Berliner Weisse with strawberry, kiwi, and guava added. Huge strawberry and funk on the nose led to some refreshingly tart, grainy flavors, but again with massive strawberry in yo' face. Quite tasty, though the kiwi and guava were overshadowed.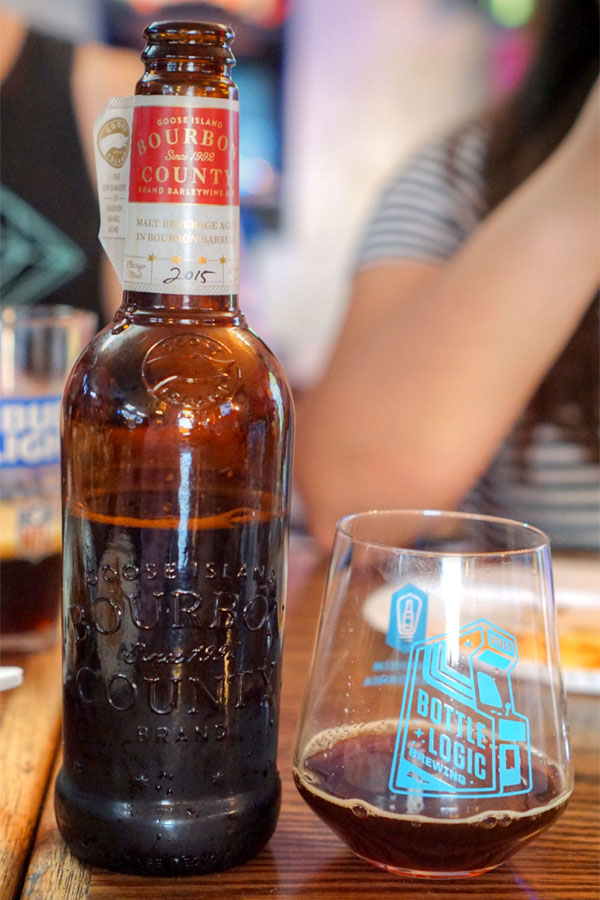 Next was the
2015 Goose Island Bourbon County Brand Barleywine Ale
, a barley wine aged in third-use bourbon barrels. I detected lots of dark fruit and malty, chocolate notes in the aroma. The taste was quite oaky at first, with flavors of caramel, prunes, bourbon, and nuts coming in later.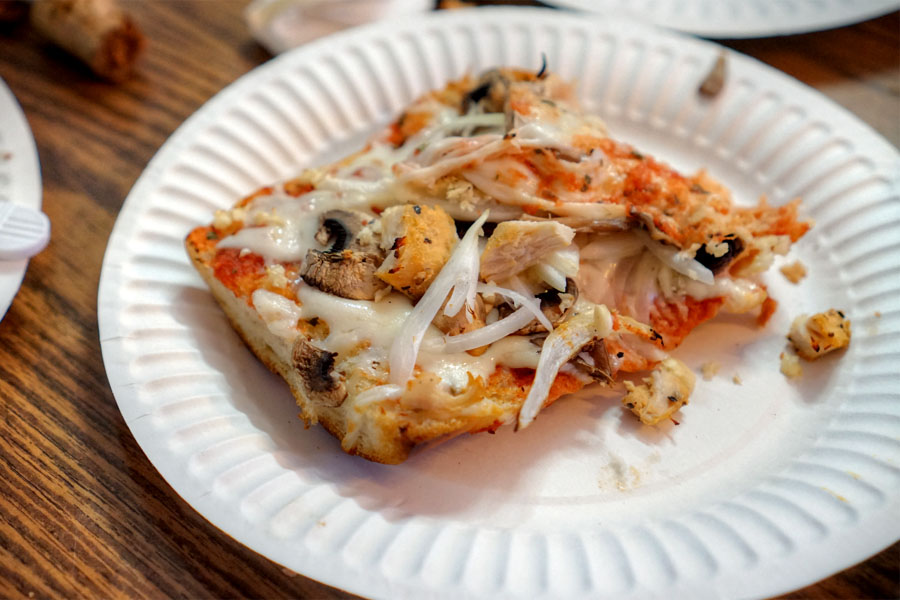 You can also get your pizza on a French bread base. I didn't prefer it though, as I found the standard pizza crust much more gratifying.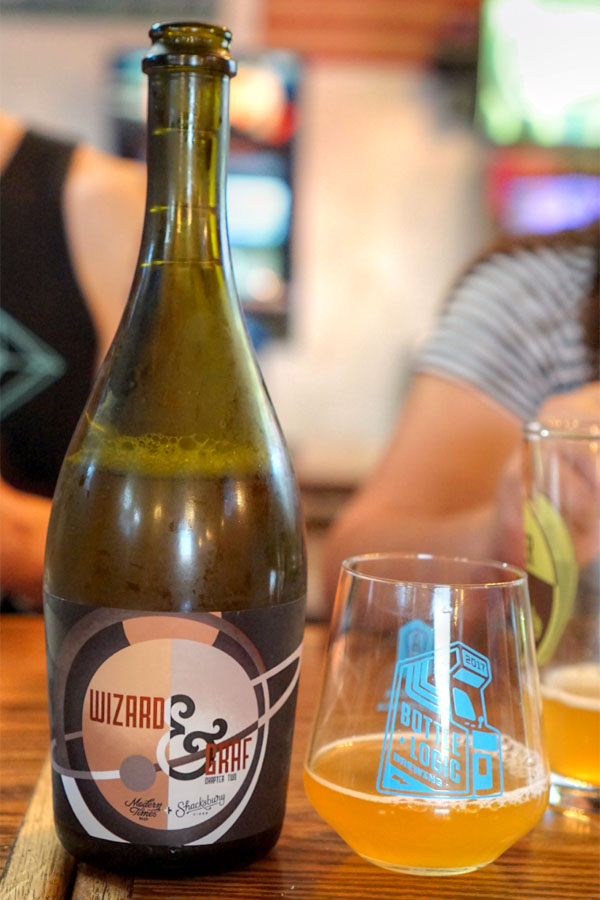 The
2018 Modern Times Wizard & Graf: Chapter Two
was something a bit different, a saison brewed with both cider and culinary apples, aged in a clay amphora and French oak, created in collaboration with Shacksbury Cider in Vermont. I got a super floral, fruity bouquet intertwined with funk and sourness. The taste was super bright, and had a base of barnyard, a touch of stone, and layers of sweet-tart apple, making for a crisp, delicious beer-cider hybrid.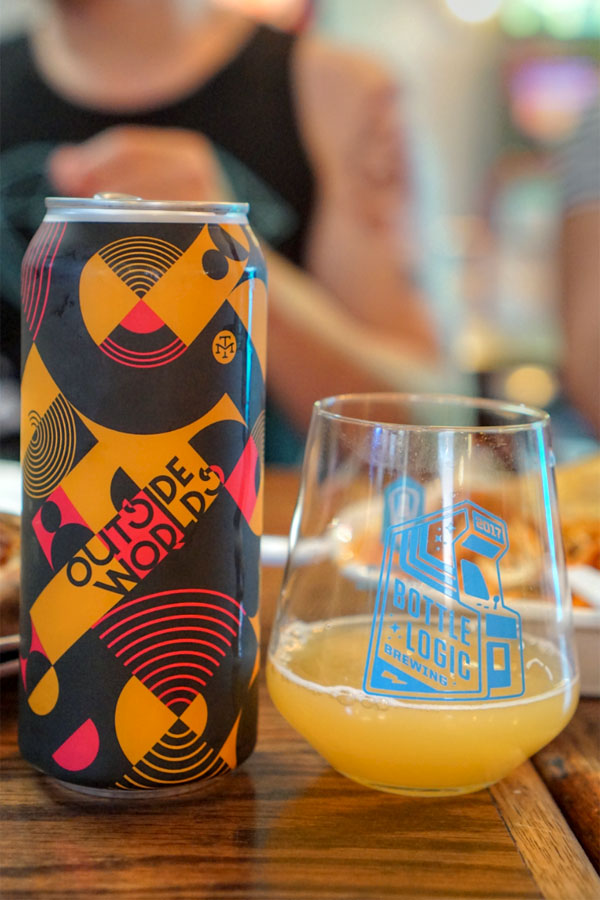 Our third IPA was the
2018 Modern Times Outside Worlds
, a double with Citra, Simcoe, Centennial, and Idaho 7 hops. This one smelled bright and piney, with a good amount of juiciness to boot. Its taste was sweet and malty, with some tropical fruit, a soft hop bite, and a lingering bitterness.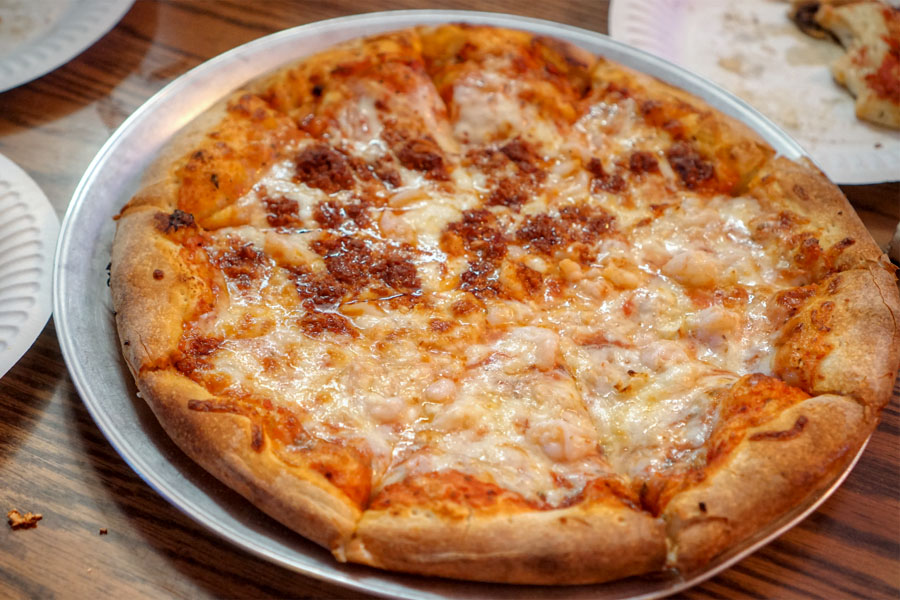 Seafood Pizza (Medium) [$15.89]
| Shrimp plus one topping of your choice
We felt compelled to order the seafood pizza--since you don't see shrimp all that often--and ended up going half-n-half with the additional topping. The garlic did a great job complementing the brininess of the shrimp, but even better was the chorizo with its sharp, piquant spice.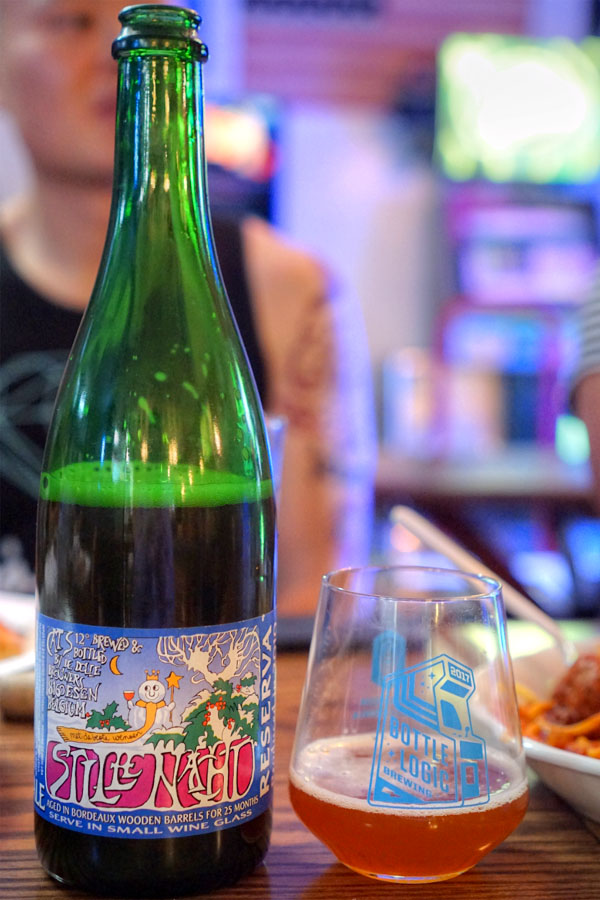 The oldest beer of the bunch was the
2010 De Dolle Stille Nacht Reserva
, a Belgian golden ale aged for 25 months in Bordeaux casks. Its nose was boozy, and heavy on the barrel, with sweet fruit in the background. Taste-wise, I got more booziness, but also a mature, nutty, oxidative quality joined by an almost candied fruitiness.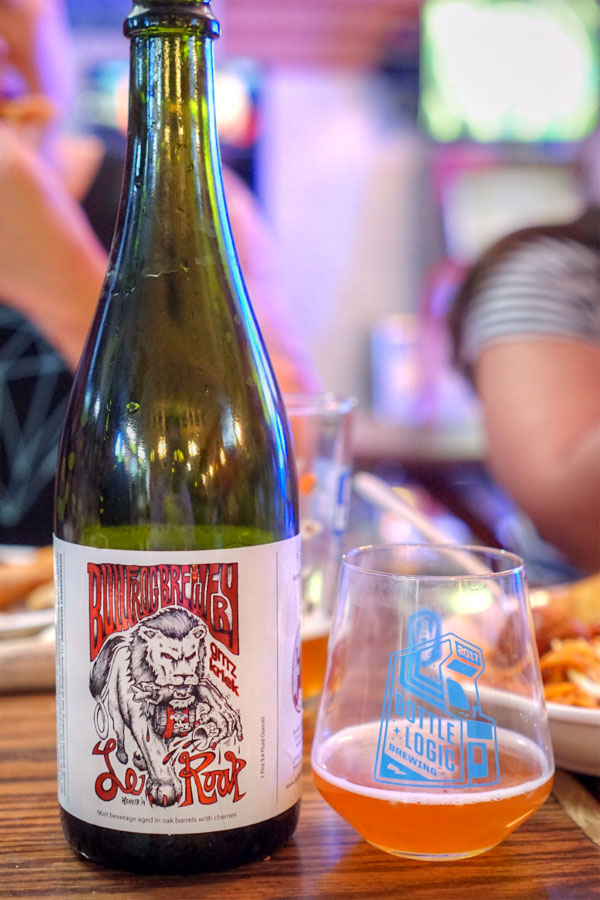 The
2014 Bullfrog Le Roar Grrrz Kriek
was a kriek-style ale aged with cherries and refermented with Belgian candi sugar. It smelled decidedly funky, earthy, with very little fruit. In terms of taste, I got a bit of sweet spice from the advertised cherry, but I wanted more, while the funkiness was also subdued.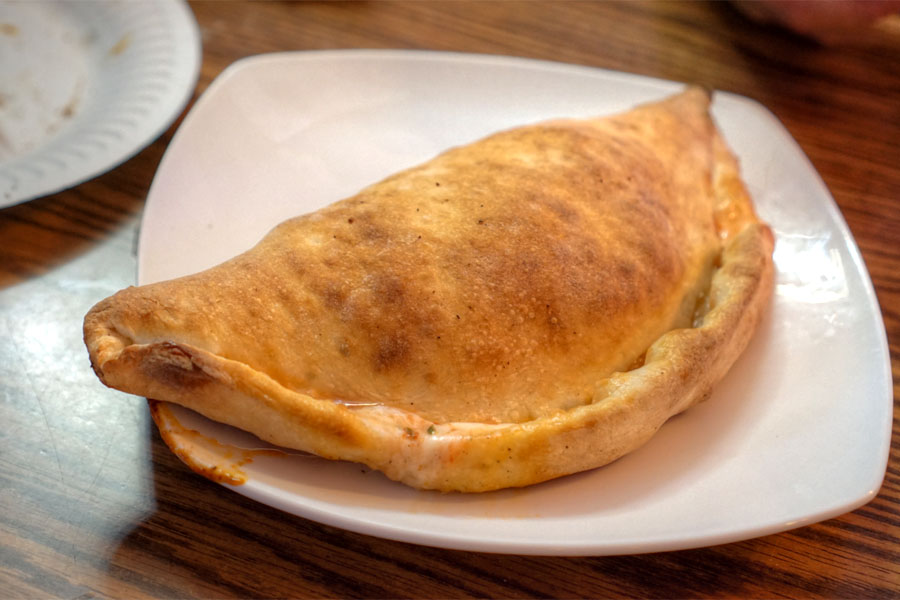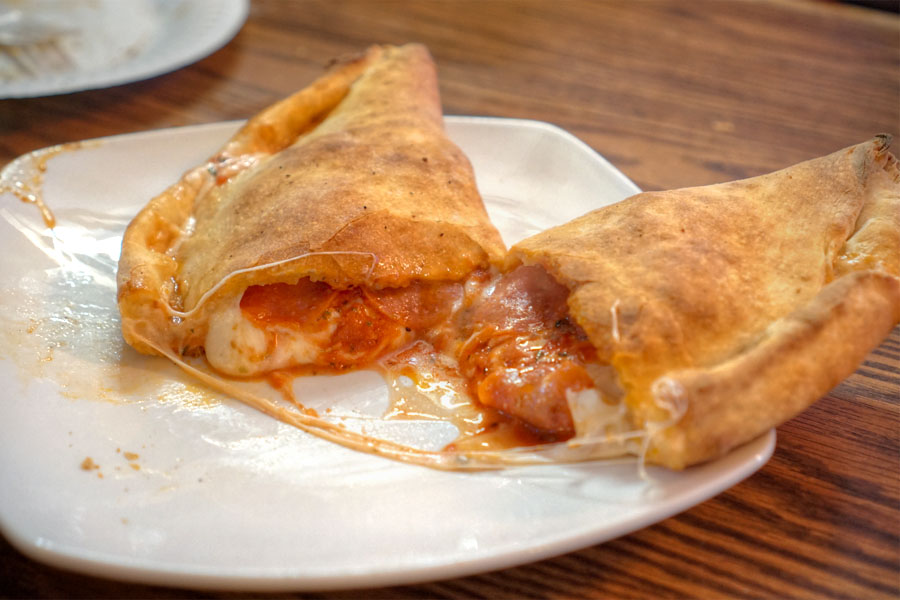 We were given a taste of the off-menu calzone that's currently in the works. I found it cheesy as hell, with a classic pairing of pepperoni that made for a very familiar eating experience.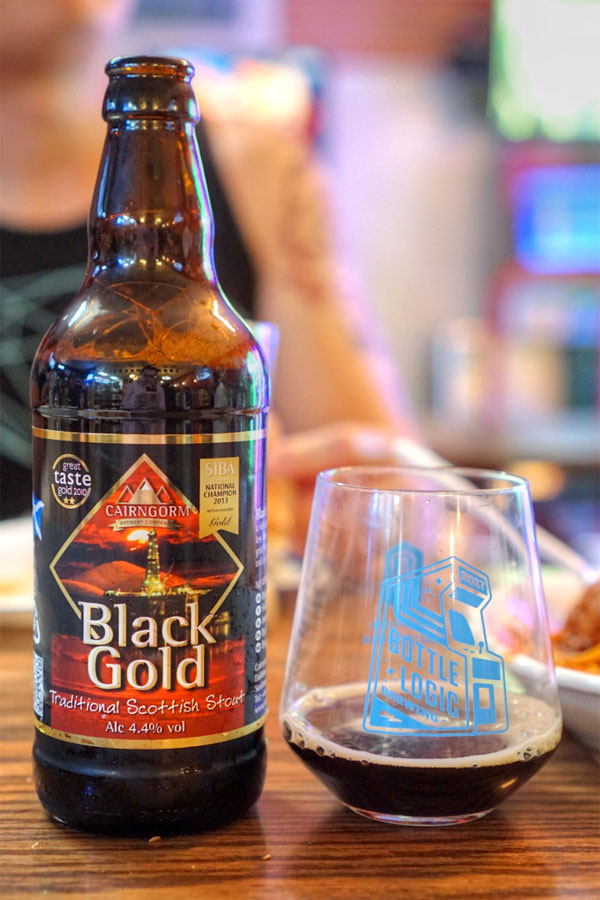 Next came a Scottish stout, the
Cairngorm Black Gold
. Appealing nose of chocolate, roast, and nuts. The palate was on the lighter, smoother side, and displayed more nuts, malt, light fruit, minerals, and caramel, with a touch of astringency.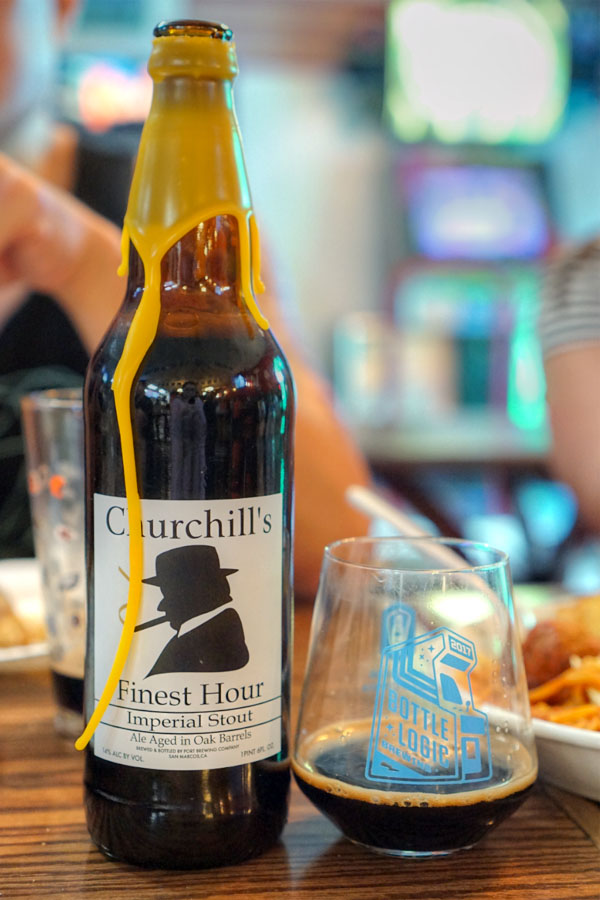 On the other hand, the
2016 Port Churchill's Finest Hour
, an imperial stout aged in oak bourbon barrels, was much more assertive. It smelled of chocolate, tart fruit, and barrel, while the taste highlighted oak, bourbon, cocoa, and spice.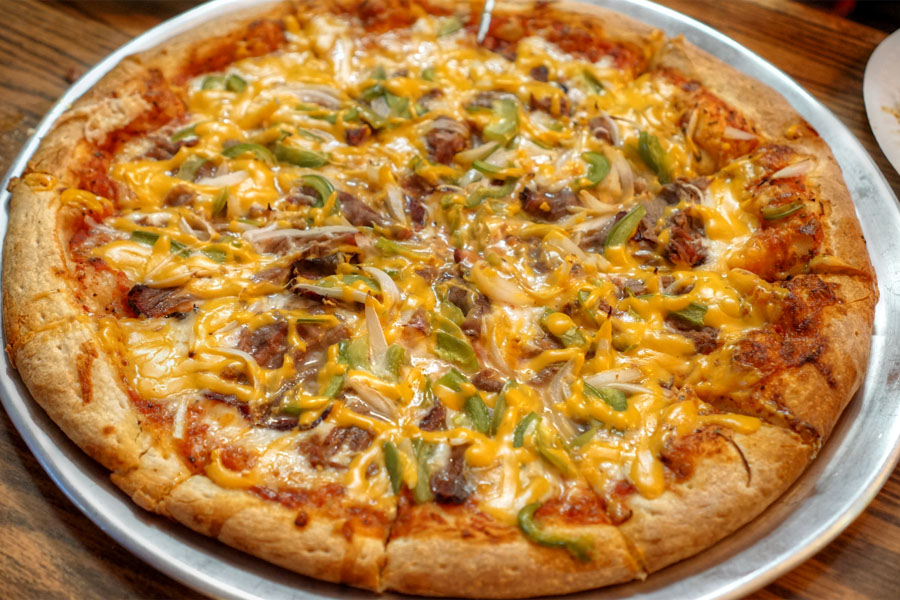 Cheesesteak Pizza (Large) [$21.49]
| Sliced Steak, Bell Peppers, Onions, Mushrooms, Cheese Sauce
The restaurant ended up gifting us this last pizza. It was as cheesy and beefy as you'd expect, with a welcomed counterpoint from the peppers and onions. Actually a surprisingly good rendition of a cheese steak in pizza form.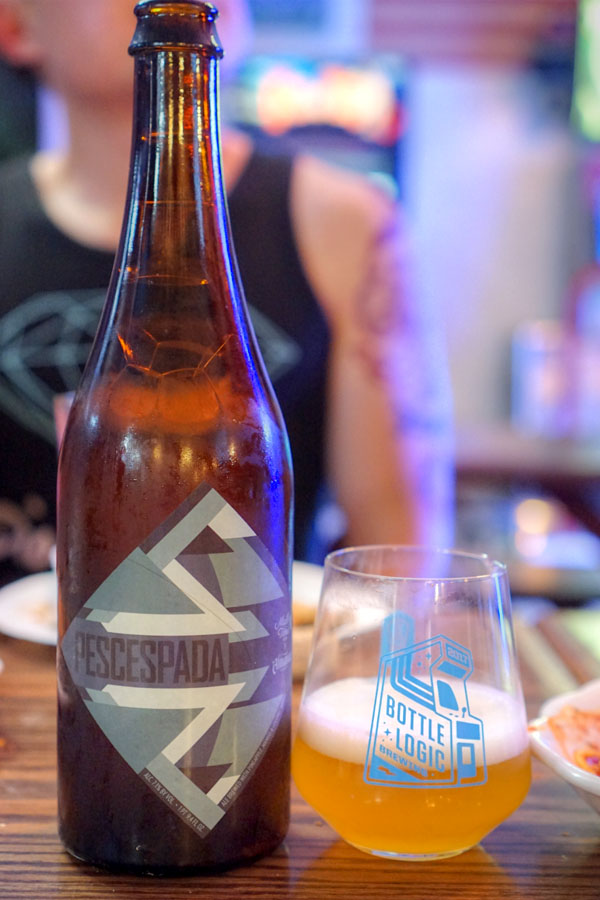 Our penultimate beer was the
2018 Modern Times Pescespada
, a Brett'd, Lacto'd, Saccharo'd ale brewed with pineapple, coconut, mango, and HBC 462 hops that was created in collabo with San Francisco's Almanac Beer Company. It displayed a wonderfully floral aroma laced with coconut and tart fruit. Flavors were tropical and heavy on the coconut, and I got plenty of juicy mango and sourness too, making for a fun, refreshing drink. The beer was actually designed as an homage to tiki cocktails, and it worked quite well in that regard.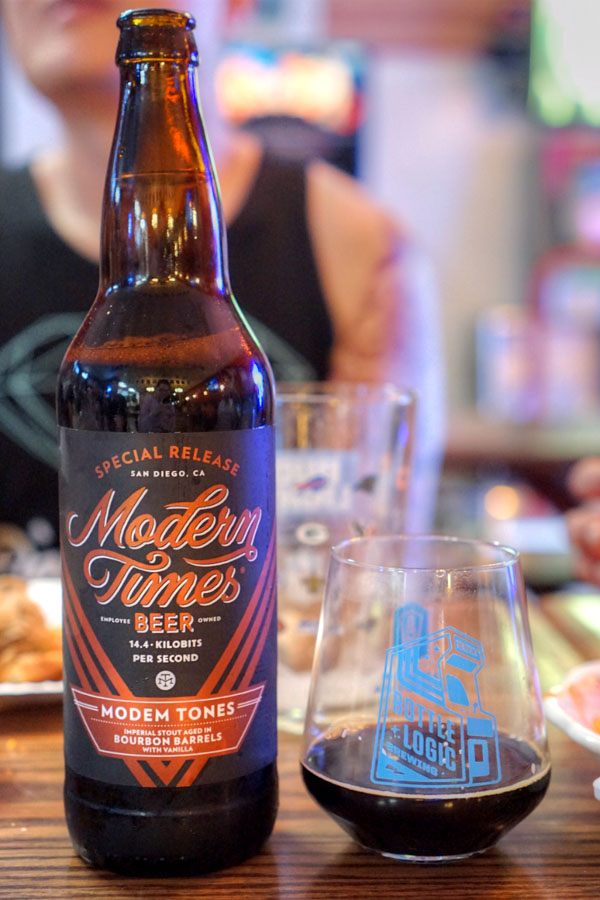 We ended with a BBA imperial stout, the
2018 Modern Times Modem Tones Aged in Bourbon Barrels with Vanilla
. The beer smelled strongly of rich vanilla, cocoa, and dark fruit. On the tongue, I got massive amounts of fragrant vanilla balanced by oak, bourbon, and chocolate, while the finish had more long-lasting vanilla. A worthy beer to end the evening.
Well this was a fun meal, not surprisingly. Beers aside, the pizzas were actually pretty great, no doubt some of the best "non-fancy" pies I've had, and I'd definitely frequent this place if I lived nearby. Pizza Supreme's an old school sort of pizza parlor, and a mighty fine one at that.