PBJ.LA (Los Angeles, CA)
PBJ.LA at Grand Central Market
317 S Broadway, Los Angeles, CA 90013
213.624.2378
www.pbj.la
Sat 06/09/2018, 02:20p-04:05p

One of the stranger places to debut in recent times has got to be PBJ.LA, a sort of new wave peanut butter and jelly purveyor. The 12-seat stall opened at GCM last August, sandwiched between Ana Maria and Chiles Secos. It's the brainchild of Payvand Salehi, Brad Greenberg, and personal trainer Jimmy Franklin, and the three actually came up with the idea while working out together at Jackie Warner's now-defunct Sky Sport and Spa in Beverly Hills. Greenberg's friend Jeff Miller (of Thrillist fame, and also an investor) introduced them to Lee Weinberg and Adam Fleischman (i.e. AdVantage Restaurant Partners), both of whom also worked out at the same gym. The two liked the idea and joined on to further develop the concept, later facilitating a successful meeting with the GCM folks, and so here we are today. Fun fact: the first names of the five main partners spell out PBJ.LA.
PBJ.LA's menu features seven variations on the classic sandwich, all of which are "100% plant-based" (sounds better than vegan I suppose). This is joined by a couple sides and a few nut milk-based beverages. Click for a larger version.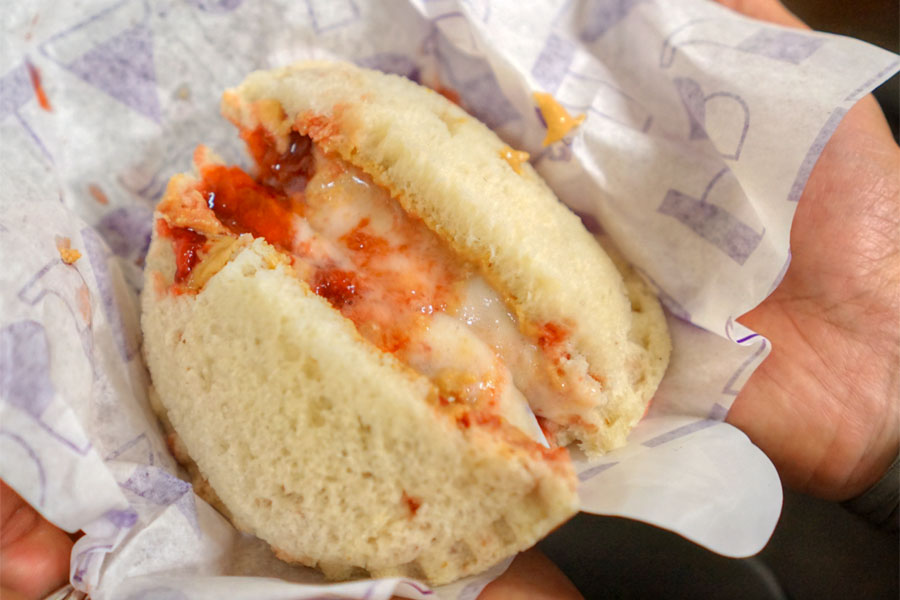 Old School [$5.00]
| Peanut Butter with Strawberry Jam
or
and Marshmallow Fluff
We had to start with the most basic of the sandwiches, and as we can see, it's essentially a schmancy
Uncrustable
. Taste-wise, the peanut butter was pretty much what you'd expect, with a slightly grainy consistency that I didn't mind. Meanwhile, the tanginess of strawberry came through more on the back end, while the marshmallow added a noticeable gooeyness to the mix. Not a bad rendition of the childhood staple.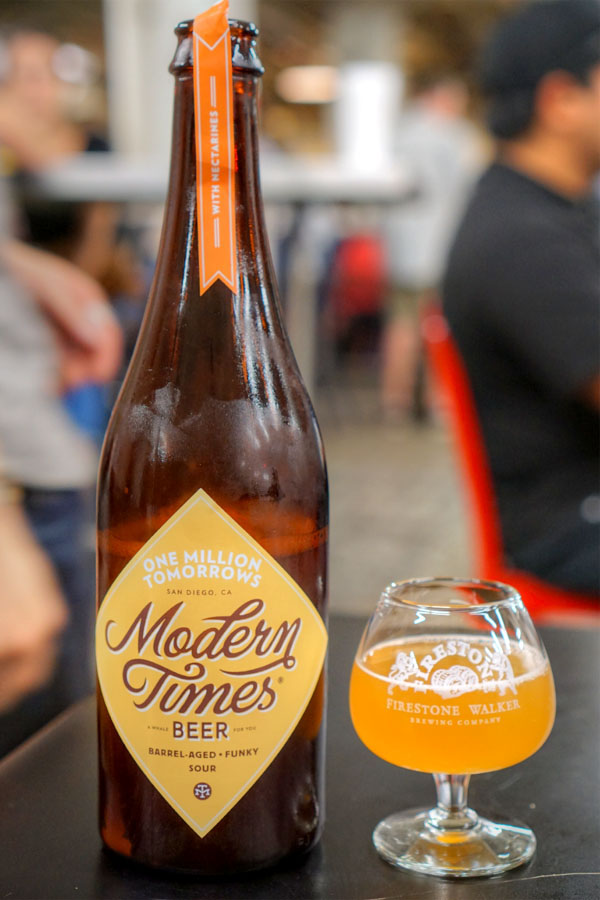 Kicking things off beverage-wise was a red wine barrel-aged saison with second-use fruit, the
2017 Modern Times One Million Tomorrows with Nectarines
. Strong stone fruit on the nose, with a tartness and Brett character as well. The taste was sour and acidic at first, but quickly showcased more juicy nectarine, funk, and a grassiness, while the finish had a slightly off-putting bitterness.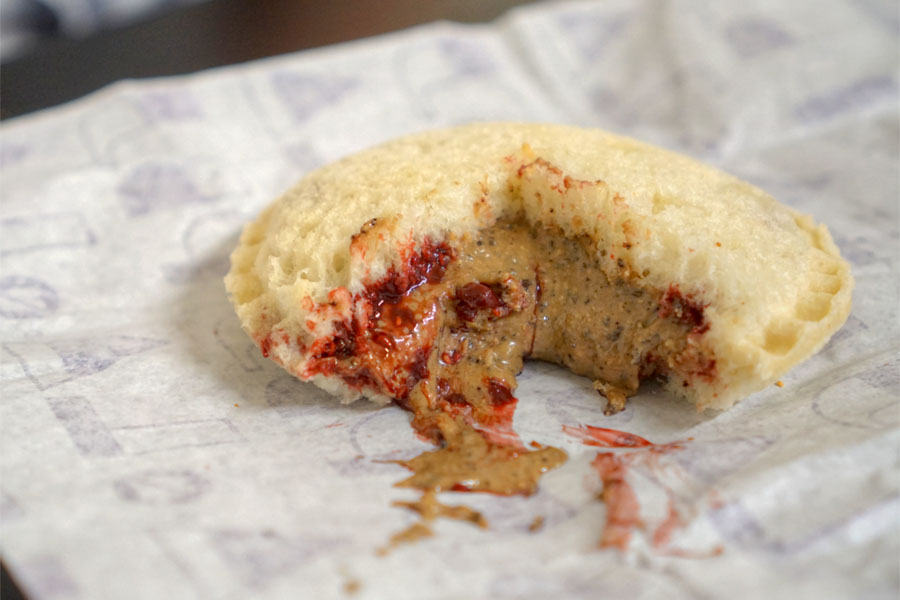 Red Eye [$6.50]
| Espresso Peanut Butter (Jaguar Forest Organic Coffee), Dark Chocolate Raspberry Jam
This next sandwich definitely showed off the roasty bitterness of coffee, while I believe the beans also contributed a grittiness to the otherwise sticky nut butter. Meanwhile, the chocolate and raspberry became more noticeable on the back end, making for some balance.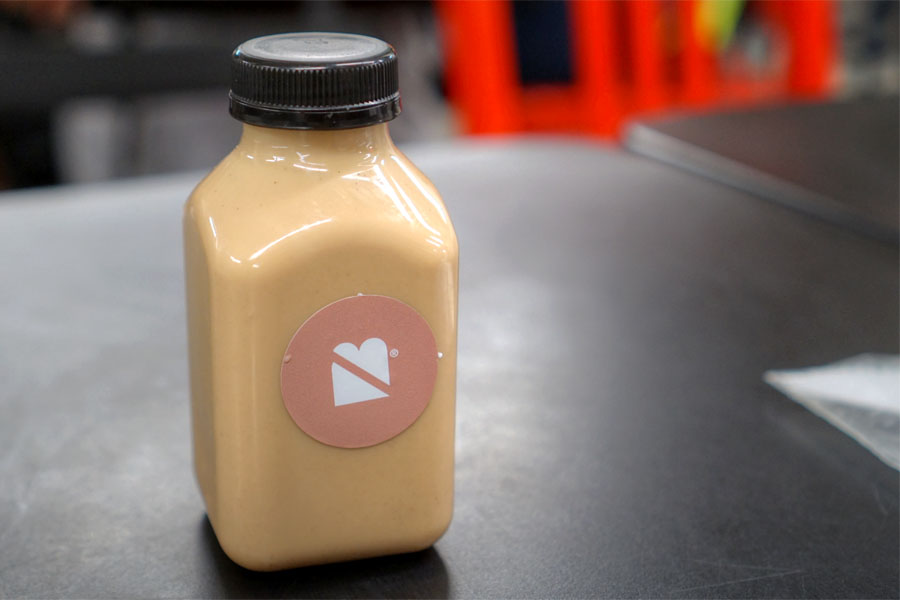 An
Horchata Almond Milk [$5]
drank nutty and sweet, as one would expect, but also had a very apparent floral note that lingered. Pretty tasty, though it didn't particularly recall its namesake horchata, and lacked the cinnamon-fueled sweet spice I was expecting. Maybe they gave me the wrong bottle...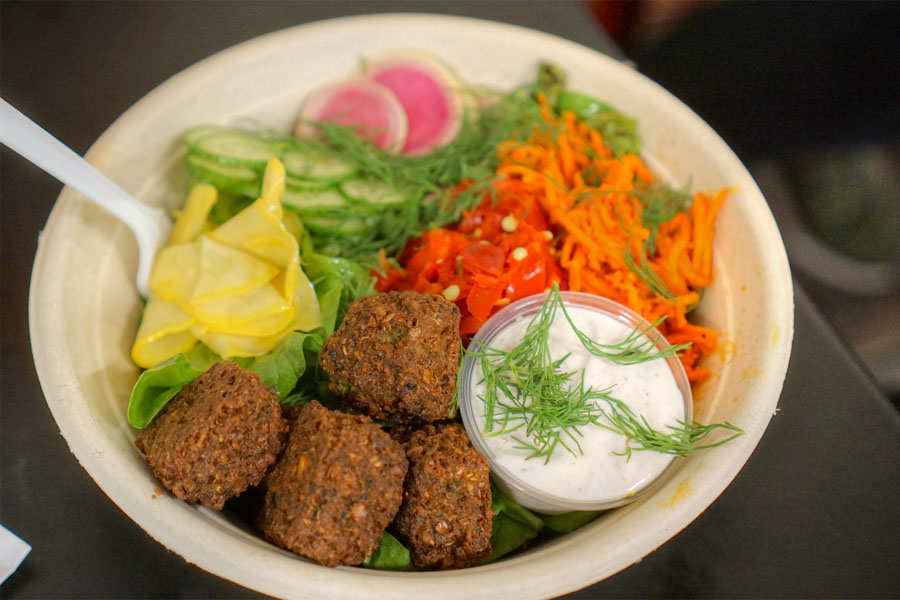 Orange Salad [$13.00]
| falafel with carrots, spinach, pickled hot peppers, walnut-yogurt & dill
A couple of my dining companions ending up going to
Madcapra
in order to mix in some lighter fare. Our first salad was tasty enough, and quite heavy on the dill, which was fine by me. I didn't have much to complain about concerning the actual falafel either, though unfortunately the combination of carrot and bell pepper seemed to overwhelm most of the other flavors in the bowl.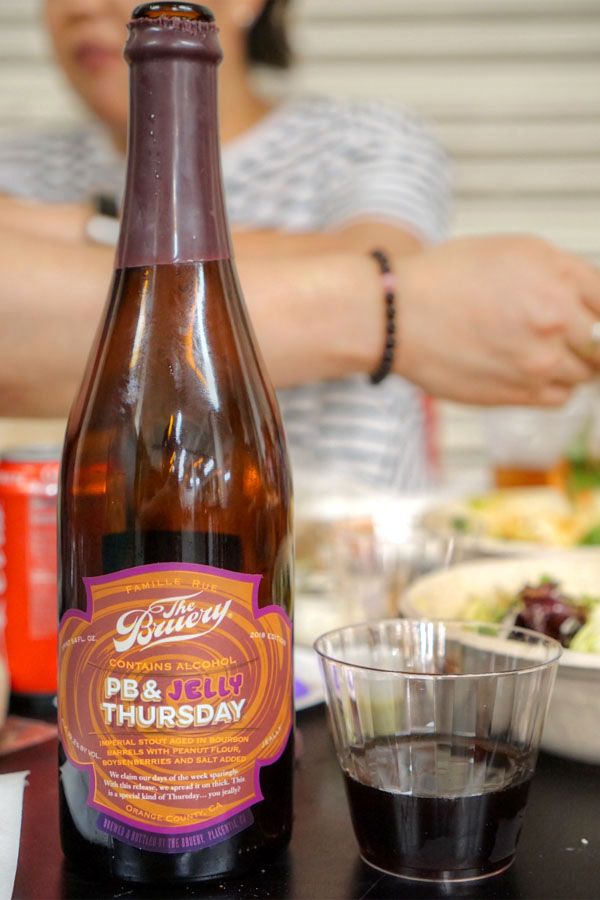 Given what we were eating, it just seemed right to bust out a bottle of the
2018 The Bruery PB & Jelly Thursday
, an imperial stout aged in bourbon barrels with peanut flour, boysenberries, and salt. The beer smelled heavily of dark fruit, with a booziness underneath. The taste brought oak, chocolate, bourbon, and more of that boysenberry, though regrettably little peanut, while the finish was a bit on the hot side.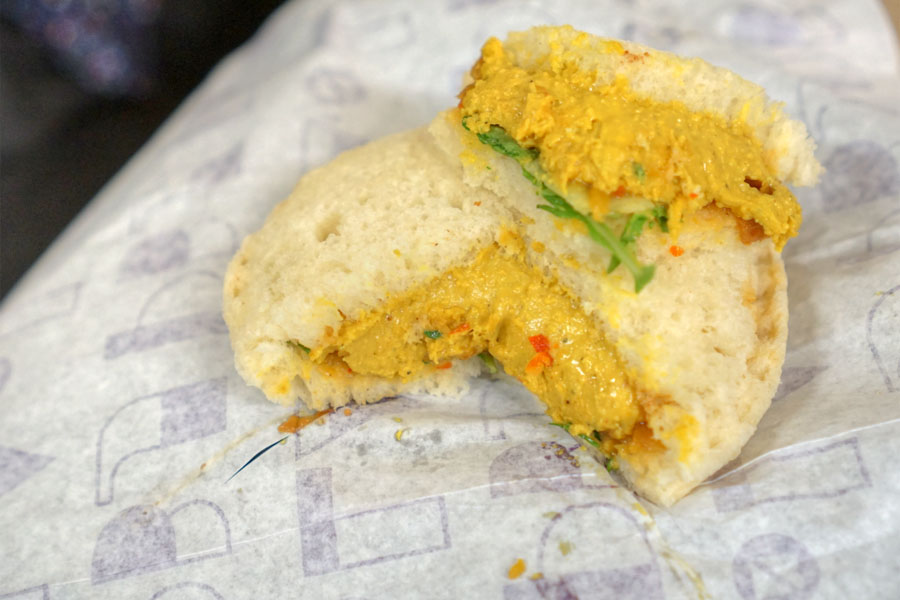 Indian [$7.50]
| Curried Cashew Butter, Spicy Mango Chutney, Arugula, Sliced Daikon Radish
This Indian-ish creation had tons of curry upfront, which led to a mango-y sweetness and more lingering curry on the close. What I found problematic here was that the cashew butter was very, very thick, distractingly so.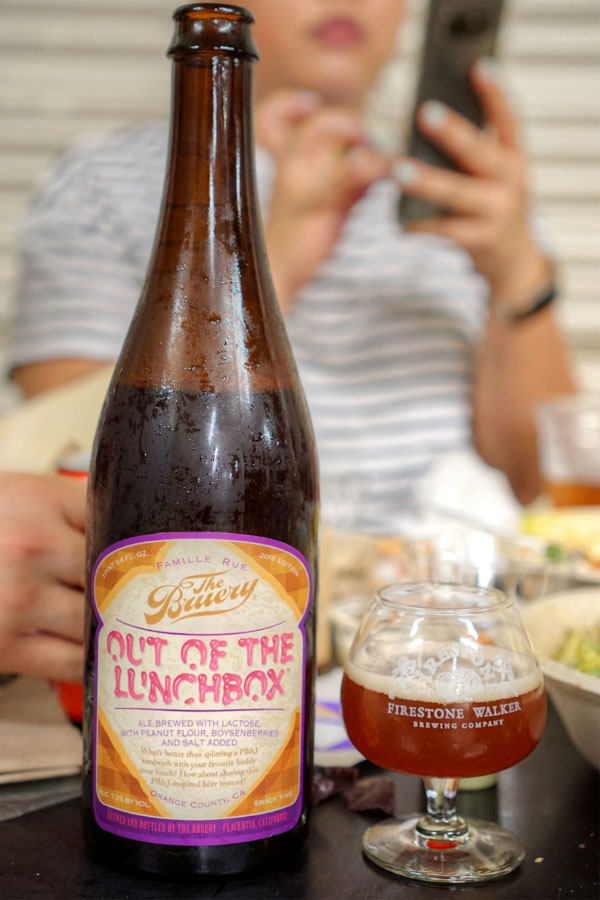 Next was another PB&J beer, the
2018 The Bruery Out of the Lunchbox
, an ale brewed with lactose, peanut flour, boysenberries, and salt. The nose here was decidedly sweet, with light peanut and a touch of chocolate. On the palate I found the beer malt-forward and surprisingly tart, with a touch of the purported peanut but nary any trace of boysenberry.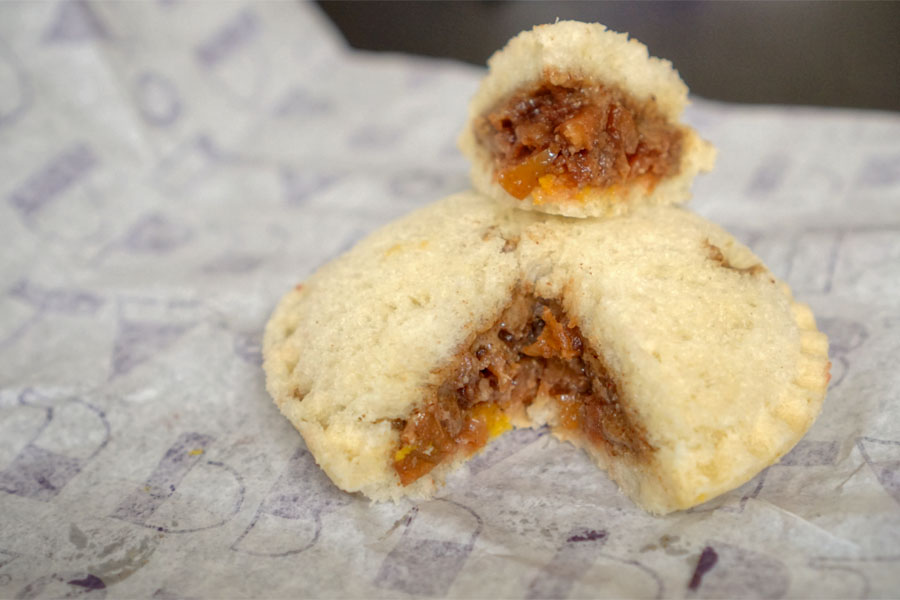 Ol' Fashioned [$7.00]
| Salted Pecan Butter, Apple Jam with Angostura Bitters, Orange Zest
Inspired by an Old Fashioned cocktail, this was probably the most interesting sandwich we tried. Think citrusy and sweet-n-sour at first, while the Angostura came in on the mid-palate, commingled with the pecan butter.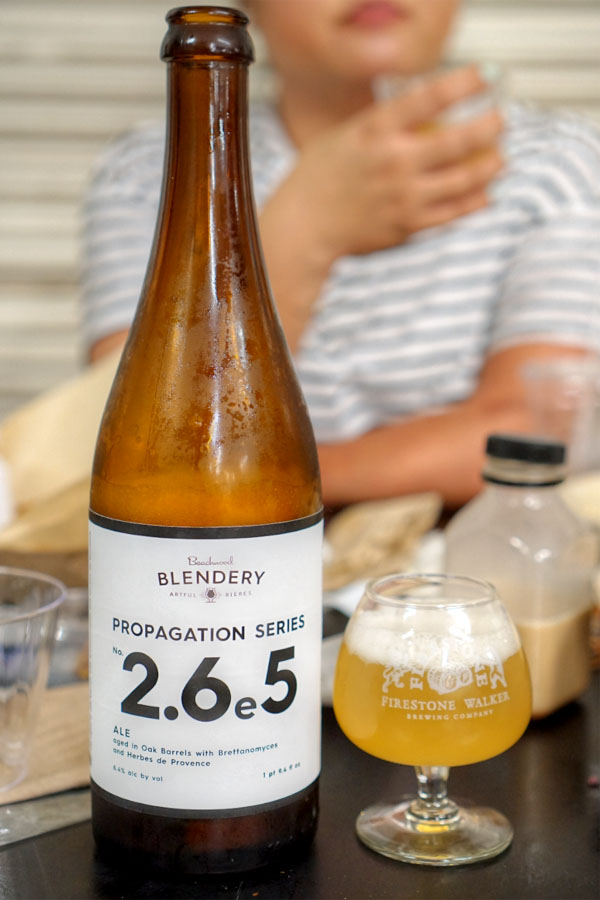 Going in a lighter direction now, the
2016 Beachwood Blendery Propagation Series: No. 2.6e5
was a saison aged in oak with Brett and
herbes de Provence
. Aromas were subtle barnyard and stone fruit, with a trace of what I thought was lavender. The taste was a touch more assertive regarding the
herbes
, and also displayed more fruit along with a marked bitterness that persisted.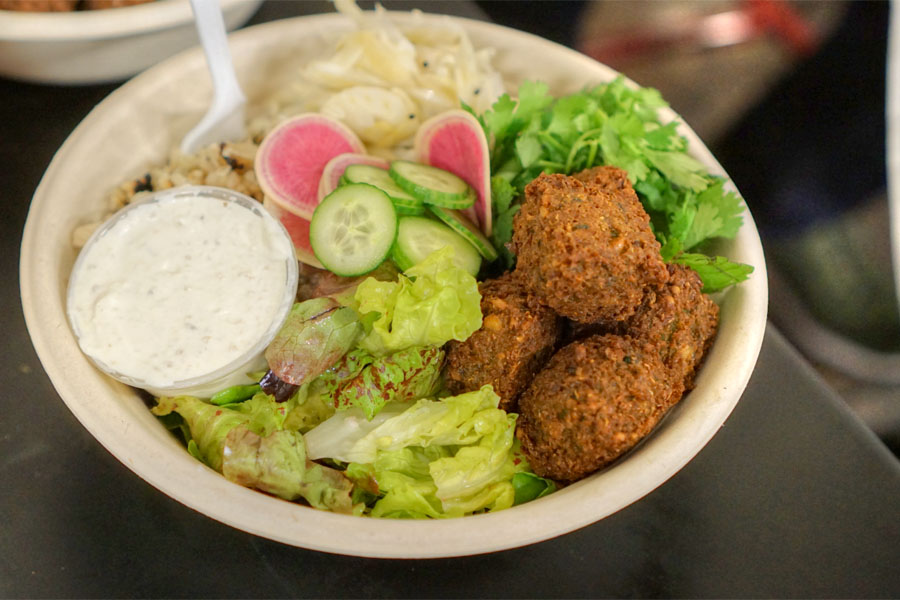 Green Salad [$13.00]
| falafel with cauliflower, pickled fennel, labneh, cilantro & mint
The second salad from Madcapra was more to my liking. I really appreciated the sheer brightness of the dish and how that worked alongside the robust flavors of the falafel. Nice crunch and tang from that pickled fennel, too.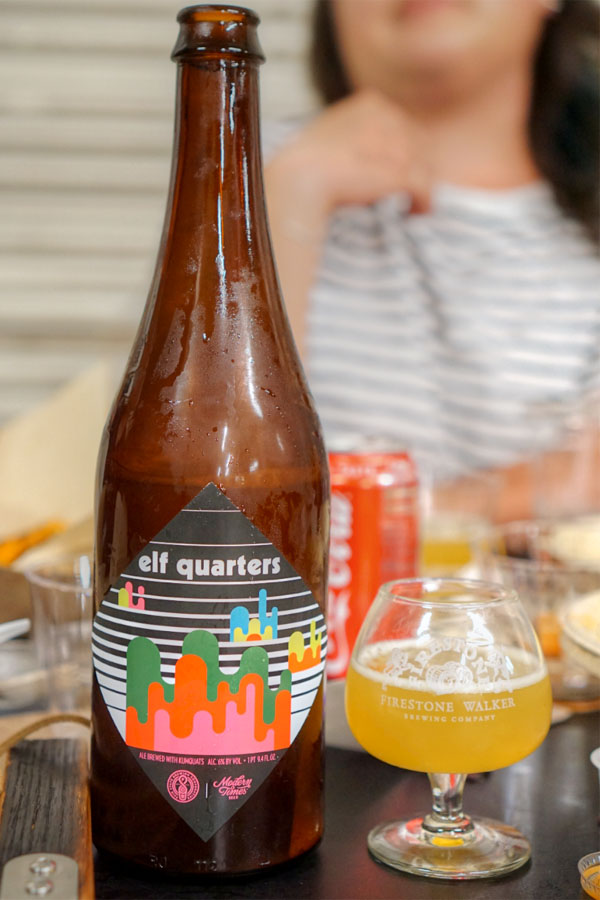 Created in collaboration with Fair State Brewing Cooperative out of Minneapolis, the
2018 Modern Times Elf Quarters
was a witbier brewed with Brett and Lacto, then conditioned with kumquats. Appealing nose filled with tart, juicy fruit. The palate conveyed delectable notes of kumquat and stone fruit along with some funky, Bretty elements, while the finish was loaded with the essence of bitter citrus pith.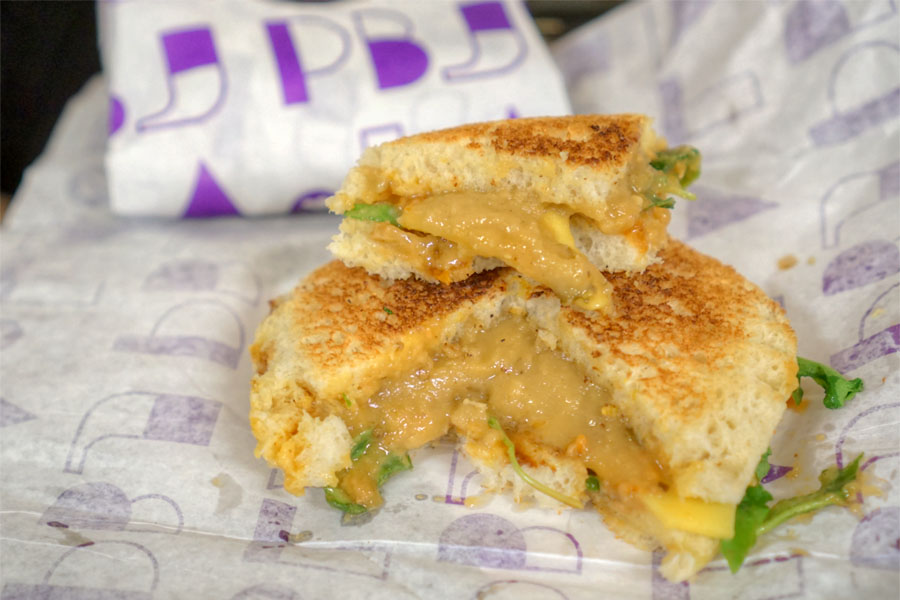 Italian [$9.00]
| Toasted Pine Nut Butter with Sage, Basil Cherry Tomato Jam, Arugula, EVOO, Balsamic, Smoked Provolone
This Italian-esque sandwich, which we got toasted, was clearly our least favorite of the bunch. The most prominent component here was the arugula, but other than that, we basically got a muddled sweetness that just struck us as odd.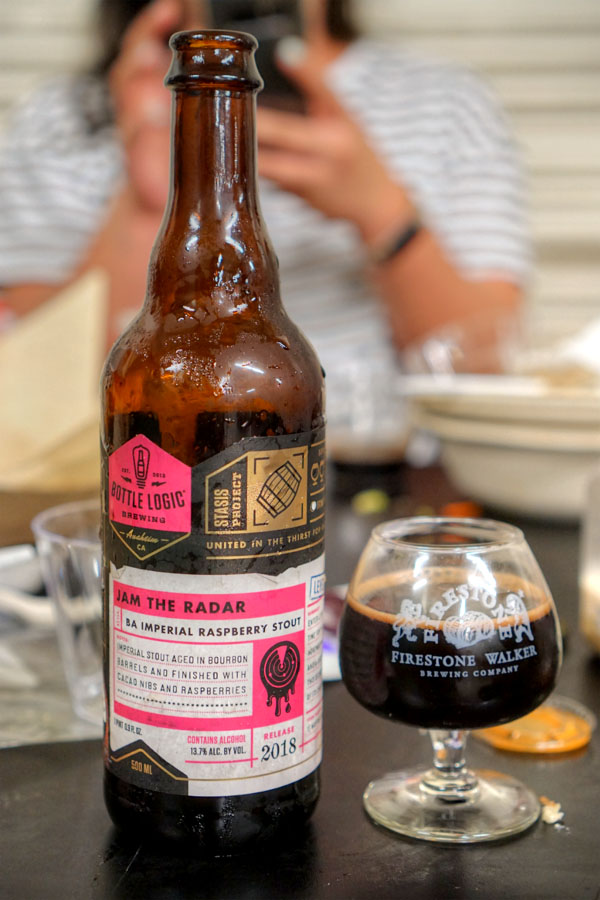 Our final bottle was the
2018 Bottle Logic Jam the Radar
, a blend of imperial stouts aged eight to 18 months in bourbon barrels, finished with cacao nibs and both black and red raspberries. Unsurprisingly, it smelled strongly of chocolate and dark fruit, with an oakiness mixed in. The taste brought massive amounts of raspberry commingled with more rich chocolate, making for a proper dessert beer indeed.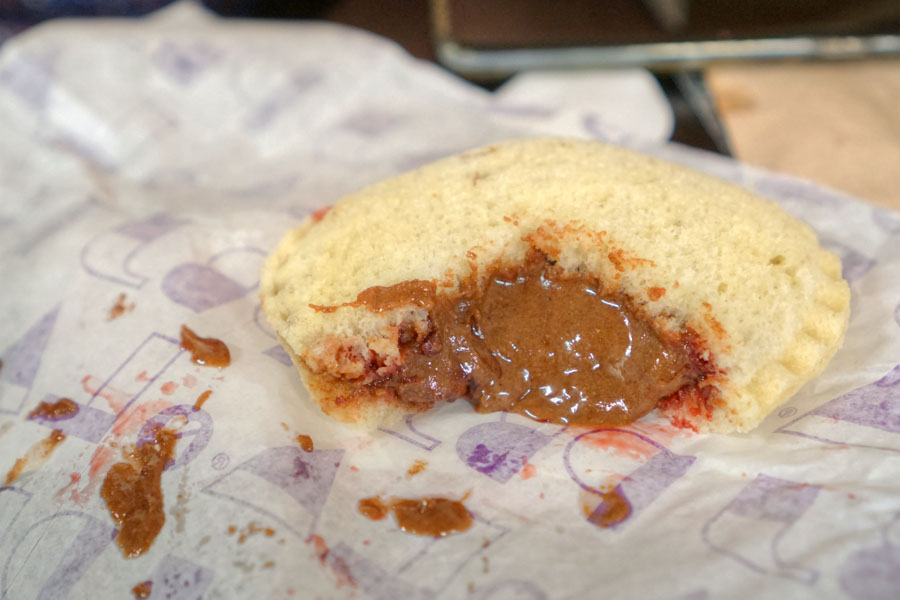 Chocolate Haze [$8.00]
| Chocolate Hazelnut Butter, Dark Cherry Chianti Jam
We wanted to end with the most dessert-y sandwich on offer, and this certainly fit the bill thanks to its Nutella-like sweetness and healthy amounts of full-bodied berry.
I have to say that I don't particularly enjoy PB&Js in general, and this meal didn't change my mind on the matter (not that I expected it to). That being said, if you're a fan of the sandwich, this might be right up your alley. Actually, from what I've read, the concept has been more successful than I would've thought, and I'm curious if the partners are planning on expanding to more locations; it seems like something they'd be wont to do. One lingering question though: what happens to the crusts?