APL Restaurant (Los Angeles, CA)
APL Steakhouse
1680 Vine St, Los Angeles, CA 90028
323.416.1280
www.aplrestaurant.com
Mon 06/11/2018, 08:00p-10:25p
The biggest restaurant debut to hit Hollywood in a good while, Adam Perry Lang's eponymous APL opened on May 10th. Lang is, of course, well known for his facility with meat, barbecue in particular. However, APL's not a BBQ spot. Rather it's a steakhouse, one ostensibly inspired by those from the turn of the century (last century, that is), and one with a bit of a French accent. Given the considerable interest behind this place, we recently gathered a party to check it out.
About the Chef
: APL was born Adam Perry in 1969, part of a Jewish family from Roslyn, Long Island. He first got interested in meat during childhood visits to Brooklyn's iconic Peter Luger, and cooked often with his family, though he never really considered it a potential profession. His parents divorced when he was 13, and mom ended up getting re-married to allergist Paul Lang. Lang served as a worthy stepfather, and as a result, the young Chef added his surname to his own. After high school, he attended the University of Wisconsin–Madison with the intent to study law, but, after viewing the results of an aptitude test, ended up deciding to pursue a culinary career. Following graduation in 1991, he started at the Culinary Institute of America, and during his time there, managed to land a gig at Le Cirque under mentor Daniel Boulud. He finished his studies at the CIA in 1993 and continued to cook at Le Cirque; when Boulud left to open Daniel shortly after, Lang went along with him.
During his tenure at Daniel, he also worked as a butcher at Brasserie Les Halles (where Anthony Bourdain made a name for himself), and in 1995, left to become a sous at David Waltuck's Chanterelle. He stayed for a year, then went to Paris. With Boulud's assistance, he was given the opportunity to work for
Guy Savoy
for eight months, and later spent time at Marc Meneau's vaunted L'Espérance. Lang returned to NYC in 1997, and accompanying him was artist Fleur Brenner, his new wife whom he met in France. He then secured a head chef position at Sicilian eatery Monzù, but was out after a year or so. He started private cheffing in 1998, and even founded a placement service called Culinary Stars. In 2000, a client had him out at a ranch in New Mexico, and this is where he really began experimenting with barbeque, in part as a backlash against the modernist cuisine movement taking hold at that time. His next big move came in 2003, when longtime friend Richard Gans introduced him to his father Robert Gans.
A real estate investor, the elder Gans had opened Penthouse Executive Club (yes, a strip club) in Hell's Kitchen, and tapped Lang to head up its in-house restaurant: Robert's Steakhouse. As part of the deal, a dry-aging room was installed in the basement, and Gans agreed to invest in the Chef's first solo project, Daisy May's BBQ (named after a Cocker Spaniel at the aforementioned ranch), which was just up the street from the Club. The takeout-only spot opened in August 2003 and became quite successful, spawning a number of food carts and even adding a dining room in 2006. In 2008, Lang left his duties at Robert's, and instead started running the dry-aging program for Carnevino, Joseph Bastianich and Mario Batali's steakhouse at The Palazzo in Las Vegas. May 2009 saw the publication of
Serious Barbeque
, while
BBQ 25
dropped a year later. In 2010, he sold his stake in Daisy May's and teamed up with Jamie Oliver to open Barbecoa in London that November. Lang took a step back from that business in January 2012 however, and in May that year, released his third book,
Charred & Scruffed
.
The Chef moved to SoCal in 2013 and took up residence in the back lot of the El Capitan Entertainment Centre, home of
Jimmy Kimmel Live!
(he and Kimmel became friends in New York). The pop-up, known either as Back Lot BBQ or Serious Barbecue, kicked off that summer, and would go through several iterations throughout the years. August 2013 had Lang cooking a night at Animal, and in April 2015, he and Aaron Franklin came together for a joint dinner, also at Animal and in conjunction with
Roy Choi
and Jon Favreau (a tie in with the movie
Chef
). This was quickly followed by a pop-up with Franklin at
Nick's Cafe
, and a much fancier fête in September at the Hotel Bel-Air, this one featuring
Wolfgang Puck
and Francis Mallmann. Lang began working in earnest on APL in 2016, with the intent of opening in June 2017, though obviously that never happened.
Of note: Lang's partners here are none other than Kimmel and Kimmel's wife Molly McNearney. Running the FOH, meanwhile, is Director of Operations Sarah Kim, who boasts experience at The Redbury,
Fifty Seven
,
Son of a Gun
, and
Cleo
.


APL is located on the ground floor of the historic Taft Building, the same 1923-era edifice that houses
Wood & Vine
. The space had been vacant for some time, but was transformed into a 143-seat restaurant by the team of Sami Hayek (yes, Salma's brother) and Kathy Delgado (both friends of Lang), with significant input from the Chef himself. The overall vibe is a bit French brasserie-ish, classic, and there's no open kitchen for a change. There is, though, a private dining area in the back, and you'll also a find a small room out front--replete with David Choe mural--where Lang and Marcus Lewis (who's worked with the Chef since 2012) intend to sell BBQ sandwiches for lunch.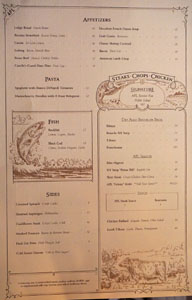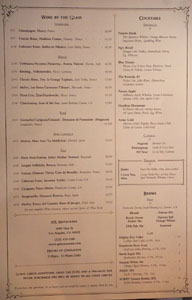 Aesthetically, APL's menu is inspired by those of NYC mainstay Balthazar. It features classically-leaning appetizers, a couple pastas, more-or-less traditional sides, and your requisite non-beef proteins, but naturally the focus is on the various cuts of 100-day dry-aged steak and Lang's signature short rib (the inspiration for David Chang's version at
Majordomo
). Note, however, that said short rib wasn't available tonight (despite being early in the evening on a Monday), much to our disappointment. Click for larger versions.











Libation-wise, you get cocktails from Beverage Director Jonathan Michael McClune (Cleo at LA Live,
The Bazaar
, Katsuya Hollywood, Cleo, Fifty Seven), while Evelyn Goreshnik (
Scopa
,
Alimento
,
Petit Trois
, Ford's Filling Station) handles the wine list. Click for larger versions.
Headless Horseman [$16.00]
| El Pelotón Mezcal, Averna Amaro, All Spice Dram, Peach, Egg White
APL's cocktail list is fairly interesting, so we made sure to try a few of their drinks. Our first had an almost
buttery
aroma, which I wasn't expecting, along with warm spice notes from the dram. On the palate I found it creamy, with a buttery, corn-like sweetness finished with spice and smoke.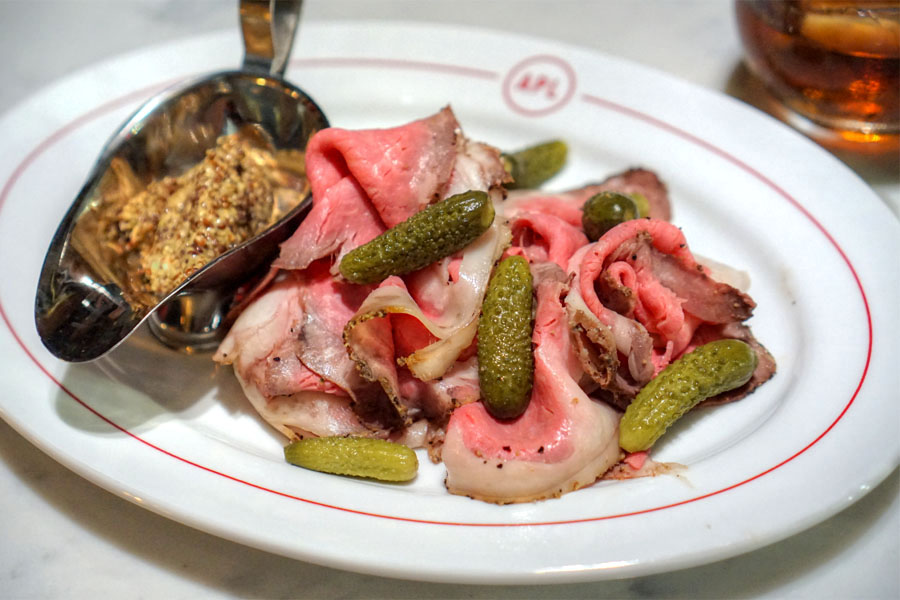 Roast Beef [$17.00]
| Shaved, Chilled, Pickles
The roast beef made for a welcomed start to the meal. Its flavors were deep, concentrated, and thoroughly satisfying, and we all appreciated the contrast imparted by the combo of cornichons and mustard.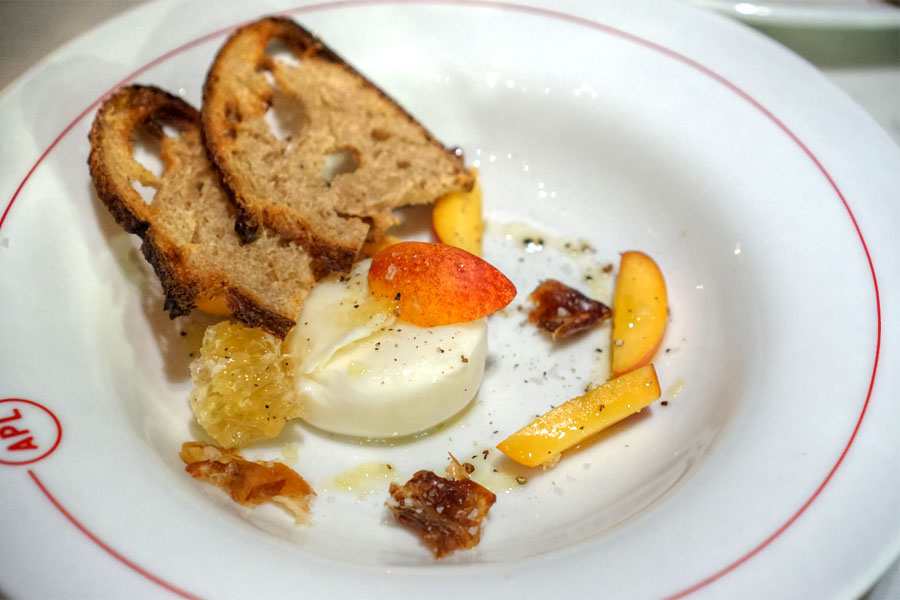 Burrata Stonefruit [$16.00]
| Acacia Honey, Dates
Burrata arrived as luxurious as I wanted, and more importantly, meshed perfectly with the sweetness provided by both the honey and stone fruit. Deftly balanced, and a surprise standout.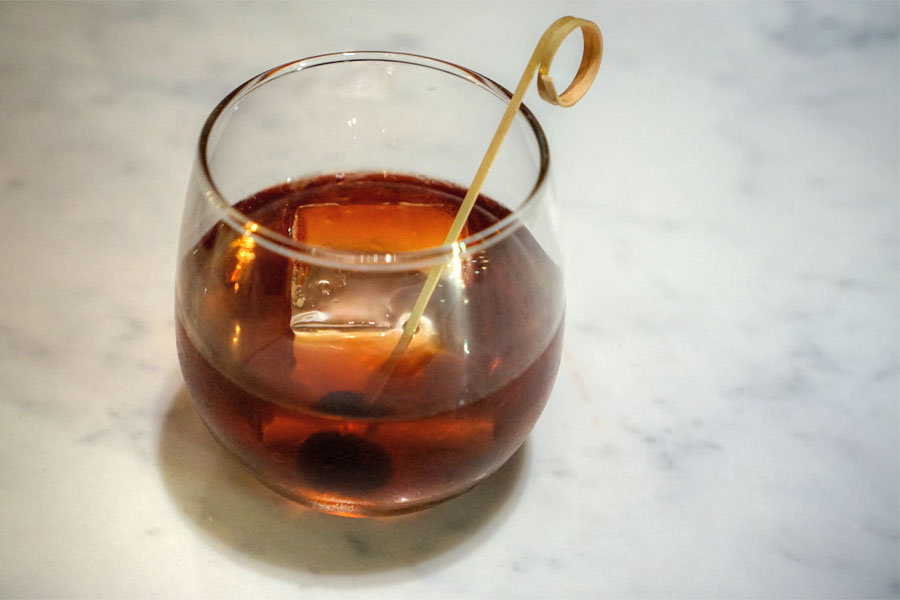 I Love You, Man [$20.00]
| George Dickel Rye, 45-Day House Aged Vermouth, Whiskey Cherry
This was my favorite of the cocktails, though I suppose it damn well better be at that price. A take on a Manhattan, it smelled strongly of heady dark fruit, with a touch of the whiskey--very appealing. Taste-wise, I found it bitter and boozy at first blush, but with notes of vermouth and berry coming in on the mid-palate, while the finish displayed a trace of nuttiness.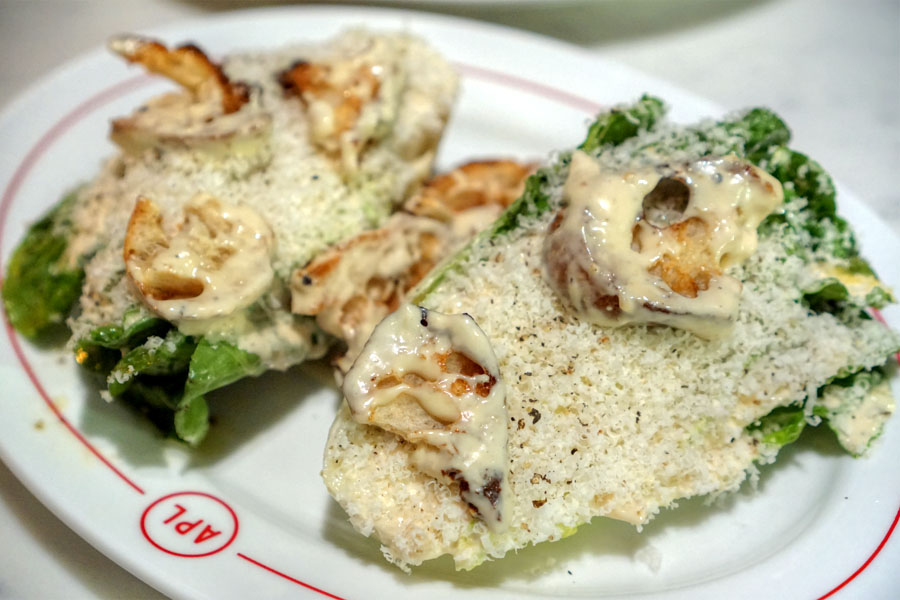 Caesar [$16.00]
| Lil Gem Lettuce
We had no complaints with APL's Caesar salad. I got a pronounced bitterness from the greens that made sense with the lush, somewhat nutty dressing and salty shavings of cheese. Nice crunch and savoriness from the croutons, too.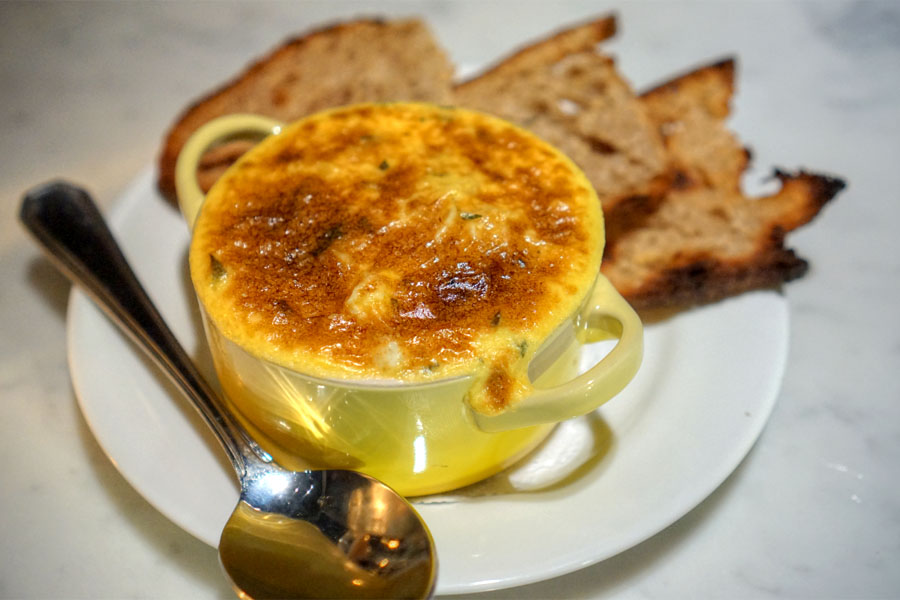 Crab Gratin [$22.00]
| Bearnaise
The gratin made for a cozy, comforting sort of dish, with a good back-and-forth between the briny bits of crab and what I believe was a base of potato. The included bread, meanwhile, served as a welcomed counterweight.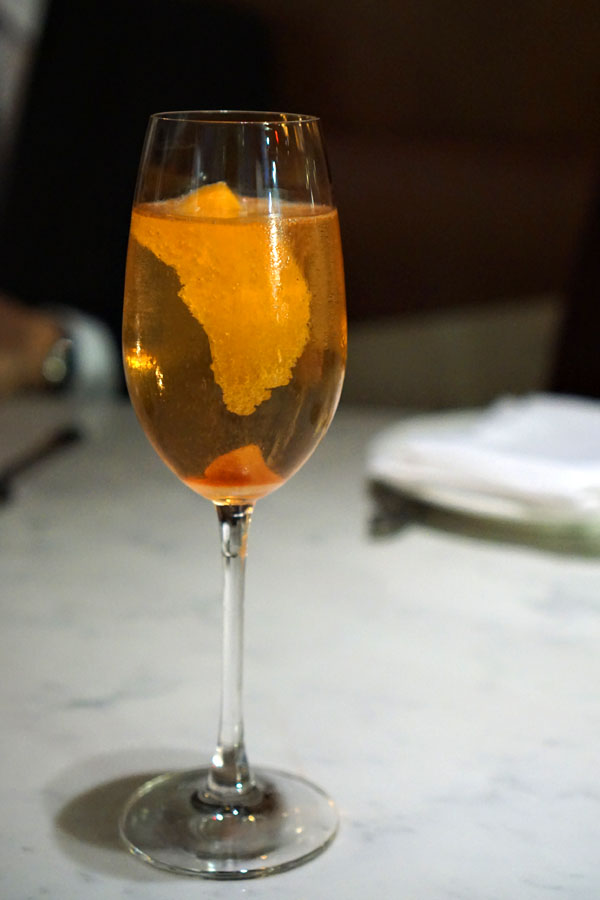 Tuxedo Mask [$16.00]
| Toki Japanese Whisky, Orange Blossom Honey, Angostura Bitters, Sparkling Wine
Next was a reworked highball of sorts. Refreshing nose of citrus and apple, the whisky just peeking through. The palate was light and spritzy, with more fruity notes and a tinge of bitterness layered over a base of Toki.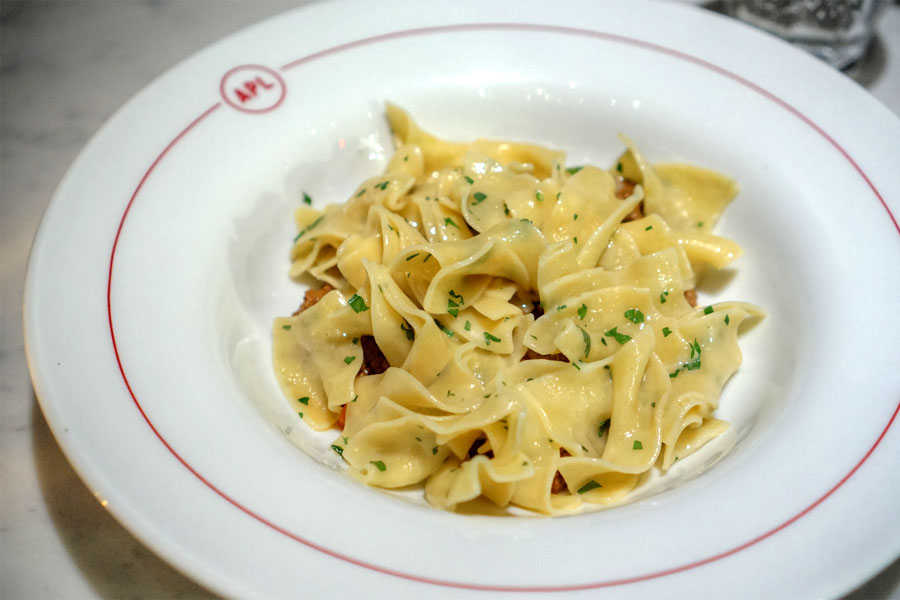 Manischewitz Noodles with 4 Hour Bolognese [$20.00]
The pasta definitely came out softer than I would've liked, though I will say that I probably prefer my noodles more al dente than most. In any case, this was undoubtedly a homey dish, one with a welcoming richness and slight wine-y character from the
bolognese
that worked.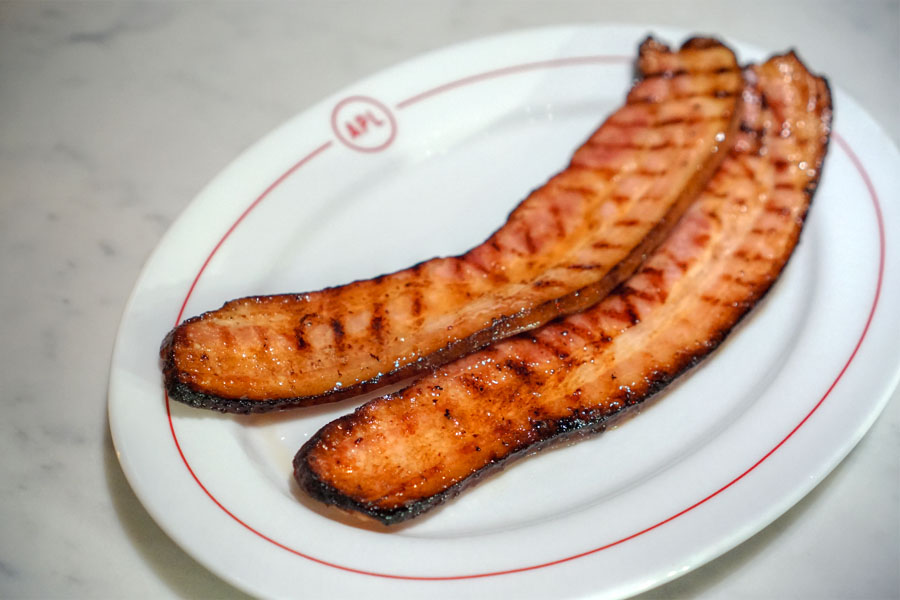 Bacon [$18.00]
| Thick Cut
The Peter Luger-inspired bacon hit the mark. I really appreciated the char on the springy, snappy, extra thick cuts, and the pork also showed off a sweetness that just worked with the meat.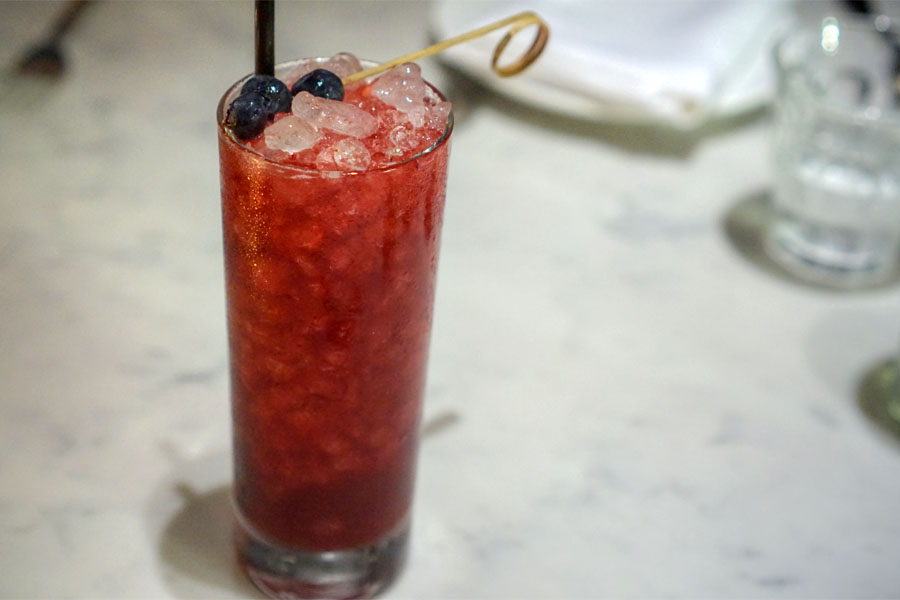 Blue Dream [$16.00]
| Mount Gay Eclipse Rum, Blueberry Shrub, Creme de Violette, Lemon Verbena
This next cocktail was an easy-drinker. It conveyed robust notes of blueberry and violet, but tempered enough by the zippiness of verbena.
Cold Sweet Onions [$5.00]
| "Ode to Peter Lugers"
Onions were a surprise hit thanks to their refreshingly sweet-but-astringent nature--a great counterpoint to the meat.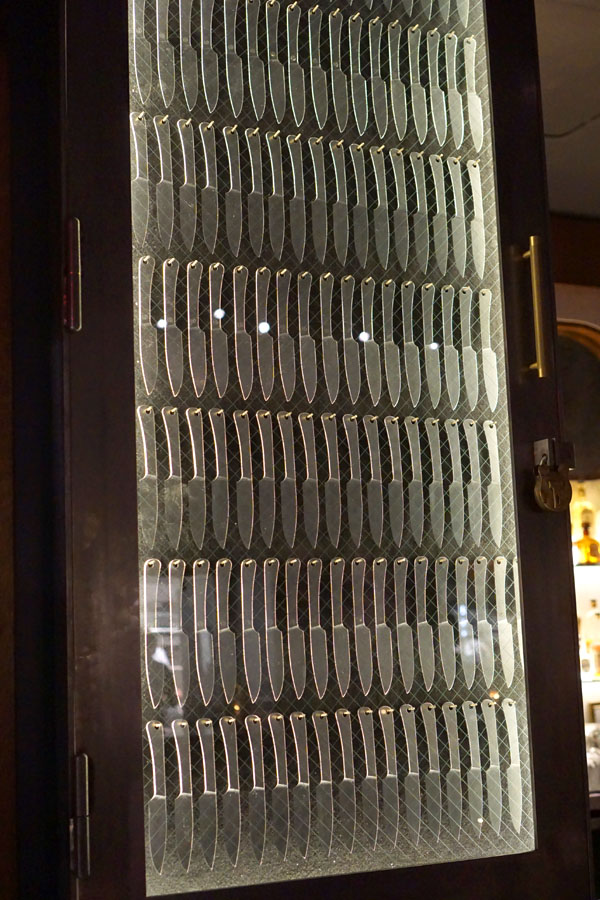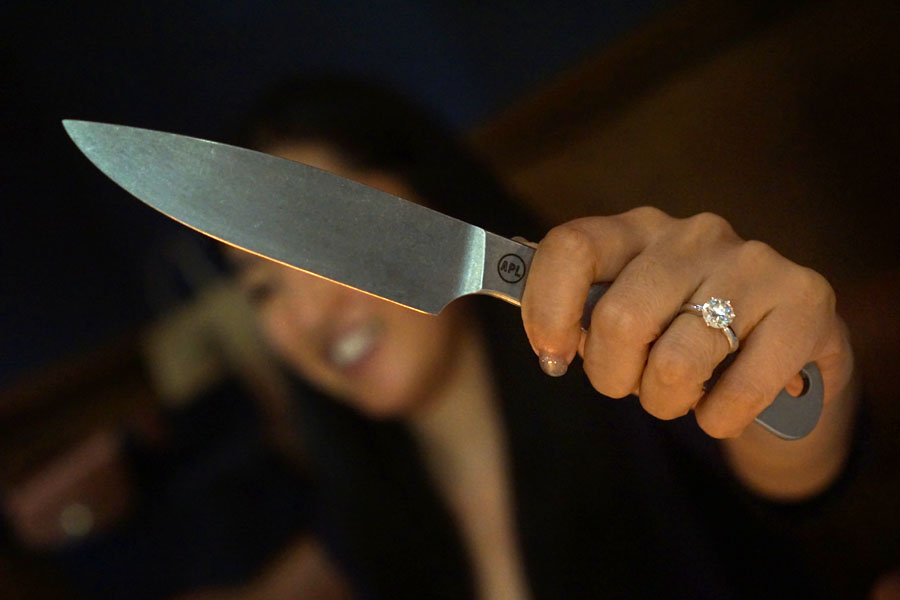 Stored in a custom Jimmy DiResta "knife vault" are APL's infamous steak knives, ostensibly hand-forged by the Chef himself after he learned the craft at the New England School of Metalwork in Maine. As for the $950.01 price tag on the menu? In California, $950 is the cutoff between petty theft (a misdemeanor) and grand theft (a felony), though I imagine the value of the knives could be disputed in court if it ever came to that. Note, however, that you
do not
have to pay a deposit or anything of that sort in order to use the cutlery.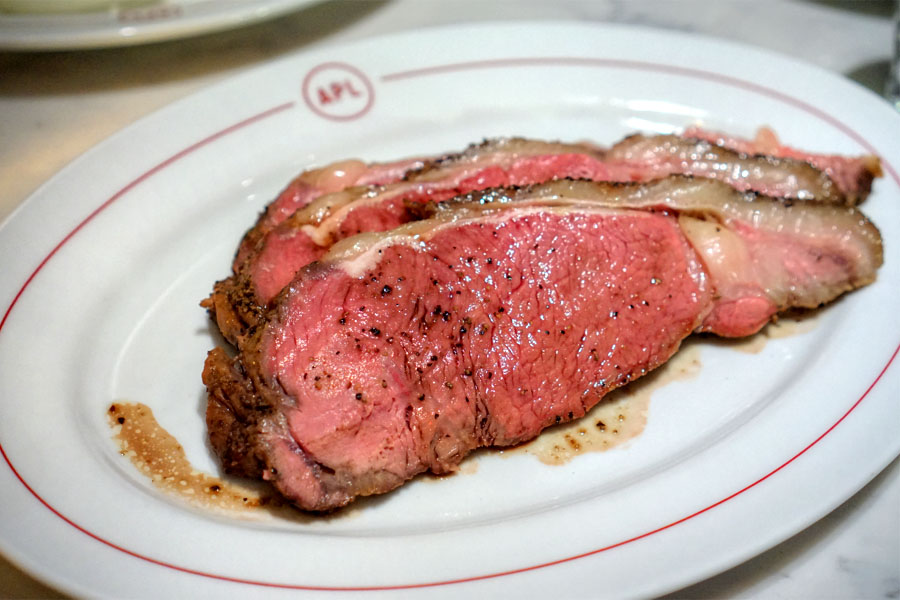 NY Strip "Prime Rib" [$46.00]
| English Cut
APL's "prime rib" definitely caught our eye, since it's a strip steak prepared in the style of a rib roast. Texturally the meat was spot on: tender, but still with a gratifying bite and substance to it. Flavors were about what you'd expect, and enjoyable overall, though I really thought the seasoning could've been more aggressive.
Fuck Dat Fries [$8.00]
| Malt Vinegar, Salt
Fries were pretty much perfect. I found 'em crisp, yet soft on the inside, with just the right sprinkling of salt.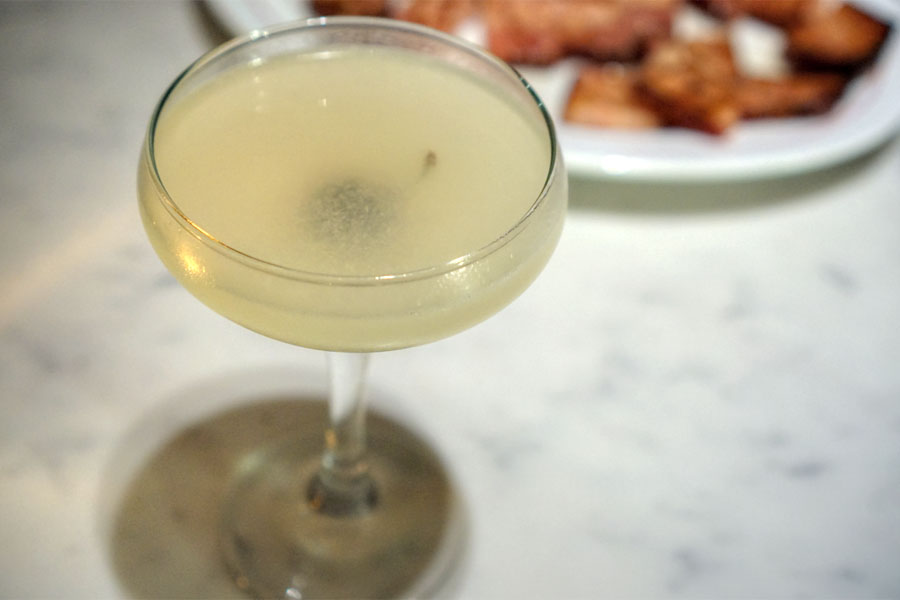 The Remedy #2 [$16.00]
| Nolets Gin, Lillet Blanc, Maraschino, Geranium, Lemon
The cocktail above had a surprisingly weak nose--really not much going on there. Fortunately its taste was much more assertive, displaying the botanicals of gin alongside the sweetness of Lillet and a floral element from what must have been the geranium.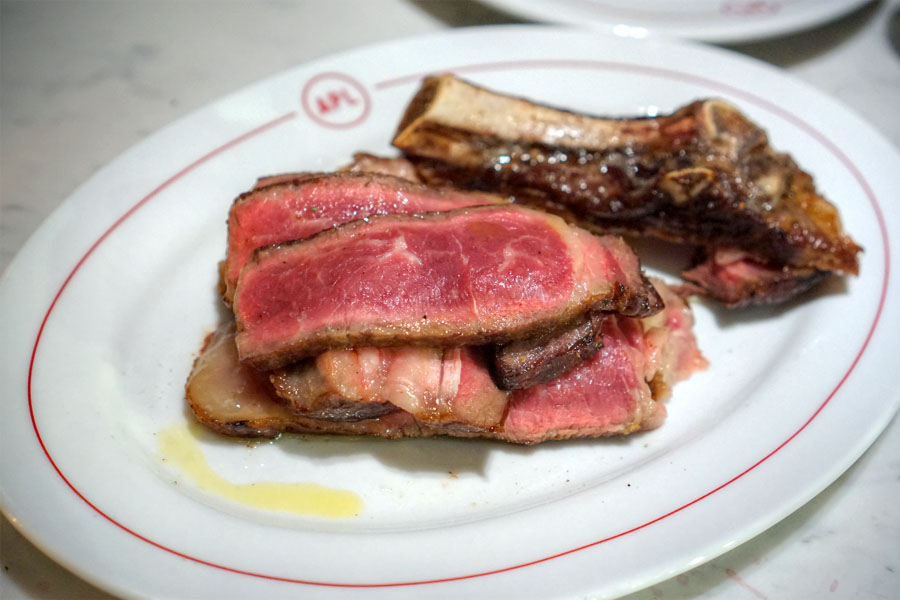 Côte de Bœuf [$135.00]
This 32oz bone-in rib steak apparently came from one of APL's first deliveries back in January, so it'd been dry-aging longer than most. I could certainly taste the age, that unmistakable earthiness and funk, while the cut's consistency was on the soft, silky side. Unfortunately, the steak arrived at a tepid temperature, which was a fairly significant issue for some of us.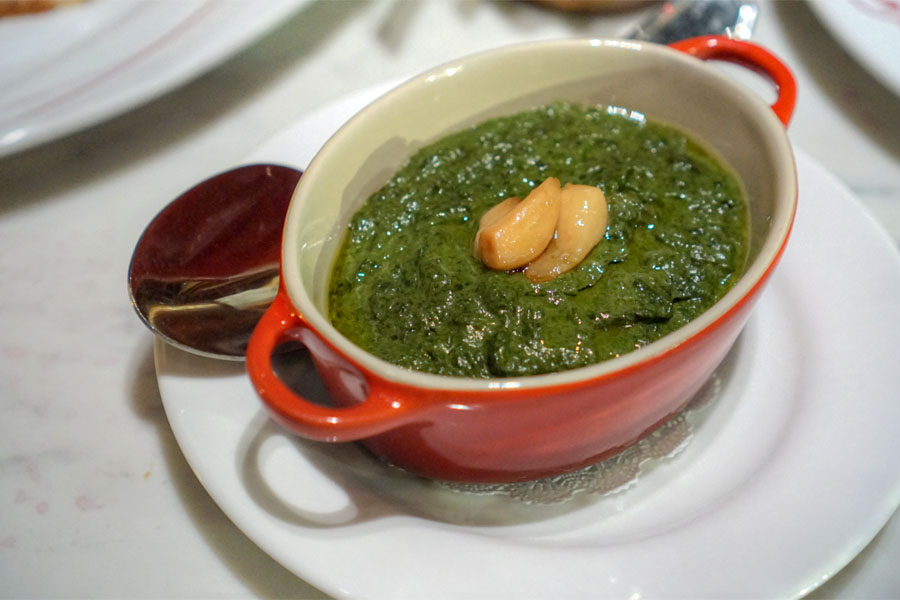 Creamed Spinach [$8.00]
| Confit Garlic
The creamed spinach was indeed one of the creamiest, smoothest preparations I've had. I was fan of its bitterness and its coziness, while the garlic provided an extra bit of zing.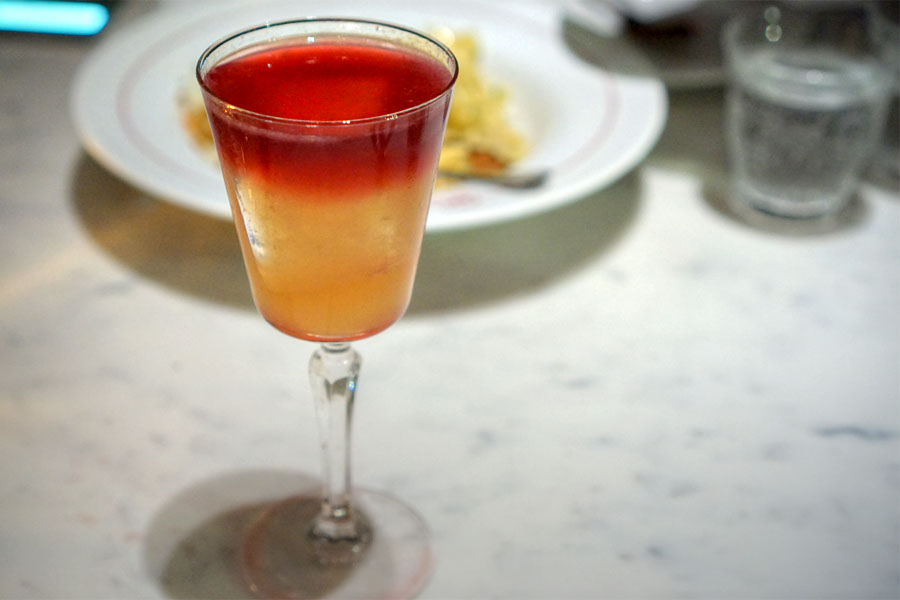 NY Sour [$18.00]
| Lot 40 Rye, Cabernet
Our final cocktail, the New York sour had a bouquet rife with red wine. However, said wine wasn't very apparent on the palate, which brought a prominent fruitiness along with the expected sourness and a bitterness on the finish. This one went down pretty easily.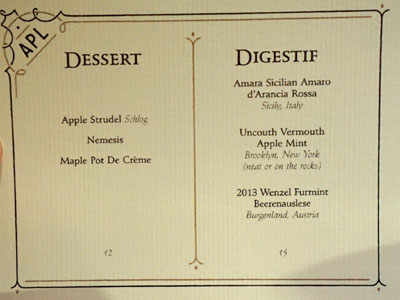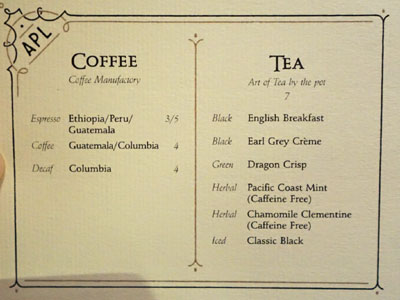 APL's dessert menu is as straightforward as it gets, save for the oddly-named chocolate cake (see below). Click for larger versions.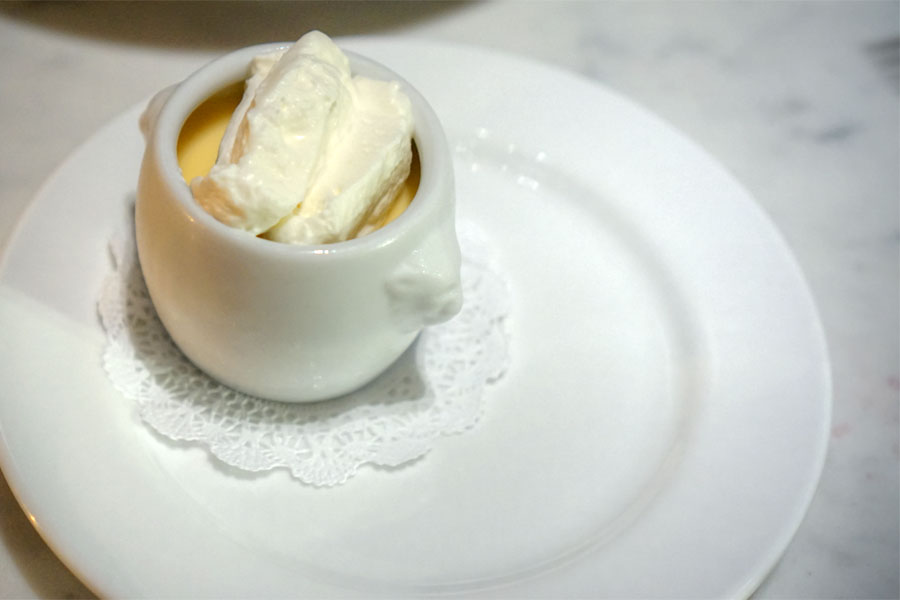 Maple Pot De Crème [$12.00]
Our pot de crème wasn't shy about the maple, making for a sweet, satisfying dessert moderated just a tad by the whipped cream up top.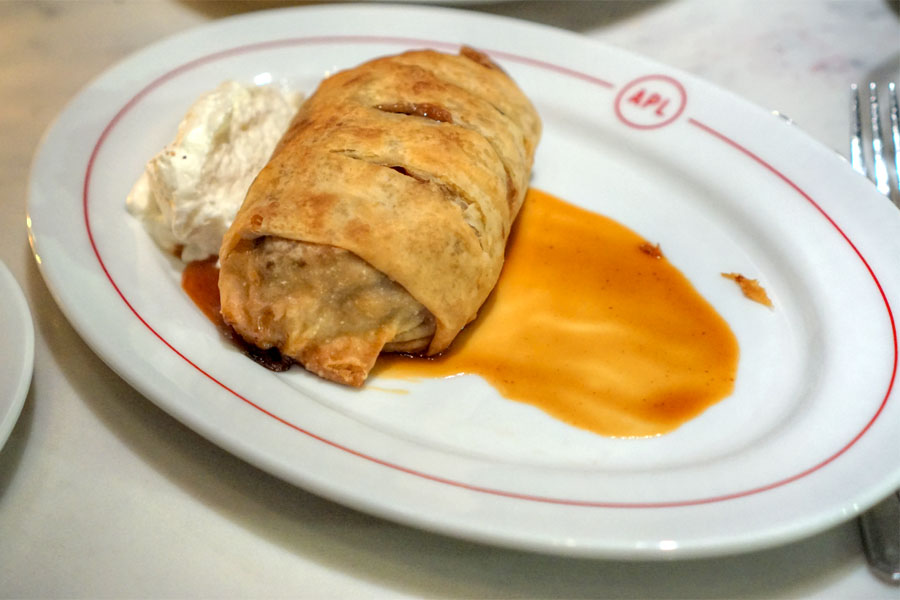 Apple Strudel [$12.00]
| Schlog
The strudel had classic apple flavors and properly flaky crust, the schlag (another nod to Luger) serving as an appropriate accompaniment.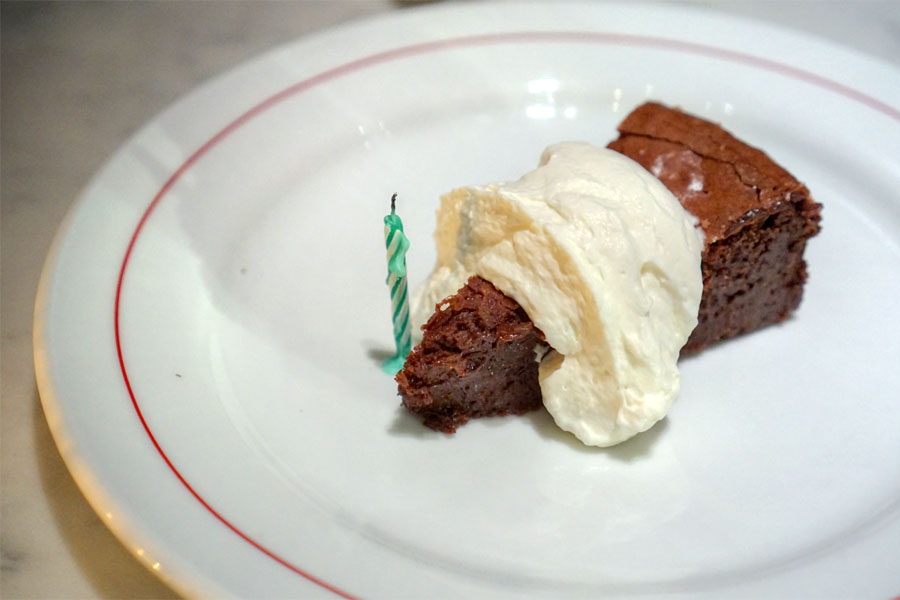 Nemesis [$12.00]
Last up was the Chef's version of The River Café's famous flourless "Nemesis" cake, which was apparently also on his menu at Barbecoa. It was definitely a rich, dense preparation, a sort of concentrated chocolate cake, one lightened up just enough by a dollop of cream. Note the candle, as we were here for a birthday.
With a few exceptions (e.g.
Sushi of Gari
), I'm generally not a fan of the Hollywood dining situation, and tend to avoid the area in general. APL, though, is likely a step in the right direction, and does seem to bring something at least a bit interesting to the steakhouse scene. That being said, we did have a couple concerns food-wise, so there's certainly room to grow. I do hope the place sticks around though.