Kashiwa (Signal Hill, CA)
Kashiwa Japanese Cuisine
2201 E Willow St, Signal Hill, CA 90755
562.989.5615
Sat 04/21/2018, 06:50p-09:35p

If you're looking for legit sushi in the Long Beach area, there aren't really many viable options. We ended up at Kashiwa, which actually had been recommended to me previously by a number of people. The place opened in August 2011, and is the work of Chef/Owner Keiichi "Kei" Nakai and his wife Saki. Nakai hails from Hirakata, Osaka, and interestingly enough, was the man behind LBC's long-running Kinokawa, located just a few blocks north. He started that restaurant all the way back in 1977, but ended up selling it to a Yong Hoon Lee in 2003.

Kashiwa resides at the address that was formerly home to the middling Koyo Japanese Restaurant. It's a decently-sized space, and above we see that the sushi bar occupies one side of the room.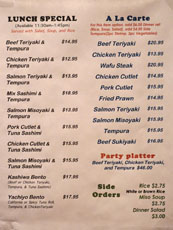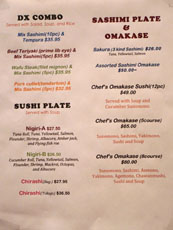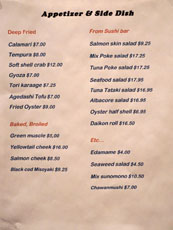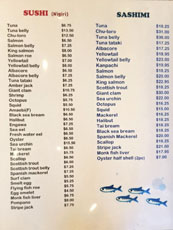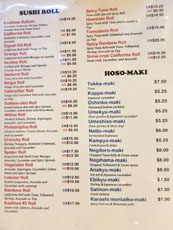 Menu-wise, Kashiwa features your typical selection of starters/sides, along with an extensive à la carte listing of
nigiri
, sashimi, and rolls. We were specifically here, however, for
omakase
, of which there are various levels (we went with the $80). There's not much to speak of in terms of beverages, so you'll probably want to bring your own. Corkage was a reasonable $10. Click for larger versions.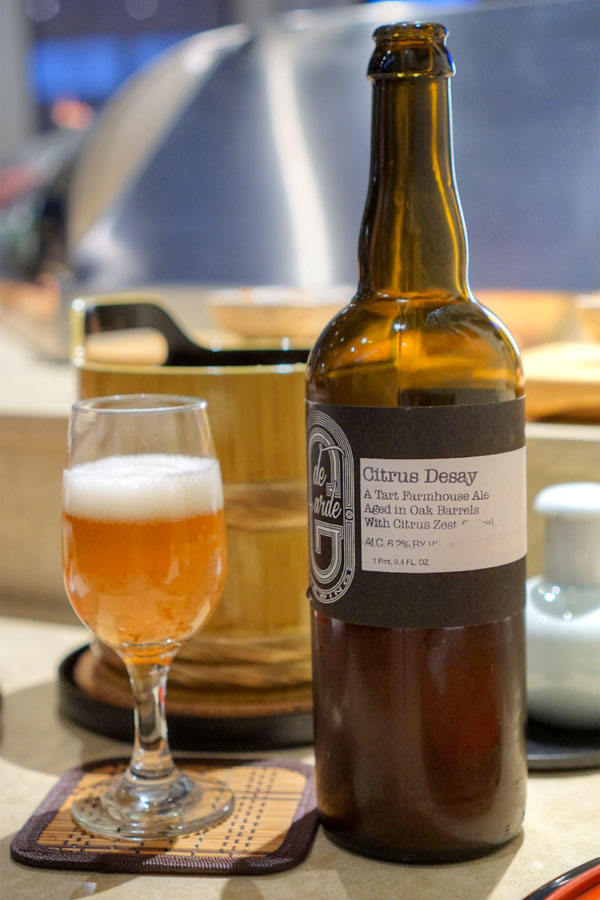 Speaking of beverages, we had a bottle of the
2015 de Garde Citrus Desay
, a blend of tart oak-aged farmhouse ales with citrus zest added. This one smelled funky and super lemon-y, with a definite yeasty character. Its taste was sour, acidic, astringent, with more sharp lemon and barnyard all over the place, making for a rather bracing drinking experience.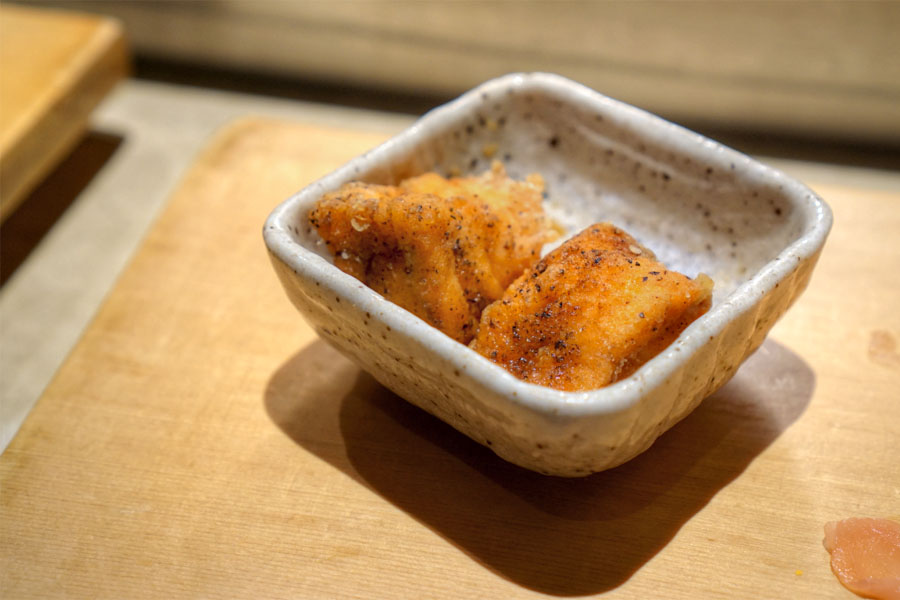 To start, we were given a couple bites of
sake nanbanzuke
, or room temperature fried salmon in a soy-heavy, vinegary marinade.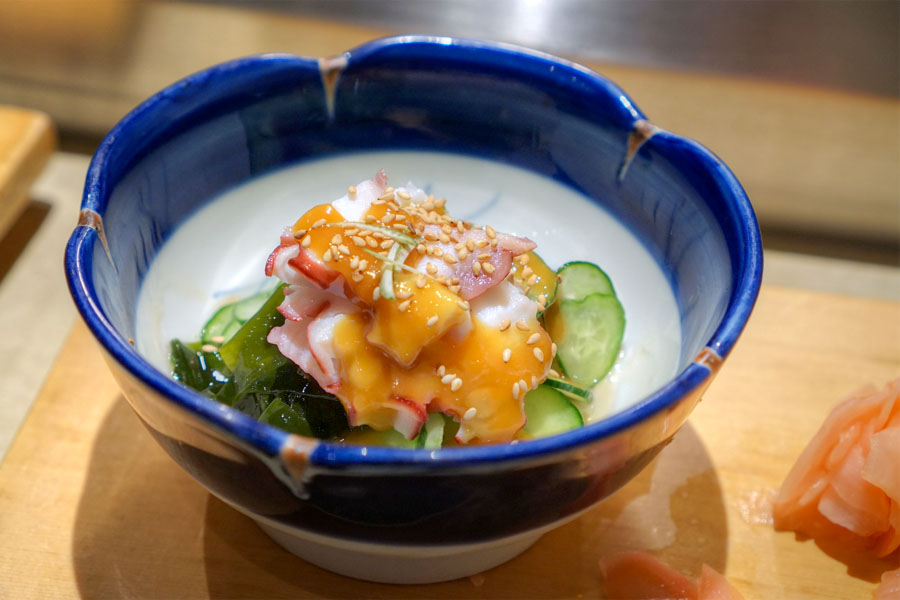 1: Tako Su
The
sunomono
course comprised a refreshing salad of meaty, tender octopus, seaweed, and bright, crunchy cucumber, all bound together by a sweet-nutty dressing and a sprinkle of sesame seeds.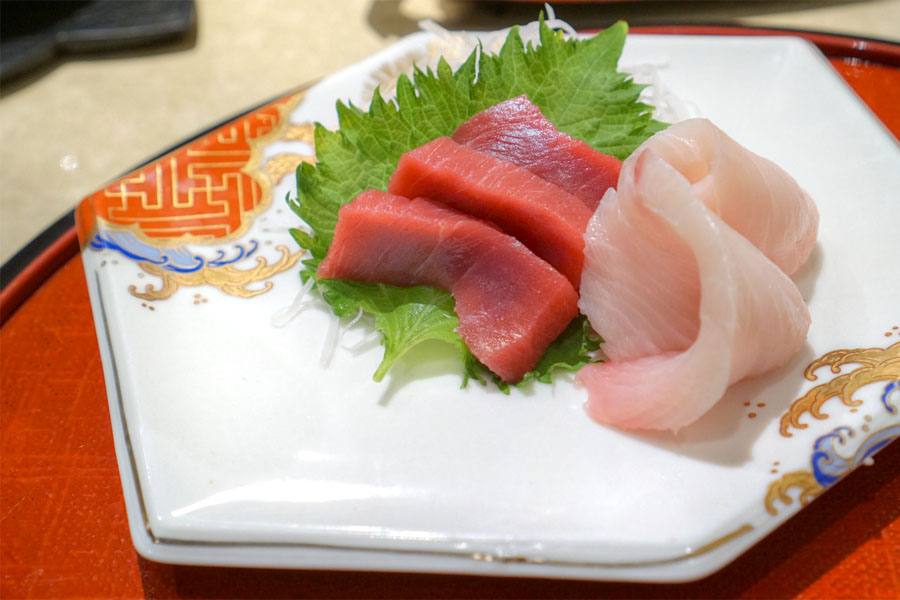 2: Maguro to Hamachi Sashimi
A couple types of sashimi were presented: supple cuts of mildly briny tuna; and two pieces of yellowtail that were definitely on the fattier side.
3: Ika Mentaiko Ae
Aemono
duties were fulfilled by soft, snappy strands of squid paired with a spicy, saline, almost funky coating of
mentaiko
.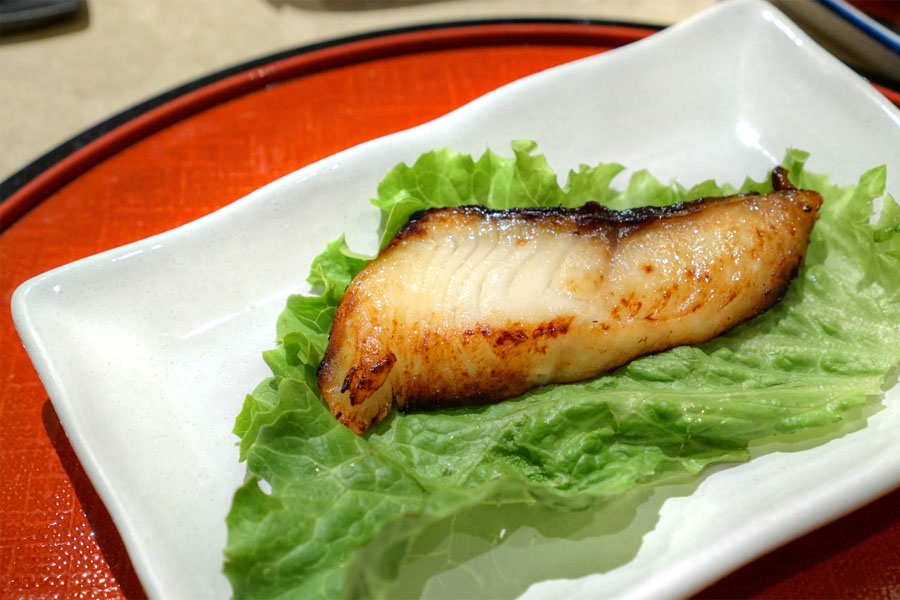 4: Tara Saikyo Yaki
The ubiquitous preparation of miso cod served as our
yakimono
dish. Think soft and buttery, with a pronounced sweetness and pleasant touch of char.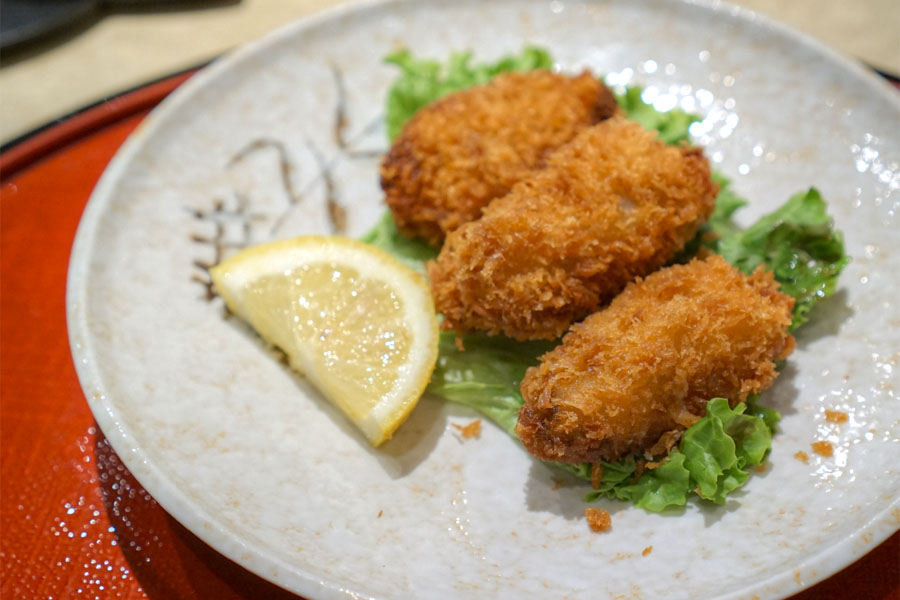 5: Age Kaki
Fried oysters made for a fitting
agemono
course. They were spot on, arriving juicy and briny on the inside, with a crispy, light batter. They really opened up with a squirt of lemon, and the zippy sauce on the side wasn't bad, either.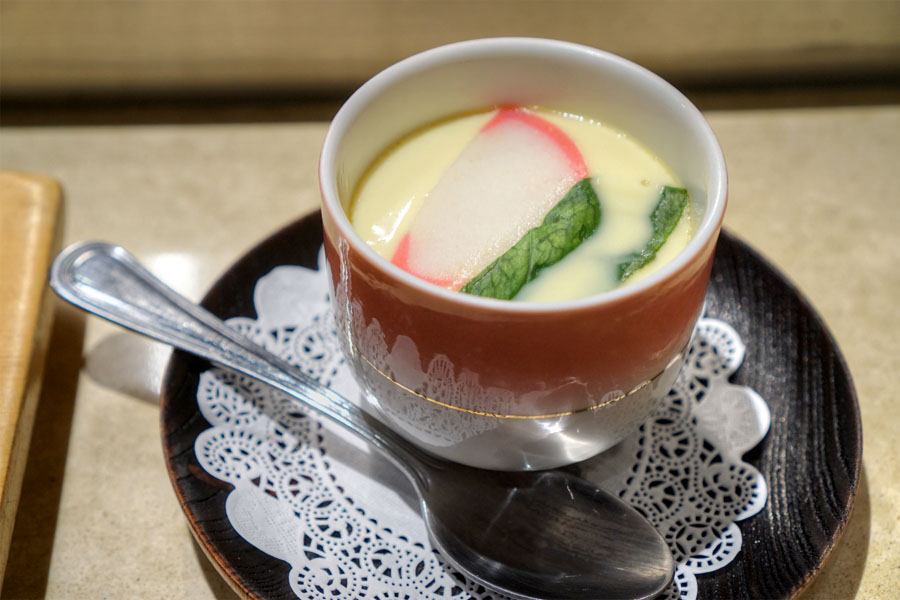 6: Chawanmushi
The
chawanmushi
was nice, a cozy sort of dish with a welcomed
dashi
-fueled savoriness as well as a multitude of textures from the shrimp, ginkgo, mushrooms, and
kamaboko
.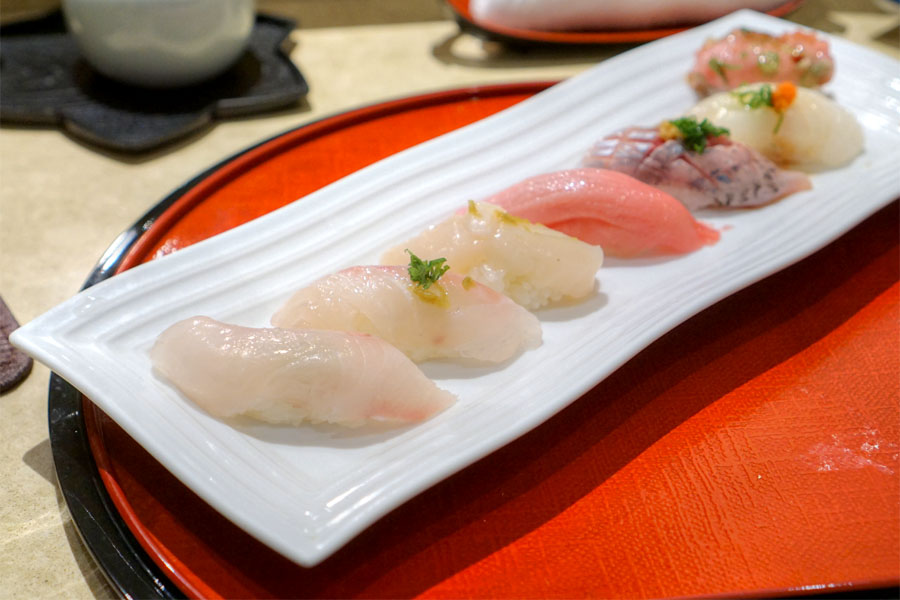 Above we see the evening's sushi selection. I will say that all the pieces really shouldn't have been presented simultaneously, especially since we were sitting at the bar.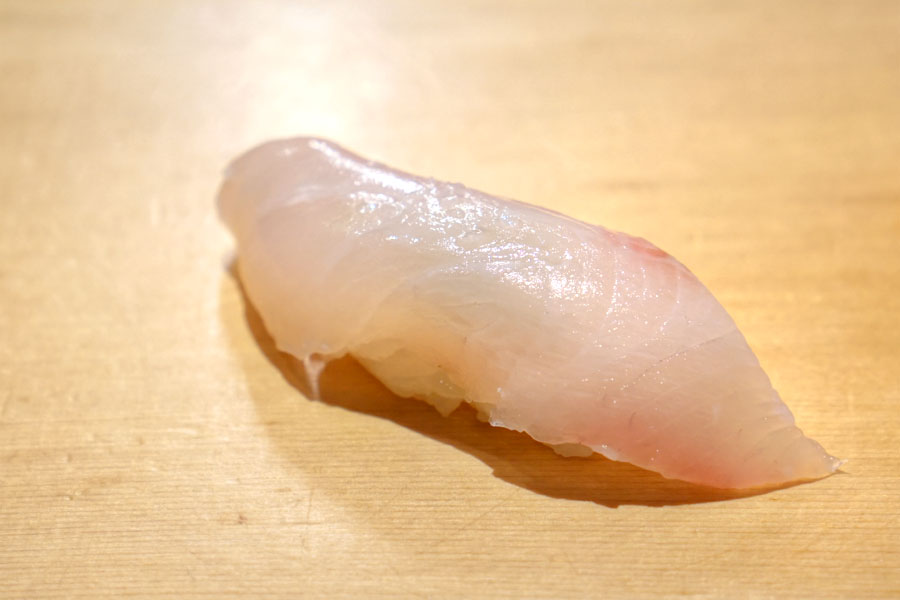 7a: Shima Aji
Going from left to right, up first was striped jack, a relatively mild-tasting fish with a touch of spicy heat and a fruity, lingering brine that matched up well with the
nigiri
's cool, sticky rice.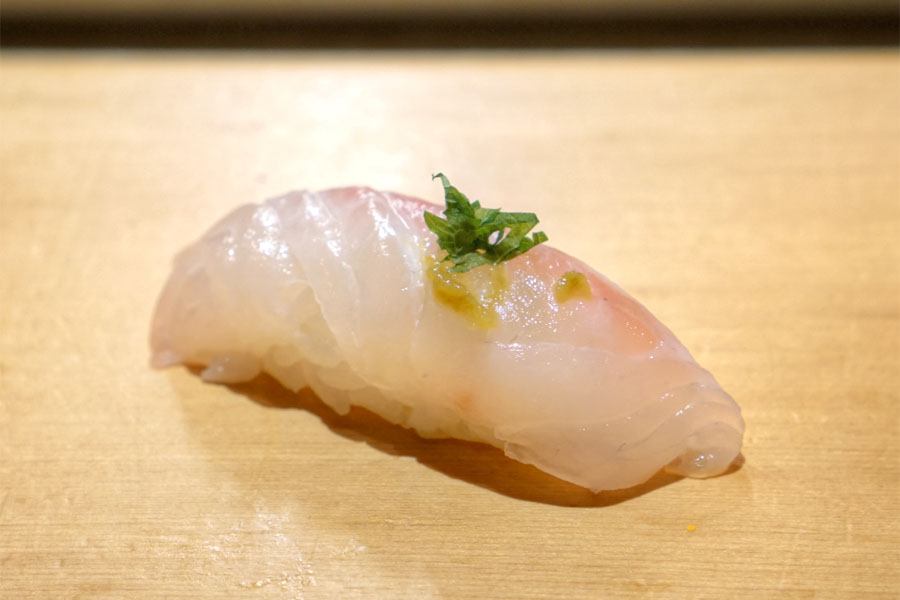 7b: Tai
A bright, "crunchy" cut of snapper definitely had a sweetness that pervaded it, along with a palpable tanginess from the dab of
yuzukosho
on top.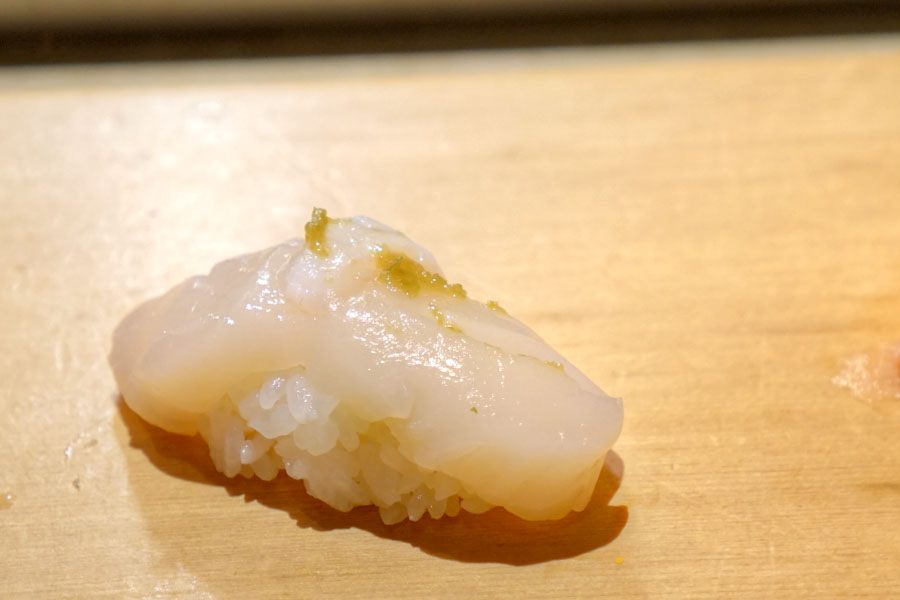 7c: Hotate
Scallop was cool and creamy, its sweet brine working well with the
yuzukosho
once again.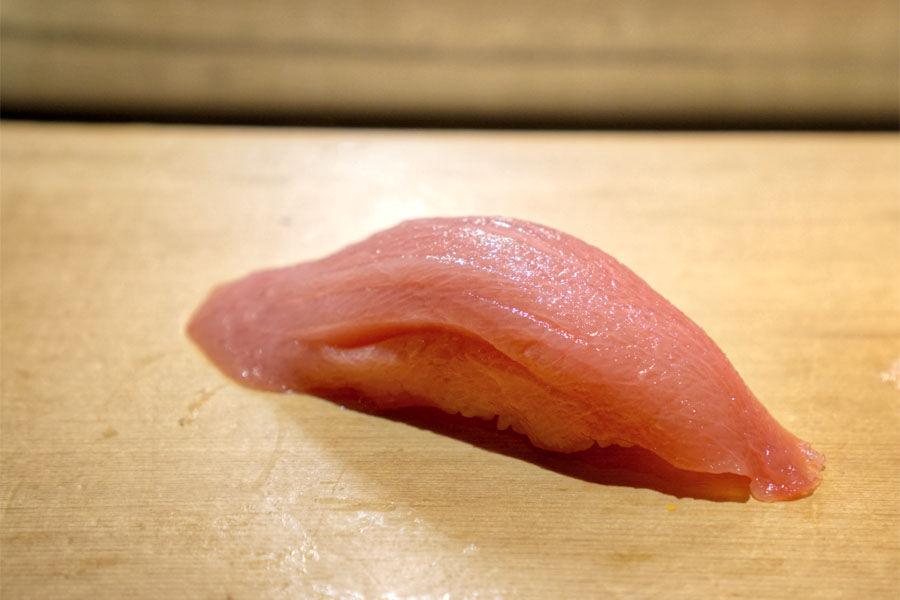 7d: Otoro
Tuna belly made for the most luxurious bite of the night. I found it properly fatty and robustly flavored, with a sort of melt-in-your-mouth consistency.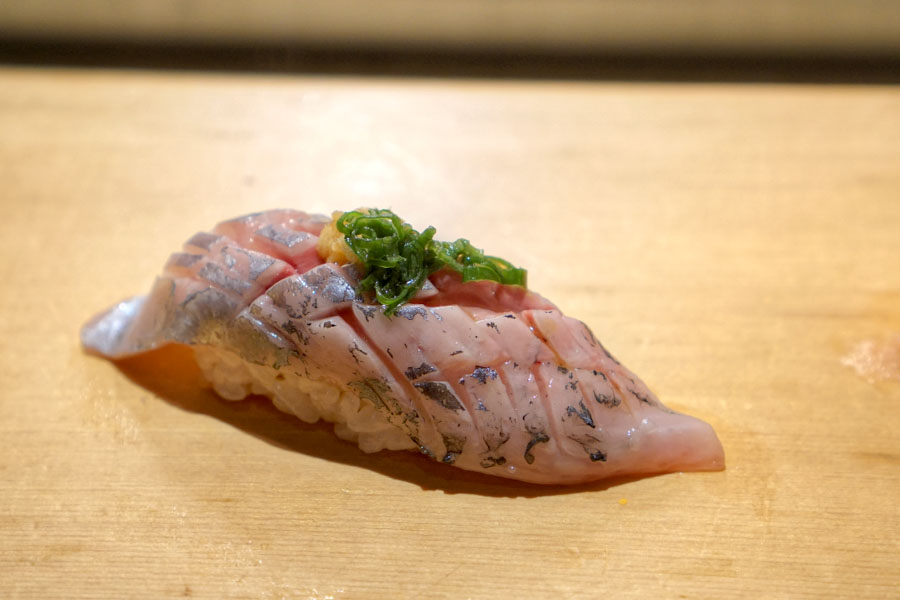 7e: Aji
Spanish mackerel was superbly balanced, with a great counterpoint from the application of ginger and scallion.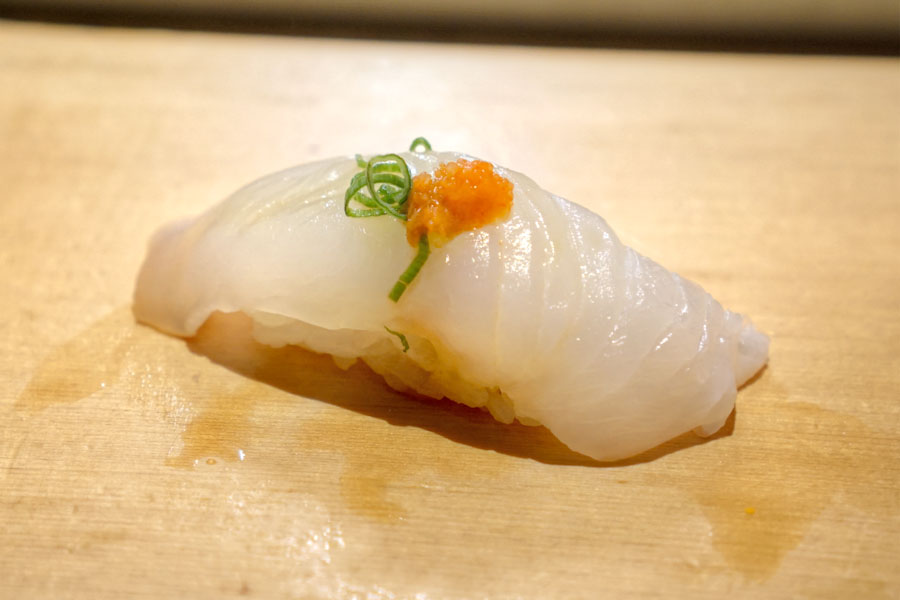 7f: Hirame
Halibut was tasty, the restrained flavors of the fish complemented, but never overwhelmed by its accompaniments of
negi
and
momiji oroshi
.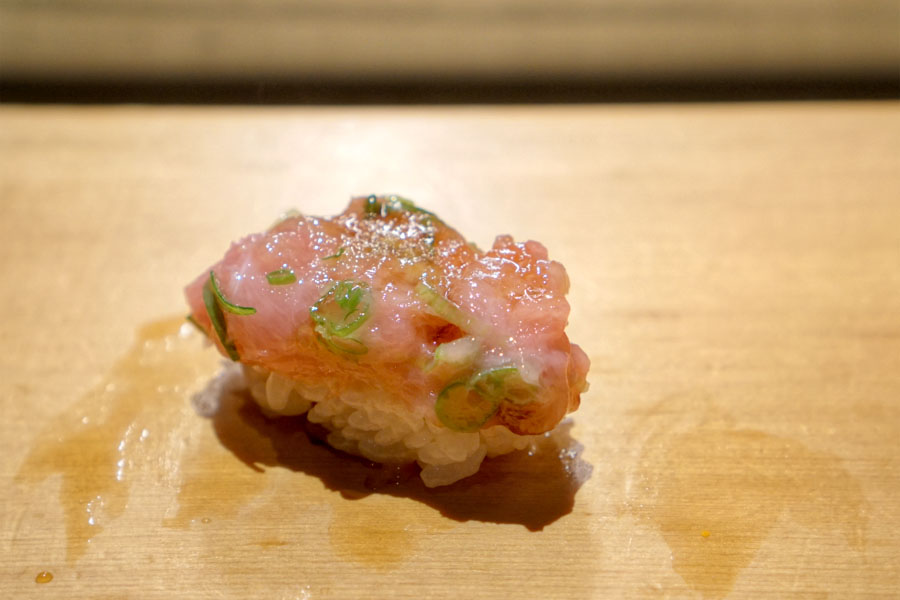 7g: Toro Tataki
Chopped tuna was a treat, since it's not something I see all that often. The scallion really worked to even out the heft of the fish and
shoyu
, and the rice functioned as a further moderating element.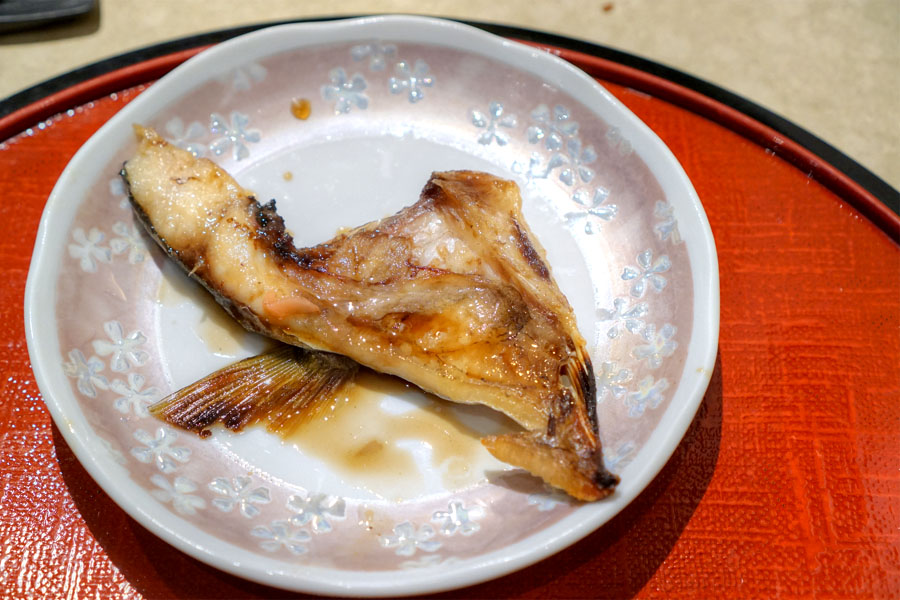 Kei-san served up a bonus course of
shima aji kama
(striped jack collar), a fatty and super flavorful cut with lots of umami going on.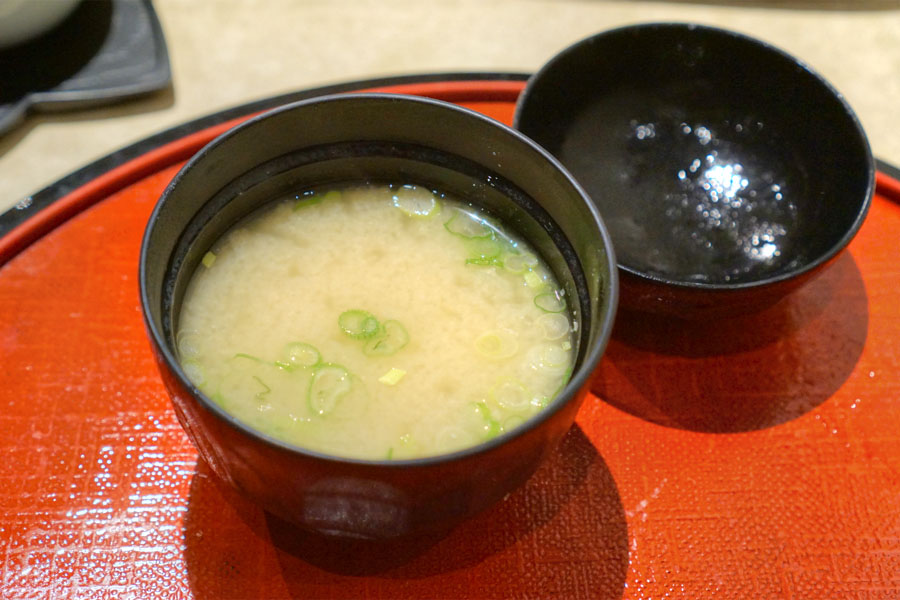 8: Misoshiru
A classic miso soup was up next.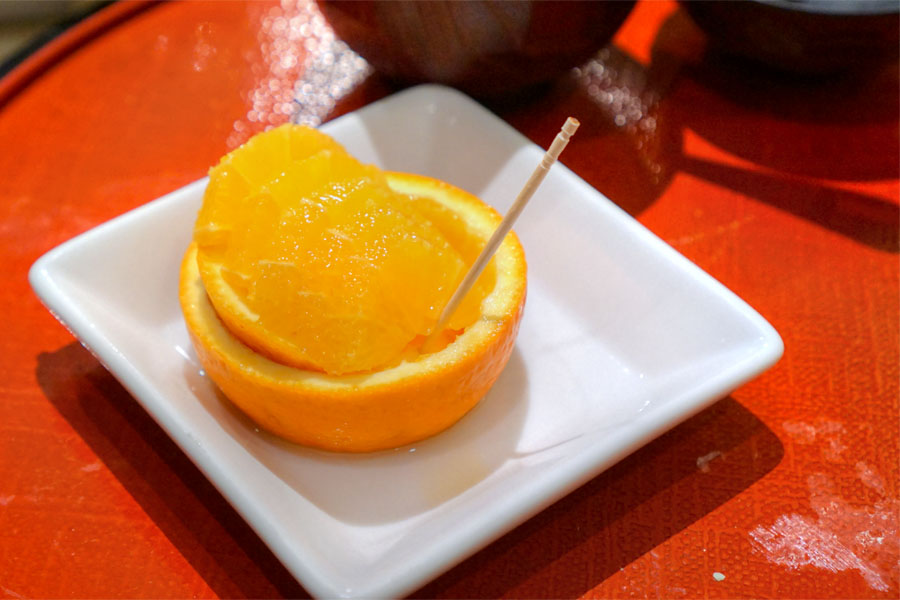 The orange was seemingly sweeter and juicier than most.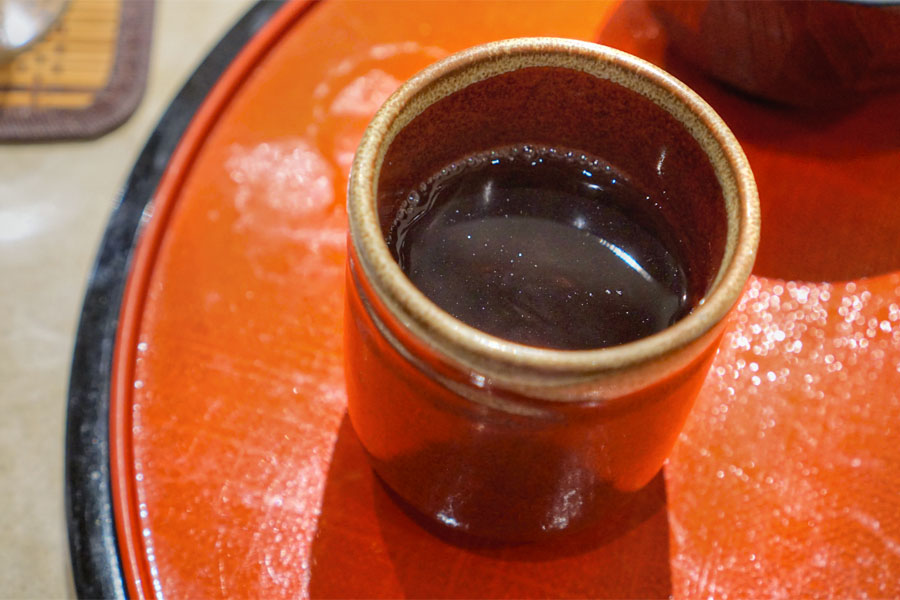 To close: a toasty, roasty cup of
hojicha
.
I'd been wanting to try out Kashiwa for a few years now, and I'm happy that I finally went. I think it's safe to say that it's the best sushi in the area (admittedly, there's not much competition), and pretty decently priced to boot. I'm actually a bit curious to try out more of Nakai's
nigiri
, so I may give that a go in the future.
---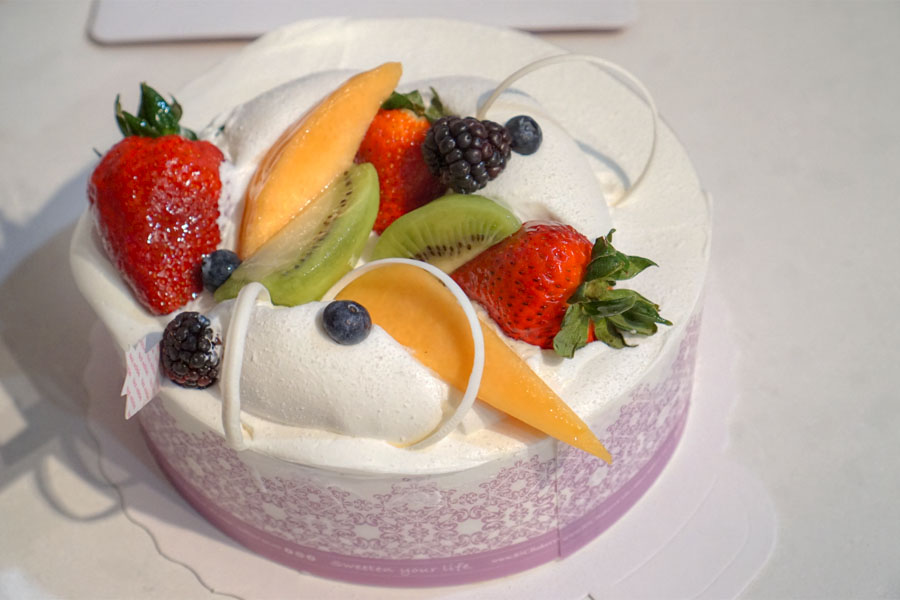 The lone orange above didn't quite satisfy in terms of dessert, so following the meal, we also enjoyed this
Taro Snow Cake
from 85°C Bakery Cafe.