Employees Only (West Hollywood, CA)
Employees Only LA
7953 Santa Monica Blvd, West Hollywood, CA 90046
323.536.9045
www.employeesonlyla.com
Fri 05/04/2018, 08:10p-10:15p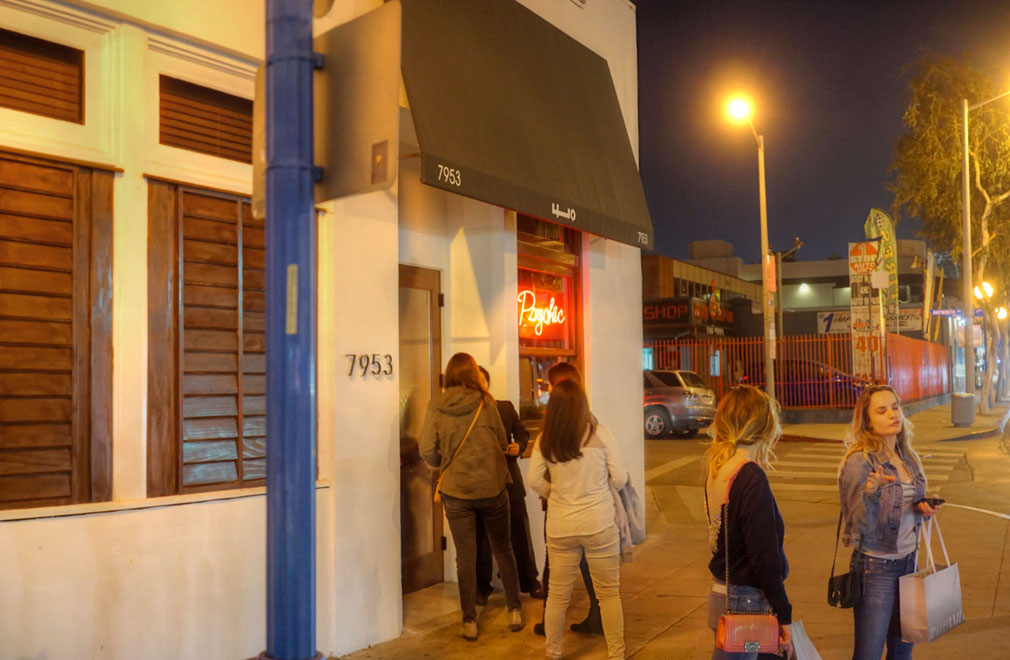 Employees Only, the latest import from NYC to land in LA, opened its doors on April 15th. It's certainly one of the most celebrated bars in New York, if not the country, so we were eager to check it out. EO was founded by five principal partners: front man Dushan Zaric, Henry Lafargue, Igor Hadzismajlovic, Jason Kosmas, and Bill Gilroy. Apparently, the guys met each other at Keith McNally's Pravda starting in the late 1990s, where they worked with none other than the legendary Dale DeGroff. Determined to open their own "speakeasy" spot, they launched Employees Only in the West Village in December 2004.
The bar was a success, and resulted in the creation of the group's sophomore effort Macao Trading Company in 2008. Zaric and Kosmas subsequently co-founded spirits producer The 86 Co in 2012. It took a while, but a second outpost of EO finally debuted in June 2016, in Singapore no less. Miami came in February 2017, and Hong Kong in June 2017, with all locations having a different set of partners. This Los Angeles location, meanwhile, is primarily owned by Tom Sopit and Steven Weisburd's Midnight Hospitality Group. Supposedly, there's also an Employees Only in the works in Austin, TX.
Not surprisingly, the cocktail program here is headed by Zaric, who moved to the Southland a few years ago and has made his mark at places such as
Hotel Figueroa
,
Commerson
, Ford's Filling Station, and
Harlowe
. Day-to-day duties are handled by Bar Manager Dee Ann Quinones, who we've seen at the likes of Commerson, Westbound, Booker & Dax, 69 Colebrooke Row, Phillipe Chow, and
Susan Feniger
's STREET.
The kitchen is run by Executive Chef Sascha Lyon, a 1972 baby who grew up in Hancock Park. He got his first restaurant gig at the age of 14 when he began working at L'Ermitage under Chef Michel Blanchet. This led to a position at
Michel Richard
's Citrus, which at the time was helmed by none other than CdC
Alain Giraud
. Lyon then enrolled at the Culinary Institute of America, and, following graduation in 1992, landed a spot on the opening team of Daniel. He stayed with Boulud until 1995, then cooked in London and Miami (Biz Bistro) before returning to NYC. In 1997, he became a sous chef at Keith McNally's SoHo brasserie Balthazar, and in 1999, took on the CdC role at Pastis, another McNally venture.
After leaving in 2004, Lyon started working on his own restaurant, and ended up opening SASCHA in the Meatpacking District in 2006, only to close it the same year. He left New York in 2009 and moved back to LA to become the opening Executive Chef for Delphine at the W Hollywood, an Innovative Dining Group-backed French-Med brasserie concept that opened at the start of 2010. In 2012, IDG tapped him to run the kitchen at Downtown's Soleto Trattoria & Pizza Bar, but he would leave the company by the end of April 2014. From there, Lyon partnered with Raymond Eng and the two opened Commerson in November 2016, but the Chef was out by the following June.
At Employees Only, Lyon is assisted by Sous Chef Rosemary Reyes (a former line cook at Delphine), while front-of-the-house duties are the responsibility of GM Yelena "Lena" Zaric, Dushan's wife.

EO resides at the address that was previously home to Baby Blues BBQ and Caribbean eatery Cha Cha Cha before that. The space has been completely redone, and features lots of light wood in what the team describes as a postmodern, Art Deco-inspired aesthetic. I will say that the vibe is definitely on the rambunctious side: think loud and dark (and getting even darker as the night progressed), with a live DJ no less.

Off to the side is Henry's Room, a semi-private area with its own bar (and own set of cocktails) that's definitely more sedate.










The cocktail list we saw was surprisingly compact, and featured EO classics as well as a number of LA-only concoctions. This is joined by a small array of wines and beers, but nothing too interesting. Food-wise, Lyon's got a selection of fairly classic, European-inspired fare, one that includes dishes off the New York menu as well as the Chef's own creations. Click for larger versions.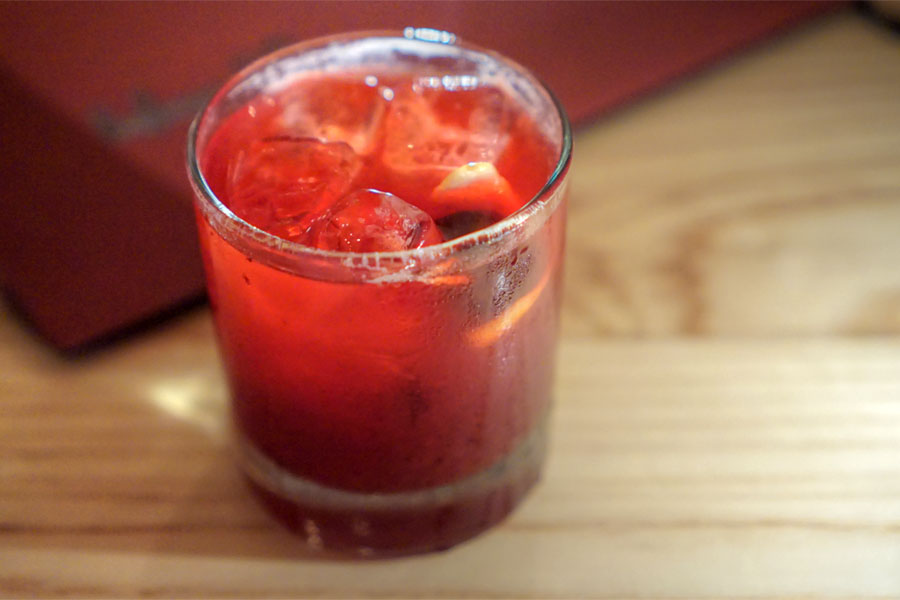 Ruby Tuesday [$16.00]
| Wild Turkey 101 Rye shaken with Puréed Black Cherries, Benedictine & Fresh Lemon Juice, served on the Rocks
We started with this scarlet-hued number. I found it fruit-forward at first, but with the herbal qualities of the Bénédictine taking over, the experience punctuated by sour lemon. Certainly not bad, but not terribly interesting, either.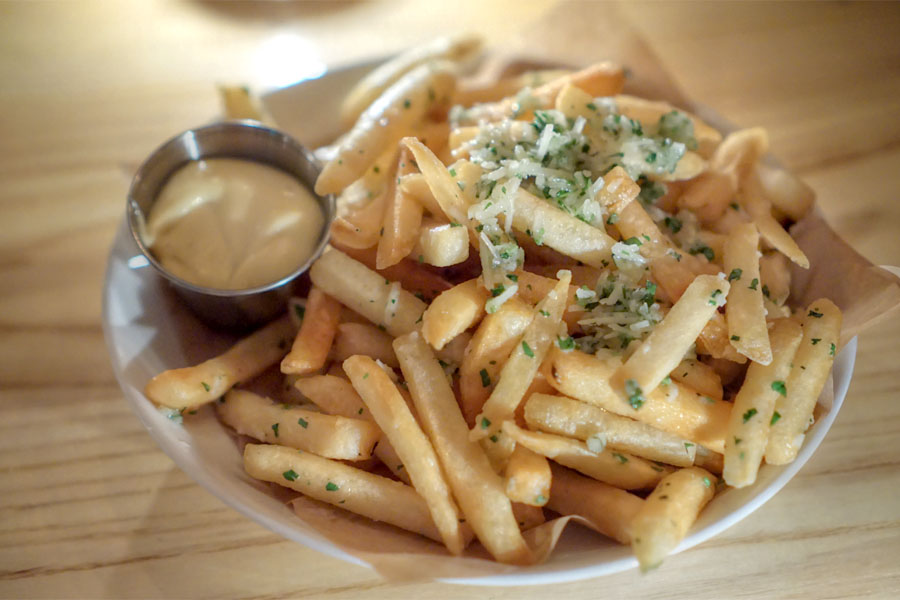 Truffle Cheese Fries [$9.00]
Fries were as crisp as I wanted, with a good balance of truffle and cheese. Try 'em with ketchup, too.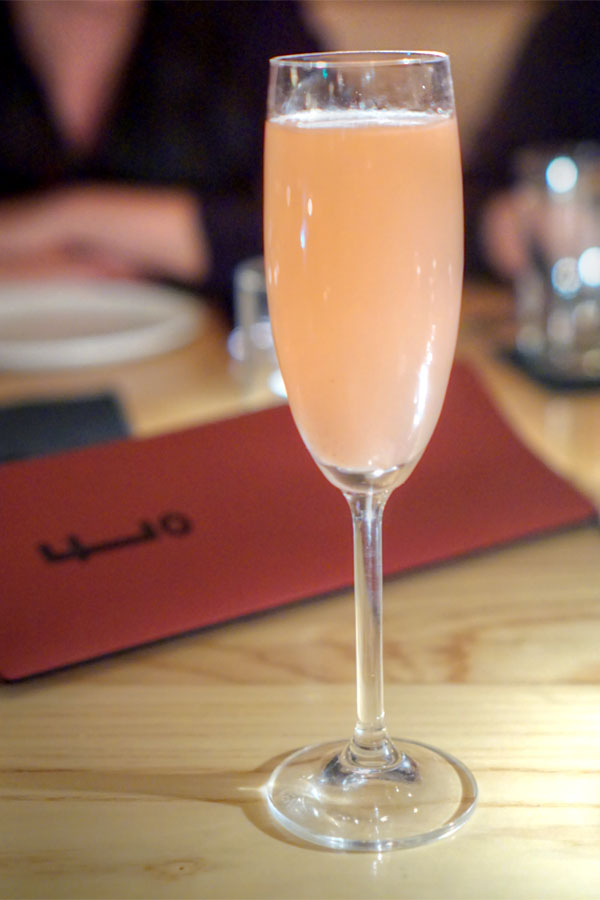 Bellini - Traditional Service [$16.00]
| Puréed White Peaches served with EO Prosecco & home-made Raspberry-Peach Cordial
The Bellini was as traditional as advertised. I got plenty of intense, aromatic stone fruit, all tempered by the spritzy, every-so-slightly boozy Prosecco. Pretty much the definition of quaffable.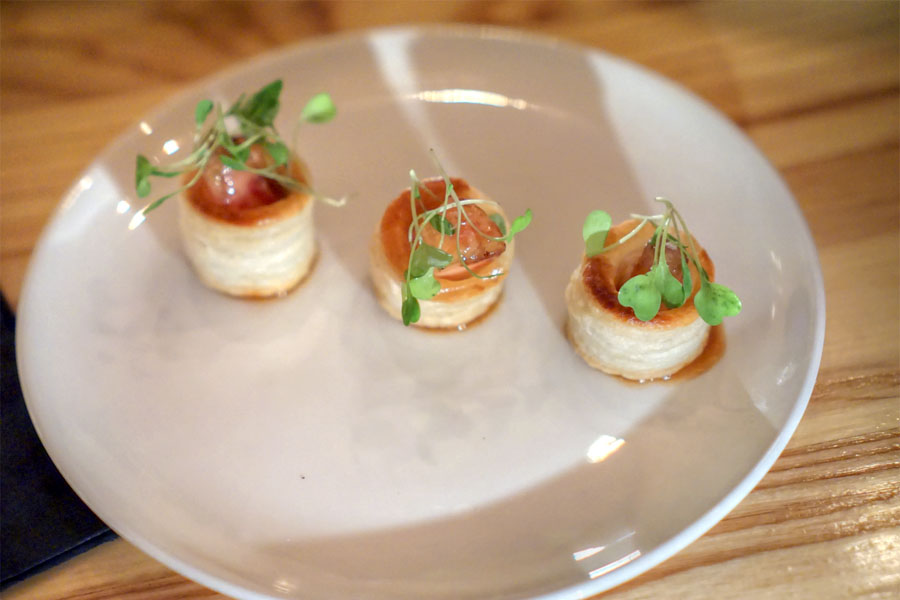 Bone Marrow Poppers [$13.00]
| pastry shell, bordelaise
The poppers are a holdover from the New York menu, and worked pretty well, the rich, buttery nature of marrow just making sense with the flaky pastry crust.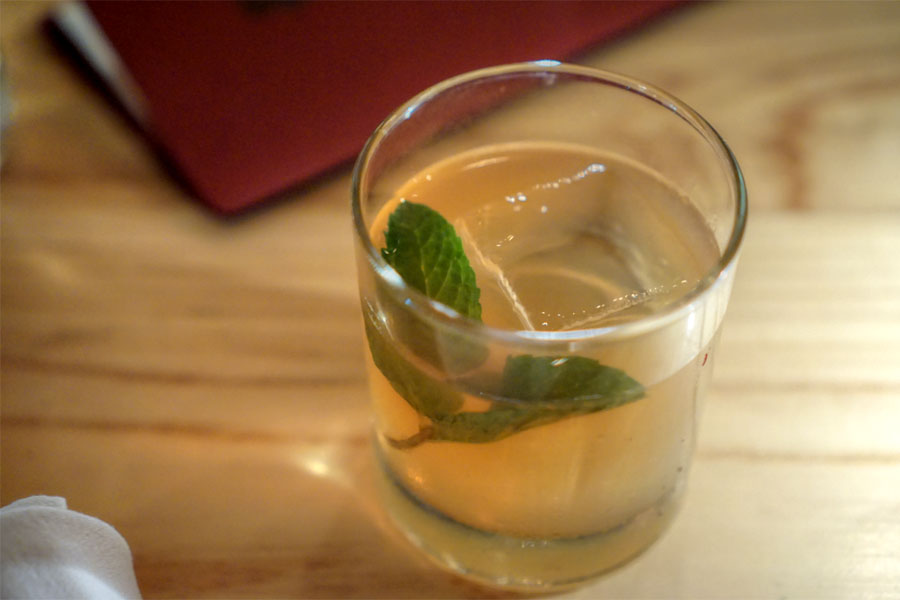 Peche Bourbon [$16.00]
| Peach-infused Smooth Ambler Contradiction Bourbon stirred with Crème de Peche, sugars, & Peychaud's bitters, served on a large cube of ice
We continued the stone fruit theme with this next cocktail. Its nose showed off creamy, almost candied peach notes alongside a somewhat "nutty" character. The taste, meanwhile, was more austere, with less fruit and more tart, bitter, boozy notes.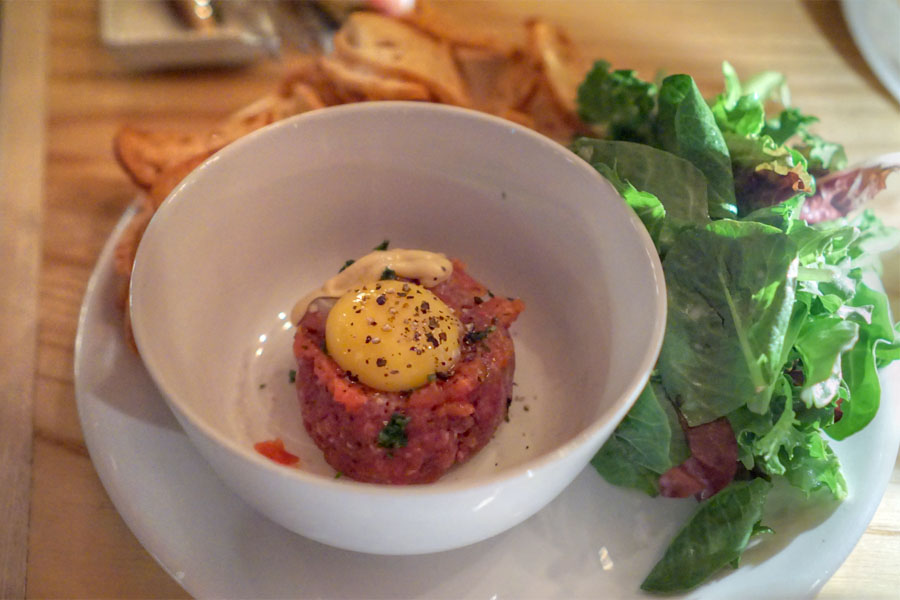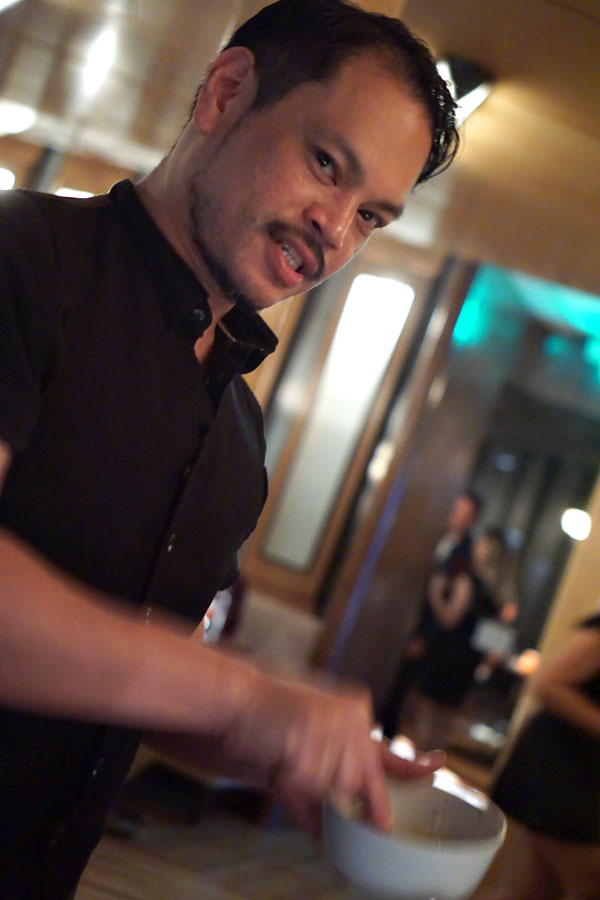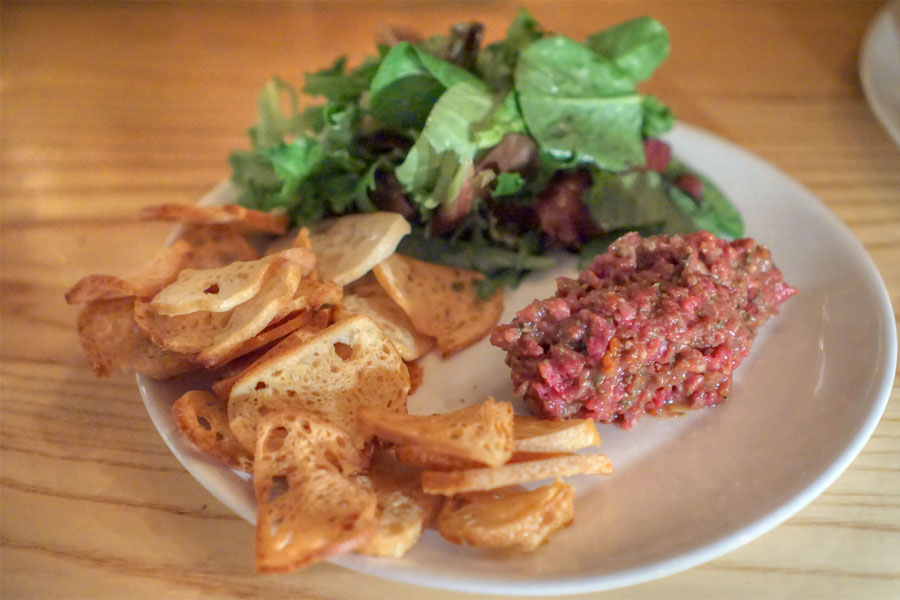 Hand Cut Steak Tartare [$20.00]
| garlic crostini, mixed greens
The tableside tartar is another NY classic that we felt compelled to sample. The meat was pretty much spot on texturally, and had a great mix of tangy, spicy flavors as well as a touch of almost truffle-like funk. Nice crunch from the included bread, too.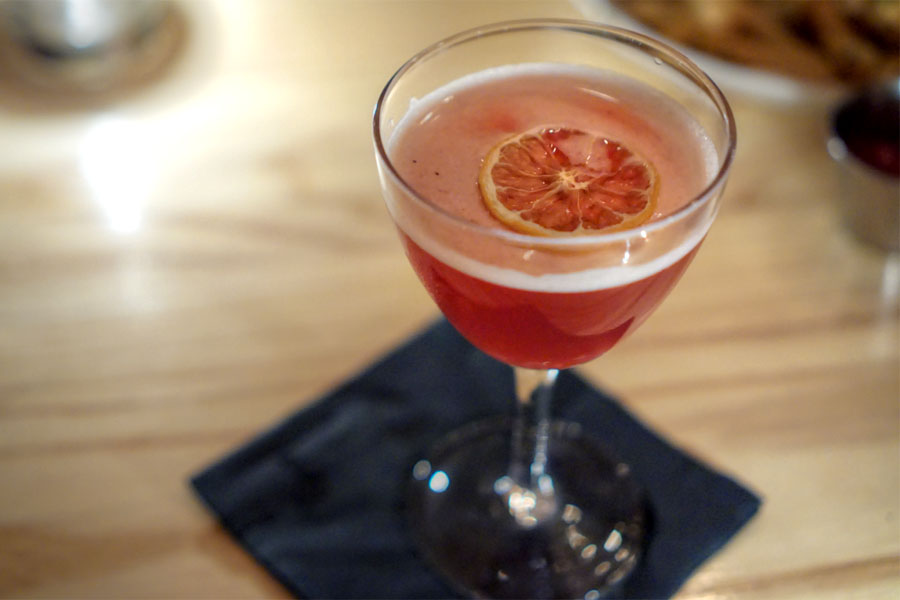 Billionaire Cocktail [$16.00]
| Baker's Bourbon shaken with Fresh Lemon Juice, EO home-made Grenadine & finished with EO Absinthe Bitters
Here I got very apparent, but somehow restrained anise on the nose, with stings of lemon. The palate definitely conveyed the fruitiness of grenadine, intermixed with the whiskey, the absinthe becoming a bit less noticeable.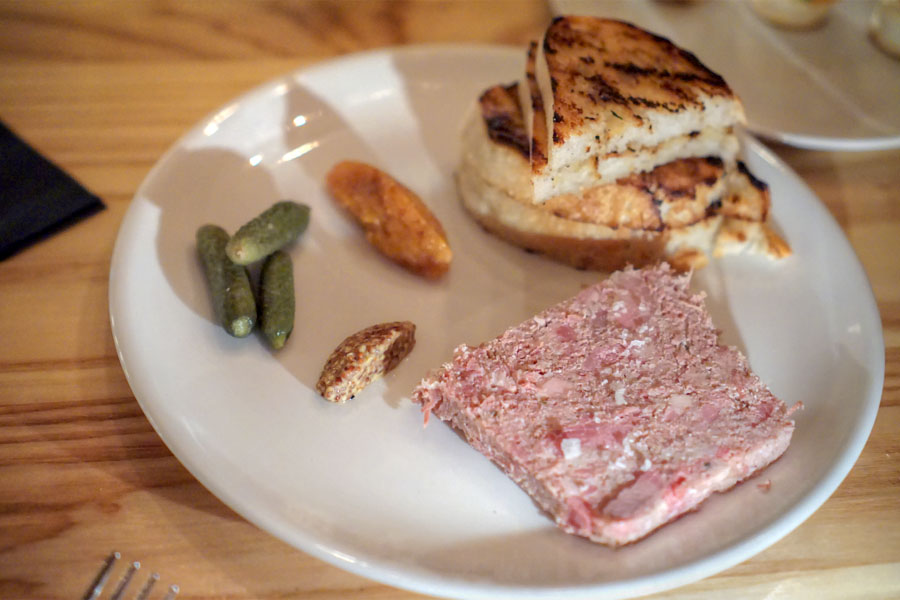 Rillettes of Duck, Rabbit and Pork [$16.00]
| hazelnut-apricot conserve
Rillettes were gritty, rustic, with the pork coming through the most. Pretty classic, and well accompanied by that smoky bread on the side.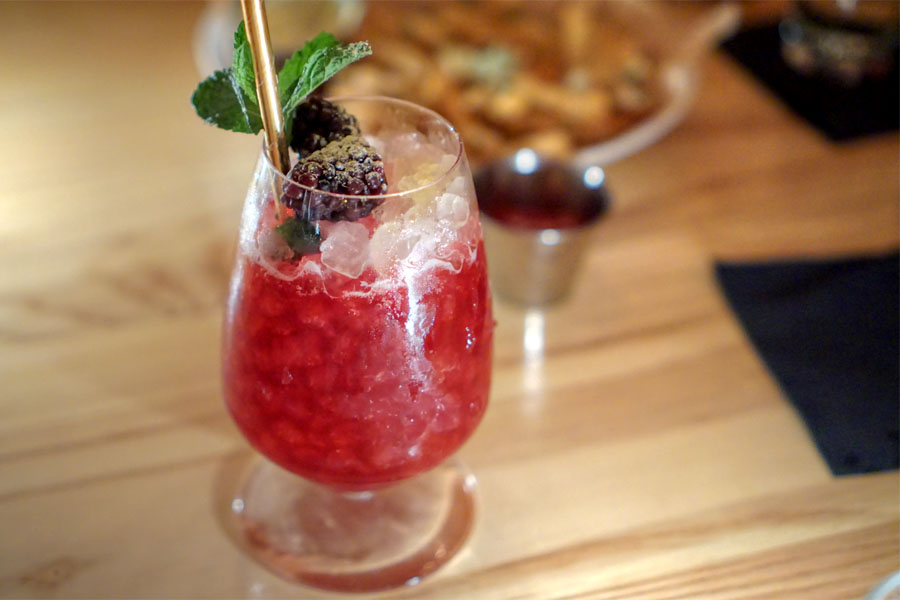 Rain Dance Cobbler [$16.00]
| The Botanist Gin shaken with Rainwater Madeira, Blackberry Syrup & Ruby Port, served over crushed ice with Seasonal Berries & Fresh Herbs
The cobbler was as fun and refreshing as expected. Think fruity for sure, but never cloying, with an oxidative bite from the Madeira.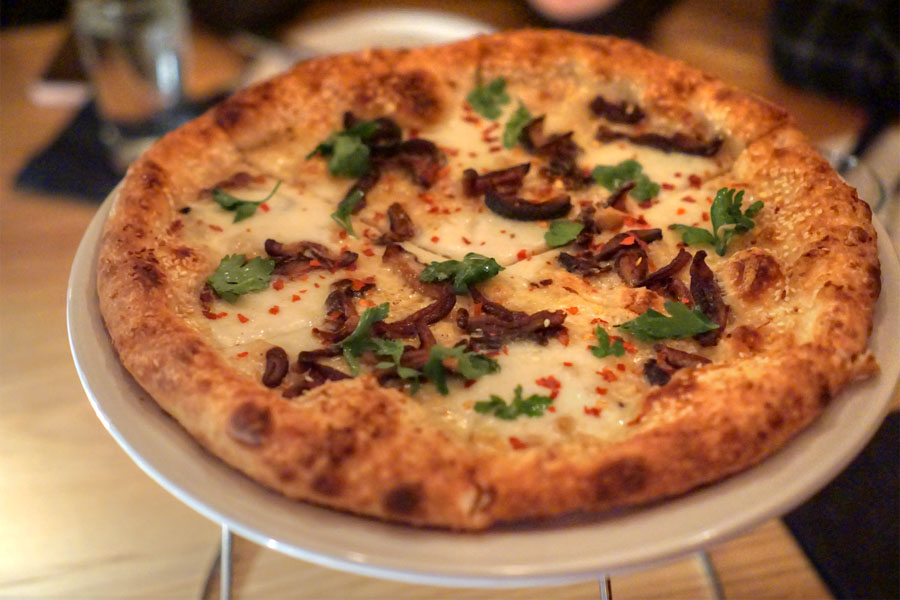 Formaggi Pizza [$19.00]
| fontina cheese, fresh mozzarella, shiitake mushrooms, chili flakes, sesame seeds, parsley
This off-menu special made good use of the restaurant's wood-fired pizza oven. It was properly cheesy, with a great touch of heat and a welcomed woodsiness from the mushrooms that I quite appreciated. Crust-wise, think substantial, with a nice kiss of char and smoke.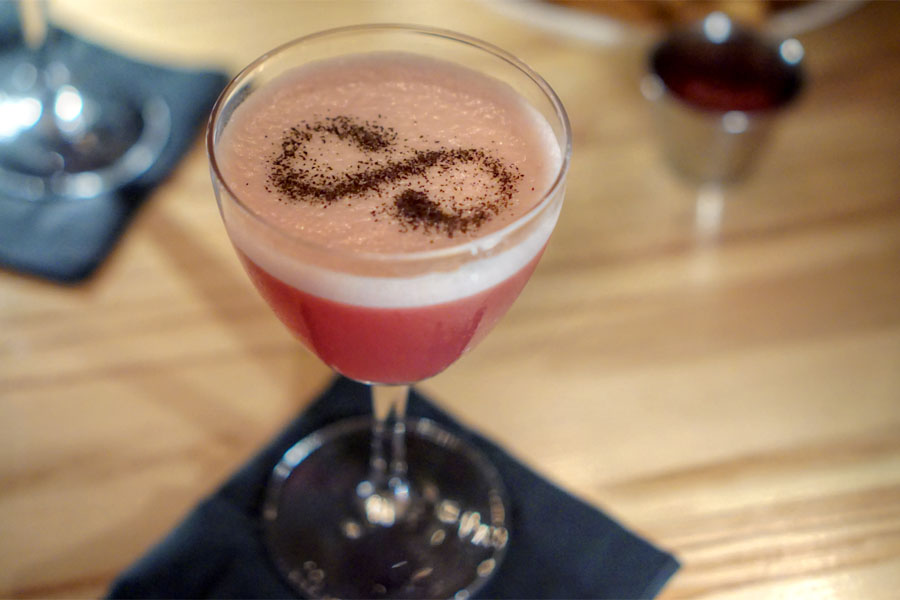 The Infinity Cocktail [$16.00]
| Suntory Toki Whisky shaken with Mirto di Sardegna, Salers Gentiane Apéritif, EO Grenadine, Aquafaba & Fresh Lemon Juice, garnished with Smoked Black Tea
This next cocktail was one of my favorites. It smelled pleasant, showing off sweet, medicinal, lightly smoky notes. On the palate, I got a soft, multifaceted fruitiness, joined by an almost beer-like element that surprised me. Interesting and easy-drinking.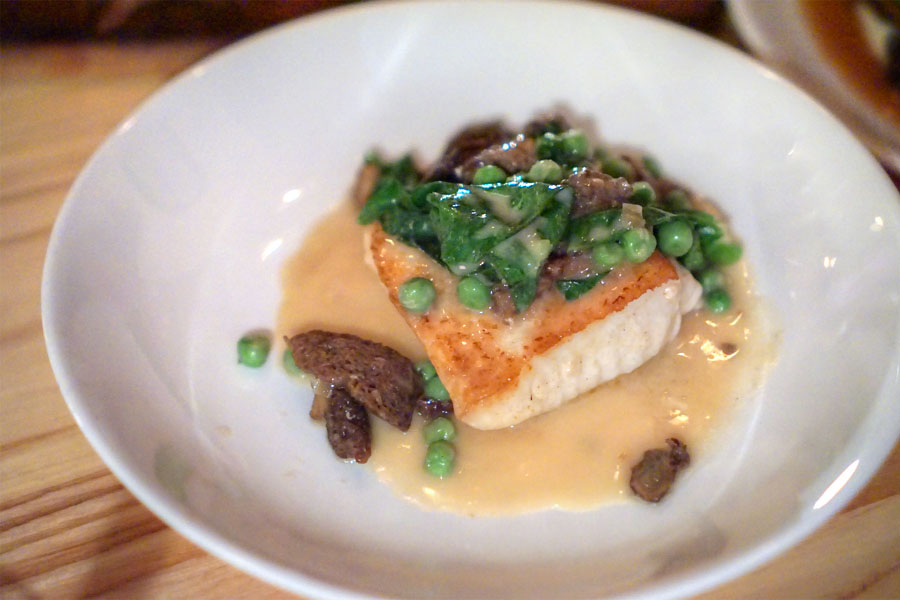 Pan Roasted Halibut [$34.00]
| morels, pea tendrils, english peas, bianco vermouth
Halibut had a pretty much flawless cook on it, and while tasty by itself, really shined when taken with those musky morels and bright, zippy peas.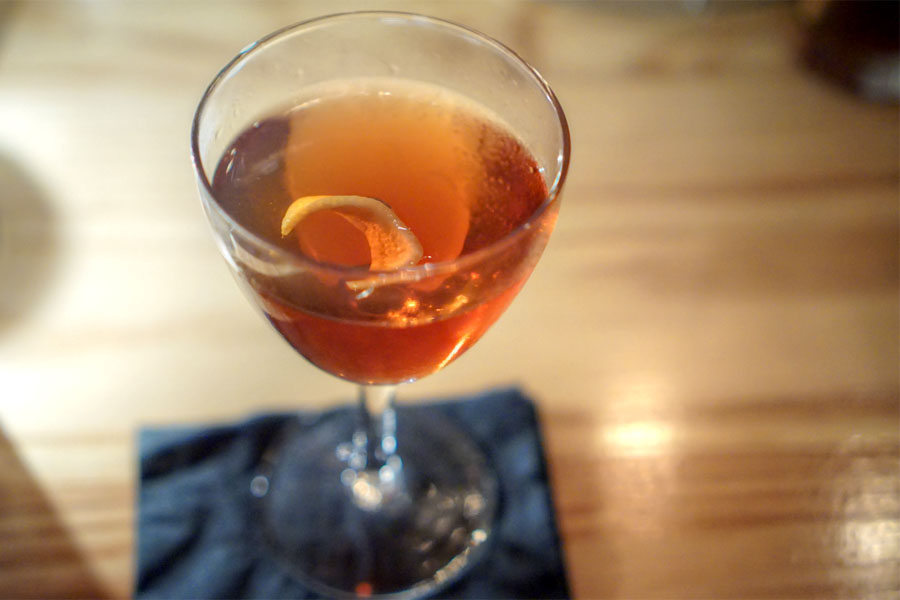 Manhattan Cocktail [$16.00]
| Rittenhouse Straight Rye stirred with Dolin Rouge Vermouth, Grand Marnier & dashes of Angostura Bitters
This Grand Marnier-boosted Manhattan delivered. It wasn't shy about the rye or the bitters, but had enough sweetness for balance, and just a smidge of citrus from the orange liqueur.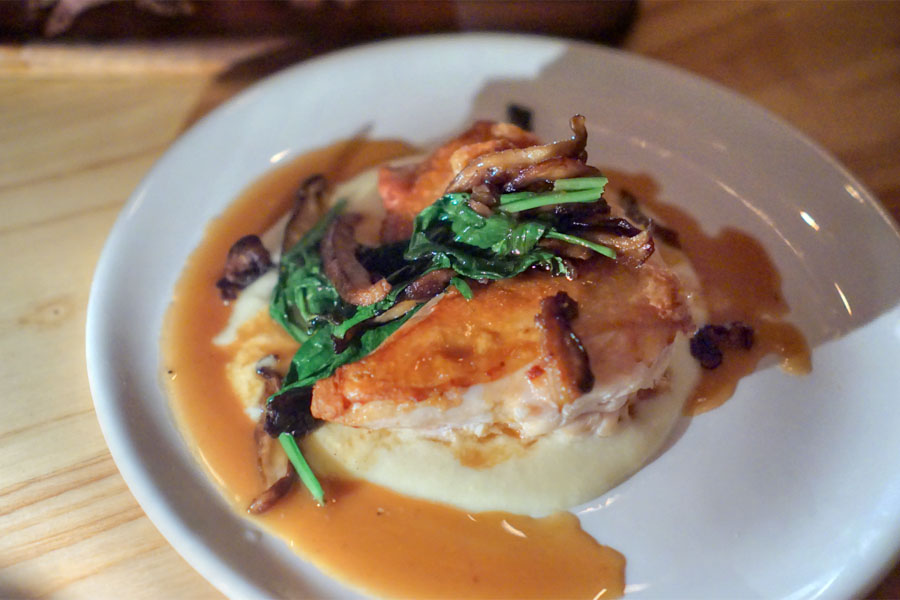 Roasted Mushroom Chicken [$26.00]
| garlic mashed potatoes, baby spinach, sherry vinegar jus
The chicken didn't disappoint, the bird arriving juicy, supple, and very enjoyable just by itself. Mushrooms functioned as a homey addition, as did the potato, while the spinach imparted a bitterness that just worked.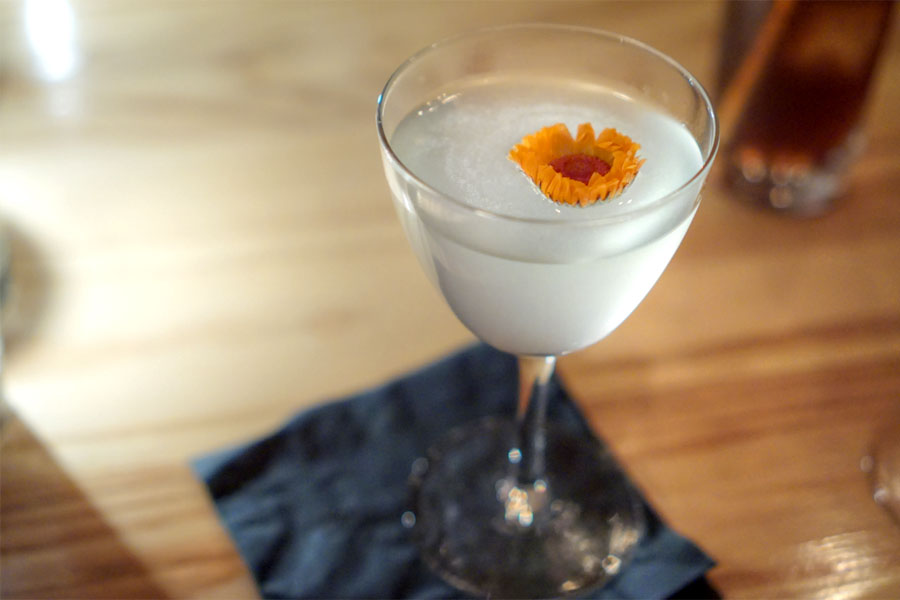 Hope Monkey [$16.00]
| Gin Mare shaken & served up with EO Clarified Lime Cordial & EO Absinthe Bitters
Next was one of the more intriguing gin cocktails I've had in recent times. It was lusher, more full-flavored than I expected, displaying sweet, floral, slightly citrusy qualities along with an astringency and palpable hit of anise toward the back end.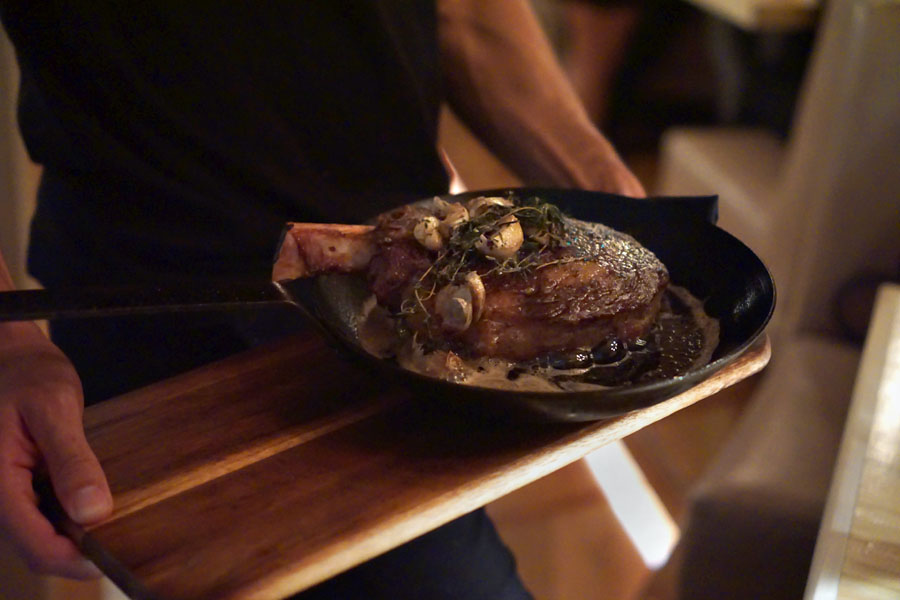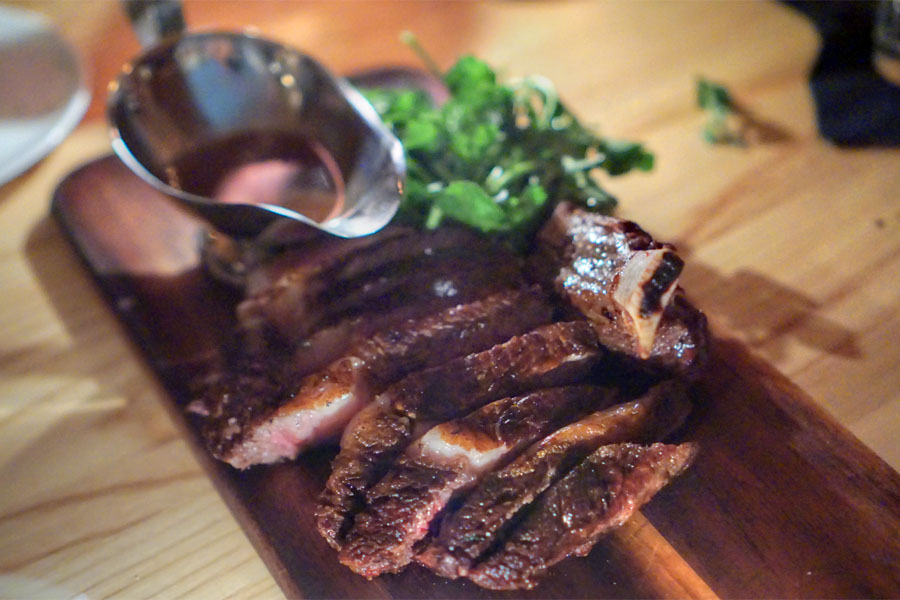 26oz Bone In Rib Eye [$74.00]
| gratin dauphinois, bordelaise
The ribeye ate tender for sure, and hit the spot with its generous amount of char and smoke--very tasty. The Bordelaise wasn't necessary, but still appreciated.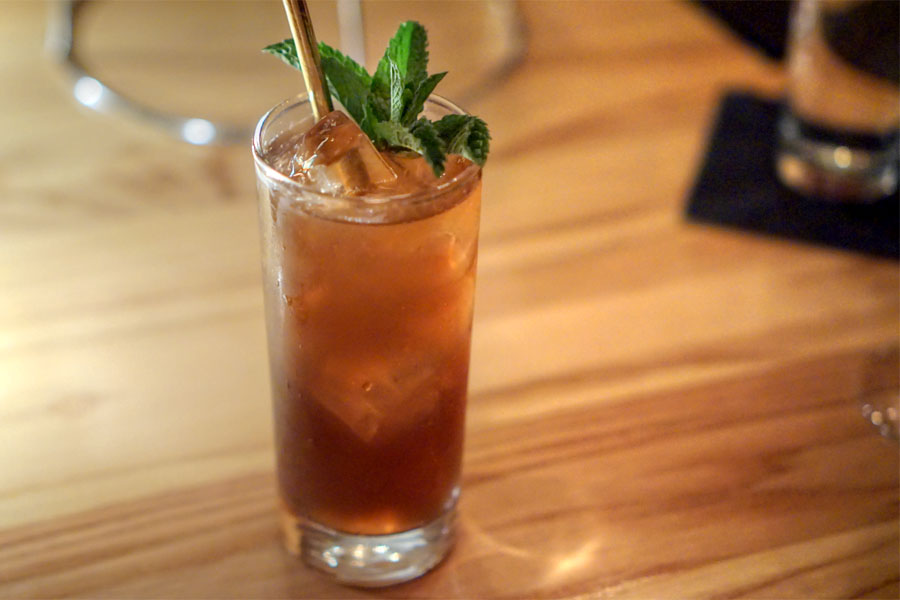 Revolution Calling [$16.00]
| EO Special Rum Blend mixed with dashes of Branca Menta & topped with Mexican Coca-Cola
Our lone long cocktail of the night came out bubbly and refreshing, with a definite minty, medicinal edge from the Branca.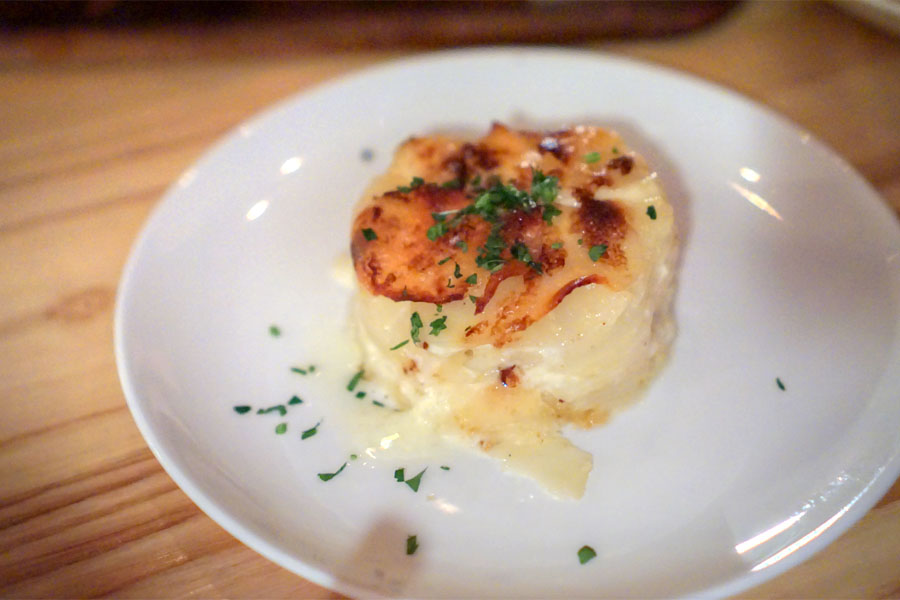 The steak came with a side of rich, creamy dauphinois potatoes that certainly satisfied.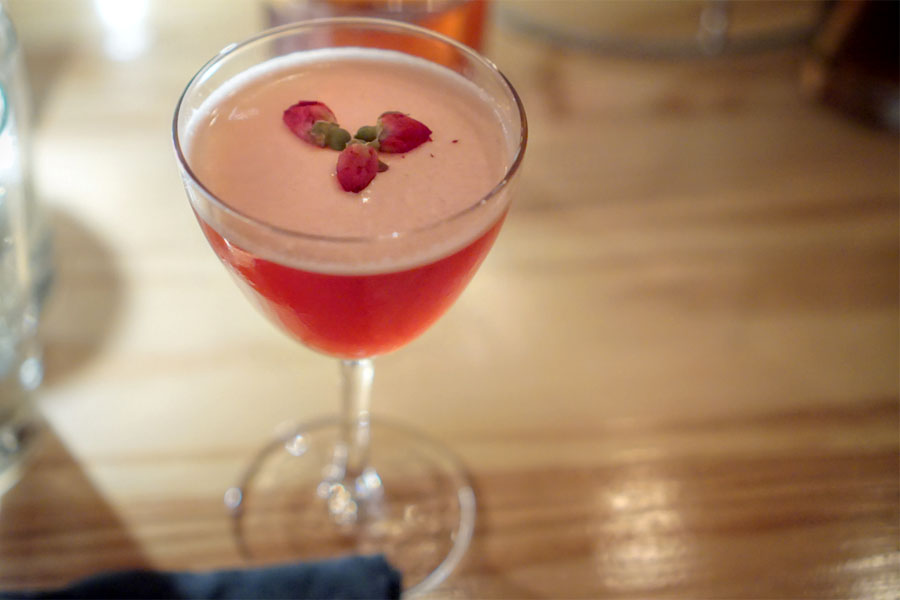 Mata Hari [$16.00]
| Pierre Ferrand 1840 Cognac shaken with EO Chai Infused Italian Vermouth, Fresh Lemon & Pomegranate Juices
I'm sometimes wary of cognac cocktails, but this one worked it out. The vermouth really did a great job meshing with the brandy, making for a soft, bittersweet drinking experience with a pleasant element of chai.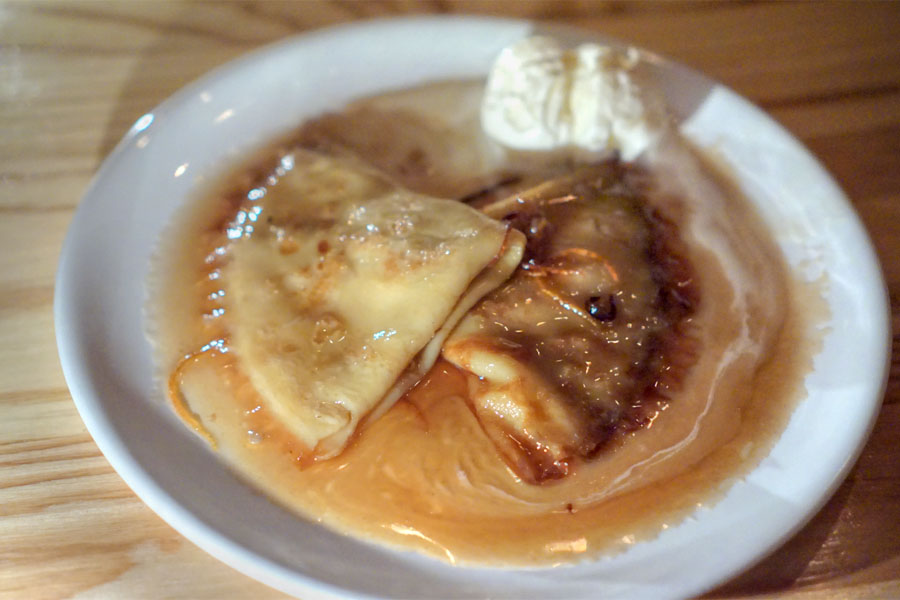 Crepes Suzette [$12.00]
Time for dessert. Our crêpes Suzette wasn't prepared tableside unfortunately, but still had all the nutty, citrusy, caramel-y flavors that you'd expect.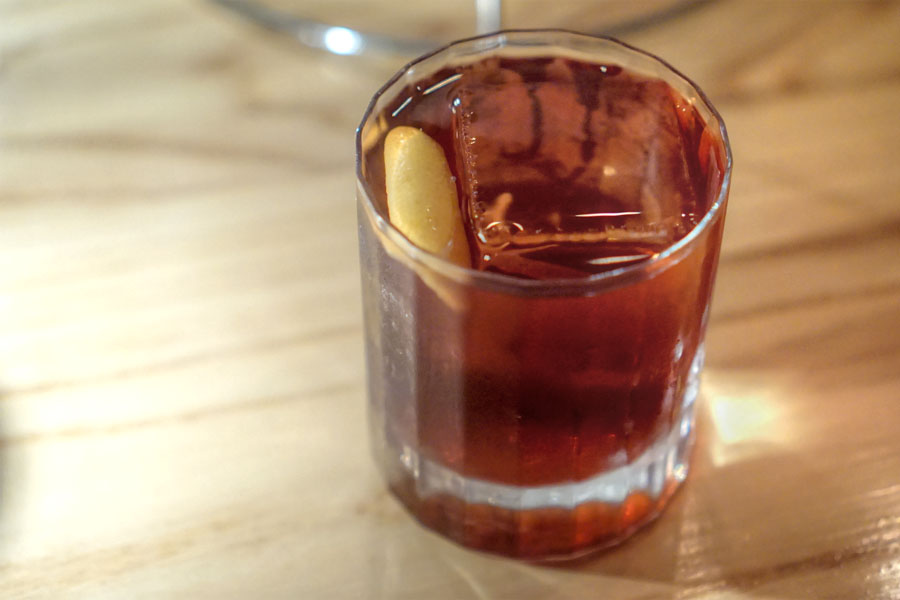 Vieux Carré 1938 [$20.00]
| Walter Bergeron, Hotel Monteleone, New Orleans / Rittenhouse Straight Rye Whiskey, Remy 1738 Cognac, Italian Vermouth, Benedictine D.O.M., dashes of Peychaud, Angostura and Absinthe bitters
We were able to request a cocktail from the Henry's Room menu, hence this Vieux Carré. I actually didn't get much on the nose here, surprisingly. Its taste definitely met the mark though. I found it robust, assertive, with a caramel/toffee character joined by cola notes, dark fruit, and bitter, herbal nuances.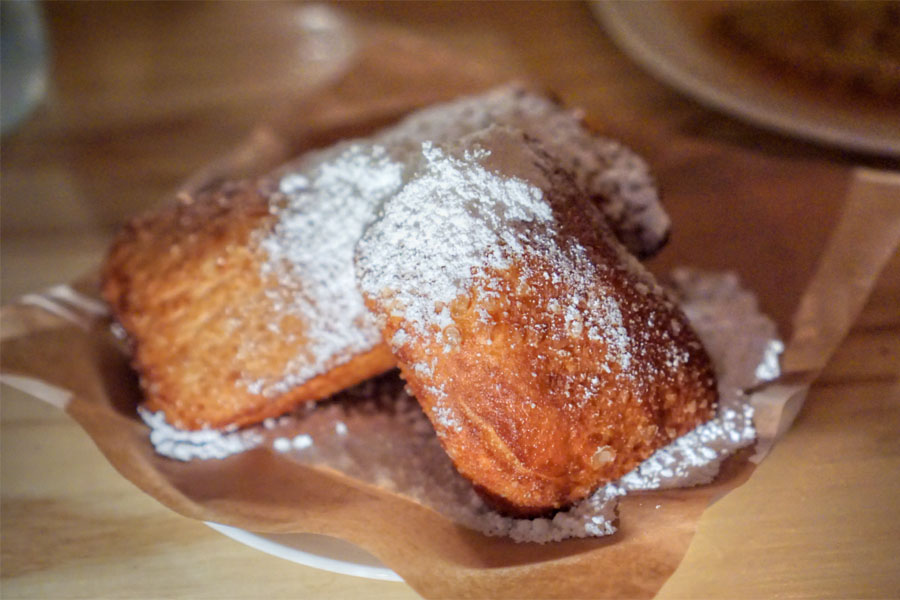 Beignets [$9.00]
Coming out with a traditional sprinkling of powdered sugar, beignets were piping hot, with a soft, chewy consistency.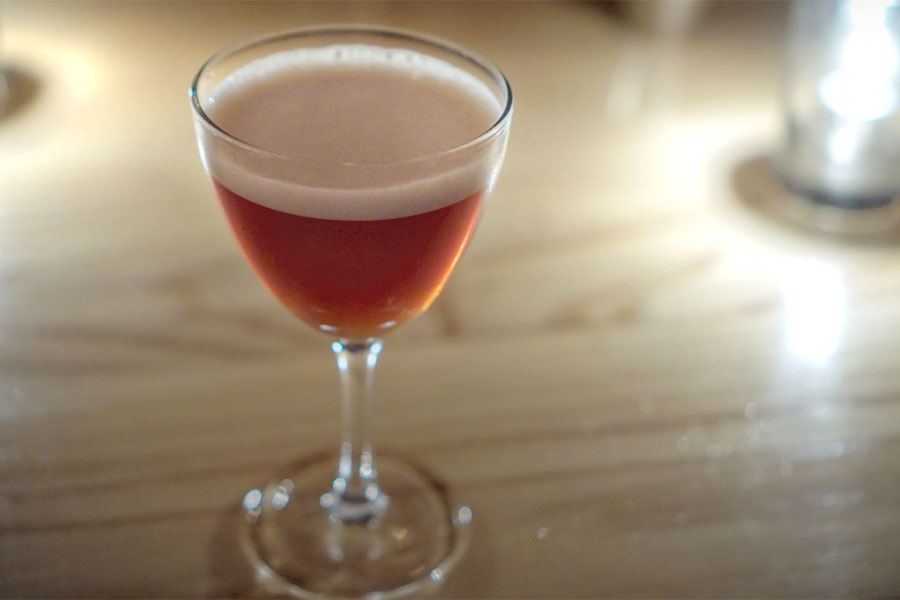 Café Cabeza [$16.00]
| Tequila Cabeza & Italian Espresso, shaken with St. George Nola Coffee Liqueur, Orange Oleo, OM Dark Chocolate & Sea Salt liqueur, served straight up
We ended, fittingly, with a dessert cocktail, one with appealing aromas of roasty coffee and dark fruit. Its flavors were similarly roasty and heavy on the coffee, but also sweet, chocolatey, cozy--nice.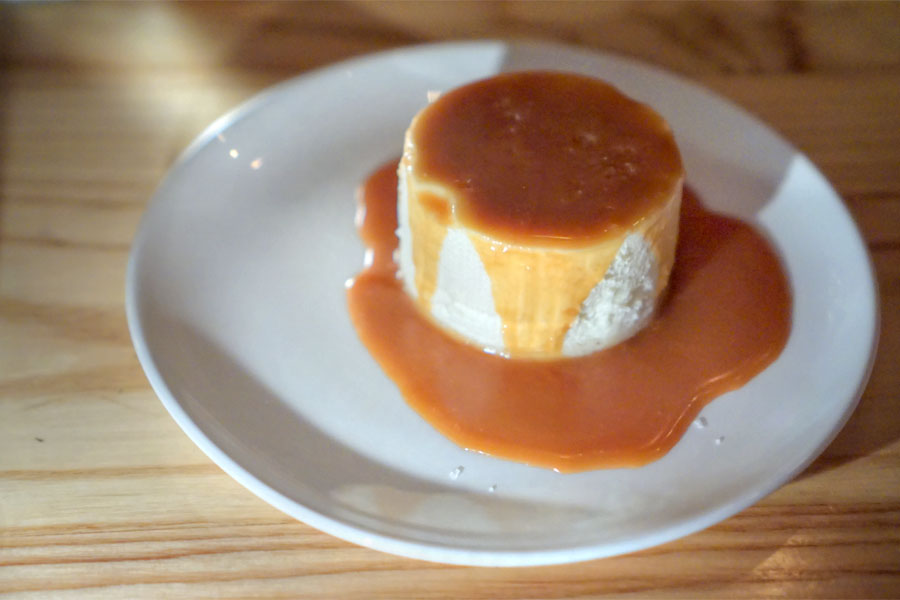 Cheesecake [$10.00]
Last up was the cheesecake. I actually found the cake itself fairly nondescript, though the caramel certainly helped things.
Given all the hype and acclaim surrounding Employees Only, I have to say that the cocktails weren't quite as transcendent as I hoped they'd be. They were certainly enjoyable and properly prepared, but I guess I was just expecting more. As for the food, it's nothing too groundbreaking, but it works, complementing the drinks without drawing too much attention to itself. Overall though, EO's a solid addition to the scene, and I'm glad to have it as another imbibing option around town.