Manuela (Los Angeles, CA) [2]
Manuela Restaurant at Hauser & Wirth
907 E 3rd St, Los Angeles, CA 90013
323.849.0480
www.manuela-la.com
Sat 05/05/2018, 01:00p-04:05p

We were recently in search of a brunch spot in Downtown and ended up choosing
Manuela
, which just happened to have a new Chef in place: Kris Tominaga. The last time we caught up with Tominaga, he was at
Mardi
in WeHo and running the culinary program for pretty much all of Paligroup. He eventually got tired of the gig though, and ended up leaving the organization earlier this year. As luck would have it, Manuela happened to be in need of a new Chef (Wes Whitsell left back in December), and reached out to him. Given Tominaga's experience in Southern cooking, it was a good fit, and he was quickly installed at the Arts District restaurant and began revamping the menu back in April.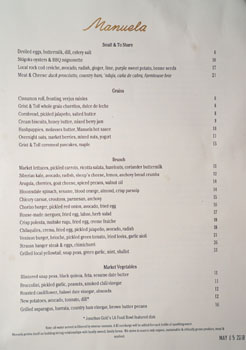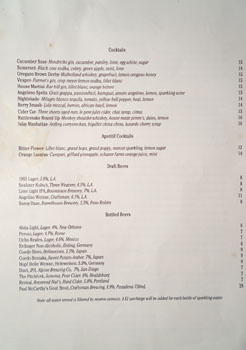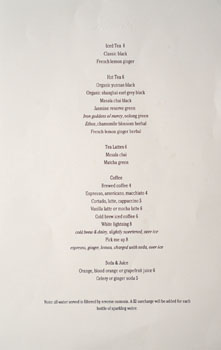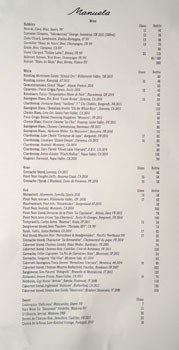 While Whitsell was all about Texas, Tominaga has updated the cooking to reflect a more Lowcountry-meets-California aesthetic (sort of like
The Hart and The Hunter
), though the brunch menu has thus far experienced relatively minor change. As for the beverage program, it's still got mostly the same sort of feel--not necessarily a bad thing. Click for larger versions.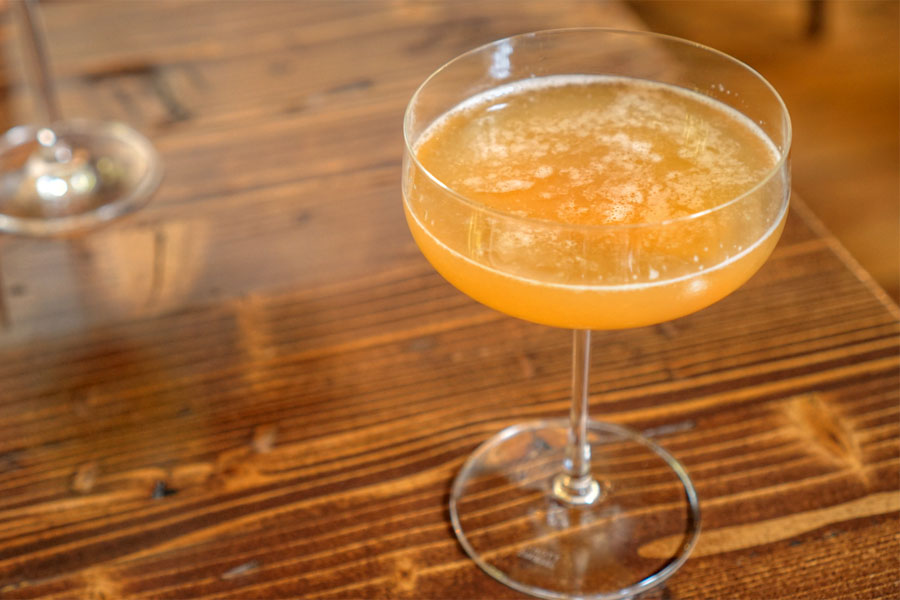 Cider Car [$15.00]
| Three sheets aged rum, le pere jules cider, chai syrup, citrus
Cocktails were definitely called for. Our first showed off a strong citrus component, along with bitter, astringent undertones and just a trace of the rum. Not bad at all, though I would've liked more from the chai.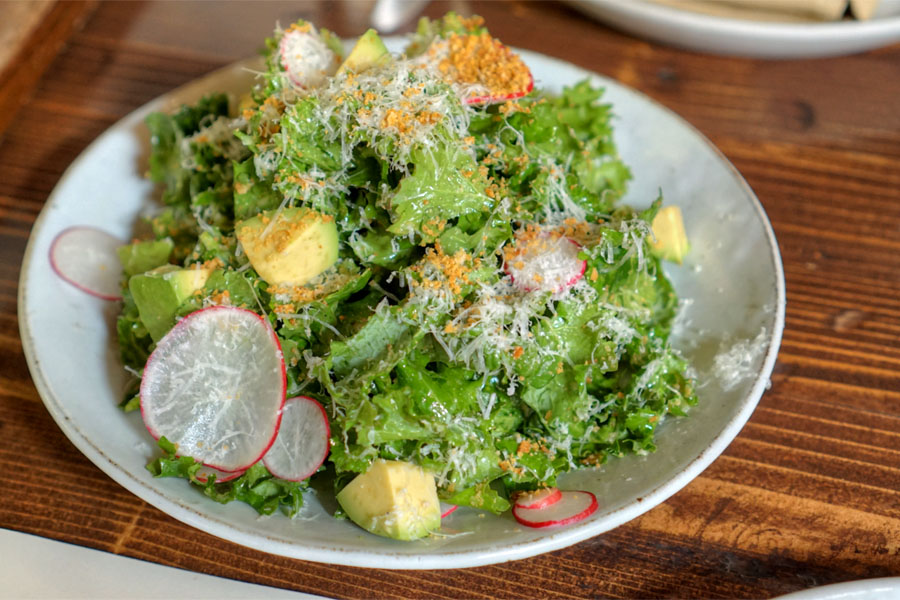 Siberian kale, avocado, radish, sheep's cheese, lemon, anchovy bread crumbs [$12.00]
The kale salad was one of the new additions on the menu, and a surprise favorite. I particularly enjoyed the saltiness from the anchovy and cheese, and how that worked with the lushness of avocado, the tartness of lemon, and the overall bitter profile of the dish.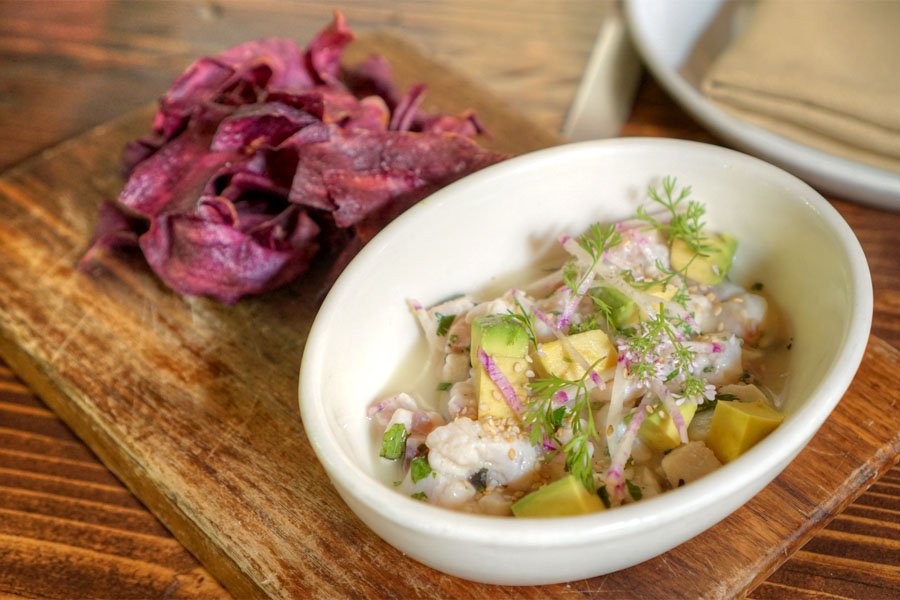 Local rock cod ceviche, avocado, radish, ginger, lime, purple sweet potato, benne seeds [$17.00]
Texturally, rock cod was meaty, sturdy, yet still tender, with a relatively mild taste that worked as a base for its various accompaniments. I especially appreciated the ginger and herbs, but I really wanted more acidity overall.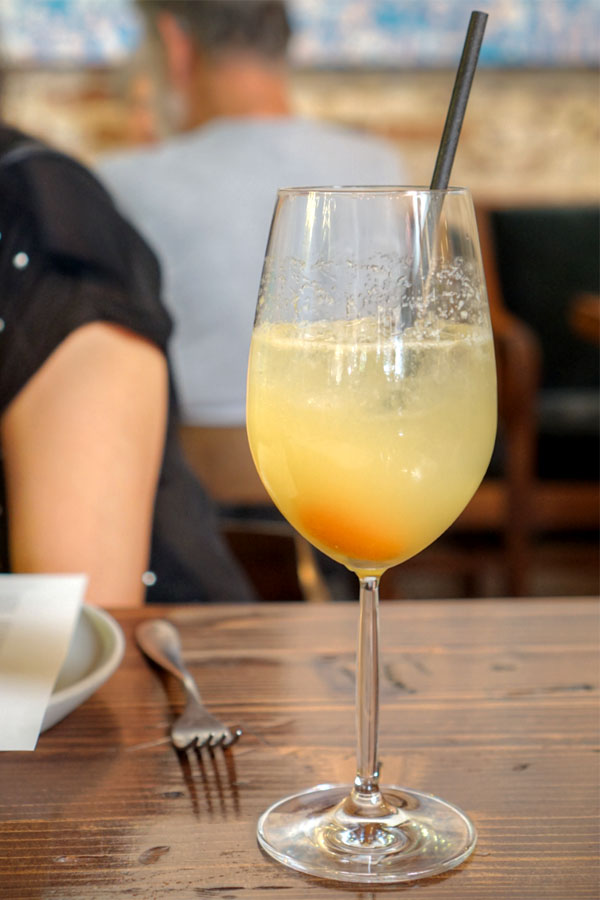 Angeleno Spritz [$15.00]
| Grait grappa, passionfruit, kumquat, amaro angeleno, lemon, sparkling wine
Our next cocktail was on the brunch-y side for sure: fruity, fizzy, and refreshing, but with a tempering bitterness in the background. Very apropos for the hot weather we were having that day.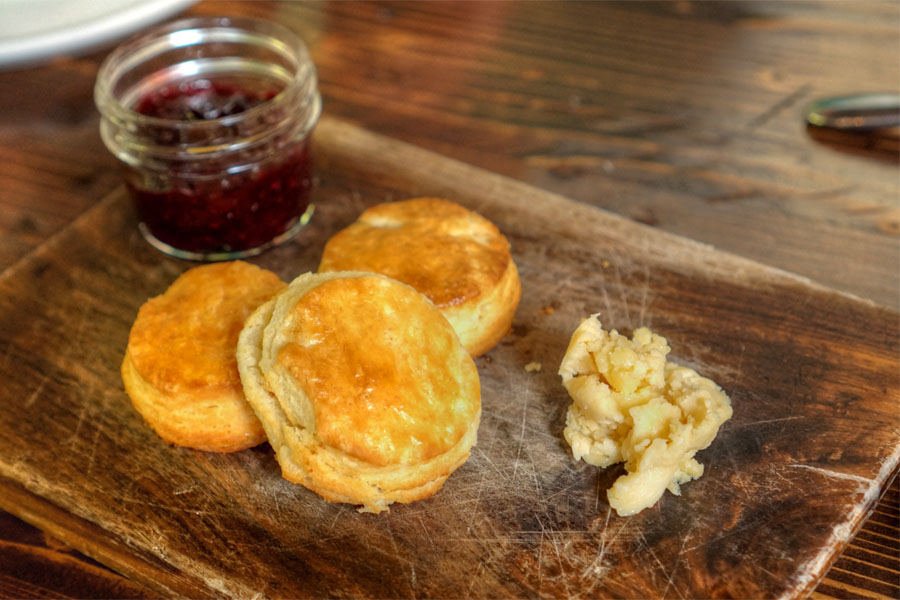 Cream biscuits, honey butter, mixed berry jam [$9.00]
The biscuits were a must try for us. They turned out to be some of the best I've had, coming out all flaky and soft and buttery, delicious alone but even better when taken with that fantastic honey butter.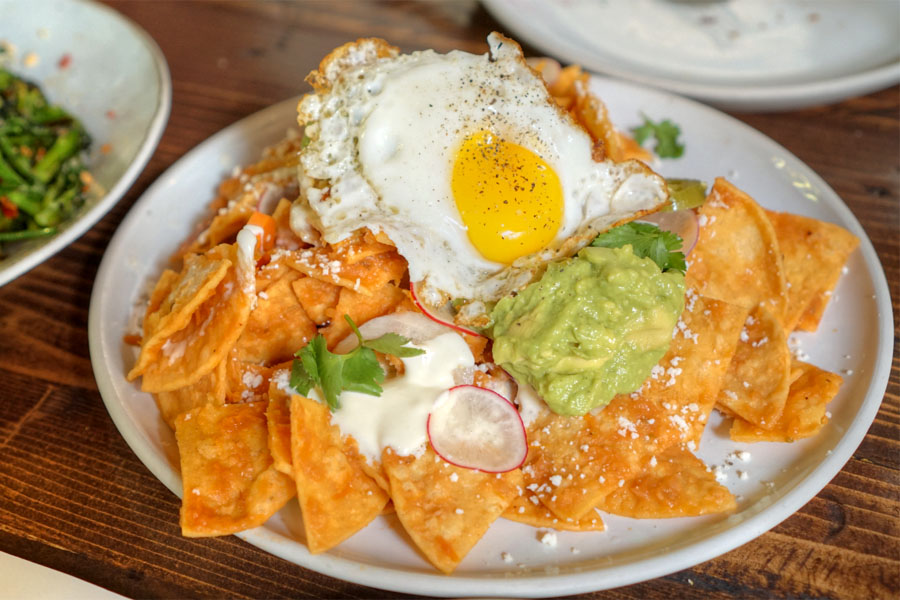 Chilaquiles, crema, fried egg, pickled jalapeño, avocado, radish [$18.00]
We happened to be dining here on Cinco de Mayo, so we felt compelled to order this Mexican breakfast staple. It was a gratifying, satisfying dish, its base of spicy
totopos
meshing well with the guac,
crema
, and fried egg especially.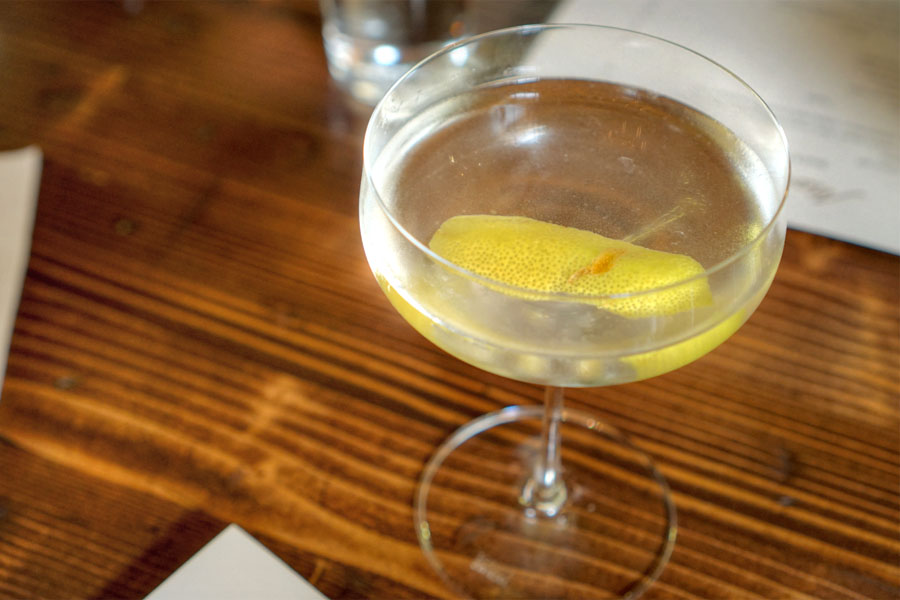 Vesper [$15.00]
| Farmer's gin, crop meyer lemon vodka, lillet blanc
This variation on the Bond-concocted cocktail classic was the booziest of the bunch no doubt. You definitely taste the gin, but it's nicely complemented by the citrus and Lillet, making for a surprisingly easy-drinking beverage.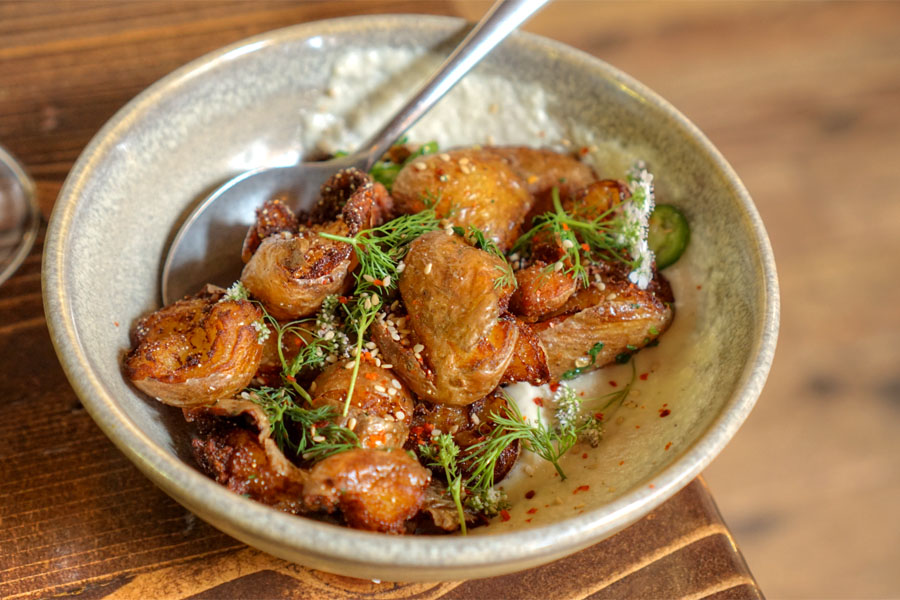 New potatoes, avocado, tonnato, dill [$12.00]
Potatoes were lovely: hearty and robust on their own, but beautifully paired with the creamy punch of
tonnato
and a finish of dill.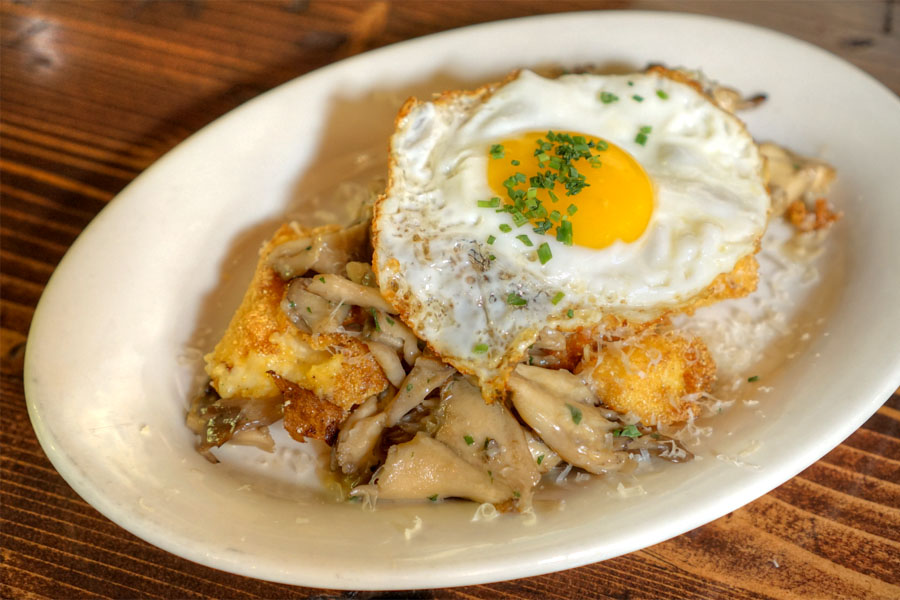 Crisp polenta, maitake ragu, fried egg, creme fraiche [$18.00]
It's hard to go too wrong with this set of ingredients, and indeed, the dish certainly met the mark, a mélange of gooey, crisp, and cheesy punctuated by the woodsy musk of those mushrooms.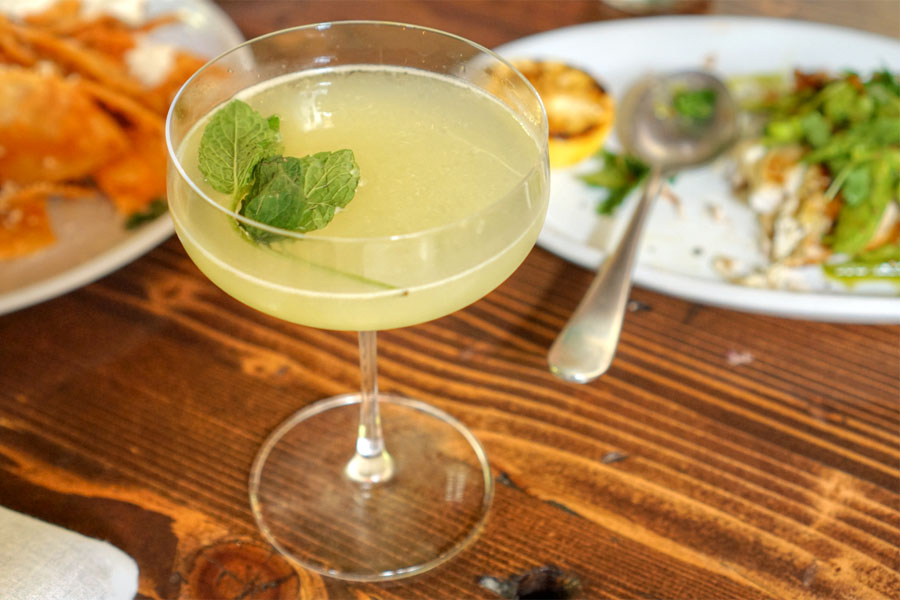 Somerset [$14.00]
| Black cow vodka, celery, green apple, mint, lime
Our next cocktail was pretty invigorating, with a citric, herbaceous nose leading to a bright, vegetal palate and slight heat.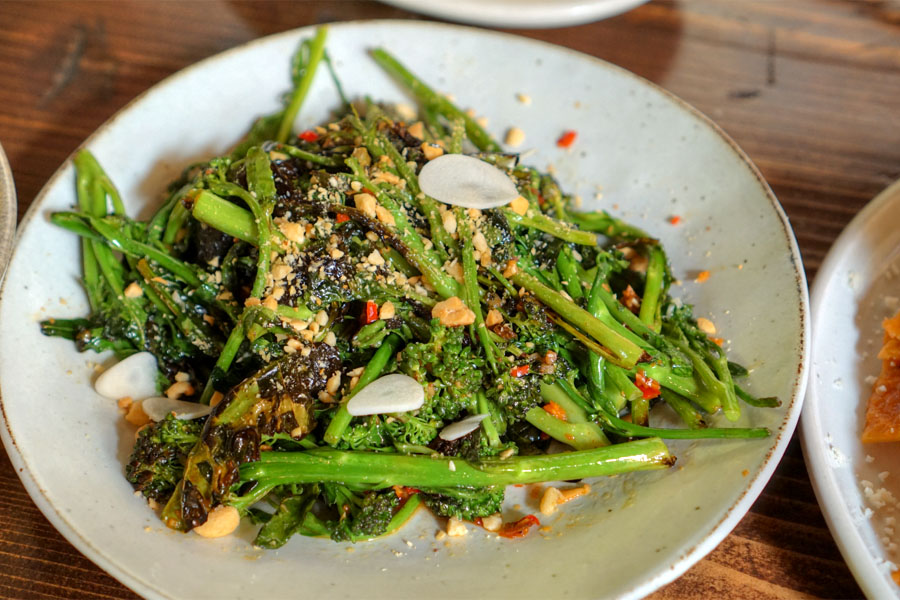 Broccolini, pickled garlic, peanuts, smoked chili vinegar [$11.00]
The kitchen then sent out a few of their new dishes. I generally enjoy broccolini, and today was no exception. It came out all crunchy and bitter as expected, but with a delightful spiciness and an additional kick from the garlic.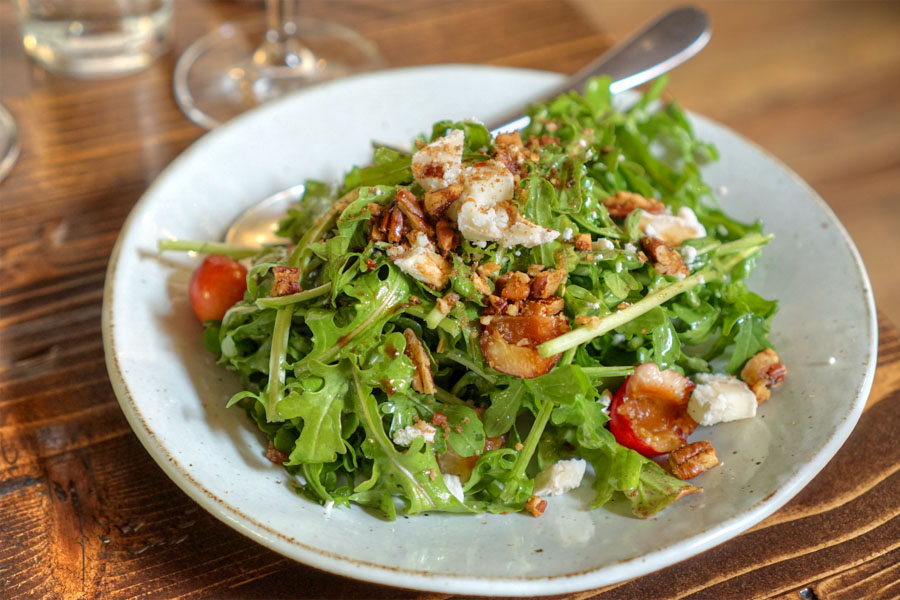 Arugula, cherries, goat cheese, spiced pecans, walnut oil [$14.00]
The arugula salad was easy and breezy, the zestiness of the greens making sense with a combination of sweet cherry and salty cheese.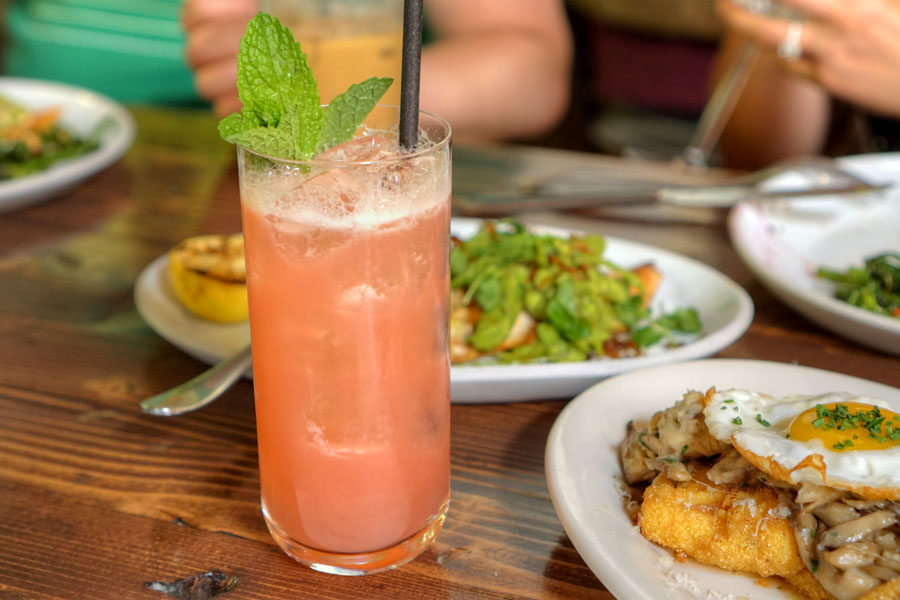 Rattlesnake Round Up [$16.00]
| Monkey shoulder whiskey, house made pimm's, dates, lemon
This was a fun one, a fruity long drink with a bitter backing and overarching citric tang. I didn't get much from the dates though.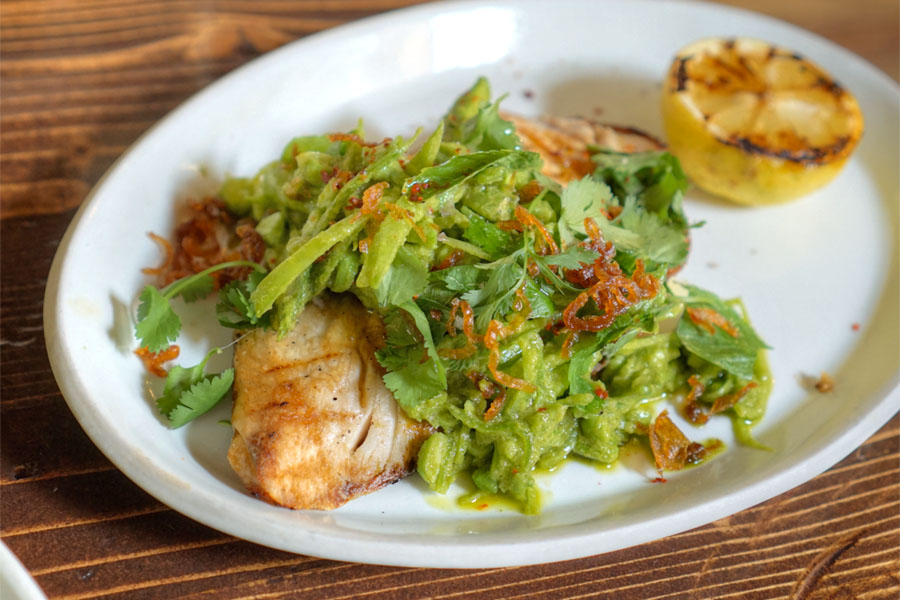 Grilled local yellowtail, snap peas, green garlic, mint, shallot [$31.00]
The yellowtail was another favorite of mine. The fish arrived juicy and briny and loaded with plenty of smoke and char. I enjoyed it just by itself for sure, but the inclusion of all the bright, zippy greenery on top made for the perfect balance.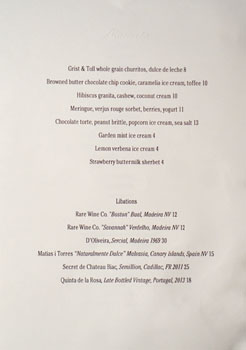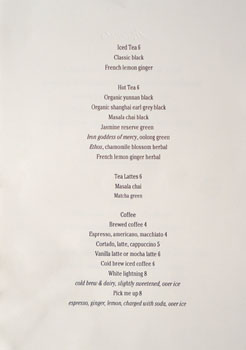 We of course saved room for dessert. Click for larger versions.
Browned butter chocolate chip cookie, caramelia ice cream, toffee [$10.00]
A Caramelia chocolate ice cream was spot on, and even better with those shards of toffee brittle. Be sure to try it with the cookies.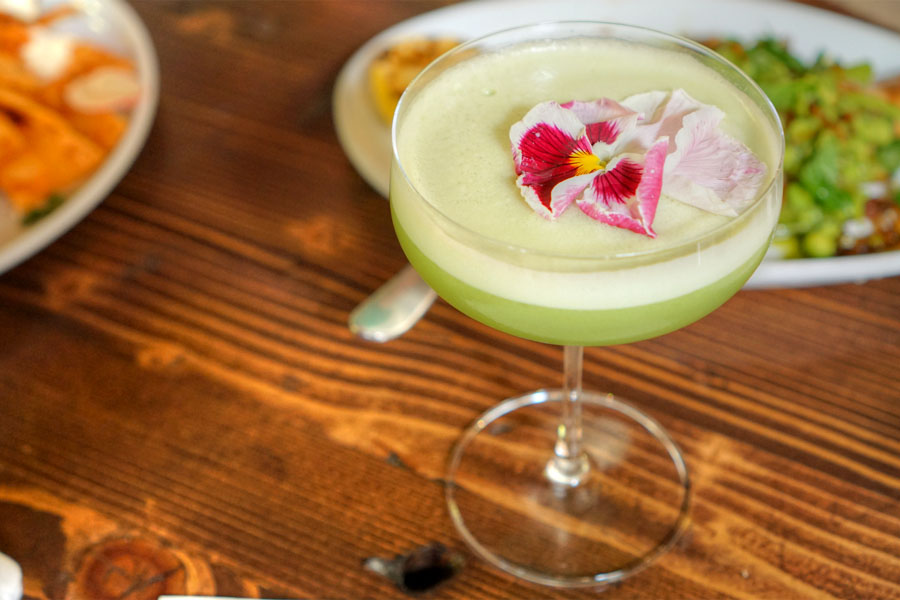 Cucumber Sour [$15.00]
| Hendricks gin, cucumber, parsley, lime, egg white, sugar
Our final cocktail was on the colorful side, and quite tasty too. It showcased lots of sweet, cucumber-y notes and a touch of parsley herbaceousness in a creamy, quaffable package.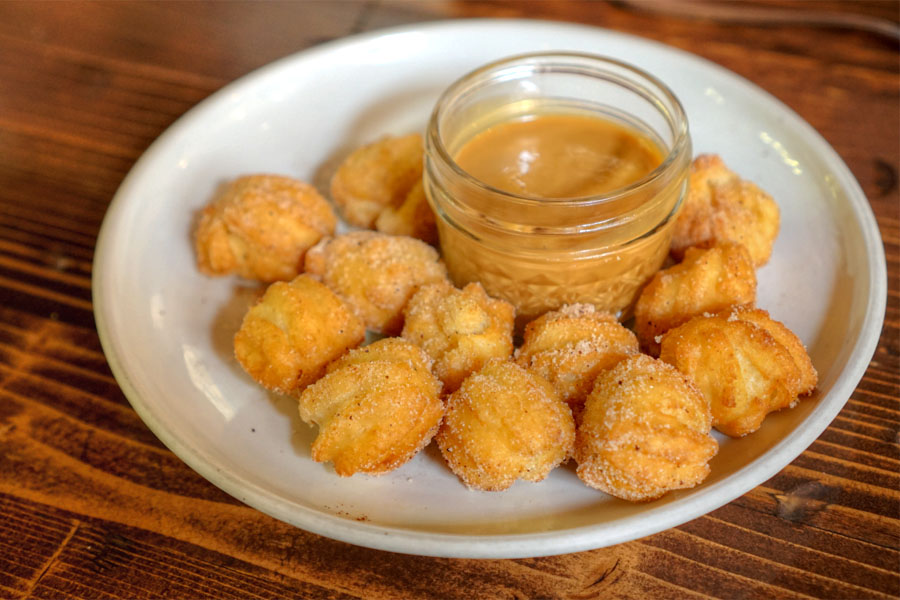 Grist & Toll whole grain churritos, dulce de leche [$8.00]
Mini churros were soft, fluffy, and loaded with plenty of sweet spice, all while the caramel-y sauce on the side served as an apt condiment.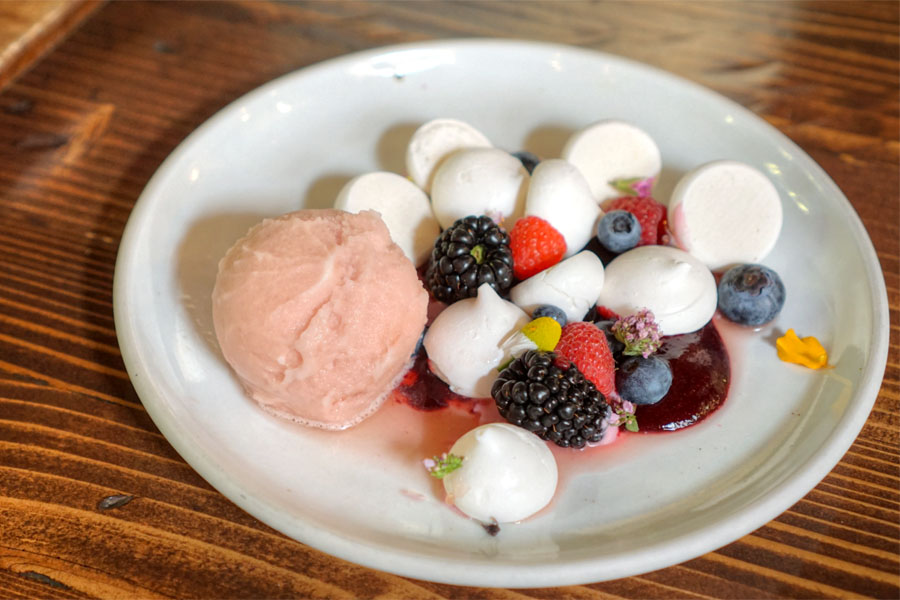 Meringue, verjus rouge sorbet, berries, yogurt [$11.00]
Airy meringues were joined by an almost bracingly tart verjus sorbet and juicy berries, making for a light, refreshing dessert that fit the bill.
I'm actually not a huge fan of brunch typically (unlike everyone else in LA, seemingly), but this was a pretty convincing meal. Unfortunately we didn't really get to experience the full extent of Tominaga's remodel of the menu, but what we did manage to try certainly worked, and got us all a bit more interested in returning for dinner.