Bavel (Los Angeles, CA)
Bavel Restaurant
500 Mateo St, Los Angeles, CA 90013
213.232.4966
www.baveldtla.com
Wed 05/09/2018, 08:00p-11:30p

LA is in the midst of a Middle Eastern cuisine renaissance, and we recently welcomed what's easily the most hotly anticipated restaurant in that sphere. After being in the works since at least 2013, Bavel (accent on the second syllable) finally opened its doors on April 20th. The Arts District eatery is the work of Chefs Ori Menashe (roots in Israel, Morocco, Turkey, and Georgia), and Genevieve Gergis, whose father is Egyptian. The place is named after the Hebrew word for Babylon, and features cooking inspired by the entire Mideast region, interpreted through a SoCal lens and executed with an eye toward the Chefs' classical training and technique.


Bavel resides in a warehouse previously occupied by Evergreen Fresh Farms. It's been redone by local firm
Studio Unltd
(
189 by Dominique Ansel
,
Chianina
,
Moruno
,
Otium
, The Rose Cafe,
Petty Cash #2
,
BierBeisl Imbiss
,
Catch & Release
,
Bestia
,
Messhall
,
BierBeisl
), with significant input from Gergis. It's not your typical Middle Eastern affair, but still reflects the regional influence of the cuisine, in modern form of course. Note that there's also a patio out front, but it wasn't yet furnished on the night we dined.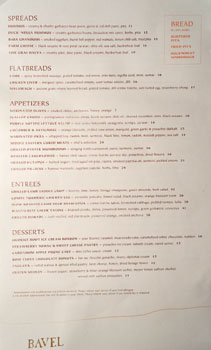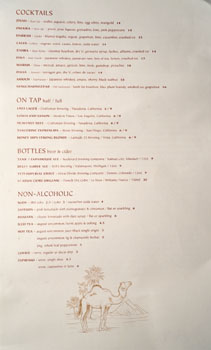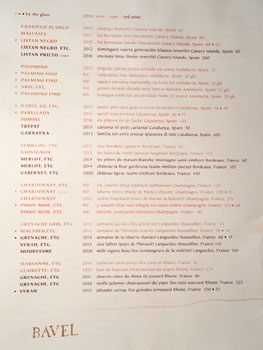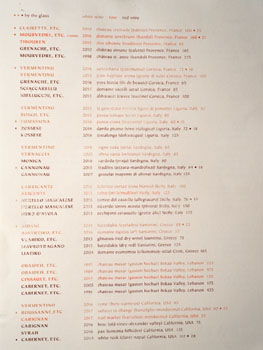 Bavel's Mideast-meets-LA menu comprises mostly smaller dishes meant for sharing, as per tradition, but there are certainly larger format items available, as well as an array of Gergis' desserts. To drink, you get ten theme-appropriate cocktails, a few unexpected beers, and an interesting wine list focused mostly on the Old World. Click for larger versions.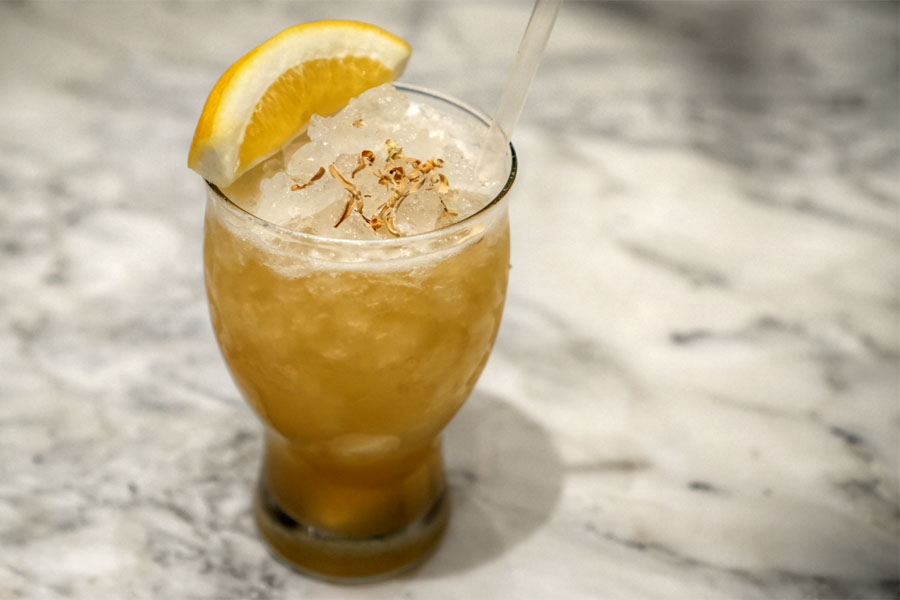 Davi [$15.00]
| Sour Punch - japanese whiskey, jamaican rum, lots of tea, lemon, crushed ice
We arrived early for our reservation and thus enjoyed a couple cocktails at the bar while waiting. This punch-inspired concoction was to our liking, really showing off the smoky, astringent, aromatic nature of the tea, layered over a base of spicy rum and whisky.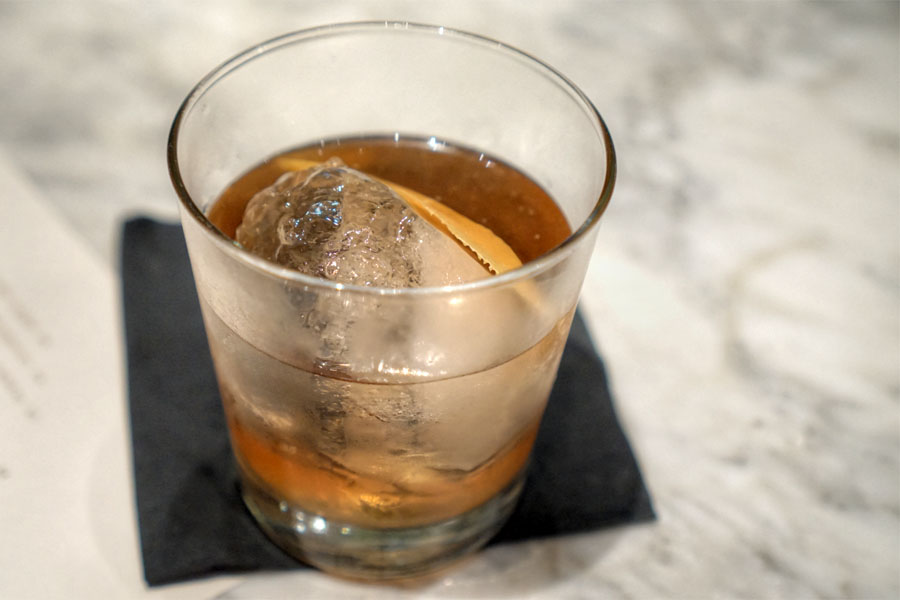 Nebuchadnezzar [$16.00]
| Old Fashioned - lamb fat bourbon, blue plum brandy, smoked ice, grapefruit
Our second cocktail actually had a surprisingly subdued nose, with fresh notes of citrus dominating. The taste, however, was much, much bolder. I got tons of caramel and toffee, along with dark fruit, booze, smoke, and the pervasive, but never overwhelming essence of lamb.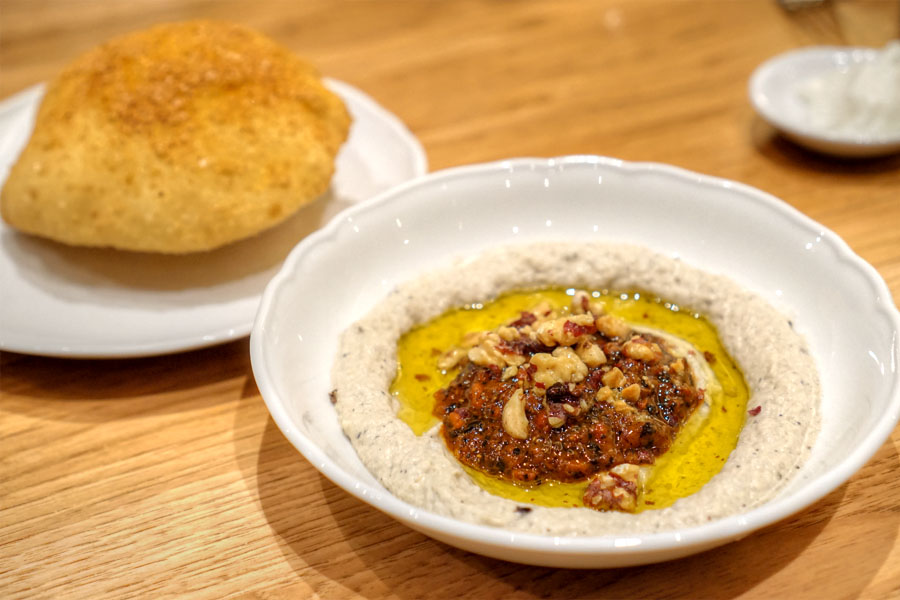 Baba Ghanoush [$11.00]
| smoked eggplant, burnt bell pepper, red walnuts, lemon chili salt, fried pita
The meal proper commenced with an order of
baba ghanoush
. I found it subtly smoky, but also sweet-ish, and I was a big fan of the nutty, peppers flavors contributed by the dish's various toppings. Not to be outdone was the paired pita, which was light, fluffy, and almost donut-y in consistency, with a slight sweetness and salty/spicy edge. A promising start.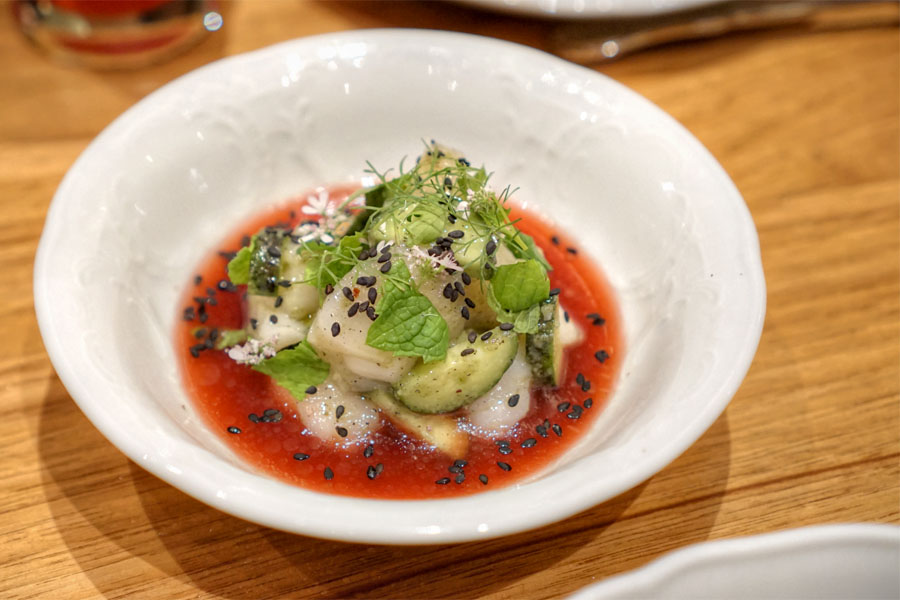 Scallop Crudo [$18.00]
| pomegranate molasses, citrus, burnt serrano chile oil, charred cucumber, mint, black sesame
This next dish came highly touted by our server, and he was right on the money. Scallops were almost creamy to the bite, and had their soft, saline flavors complemented by the fruitiness of pomegranate and, more importantly, a wonderfully sharp, growing heat that made for a pleasant surprise. Excellent herby finishing note as well.
Darrah [$15.00]
| Cooler - blanco tequila, orgeat, grapefruit, lime, cucumber, crushed ice
In terms of going down easy, this cocktail definitely delivered with its bevy of bright, floral, fruity flavors, set against just a bit of nutty, vegetal nuance.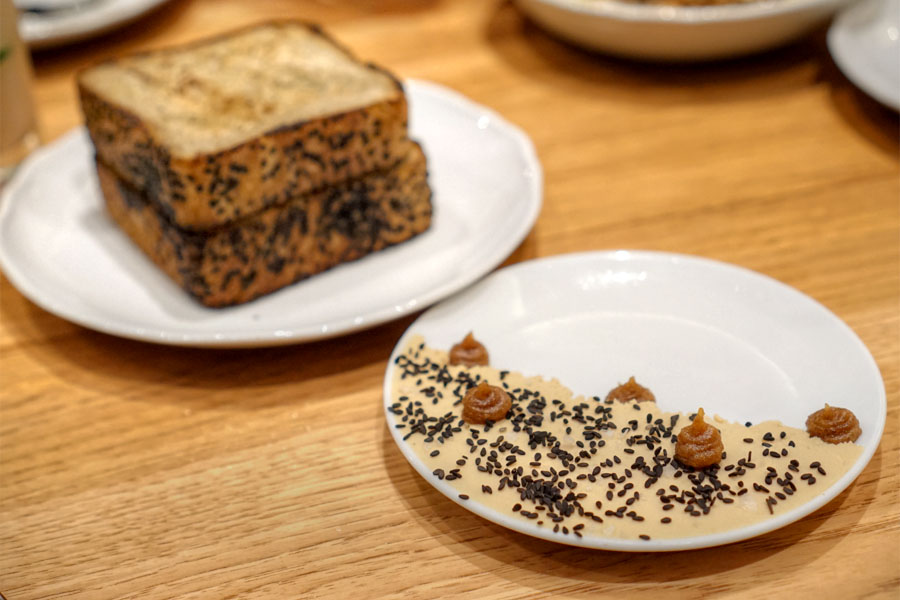 Foie Gras Halva [$19.00]
| creamy pâté, date paste, black sesame, buckwheat loaf
Menashe reworked the traditional Mideast confection of
halva
into a smooth, nutty paste imbued with the refined earthiness of foie gras and punctuated by the sweetness of date. And the buckwheat bread? Delightfully smoky, nutty, superb, delicious.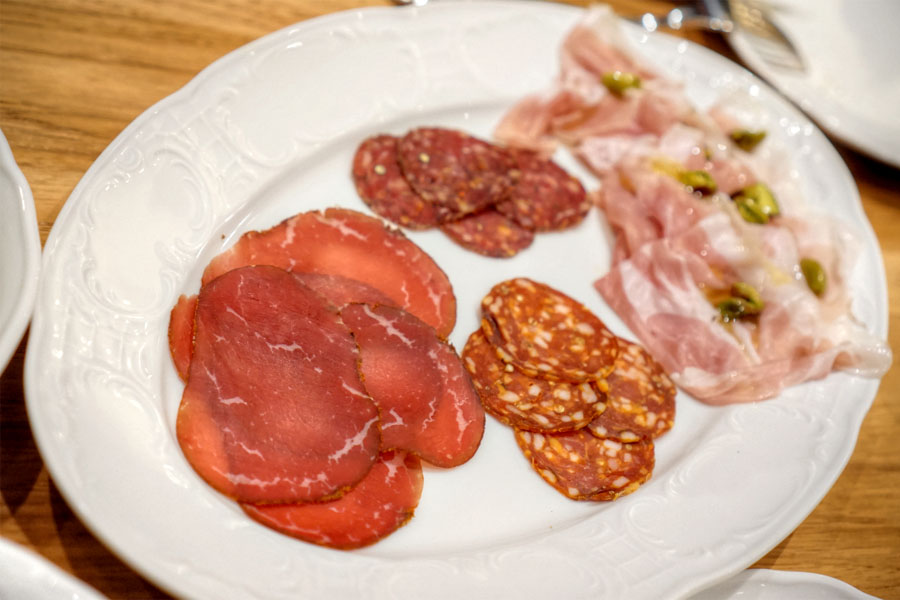 Middle Eastern Cured Meats [$24.00]
| chef's selection
Next came a foursome of house-cured, house-aged meats. Clockwise from right:
There was a lot that went into this two-year-old prosciutto, which was actually started at Bestia. It was cured in turmeric salt for 35 days, rinsed, then aged for six months. Following, pig stomach lining was whipped with orange blossom oil, black pepper, turmeric, and rice flour, then spread over the leg, which was aged another year-and-a-half. The end result was pretty sublime. Texturally, it was super melt-in-your-mouth, rich, creamy, fatty, but even more notable was the taste, which meshed your typical porkiness with a beautifully floral character from the orange blossom, making for a familiar, yet pleasantly surprising experience.
Salami was enriched with harissa, but this particular harissa was made with bell pepper, giving it a much sweeter flavor profile than you'd expect.
Turkish style pastirma was coated with paprika, fenugreek, cumin, allspice, chilies, garlic, and lots olive oil, then air-dried in a more-humid-than-usual environment. This made for a lusher texture, while flavors were spicy and slightly astringent, with a great floral, herbal element on the back end.
Last up was the sujuk, a sort of beef salami with chili flakes, sumac, allspice, black pepper, and lots of garlic, which Menashe injected with olive oil for hydration purposes. I found this one richly flavored, with a robust savoriness and long lasting spice on the finish.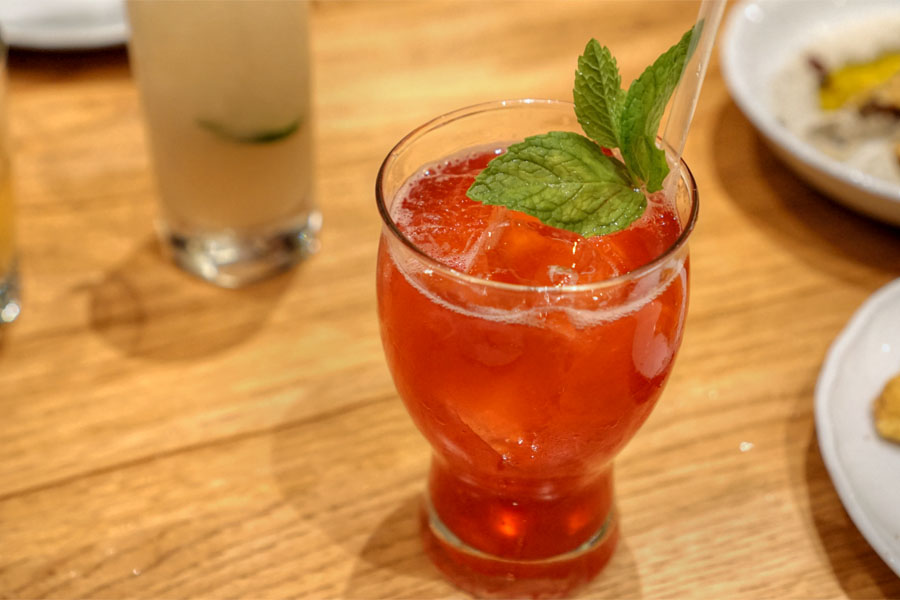 Saffron [$6.00]
| pink lemonade with pomegranate & cinnamon / sparkling
Here was our sole non-alcoholic cocktail of the night, a refreshing, ruby-hued number named after the Chefs' daughter.
Duck 'Nduja Hummus [$13.00]
| creamy garbanzo beans, Jerusalem mix spice, herbs, pita
We were given a sample of the hummus, which is based on a recipe that Menashe had apparently been working on for three years. His effort showed, as it was arguably the best I've had. Texturally, I found it super silky, yet still substantial, with the chickpea well-conveyed, but also perfectly matched with the fire and funk of
'nduja
. Also of note here was the pita. Compared to your usual flat, dense versions, Bavel's olive oil-enhanced preparation was soft, fluffy, airy, and absolutely top-notch.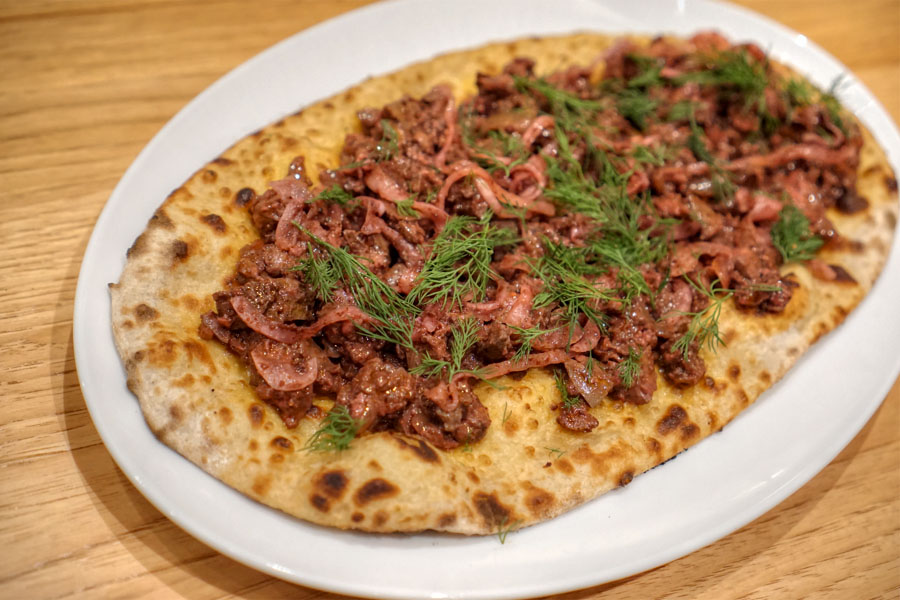 Chicken Liver [$16.00]
| merguez spice, caramelized onions, sour sumac onions, dill
Our choice of flatbread featured the earthy intensity of chicken liver, which went seamlessly with the considerable spice in the dish, while the finish showed off zesty notes of dill. As for the bread itself, I found it mostly supple, but with just enough crispness and bite to it.
Zahra [$14.00]
| Sour Rocks - coconut bourbon, dry V, gerwurtz syrup, lychee, alliums, crushed ice
This cocktail showcased a floral, fruity bouquet, while its palate was rife with lychee, light coconut, and nary any trace of booze. Easy drinking for sure.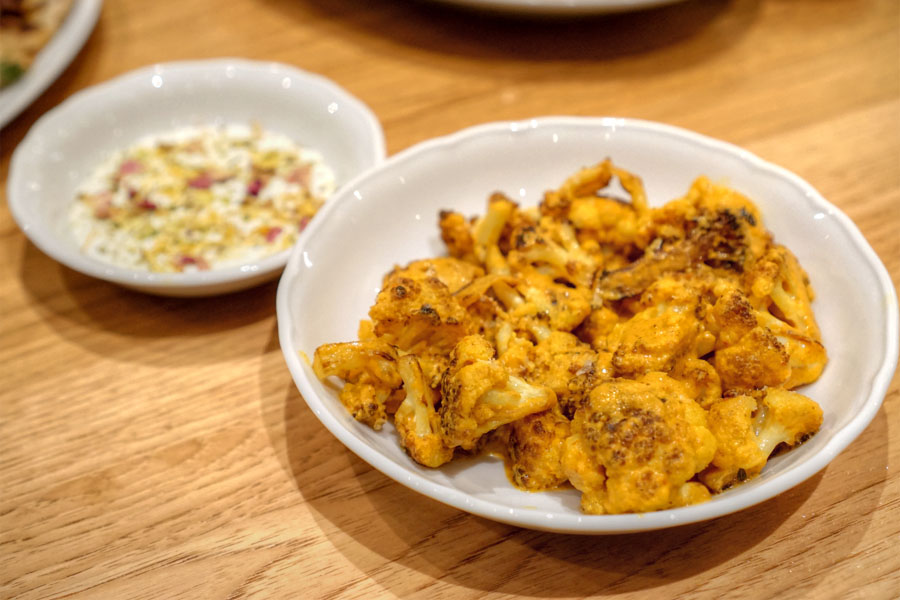 Roasted Cauliflower [$16.00]
| hawaij chile sauce, créme fraîche serrano dip, pistachios, dried flowers
Hawaij
-spiked cauliflower was a winner, displaying a creeping, curry-like spice and heat that really called for a dab of that the cool, floral (marigold, rose, orange blossom) dip.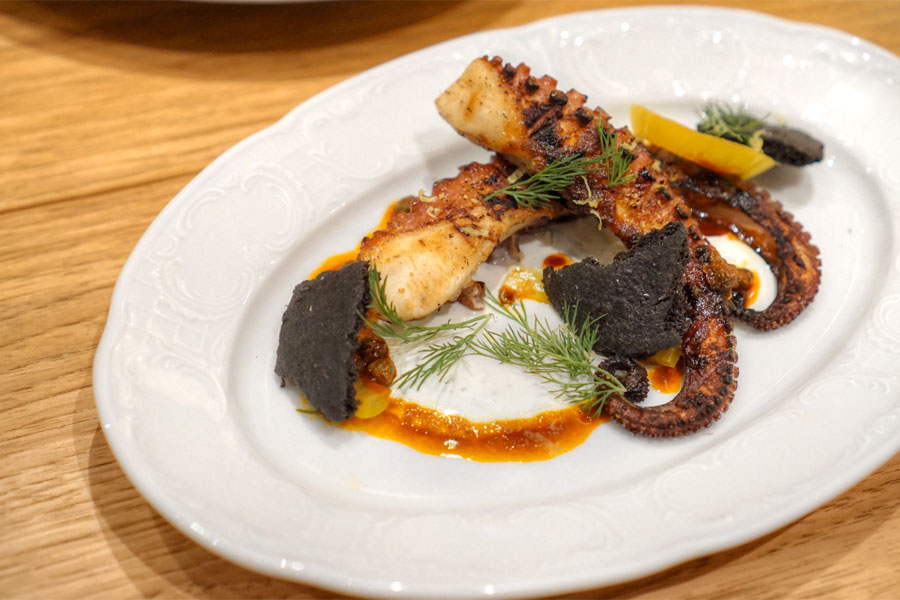 Grilled Octopus [$21.00]
| herbed yogurt, fried squid ink pita, capers, smoked paprika oil, turmeric pickled onions
Bestia's known for having some of the best octopus in town, so we had to give it a go here as well. It came out as tender as expected, and teeming with proper amounts of char and smoke. I enjoyed it alone, but the back-and-forth between the paprika oil and yogurt worked wonders, too.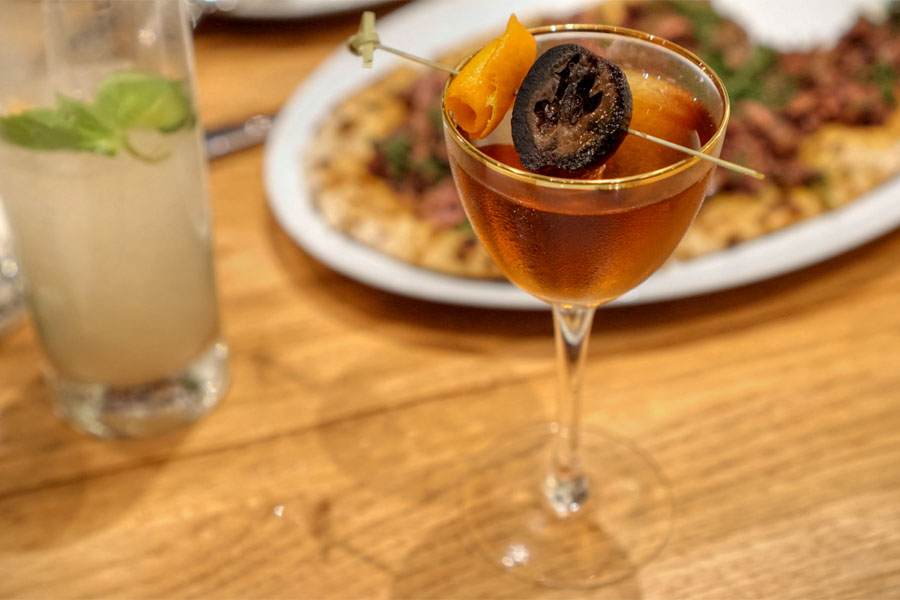 Arioch [$16.00]
| Manhattan - japanese whiskey, amaro, sherry, black walnut
This variation on the classic Manhattan cocktail certainly worked for me. I got aromas of dark fruit and light amaro. The taste brought more of that fruit, joined by boozy heat, some nutty character, flowers, and my favorite part: the oxidative quality of that sherry.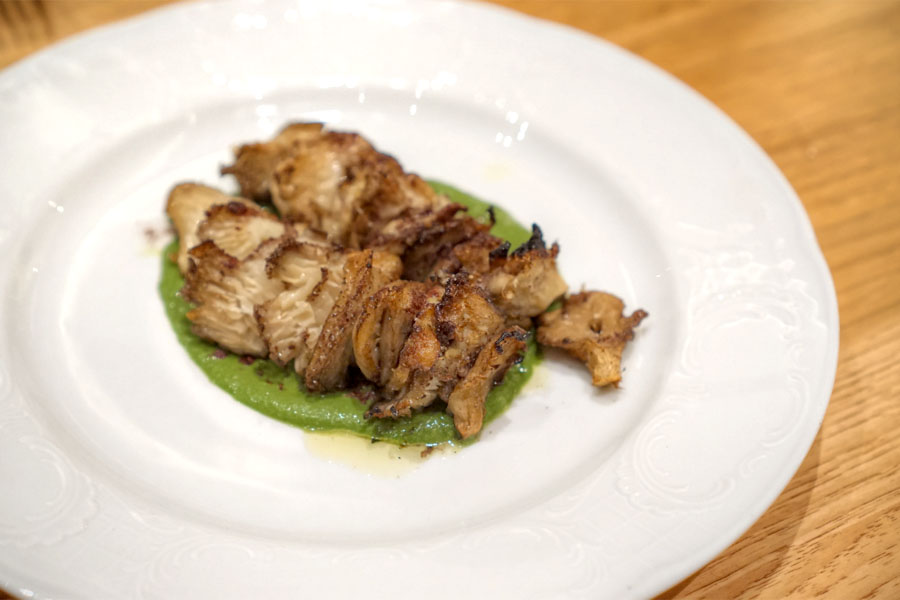 Grilled Oyster Mushrooms [$16.00]
| stinging nettle cardamom puree, turmeric, sumac
This dish was our server's favorite, and once again, he was spot on. I loved the huge amounts of char and sear going on here, and how that worked with the super savory, meaty 'shrooms, the nettle purée imparting a welcomed brightness to the mix. More than any other, this showed off the marvelously smoky potency of the grill.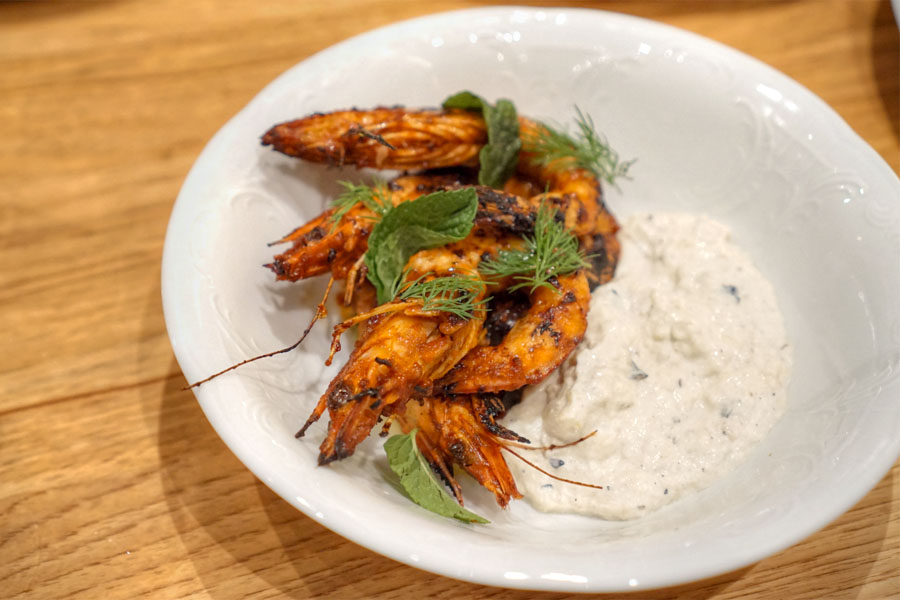 Grilled Prawns [$24.00]
| harissa marinade, eggplant tzatziki, herbs, lime
Cooked-just-enough prawns had their brine matched by a sweet, smoky, multifaceted spice.
Tzatziki
made for a cool, creamy counterpoint, and the herbs were a great finishing touch as well.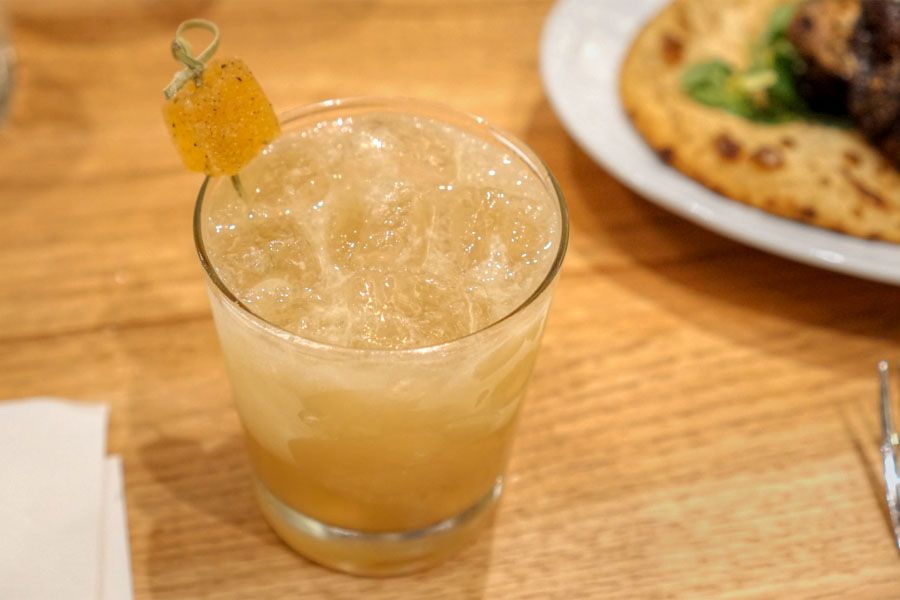 Marius [$16.00]
| Daisy - mezcal, amaro, apricot, lime, mole, gumdrop, pistachio
Here we had a delectable marriage of stone fruit and an almost honeyed sort of sweetness, balanced by a noticeable bitterness and the booziness of mezcal underneath.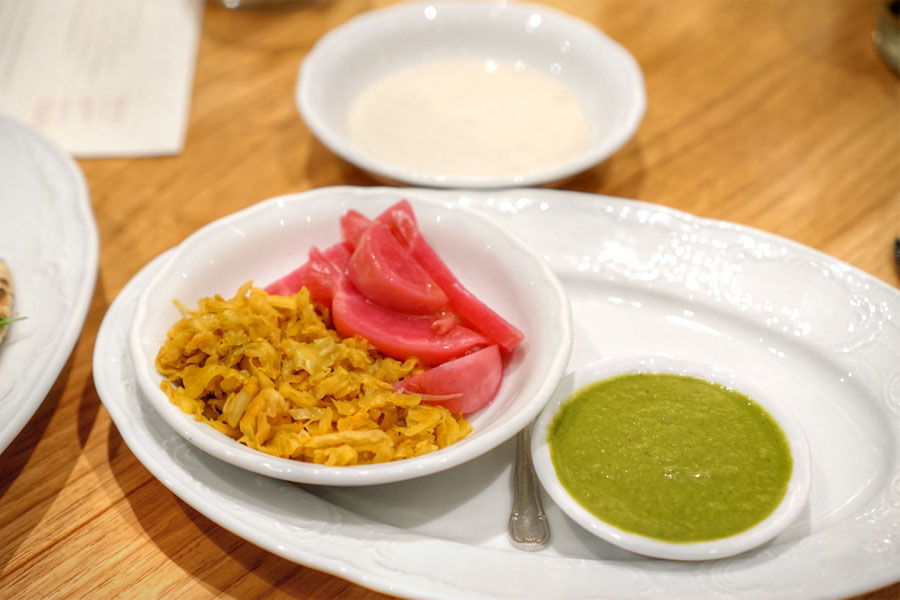 Slow Roasted Lamb Neck Shawarma [$38.00]
| créme fraîche tahini, fermented cabbage, pickled turnips, laffa
I had lamb neck on my last visit to Bestia, so I suppose it's appropriate to end with it tonight as well. The restaurant actually forgot to charge us for the dish, likely because we switched it out at the last second when we heard that there was only one order left (we'd initially gone with the wagyu tagine). In any case, the reworked shawarma is apparently Menashe's favorite dish, and with good reason. The slow-cooked meat arrived falling-apart tender, with pronounced flavors and just the right amount of seasoning. It's delicious just by itself, but you really have to take it all in with the tahini and pickles and
lafa
and
amba
--the overall effect is pretty magical, a perfect mix of meat, spice, acid, and crunch.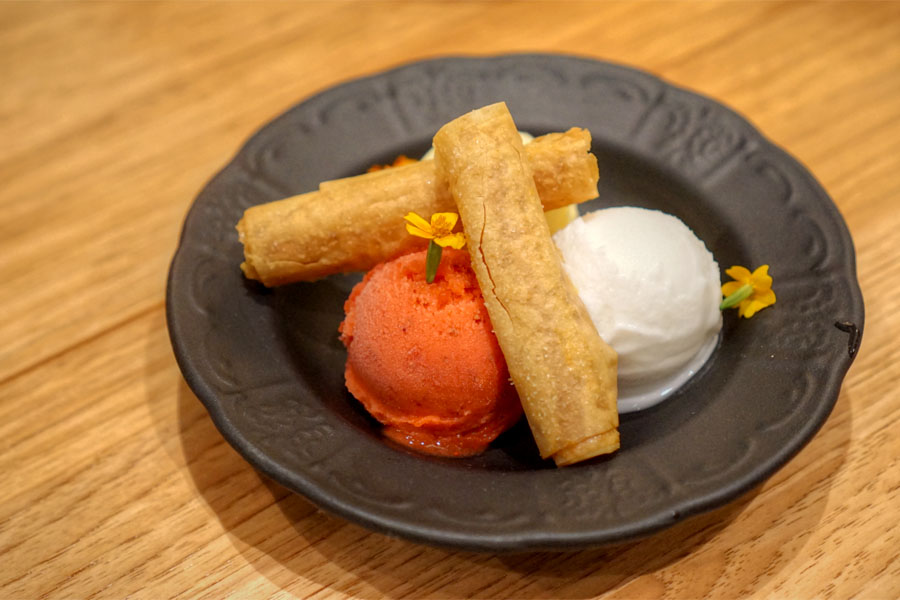 Frozen Medley [$11.00]
| frozen yogurt, strawberry & bitter orange blossom sorbet, meyer lemon saffron sherbet, served with saffron pirouettes
Time for some of Gergis' desserts. The sorbet was particularly sharp, acerbic almost, while the frozen yogurt ate sweet, with a definite lactic tang. Perhaps the most interesting of the three was the sherbet, which really highlighted the grassiness of saffron. Rounding this out were marigold flowers and cookies, which add some textural contrast.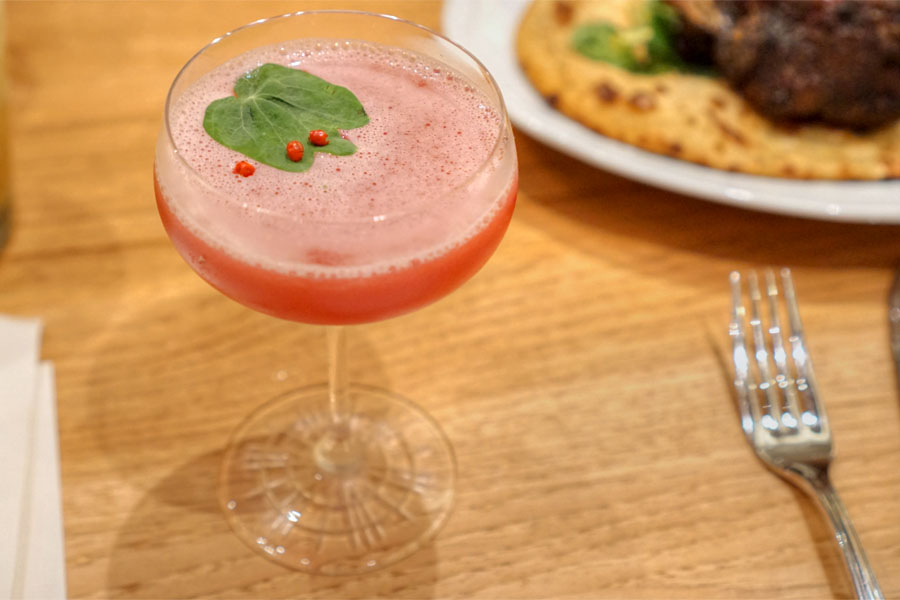 Omaira [$14.00]
| Sour Up - pisco, pear liqueur, grenadine, lime, pink peppercorn
The night's final cocktail was a riff on the classic pisco sour, and a rather fun one at that. It drank fruity for sure, with a nearly punch-like sweetness, but fortunately this was joined by a countering bitterness and lingering notes of spice and pepper.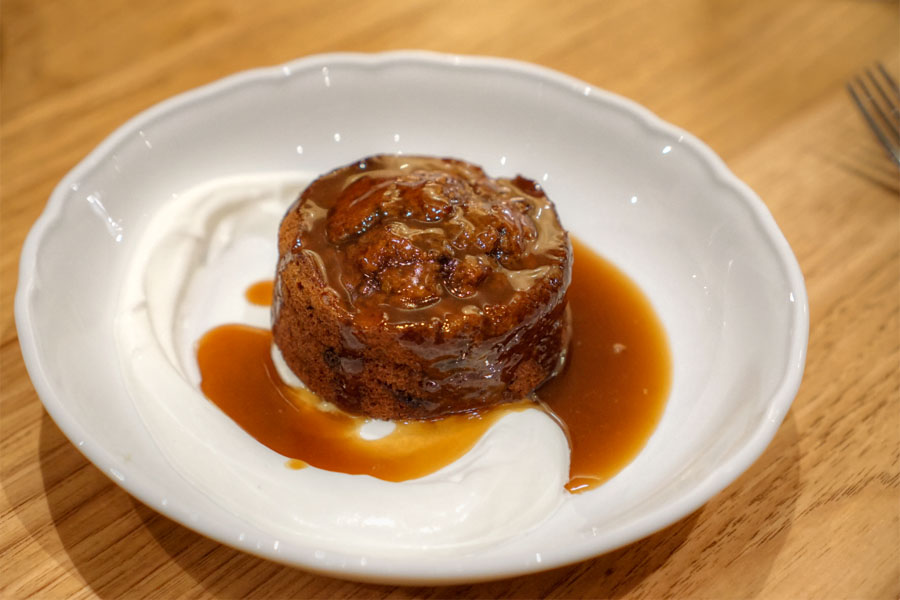 Cardamom Apple Prune Cake [$12.00]
| date toffee sauce, cream
Our next dessert resembled a sticky toffee pudding with its rich, dark fruit flavors and caramel-y sauce, but the dish's anise-slash-herbaceous notes and crème fraîche whipped cream imparted a welcomed lightness.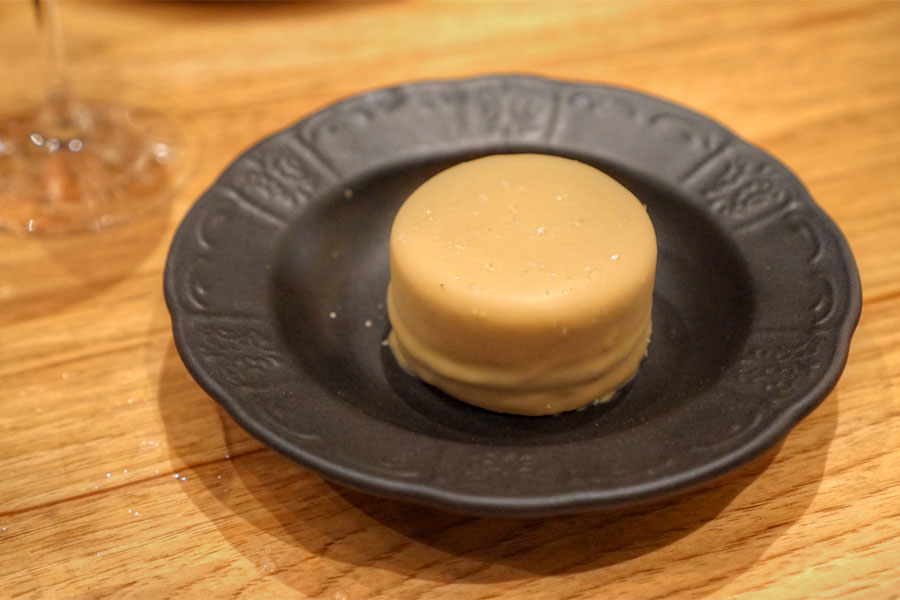 Licorice Root Ice Cream Bonbon [$10.00]
| sour licorice caramel, muscovado cake, caramelized white chocolate, maldon
We ended with the most interesting of the desserts, and my favorite of the bunch thanks to its sweet, spicy, almost bracing licorice flavors. I also got complementary nutty and dark fruit notes, and just a pinch of saltiness from the Maldon.
My dining companions and I left Bavel thoroughly impressed, even given the considerable hype and anticipation surrounding the place. The food I think does a great job communicating the essence of Mideast cuisine, and was impeccably executed, while the kitchen's nontraditional touches, techniques, and hints of modernity really make it special. Given how successful Bestia was, and is, Bavel's got a lot to live up to. Based on this experience, it looks to me like the restaurant's not only met expectations, but exceeded them.