Jaffa (Los Angeles, CA)
Jaffa Restaurant
8048 W 3rd St, Los Angeles, CA 90048
323.433.4978
www.jaffa.la
Fri 06/15/2018, 07:00p-09:40p

One of LA's latest new school Middle Eastern restaurants opened on January 31st. Named after an ancient port city that's now part of Tel Aviv, Jaffa ("yeah-foe" in Hebrew) is spearheaded by Chef Anne Conness (whom we last saw over at
Sausal
in El Segundo), and aims to present a modern, healthy interpretation of Israeli fare.
Running the show day-to-day, however, is Executive Chef Santos Navarro. A native of Oaxaca, he came to the Southland in 1988 and started out working as a dishwasher. He would eventually become kitchen manager at Matisse, located on Santa Monica's Third Street Promenade, and then spent time at Jose Noel's French Country Cafe in Beverly Hills. This was followed by time cooking under Eric Klein at Maple Drive Restaurant, now home to
Suzanne Goin
's Larder at Maple Drive. At the end of 2005, Navarro moved to Napa Valley Grille in Westwood, where he would later become CdC. It was also here that he first met Conness, who ran the kitchen from 2005 to 2006. In June 2009, he followed her to the new Tin Roof Bistro in Manhattan Beach, and subsequently attained the position of Executive Chef at the restaurant. Apparently, the two got interested in Mideast cuisine at a conference back in 2012. As a result, they began experimenting with the food, and later visited Tel Aviv for inspiration, and hence here we are today.
Navarro is joined by Consulting Pastry Chef Natasha Macaller, who spent 30 years as a professional ballerina. During that time, she also started Dancing Chef Catering, focusing her efforts on the entertainment industry. In 1996, she finished an 18-month program at the Colorado Culinary Institute, then went on to work at Chicago's iconic
Charlie Trotter's
under Pastry Chef Michelle Gayer. "Tash" then cooked at
Spago
(with Sherry Yard) and
Campanile
, where she first met Anne Conness. Following, she secured her first Pastry Chef position at Jeff Peterson's Union in Santa Monica (the space was last home to Wokcano). Macaller went on to write two cookbooks, and is working on a third. She's also the person responsible for the dessert program at Sausal, so this is the second time she and Conness have collaborated.
Rounding out the team are General Manager/Operating Partner Nancy Vrankovic, an alum of Tin Roof Bistro and Sausal, as well as Brad Conroy, head of Conroy Commercial (the real estate company responsible for leasing the property).


Jaffa occupies an address previously home to Blue Plate Oysterette, Luigi's on 3rd, Burger Kitchen, and Surya India. The indoor-outdoor space was penned by
M Winter Design
, a local firm responsible for the likes of
Manuela
, Gjusta, The Lincoln, and Melrose Umbrella Company. The most interesting facet of the design for me was the use of sandstone on the walls, which definitely gives the spot an aesthetic appropriate for the food being served.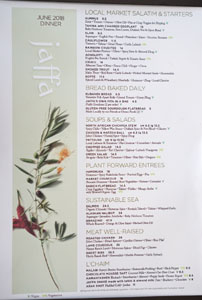 And speaking of the food, Jaffa's menu features modern Israeli cuisine with a plant-based slant. Lunch/brunch are also offered, and the place caters, too. Click for a larger version.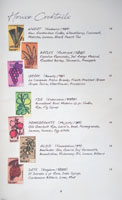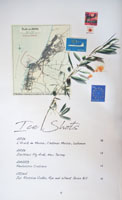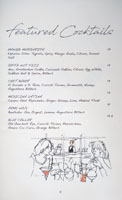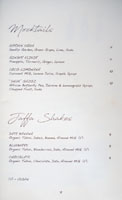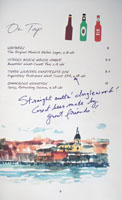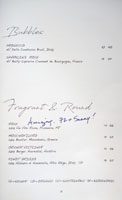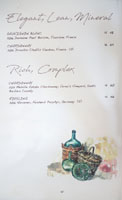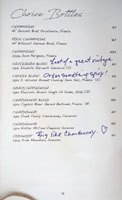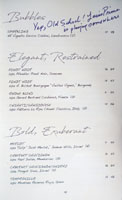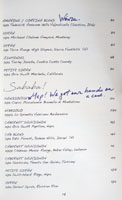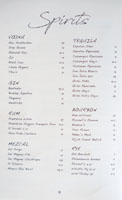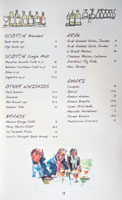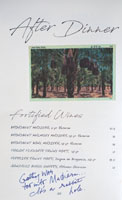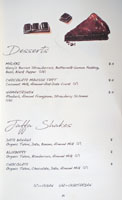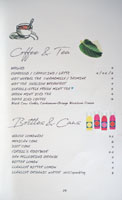 Drink-wise, we were most interested in the cocktail program, which was designed by Aly Iwamoto (
Here's Looking at You
, The Varnish). There's also a small beer selection and a brief-but-global wine list. Click for larger versions.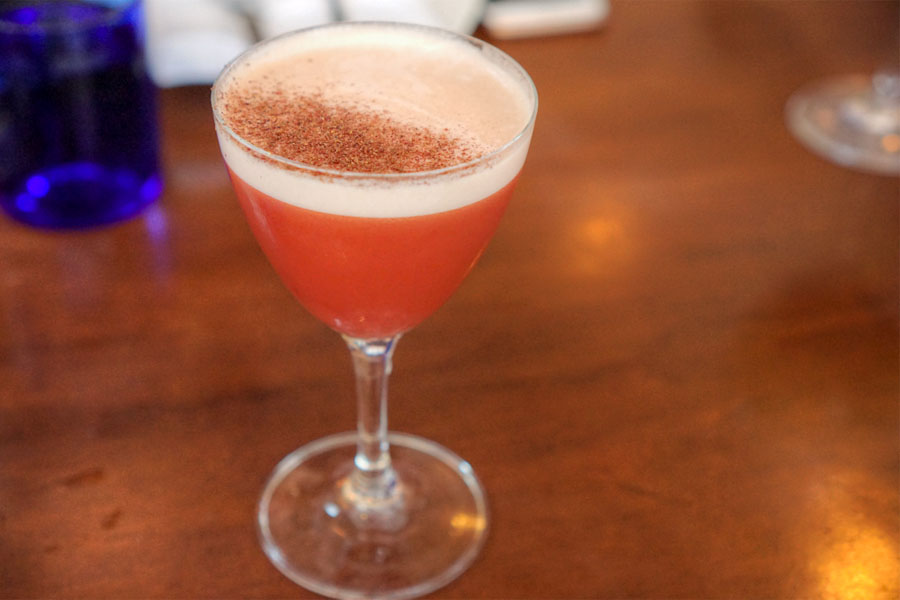 Pomegranate [$14.00]
| Old Overholt Rye, Laird's, Beet, Pomegranate, Lemon, Sumac, Egg White
The pomegranate-based cocktail was one of favorites this evening. I certainly got the sweet-tartness of the fruit on the nose, while the taste showcased more the earthy sweetness of beet along with bitter, spicy notes and a nuttiness on the close.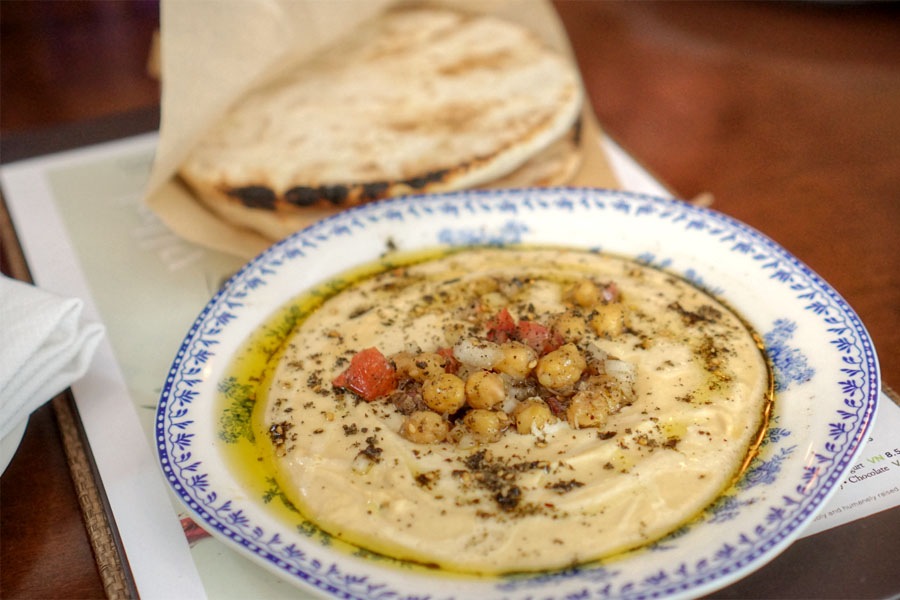 Hummus [$9.50]
| Zatar • Tomato • Onions • Olive Oil • Pita or Crisp Veggies for Dipping
Naturally, we had to start with Jaffa's take on hummus. It was a creamy, smooth preparation that meshed beautifully with the olive oil. Even better, though, was the zestiness of the paired onions. As for the pita, it was a fairly prototypical preparation--dense, slightly chewy, but with a nice crispness to it.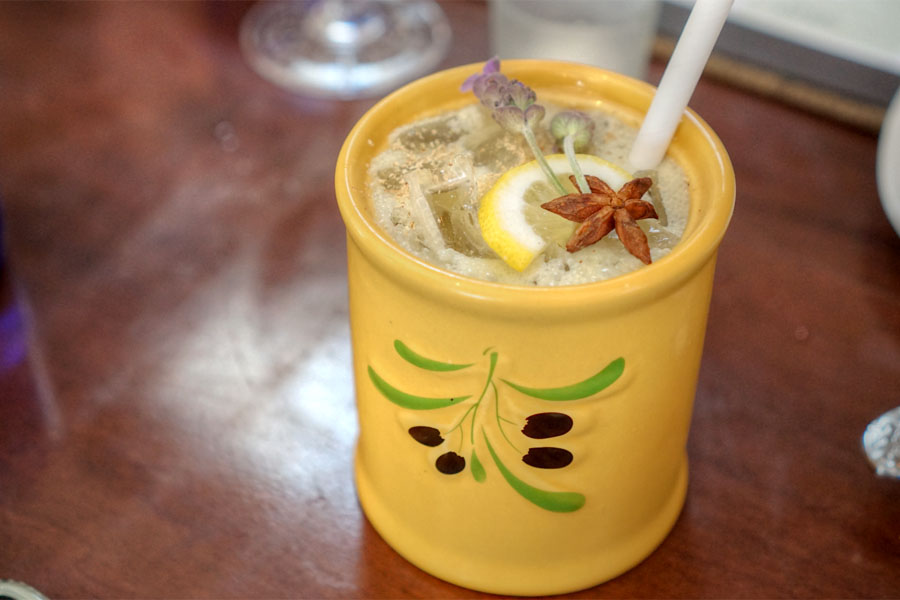 Wheat [$14.00]
| New Amsterdam Vodka, Wheatberry, Coconut, Matcha, Lemon, Black Pea Tea
Our next drink featured wheat berries, and was the most unexpected cocktail of the night. What really struck me was that it actually tasted strongly of
popcorn
, which I didn't necessarily mind, since it worked pretty well with the fruity elements present.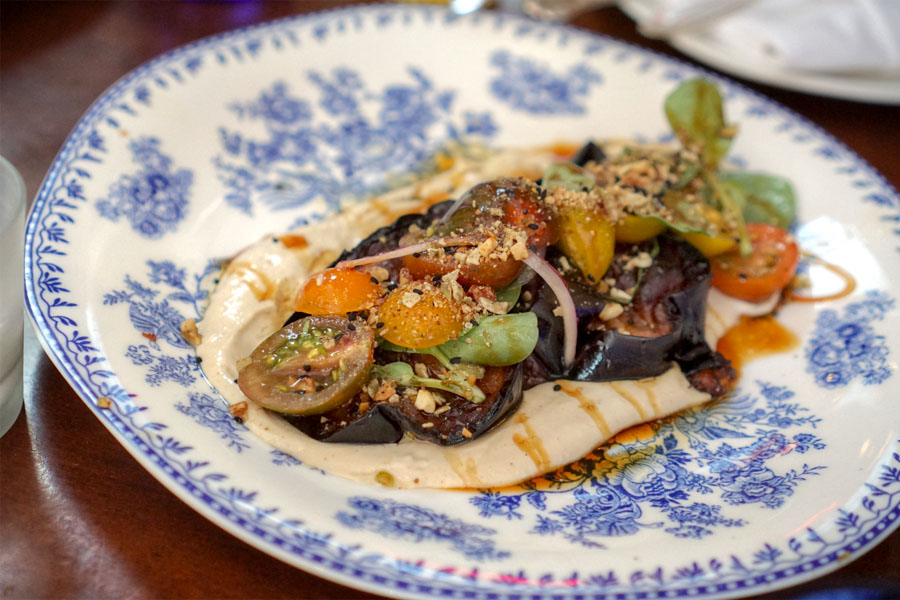 Tahina with Charred Eggplant [$16.00]
| Baby Heirloom Tomatoes, Fava Leaves, Dukkah Nut & Spice Blend
Smoky, charred slices of eggplant had an effective back-and-forth with the lushness of tahini, all while tomatoes served as a light, juicy counterpoint.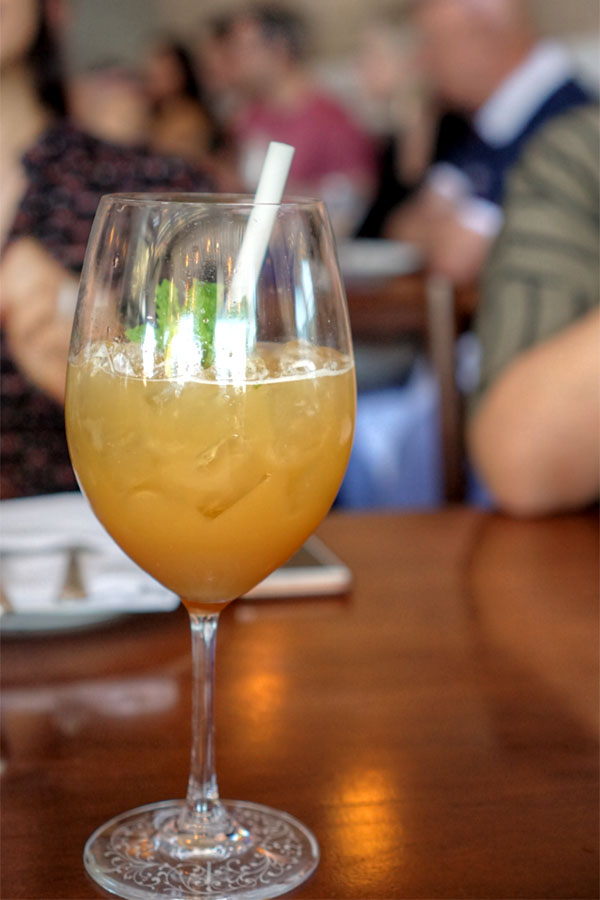 Date [$12.00]
| El Dorado 5 yr Rum, Date Syrup, Cardamom Bitters, Lime, Mint
The date cocktail was on the easy-breezy side for sure. I got lots of mint initially, which gave way to date sweetness and spice, as well as a finish rife with some almost curry-like notes.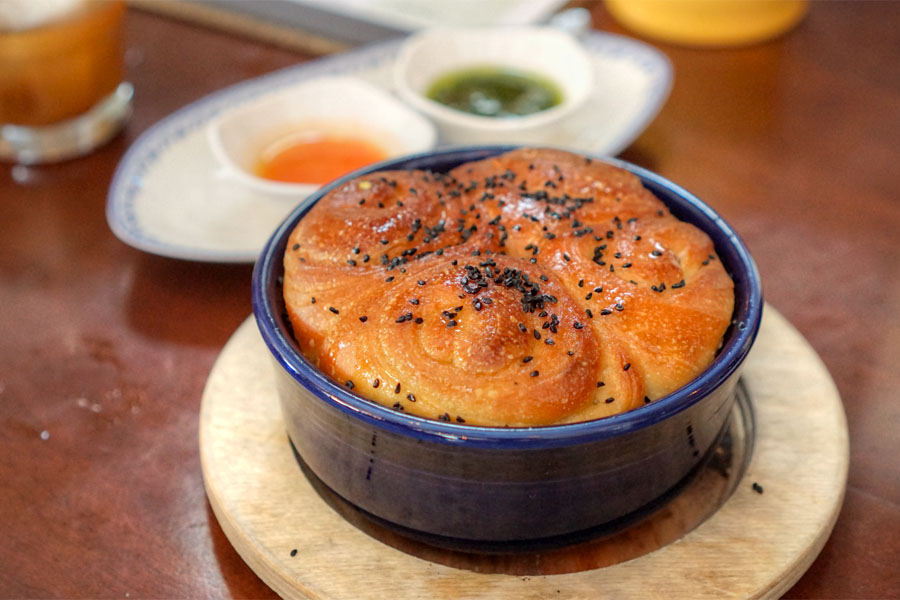 Kubaneh Bread [$9.50]
| Yemenite Pull-Apart Rolls • Grated Tomato • Green Zhug
The
kubaneh
was a favorite of ours. The bread pulled apart as easily as advertised, and had an airy-yet-substantial consistency, while its flavors were nutty, buttery. I really enjoyed it alone, but it was even better with a dab of tomato sauce or bright, zesty
zhug
.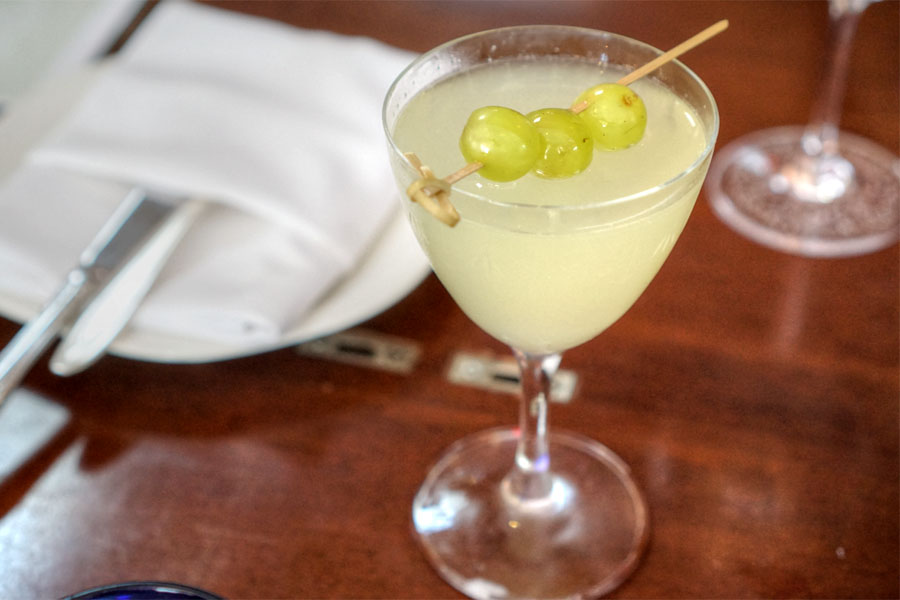 Grape [$13.00]
| La Caravedo Pisco Brandy, Fresh-Pressed Green Grape Juice, Elderflower, Prosecco
This cocktail was all about that sweet, juicy grape, layered over a base of pisco that provided just a touch of booziness for balance.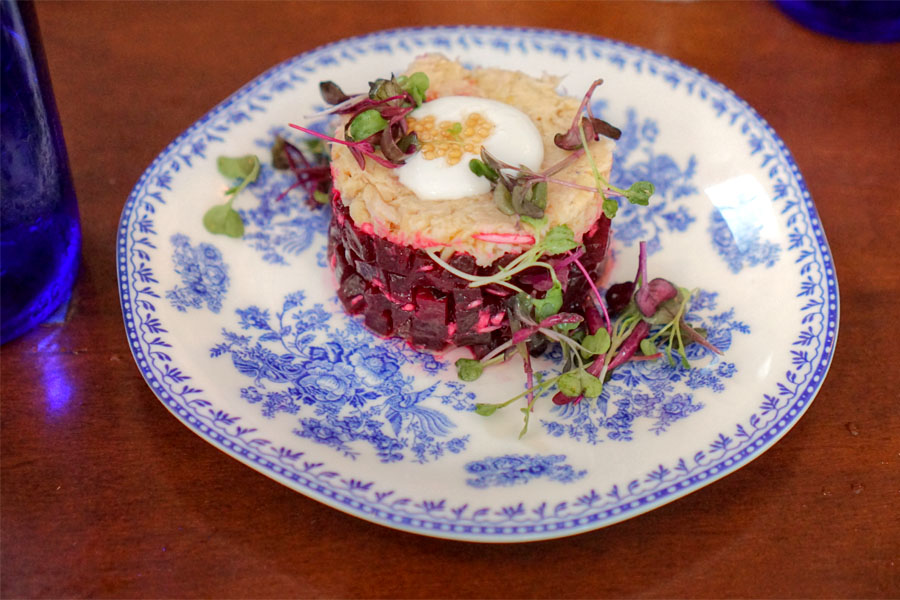 Smoked Trout [$14.50]
| Idaho Trout • Red Beets • Garlic Labneh • Pickled Mustard Seeds • Horseradish
The trout was smoky enough, and went pretty well with the sweetness of the beets, which also provided a textural contrast. Moderating everything, meanwhile, was that creamy, zippy
labaneh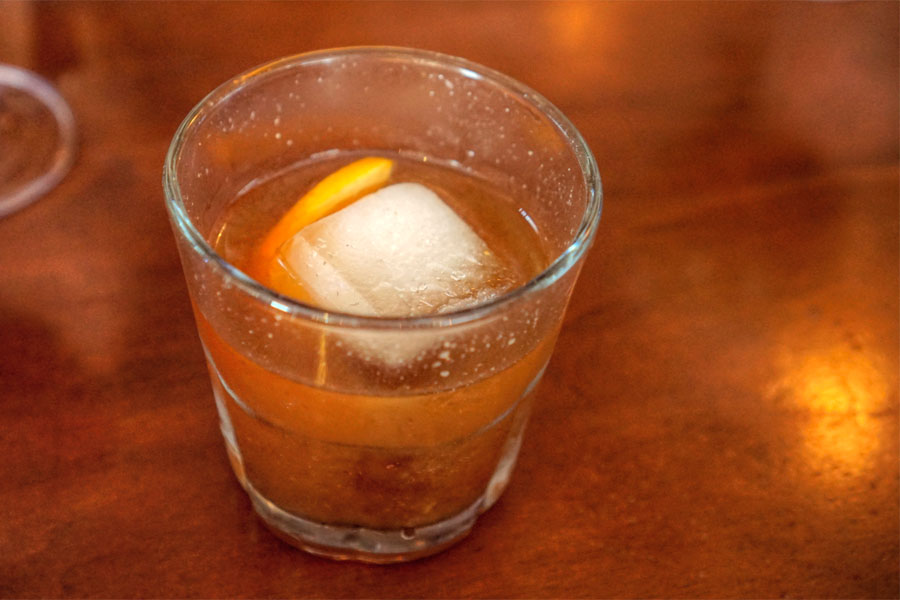 Fig [$13.00]
| Broadbent Boal Madeira 10 yr, Vodka, Rye, Fig Syrup
One of the headier cocktails we tried, this one smelled pretty great with its aromas of sweet, dark fruit and undercurrent of heat. Its taste was boozy but balanced, giving up more Madeira notes along with a sweet spiciness and a touch of bitterness.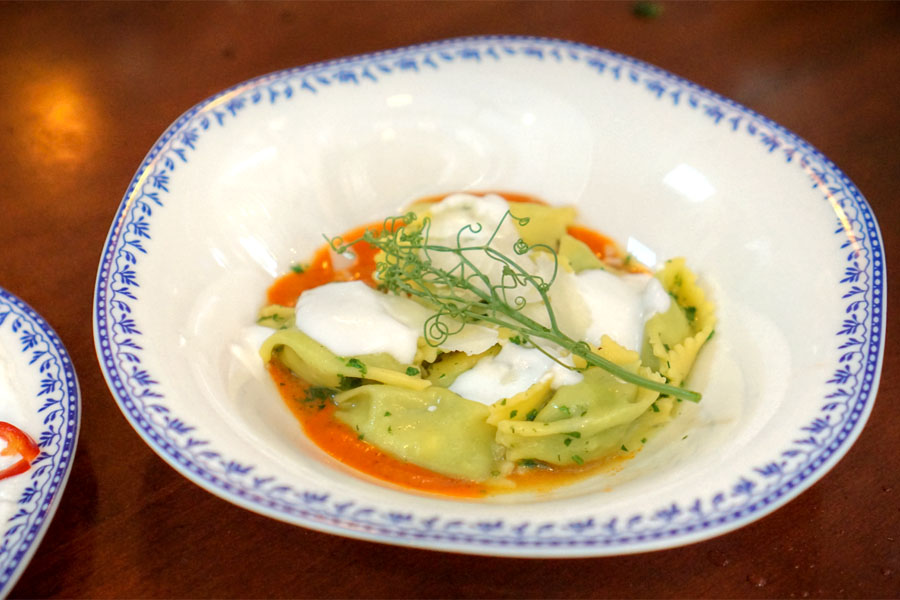 Agnolotti [$15.00]
| English Pea Ravioli • Turkish Yogurt & Tomato Sauce
Our sole pasta dish was to my liking with its bright, focused flavors of pea leading to the tanginess of that tomato sauce.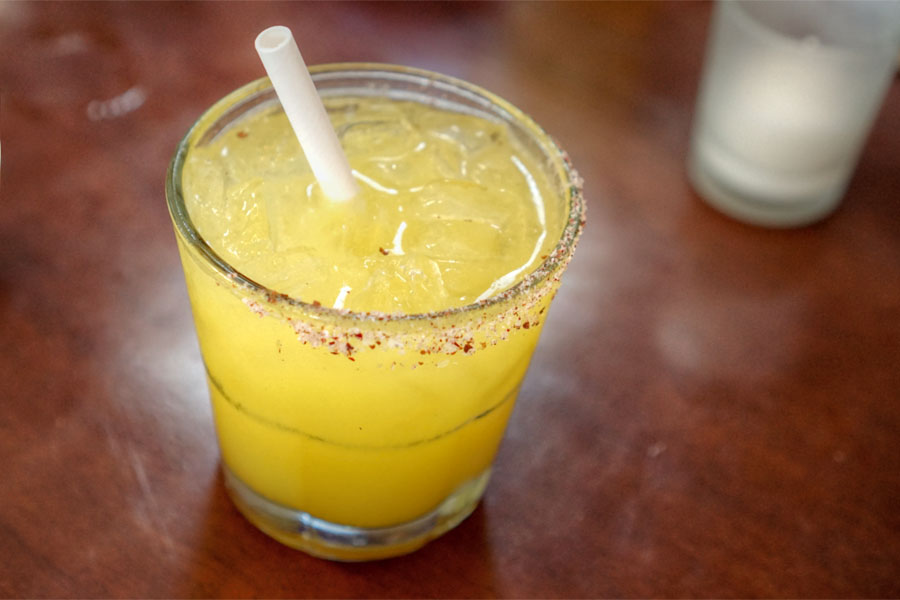 Mango Margarita [$12.00]
| Espolon Silver Tequila, Spicy Mango Amba, Citrus, Sumac Salt
This mango-fied margarita kicked the classic cocktail up a notch with its sweet, fruity nuances and pricks of spicy heat.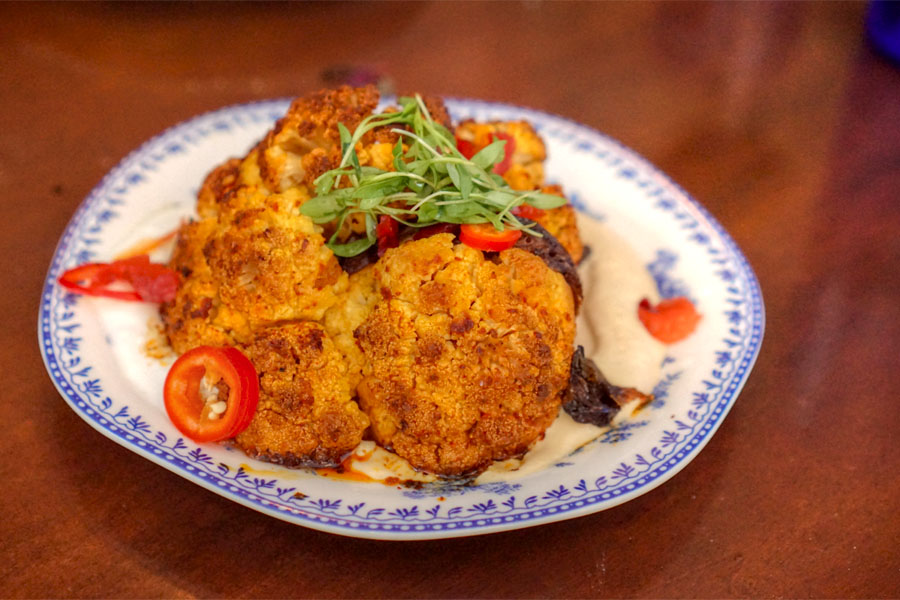 Cauliflower [$11.50]
| Turmeric • Tahina • Dried Plums • Garlic Labneh
I'm usually a big fan of cauliflower, but this preparation missed the mark. Texturally, it was just far too mushy, lacking in any crispness or snap. I also found it underseasoned, and the most dominant taste here was a sort of tea-like astringency that didn't sit very well with me.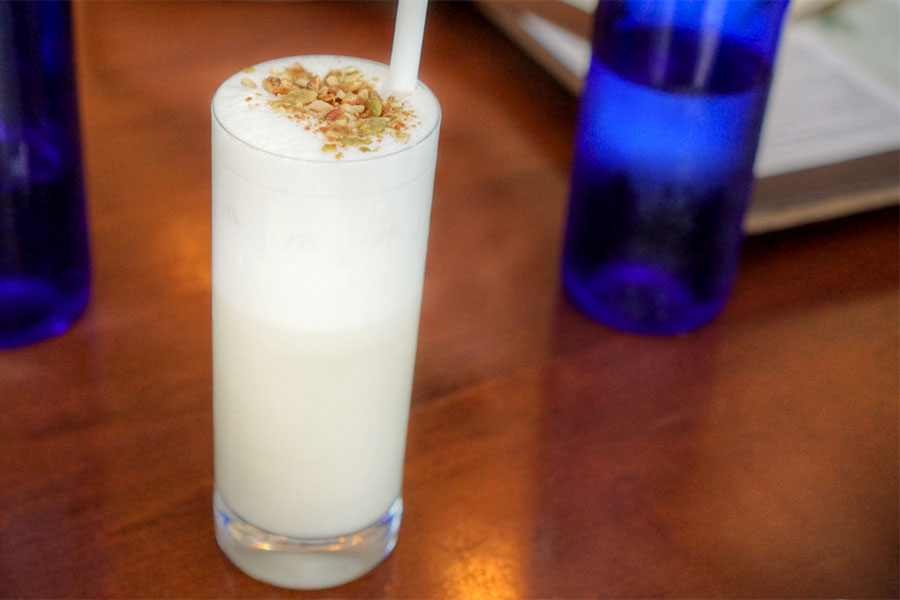 Jaffa Nut Fizz [$12.00]
| New Amsterdam Vodka, Coconut Saklov, Citrus, Egg White, Dukkah Nut & Spice, Bitters
This next cocktail definitely went down easily. Think nutty, sweet, creamy, with a nice touch of spice on the finish.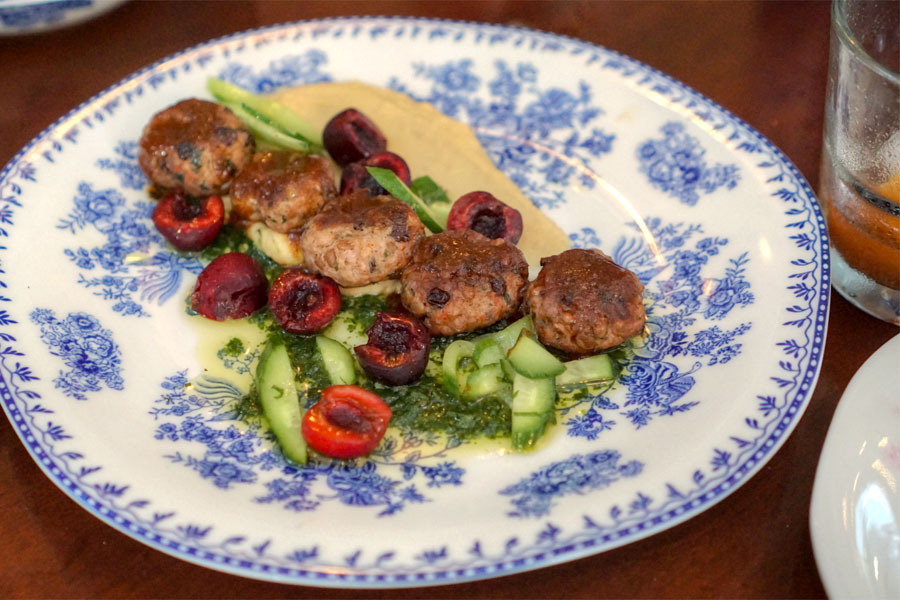 Kofte [$17.50]
| Spiced Lamb & Wheatberry Meatballs • Hummus • Zhug • Local Cherries
Kufta
, unfortunately, were on the tough, gritty side and not very juicy. Taste-wise, they had a sort of sweet-n-spicy character, which called for the application of
zhug
and hummus for balance.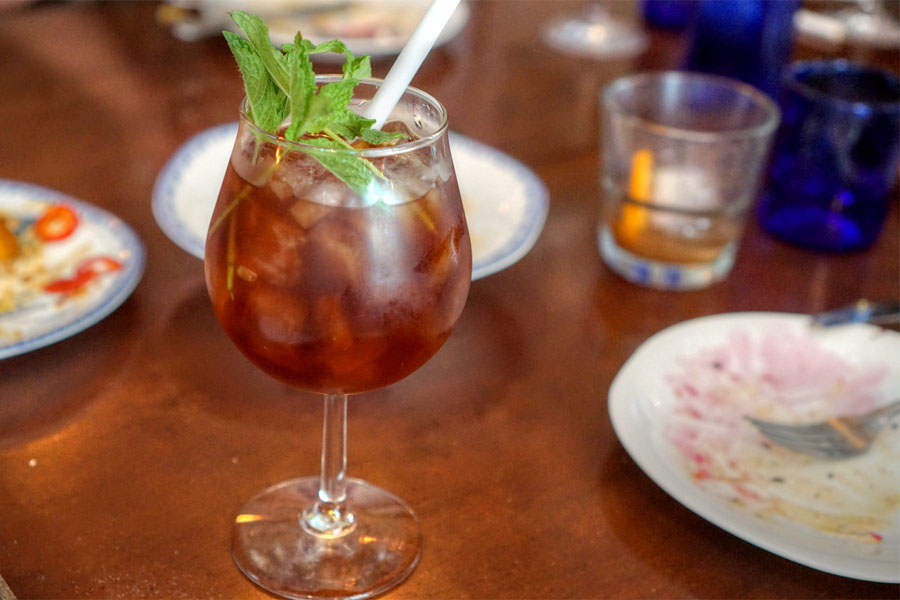 Israeli-Style Fresh Mint Tea [$5.00]
The tea was on point, and I appreciated the subtlety of the mint here.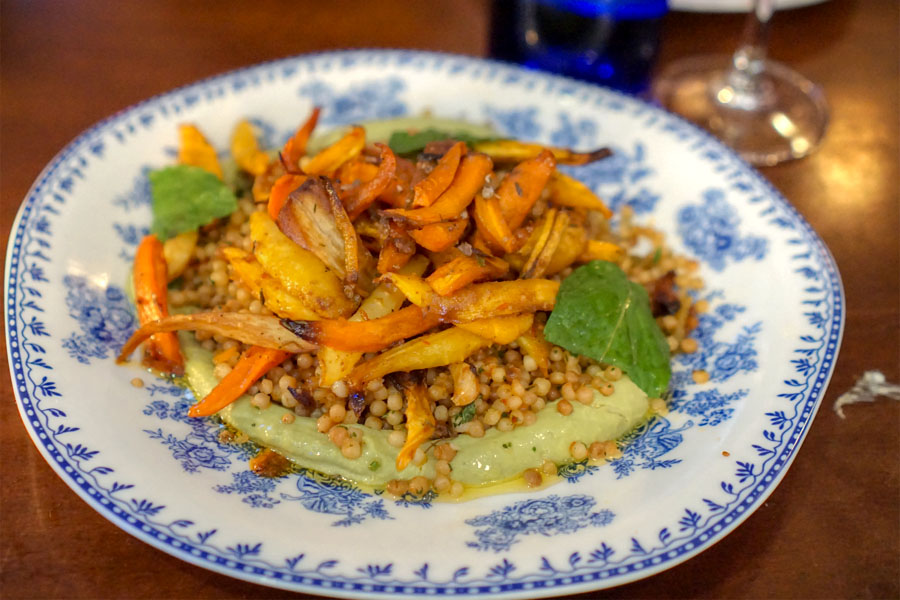 Market Couscous [$19.00]
| Avocado Hummus • Roasted Root Vegetables • Harissa • Coriander
Couscous was well-cooked, making for a proper base to the dish, and all the flavors made sense, especially the harissa and carrots. However, overall I just found this forgettable.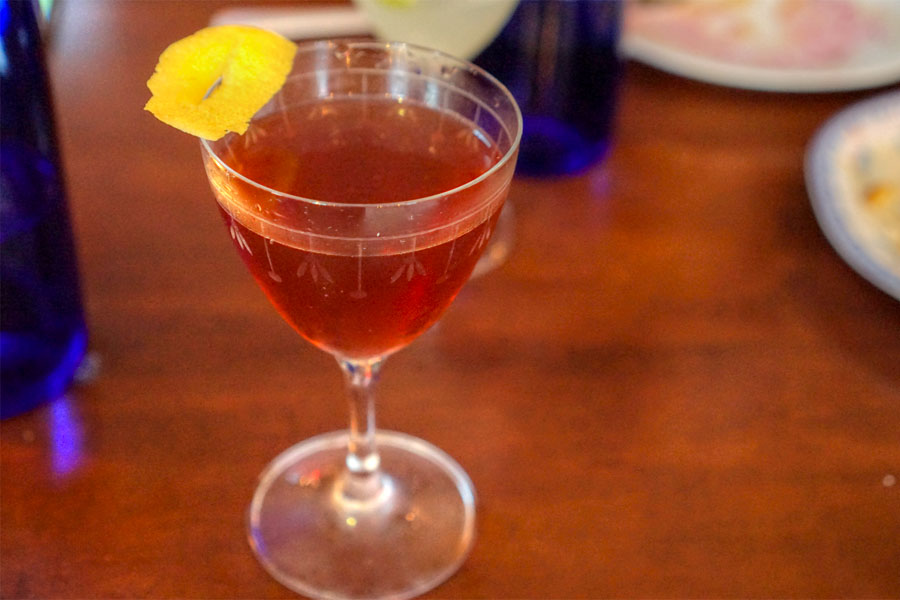 Blue Collar [$13.50]
| Old Overholt Rye, Cocchi Torino, Maraschino, Amaro Cio Ciaro, Orange Bitters
Strong citrus on the nose here, with the aromatics of the vermouth peeking through. The taste was definitely boozy, and again I got the Cocchi up front, transitioning to the maraschino before finishing with a persistent bitterness.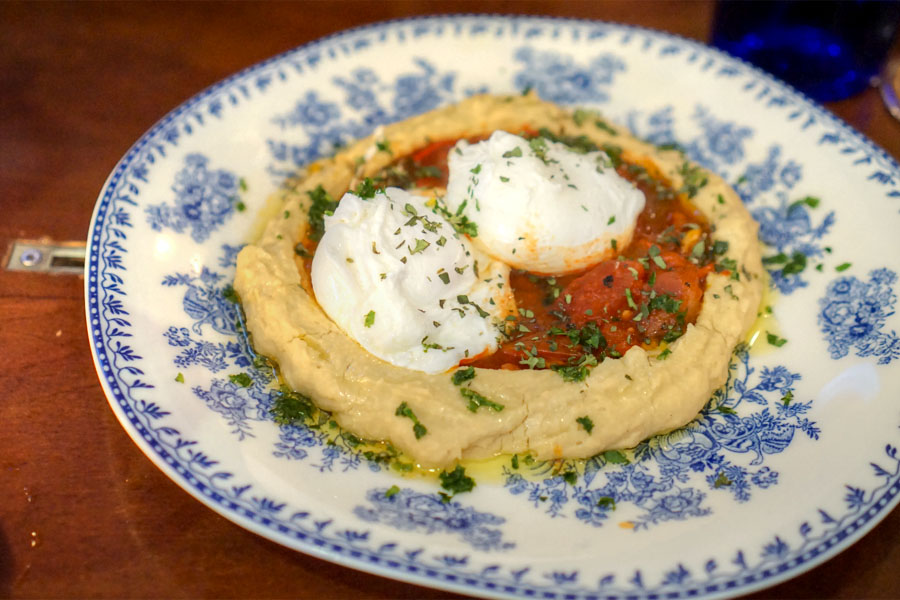 Hamshuka [$16.00]
| Hummus • Spicy Shakshuka Sauce • Poached Egg • Pita
This mash-up of hummus and
shakshouka
was a favorite of mine thanks to the interplay between the chickpeas and that spicy, homey chili-tomato sauce, while the poached eggs added a further lushness to the mix. Very enjoyable with the paired pita.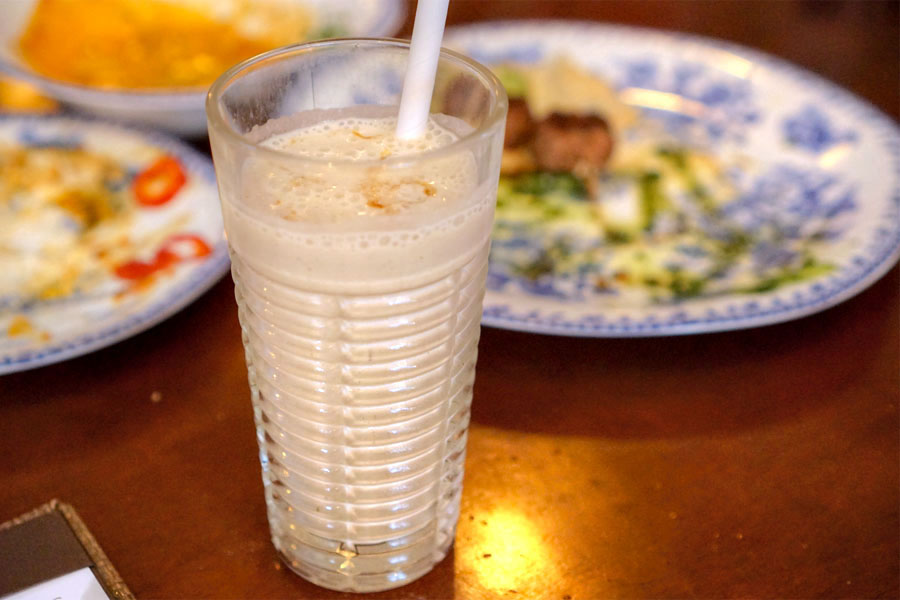 Date Banana [$8.00]
| Organic Tahini, Dates, Banana, Almond Milk
We made sure to try one of Jaffa's shakes. Though I really couldn't pick out any of the fruits, I did like the drink, especially the nuttiness on the back end from the tahini.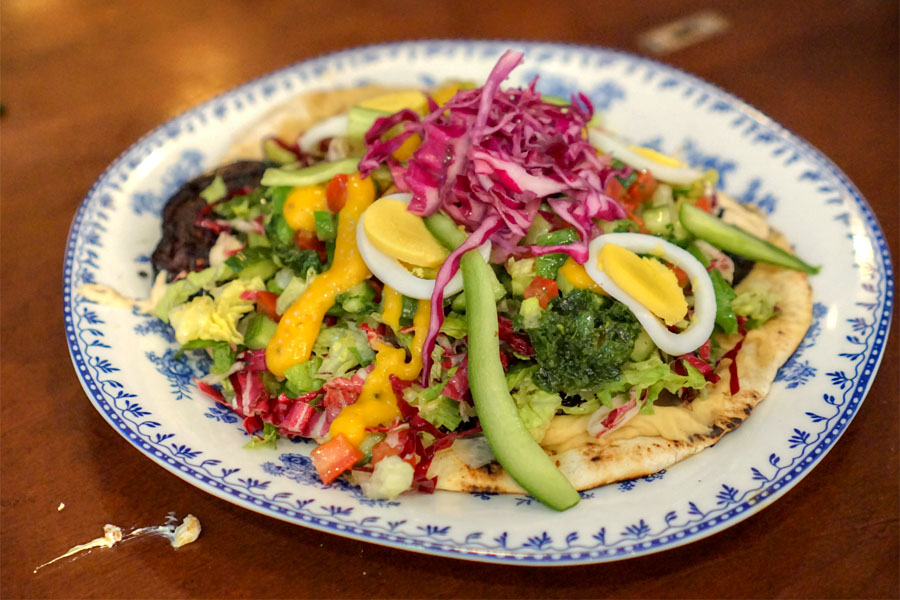 Sabich Flatbread [$14.50]
| Crisp Eggplant • Hummus • Tahini • Pickles • Mango Amba with Slivered Organic Egg
Jaffa's take on
sabih
had a smokiness to it from the eggplant, but otherwise I found the dish rather bland. The
amba
didn't really help, either.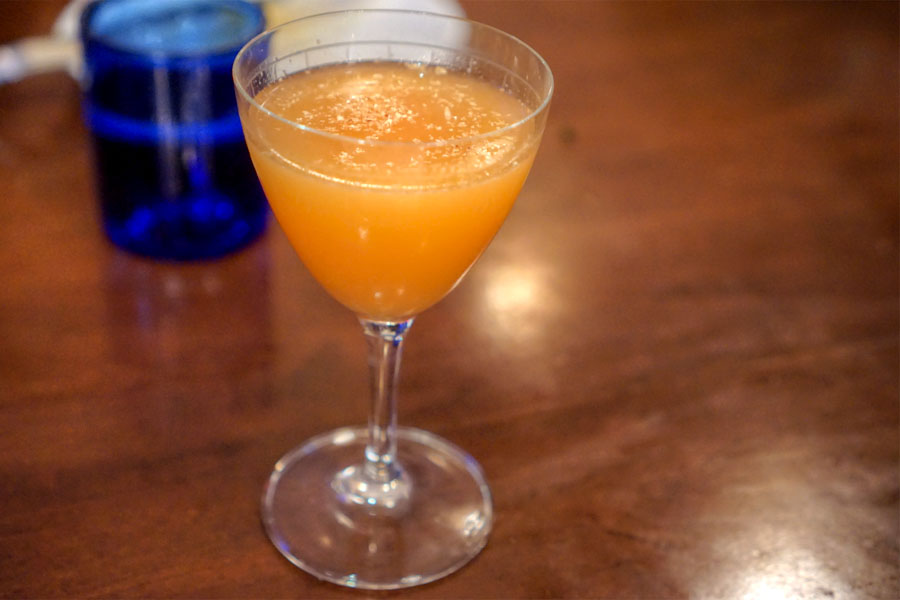 Army Navy [$12.00]
| Beefeater Gin, Orgeat, Lemon, Angostura Bitters
This classic cocktail had a fairly restrained bouquet featuring a mix of orgeat and Angostura. On the palate, I found it sour at first, and slightly astringent, while the orgeat came in later, the drink ending with the heat of vodka.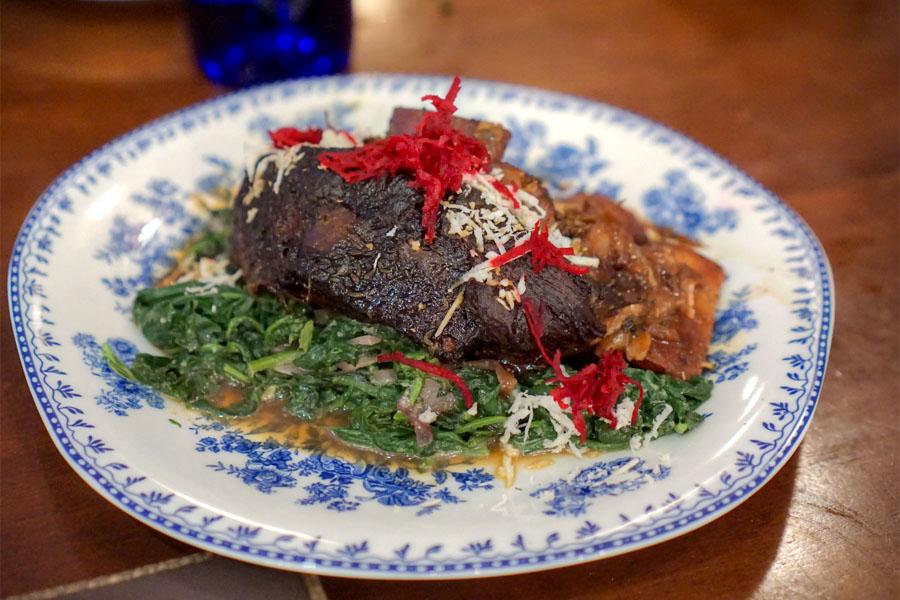 Short Ribs [$36.50]
| Harris Ranch Beef • Horseradish • Marble Potatoes • Garlic Spinach
Shorts ribs were as tender as they needed to be, but seemed a bit lacking in the taste department. I didn't get enough of that oomph, that dark, savory, slow-cooked flavor I was looking for. The spinach, meanwhile, gave the dish a very apparent bitterness, and I didn't mind those potatoes, either.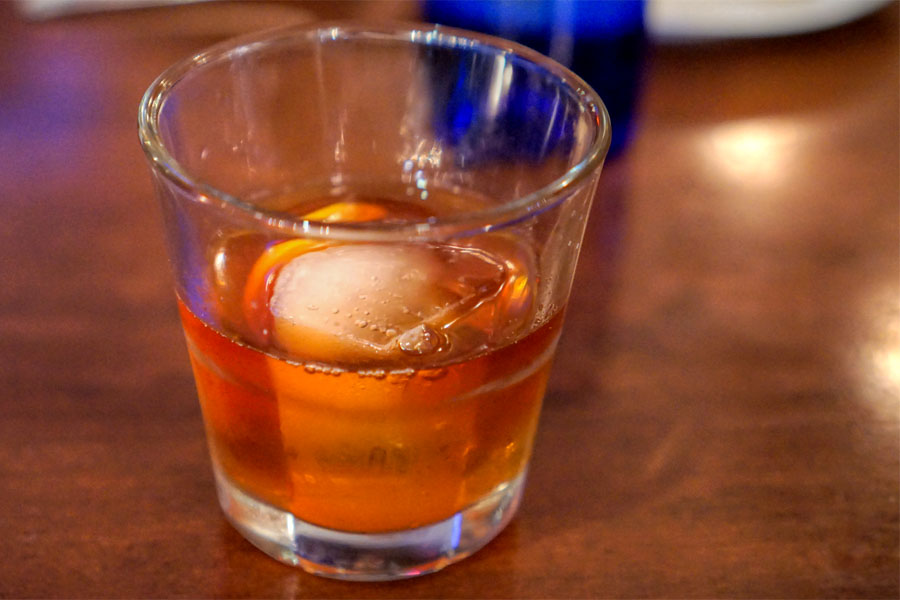 Chet Baker [$13.00]
| El Dorado 5 Yr Rum, Cocchi Torino, Vermouth, Honey, Angostura Bitters
We finished with clearly the booziest cocktail of the bunch. Nose of spiced honey and vermouth, while in terms of taste, I got dark fruit and sweet spice mixed with a persistent alcoholic burn.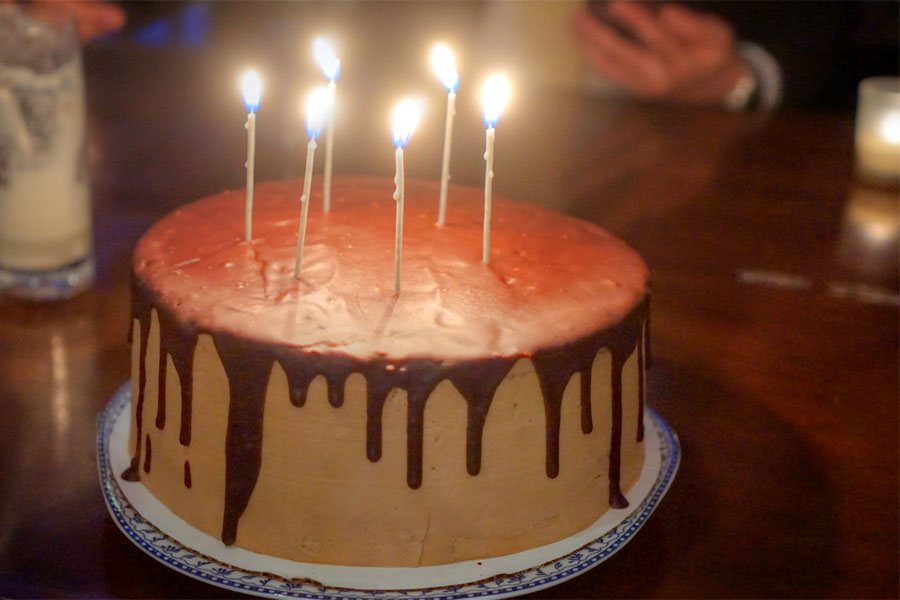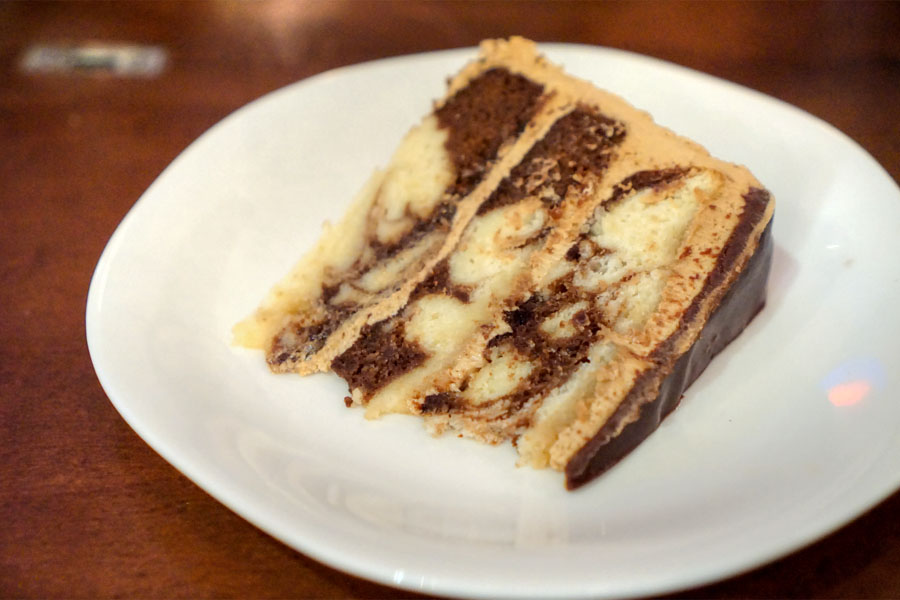 We were here for a birthday, and thus one of my dining companions baked a White Russian-inspired cake to mark the occasion. I think it did a fine job capturing the essence of the cocktail, really showcasing the bitter roastiness of coffee against the richness of cream.
Our meal was a mixed bag. While I enjoyed a number of the dishes we ordered, quite a few fell short. In general, I sort of get the feeling that the kitchen is holding back, playing it safe, perhaps because they're trying to appeal to a wider clientele. In any case, it seems to be working for them, as the team is apparently planning on opening a second Jaffa location in Palms within a year.