The Dabney (Washington, DC)
The Dabney Restaurant
122 Blagden Alley NW, Washington, DC 20001
202.450.1015
www.thedabney.com
Wed 07/25/2018, 08:40p-12:10a

The Dabney was another place on my DC "to-eat" list that I was eager to check off, so I made sure to make my way there on this latest visit to the Capital. Ever since it was opened in fall 2015 by Chef/Owner Jeremiah Langhorne and Beverage Director/Owner Alex Zink, the restaurant has been one of the hottest tickets in town, known for its wood-fired modern Mid-Atlantic cuisine, and I was eager to give it a go.
About the Chef
: Langhorne was born in Bethesda, Maryland, the second eldest of three sons. He grew up in Sterling, Virginia and spent his childhood in the area, but when his parents divorced, he and his brothers went to live with their mother in the Shenandoah Valley. After mom and dad reconciled, the family moved to Charlottesville, where Langhorne attended Albemarle High School. He got his first restaurant gig at McDonald's, then delivered pizzas. Following, he began working at OXO under mentor John Haywood, an experience that basically served as his culinary school, and eventually rose to the position of executive sous chef. Shortly before OXO closed, he transitioned over to The Ivy Inn, where he was CdC to Chef Angelo Vangelopoulos, another mentor of his. Around this time, Langhorne began getting interested in Sean Brock's foray into Lowcountry cooking at McCrady's in Charleston, and would eventually
stage
at the restaurant.
He was finally hired in 2008, and, after a year at McCrady's, went to apprentice at René Redzepi's game-changing Noma in Copenhagen for two months, where he really began to learn the ins and outs of foraging. Upon returning, he was promoted to sous, and then Chef de Cuisine in 2011. It was also at McCrady's where Langhorne would meet Alex Zink, a Connecticut native and Syracuse and French Culinary Institute grad who would become his business partner. The two left the restaurant in 2013 and moved back to the DC area to start work on their first solo project, which ended up opening on Halloween 2015. The Dabney was a quick success, and earned a "Restaurants of the Year" nod from
Food & Wine
in 2016. A Michelin star came later that year, while Langhorne got a "Best Chef: Mid-Atlantic" win from James Beard just this past May.


Housed in a grouping of 19th century row houses, The Dabney was penned by
Edit Lab at Streetsense
. The space has got a slightly farmhouse-y aesthetic, with lots of exposed brick, while total capacity is around five dozen. The focal point of the room, though, is of course the open kitchen and its 10-foot wide, oak- and hickory-fueled wood-burning hearth.

The view from the end of The Dabney's 13-seater bar.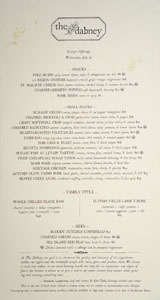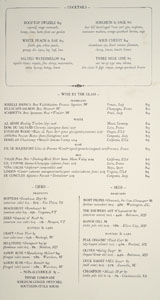 The Dabney's menu is comprised mostly of small plates that showcase the Chef's contemporary take on Mid-Atlantic cuisine, and apparently, all produce is sourced from the region. The food is joined by cocktails from Bar Manager Sarah Ruiz as well as a small selection of wines, beers, and ciders (including ciders on draught, which you don't see all that often). Click for larger versions.
We commenced with complimentary slices of crusty housemade ciabatta. It was a great start, the bread's smoky, charred character mixing beautifully with the sweetness of that luscious sorghum molasses butter.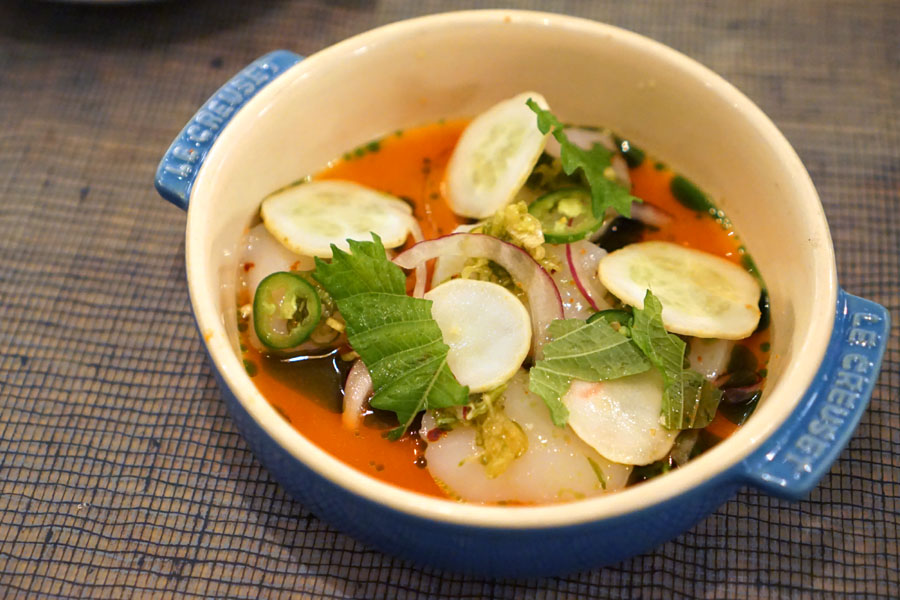 Scallop Crudo [$18.00]
| onion, ginger, shiso, & red pepper vinaigrette
The crudo was excellent, with the well-textured scallops taking on a plethora of umami flavors from the vinaigrette. At the same time, the shiso and red onion provided an offsetting brightness, and the slight heat on the finish was a welcomed surprise.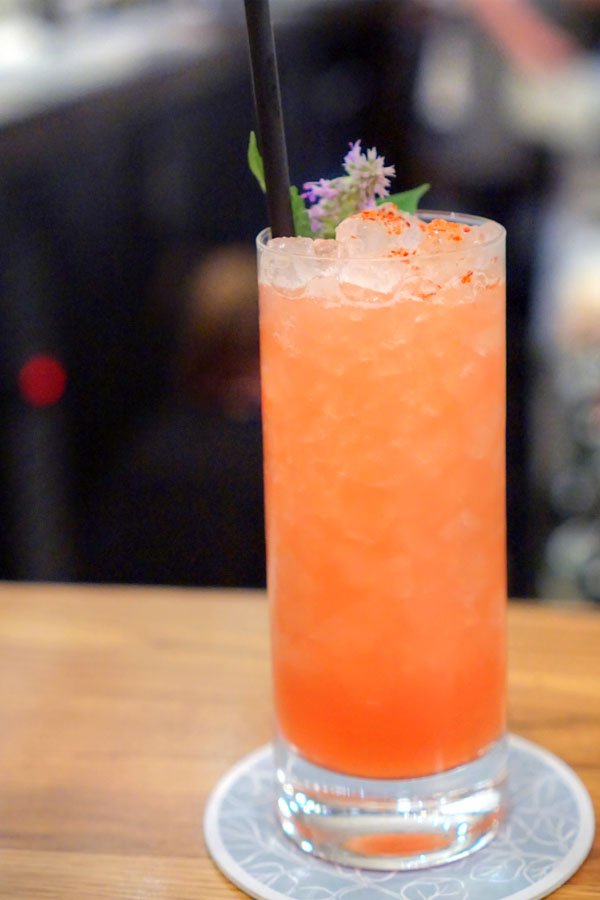 Salted Watermelon [$14.00]
| tapatio blanco tequila, fino sherry, watermelon, anise hyssop, honey, lemon
Drink-wise, things kicked off with this eminently quaffable cocktail. It featured lots of juicy watermelon at first, boosted by the honey, while the back end really showed off the dry nuttiness of that sherry.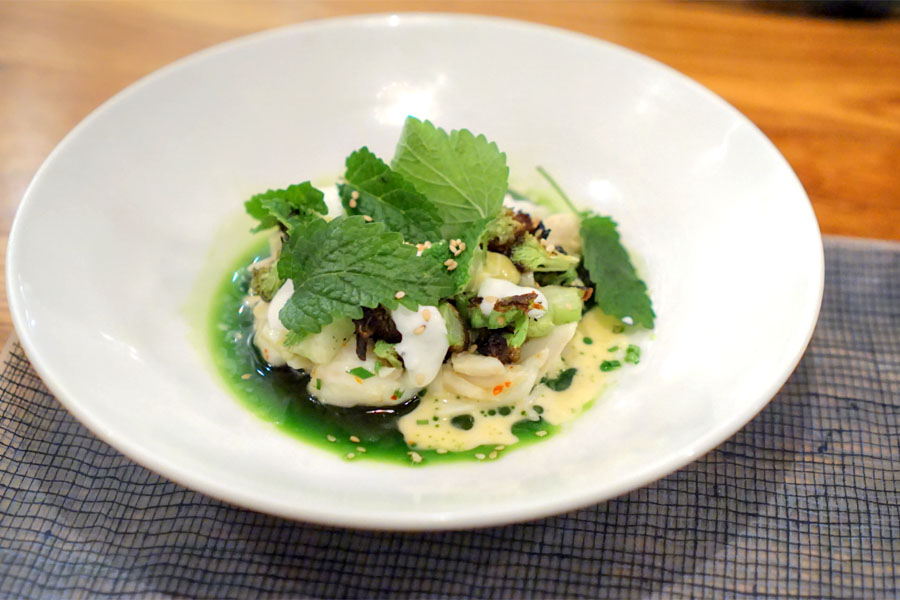 Charred Broccoli & Crab [$18.00]
| garlic-chive cream, lemon balm, & yogurt
This was another winner. I loved the char and crunch from the broccoli, and how it played with the sweet, tender chunks of crab present. Meanwhile, the yogurt-cream combination sort of tied everything together, while the lemon gave the dish a tart, prickly finish. Also key: the nuttiness from the sesame seeds sprinkled on top.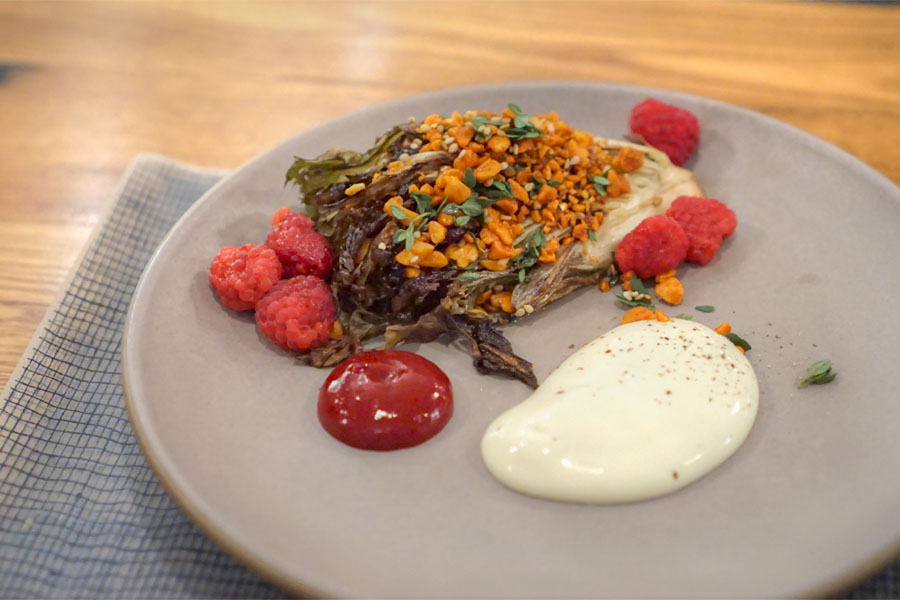 Charred Radicchio [$14.00]
| summer raspberry, blow horn cheese, spicy peanuts, & lemon thyme
Radicchio arrived unapologetically bitter, with lots of smoke and astringency evened out by the berries, peanuts, and much-appreciated dollop of cheese on the side.
Sorghum & Sage [$16.00]
| barr hill barrel-aged "tom cat" gin, sorghum, rainwater madeira, orange-spicebush bitters, sage
Here we have my favorite cocktail of the evening, a multifaceted number with a super zippy, citrusy nose backed by dark fruit. The taste brought spicy, vegetal notes alongside nutty Madeira, warm spice, berries, and a pinch of alcoholic heat.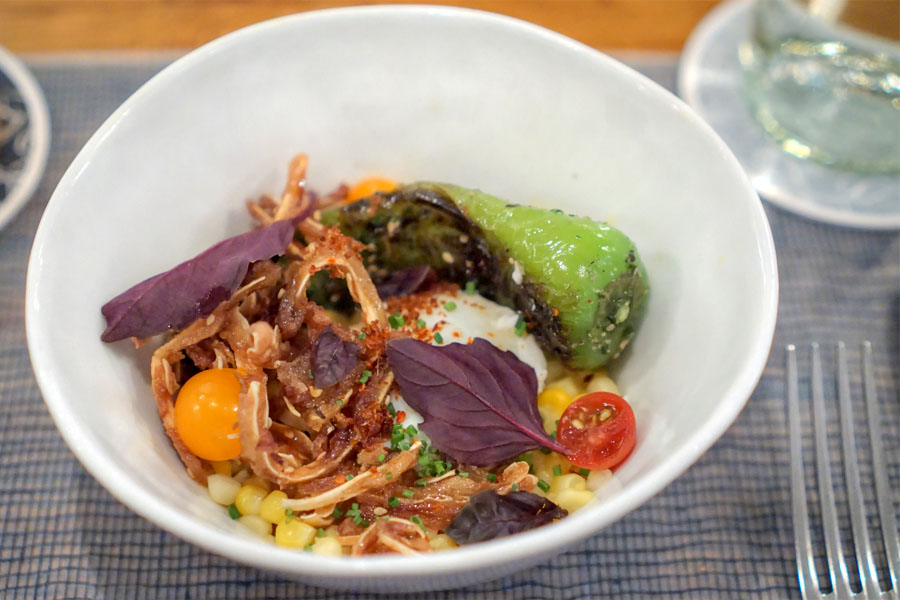 Farm Egg [$16.00]
| crispy pig ears, sweet corn, basil, chili crunch, & roasted pepper
I have a hard time resisting pig ear, and here, the crunchy, salty shards served as a counterweight to the sweet corn, while the egg added an enveloping richness to the whole situation. I quite liked the chili pepper too, since it gave the dish a smidgen of heat that really lifted things.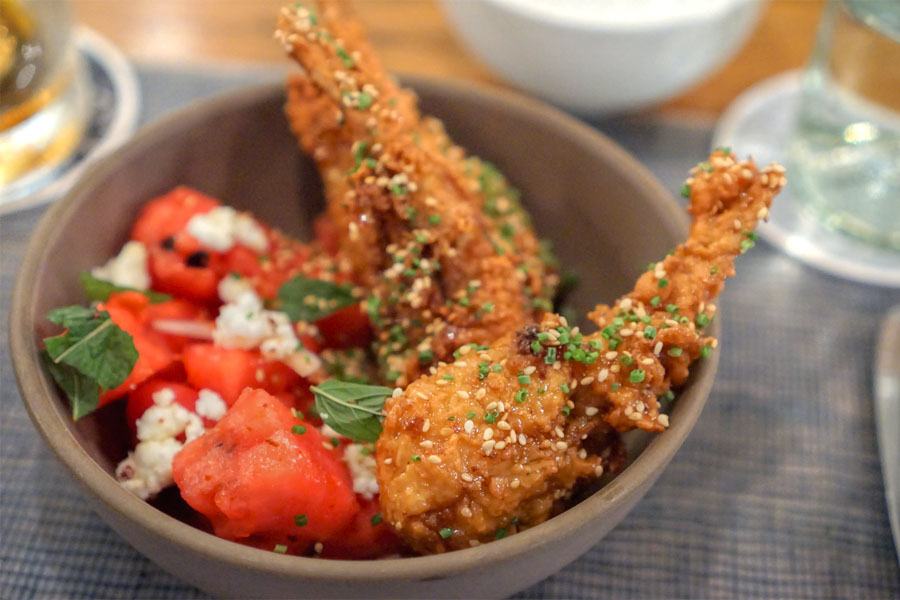 Fried Chesapeake Sugar Toads [$16.00]
| melon salad, buttermilk dressing, & hot honey
Pufferfish came out with a proper crunch to it, as well as a bevy of briny flavors that actually meshed really well with the sweet, nutty elements in the course. I wasn't sure about the melon salad at first, but it ended up making sense as a bright, creamy, juicy contrast to the fish.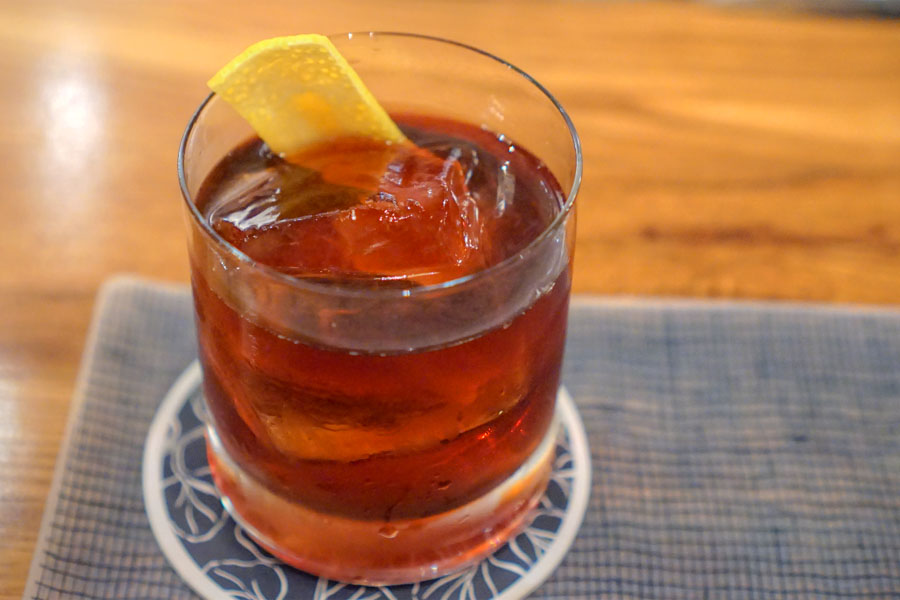 Three Mile Line [$15.00]
| real mccoy 5-yr rum, sibona, don ciccio & figli cinque, orange-spicebush bitters
This next cocktail was certainly to my liking. Appealing bouquet filled with citrus, berry fruit, and bittersweet notes from the Cinque. Taste-wise, I got more robust fruit along with a mix of astringency and sweet spice, the finish showcasing the drink's herbal, medicinal nature.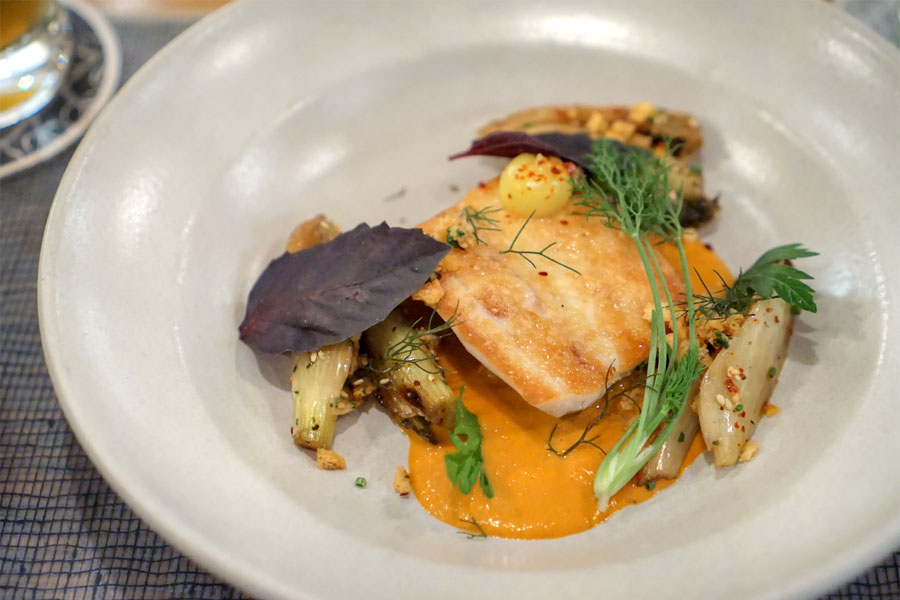 Mahi Mahi [$22.00]
| virginia peanut romesco, charred fennel, brioche, & basil
The mahi-mahi was eating very well tonight, the fish making perfect sense with that wonderfully nutty romesco and the smokey, anise-y taste of fennel.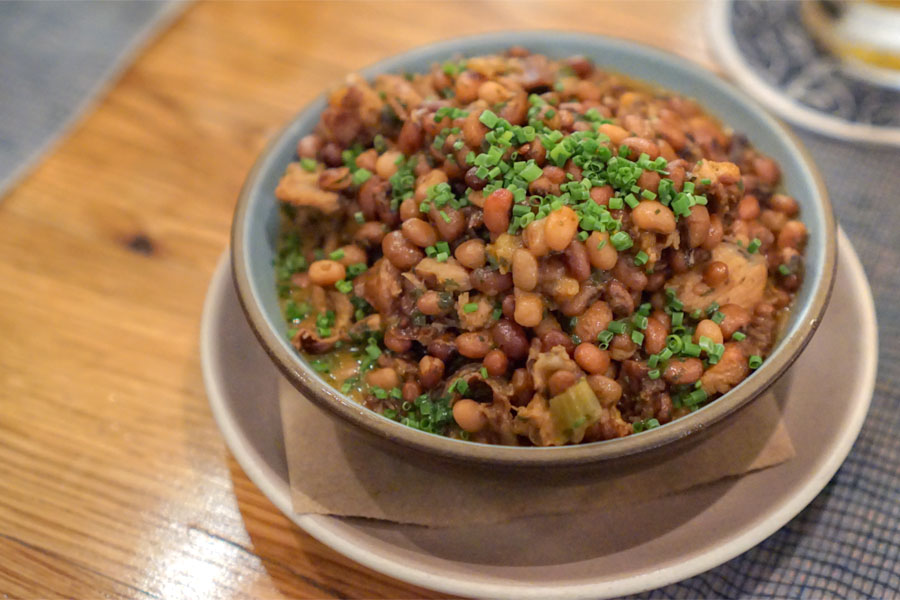 Sea Island Red Peas [$8.00]
| ham hock & chives
Our last savory was this porky, homey bowl of red peas with a lovely smoke to it.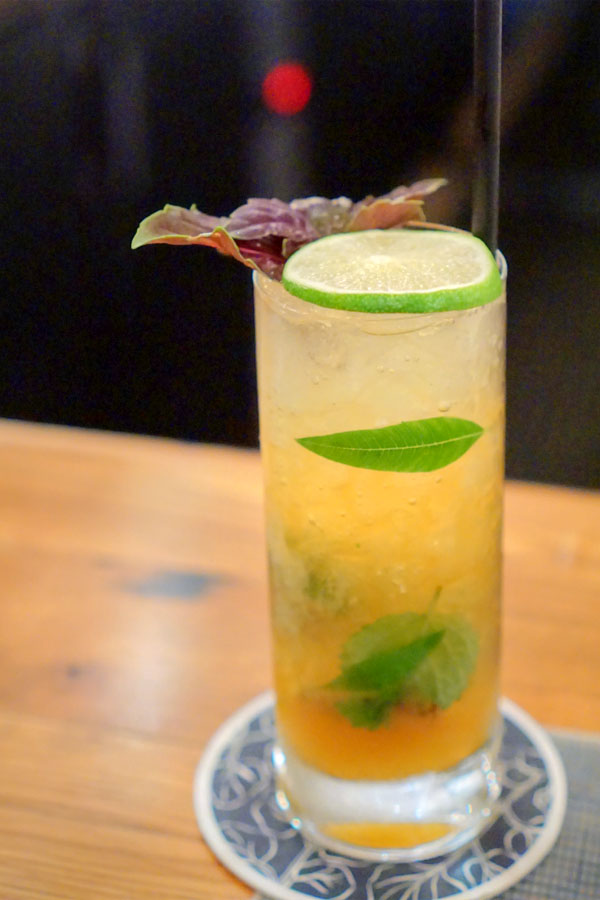 Rooftop Swizzle [$13.00]
| capertif, rouge vermouth, honey, lime, herbs from our garden
My fourth and final cocktail was on the lighter side, since I was getting quite full by this point. It was an easy-drinker for sure, with a smooth, sweet-n-sour, honeyed palate tempered by a tinge of herbs and botanicals.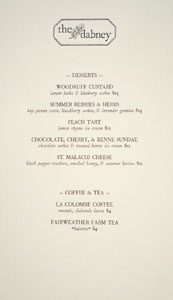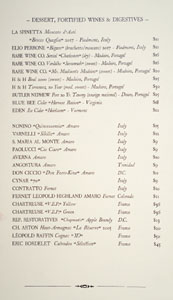 Above we see the dessert menu, courtesy of Pastry Chef Annie Coleman, a South Carolina native and École Grégoire-Ferrandi grad. Click for larger versions.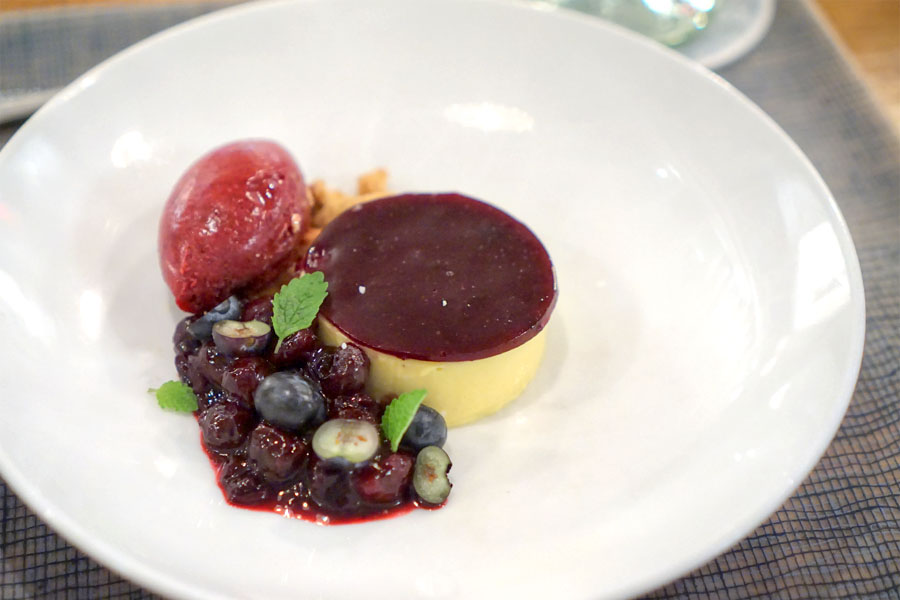 Woodruff Custard [$13.00]
| lemon herbs & blueberry sorbet
Woodruff worked its way into a sweet, but also slightly savory custard, one complemented by blueberry in three forms: sorbet, the topping for the custard, and the actual berries. I was definitely into all those crunchy bits for texture, too.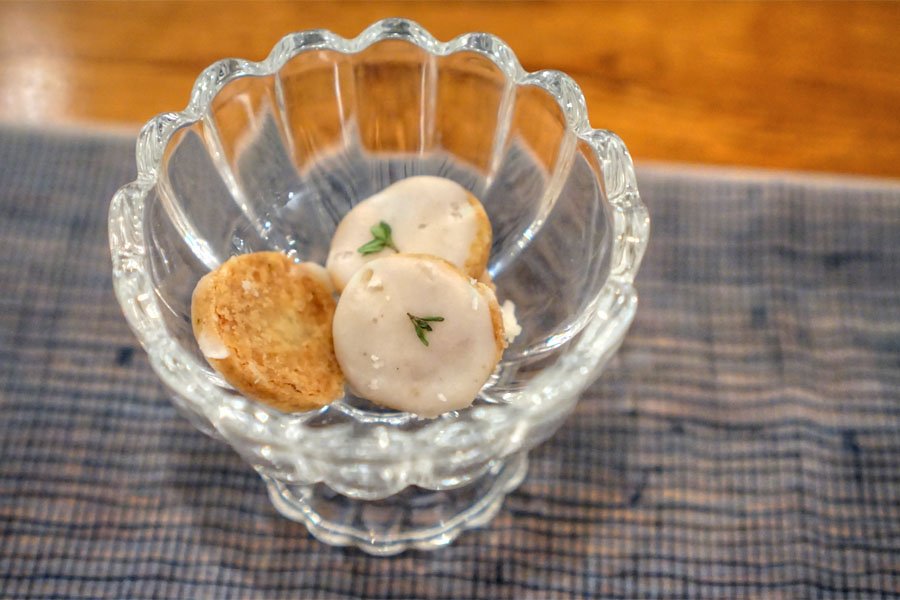 Mignardise duties were handled by these sweet 'n' salty lemon-thyme cookies, which weren't shy about the thyme at all.
The Dabney was just what I had hoped for, and then some. The kitchen did a wonderful job showing off the region's cuisine in a fun, delicious manner, incorporating both classic cooking methodologies and just the right amount of modernity. The dishes taste and look contemporary, but you really do get a sense of the tradition and history behind them. The Dabney is pushing Mid-Atlantic fare forward, which is something I can get behind.
Given the success of the restaurant, it's not surprising that the team decided to expand. However, said expansion happened right beneath the restaurant thanks to the debut of The Dabney Cellar in December. It's a cozier, more intimate space in the basement with an abbreviated menu and a focus on wine. I just might have to check it out sometime.