Rudolph's Bar & Tea (Los Angeles, CA)
Rudolph's Bar & Tea at Freehand Hotel
416 W 8th St, Los Angeles, CA 90014
213.612.0021
www.freehandhotels.com/los-angeles/rudolphs-bar-tea/
Sat 07/14/2018, 07:30p-10:50p
I wrote about
Broken Shaker
recently, and at the end of that post, mentioned that I really wanted to try the Freehand's
other
drinking option: Rudolph's. Well it looks like I made that happen in relatively short order. The bar opened in June 2017, and is also the work of Gabe Orta and Elad Zvi from Broken Shaker. It's named after Rudolph Rosenberg, a former owner of the Commercial Exchange Building, and specializes in tea-infused cocktails, which you don't see very often.


Penned by
Roman and Williams
, Rudolph's resides in the lobby of the Freehand. It's a cozy space, with a sort of a Craftsman feel to it.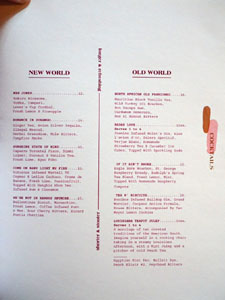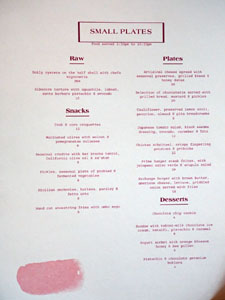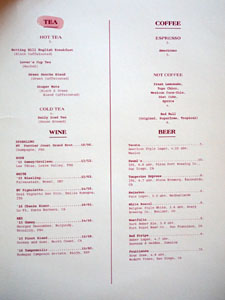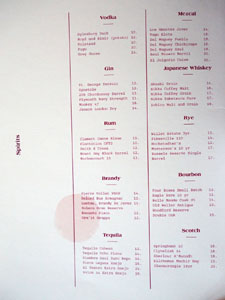 Menu-wise you get a compact-but-interesting cocktail list divvied up into New World and Old World selections. There's beer and wine too, and of course you get can actual tea here as well. As far as food goes, Alex Chang from
The Exchange
is serving up a selection of Mediterranean-ish plates. Click for larger versions.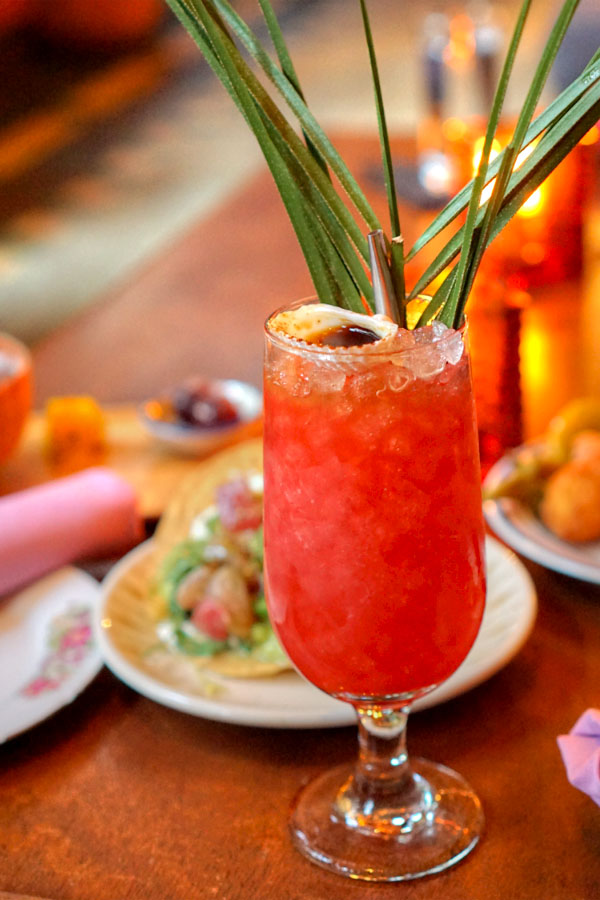 Come On Baby Light My Fire [$15.00]
| Hibiscus Infused Martell VS Cognac & Leblon Cachaca, Creme de Banane, Fresh Lime, Passionfruit, Topped With Genghis Khan Tea Infused Rum & Cinnamon
Our first cocktail was a rather festive-looking number. I got loads of tropical fruit up front, leading to bitter, medicinal, smoky notes and a tart-ish finish. A fun one.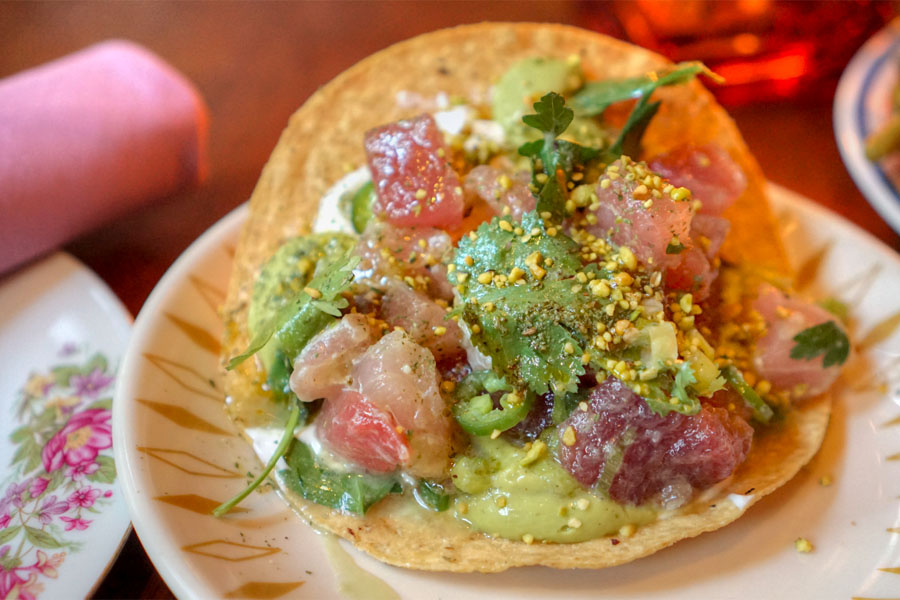 Albacore tartare with aguachile, labneh, santa barbara pistachio & avocado [$16.00]
Supple chunks of tuna meshed with creamy
labaneh
and the tart, acidic taste of its
aguachile
marinade. I appreciated the slight heat in the dish as well, and the crunch of the tostada worked for texture.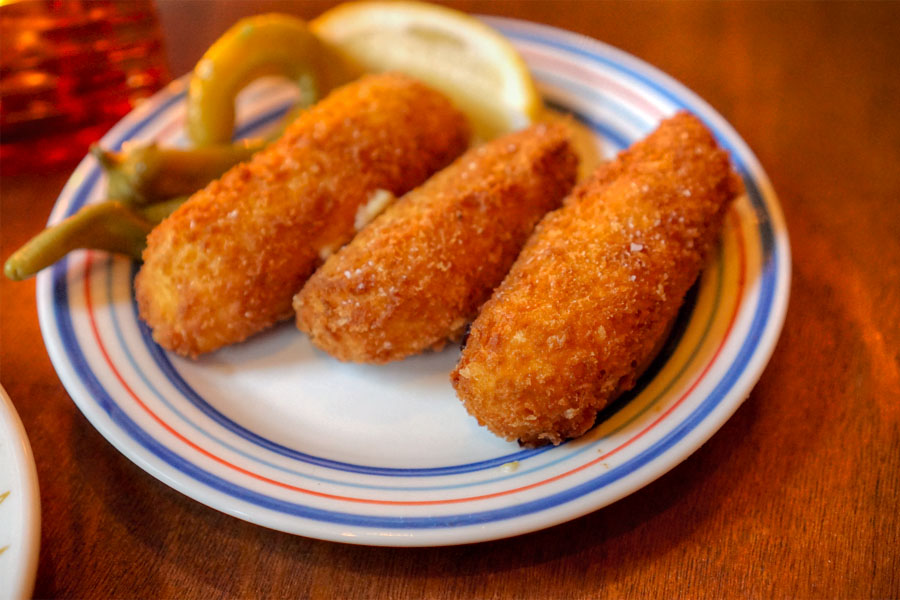 Crab & corn croquettes [$12.00]
Croquettes were properly crisp, with runny interiors teeming with sweet corn. The corn, though, was actually overpowering, and I had a hard time identifying the crab unfortunately. Also present was a curry-like spice that I didn't mind.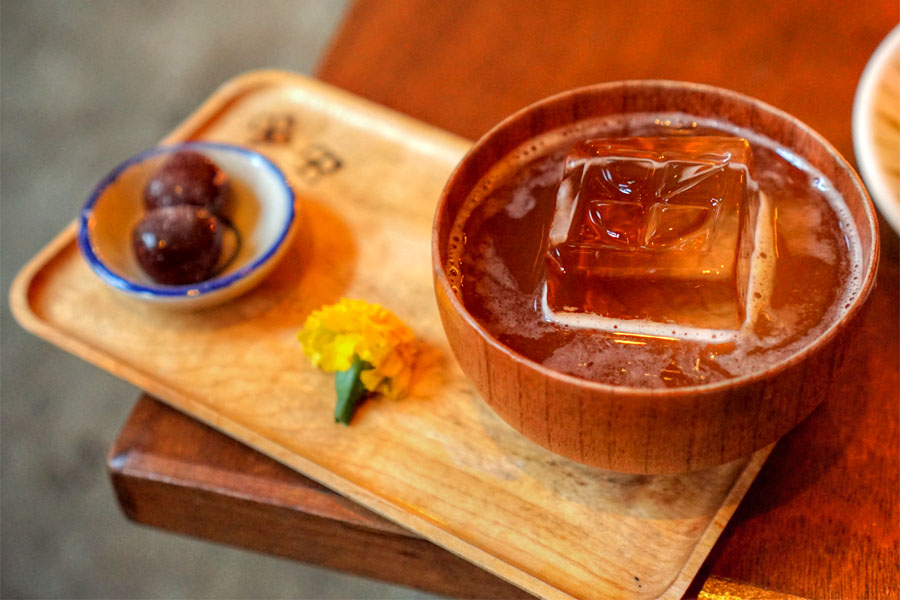 We're Not In Kansas Anymore [$15.00]
| Ballantine's Scotch, Maraschino, Fresh Lemon, Coffee Infused Punt e Mes, Sour Cherry Bitters, Ricard Pastis Cherries
This was probably my favorite of the cocktails I tried. I found it on the floral side, and smooooth, with a restrained bitterness, a bit of fruit, and delightful notes of roasty coffee. Also appreciated were the anise-y cherries on the side.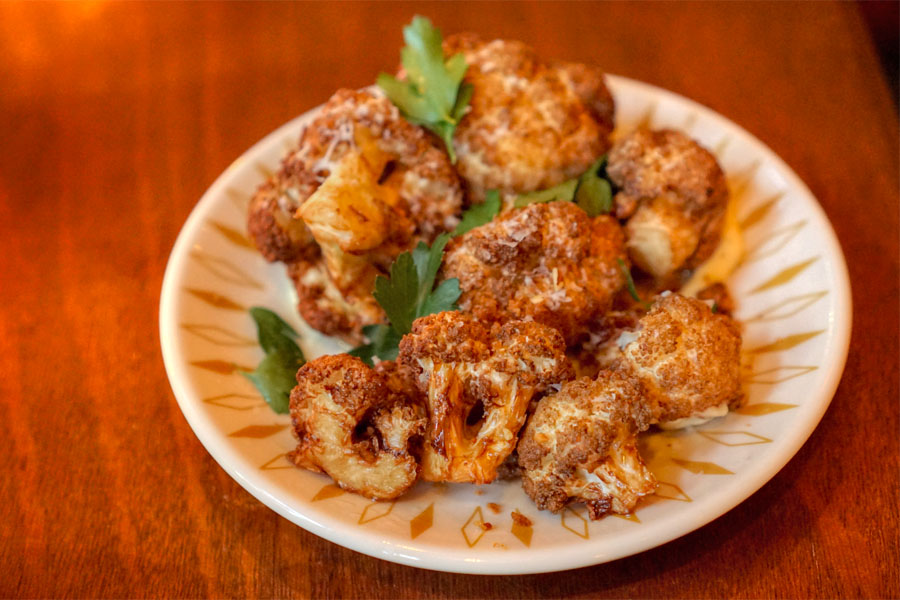 Cauliflower, preserved lemon aioli, pecorino, almond & pita breadcrumbs [$9.00]
Cauliflower arrived well-textured and loaded with smoky, savory flavors that were evened out by a smooth, tangy aioli.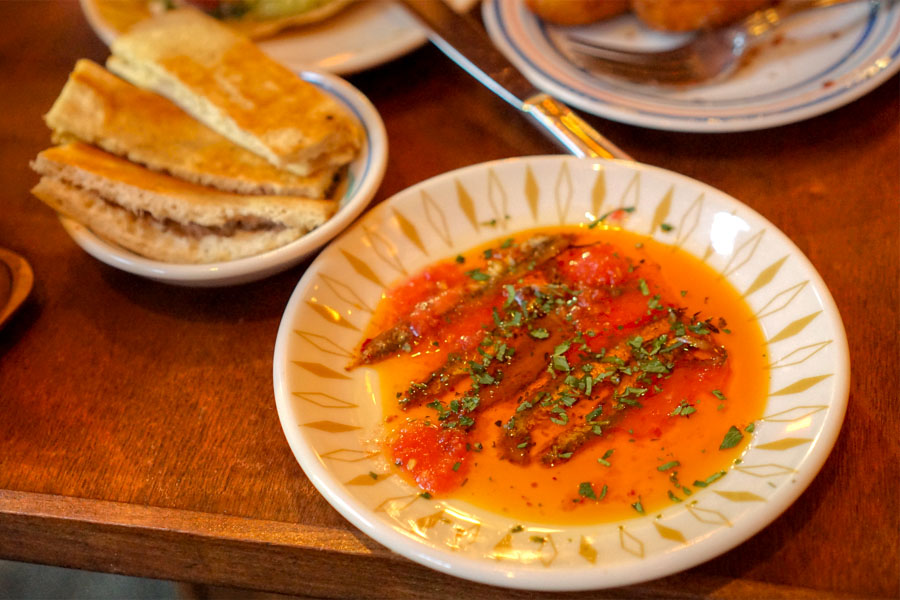 Sicilian anchovies, harissa, parsley & fetta unta [$8.00]
Anchovies were as fishy as you'd expect, but never overwhelmingly so, and worked great alongside that harissa. I was also a big fan of the paired bread as well.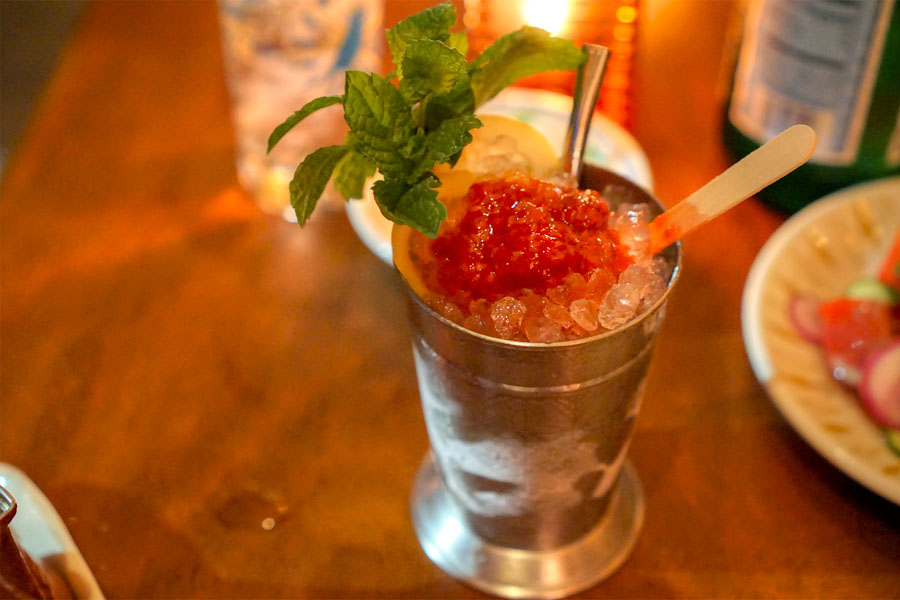 If It Ain't Broke [$15.00]
| Eagle Rare Bourbon, St. George Raspberry Brandy, Rudolph's Spring Tea Blend, Fresh Lemon, Mint, Topped With Homemade Raspberry Compote
I found this cocktail punch-like at first, with its raspberry on display. However, this quickly transitioned to a tea-like astringency, while the finish was bitter and slightly anise-y, with a medicinal bent.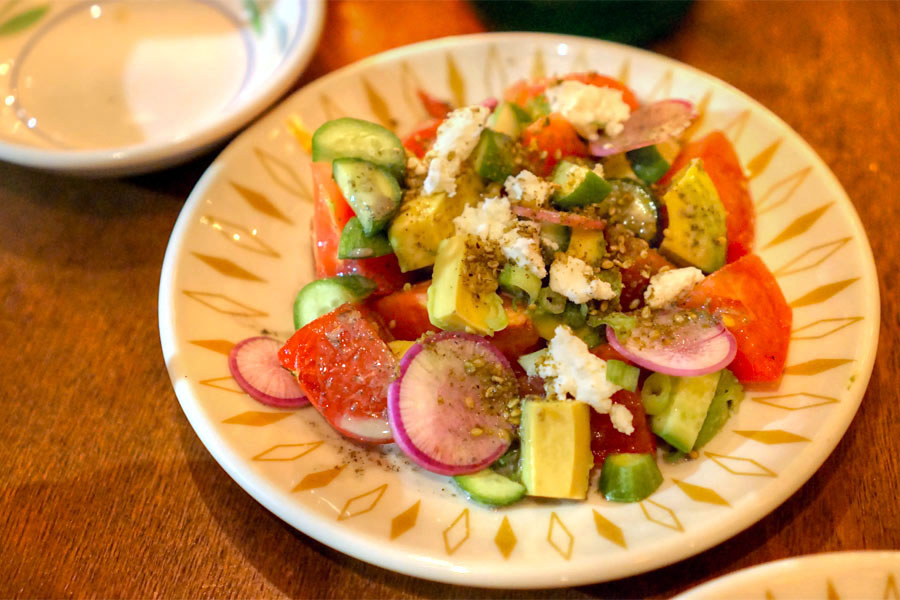 Japanese tomato salad, black sesame dressing, avocado, cucumber & feta [$12.00]
A warm salad worked itself out, the robust, nutty sesame dressing really tying everything together. Nice salty accent from the cheese, too.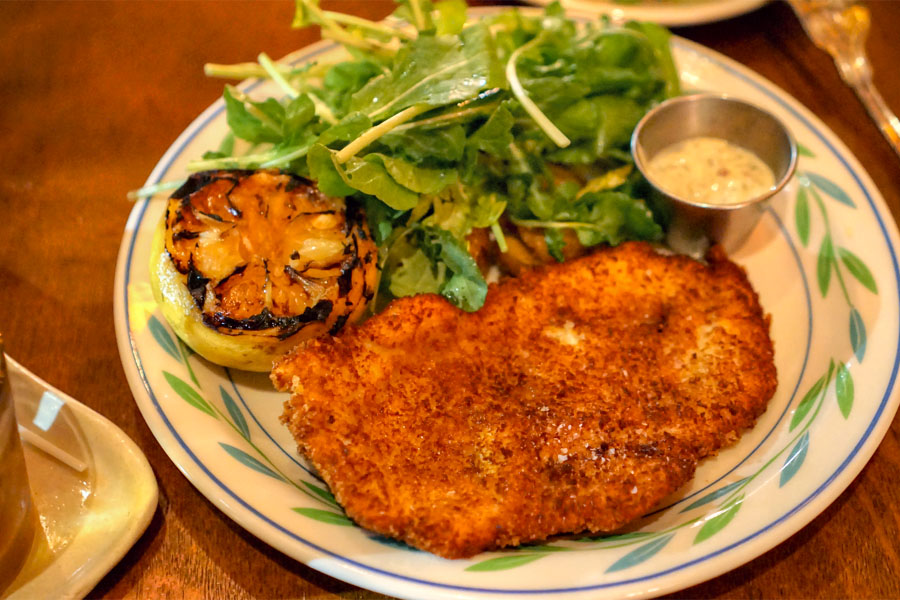 Chicken schnitzel, crispy fingerling potatoes & gribiche [$22.00]
You don't see schnitzel all that often on menus these days, so I felt compelled to order this. The cutlet came out as crisp as I was hoping for, while its insides were surprisingly juicy. The tangy
sauce gribiche
was a great complement, and I didn't mind the peppery arugula and hearty potatoes, either.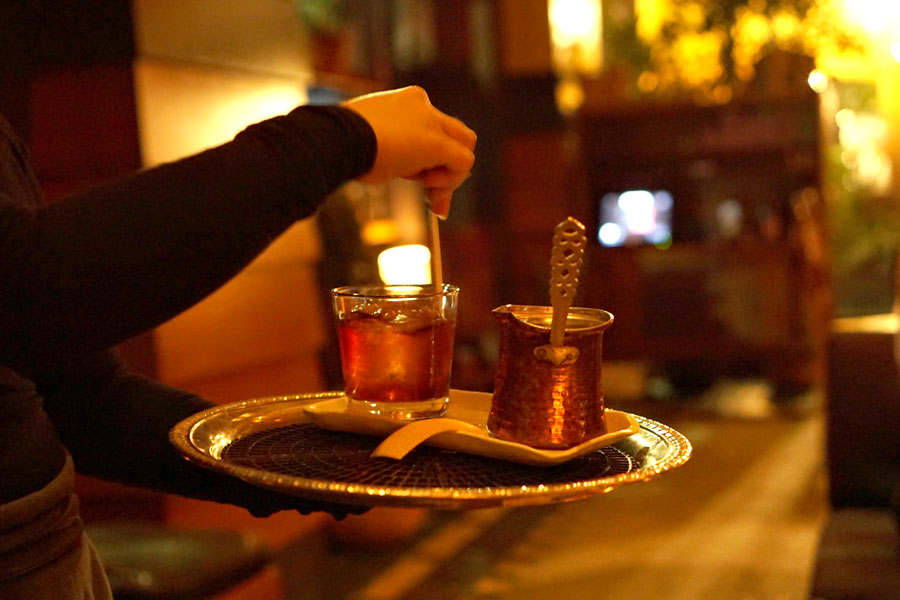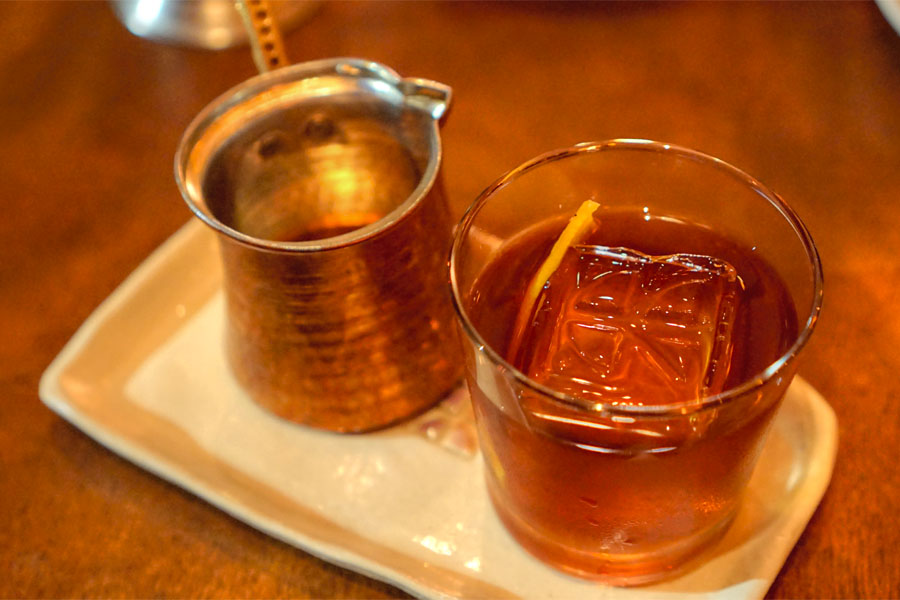 North African Old Fashioned [$16.00]
| Mauritian Black Vanilla Tea, Wild Turkey 101 Bourbon, Ron Zacapa Rum, Cardamom Demerara, Ras el Hanout Bitters
This next cocktail was constructed tableside, which was sort of a nice touch. Gorgeous nose of fragrant vanilla and dark fruit. On the palate, think boozy, spicy, with more dark fruit leading to a long lasting finish filled with sweet vanilla and warm spice.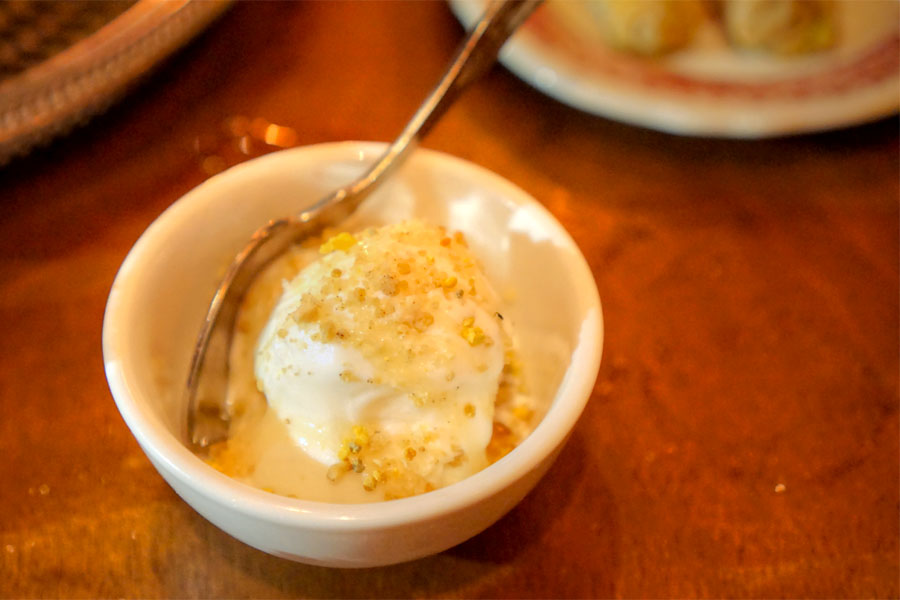 Yogurt sorbet with orange blossom honey & bee pollen [$8.00]
Time for dessert. A yogurt sorbet was as sweet and lactic and tasty as expected, with a well-placed accent from the honey.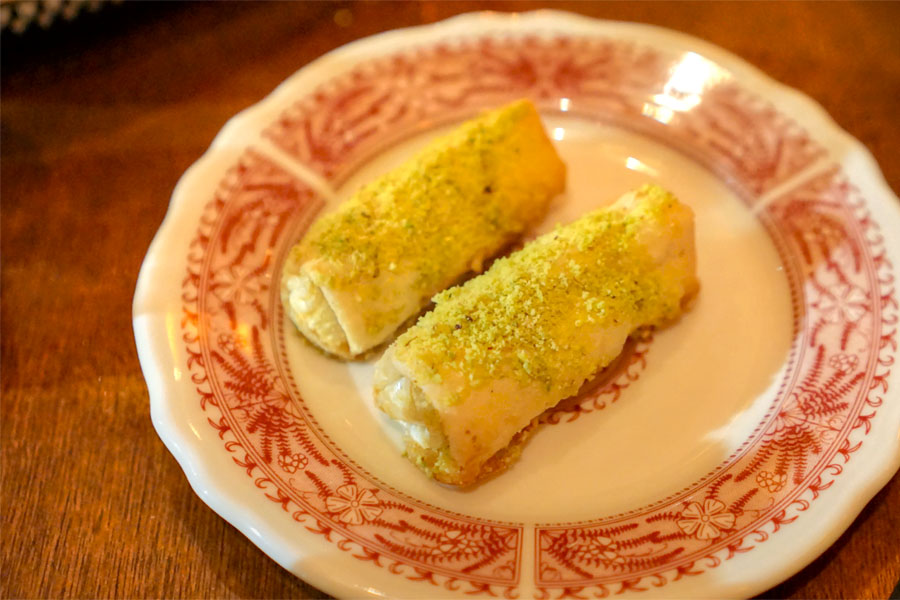 Pistachio & chocolate geranium baklava [$4.00]
Last up was baklava, an especially herbaceous example with a definite bitter edge to it.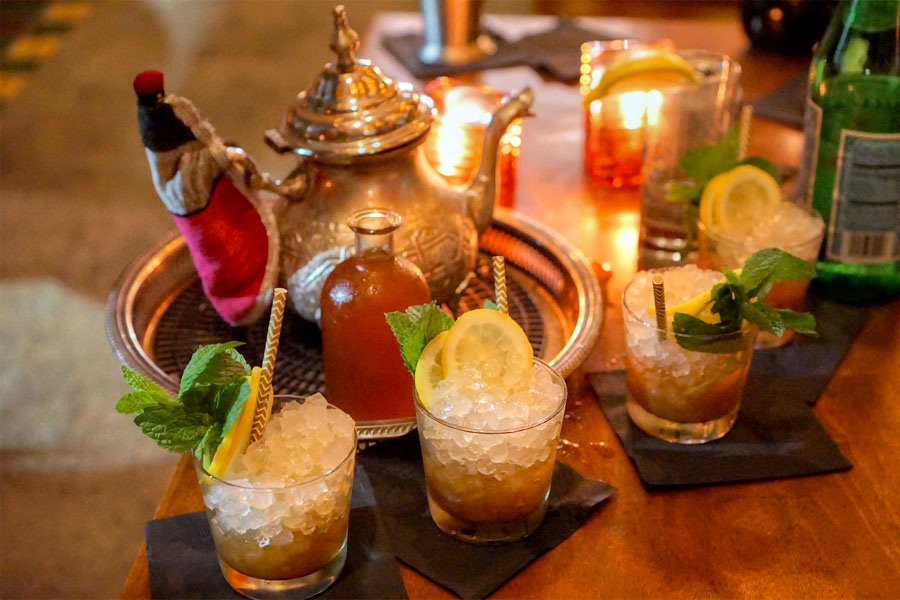 Louisiana Teapot Julep [$14.00 x 3]
| Egyptian Mint Tea, Bulleit Rye, Peach Elixir #2, Peychaud Bitters
We closed out the evening with a large format cocktail, a mash-up of a mint julep and peach tea. I definitely got refreshing notes of mint initially, paired with a trace of booziness from the Bulleit, while the sweetness of peach came through on the mid-palate and lasted long.
We had a great time here, and I have to say that this was one of the better cocktail experiences I've had in recent times. The drinks were interesting and unqiue, and I certainly applaud the bar's ability to incorporate tea into everything. The food, also, was quite good, and so I imagine that I'll be putting Rudolph's into my regular rotation of bars.