Kasih (Los Angeles, CA)
Kasih Restaurant
200 S Los Angeles St, Los Angeles, CA 90012
213.266.8156
www.kasih.la
Thu 06/28/2018, 08:20p-10:40p

Indonesian fare doesn't seem to get that much attention in LA, so I was looking forward to Kasih ("love"), a contemporary Indonesian cuisine spot in Downtown that opened on March 29th. The place is headlined by Chef Vindex Tengker, an 18-year veteran of the Four Seasons and celebrity chef of sorts who's made appearances on
MasterChef Indonesia
,
Top Chef Indonesia
, and
Iron Chef Indonesia
. Also involved are Ron Ancheta and Ray Harsono (Big Bali Truck,
Acabar
), while the kitchen is run on a day-to-day basis by Chef de Cuisine Zachary Hamel.
About the Chef
: Hamel, for his part, is a native of Madison, Wisconsin. However, his parents were teachers at an international school, and thus he moved to Thailand when he was nine, spending four years abroad. He later returned to Madison and started cooking, eventually securing a position at Tory Miller's
L'Etoile
(generally considered the best restaurant in the City) in September 2008. Hamel stayed nine months before deciding to revisit Thailand. In 2010, he enrolled at the Le Cordon Bleu Dusit Culinary School in Bangkok, and during his time there,
staged
at David Thompson's widely-acclaimed Nahm, which was conveniently located nearby. After completing his studies in 2011, Hamel relocated to New York and, starting that September, cooked for a year at
David Chang
's Má Pêche.
In October 2012, he went to Sydney and took on a station chef position at Ms.G's, an Asian fusion joint, and in April 2013, switched over to the longstanding Sailors Thai. That gig didn't last too long though, and so in April 2014 he was back Stateside, working as a
tournant
at L'Etoile once again. Hamel left Wisconsin for good at the end of that year, deciding to make LA his new home. He became a sous at Louis Tikaram's E.P. & L.P. in Hollywood at the start of 2015, and would stay there until last June, when he joined the Kasih team. In preparation for the restaurant's debut, he spent four months in Jakarta, Bandung, and Bali, training with Chef Tengker and learning about Indonesia's cuisine.

Kasih resides on the ground floor of the AVA Little Tokyo apartment building. It's a handsome, though oddly-lit space (everything was purple when we started the meal), and there's also quite a bit of seating outdoors. Total capacity is around 120.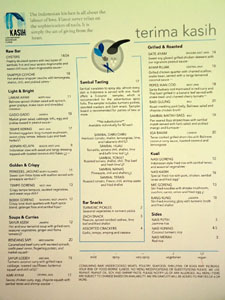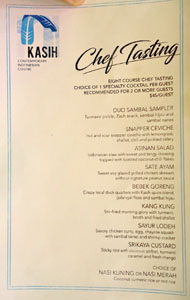 Kasih's menu features updated takes on Indonesian classics of various persuasions and origins (the cuisine is quite regional). Drink-wise, we get concept-appropriate cocktails that are on the lighter side, a few more-interesting-than-expected beers, and a handful of domestic wine. There's also a full coffee program (not pictured), which is run by Harsono. Click for larger versions.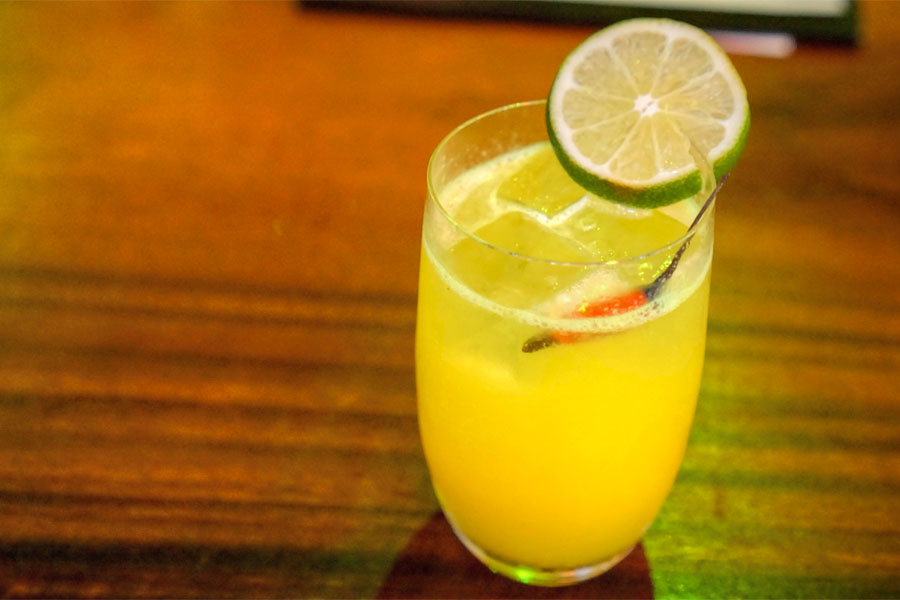 Lady Bird [$13.00]
| Mezcal, tangerine shrub, lemon juice, and bird's eye chili
We ended up making our way through the entire cocktail list (it's not very long). Our first drink came out looking like OJ, and was almost as gluggable with its fruity, citrusy flavors backed by a slight bitterness and pinch of heat from the chili.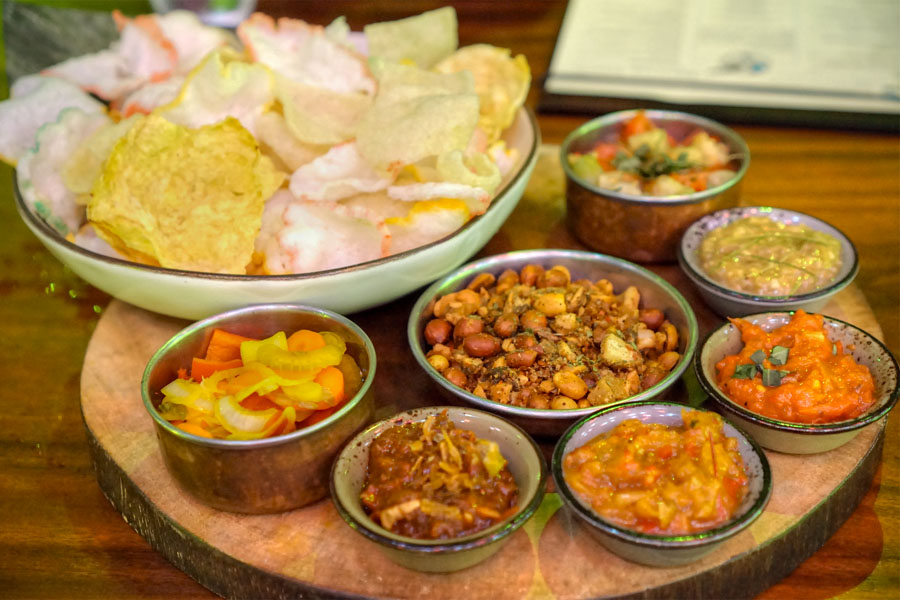 Sambal Tasting [$17.00]
| Turmeric pickles, Zach snack, assorted crackers
Given that we had a large-ish party, we opted for the sambal sampler to start. The rice crackers worked great as a crunchy counterpoint to the sauces, and I was a big fan of the sweet 'n' spicy nuts, too. Clockwise from top-left, we had:
Sambal Dabu Dabu | Heirloom tomato, shallot, lemongrass, lime, and habanero chili - Light and bright, but with a surprising depth to it and a lingering spice and savor. Also quite chunky, and the closest to a pico de gallo.
Sambal Hijau | Tomatillo, serrano chili, shallot, lime and kaffir lime leaf - I found this one zippy and vegetal at first, though a piercing heat quickly appeared on the mid-palate.
Sambal Tomat | Roasted tomato, shallot, chili, Thai basil and fresh lime - The mildest of the bunch, our third sambal definitely showed off the inherent sweetness of tomato.
Sambal Nanas | Pineapple, chili and shallot - Sweet and fruity for sure, with a restrained heat.
Sambal Terasi | Roasted tomato, Fresno chili, shrimp paste and fried shallot - The most intense of the fivesome, with a strong brine from the terasi and plenty of fire on the finish.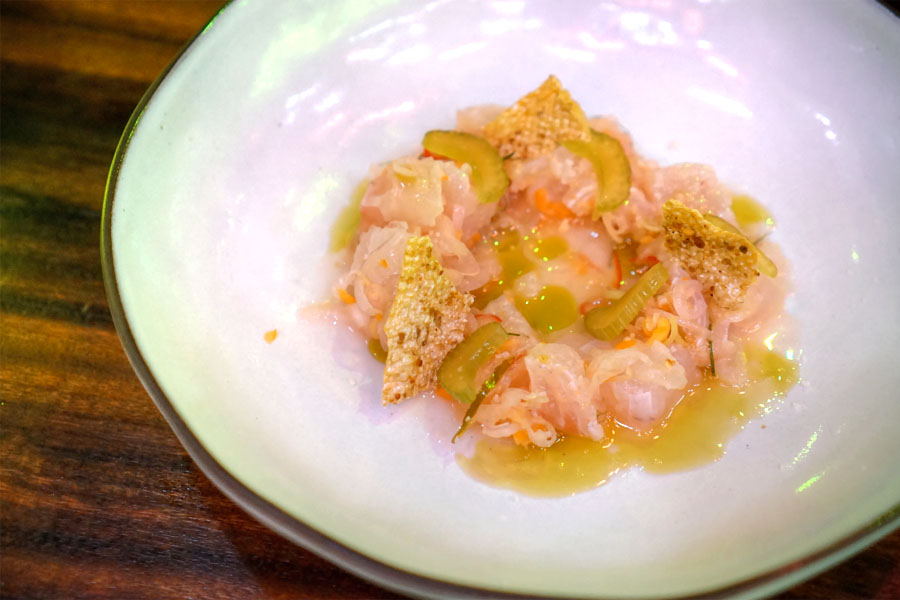 Snapper Ceviche [$18.00]
| Hot and sour snapper ceviche with lemongrass, shallot, chili, and pickled celery
An Indonesian take on ceviche worked itself out. I got a satisfyingly meaty bite on the fish that I appreciated, while flavors represented a smart balance of sour and spicy that complemented the snapper without overwhelming it. Also key were the crackers, which offered a well-placed crunch.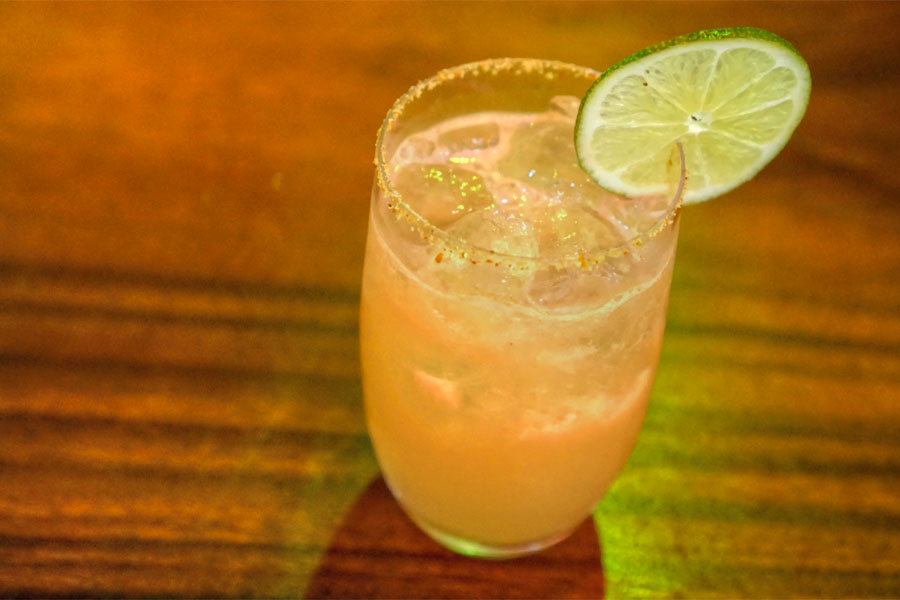 Spicy Watermelon Special [$8.00]
| Spicy chile vodka, lime, watermelon and mint syrup, frozen watermelon balls soaked in spicy chile vodka
The first of two cocktail specials this evening displayed loads of refreshing watermelon at first, leading to a palpable spice that sort of creeps up on you. Very little booziness here as well.
Tempe Kering [$17.00]
| Smoked eggplant, king trumpet mushroom, sweet crispy tempe, lettuce cups and fresh herbs
This DIY-style dish married crunchy, nutty
kering tempe
with smoky eggplant, earthy 'shrooms, and plenty of herbs. The end result, wrapped in lettuce, was pretty damn tasty, with some great textures to boot (especially those king oysters).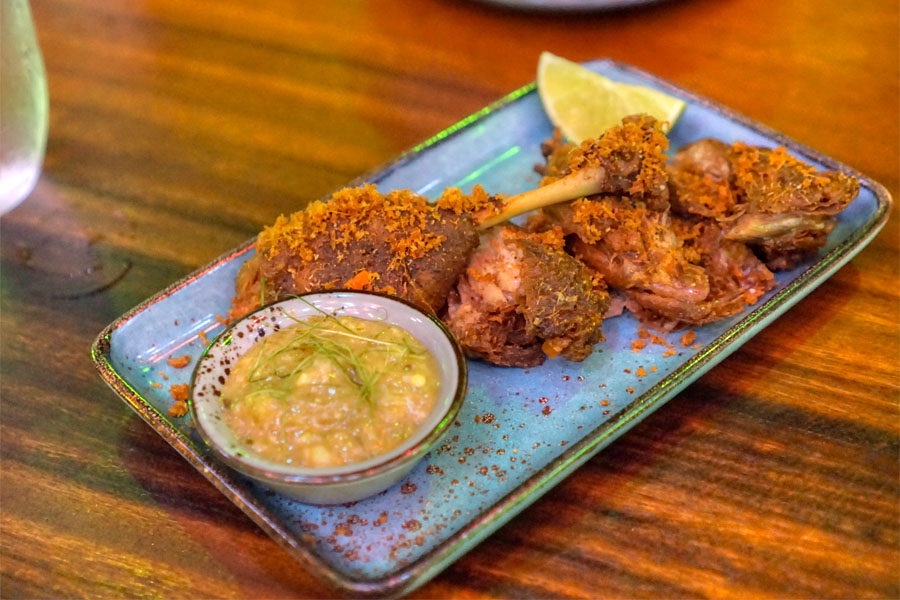 Bebek Goreng [$17.00]
| Crispy local duck quarters with Kasih spice blend, galangal floss and sambal hijau
Duck, unfortunately, was drier than I wanted, though its flavors were on point, and worked well with the paired sambal. Also of interest was the galangal floss (
abon
), which had a taste and texture that definitely reminded me of Chinese-style
rousong
.
The Gili [$12.00]
| Vodka, mango tamarind syrup, simple syrup, lime, and bitters
This was another easy-drinking cocktail with nary any trace of booziness. Rather, I got a blend of mango and the unmistakable sweet spice of tamarind, all leading to a persistent heat.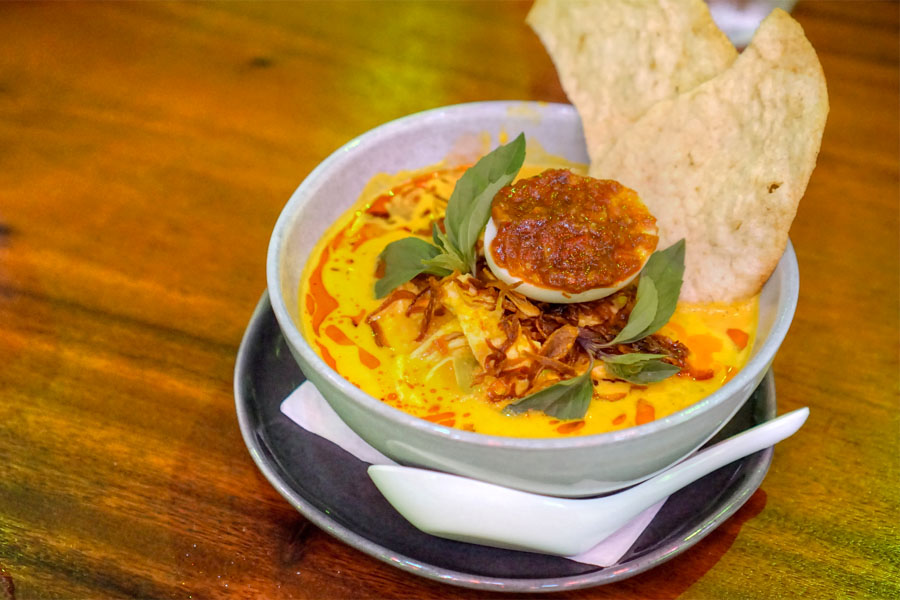 Kari Ayam [$17.00]
| Savory chicken curry, egg, chayote squash with sambal terasi and shrimp cracker
The
kari ayam
displayed plenty of your classically fragrant curry flavors over a base of tender chicken and supple squash. The egg added an extra bit of lusciousness to the dish, and I certainly liked the crunch of the shrimp crackers too. Homey and familiar overall.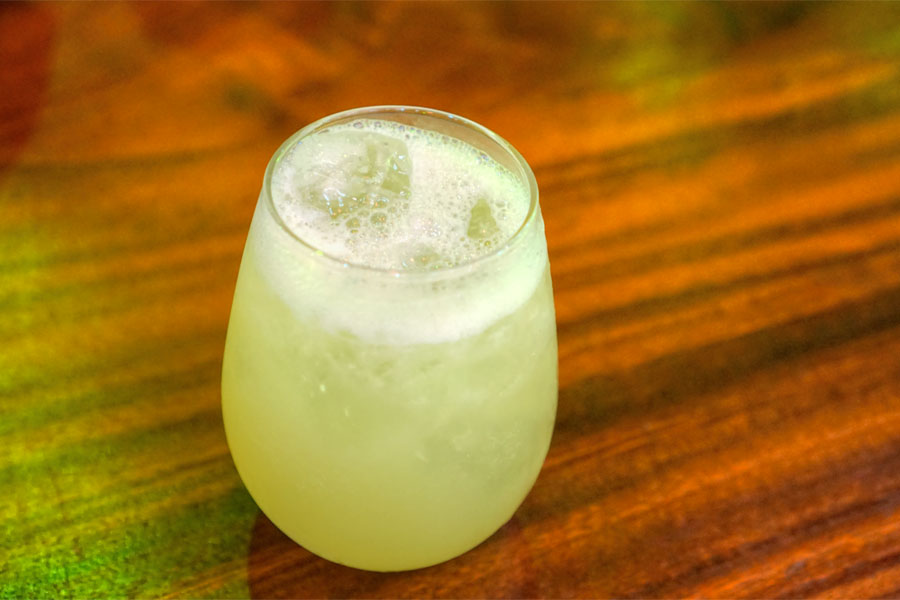 Shandy Special [$8.00]
| Vodka, lime, simple syrup, grapefruit shandy
The evening's second special cocktail was a great summer quaffer. It tasted like grapefruit soda at first, but also had some moderating bitter, grassy elements.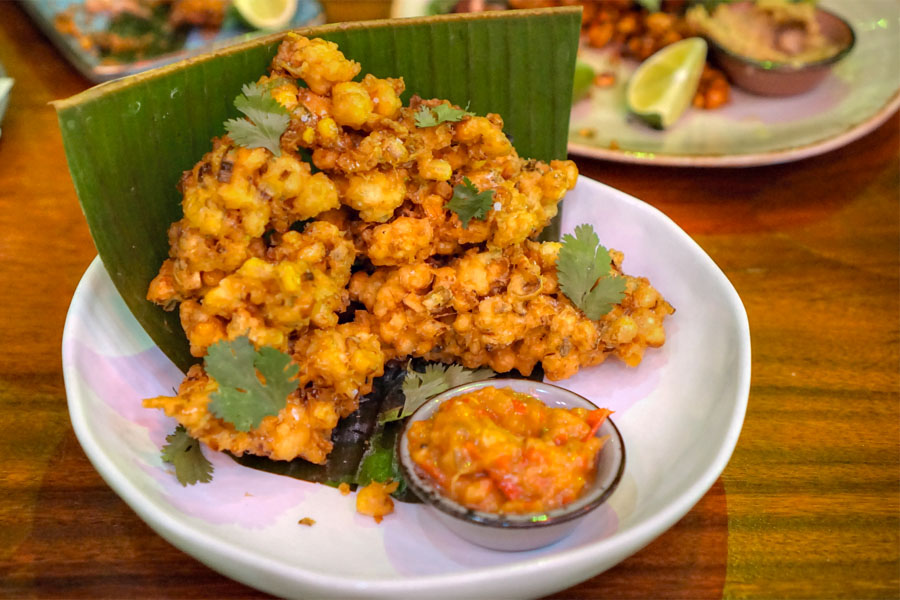 Perkedel Jagung [$11.00]
| Sweet corn fritter bites with scallion served with pineapple sambal
Corn fritters were delightful, coming out perfectly fried, with a sweetness to 'em that worked effortlessly with the tanginess of that paired sambal.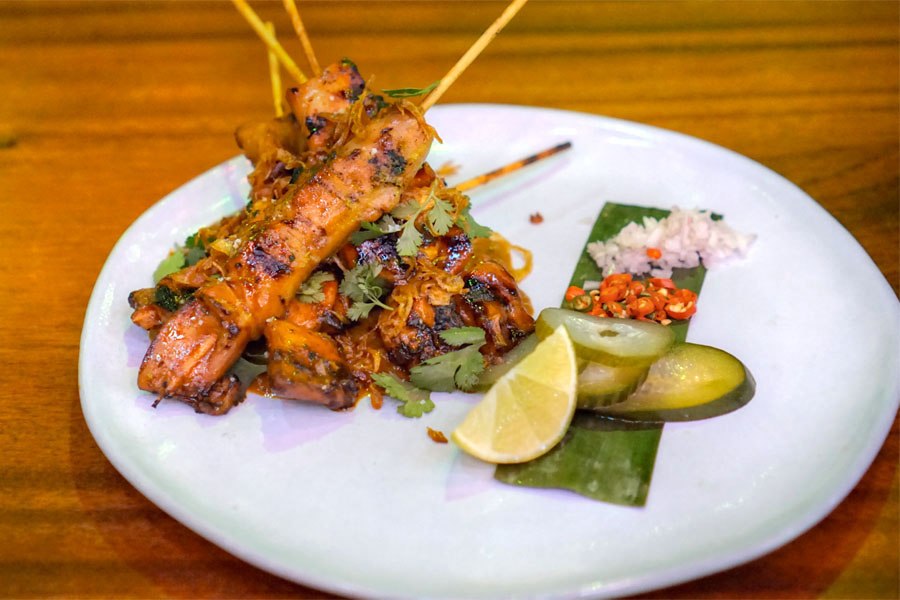 Sate Ayam [$14.00]
| Sweet soy glazed grilled chicken skewers with our signature peanut sauce
Satay's perhaps the most popular dish to come out of Indonesia, and is pretty ubiquitous at this point. I have to say, though, that Kasih's was easily one of the best I've had. The chicken was flawless, ariving tender and juicy and well-charred, with the perfect amount of sweetness and smoke.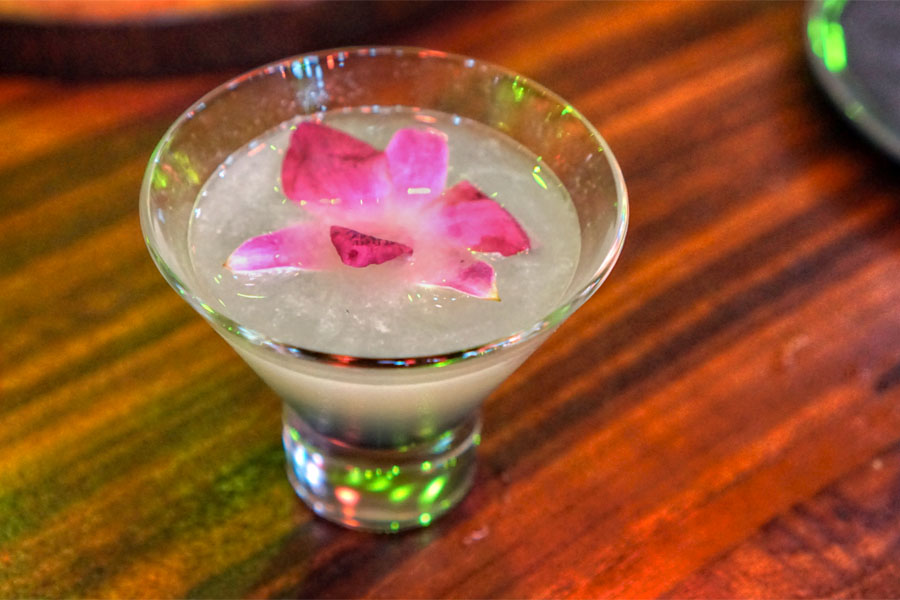 Putri [$11.00]
| Vodka, St. Germain, lychee juice, and raspberry liqueur
This next cocktail was probably the fanciest looking of the bunch. Taste-wise, I found it quite floral initially, with lots of sweet elderflower and lychee finishing with the heat of vodka.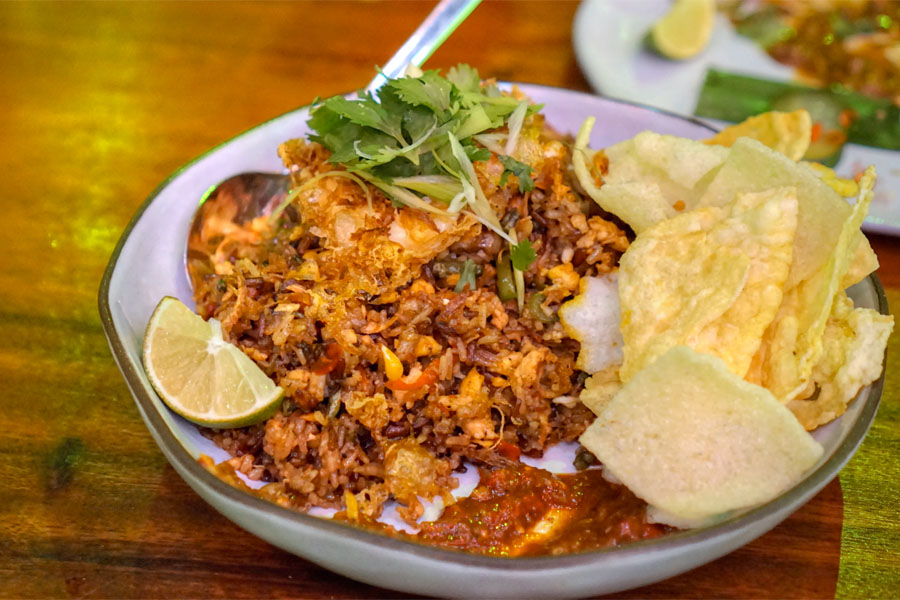 Nasi Kasih [$16.00]
| Special fried rice with pork, chicken, sambal terasi and fried egg
Kasih's take on
nasi goreng
delivered some uncommonly deep, earthy flavors, with a taste that one of my dining companions attributed to
wok hei
. You can't go wrong with the addition of egg either, and I also appreciated the textural contribution from those crackers.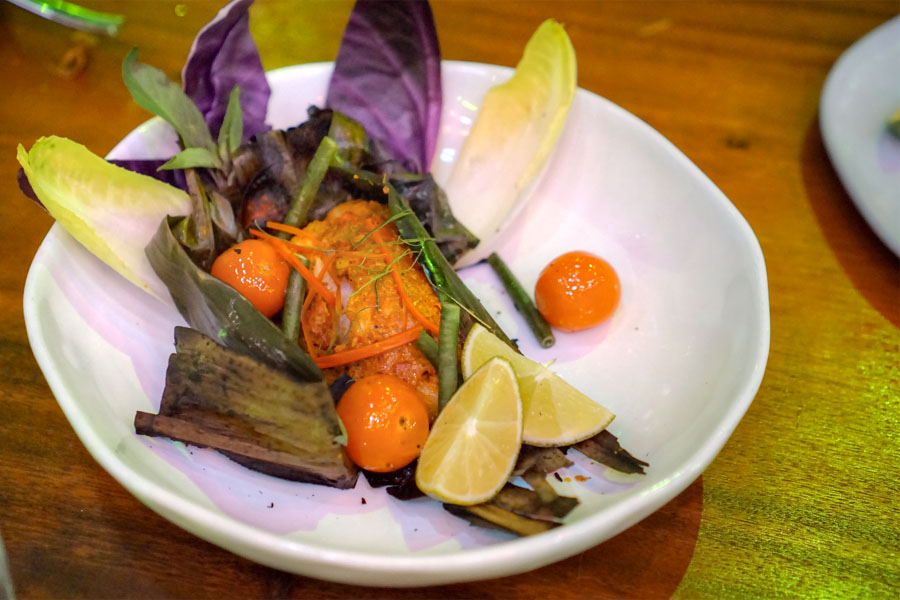 Pepes Ikan Cod [$18.00]
| Santa Barbara cod marinated in red curry and Thai basil grilled in a banana leaf served with snake bean and charred cherry tomato
A
pepes
prep of cod resulted in a firm, flaky, meaty fish with strong, but never domineering notes of lemongrass and curry spice. The various veggies, meanwhile, worked for contrast.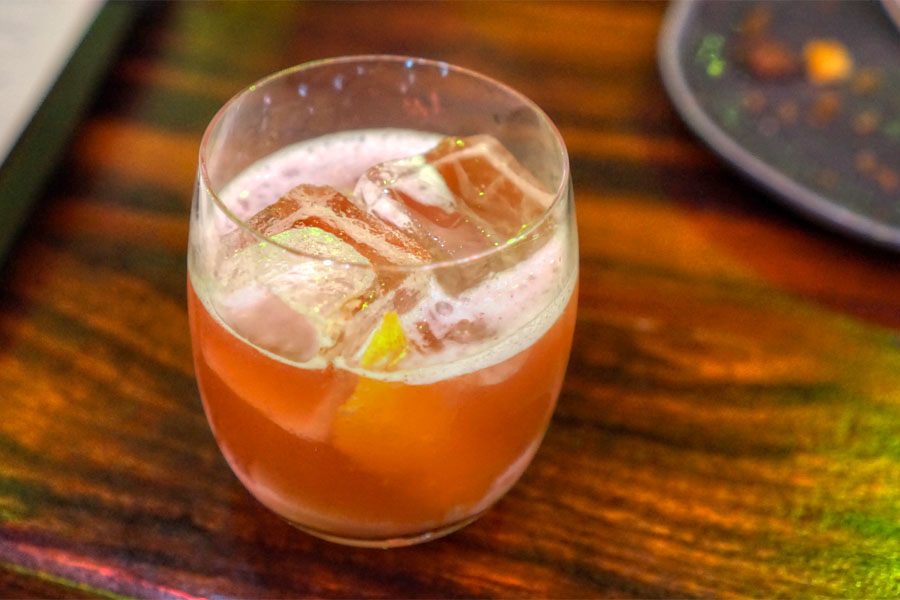 Tambling [$12.00]
| Bourbon, black lemongrass tea, lemon, and raspberry liqueur
Our next cocktail was a sort of reworked whiskey sour. This was very light on the booze again, but instead conveyed plenty of sweet 'n' tart notes alongside the aromatics of tea.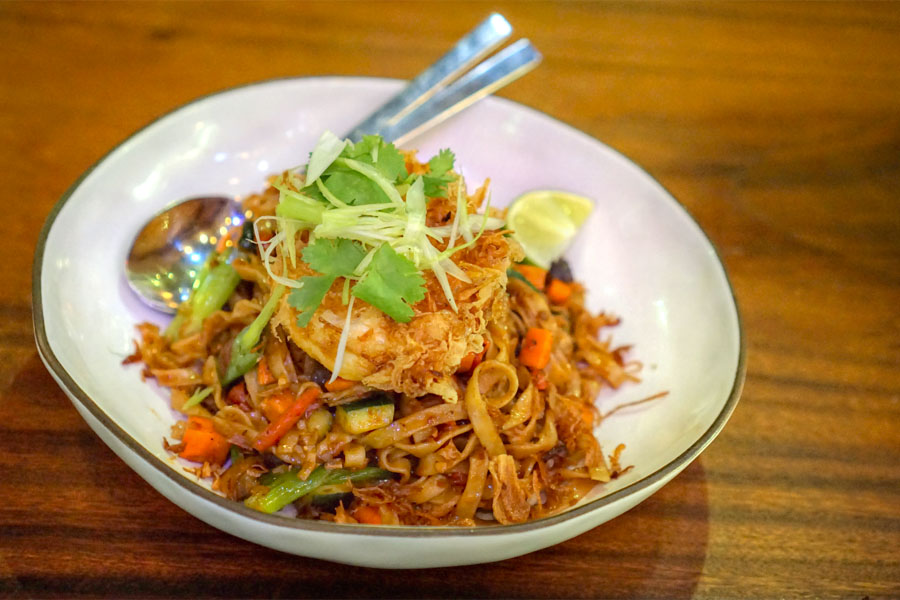 Mie Goreng [$13.00]
| Stir-fried noodles with shitake mushroom, zucchini, carrot, onion and fried egg
The
mie goreng
appeared to be more of a
kwetiau goreng
due to the thickness of the noodles, but I didn't mind the substitution. I found it a comforting dish for sure, its familiar, soy-fueled flavors meshing well with the veggies while the egg made things even better.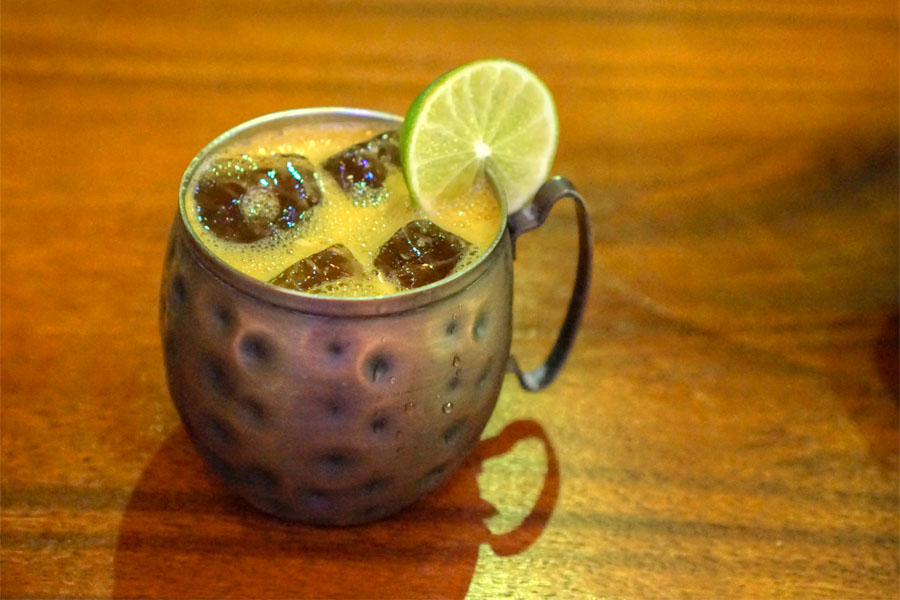 Mata Mule [$12.00]
| Pear brandy, ginger-turmeric palm syrup, lime juice, and bitters
A riff on the Moscow mule was easy to enjoy, really showing off the fruitiness of the brandy against a backdrop of zesty ginger.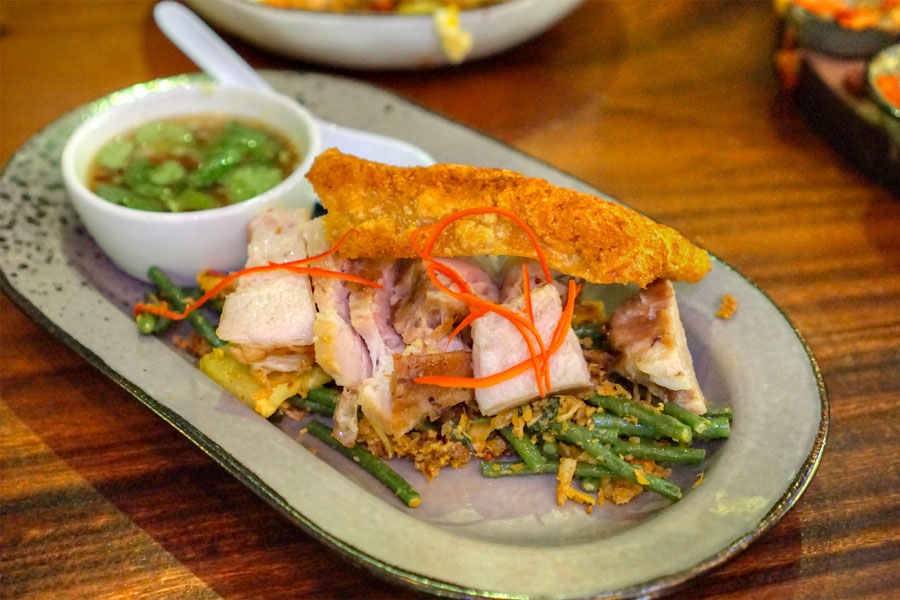 Babi Guling [$21.00]
| Roast crackling pork belly, Balinese salad and chayote chicken broth
Pork was a touch tougher than I'd prefer, but was still juicy and quite tasty, with a properly crispy skin too. I also appreciated the broth on the side, which had a sweet, herby character that actually matched up well with the meat.
Rendang Sapi [$20.00]
| Caramelized beef curry with sautéed spinach, confit pearl onion, fingerling potato, and market squash
Our final savory was this reimagined
rendang
. The beef ate tender thankfully, and had a very apparent coconut/curry/lemongrass flavor profile, but I wanted richer, more developed spice notes. Accompaniments of onion and spinach weren't exactly traditional, but served their role.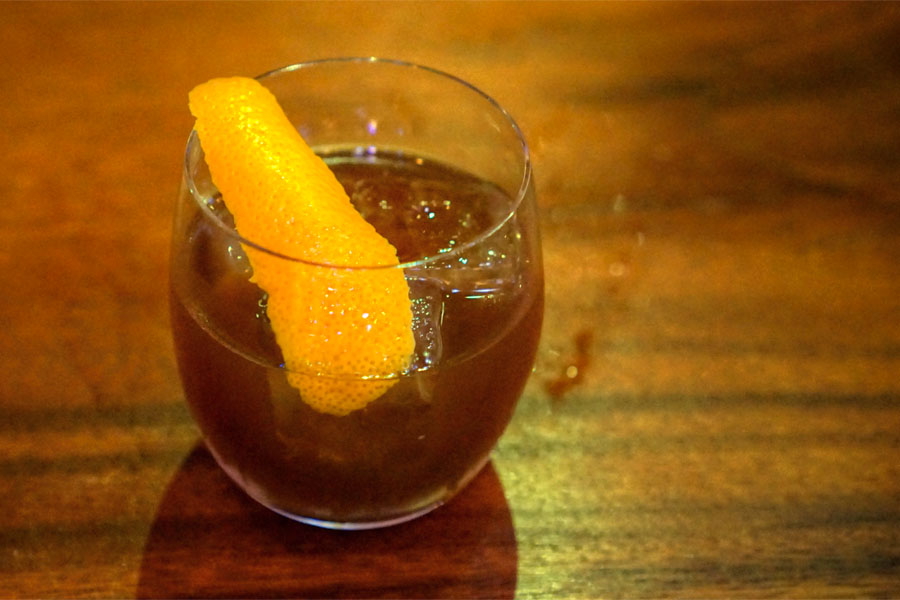 Kuno "Old Fashion" [$13.00]
| Banana infused Bourbon, palm syrup, bitters, and orange oils
The evening's last cocktail was this take on an Old Fashioned. The drink smelled almost "eggy," which was interesting. The palate was viscous for sure, showing off loads of sweet banana up front leading to a marked booziness and traces of bitterness on the back end.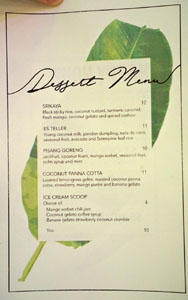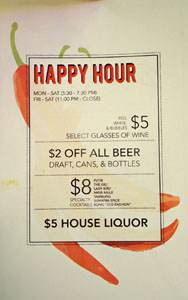 Above we see Kasih's dessert menu, which also holds the happy hour menu on its reverse. Click for larger versions.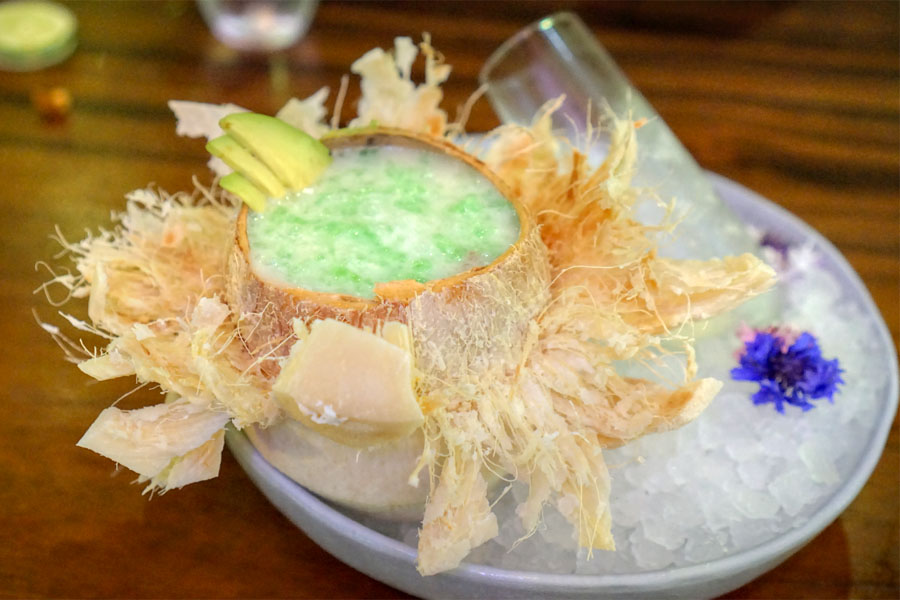 Es Teller [$11.00]
| Young coconut milk, pandan dumpling, nata de coco, seasonal fruit, avocado and Screwpine leaf rice
Our first dessert was this rather impressive looking version of
es teler
. I found it heavy on the pandan for sure, though the coconut definitely made for a sweet, refreshing balance. Some of my dining companions, meanwhile, were reminded of Vietnamese three-color
che ba mau
.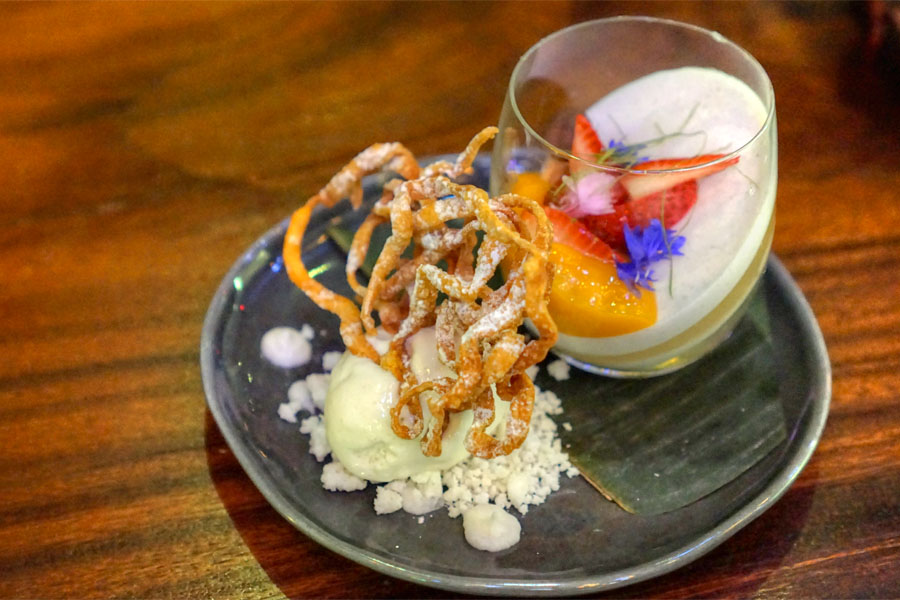 Coconut Panna Cotta [$11.00]
| Layered lemongrass gelée, roasted coconut panna cotta, strawberry, mango purée and banana gelato
Last up was a panna cotta, which seemed much firmer and "stickier" than it usually is. The flavors worked though (think fruity, with lots of lemongrass), and I especially enjoyed that banana ice cream on the side.
I don't have Indonesian very often, so I'm glad to see Kasih as a new option in town. From what I can tell, the cooking doesn't adhere to tradition in a strict sense, but has a sort of cheffy, LA sensibility to it that serves the restaurant well for the most part. Though there are liberties taken, the food does seem to capture the essence of the cuisine, that delicate-yet-intense, often complex balance of sour, spicy, sweet, and savory, and so the place generally works pretty well for me.