Somni (Los Angeles, CA)
Somni Restaurant at SLS Hotel Beverly Hills
465 S La Cienega Blvd, Los Angeles, CA 90048
310.246.5543
www.slsbeverlyhillshotel.com/somni/ / www.sbe.com/restaurants/locations/somni/
Tue 07/10/2018, 08:30p-11:20p
A restaurant-within-a-restaurant situated in the back room of José Andrés' The Bazaar,
Saam
had always been one of the more ambitious kitchens in LA ever since its debut in 2009. However, the place never seemed to catch on, never seemed to garner much attention, and ended up closing without too much fanfare at the end of July last year, ending its run with a couple special dinners with Mugaritz's Andoni Luis Aduriz. And in fact, Saam's replacement had been in the works since at least 2015, a replacement designed to create more intimacy, more interaction between guests and cooks. Somni ("dream" in Catalan) thus opened on March 9th as an evolution (or perhaps transformation) of Saam, one run by Aitor Zabala, longtime Culinary Director of Andrés' ThinkFoodGroup.
About the Chef
: Zabala's family hails from Basque Country, though he grew up in Barcelona. His mother actually had a Basque cuisine restaurant, but didn't want him following in her footsteps. He thus joined the armed forces and worked on motorcycles before deciding to dedicate himself to cooking, subsequently earning his culinary degree from La Escuela de Hostelería Hofmann in Barcelona. Following, Zabala worked for two years as a line cook at Pedro Subijana's Akelarre in San Sebastian, spent two years at ABaC in Barcelona as sous, then served as CdC at Alkimia for another two years. He also underwent a number of
stages
during this period, including one at San Sebastian's vaunted Arzak. After leaving Alkimia, the Chef joined the team at elBulli, which is where he really got into modernist cooking.
It was also here where Zabala would meet José Andrés for the first time (he happened to be visiting with Anthony Bourdain). Andrés brought him back to Washington DC, but Zabala wasn't impressed, and quickly returned to Spain. However, following a stint in Quebec, he eventually followed a girlfriend back to the US, got in touch with Andrés, and joined his team in June 2010. At ThinkFoodGroup, he helped open a number of projects, including Jaleo and China Poblano in Vegas, America Eats Tavern in DC, Mi Casa by José Andrés in Puerto Rico, the new incarnation of
Minibar
, and an iteration of The Bazaar at Miami's SLS South Beach. Afterward, Zabala made his way to LA to helm the kitchen at Saam, which set the stage for where we are today.
The logistics
: This is a tickets-only sort of place, and said tickets are available on
Tock
, released at 10am Pacific the first Monday of every month for the following month. The price of the 20+ course menu is $235 per person, which includes valet but not the 20% service charge or 9.5% tax. The total base price is thus $308.79. The restaurant seats up to 10 diners at a time at two seatings: 6:00pm and 8:30pm, Tuesdays through Saturdays.

The former Saam space was redone by Juli Capella, who also designed Minibar, and there's definitely a family resemblance between the two. Whereas Saam held roughly 40 diners, Somni seats a mere fourth of that. The room is rendered in light earth tones, with liberal use of oak and white marble, while three Okuda San Miguel sculptures on the wall contribute pops of color. The kitchen is open, of course, and fronted by a healthily-sized prep area.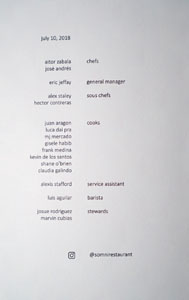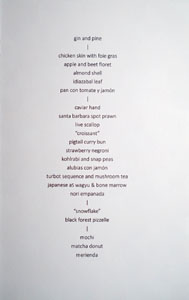 Above we see the evening's (minimalist) menu, which encompassed 22 courses. Wine pairings are available at $175/Unique, $250/Prized, and $500/Vintage levels (we went with the middle one), and there's also a $75 infused grape juice pairing option. Corkage, meanwhile, is a very hefty $80, limit two per party. In addition, the full listing of the staff is a nice touch I have to say. Click for larger versions.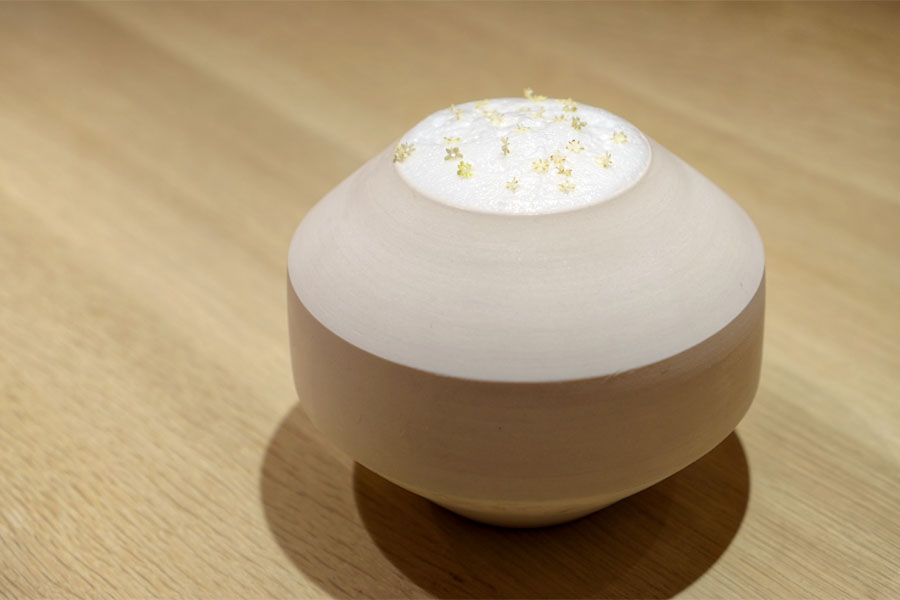 1: gin and pine
Upon taking our seats, we were soon presented with the night's opening cocktail, which I believe was called a "Pine One." It combined Oregon spruce with fire-roasted pineapple and drops of Mediterranean gin, and definitely served its purpose of awakening the palate. I got an abundance of sweet, smoky, herbaceous, and savory, all in harmony, with a great back-and-forth between the competing elements. Nice temperature contrast, too.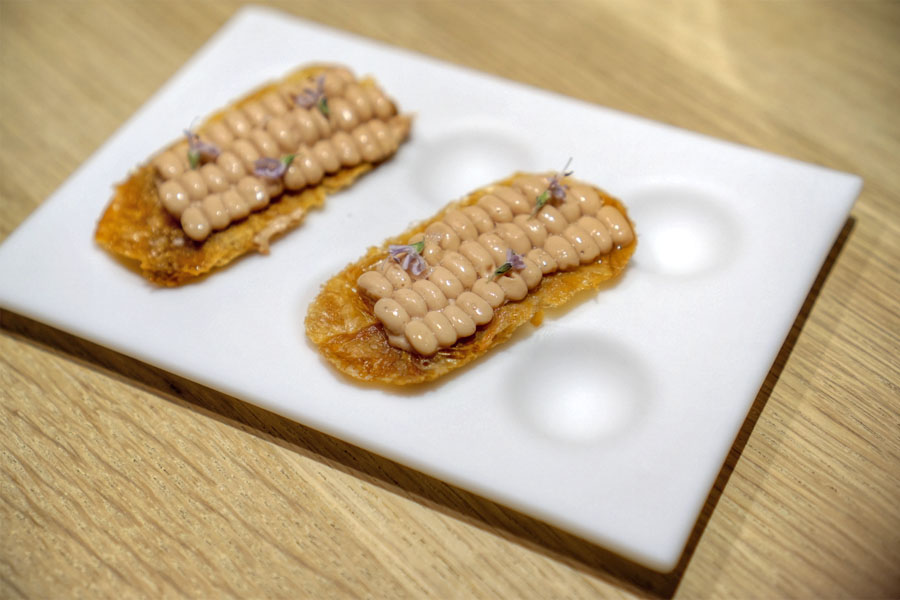 2: chicken skin with foie gras
2013 Moussé Fils Champagne Special Club
The meal proper began with a parade of opening snacks, and up first was a whimsical preparation of foie gras that was certainly a taste of things to come. I got plenty of the saltiness, savoriness, and crunch of the chicken skin right away, which then led to the rich, refined essence of foie. The combo actually worked out surprisingly well.
Along with the snacks came our first wine, a sparkler utilizing 100% Pinot Meunier, which you don't see very often. The nose on this one was fruit-forward and sweet, with fresh citrus and a yeasty underpinning. The palate was smooth, easy, bringing more lemon and pome fruit alongside a backing of toast. Tasty.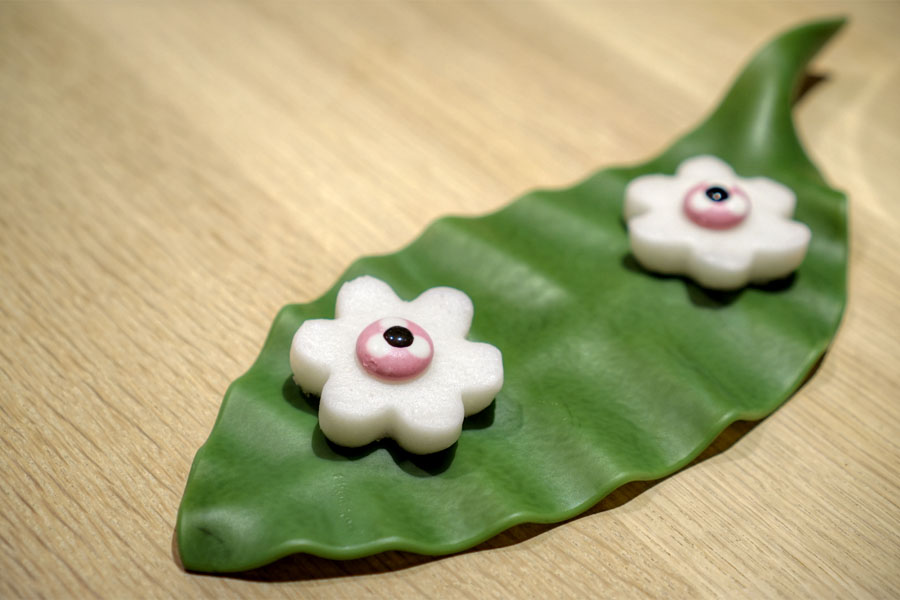 3: apple and beet floret
2013 Moussé Fils Champagne Special Club
Our second snack was an apple meringue floret with dots of beet. What really surprised me here was how airy the meringues were; they had almost no weight to them, which was actually a tad disconcerting. Taste-wise, we got a tart, fruity punch up front, while the tangy, lactic nature of the meringue made itself known on the back end.
4: almond shell
2013 Moussé Fils Champagne Special Club
Next up were some rather realistic looking almond shells filled with lemon and almond cream. These were super delicate, their thin, fragile shells breaking apart at the slightest bite, revealing a multifaceted sweet nuttiness with an almost candied character. This made me smile.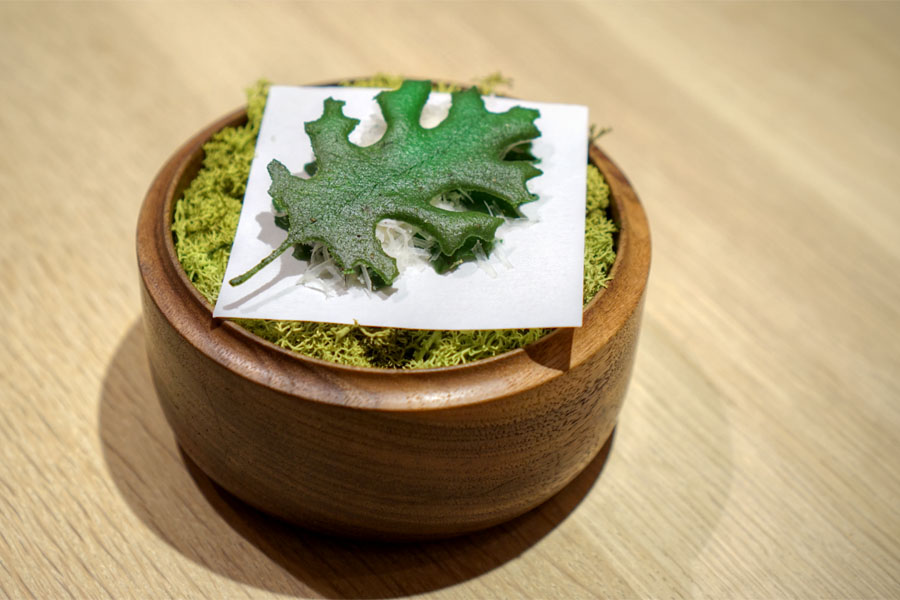 5: idiazabal leaf
2013 Moussé Fils Champagne Special Club
A cheese cracker masquerading as a leaf combined lemon, smoked Idiazabal, and oregano powder. The end result was a salty, crisp chip that really highlighted the pure, unmitigated richness of the cheese. This one definitely didn't taste like it looked.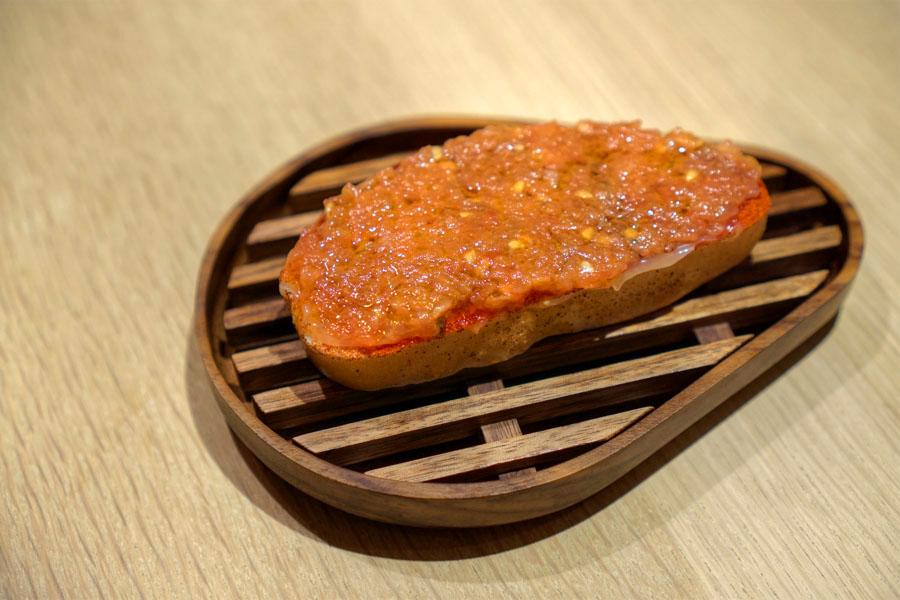 6: pan con tomate y jamón
2013 Moussé Fils Champagne Special Club
A riff on the Catalan staple of
pa amb tomàquet
was memorable for sure. What was awesome here was the texture on the bread, which I believe had all the water extracted out of it, resulting in a firm-yet-yielding, ethereal consistency that actually reminded me of floral foam. A topping of
jamón ibérico
butter and fresh tomato, meanwhile, gave the dish some delightfully sweet, smoky flavors that really captured the soul of the classic dish.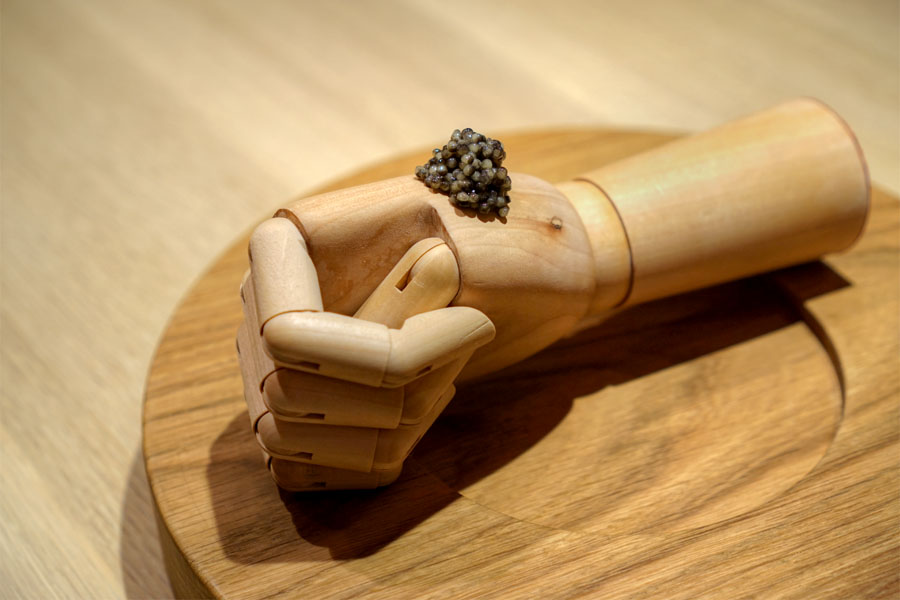 7: caviar hand
2013 Moussé Fils Champagne Special Club
The "caviar bump" was given a makeover in our final snack. Earlier that day, Russian Ossetra was infused with black truffle for six hours, and the resulting caviar was wonderfully smoky and saline, with the truffle omnipresent, but subtle, peeking through just enough to make things interesting. And yes, if you're wondering, someone has indeed "put a ring on it," using one of the hands for a marriage proposal.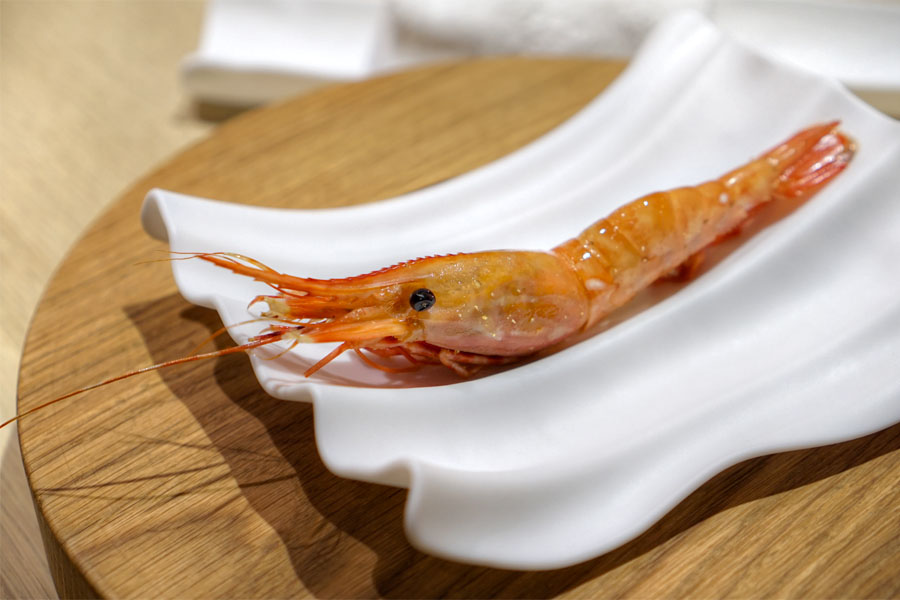 8: santa barbara spot prawn
2009 Luis A. Rodriguez Vazquez Ribeiro Viña de Martin Escolma
At this point we moved into some more substantial courses. Live Santa Barbara spot prawns were dispatched mere minutes before hitting our plates, their heads seared on the plancha and their bodies smoked. The resultant shrimp was supple, but with a crispness to it, and among the sweetest-tasting I've had, perhaps due to the contrast imparted by the smoke. And yes, you absolutely gotta suck the head, which was positively earthy, filled with the concentrated quintessence of the crustacean.
Our paired wine came from the northwestern portion of Spain, near the Portugal border, and was created using Albariño and Treixadura grapes. Intense nose of rich stone fruit, flowers, and funk. Taste-wise, I got more fruit alongside some grassy nuances, oak, and minerals. Quite nice.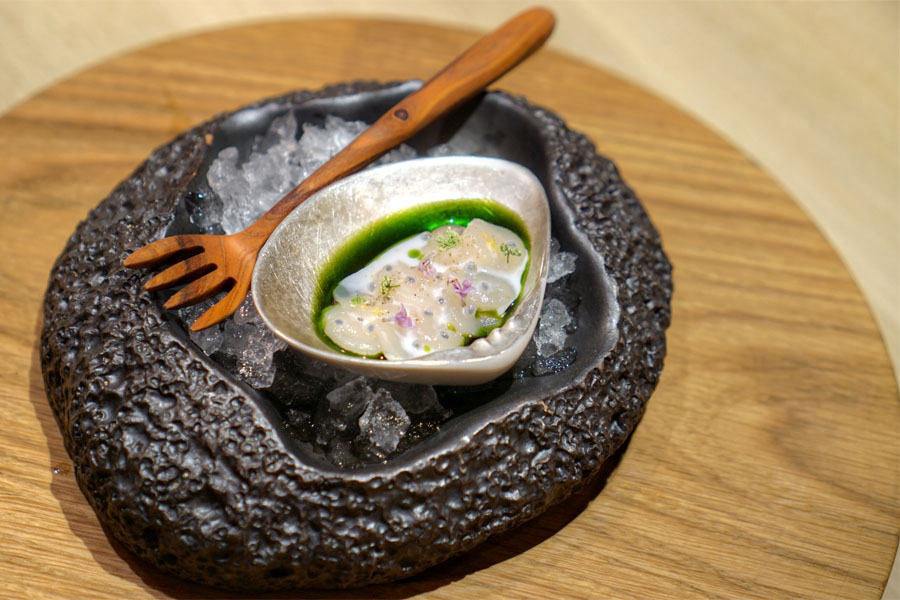 9: live scallop
2009 Luis A. Rodriguez Vazquez Ribeiro Viña de Martin Escolma
Scallop was accompanied by smoked burrata, buttermilk, basil, and basil seed "caviar." The dish was a treat for the eyes, while the scallops showed off a soft sweetness and salinity perked up by the brightness of basil and a trace of smoke. My favorite part, though, was the lactic, creamy element from the buttermilk, which was totally unexpected.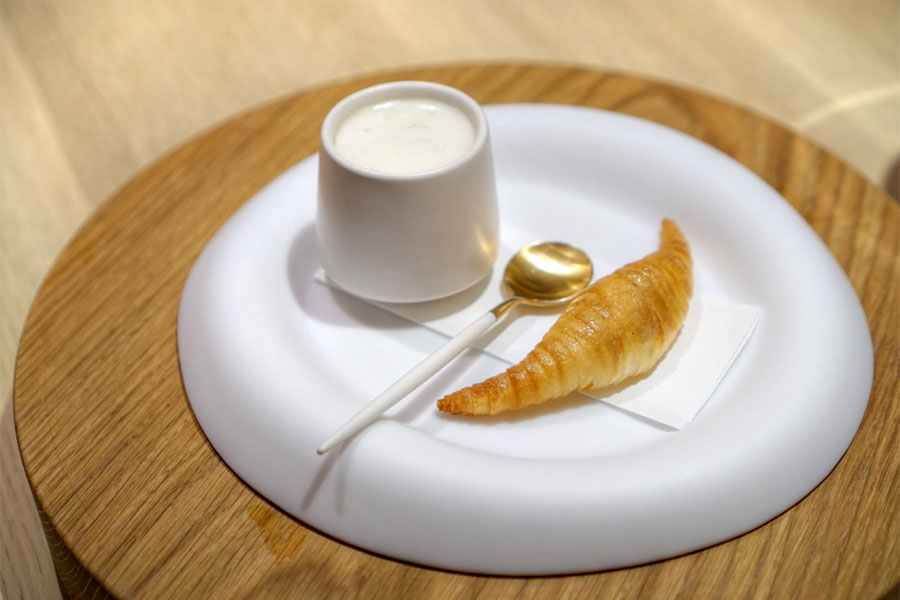 10: "croissant"
2015 Domaine de Bellivière Jasnières Les Rosiers
Inspired by a traditional Catalan fisherman's stew called
suquet
, this course was a table favorite. In the cup was lobster broth enriched with mushroom cream. It was like lobster bisque, but so much better, so much more condensed, so much more gratifying. What was even more magnificent, though, was the potato "croissant," comprised of thin, mandoline'd potato formed into the shape of the pastry. It just may have been the best presentation of potato I'd ever had: texturally crisp, flaky, but soft, with focused, yet utterly finessed potato flavors. And yes, be sure to dip.
Accompanying the dish was a Loire Valley Chenin Blanc, made from 50-year-old vines and finished on young French oak. The wine smelled of bright, ripe, juicy apple--quite nice. The palate was smooth, slick, and I noticed vibrant notes of fruit and flowers, making for a somewhat off-dry, but very pleasing sensation.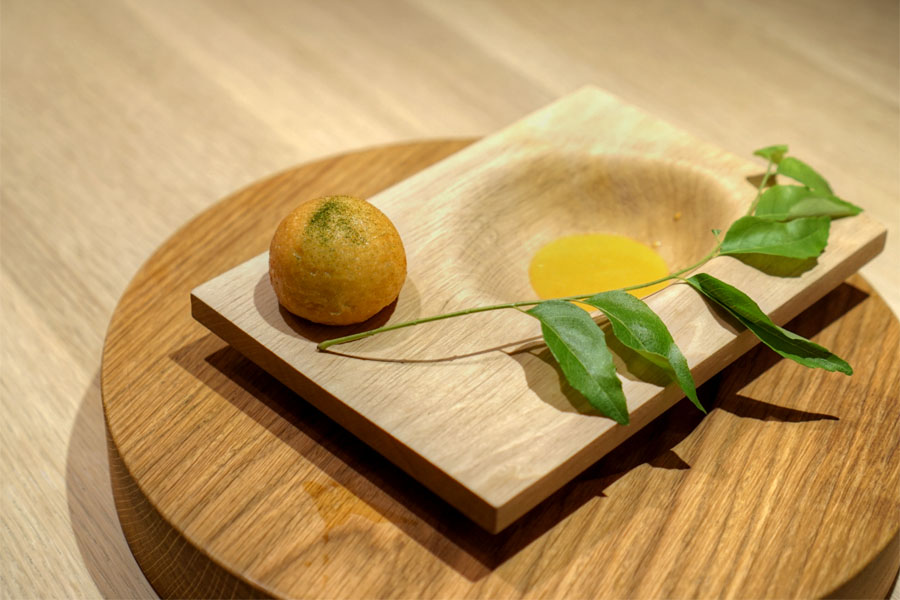 11: pigtail curry bun
2015 Domaine de Bellivière Jasnières Les Rosiers
Following was another favorite of ours. We had here pig tail, braised in red curry sauce, then formed into a bun and dusted with curry leaf powder and served with more curry sauce for dipping. I loved the zestiness, the richness, the depth of the curry and how it meshed with the pork, forming a familiar but oh-so elegant flavor profile that was just deeply satisfying. And the bun? Think flaky, soft, savory, a perfect vessel for the tail. Superb--I wanted to pop about a dozen of these.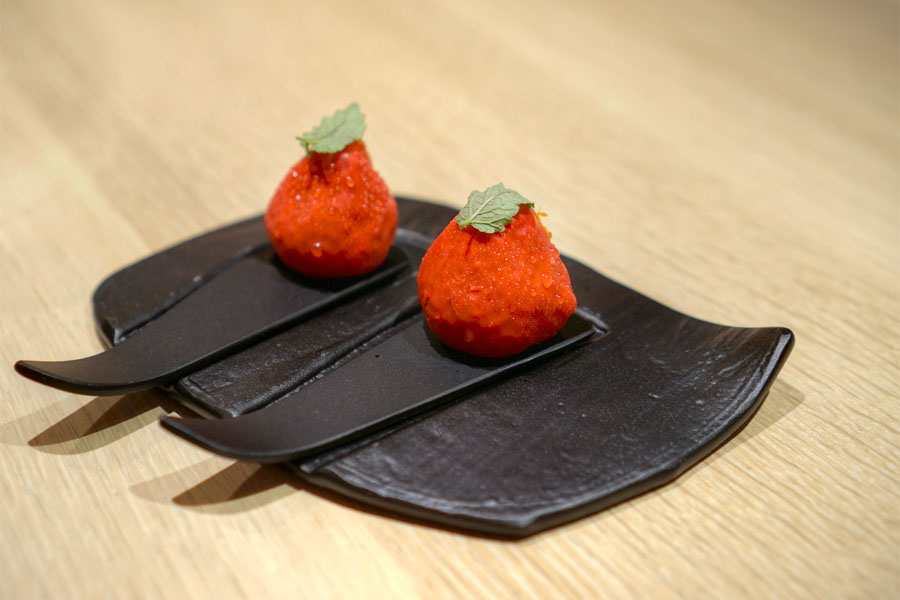 12: strawberry negroni
Our second "cocktail" marked the midway point of the meal and served as a sort of intermezzo. It was a strawberry shell filled with liquid strawberry, vermouth, and Aperol. I found it super delicate, and fun, the dish bursting in the mouth at the faintest provocation, coating the palate with bright berry flavors moderated by a touch of basil.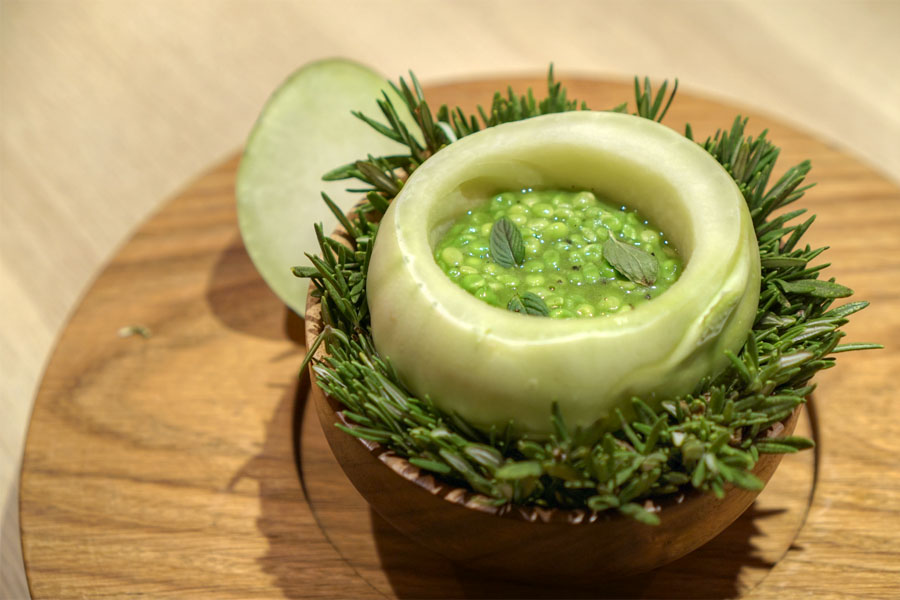 13: kohlrabi and snap peas
2017 Ruth Lewandowski Wines Feints Fox Hill
The latter half of our meal commenced with a kohlrabi bowl containing hand-selected "very tiny peas" picked just for this service, kohlrabi purée, truffle gelée, and thinly-sliced Italian black truffle. We were instructed to eat from the bottom up in order to get all the various elements, and the effect was pretty great, the sweet flavors of the pea working seamlessly with the truffle's earthy musk. What I found most interesting, though, were the peas themselves, which were indeed the smallest I'd ever seen and thus gave the dish an unexpectedly intriguing textural profile.
Along with this course came arguably the most interesting wine of the pairing, one apparently made from Italian grapes (Arneis, Dolcetto, Barbera, Nebbiolo) grown and fermented in Mendocino County, but later aged in concrete "eggs" in Salt Lake City. It was super fun, and very quaffable for the summer, its ripe nose of berry and flowers leading to a tart, tannic, red fruit palate that was bright and utterly refreshing.
14: alubias con jamón
2017 Ruth Lewandowski Wines Feints Fox Hill
A classic dish of pinto beans and ham was given a drastic update. It just wouldn't seem right to have a meal here without some sort of spherification, and so we had spherified "beans," soft, fragile, jiggly specimens that really did recall your everyday
alubia
. The key here, though, was that
jamón ibérico
-infused broth, which was wonderfully rich and full-flavored, and really did provide a cozy feel to the dish.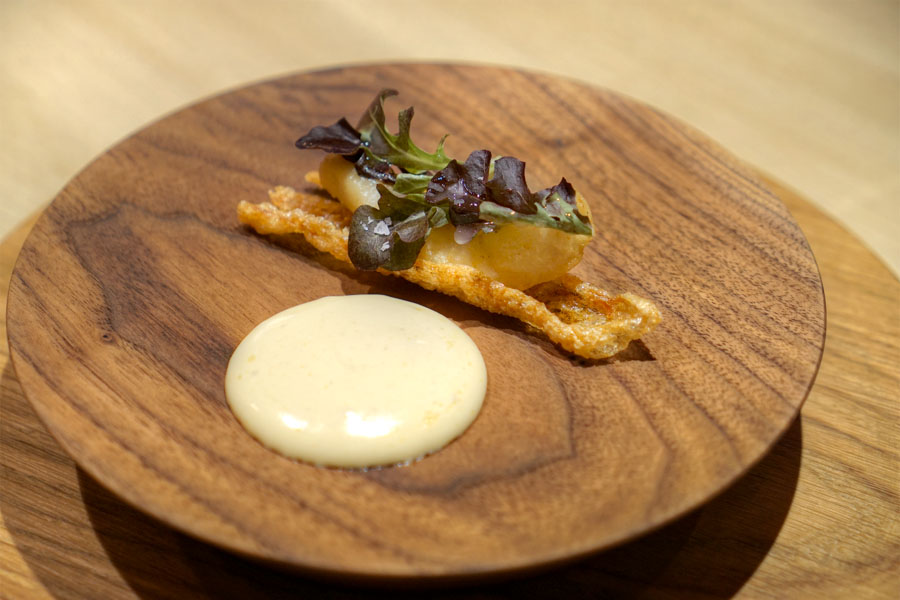 15a: turbot sequence and mushroom tea
2017 Ruth Lewandowski Wines Feints Fox Hill
Here was turbot from Spain, the loin tempura'd and served atop its deep-fried, dehydrated skin. I loved the salty, super crisp
chicharrón
, which actually operated beautifully as a counterbalance to the fish, while the greenery on top provided a sour, zippy accent that worked as a finishing touch. Interestingly, I think I actually enjoyed this better without the espuma on the side.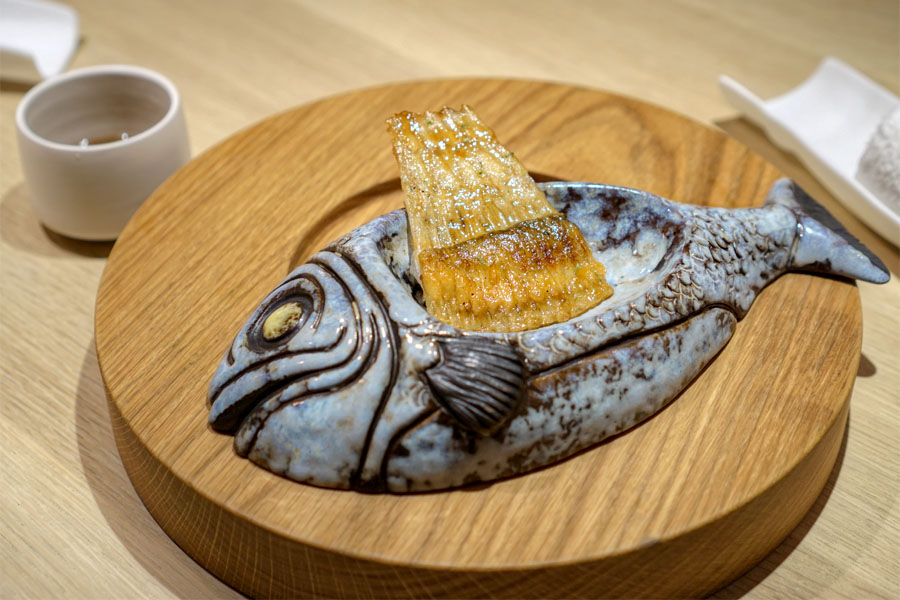 15b: turbot sequence and mushroom tea
2017 Ruth Lewandowski Wines Feints Fox Hill
Next, turbot wings were lightly smoked, then glazed with veal sauce. We treated them like ribs, pulling the wings apart and reveling in their smoky, sweet, savory, bony and gelatinous nature. On the side was a cup of mushroom and lemon verbena tea, which functioned as an astringent palate cleanser that really evened out the potency of the fish.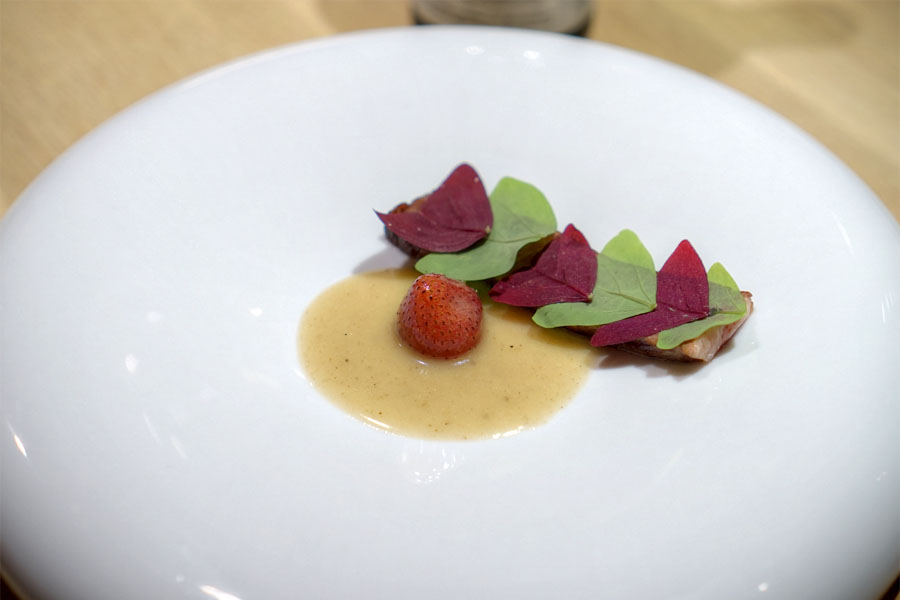 16: japanese a5 wagyu & bone marrow
2013 Edmunds St. John Syrah North Canyon Road Fenaughty and Barsotti Ranch
Our "main course" was dry-aged A5 wagyu from Miyazaki tiled with butterfly sorrel, accompanied by bone marrow sauce and a smoked Harry's Berries strawberry. The beef itself was pretty much flawless, arriving properly rare, with just the right amount of sear and its fat perfectly integrated. However, the crux of the dish was the sorrel, which imparted a tart, puckering contrast that really perked up the meat.
To drink, we had Syrah made by a wife-and-husband team from California's Sierra Foothills. I got an invigorating nose rife with jammy fruit, smoke, and baking spice. The palate followed, giving us more smoke, more herbs, a touch of meat, and lots of berry fruit--very smooth, and very tasty.
17: nori empanada
This course marked the transition from savory to sweet: seaweed candy stuffed with black sesame butter. The umami from the
nori
really hit me at first, but this quickly faded into the sweet, creamy, nutty nature of the butter, while the seaweed once again returned on the finish.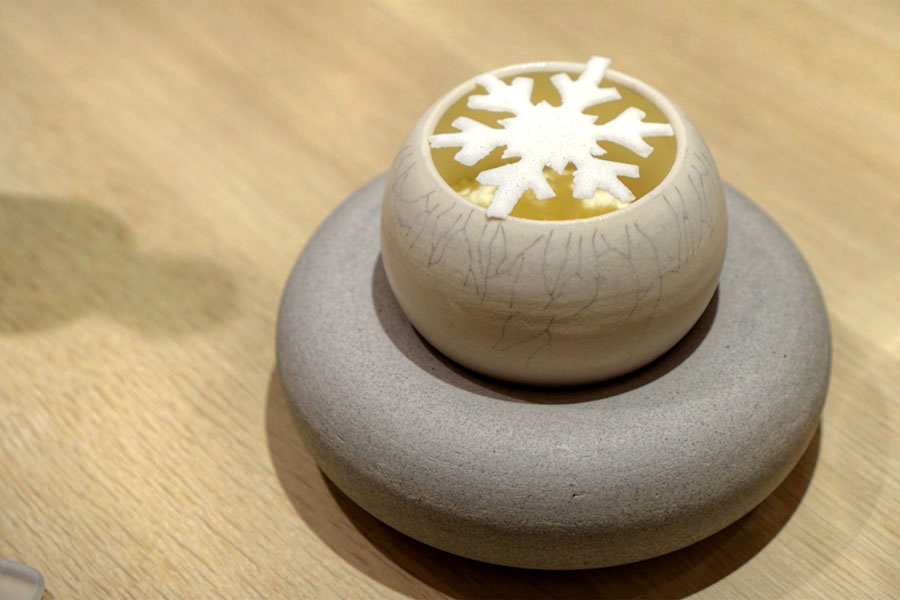 18: "snowflake"
2010 Argyros Vinsanto 4 Years Barrel Aged
Our first dessert was comprised of mandarin-olive oil ice cream, mandarin gastrique,
crema catalana
, and yogurt "snow," all topped with a cracker. Taking it all together, the end effect was all creamy and citrusy and not unlike that of an orange Creamsicle. Loved the crunch from the "snowflake," too.
Dessert wine duties were taken care of by a Vinsanto from Santorini, one aged four years in French oak and another year in the bottle. It was just what I wanted. Heady bouquet rife with rich raisin notes and baking spice along with a nutty, oxidative character. The palate was thick, and displayed more sugary, aromatic raisin and honey, but this was balanced out by a persistent acidity and just a smidge of booziness. Delish.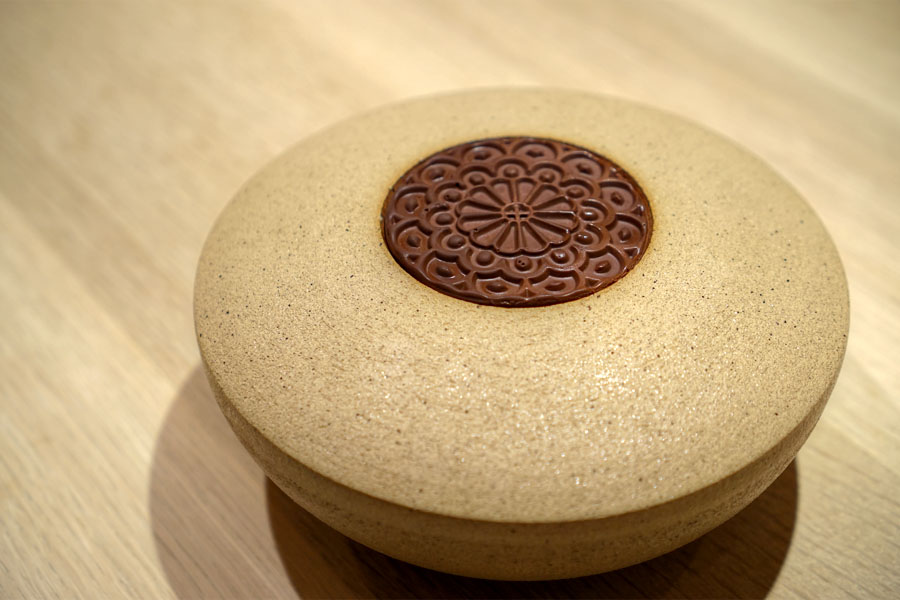 19: black forest pizzelle
2010 Argyros Vinsanto 4 Years Barrel Aged
A dark chocolate
pizzelle
had hidden underneath three representations of cherries, more chocolate, and vanilla ice cream. It really did recall the chocolate, cream, and dark fruit flavors of a classic Black Forest cake, and I especially liked the sort of minty accent present.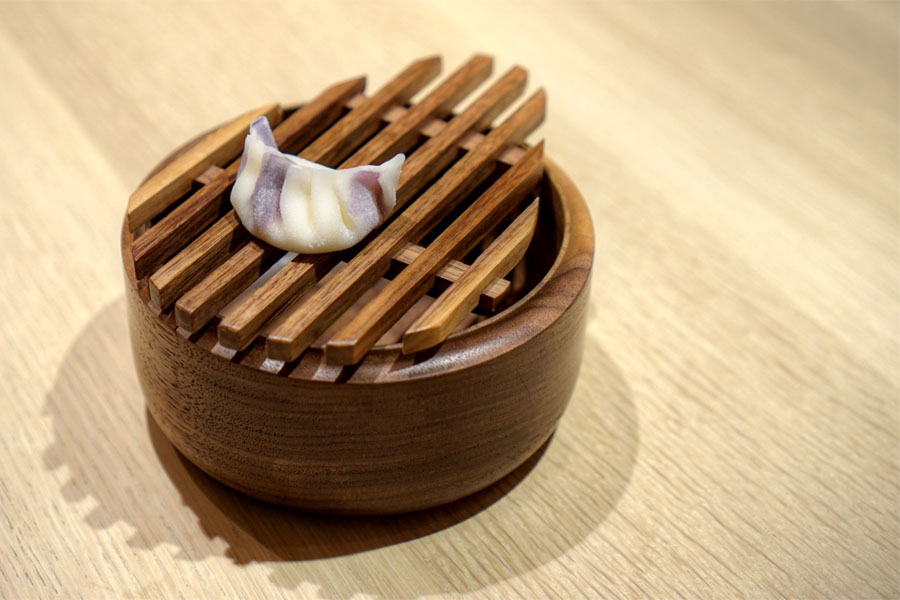 20: mochi
2010 Argyros Vinsanto 4 Years Barrel Aged
Next was a
har gow
-shaped dumpling flavored with rice pudding, making for a sweet, but also floral bite with a pleasantly-textured wrapper. I could've used a couple more of these guys.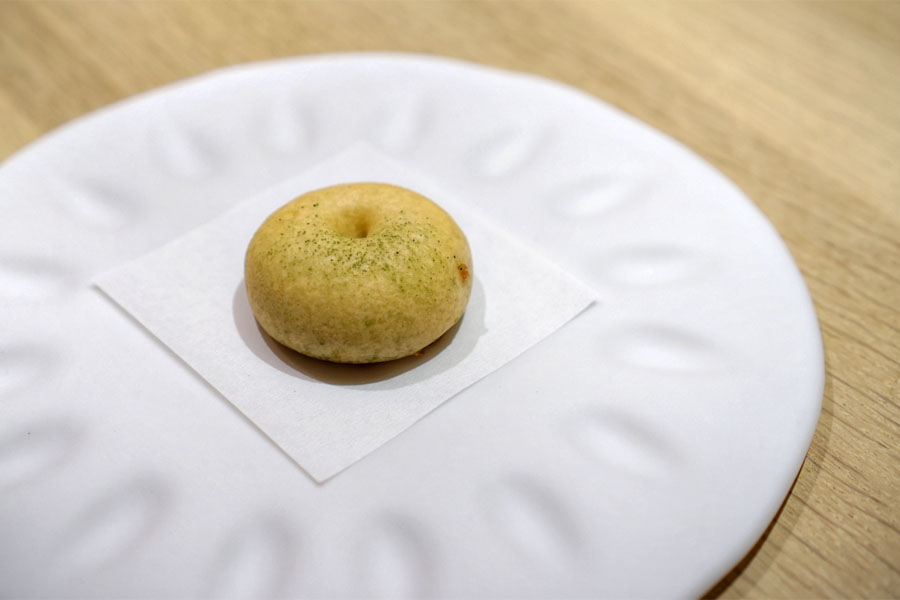 21: matcha donut
2010 Argyros Vinsanto 4 Years Barrel Aged
A fried doughnut filled with green tea ice cream was as fun as it sounded, its superb bittersweet
matcha
notes marrying beautifully with the crisp, classic donut dough. And again, I wouldn't have minded a baker's dozen.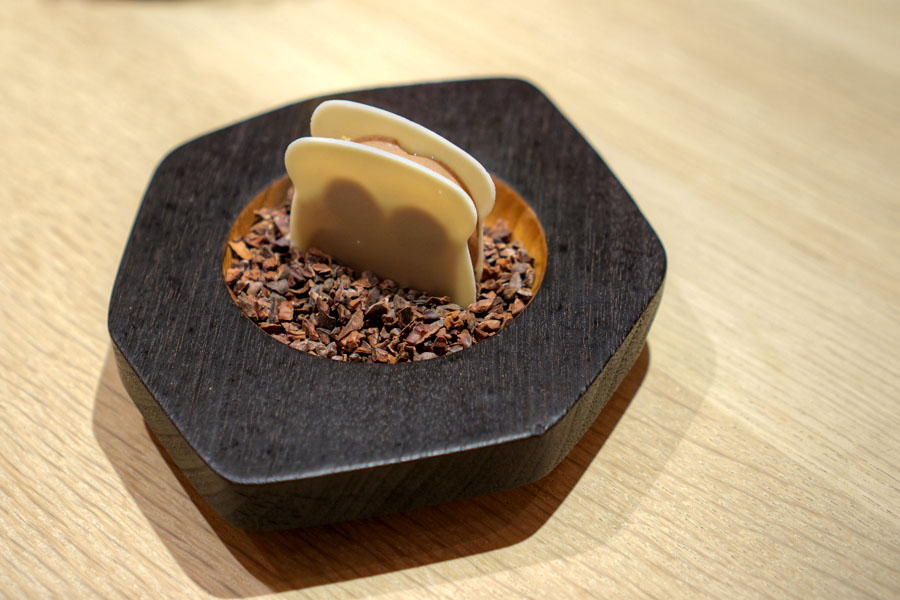 22: merienda
2010 Argyros Vinsanto 4 Years Barrel Aged
We ended with a miniature sandwich of sorts, composed of white chocolate, chocolate ganache, toasted brioche, and olive oil. It served the role of a
mignardise
in effect, with its recognizable chocolate-y flavors and slight crunch.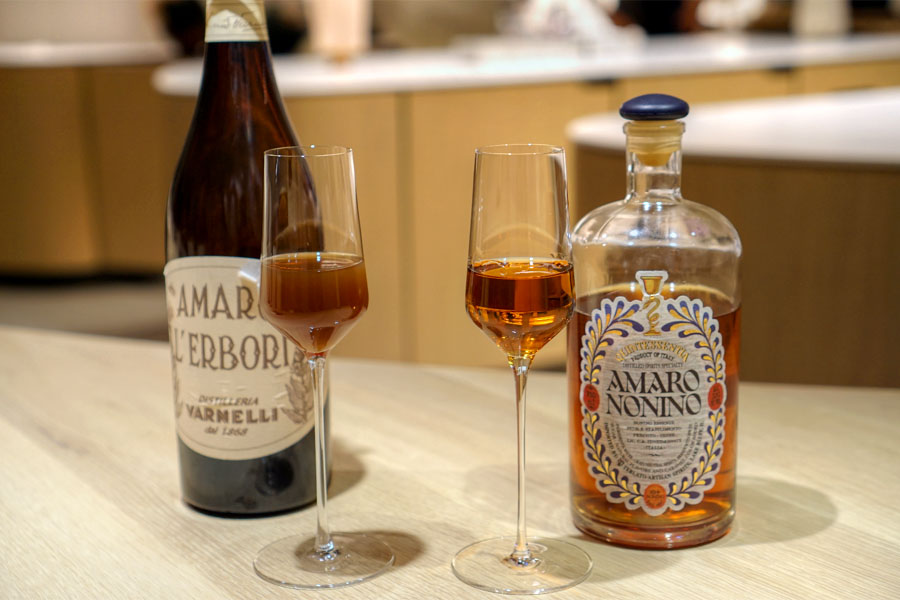 To round out the meal, we ordered two
amari
: the ubiquitous
Amaro Nonino, Quintessentia, Friuli [$15]
and the
Varnelli, Amaro Dell'Erborista, Marches [$15]
, an unfiltered, sweeter-than-usual example that we were all quite enamored with.
Having been to Minibar in DC and é in Las Vegas, I'd always felt like Saam wasn't quite at their level. With Somni though, that's all changed. This place is right up there with the flagships of Andrés' restaurant empire. Compared to the more whimsical, technique-heavy nature of Minibar and the theatrics of é, Somni seems more focused on product, on the classics. The cooking still leans avant garde, certainly, but it's rooted in Spanish tradition, with a Californian touch. The food is uncompromisingly precise, finessed, but also less cerebral than I'd anticipated, instead focusing on pure, unmitigated deliciousness. Somni is no doubt one of the most exciting dining experiences (and I emphasize the
experience
aspect of it) in town at the moment, and I do hope it gets the recognition it deserves.