Broken Shaker (Los Angeles, CA)
Broken Shaker at Freehand Hotel
416 W 8th St, Los Angeles, CA 90014
213.395.9532
www.freehandhotels.com/los-angeles/broken-shaker/
Tue 07/03/2018, 04:25p-06:55p

Miami's Broken Shaker is considered by many to be one of the best cocktail bars in America, and is oft credited for revitalizing that City's drinking scene. The LA outpost of the bar debuted at the start of September last year, located on the rooftop of the
Freehand
hotel in a fun, casual setting replete with plenty of greenery, bright colors, and vintage tchotchkes. I'd been wanting to visit pretty much since the place opened, and I actually attempted to do so a couple times, but both tries were foiled by a lack of space and thus long waits. This time though, I decided to come at an off-peak hour, and was able to be seated at the bar immediately.
A bit of history
: Broken Shaker is the work of
Bar Lab
, a beverage consultancy service, and its two founders, Gabriel Orta and Elad Zvi. The two first launched Broken Shaker in January 2012 as three-month (later extended to six) pop-up inside the old Art Deco Indian Creek Hotel in Miami Beach, which was in the process of being renovated by the Sydell Group (the firm behind
NoMad
and
The Line
). The residency proved to be highly popular, and when the Indian Creek transformed into Freehand Miami in December that year, Broken Shaker became a permanent part of the property. The bar continued its success story with a James Beard semifinalist nod for Outstanding Bar Program in February 2013, a feat that would be repeated a year later. 2014 also saw Broken Shaker place at #22 in the World's 50 Best Bars list; they were subsequently #14 in 2015, #16 in 2016, and #18 in 2017. The brand expanded to Chicago in June 2015, and a month later, the original was named "Best Hotel Bar" at the Spirited Awards, held at the Tales of the Cocktail event in New Orleans. The Los Angeles location, as we know, dropped in September 2017, and New York opened this May.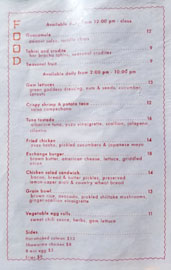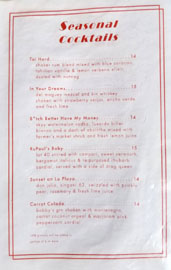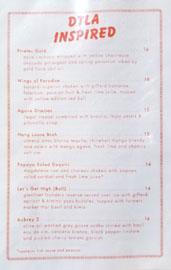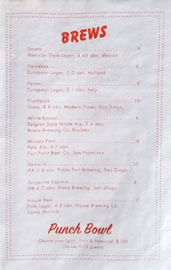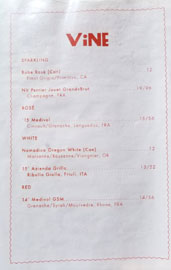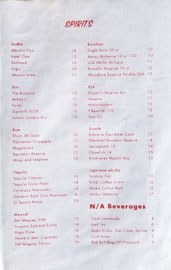 Menu-wise, you get about a dozen cocktails, divvied up into Seasonal and DTLA-Inspired selections, and all with a bit of a tropical, Miami-ish slant. Of course, there's beer and wine available too. Meanwhile, the drinks are joined by easy-going bar snacks with a bit of a multicultural edge. Click for larger versions.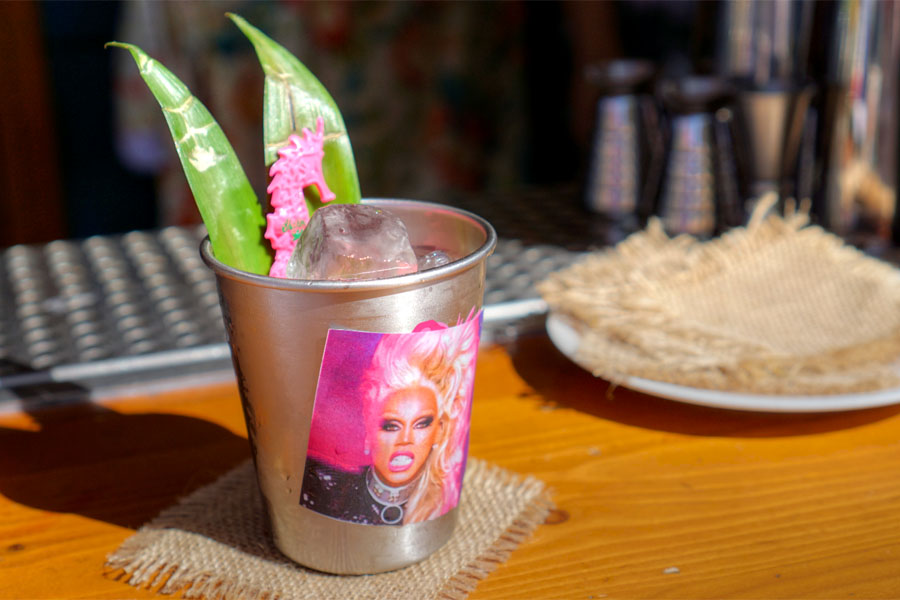 RuPaul's Baby [$15.00]
| lot 40 stirred with campari, sweet vermouth, bergamot italicus & re-purposed rhubarb cordial, served with a side of drag queen
Not gonna lie, I ordered this cocktail mainly to figure out what the "side of drag queen" was (turns out it's your choice of sticker on the cup). In any case, the drink was pretty tasty: noticeably fruity at first, but with a bittersweetness appearing on the mid-palate along with spice and a restrained booziness, while the finish displayed herbal, amaro-like characteristics.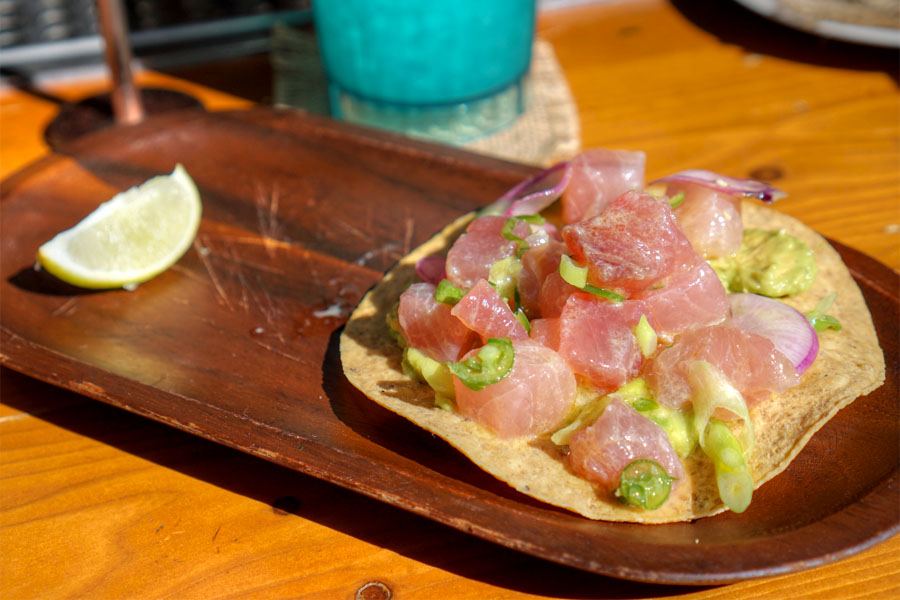 Tuna tostada [$16.00]
| albacore tuna, yuzu vinaigrette, scallion, jalapeno, cilantro
I tried some of the food as well, and the tostada turned out to be my favorite of the dishes I tasted. I liked that substantial-but-supple texture on the fish, while flavors were a near-perfect balance of heat, herb, and citric tartness. Great crunch from the tortilla, too.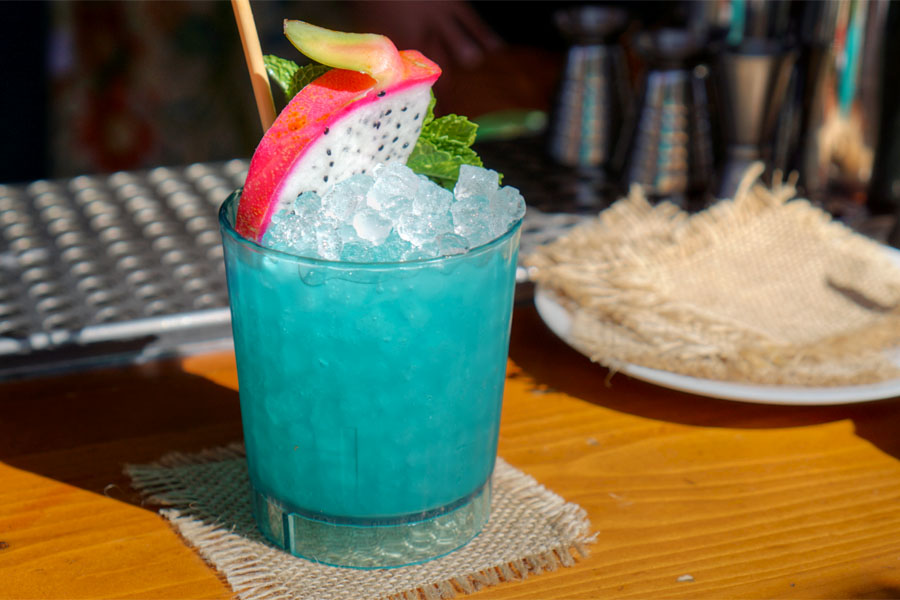 Tai Hard [$14.00]
| shaker rum blend mixed with blue curacao, tahitian vanilla & lemon verbena elixir, dusted with nutmeg
Next to drink was this reworked version of the Mai Tai, a tiki cocktail classic. It certainly had a tropical vibe (and coloration) going on, with sweet, fragrant vanilla and some almost coconut-y notes layered over an ever-so-slightly hot base of rum. I really wanted to get more from the nutmeg, however.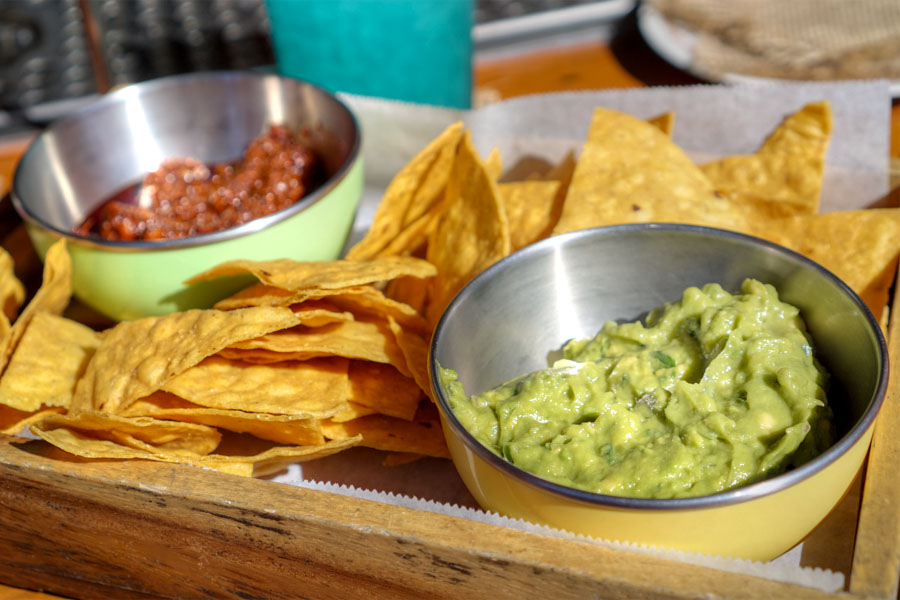 Guacamole [$12.00]
| peanut salsa, tortilla chips
I'm a sucker for guac, so naturally I had to give it a go here. It was what I was looking for texturally, though I would've liked more acidity, more liveliness in the dip. That chunky peanut salsa, on the other hand, ate smoky and sweet, with the peanut definitely making itself known.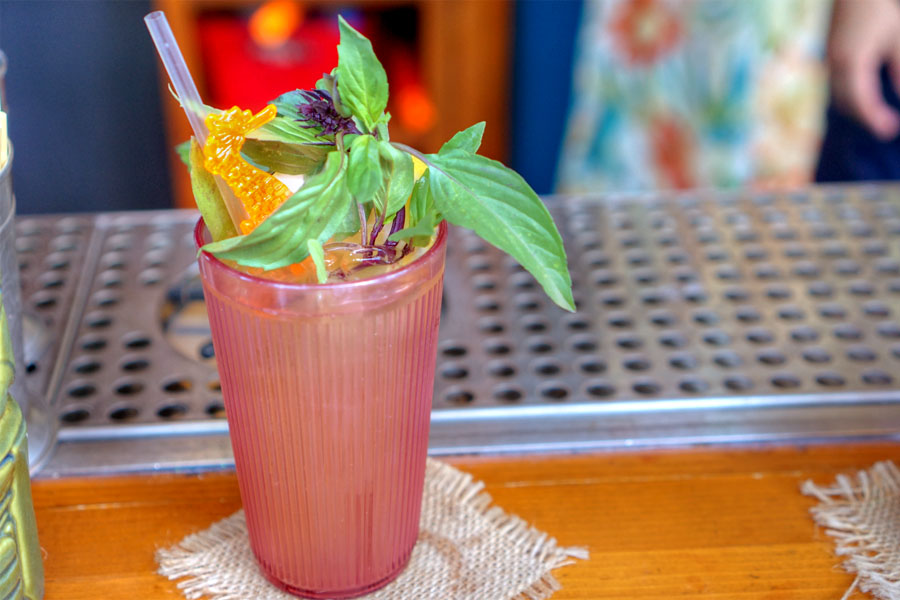 Let's Get High (Ball) [$14.00]
| glenlivet founders reserve served over ice with giffard apricot & kimino yuzu bubbles, topped with farmers market thai basil and kiwis
Here was a take on the whisky highball. It was a fun, fizzy cocktail, the potency of the Glenlivet moderated by some almost candied stone fruit notes and the invigorating zestiness of yuzu and herb.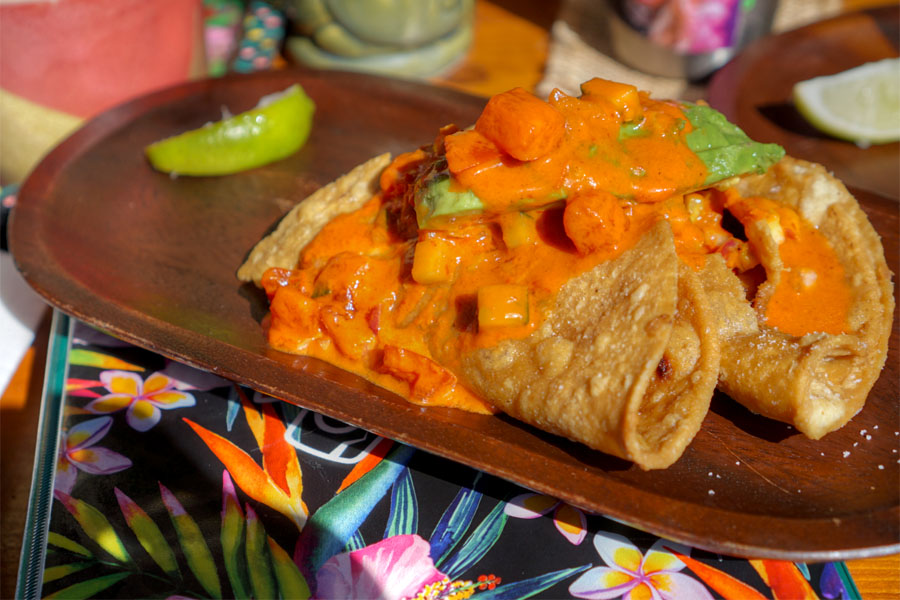 Crispy shrimp & potato taco [$12.00]
| salsa campechano
The tacos were another standout for me. The key was the shrimp, which weren't overdone and showed off a proper brine that just worked alongside the potato, all while the relatively mild salsa served as a welcomed finishing touch. Nice crispness on the tortillas as well.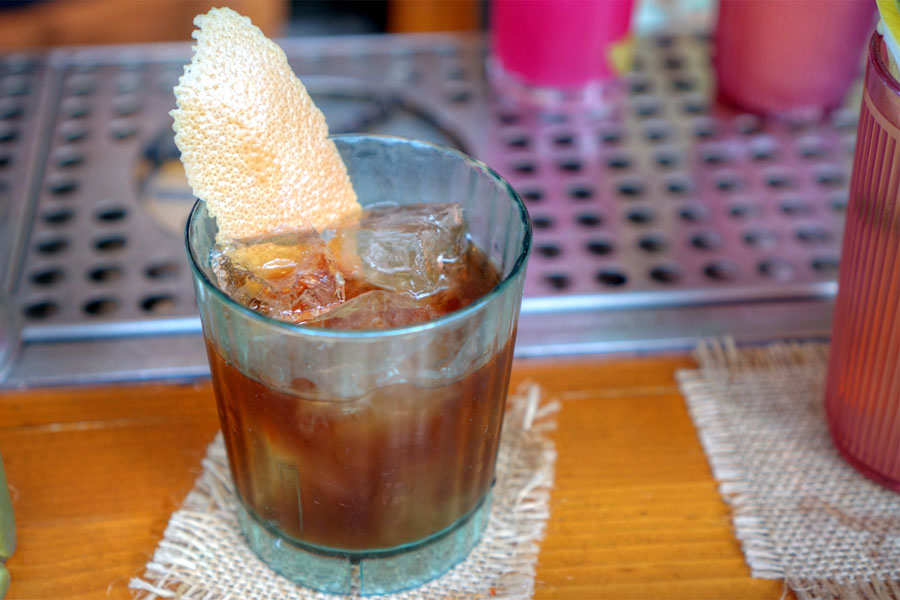 Agave Gracias [$15.00]
| ilegal mezcal combined with braulio, lejay cassis & piloncillo sirop
The mezcal cocktail was the booziest of the bunch (though still not that boozy). I got appealing aromas of fresh citrus intertwined with loads of berry fruit (from the crème de cassis I'm guessing). On the palate, think more dark, juicy fruit along with the expected smokiness, a touch of
piloncillo
, and a bittersweet, medicinal element on the back end from the Braulio.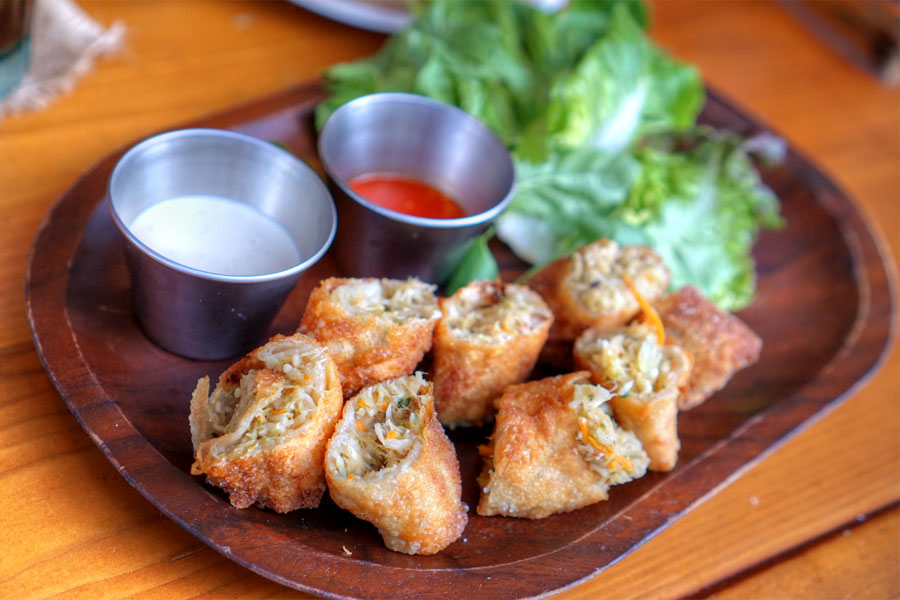 Vegetable egg rolls [$11.00]
| sweet chili sauce, herbs, gem lettuce
Veggie egg rolls weren't particularly interesting, and pretty much tasted like what you'd find at your neighborhood American-Chinese joint. Make use of the included condiments for sure.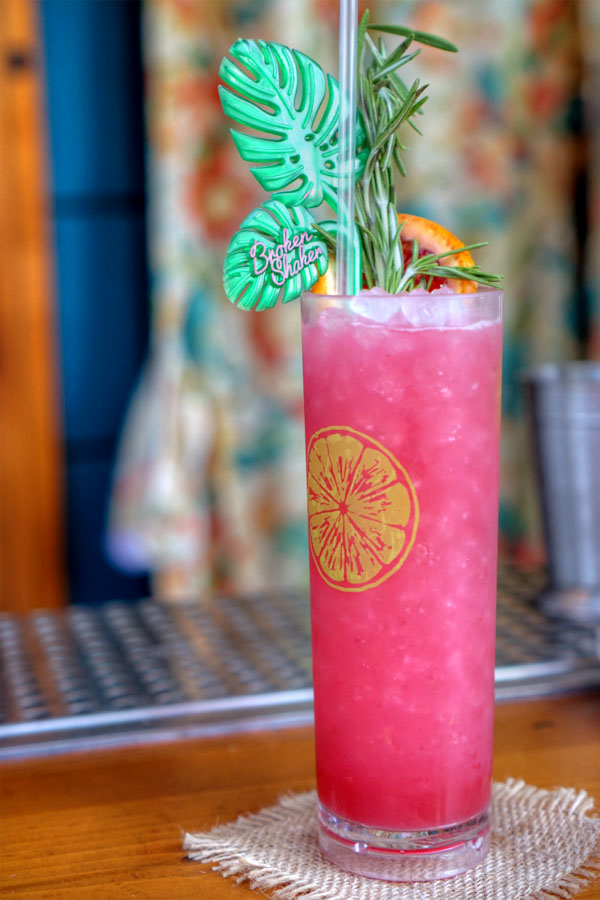 Sunset on La Playa [$14.00]
| don julio, singani 63, swizzled with prickly pear, rosemary & fresh lime juice
The afternoon's final cocktail came recommend by my bartender. I really got the sweet, fruity nuances of the
tuna
initially. However, balance was provided by the zesty, herbaceous notes in the drink, while the tequila imparted an undercurrent of heat to the whole experience. A fun one to close with.
Broken Shaker was certainly one of the more rambunctious bars I'd visited in a while, and that exuberance manifested itself in the beverage program as well. The cocktails were on the fun, cheerful, easy-breezy side certainly, which is apropos for the summer. However, I'd be curious to try some heftier, more spirit-forward drinks from the team, though I may have to wait until the winter for that. In the meantime, Bar Lab is also behind Rudolph's downstairs in the lobby (named after former building owner Rudolph Rosenberg). That bar specializes in tea-infused cocktails, so I definitely want to give it a go sometime.