Bar Caló (Los Angeles, CA)
Bar Calo
1498 Sunset Blvd, Los Angeles, CA 90026
213.278.0901
www.barcalola.com
Mon 07/23/2018, 07:00p-09:20p

Following a venue walkthrough in Downtown, I was looking to kill some time before heading home and ended up at Echo Park's Bar Caló (the name means "slang" in Spanish), which opened recently on July 6th. It's a mezcal-slash-cocktail bar from the husband-and-wife team of Chef Jaime Turrey and Brooke Fruchtman, who also happen to be the owners of the nearby restaurant Ostrich Farm. The idea here is to have a Mexican-inspired beverage and food program, but one with a multicultural slant courtesy of Caló's LA environs.

Bar Caló takes over the former home of Los Angeles Pizza Company (which opened in 2007). It's a small, cozy space, though there is outdoor patio seating as well.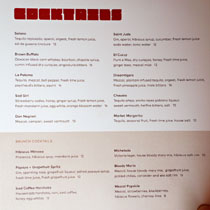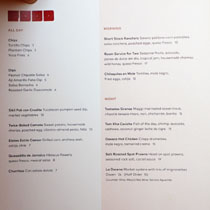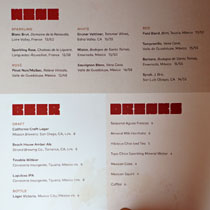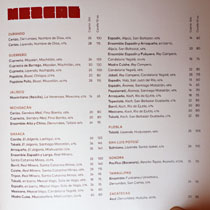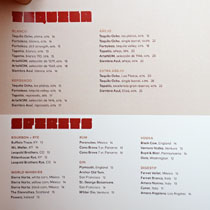 As far as the menu goes, you get an appealing array of cocktails from Beverage Director Jeremy Simpson (Ostrich Farm,
Cafe Birdie
/Good Housekeeping,
Bestia
), along with a sizable mezcal list, some wine (mostly Mexican), and a smattering of beer. To eat, you'll find a varied selection of shareable plates from Exec Sous Chef Carrie Funk, another Ostrich Farm alum. Click for larger versions.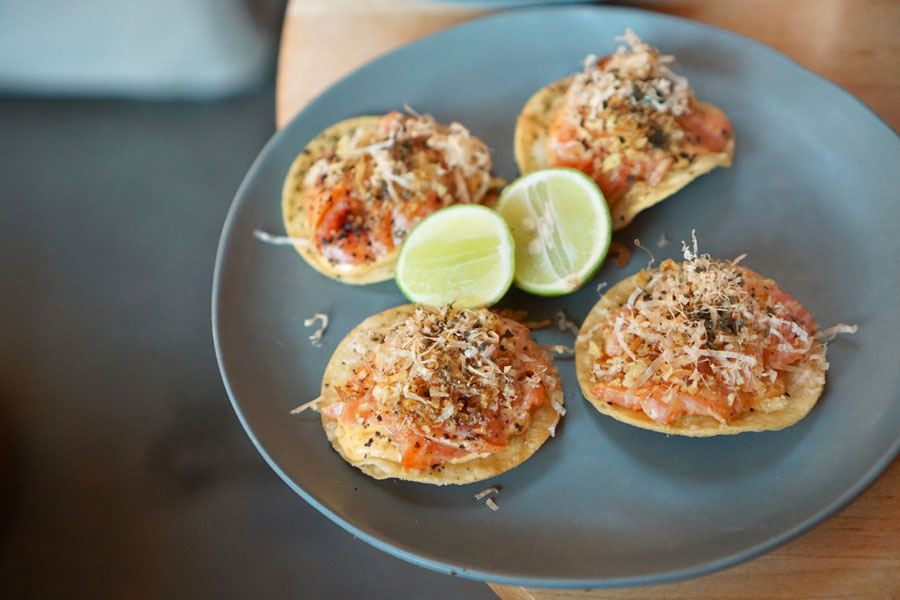 Tostadas Sirenas [$12.00]
| Maggi-marinated ocean trout, chipotle kewpie mayo, nori, chicharrón, bonito
Trout arrived with a surprisingly strong smokiness, as well as plenty of deep umami flavors. It was actually pretty intense, so the mayo and lime were key in providing a modicum of balance. Nice crunch from the tortillas, too.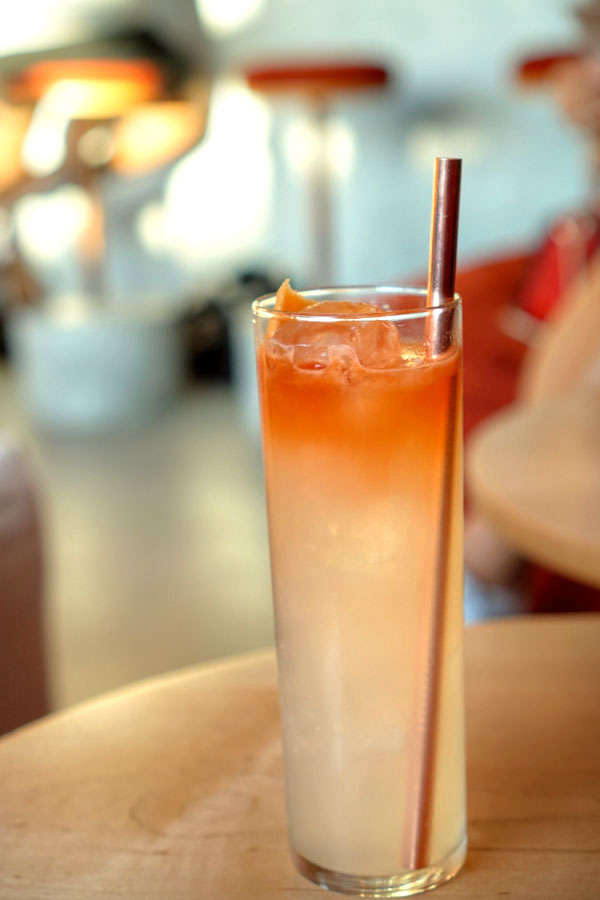 La Paloma [$14.00]
| Tequila, mezcal, bell pepper, fresh lime juice, peychaud's bitters, squirt
A take on the classic Paloma cocktail brought loads of bright, zesty citrus to the forefront, while the finish was decidedly bitter thanks to the Peychaud's. I got very little booziness here I'll say.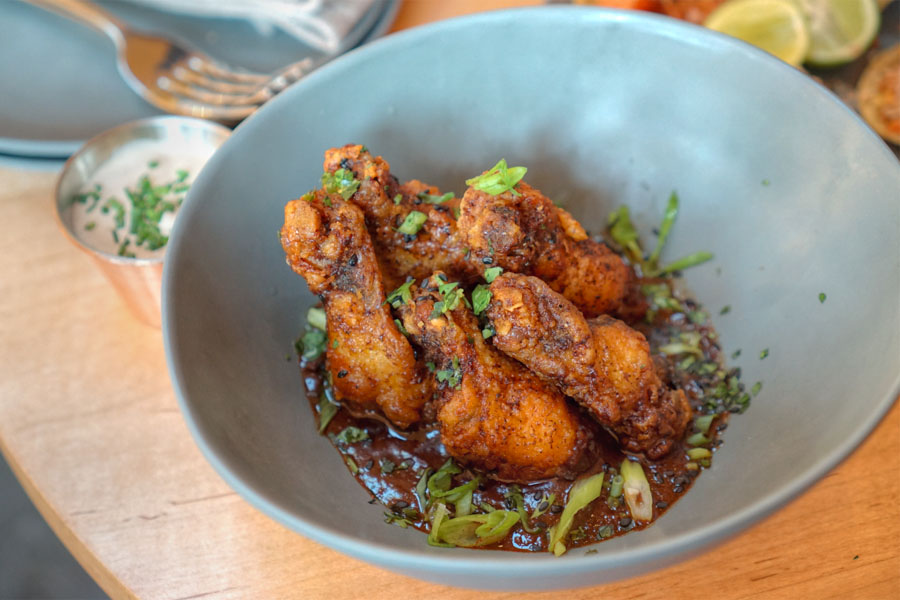 Oaxacan Hot Chicken [$13.00]
| Crispy drumettes, mole negro, tamarind crema
The hot chicken was more smoky than spicy, though that wasn't necessarily a bad thing given that you really got to taste the earthy, sweet, nutty flavors of the mole. Texturally, the drumettes were crispy for sure, and the crema on the side did work to temper the strong flavors at play.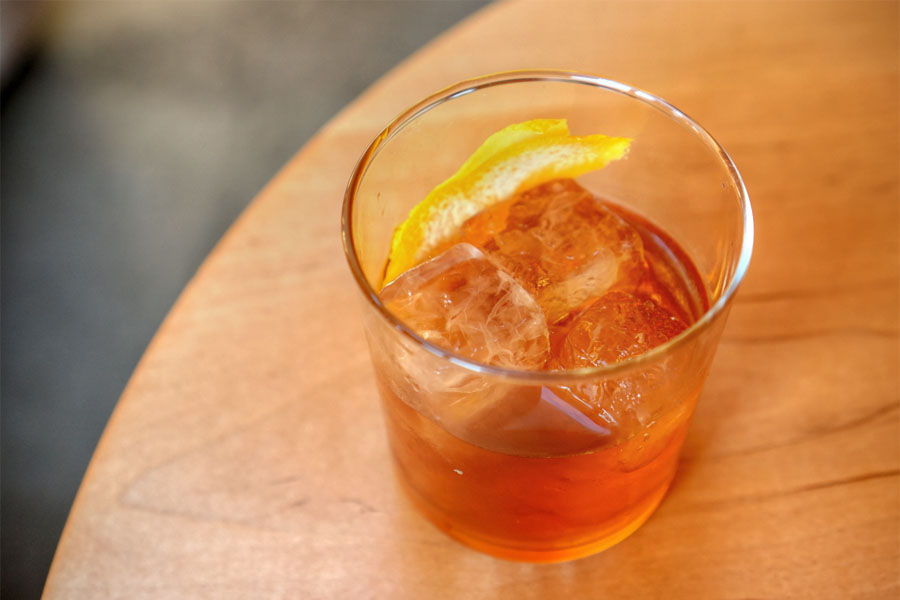 Brown Buffalo [$13.00]
| Oaxacan black corn whiskey, bourbon, chipotle syrup, cumin infused dry curaçao, angostura bitters
The next cocktail was definitely on the more spirit-forward side. I got a super aromatic nose brimming with brown butter and warming spice. The palate was smoky and boozy to be sure, but with tart, chocolate-y elements and a finish that leaned bitter and herbaceous.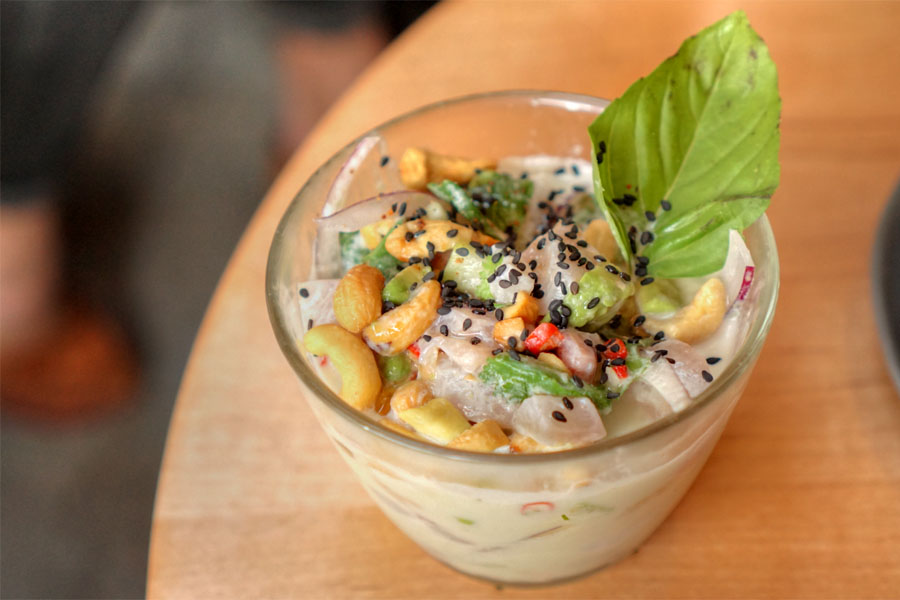 Tom Kha Ceviche [$13.00]
| Fish of the day, shrimp, avocado, cashews, coconut-ginger leche de tigre
Calo's Thai-esque ceviche ended up being my favorite dish this evening. I loved the balance of coconut, ginger, and zesty onion here, while the avocado and cashews worked to moderate everything. Fantastic array of textures, too.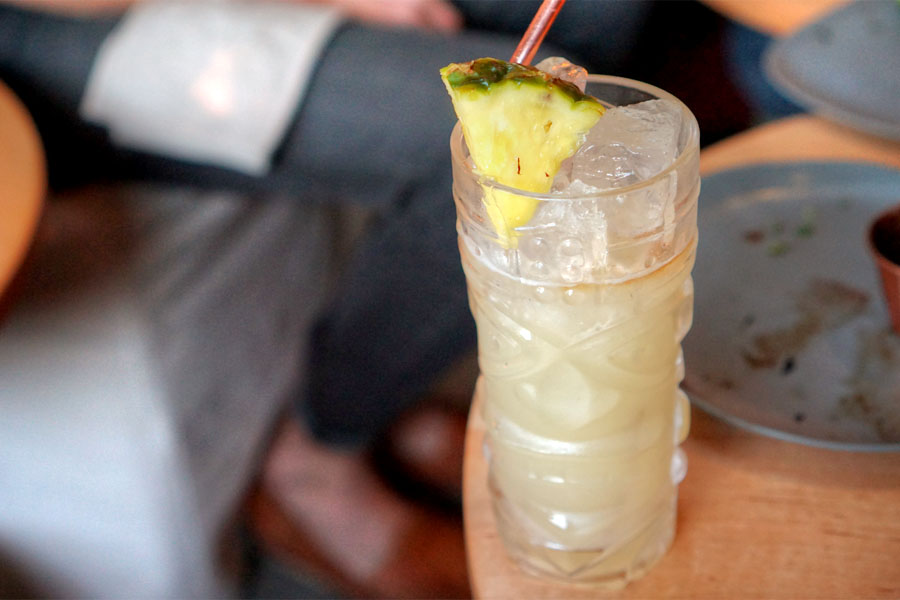 Dreamtigers [$14.00]
| Mezcal, plantain infused tequila, orgeat, fresh lemon juice, fresh pineapple juice, mole bitters
In terms of quaffability, the cocktail above wins thanks to its tart, juicy presentation of pineapple, evened out just enough by the mole bitters. Fun and easy.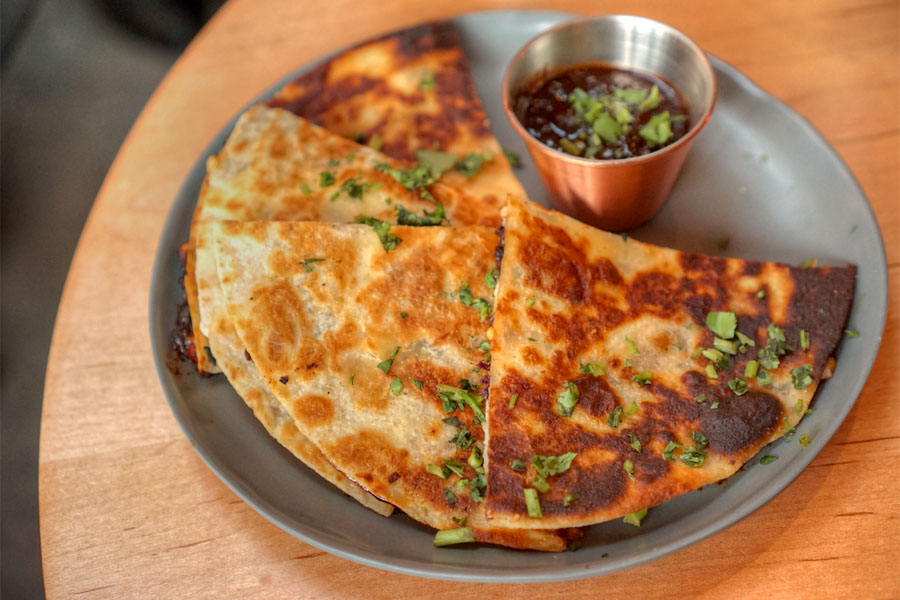 Quesadilla de Jamaica [$8.00]
| Hibiscus flowers, queso fresco, mezcal salsa
The quesadilla came out looking pretty impressive, while its flavors did a good job blending smoky and cheesy, the hibiscus adding a layer of sourness to it all.
El Cucuy [$12.00]
| Punt e Mes, dry curaçao, honey, fresh lime juice, ginger beer, mezcal mist
Now this just might've been my favorite cocktail of the bunch. What I really appreciated was how apparent the bittersweetness of the vermouth was, and how that played with the honey. Some nice dark fruit, almost raisin-y notes on the finish here as well.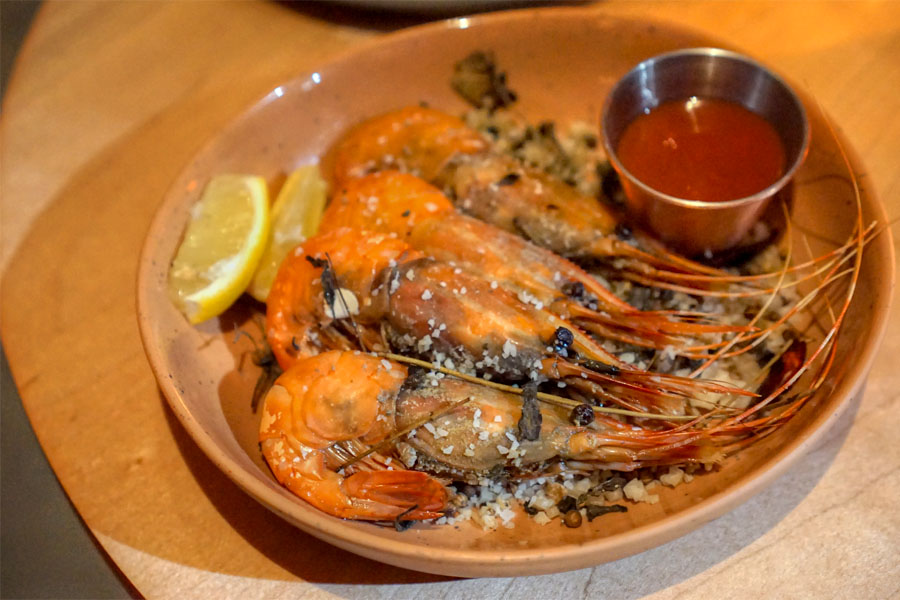 Salt Roasted Spot Prawns [$19.00]
| Head-on spot prawns, seasoned rock salt, coctel sauce
I think the only other place where I've encountered salt-baked spot prawns was over at
Providence
. The version tonight wasn't as finessed, but still worked it out. The shrimp were cooked just right, and quite briny, with the salt seemingly amplifying their inherent salinity. Fortunately, the paired cocktail sauce worked great as a tart, spicy counterpoint.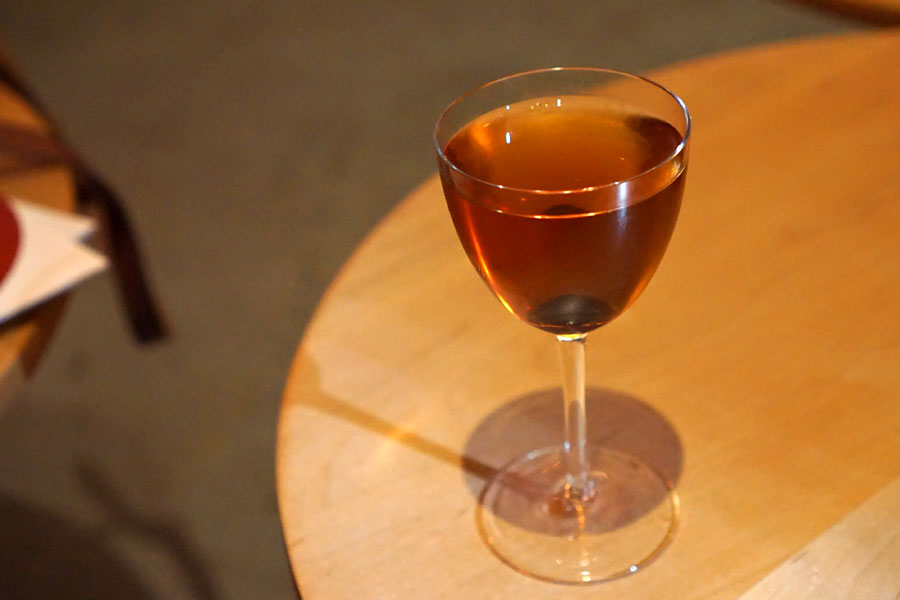 Chavala [$13.00]
| Tequila añejo, ancho reyes poblano liqueur, sweet vermouth, hellfire bitters, salt
The evening's last cocktail seemed appropriate to end with. The drink smelled of sweet heat and bitterness, while the taste was even more fiery, its spice balanced out by the dark fruit and butterscotch characteristics present.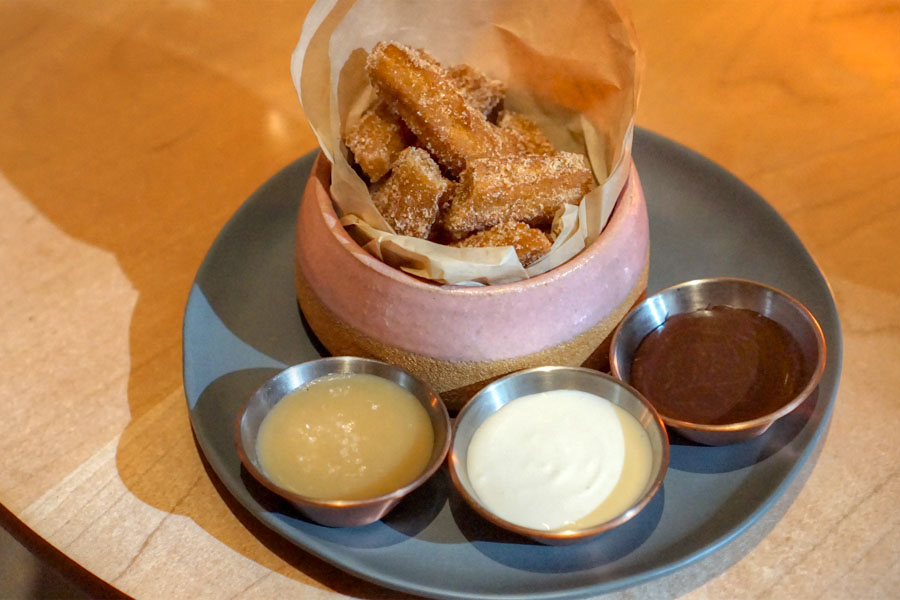 Churritos [$7.00]
| Con salsas dulces
Mini churros came out piping hot, with a proper bite to 'em and plenty of that classic cinnamon-y spice. I actually didn't even need the sauces.
Despite having opened just weeks prior, the place was pretty packed, even on a Monday night. I can sort of see why though. It's a charming spot, and both the drinks and the food hit the mark--think fun, approachable, but also interesting. I imagine I'll be back.