Marché Moderne (Newport Beach, CA) [3]
Marche Moderne Restaurant
7862 Pacific Coast Hwy, Newport Beach, CA 92657
714.434.7900
www.marchemoderne.net
Sat 07/21/2018, 08:55p-11:35p

If we're talking about French restaurants in Orange County,
Marché Moderne
is often considered the head of the pack. The work of Chef Florent Marneau and Pastry Chef Amelia Marneau, the place first opened in 2007 inside South Coast Plaza, and quickly established itself as a go-to spot for OC's gastronomically-minded. However, the original outpost closed last January. Following the shutter, the Marneaus did some traveling in order to gain culinary inspiration, and in September, debuted the second iteration of Marché Moderne at Newport Coast's tony Crystal Cove Shopping Center (home to the likes of
Bluefin
and Mastro's Ocean Club).
On a related note, July 21st was also the day that saw the untimely death of Jonathan Gold, and we'd found out about his passing a few hours before our dinner. Marché landed a spot on Gold's "101 Best Restaurants" list in 2016, and he actually penned a review of the place just this January. It's one of the few spots in OC that was able to garner some love from the critic, so it simply felt fitting to dine here this evening.


Marché Moderne takes over the former home of Tamarind of London, and Sage on the Coast before that. The restaurant spans 4,200 square-feet and features an exhibition kitchen set between the main dining room and the bar/lounge area; total capacity is around 142, about 20 more than its previous incarnation.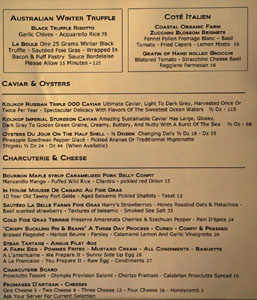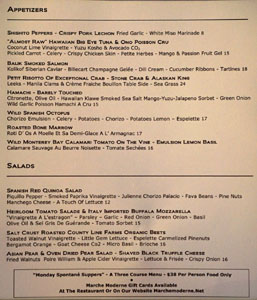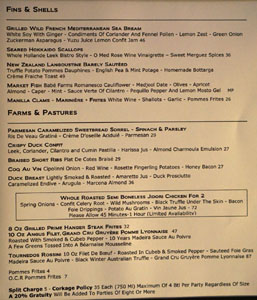 The menu's on the lengthy, varied side, with a mix of Marché standbys, old school dishes, and more contemporary preparations. Beverage-wise, we opted to bring our own bottles, and ended up paying $35 a pop for corkage. Click for larger versions.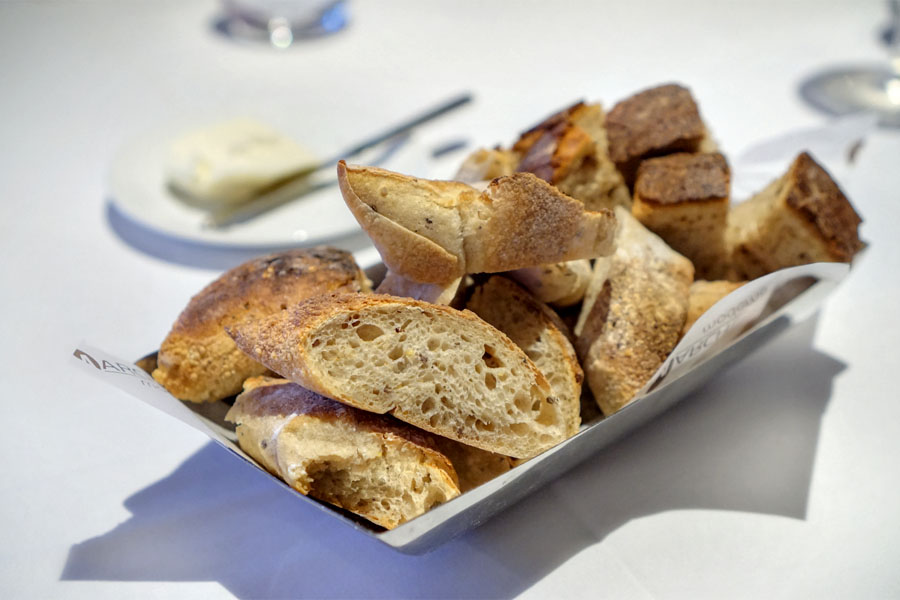 Bread arrived warm, the baguette showing off a nice rye-like spice, while butter was soft and sweet and salty.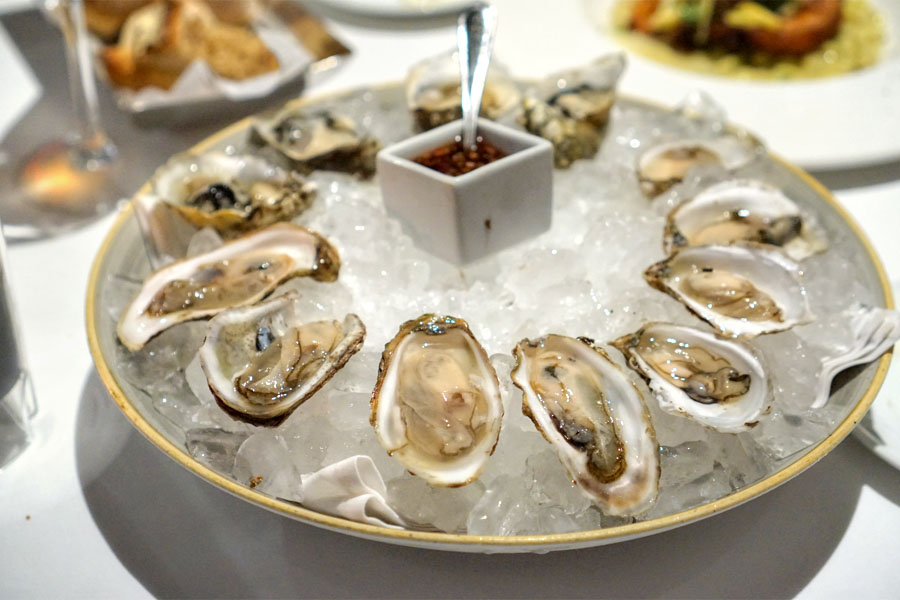 Oysters Du Jour On The Half Shell [$35.00]
| Pineapple Szechwan pepper Glacé - Pickled Ananas Or Traditional Mignonette
Counter-clockwise from bottom-right, our oyster selection consisted of sharply saline Mer Bleues, Shigokus (which I didn't get to try), and extra salty-yet-clean Malpeques. As for the paired sauce, we found it extremely potent, with a strong, lingering heat that was actually a bit overwhelming.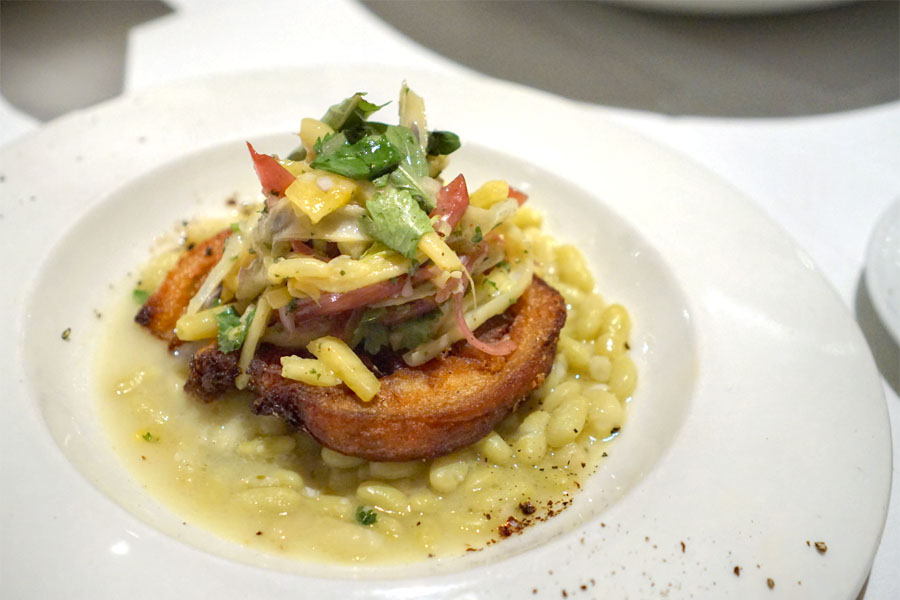 "Crispy Suckling Pig & Beans" A Three Day Process - Cured - Confit & Pressed [$20.00]
| Braised Flageolet - Haricot Beurre - Parsley - Calamansi Lemon And Garlic Vinaigrette
The pork was as crispy as advertised, and had some just really robust flavors that definitely called for the beans and
haricots
to moderate the dish. The kalamansi, meanwhile, imparted a sweet-n-sour accent that I didn't mind, either.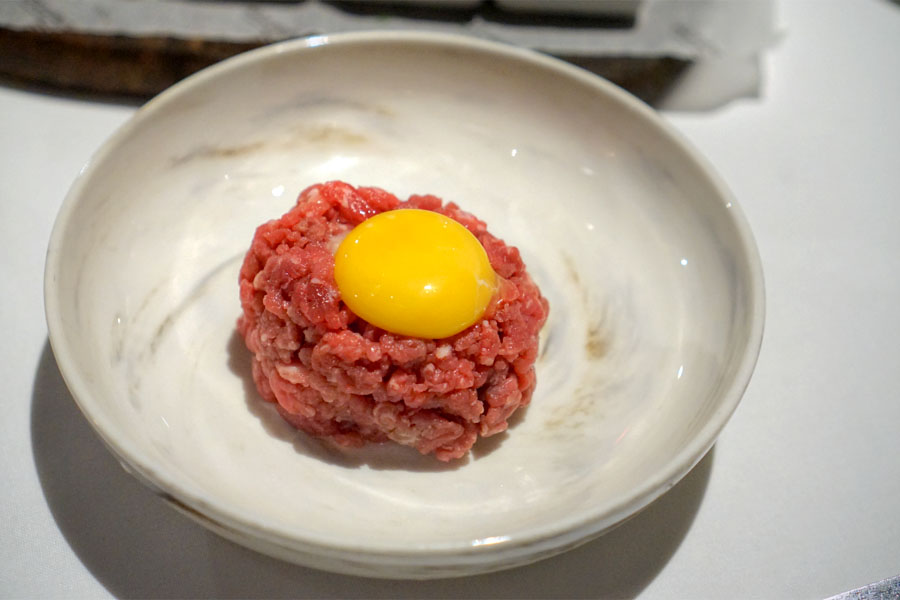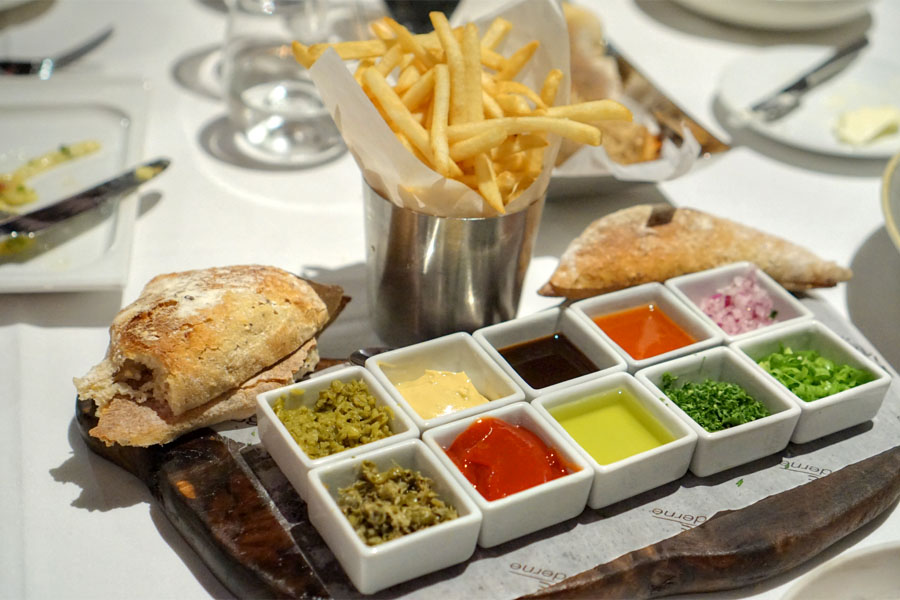 Steak Tartare - Angus Filet [$27.00]
| A Farm Egg - Pommes Frites - Mustard Cream - All Condiments - Baguette (A La Francaise - You Prepare It - Raw Egg - Condiments)
The tartar was a favorite of ours, a
Choose Your Own Adventure
presentation that featured well-texture filet accompanied by your choice of what I believe were capers, mustard (which I was especially fond of), balsamic, Tabasco, red onions, olives, ketchup, olive oil, chives, and scallions. The fries are worth noting as well, as they're sort of like what you find at McDonald's, but prepared by people who know what they're doing.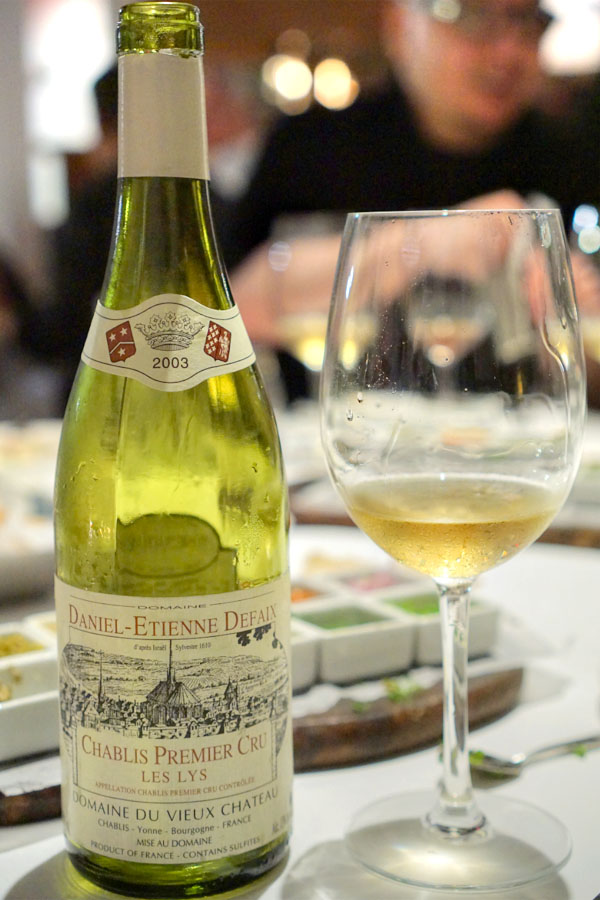 Our first wine was the
2003 Daniel-Etienne Defaix Chablis 1er Cru Les Lys
. The nose here was slight oxidative, and definitely mature, displaying a good amount of butter and toast, along with a touch of minerality. On the palate, I found it nutty for sure, and again buttery, with oak, booze, acidity, and some pome fruit showing up as well.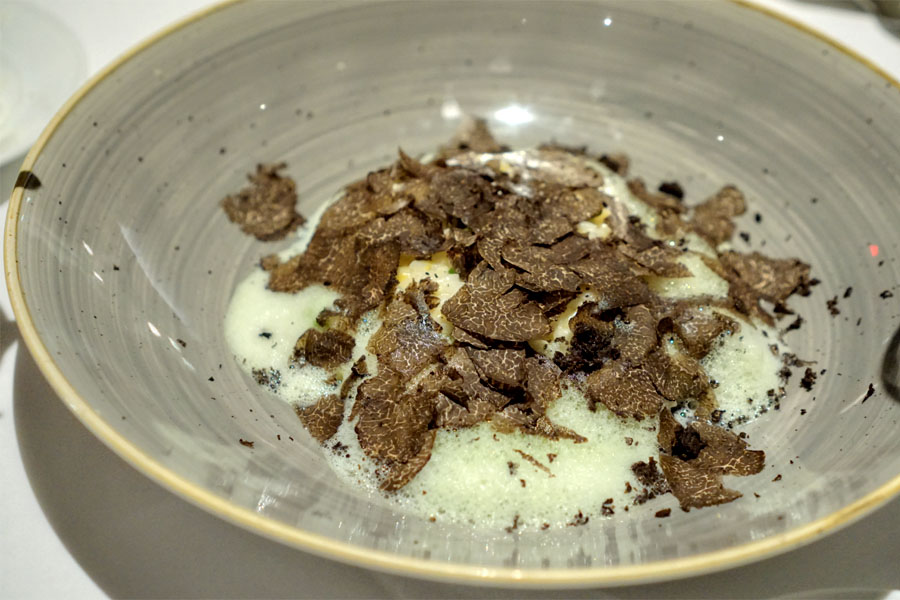 Black Truffle Risotto [$75.00]
| Garlic Chives - Acquarello Rice
Truffles were quite lovely in this dish, but unfortunately, the risotto itself was a bit lacking. I actually found it on the bland side when taken alone, though I will say that the chives supplied a welcomed brightness to the rice.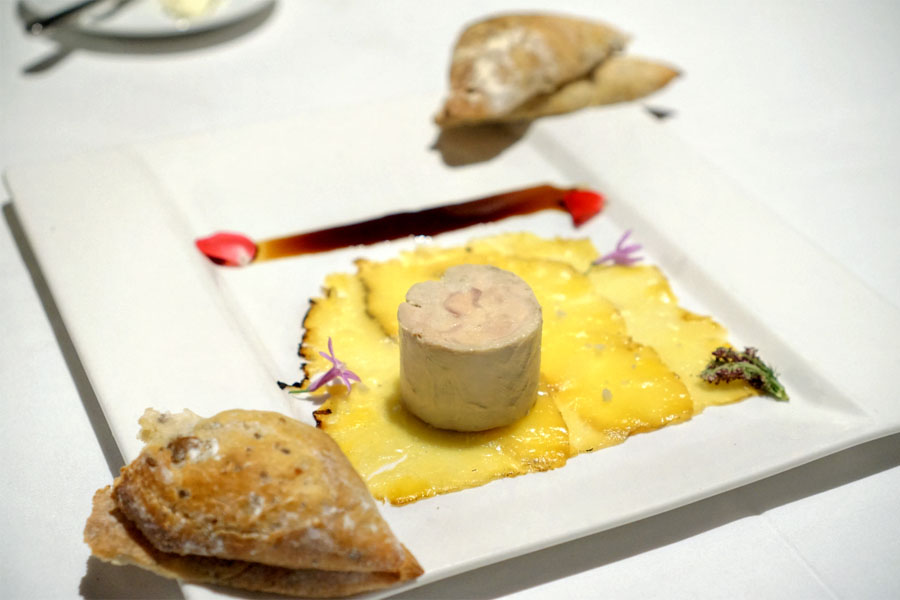 Foie Gras Torchon [$20.00]
| Sauternes Roasted Pineapple
Our first of four foie gras dishes was a special this evening. The cylindrical torchon ate firm and dense, while its flavors were rich and luxurious, with a well-placed saltiness as well as a burst of acidity from the pineapple.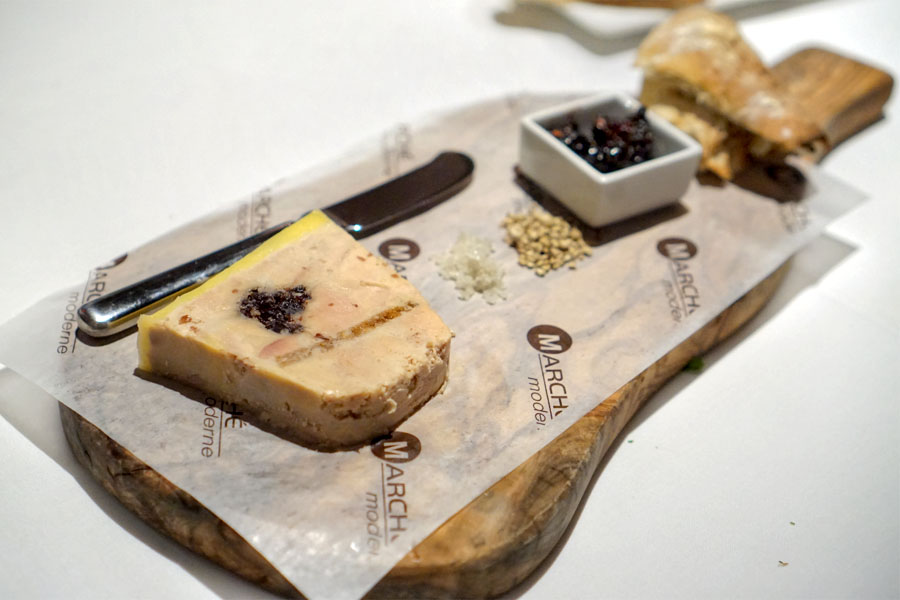 Cold Foie Gras Terrine [$24.00]
| Preserve Amarenata Cherries & Szechuan Pepper - Pain D'épice
The terrine, meanwhile, was classic in essence, its potency well-matched by the tartness of cherries while Sichuan peppers served as an intriguing counterpoint. Lovely bread here, too.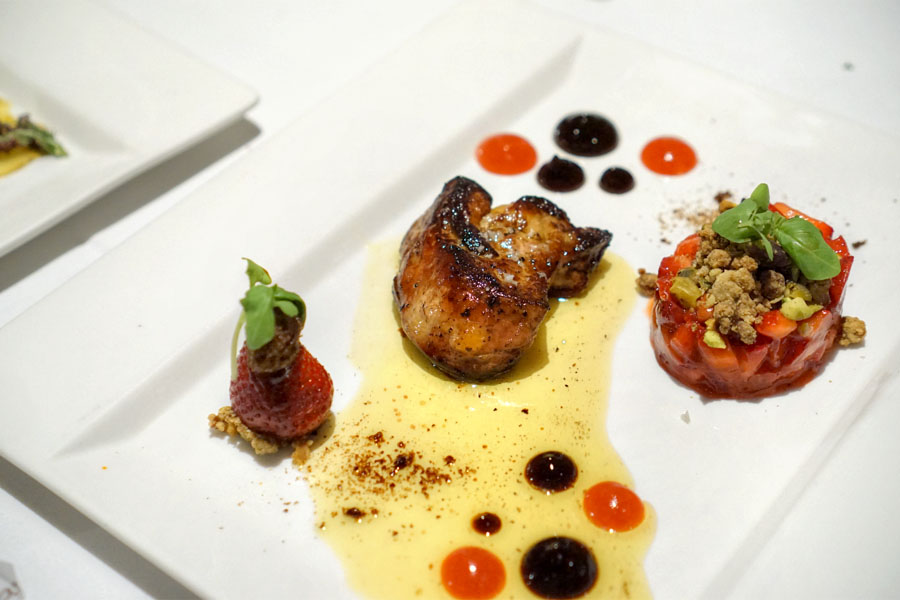 Sautéed La Belle Farms Foie Gras [$33.00]
| Harry's Strawberries - Honey Roasted Oats & Pistachios - Basil scented strawberry - Textures of balsamic - Smoked Sea Salt
Our sole hot foie preparation was pretty textbook, and actually worked better than I thought it would with the strawberries and nuts, though I will say that I wasn't as keen on the "textures of balsamic" here.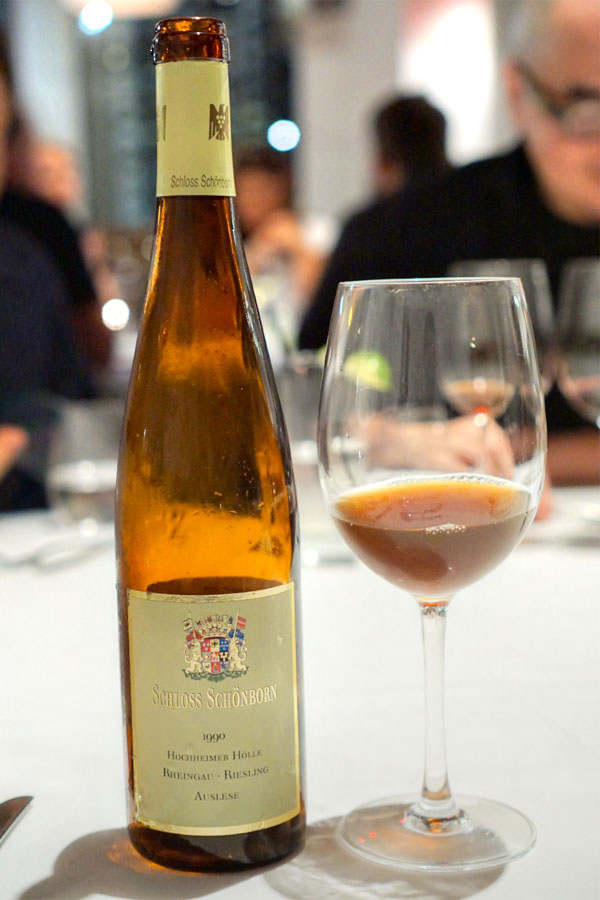 The second bottle of wine to be opened was the
1990 Schloss Schönborn Hochheimer Hölle Riesling Auslese
. Bouquet of dried fruit, nuts, and oxidation. Its taste was definitely sweet, honeyed, even a bit caramel-y, but with a nutty, sherry-like character that really came through on the finish. This was a polarizing one.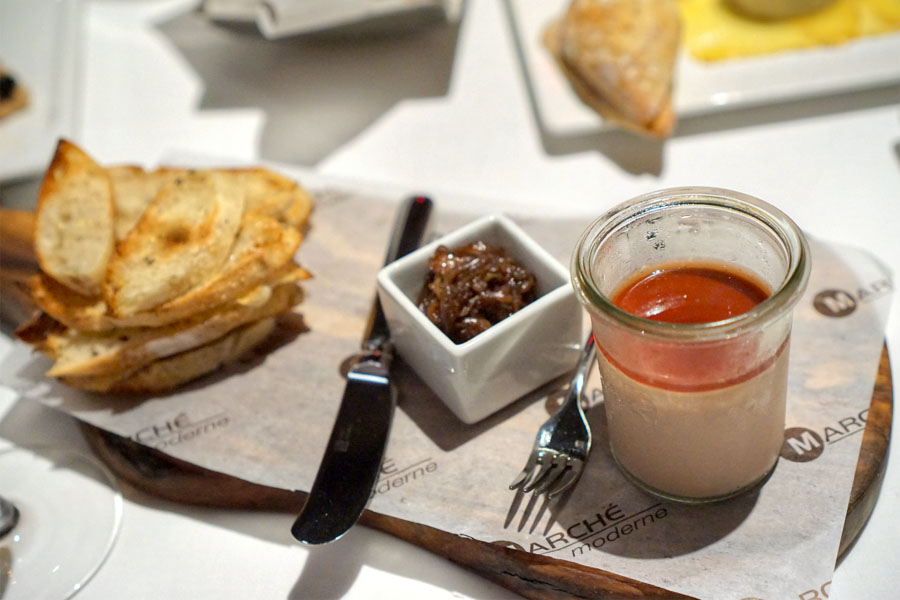 In House Mousse De Canard Au Foie Gras [$13.00]
| 10 Year Old Tawny Port Gelée - Aged Balsamic Pickled Shallots - Toast
The final foie dish was actually the most potent of the foursome, surprisingly. It definitely packed a punch, with an in-your-face earthiness that was evened out by the tartness of those shallots.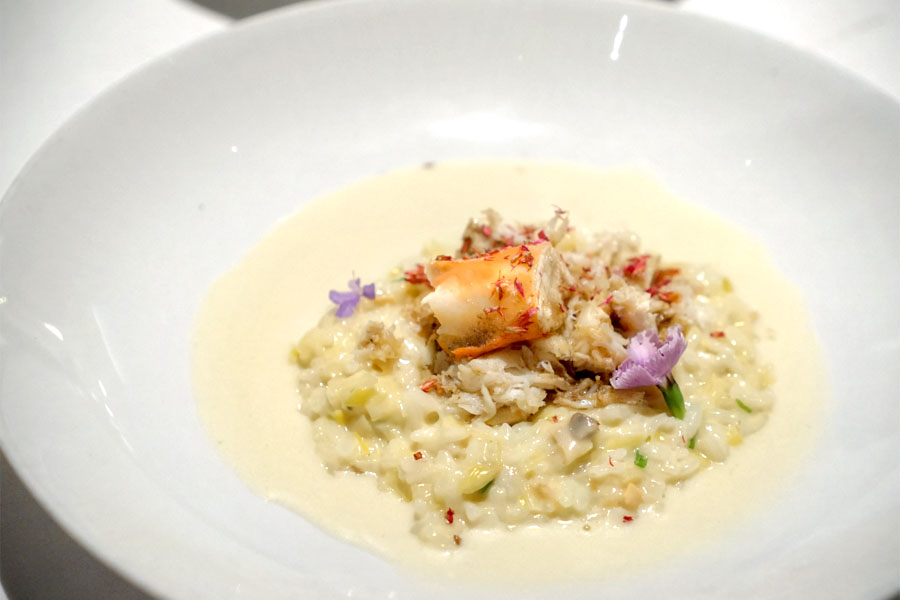 Petit Risotto Of Exceptional Crab - Stone Crab & Alaskan King [$24.00]
| Leeks - Manila Clams & Crème Fraiche Bouillon Table Side - Sea Grass
Our second risotto was excellent, and another standout for me. I loved the oceany depth of the broth here, and how that meshed with the sweet brine of crab, all while the sea grass provided an offsetting sort of zestiness.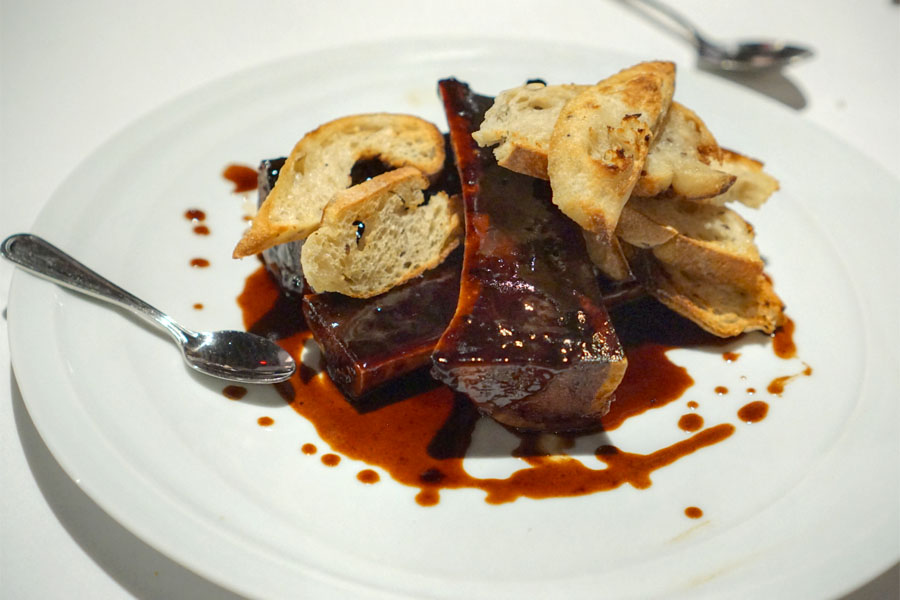 Roasted Bone Marrow [$17.00]
| Roti D' Os A Moelle Et Sa Demi-Glace A L' Armagnac
Marrow came out properly jiggly and gelatinous, though sadly, the demi-glace was just too much, and overpowered the comparatively mild taste of the
moelle
.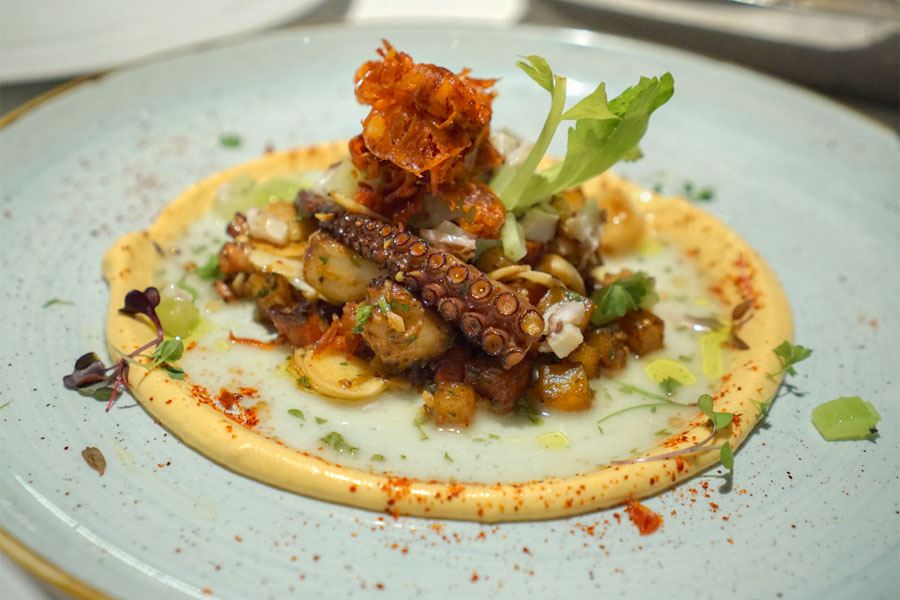 Wild Spanish Octopus [$17.00]
| Chorizo Emulsion - Celery - Potatoes - Chorizo - Potatoes Lemon - Espelette
The octo was winner. I was a fan of its char and its tenderness, while the chorizo lent a wonderful bit of heat and savoriness to it all. Great counterpoint from the potatoes, too.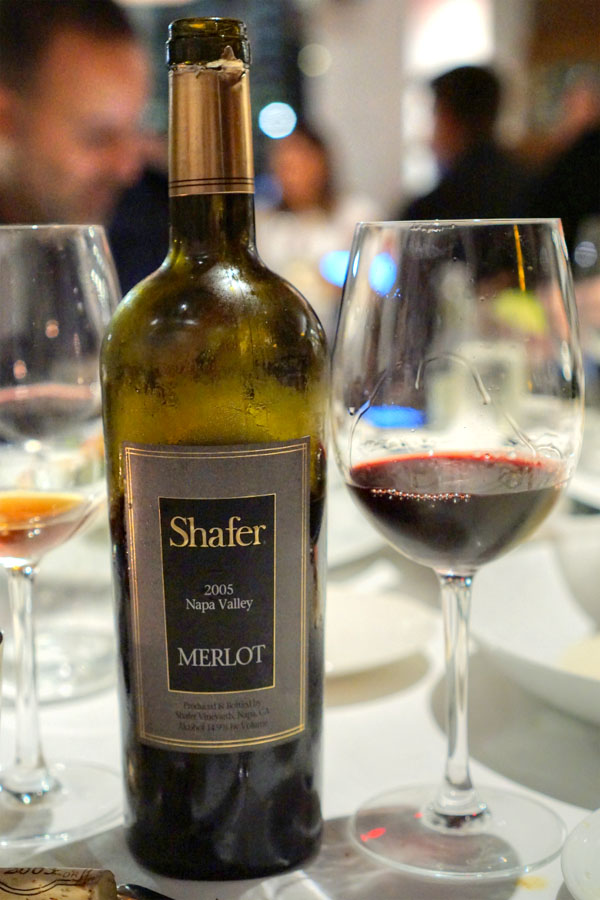 My favorite wine turned out to be the
2005 Shafer Merlot
from Napa Valley. It has a wonderfully floral bouquet filled with rich, robust fruit. The taste brought more flowers, more berry fruit, alongside sweet spice and a minty element on the back end. Very well put together, and drinking gorgeously now.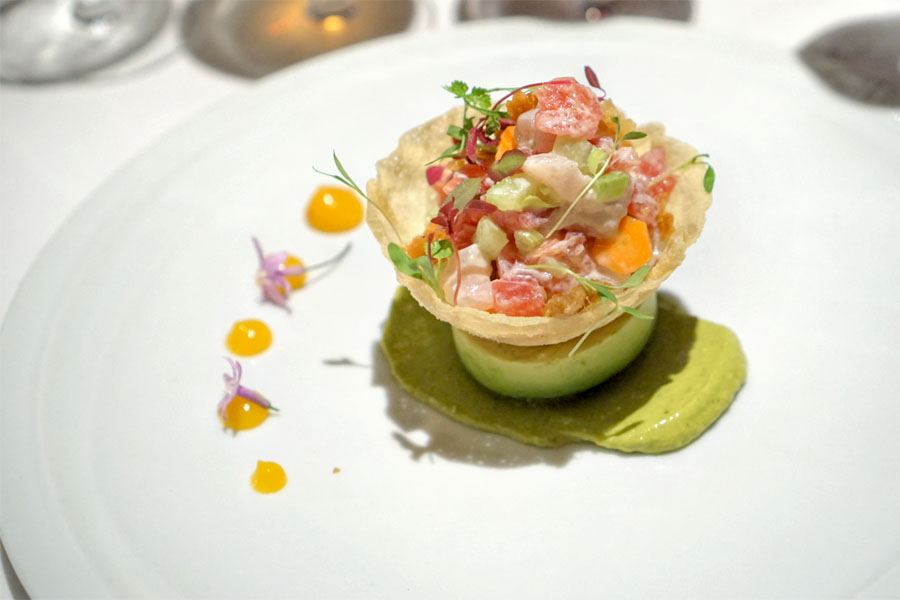 "Almost Raw" Hawaiian Big Eye Tuna & Ono Poisson Cru [$15.00]
| Coconut Lime Vinaigrette - Yuzu Kosho & Avocado CO2 - Pickled Carrot - Celery - Crispy Chicken Skin - Petite Herbes - Mango & Passion Fruit Gel
Firm, meaty cuts of ono and tuna served as a base for this ceviche of sorts. Flavors were definitely on the tart, acidic side, with a touch of coconut of course, though I found all that celery a bit distracting.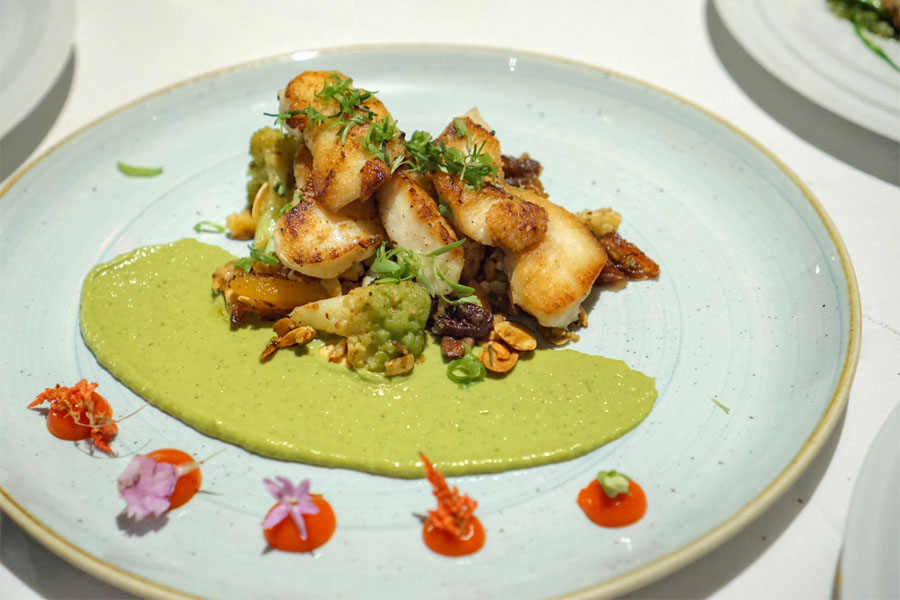 Market Fish [$42.00]
| Babé Farms Romanesco Cauliflower - Medjool Dates - Olives - Apricot - Almond - Caper - Mint - Sauce Verte Of Cilantro - Pequillo Pepper And Lemon Mosto Gel
The halibut cheeks were a special this evening, and a favorite of mine as well. They were great texturally, with just the right amount of bite to 'em, and came out well seasoned for sure. Also key was that zippy green sauce, and I was a fan of the romanesco as well.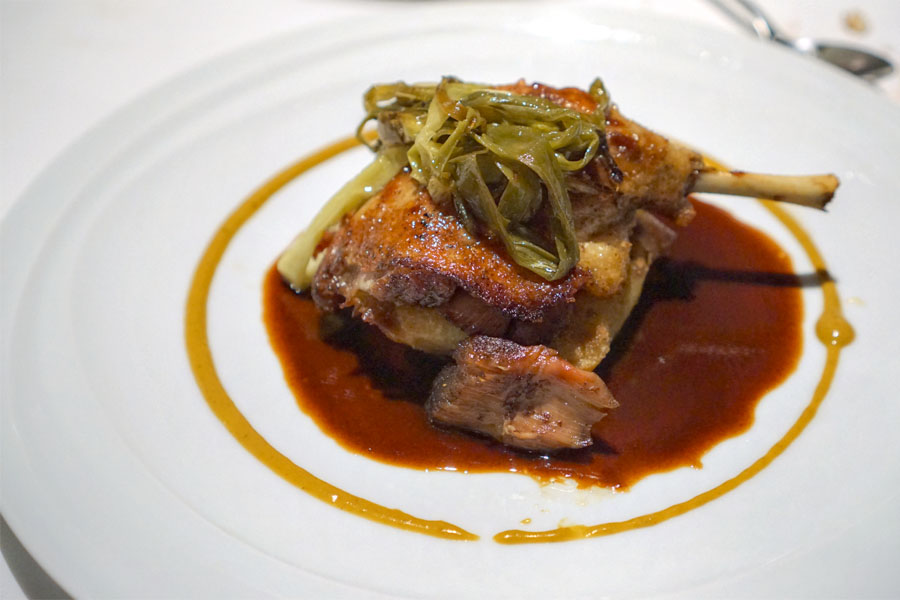 Crispy Duck Confit [$27.00]
| Leek, Coriander, Cilantro and Cumin Pastilla - Harissa jus - Almond Charmoula Emulsion
The confit'd duck delivered all the classically rich, hearty flavors you'd expected, and showed off a pretty crisp skin too. My favorite thing, actually, was the astringency from the leeks up top.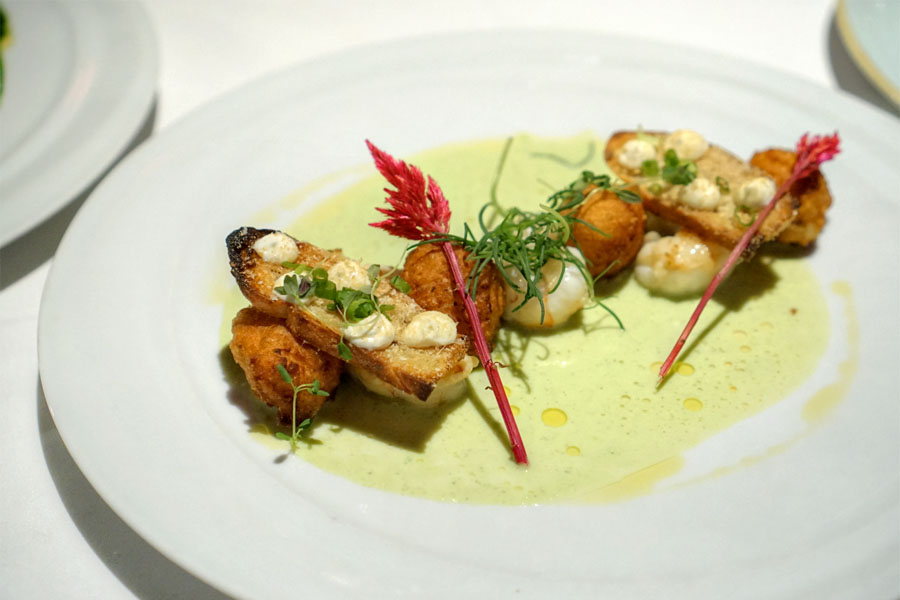 New Zealand Langoustine Barely Sautéed [$49.00]
| Truffle Potato Pommes Dauphines - English Pea & Mint Potage - Homemade Bottarga Crème Fraiche Toast
Langoustine, unfortunately, came out cooked more than I would've liked, and really didn't offer up too much in term of taste or texture. The potatoes, though, were spot on, and I much appreciated the brightness of the pea-mint sauce to boot.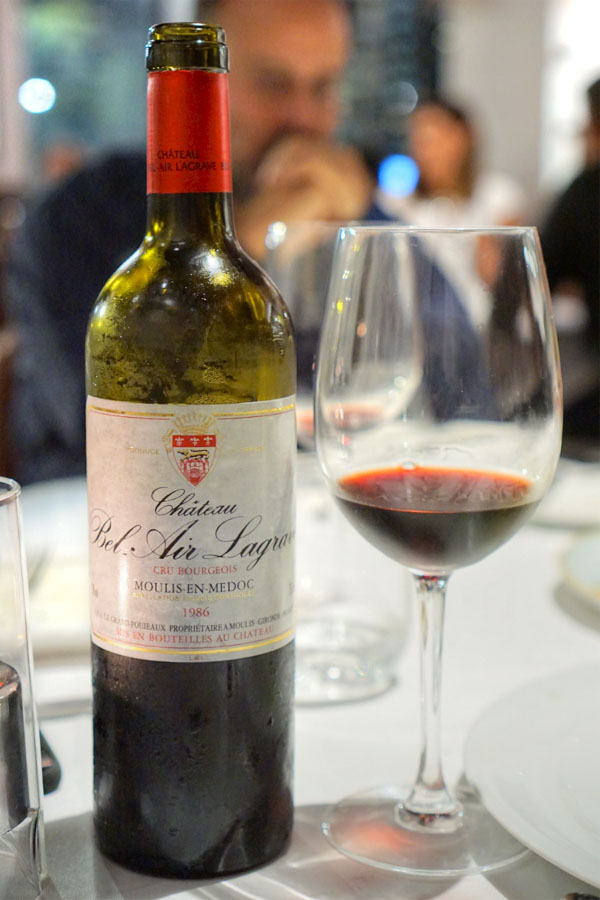 We ended with some Bordeaux, the
1986 Château Bel-Air Lagrave
. It had a surprisingly subtle nose dominated by earth, funk, and smoke. The palate was mature, thin, with a dry herbaceous character along with cassis, spice, and olive.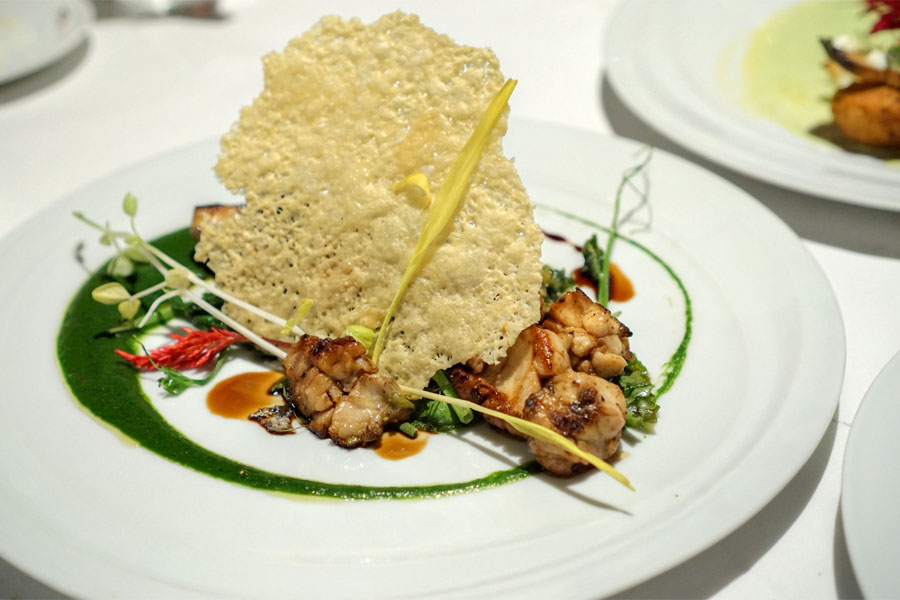 Parmesan Caramelized Sweetbread Sorrel - Spinach & Parsley [$29.00]
| Ris De Veau Gratiné - Crème D'oseille Acidulé - Parmesan
Sweetbreads were on point taste-wise, but I wanted 'em crispier. Meanwhile, the combo of spinach and parsley really worked for me as a contrast, and I loved that fun, crunchy Parmesan tuile.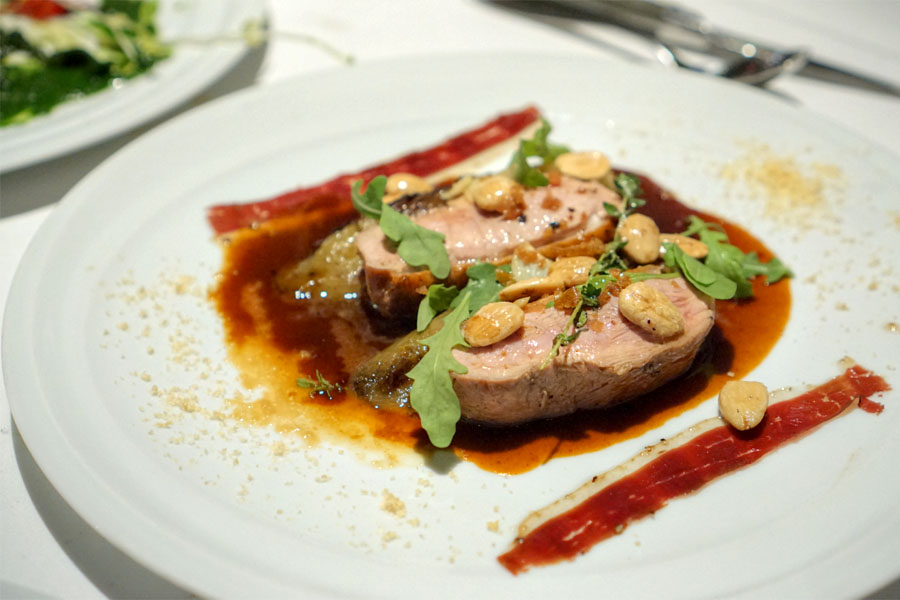 Duck Breast [$36.00]
| Lightly Smoked & Roasted - Amaretto Jus - Duck Prosciutto - Caramelized Endive - Arugula - Marcona Almond
The duck missed the mark for me, as the meat tended toward dry and overdone. The flavors just seemed off as well, and the other elements on the plate couldn't really save things. My least favorite dish.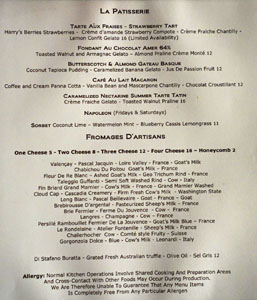 Above we see Marché Moderne's dessert menu, which leans classic, as well as the restaurant's pretty formidable cheese list. Click for a larger version.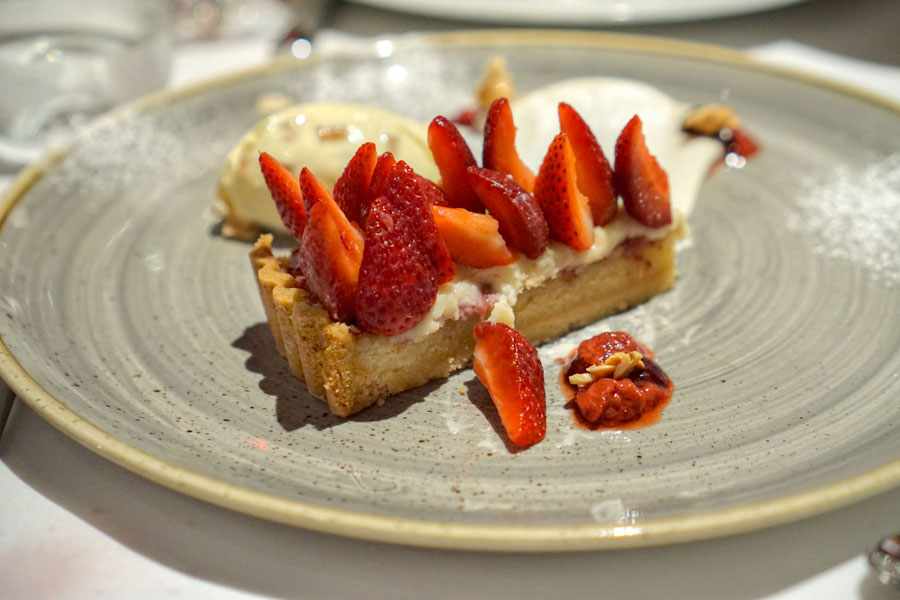 Tarte Aux Fraises - Strawberry Tart [$16.00]
| Harry's Berries Strawberries - Crème d'Amande Strawberry Compote - Crème Fraiche Chantilly - Lemon Confit Gelato
The time-tested marriage of berries and cream worked out beautifully in our first dessert, and I was particularly impressed by how well-textured its crust was.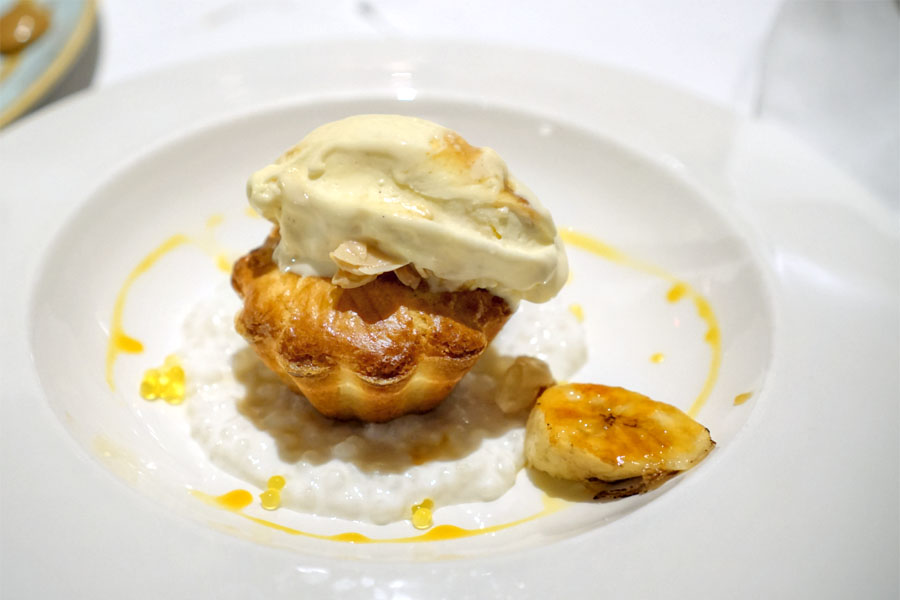 Butterscotch & Almond Gateau Basque [$12.00]
| Coconut Tapioca Pudding - Caramelized Banana Gelato - Jus De Passion Fruit
Our second dessert met the mark as well thanks to the pastry's rich, buttery flavors and flaky consistency, all matched with the delightful fruitiness of banana.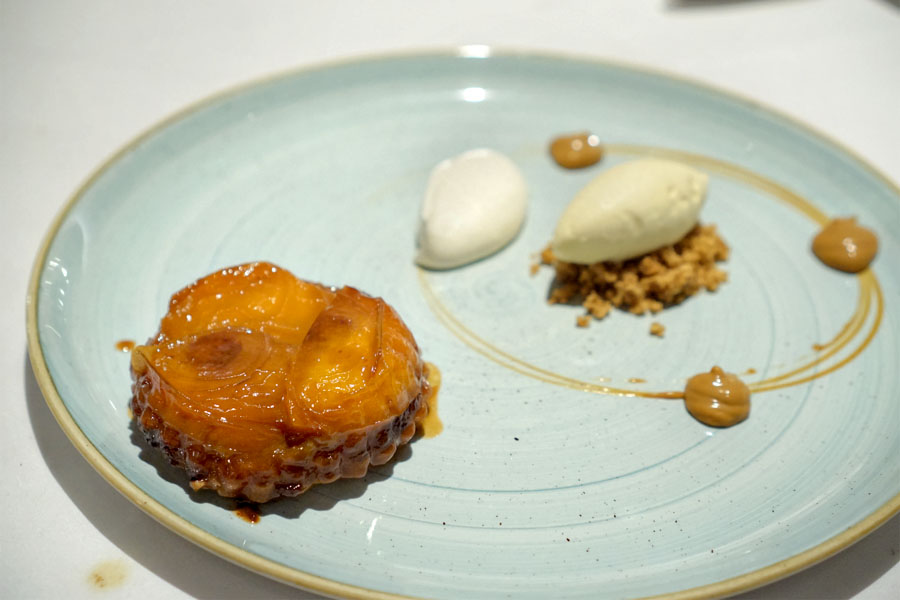 Caramelized Nectarine Summer Tarte Tatin [$16.00]
| Crème Fraiche Gelato - Toasted Walnut Praline
I enjoyed this tarte too, with its full-bodied presentation of stone fruit making perfect sense with the ice cream while praline offered up nuttiness and crunch.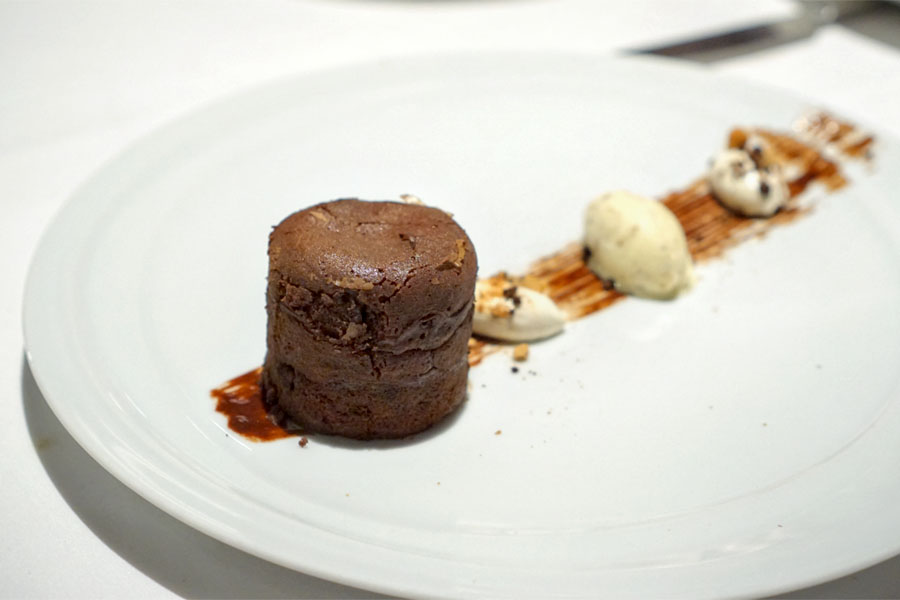 Fondant Au Chocolat Amer 64% [$12.00]
| Toasted Walnut and Armagnac Gelato - Almond Praline Crème Monté
Next was a pretty traditional take on the
petit gâteau
, a rich, runny chocolate cake that went especially well with that Armagnac-infused ice cream.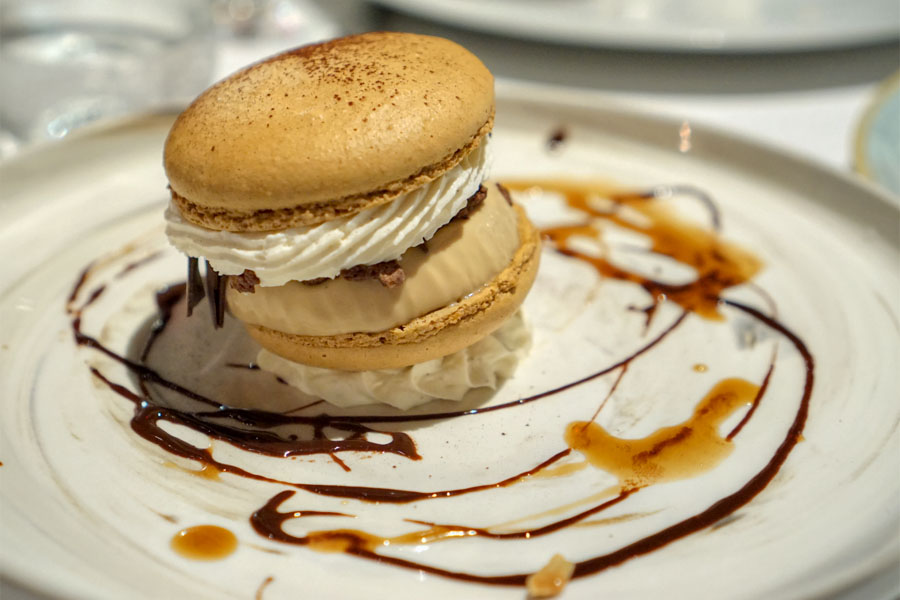 Café Au Lait Macaron [$12.00]
| Coffee and Cream Panna Cotta - Vanilla Bean and Mascarpone Chantilly - Chocolat Croustillant
We closed with my favorite of the desserts. The coffee and cream notes here definitely worked for me, and I really appreciated the contrast provided by the cookie shells as well as those crunchy bits of chocolate.
The original Marché Moderne was the site of some of my early forays into fine dining in the OC, so it was good to return after all these years. Certainly, we enjoyed some excellent dishes tonight, though there were unfortunately a few missteps as well. This might be because the restaurant is trying to do too many things at once, and I'd really like to see some rationalization, some abbreviating of the menu. That being said, the place seems to have held up pretty well, so I wouldn't be surprised if I eventually make my way back.